Loose Nut Dualsport Ride----Southwest Indiana
November 2012
Pictures of the 2013 ride are further down.
If you like---it would be nice to follow this ride with the gps file I used to navigate this ride.
Or you could ride it at your leisure---don't go if it's muddy.
That file is located HERE
My buddy "Loosenut" as he is known on the AdvRider site.
AKA Steve---last name withheld to protect innocent children.
He and some friends put on this awesome 2-day ride in beautiful Southwest Indiana.
How he got his nickname "LooseNut" is a long story------not what your thinkin' tho !!!!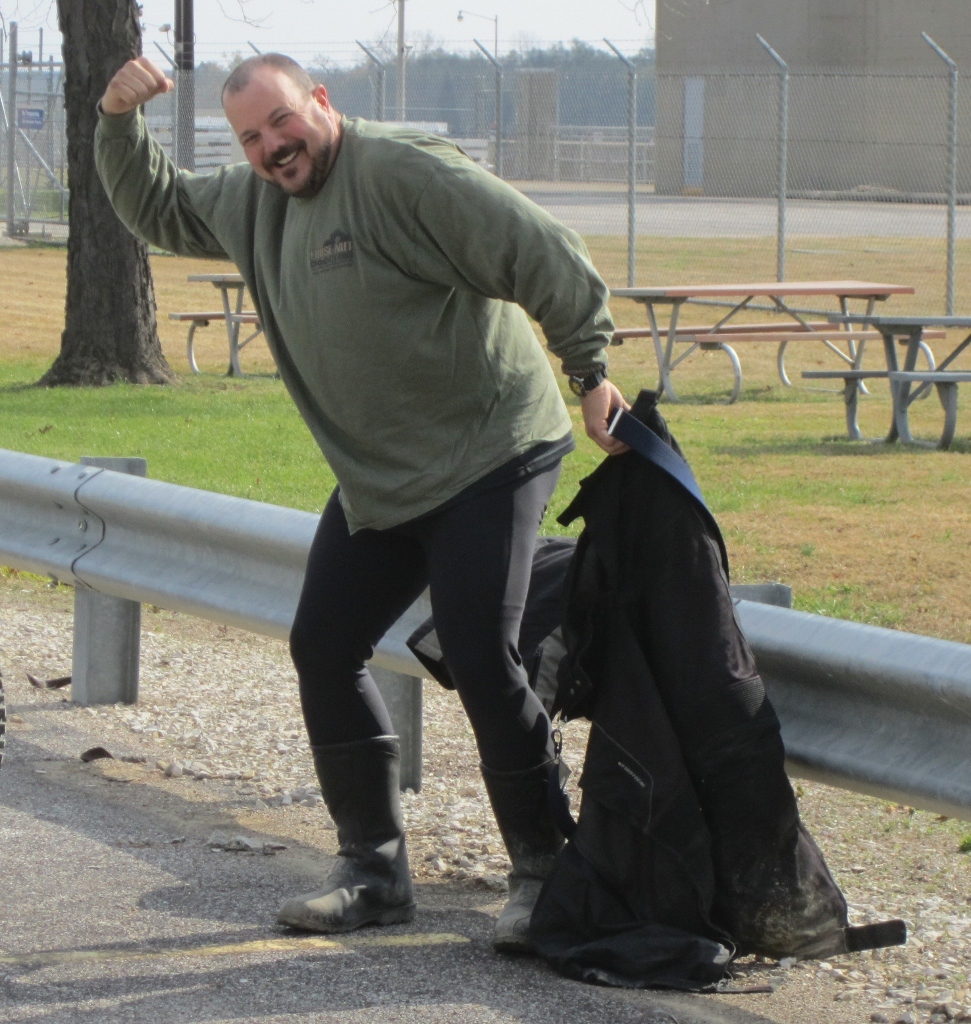 Any--who-----------me and my friend Roger Hayes (right) who's been a good friend for more years than I can remember
joined me on this ride and we would find many old bridges ---------and other things on this ride.
Roger is a rider---and has over 200,000 miles on a Kawasaki Concours that he bought new and still rides all the time.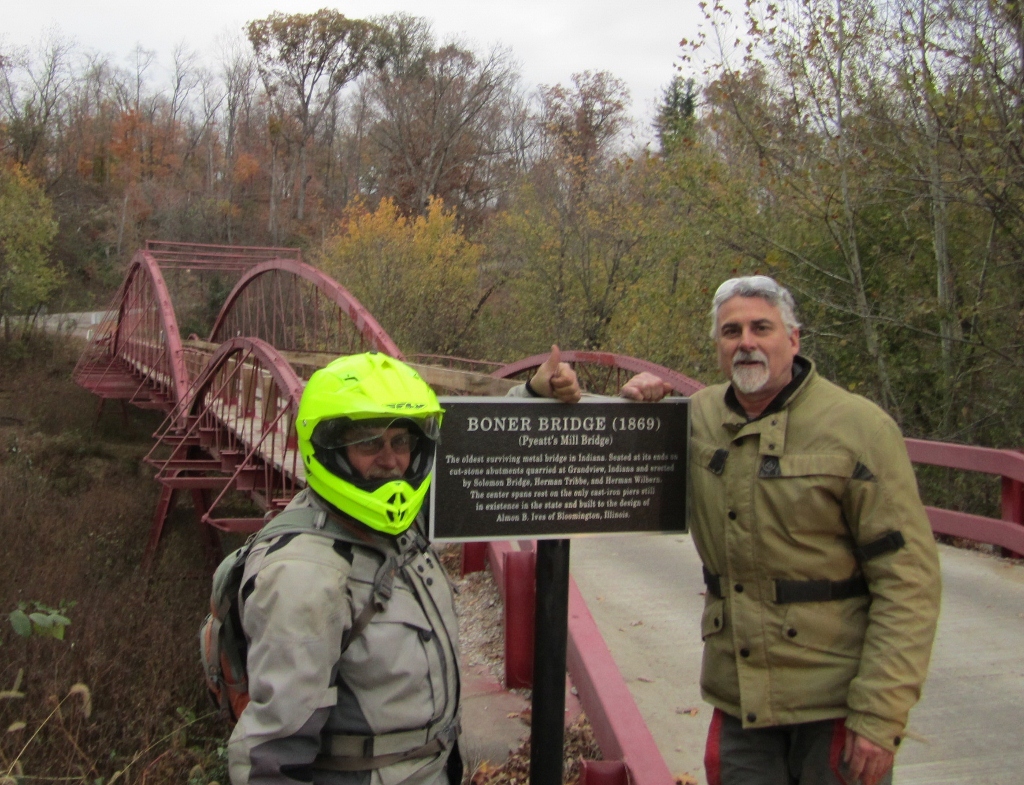 I didn't hardly get the WR250R in 6th gear for the first time when we found this neat old railroad bridge.

I looked below the bridge for the tracks and couldn't see them---but finally did. They were almost buried in dirt and big
trees had already grown up thru them. This RR had been out of commision for a very long time.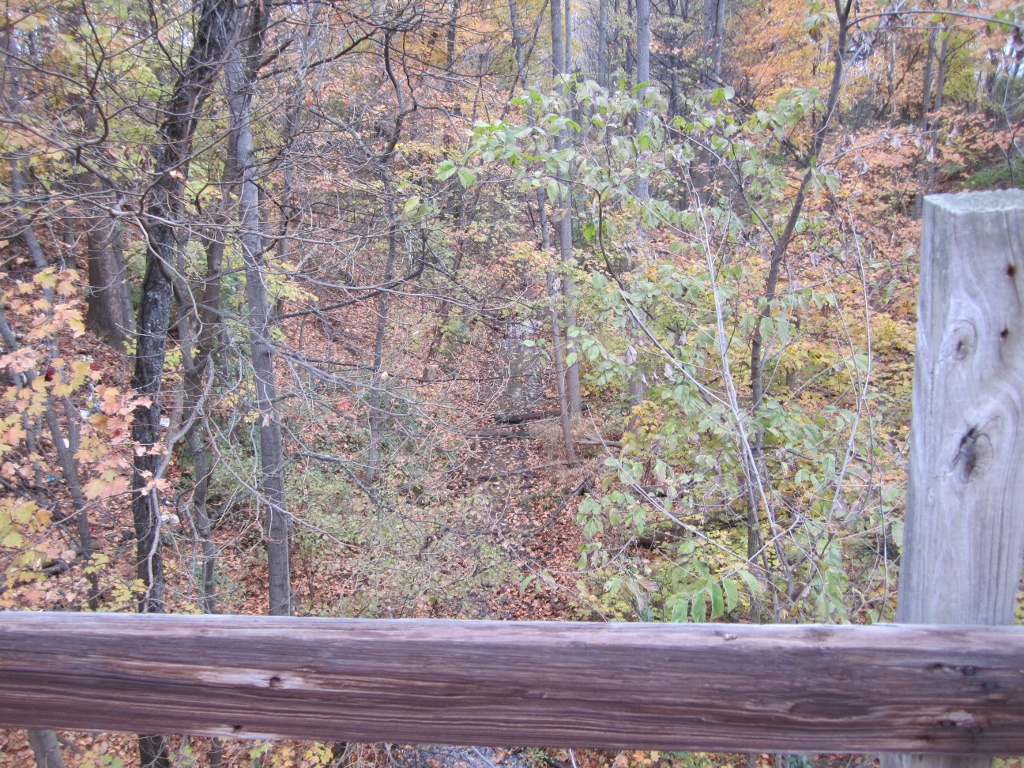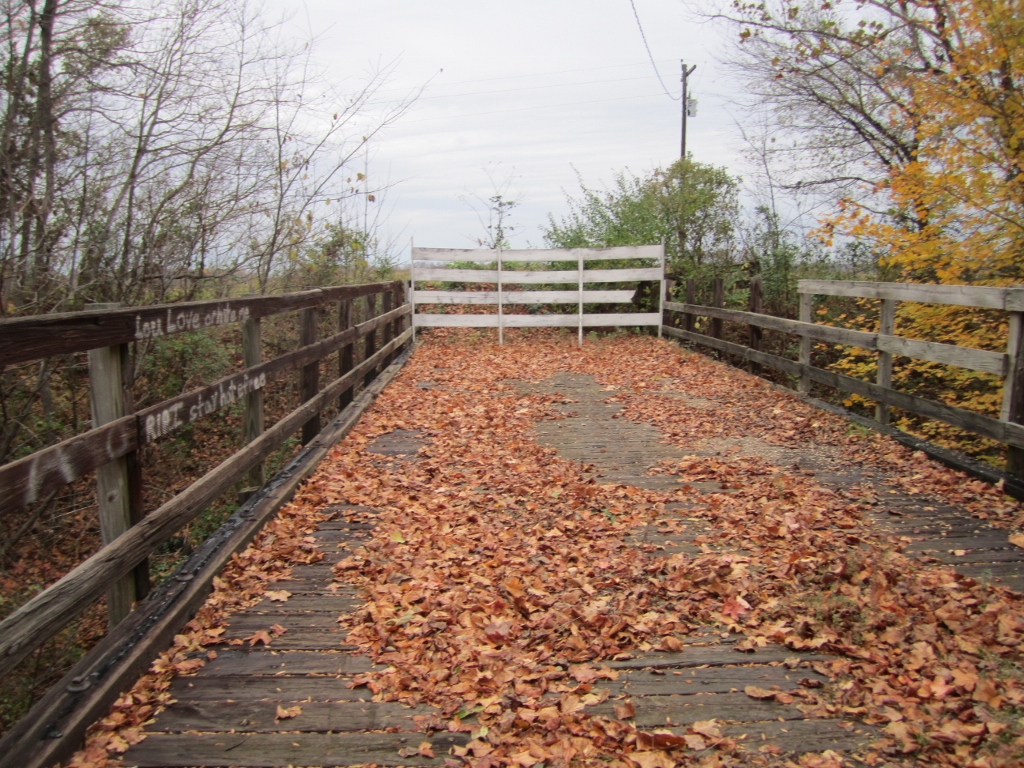 This ride had started about 40 miles North of Evansville Indiana and everybody had a gps track log so they could self navigate their
way thru the ride--------we immediately hit some dirt and gravel and after about 20 miles came to the "Old Red" covered bridge.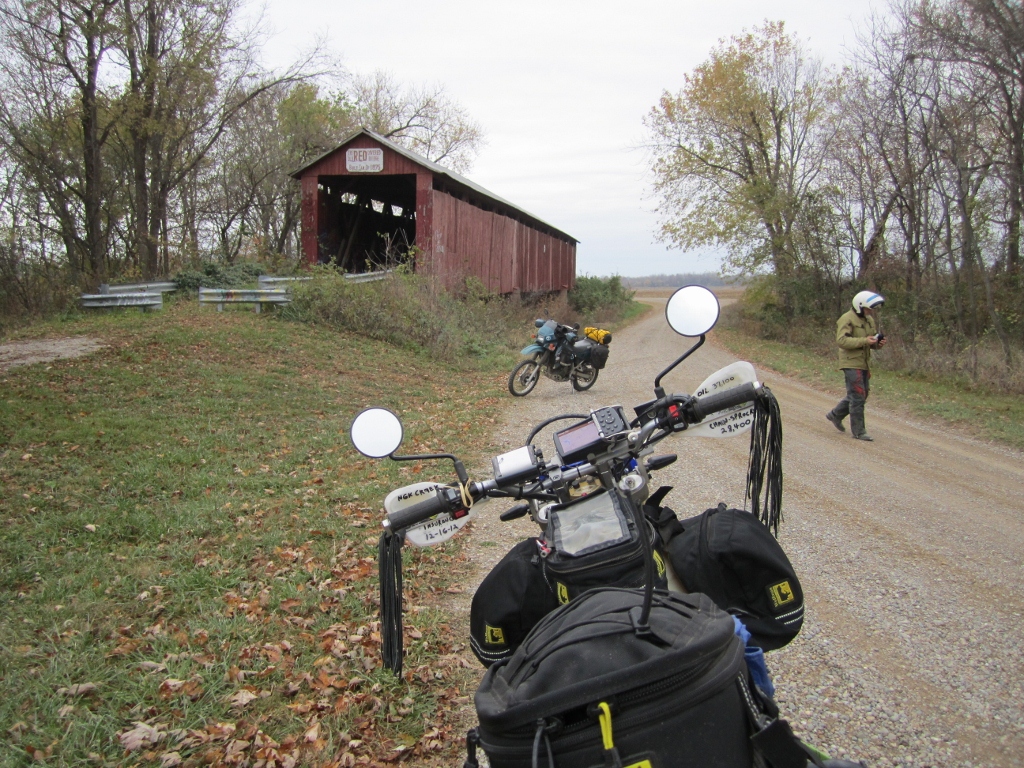 It is now closed to traffic---but a few years ago I had taken my wife on a nice ride in our Jeep wrangler and we drove thru it.
There is a by-pass now. A motorcycle can still ride thru it and it's still plenty safe.
I think they just wanted to make sure nothing heavy went across it.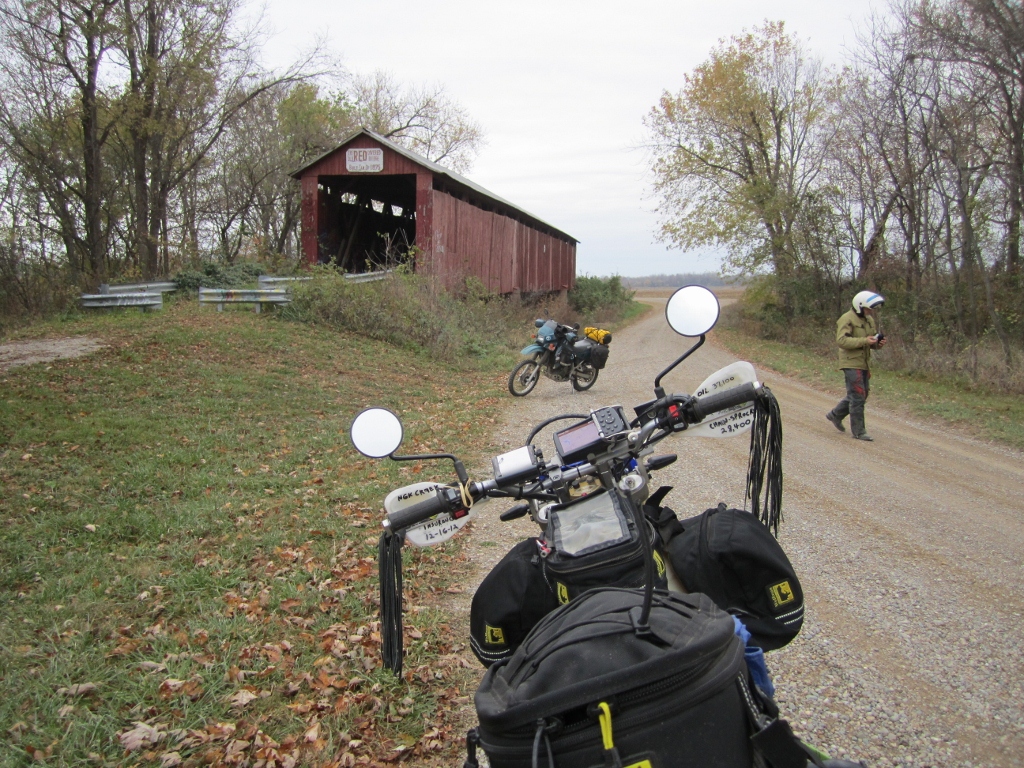 "Old Dog on the "Old Red"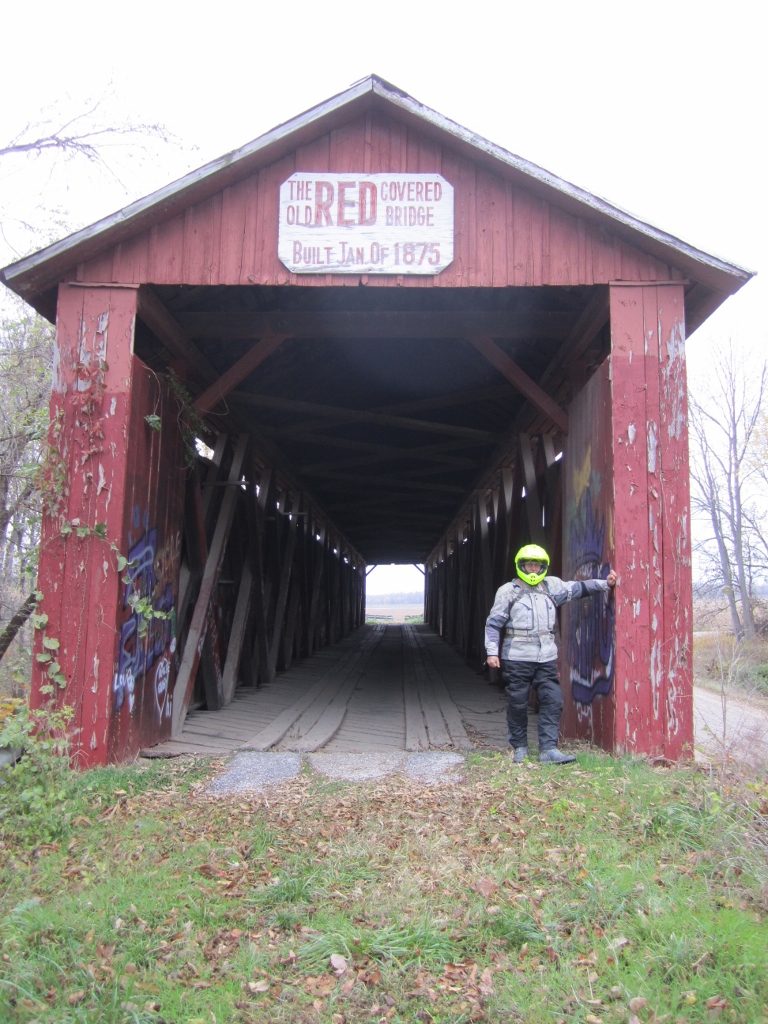 Here's an overview of most of the first day.
As you can see we were provided with lots of waypoints for neat stuff.
The start is the red flag below Sandy's Pizza.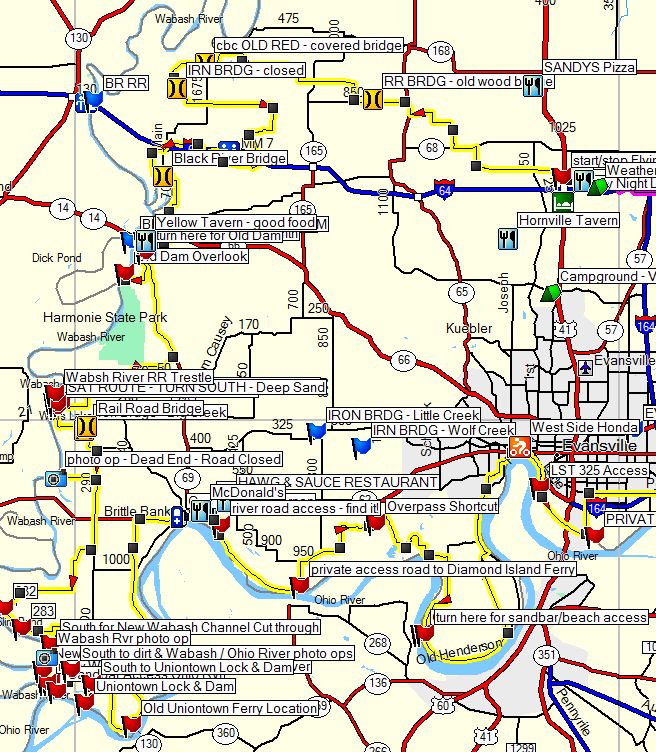 At waypoint "Iron Bridge Closed" we fund this old bridge for inspection.
If you hate looking at old bridges---you might want to skip the rest of this story.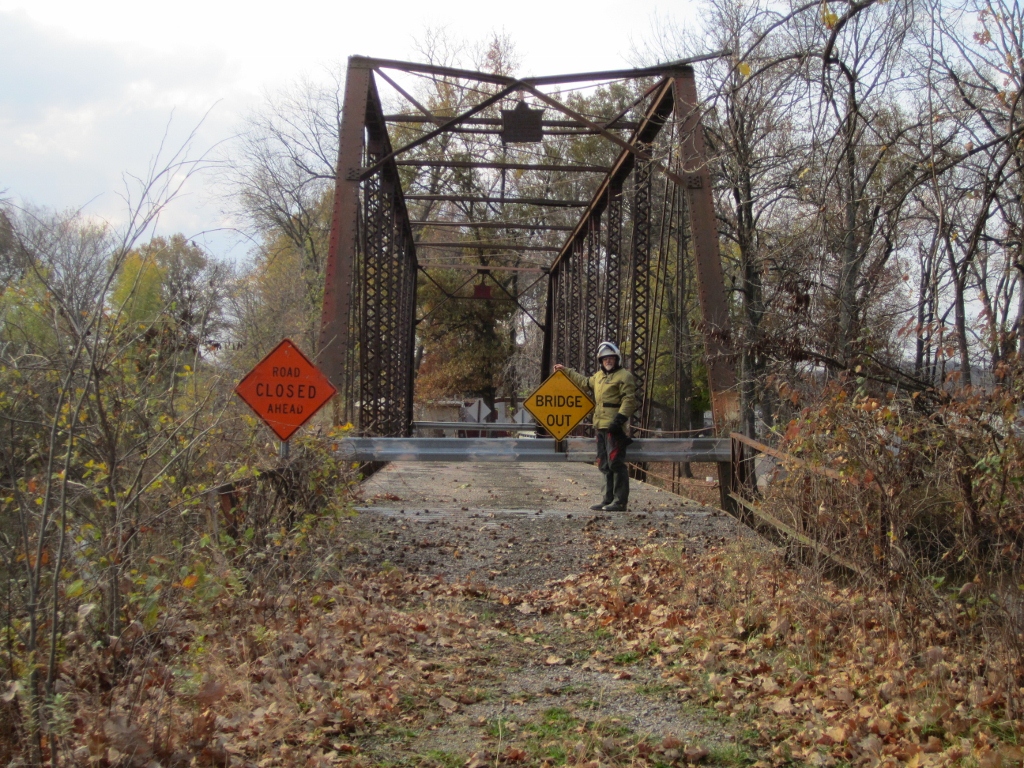 And another----------they were everywhere.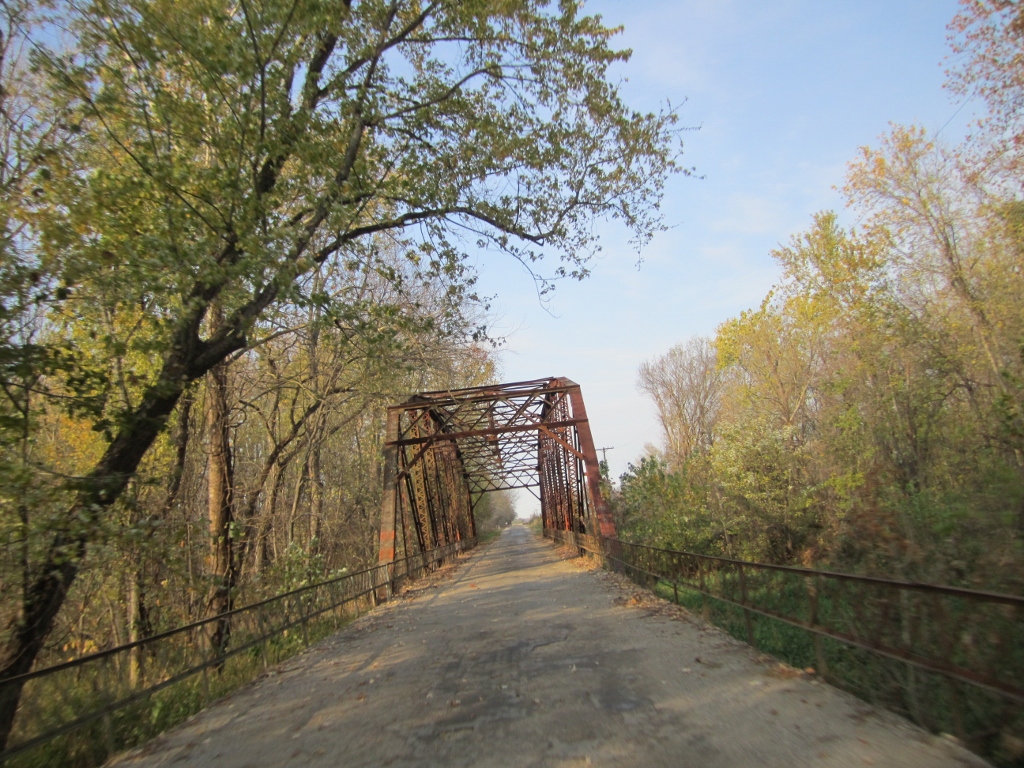 I was running my "No Hassle Tassles" from my last Mobius trip (long story).
A gift from "Dr. Rock" on AdvRider and Mobius fame.
They have extreme powers and I always use them for good------not evil.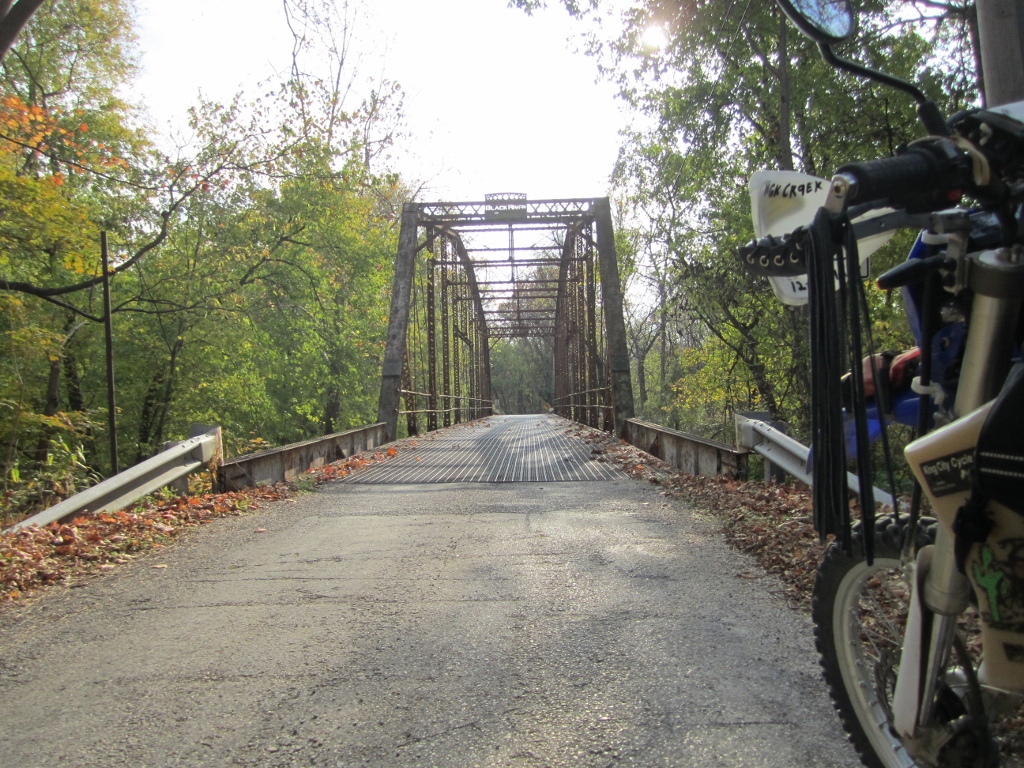 I love this stuff----we went threw an area right after the above steel bridge of elevated red-neck camping, hunting, fishing, beer drinking
establishments--------this was my favorite.
This area is known as "The Black River Camps" by locals.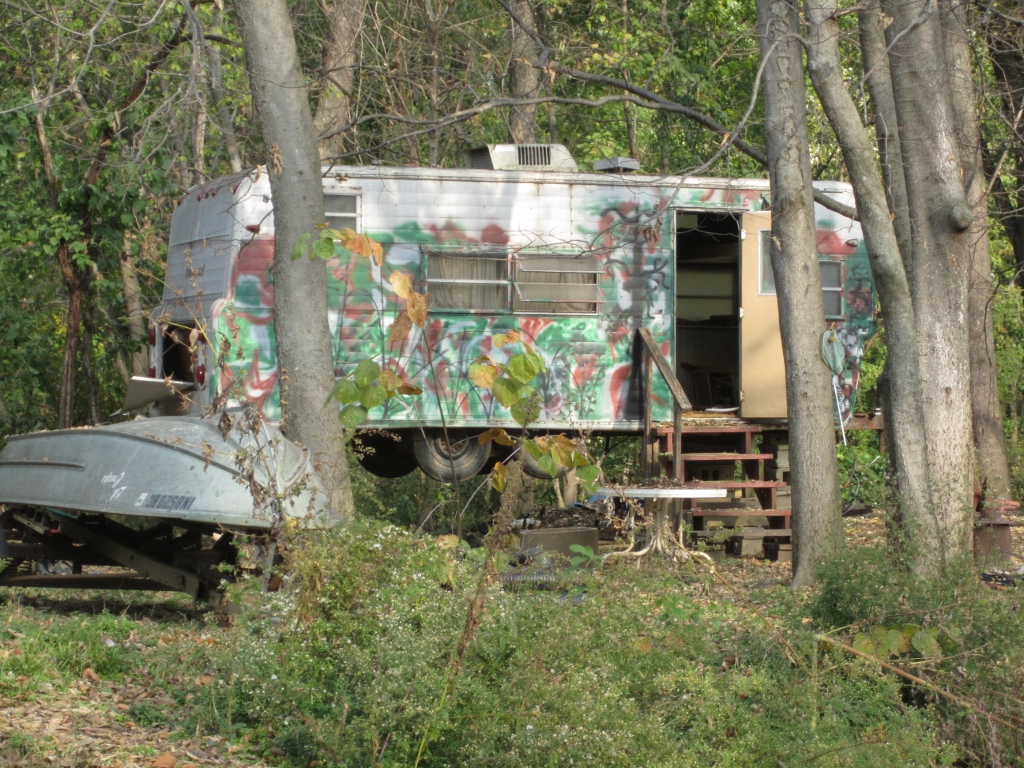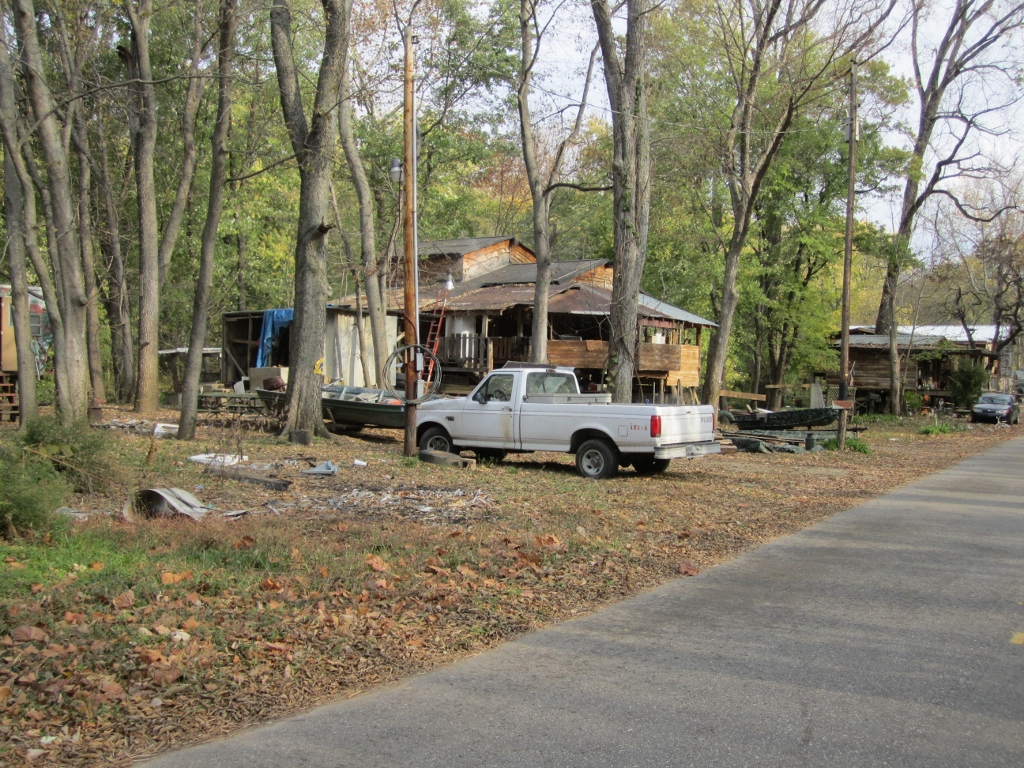 My friend Roger at what is called "Old Dam"
This is just South of New Harmony Indiana on the Wabash river which seperated Illinois from Indiana.
When the water is low there are some spectacular rocks that protrude out of the river.
I've been on the other side on my dirt bike -------some tough riding to get there.
But some lawyers in New York bought it all and have it all posted now--they never go there--they just wanted it.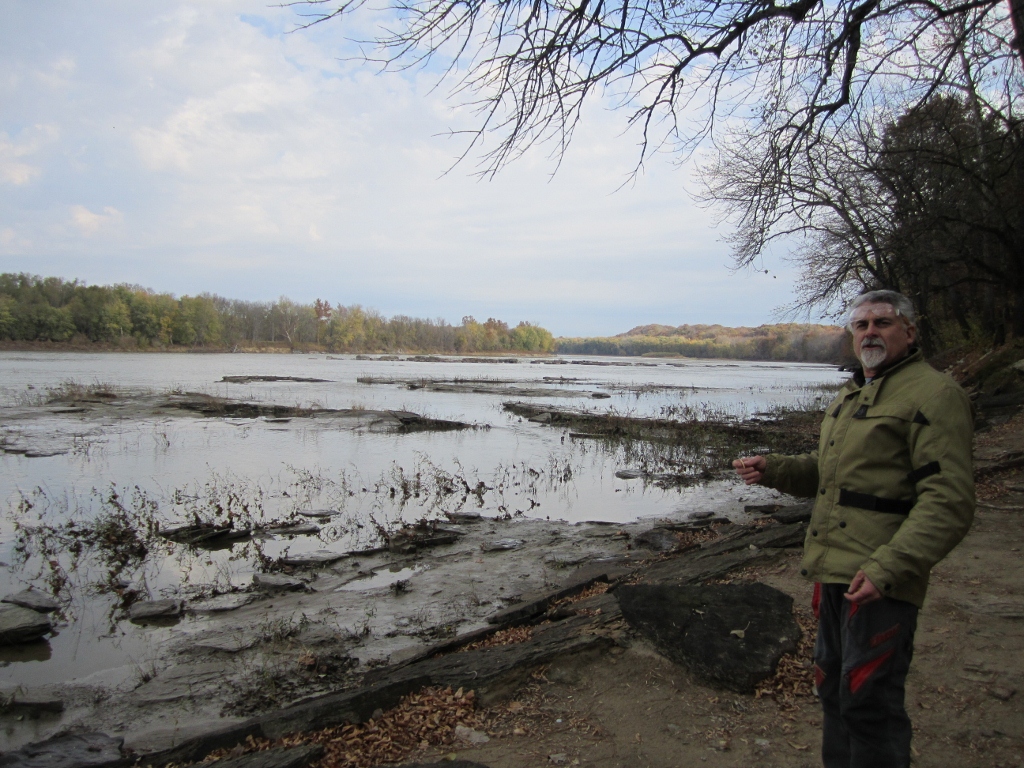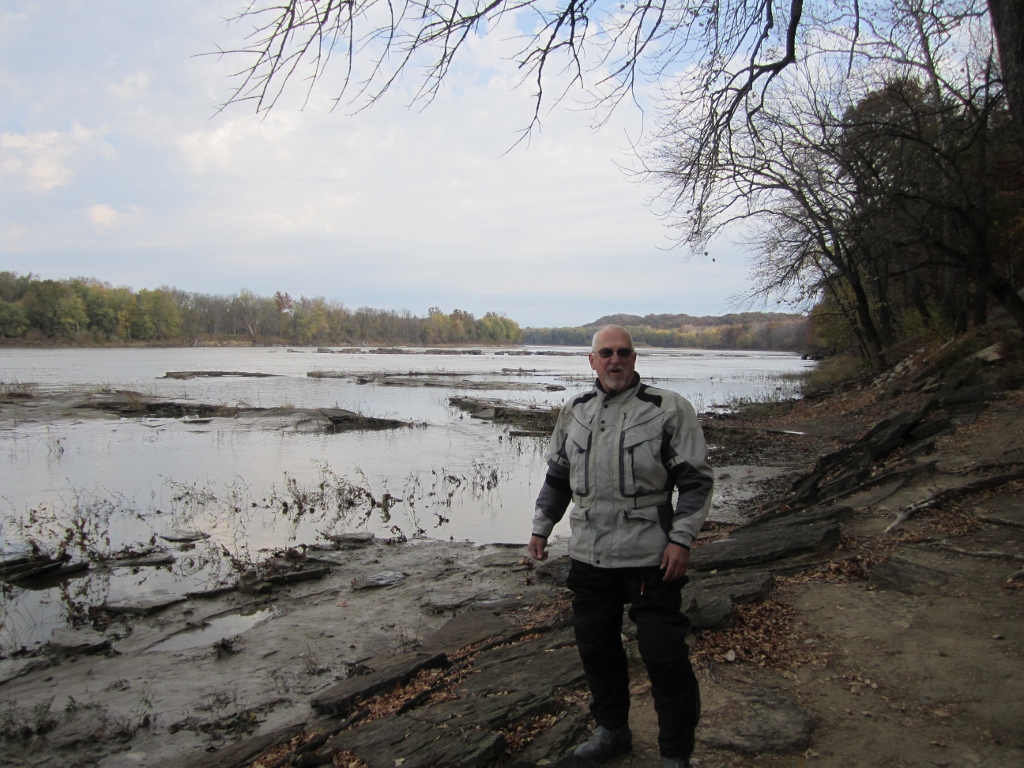 Roger told me interesting stories of him and his dad went up and down this river fishing when he was a kid.
Roger had never been to this place since and it brought back a lot of memories.
He had forgotten all about this place.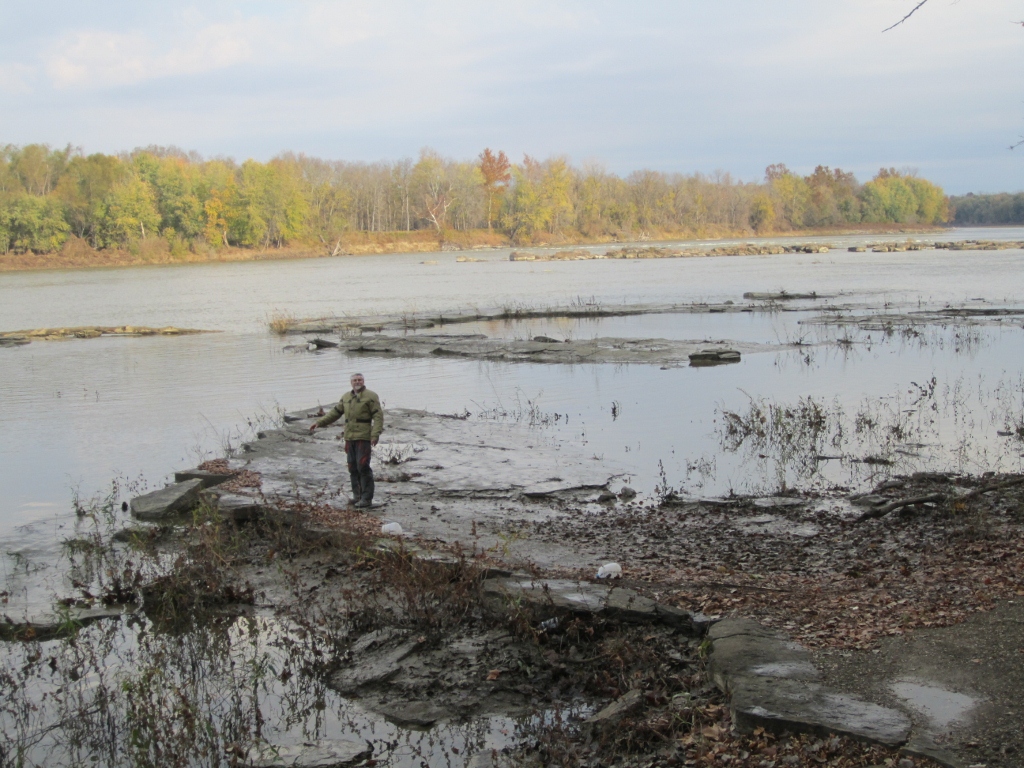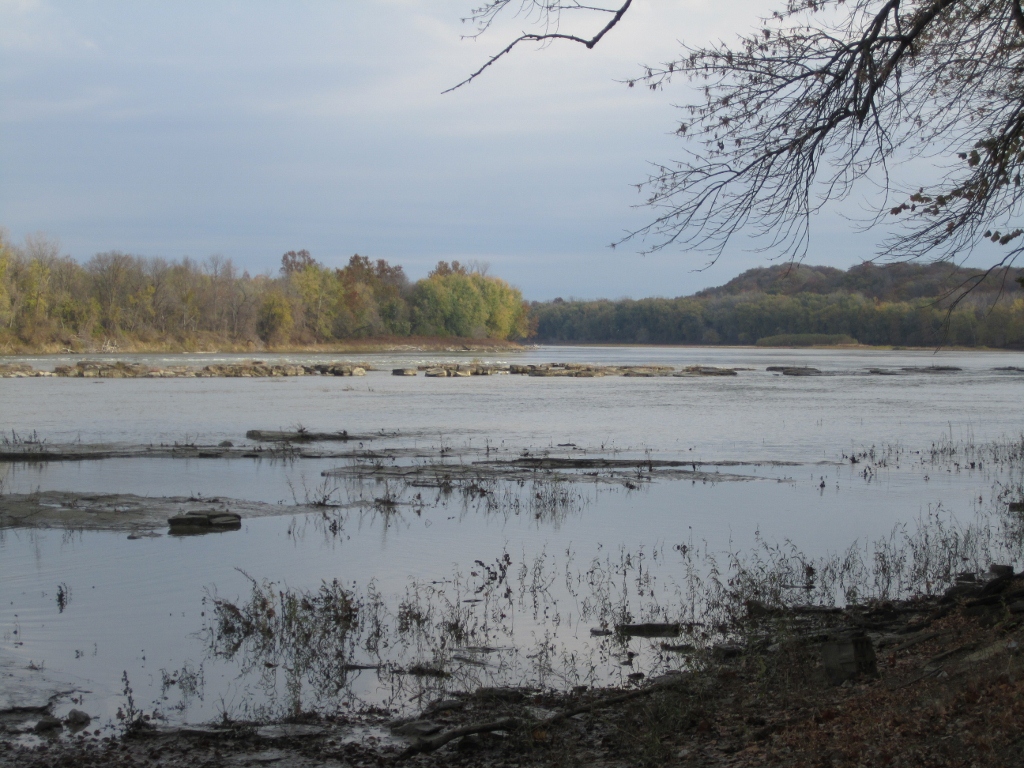 On South we went along the Wabash river on every dirt road that was out there.
This was an awesome route "Loosenut" laid out.
And we would ride more dirt than I thought existed in Indiana.
There was all manner of bikes on this ride-----probably 40 riders ????
Here you see a fellow on his KMT 950 adventure--which was a good bike to ride on this route.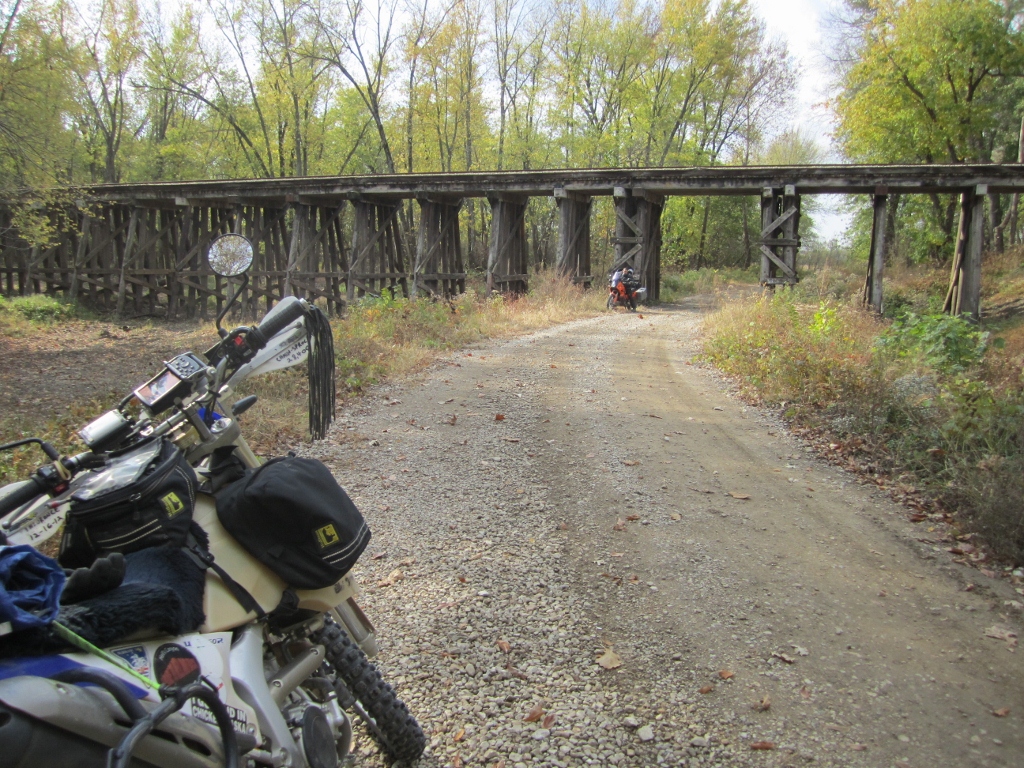 Here's one of the best set-up DR350's I've ever seen-----I'm thining this guy had over 40,000 miles on this bike.
He is known as "saddlsor" on AdvRider
And you see the biggest bike I saw----a BMW1200Gs---ridden by Rob Rideout.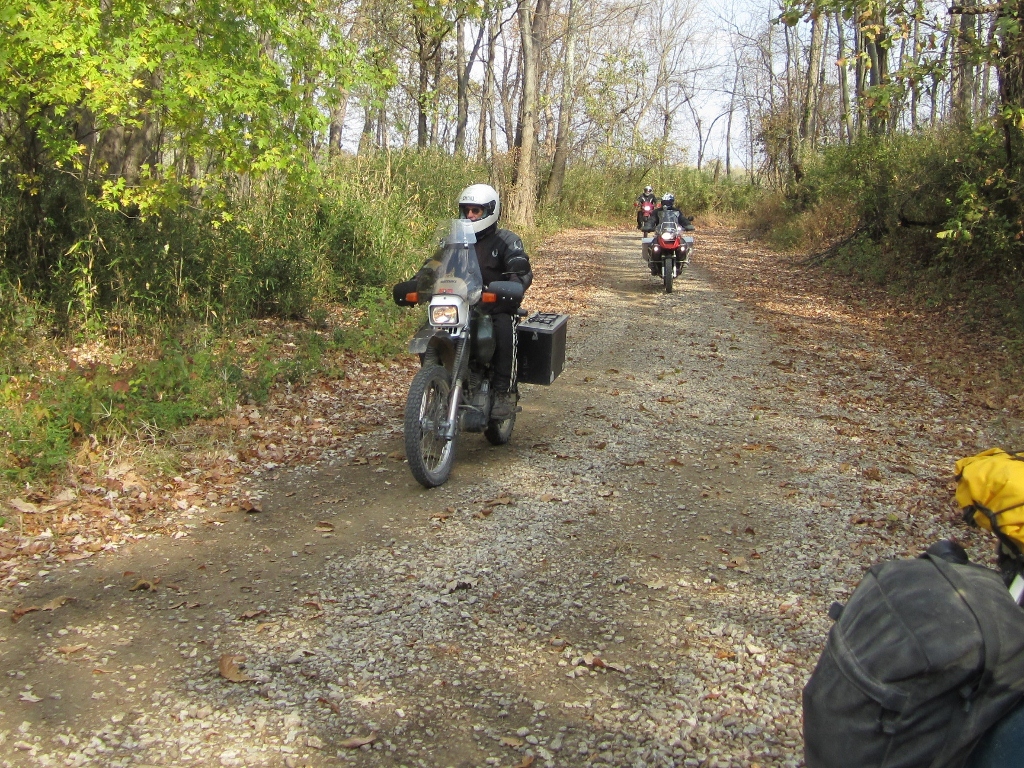 We were promised some sand---and here we go.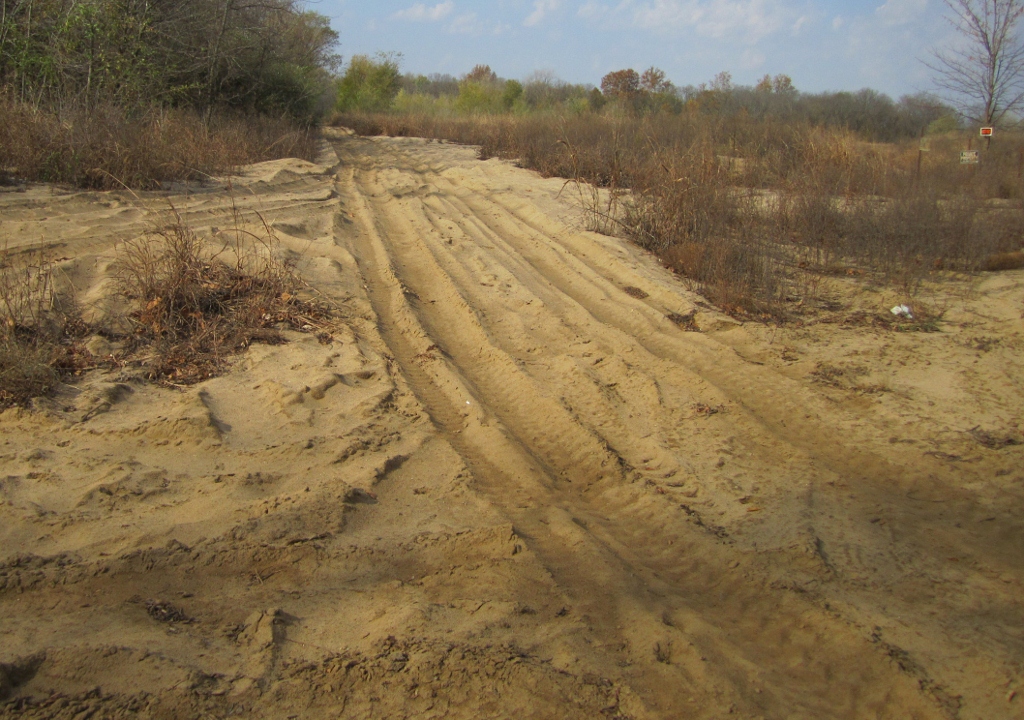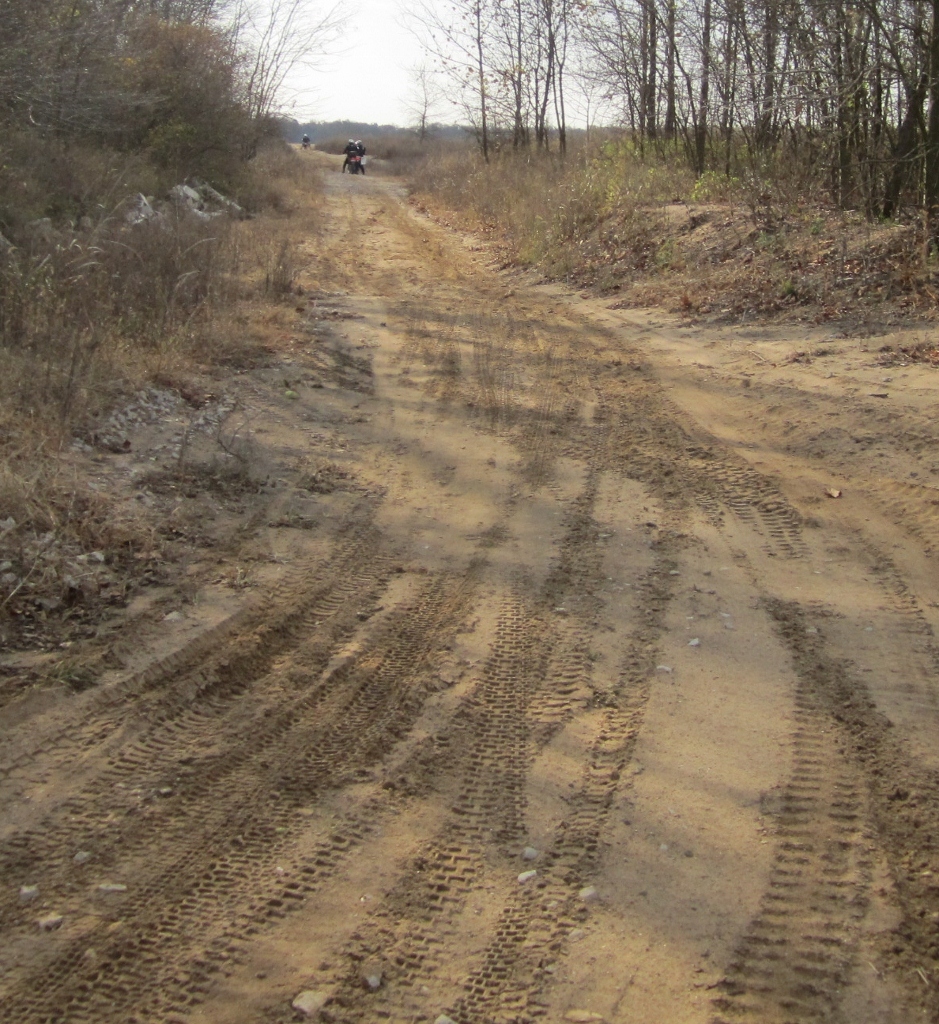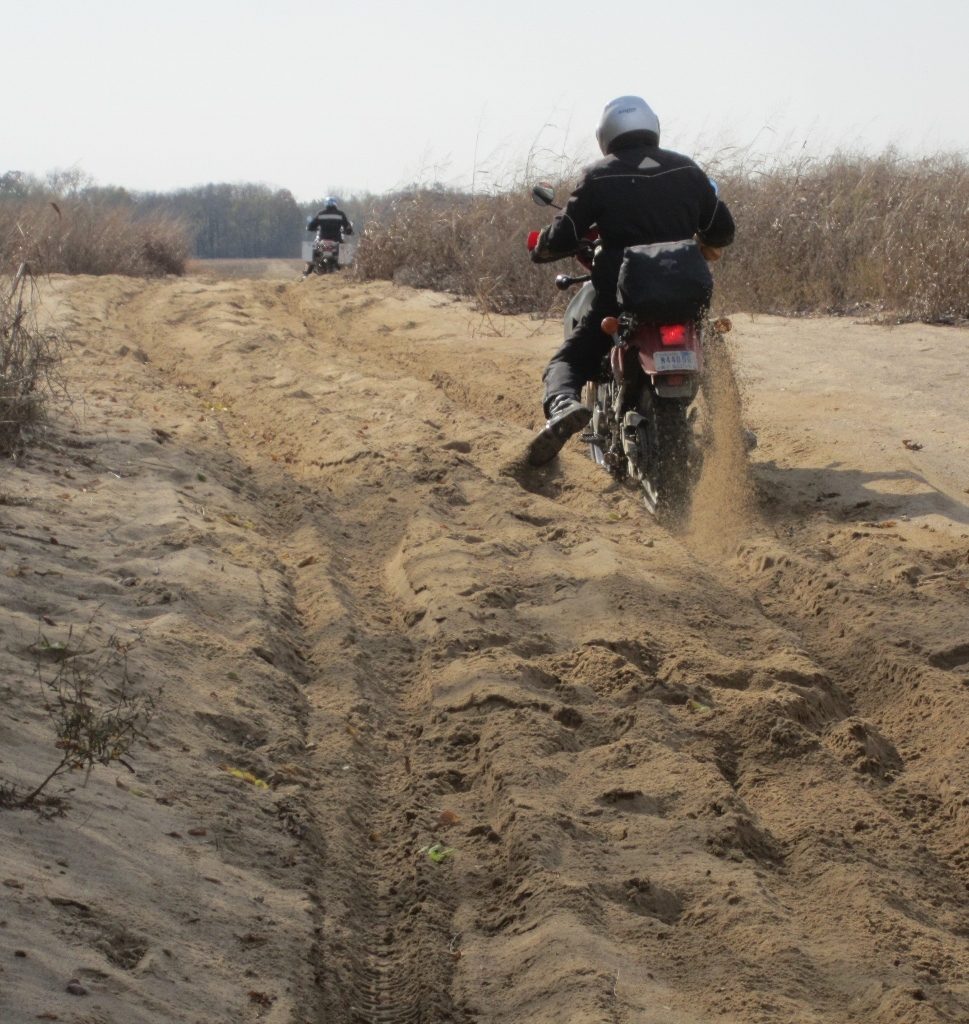 This rider should feel no shame for dog paddling----------I think everybody did---including myself.
This is Kevin Jones and Kevin just rides--he don't need no stinkin' gps or map and loves to follow and eat dust.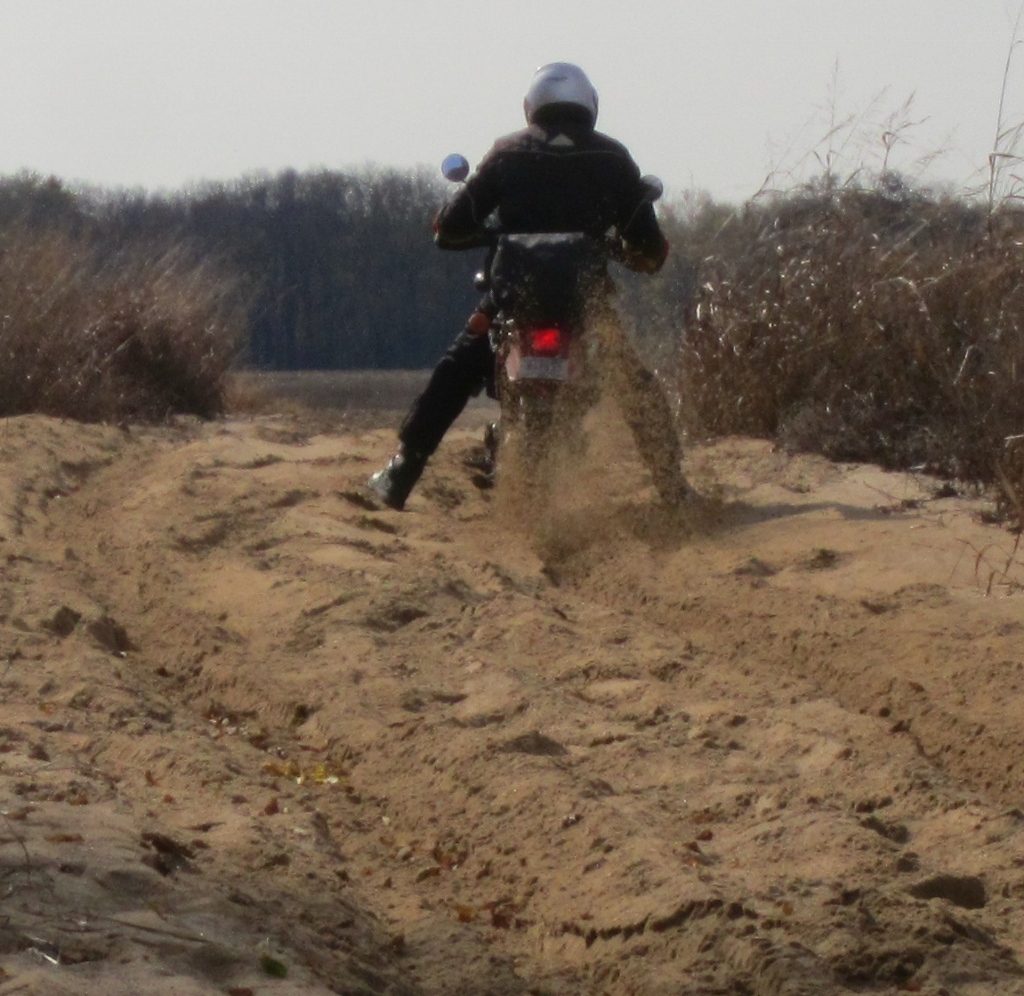 Mort dirt--------not gravel-----------good ole' dirt.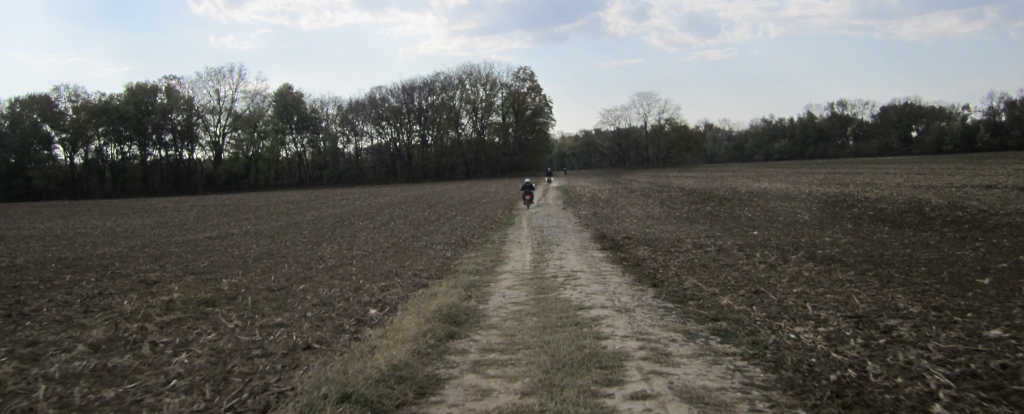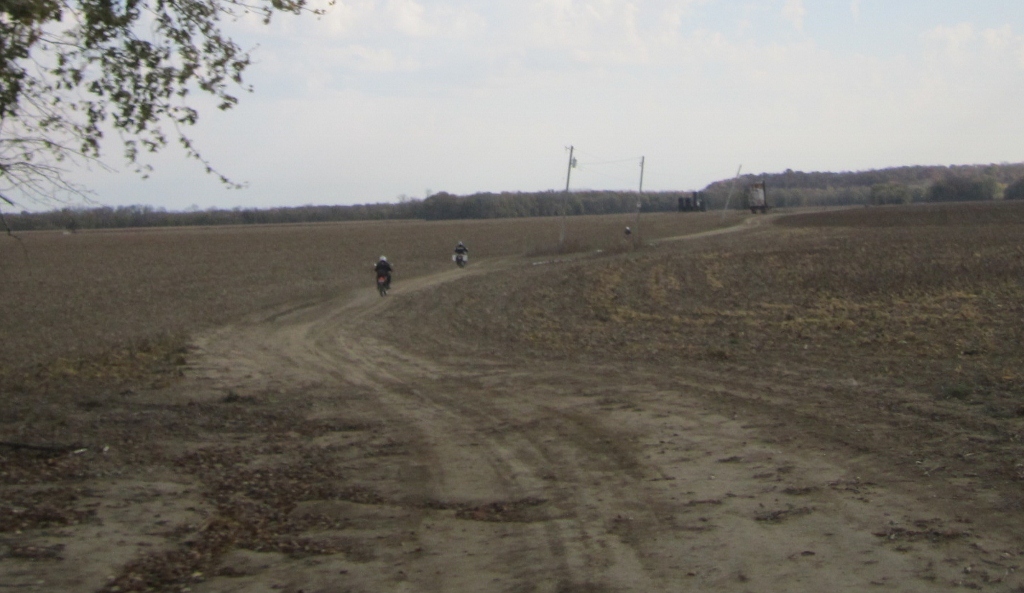 Rogers KLR is not as ugly as mine-------but he's working on it.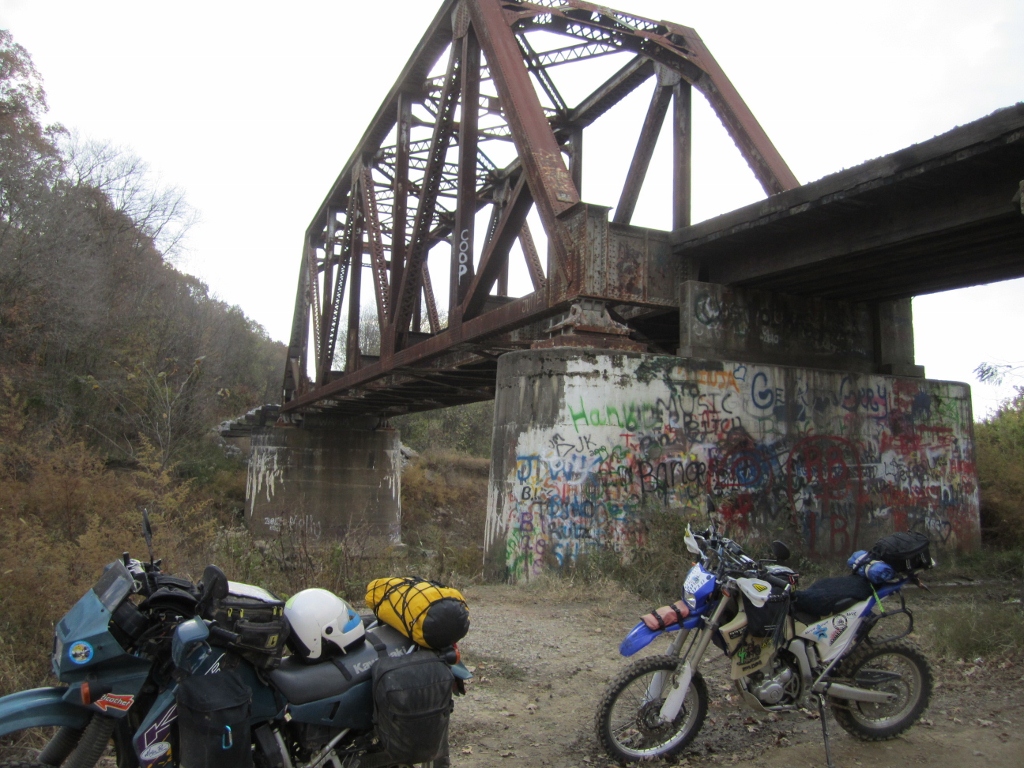 We had many short detours to dead ends----here's what my gps looked like at the iron bridge and Railroad Bridges above.
Todays ride was over 200 miles------and you can see I have 144 left. I better get moving it's going to get dark early.
But as you'll see I didn't make the finish in daylight.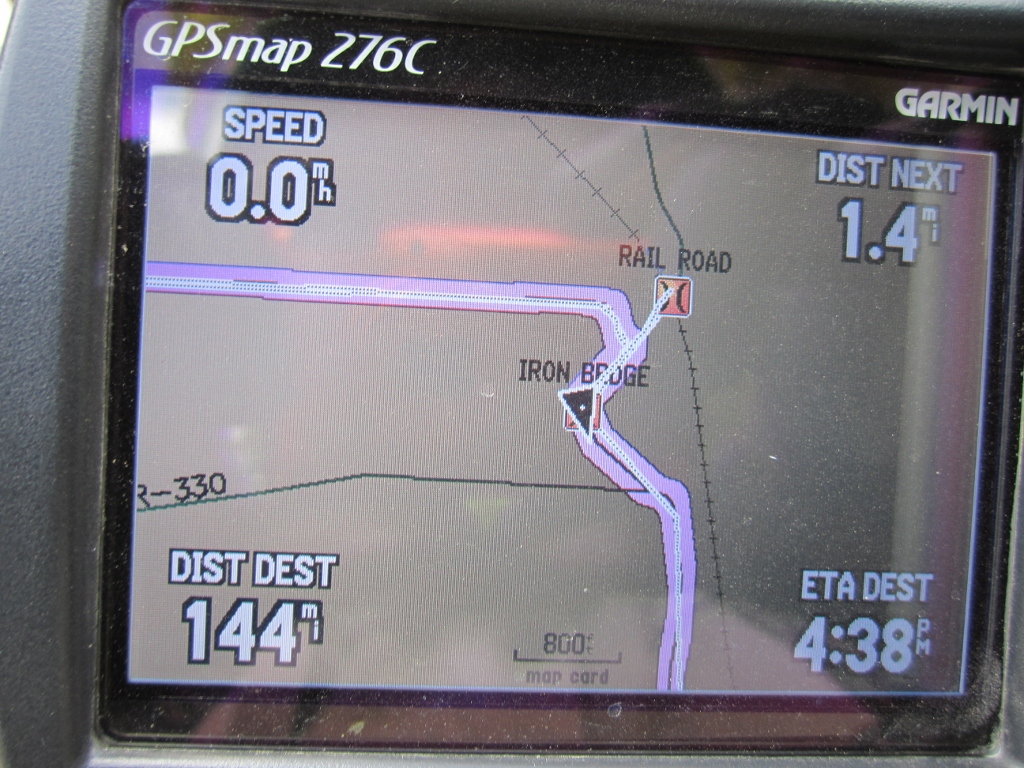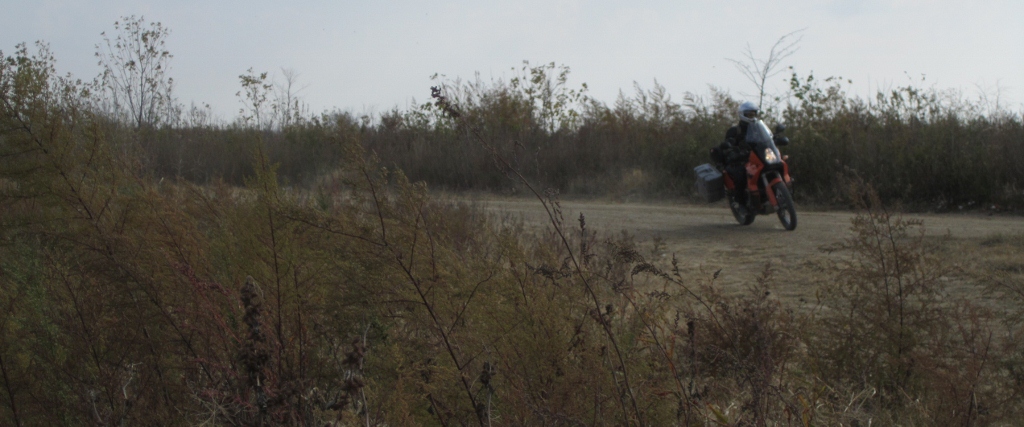 We are now skirting the edge of the Ohio river in Southwest Indiana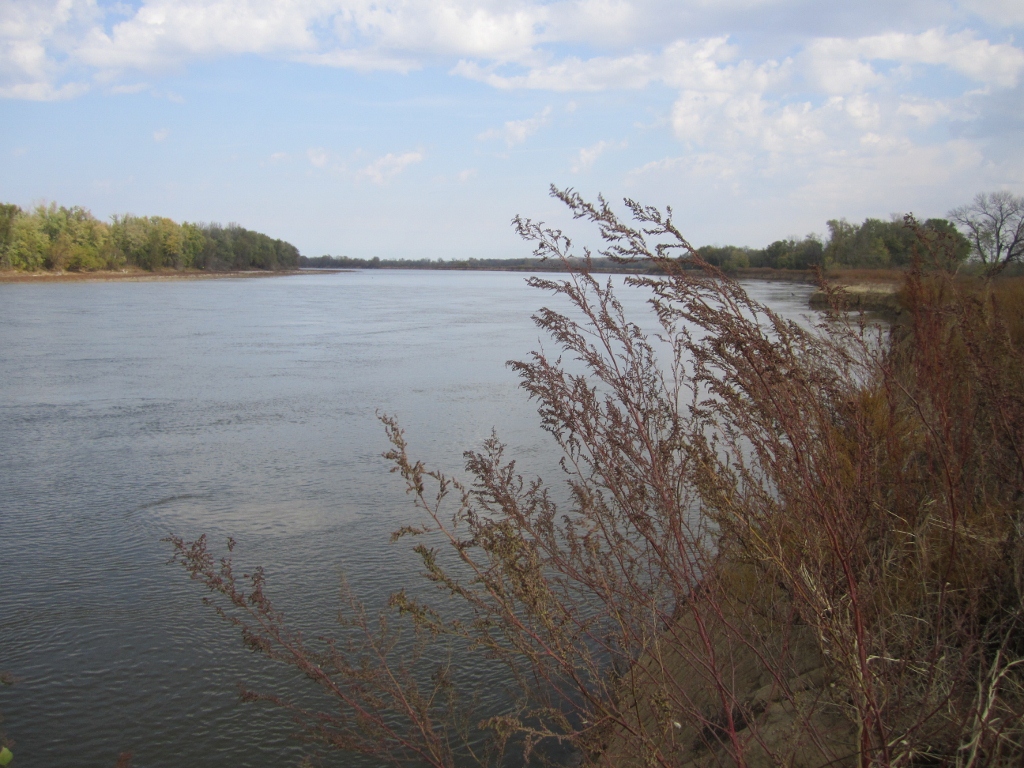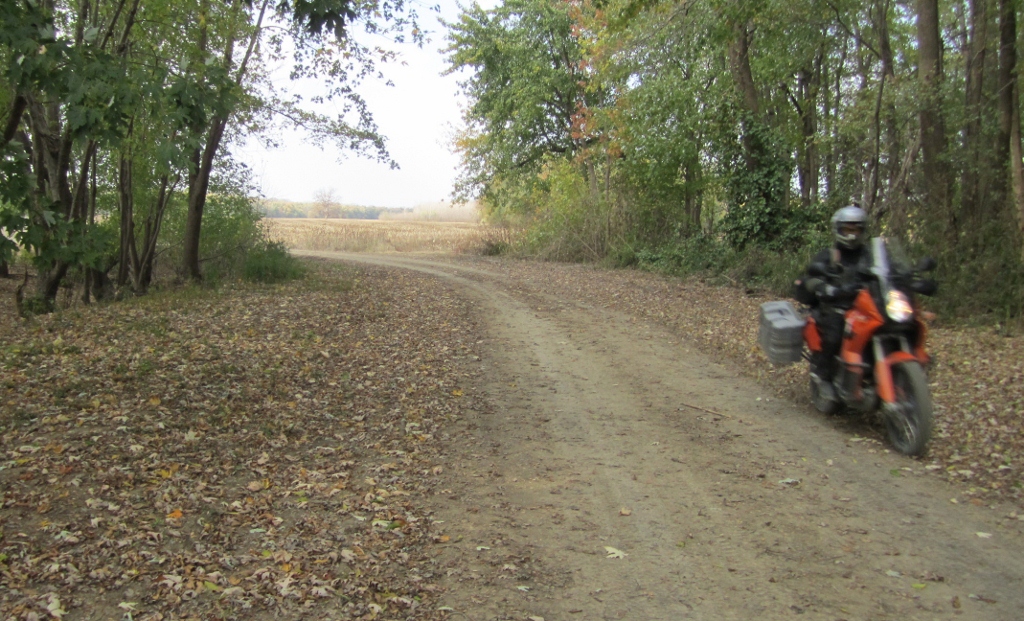 I took off from here and buried my bike.
Roger was smart and never came down this far to the Ohio river.
My "No Hassle Tassles" got me out of here---otherwise I'd still be there.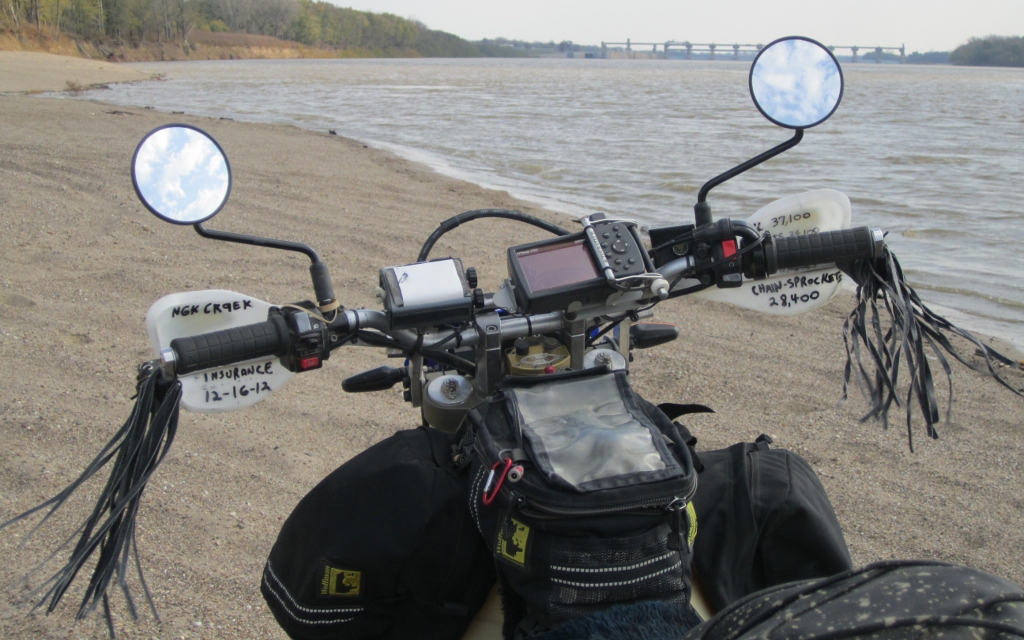 It only takes 12 horsepower to ride around the world------Roger had a whopping 37.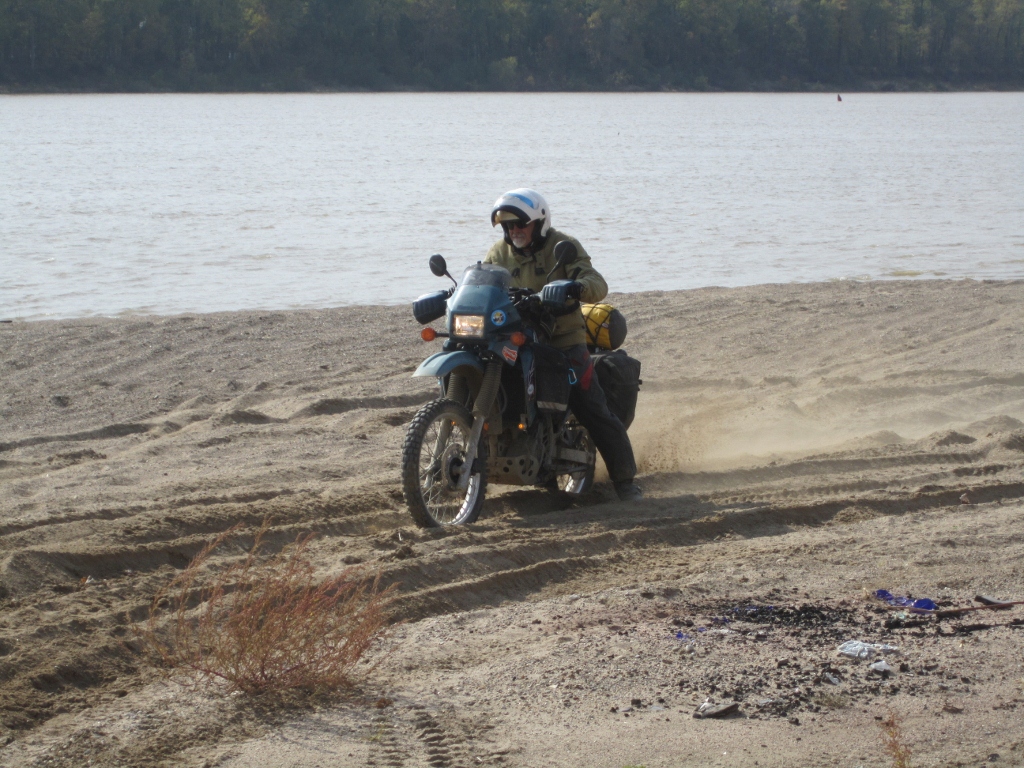 It was a hoot climbing this dirt hill out of the sand and up to the dirt road.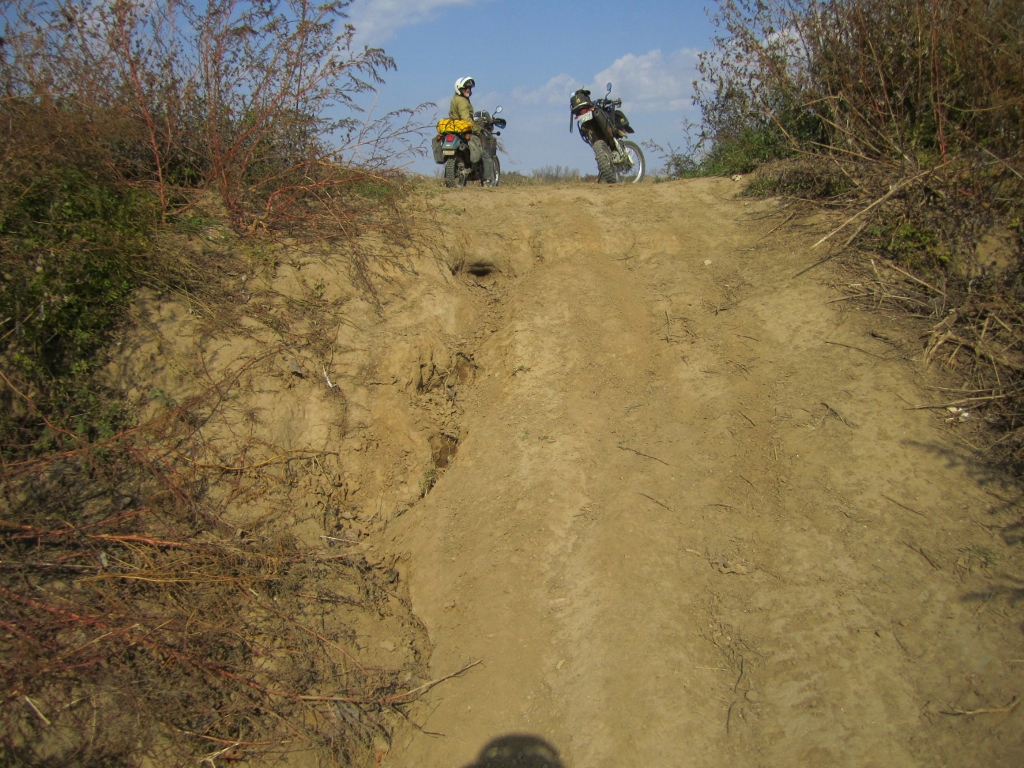 I'm just guessing---but I think about 35% of this ride would be impassable if wet.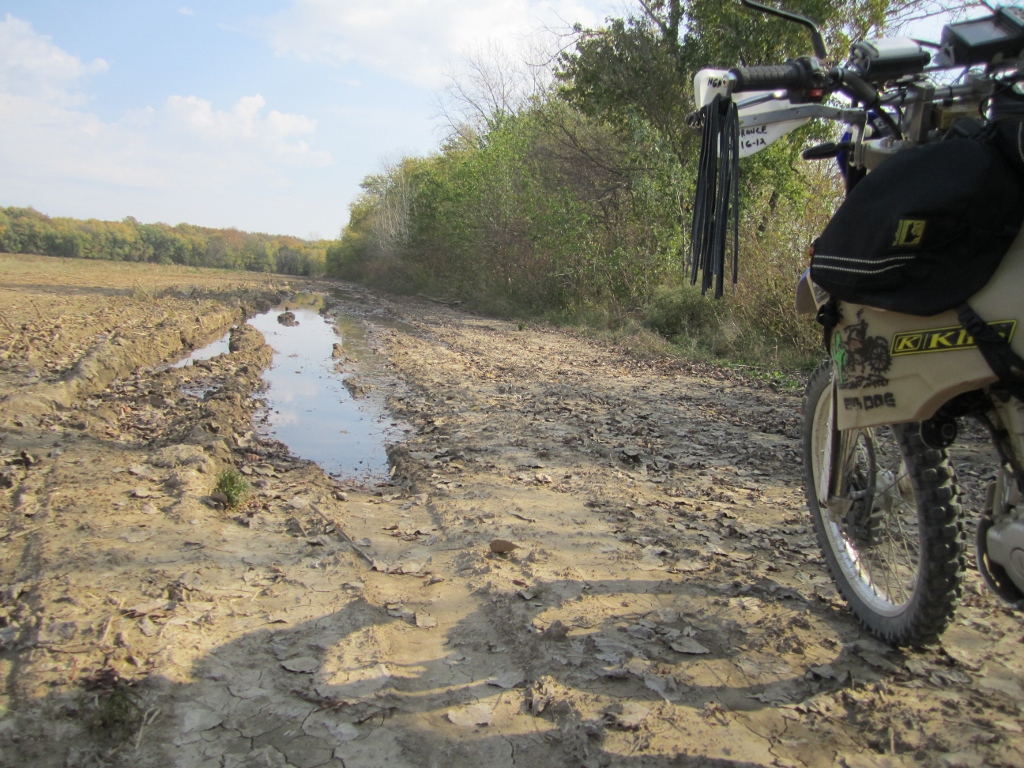 I was given a Loose Nut sticker and I had to work at it to find a place for it.
I displayed it proudly.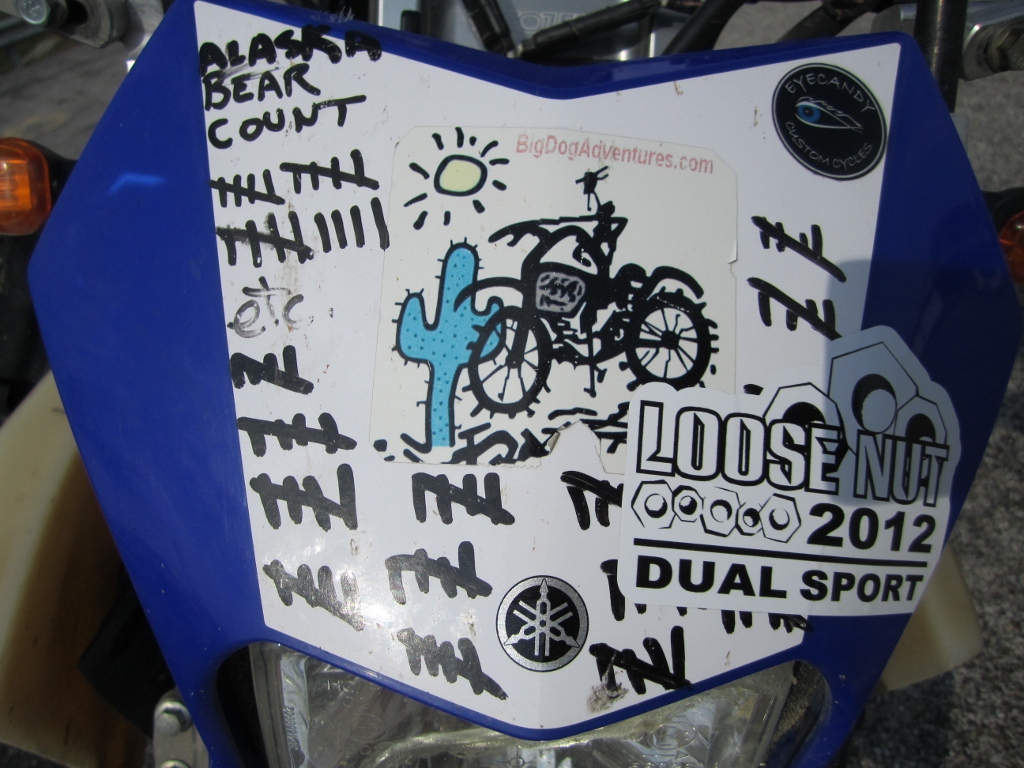 "LooseNut" (Left)------and "Hackman" (right--real name Roger)
Roger has a KLR with a sidecar---I've ran into him many times on dualsport rides--always a big smile.
These guys played the biggest part in laying out this ride and they loved doing it.
The route will change next year we were promised---this was the first year for this ride and it's only about 60 miles from my house.
We are at the Uniontown lock and dam in this picutre and we were getting hot and had to come out of some of our clothes.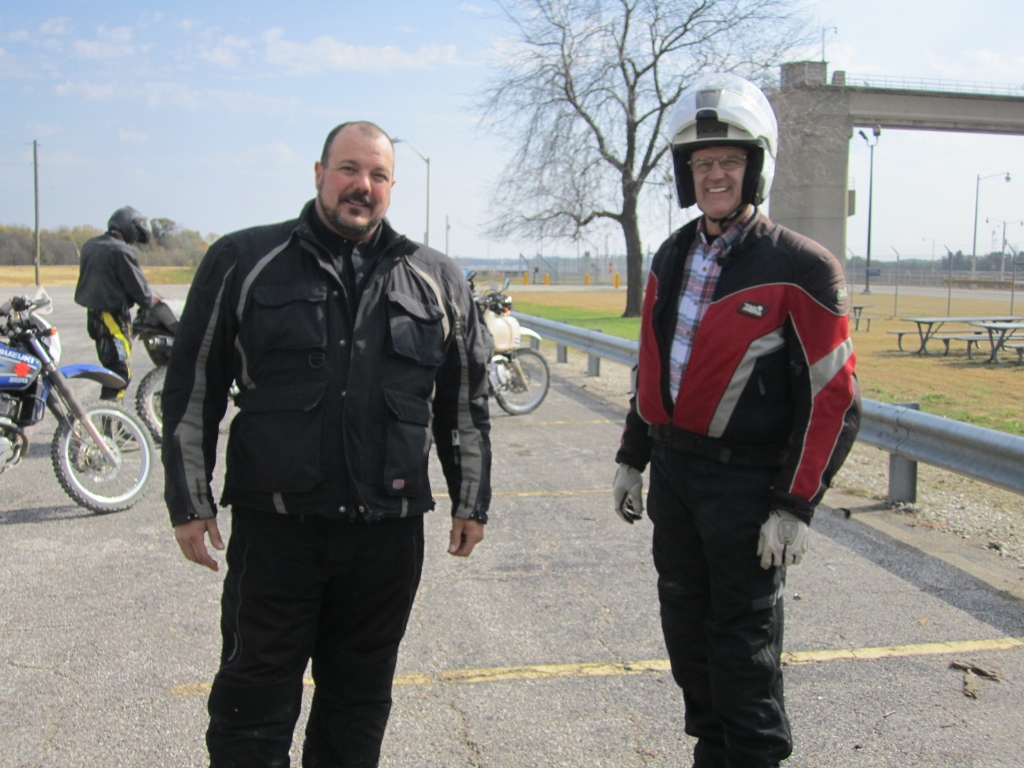 Hence---------this picture.
Let's call this picture "Loose Nut In Tights"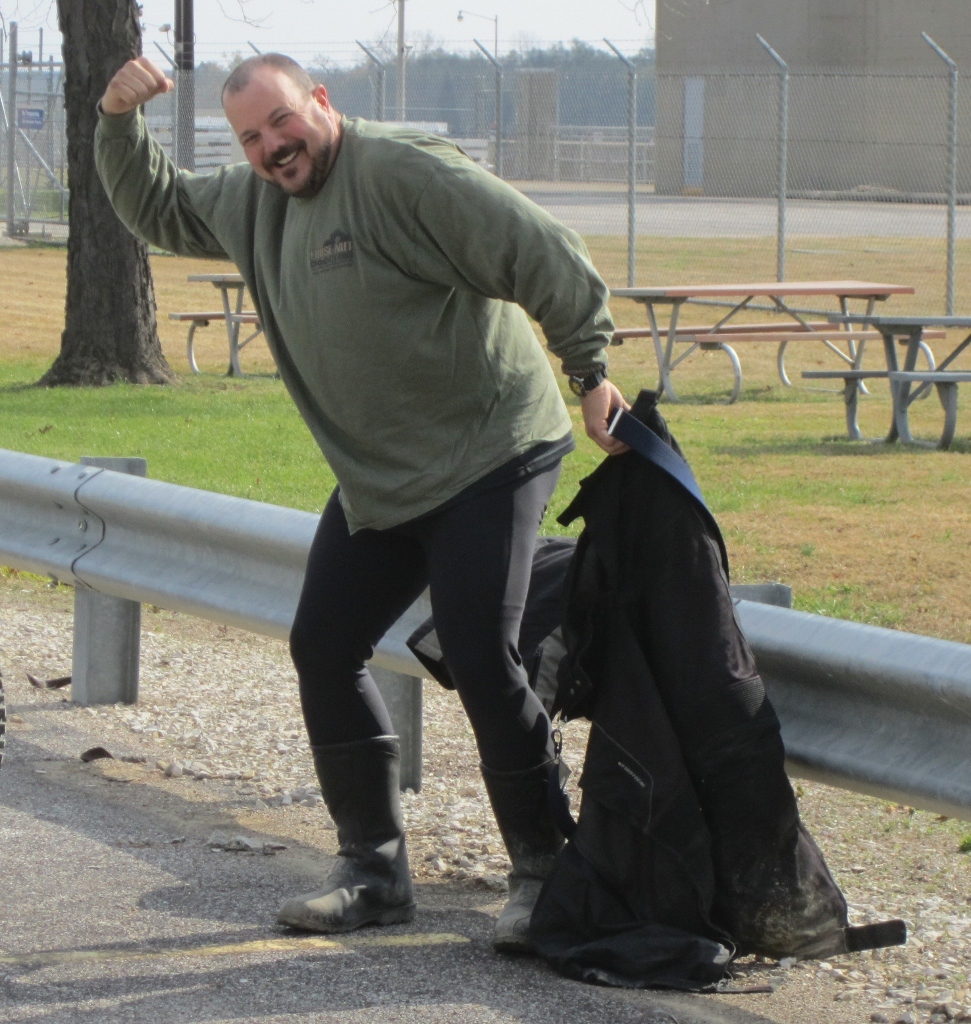 Normally at this point I was told---when the water is down---there is a huge exposed nice sandy beach and bikini's, 4-wheelers and boats run amuck.
I marked it with a waypoint.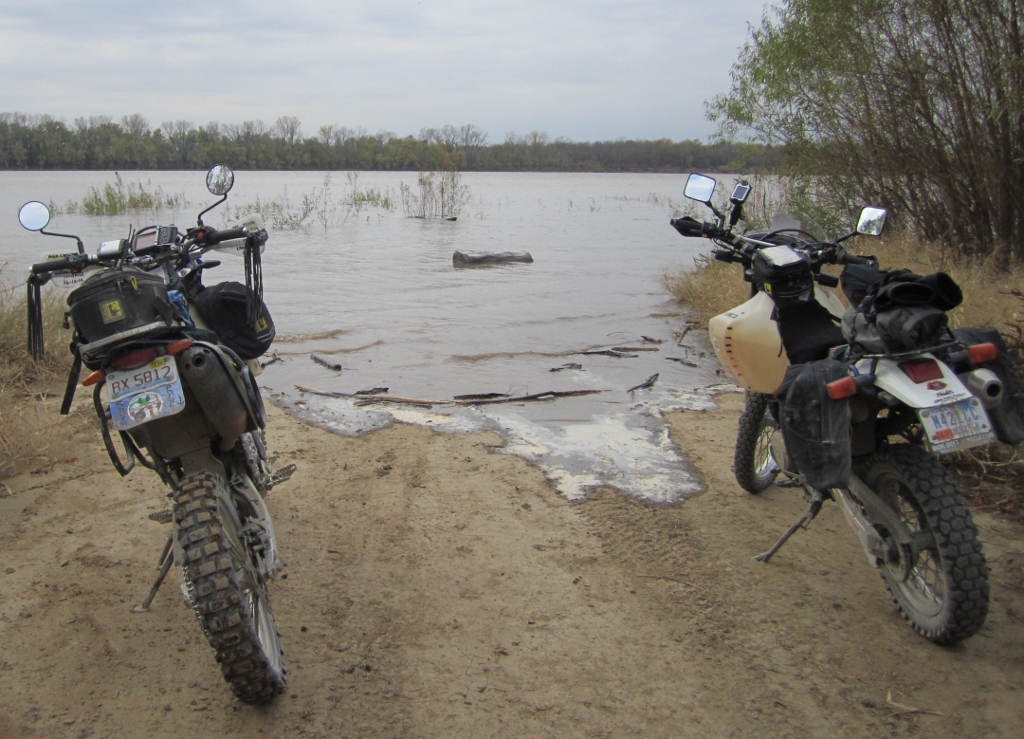 Loose Nut's DR650
I think this is an 8 or 9 gallon tank ?????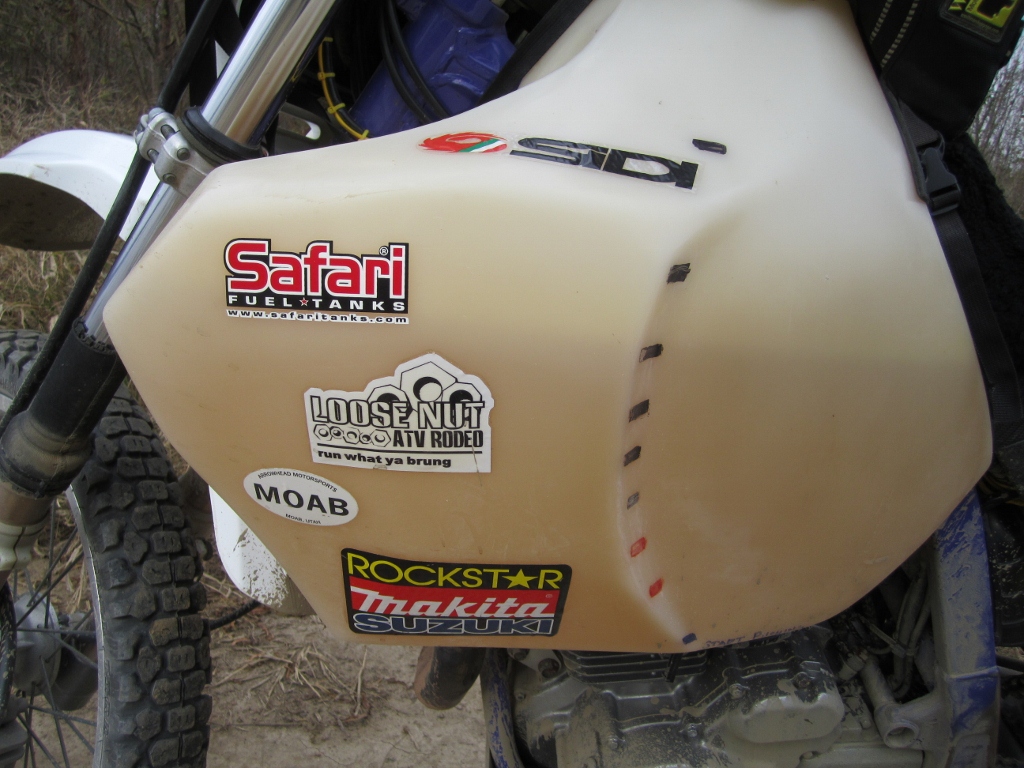 Loose Nut made a windshield out of an upside down helmet face shield-------I accused him of being an ex cheap ass KLR rider like myself..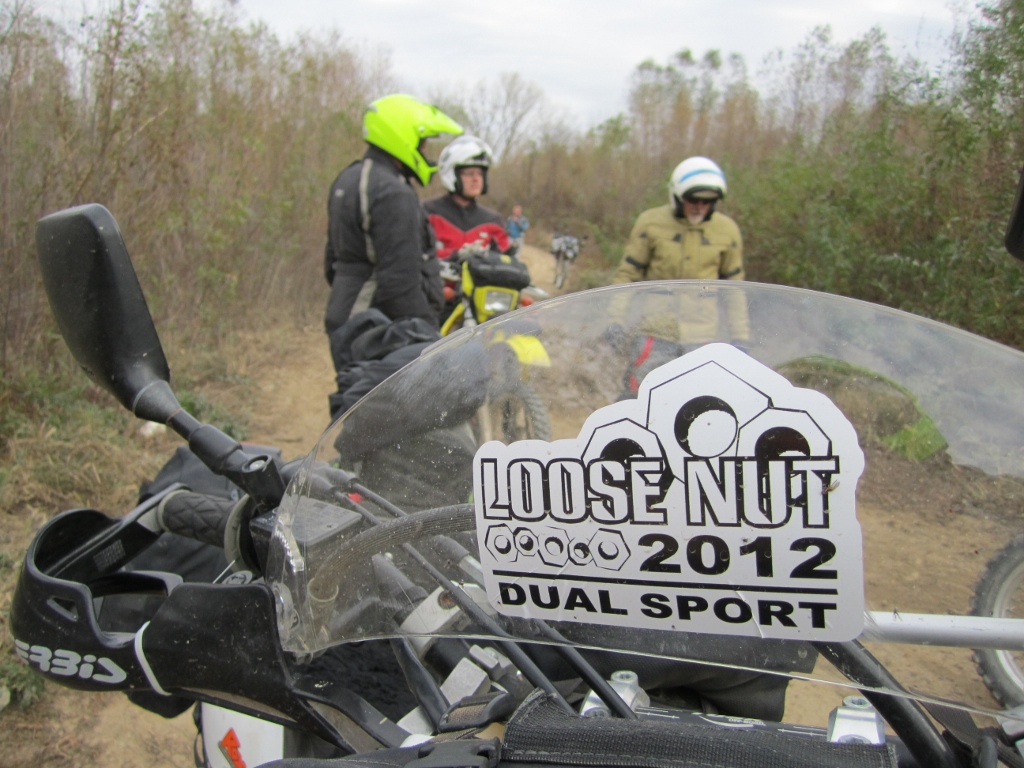 This I was told was one of the old dam locations---which seemed abandoned now.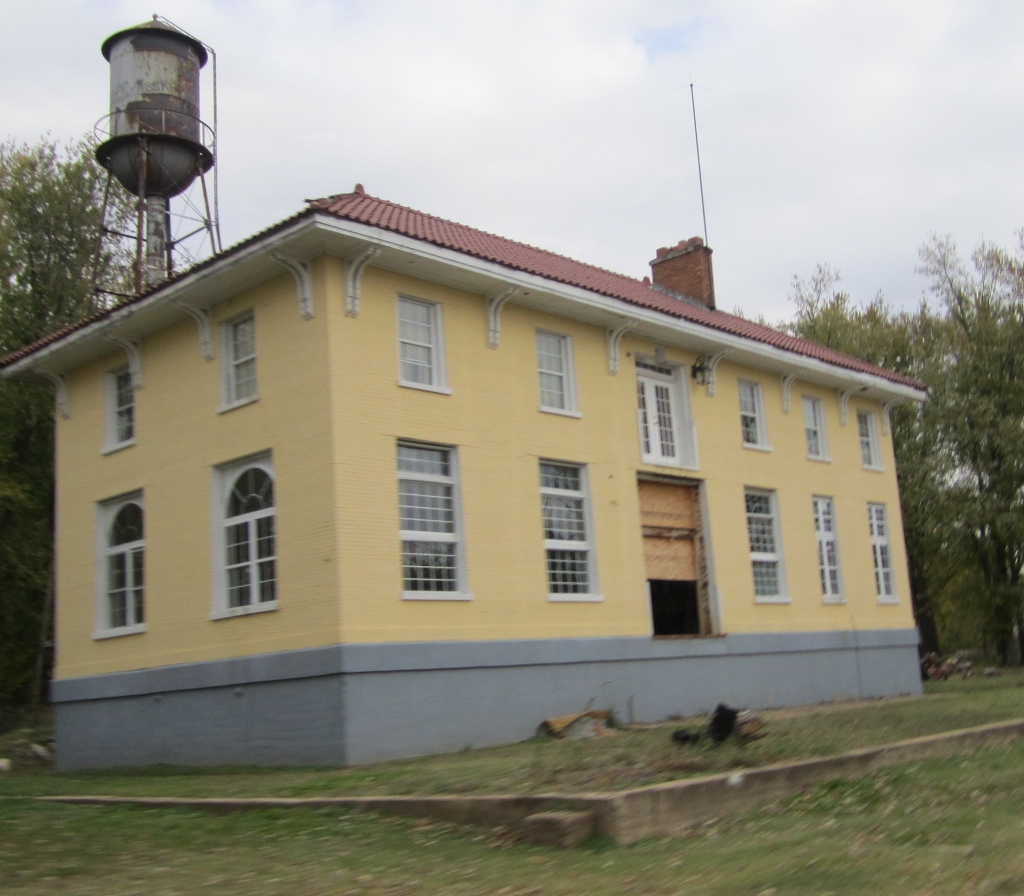 This was one of my favorite parts---the rairoad came over the Ohio river from Henderson, Ky.
and then went on this elevated tressel for miles-------it was spectacular.
We road right beside it.
In the late 50's or early 60's it was said "LooseNuts" dad rode all the way across the Ohio river on this on his Triumph motorcycle
from a dare. I myself have contemplated feats of amazement like this---but the knees would get to knocking and I would chicken out.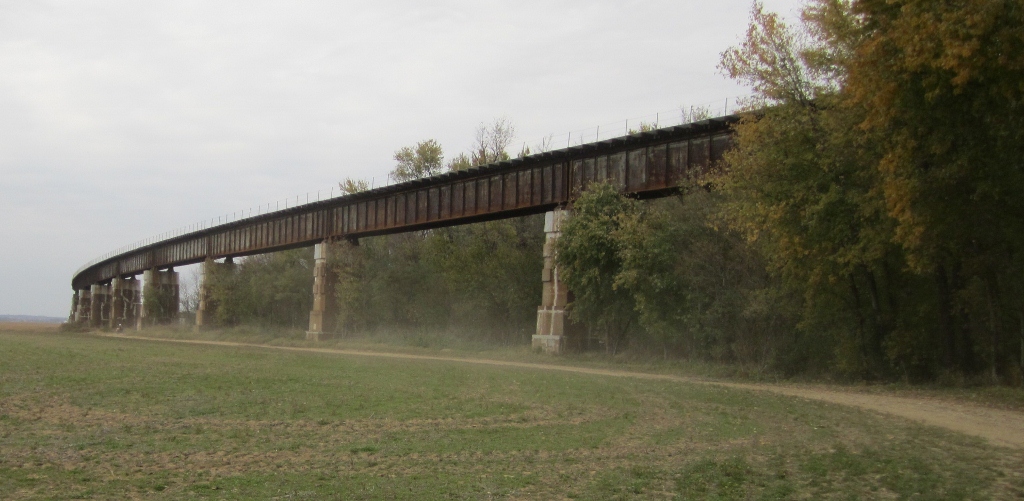 Part of this was some really bumpy rocks and my bike wasn't handling like I thought it always had-----the rocks were deflecting my front wheel
and throwing me all over the place------stupid me---I had my steering damper off----a little adjusment and I loosened up on the death grip I
had on the bars and accellerated away.
There were so many neat places we went on this ride that I felt like someone was going to arrest me.
I was having so much fun on these dirt remote roads---and surely there are laws against that.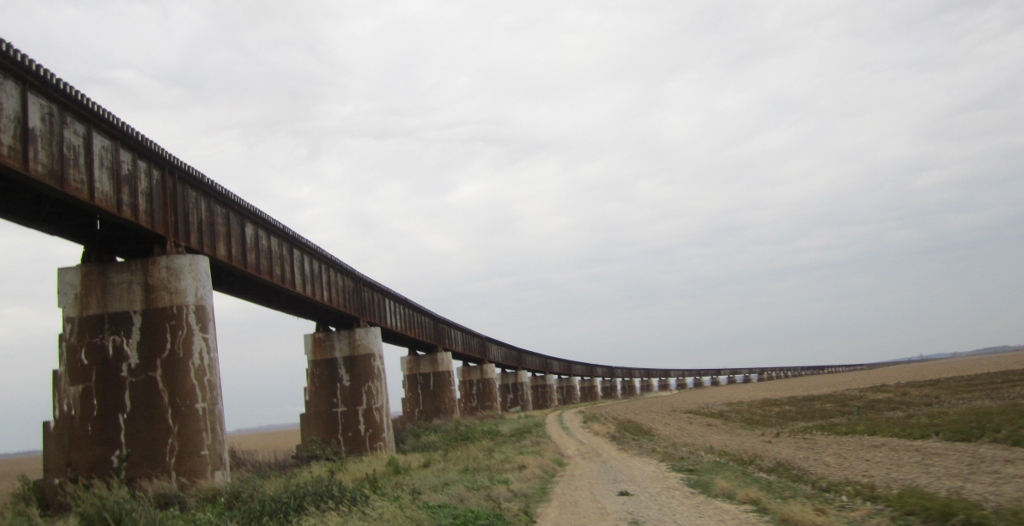 OK-----me and Roger had ridden alone on the start of this ride------but thankfully we caught up to LooseNut and his gang of hooligans and got the full history
of all the neat places we went.
Let's see ------Loose Nut and his gang were running sweep---me and Roger had been behind them.
I guess that makes us............
"Lappers"
I'd been there before-many times !!!!
This is where the old LST 325 is docked.
It is a decommissioned tank landing ship and a lot of these boats were built right here in Evansville.
The first boat was launched in 1942 -----the ship building facility in Evansville during World War II employed
19,000 people and built 2 ships per week. What a fascinating piece of history.
You can take a tour of the boat---and it is still operational and leaves it's dock occasionally.


The is no lock here anymore------they blew this one up long ago and built others.
The newer John T. Myers lock and dam completed in 1975 replaced locks 47, 48 and 49.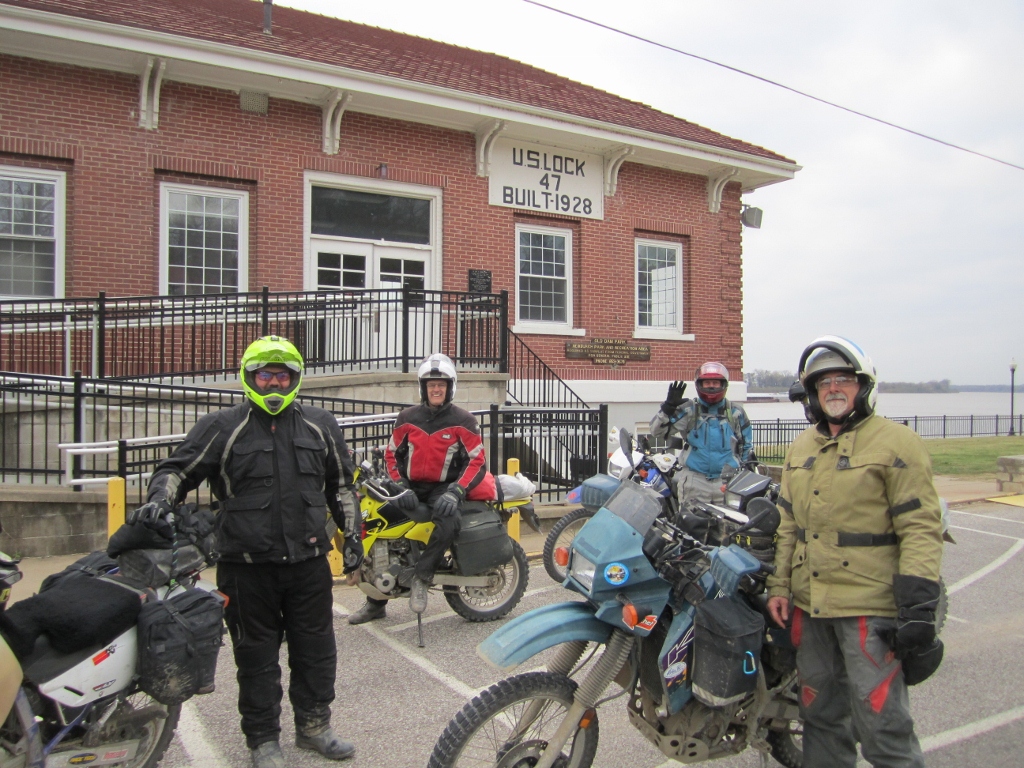 My favorite bridge of the ride.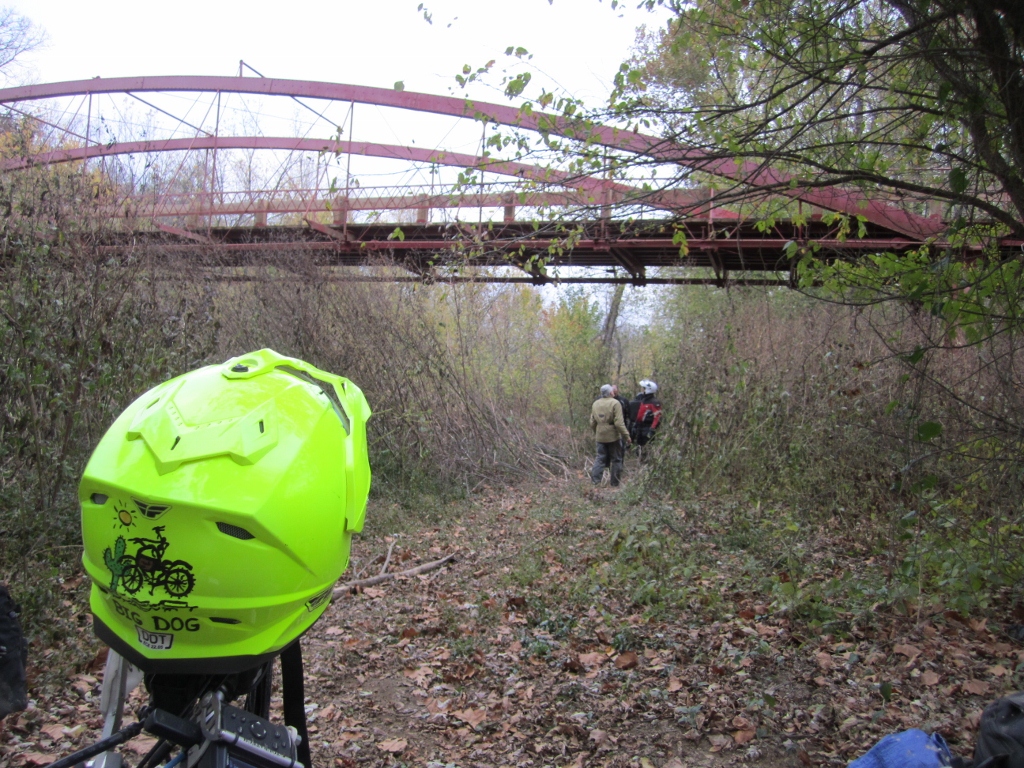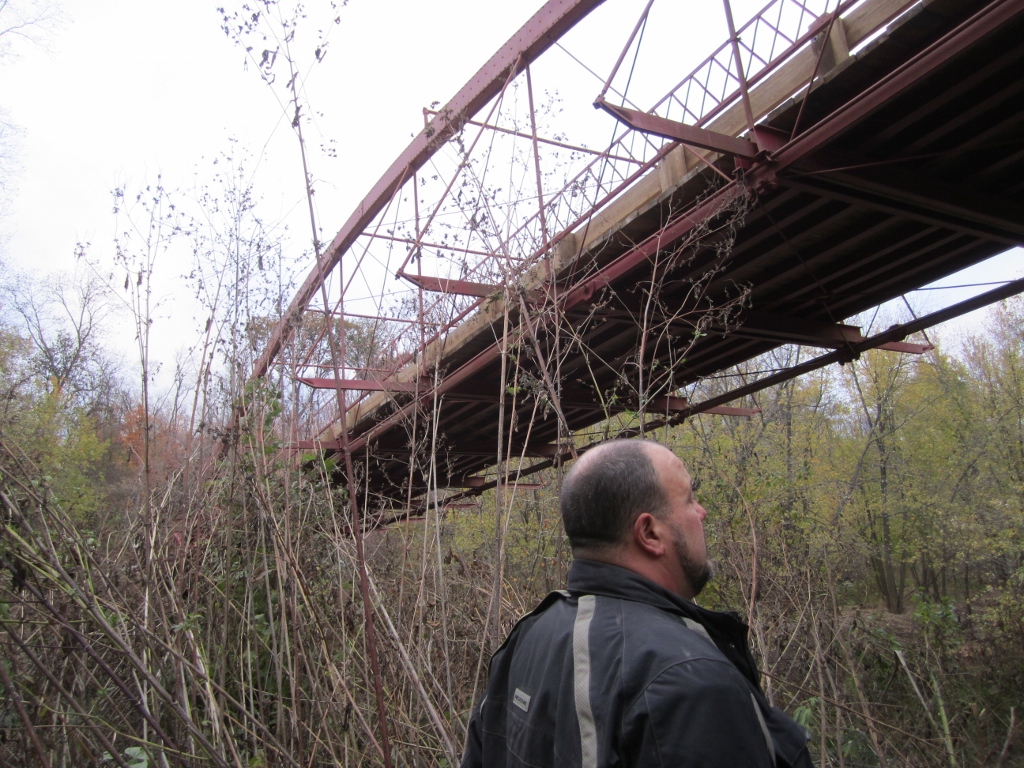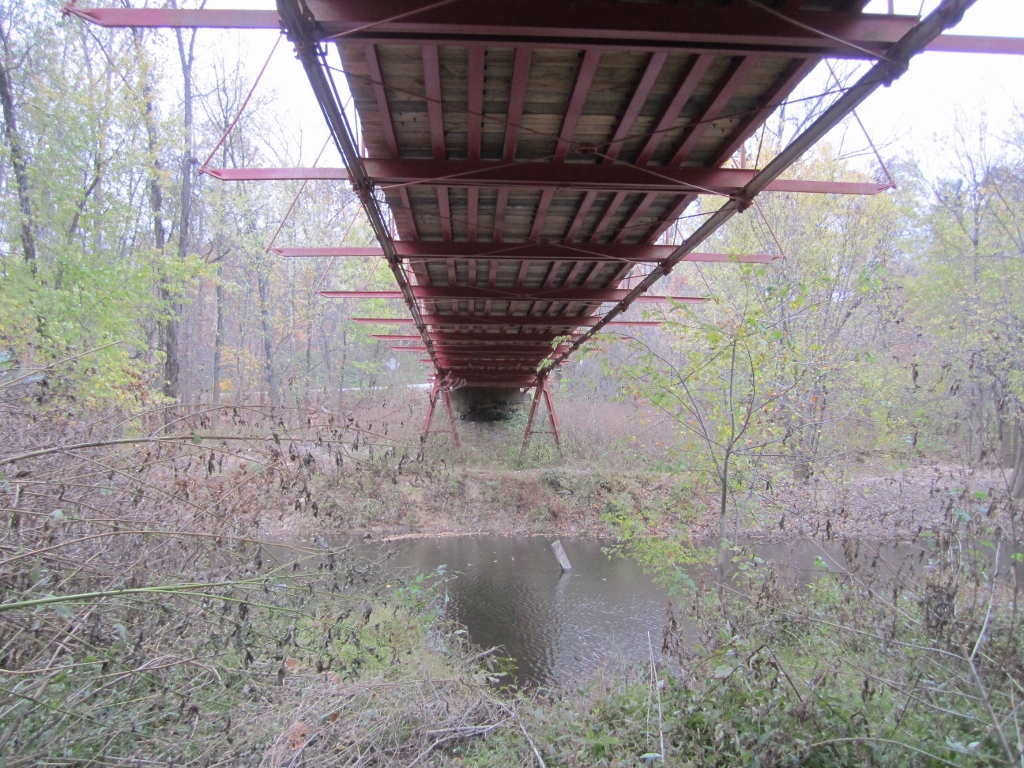 Pronounced "Bonner"
Calling it the "Boner" bridge will get you immediately corrected by locals.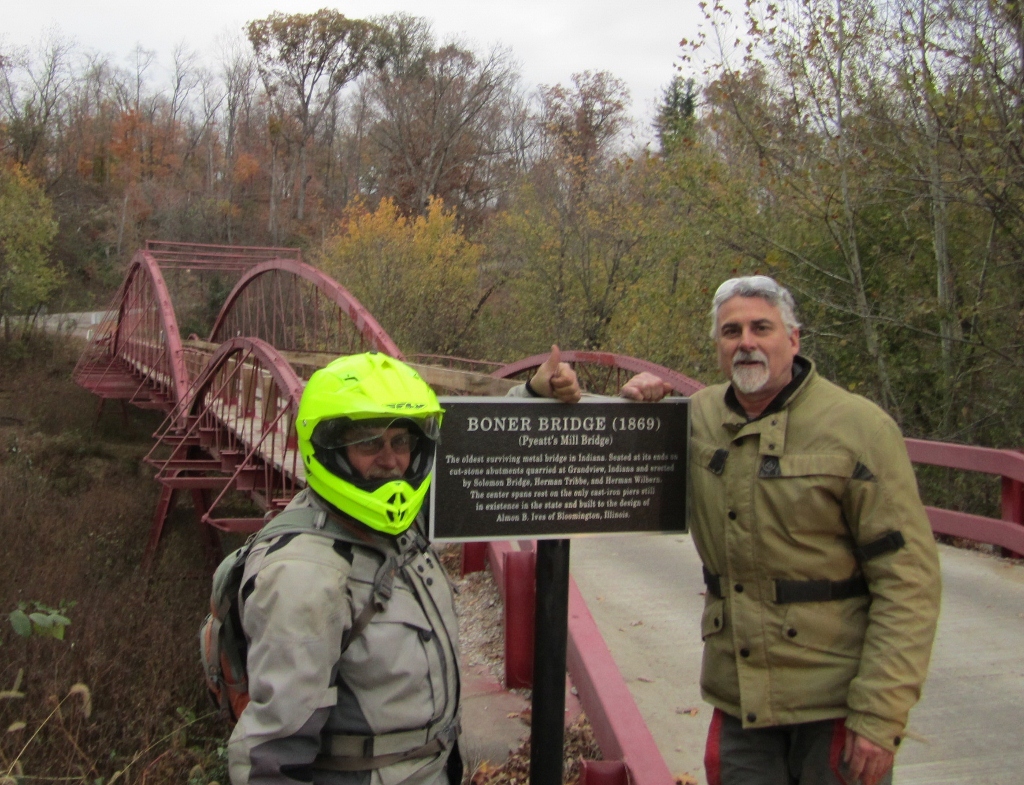 Boner Bridge is thought to be one of only five of its kind in the United States. The one-lane, iron bow, string-trussed bridge
has sandstone abutments, iron bents and a wood plank floor. It is unique because it is known as a three-span bridge as it contains three arches.
The two arches on both ends of the bridge measure 50 feet in length. The middle arch is the bridge's longest, measuring 160 feet. It was re-floored and repainted in 1931.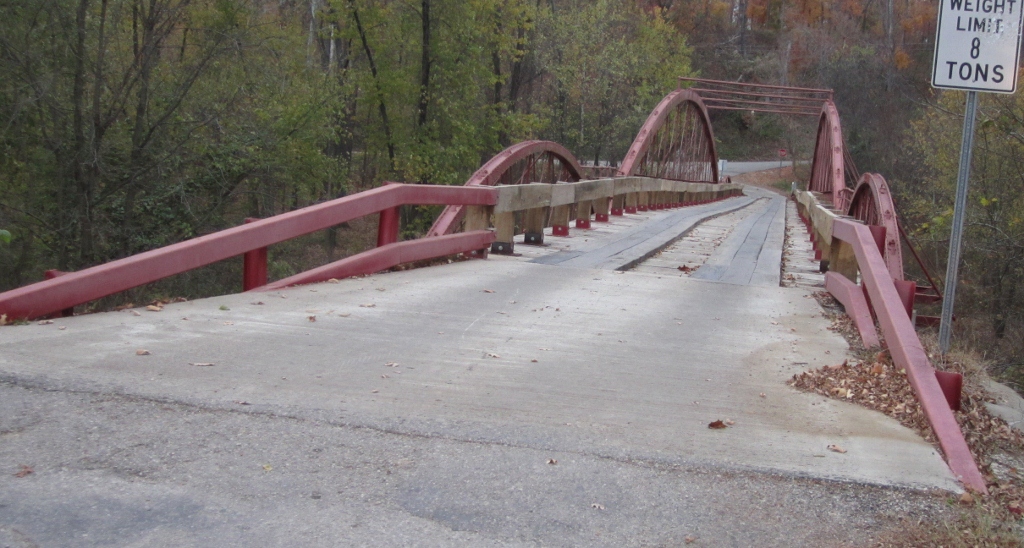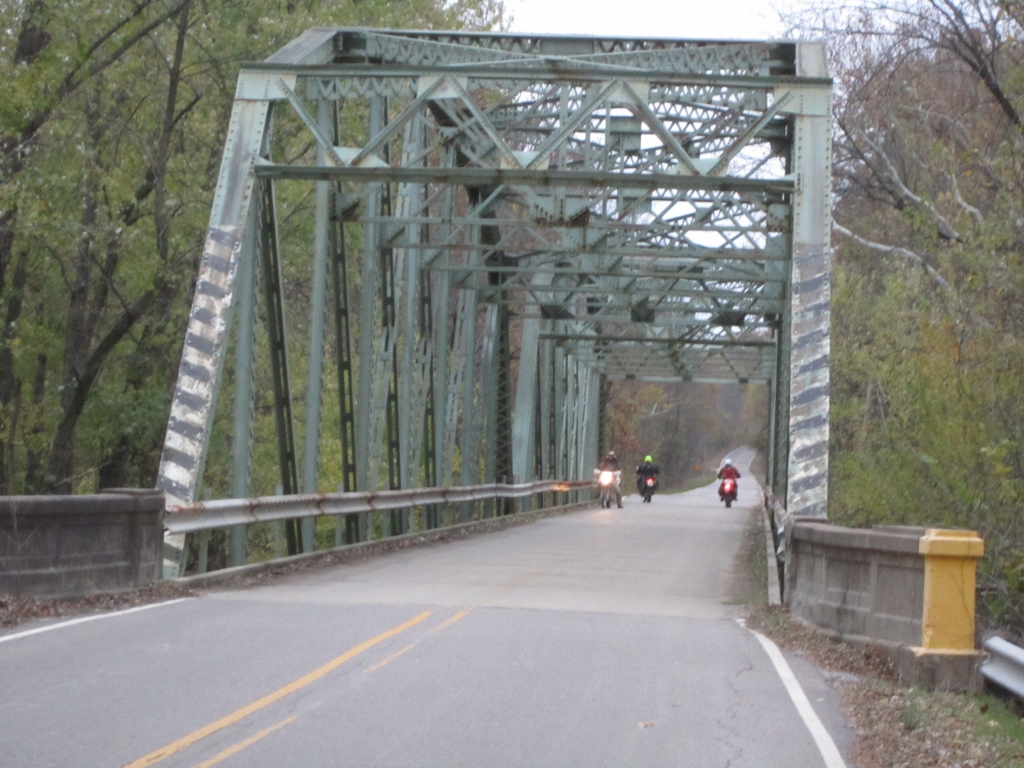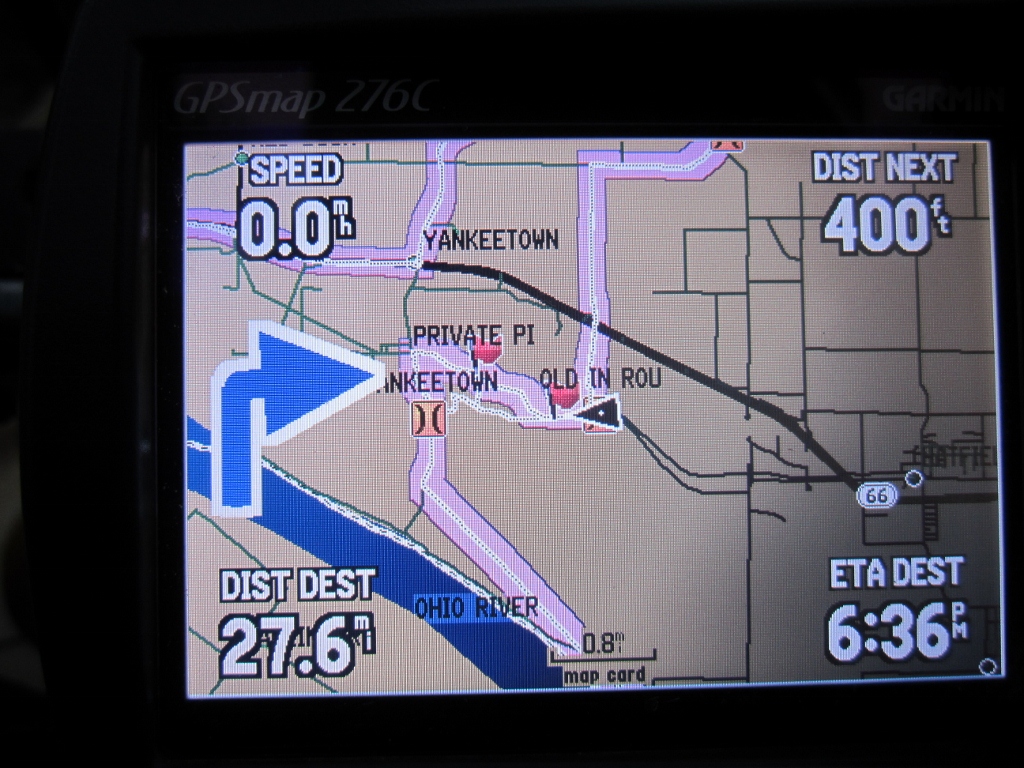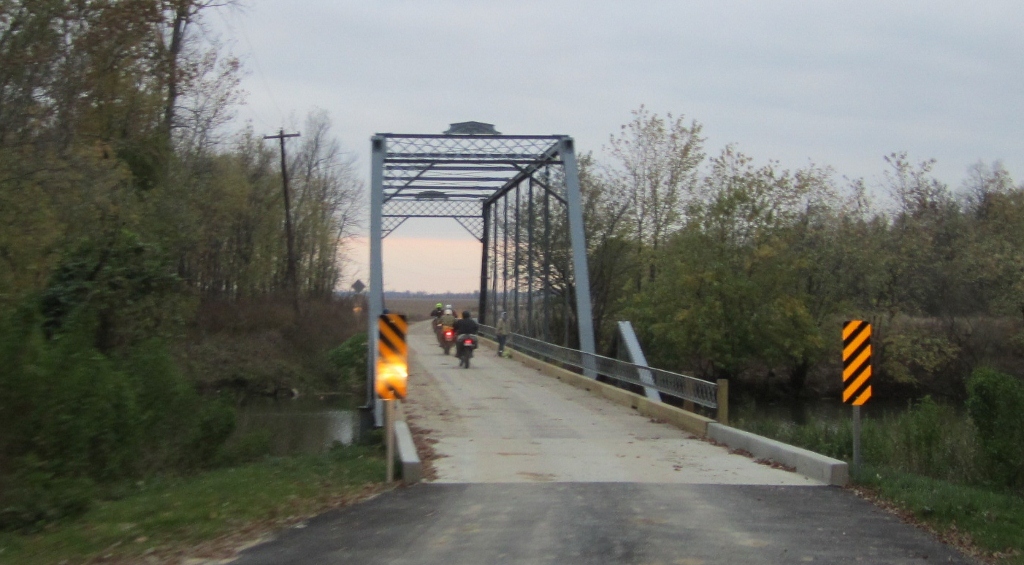 This is the Yankeetown bridge and we got the whole history lesson from Loose Nut.
I was all ears----and appreciated every word.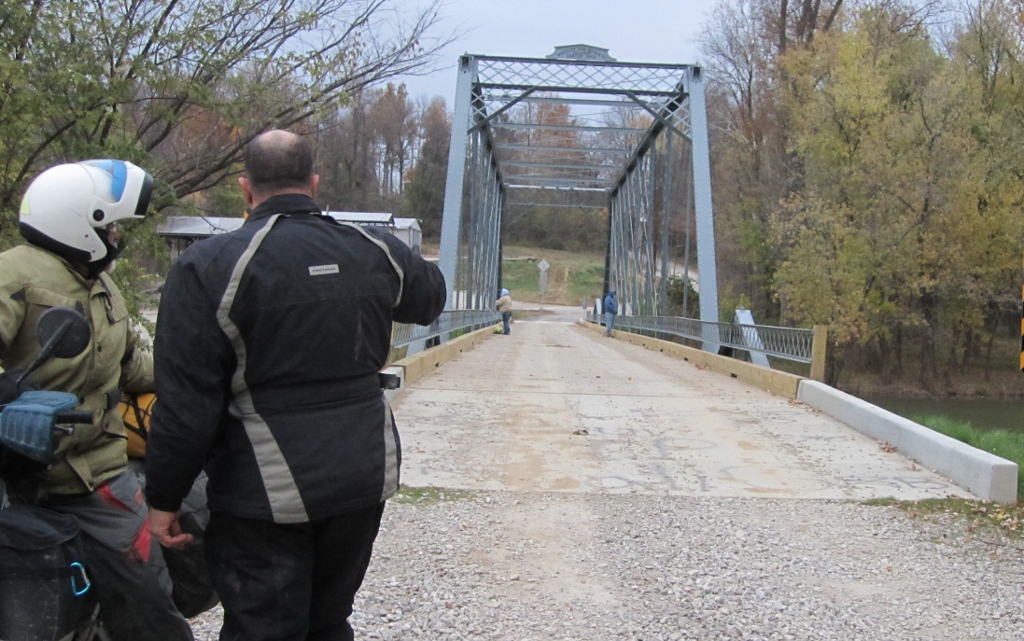 The last 2 hours of todays ride was sone in total darkness on a rutted up dirt road with huge bottomless mudholes you hoped to avoid.
Full concentration was necessary and even tho you were eating dust it was best I found to keep the guys tailight in front of you insight
to help you navigate the road----also...........if he crashed you could slow down and not do the same---maybe !!!!
It was a combination of nerve racking and a hoot---------with the hoot prevailing----------wooooo--haaaaaaa !!!!!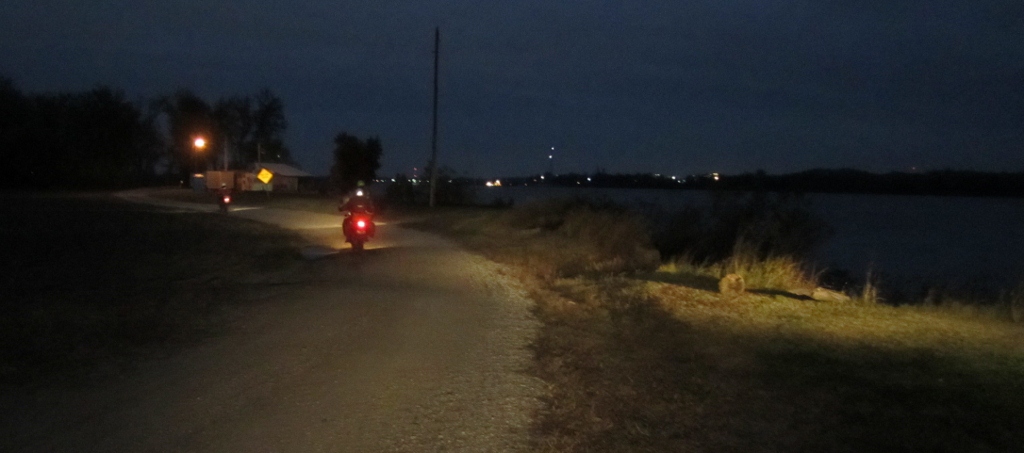 This view of a bridge going over the Ohio into Owensboro Kentucky came into view and I pulled off the dirt road down into the sand bank
and got this picture. We all stood here for quite awhile enjoying the view----and could care less when we got to camp.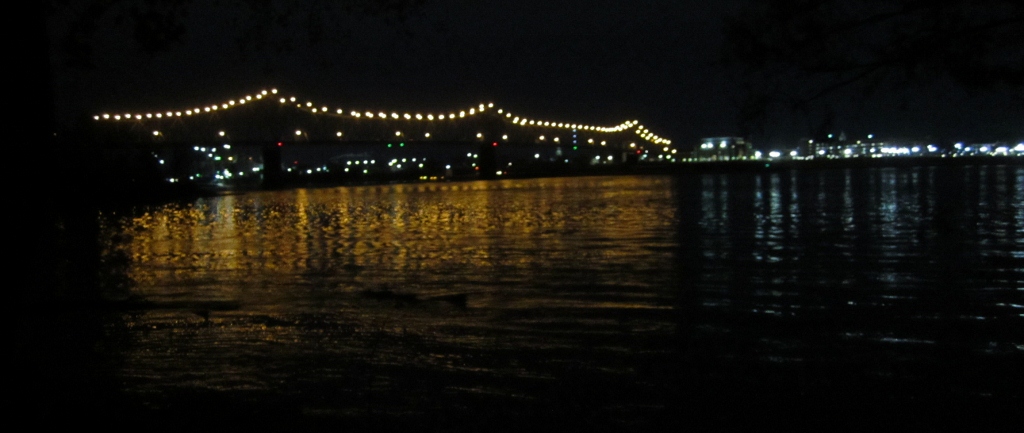 But-----we finally got to camp and "Backmarker" (AdvRider screenname) had this great fire going.
It was getting pretty cold and we huddled the fire.
Berry (Backmarker) graciously put me and "Road Dad" (Jerry Mueller) up for the night in his heated RV.
He picked the 2 olldest and most decrepid riders of the group-------felt sorry for us.
He may have regreted this as his furnace went off in the night and me and Jerry made him go out in the middle of the night
and switch propane tanks-----in his underwear (no picture)-----------wah, wah, wah. ..........Hey it was 33° !!!!!!!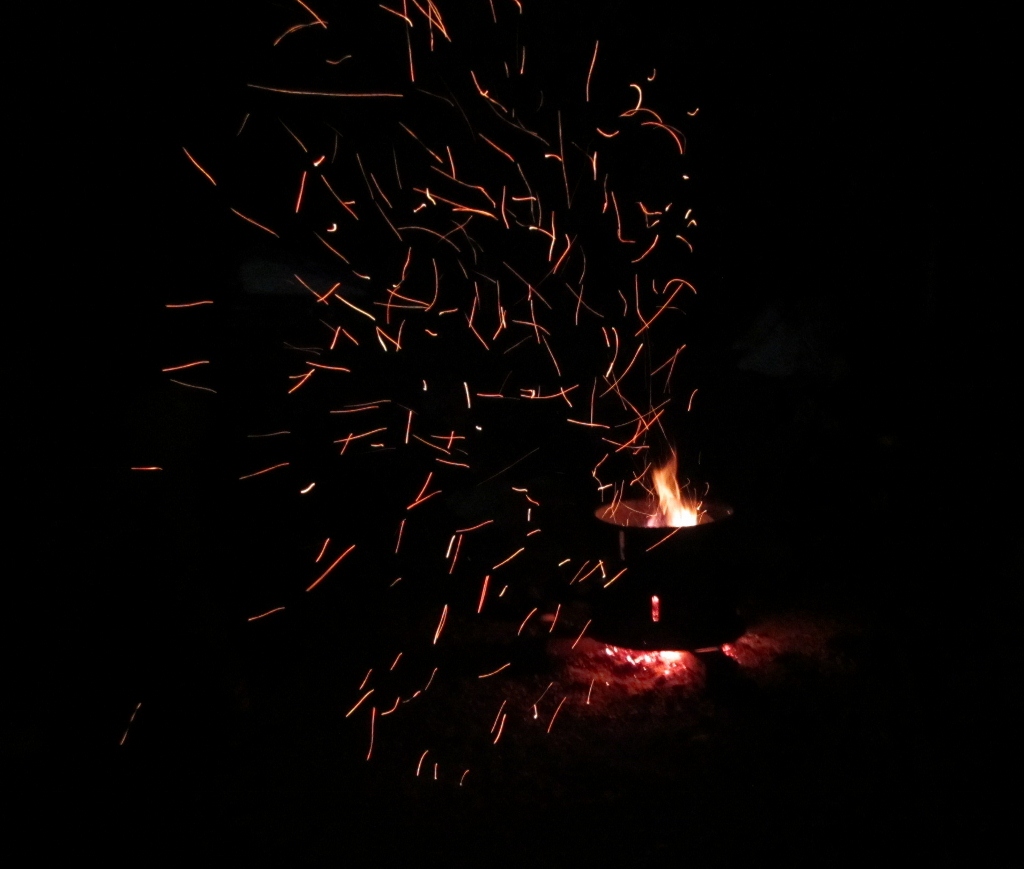 Todays rough map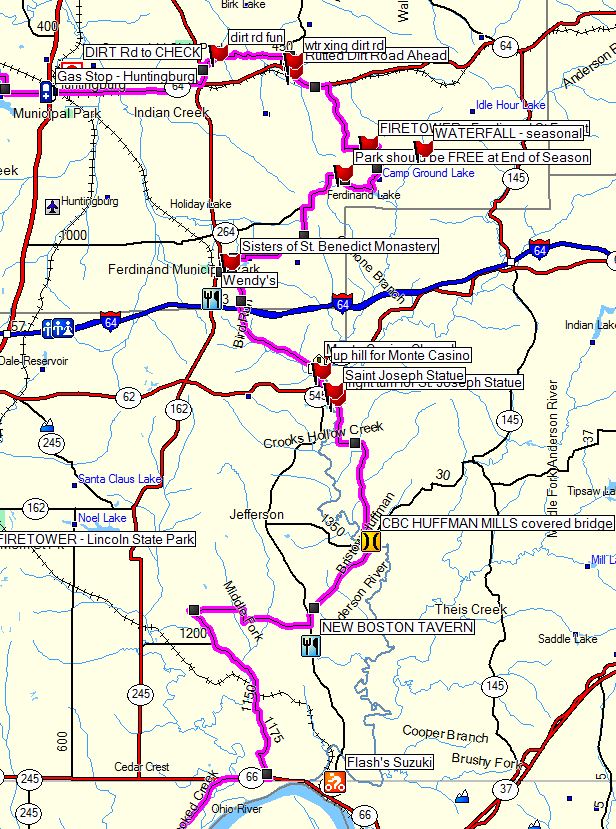 We all got going very early and rode a few chilly miles to the Rustic Restaurant in Rockport, Indiana for breakfast.
It was a hoot and the nice waitress got many big tips.
Now off to the next bridge. The pictures tell the story.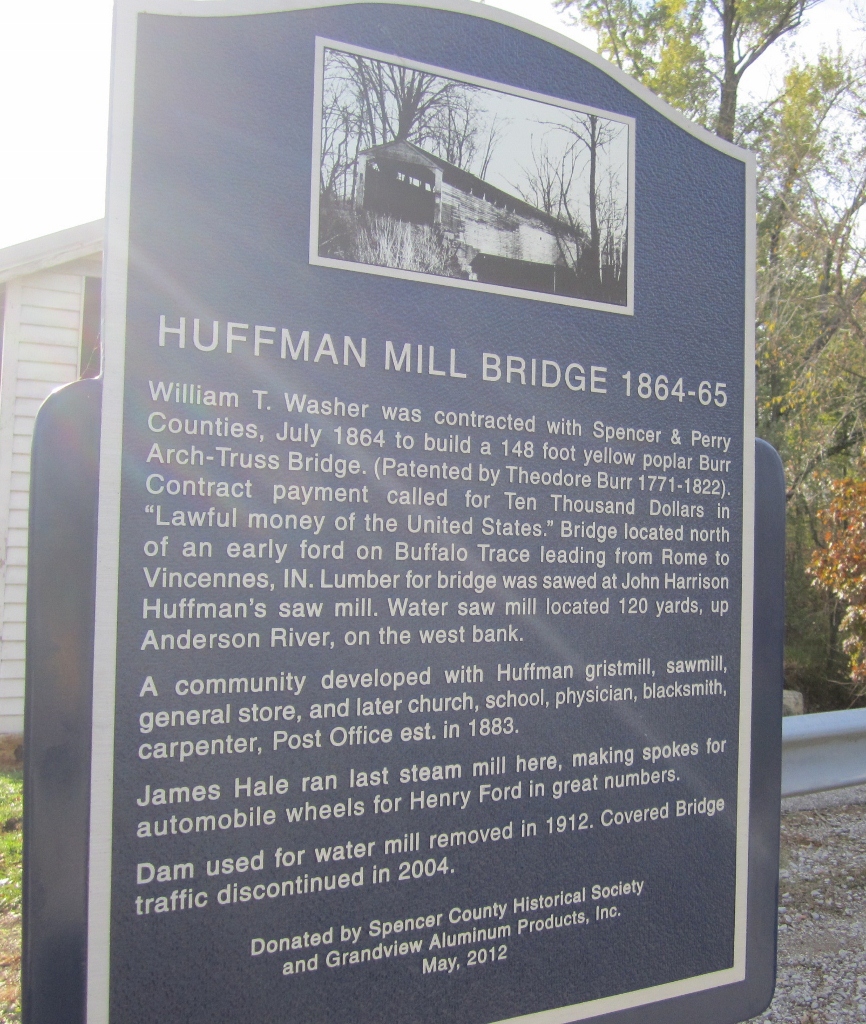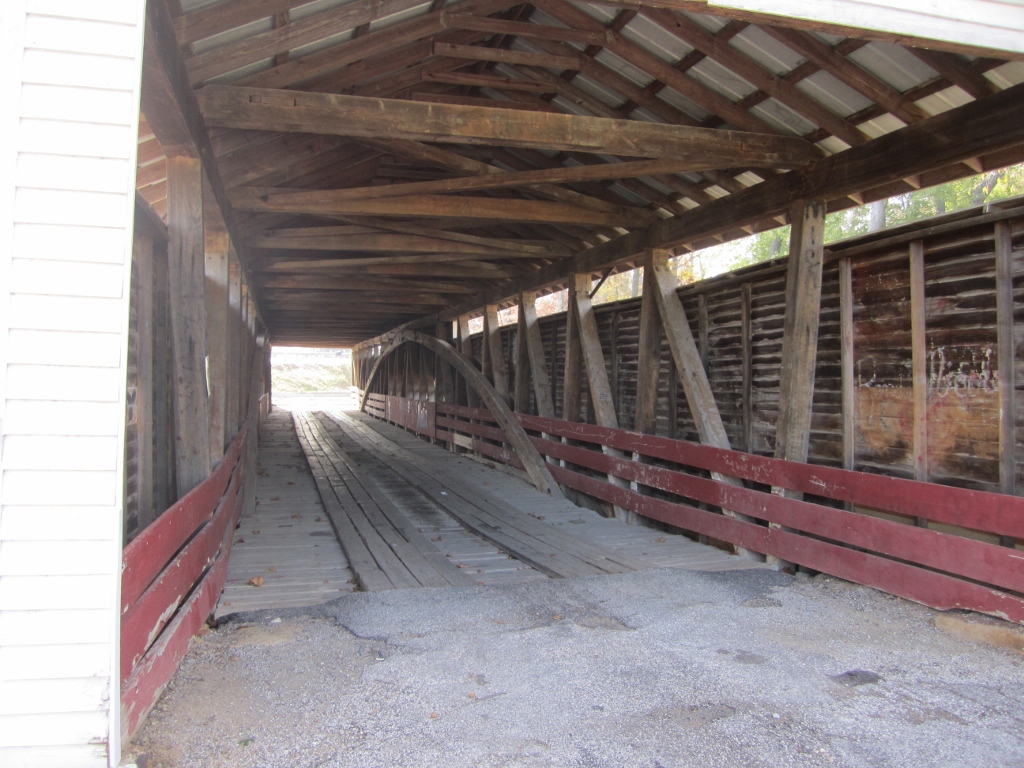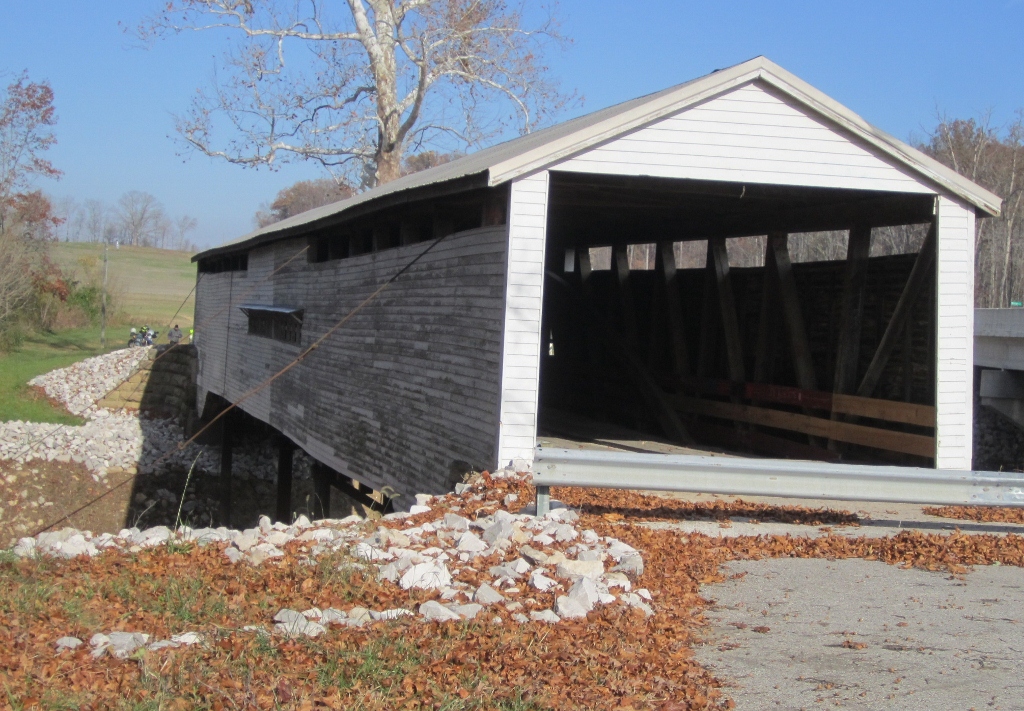 Saint Joseph Statue
Located on the Anderson River banks, the St. Joseph Shrine remains a quiet reminder of the common man's place among the holy.
The oak statue of St. Joseph was carved by Br. Herman Zwerger, OSB, and weighs nearly 1,400 pounds. On May 29, 1949,
Abbot Ignatius Esser, OSB, led a procession of about 3,000 people from the Abbey, across the valley, to dedicate the shrine.
Abbot Ignatius spoke of the foster-father of Christ representing the hidden and unknown people who stand in the background of
world news and events. After the blessing, a Pontifical Mass was held.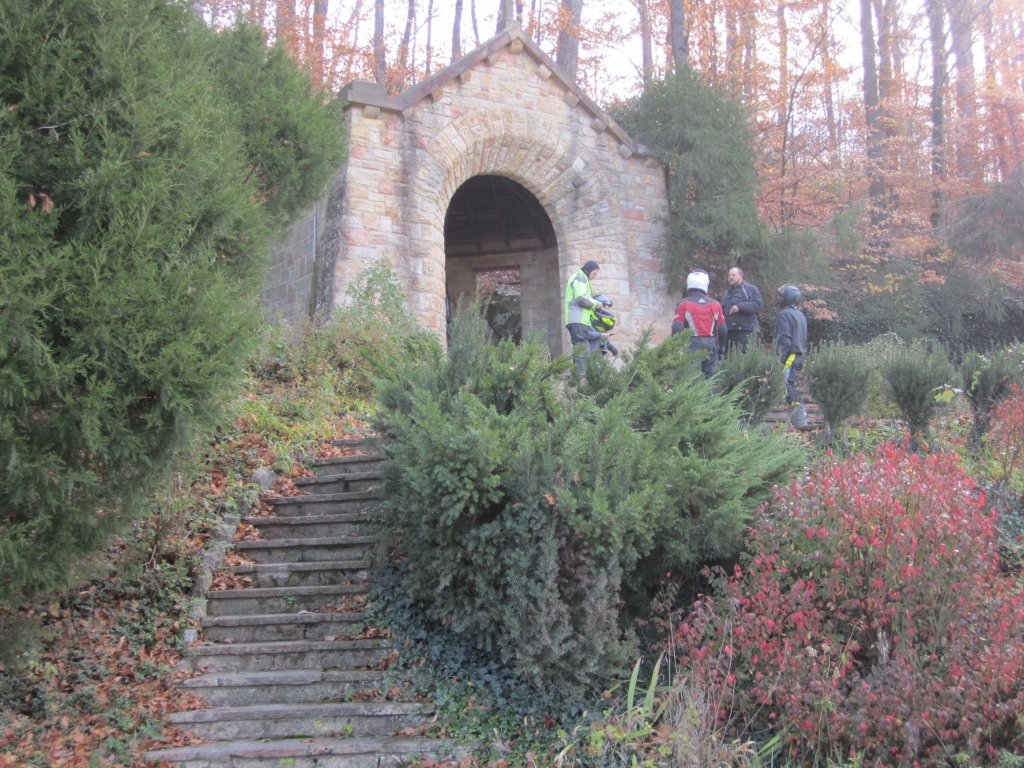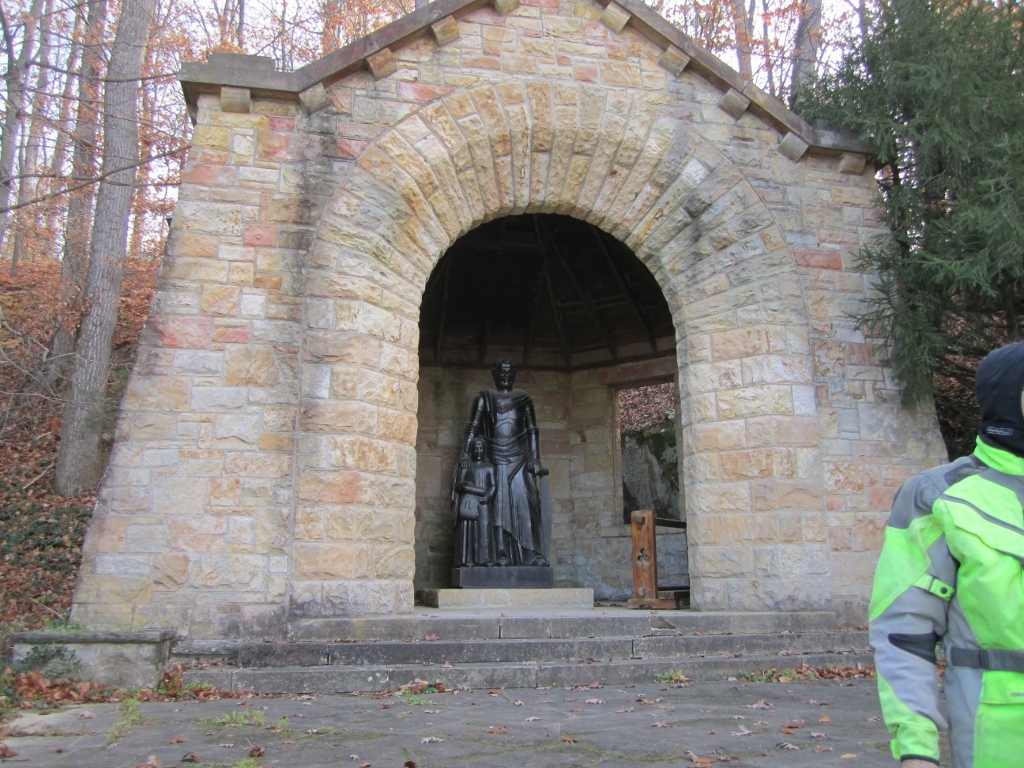 This statue is about 9ft. tall and is solid wood.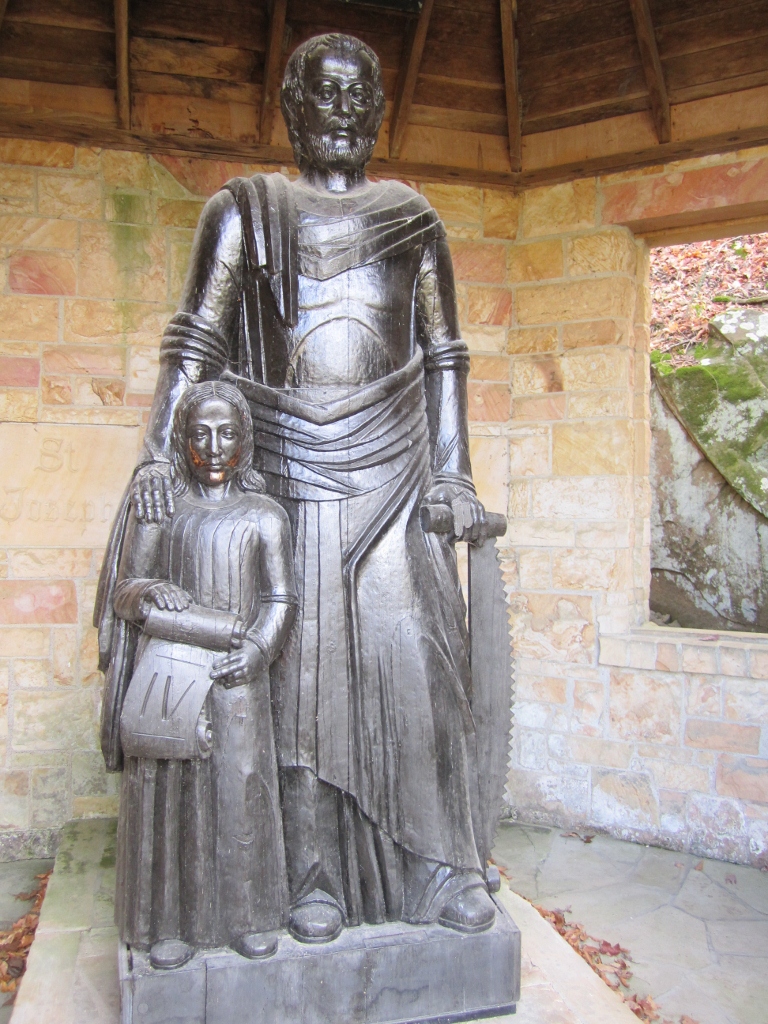 Saint Meinrad Archabbey was founded in 1854 by monks from Einsiedeln Abbey in Switzerland. They came to southern Indiana at the request of a local priest for assistance
in addressing the pastoral needs of the growing German-speaking Catholic population and to prepare local men to be priests.
I took this shot from the steps of the statue---this picture looks like something in a foreighn country---it was so beautiful.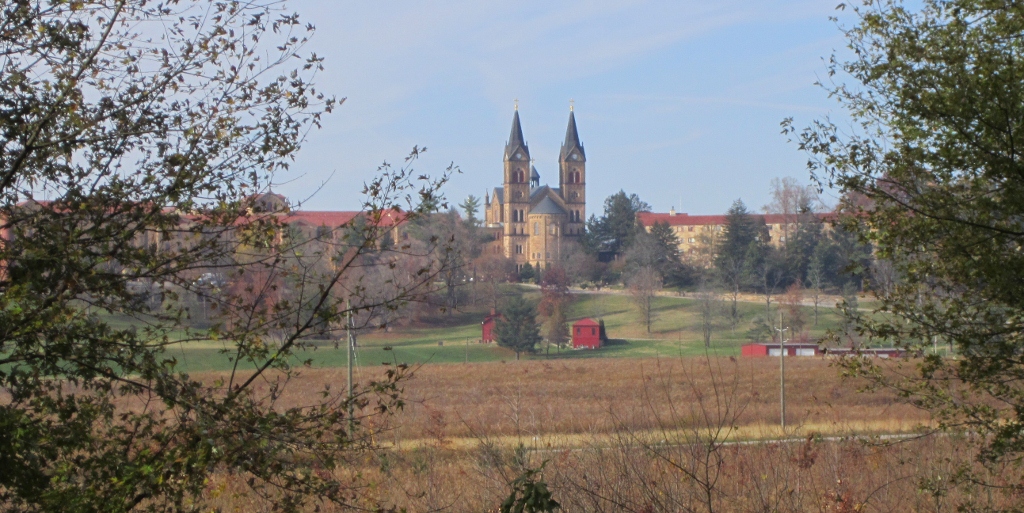 This is down a dead end dirt road and is called the Monte Casino Chapel and sits by itself in some beautiful landscape.
It is open for you viewing 24 hours a day----anyday.
The history of Monte Cassino Shrine tells how a novena to Our Lady of Monte Cassino is credited for saving the village of St. Meinrad from
a smallpox epidemic in 1871.
The faith that God's people placed in the intercession of Mary more than 140 years ago has not waned. Since the chapel's dedication
in 1870, thousands of people have visited the sandstone chapel to offer their prayers and petitions.
It was spectacular inside and we spent a lot of time looking it over.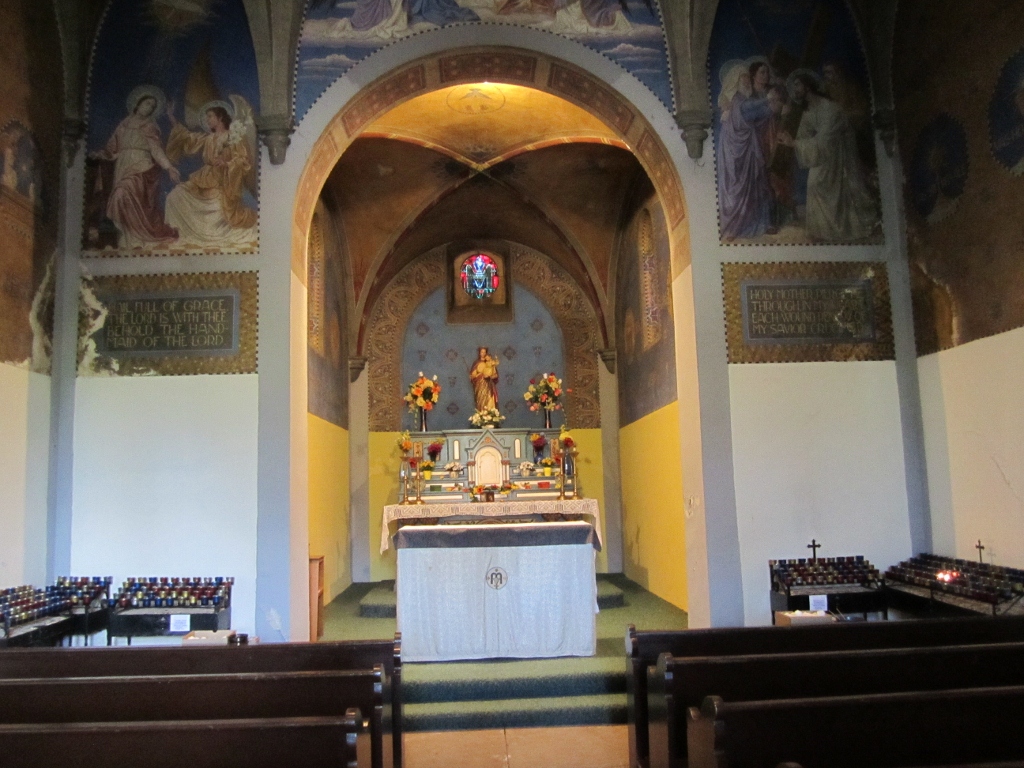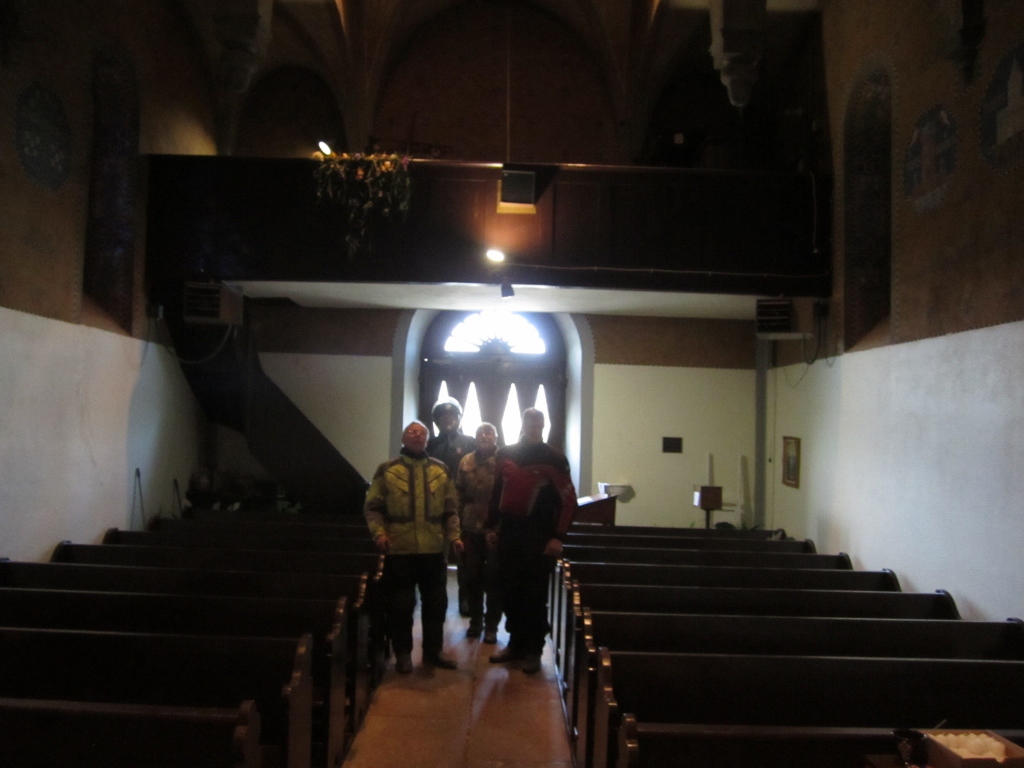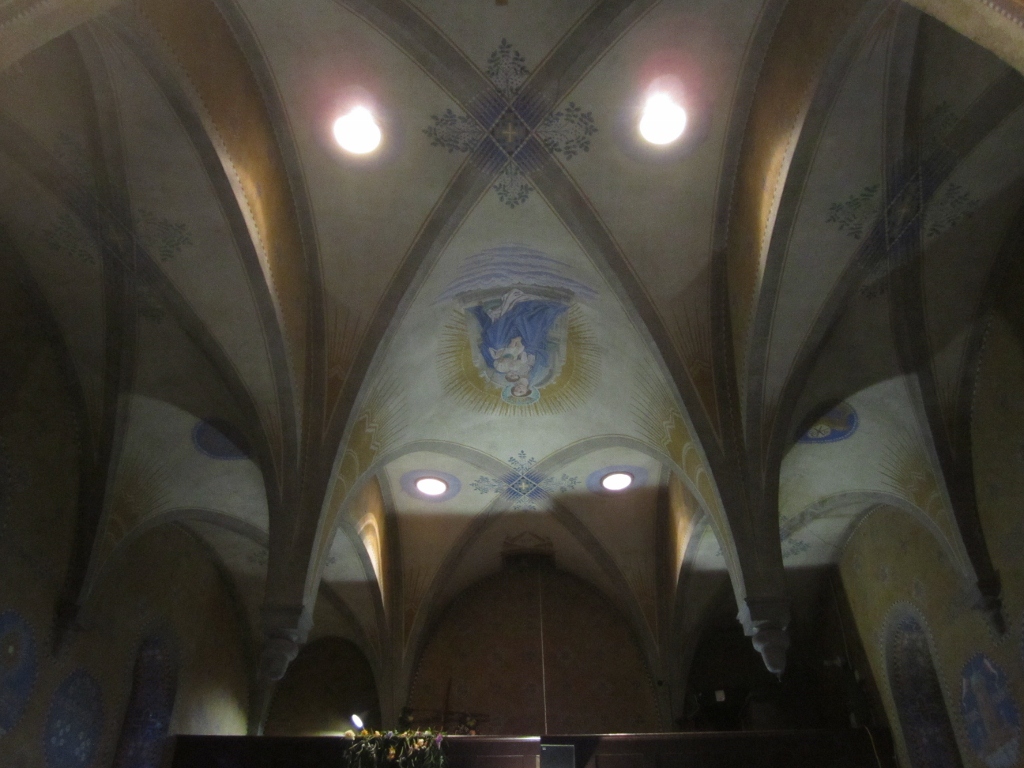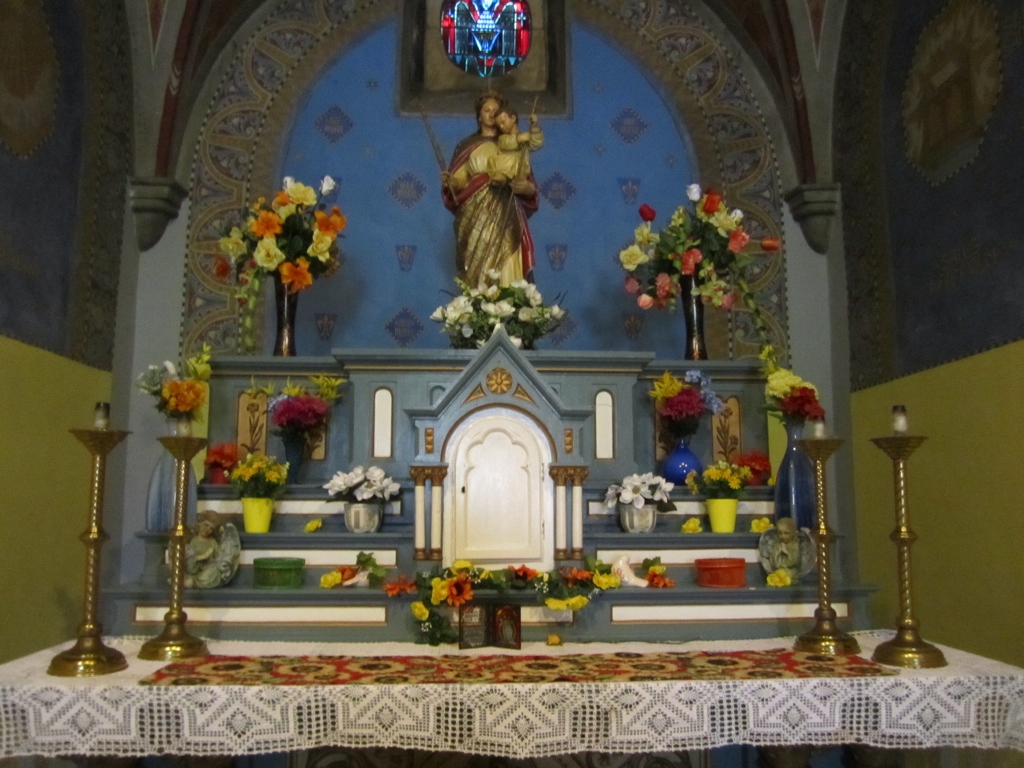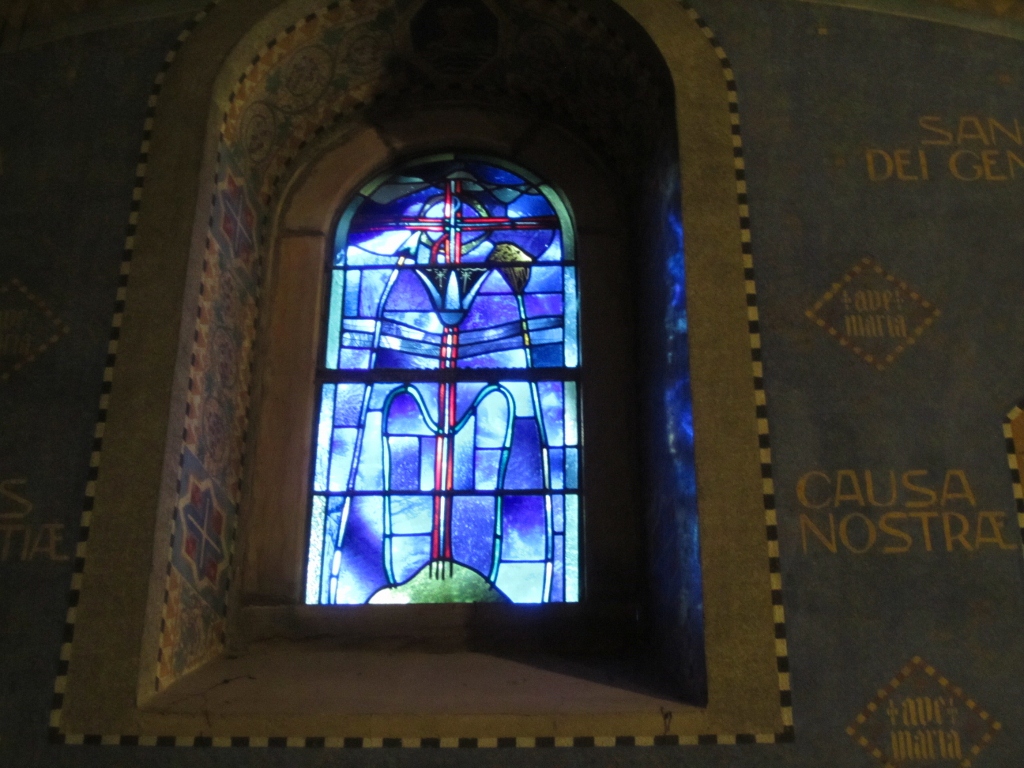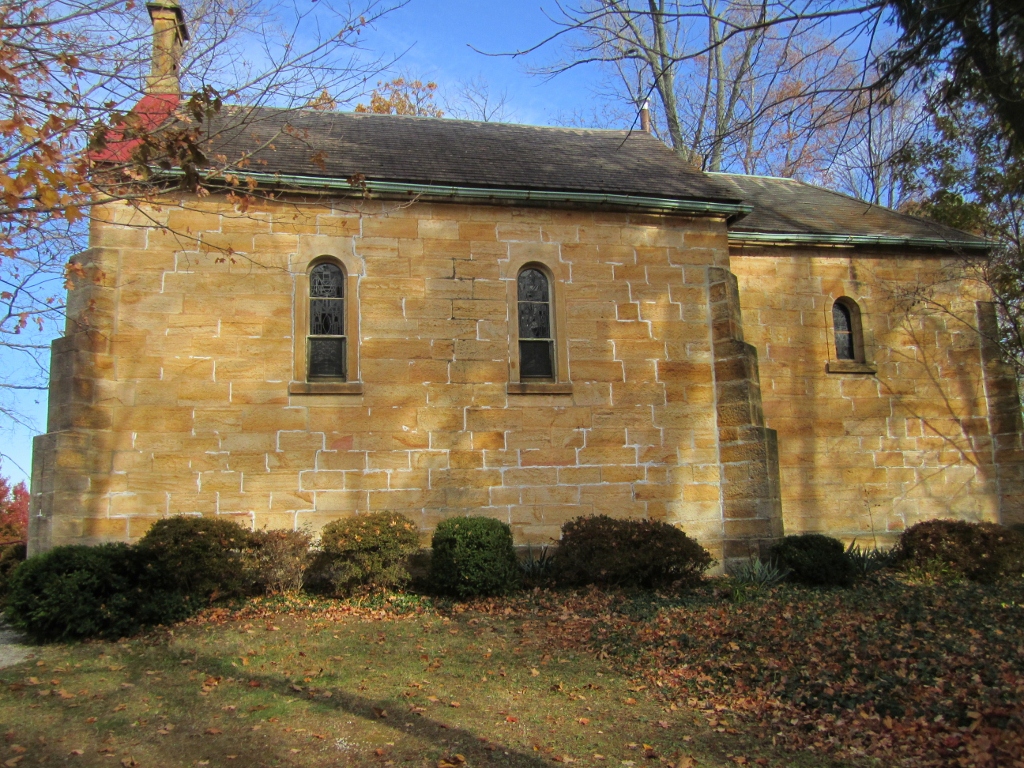 I think this was the "Sisters OF St. Benedict Monestary".
Tours can be taken of this magnificent structure.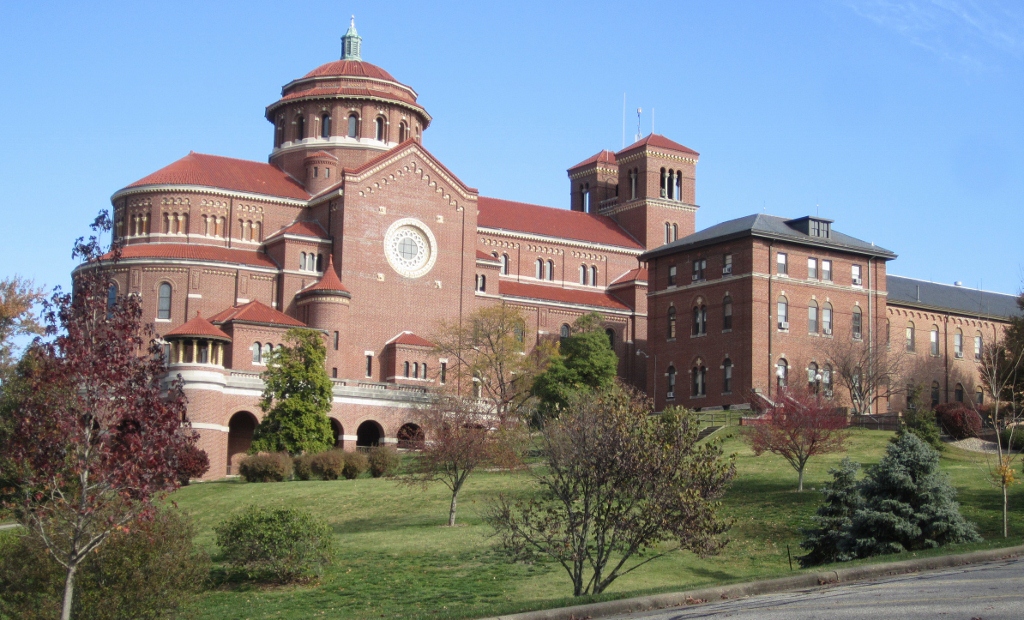 On a lonely dirt road we came to this firetower. It's rare that any of these are open for climbing.
This one was and me and "LooseNut" didn't pass up the opportunity.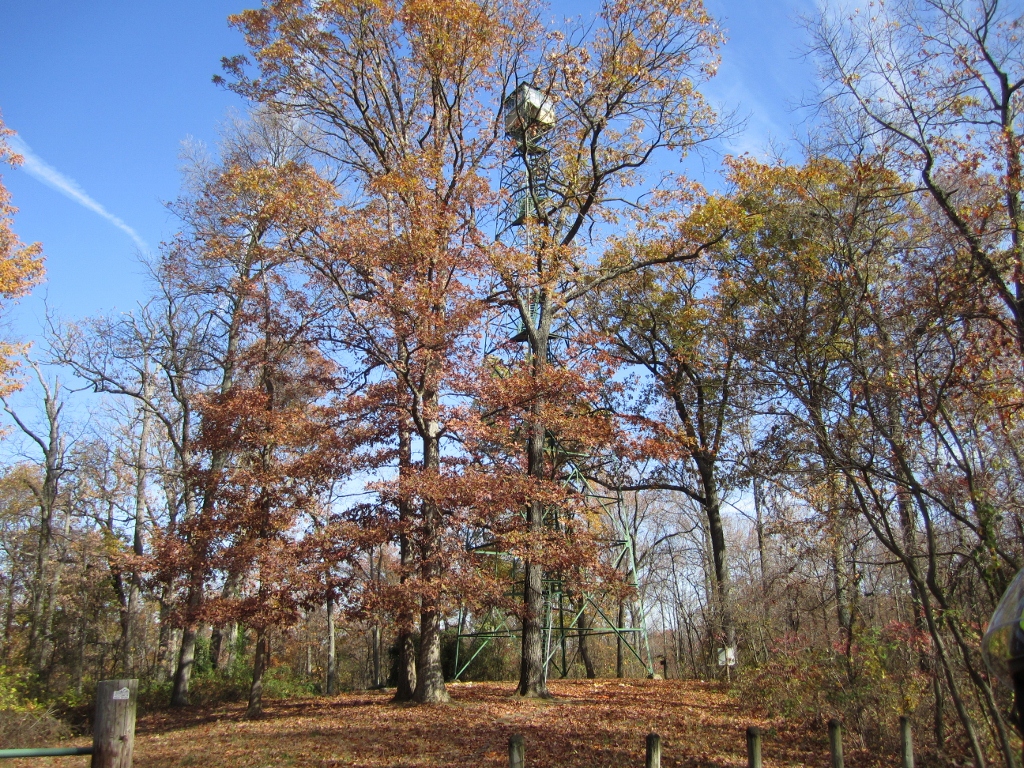 I ride bicycles a lot------and thought those strong leg muscles I've aquired would be the same ones I'd need for the climb.
They weren't---and I could hardly straighten my leg the next day.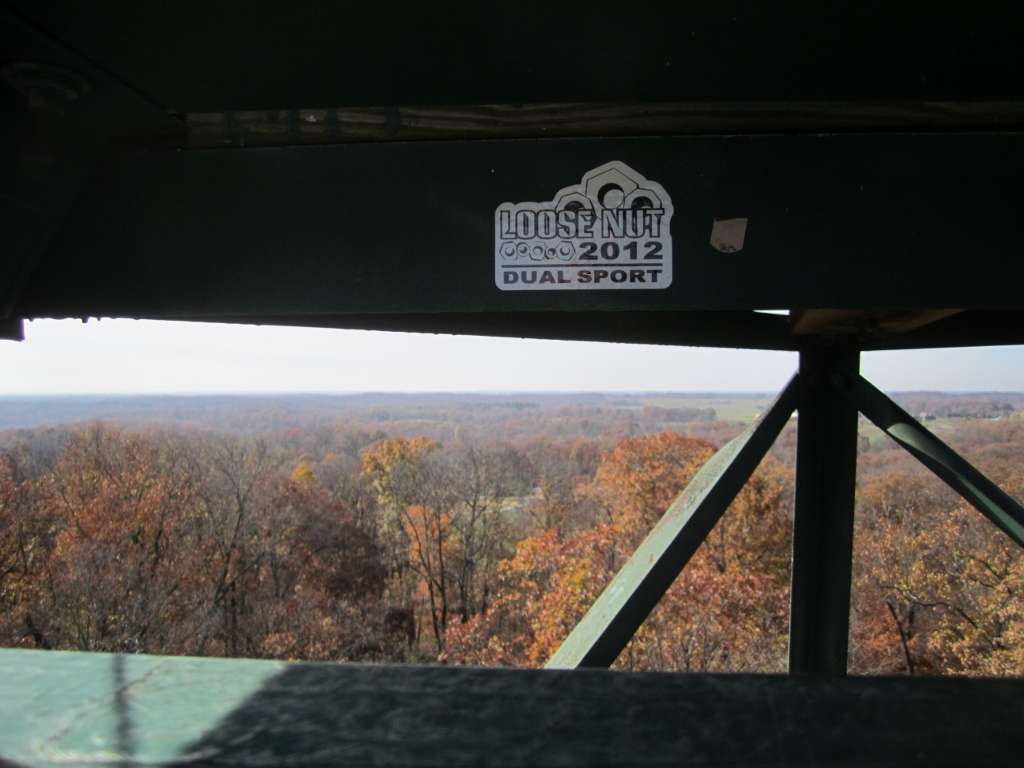 One fellow in our group would climb this tower occasionally and cook a Jet-Boil breakfast up here and watch the sun come up.
I think I've got to do that---------and I will. Another thing on my bucket list.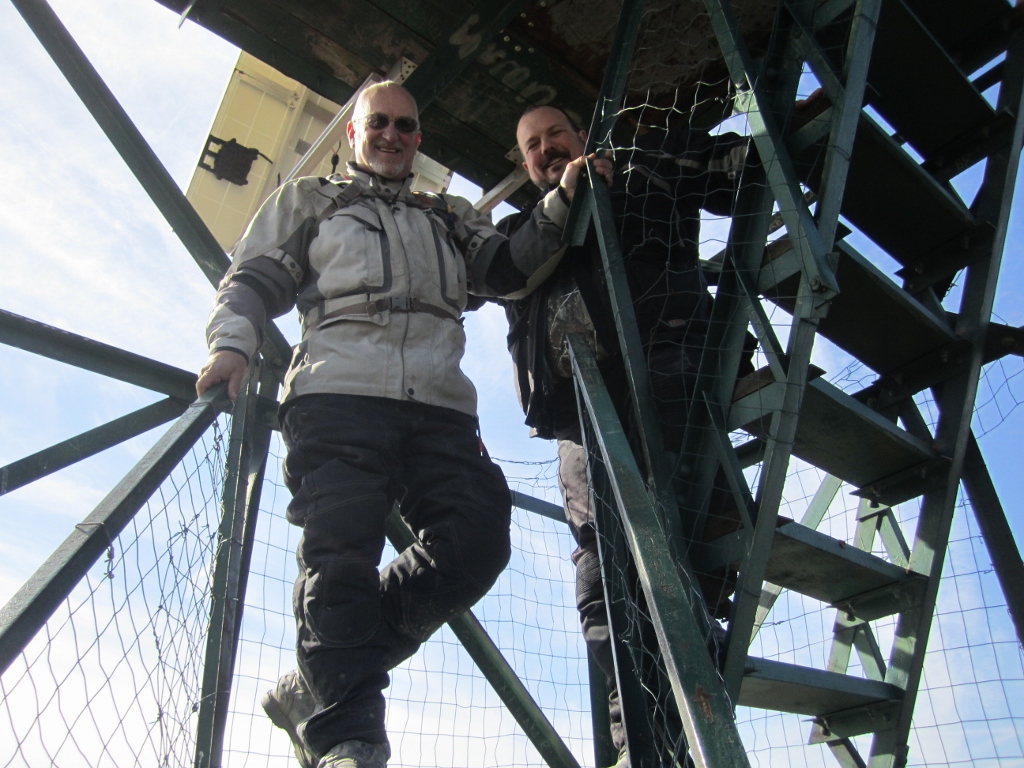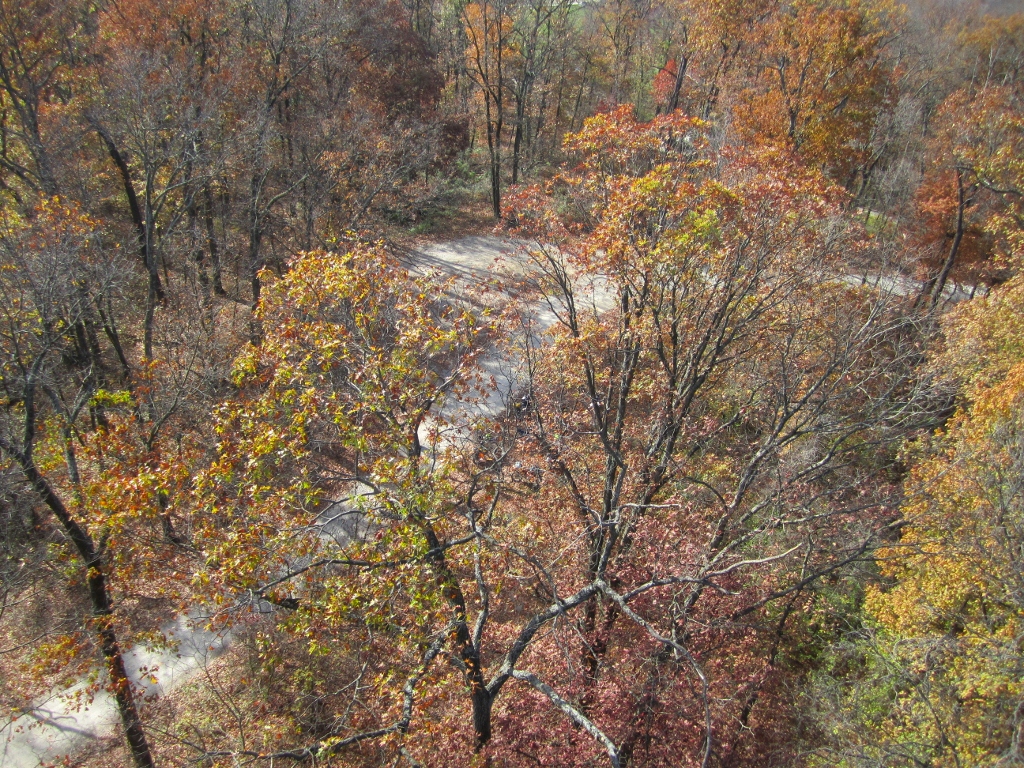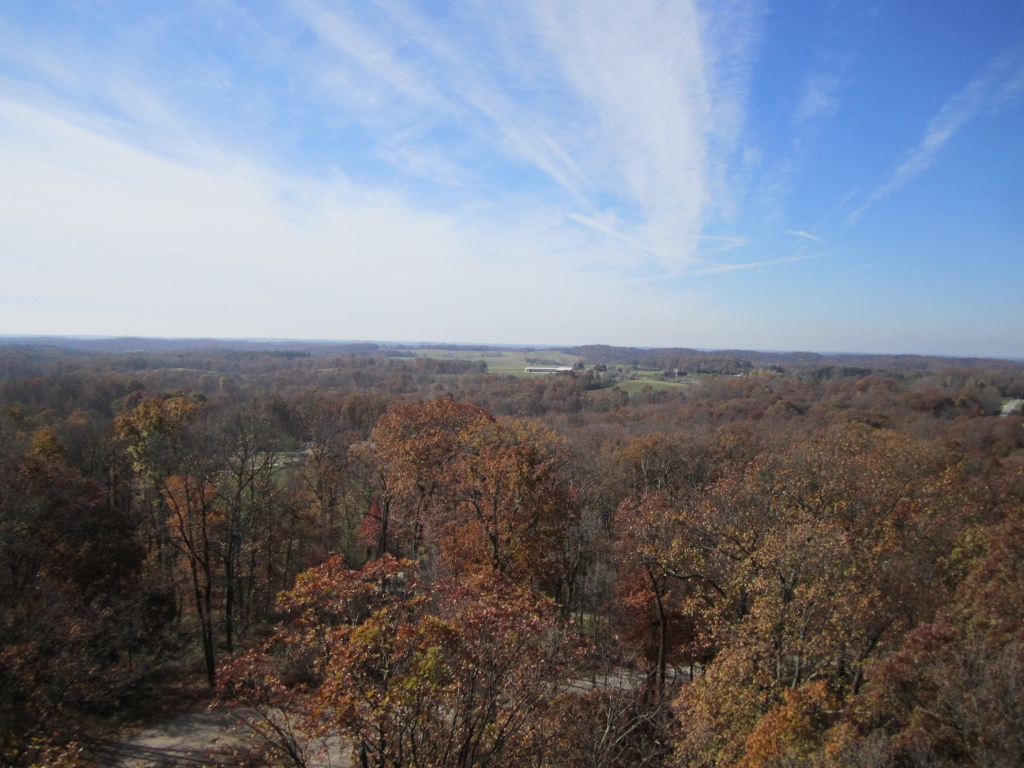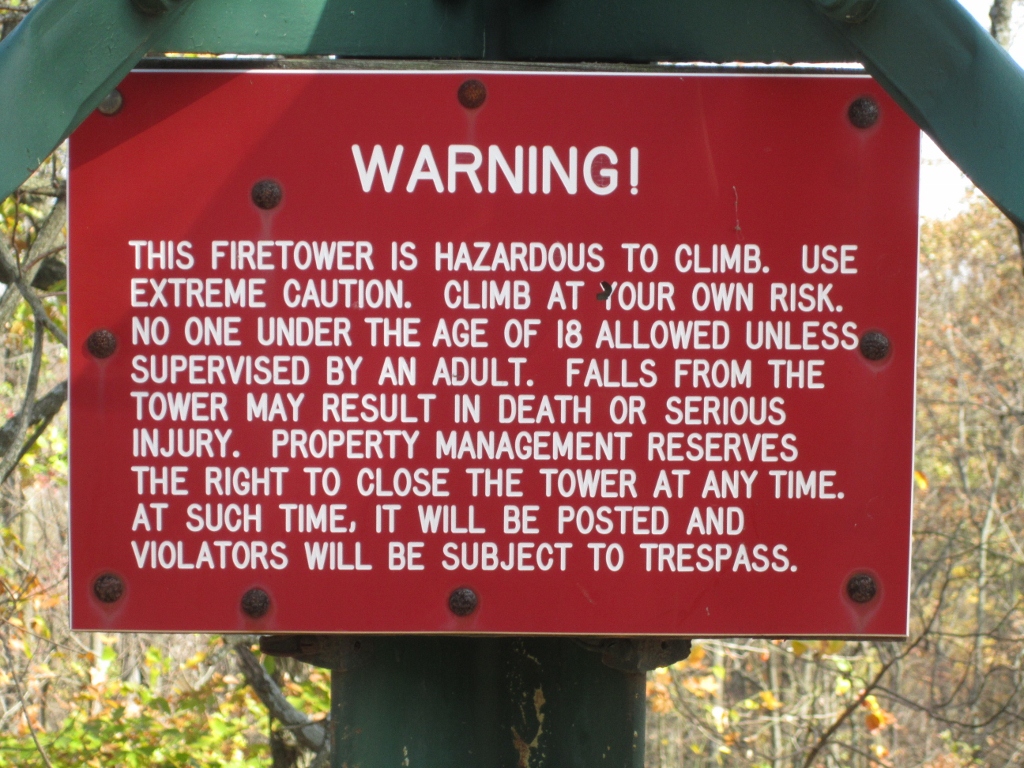 I do believe that's Mr. "Road Dad" in the mudhole.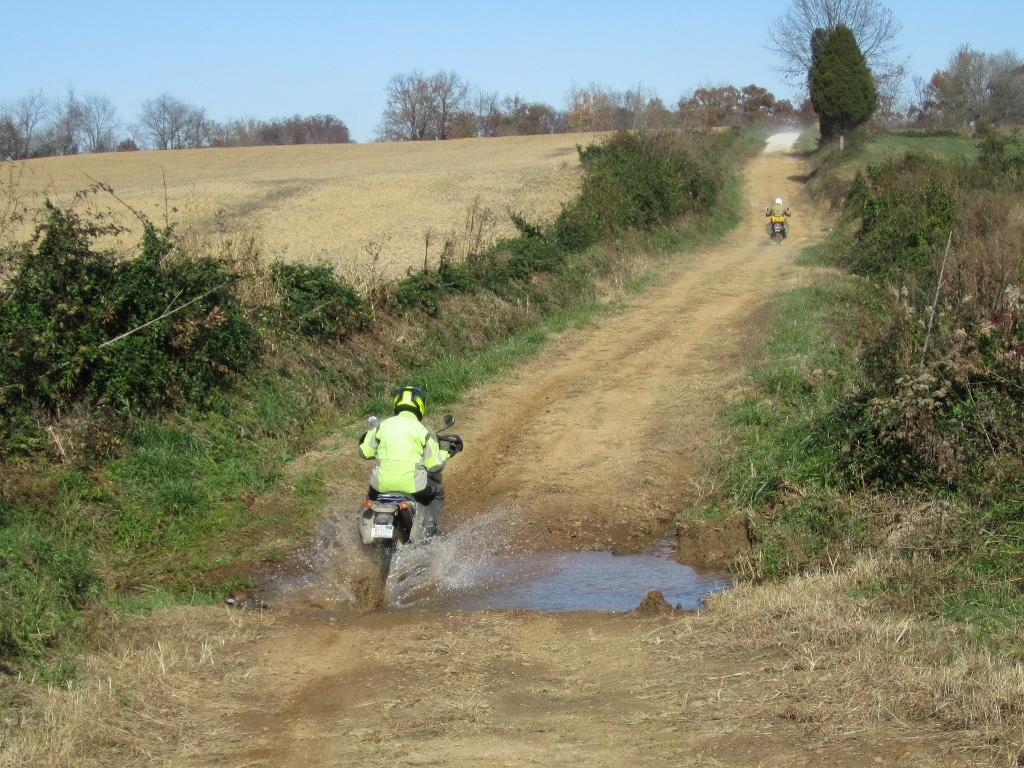 Almost all riders were way spread out-------but we gathered up here and had a snack.
The ride was nearing the end and nobody seemed in a hurry to end the time together.
I think this was in Huntinburg, Indiana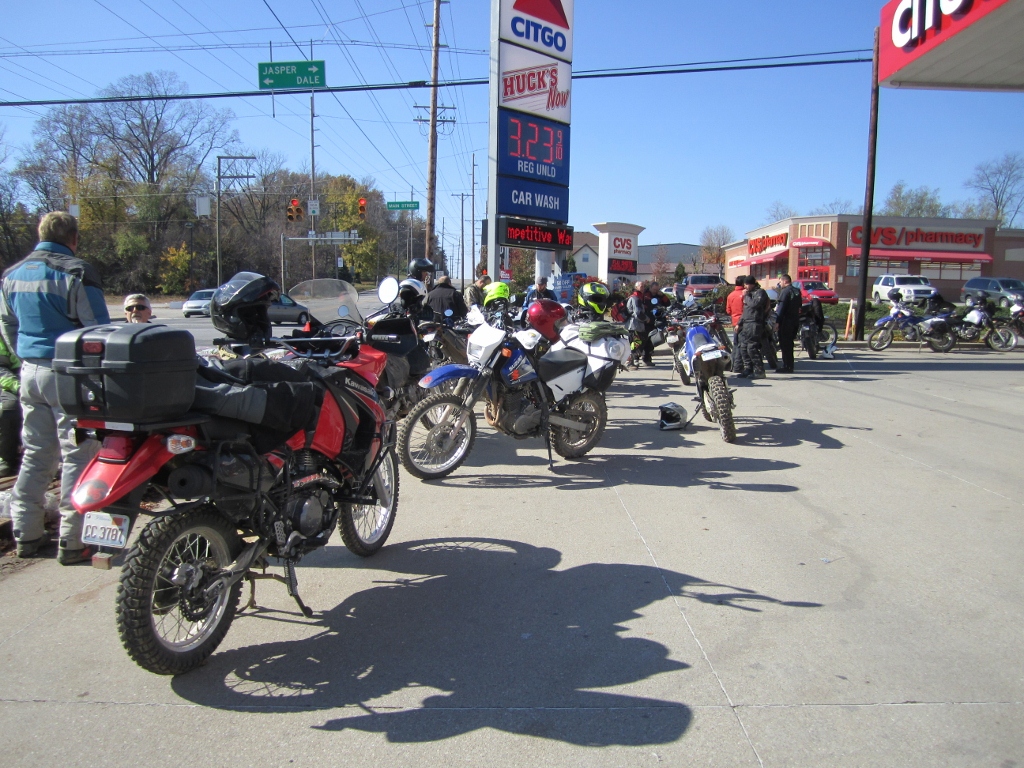 Bridge over the Patoka River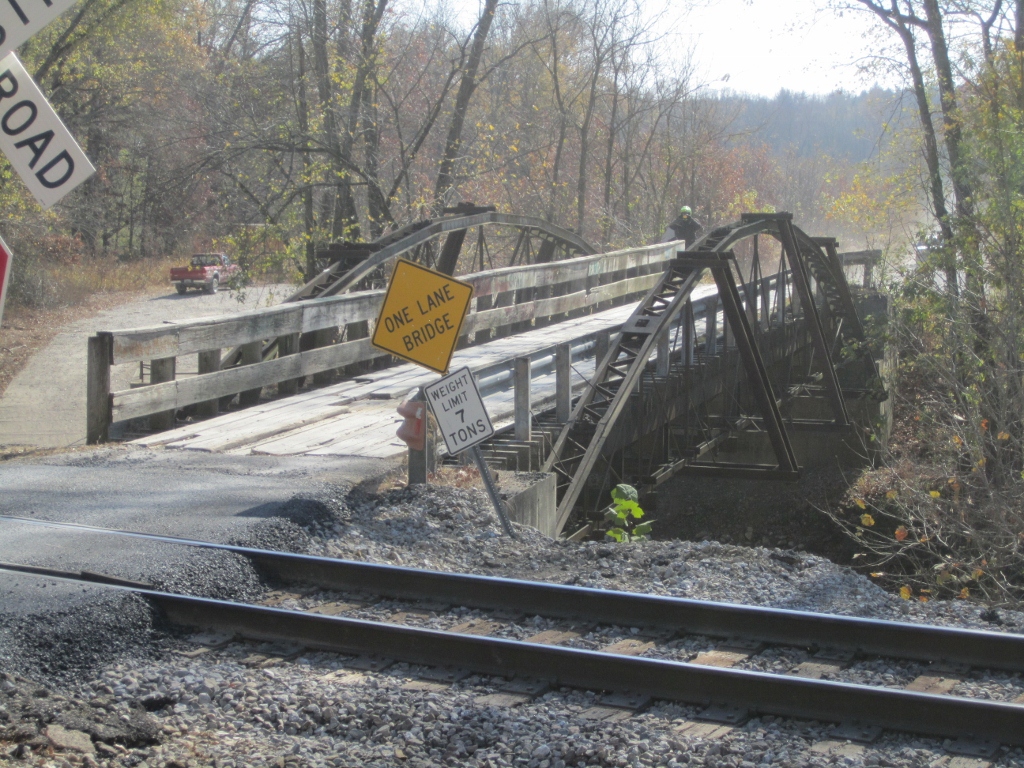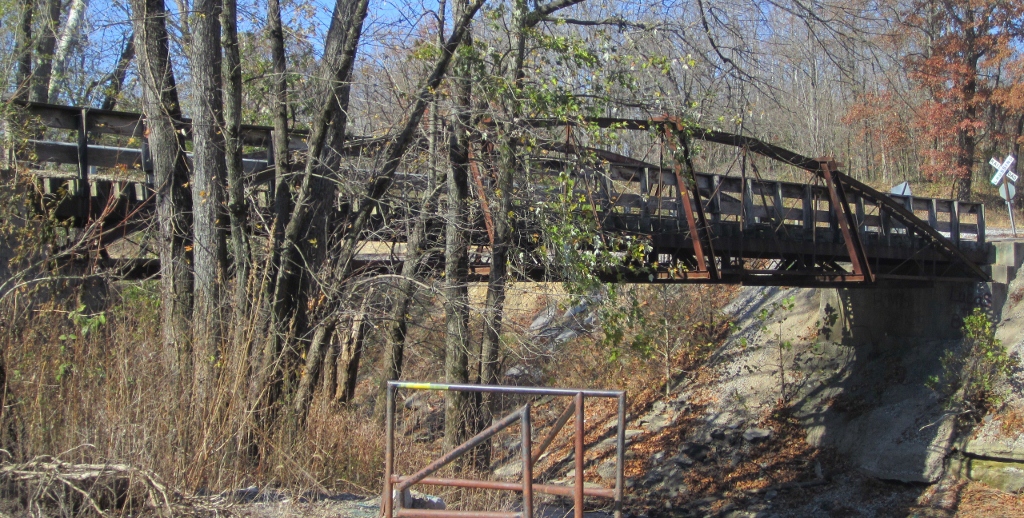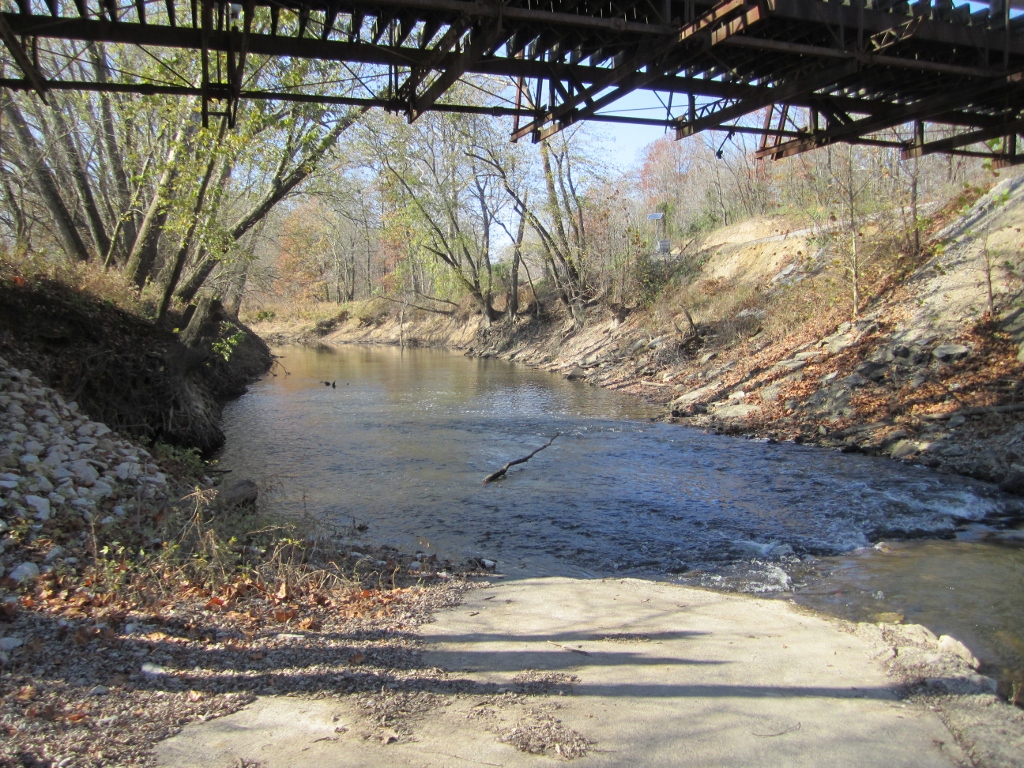 This fire tower in the Pike State Forest was closed for climbing.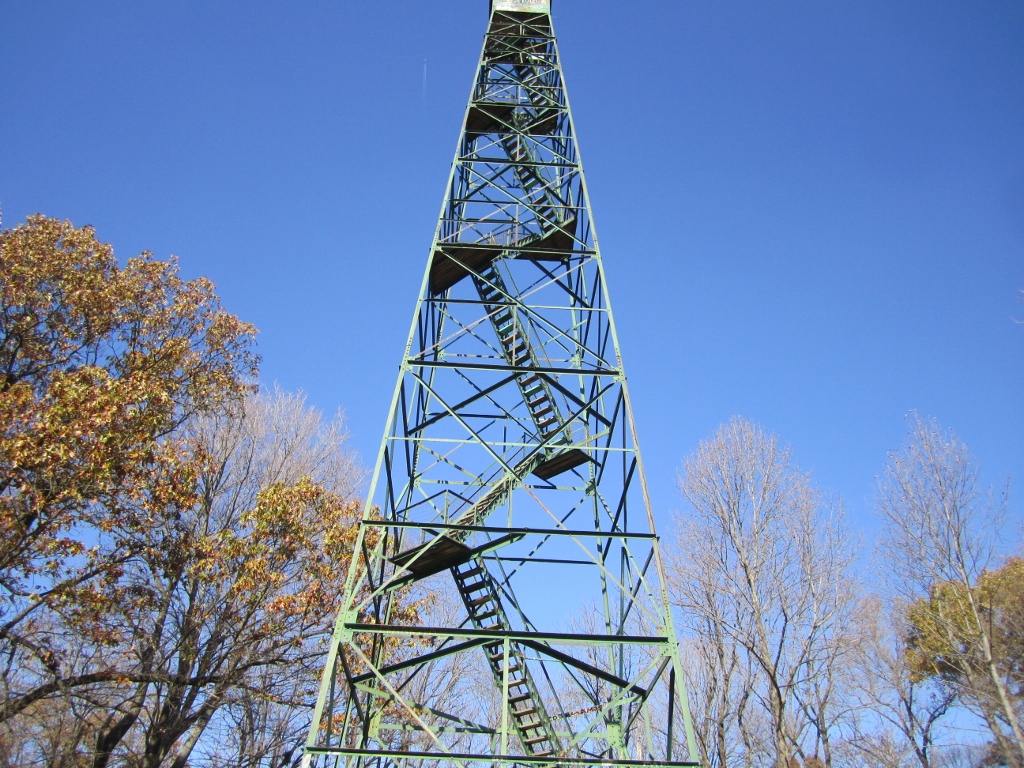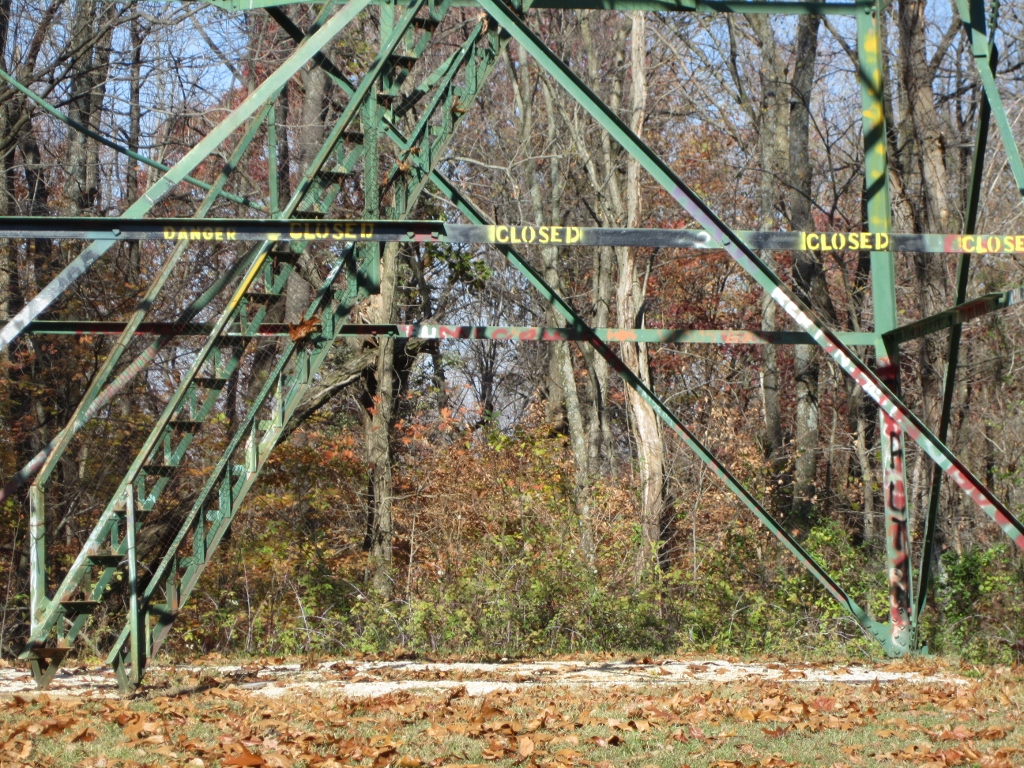 That was the last picture I took,
Later we were taken to the Interlake OHV area.
I'm not a fan of those places and me and Roger took the easy way around the whole place.
It was a mud hog woller----------I've done that a lot in my younger days.
I thanked many folks during the ride for letting me and my buddy share this ride.
I will definitely come back next year on the new route and will be sure to bring a small bike.
Thanks to all !!!!!!!
BACK to my homepage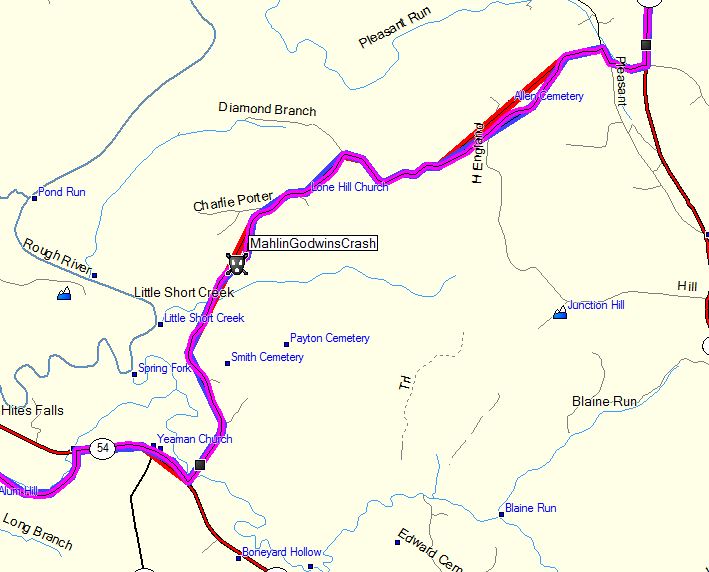 2013 Loose Nut Ride
November 2013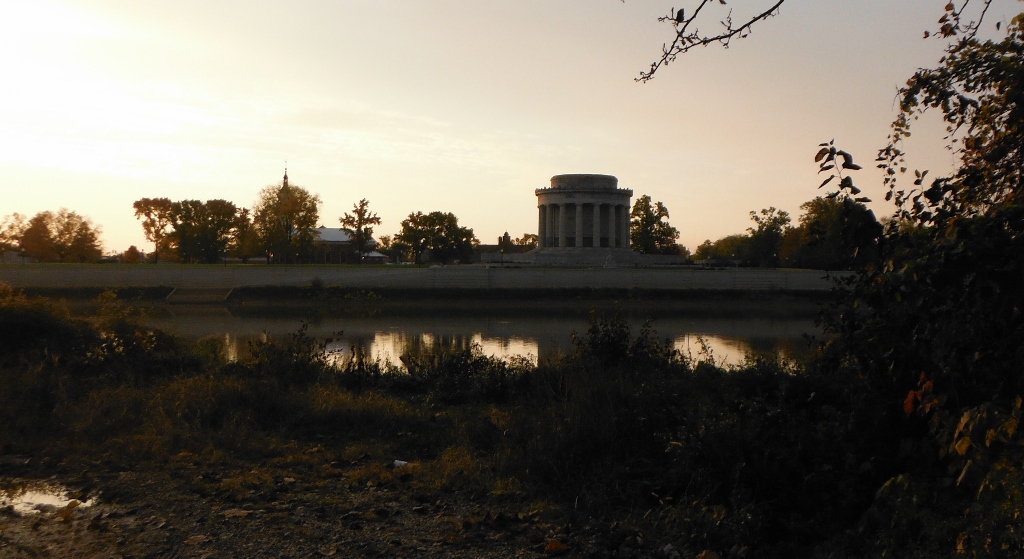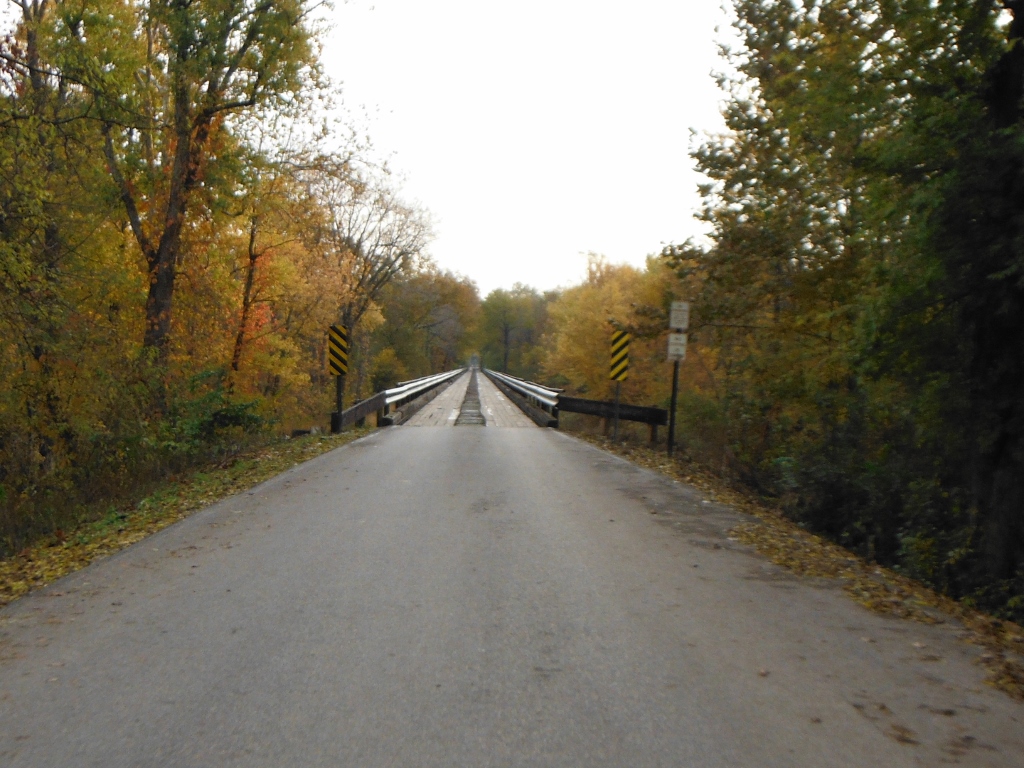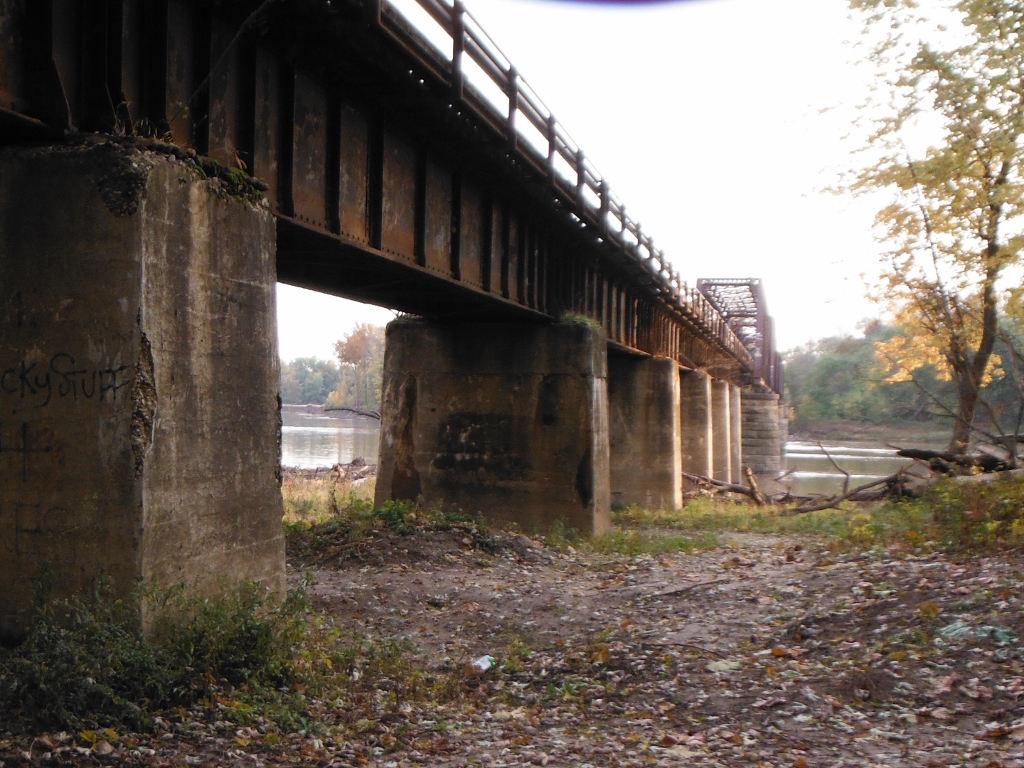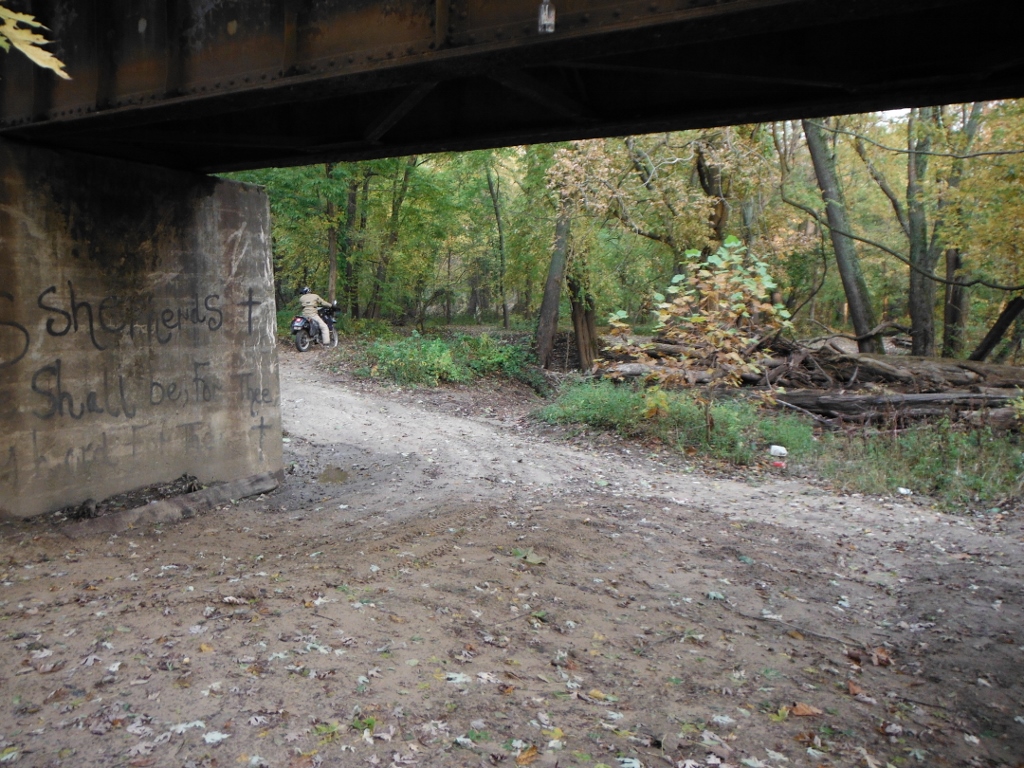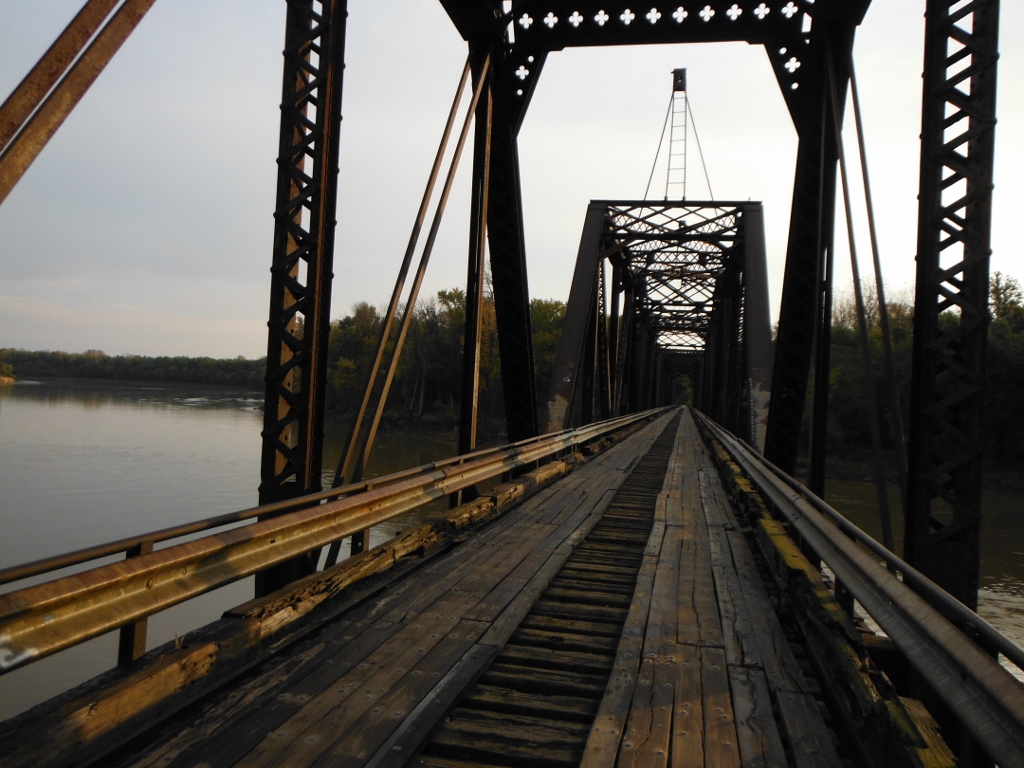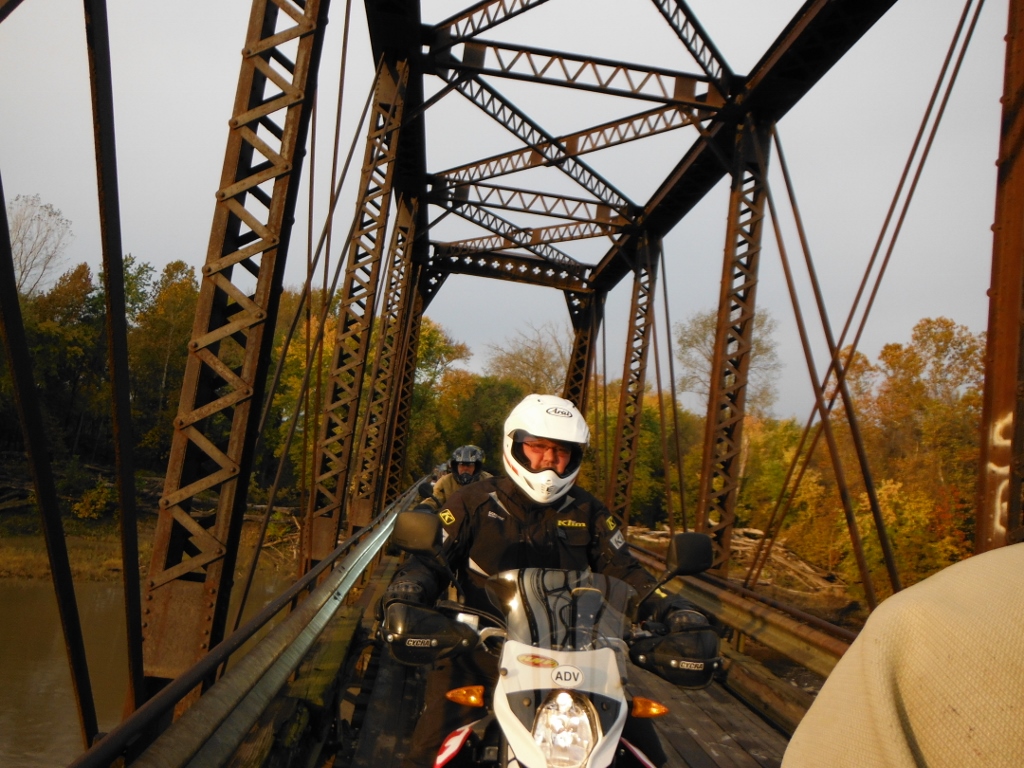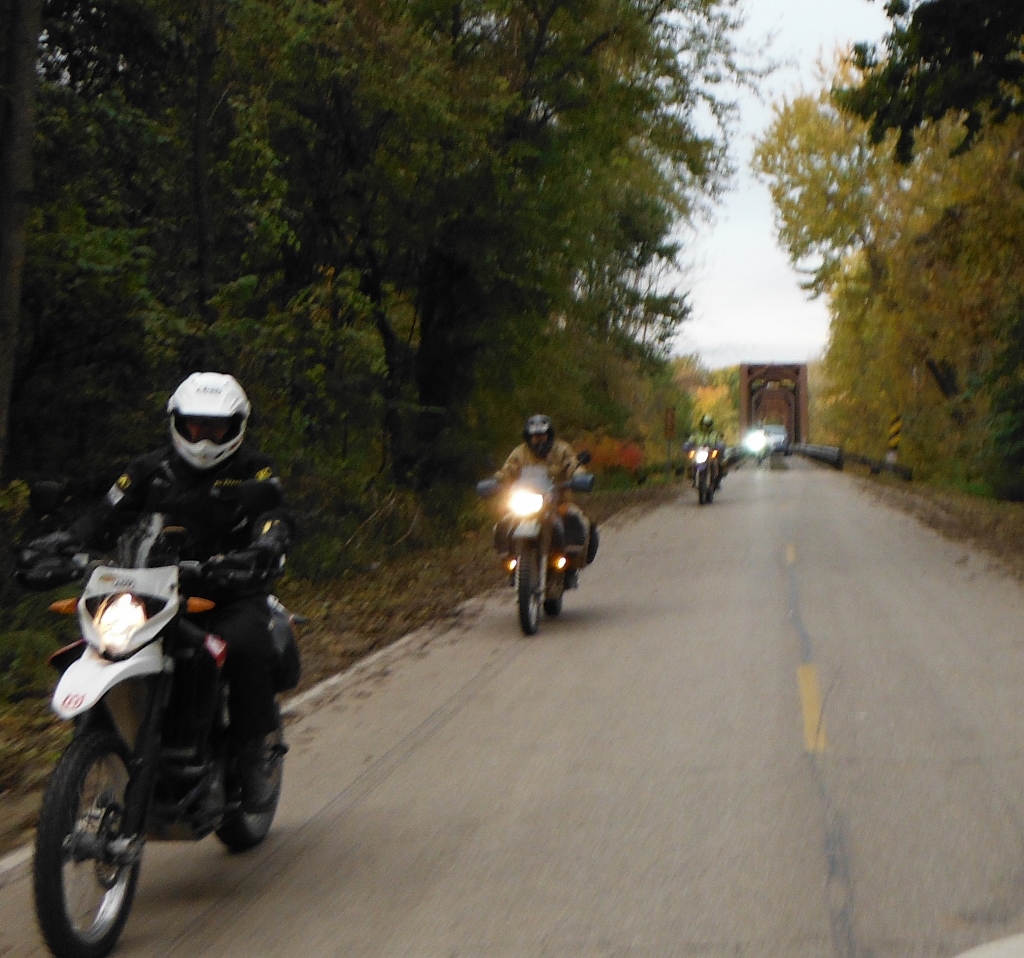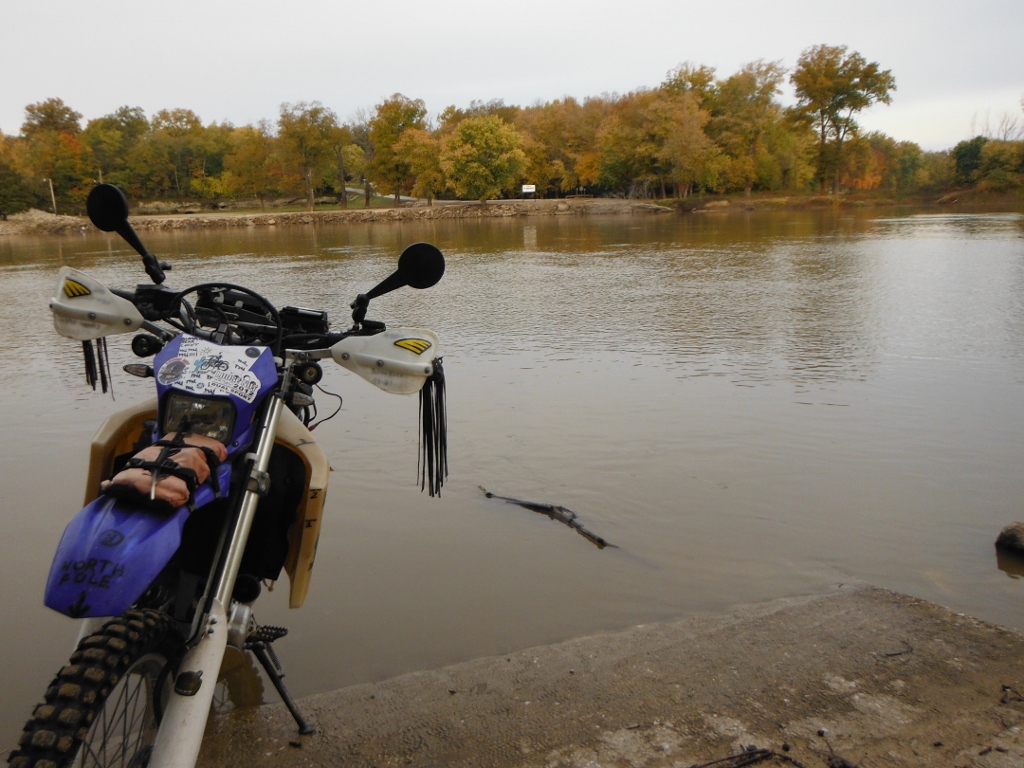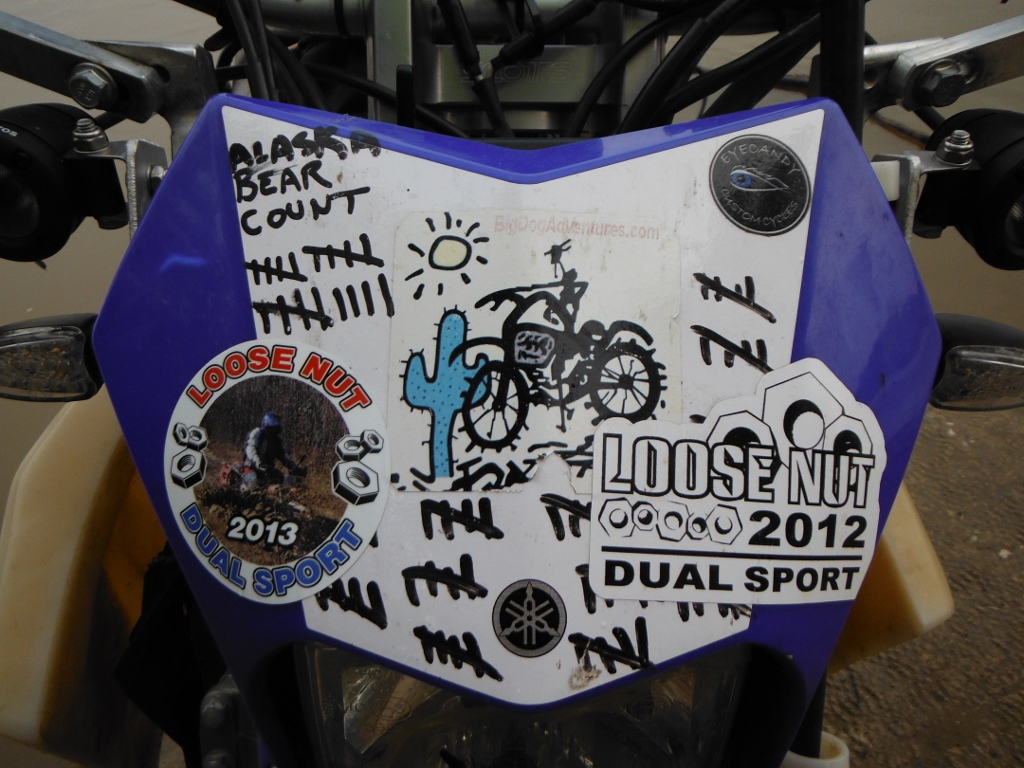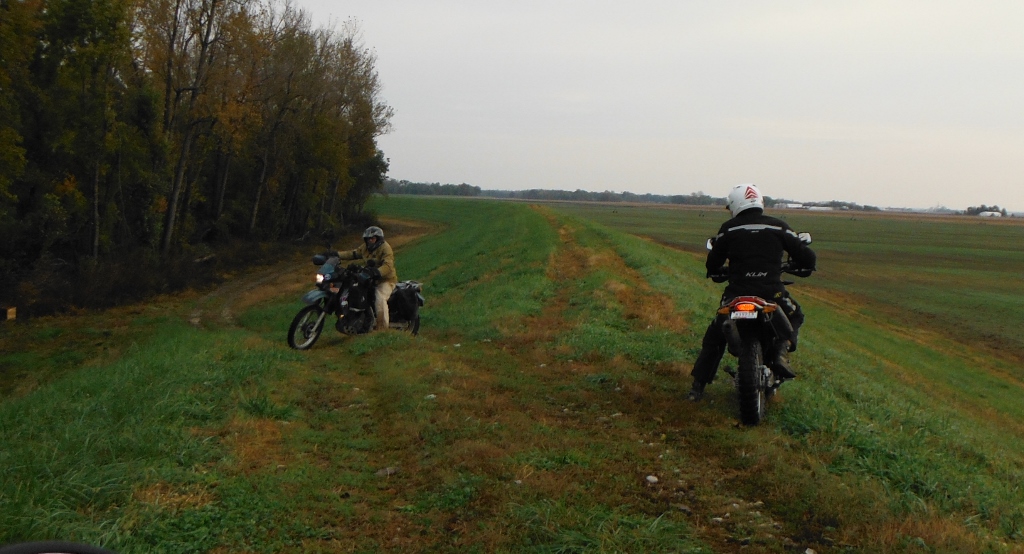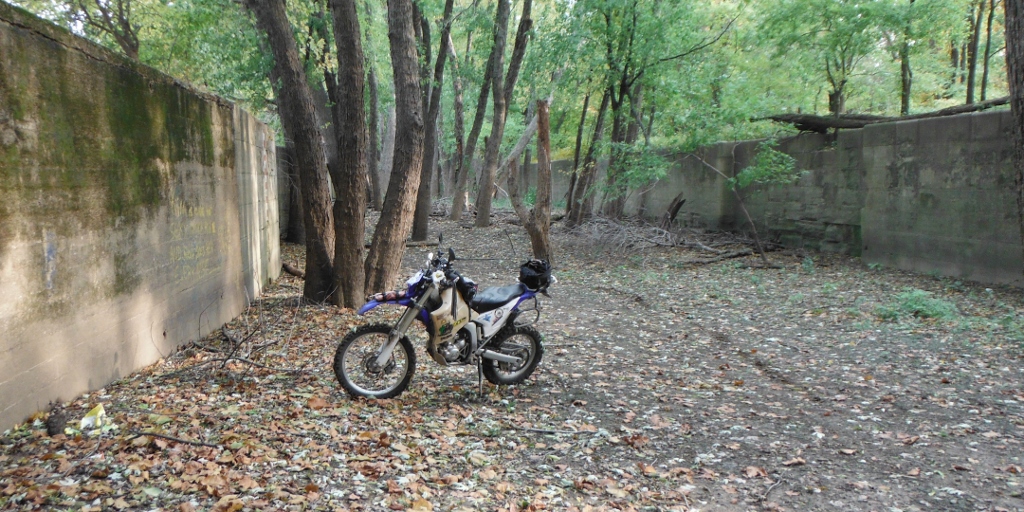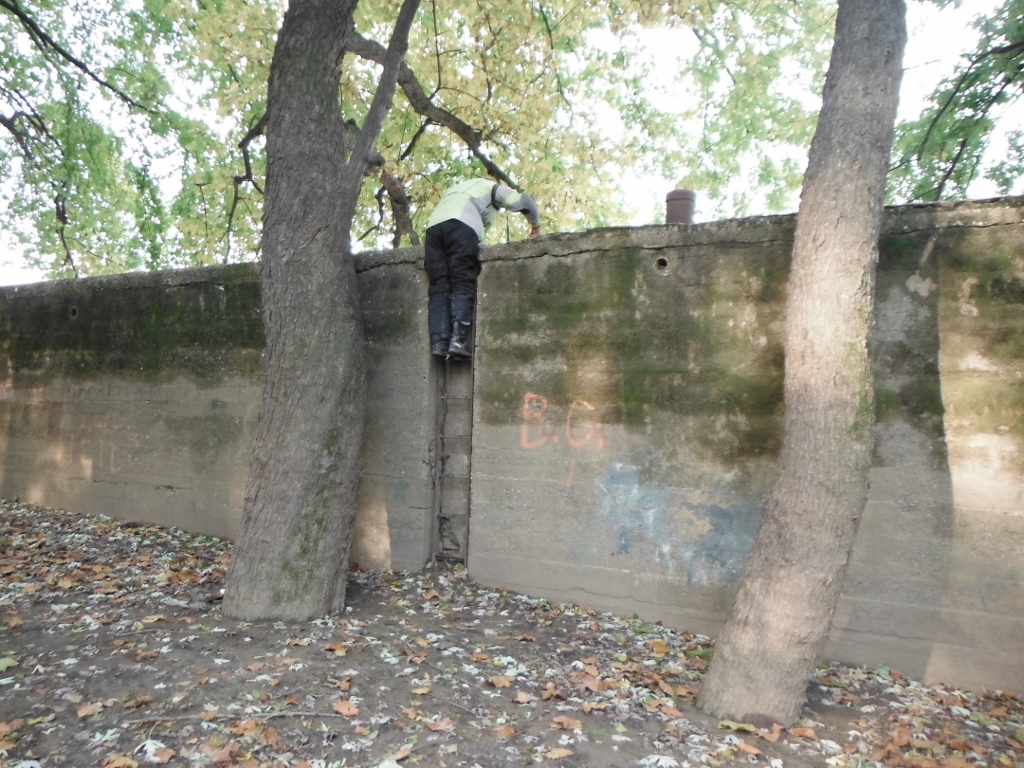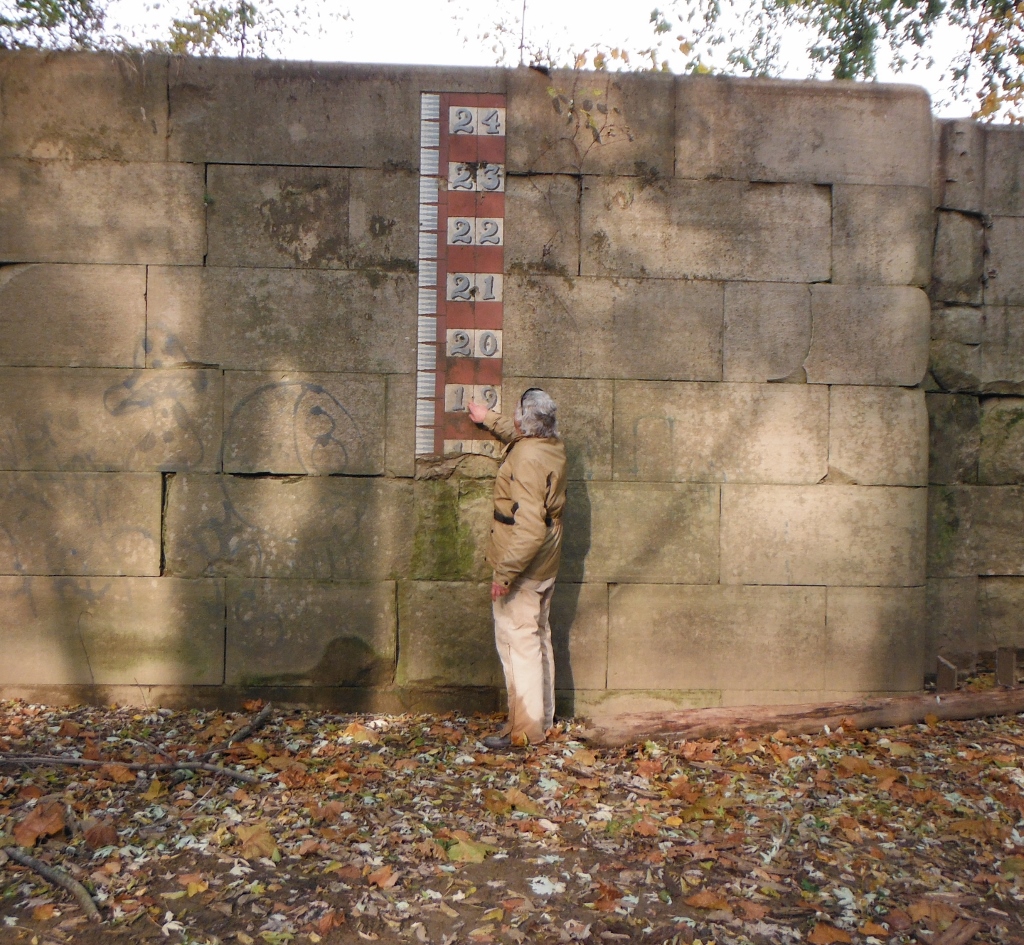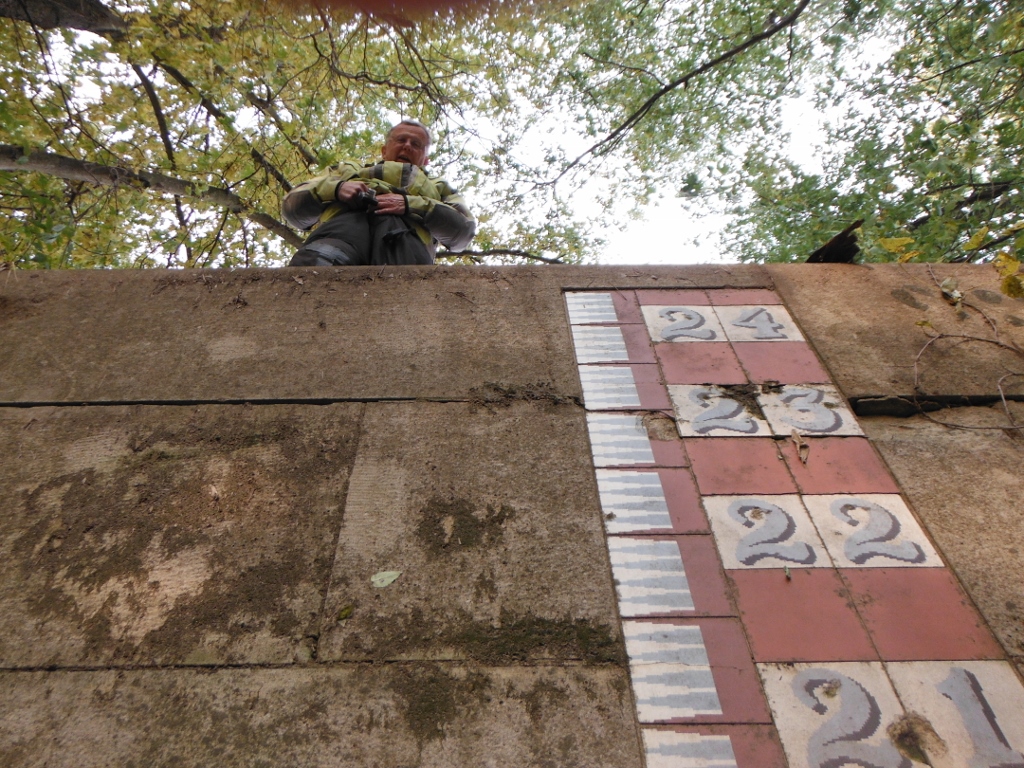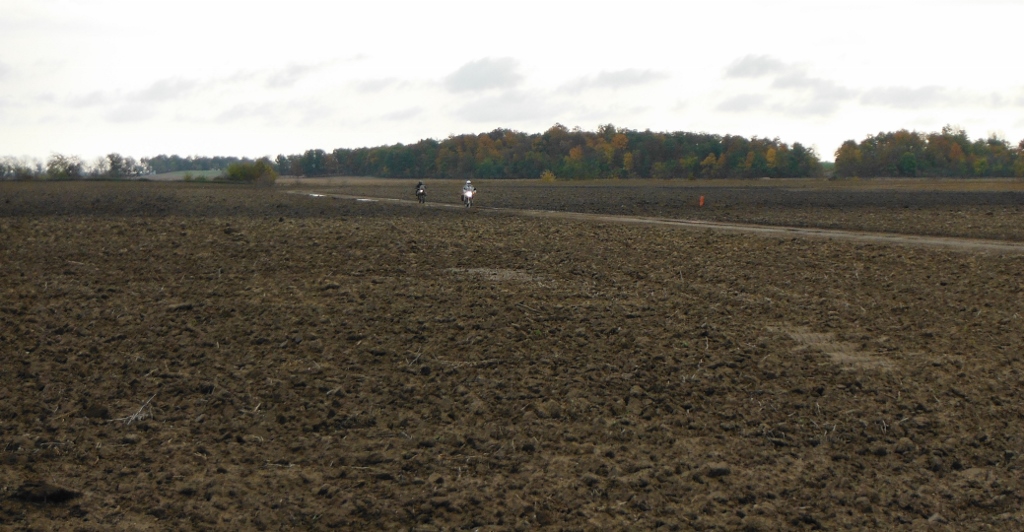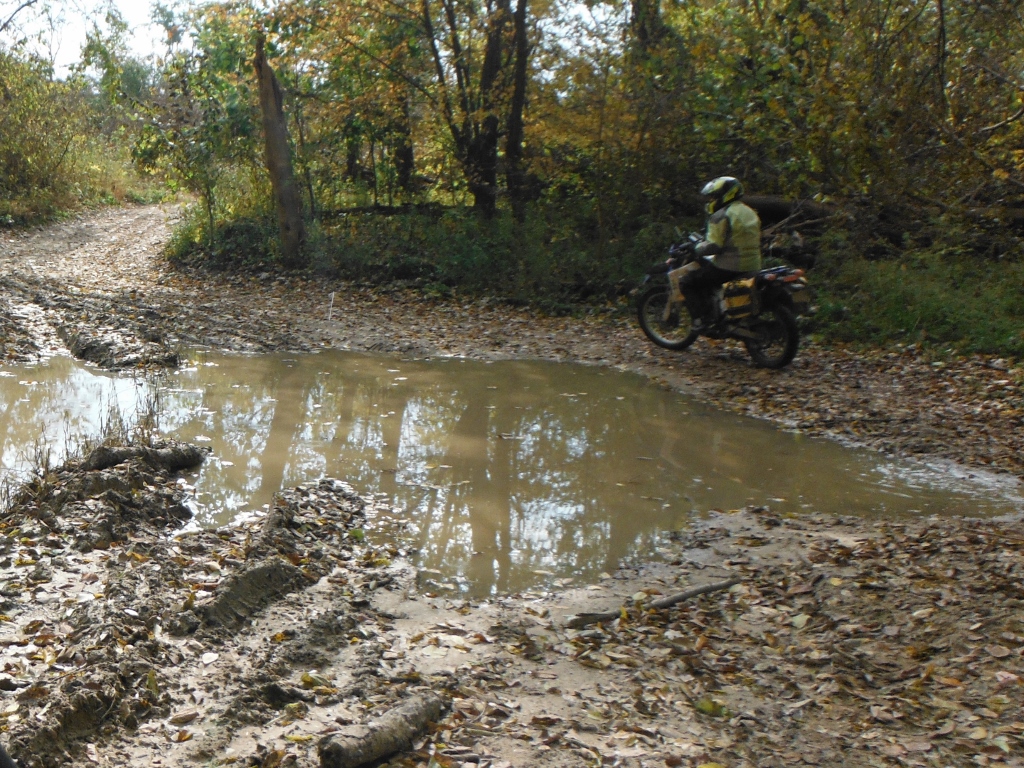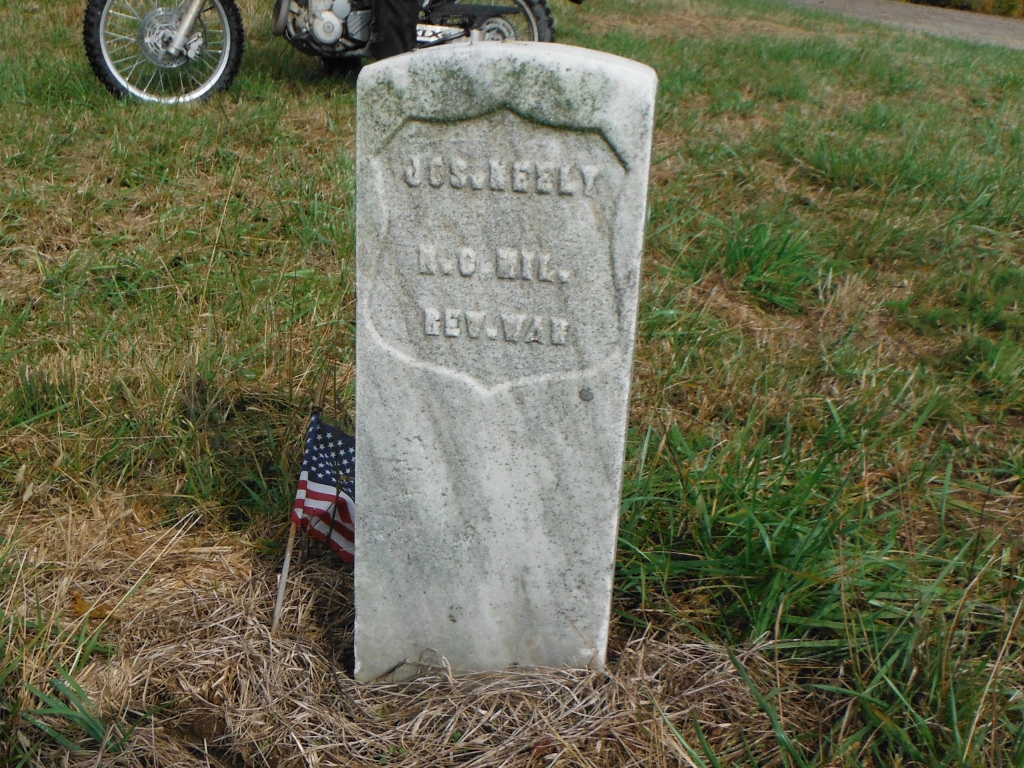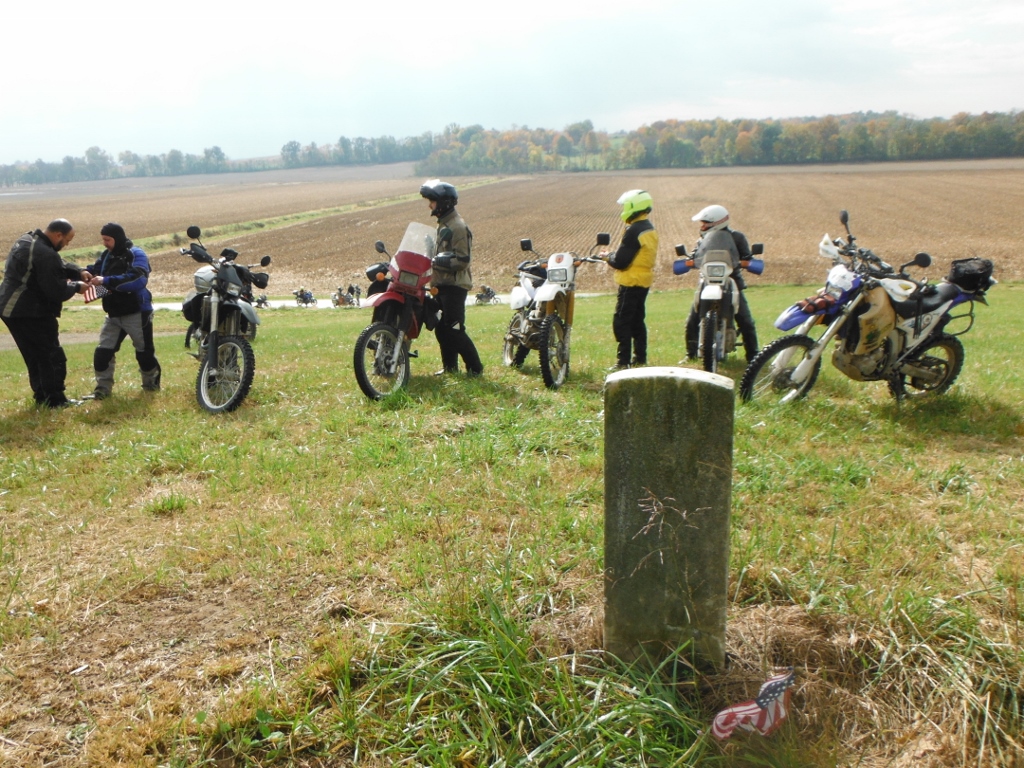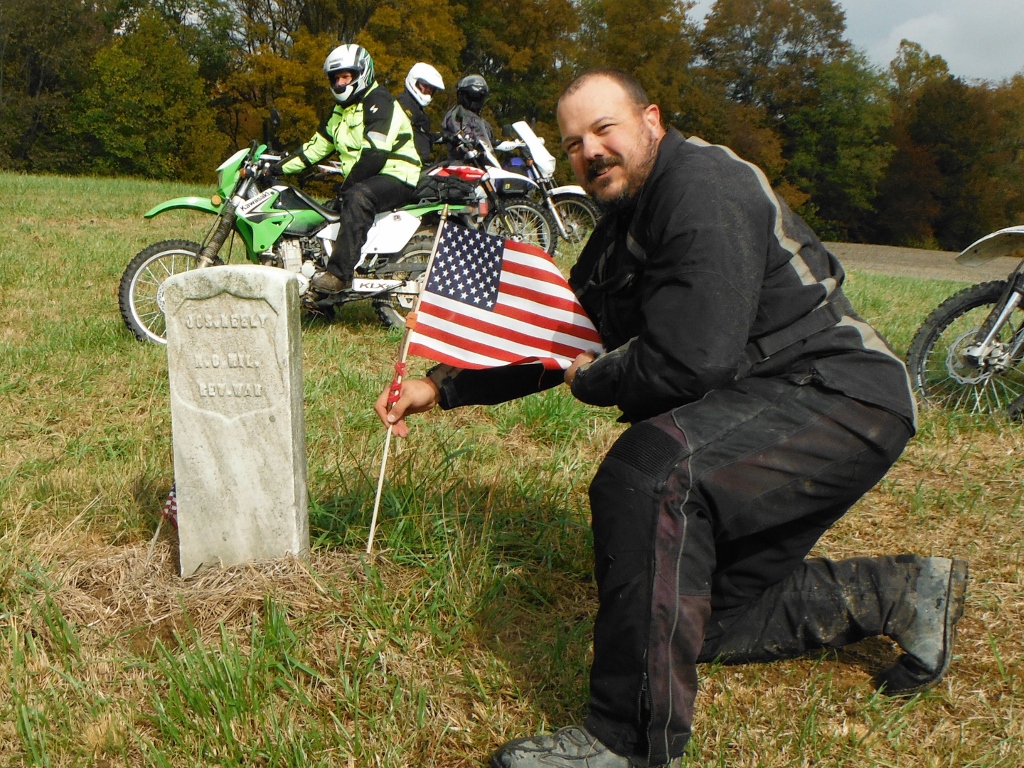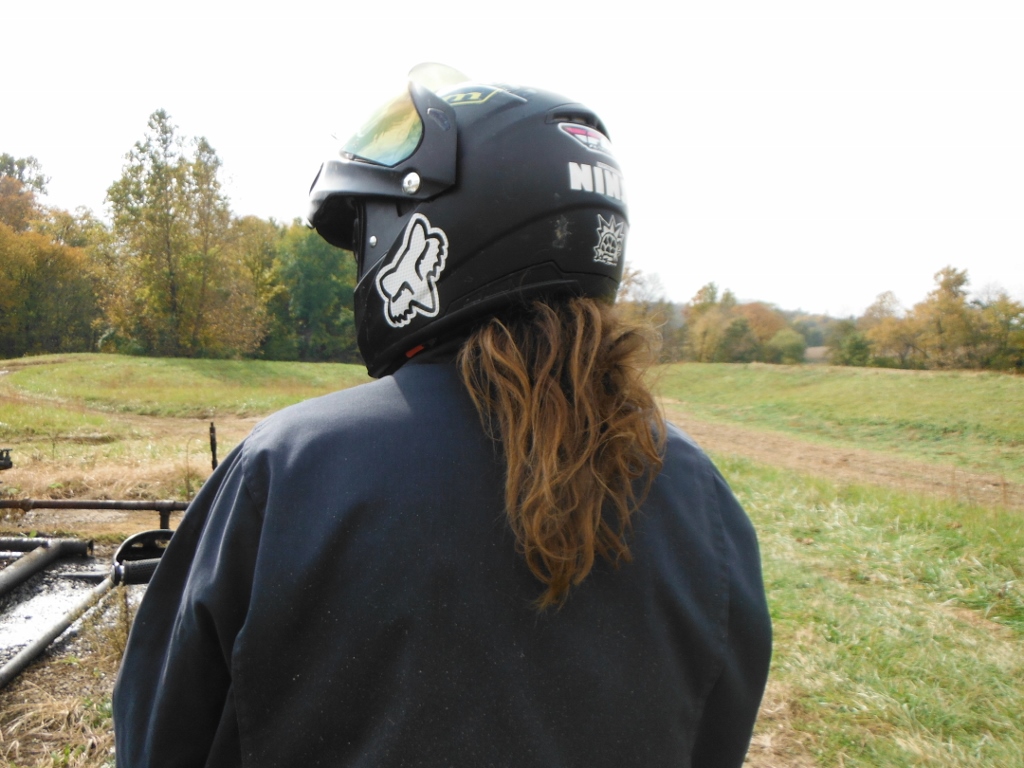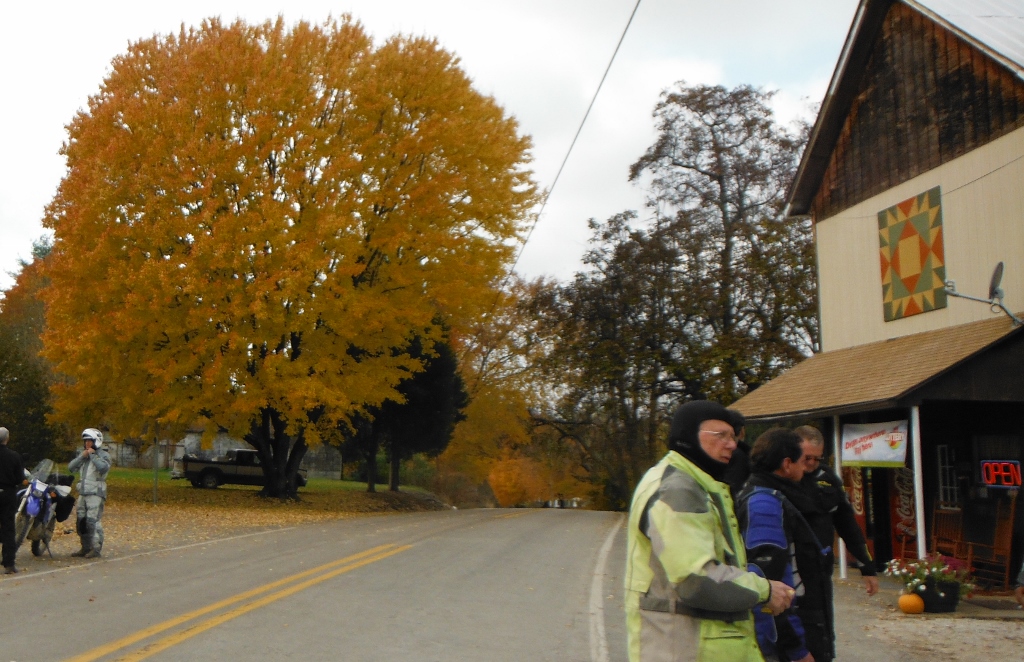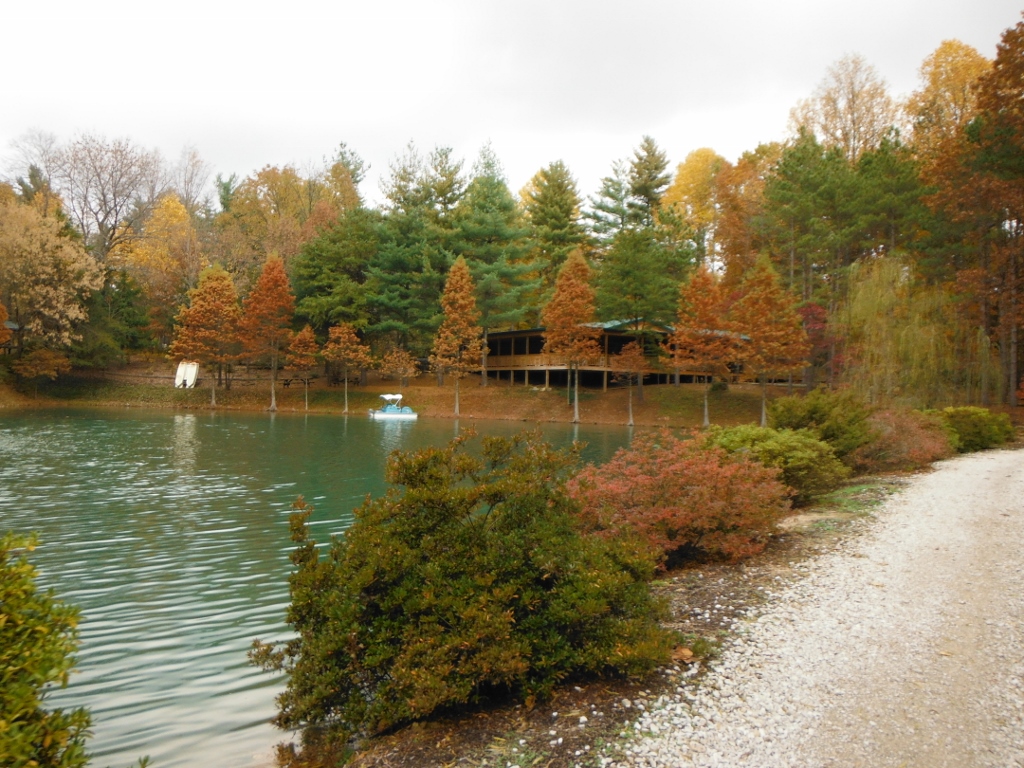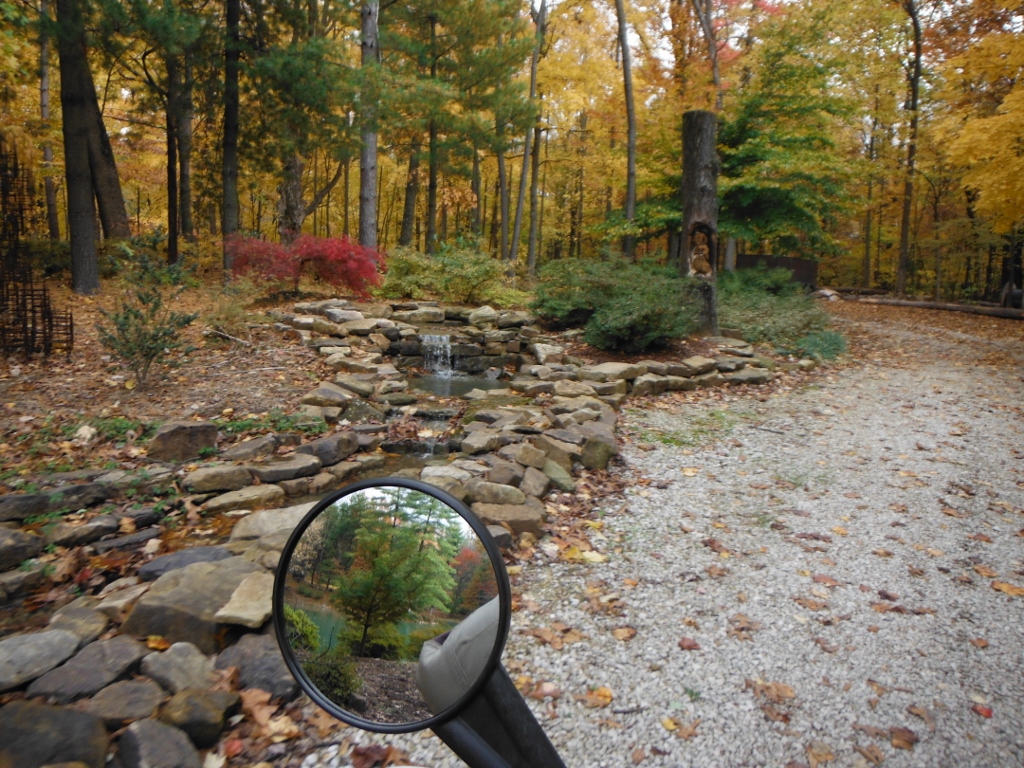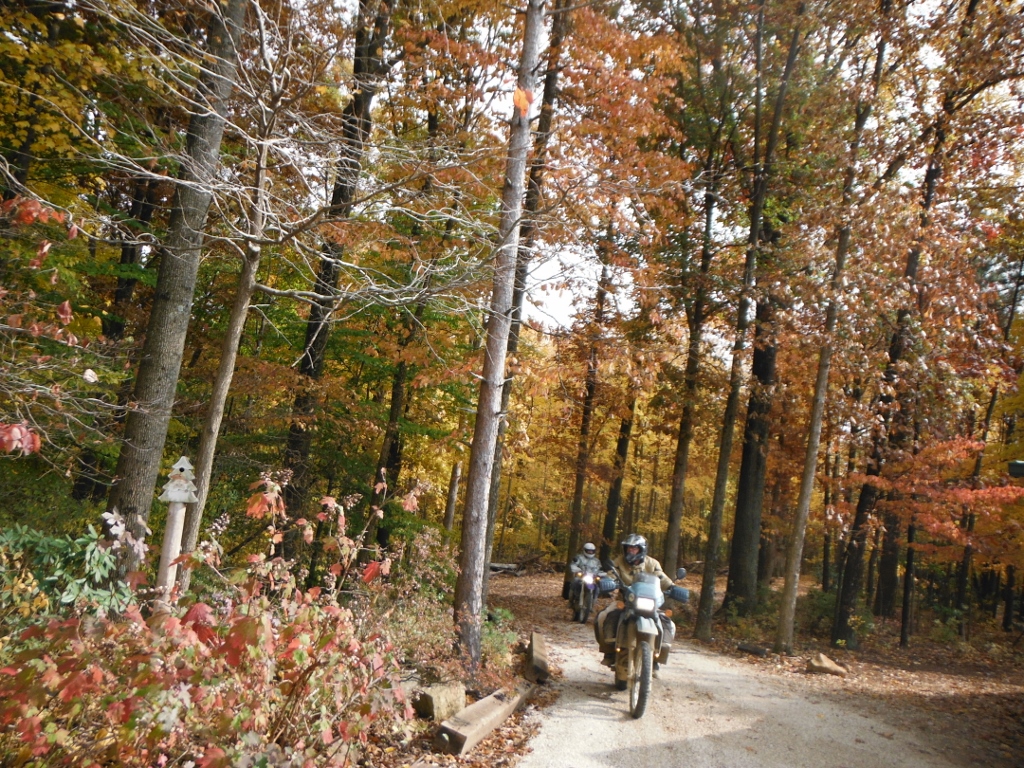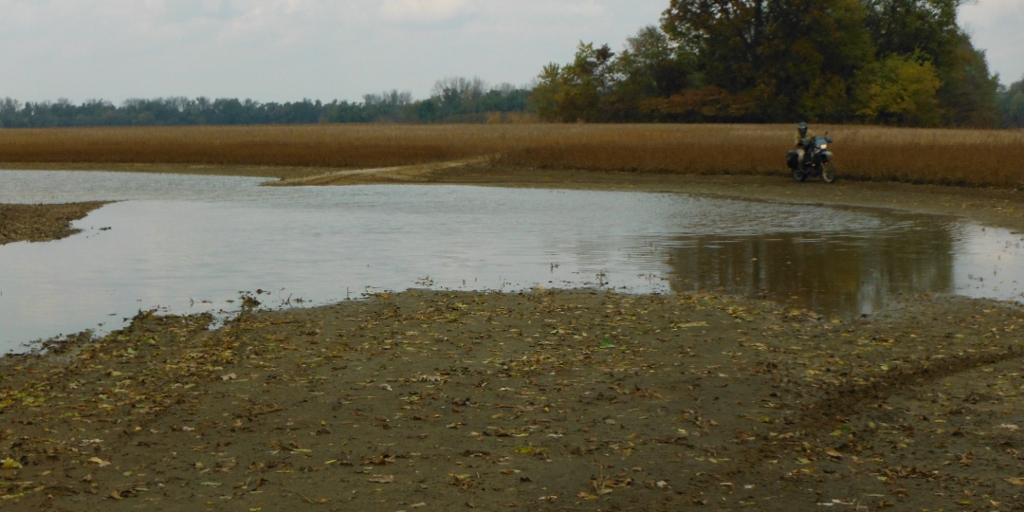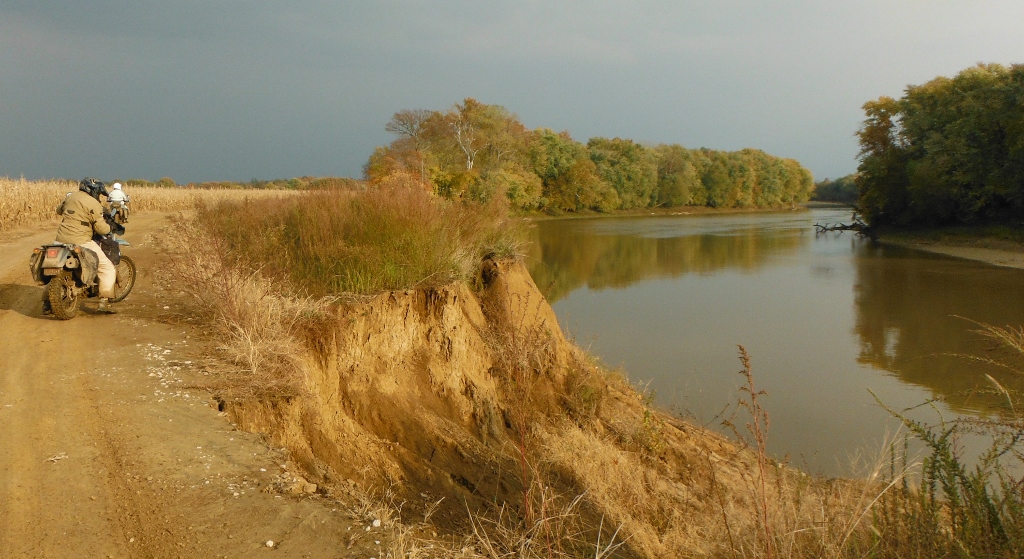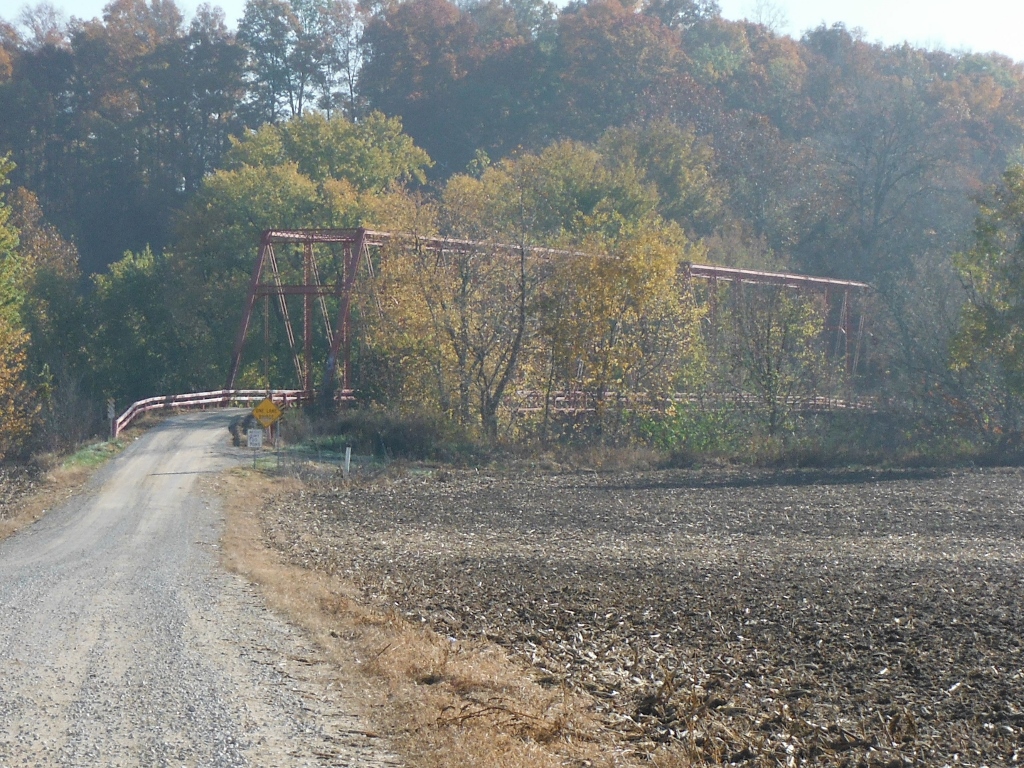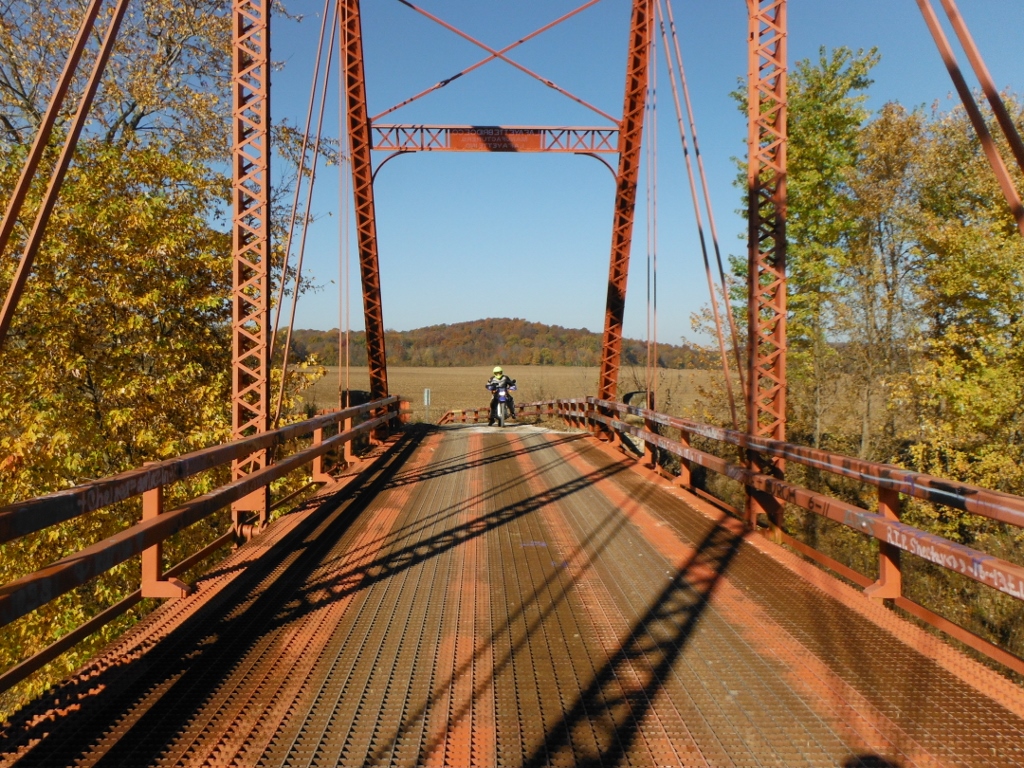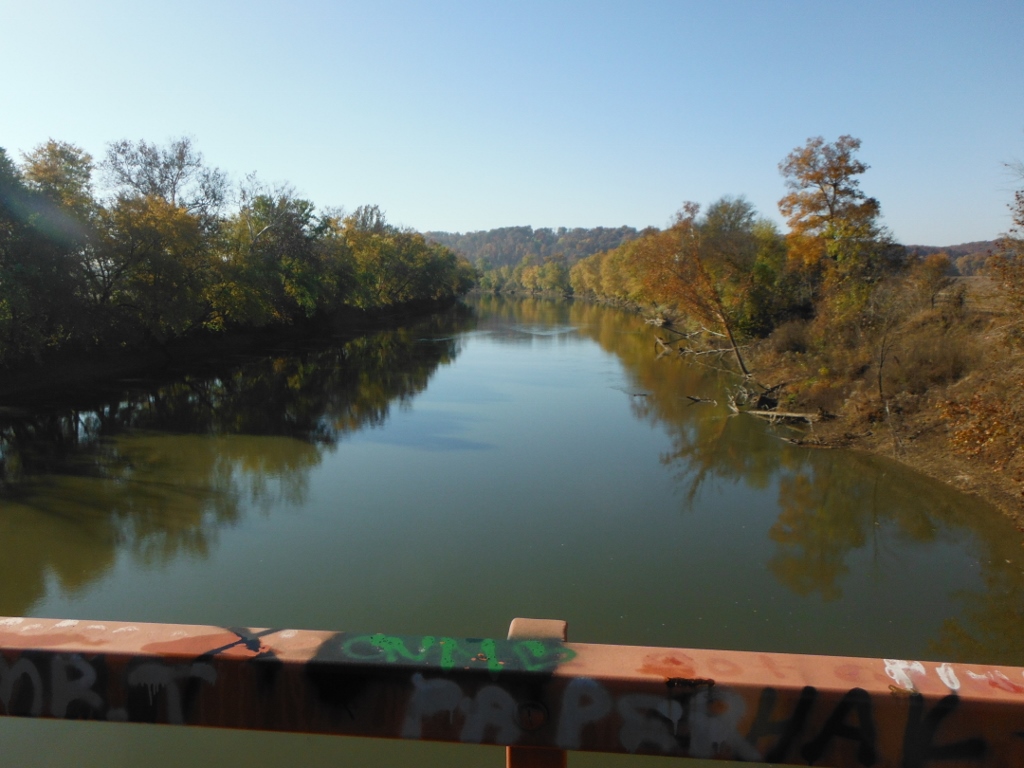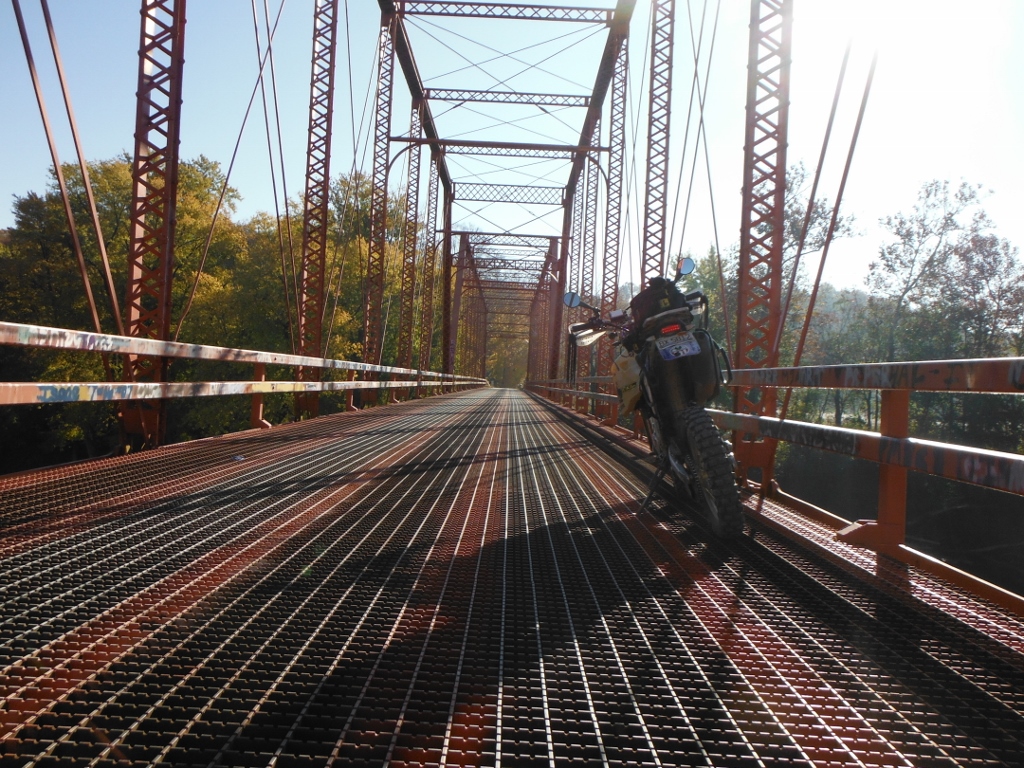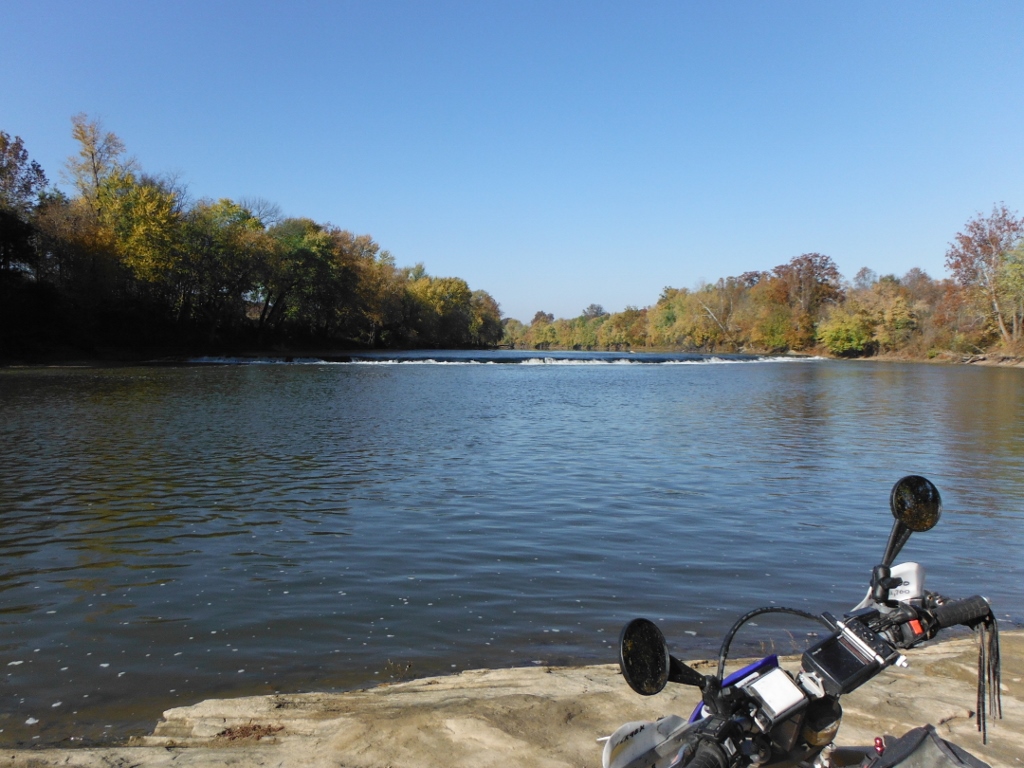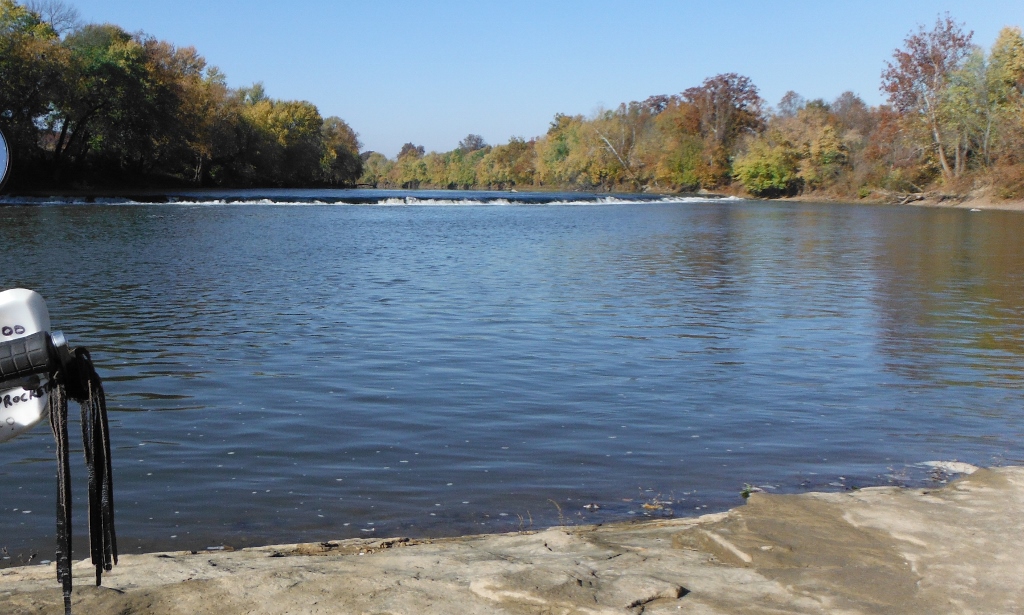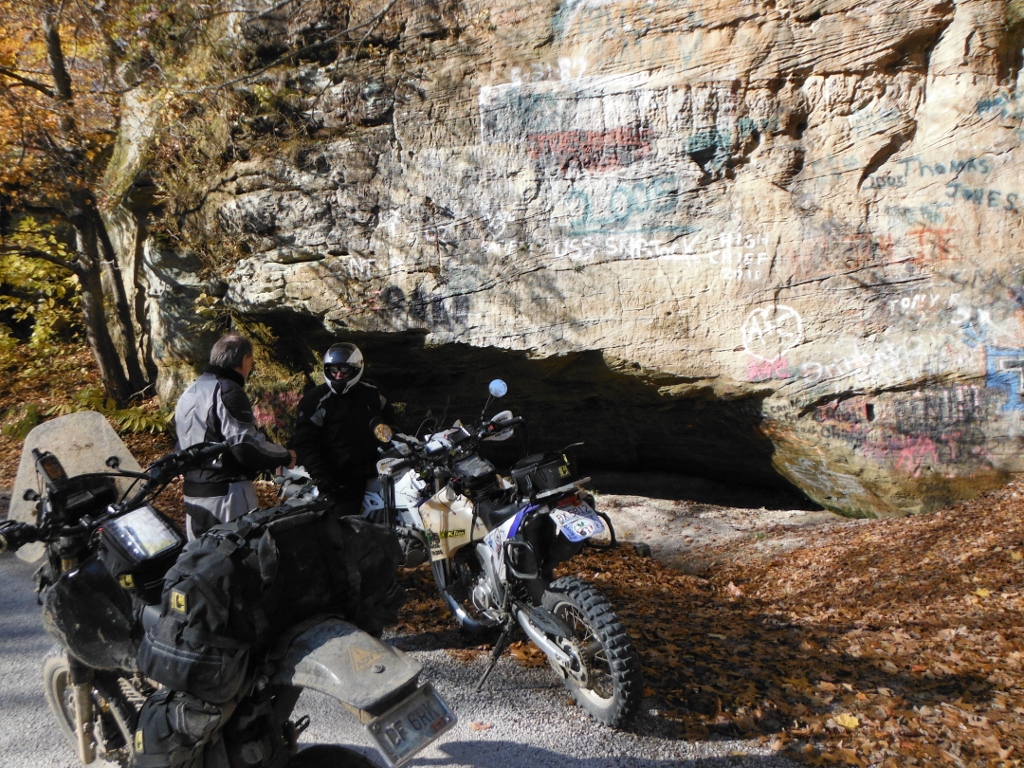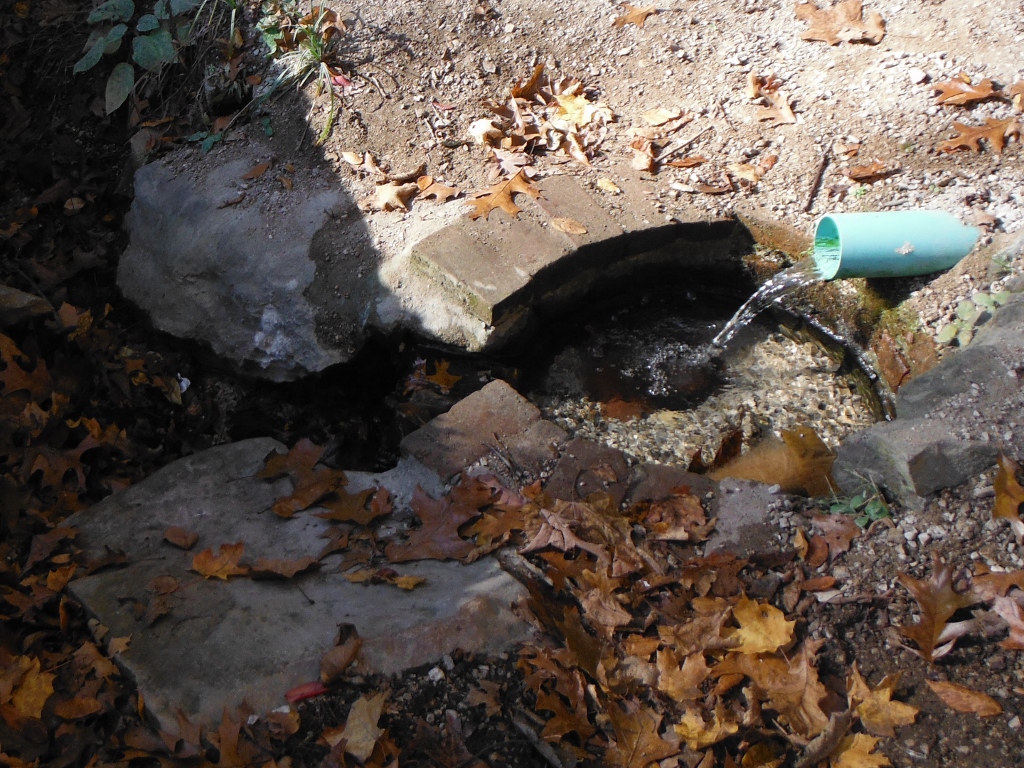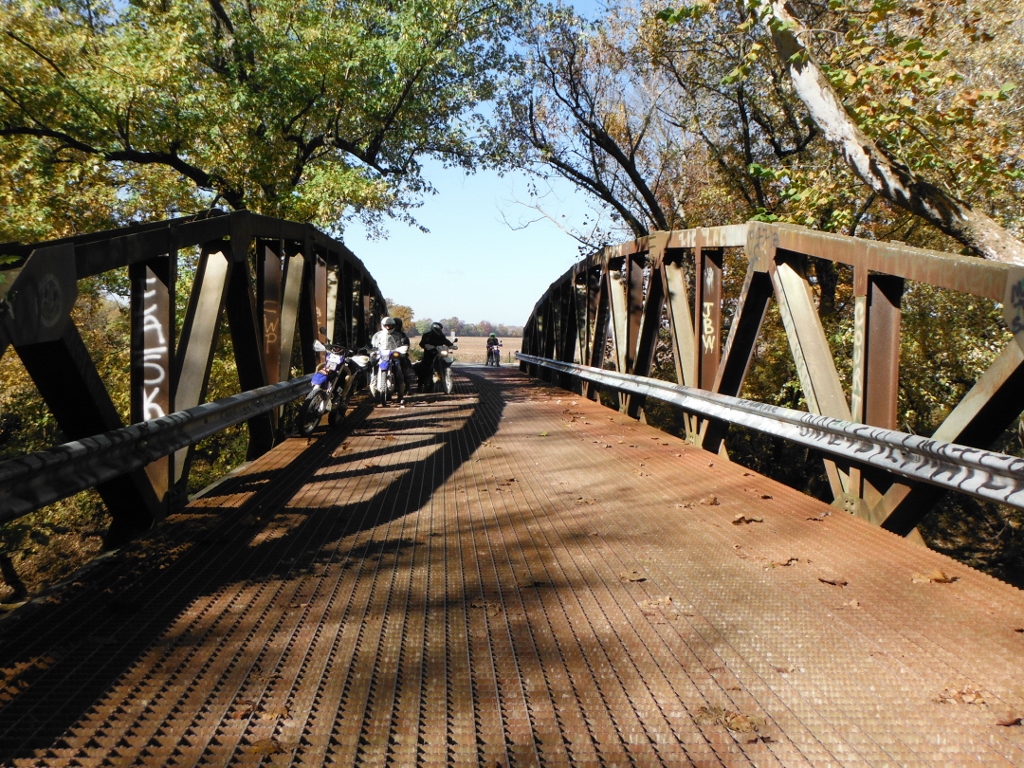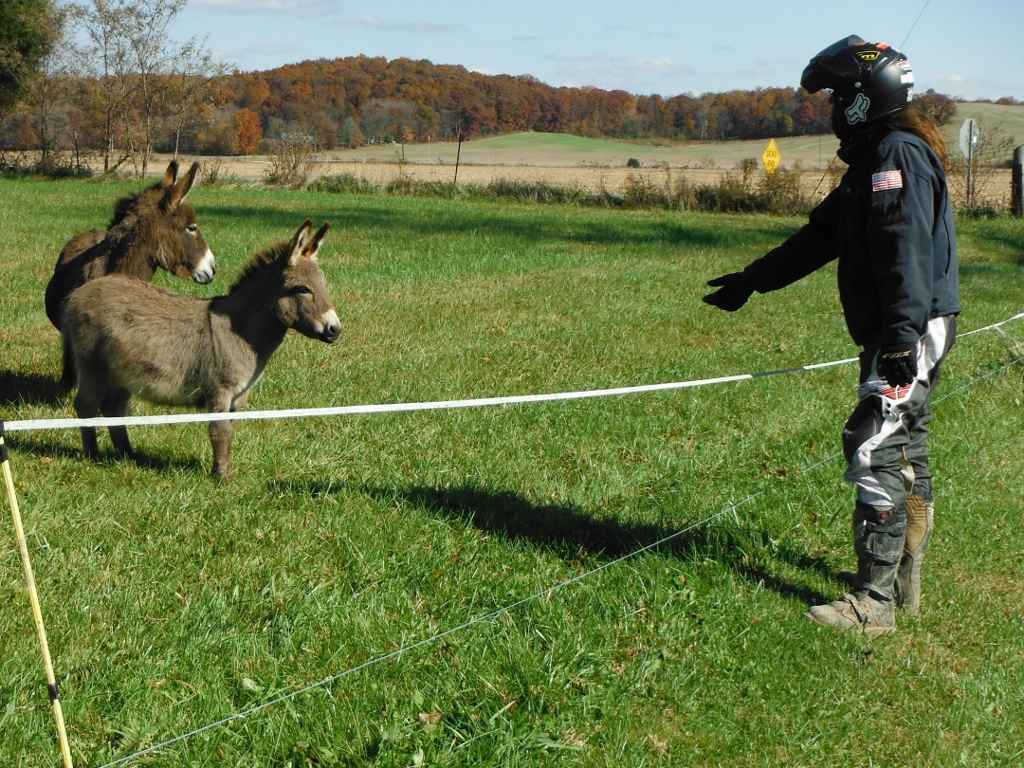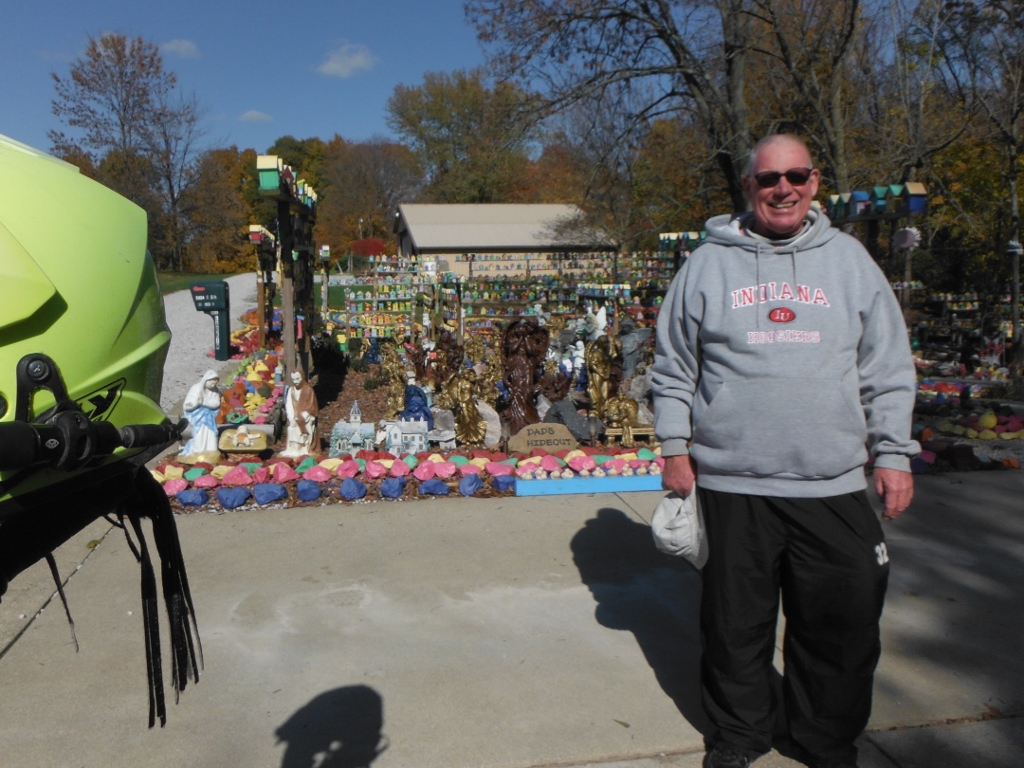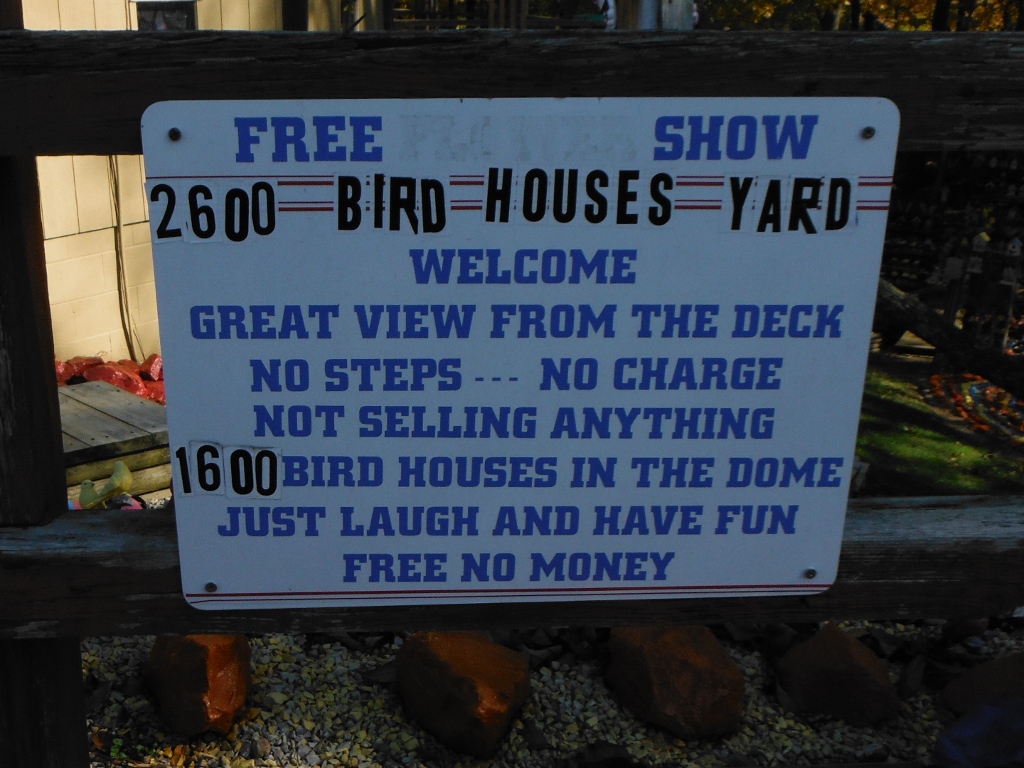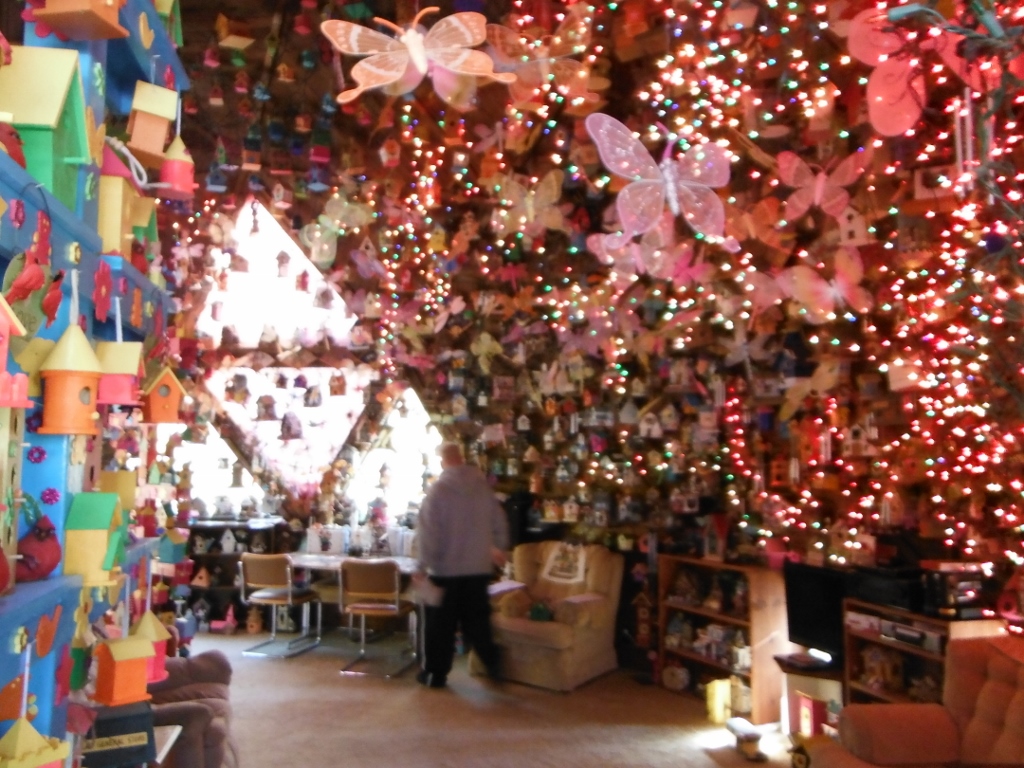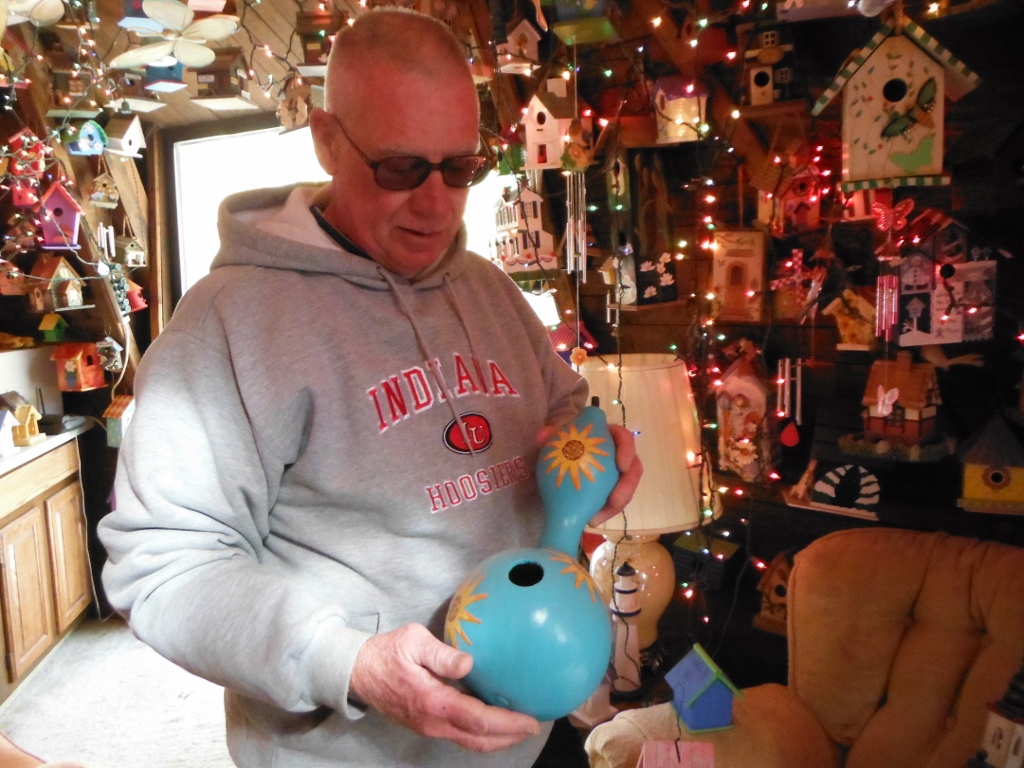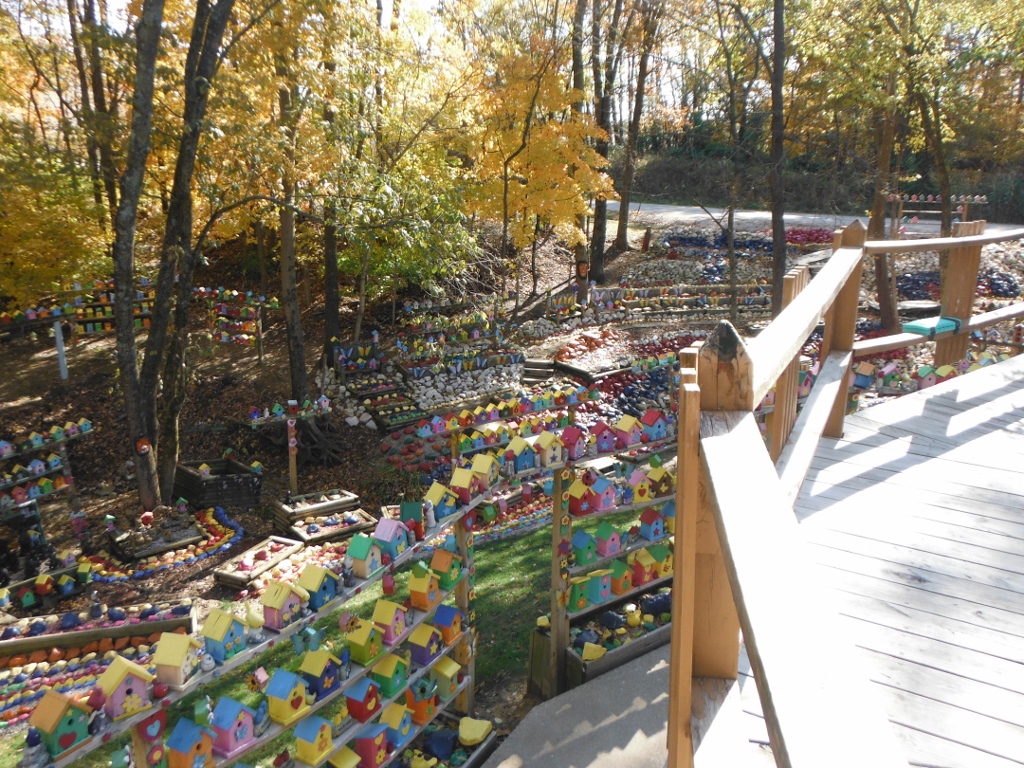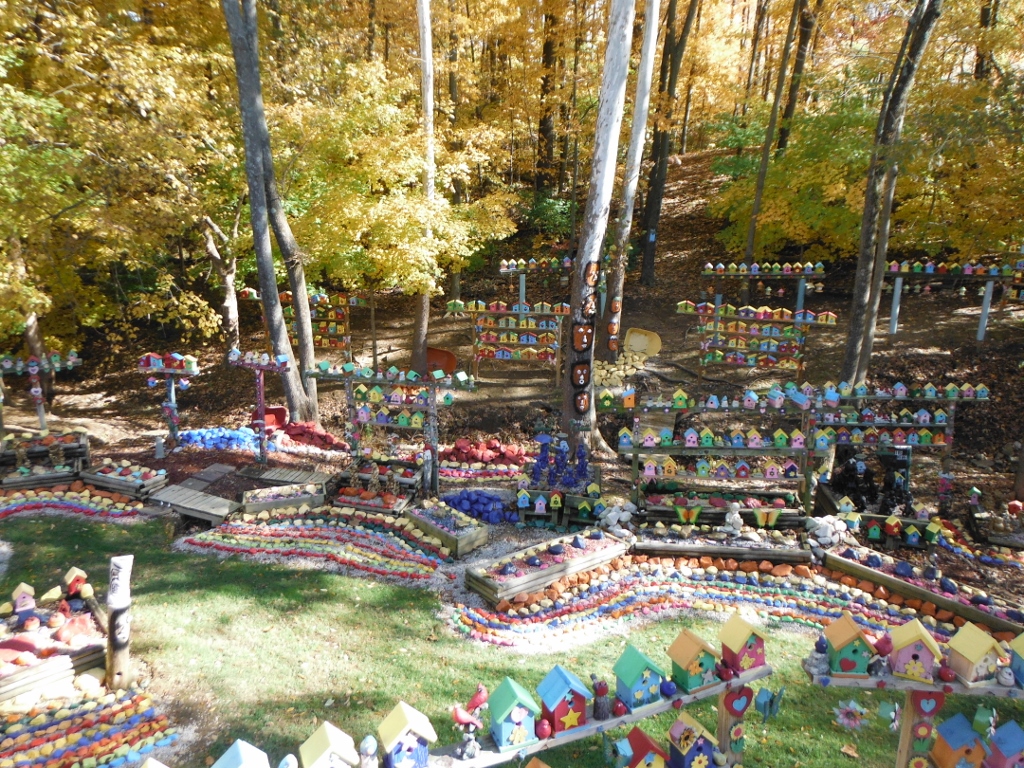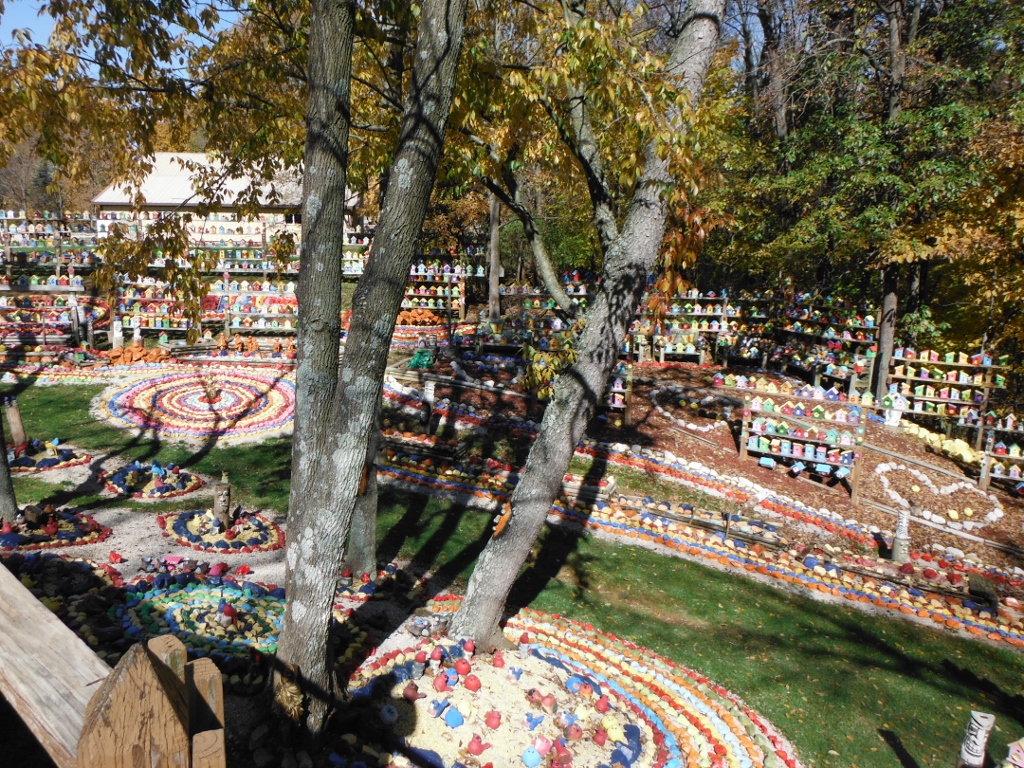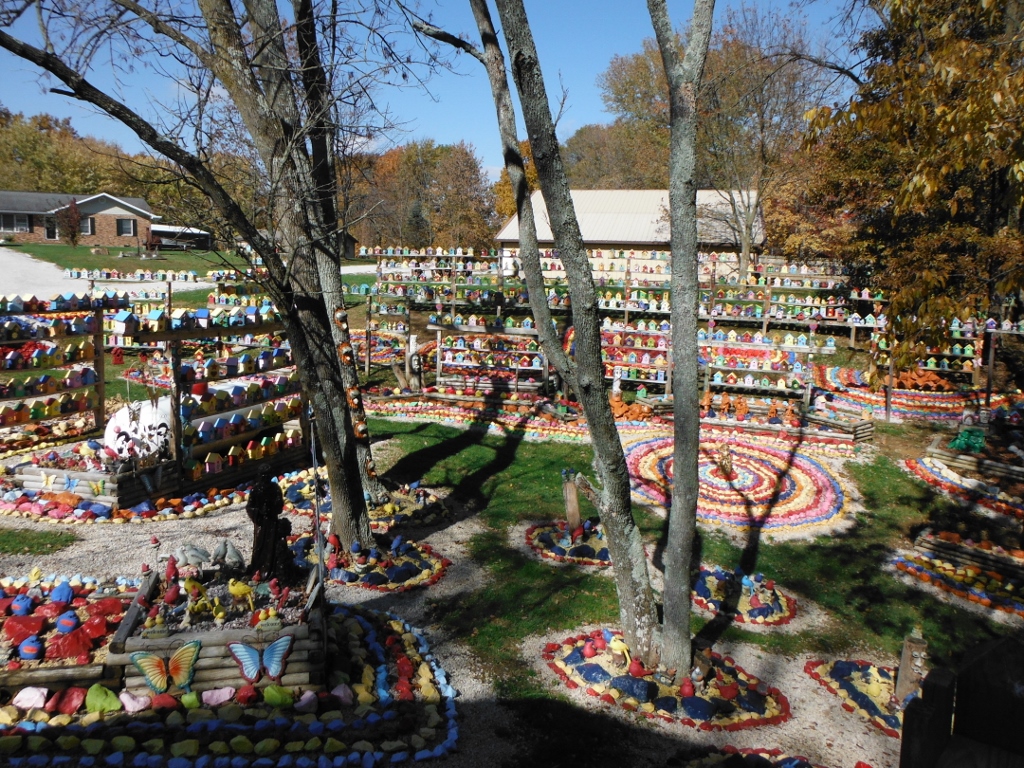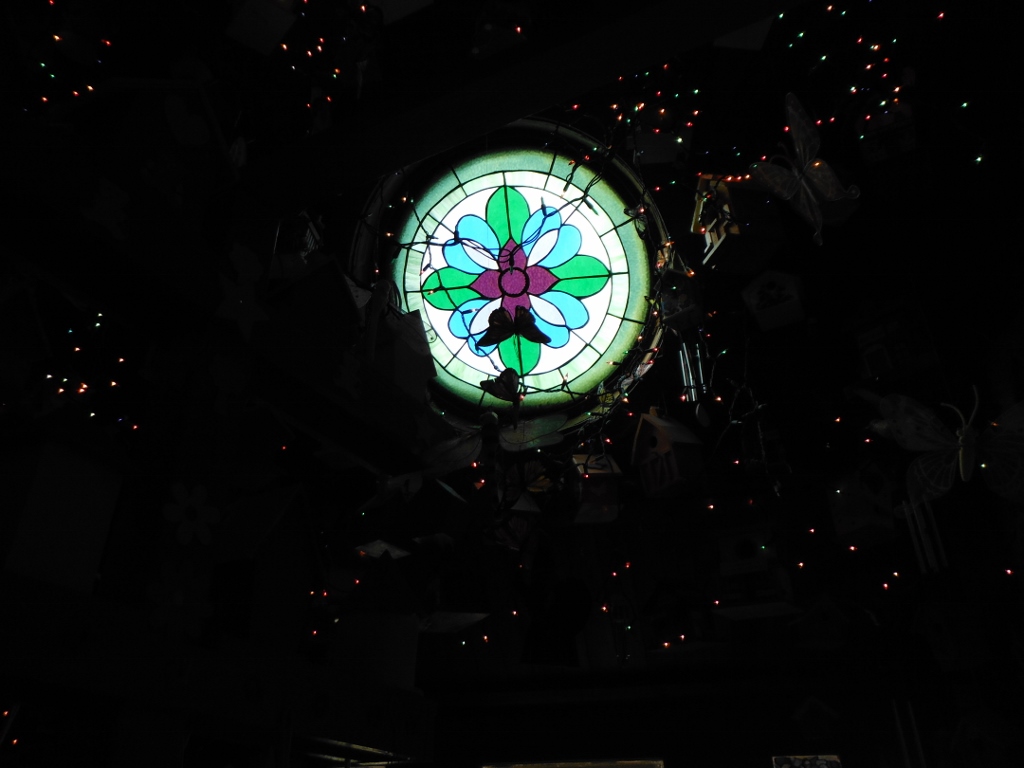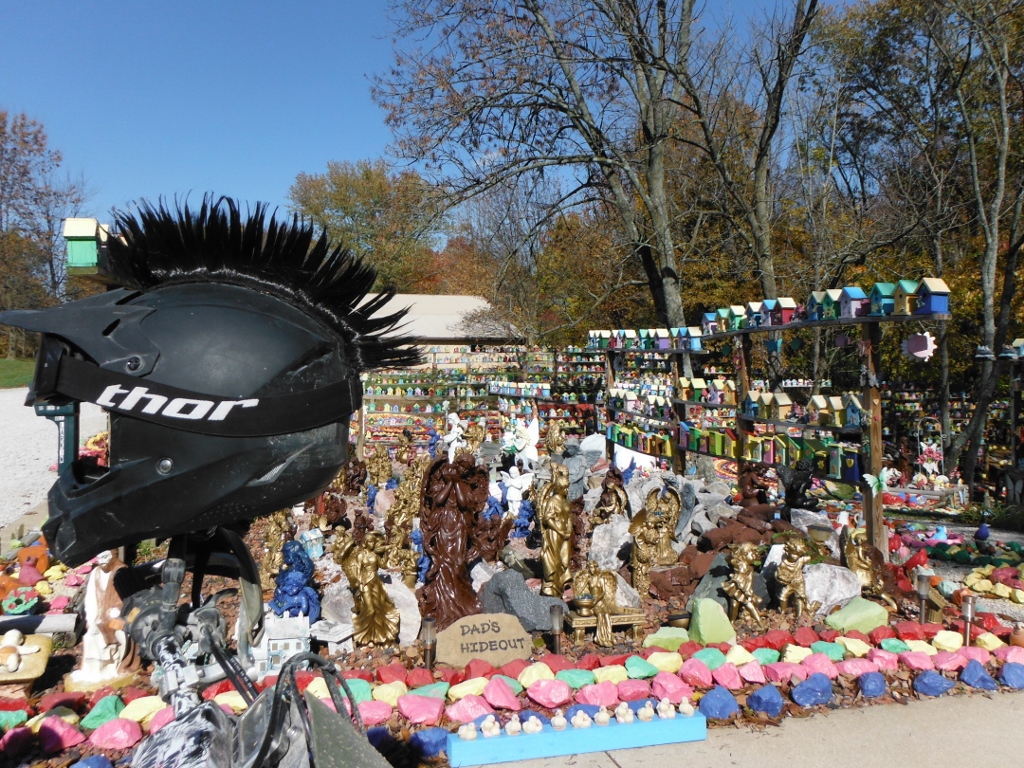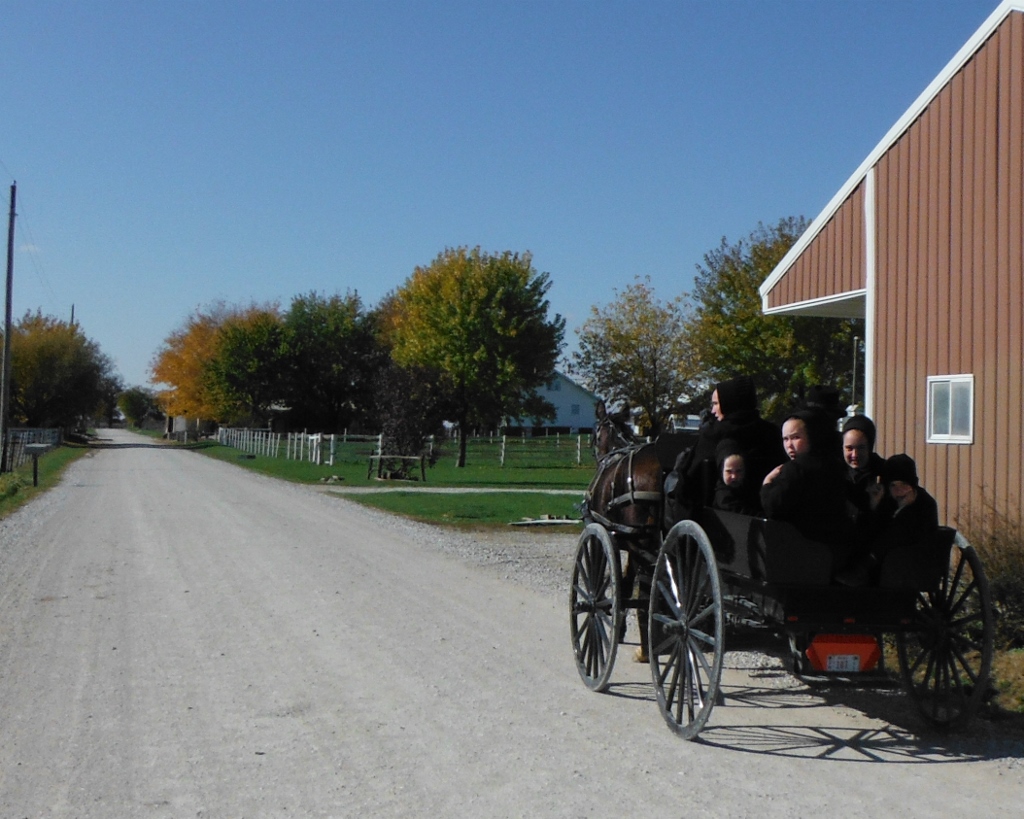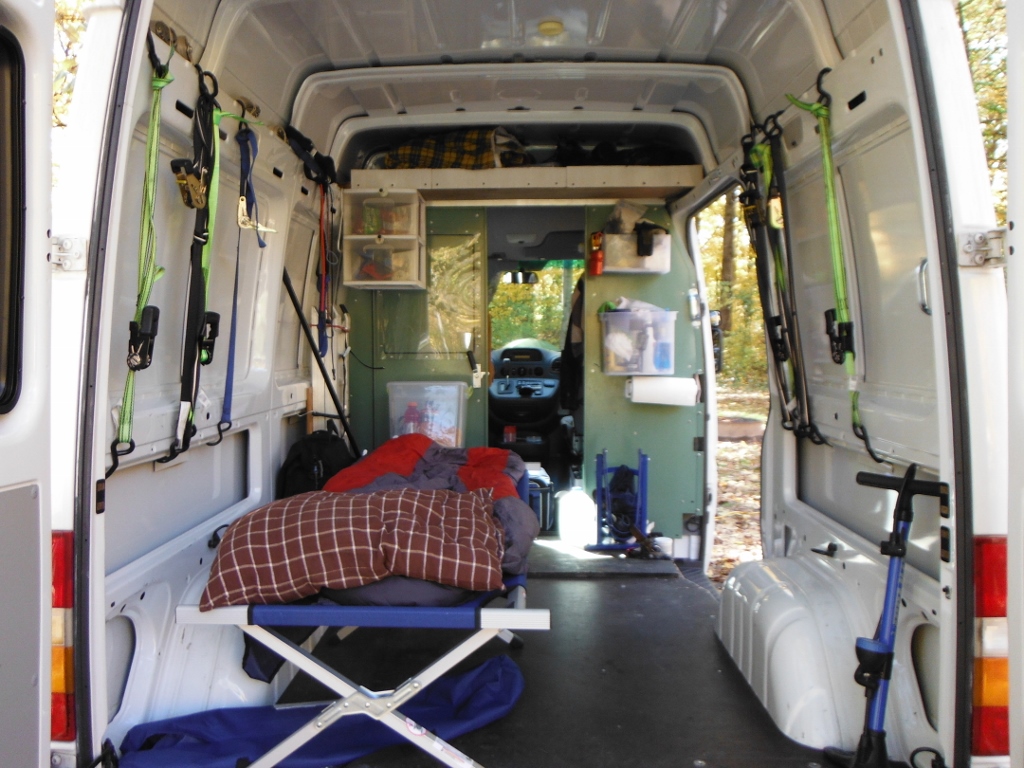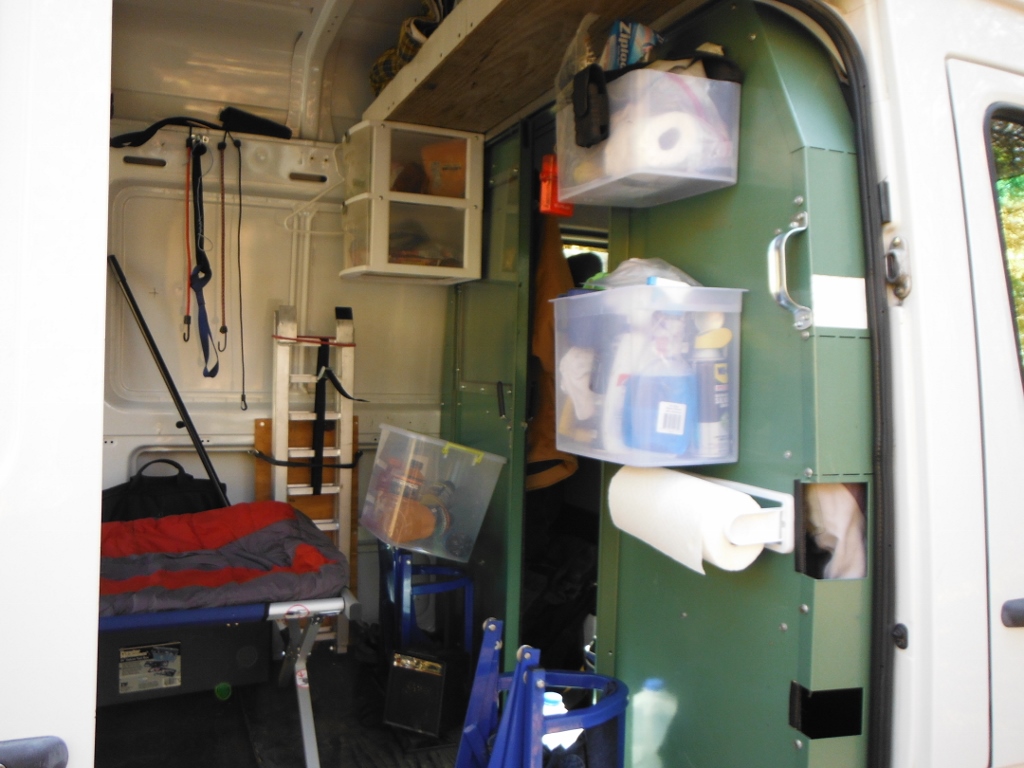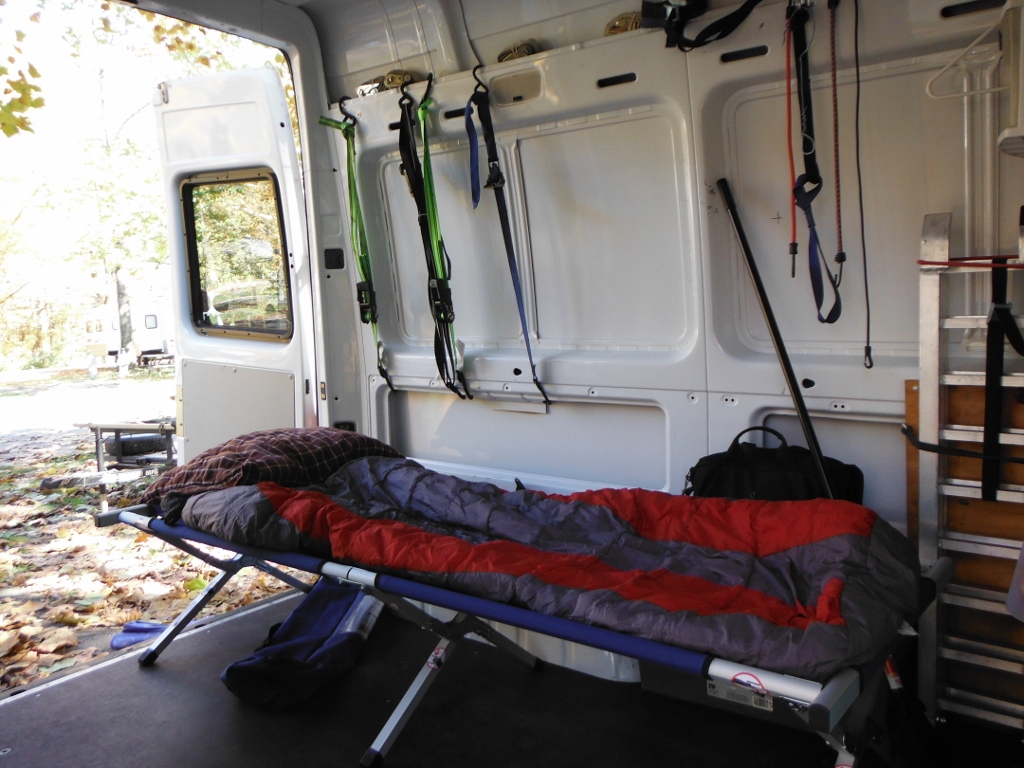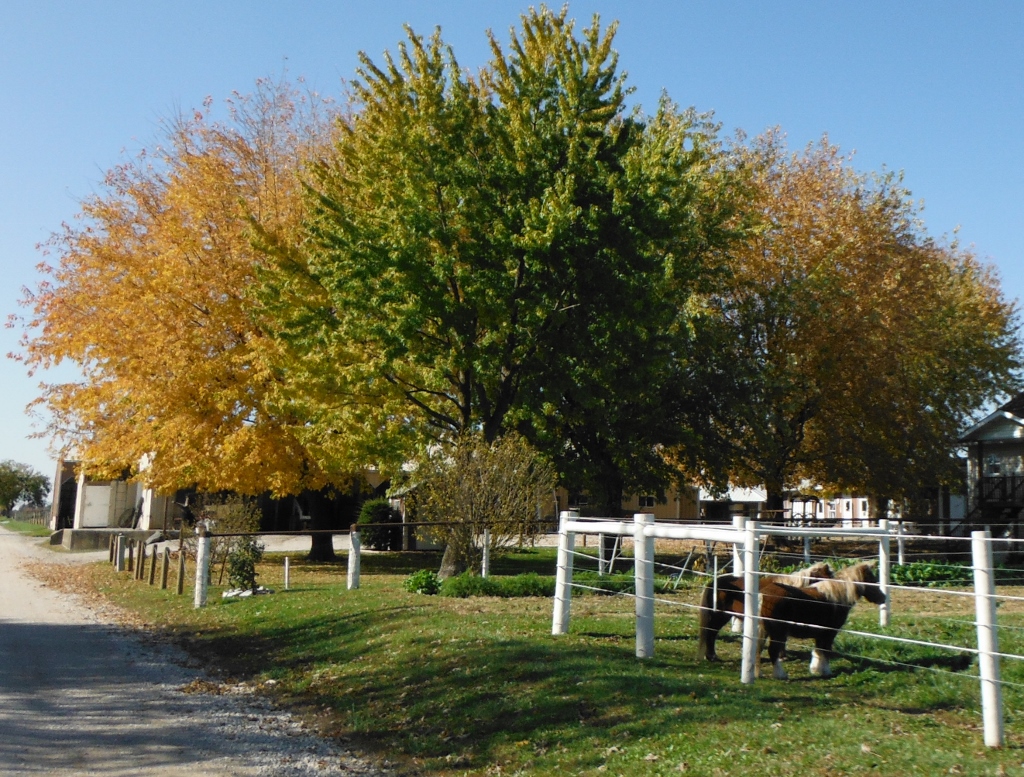 BACK to my homepage