BigDogs Mobius 11
April 2013
Here is a short Trailer video I made-of this ride.
A full video of this ride can be purchased HERE
Be Sure and select HD to watch the video--otherwise
it's the usual you tube fuzzies.

My 2nd ride with friends Dr. Rock (Dave Roccaforte) and LDF (Francine Osikowicz).
Dr. Rock and LDF have been doing 2 week offroad rides around the U.S., British Columbia, the Yukon and Alaska for about 5 years.
Twice a year they do a big ride, and after the end of each ride they leave their bikes wherever they ended up and fly home.
A very unique way of traveling which works very well for them, and allows them maximum ride time when they
can get away from their jobs. This will be their 11th time doing this--------thus "Mobius 11"
My very good friend Dingweeds (Scott Stevenson) among others will join us on this ride.
The yellow lines below show our approximate proposed route which will be about 2,300 miles over a 2 week
or so time span. We will be camping most everyday and will never know each day where we'll end up.
Weather, flat tires, mechanical failures, impassable mud, tough terrain, deep sand, tall mountains and big rocks will dictate
how far we get each day. This route is not set in stone and as always there will be many re-routes when stuff happens.
A lot of this ride will be in the deserts of Arizona and California and will go thru Death Valley--which I've never been too.
I'll not give away all the rest yet so enjoy the trip and story.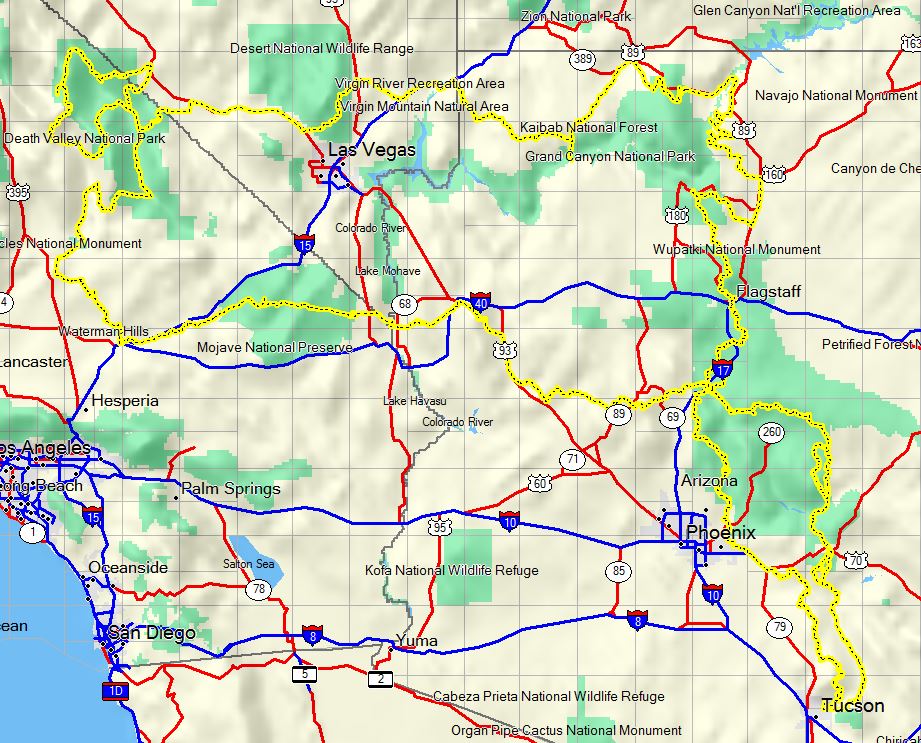 Here's all four of us at the end of our last ride--somewhere in Colorado I believe in 2012.
Left to right: Dave, Francine, Scott and Mark (me).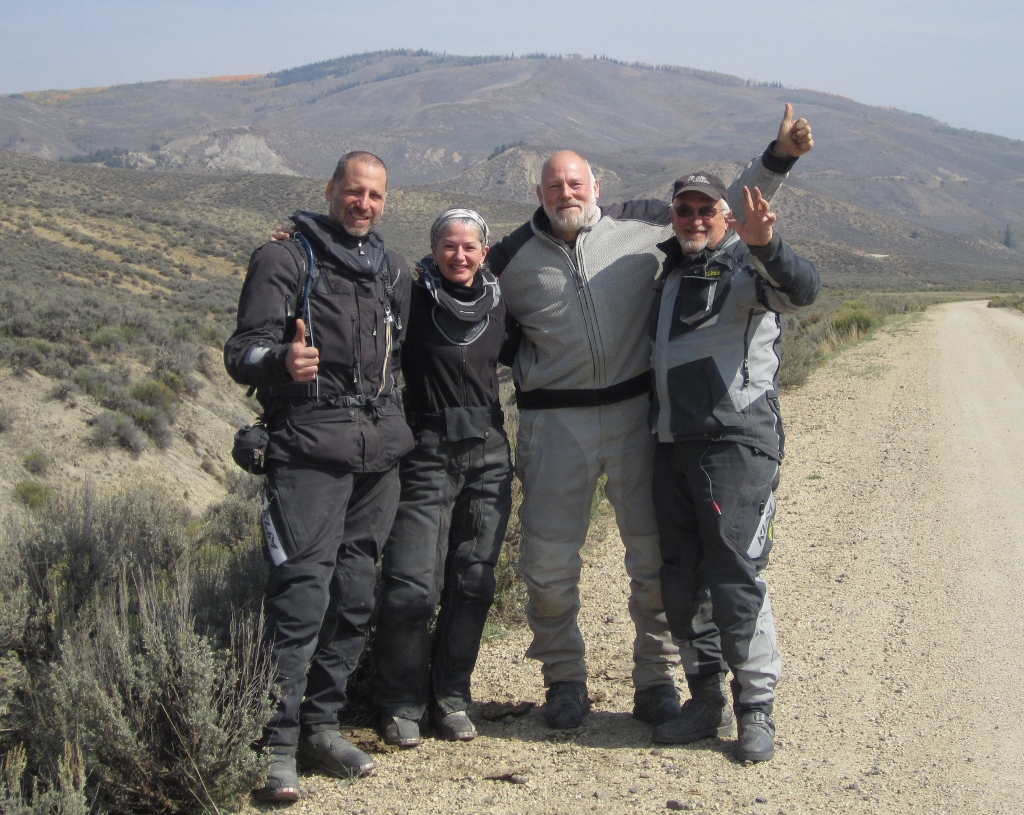 My long distance adventure bike of choice has been my Yamaha WR250R for the last few years.
I"ve owned many of the large adventure bikes thru the years---but the WR has been so much better for rougher terrain
and almost never makes me turn around as the others did.
I hauled it the 1,600 miles to Tuscon Arizona in my 06 Mercedes Sprinter Van and got 27mpg most of the time.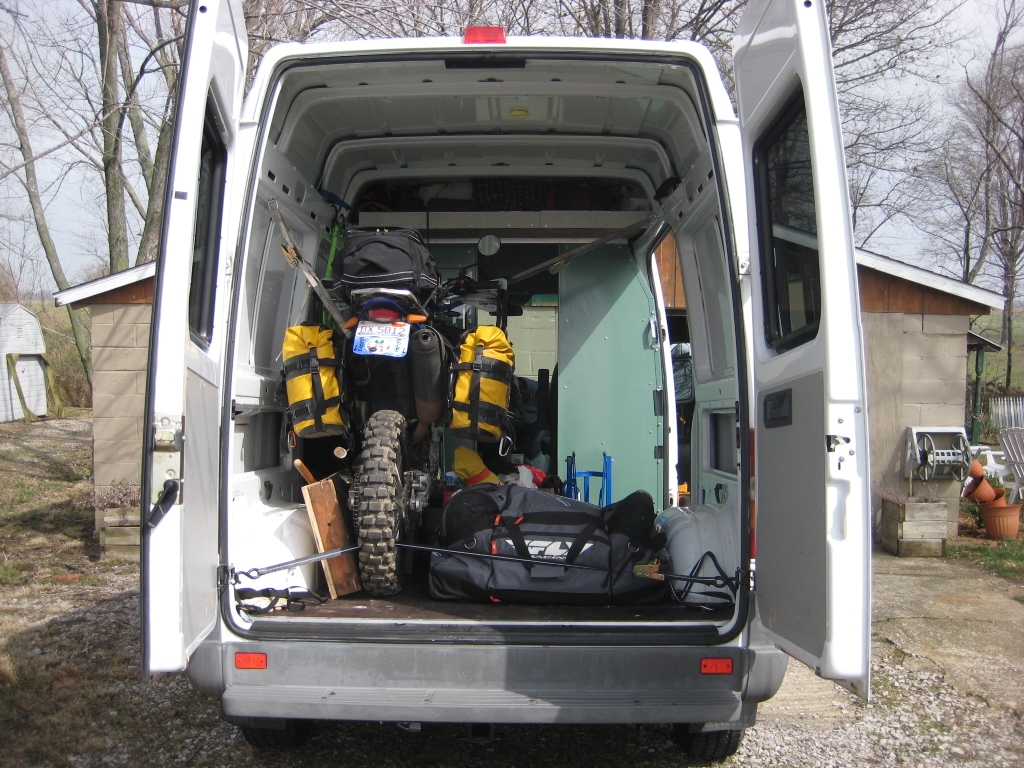 I got to my buddy Scotts house in Tuscon a day early and immediately started working out for the ride.
I didn't have my bicycle so this just had to do.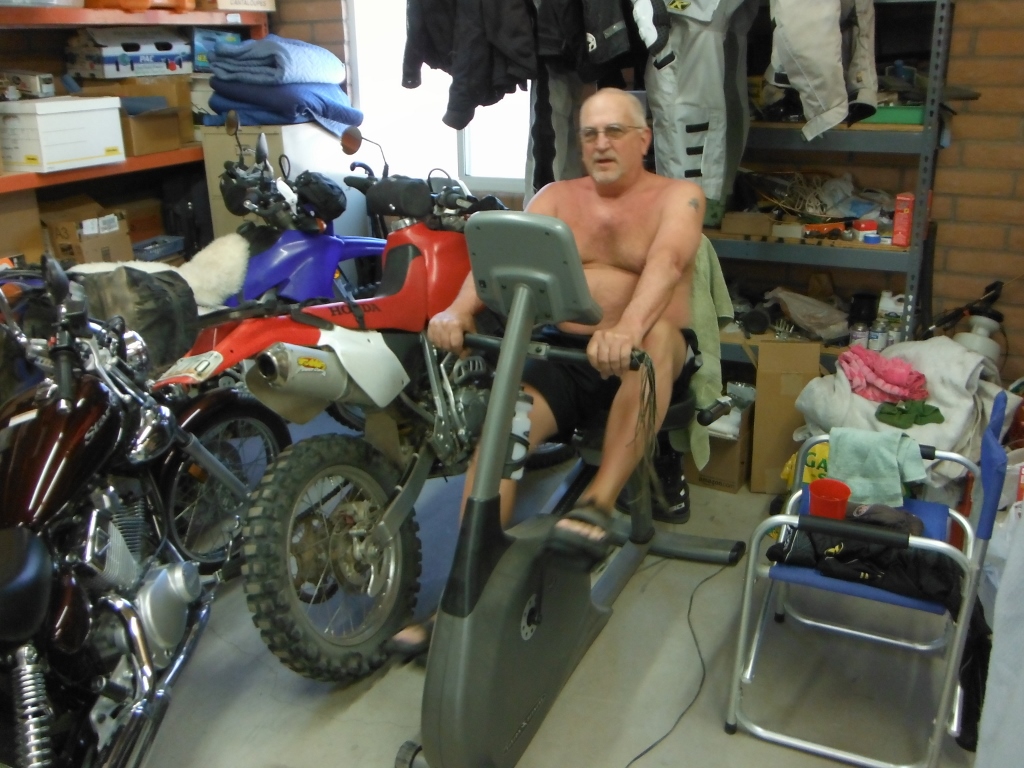 I don't know what all those numbers meant---but it made me feel like I was doing something.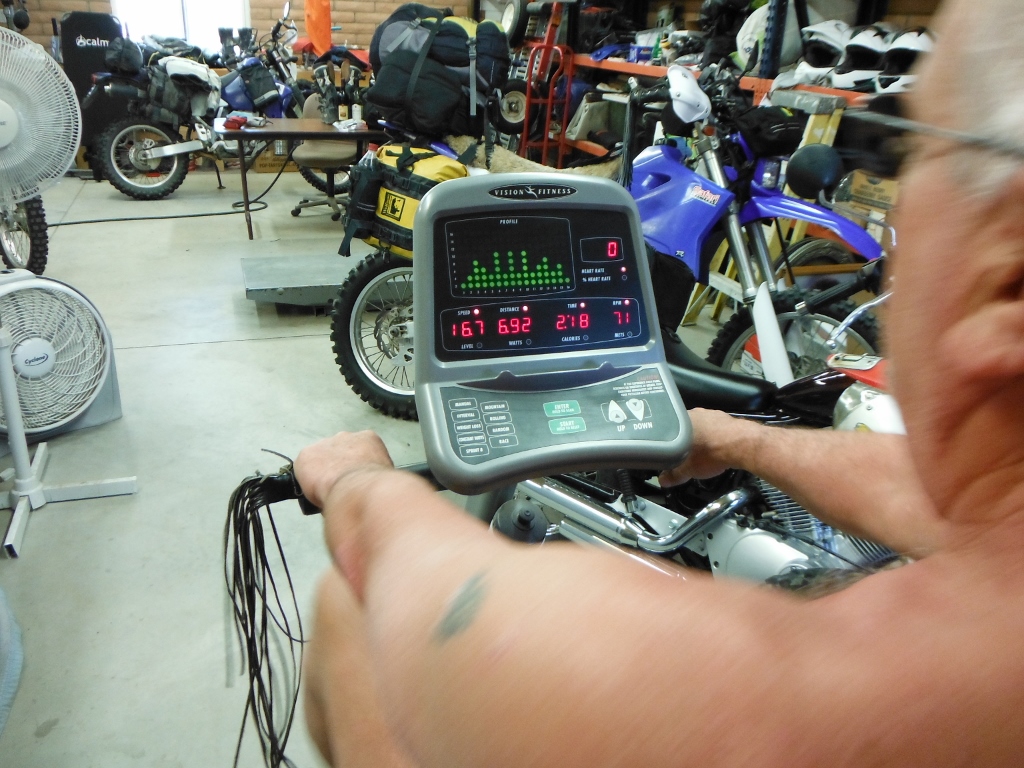 Scott and Francine flew in from New York and their bikes were all ready-----as they had been at Scotts house all winter for repairs.
So they both went to work doing last minute packing for the ride.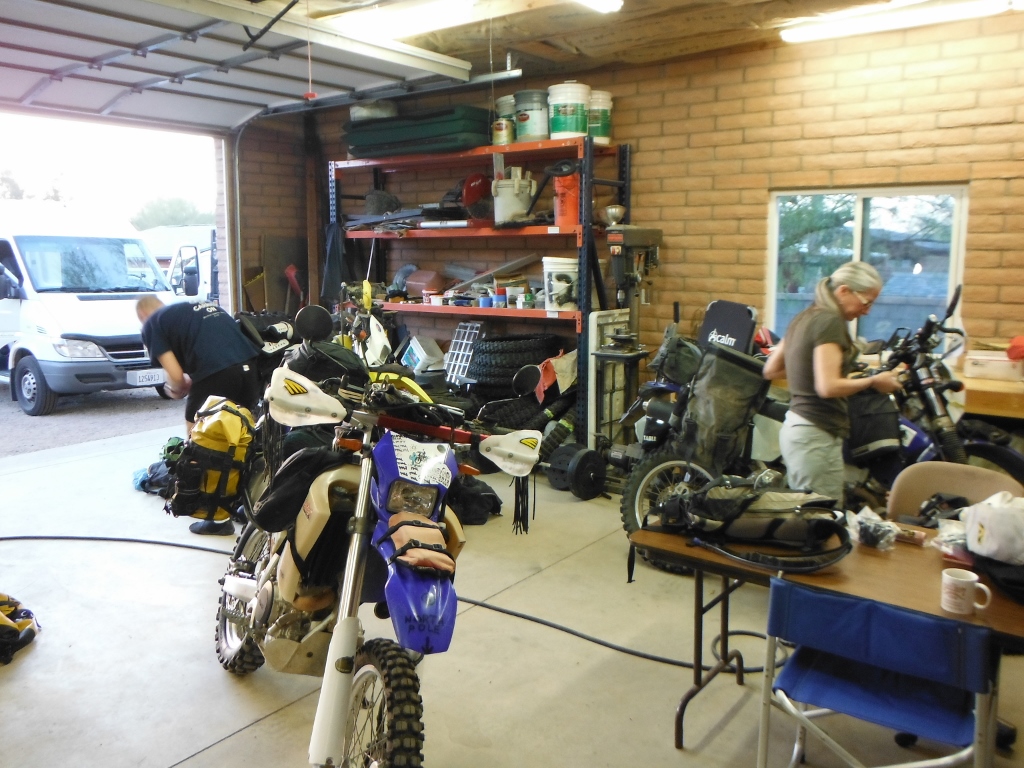 Bud showed up on his new to him KTM 690 Enduro---he would only be with us for 2 days.
He was in his 70's and was an excellent rider.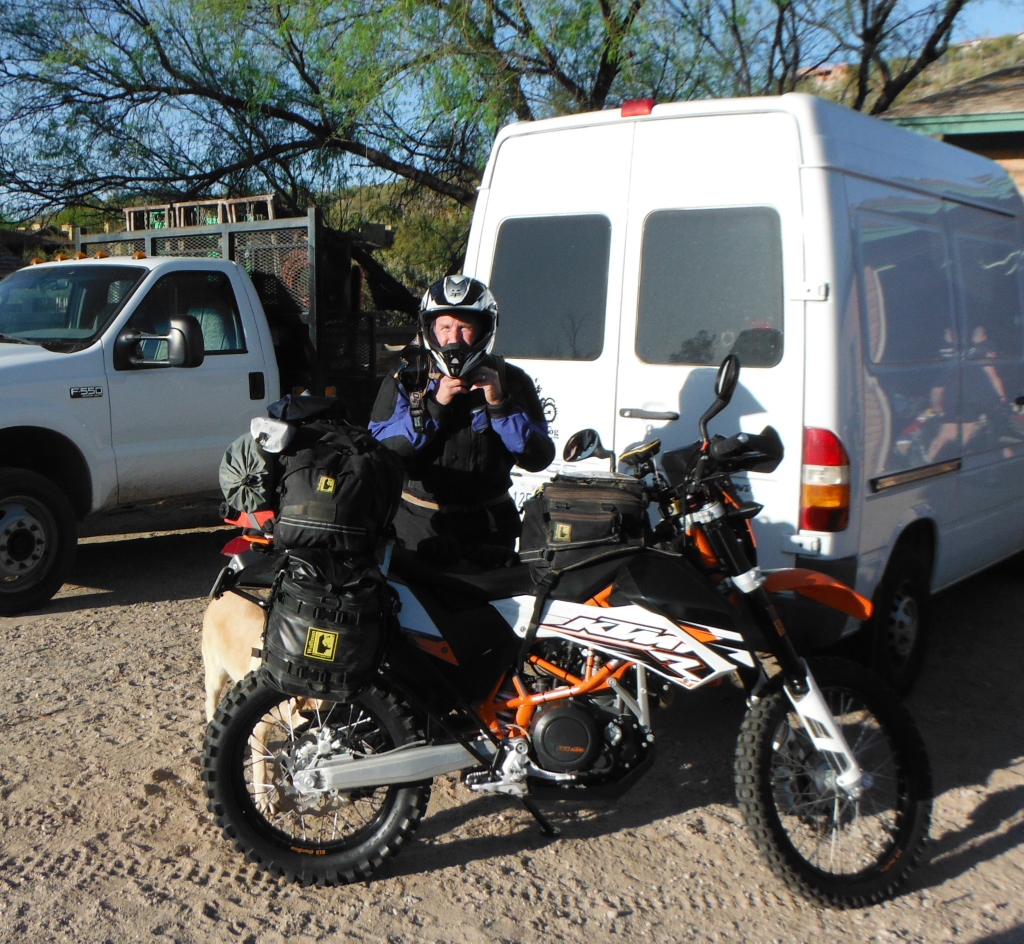 No hassle Tassels were handed out to new riders.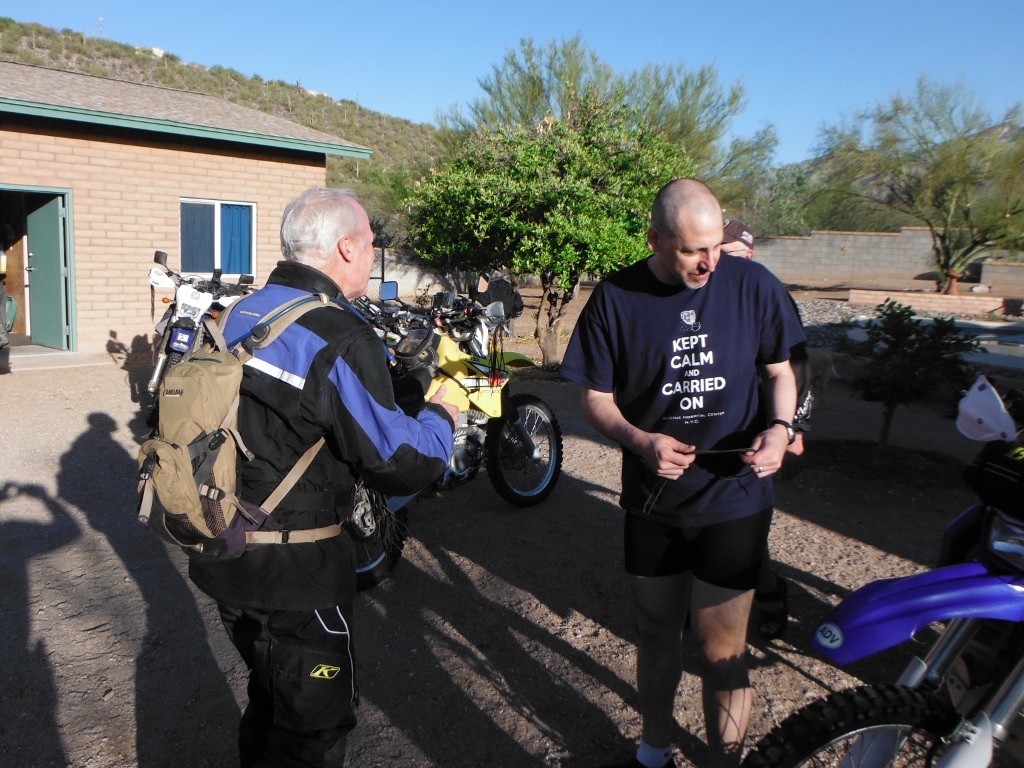 Roger (left) showed up on his DRZ400----Roger was probably a better rider than all of us---but camping was the "C" word to him.
He was a hoot. He owns a local bike repair shop and was glad to get away---if only for a couple days with us.
Our last chance for a dip in Scott and Julie's (Scotts wife) pool.
My wife would never come here-----Mountain Lions, Bobcats, scorpions, rattlesnakes, pack rats, and tarantulas are
frequently seen in Scotts back yard.
Rogers an ace mechanic and made quick work of installing his no hassle tassels.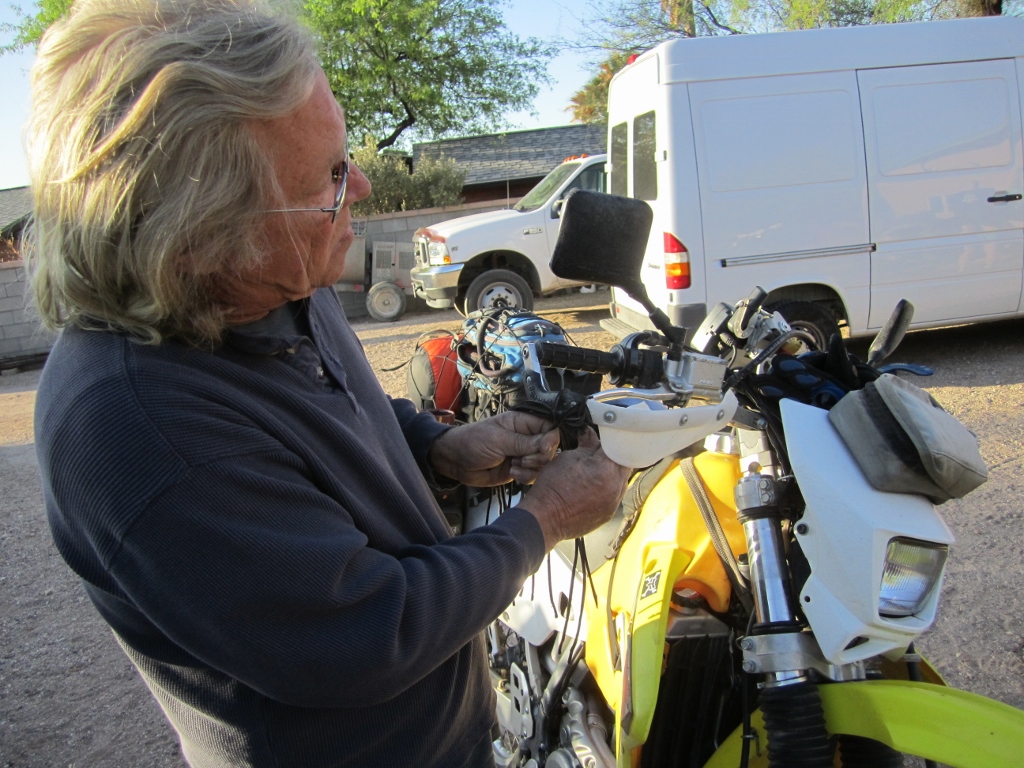 Dr. Rock thought is funny to put a "Fall Risk" band on Francines's bike-----------this was to be a bad omen.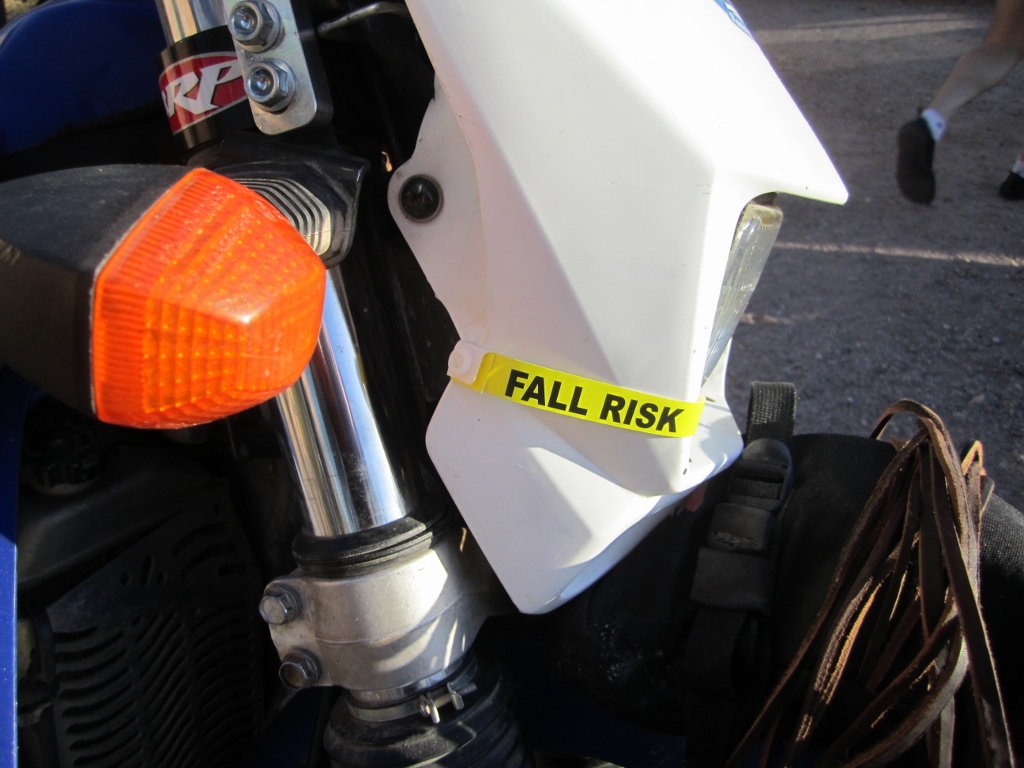 Scott-----gives some last minute words.
"You gonna ride those bikes or whistle Dixie"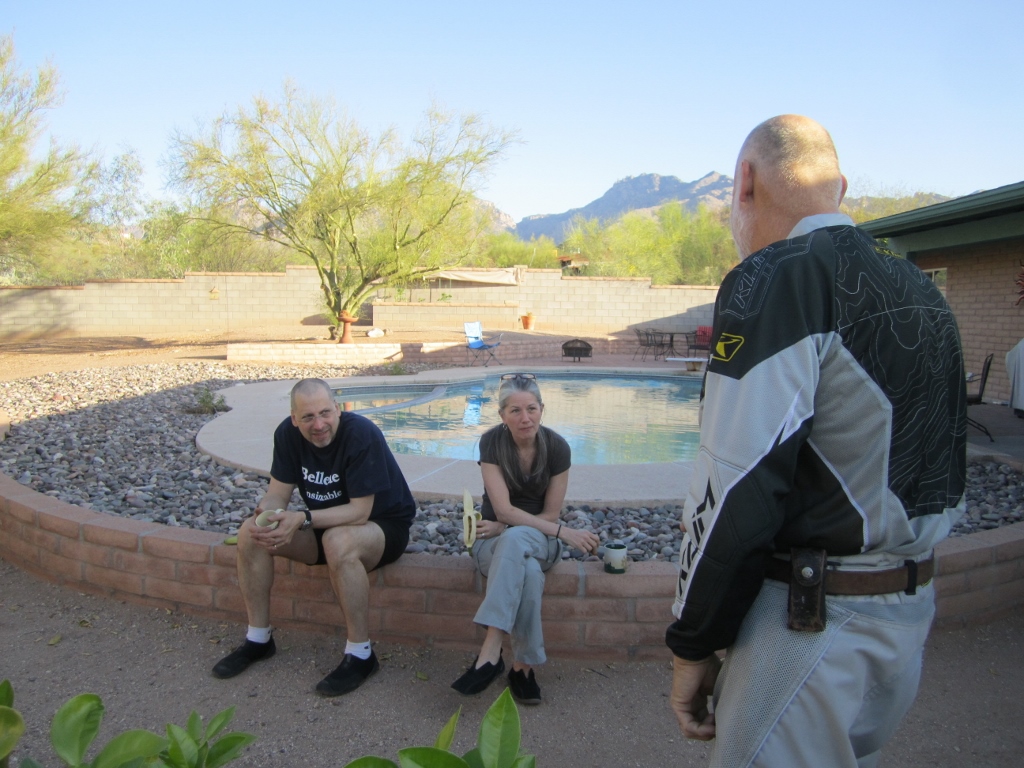 Day 1
April 6th, 2013
6 of us roll out of Scotts house in Tuscon and head out on the Redington Road. A beautiful mountainous dirt road heading North.
Roger's not much of a camper---actually I think he hates it and really didn't have his packing system perfected.
Everything fell off pretty quick and out came the emergency straps.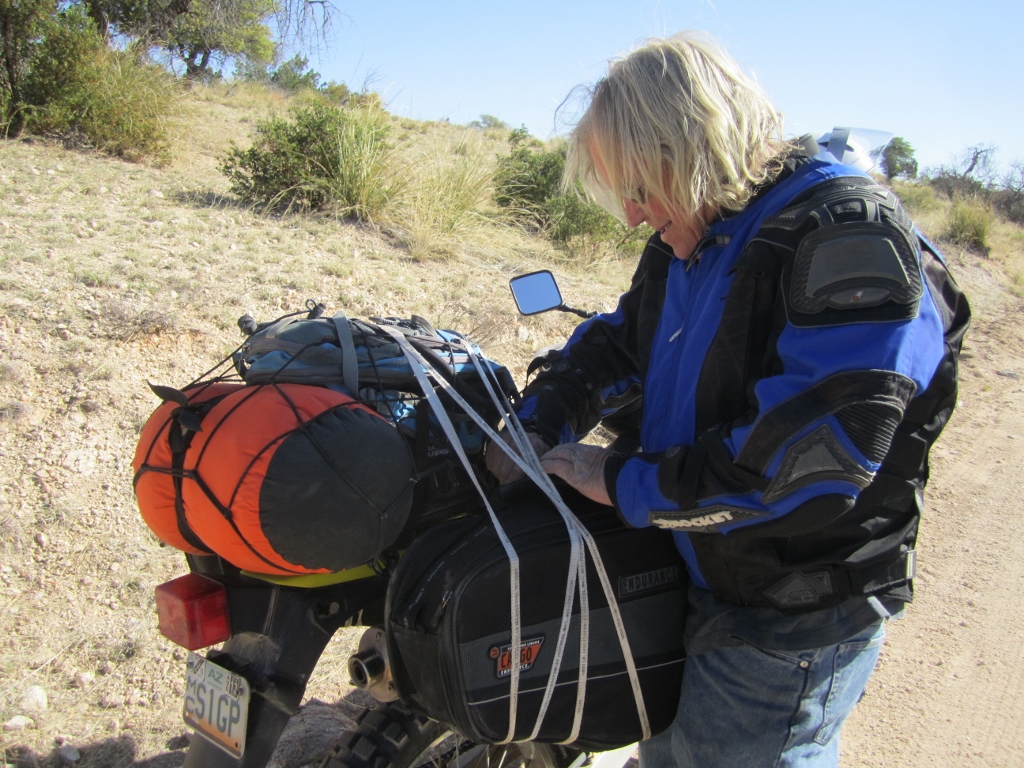 The Tassels doing their job. Everybody had them and it made the riding so much better.
Made the bikes run smoother and cooler----amazing.
Very good for judging wind speeds.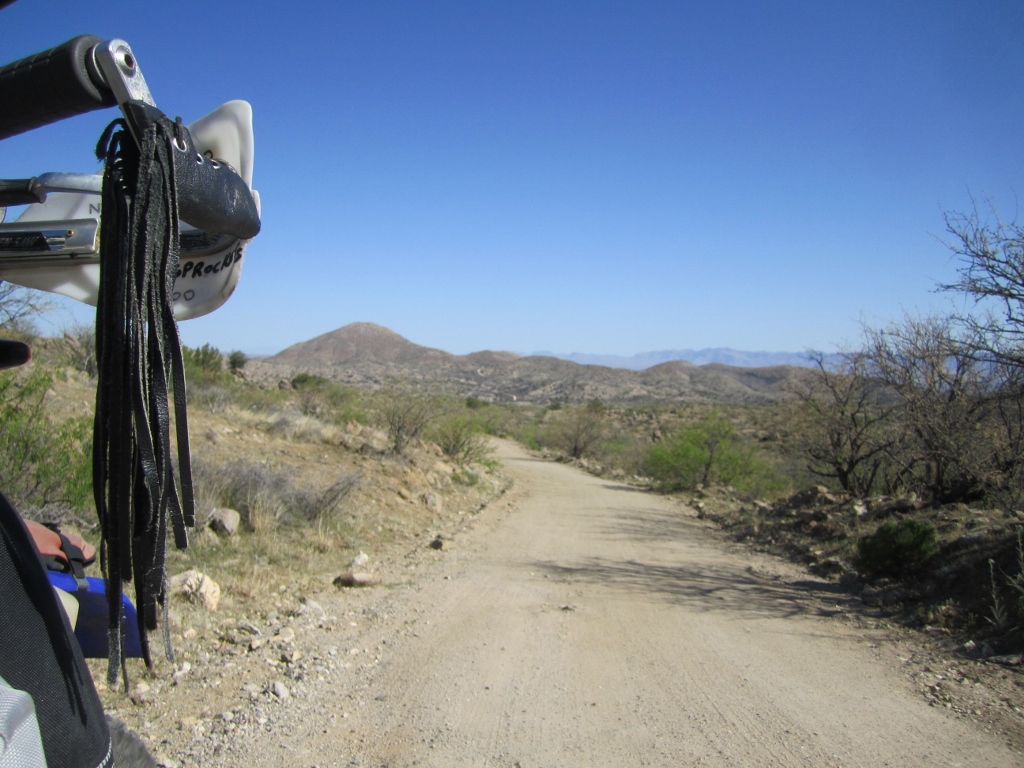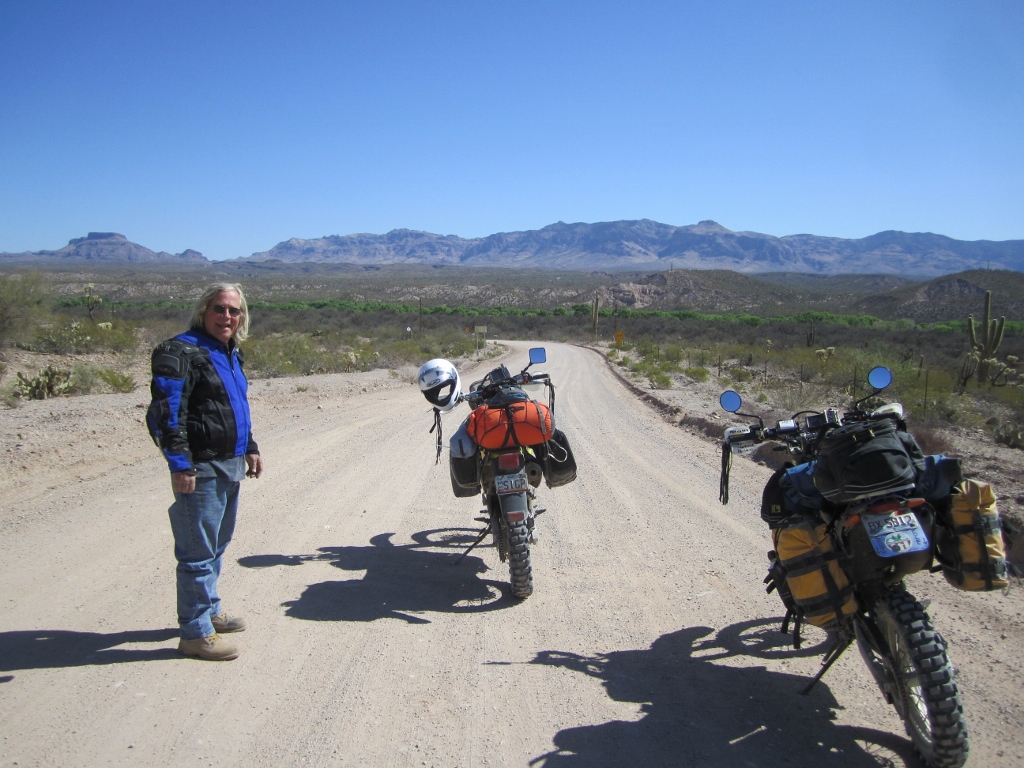 Scott (dingweeds) on his WR250R-----his will reach 50,000 miles this year on this bike I'm sure.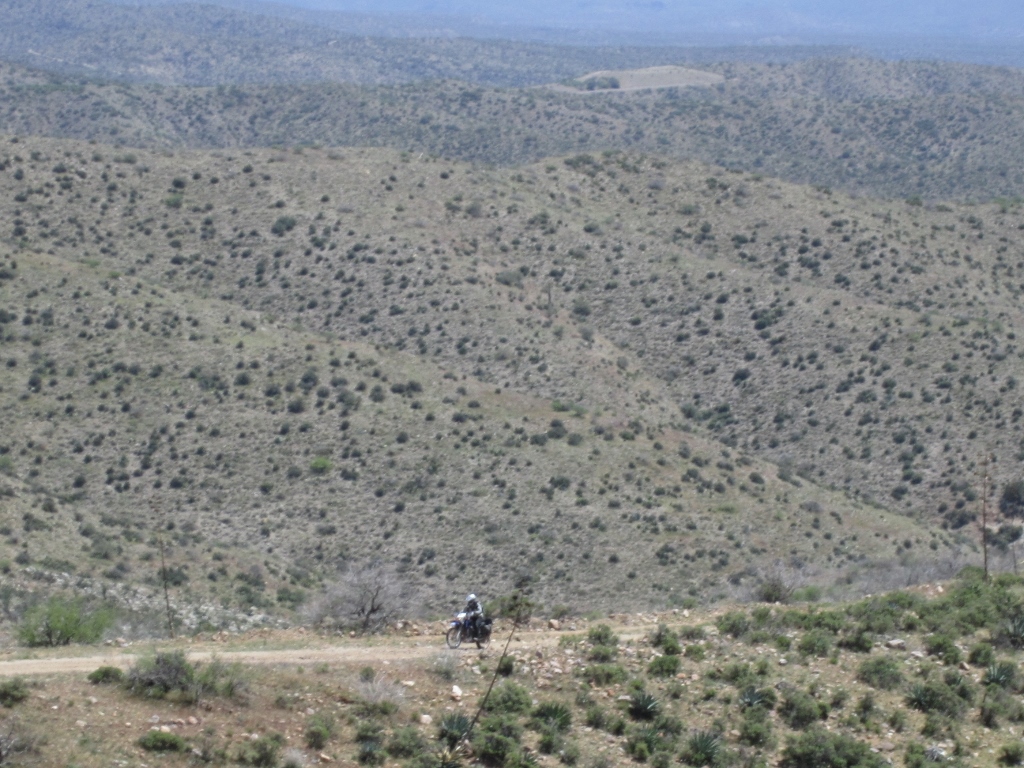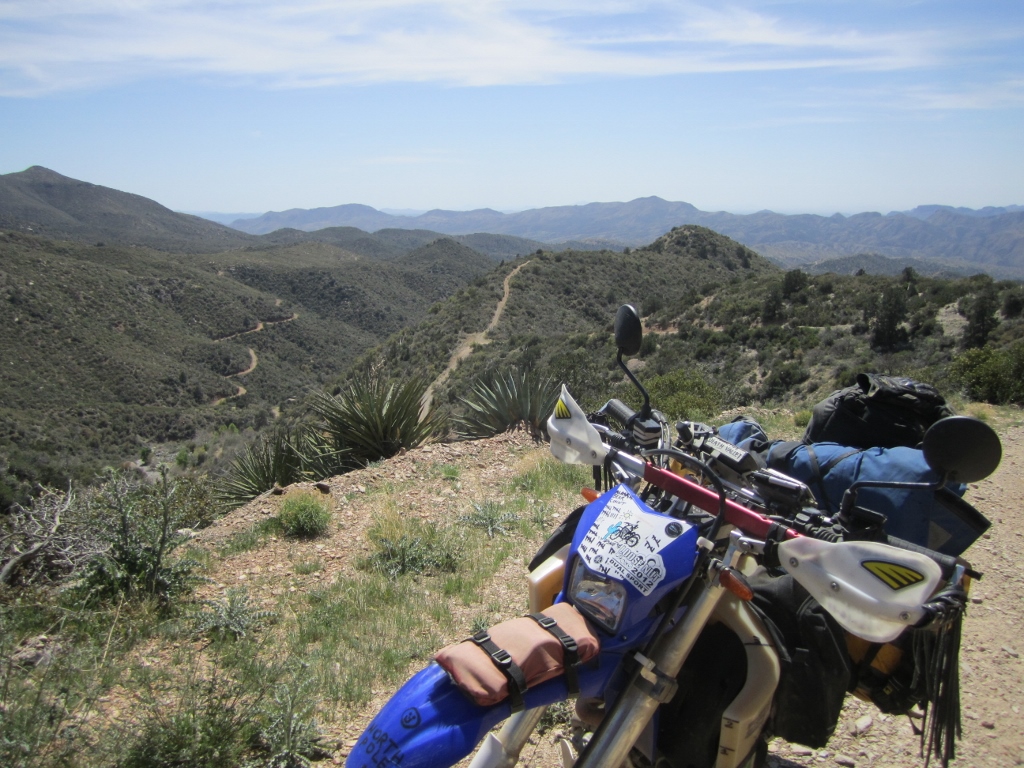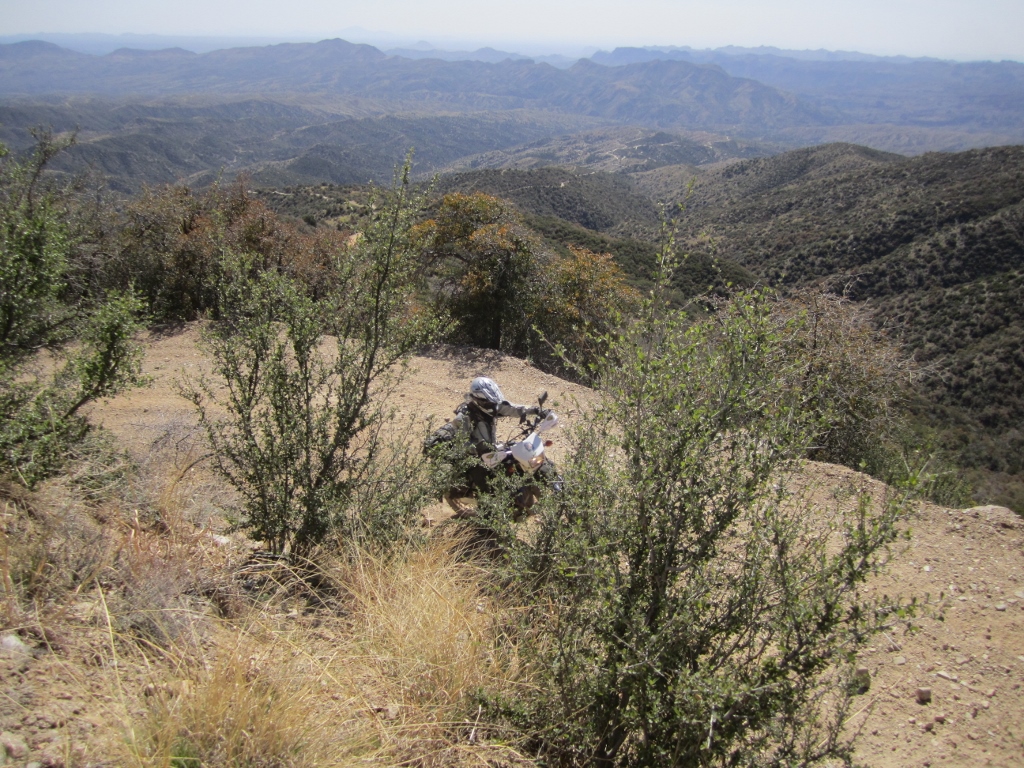 In Winkleman, AZ we picked up Julio--------pronounced Hulio.
He's a hoot and rode with us for 2 days. He went thru 2 tents in 2 days.
Both succumbed to his exhaust pipe.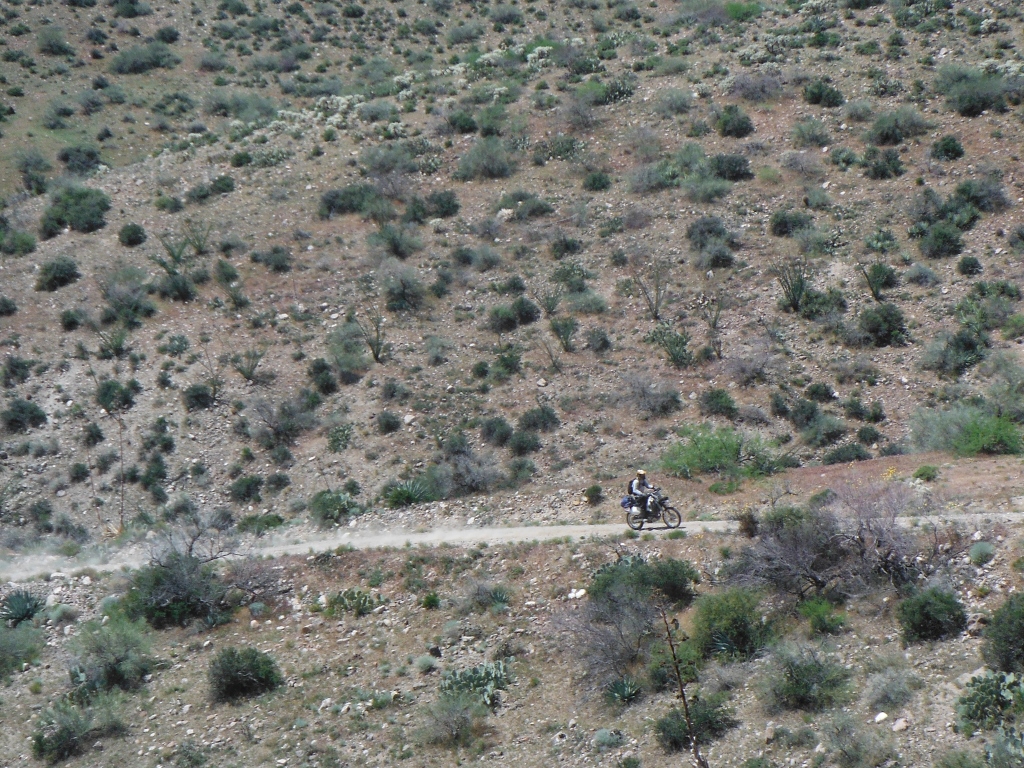 Later on after burning his tent it fell off and got tangled up in his wheel.
He was a good rider--but had never camped.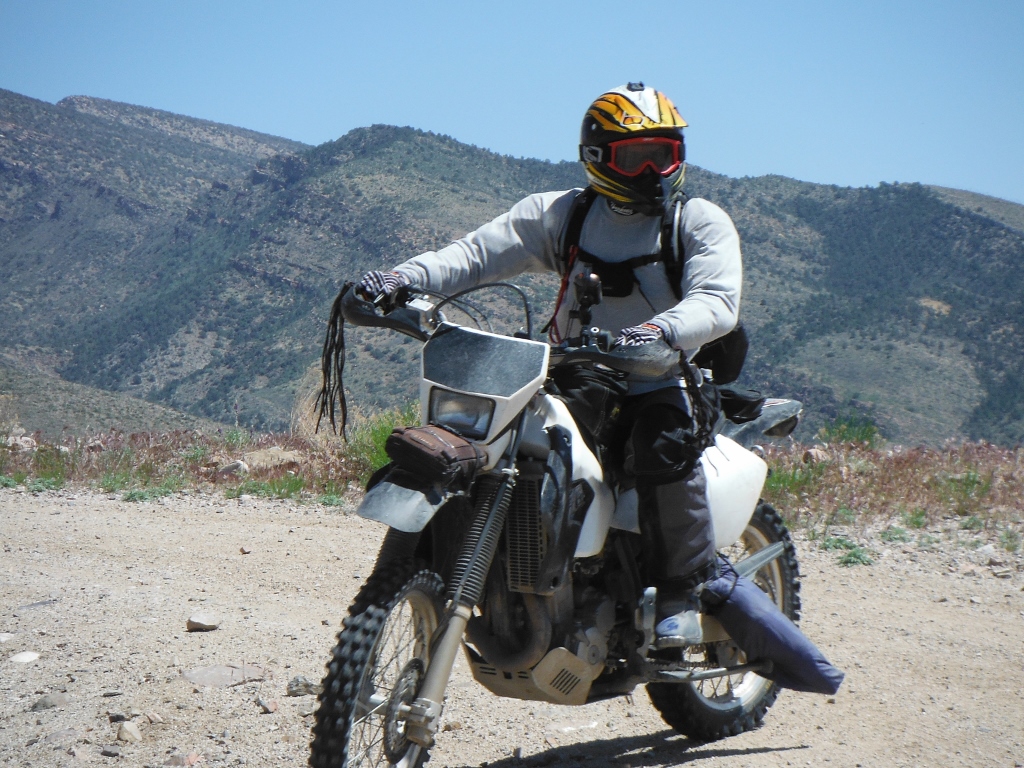 Temps were about 72°---nice------ real nice.
We would experience temps from 21° to 102° on this ride. I'd hoped I was prepared for these extreme temperature fluctuations
that I had fully anticipated.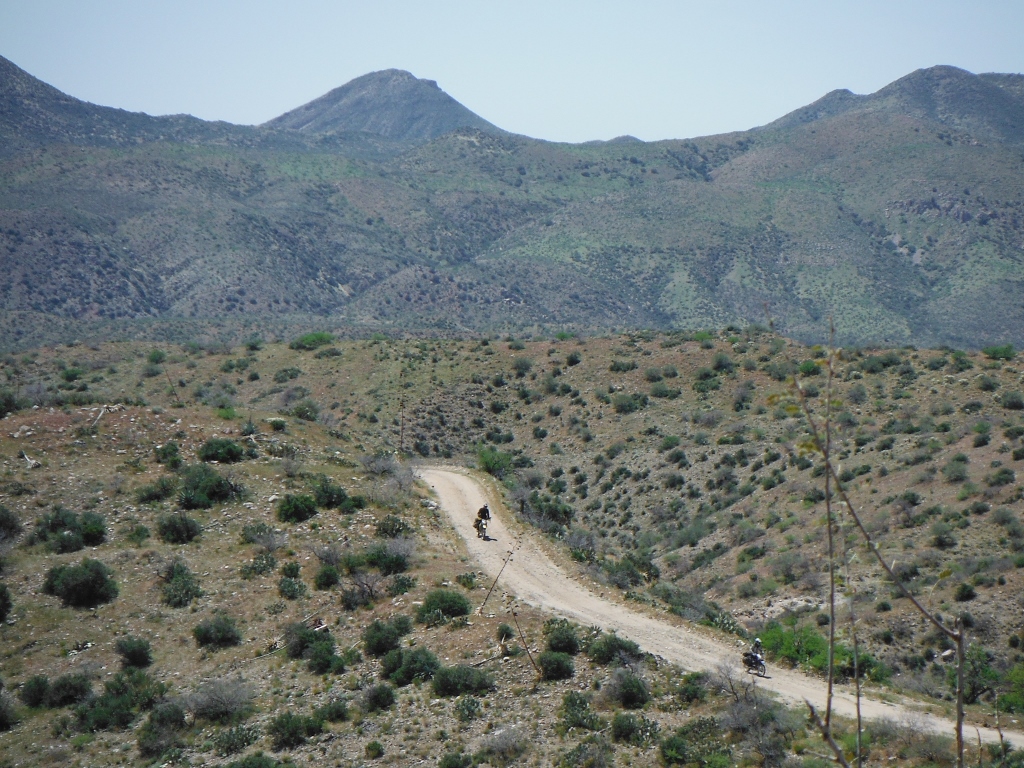 We had too change our route most days as things would happen---today the route we wanted to ride was on a narrow
shelf road and completely washed out-----but we quickly re-routed.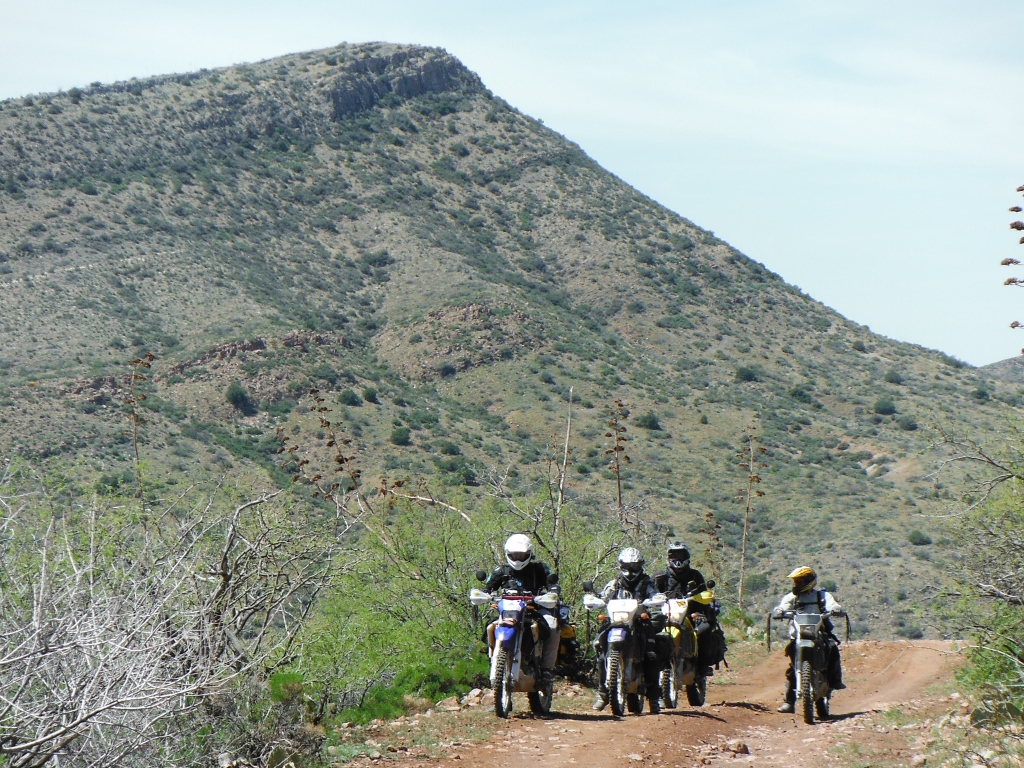 I've ridden in Arizona a lot------it's one of my favorite states to ride in.
The first time I went I was expecting flat desert--boy was I in for a pleasant surprise.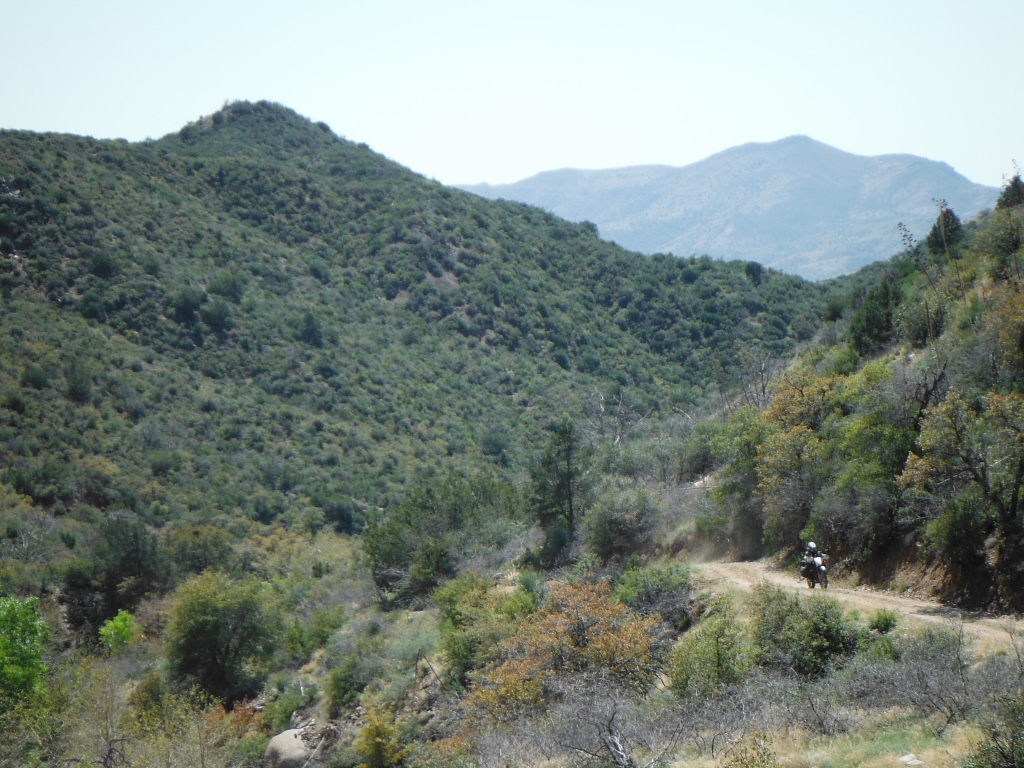 Here is Francine on her DRZ400S which she effectionately calls "BlueBerry".
She loves that bike and has it lowered a bit.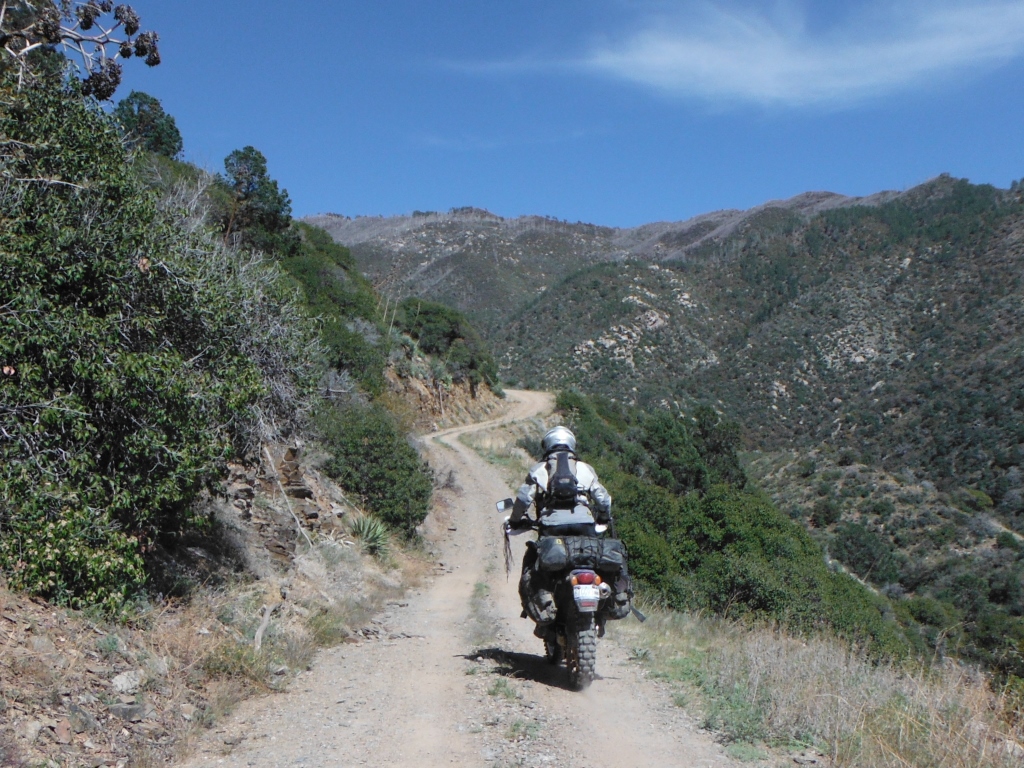 We pass right by Theodore Roosevelt lake and have no idea where we'll end up today.
I love not knowing our destination each day--------no push to get anywhere.
We spot a perfect campsite over the lake and everybody starts gathering firewwood.
Roger pulls a few big tree limbs in with his DRZ-----dirt and dust a flying.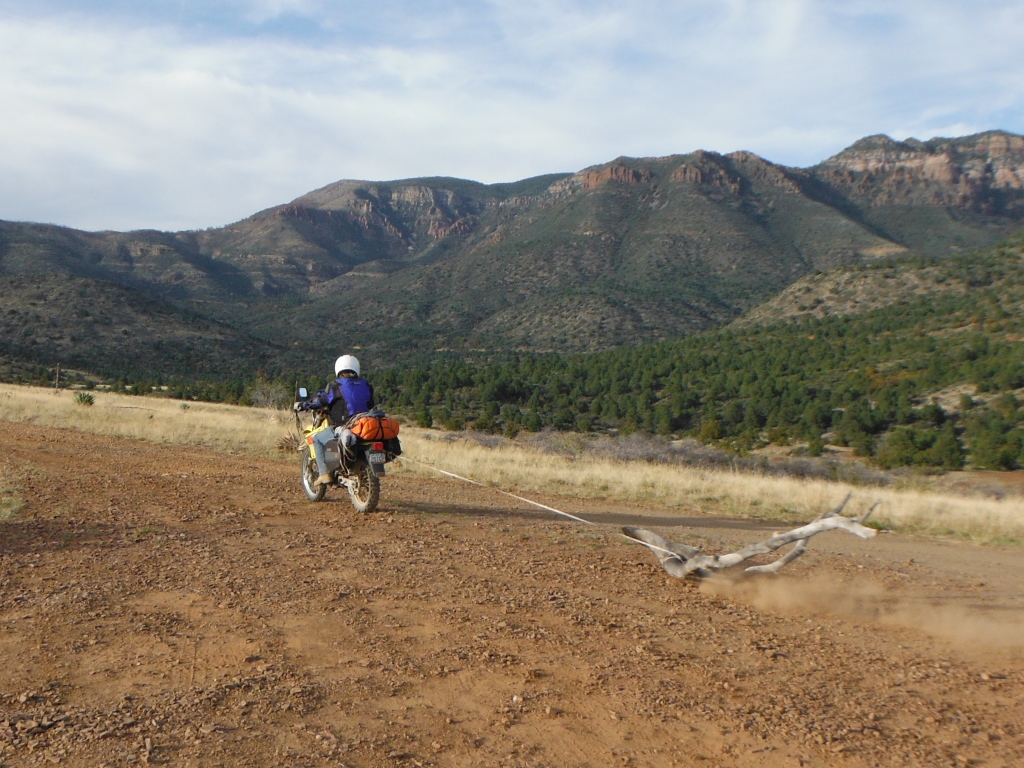 The plant you see there is a Century plant. They are common in the Arizona mountains and are beautiful when in bloom.
The crazy guy pulling the tree is Roger of course.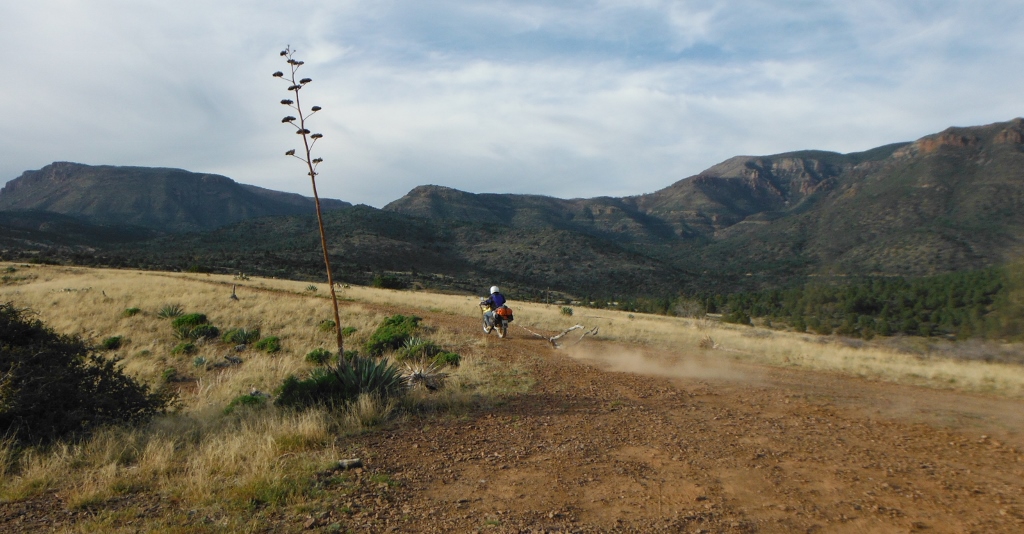 We are high above the lake and have a beautiful view.
It was a bit windy setting up our tents--but it settled down as the sun went down.
We are at 4,600 ft. here. Perfect temperature for camping.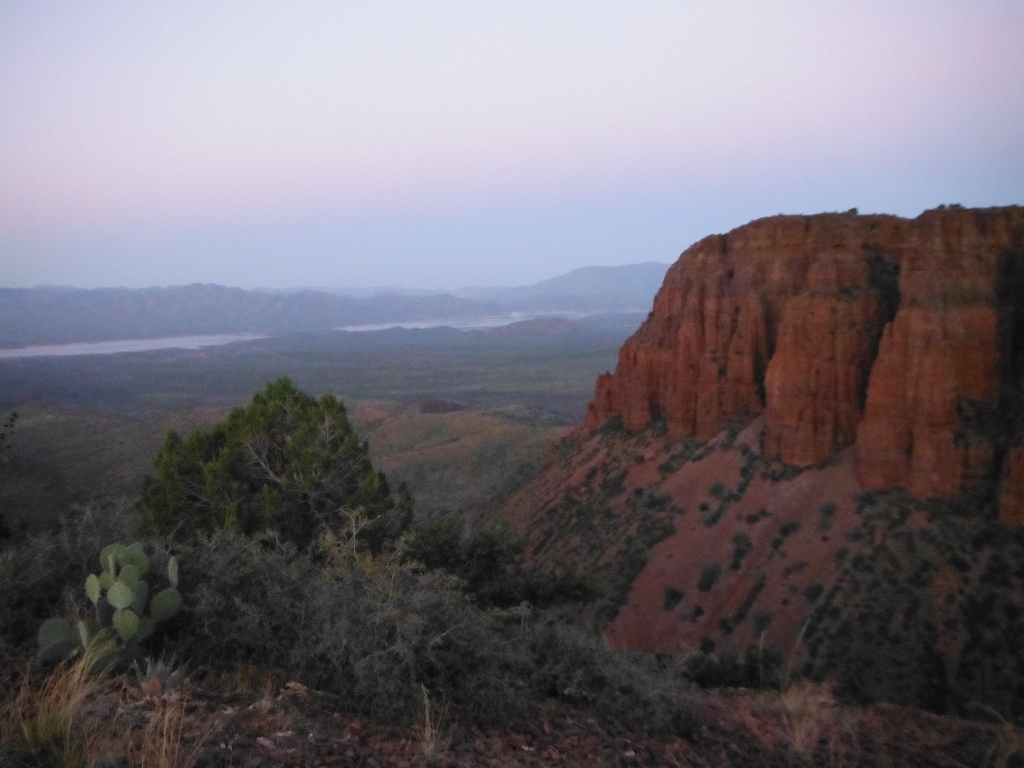 I really like Roger (left)--------Roger is just himself and puts on no aires for anybody.
I felt bad not packing the Kermit chair everybody bought me last year---but I wanted to pack very light for all the
sand riding I knew we'd be riding in. So I packed my little Alite chair.
Looks like we had the Jet Boils fired up.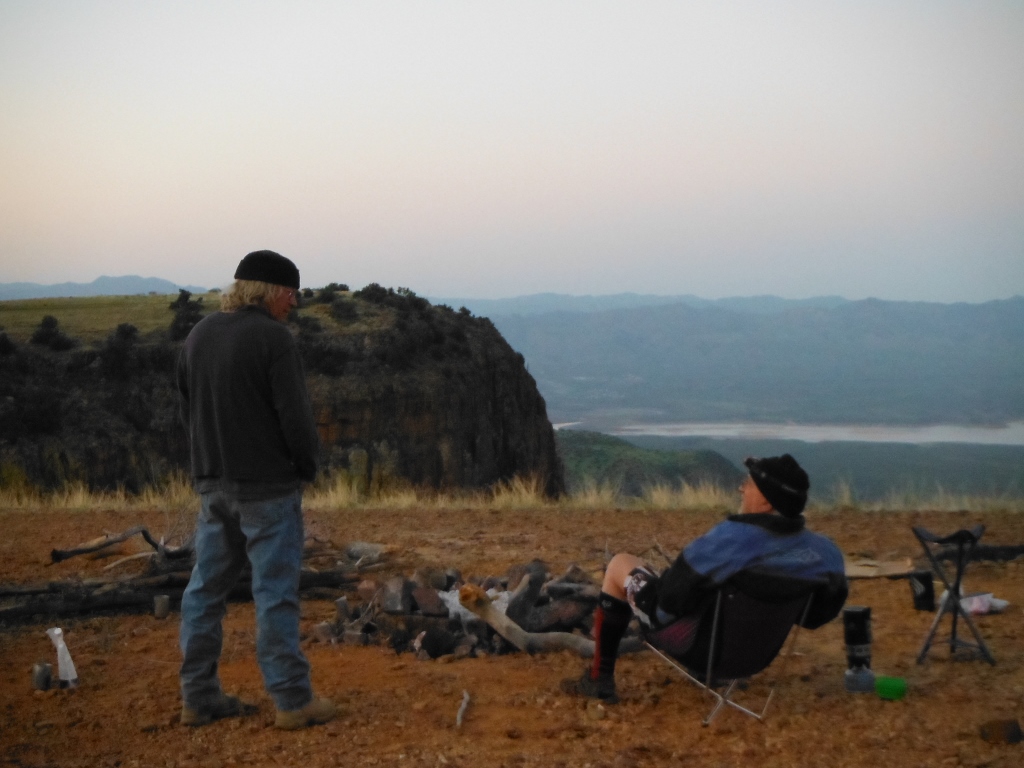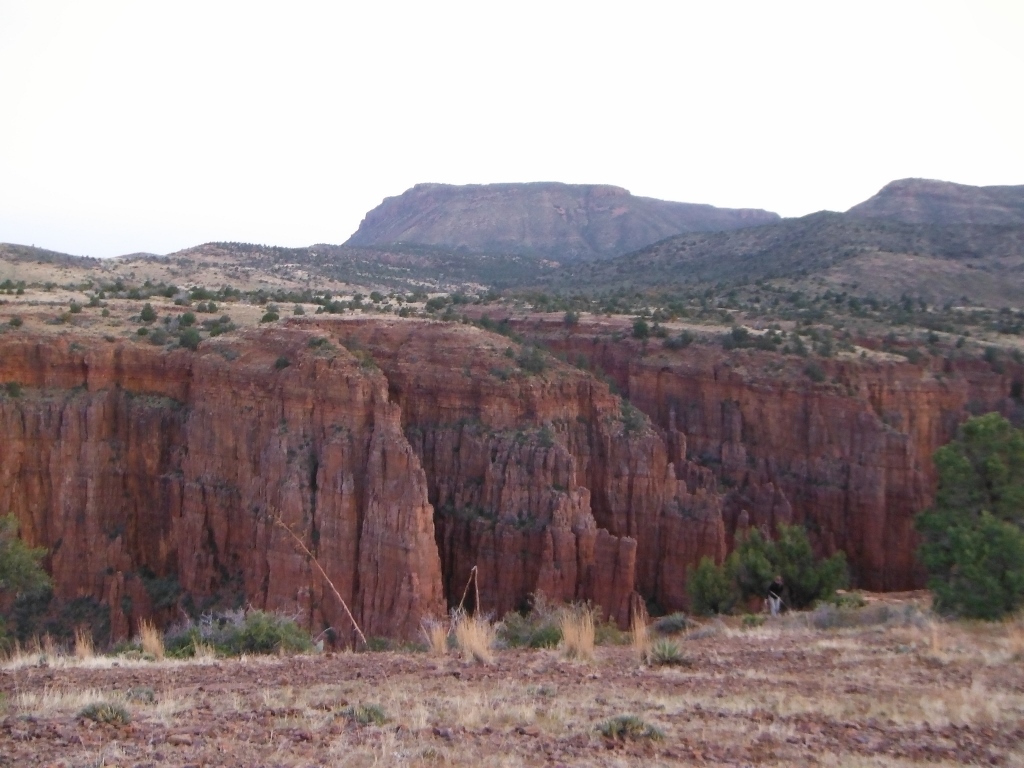 Roosevelt lake is very, very low. The big cities are sucking so much water from all the rivers and lakes.
Somewhere down the road it's going to all go to hell in a hand basket. I can see it coming.
I have the solution for all this--------but know one is listening.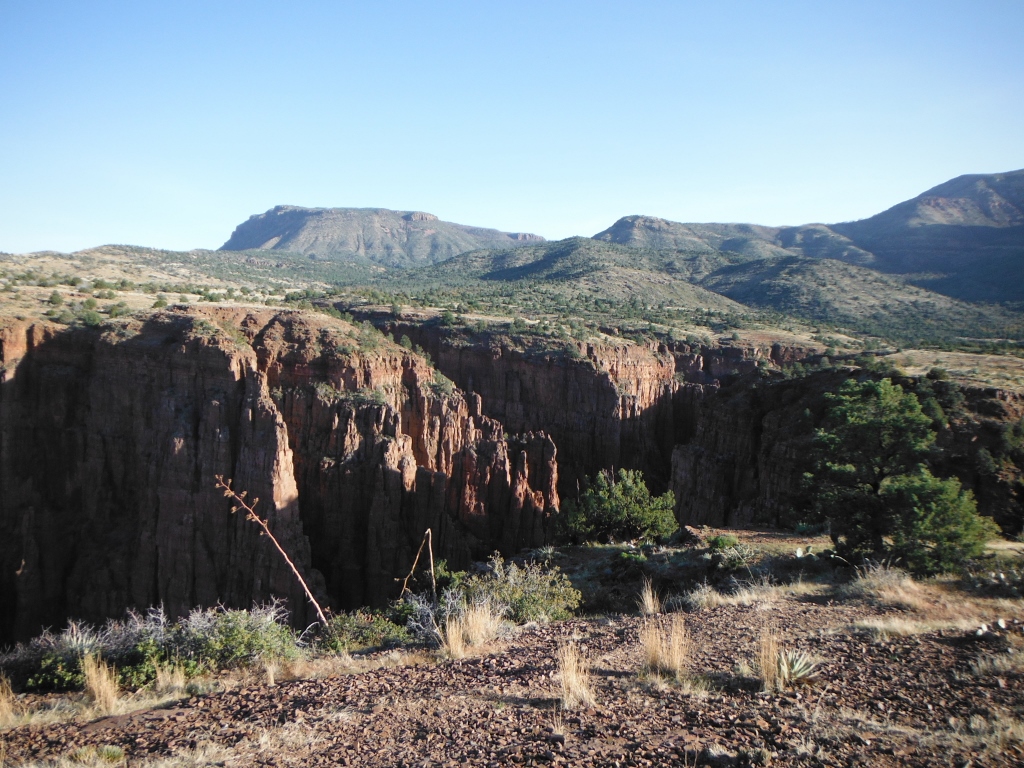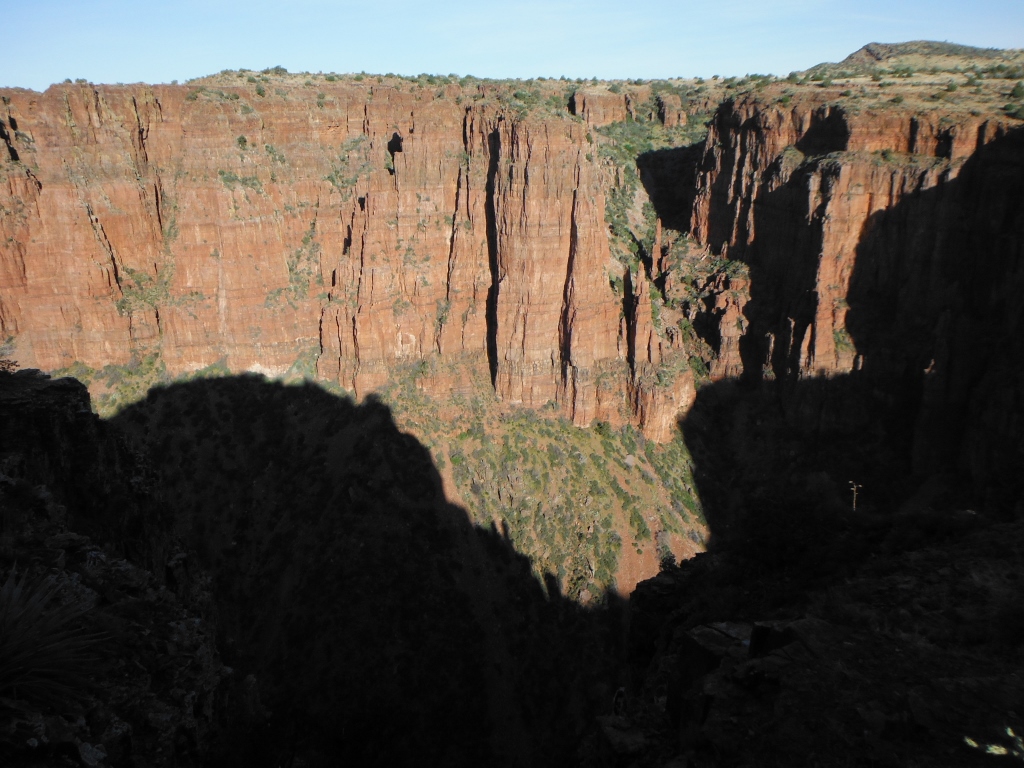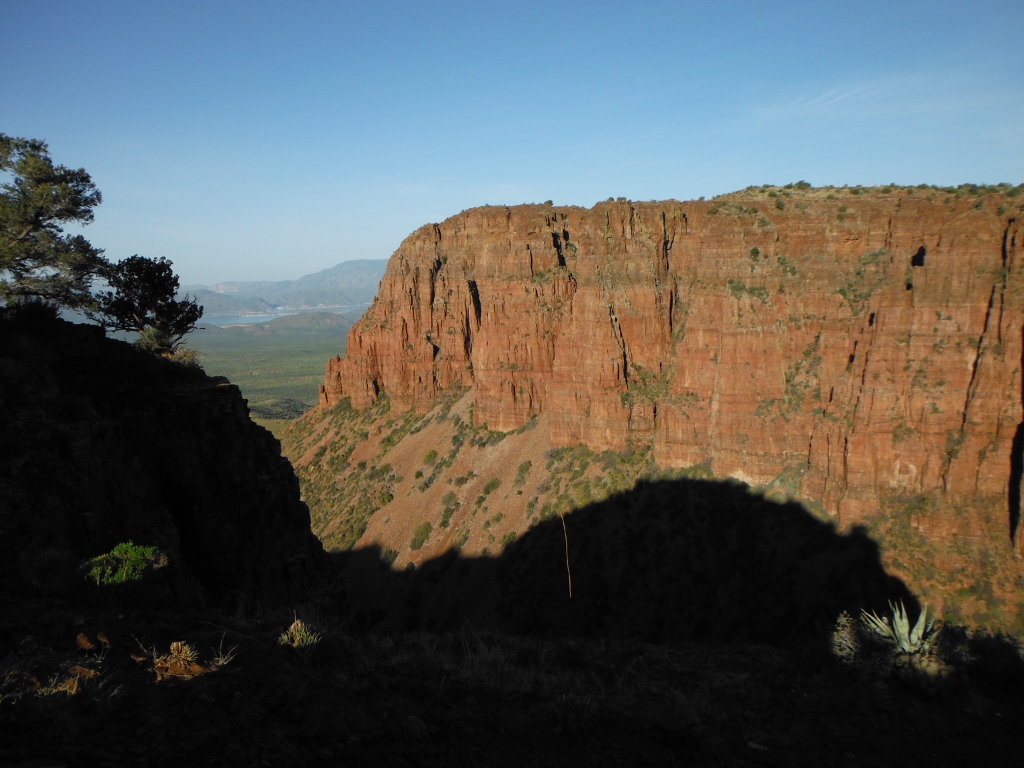 I was running a prototype Garmin "Death Valley" gps.
Disquised in a Garmin 276C housing--------it will be available in stores everywhere soon !!!! :) :)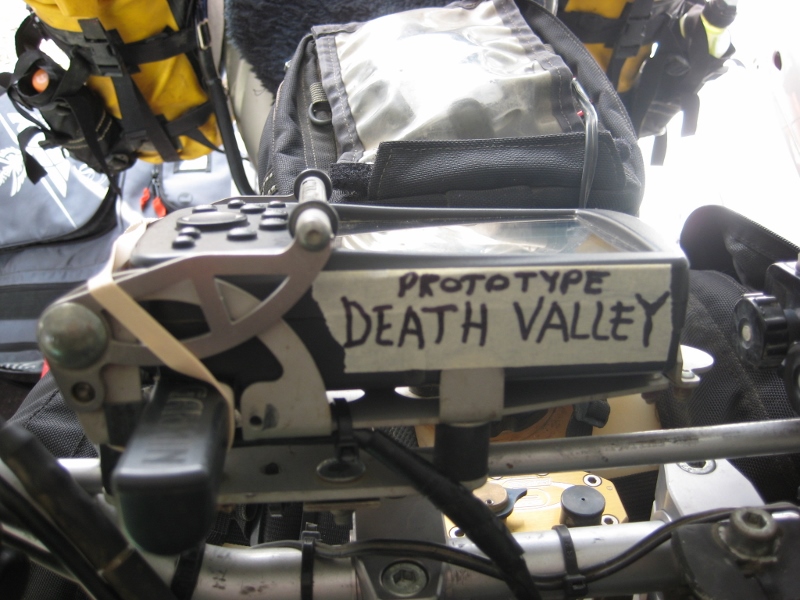 A rough view of our route today.
About 176 miles.
Other than losing some camping gear here and there -----the day was good and everybody's bike ran great.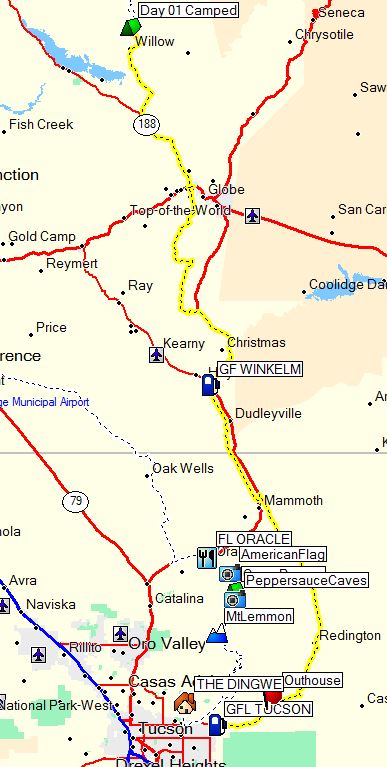 Day 2
April 7th, 2013
Camp to Camp
We started moving around the next morning about daybreak and had a small breakfast of oatmeal and coffee
and those that didn't have anything we shared with them.
I stuck my head out of the tent and saw what looked like an Indian.
It was Roger with his long hair----------he said "How".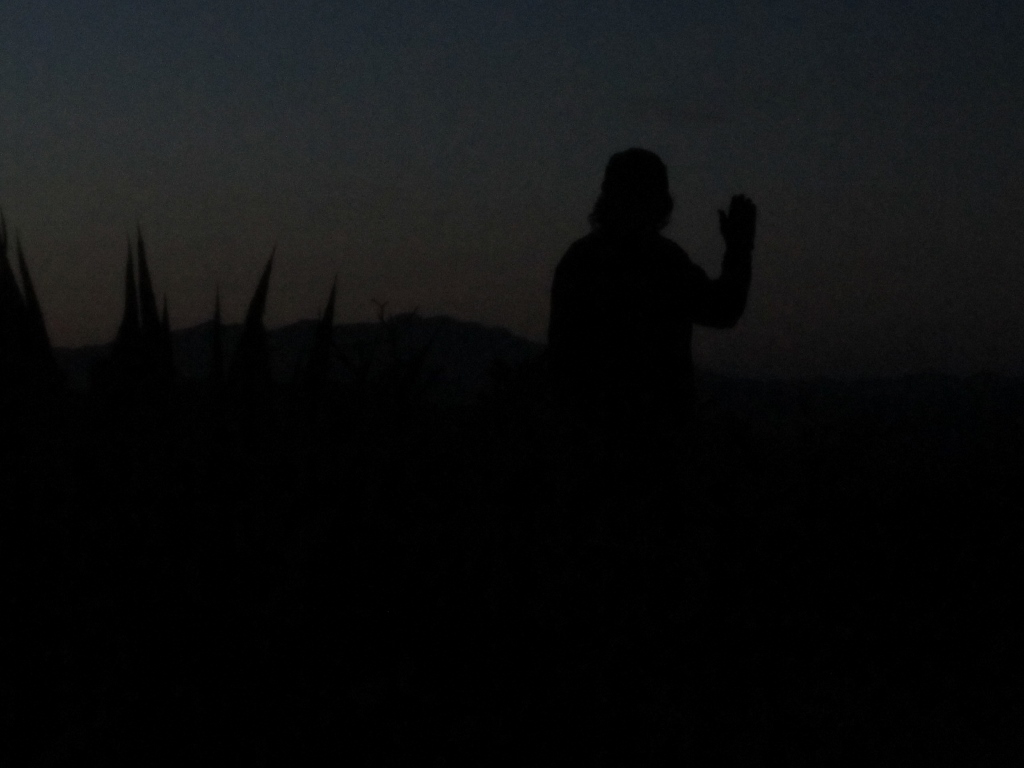 We headed North towards Young Arizona and rode thru the Tonto National Forest.
I remember going over Board Tree Saddle.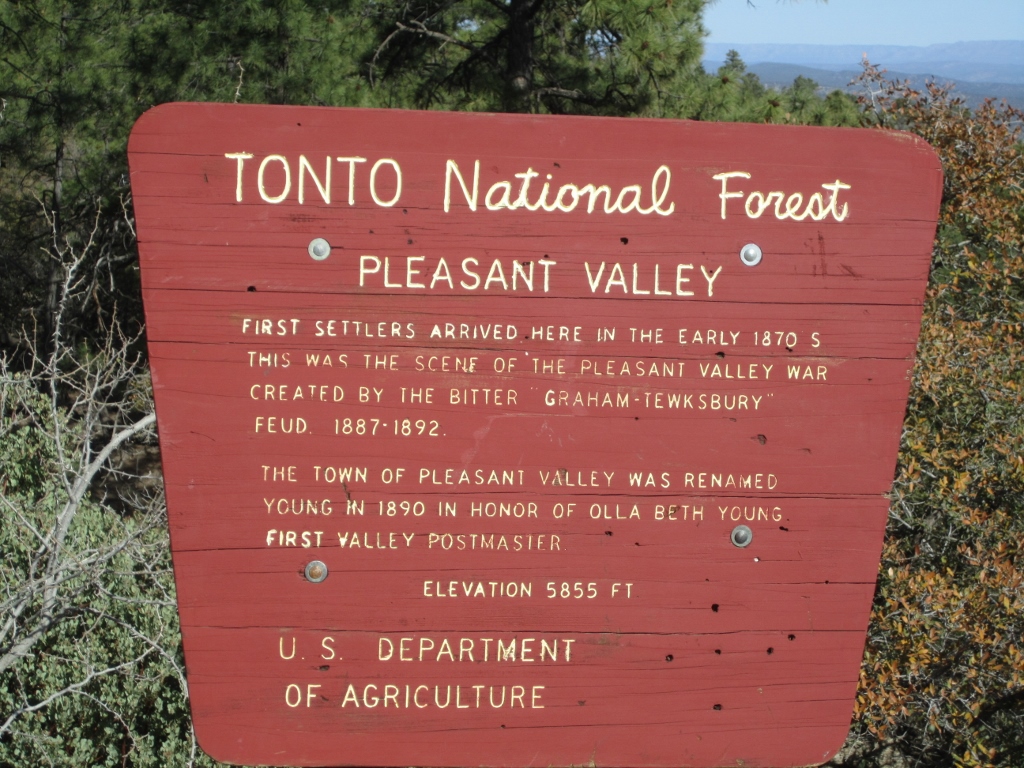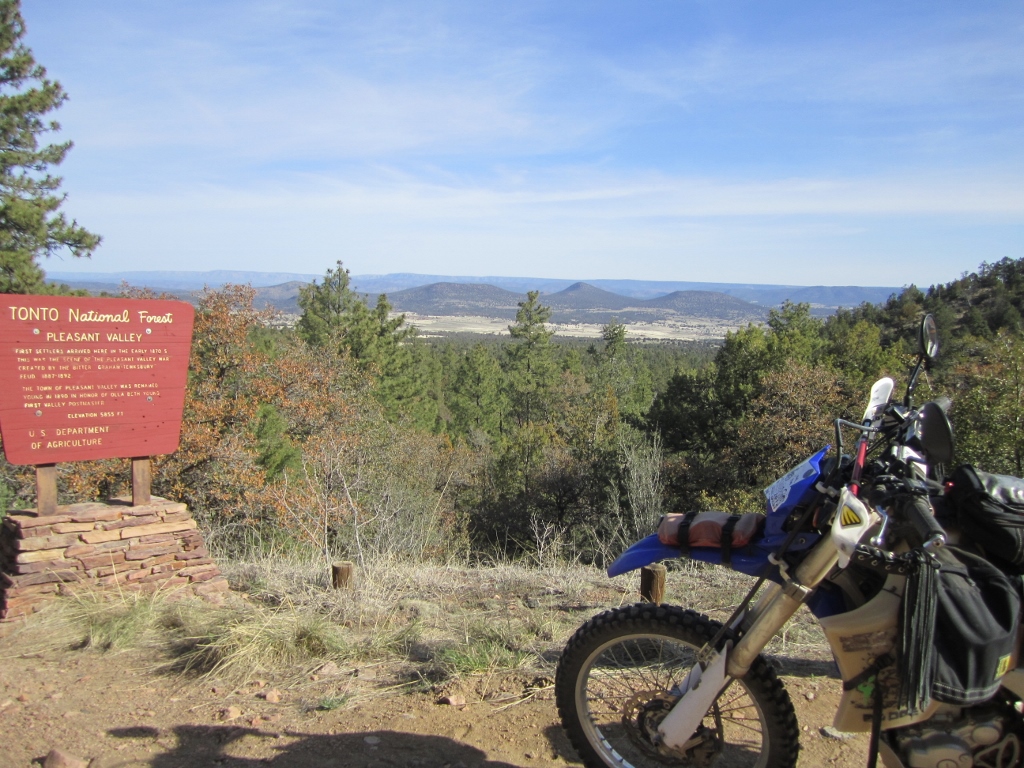 Somewhere along the way we saw this-------it was life size and made out of steel.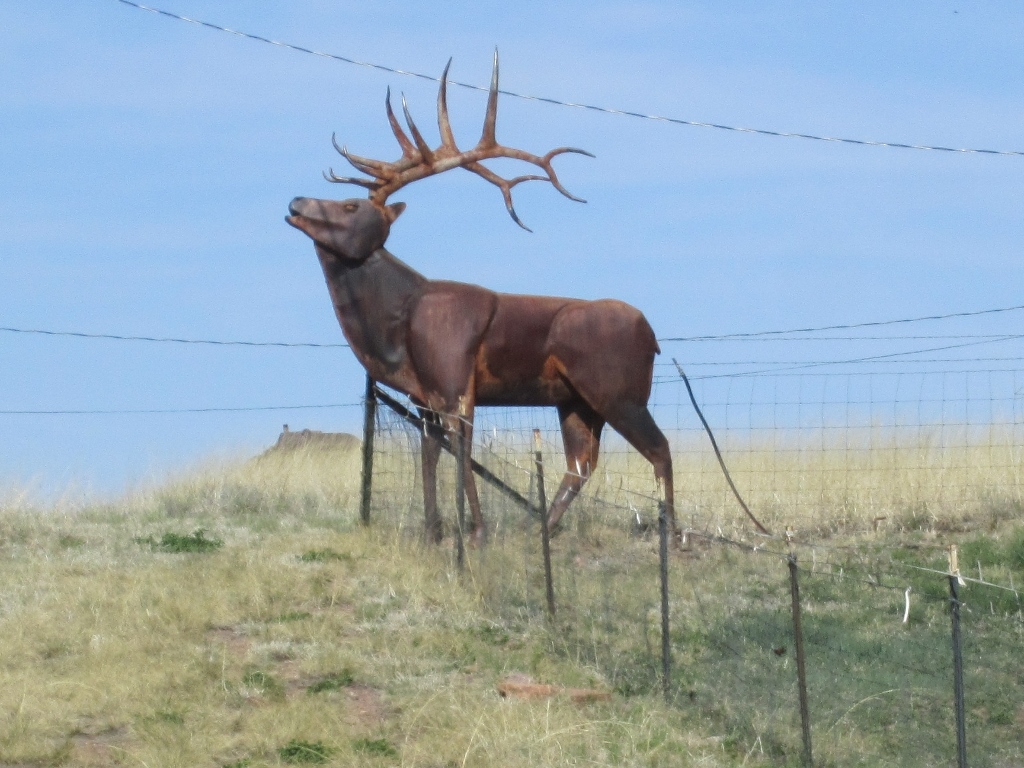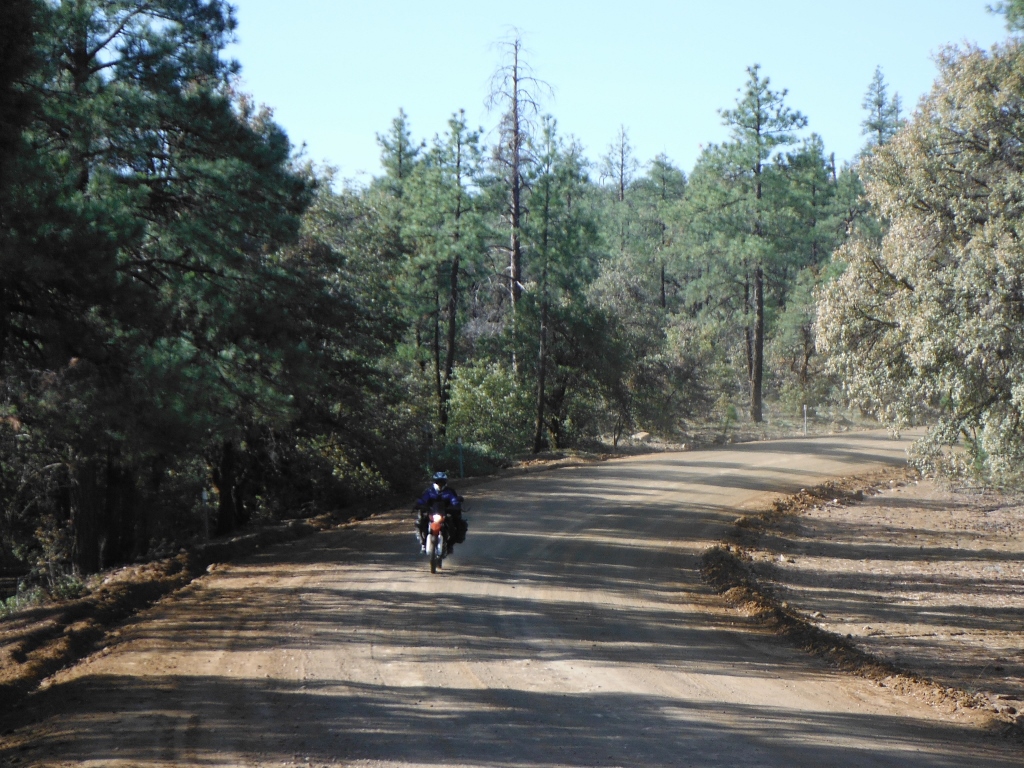 Julio is either getting a good picture or trying to find his 2nd tent.
If Julio went on a 13 day ride-------it would take 13 tents.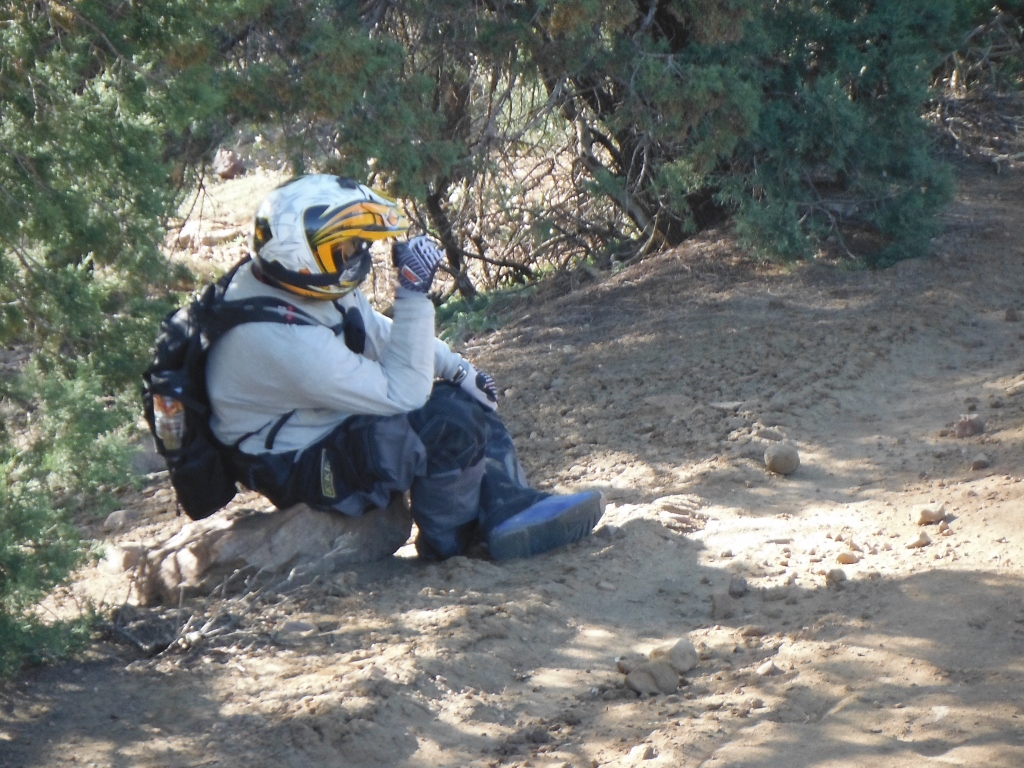 The riding was good and we got gas in Young, AZ----a neat friendly little town where we got some good news.
It wasn't correct news-----but good news to us at the time. We were informed that the Mogollon rim road
was open-----and there was no snow up there on it. Me and Scott have ridden on it before but Dave and Francine
were estatic at the thought of ridding it. It's miles and miles on a dirt road right on the edge of a very high bluff.
One of the most spectacular roads I've ever ridden. It took me 3 tries tro get to ride it---as each time I got there
the road was closed from snow.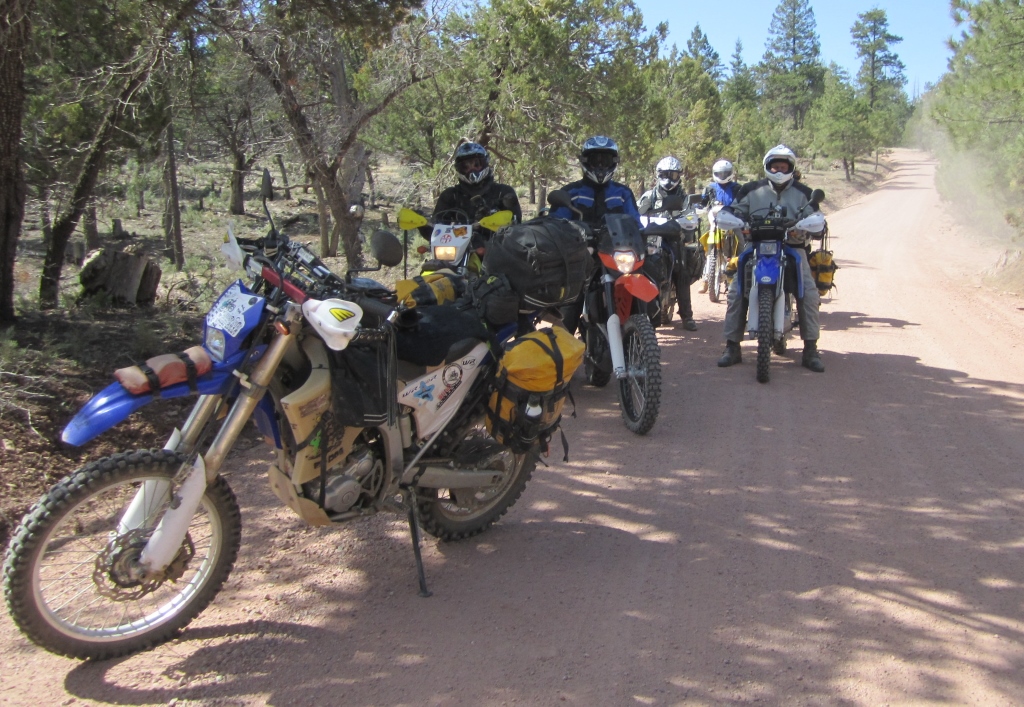 Alas when we got to the Mobollon rim road it was indeed closed. We all were so dissapointed.
Julio, Roger and Bud left us here and we were never joined by other riders on this ride.
There were several that said they would join in at some point---but it never happened.
After riding on a Mobius ride Dr. Rock presents you with an award---you have to earn it.
You get your choice of a New York police or fire department pin.
Julio had to go anyway--------he was out of tents.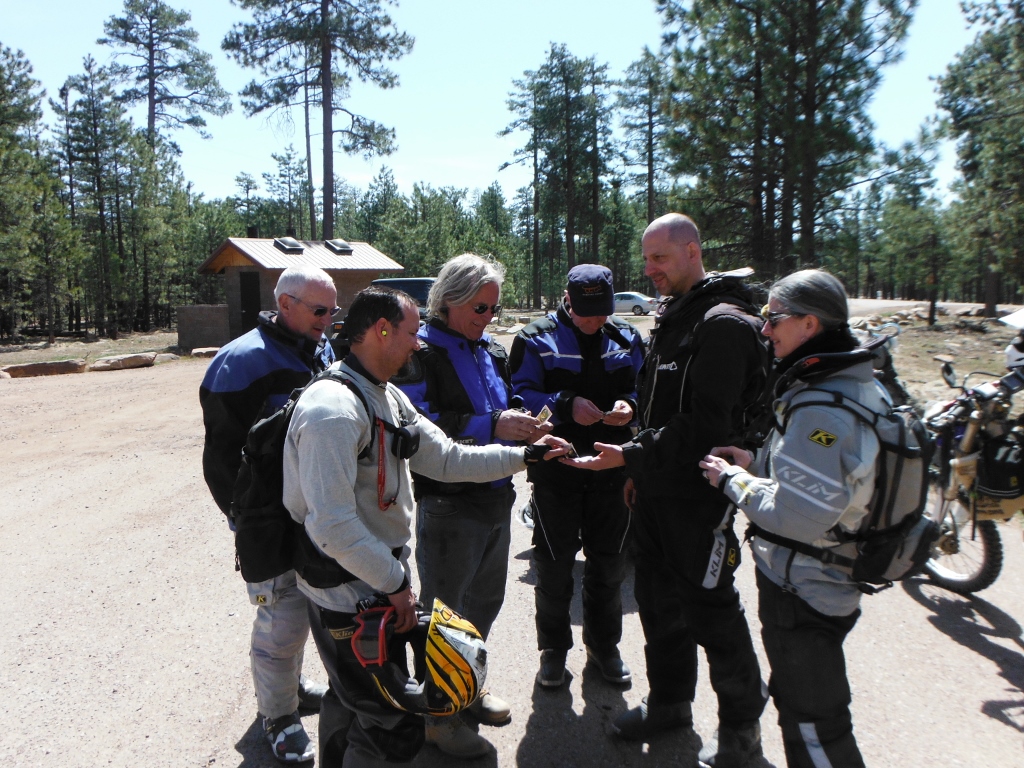 We parted here and backtracked a bit and rode the road below the rim which is called the Control road which leads to Pine, AZ where we got gas.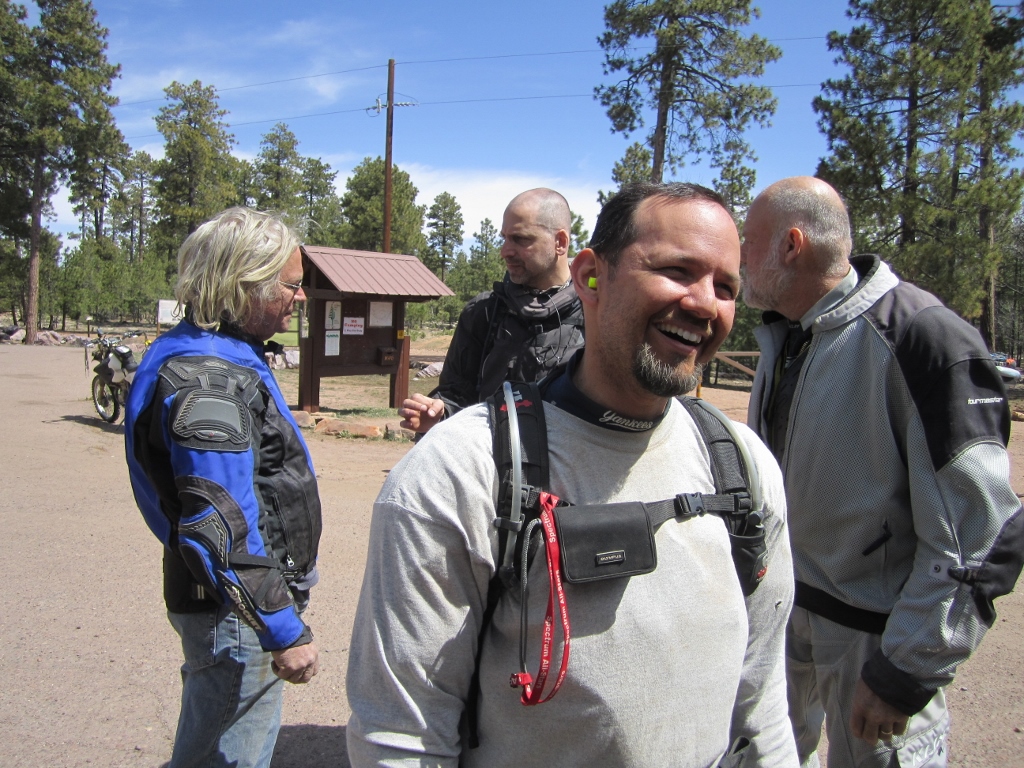 Fossil Creek road---------another road Dr. Rock had planned on riding was completely washed out.
It was a few miles West of Strawberry, AZ and we made quick work routing around it.
Me and Scott had rode it a couple year ago and it was fantastic.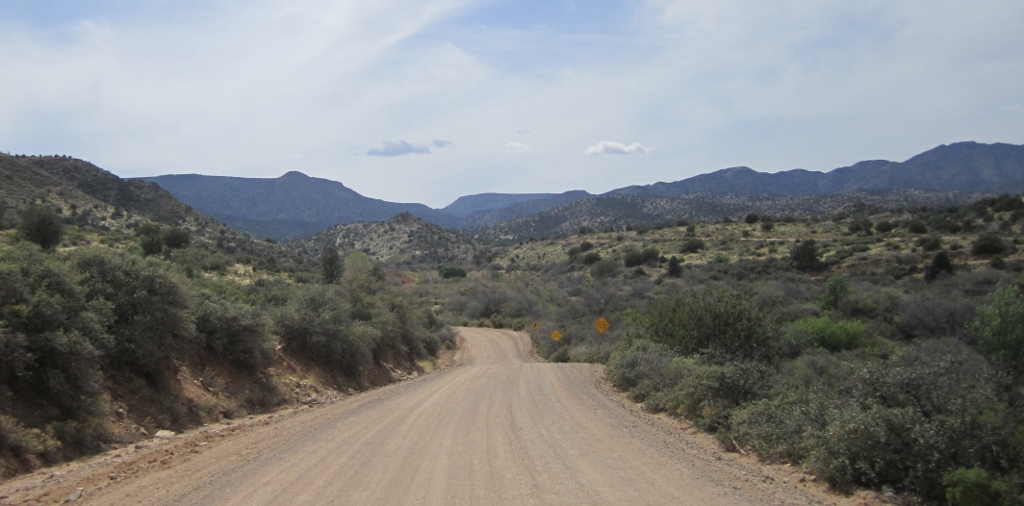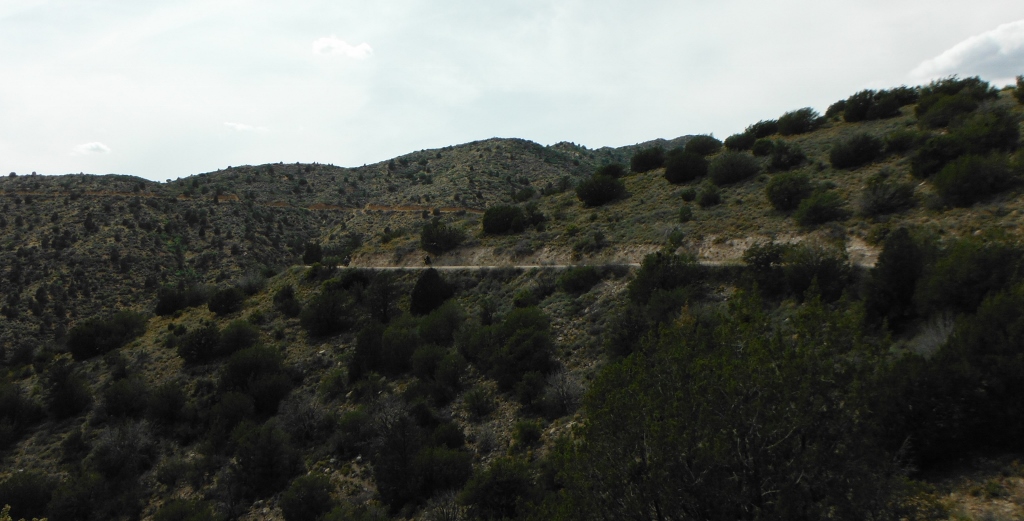 Dr. Rock had a waypoint for this Pioneer cemetary and I got off the bike and took a walk and found it.
I think it's the McCabe cemetary and there were just a few graves.
I did a bit of google research and found out that McCabe is a ghost town and this is all that's left.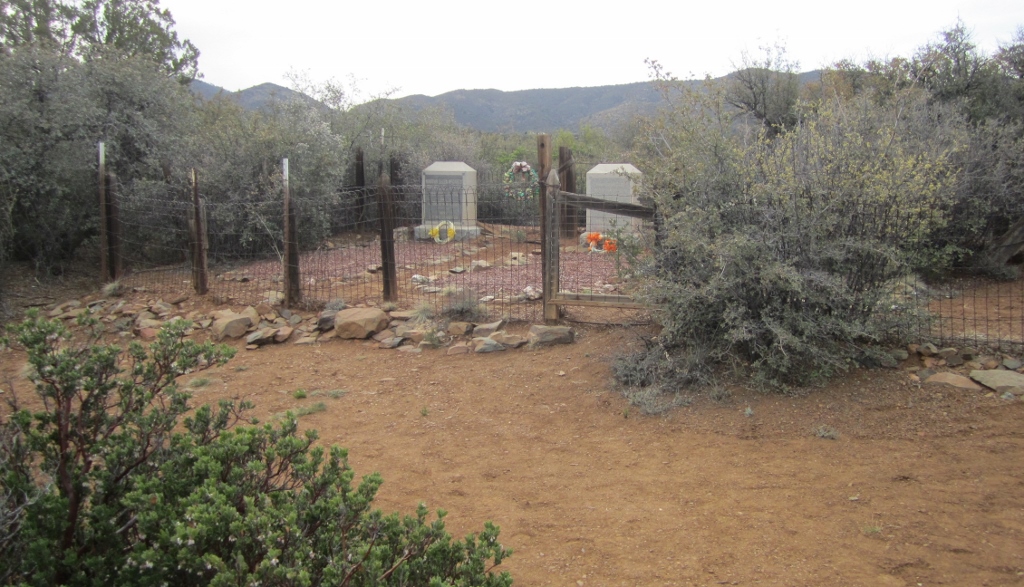 We all looked at this hill from afar.
And no words were spoke for a bit as we were all thinking the same thing.
"There is no way we could climb this steep hill full of loose rocks"
Of course I had to try to the amusement of the crowd.
Dr. Rock had to help me get my bike turned around so I could get back down.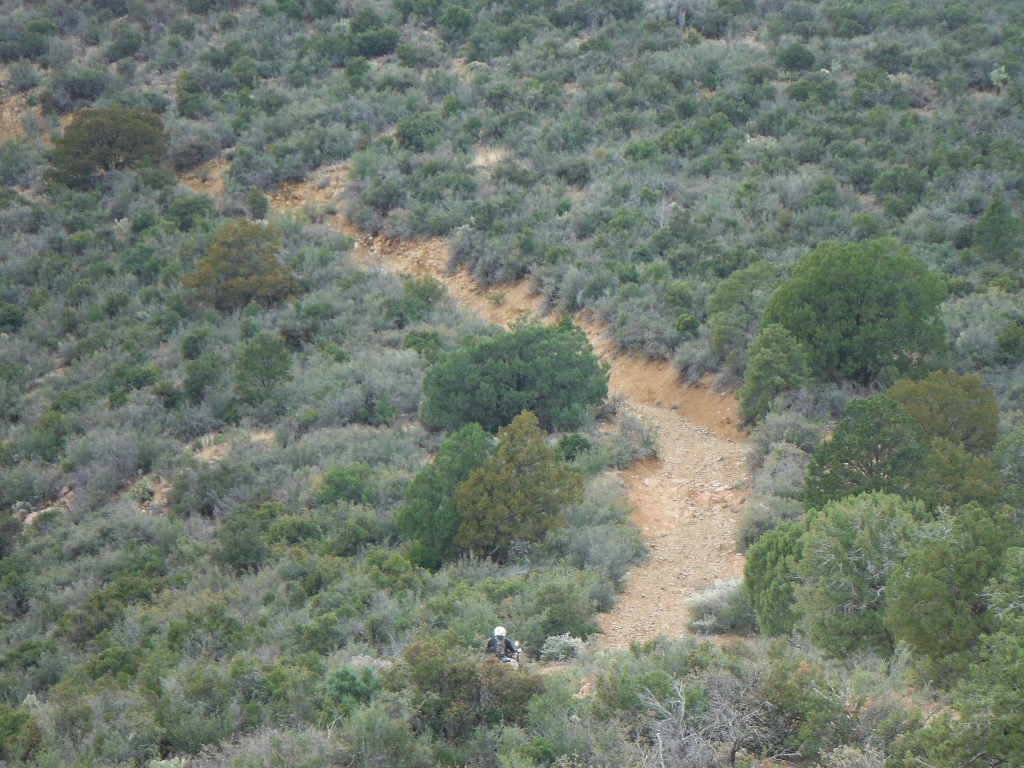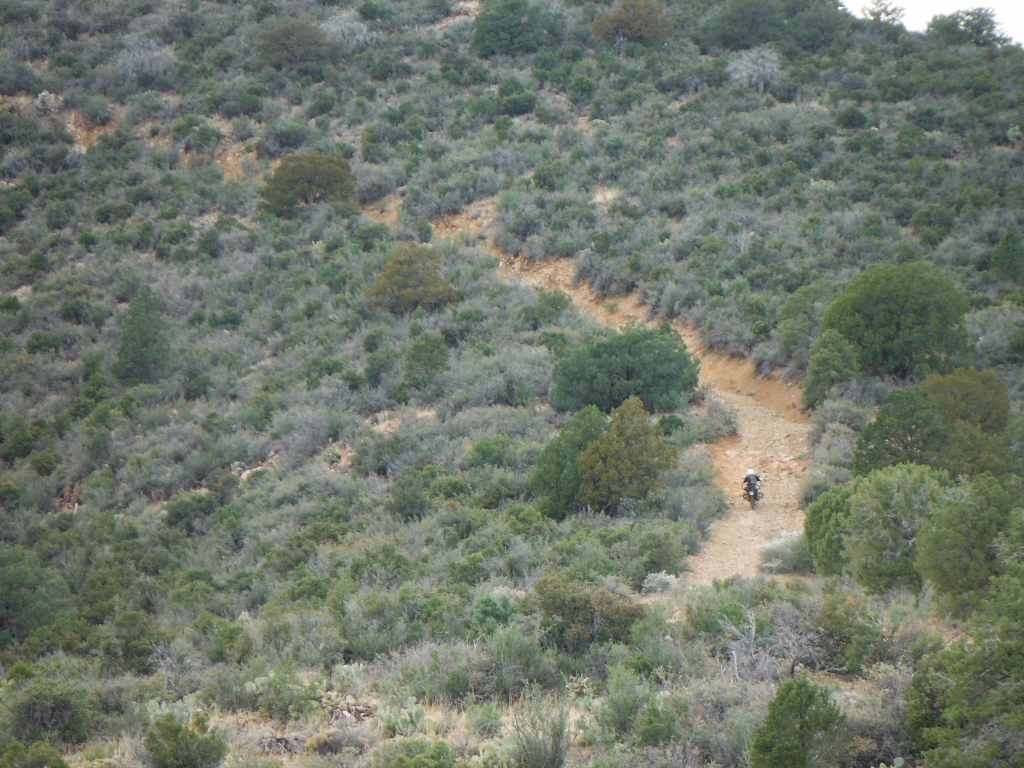 So we re-routed again as it started to get very late in the day and we weren't sure if the new route would go thru or not.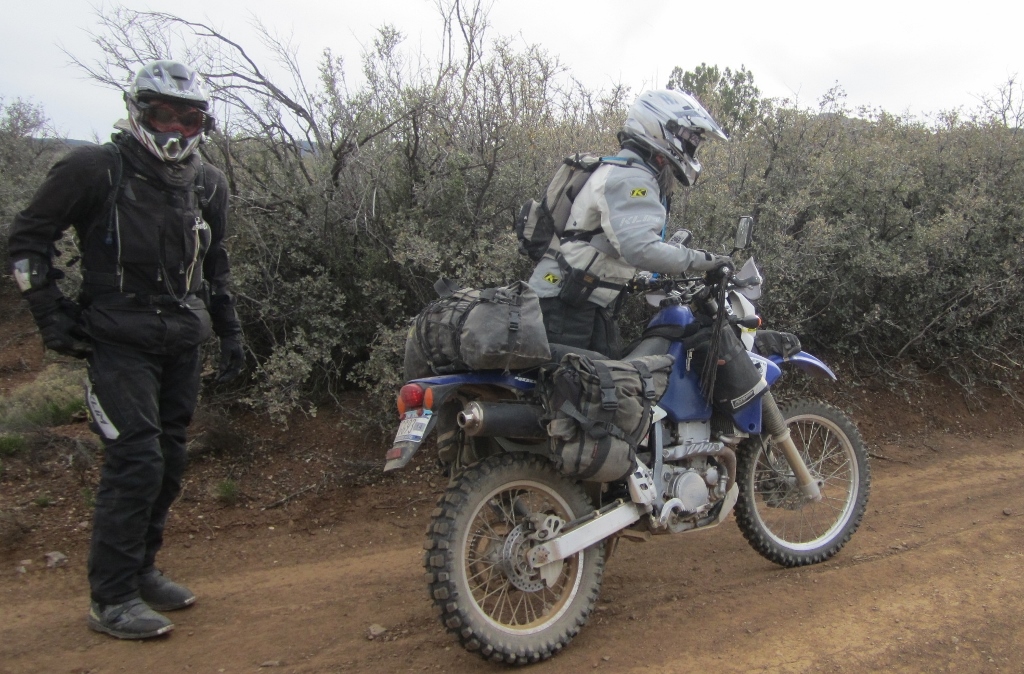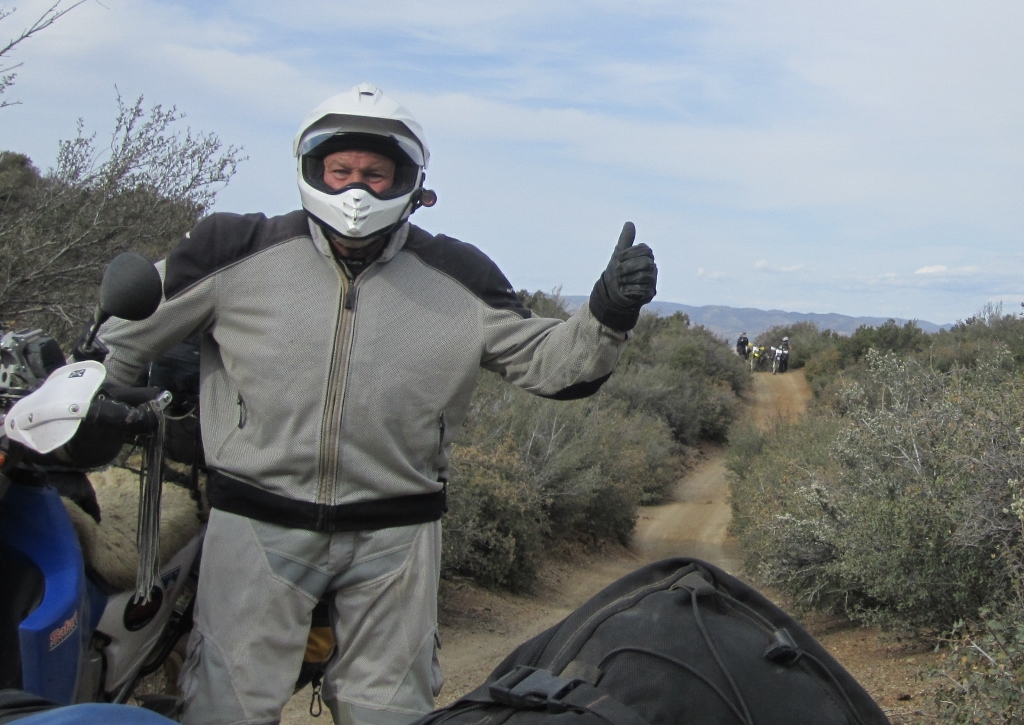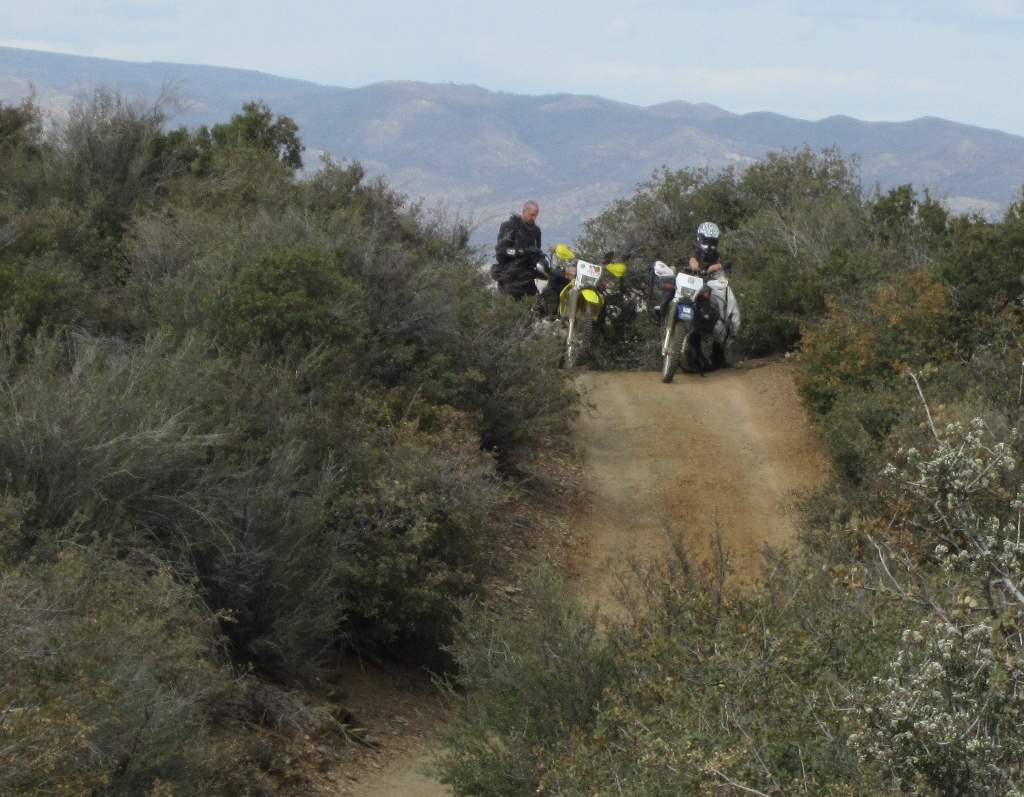 After seeing this-----I told Scott to wait and I did a little scouting alone.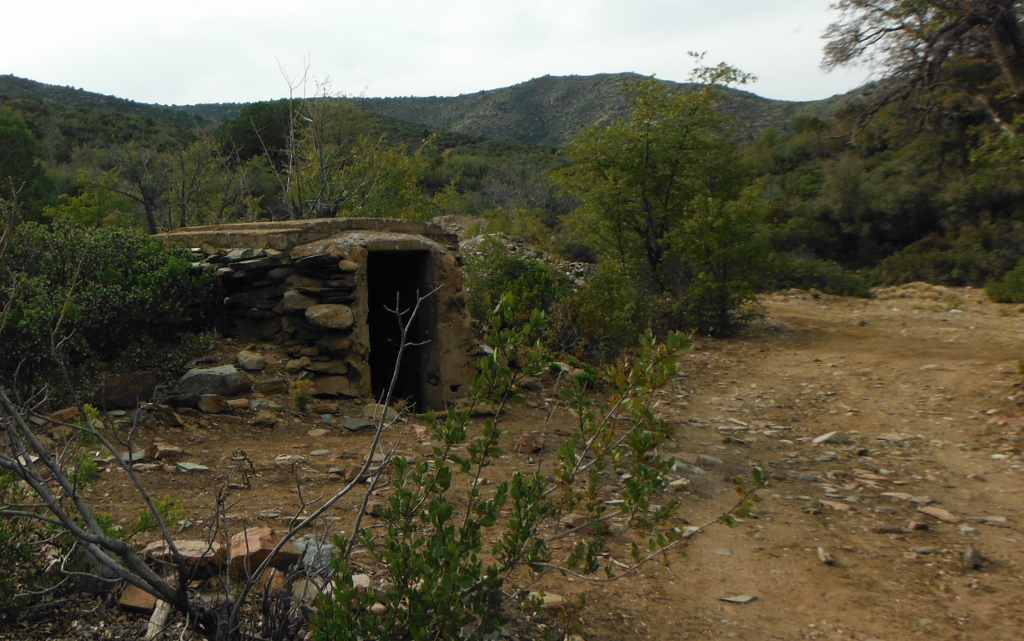 As Dave thought------"where the heck is he going".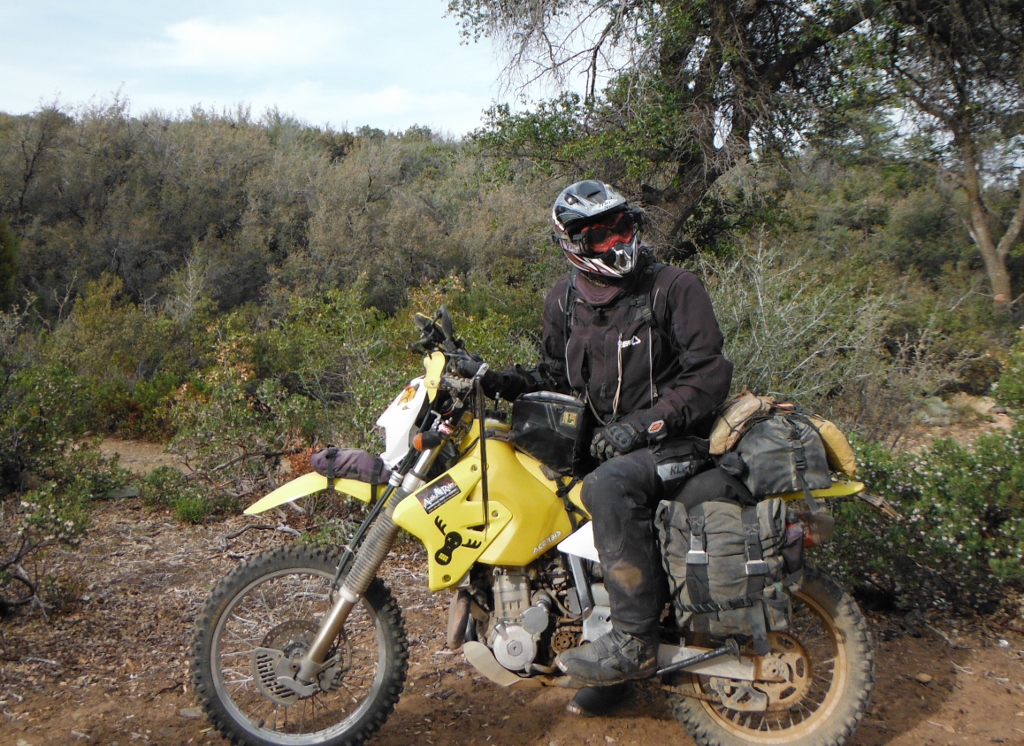 I had an evil plan--you can tell by the smurk on my face.
And yes I found a way out.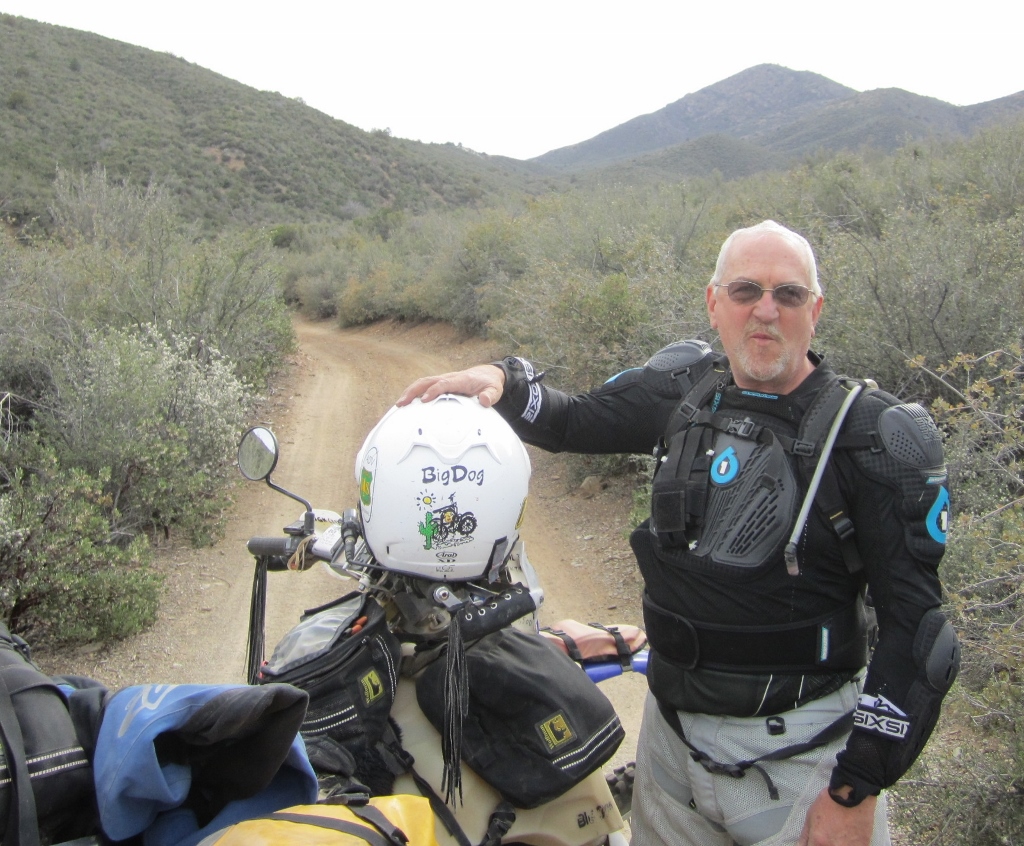 There were some tough climbs and Francine decided she'd let Dave ride her bike.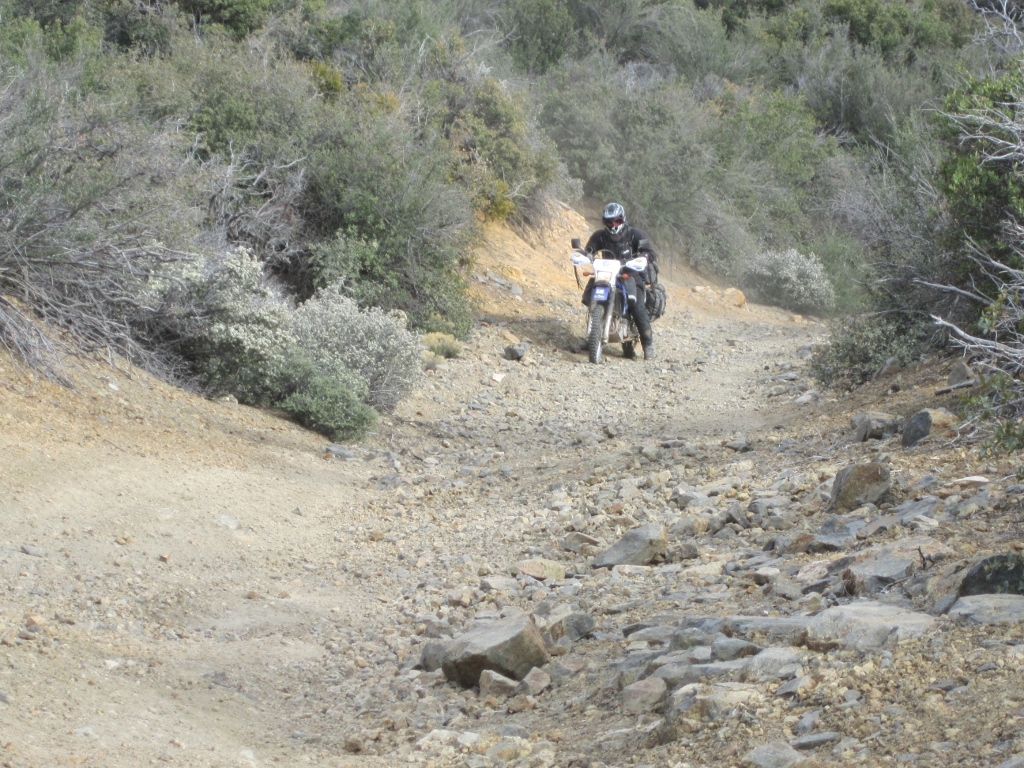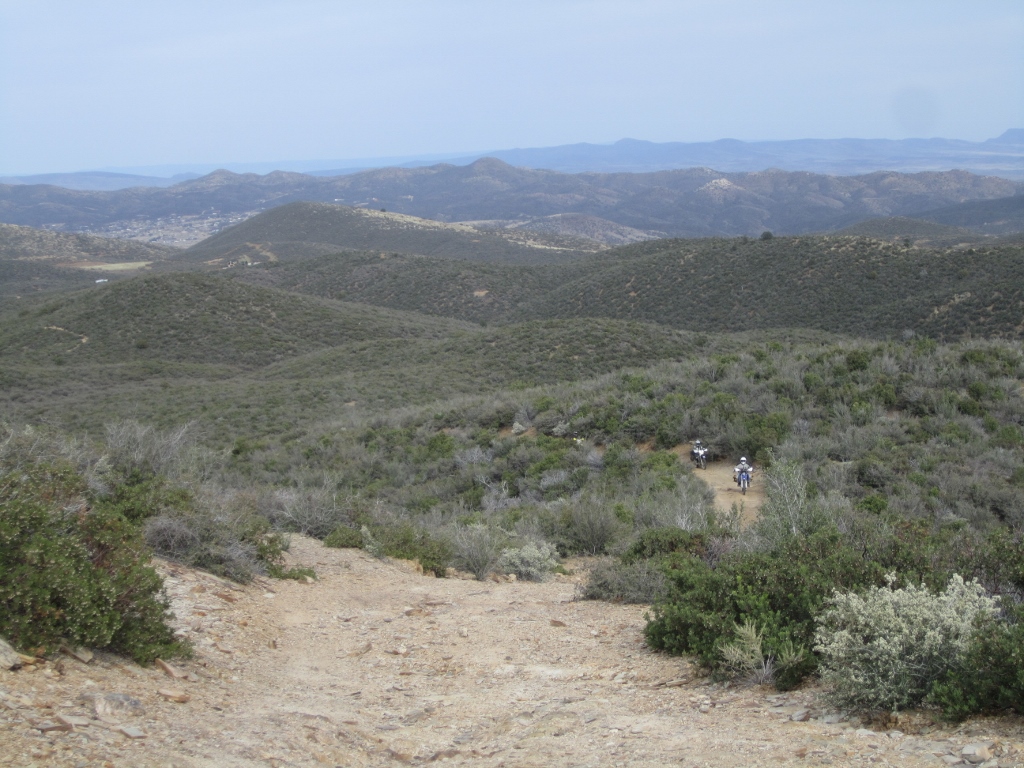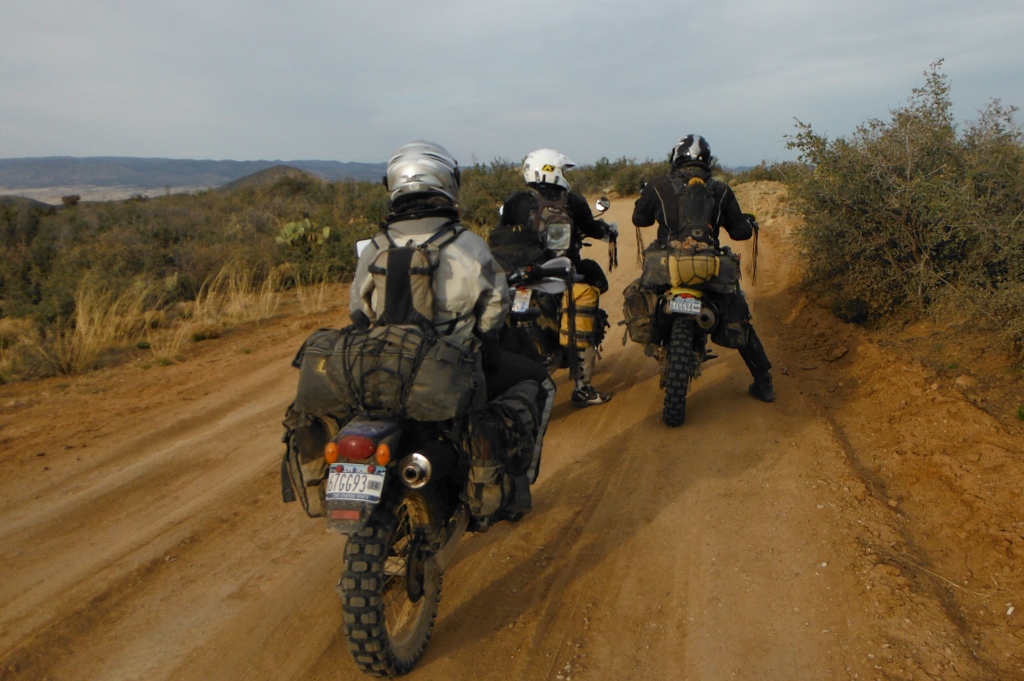 We were running out of daylight and running out of camping options when this lone camp spot came in to view right when we really needed it.
And there was fire wood. So before the sun set we all went hunting more wood and I got out my Sven saw and went to work.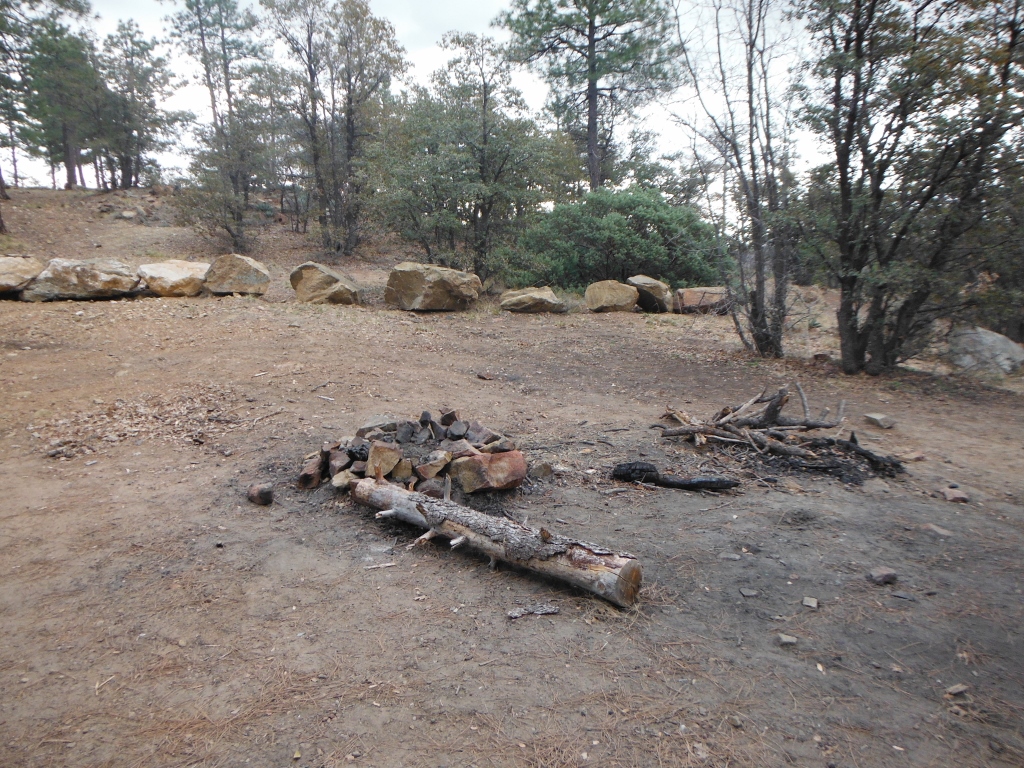 It had been a tough very long day and we were all tired.
It was pretty cold that night--but at least we had a big fire------and hot chocolate------with "additive".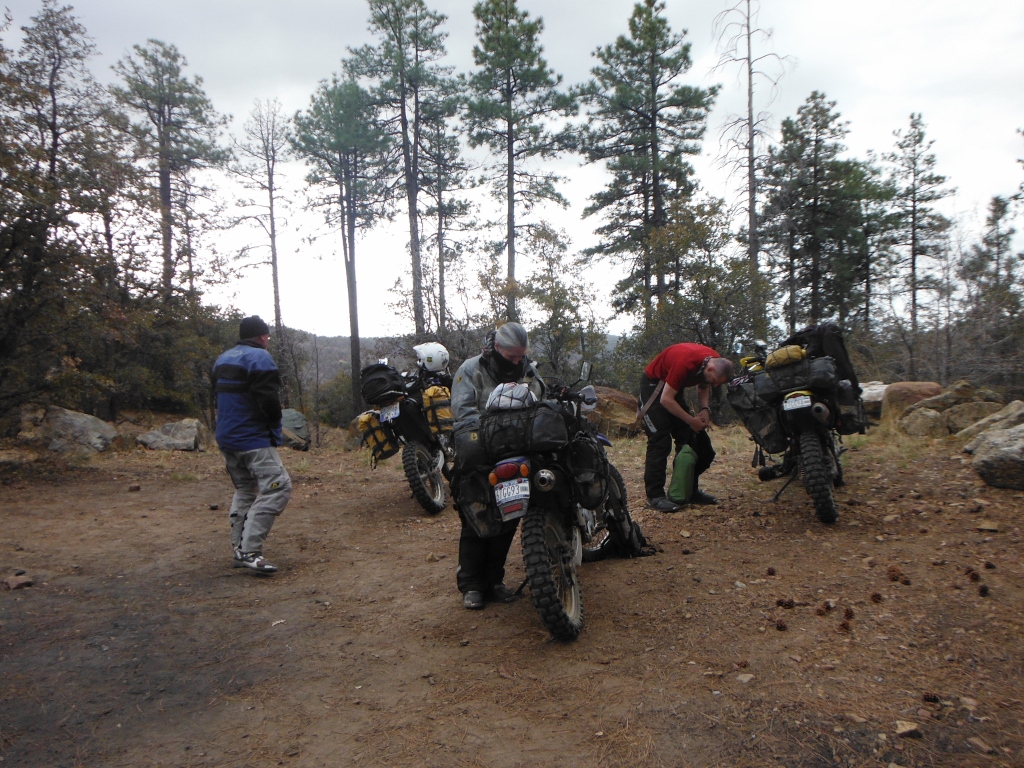 A rough map of our route today---about 193 miles.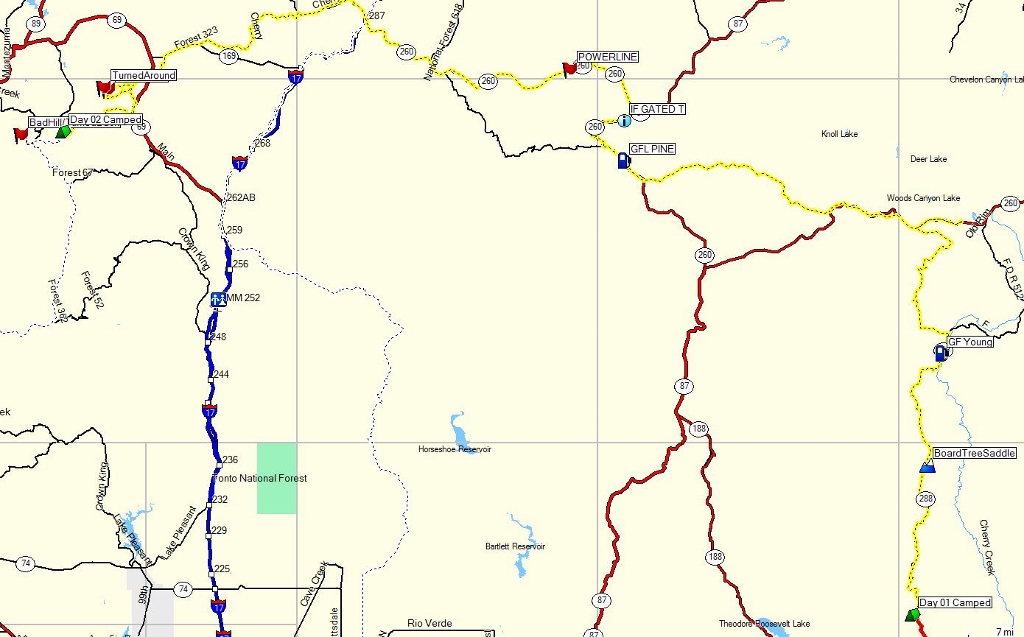 Day 3
April 8th, 2013
Camp to Motel in Wikieup, AZ
It was a good nights sleep at camp for all except me as I had a horrible nightmare.
Most nightmares you forget right away but this one stuck with me for awhile and had me shaking.
Scott asked me what my horrible dream was about-----and I told him I dreamed I had a job !!!!!!!!!
Whewwwww---back to reality.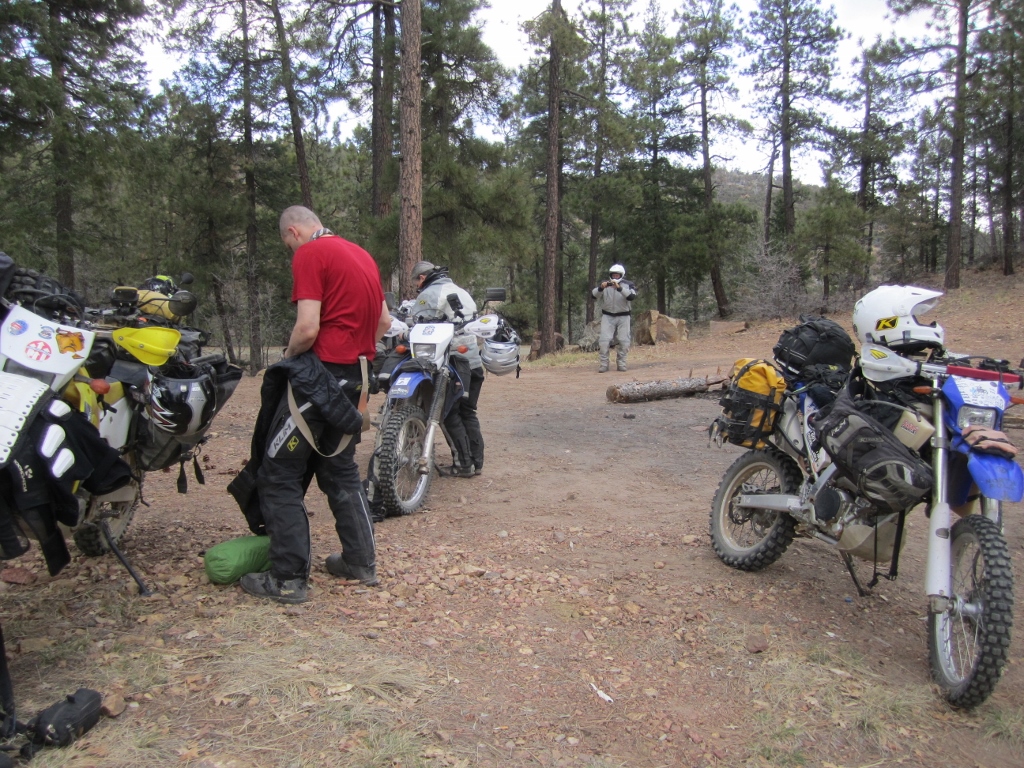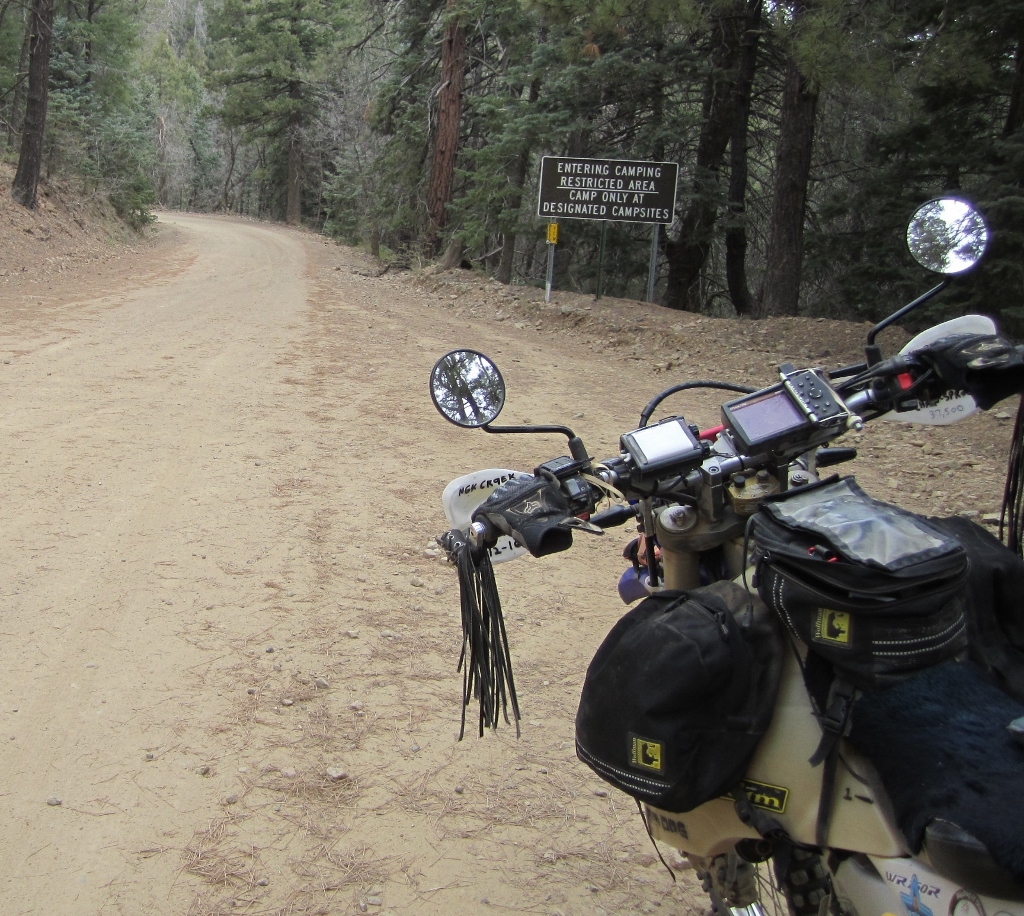 Dave has a helmet cam built right into his goggles----you'd never know it was there unless he told you.
Pretty sneaky guy that Dr. Rock.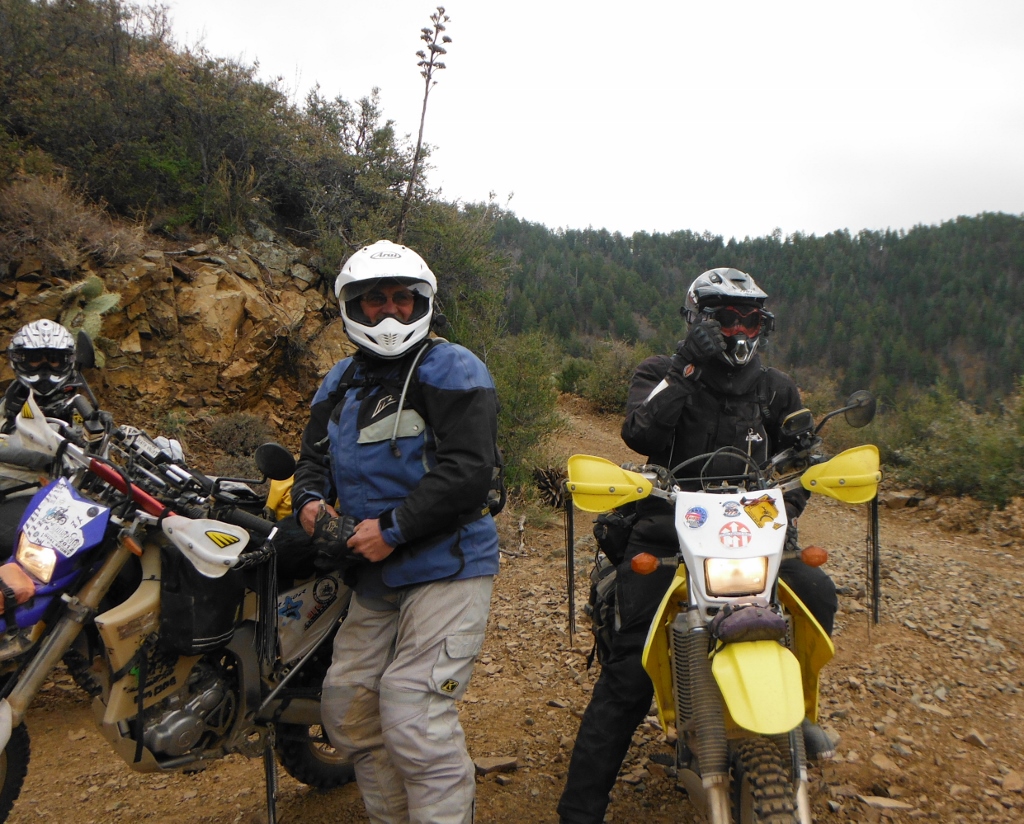 We were still off course and as we passed this sign and I wondered ????????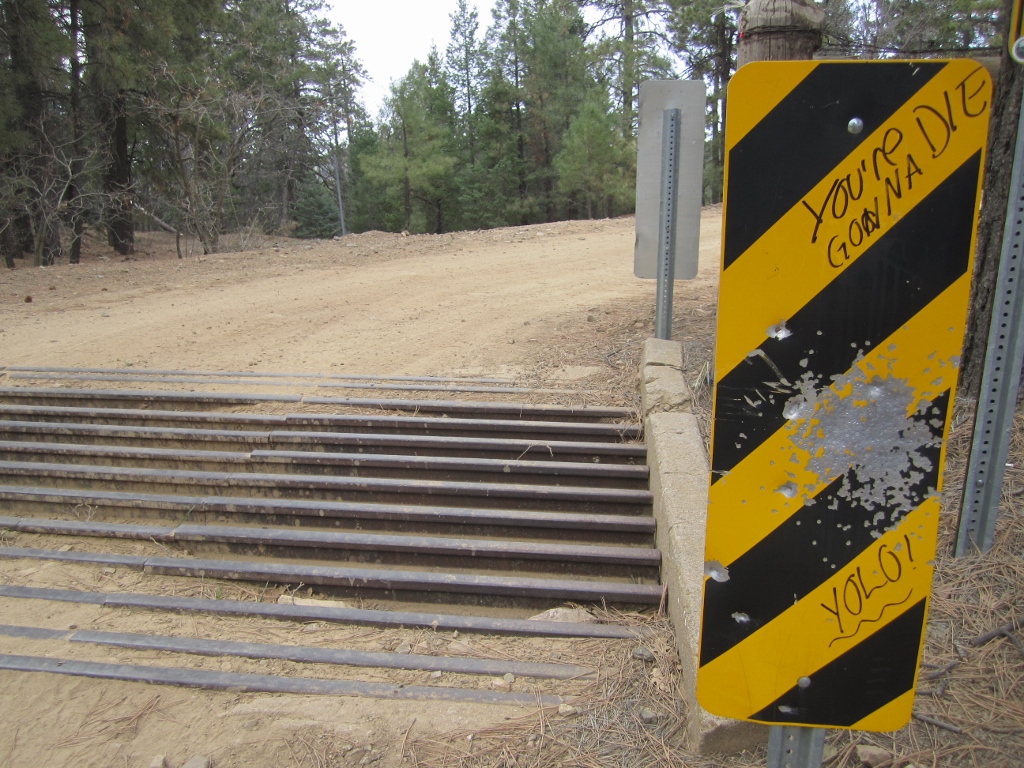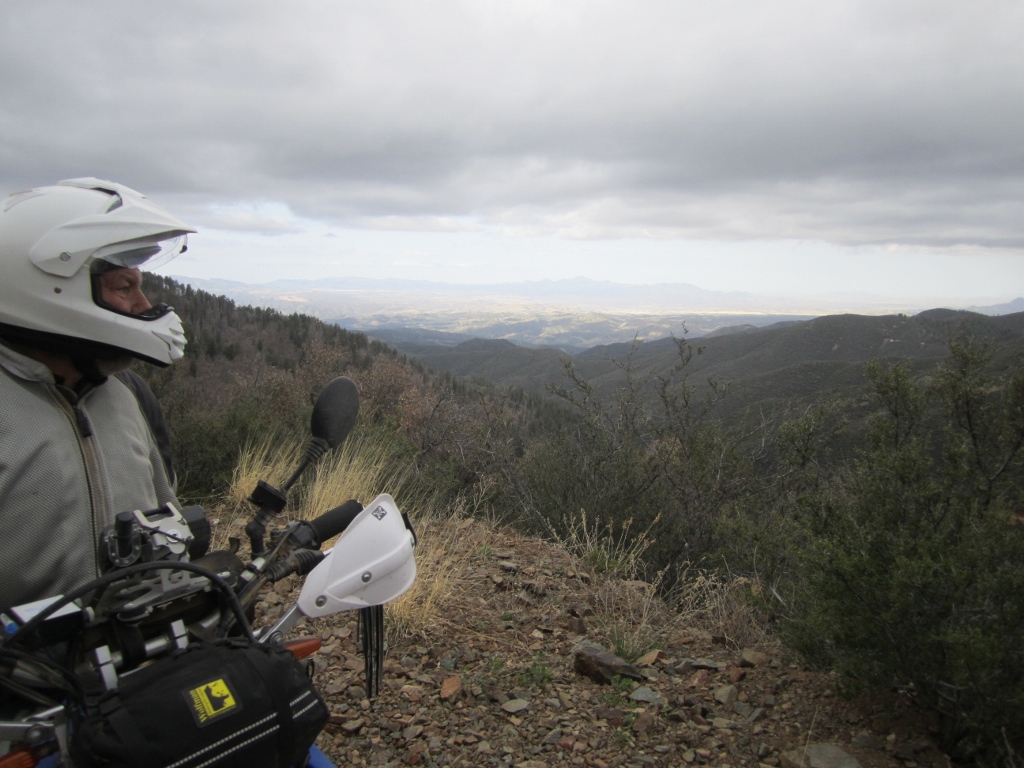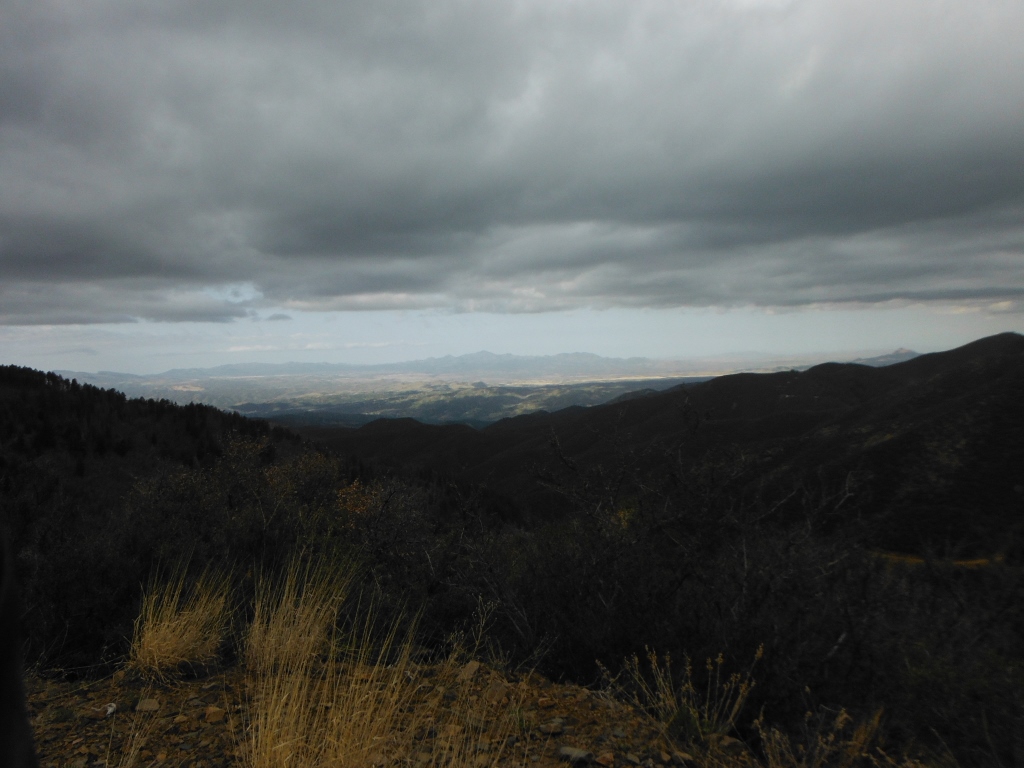 The riding got real tough and we kept trying to get back on course, but it just wasn't happening.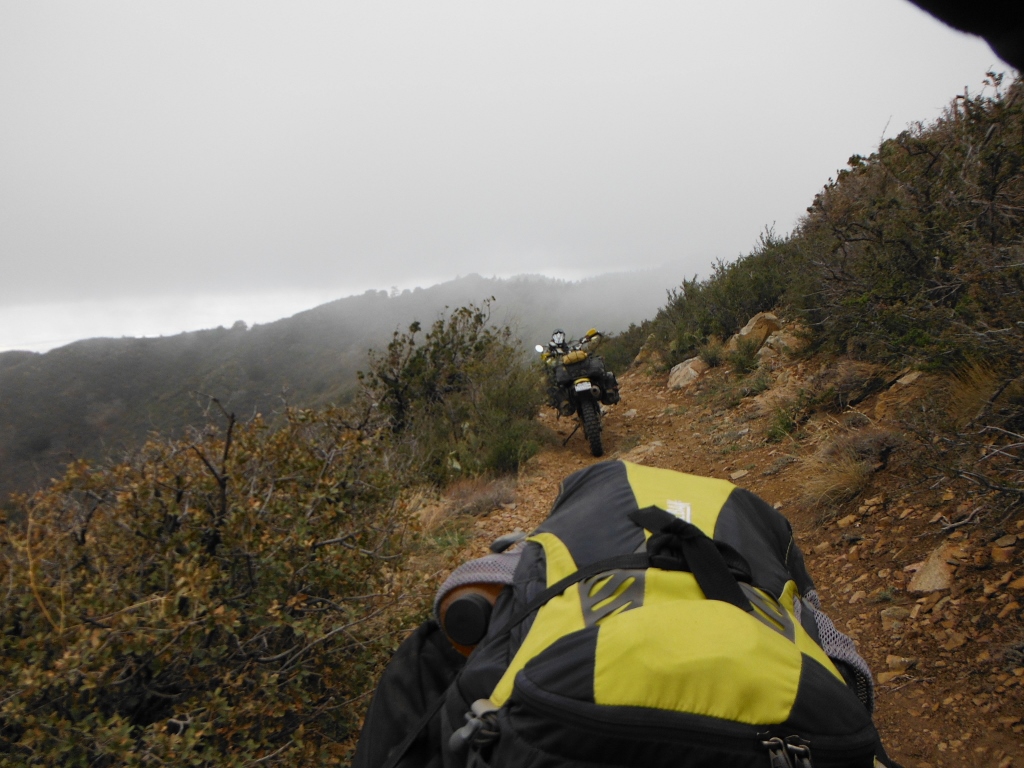 We retreated from that trail and I waited here a long time for riders to come back-------it was really cold and the wind was blowing
a good 40mph.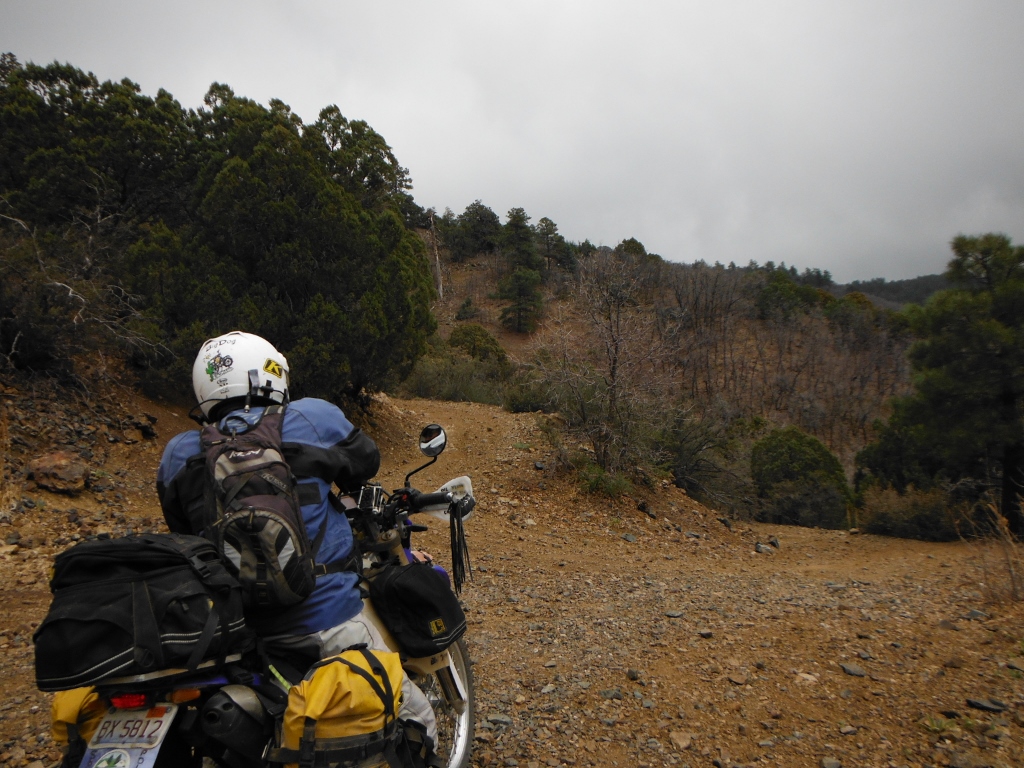 While waiting at the same corner above I found this old mine.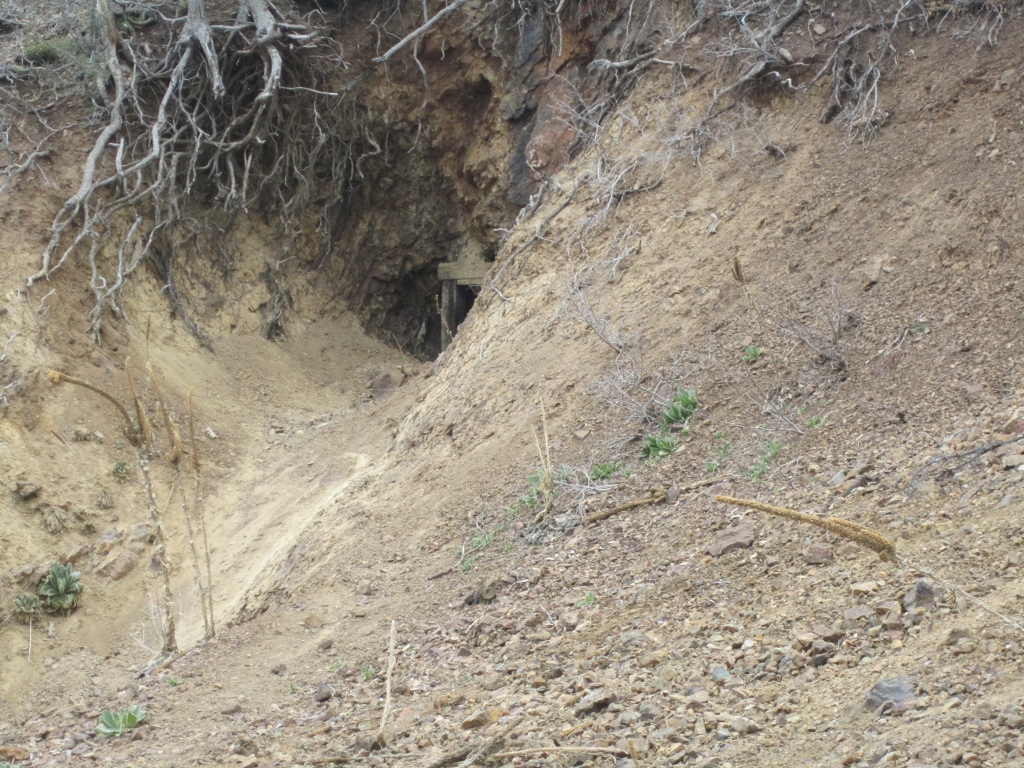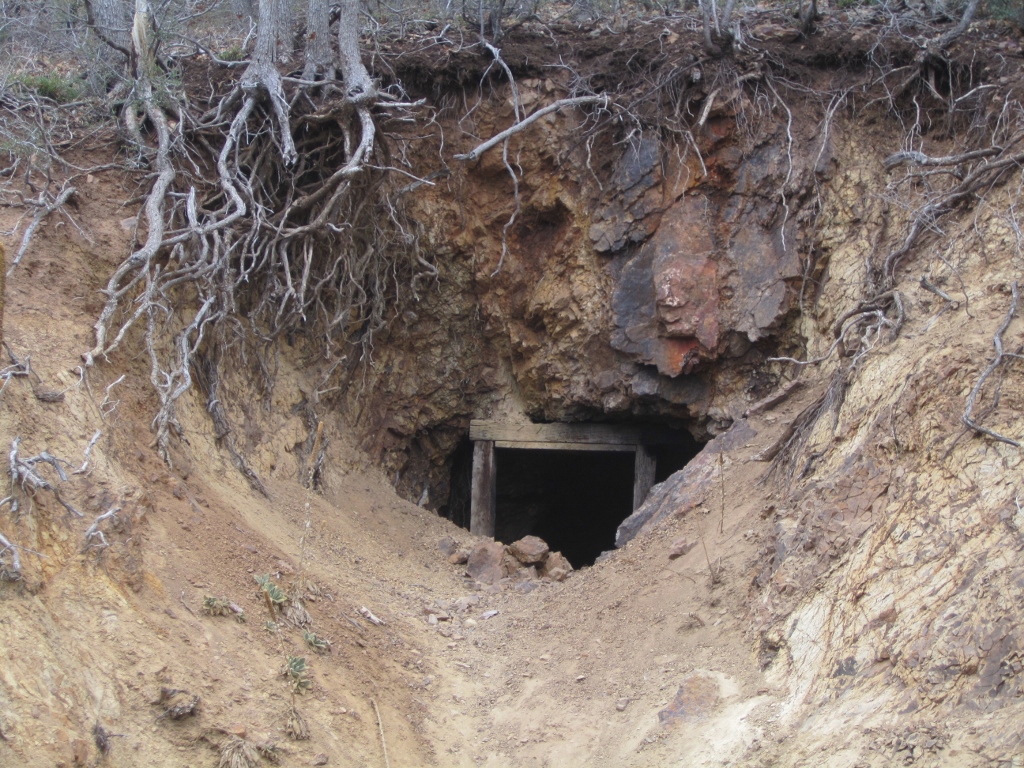 A different view from the same corner.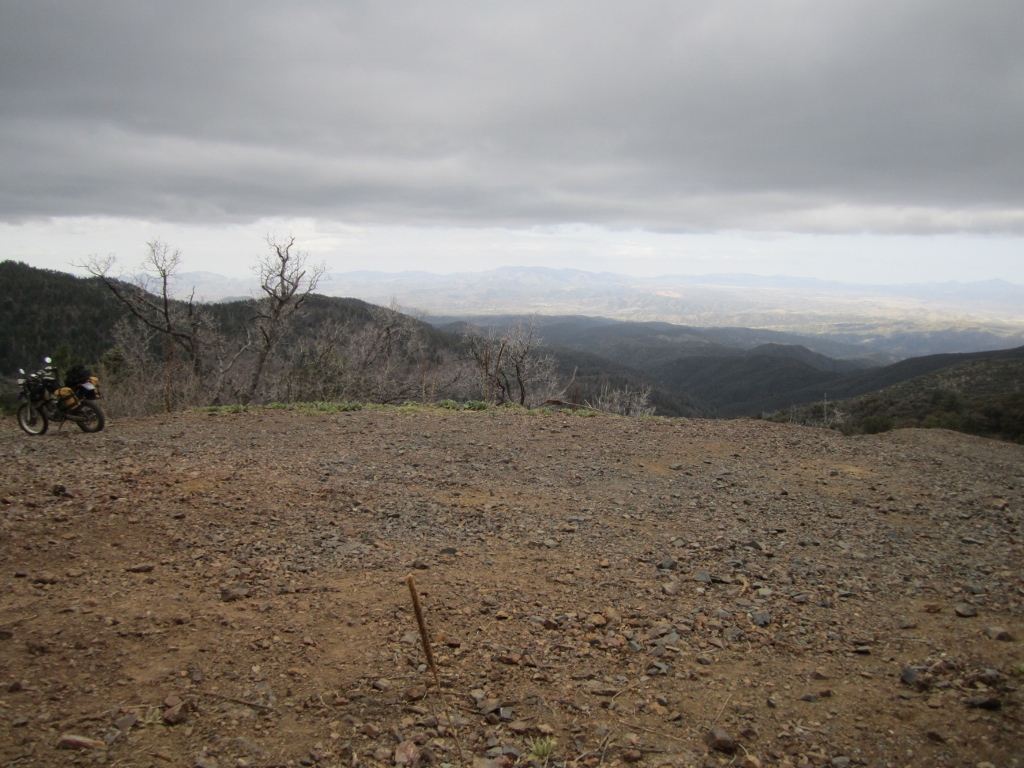 I was this downhill that turned us back again----none of us thought we could ride down that hill without breaking something.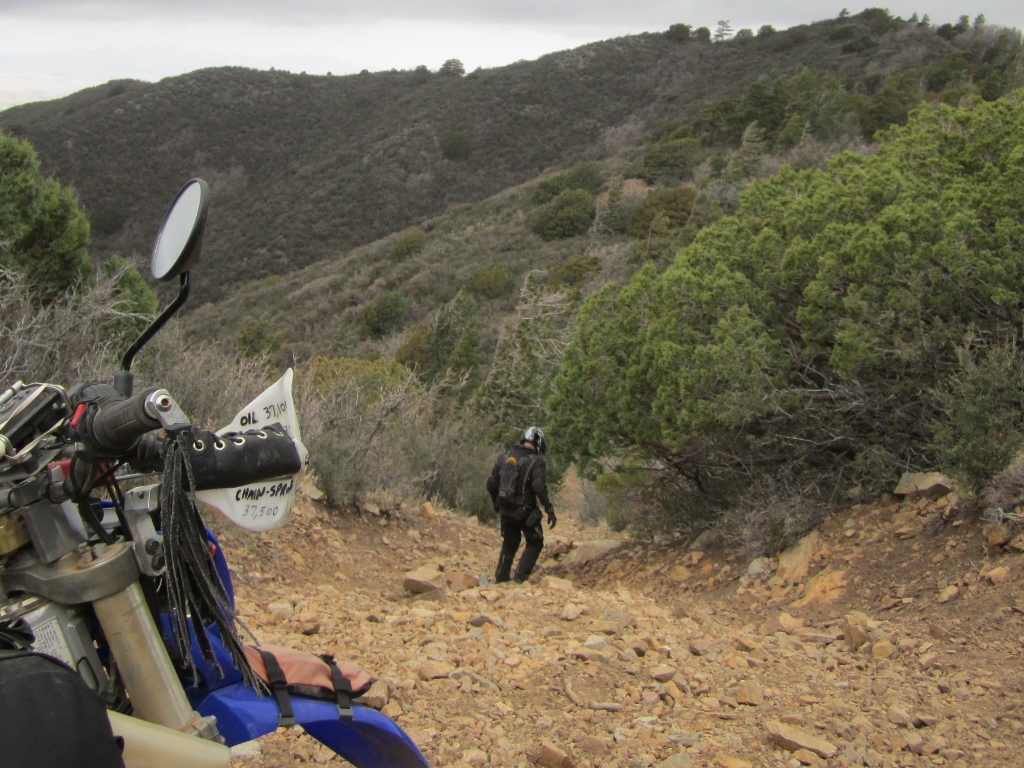 But going back wasn't easy either.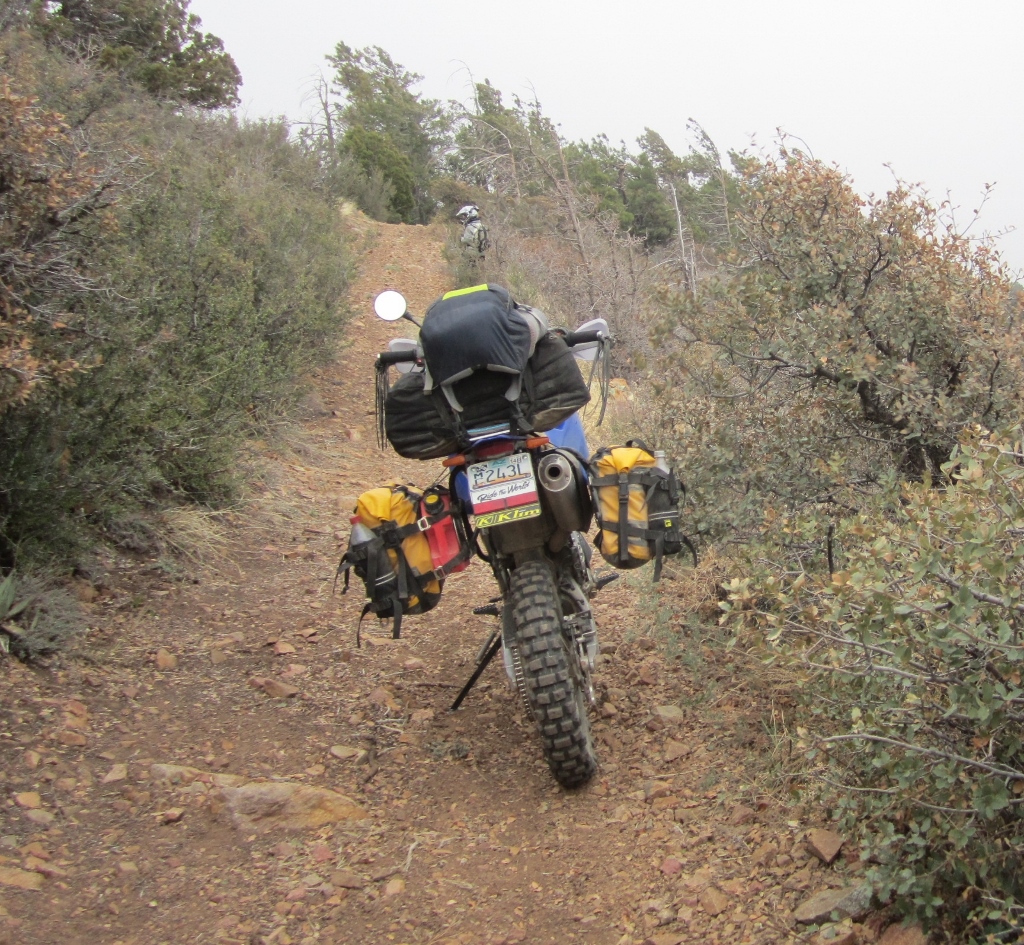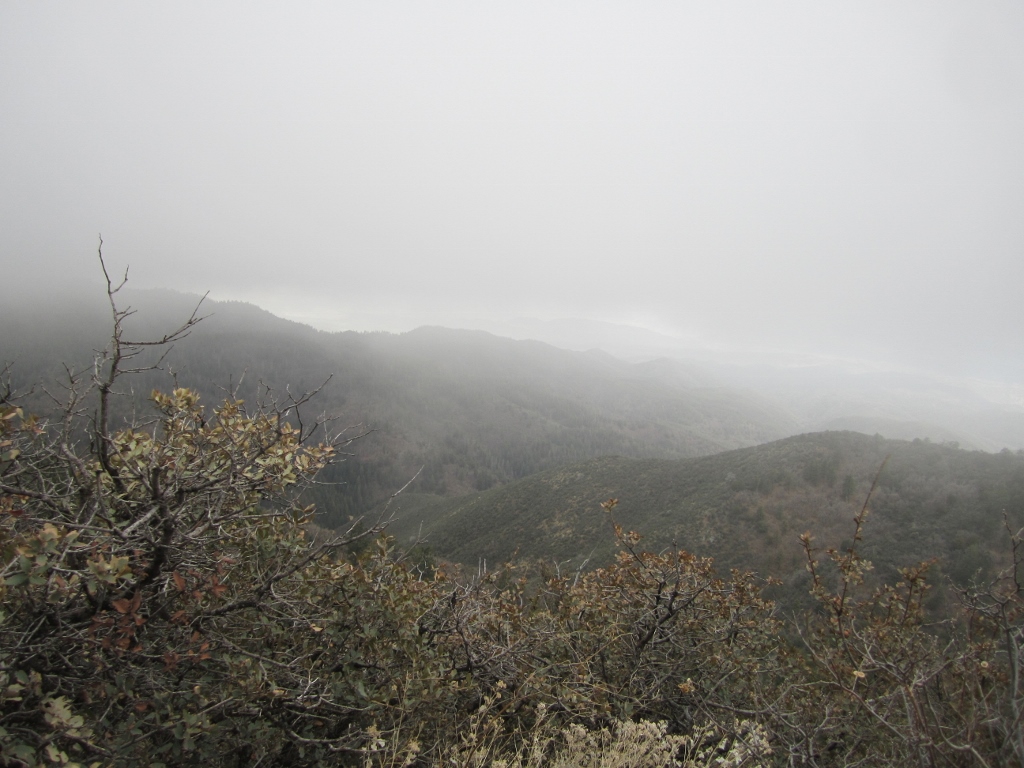 In the Prescott forest now we got to the Palace station.
And I recognized I'd been here before.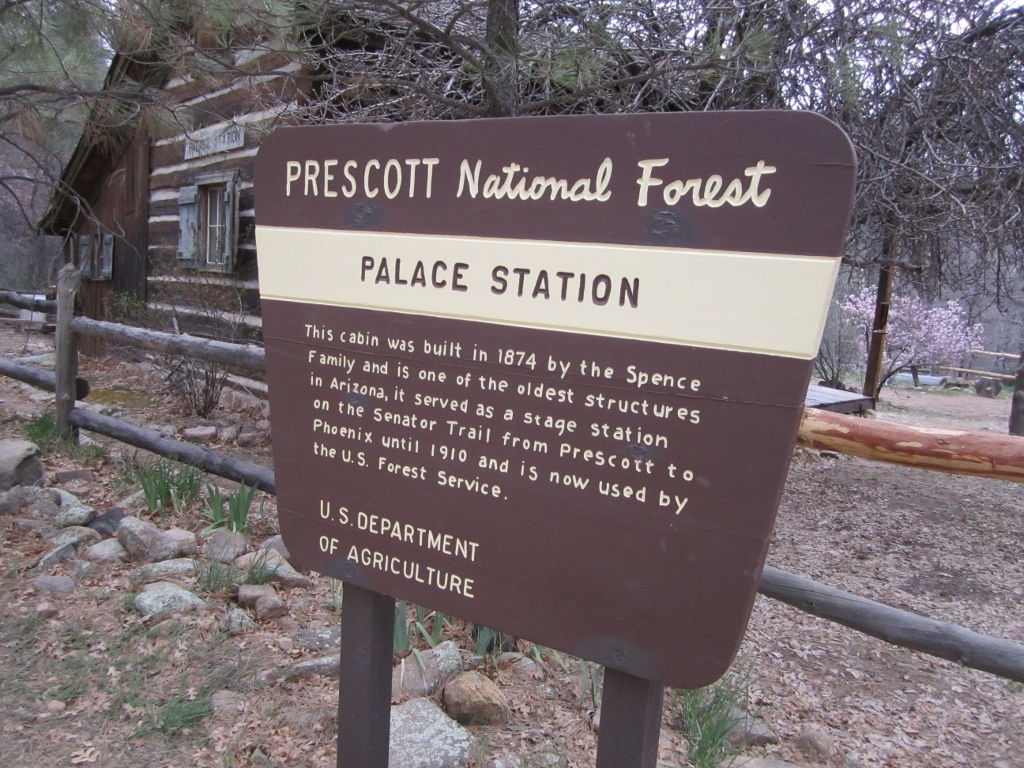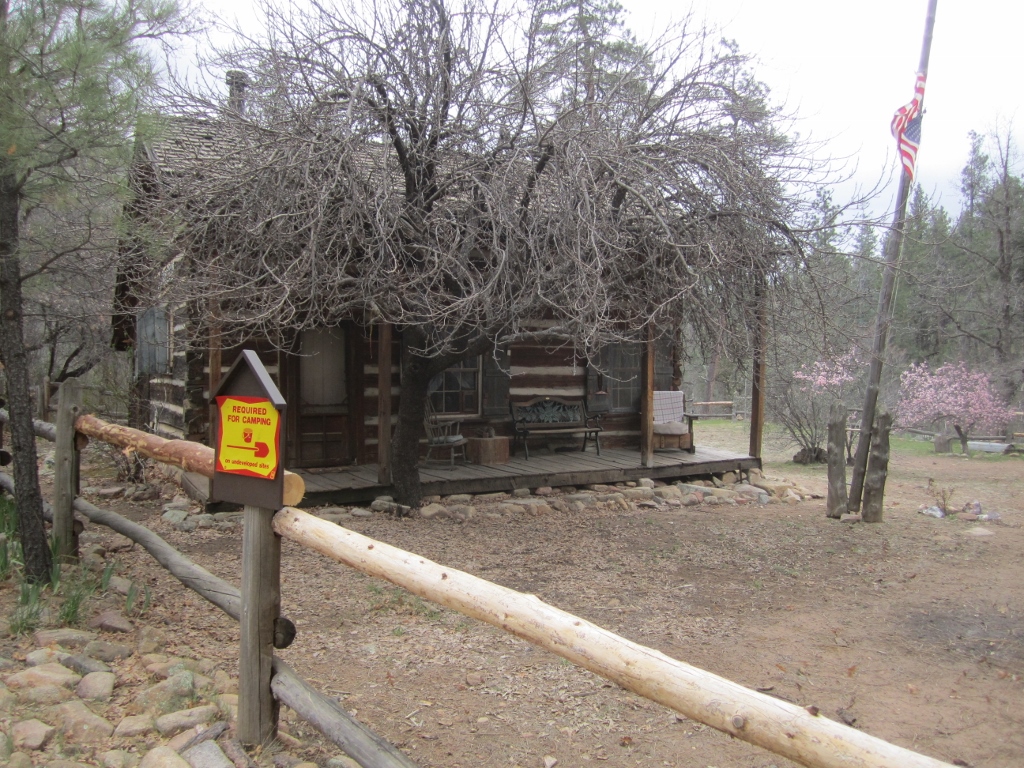 Scotts WR has almost 48,000 miles on it.
Mine a little over 40,000.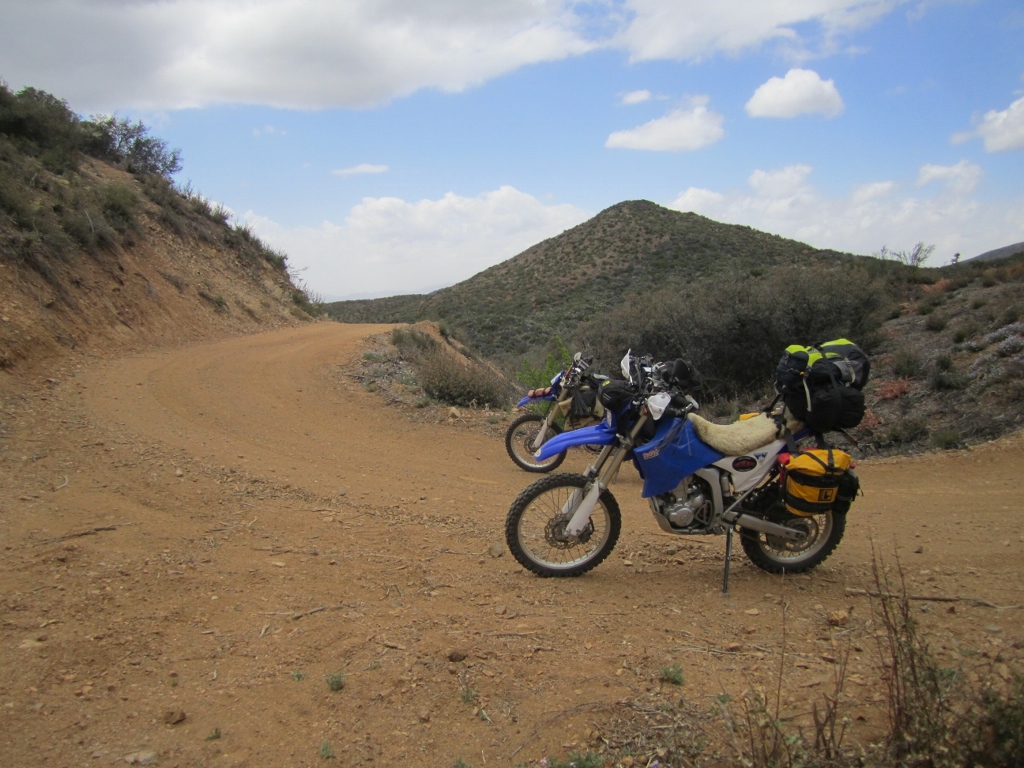 Scott is carrying an extra one gallon of gas on a roto-pax carrier-----we never needed it but it made us feel better.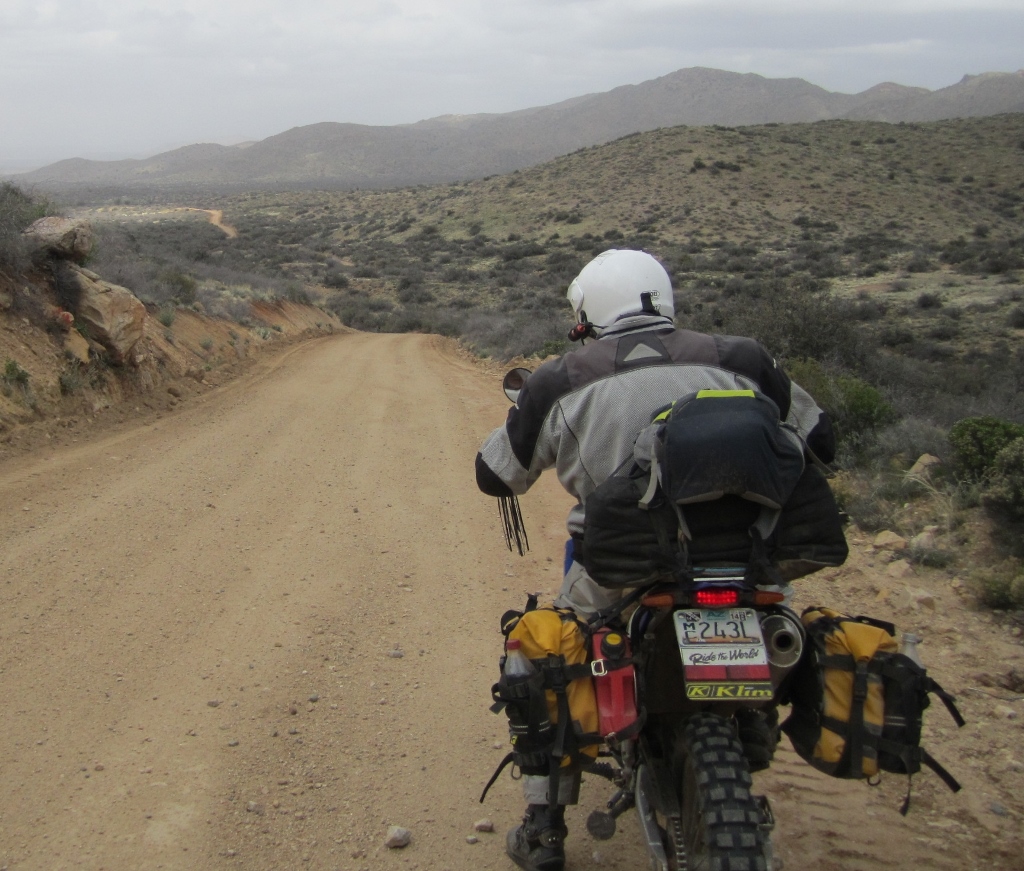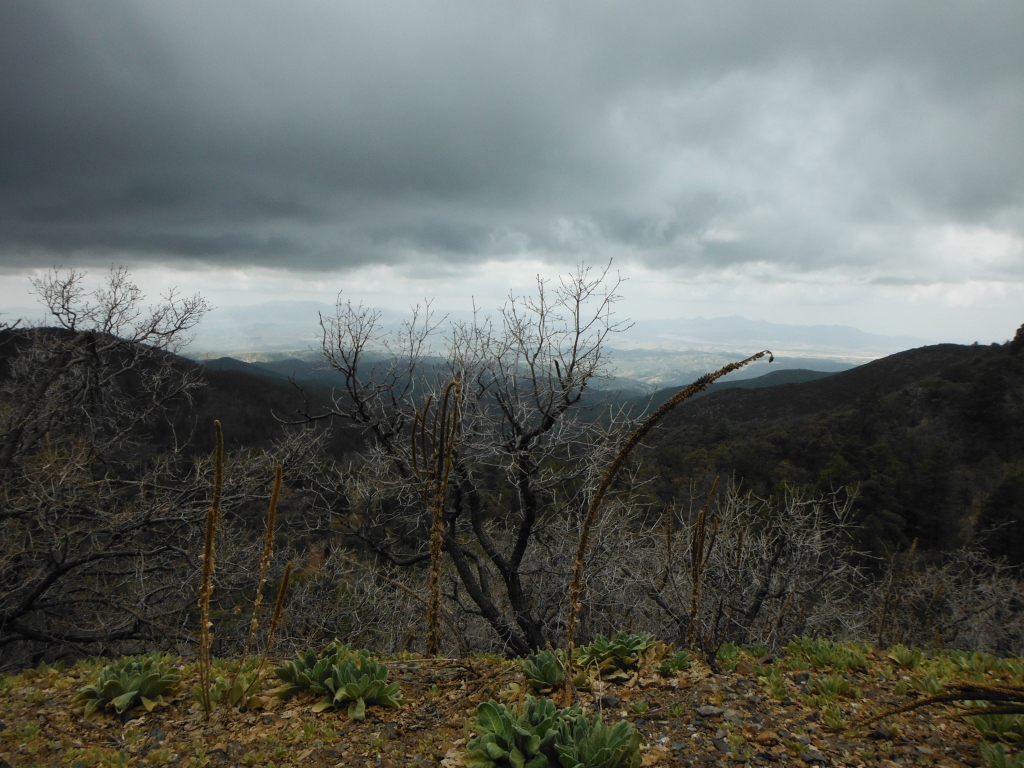 Now this was a magnificent view.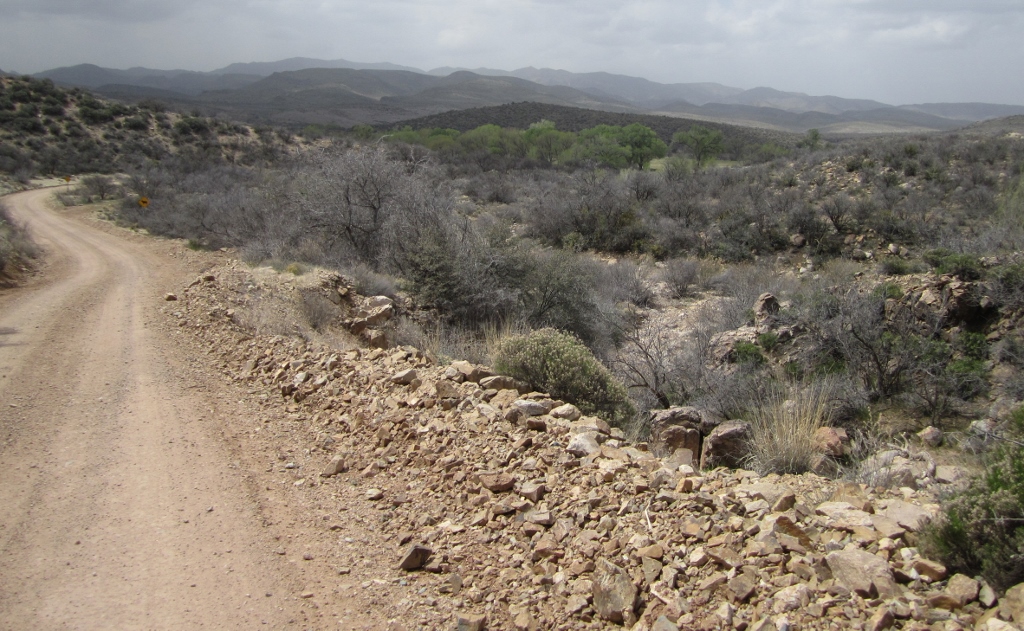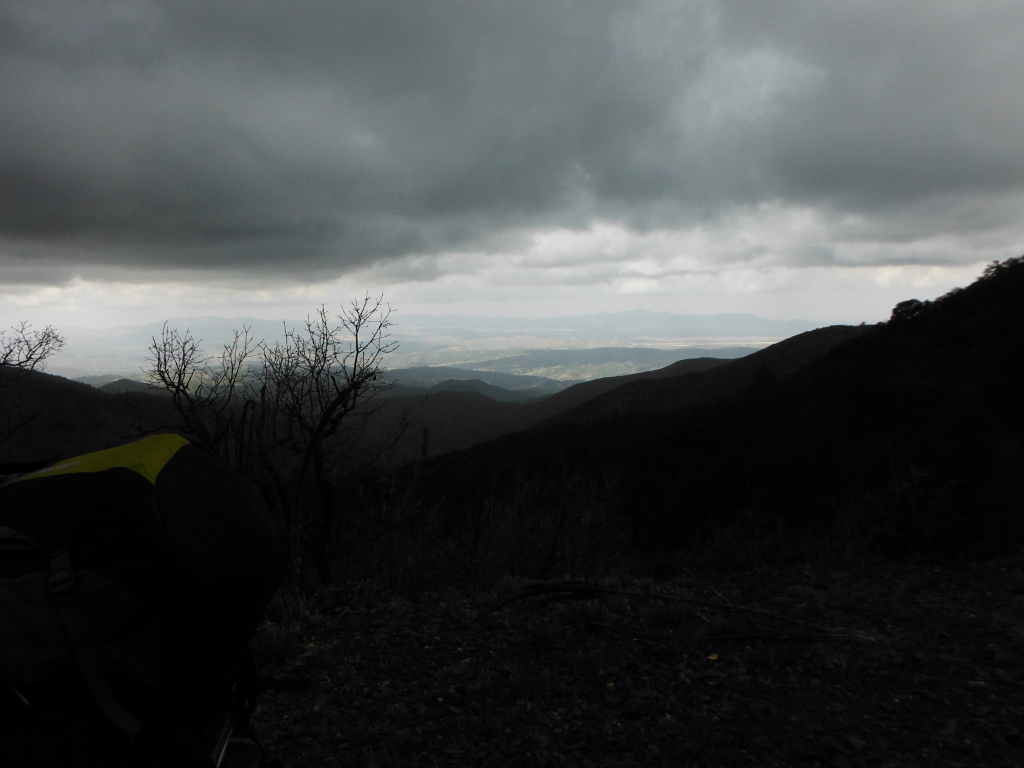 It was still cold and it looks like Francine had put on a rain jacket to keep warmer.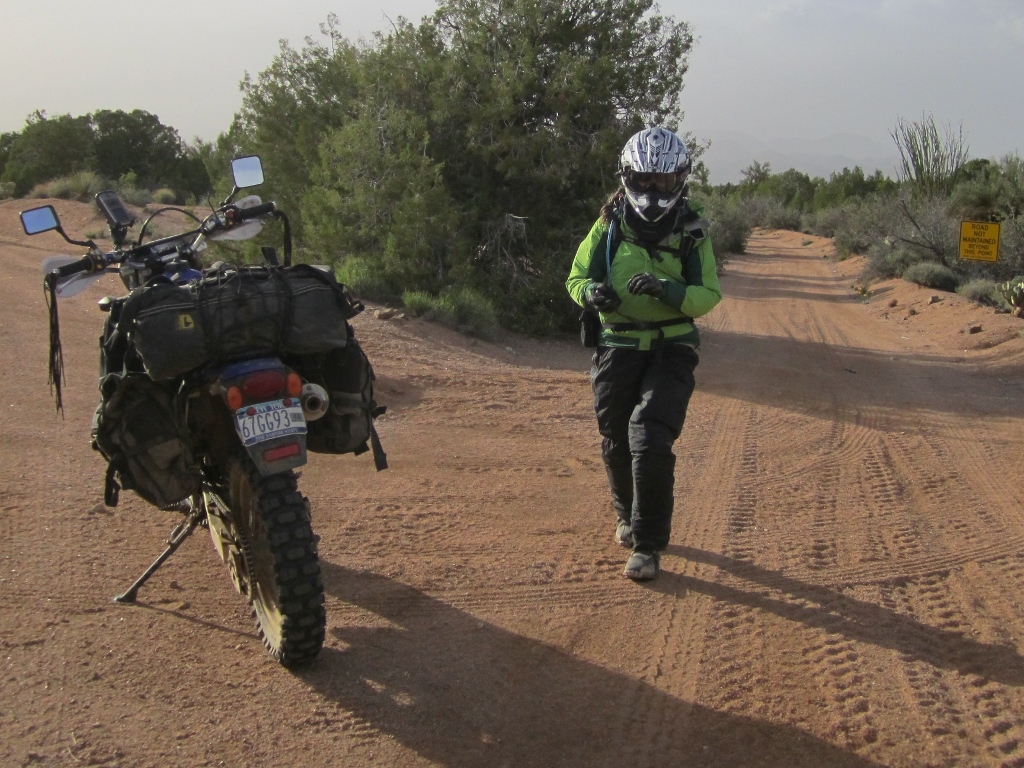 I'd seen the town of "Nothing" on Arizona maps years ago and couldn't wait to get there and see it.
There was notihng there-------absolutely nothing.
But it's on maps ??????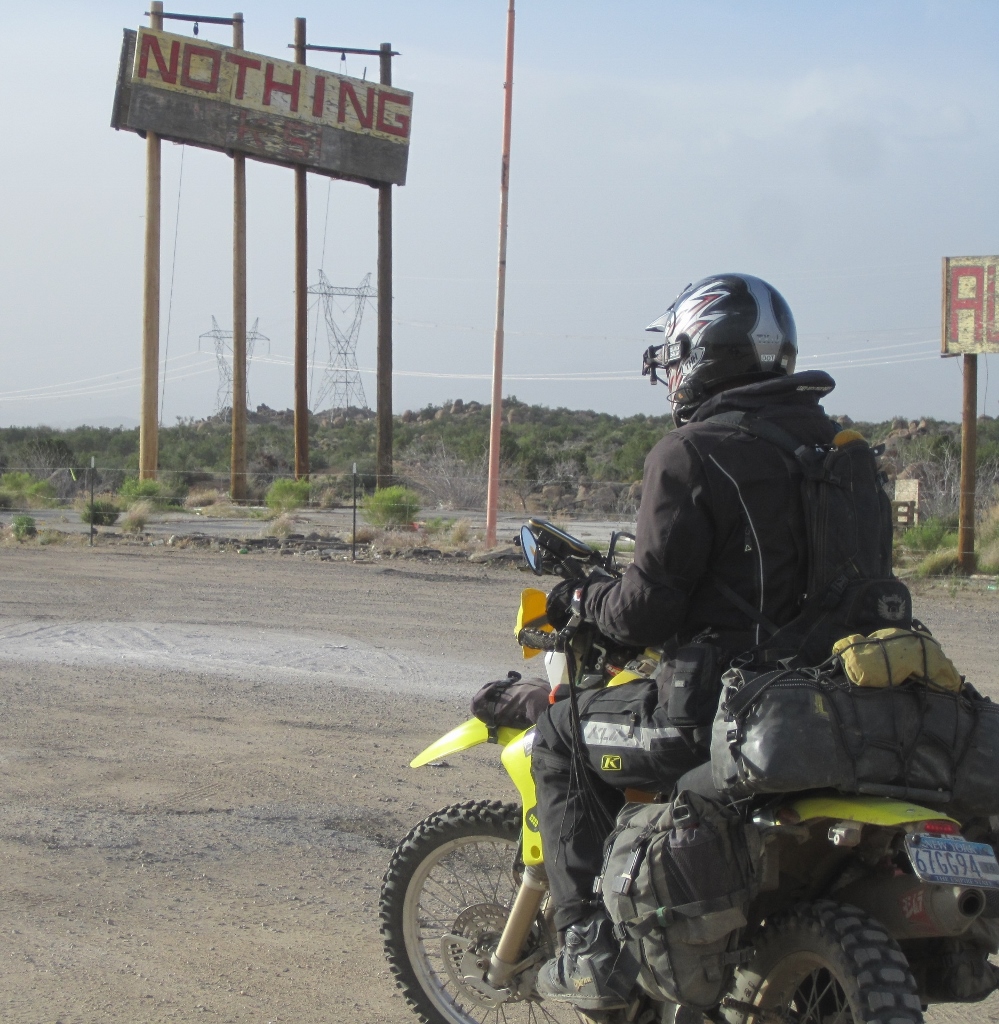 We holed up in a motel in Wikieup, AZ for the nite and had road 145 hard miles today.
A map of our route today.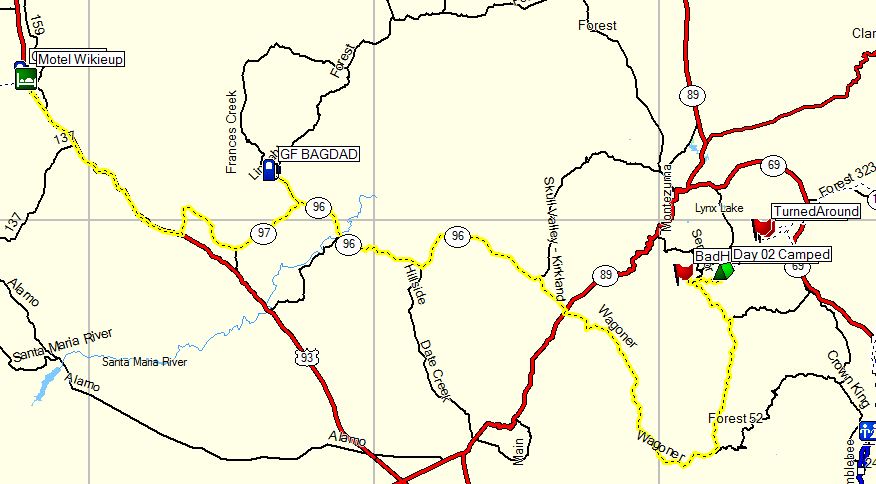 Day 4
April 9th, 2013
Wikieup, AZ to the hospital and emergency room in Las Vegas and Arizona Charlies Casino..
We all loved the little mom and pop motel in Wikieup----it was very old and had outside doors.
I hate inside door motels and would rather be in bed with cockroaches in an old outside door motel then be in a inside door motel.
We headed West out of Wikieup on Chicken Spring Road. Another beautiful day.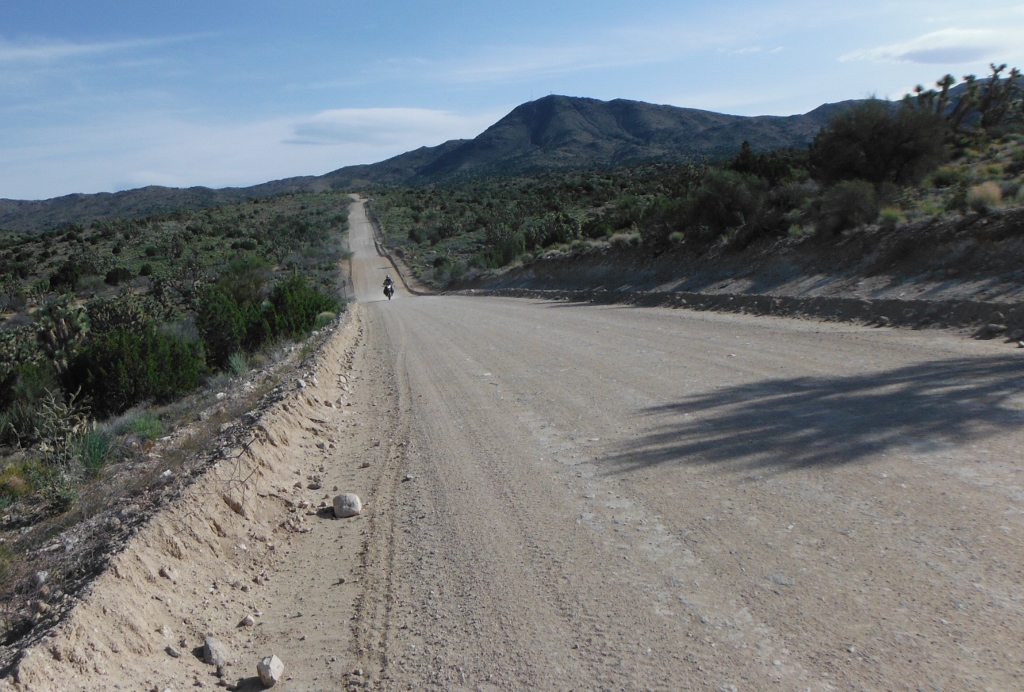 We then turned Northwest on Alamo road to Yucca, AZ
Today was maybe the most anticipated day of this whole ride------as we were going to ride the entire length of the Old Mojave Road.
A lot of history was made on this old road--------we couldn't ride it all in one day and knew we'd be camping somewhere out there on it.
It's about 170 milesof sand-----with nothing along the way except sand, a lot of history and the beautiful desert.
We gassed up fully and bought camping supplies, snacks--------and of course ribs for our dinner tonight at the last available gas before
we got on the old mojave road near the California border. I seemed to be always leading and we went right thru a no trespassing sign thru a casino parking lot
and road right along this water way. Dr. Rock assured me this was the way--------and it was !!!!!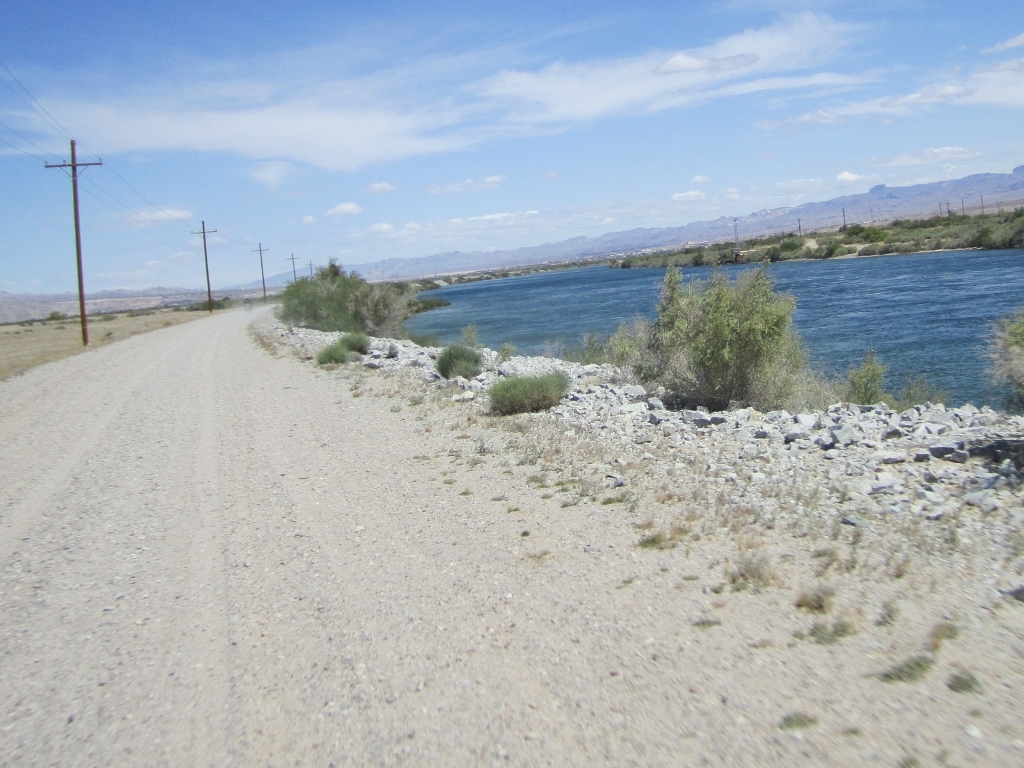 Then we went right thru what seemed to me to be was a farmers field.
Dirt-------------I like dirt.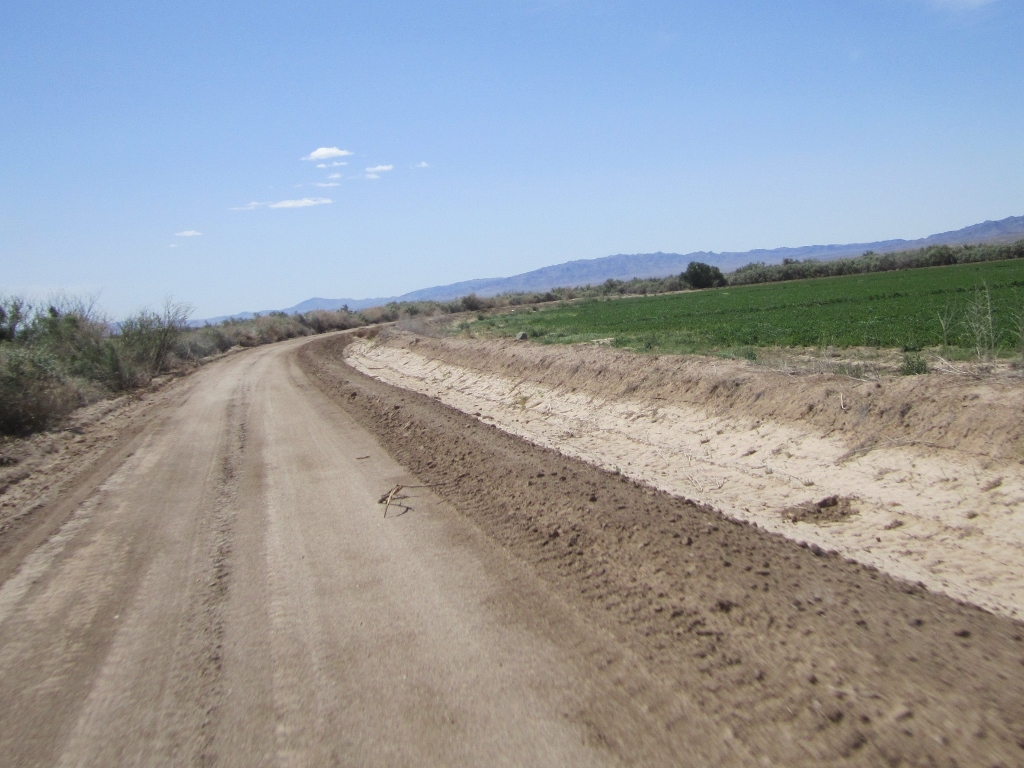 I remember plainly the feelings here---we stopped to get out of some of our gear as the temps got nice and warm----and we were all
excited to the max to be riding the old mojave road. Smiles for everyone----and this would lead us eventually to Death Valley.
I've never been there and couldn' wait to see that too.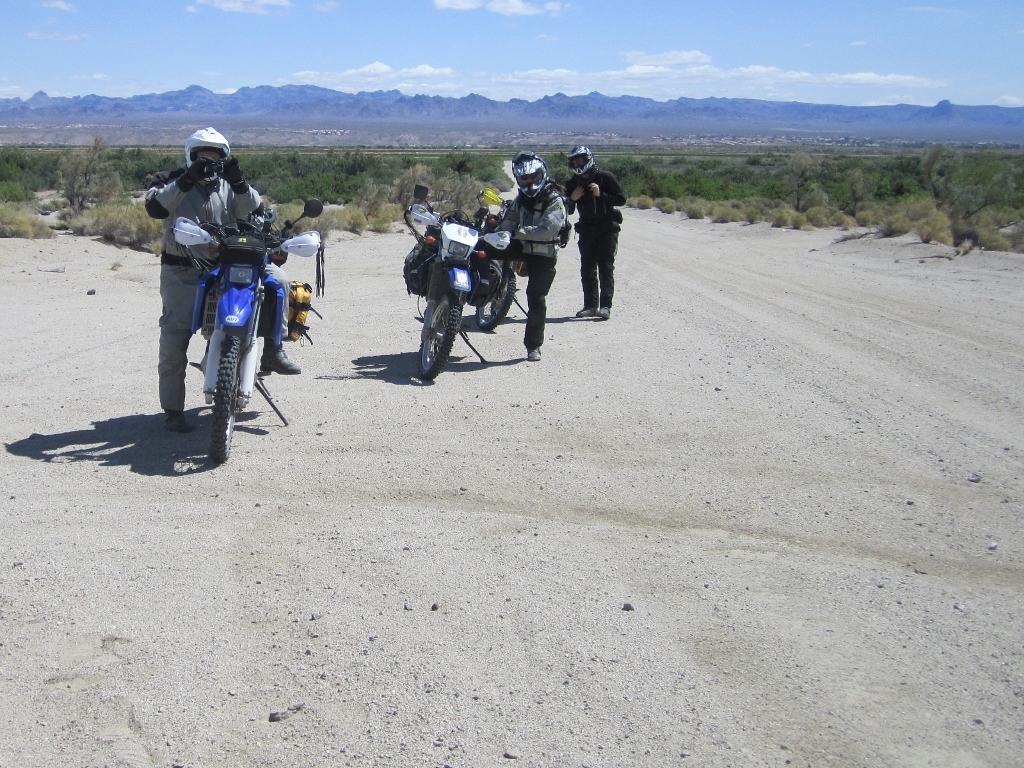 Just before crossing the needles highway I spotted this old grave and stopped to check it out and Dingweeds stopped with me.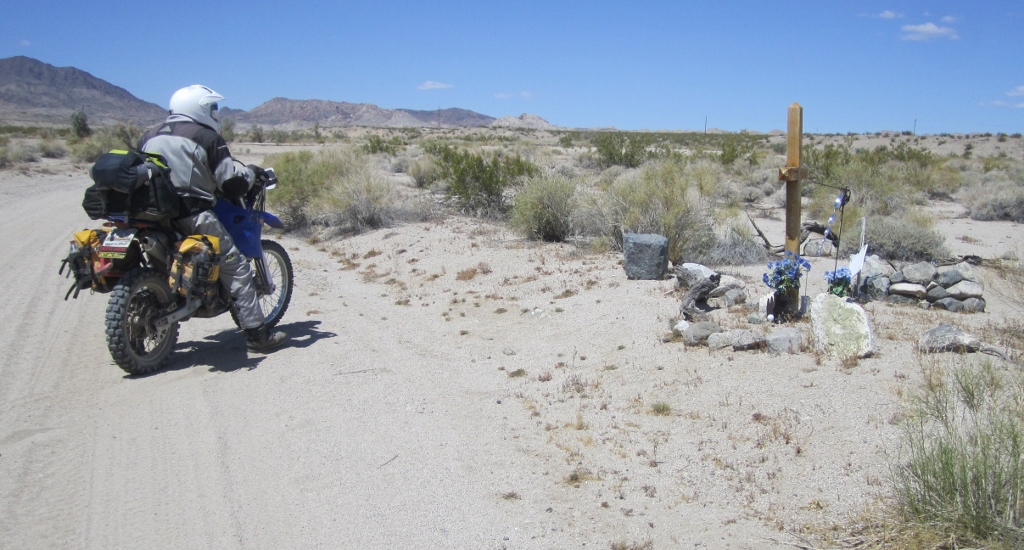 I don't know the story of this marker---but would like to know it.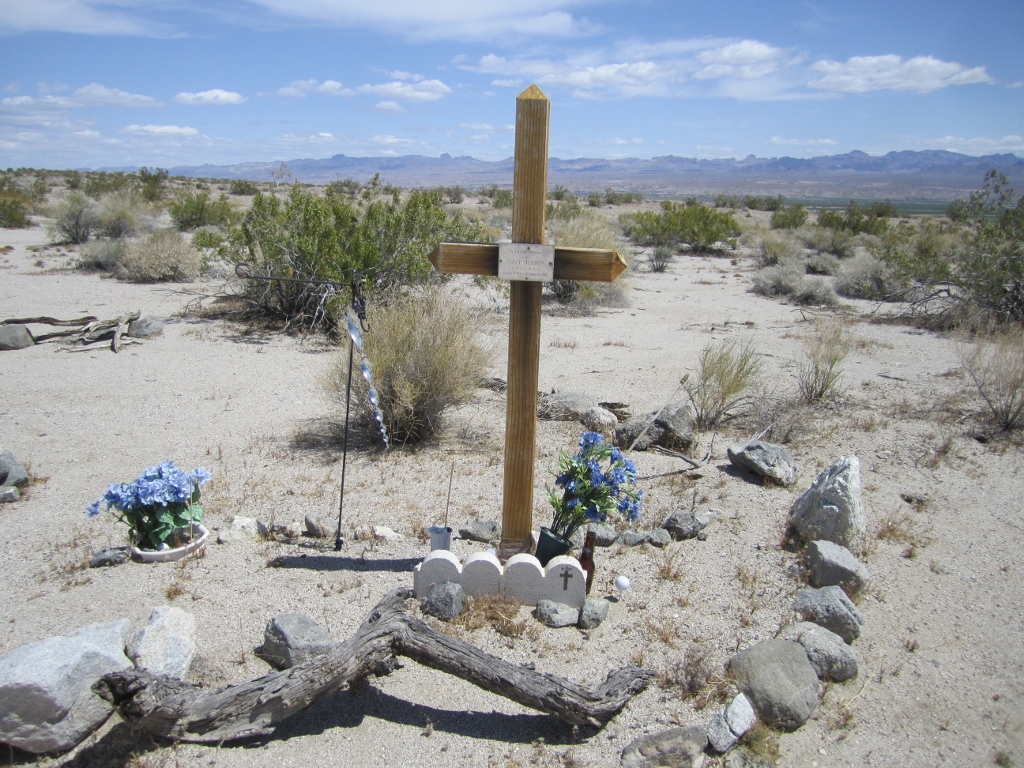 The person that was killed here apparently like his beer----and his golf game.
What we didn't know---was that at this very moment Francine had crashed and was just out of sight of us.
Scott thought something wrong at first----and it was a wonder we didn't ride another 10 miles down the trail----but we both went back as
we felt something wasn't right------Francine was right behind us a minute ago.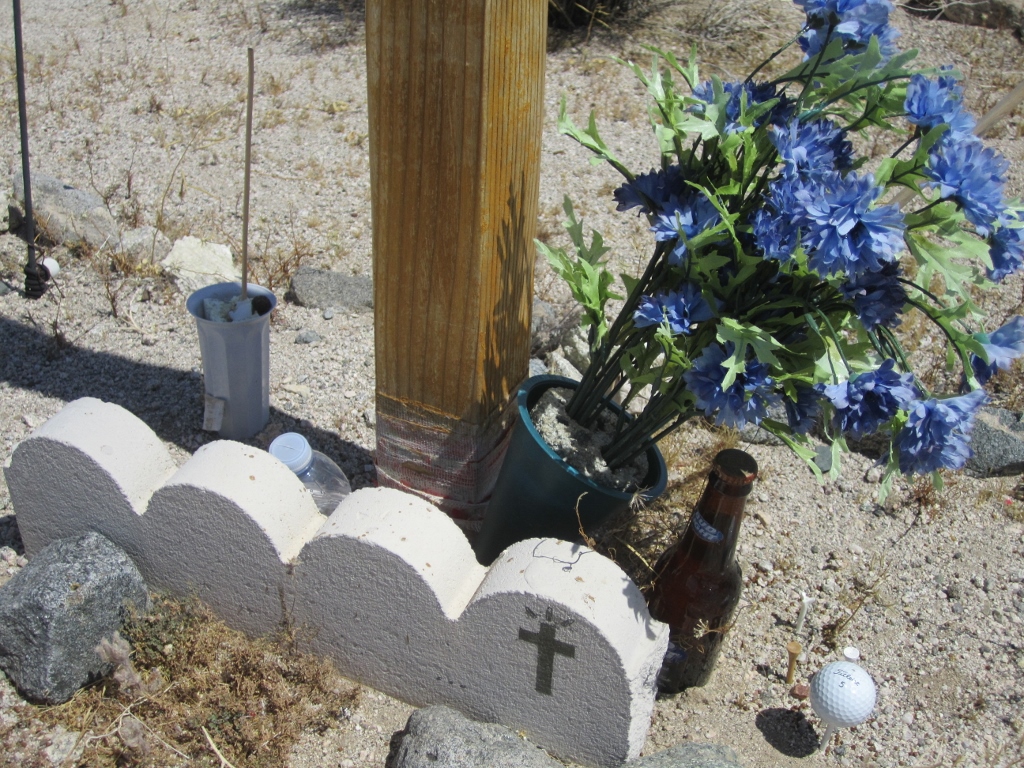 Our first sight was her bike laying on it's side just off the old mojave road.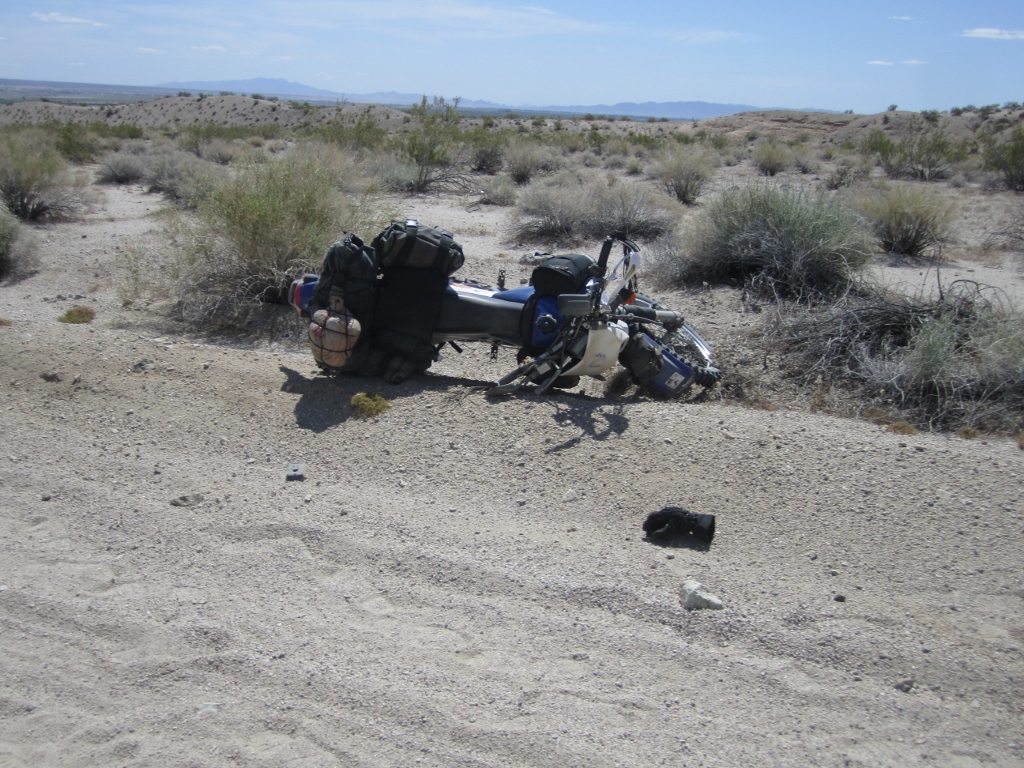 But Dave was all over her trying to make her more comfortable.
He's a Dr. and assessed her condition very quickly. She was out for about 3 minutes and when she came to she was bubbling saliva out her mouth.
He performed tests on her to prove that her neck wasn't broken or her back wasn't broken and then he removed her helmet as she began
to talk---but was obviously not herself and kept asking the same questions over and over.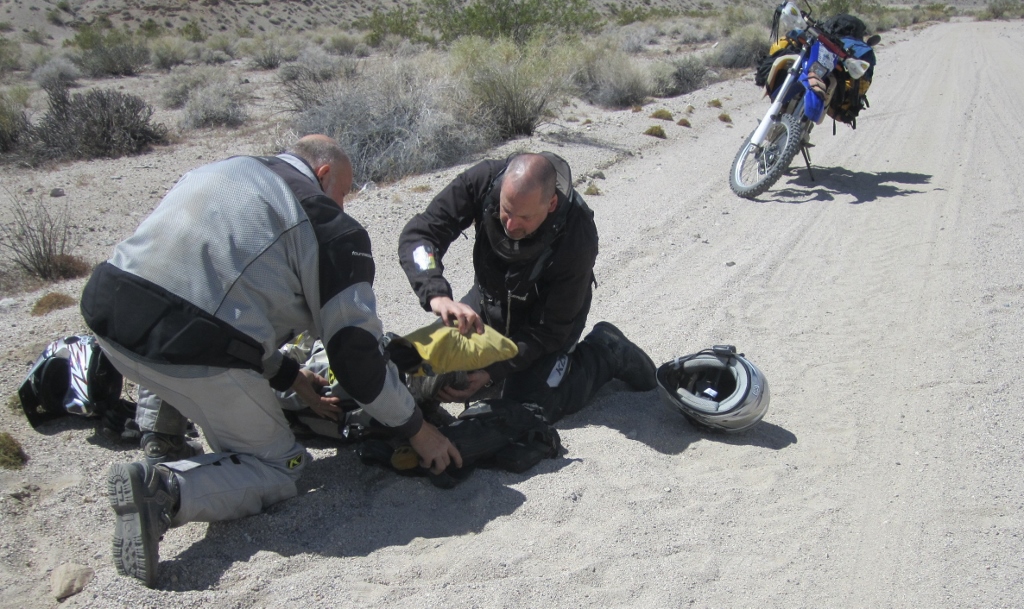 She had crashed 10 mintutes before me and Scott got to the scene and Dave already knew she needed a CT scan of the head and had
already pushed the Spot Tracker emergency rescue button and received a phone call on his cell phone to confirm the emergency.
They would have came anyway----but they try to call---and he was able to give vital signs and more info to the rescue people.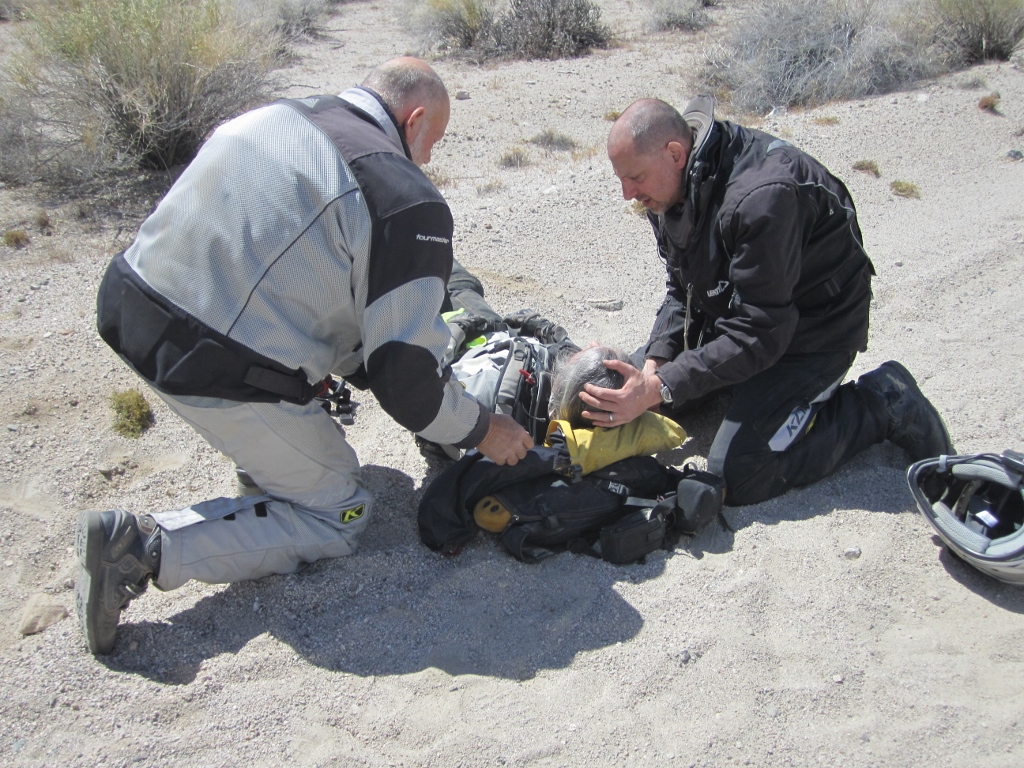 I rode the 1/4 mile to the needles highway to flag down the paramedics but they didn't want to drive down the mojave road in fear of getting stuck.
I told them repeatedly that it was firm sand and they would be fine and they finally drove right up to Francine.
This all took place in about 30 minutes.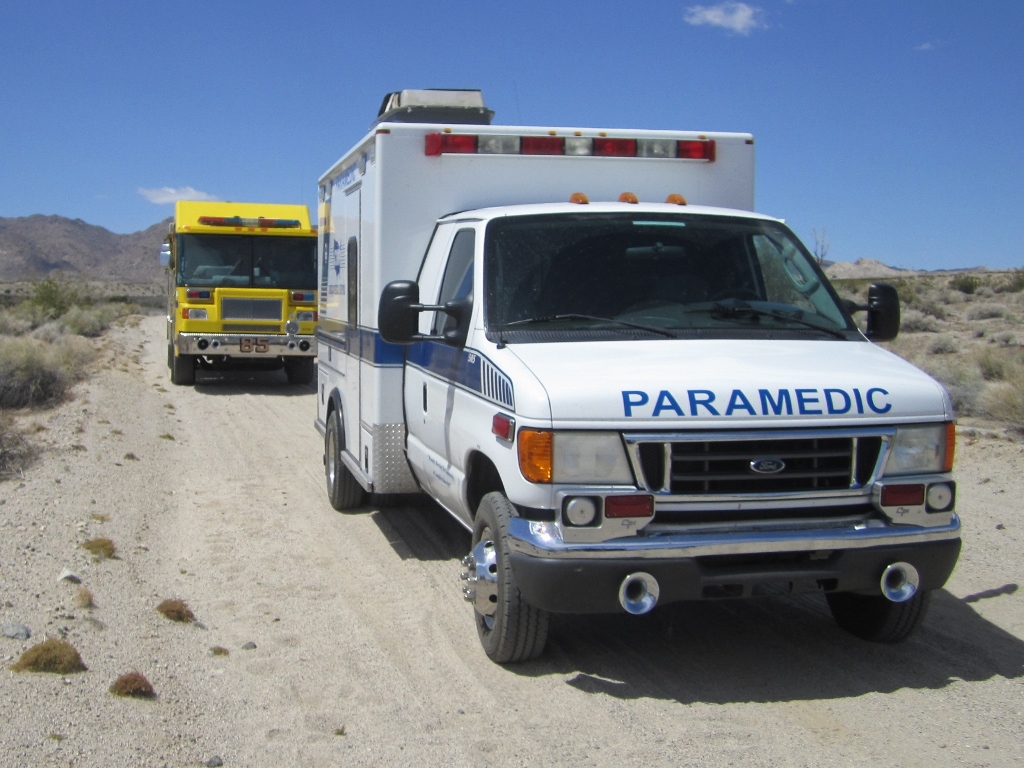 A neck brace was installed and she was put on a backboard------Dave had removed her KLIM Jacket and Kevlar riding pants as they would
have cut them off.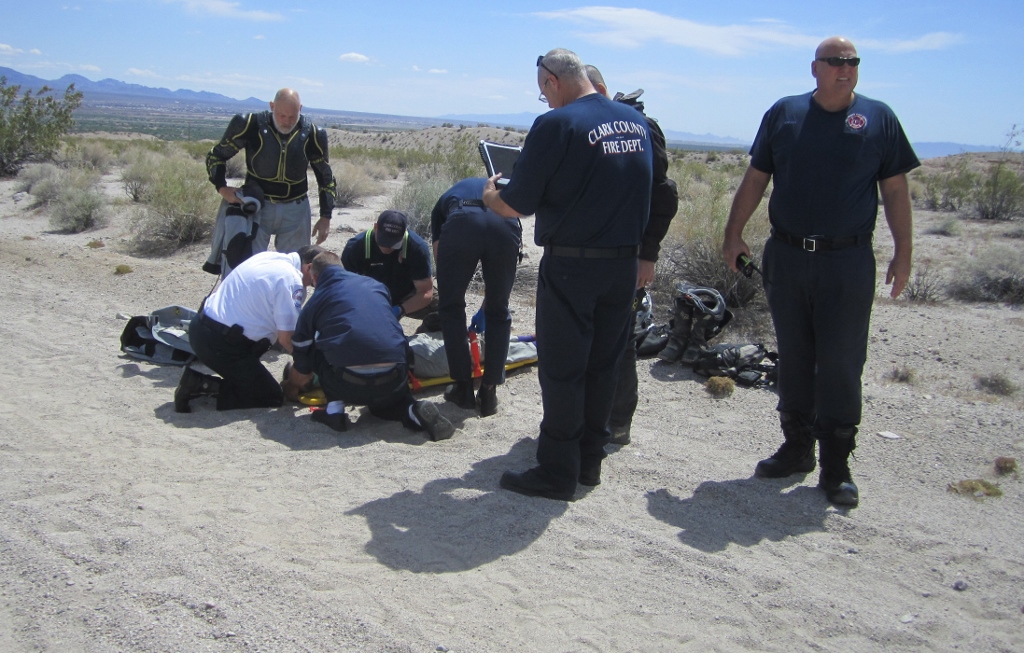 After quite a discussion it was determined she needed to go to Las Vegas as they had better facilities to take care of Francine
if things went really bad for her. A chopper was already in the air nearby after another call and came very quickly.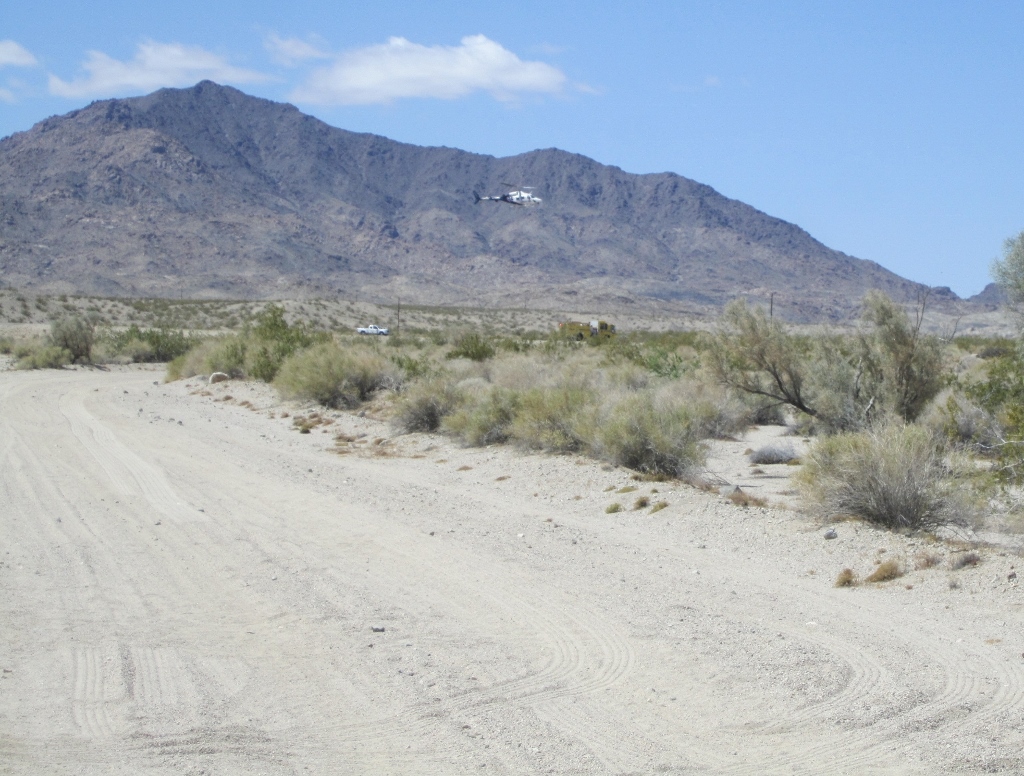 The whole needles highways was shutdown for a good 20 minutes as they put Francine and Dave in the chopper-----and off they went.
Poor Francine----she was excited to ride the Old Mojave Road---but had some fears of the sand.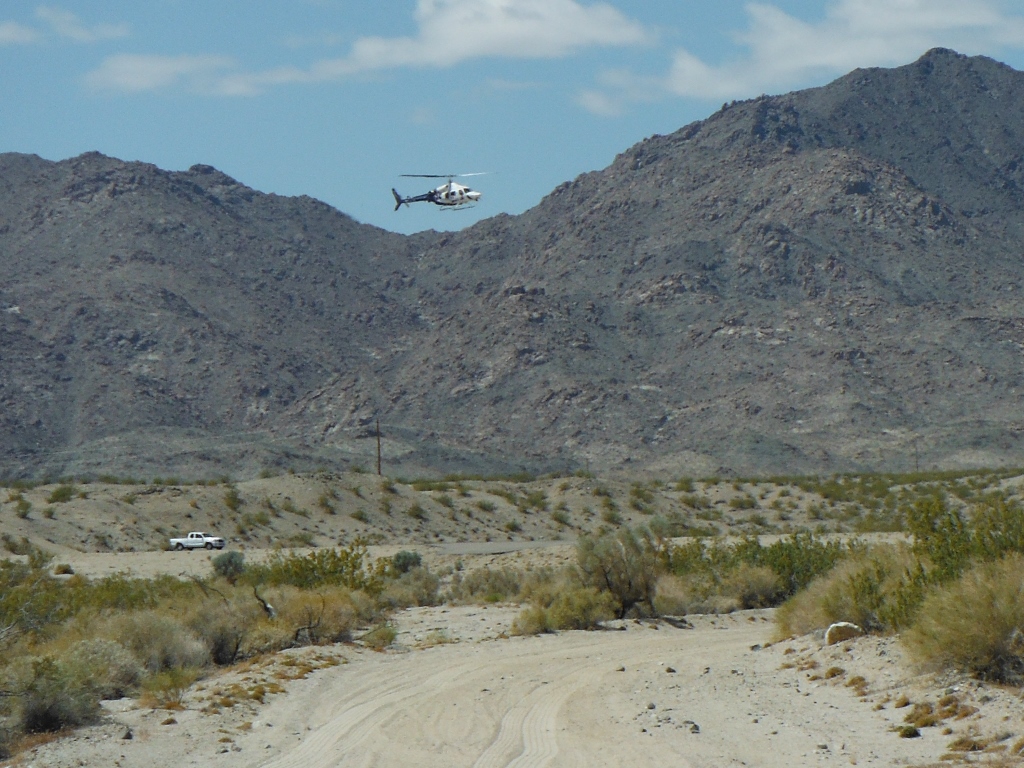 Her DRZ was pretty scratched and bent up--------but not that bad.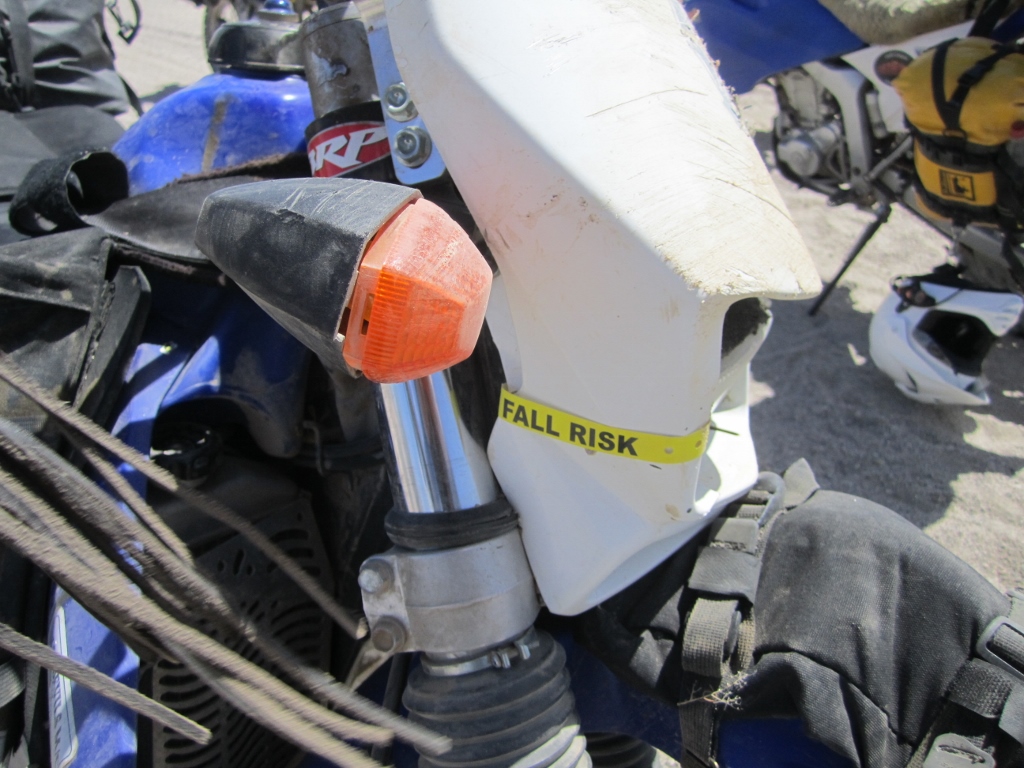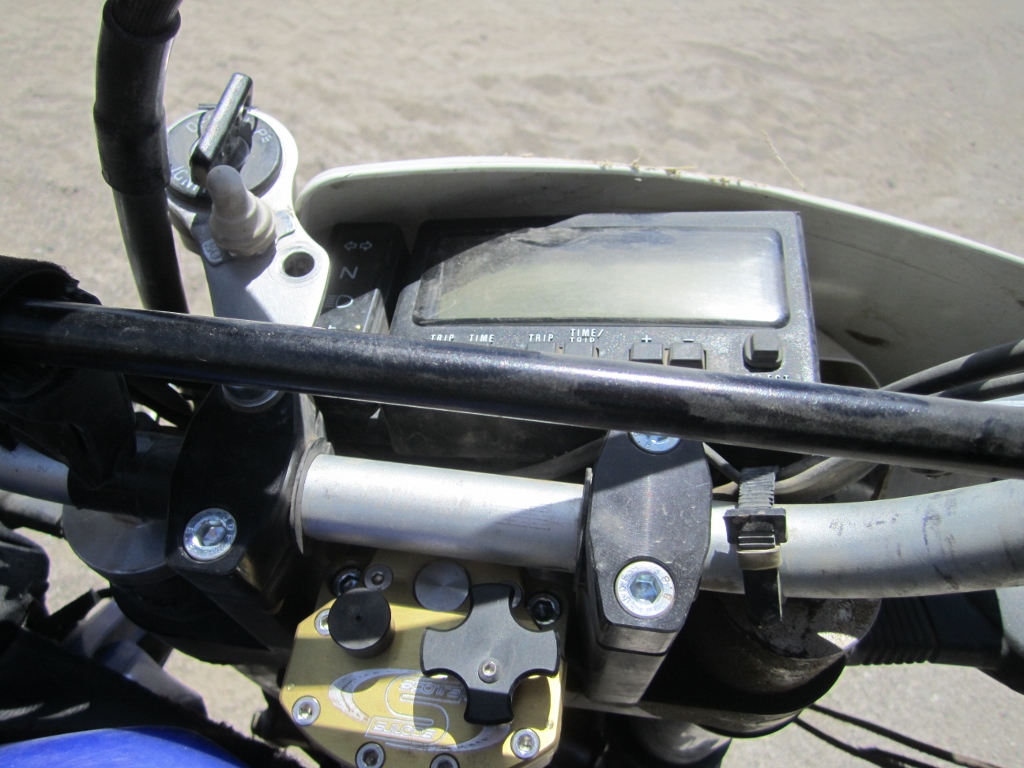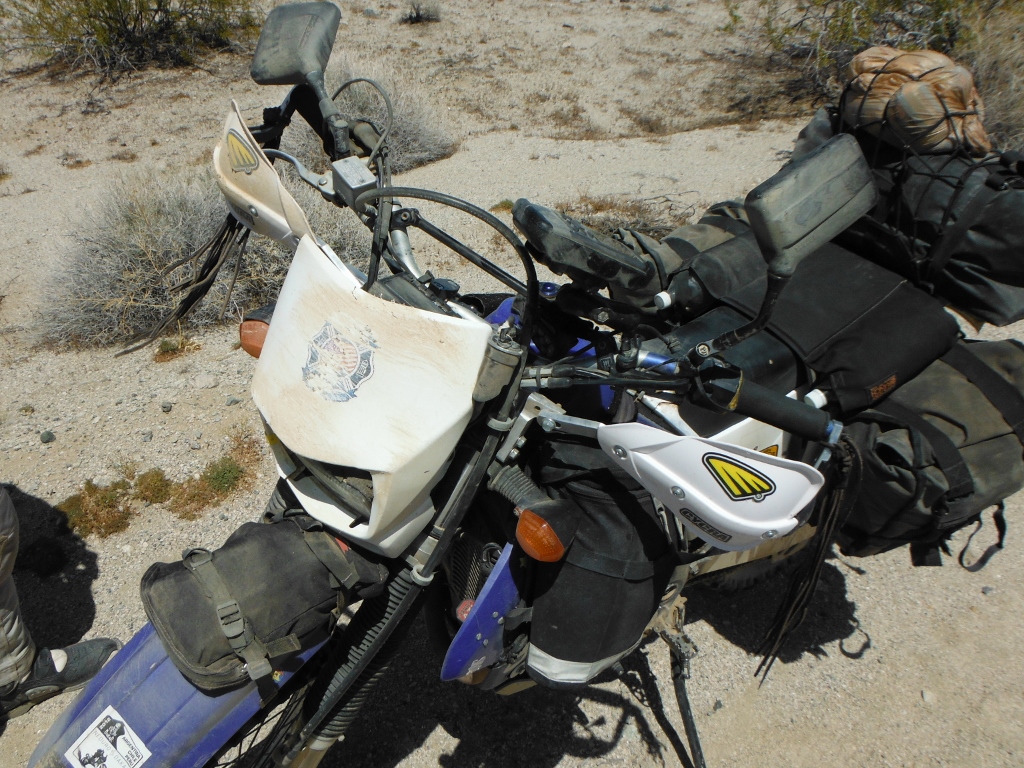 A lot was said about what happened. Here's the squiggly marks in the sand before she and the bike went air born for about 15 ft.
and she obviously took a very hard blow to the head.
But----in reality nobody knows what happened exactly. No one saw it---and Francine doesn't remember any of it.
She had no broken bones---but a bruised knee, eye and cheek would show up later.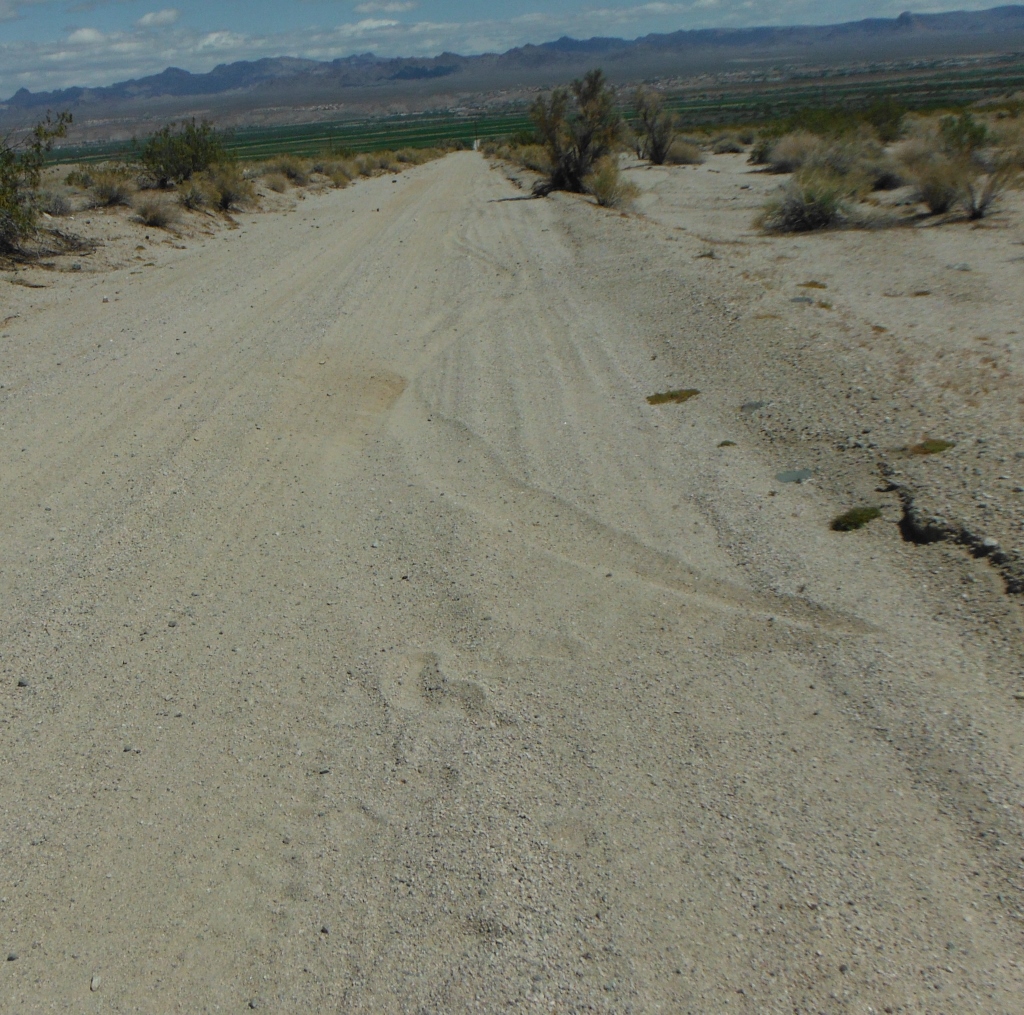 So-----now me and Scott had 2 Suzuki DRZ400S's to deal with while Dave and Francine went to the hospital.
Too make a long story short-------I got on the phone and called a friend who got on the AdvRider site and put out a plea for someone
to pick up their bikes and haul them away. Dingweeds called his friend John (Emmerson Bigguns--on AdvRider) and he got on the tent space thread
and a very nice young man in Las Vegas was on the way.
I rested in the shade during the 2 hr. wait and pondered how I'd cook those ribs on the back of Dr. Rocks bike.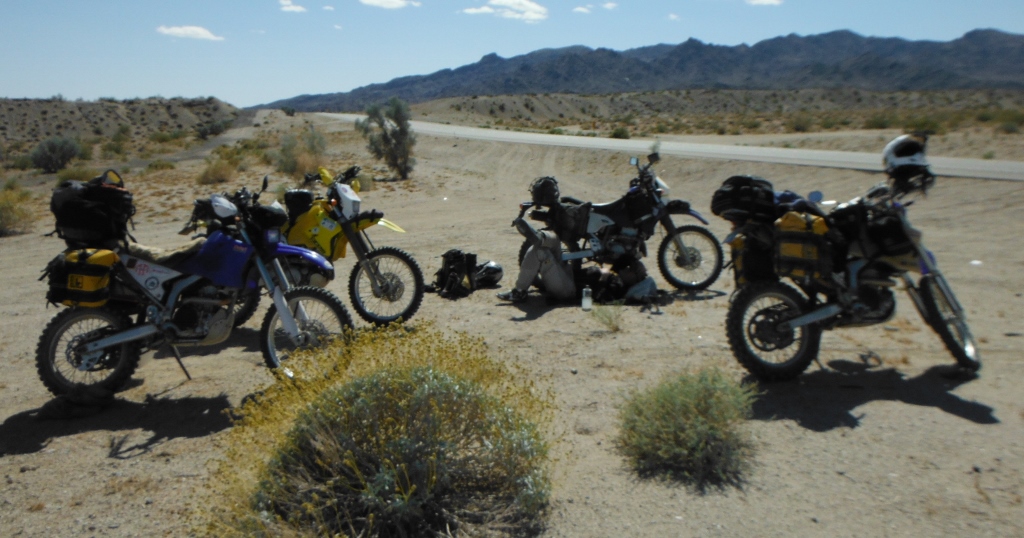 2 and 1/2 hours later this nice young man shows up and hauls their bikes all the way to Las Vegas and would take no money for his trouble.
We gave him all the meat we had bought and off he went. I think he was a fireman in Las Vegas.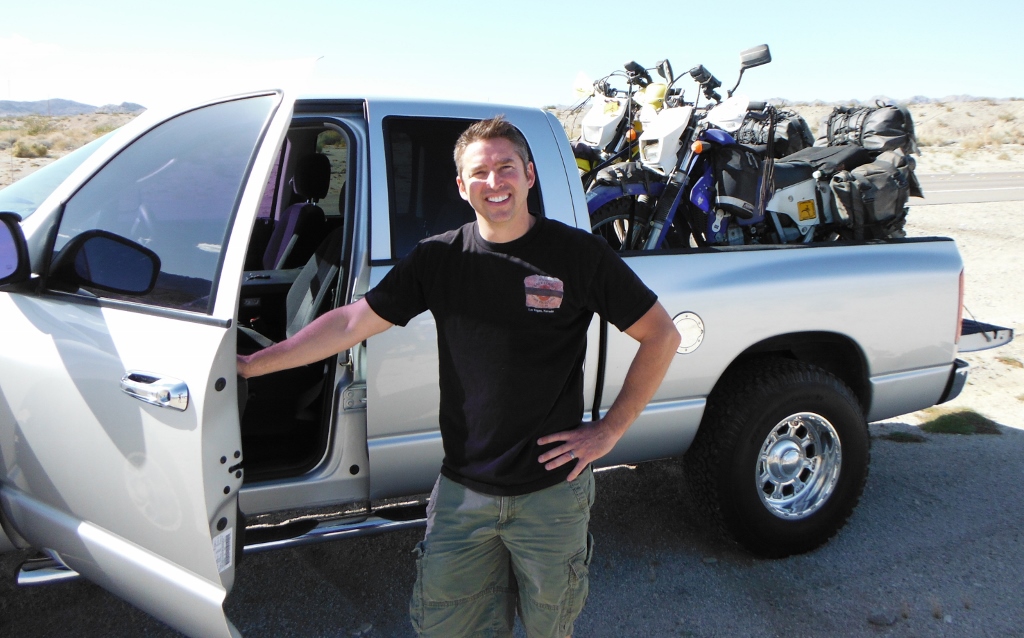 Crash site Map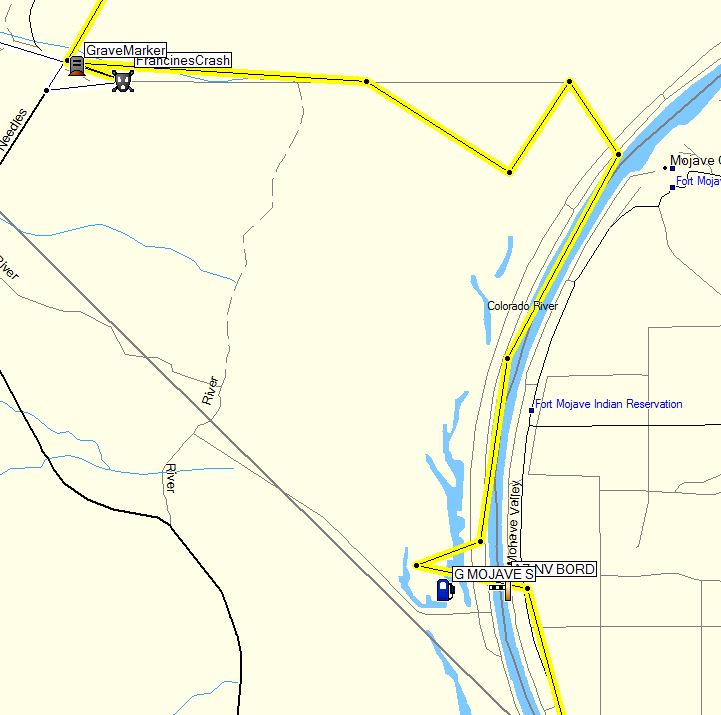 Me and Dingweeds high tailed it to Las Vegas to help out in anyway we could.
We were glad to do it and if our trip was over---------so be it.
It was just last month me and Scott had to abandon our trip down in Baja when he got hurt.
Someday maybe someone will do the same for me------nice to have friends----nice to have good friends.
But--------------we found a "cut-a-cross" road over Christmas Pass that cut a few miles out of the trip and we avoided the highway a lot.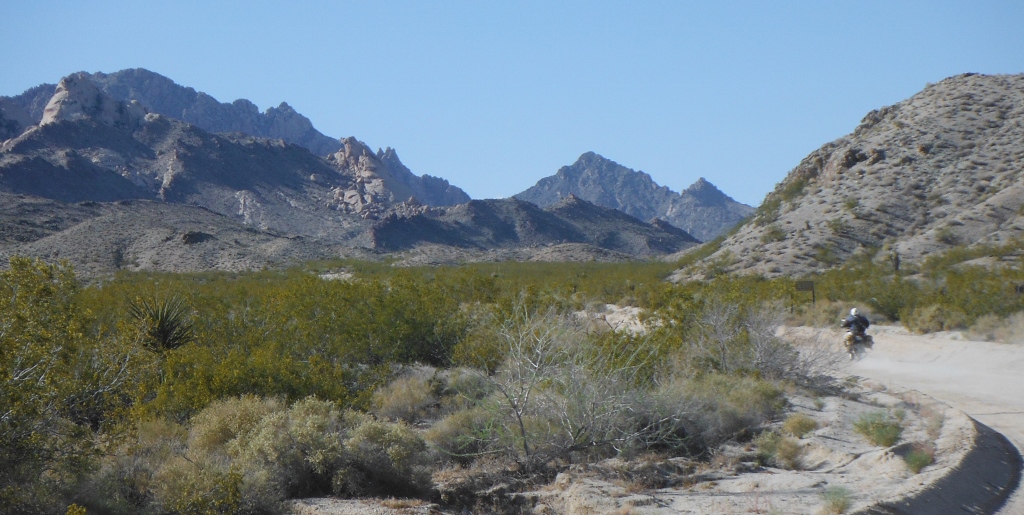 If you ever south of Las Vegas---find Christmas tree pass road--------it's beautiful and an easy ride---even for big bikes.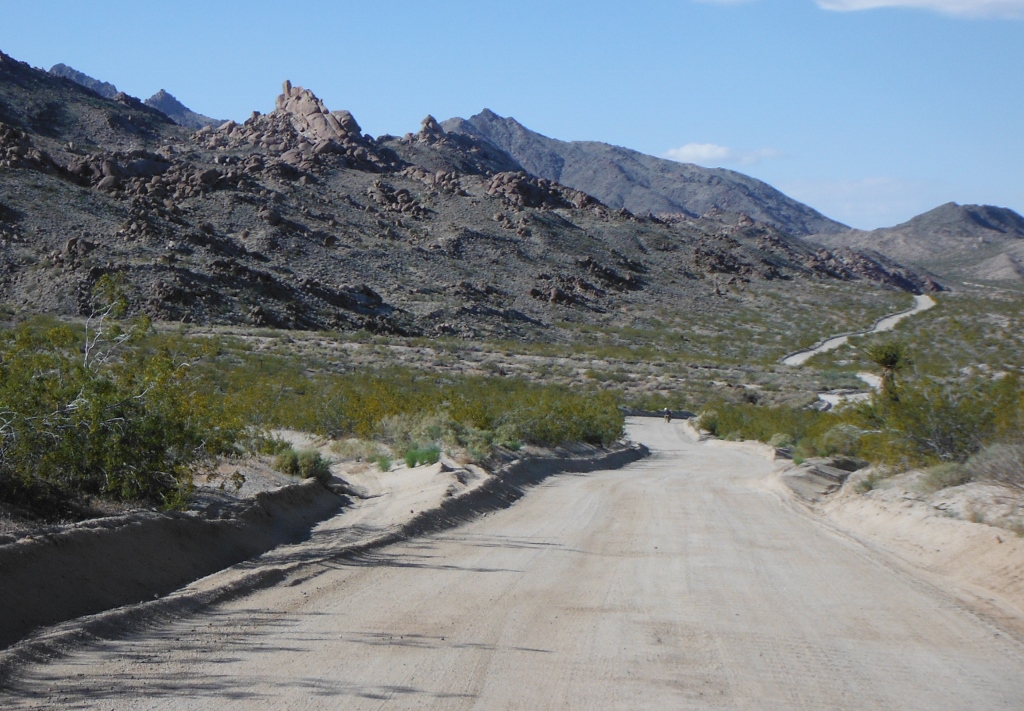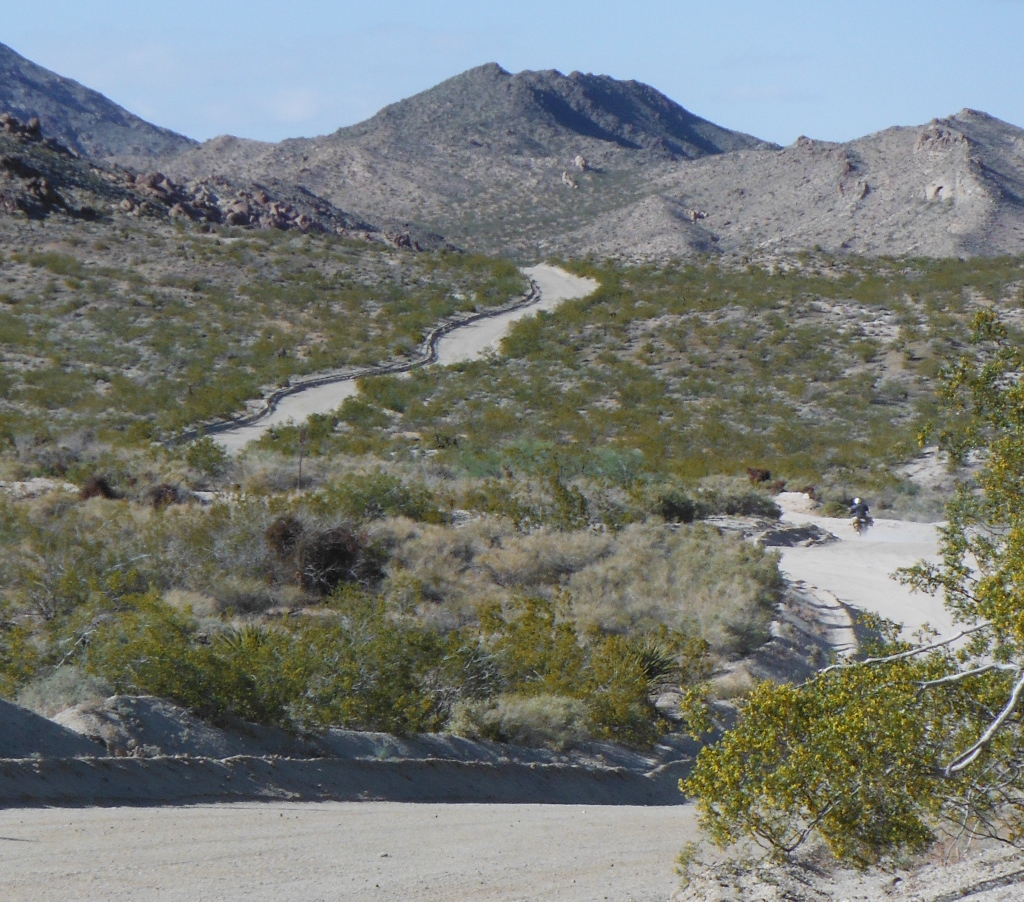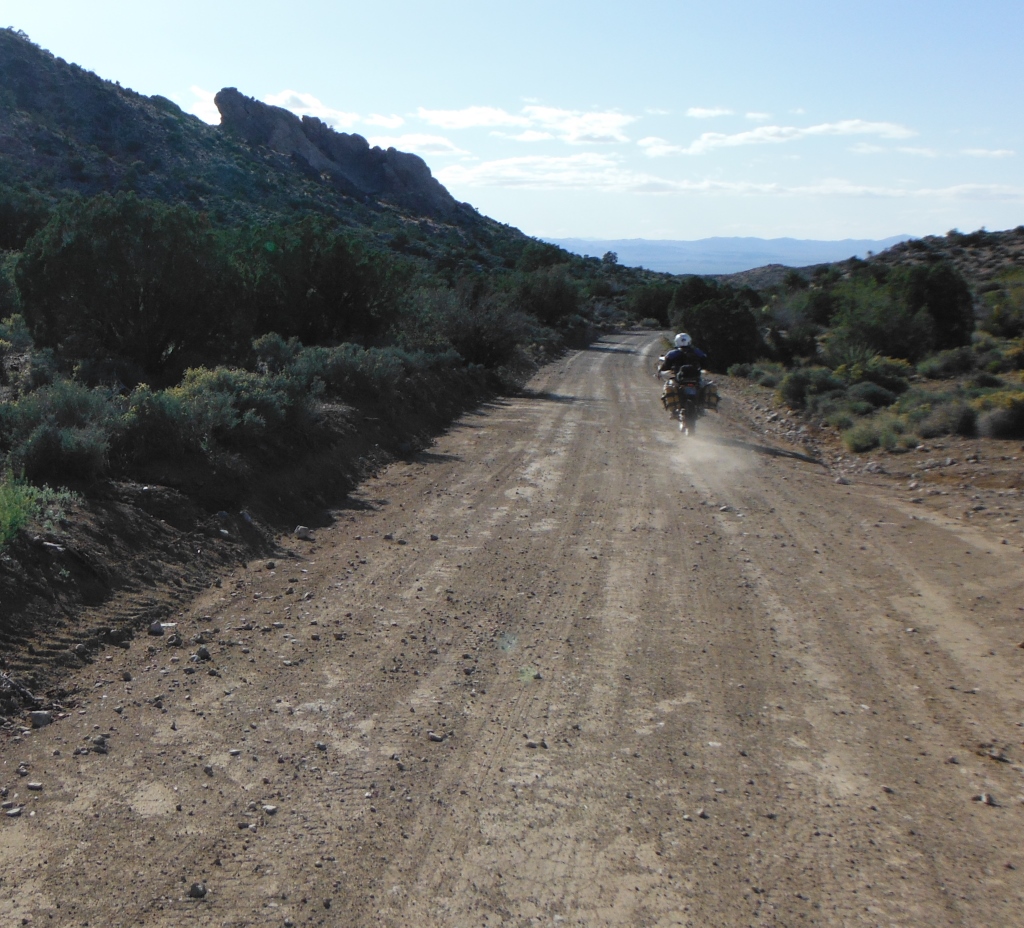 Near the summit we found a tree that had been decorated.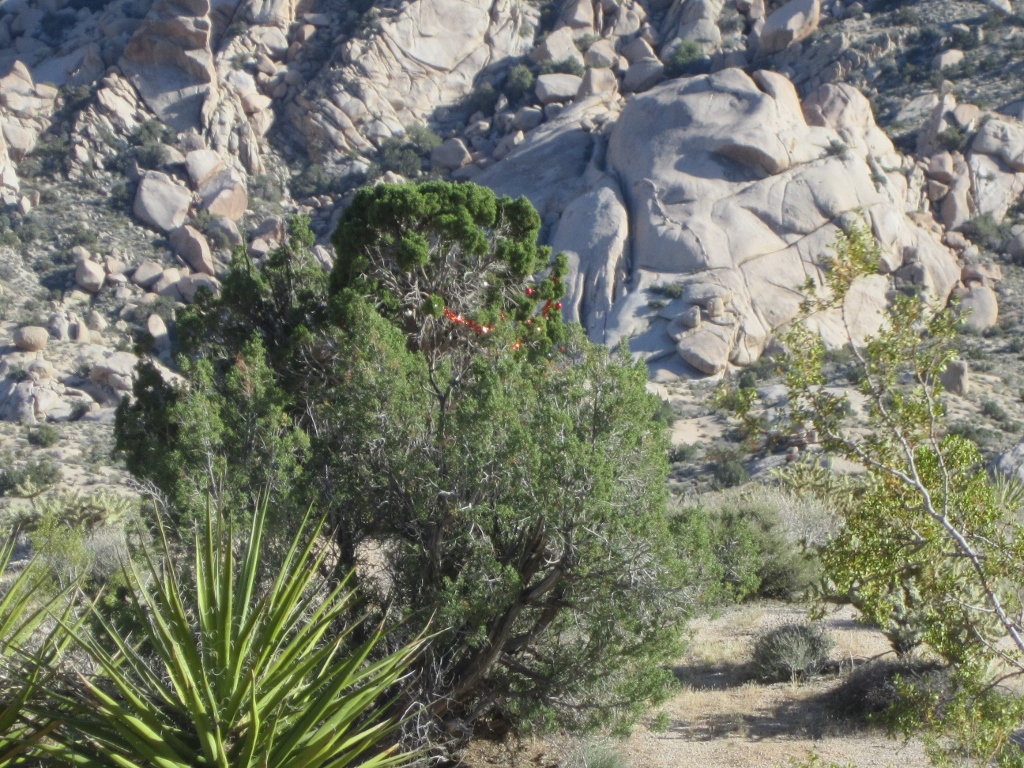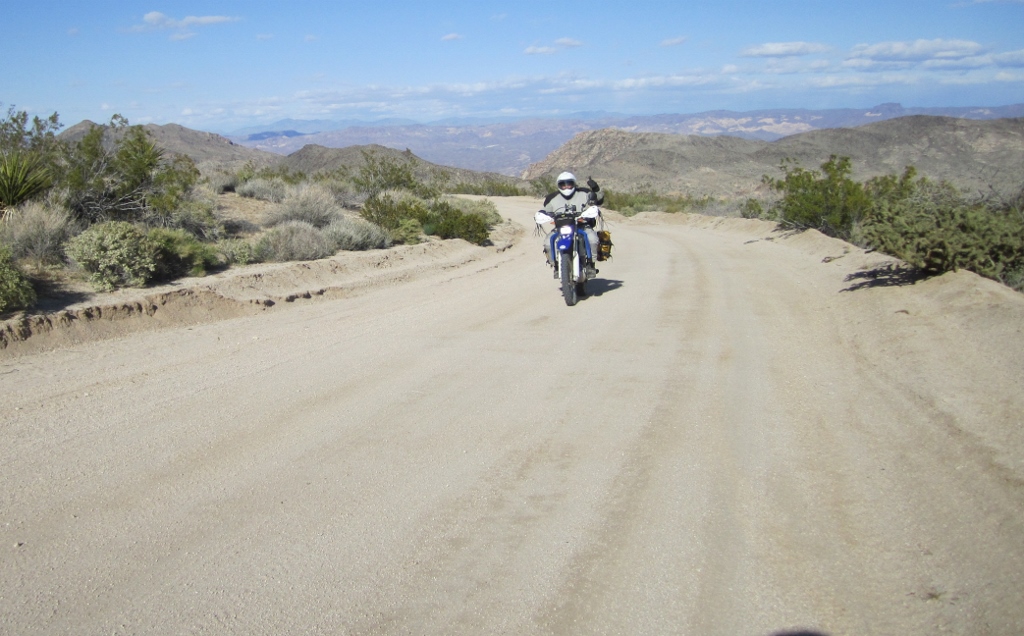 I'd never been to Vegas------cause I'd never go there on my own---but it's what you do for friends.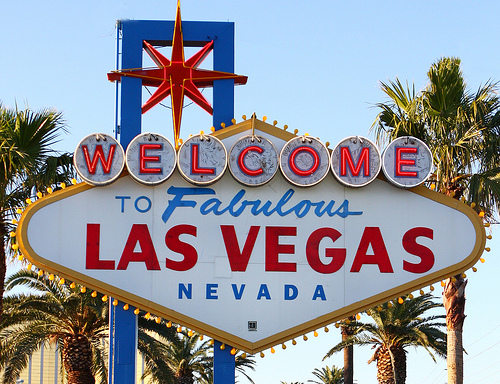 Francine had already been discharged from the hospital when we got there at about sunset.
They only released here because she was in the care of a Dr.-----------Dr. Rock.
Here-----Dave is recording her thoughts-----as they were very strange----as she asked the same questions over and over.
This is typical of head trauma and it would be many days before she gets close to back to normal.
It was amusing tho-----and we all hoped in the back of our heads she would not have a turn for the worse.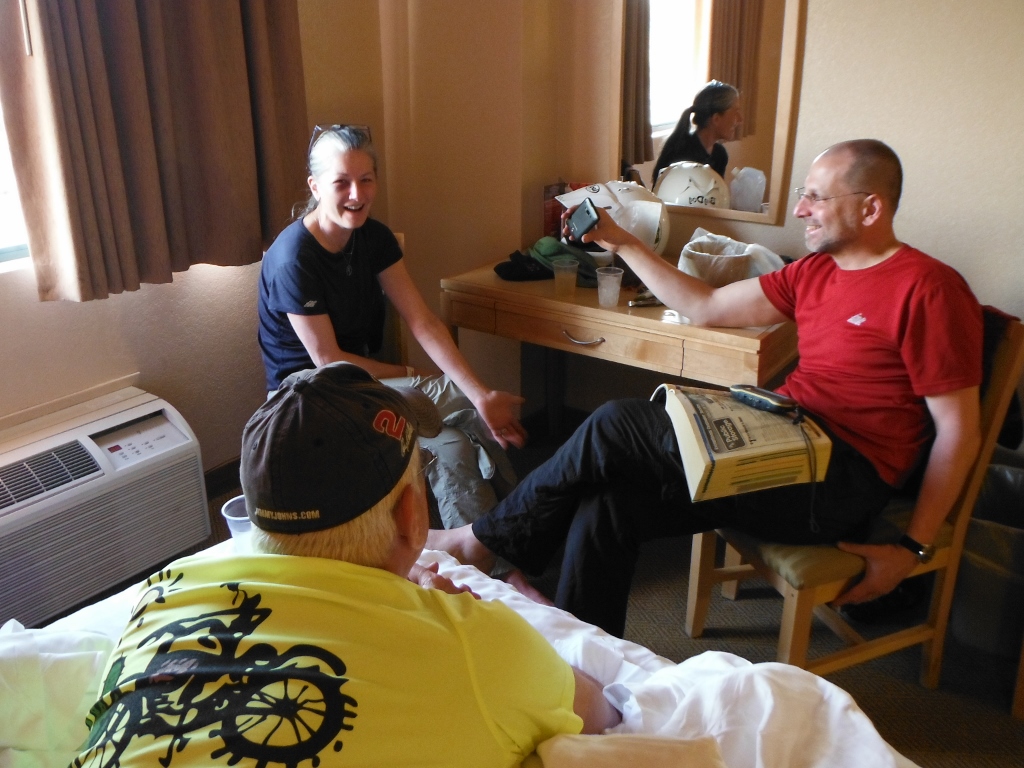 A big ole' bruise reered it's ugly head on her eye and cheek.
You could see the look on everybody's face as we walked her out in public.
We made jokes as we knew everybody thought we beat up a hooker---------it's all funny now !!!!!
We all had some "additive" added to our sprite cola's----but it wouldn't have been a good idea for Francine to partake.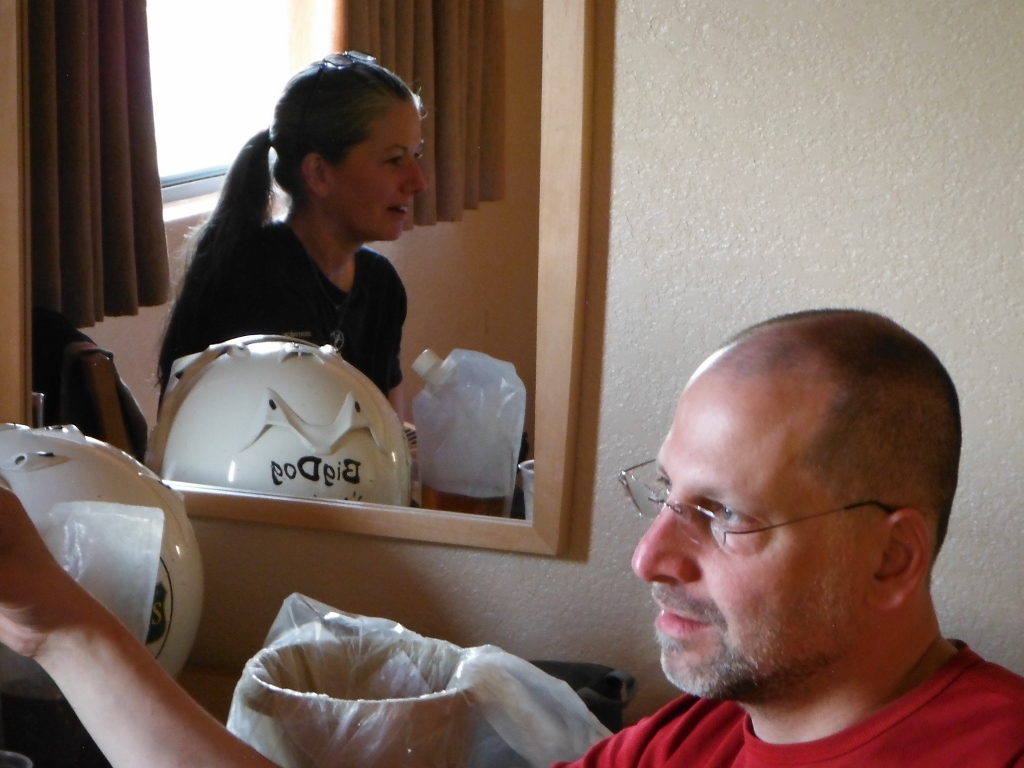 When me and Scott pulled up to the Casino the security guy ran us down----------what'd I do now ????
I did run a few hundred stop signs this year ??????
He gave us preferential parking right on the sidewalk.
The bikes got delivered to the Casino and Dave got Francines bike bent back into shape as Francine wanted to continue riding.
No----Francine---your not going riding---your going home in a jet.
It was hilarious as she talked about continuing the ride----------but could harldy walk--and kept asking "what happened".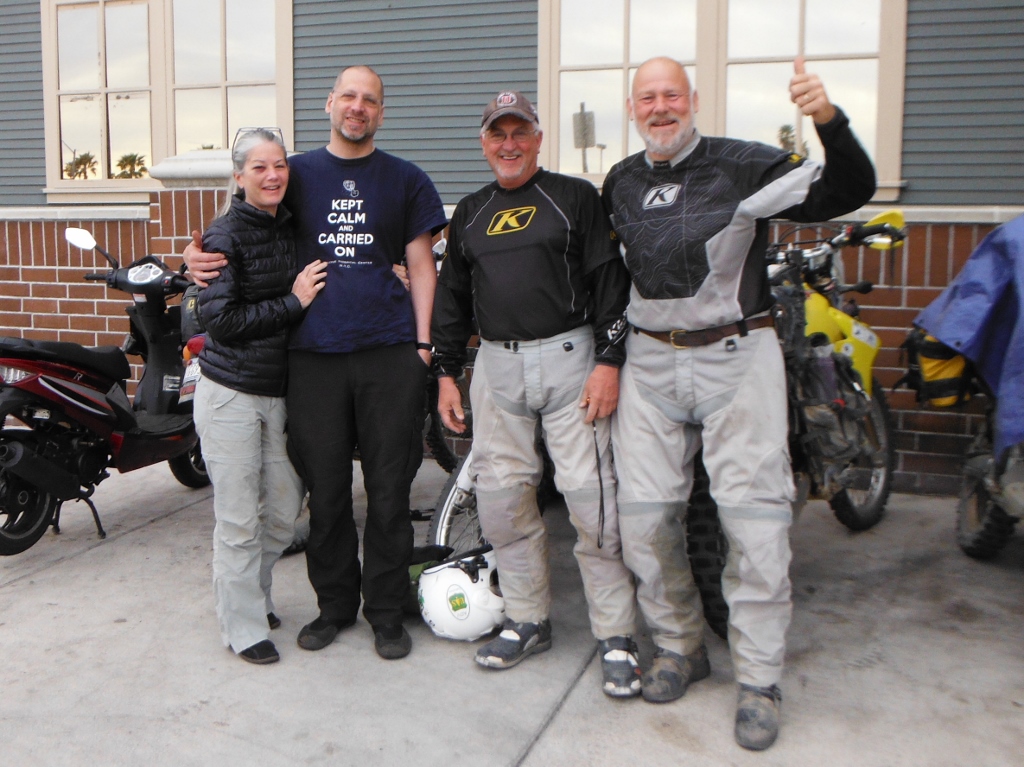 A map of our ride today---about 204 miles.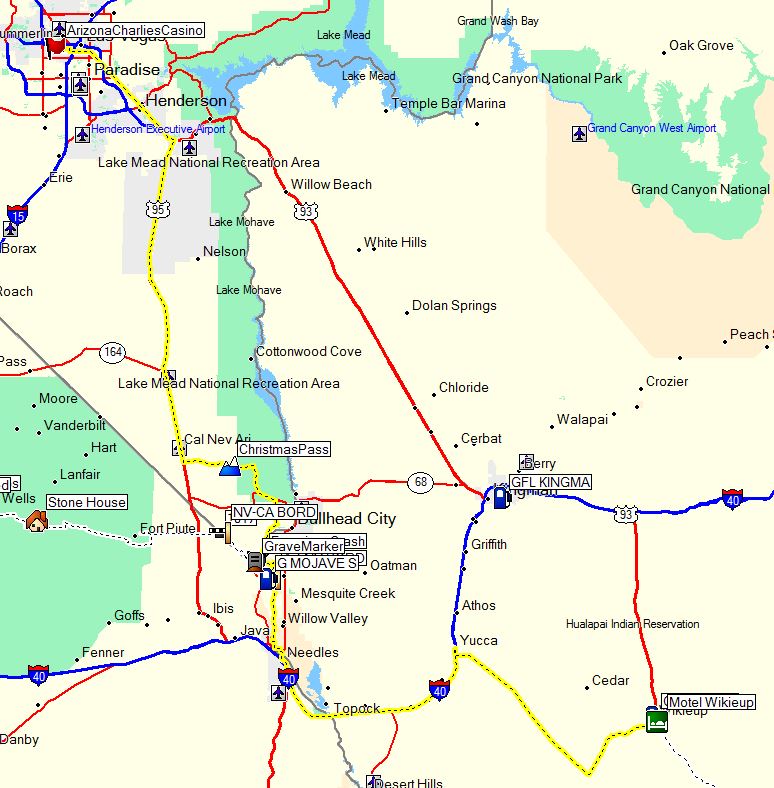 Day 5
April 10th, 2013
Holed up in Arizona Charlies Casino
The hospital had gotten us good rates to hole up in Arizona Charlies hotel and casino.
It wasn't down with the big casino's---but gave us a place to be while Francine got better and Dr. Rock
could figure what in the heck to do next ??????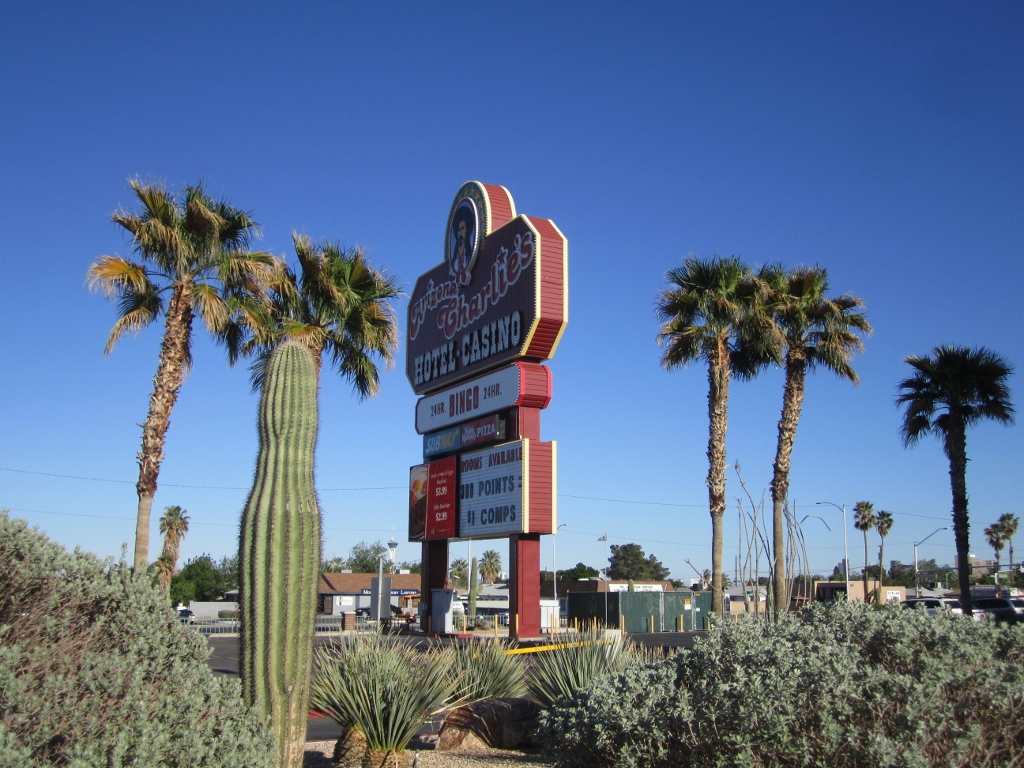 Our view out the hotel window---we stayed there 2 nights.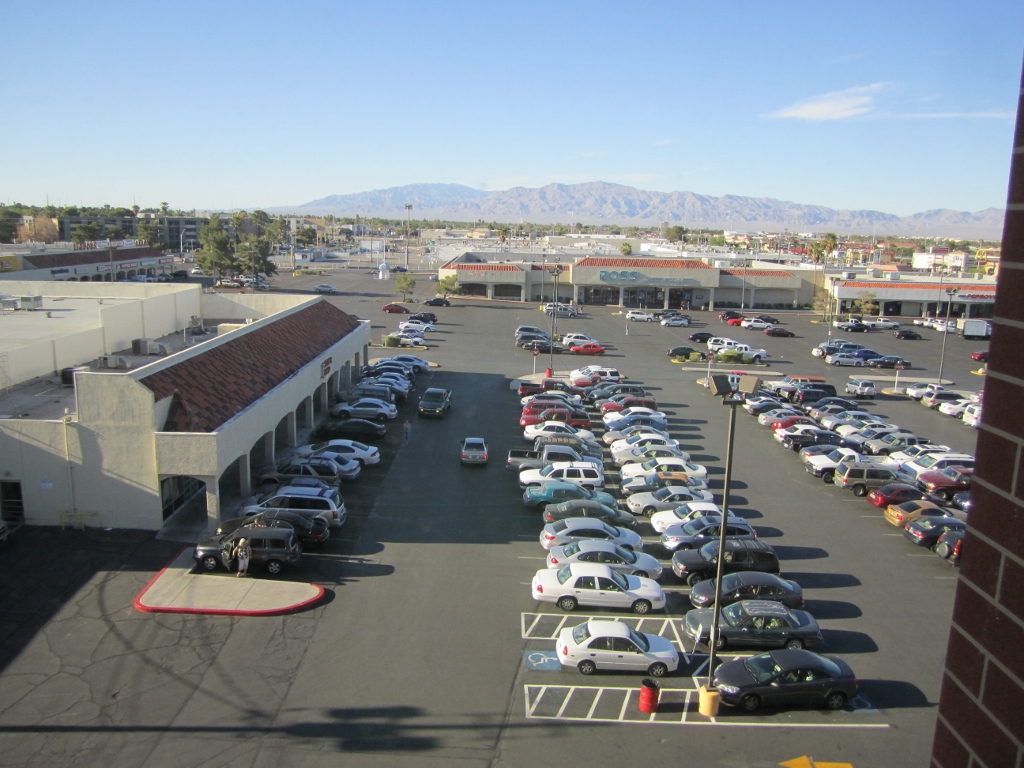 Our bikes were fine parked in the fire lane and we appreciated being able to park them there.
I snuck this one picture inside the casino-----I felt like I wasn't suppose to take a picture in there---so I was sure I did.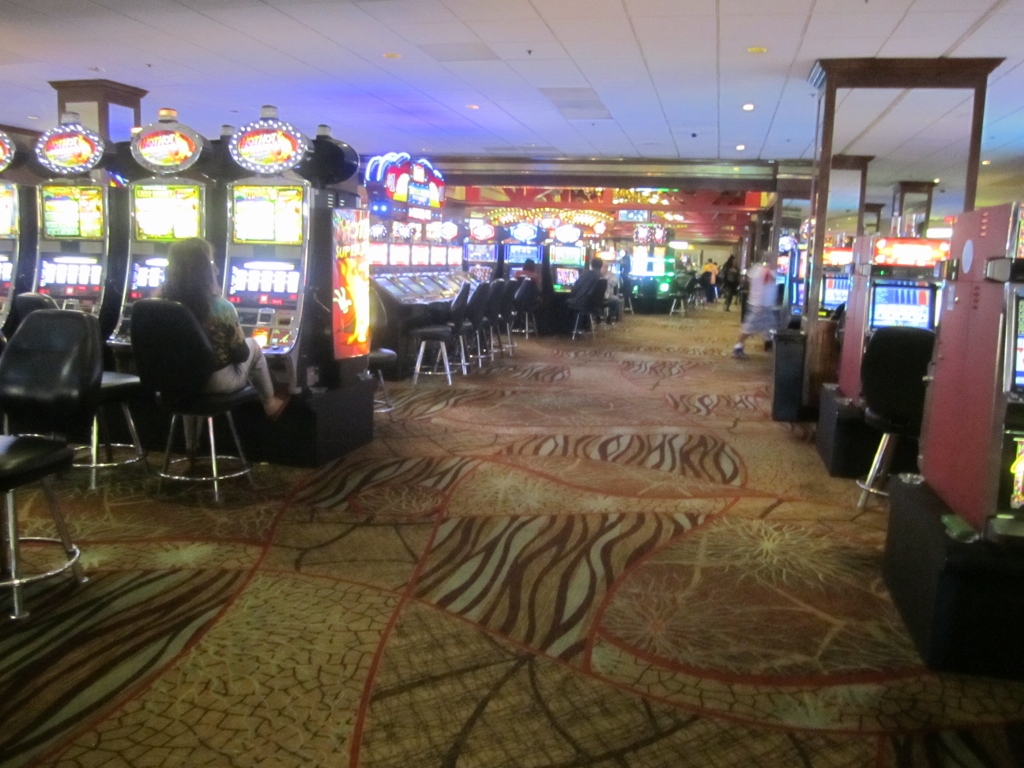 Poor Francine ---------------she hated the casino too----and said so often.
Her mind was still as blury as this picture.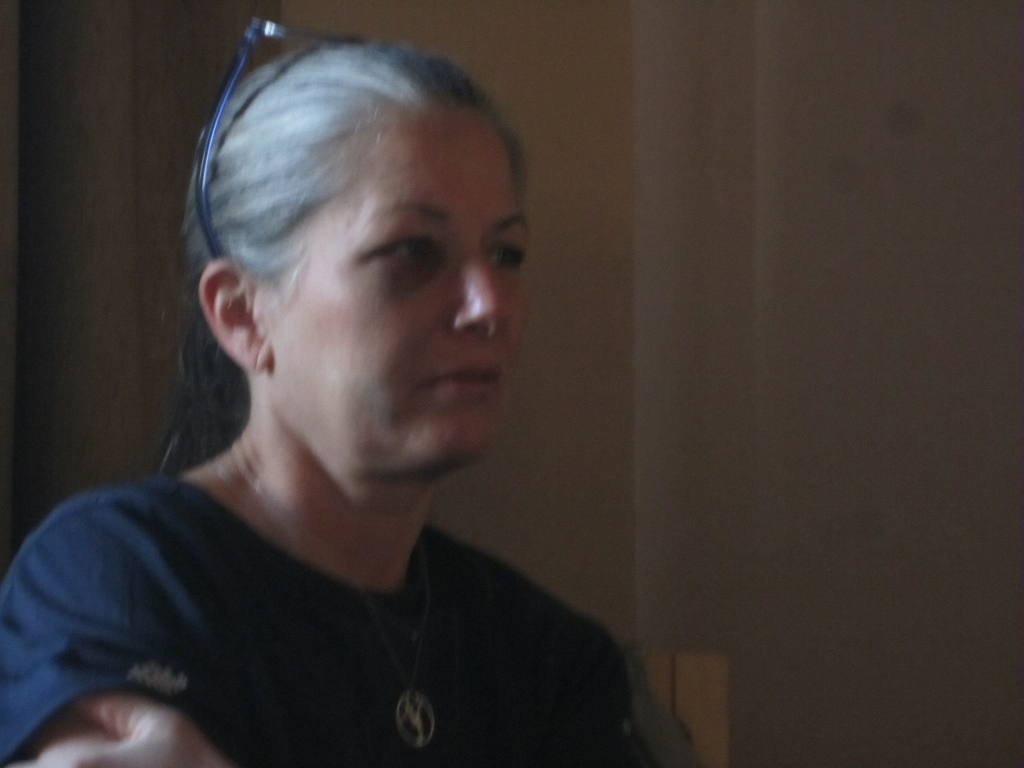 My wife drug me into a casino once about 20 years ago----they got me for $2.50 and that was it for me.
Why should I pay their electric bill, water, bill, gas bill, maintenance bill-----I got my own bills to pay.
I think they were eye-balling me as I wandered around a lot in there and never spent one penny.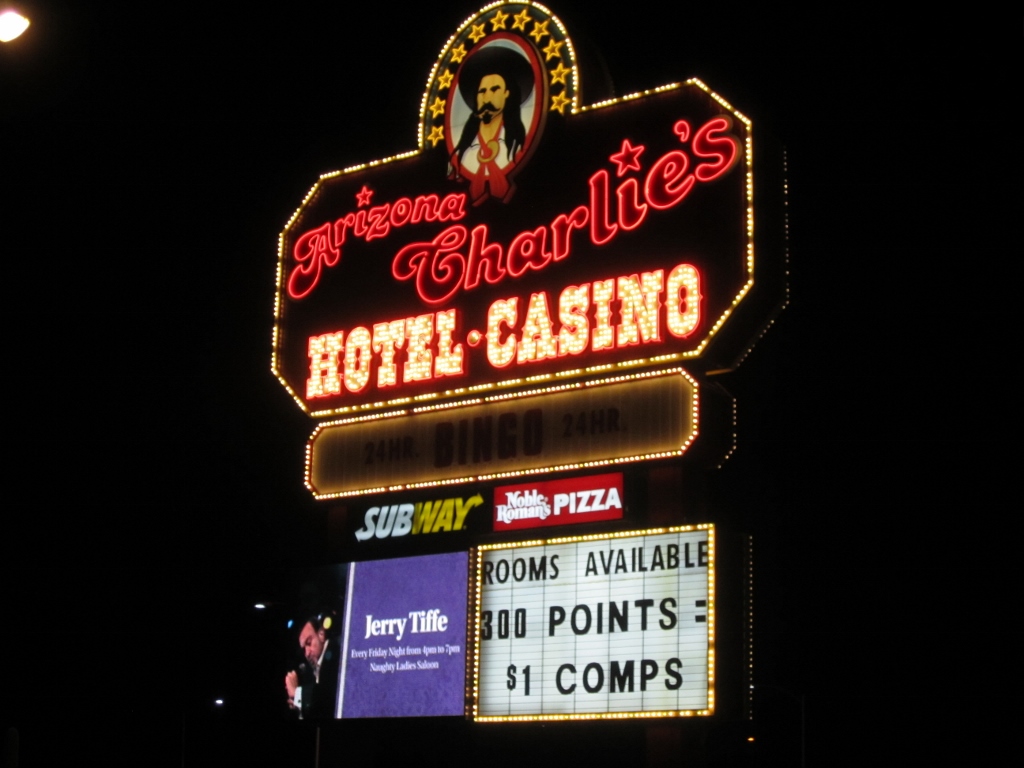 Dr. Rock got a rental car and it was decided it would be OK for me and Scott to leave the next moring
and they would get the bikes to a storage place---and they did.
Their next Mobius ride will start in Las Vegas.
They would spend the next few days car camping and then would get to Dr. Rocks brothers house in Flagstaff---where the Mobius 11
ride was going to anyway. So we hoped to see them there---so hang on and see what happens as me and Scott ride on
following the route Dr. Rock laid on on his google earth magic mapping machine !!!!!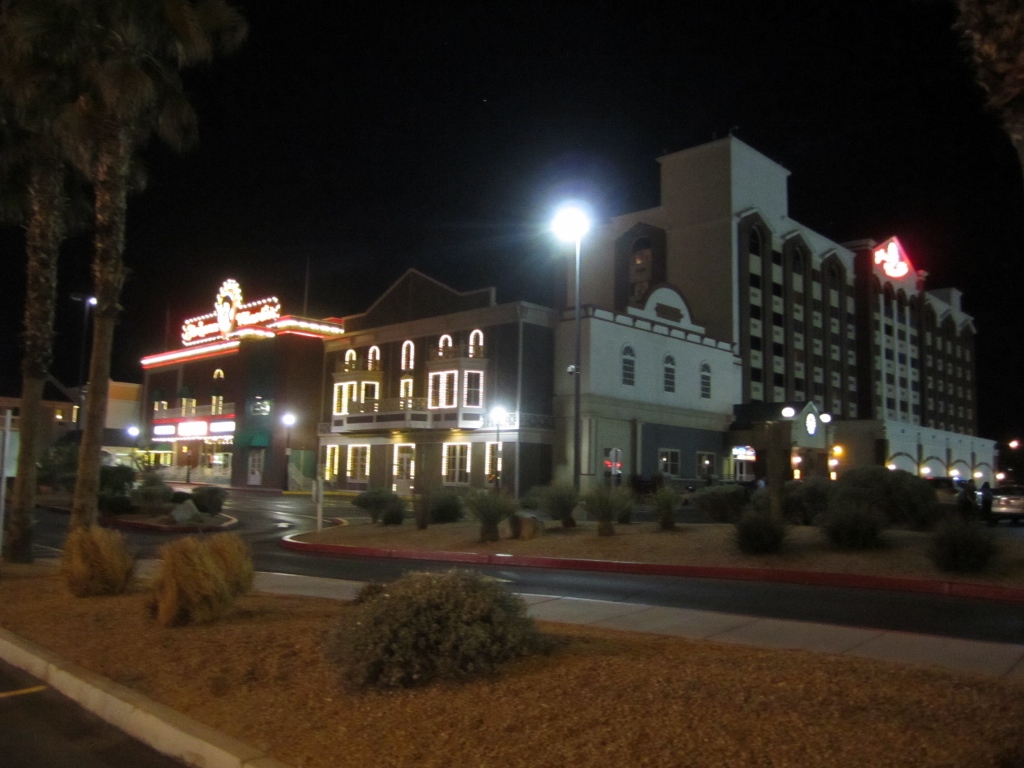 Day 6th
April 11th, 2013
Las Vegas---back to Francines wreck site---and on down the Old Mojave Road to our campsite in the desert.
We spent the next few days missing our good friends---and talked about the good times we had a lot.
Especially when it came to eat in camp----instead of steak and ribs, it was Mountain House and Beef Jerkey !!!!
Why didn't I learn how to cook ??????
But we mostly missed their companionship.
We had a nice breakfast the next morning---relaxed---talked about the ride so far and what was in store for me and Scott as we
would attempt to finish the ride.
The ride did take on a different flavor as me and Scott had no plane to catch and could ride as fast or slow as we pleased.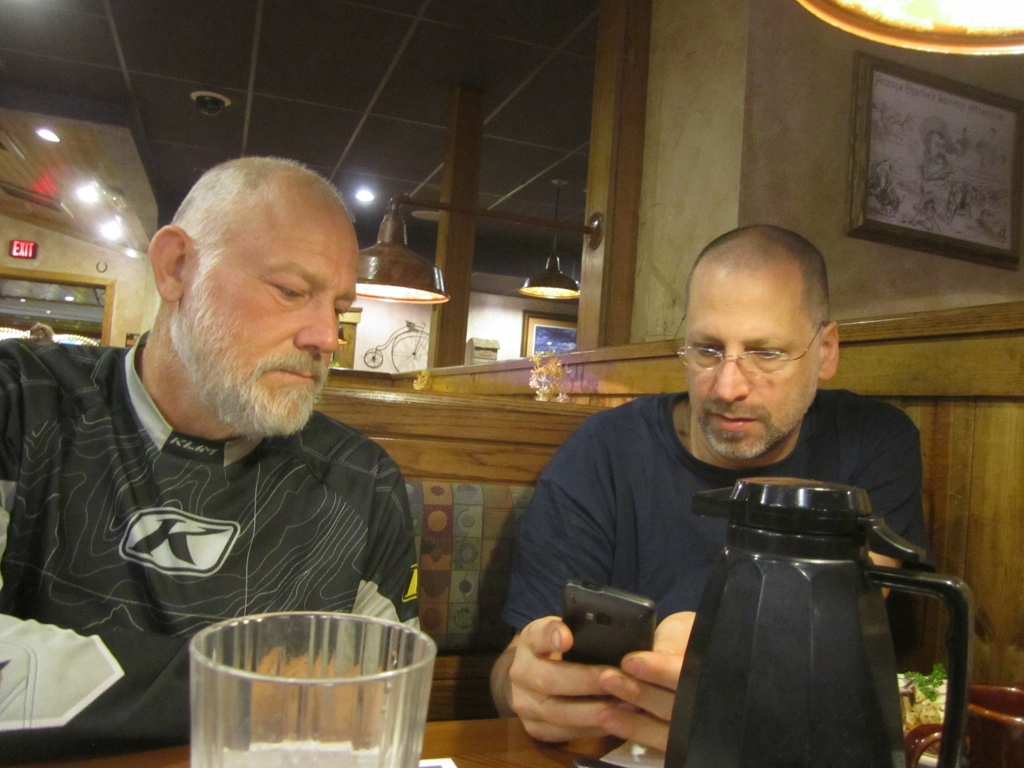 Francine was still trying to re-call what happened as other patrons in the restaurant gave us the stink eye for beating up this poor girl.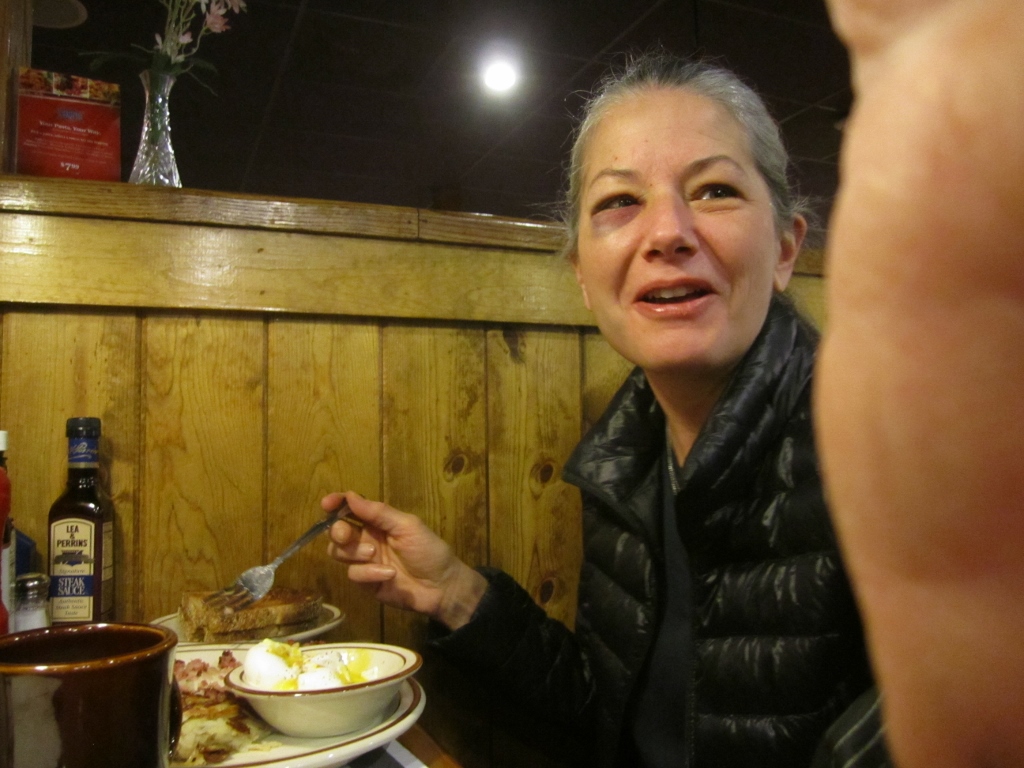 Me---------I had all I could stand of Vegas.
And knowing I had done all I could do for my friends we got the hell out of Dodge as they say.
This sign in my rear view mirror gave me great pleasure.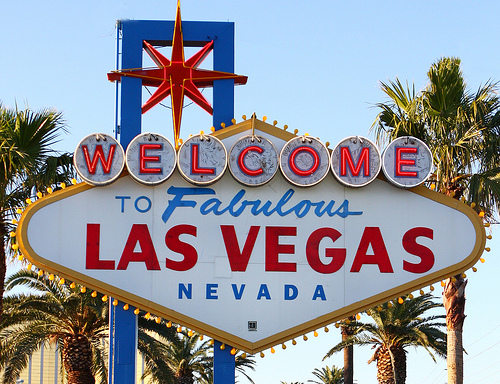 Our plan was to go right back to Francines crash site and continue on--------and we did.
But----we went over Christmas pass one more time to avoid the pavement---and after all, it was awesome !!!
Going the other way gave us a whole different view.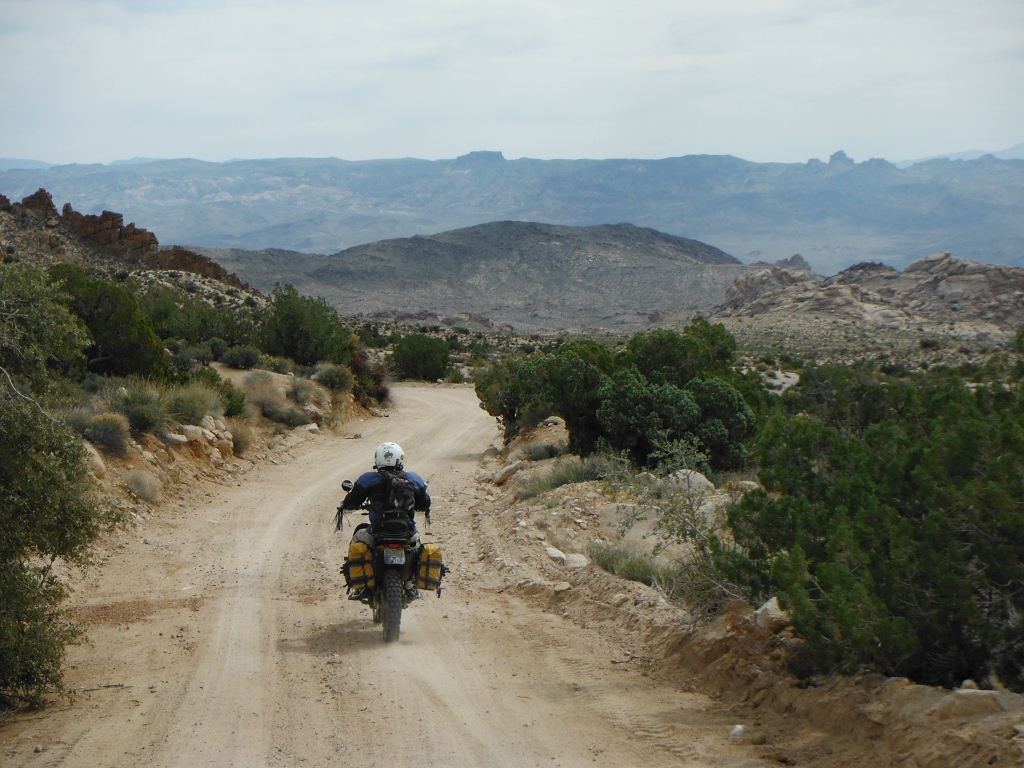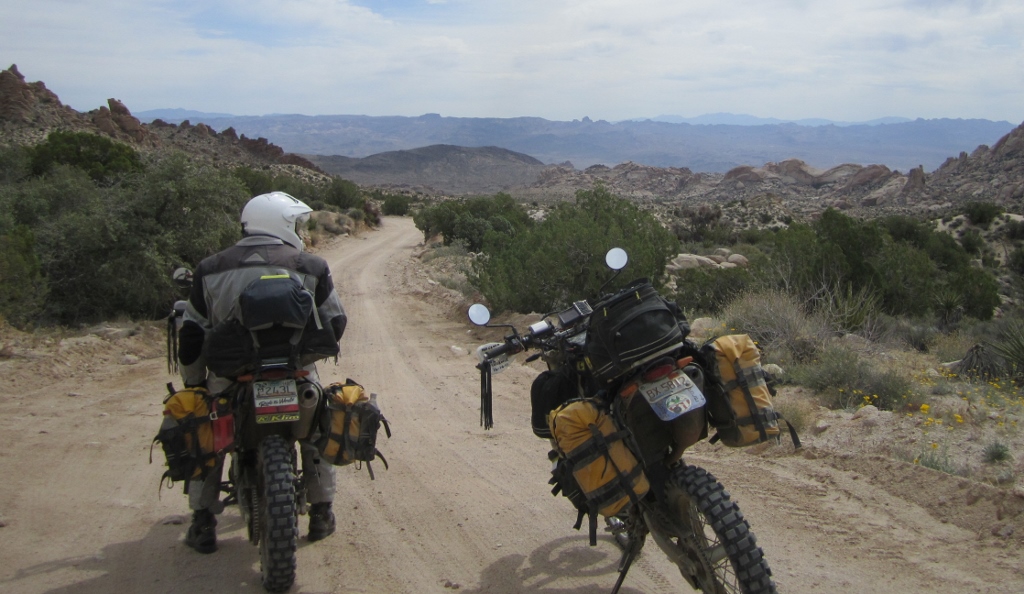 Near the crash site we stopped and fueled up and stocked up on supplies.
I asked the lady at check-out if she heard of someone gettting air lifted out a couple days ago.
She said-----"Oh yeah--it made the front page"----and showed me this paper.
I asked if I could have it and she said yes-----------for 50 cents.
No way was I carrying this paper---besides it would have gotten destroyed---------so I took a picture of it.
Most of the details were very innacurate----as Francine was not trying to cross needles highway---as she never even got to it.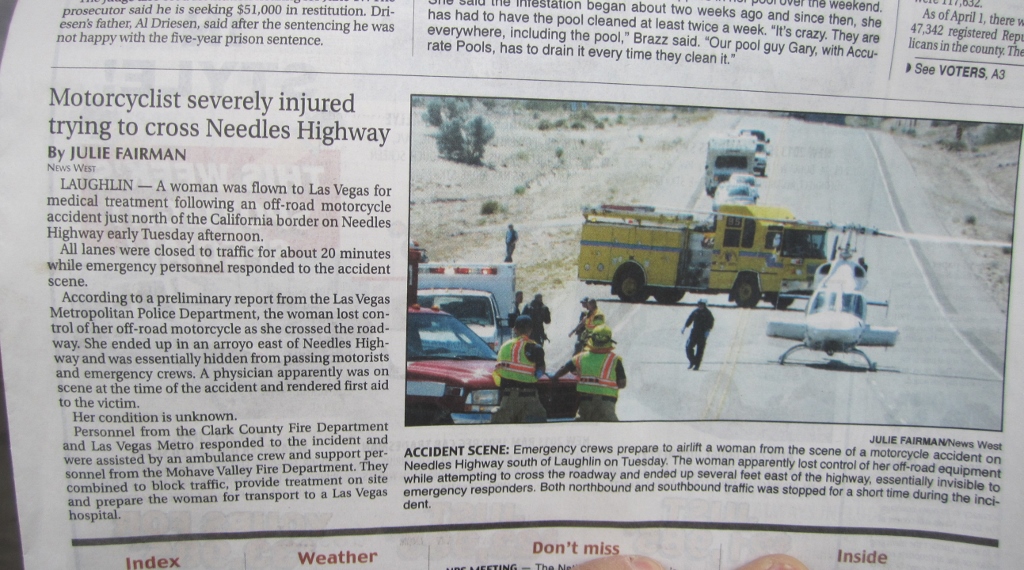 We peered at poor Francines tracks in the Old Mojave Roads sand again.
And finally decided it was time to move on------we hated them not being with us.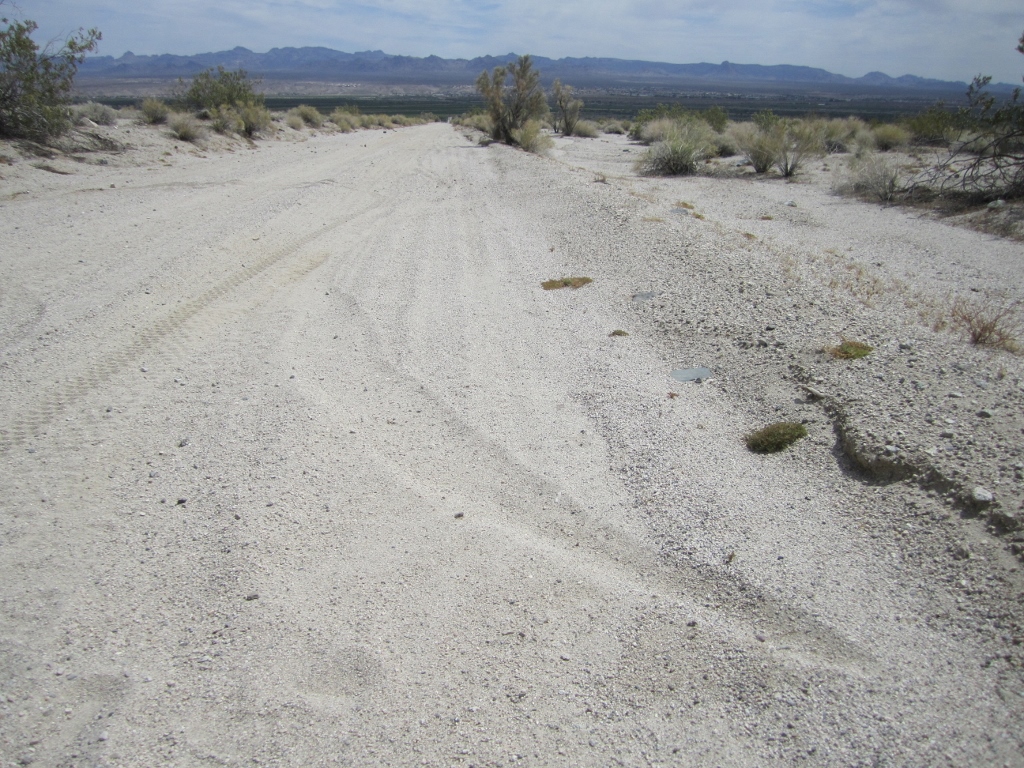 Most of the road was like this----but it gets nasty in places.
There is nothing out here for about 170 mles-----you better be ready for this or suffer the conseqences.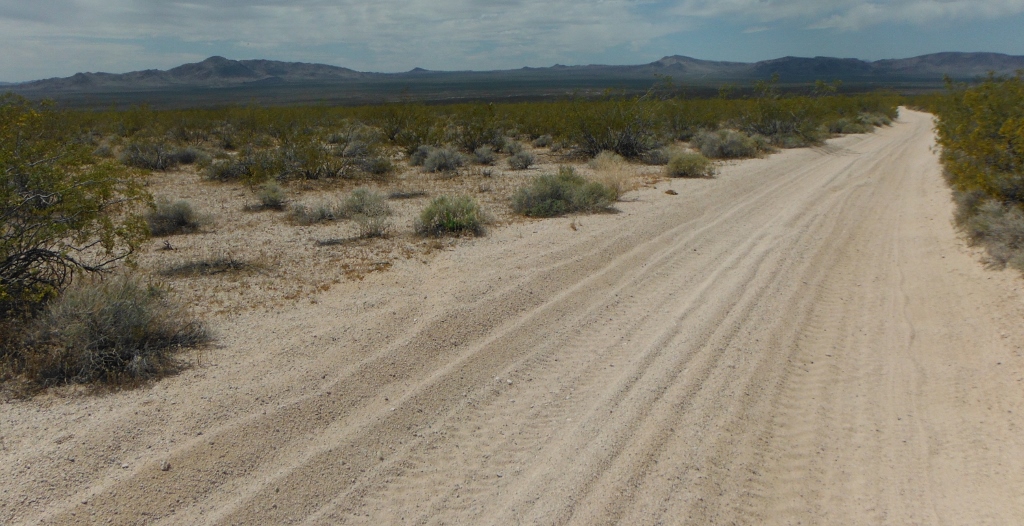 We enter the Mojave National Preserve.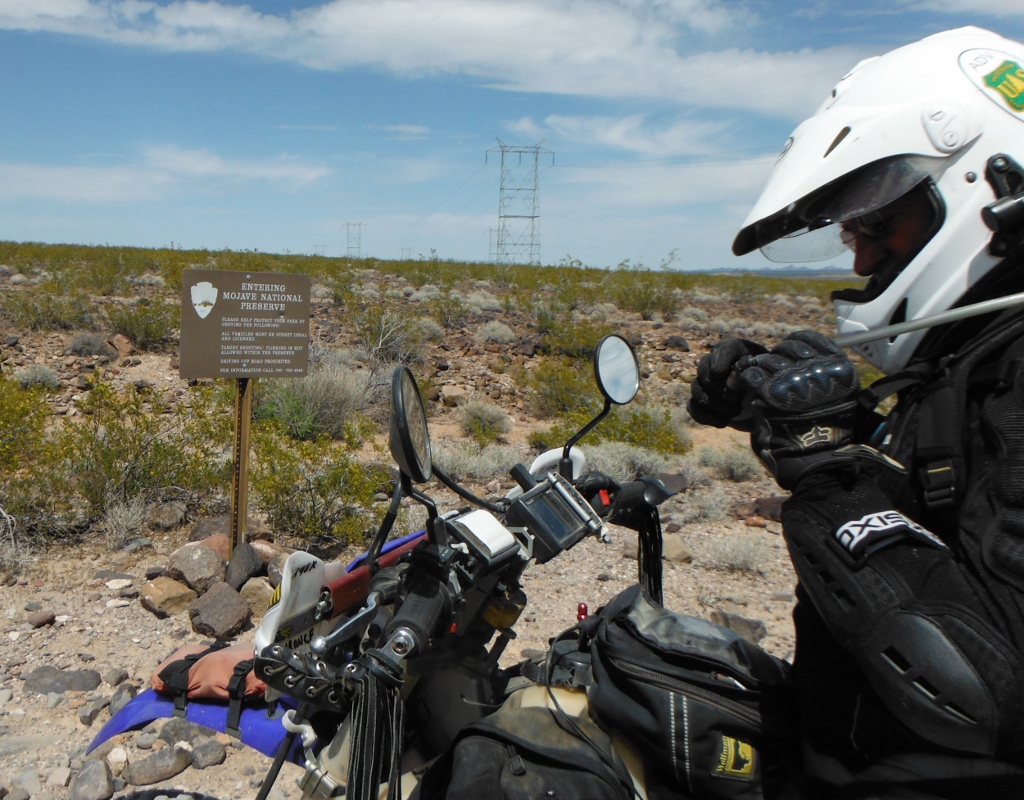 Dr. Rock had put a waypoint of the old "Fort Piute" into our gps and we went off the Mojave Road a bit to find it.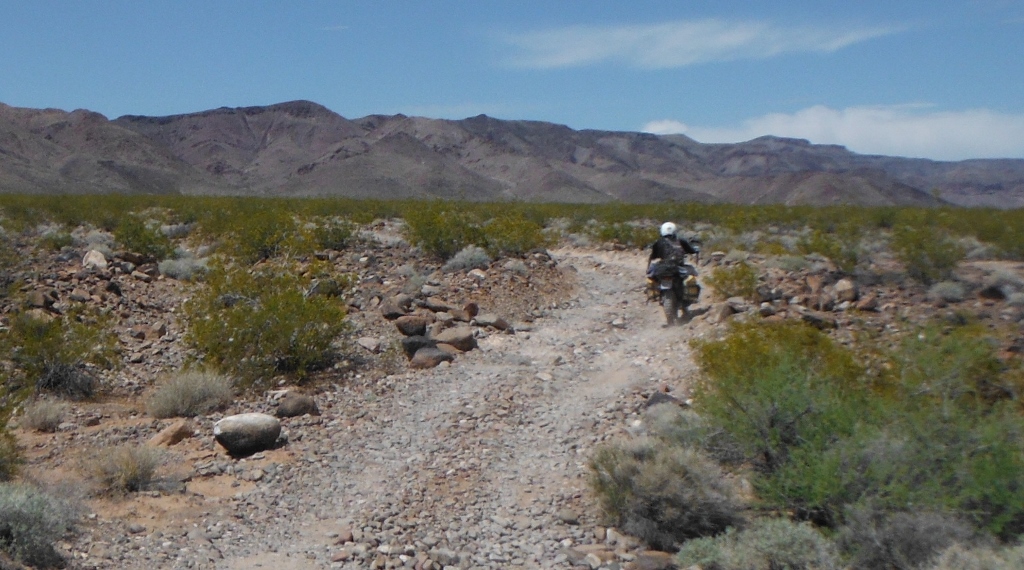 Fort Piute was built in the late 1867 by the men of Company "D" 9th U.S. Infantry. For a short time the army escorted the U.S. mail along this route.
The ruins of Fort Piute where badly vandalized over the years. In 2005 the National Park Service restored part of the walls to what you see now. Past this old army outpost the
old wagon road was badly damaged and is now only a hiking trail.
The old Fort is now under re-construction and you can see the people here working on it.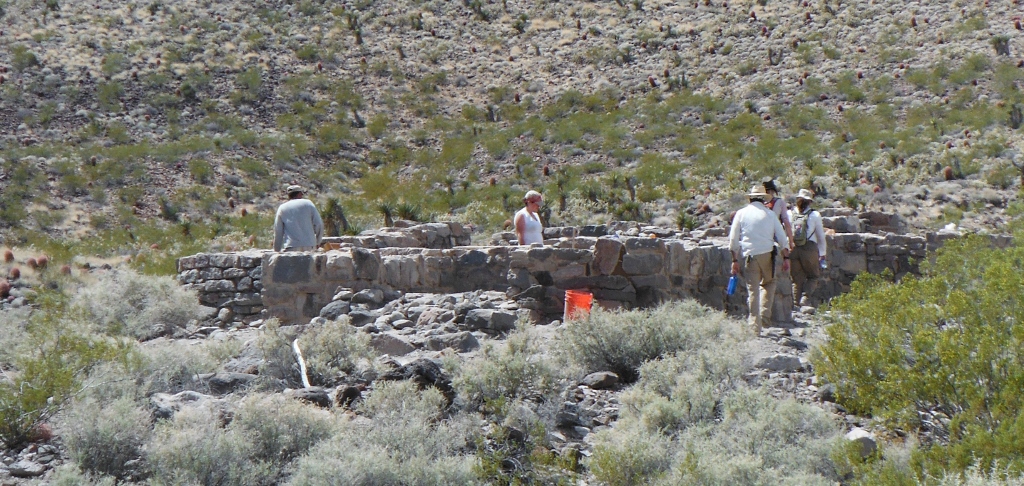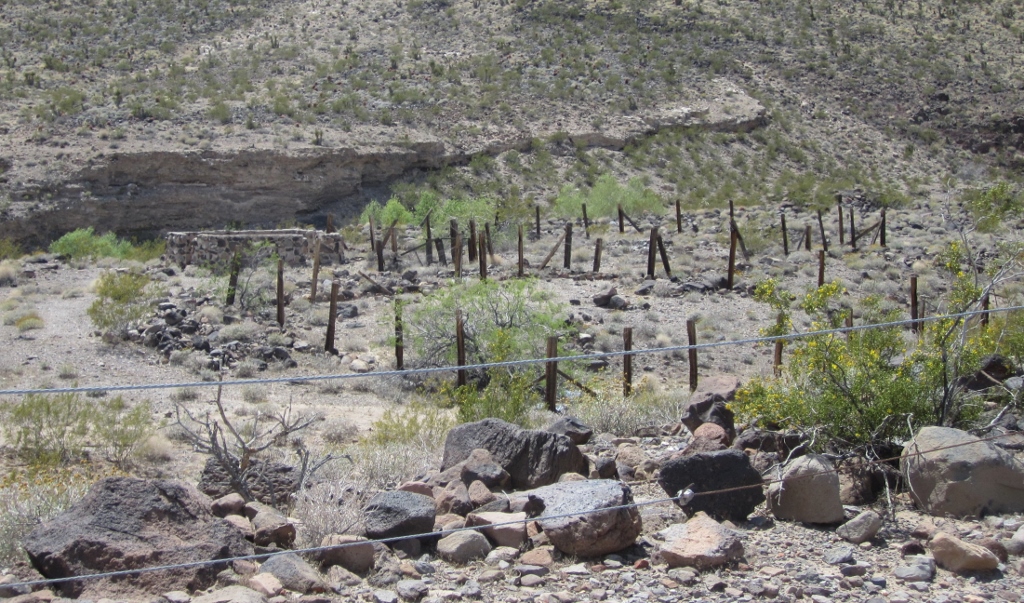 Signs signs----everywhere is signs.
Stinkin' signs-----we don't need so many signs---if you are so dumb you can't see a curve up ahead then you don't need to be riding or driving.
Get rid of them ---------save the taxpayers billiions of dollars.
I see someone had my same sentiments.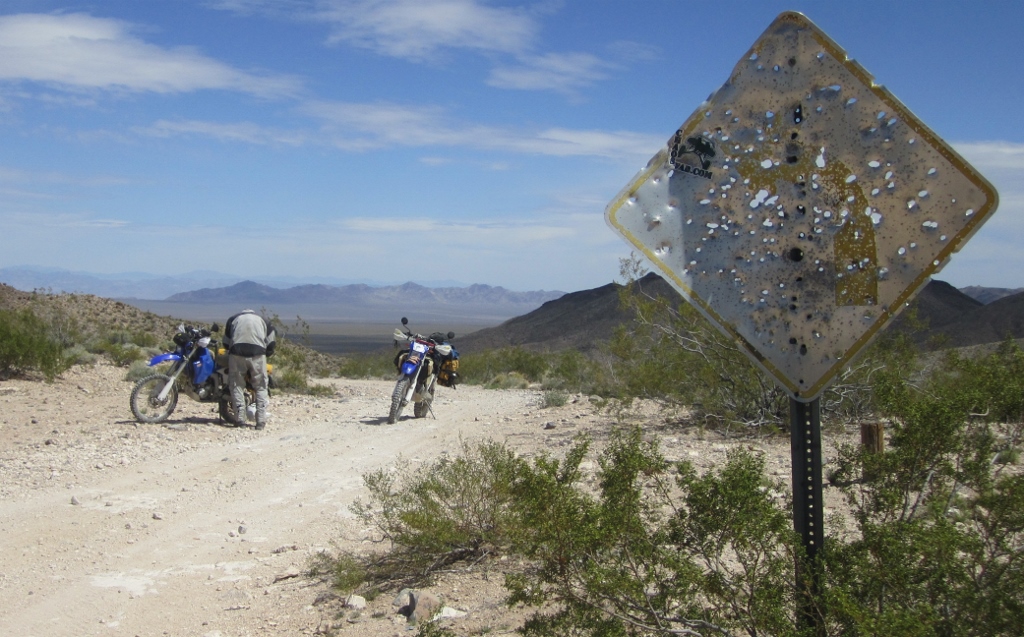 On down the road----maybe the loneliest road in the U.S. ????????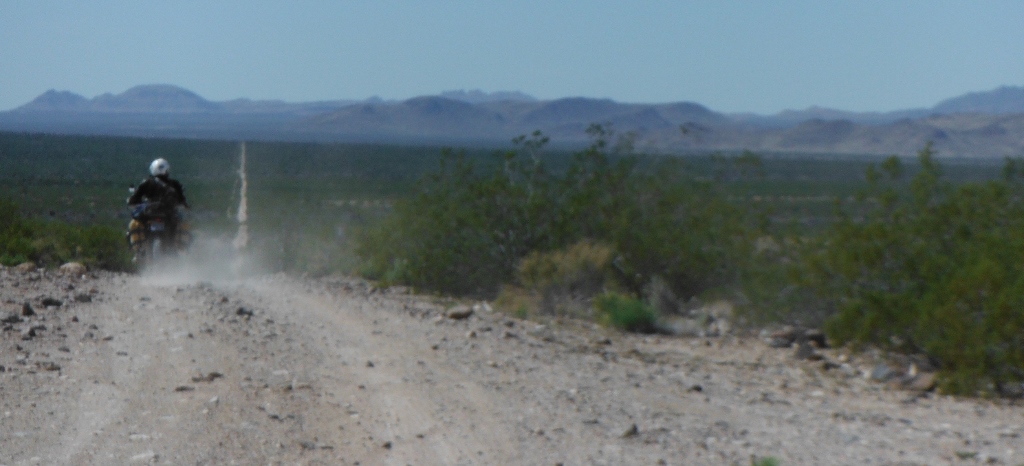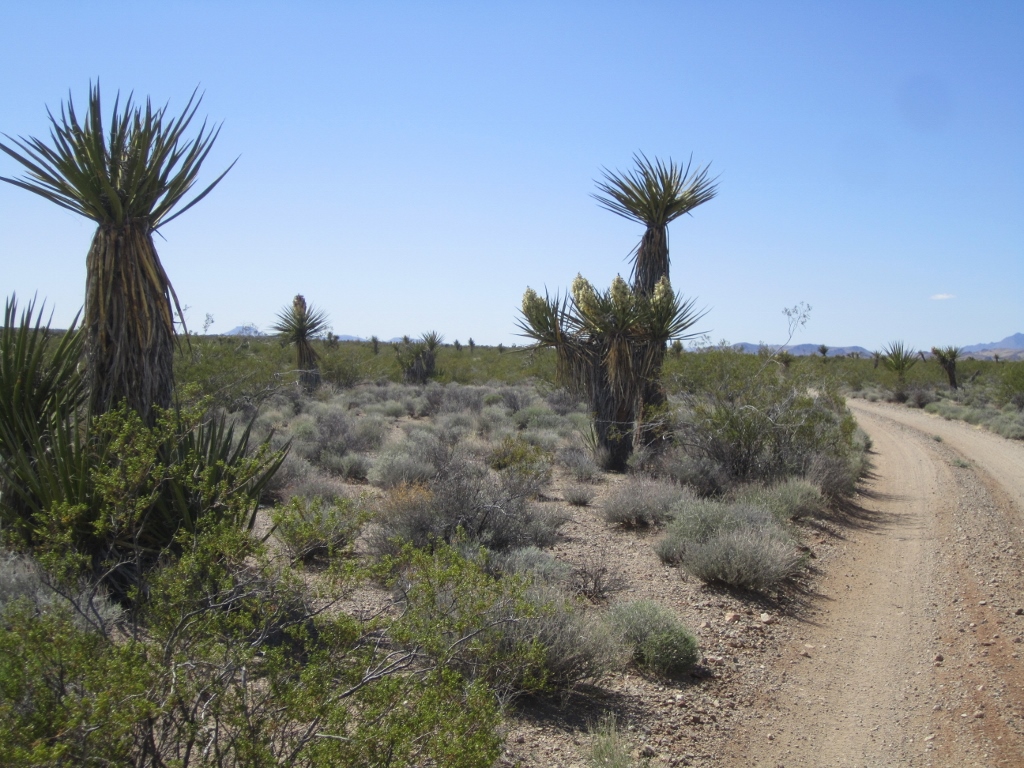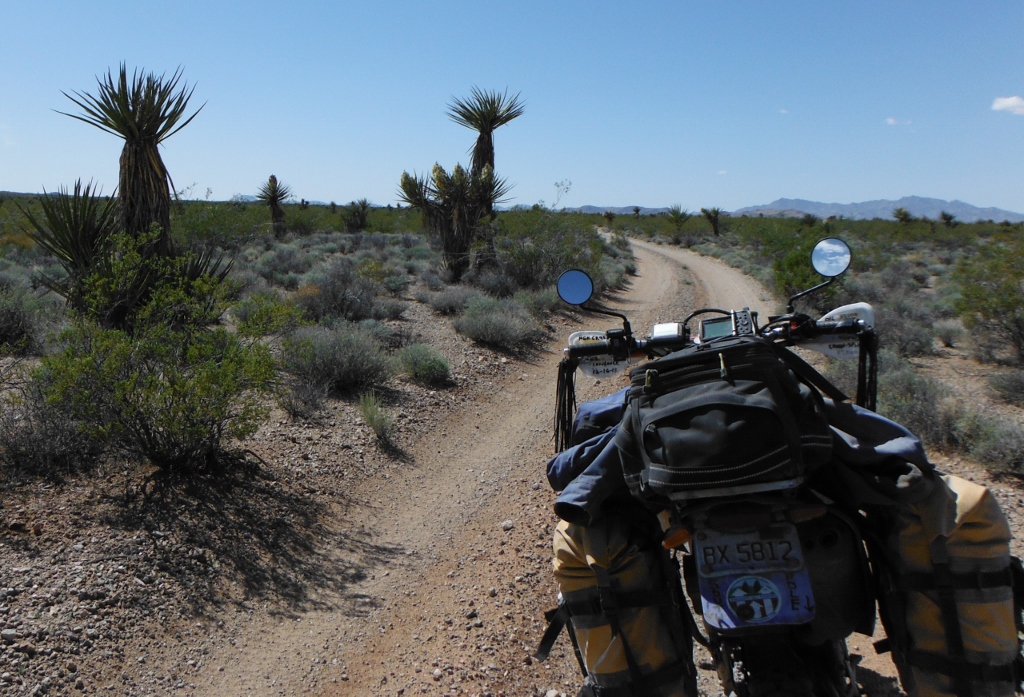 Scott got a picture of this Jack Rabbit-----he was as big as a medium size dog-----it was the biggest one I'd ever seen.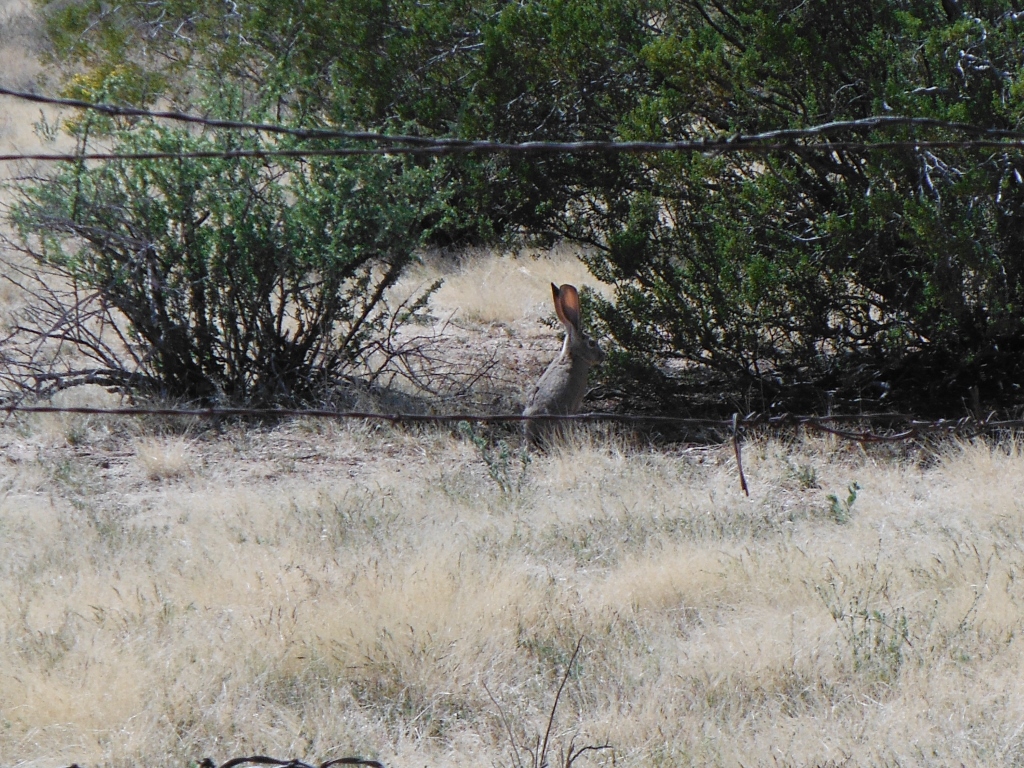 A guy could get a little "Wonky" in here.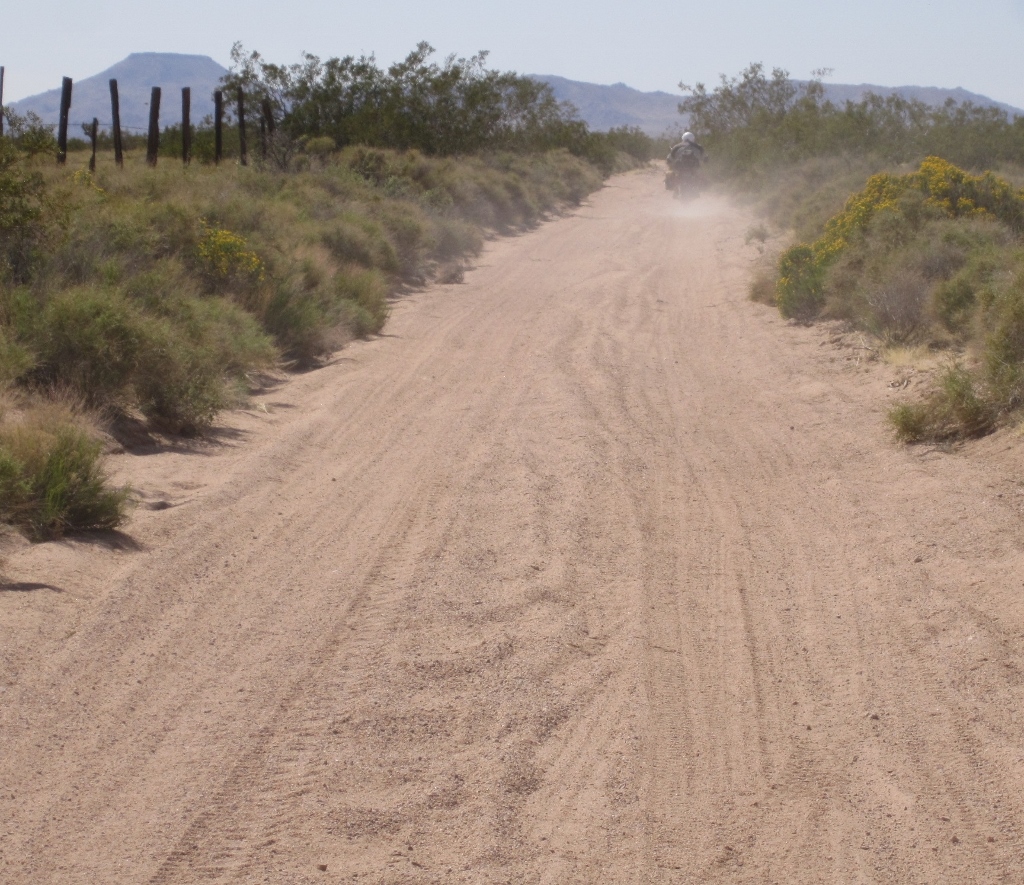 And I did-----my only crash on the whole ride.
It was spectacular----------must have been doing 2-3 mph !!!!
I'm like Francine---must have hit my head------I don't remember how it happened ?????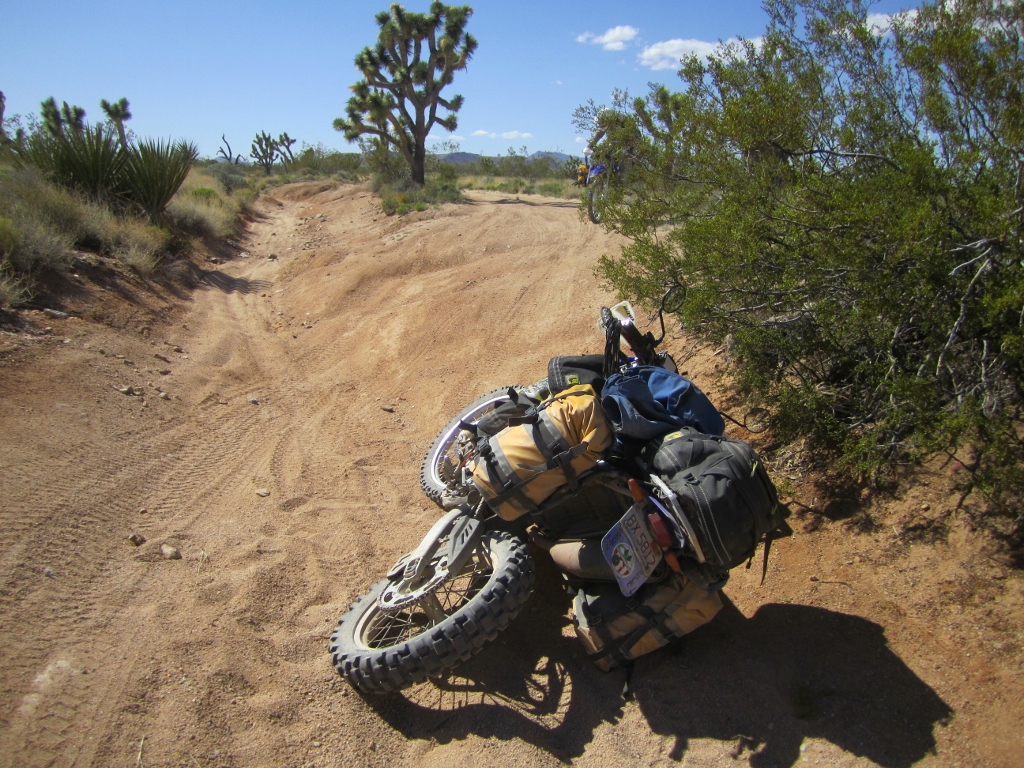 Yes----me and Scott got a little squirrely a few times in this stuff.
The scenery was breathtaking.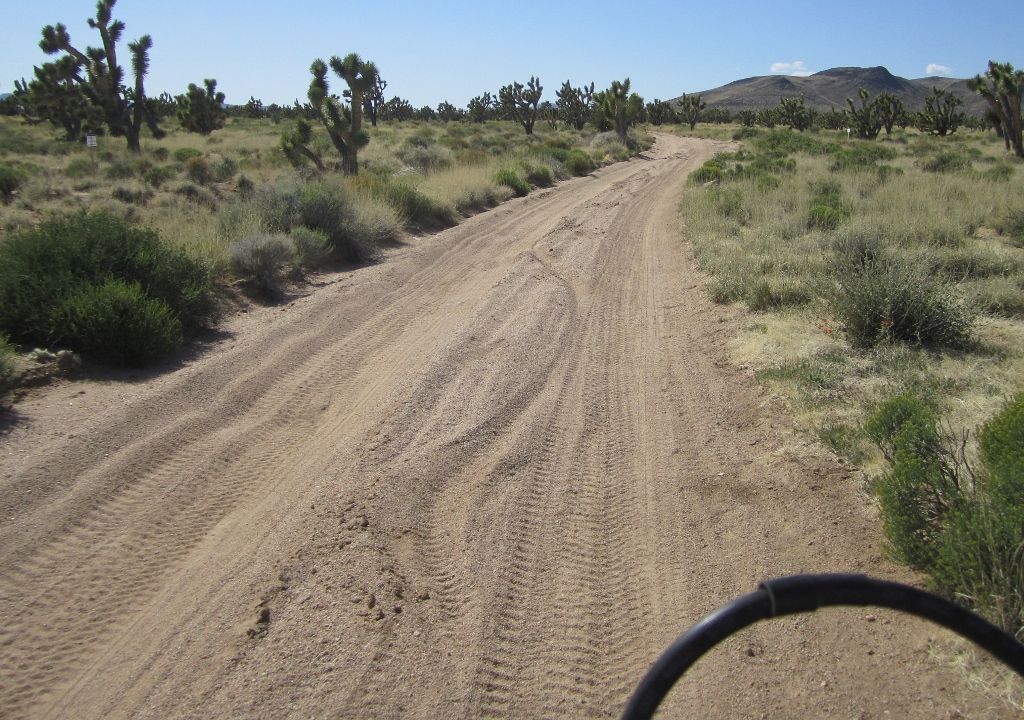 I think it was right here where the sand got really deep----and we made a very slight detour of the mojave road for a few miles.
I think we got on Cedar Canyon road for about 3 miles---then right back on the Mojave road.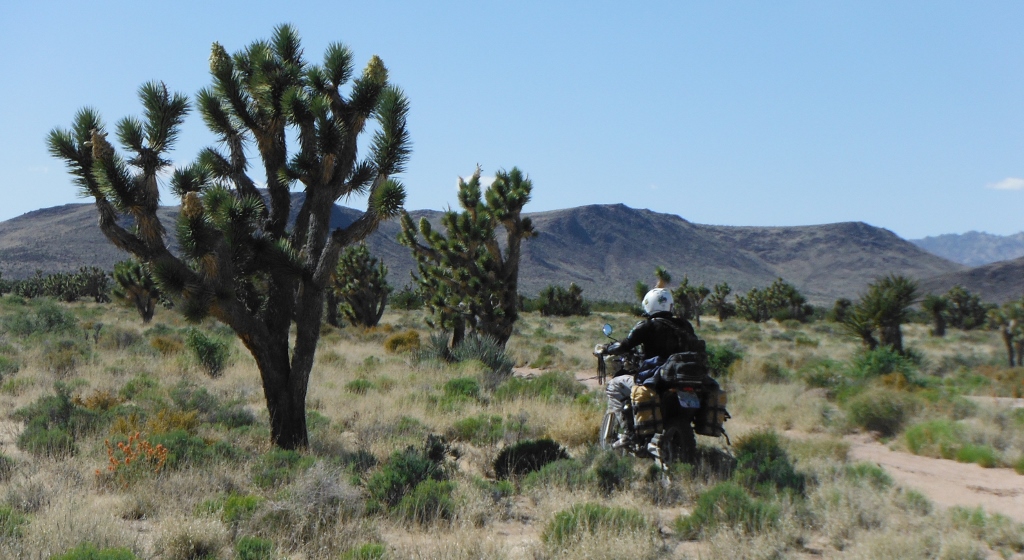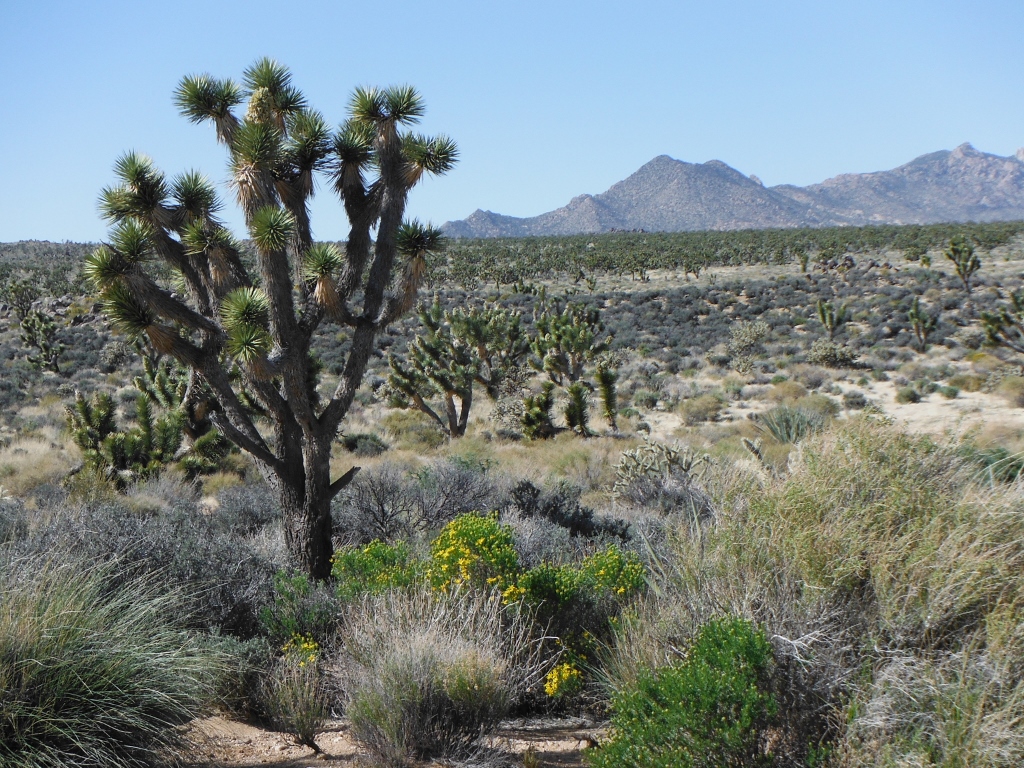 Next waypoint on our gps said "Rock House"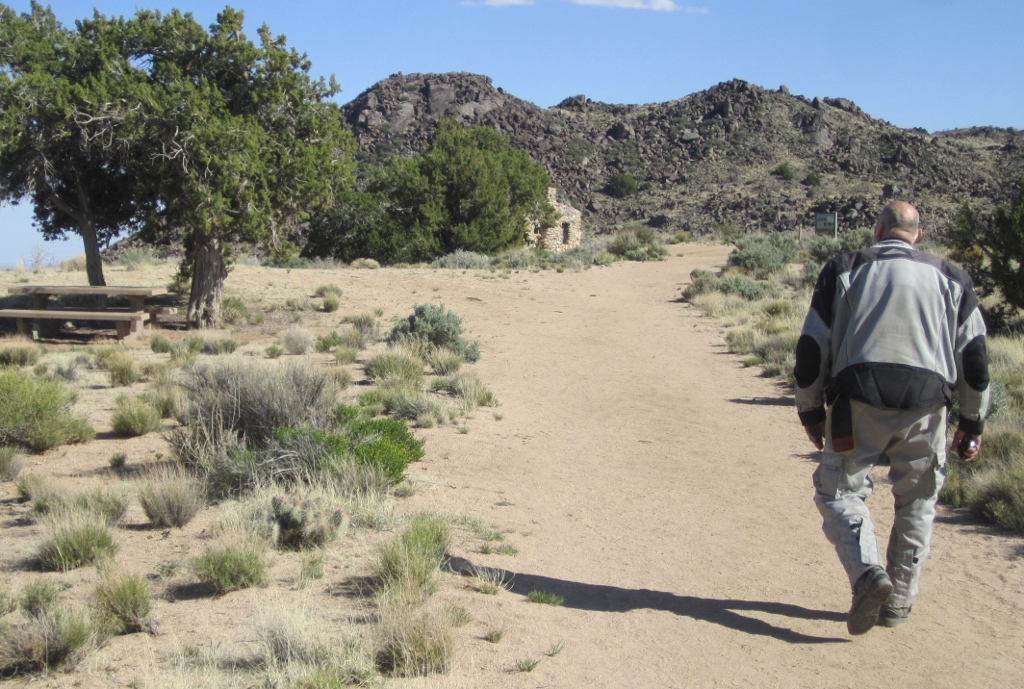 It had a roof although it don't look like it here----it was in excellent shape.
You had to walk a bit to get to it.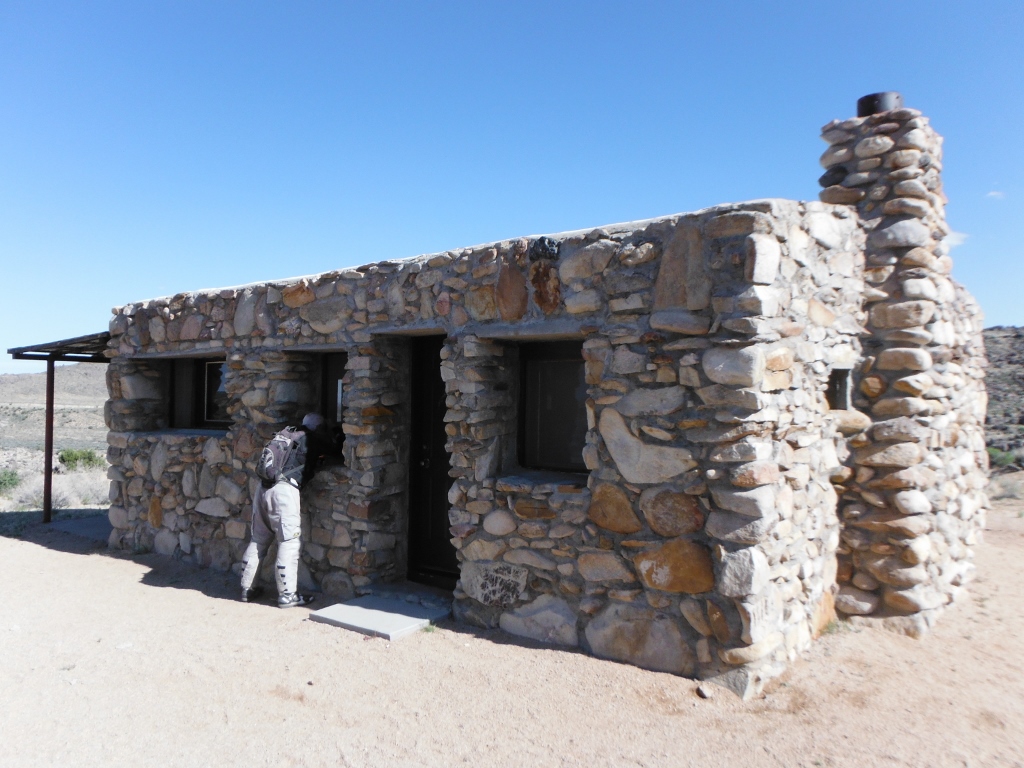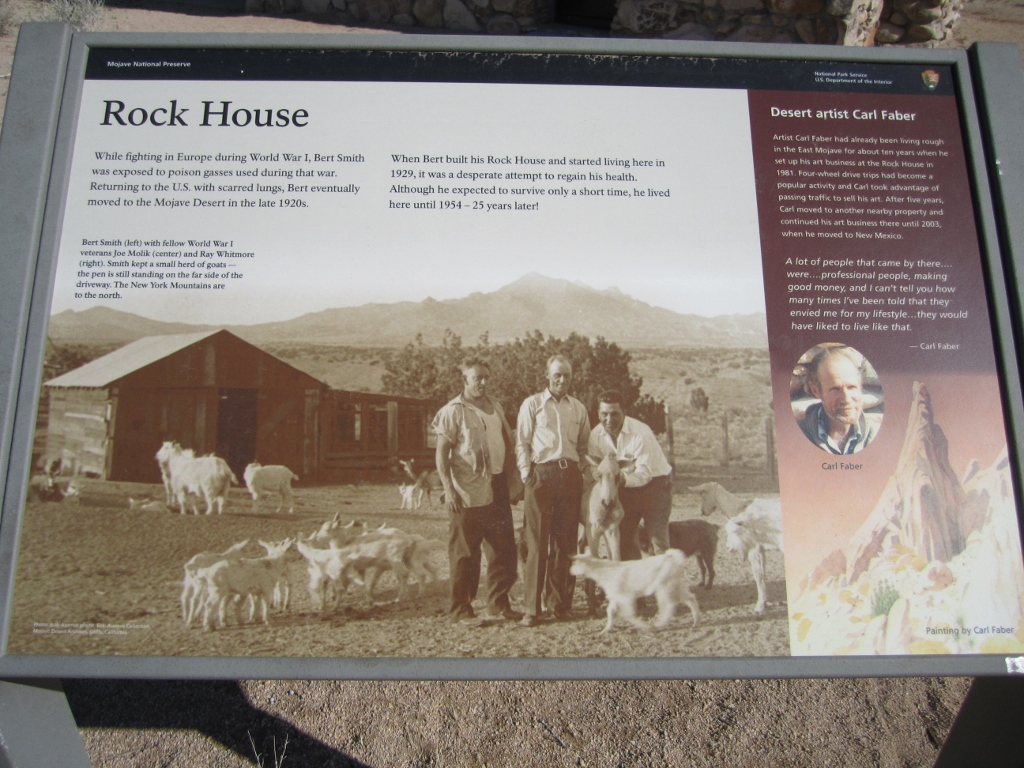 Out the back yard----there was a spring off in the distance.
We relaxed here and spent quite a bit of time looking it over----and had a snack.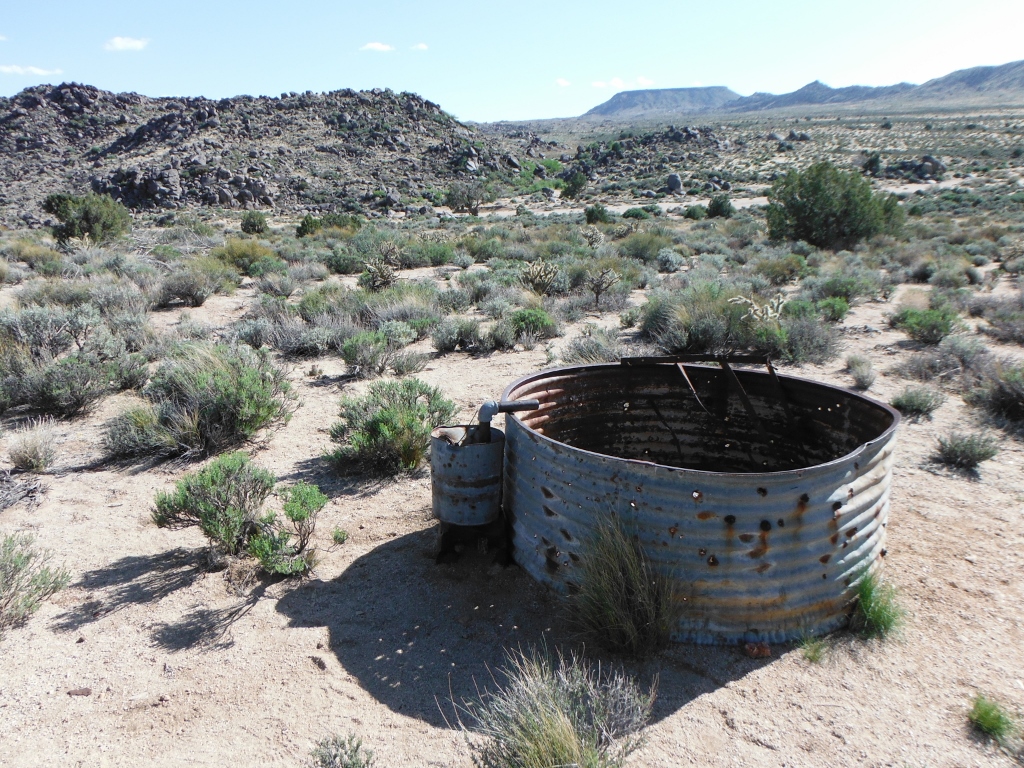 We had met some guys in an old Vokswagon buggy---they told us there were 12 miles of whoops up ahead.
I hate whoops----but the sand wasn't deep and we just rolled over them slowly and it wasn't that bad.
Look way ahead in this picture and you can see this little sandy whooped out road was really long.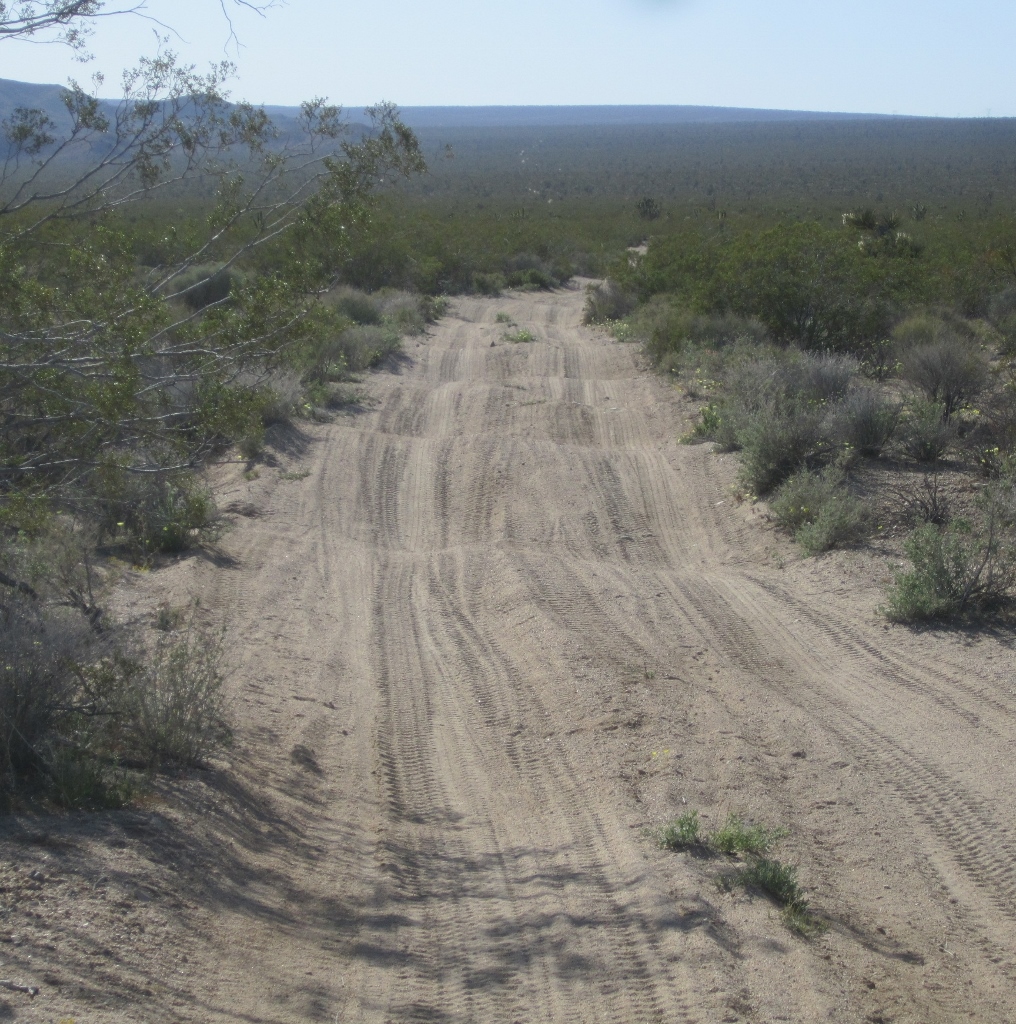 And thanks to another of Dr. Rocks waypoints------we found this campground.
There would be no fire tonight as wood gathering was illegal------but didn't matter as there wasn't any to be gathered.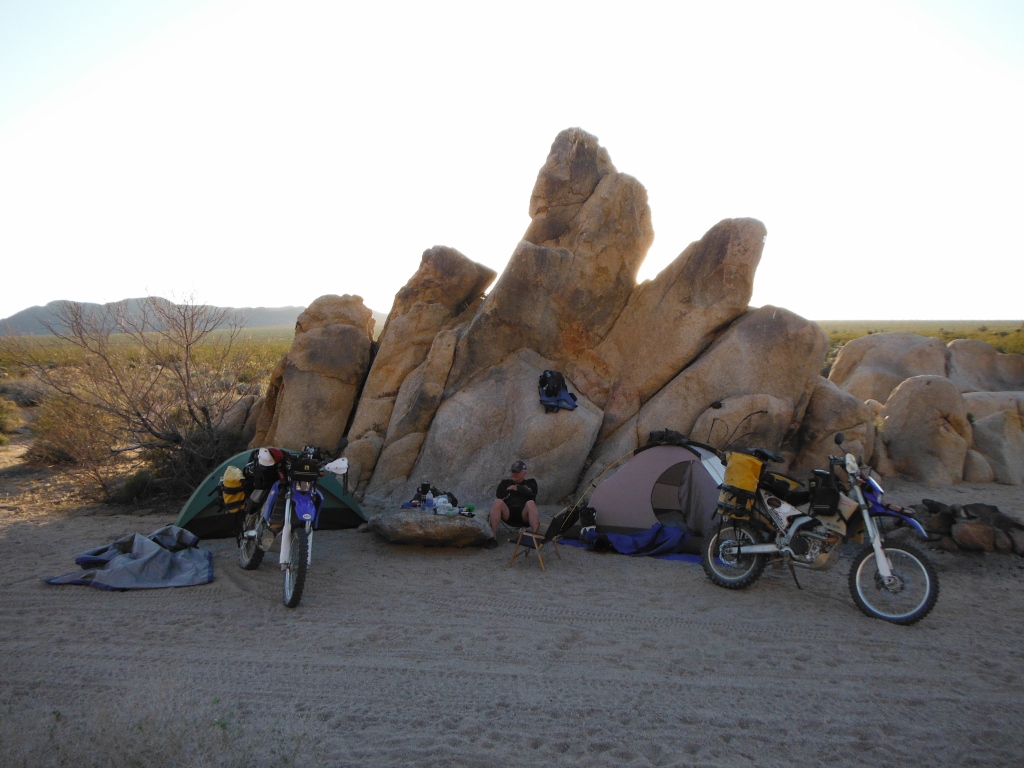 Believe me if I was a rattle snake, scorpion or tarantula I'd be hiding in those rocks.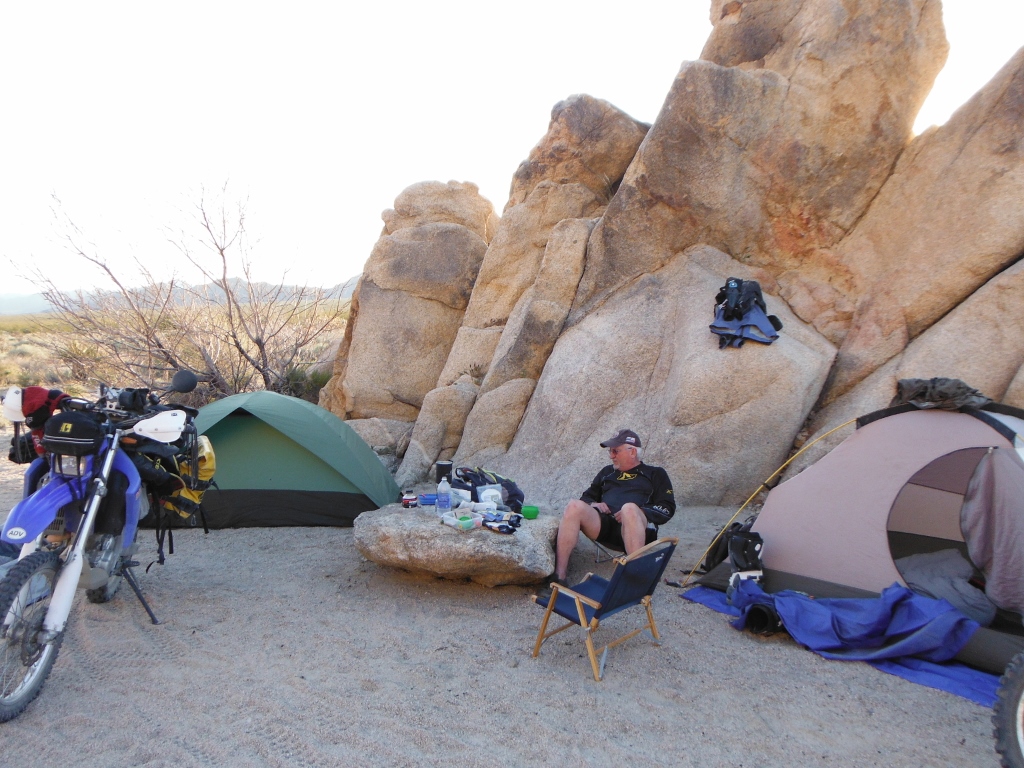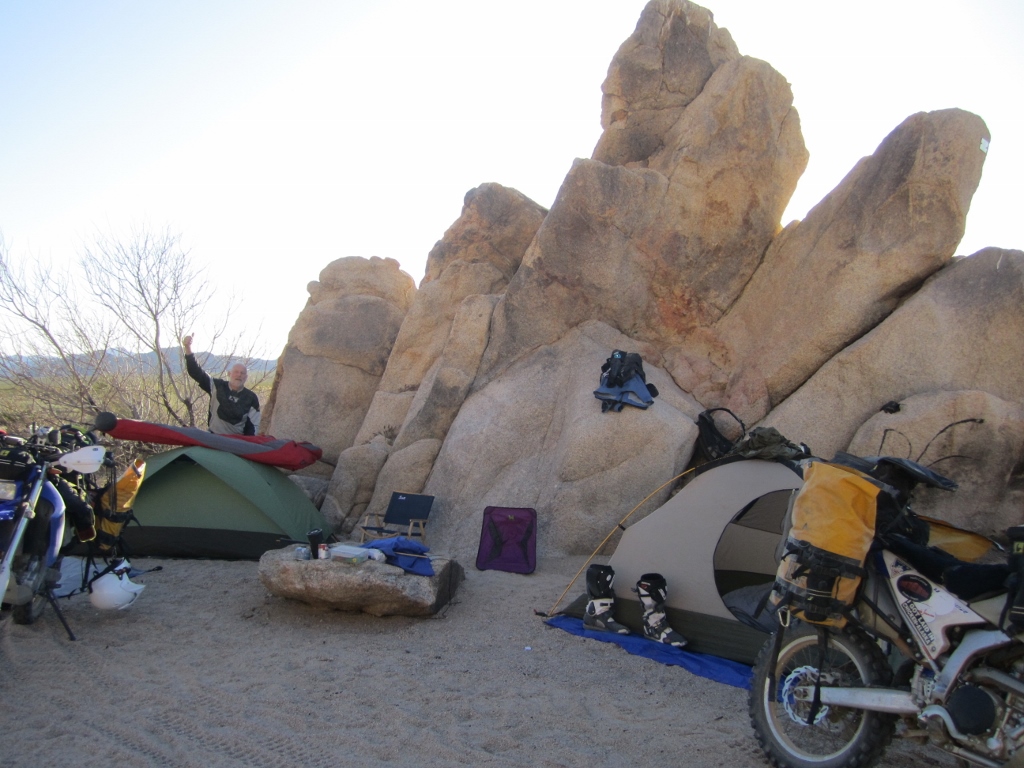 Dinner---rice with chicken--gatorade----and trail mix.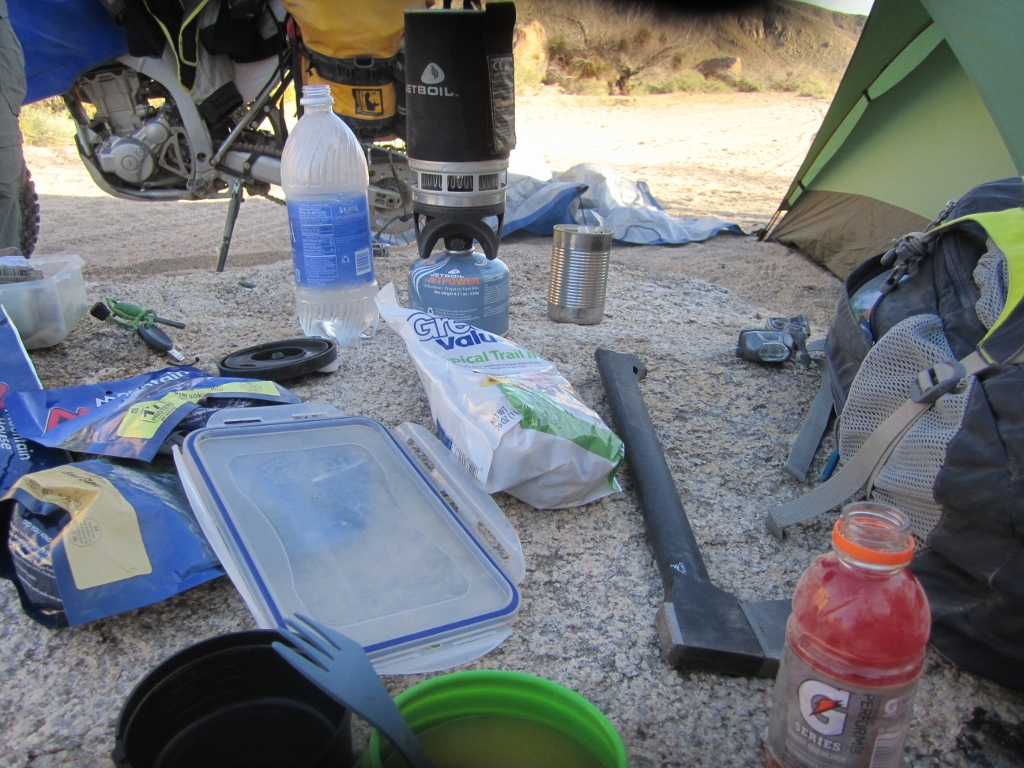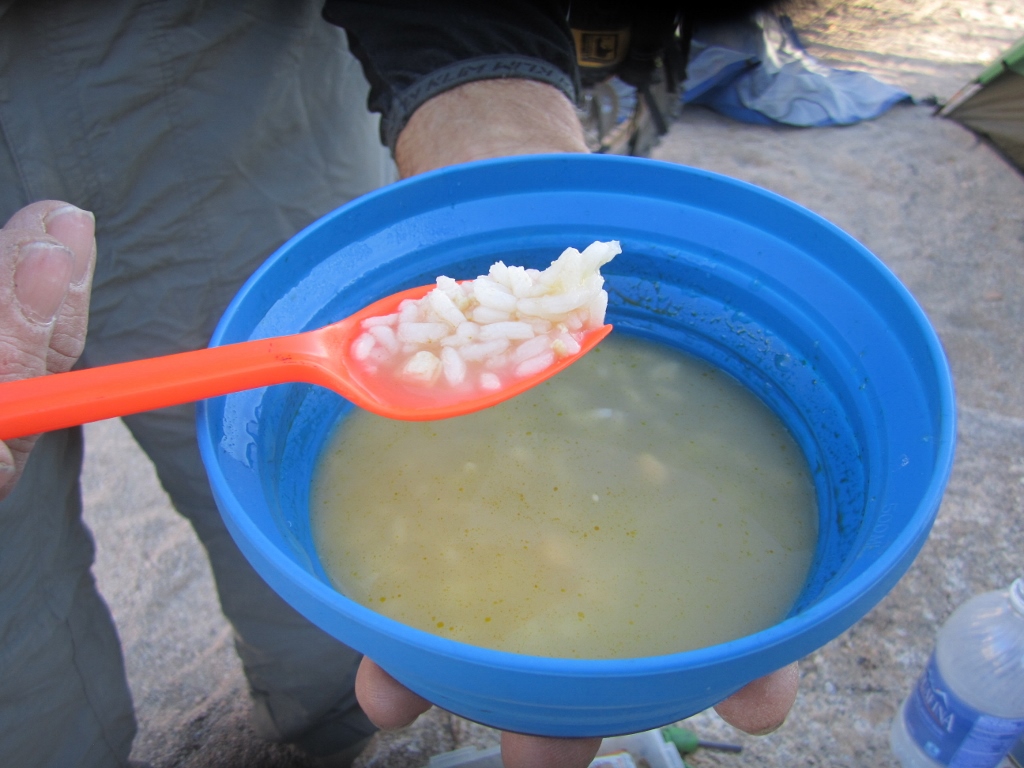 Good place to get ambushed my Indians I thought.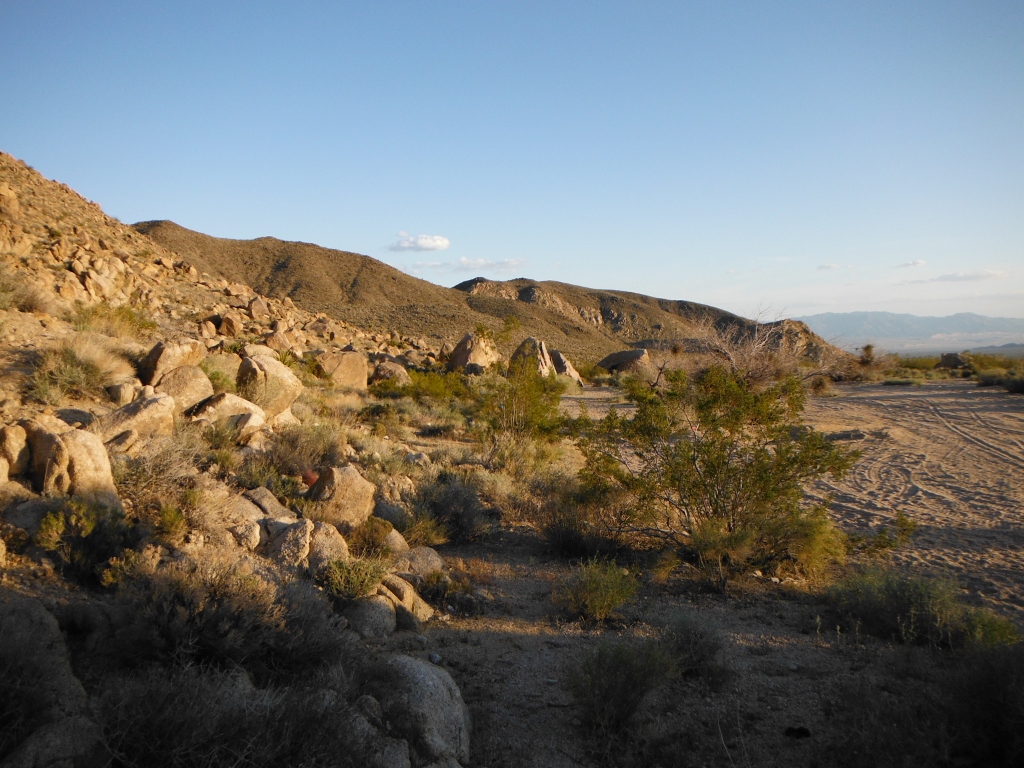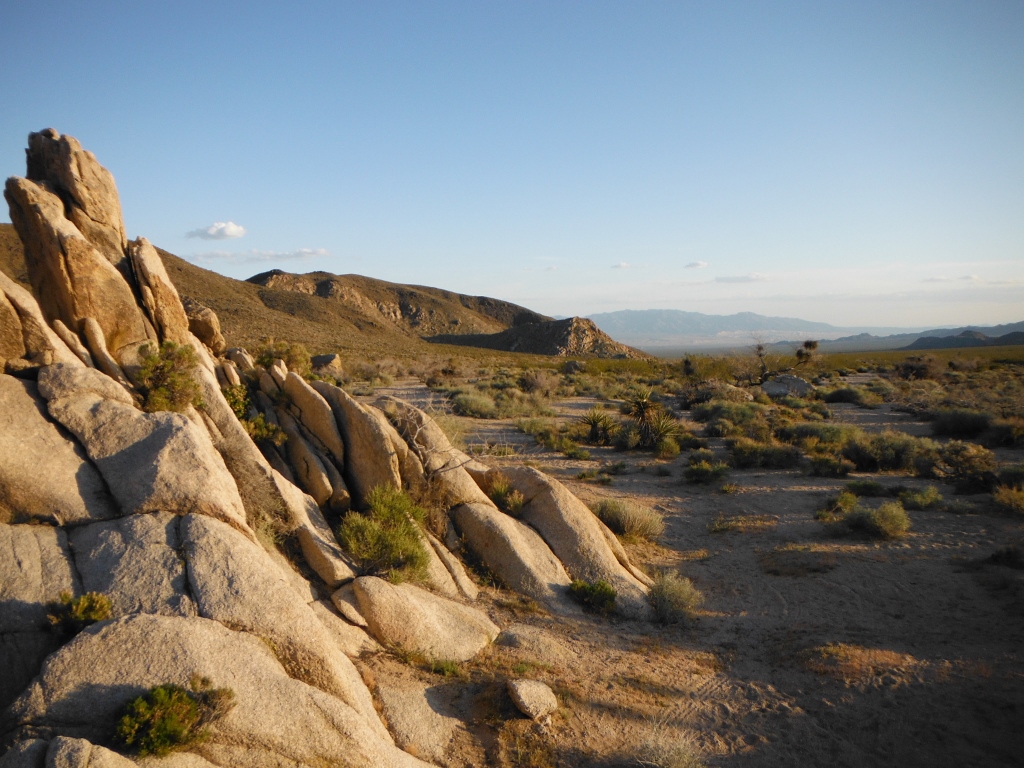 A map of our route today---about 170 Miles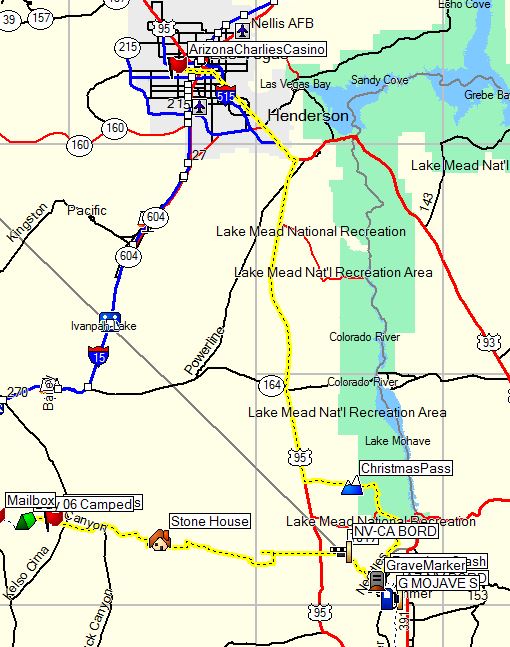 Day 7
April 12th, 2013
Camp to Motel in Barstow
Today we packed up camp early from our camp in "almost' the middle of the Old Mojave road in California.

And a little more from one of our sponsors.......
"No Hassle Tassels"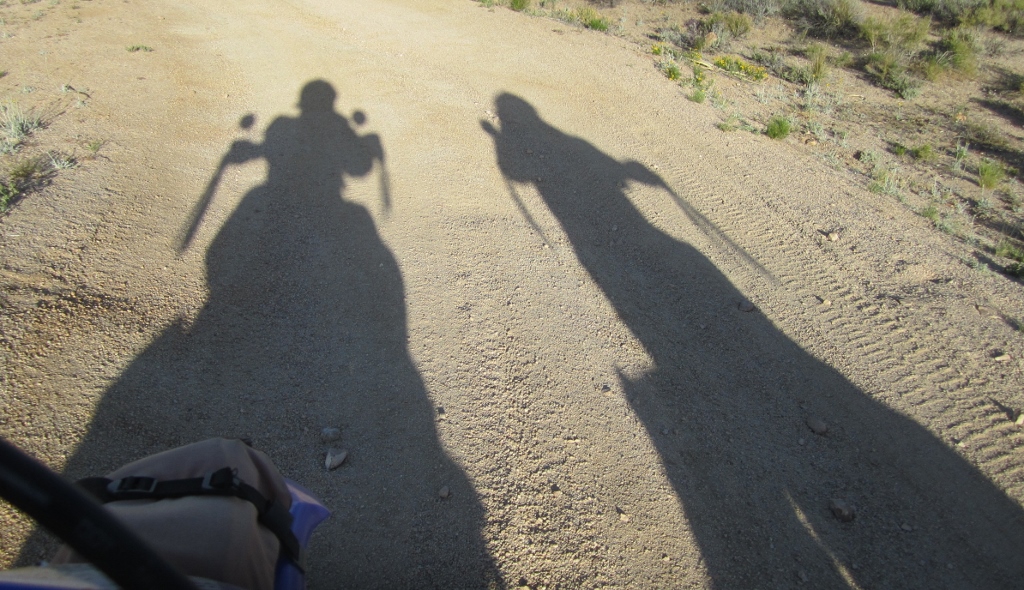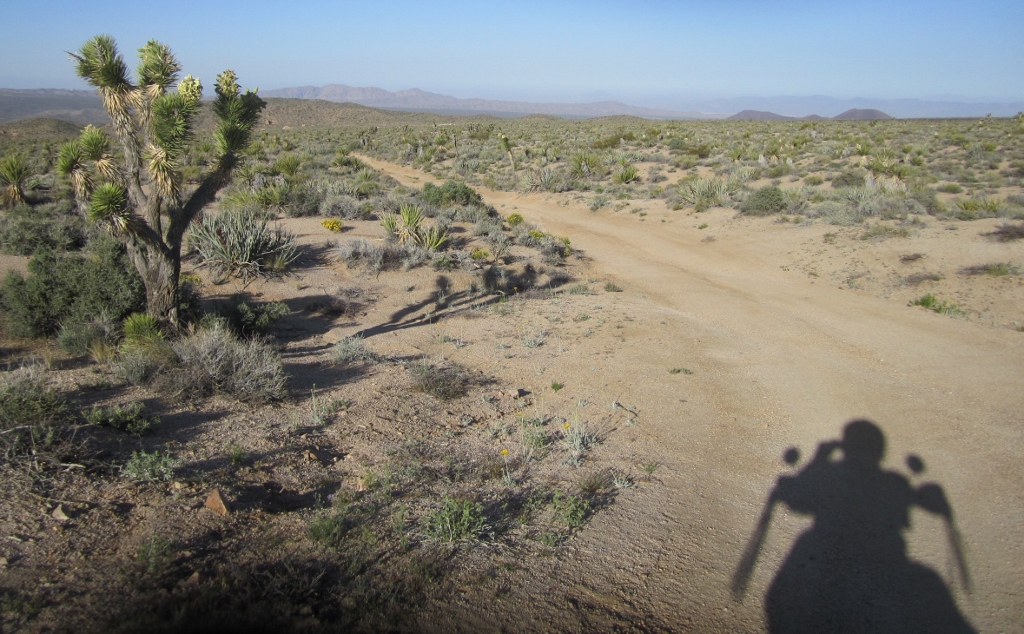 So if anybody asks you the question----"where is the mailbox on the old mojave road" ???????
Answer: "halfway"
This was a quiz question used on Francine repeatedly to see how her memory was recovering after her crash------we got varying answers from
the "correct one"---------to "what mailbox" ?????
We signed in as most do.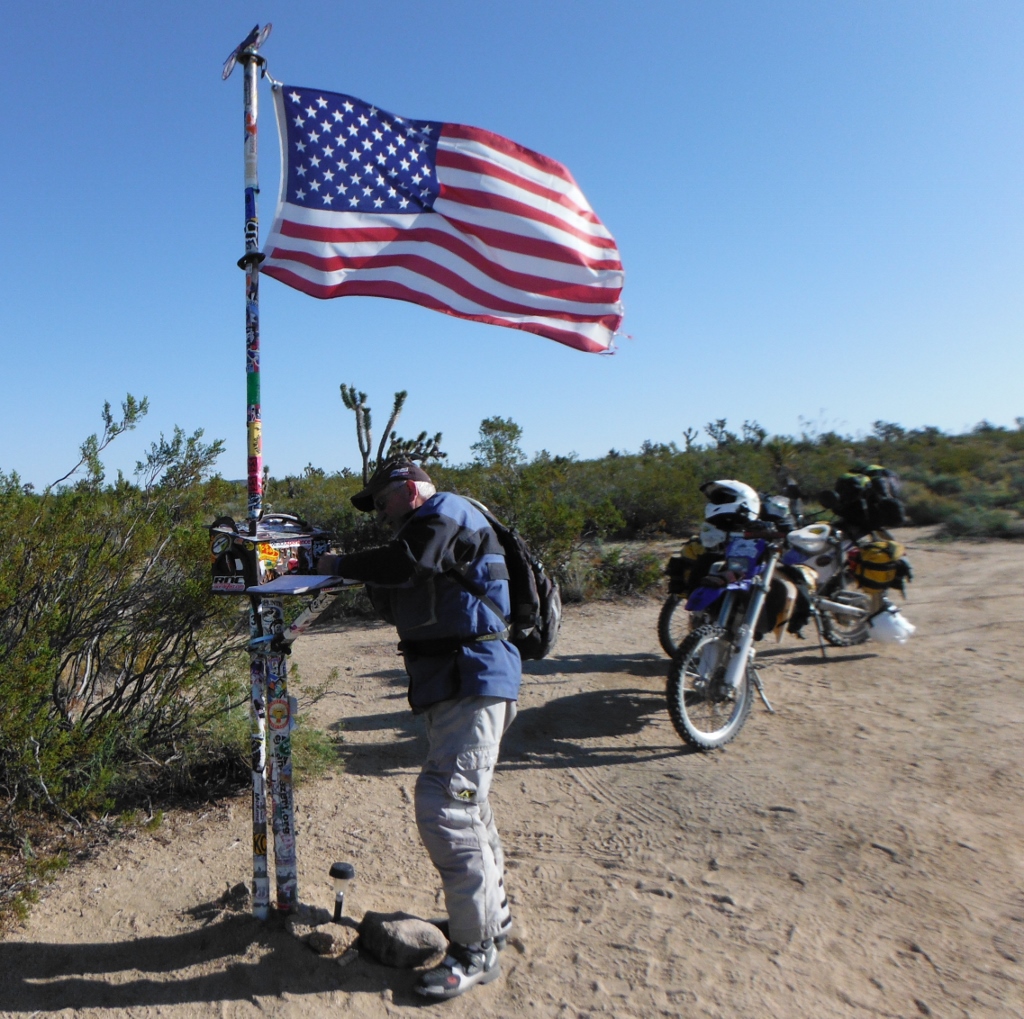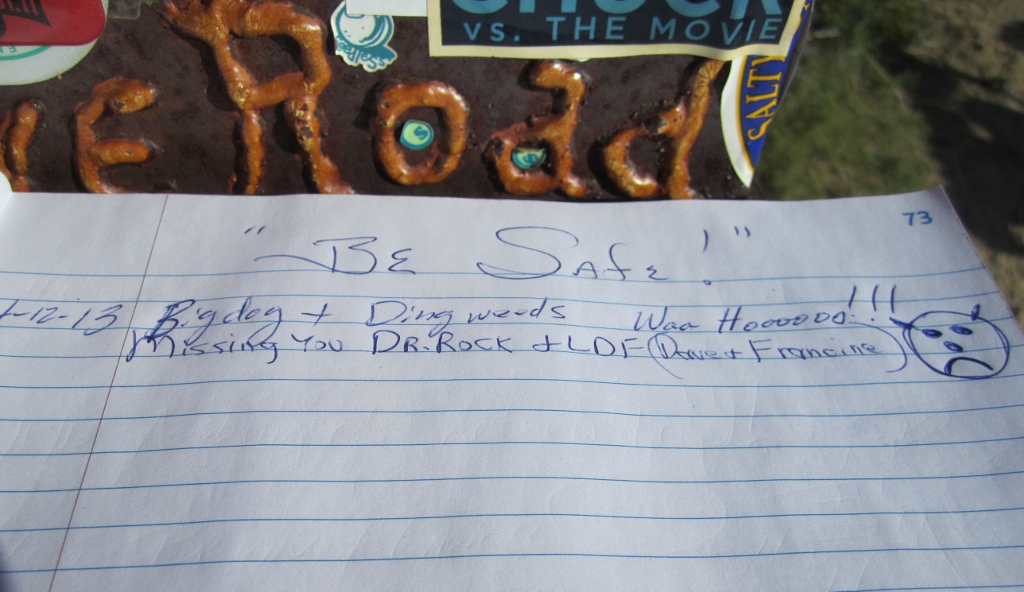 And since I'm always armed with a king size sharpy--------we left our mark right on top of our Motorcycle Jazz buddys sticker----Martin Hackworth (Creator
of the Tour Of Idaho...........
who has repeatedly tried to kill me in Idaho----but has failed-----he came close----but failed.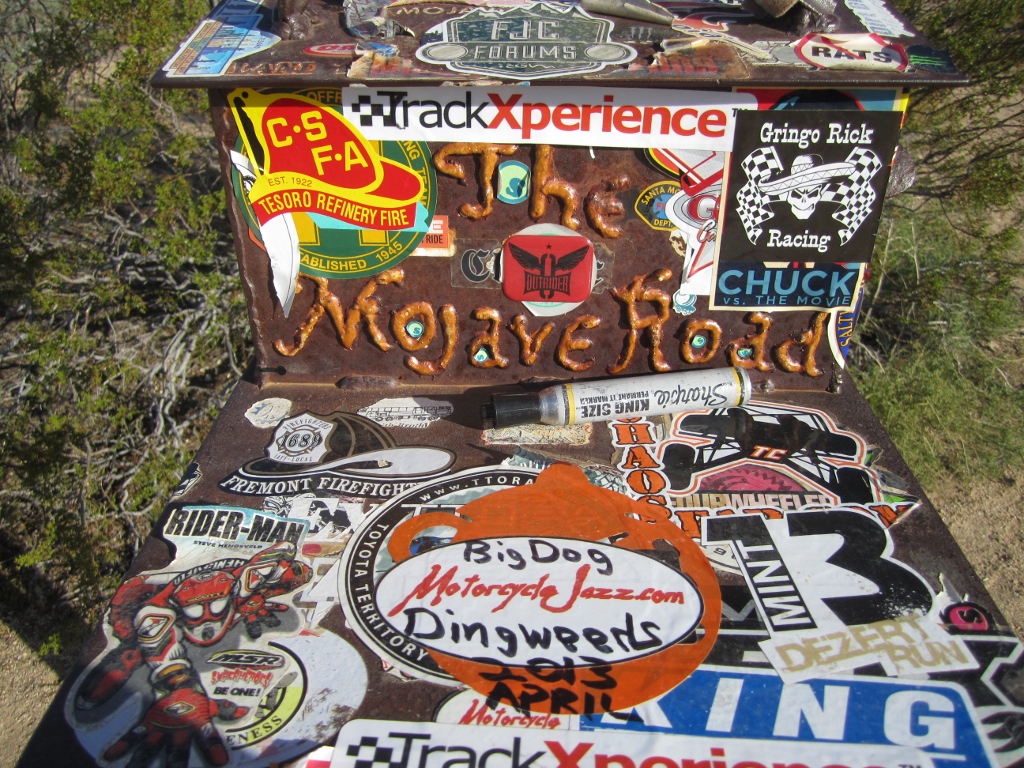 About 20 yards North of the mailbox and kind of hidden are these frogs-----------lots of them.
I bent down to get a close look and one of them croaked at me and moved---scared the crap out of me since I'm always weary of
little crawling varmints in the desert. Turns out one of the frogs had batteries in it and a motion detector------it was so funny.
Look for the frogs if you get half-way down the Old Mojave Road.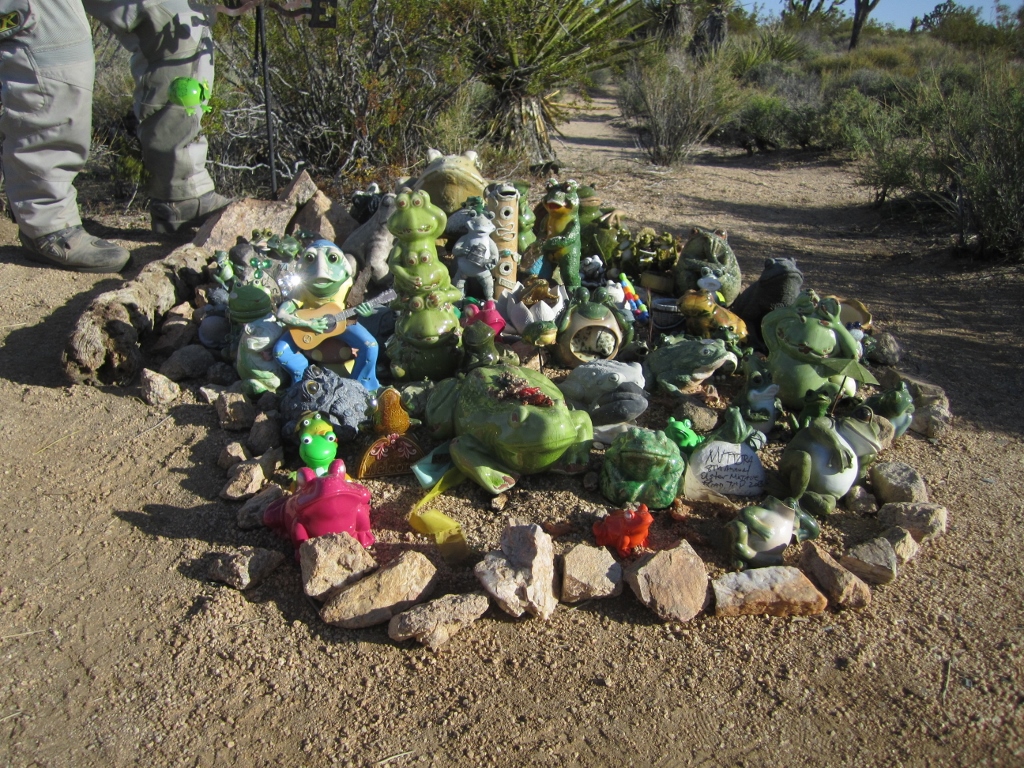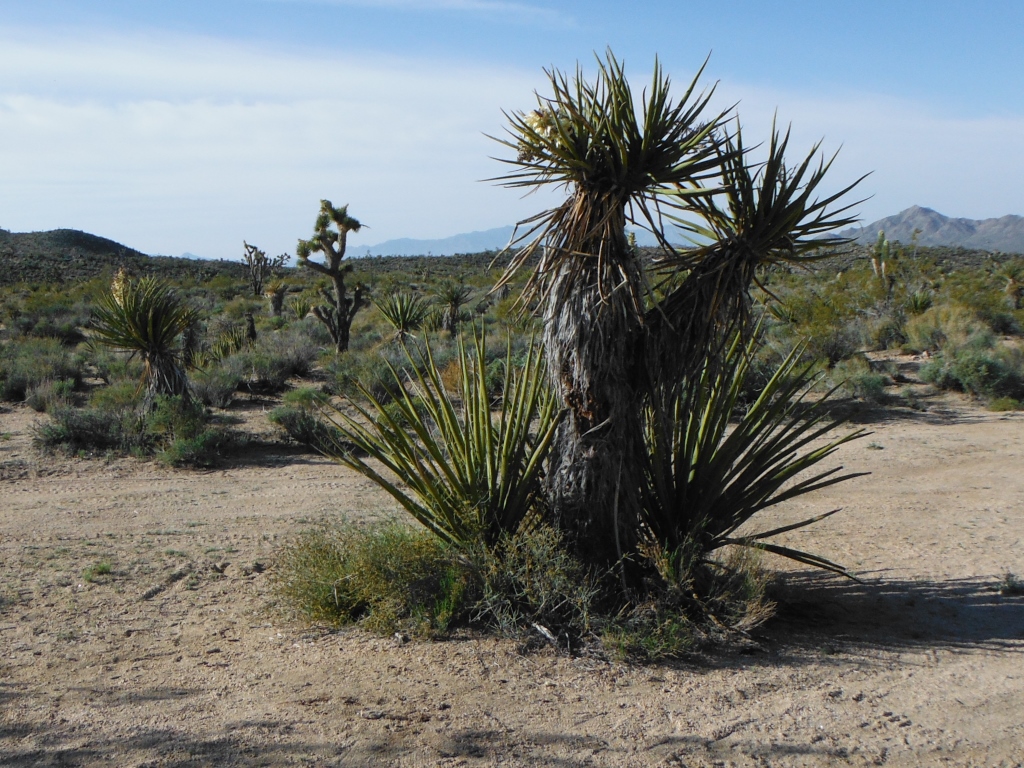 Ahhhhhhh-Yes-------the Old Mojave Road.
It was getting pretty warm out about now--the warmest we'd been on our whole trip.
If it was mid-summer we'd already be dead.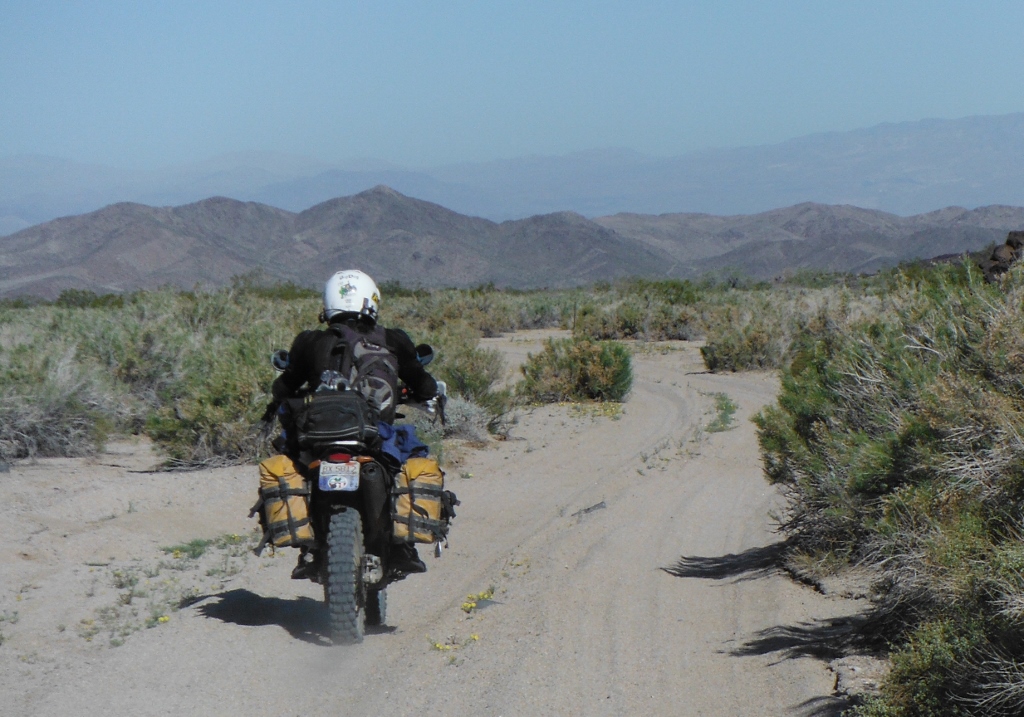 I think I see a dry lake bed miles ahead------didn't know that ??????
And now I think I see the dreaded deeper than crap silt----the only thing worse than "impassable when wet mud".
My first sight of this made my heart sink---we couldn't ride in this stuff---not for long anyway. I've tried in Baja--can't do it---sorry.
And you thought I was an ACE rider-------not so.
From here we didn't know how long a stretch is was but it was only about 100 yds. and as my responsibility as navigator I
found an easy way around it.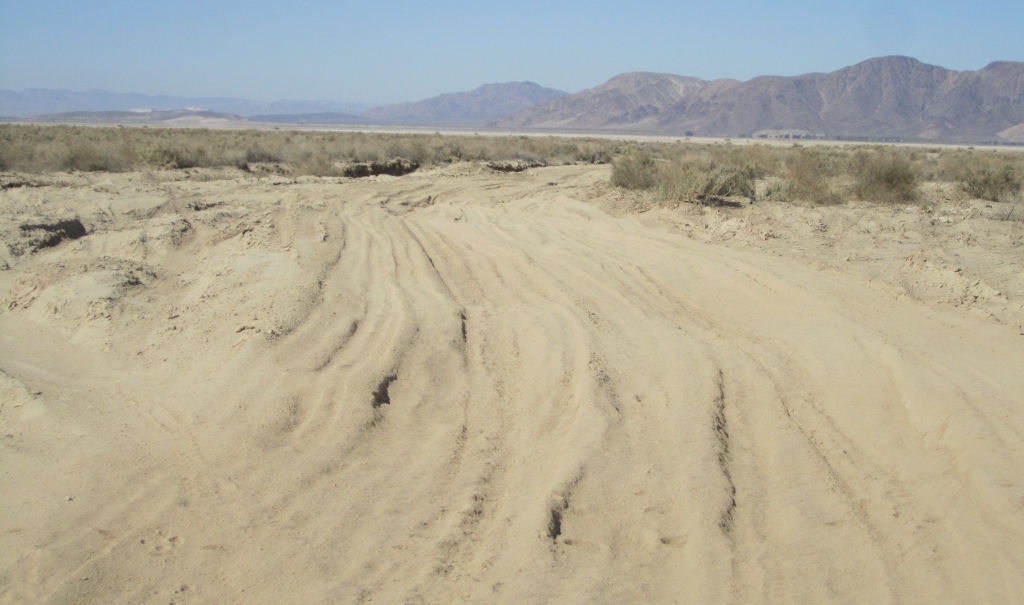 Rigth after that we hit the hard as cement dirt dry lake bed.
You could run 100mph on this stuff-----------if you were stupid.
Many deep ruts waited for you out there if you tried that.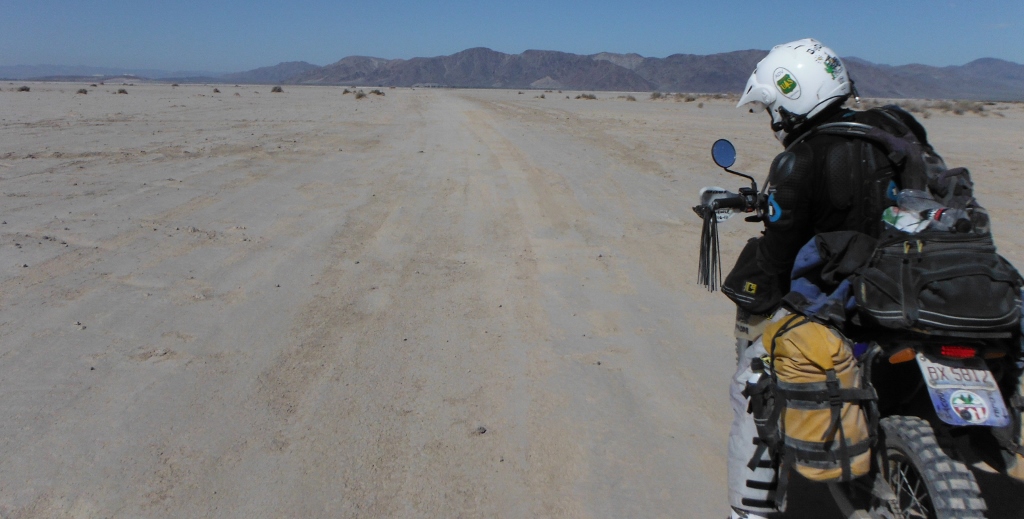 So I kept it at about 45mph-----had to keep on my toes for those deep dips tho that would throw you over the handlebars.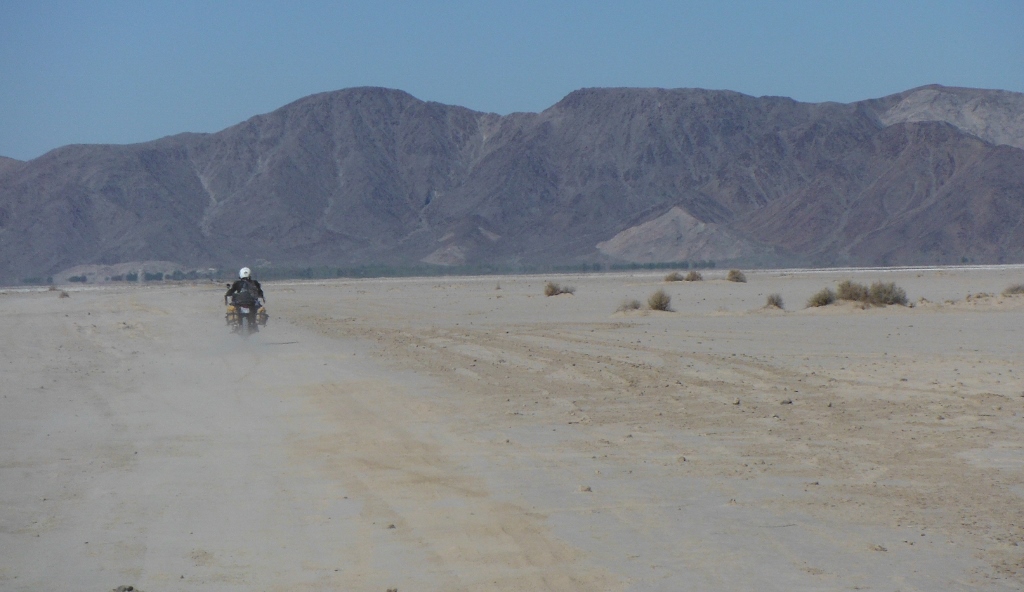 You could see where many have ran when it was wet-----we kept off this stuff and on the packed dirt road.
We'd of never made it thru here if it was really wet.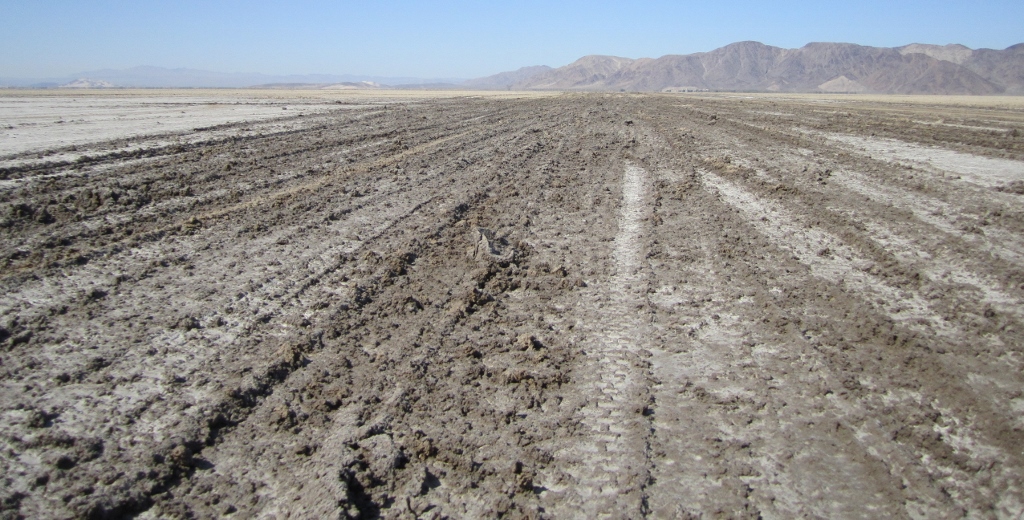 But it was very beautiful and we weren't that far from the end of the Old mojave Road which goes right into Barstow.
We were feeling exhilerated at completing the Old Mojave Road--------we have it in the bag.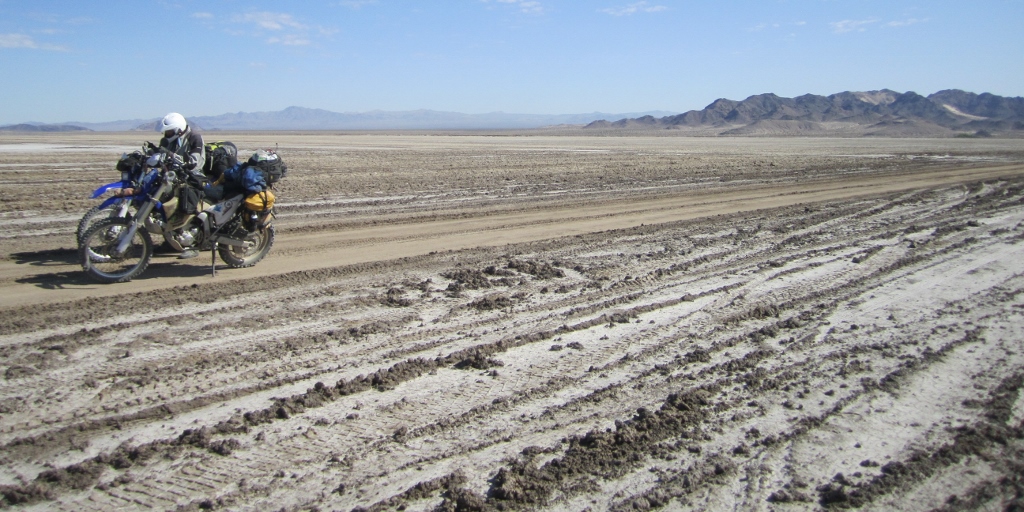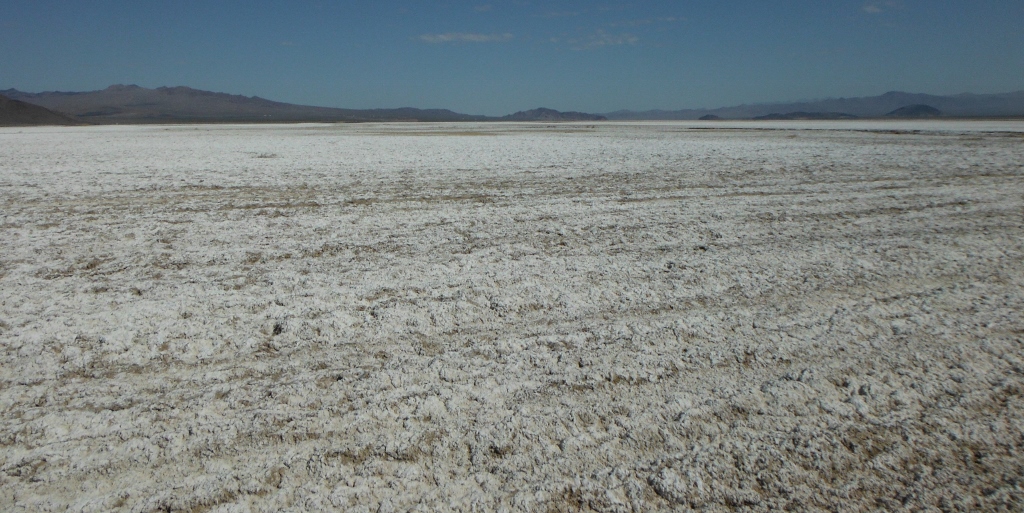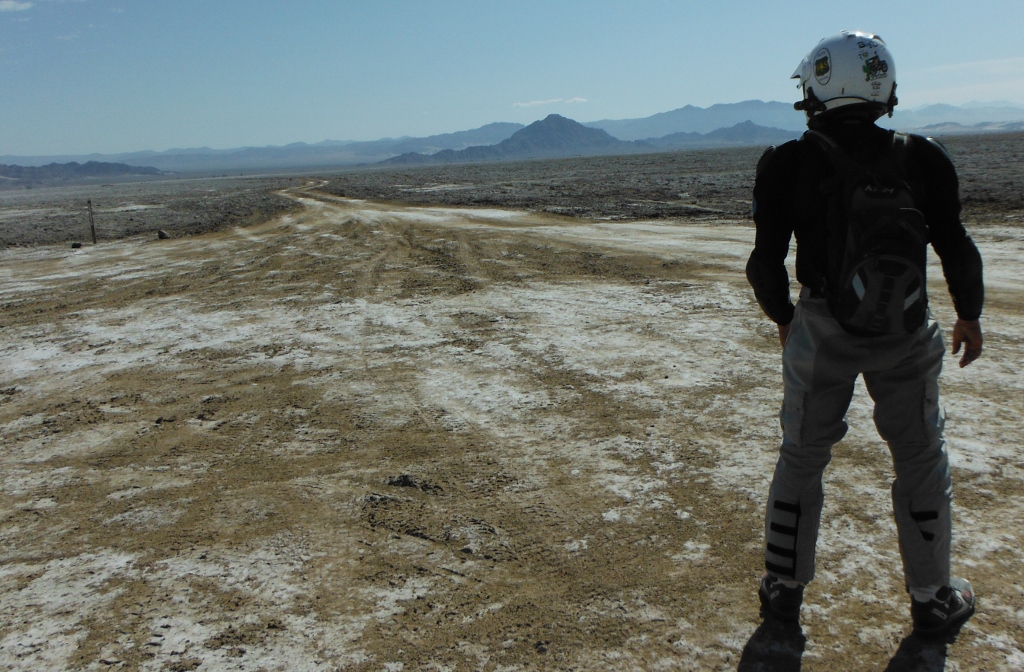 This pile of rocks was out in the middle of nowhere-----somebody had to haul it out there ????
And there was a stone that said "Jadd Concrete Company" ??????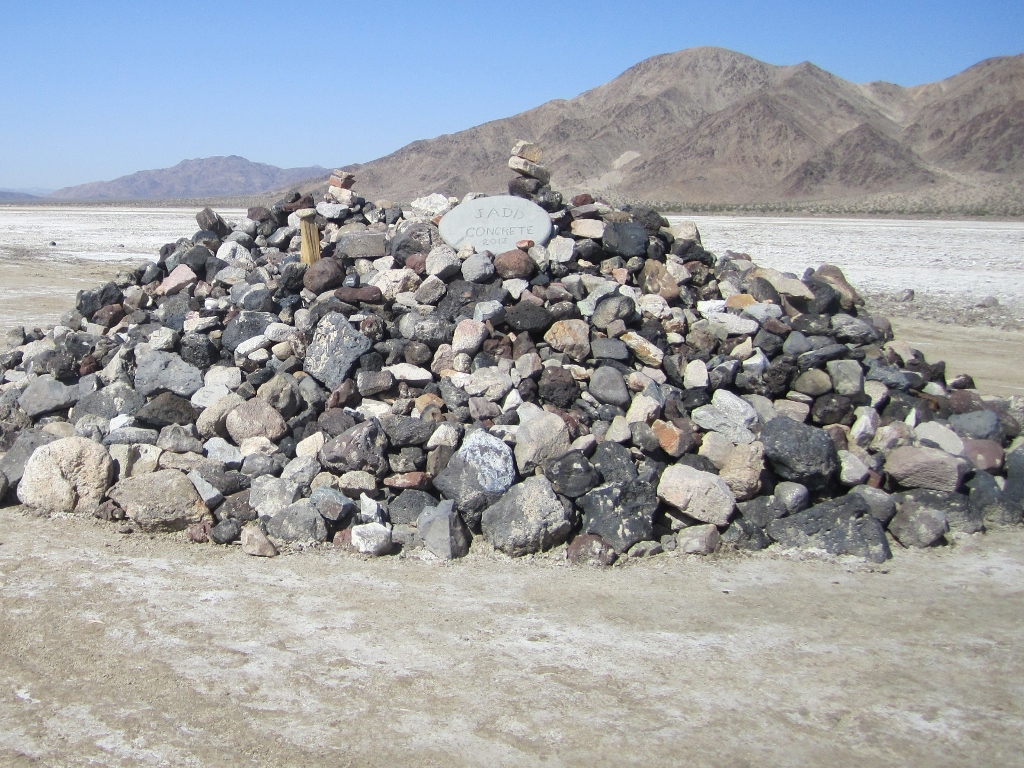 And this sign-------which prompted me to get out my king size sharpie as Scott looked on and shook his head.
I about got thrown out of B.C. Canada for un-restrained use of my king size sharpie.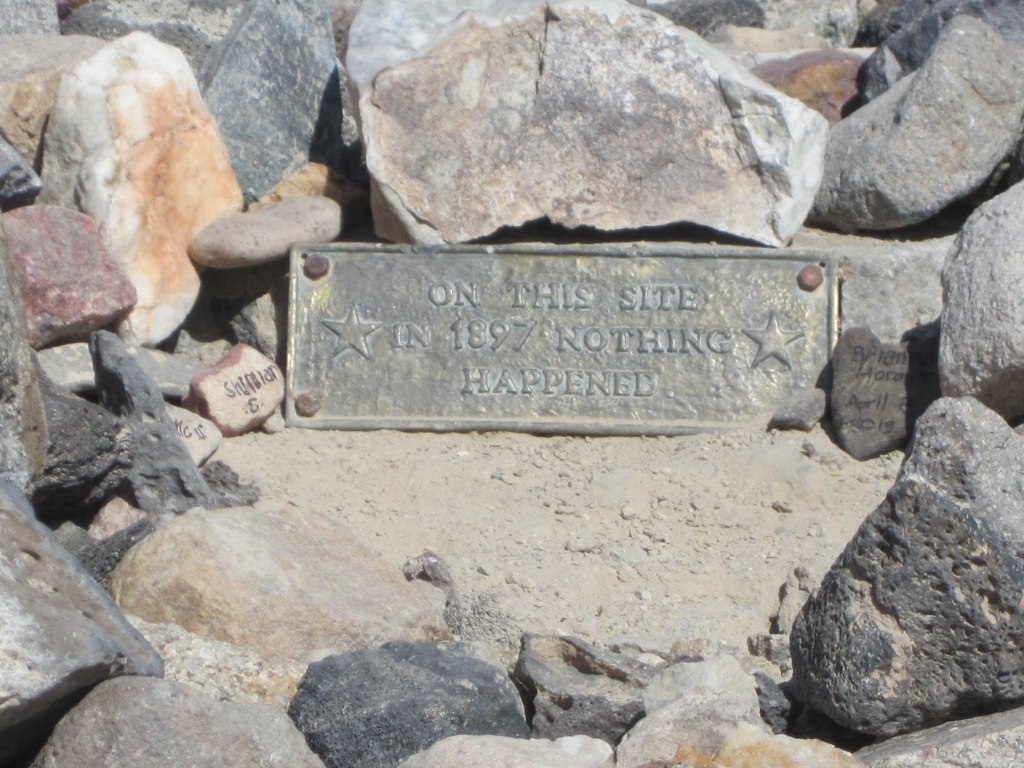 There's got to be a big rattlesnake in there BigDog ????
Do these pants make my ass look big ???? Well---duh---Yeh !!!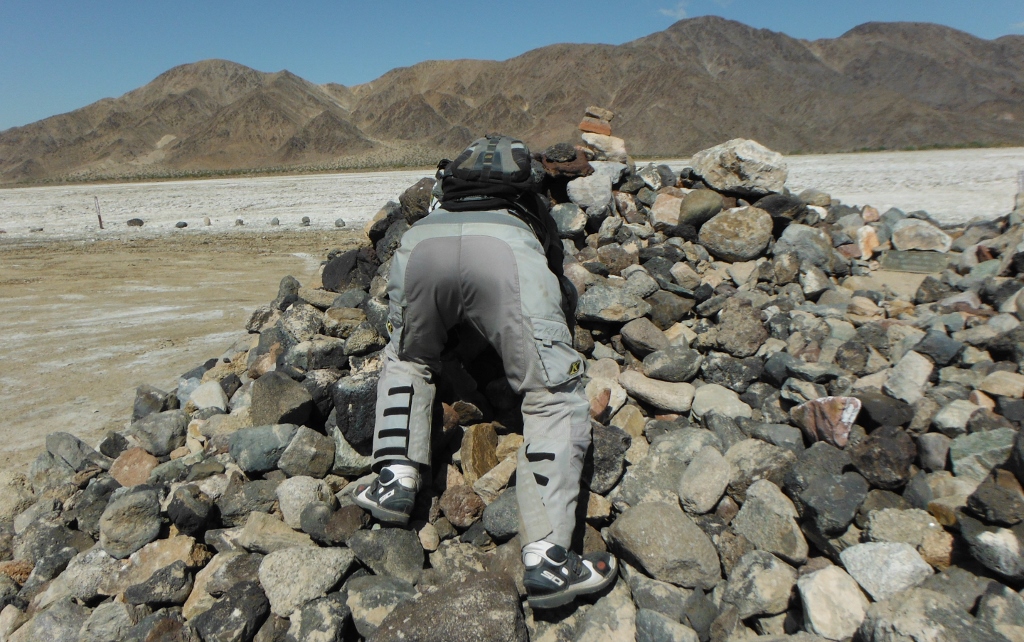 BigDog has stuck again----and Dingweeds is going down with me.
I challenge you to find this pile of rocks---find my rock---take a picture of it---and send it to me.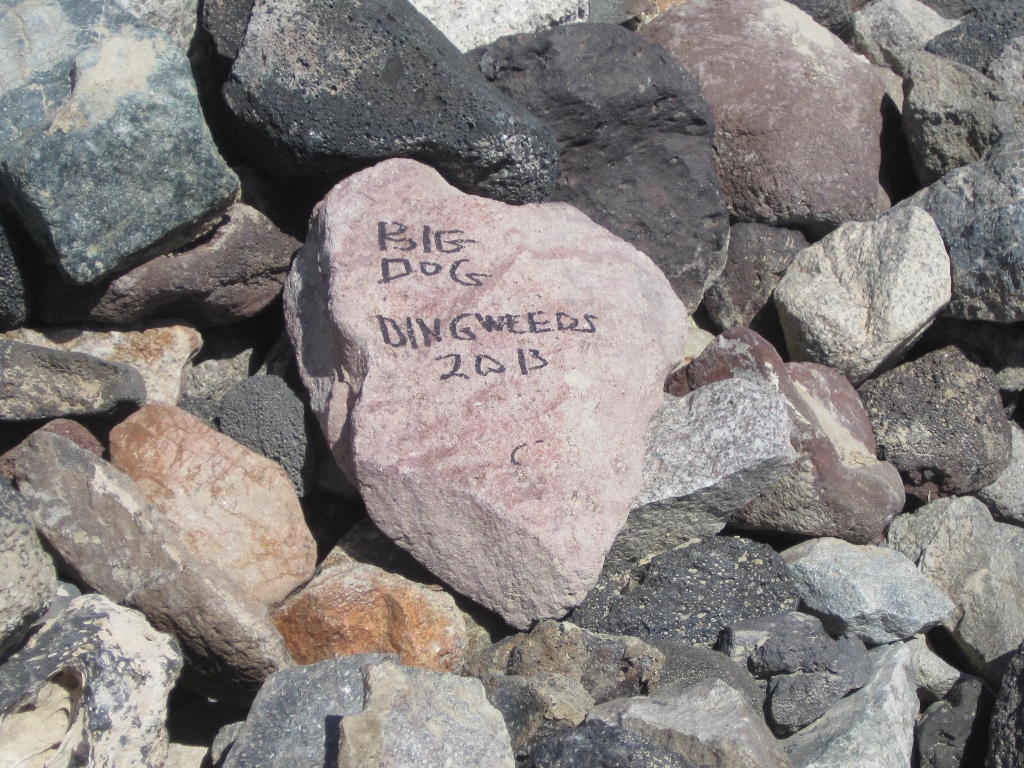 This wasn't fine sand---but was harder to ride in than fine sand.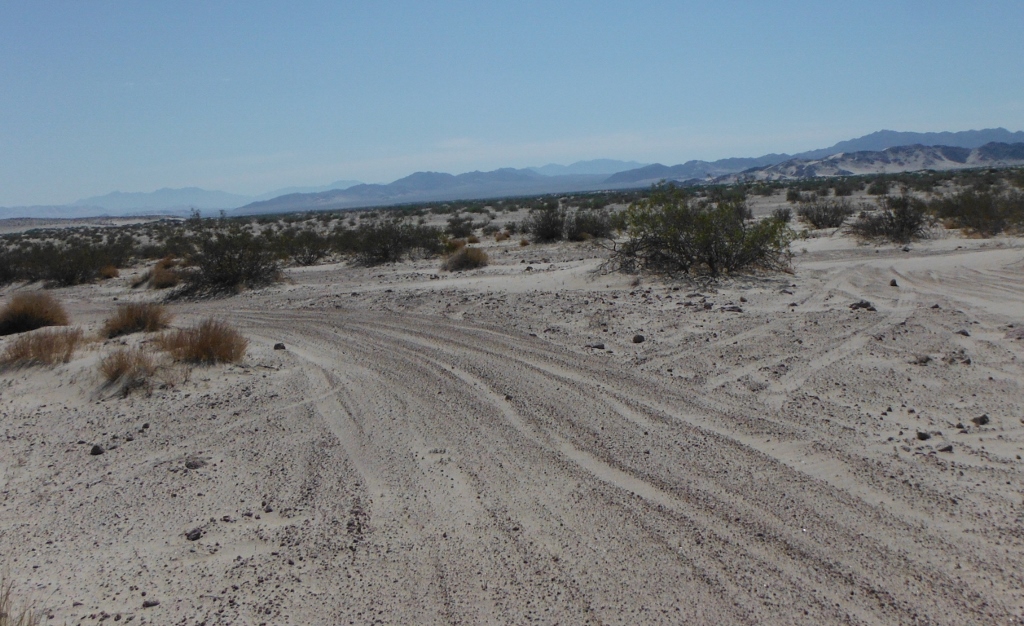 I'm sorry to say--------it was a couple miles past here (no pictures) the deep sand got un-rideable for us.
And to make matters worse the road had completely disappeared from blowing sand and we re-treated.
Dang---it------we almost made it.
We were hot, almost out of gas, water and food which helped fuel our decision to re-treat.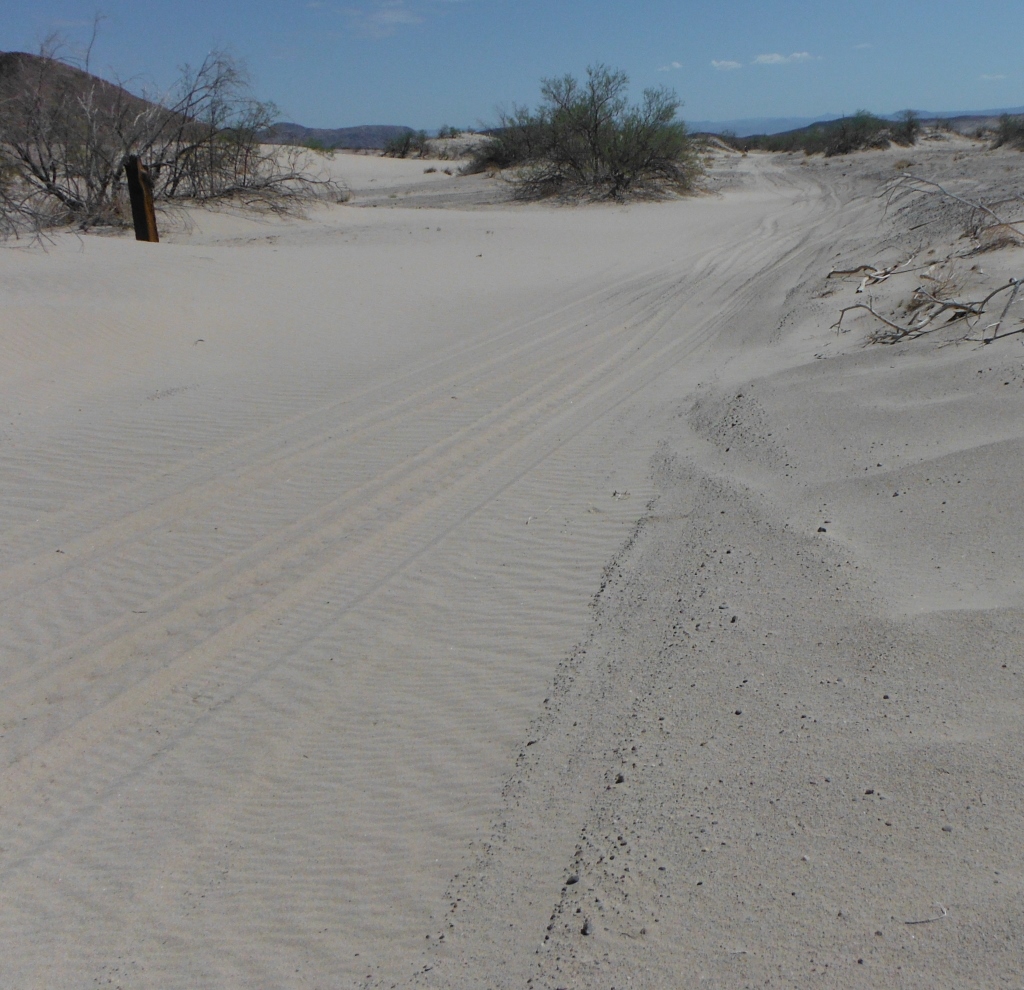 We took this easier road out to a road that I won't mention as I'm ashamed I road on it.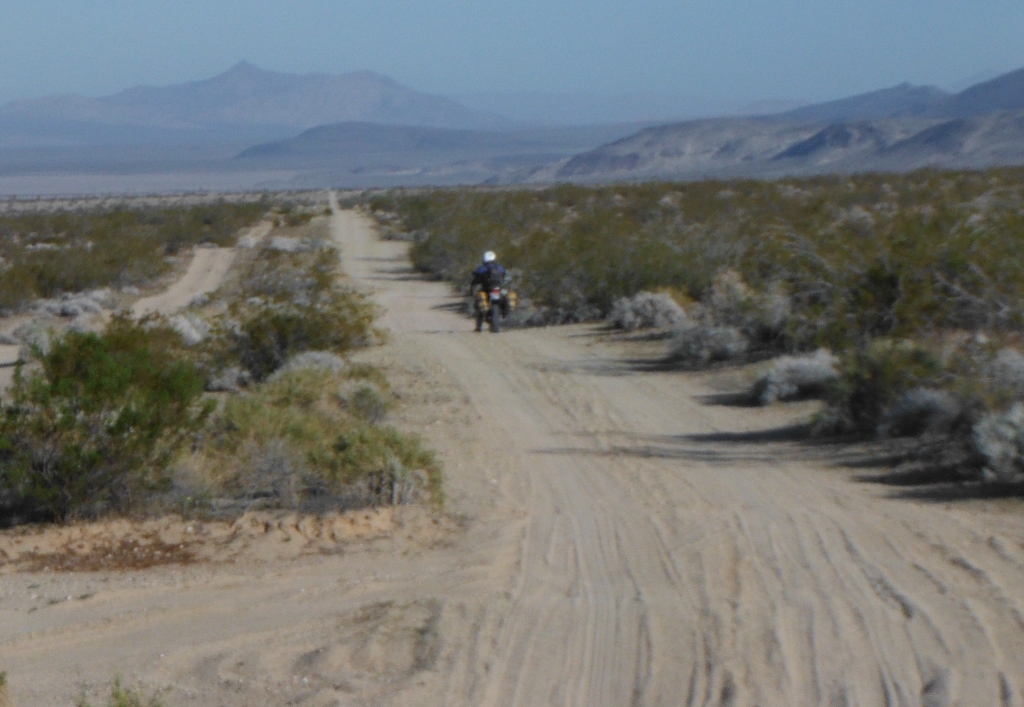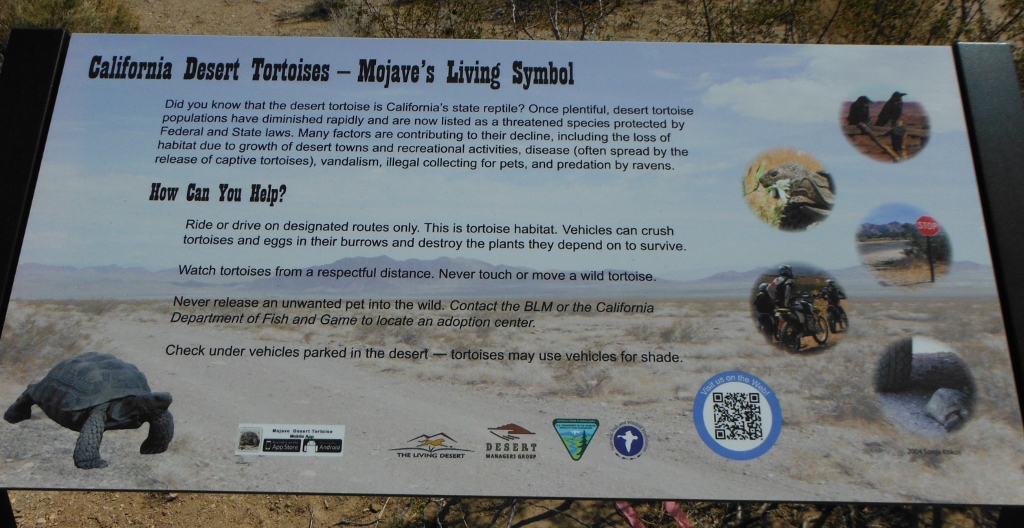 We got to Barstow and had the best hamburgers in all of California at the Burger Den.
It was way out of town and had shade and a picnic table---I think I had a strawberry shake too-----I deserved it.
Not one of those McDonalds shakes squirted out of a computer----a real shake---thick --------with real strawberry's.
Me and Dingweeds stayed there a long time in the shade and had a ball yakking with the locals.
It wasn't that late-----but we relaxed knowing we deserved a bath and motel that night------it was a great day.
Our route for the day---about 101 miles.


Day 8
April 13th, 2013
Barstow, California to camp at an old cabin in Death Valley near Barker Ranch where Charles Manson was captured.
Really cool---------in our motel room in Barstow was a picture of the Old Mojave Road right above my bed.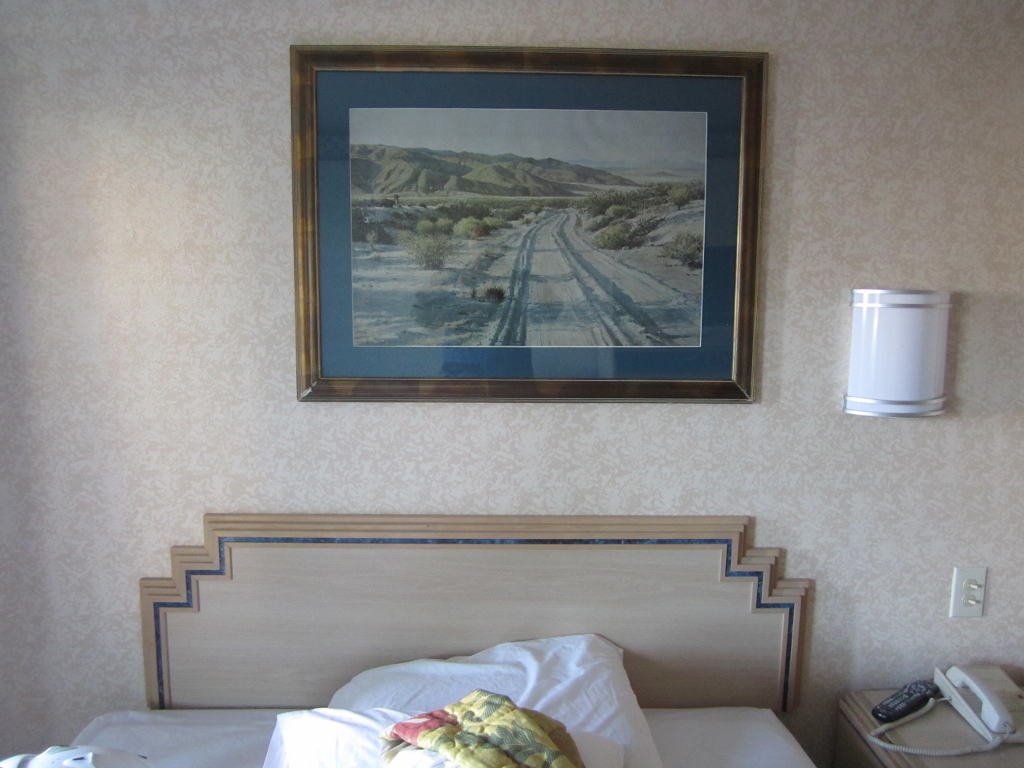 A lot of these were imbedded into the road riding out of Barstow.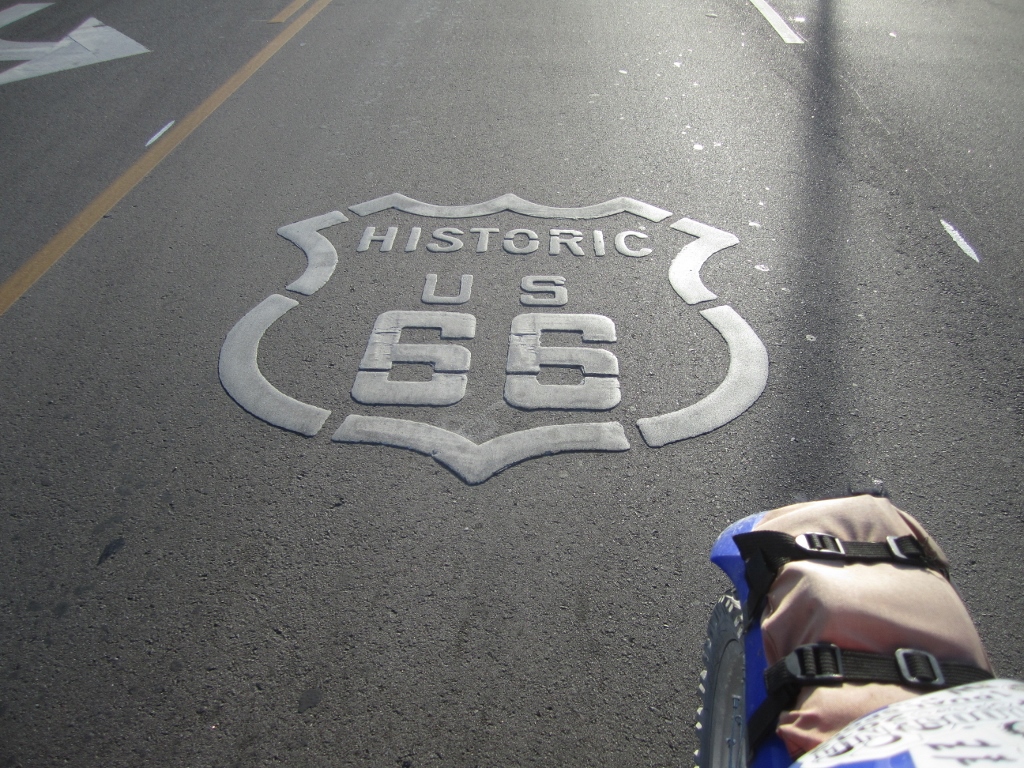 Be right back after another word from our sponsor-----No Hassle Tassells.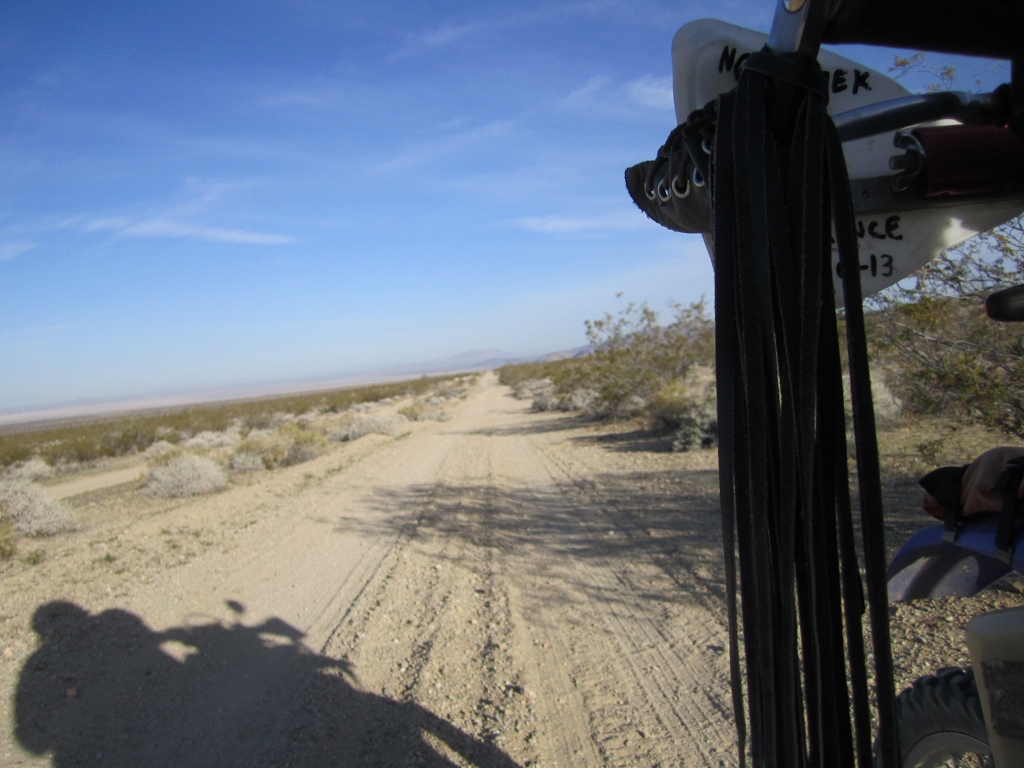 We went North out of Barstow then Northwest on Fossil Bed road.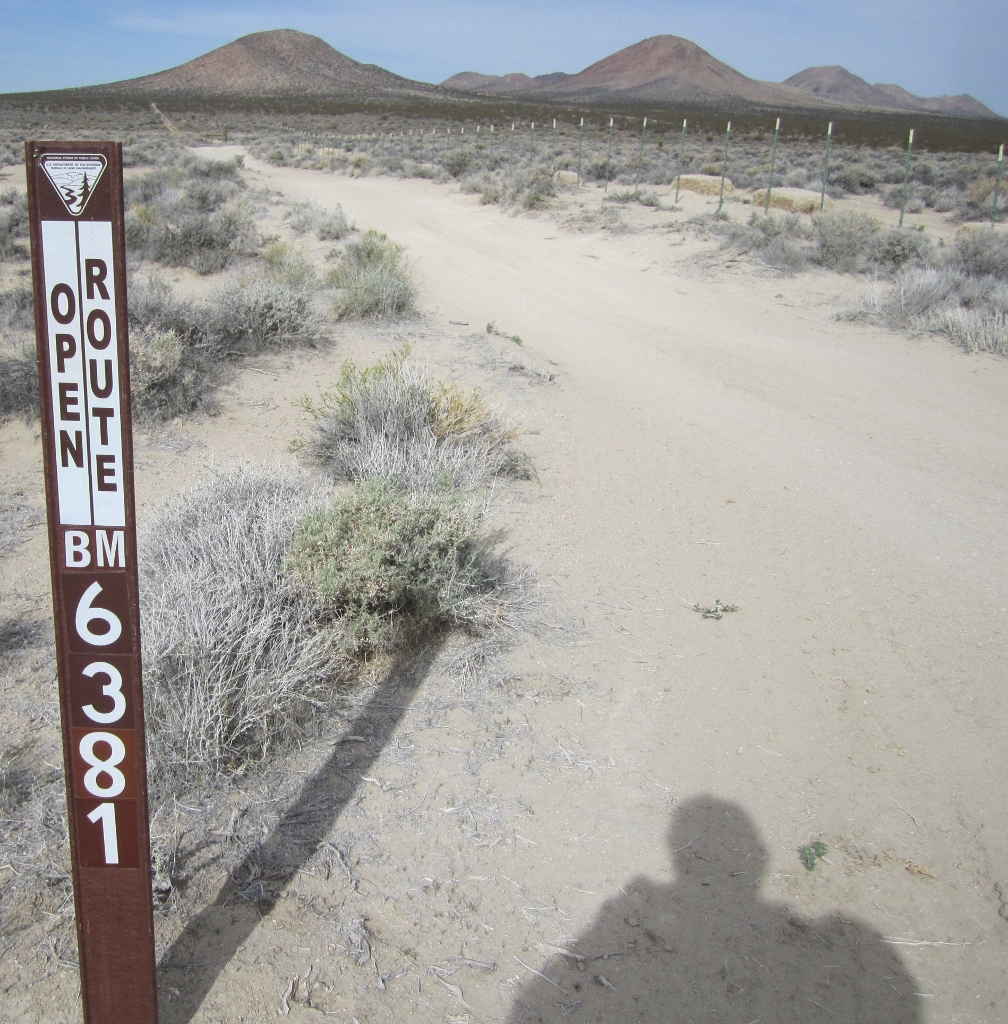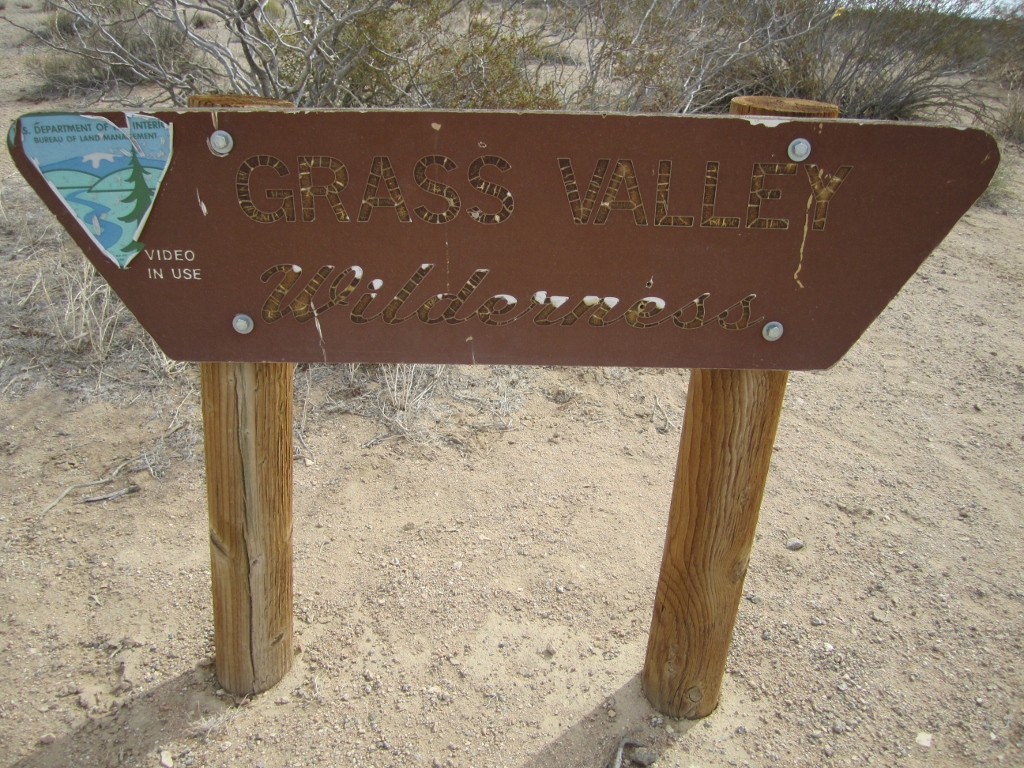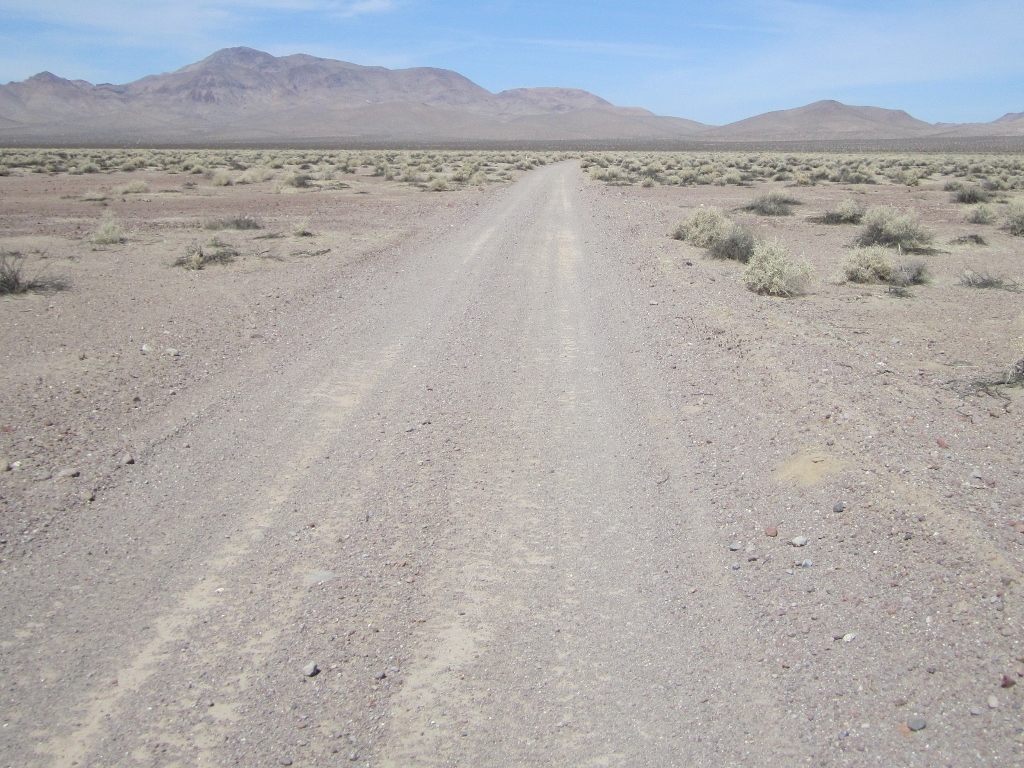 I think we saw this as we went thru the town of Trona, California.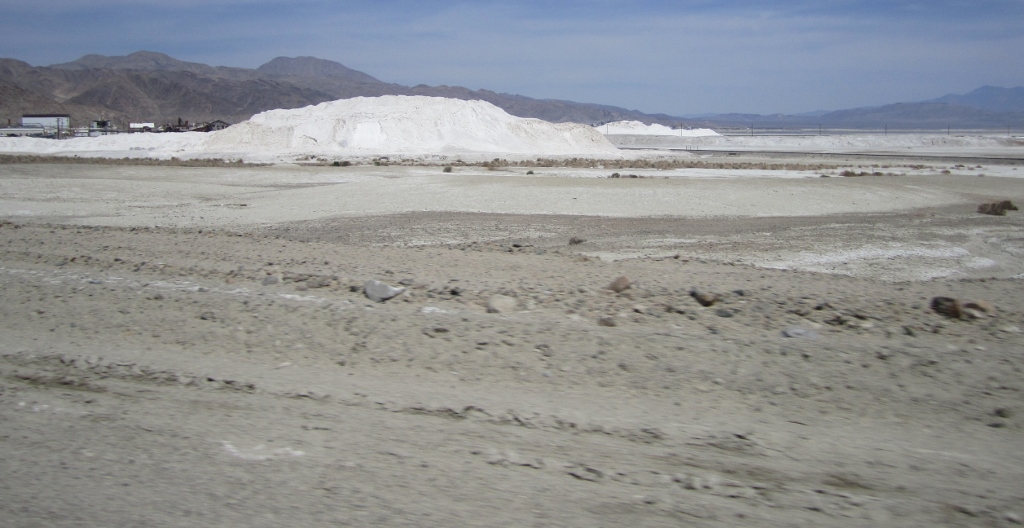 My first glimpse of Death Valley----like Alaska.......I never thought I'd ever get a chance to go there---and here we are in Death Valley and
the weather was awesome the whole time. The view below is below sea level and the largest underground lakein the US is below the basin.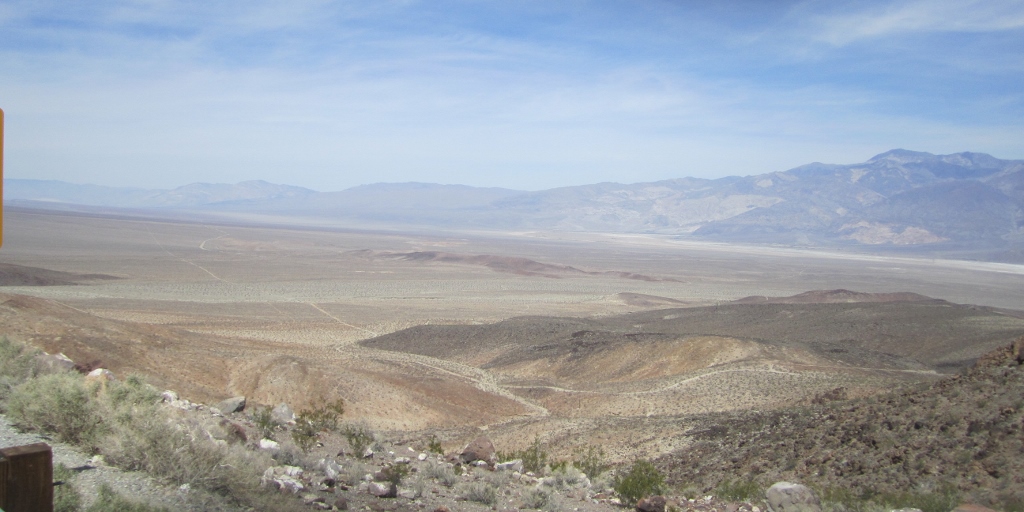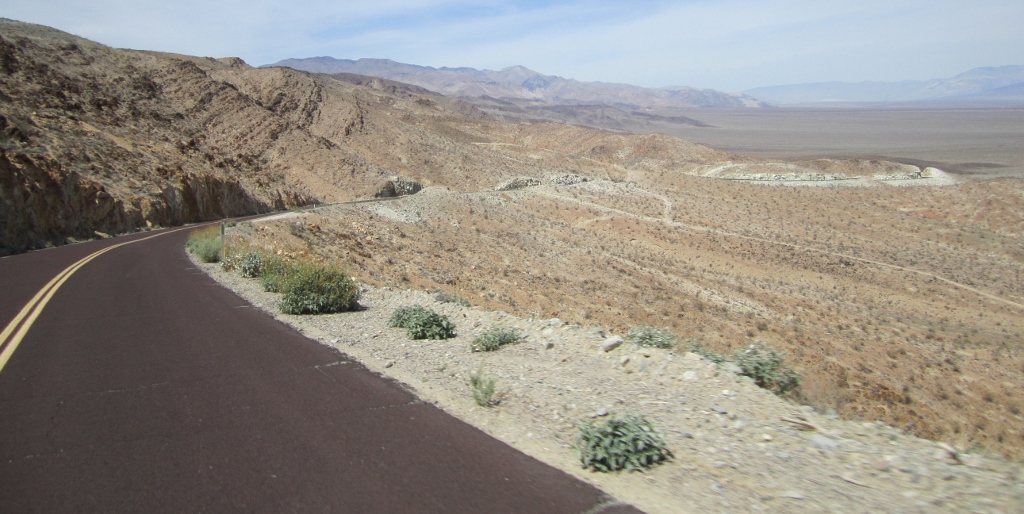 I just didn't expect all the water---the whole place was sitting on a lake just below the surface.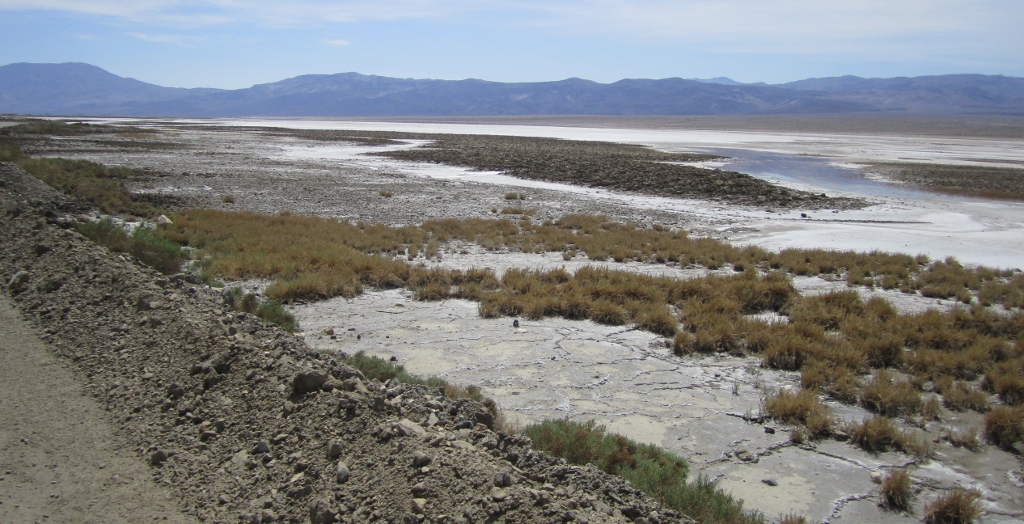 We were following a road just out of Ballarat and we kept watching the mile marker signs and Scott got this really neat picture.
Mobius 11--------------M11
Heading up the Mengel Pass road towards the Barker Ranch. This road at times can be a tough ride.
But wasn't bad at all for us---maybe they had just graded it.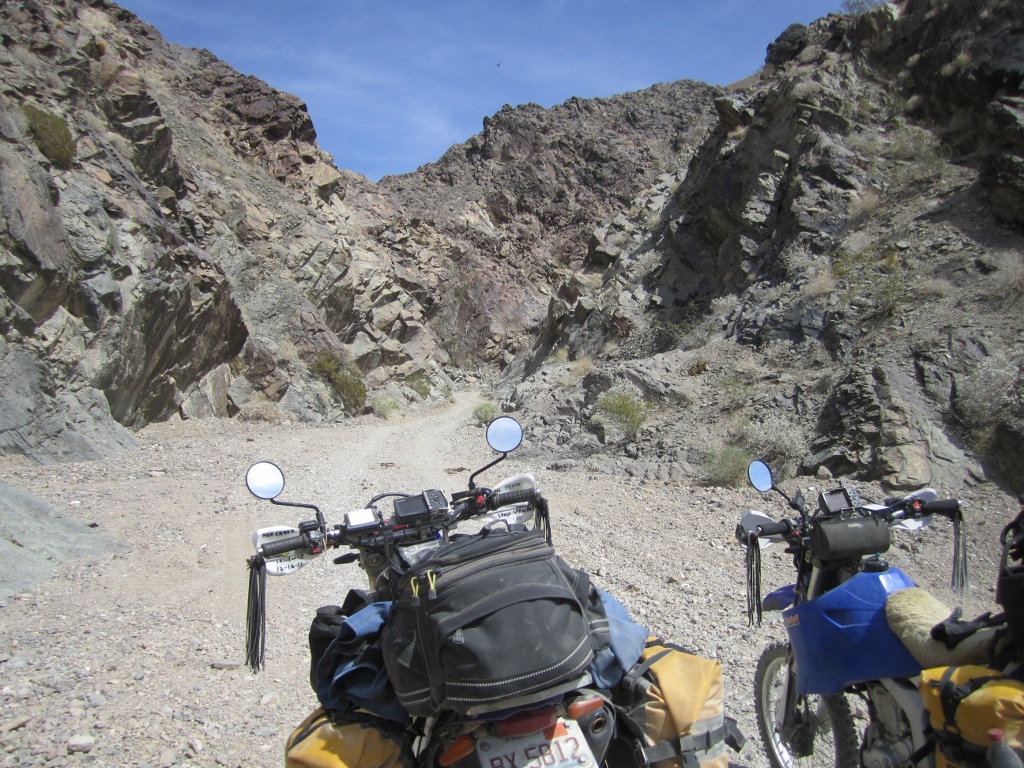 There is so much old mining junk laying all over the place in Death Valley----------it's everywhere.
Lot of people died trying to mine this area.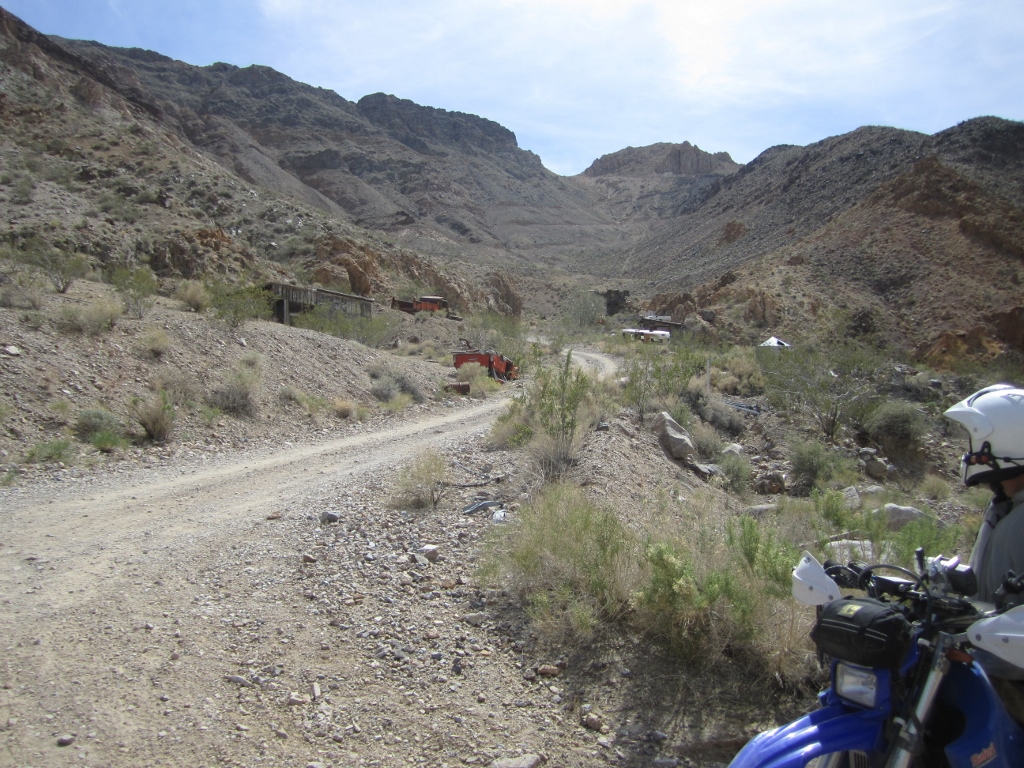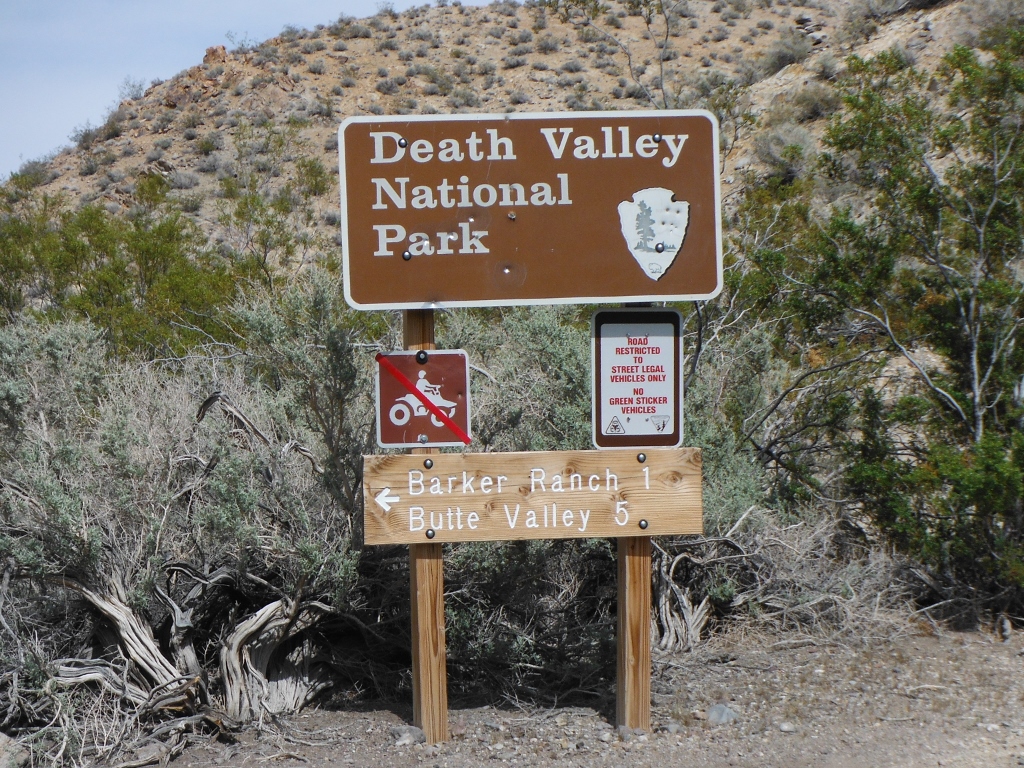 Barker Ranch is infamous as the last hideout of Charles Manson and his "family" after the gruesome Los Angeles murder spree.
It is located inside Death Valley National Park in eastern California.
The Inyo County sheriff department, California Highway Patrol, and National Park Service law enforcement captured the group
in raids on October 10 and October 12, 1969.
Manson was caught hiding under the bathroom vanity. At the time of his arrest they were unaware of the magnitude of their find.
They wanted to prosecute the persons responsible for
vandalism within Death Valley National Monument (the unit was upgraded to National Park status and expanded in 1994) further north,
unaware that they had a mass murder suspect and his followers.
Barker Ranch is located in a rock and boulder filled valley in the Panamint Range. It is only accessible by sandy, primitive and rugged roads. Streams feed this little
valley and provide much vegetation. There is a small one room guest house located to the side of the main house. There is also a makeshift swimming
pool (this was probably a cistern to store water from the spring) made from cement and rock boulders towards the back of the property.
Today the remnants of the ranch belong to National Park Service. Due to a fire in May 2009, most of the structure has been destroyed with only the cement and
rock portion of the cabin still standing. The bathroom vanity where Manson hid is gone.
Barker Ranch was built by "recreational ranchers" who moved to the desert to enjoy the solitude and simplicity of living far from civilization.
Butch and Helen Thomason moved to the area in the 1930s to try their hand at gold mining. Around 1940 they constructed a small cabin and out building,
with electricity provided by a windmill and generator, and drinking water from a nearby spring.
In 1955 the ranch was sold to Jim and Arlene Barker, who moved to the desert from Oklahoma. To accommodate their family gatherings,
the Barkers enlarged the house and constructed more out buildings.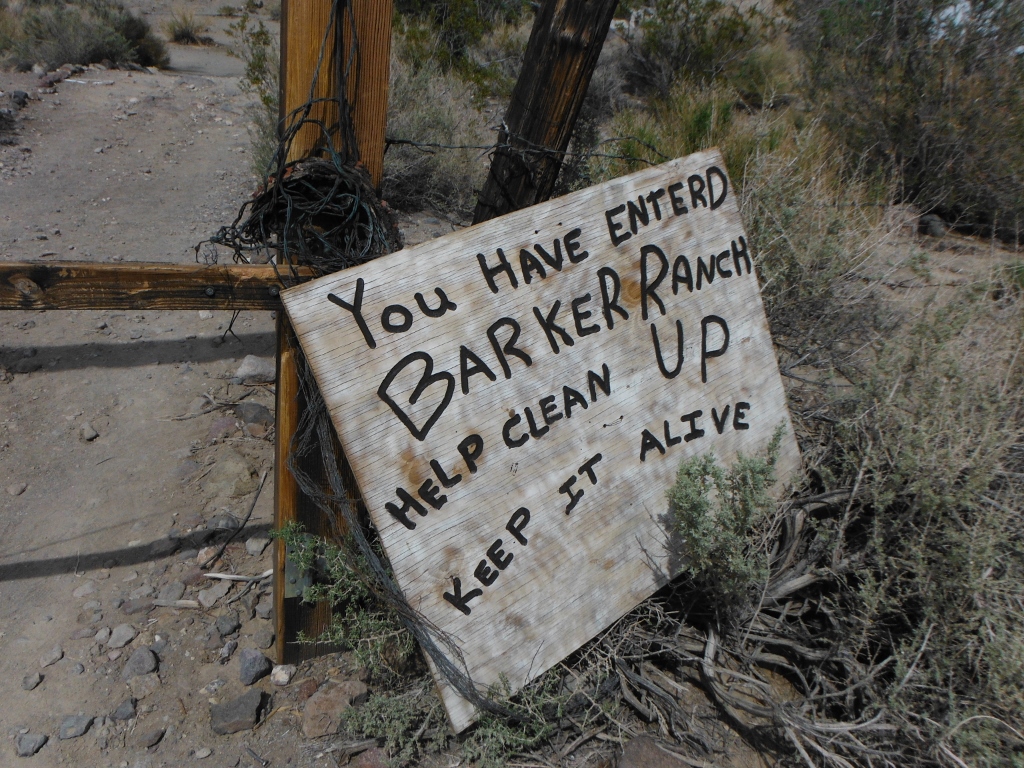 Here is what is left of the main house after it was burned.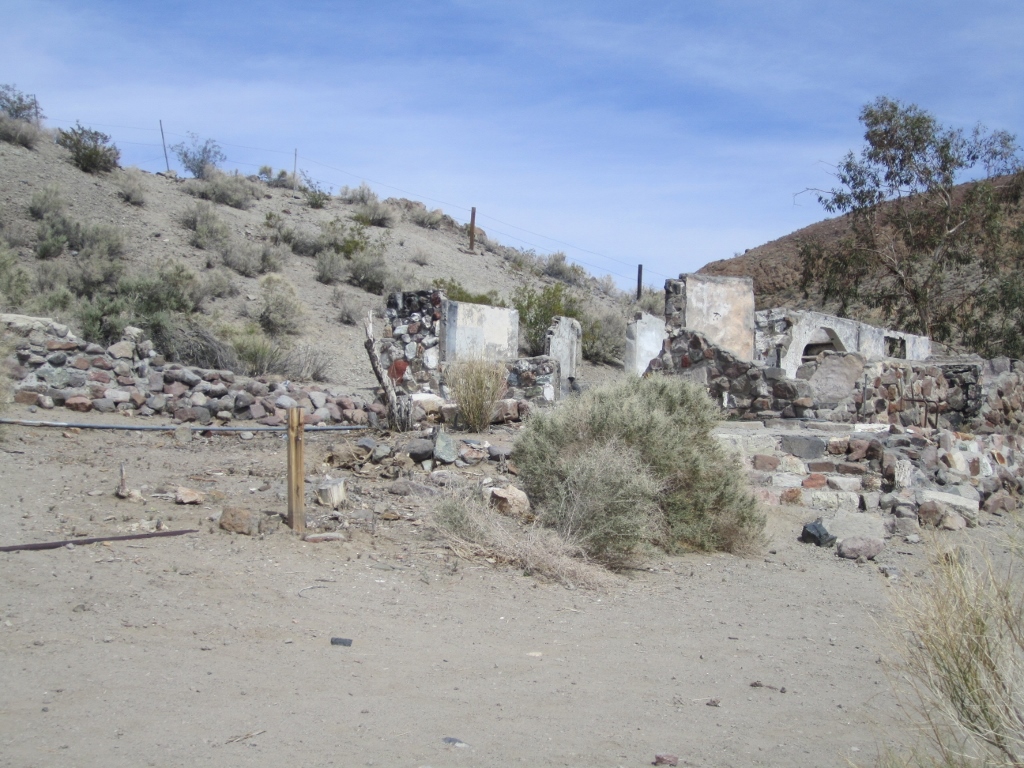 This outbuilding still stands and is in really good shape.
We didn't see any reason a person couldn't camp here and we thought about it.
But it was a little early in the day to quit riding and we had another camp spot in mind near here.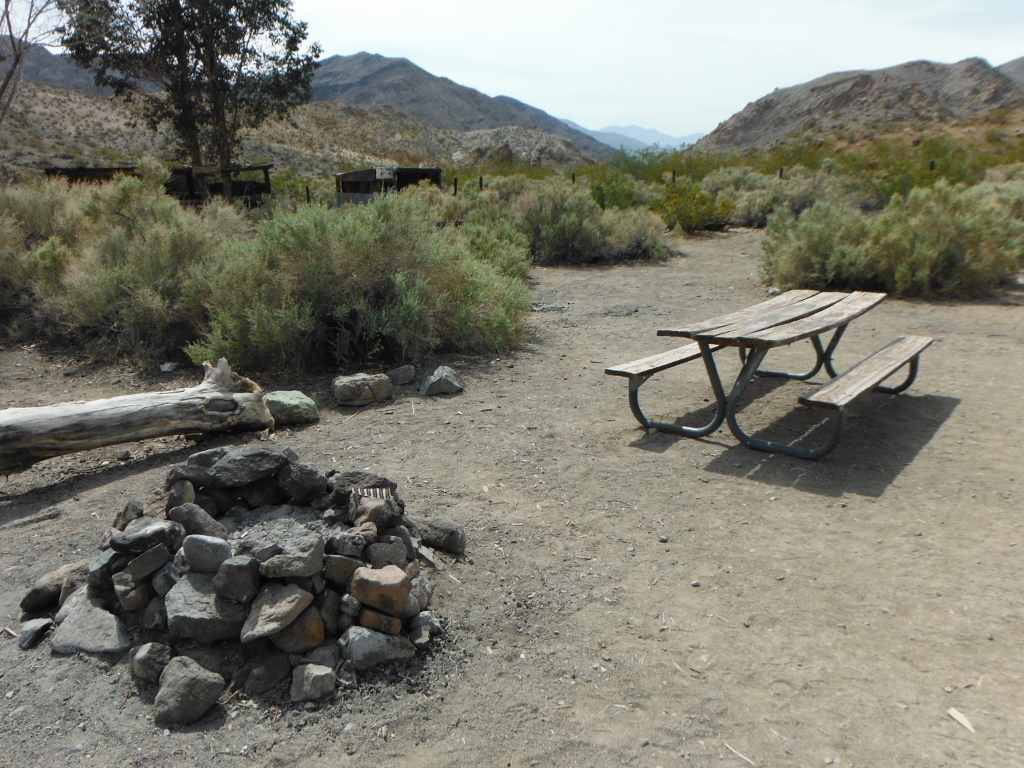 Looks like water storage for water from the spring.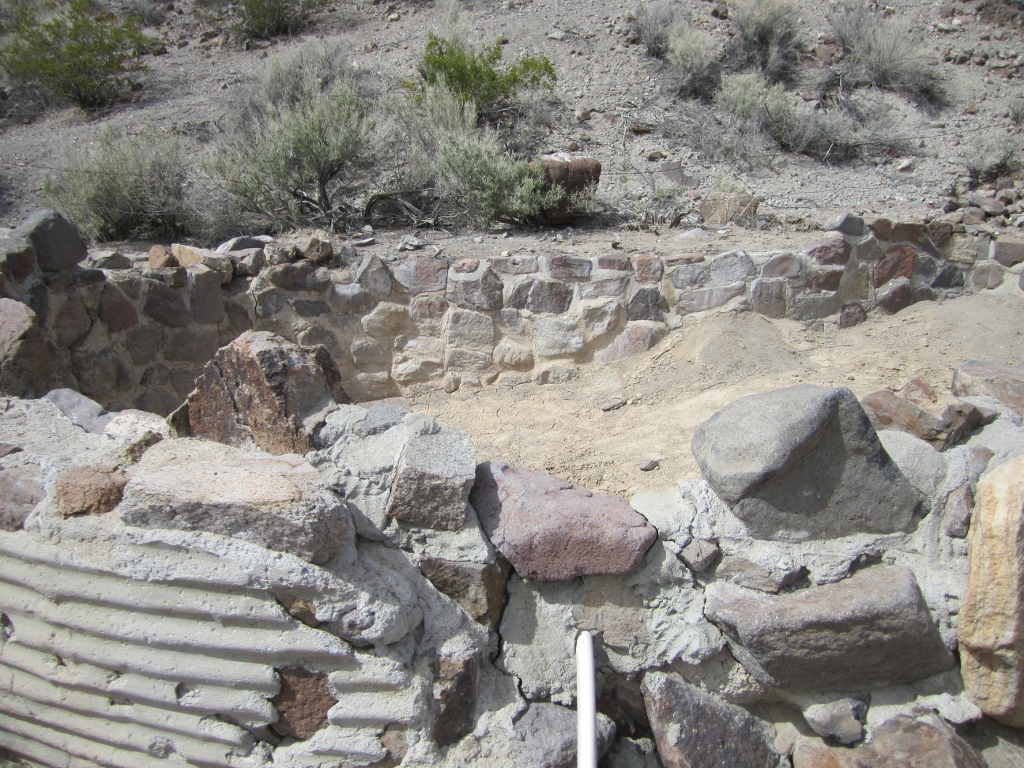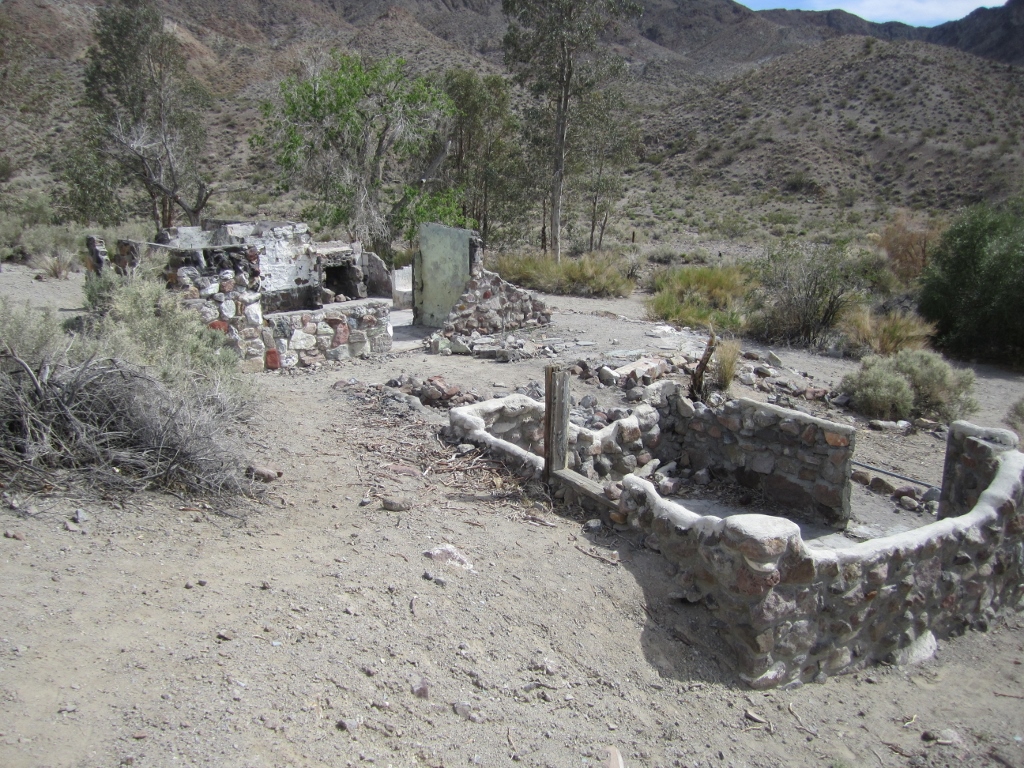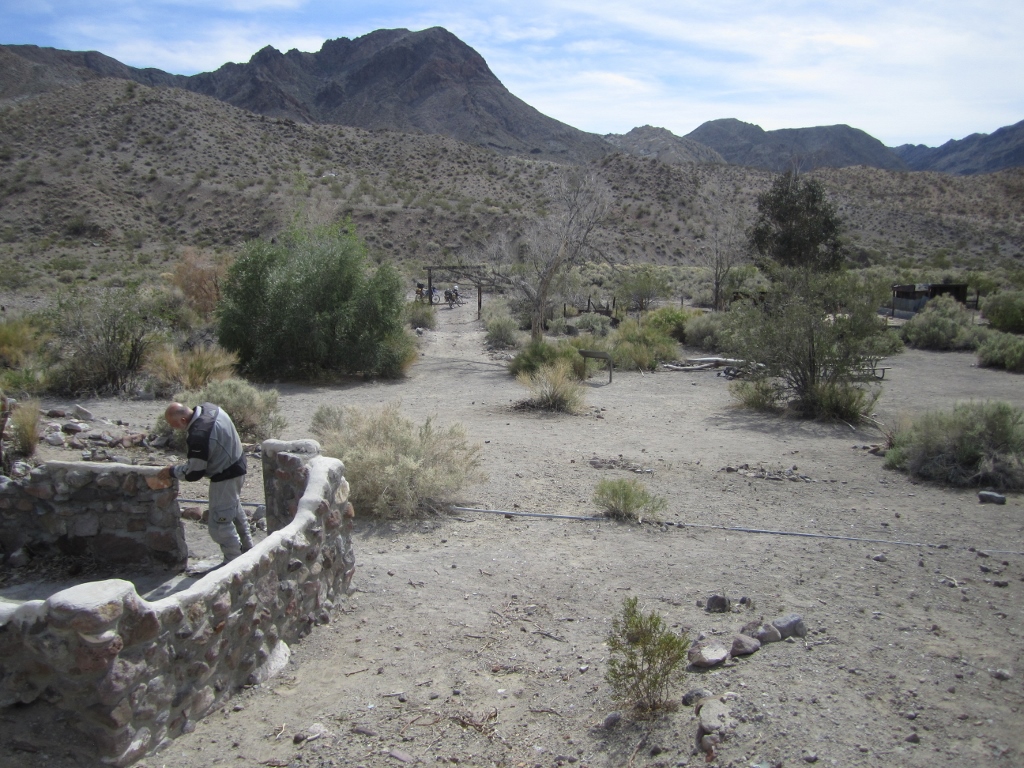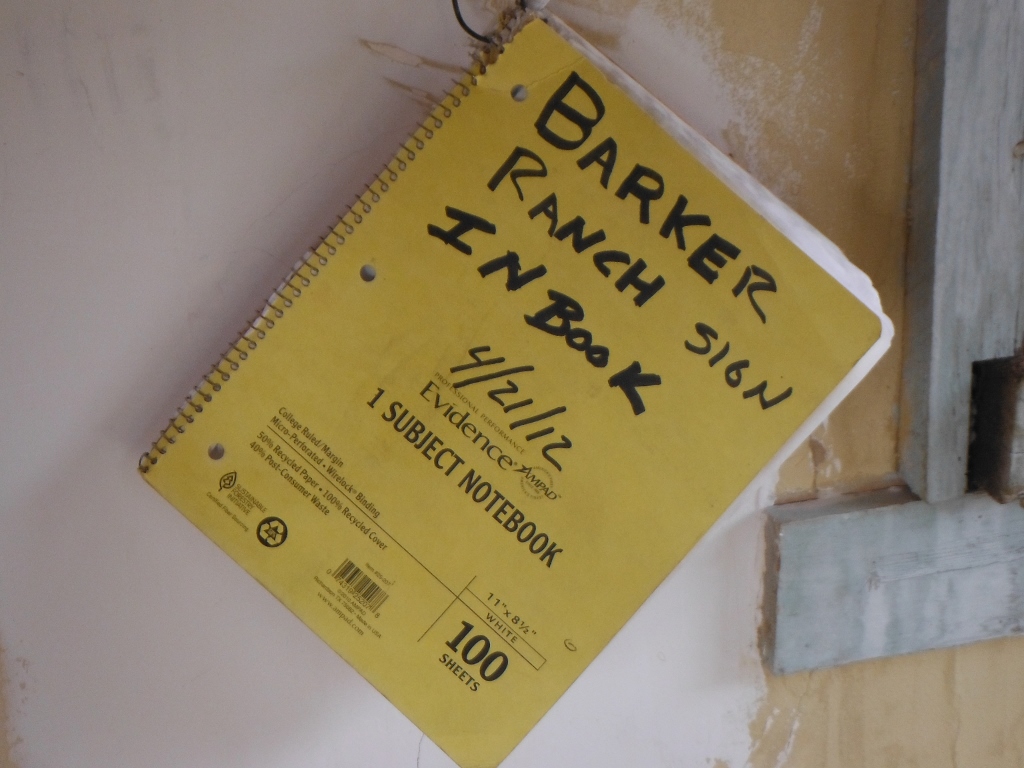 It is rumored a ghost of BigDog can be seen in the window next to Charlies picture.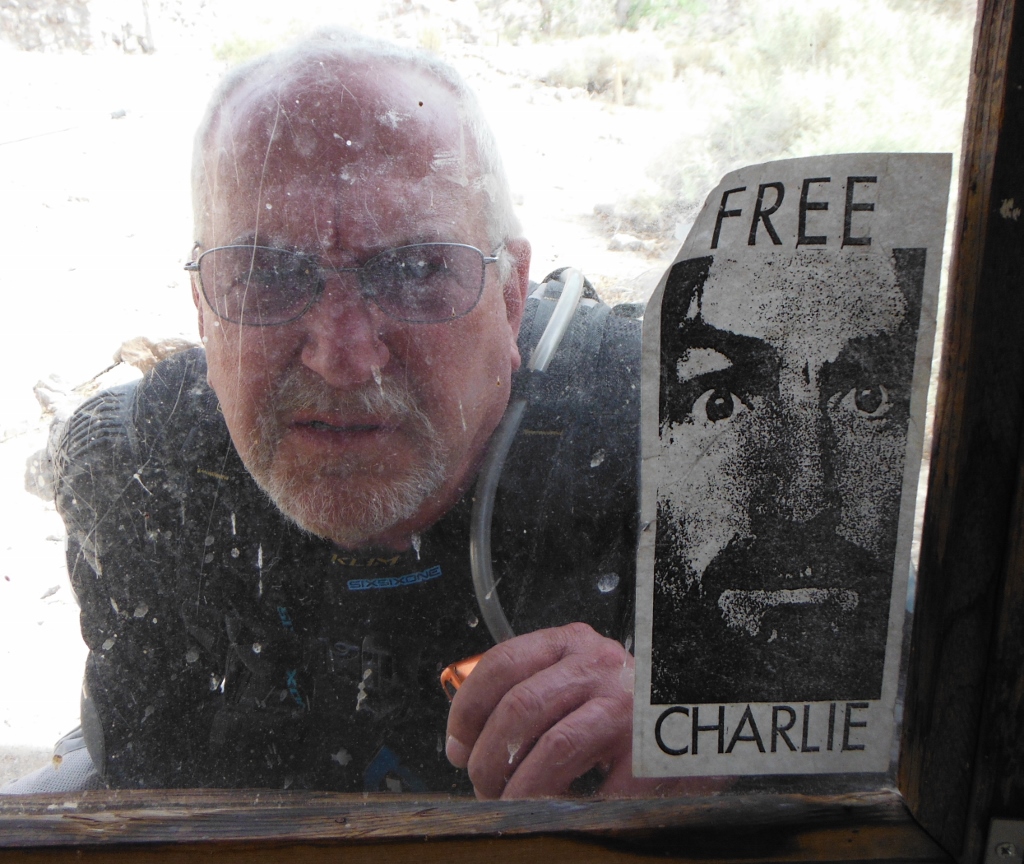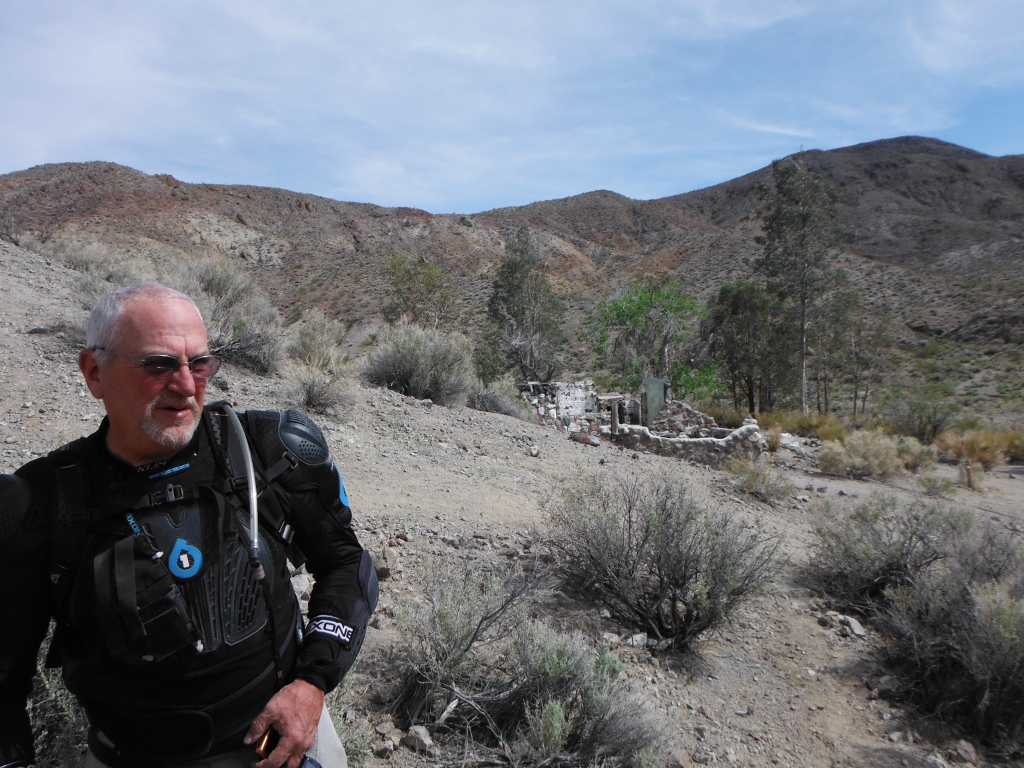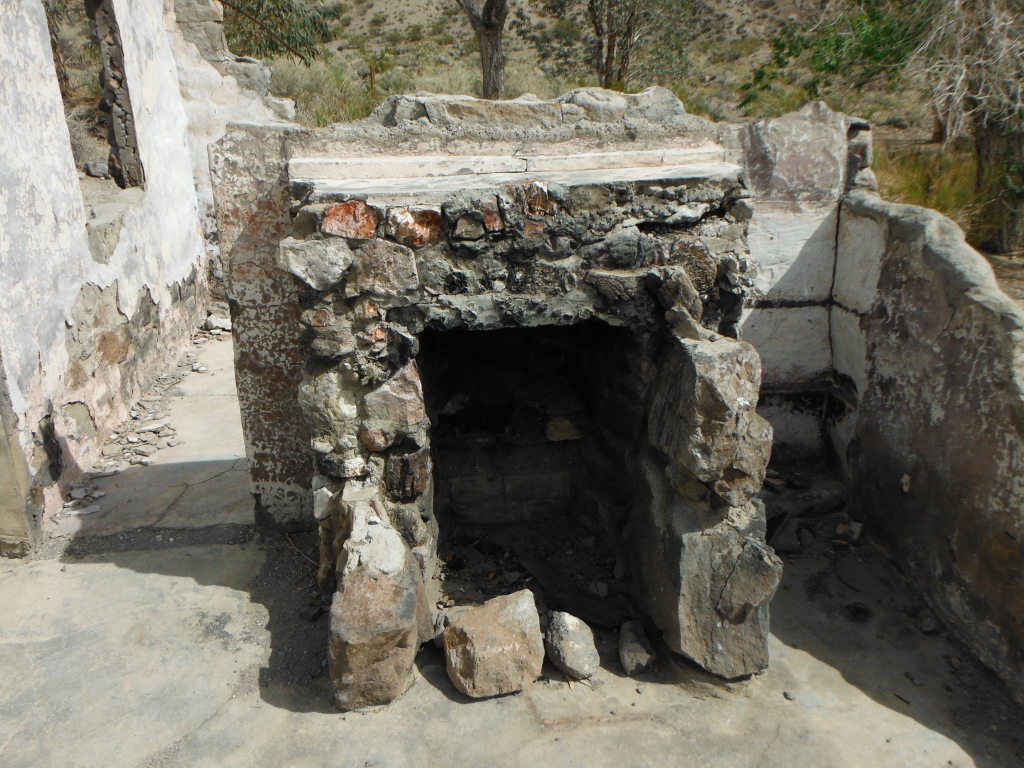 Lot's of stuff to see and ponder at the ranch.
Of course living out here would be totally impossible without a source of water---spring were everywhere in Death Valley.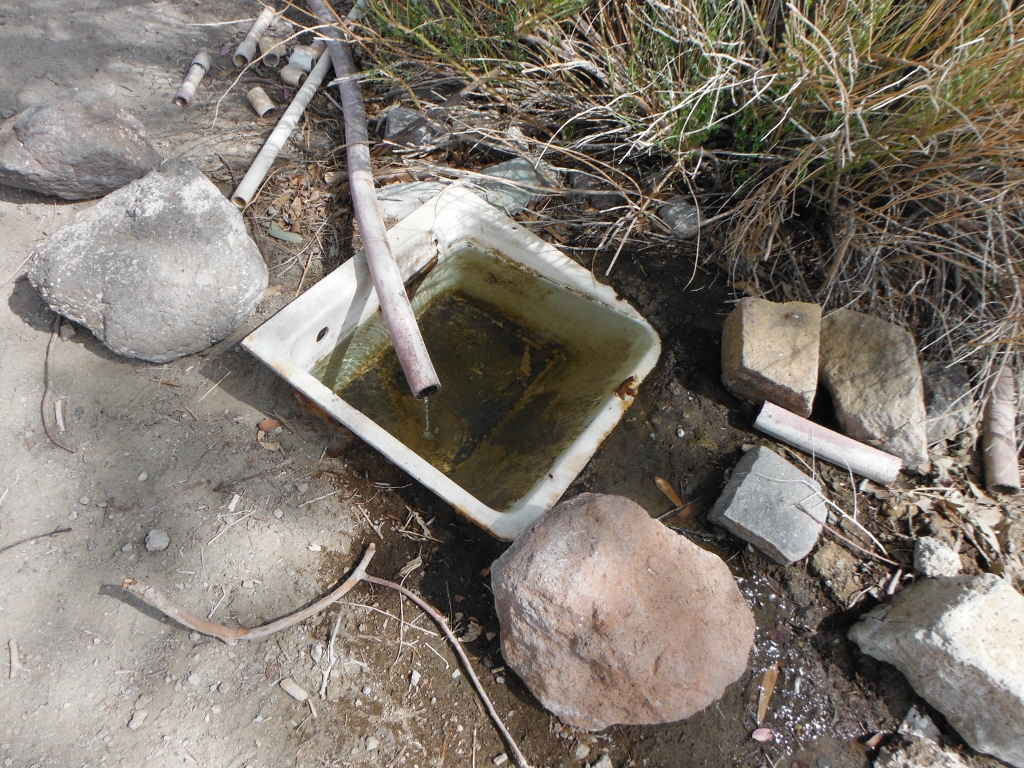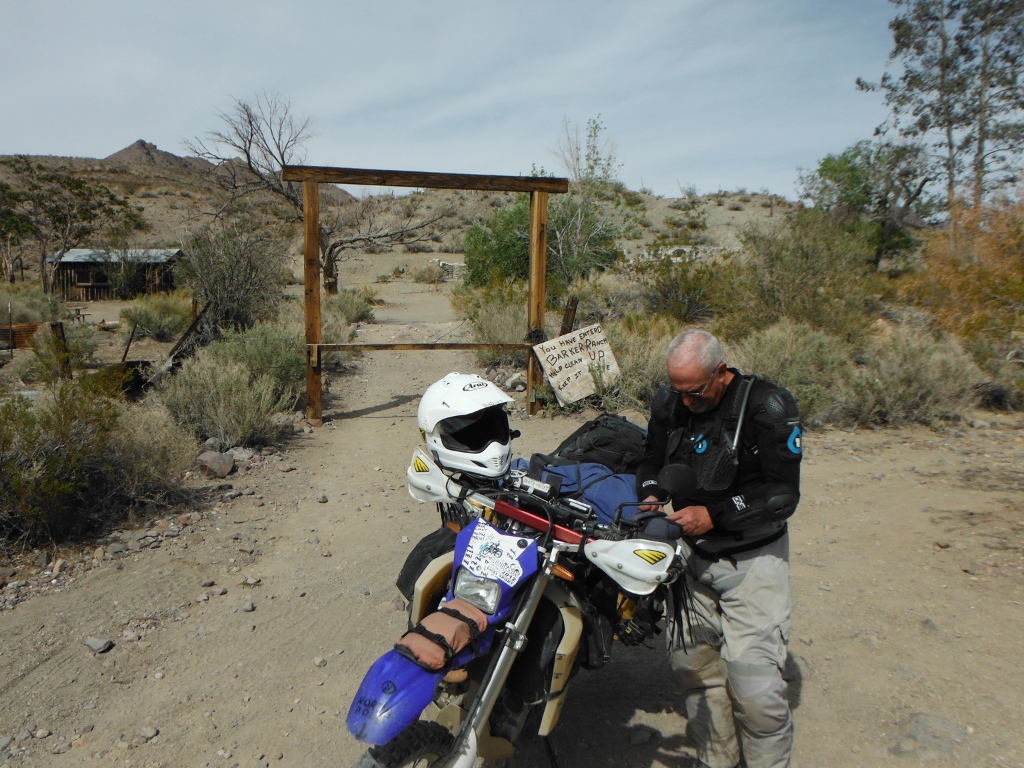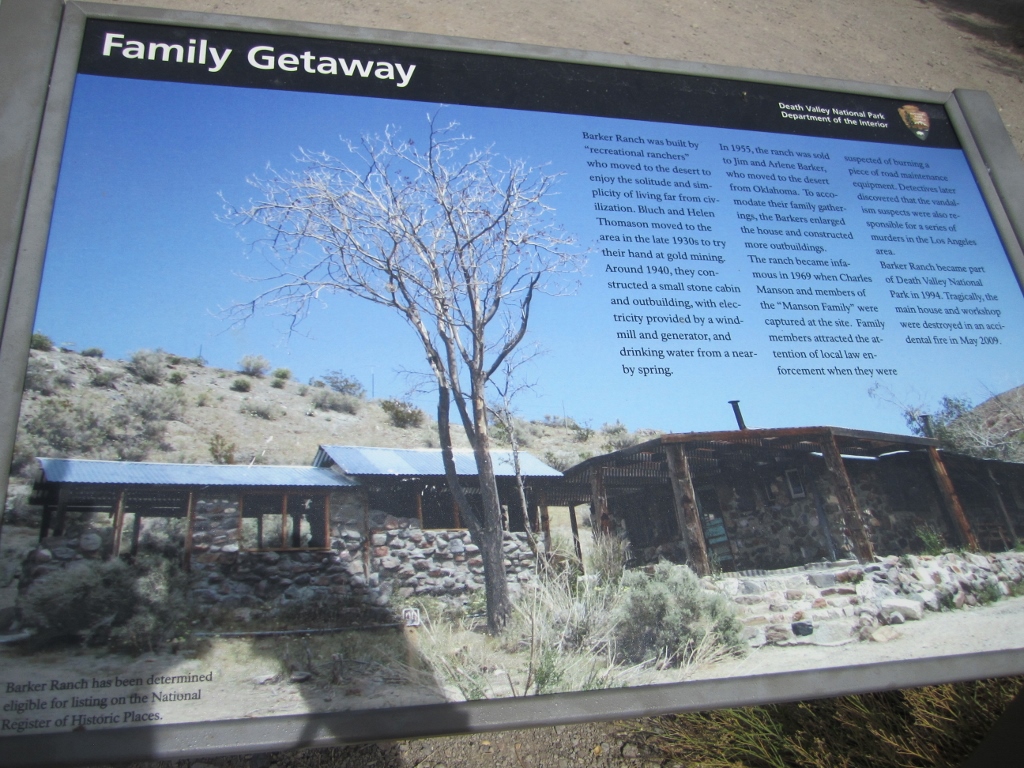 We were on the Mengel pass road-----and Scott got this picture somewhere---but I don't remember even seeing it.
We summited Mengel Pass and this steep downhill freaked both of us out and we helped each other push the bikes
thru these big rocks.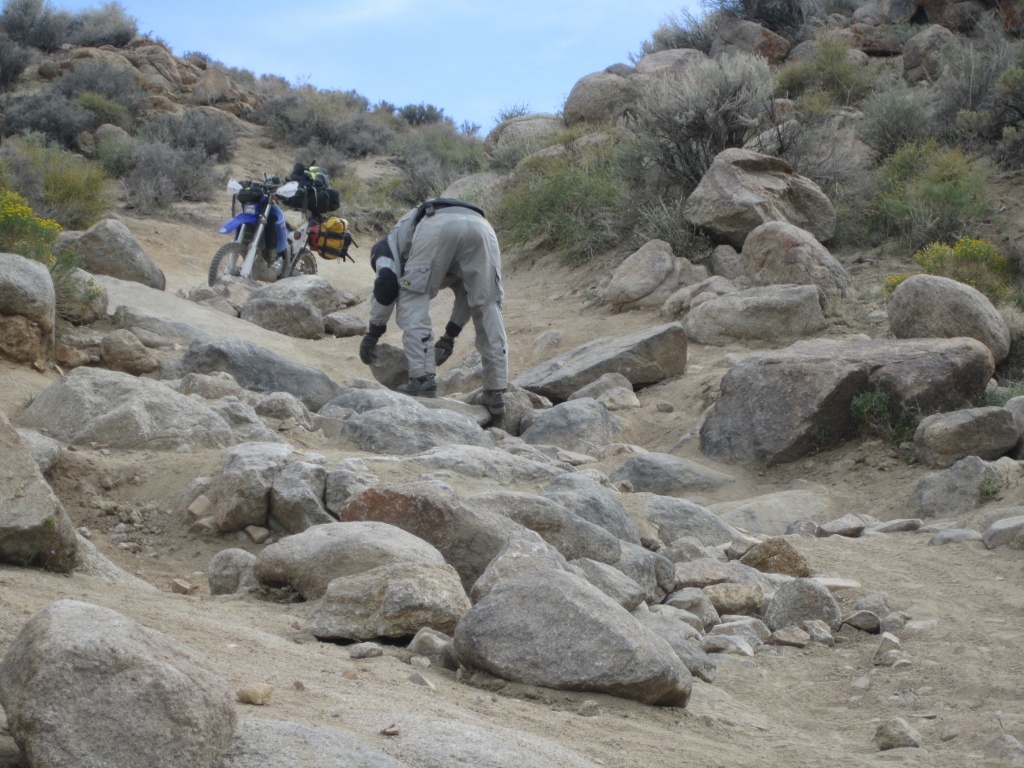 As soon as we got passed the rocks a bunch of jeepers went up it.
Really nice bunch of guys.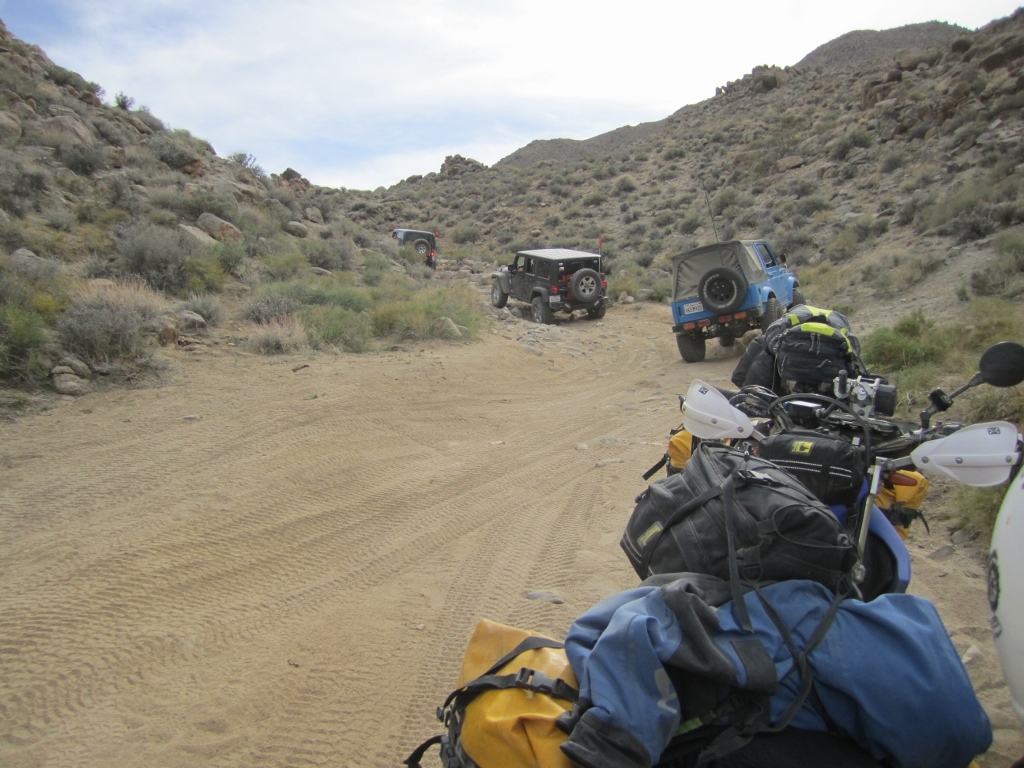 Right out there somewhere I had waypoints of 3 old cabins----we'd try to find one to stay in for the night.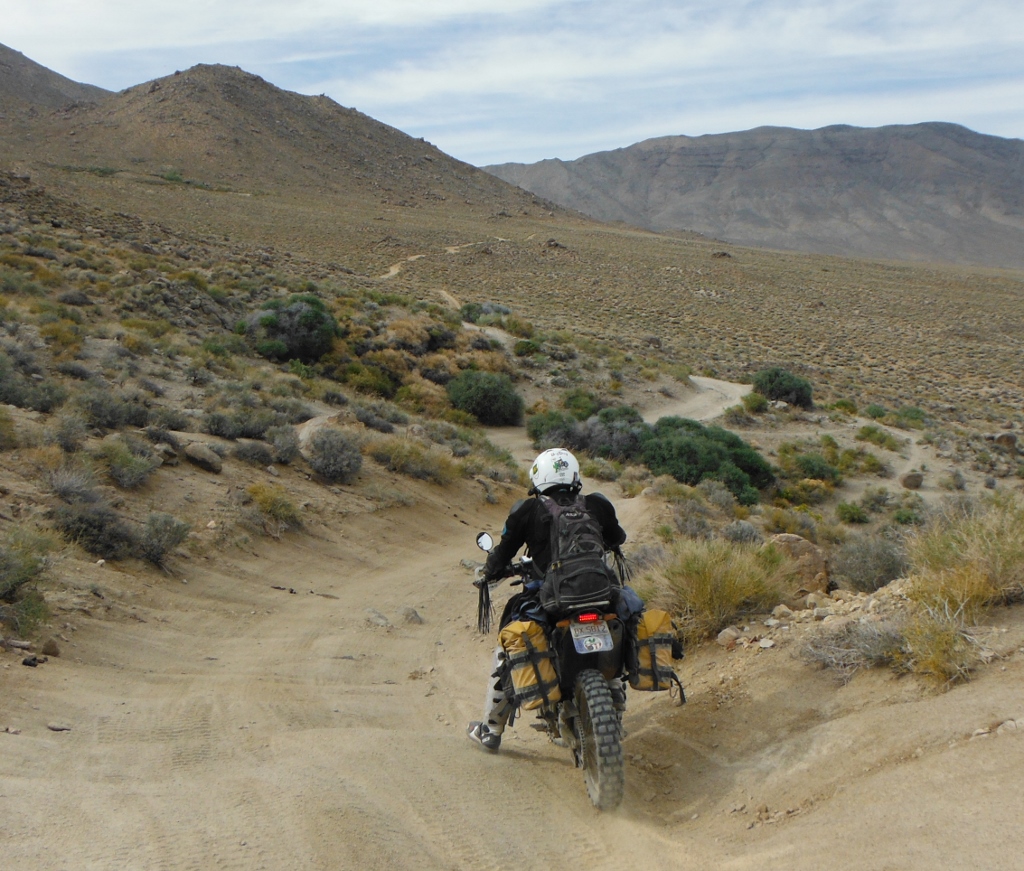 This was the first cabin we saw---but we didn't stay in it.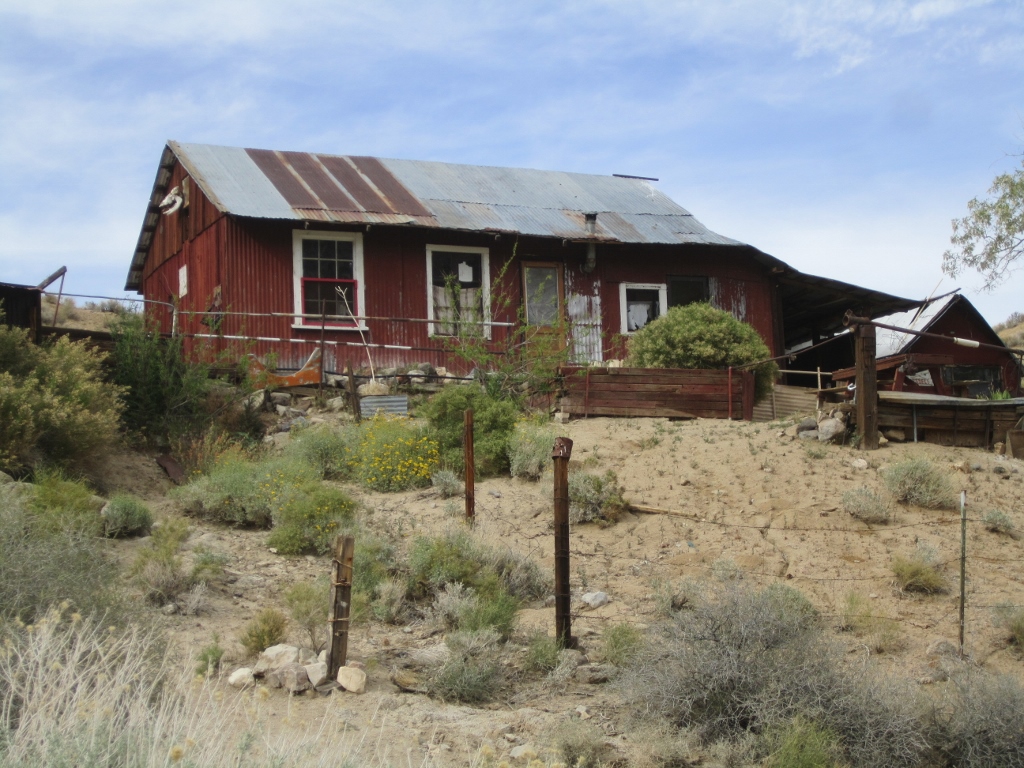 This is called "Stellas Cabin"
It was built in 1889 my Mormons---abandoned ---then Stella and her husband homesteaded it for many years and
tried to strike it rich mining gold in a nearby mine they dug themselves.
Here husband died and she stayed there many years by herself with no connection with the outside world.
She didn't die here tho---I guess she moved or someone finally moved her out befores she died.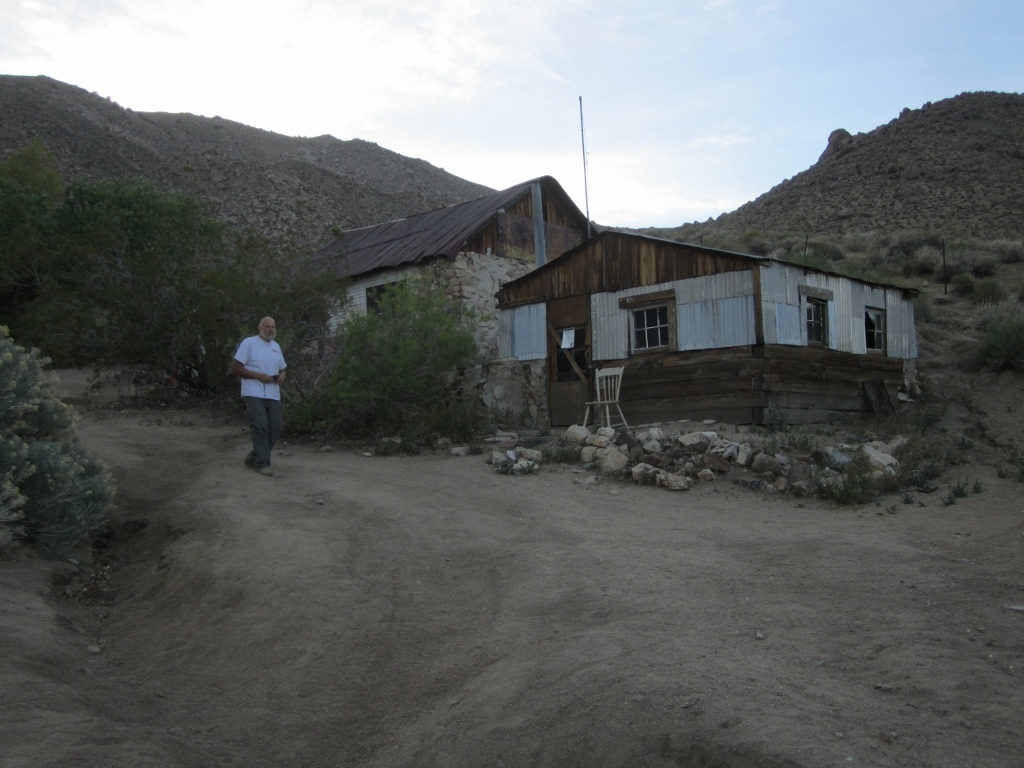 We camped here and it was so surreal as it made us feel just like it was 1889.
It had a woodstove and sink---the faucet actually worked and was fed by a spring uphill of the cabin----we drank it and cooked
our dinner and coffee the next morning with the water.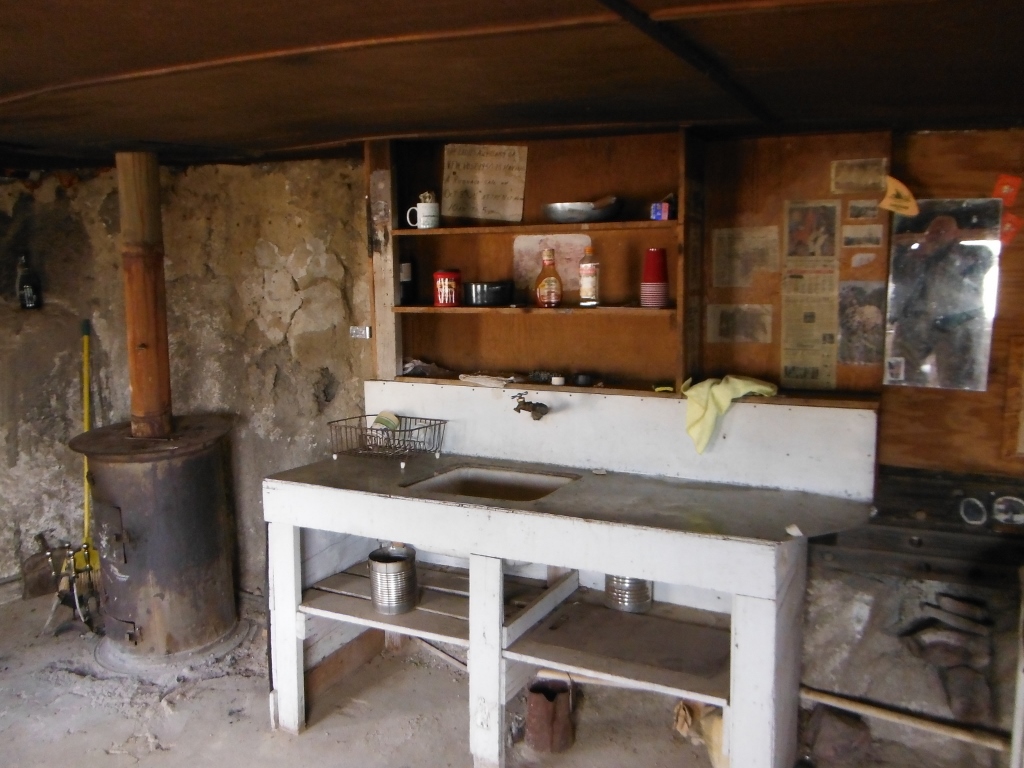 There was a nice llittle lean-2 out back and I cut up some wood with my Sven saw and cooked some chile for dinner.
Scott is a very avid outdoorsman and seriously just wanted to move in this place.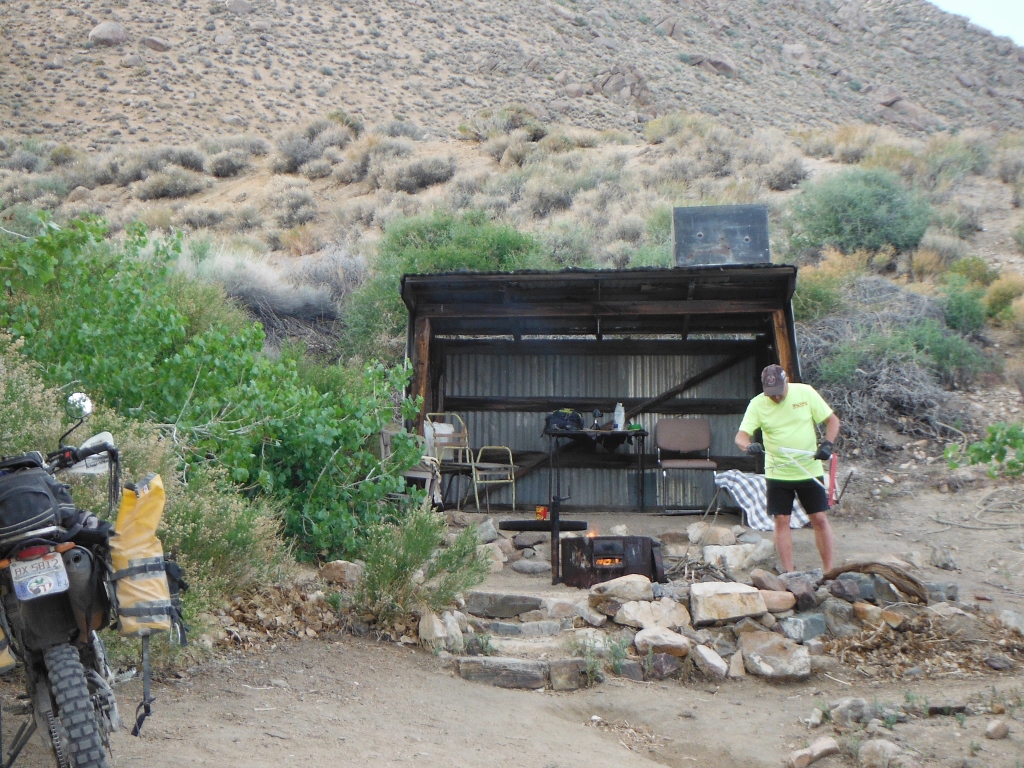 We hung our stinky clothes out to get a little air.
We hung them on some old motorcycle chains.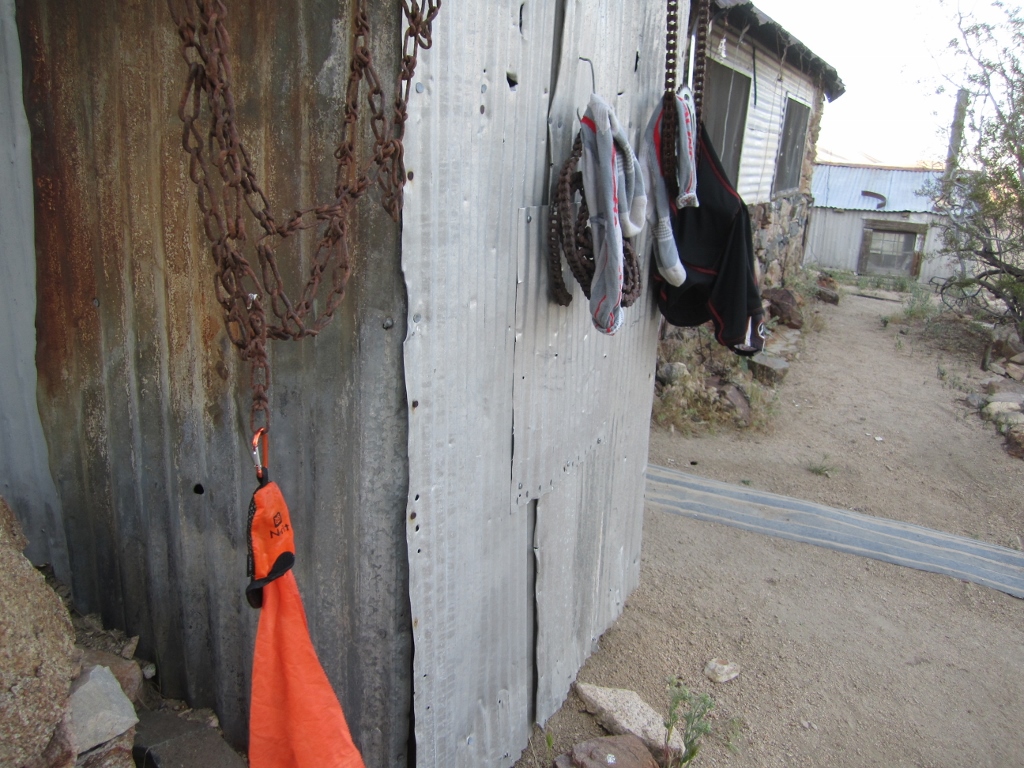 We had our own personal chairs.
They were kind of hard to pack---but were comfy at night around the campfire.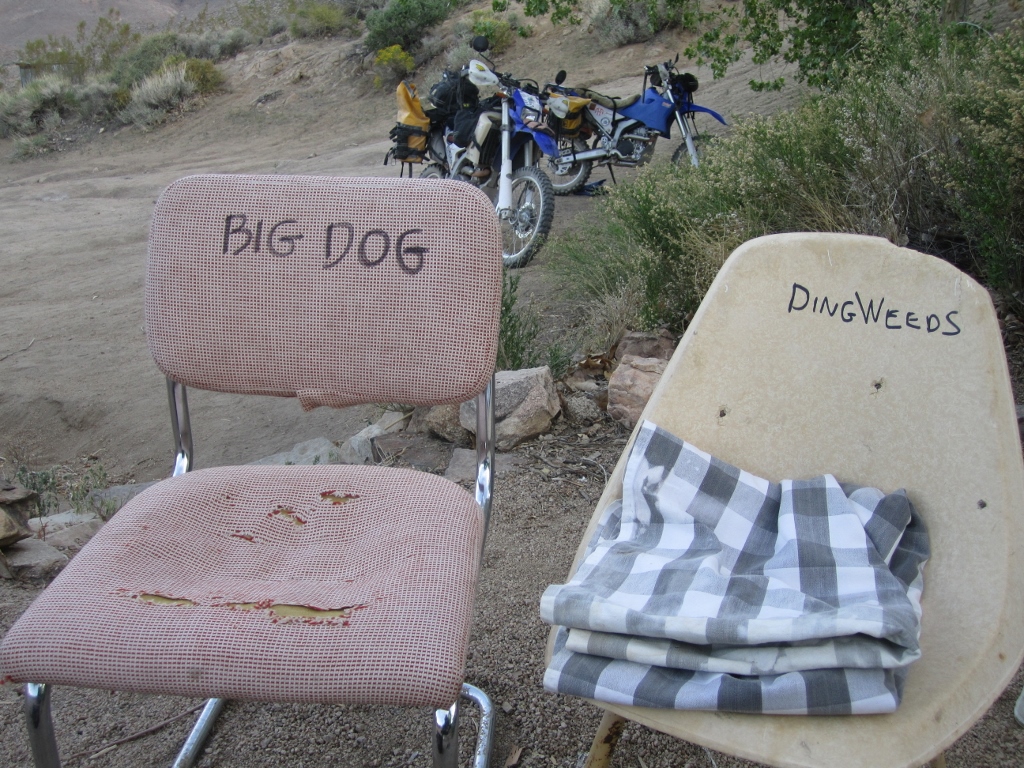 This striped rock was in our view from the cabin and is one of the most beautiful sights in the park.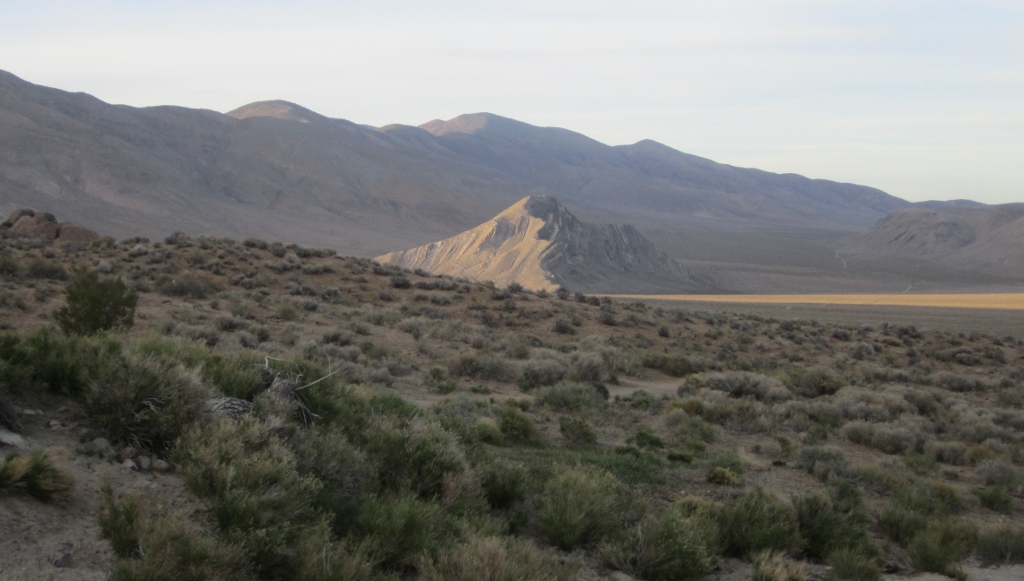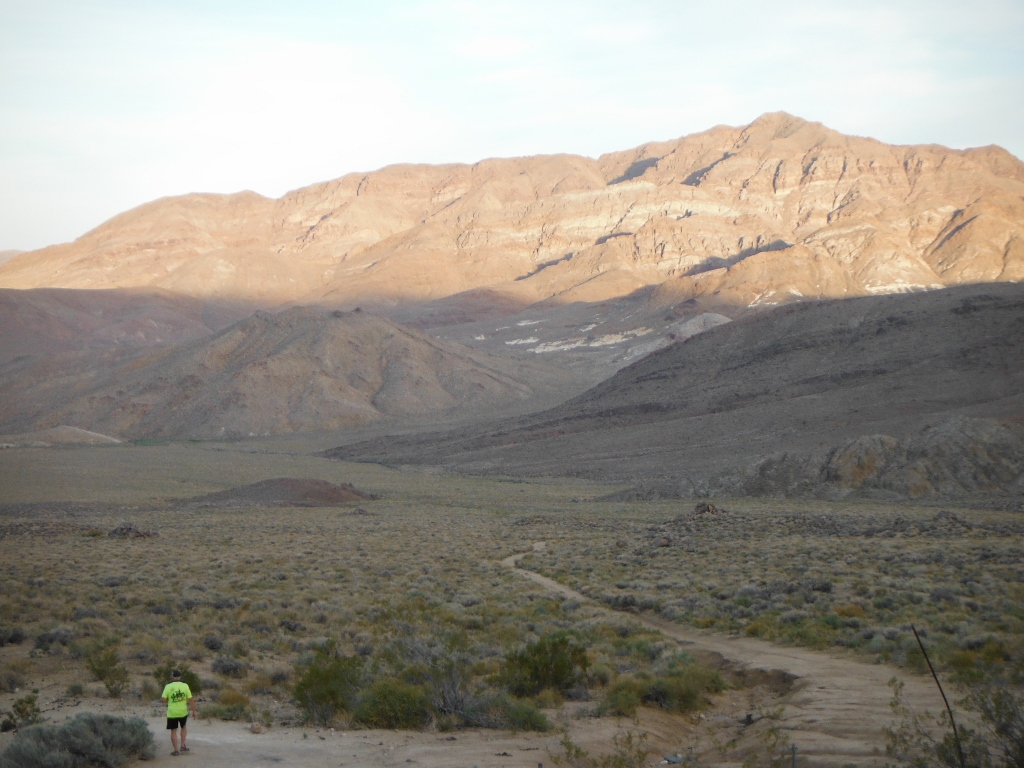 If you look really hard you can see the little dirt road we took out of here the next morning.
What a magnificent view----we walked around for at least a couple hours admiring the view.
There were a few burros wandering around down in the valley.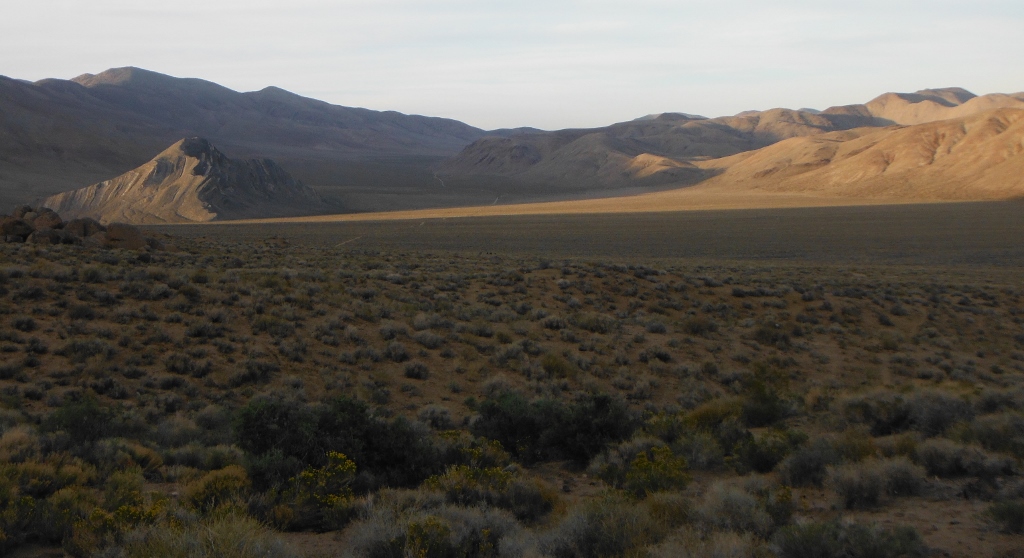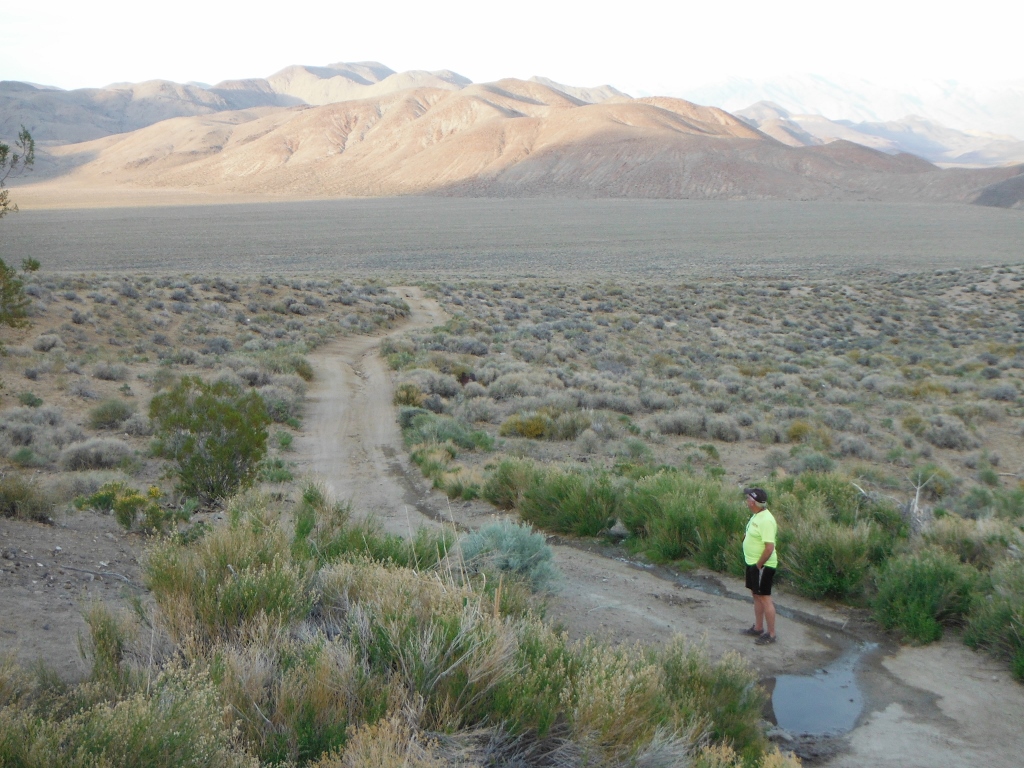 Goodnight Scott---------Goodnight Mark.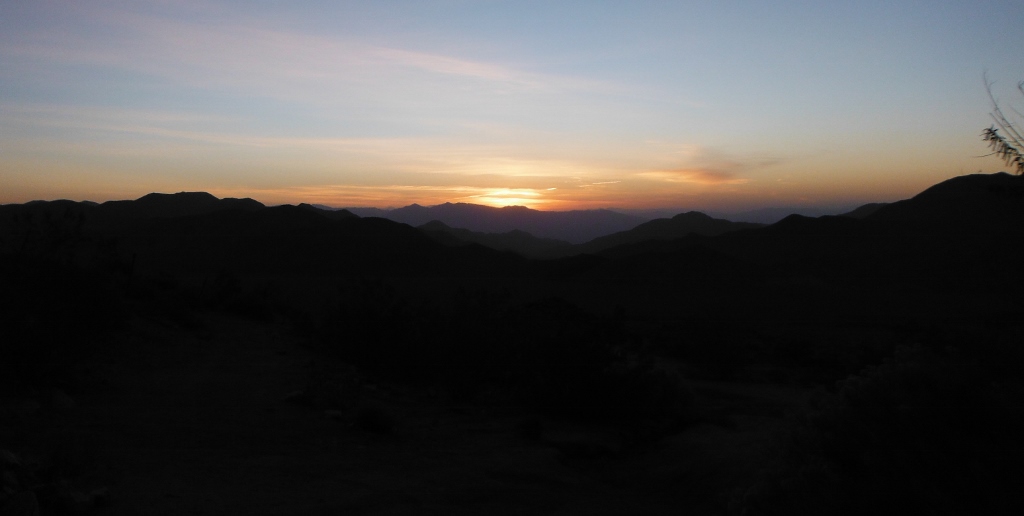 A rough map of our ride today----about 155 miles.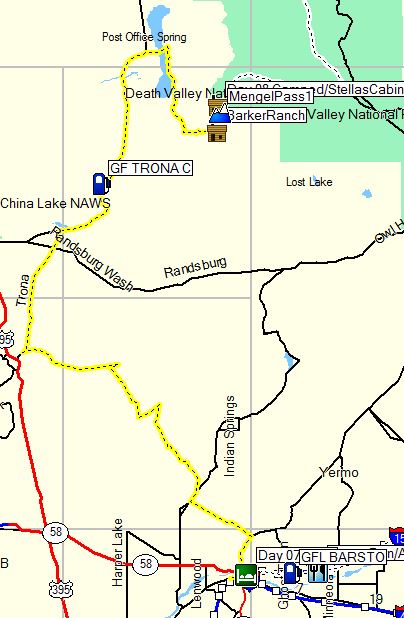 To go to Day 9 and the finish

Click HERE