My Retirement Ride
Starting May 17th, 2012
This ride includes a 2 day ride with my buddy Bill Asher down to Corinth Mississippi where me and him get to hang out and ride
with Sam Corerro who created all the Trans America Trail routes--then we ride an appreciation ride with him around Mississippi
put on by Sam and Lake Hill Motors (a great--big bike shop in Corinth) who were celebrating their 50th anniversary.
Then I head off East with a guy I met on the ride (Roger Webb) and we ride the brand new Tennesee portion of the
Trans American Trail---then I head off alone further East and ride some of the TET (Trans Eastern Trail) that's been the
labor of many riders out East----I thank them for that one.
And of course--------I wing it a little.

A video of the new for 2012 Tennessee Trans America trail is available HERE
It does not include all of the ride depicted below---just the Tennessee TAT part.
Buy first I want to share my last day of working---which was also my 61st Birthday !!!
Then I load my Yamaha WR250R up and take off for a ride---a very good ride.
I've been working on a brand new 250 Bazillion dollar new hospital in my hometown and here is the cart I've been pushing around this jobsite for
over one and one half years with all my tools--------and my special addtition "BigDog" lunchbox.
I've worked as a pipefitter for most of my career---but worked as a plumber on this job as I have a Illinois state plumbing license---well I did.
I threw the $100 renewal in the trash not long ago. I won't be needing it.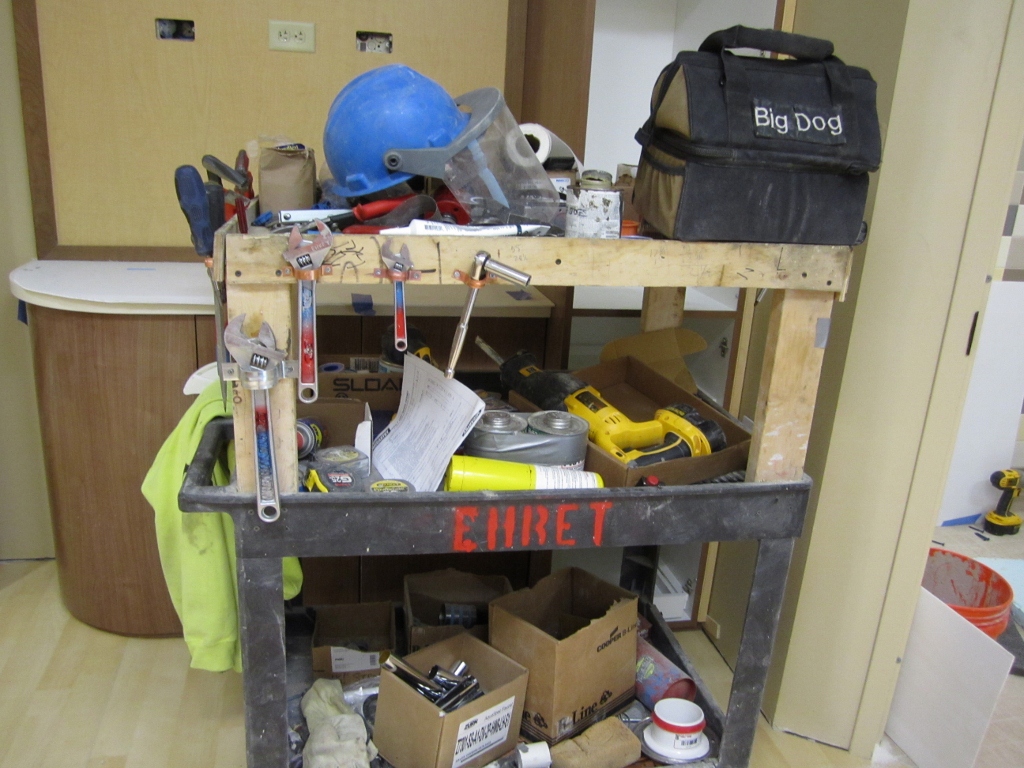 A little picture of the plumbing fixtures I was setting---me and my working buddies had roughed all the pipes in the walls months ago.
Now it's time to set and hook up the fixtures.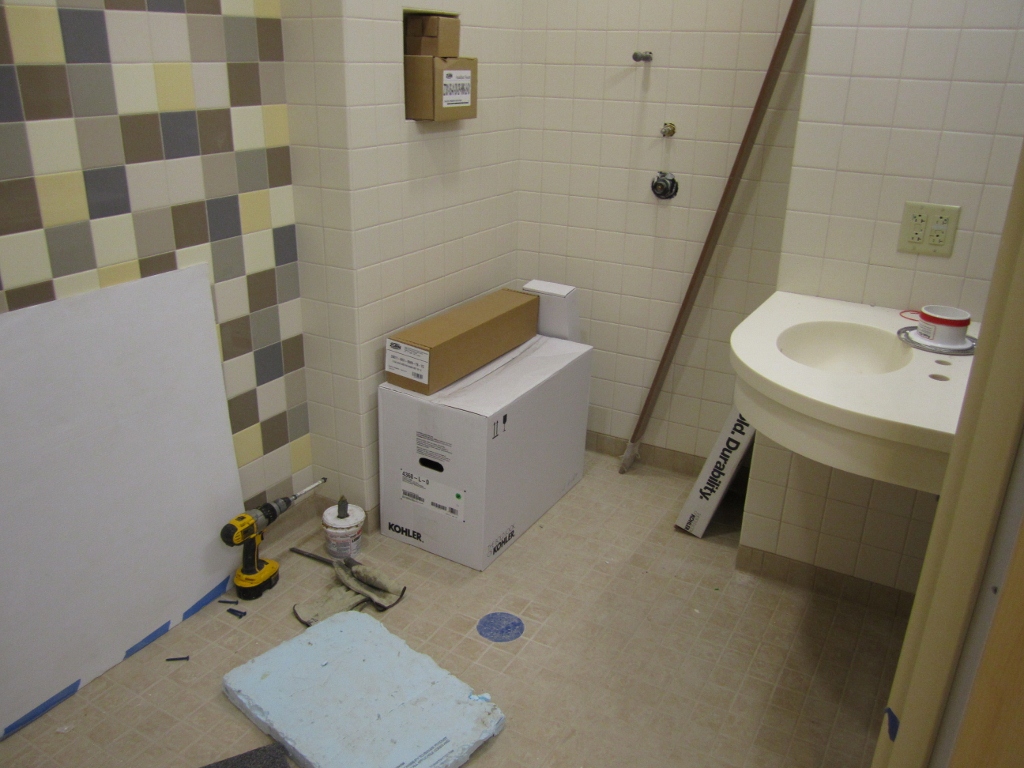 My good friend Eldon Frazier who has been my foreman for months on this job--he's retiring soon.
In fact I guess I inspired a lot of guys to retire on this job---they got tired of looking at that huge smile on my face everyday.
Maybe they were glad to see me go ?????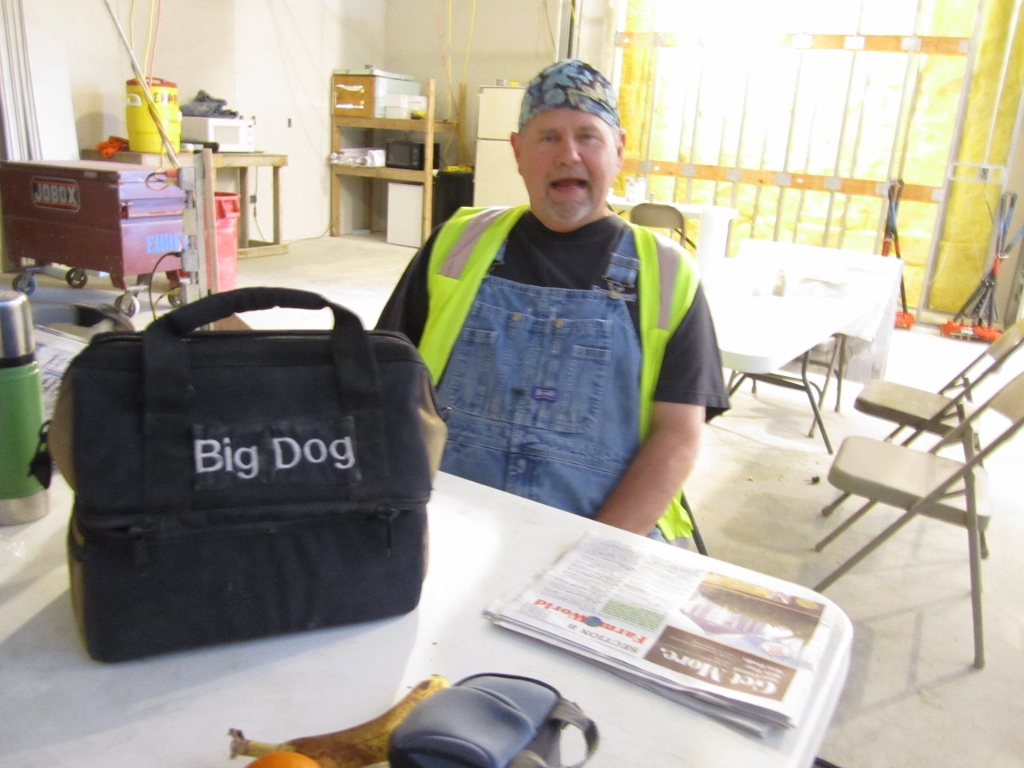 Left---my general foreman Mike Mcgee--me and him started this job--just us 2. And it was just me and him for a long time.
He has been my foreman before on big powerplants and is a great guy and a credit to our Local Plumbers and Pipefitters union hall.
Right---Steve Lambert---didn't know Steve till this job---we were working buddies for a long time on this job and became good friends.
These are guys I will never forget.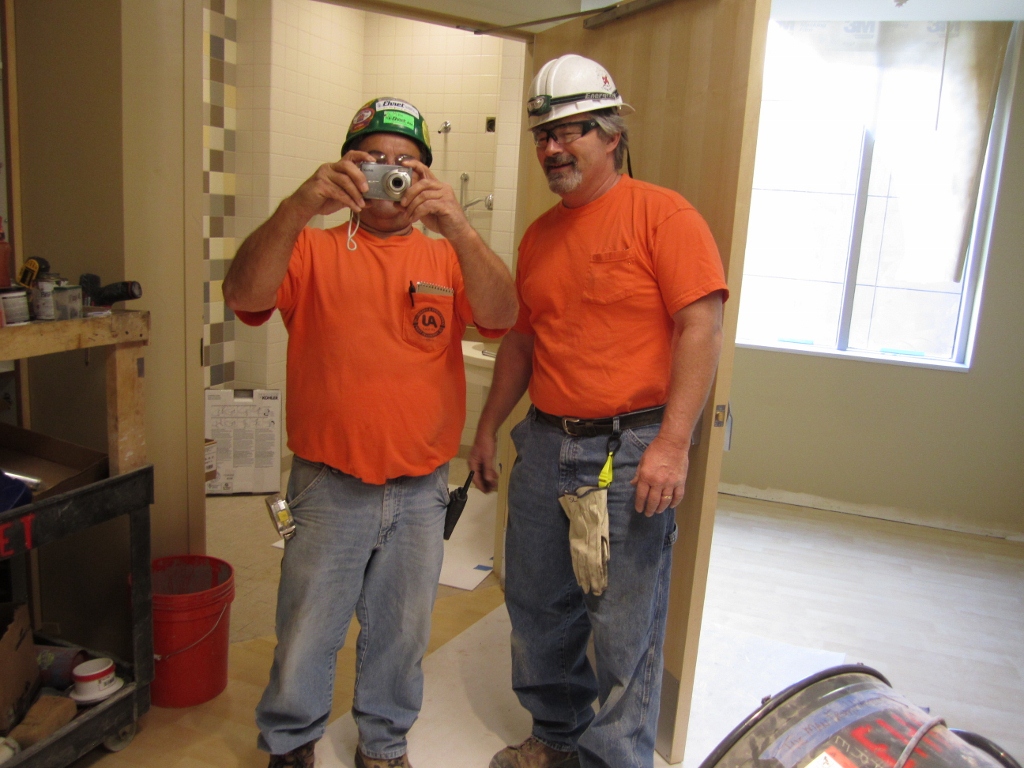 On my last day---something was in the air---something special---something I've never before seen on a big construction job before.
The guys had prepared a special day for me that had me teary eyed more than once.
Feb.15th 1974 I was sworn into the union hall-----May 11th, 2012 was my last day.
37 years of employment that provided a good job for me and my family. It was hard to say goodbye.
Mike got the cake made and looked thru all kinds of stuff to put on my cake as the girl showed him all kinds of bikes and Harleys to put on my cake.
Nope that won't do for the "BigDog"---------"you got any dirt bikes to put on his cake" ????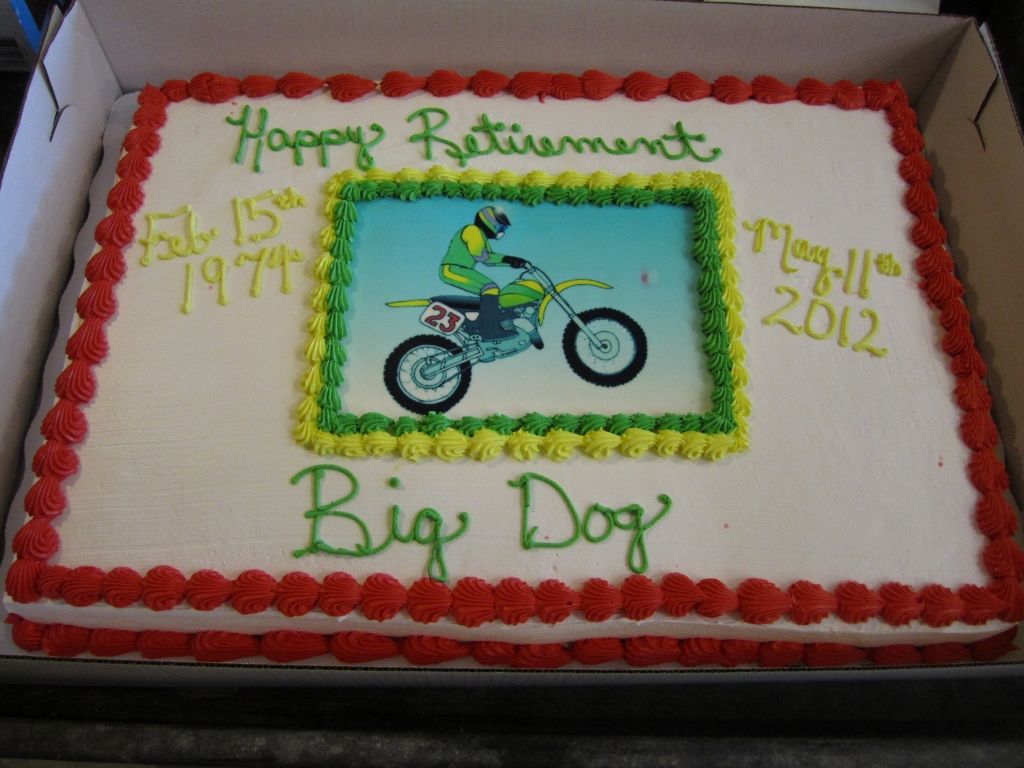 All my local buddies signed my card and I couldn't believe they took up a collection for me.
I thinkin' it's for gas money for my bikes---that do you think ??
I really wasn't comfortable excepting this money and never heard of any retiree getting this treatment.
I was so happy and this just told me I had a lot of good friends that liked me and I had done a good job.
It's hard to hold back tears in front of 40 burly construction workers.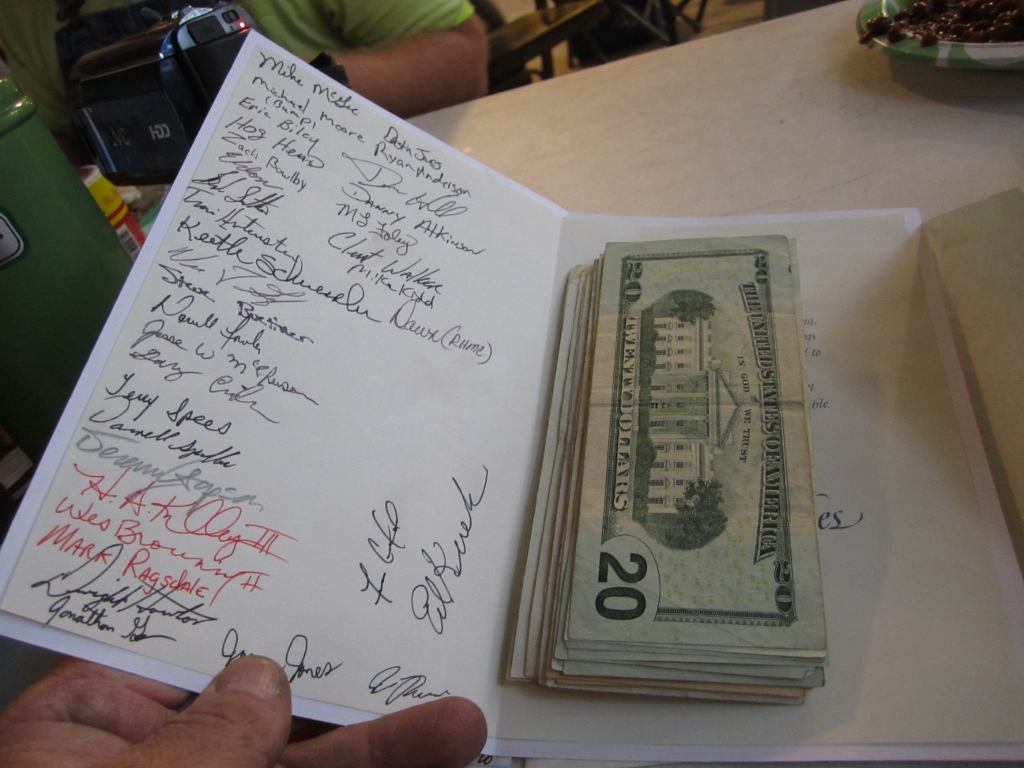 Then we had a nice meal at lunch---pulled pork, cooked by my working buddy steve and all the fixin's.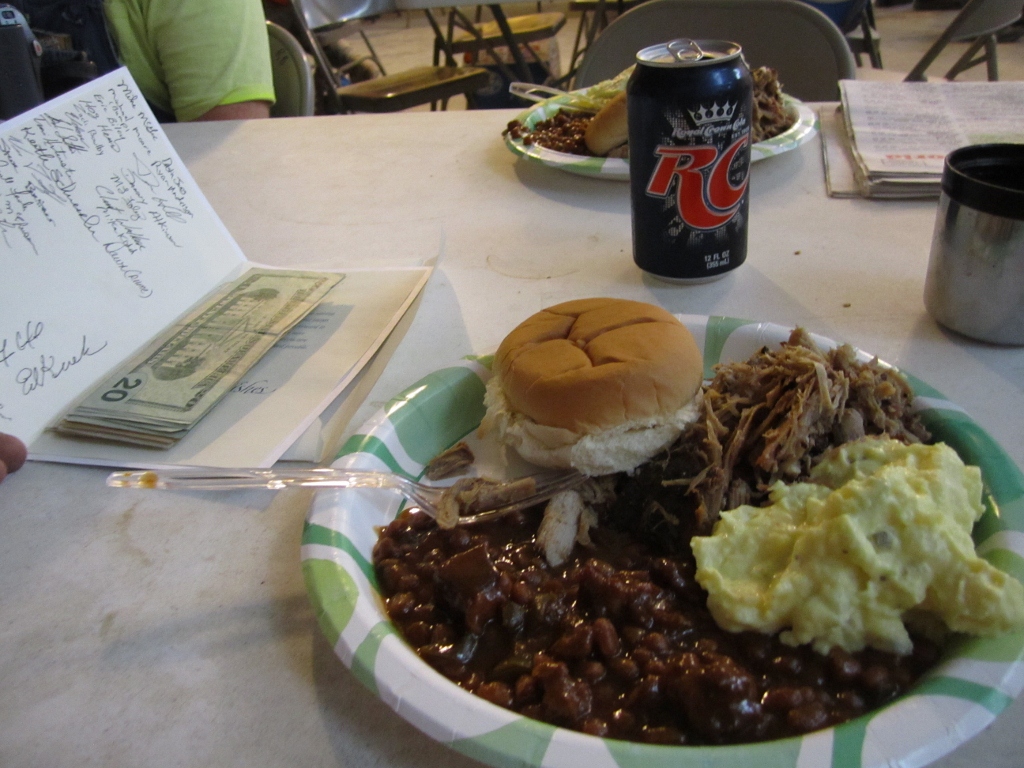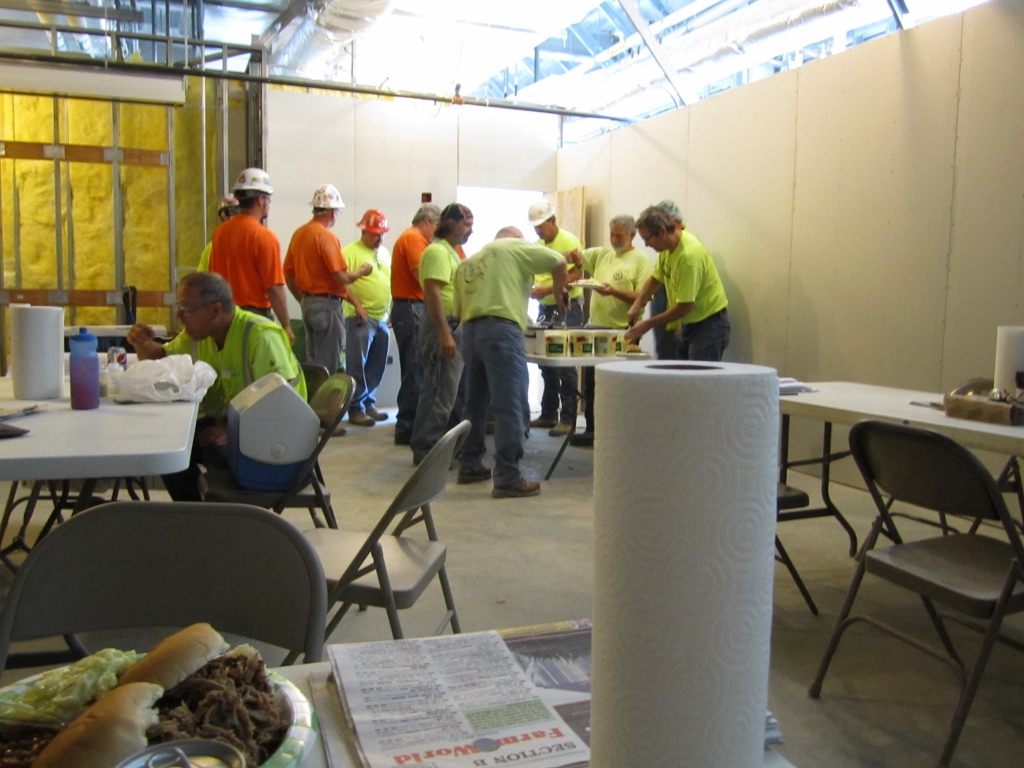 I walked out the buildng for the last time and I smelled a rat ??? No I hadn't farted.
Everybody was eyeballin' me as I went to my bike.
Happy retirement was written on the clear packing tape---it and the danger tape completely engulfed my bike.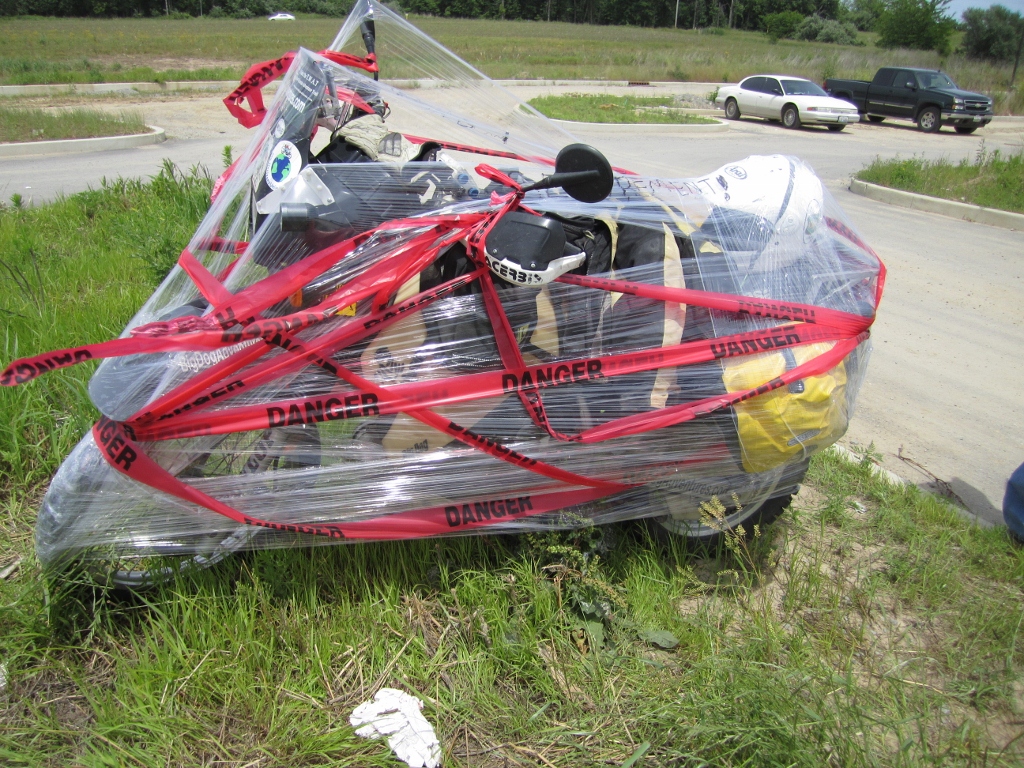 I always throw my hardhats away--but kept this one--you can see I was counting down the days to retirement.
As I left the building everybody shook my hand and wished me well---guys in other trades I'd been around for almost 2 years.
It gave me a warm and fuzzy feeling and I had tears in my eyes again when I got to my bike and looked up on the roof as guys were
waving goodbye to me. I'll never forget that------ever.
I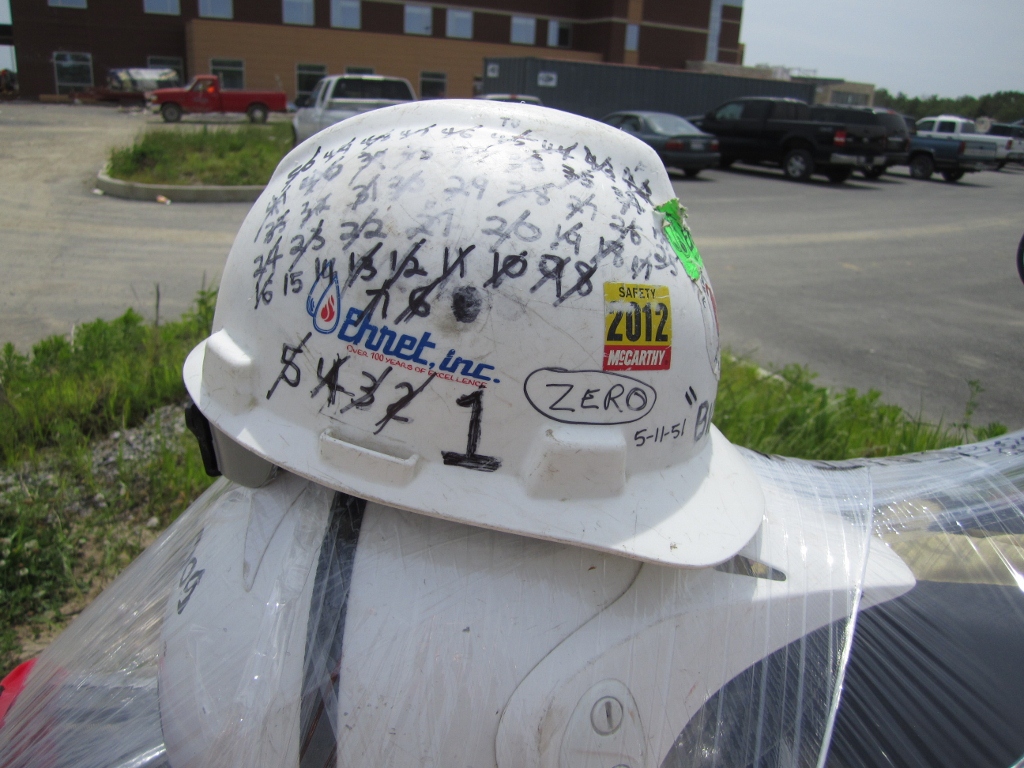 So my wife wanted to throw me a combo retirement and Birthday Party---it was on--the weather was supposed to be great at BigDog's
and Mrs. BigDog's house. I used to fit in that shirt-------used to I said !!!!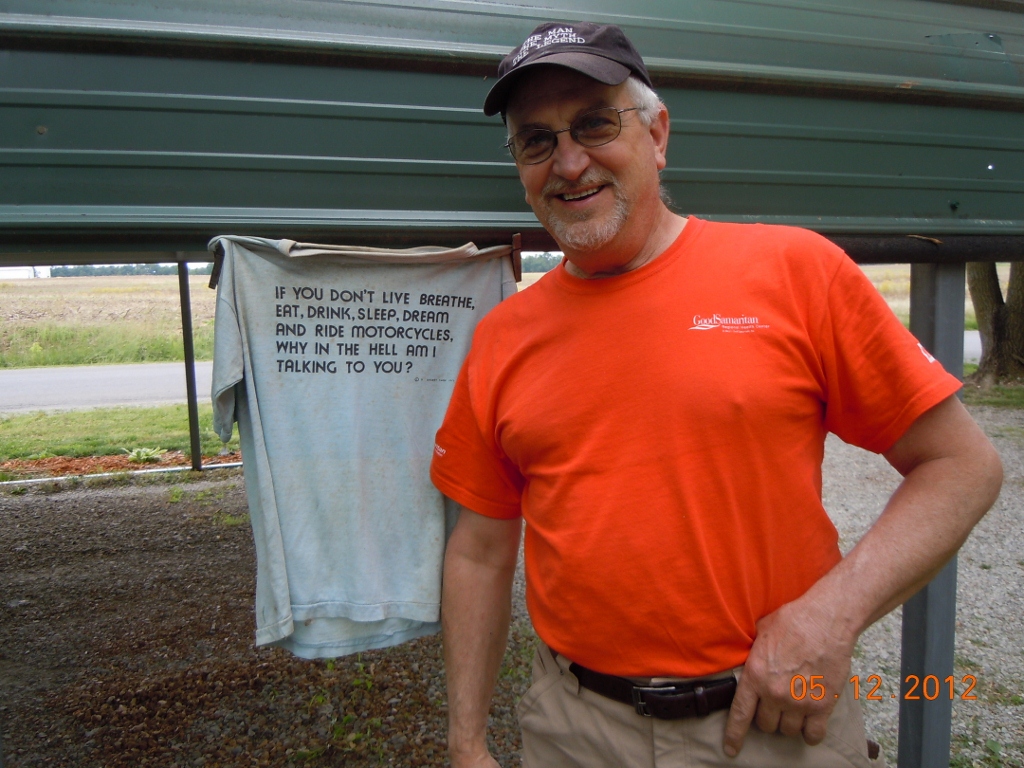 My old Harley days riding vest--my wife Debi painted all the stuff on that jacket 30 years ago.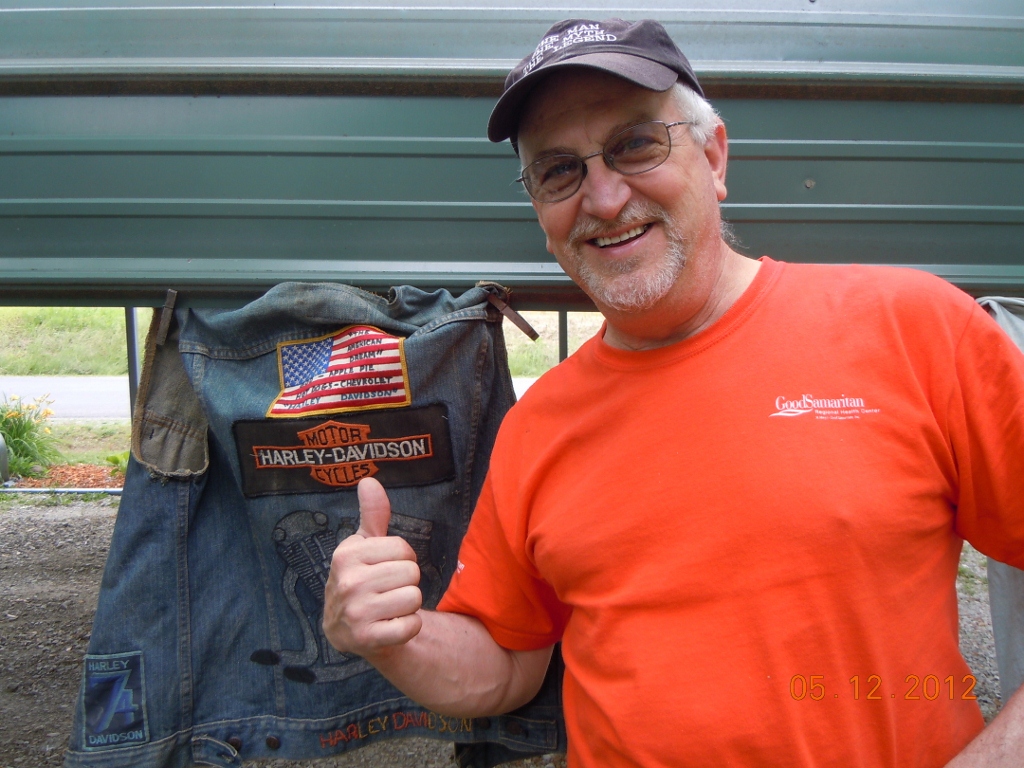 I did a lot of racing when I was young and could never throw away my Bonners Cycle sweatshirt.
Frank Bonner owned the shop and was one of the greatest men I ever knew---he passed on years ago.
I bought many bikes from this man ---andall my racing stuff.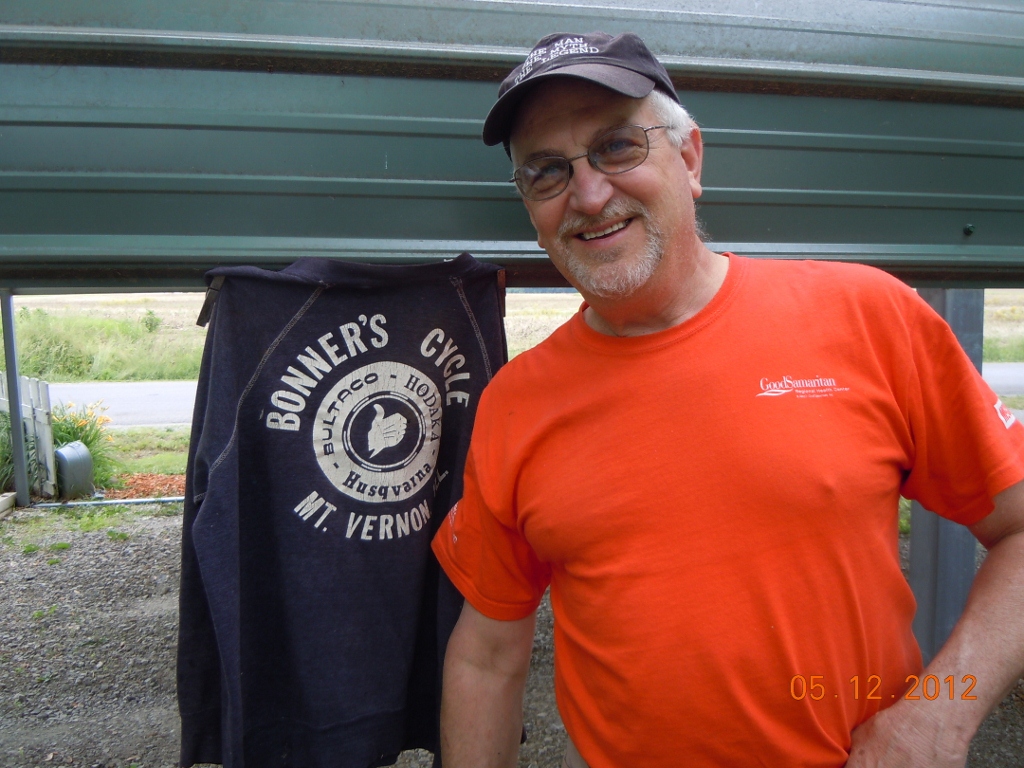 I pulled my bikes out for the celebration party.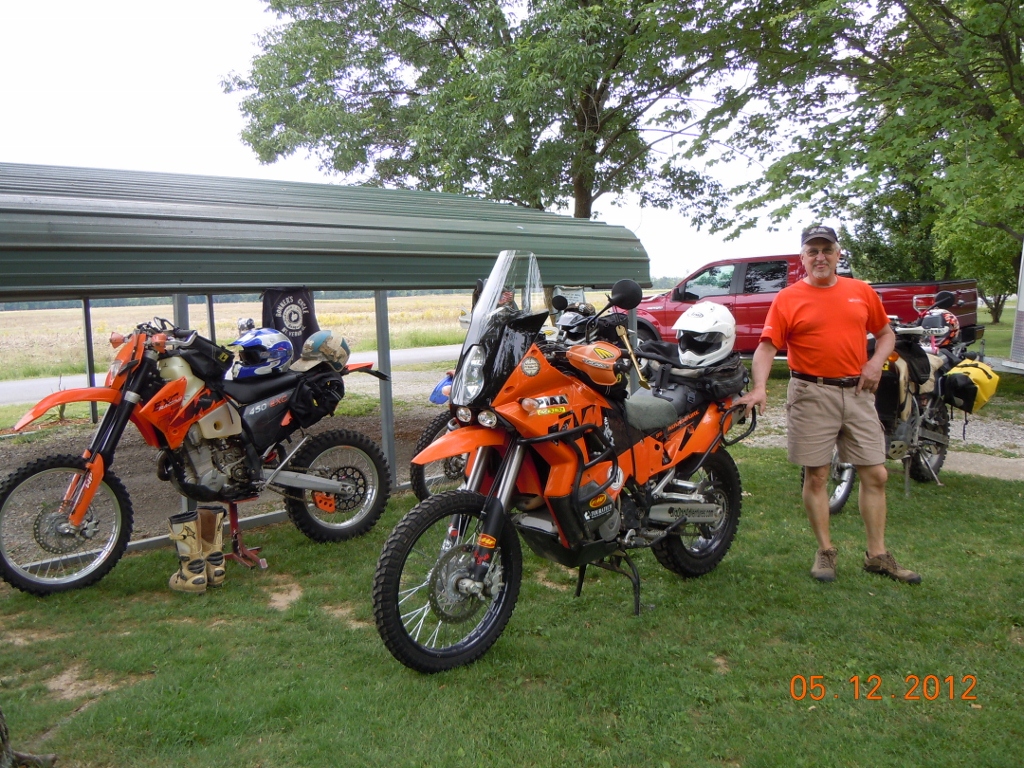 I got so much stuff for my birthday.
But 2 things stood out above the others.
One is a picture of me and my son when he was about 4 years old hugging me--he had that picture put on canvas---yeh, I cried over it too.
But the other was something I could of never dreamed of-------from my very good riding friend from Arizona, Scott Stevenson ---better know to all as
Dingweeds. He sent me a golden Kickstand.
What you'd get for your birthday ???? A pair of socks ????? I got a golden kicktand.
It will hang in my ratty old sickle shed when I die---I'm willing it to my son along with my KLR.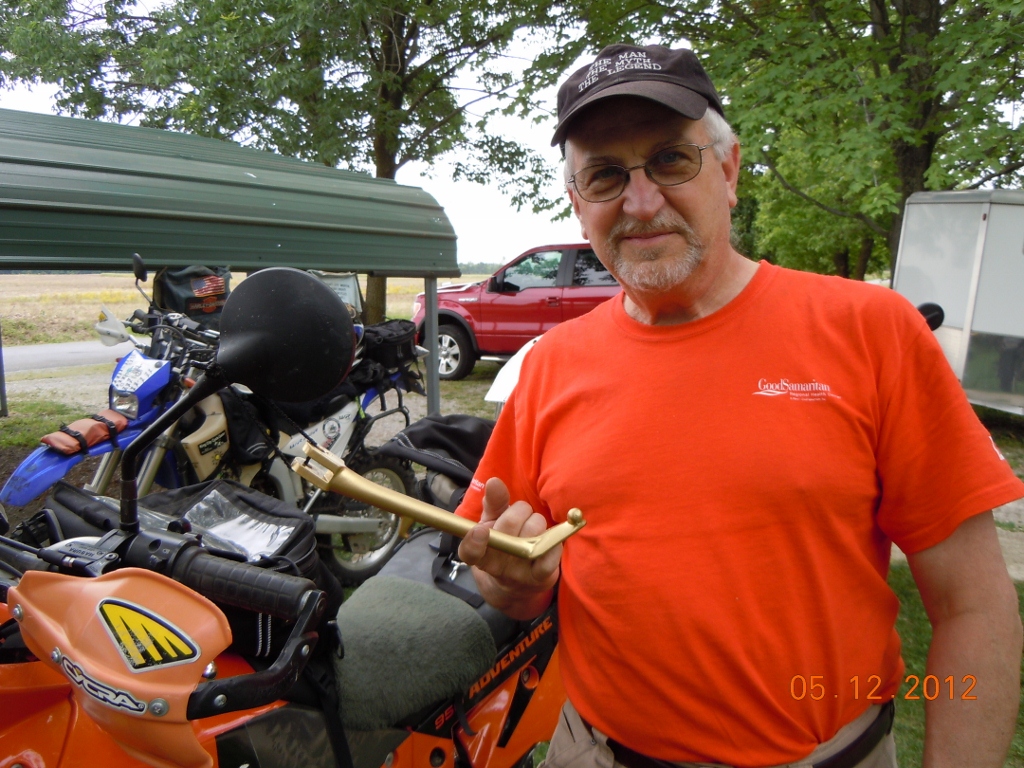 About 40 friends showed up and the band started playing.
Left: Richard Smith--an old friend who I still ride with and play music with.
Drummer Lance Weil and singer Kevin Piper out of my old band showed up---I'm playing lead guitar on the right.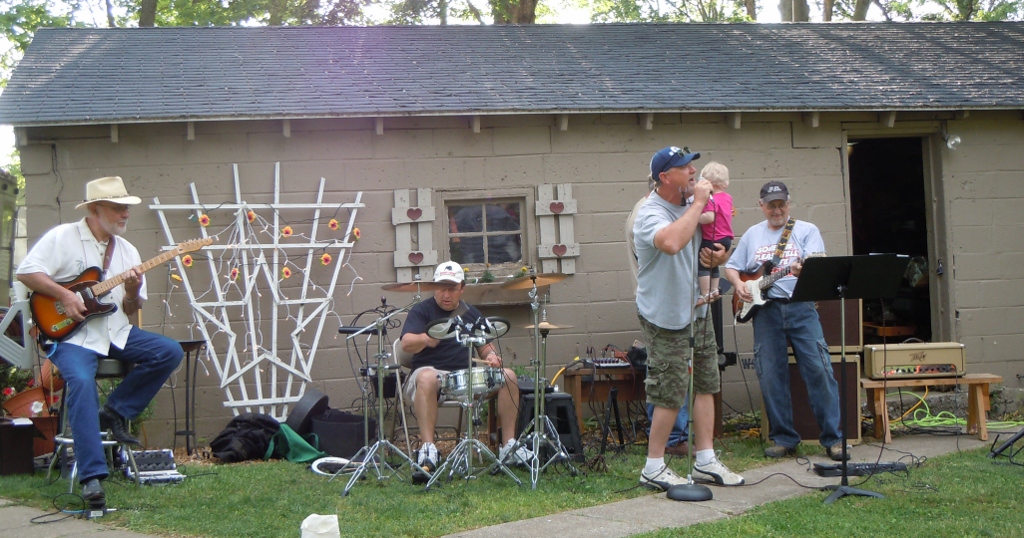 He said "Drifter can you make folks cry when you play and sing,
Have you paid your dues, can you moan the blues,
Can you bend them guitar strings?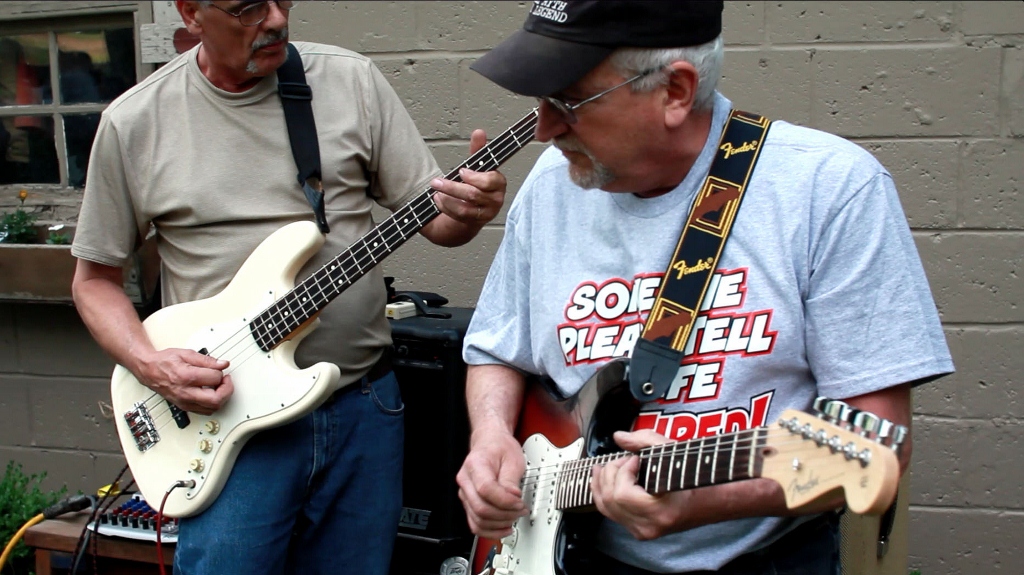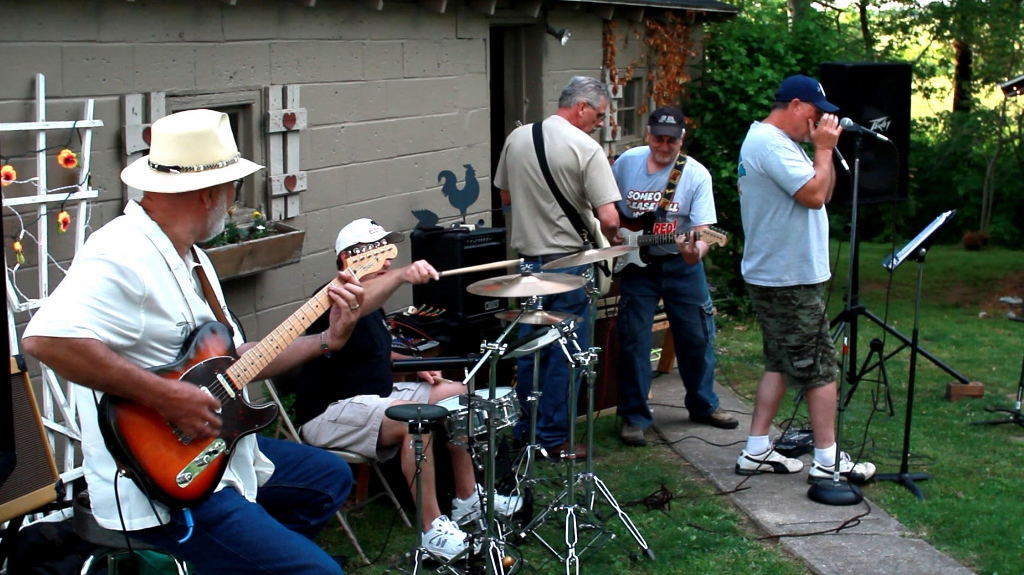 So---May 17th Bill Asher (Bash3r) on Advrider shows up at my house and we get ready to ride to Corinth Mississippi.
We are both estatic to be going for a ride and take the long--long way to Corinth taking 2 days to get there.
Bill rides a well equipped Yamaha WR250R----so me and Bill are on the same page---in more ways than one.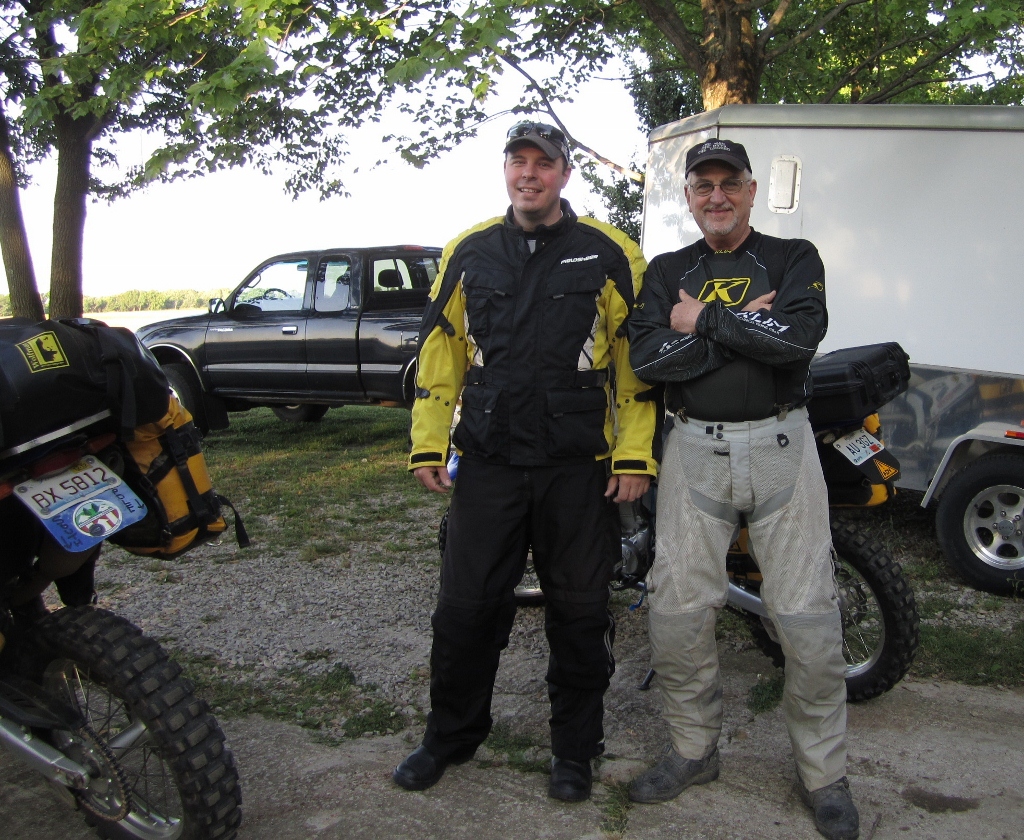 We take off just after day break and I've always got to ride 50 miles South to get to good riding.
We stop at my favorite little store just Southeast of Herod Illinois and have a great breakfast talking to the locals.
I kind of hate to tell you where this is------There is no town around--just the little store---they open about 5AM every
morning for breakfast-----ham and eggs for me.


From here on out ---the riding would always be good.
First stop the "Iron Furnace" in the Shawnee Forest.
The Illinois Iron Furnace is the only remaining iron furnace structure in the state of Illinois. Iron was manufactured at the Illinois Furnace
by the charcoal blast method. The furnace was built on a dry laid limestone foundation. The exterior of the furnace was manufactured
of large limestone blocks quarried near the town of Cave-In-Rock. The interior wall, or lining, was constructed of firebrick from Pennsylvania.
The space between the interior and exterior walls was filled with sandstone.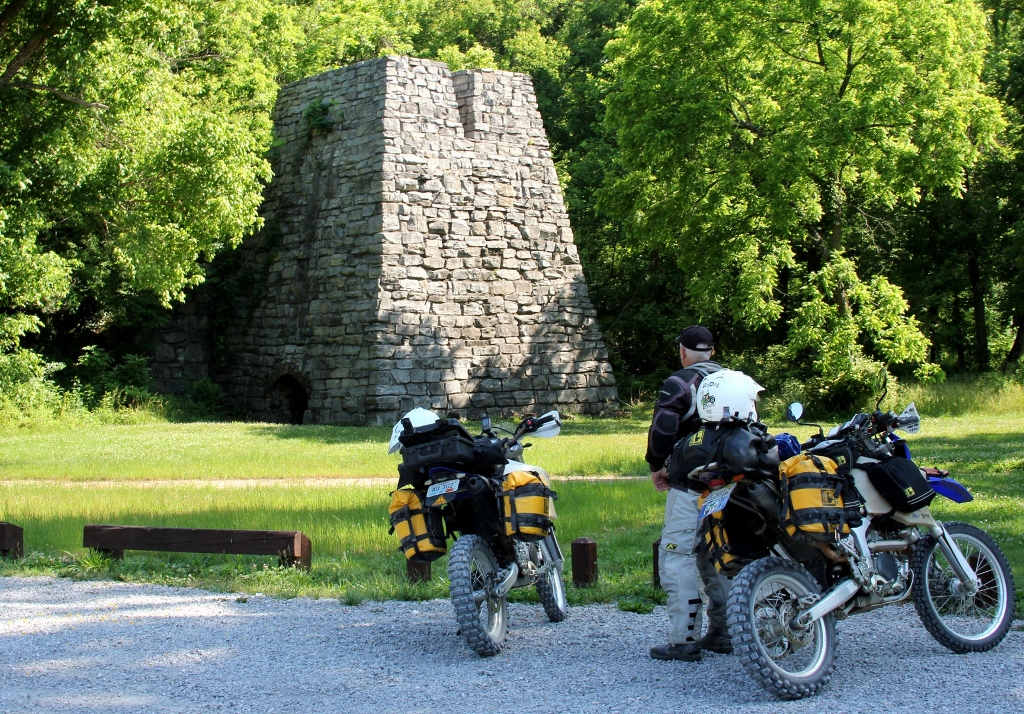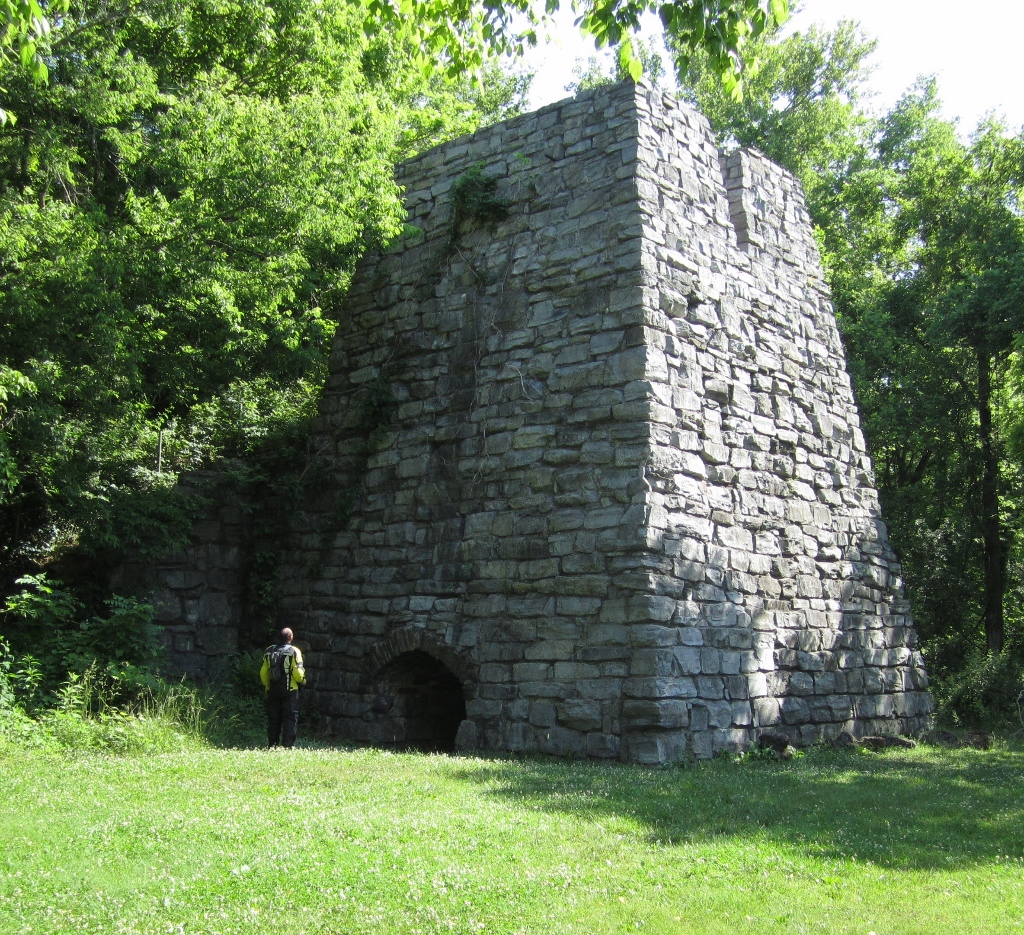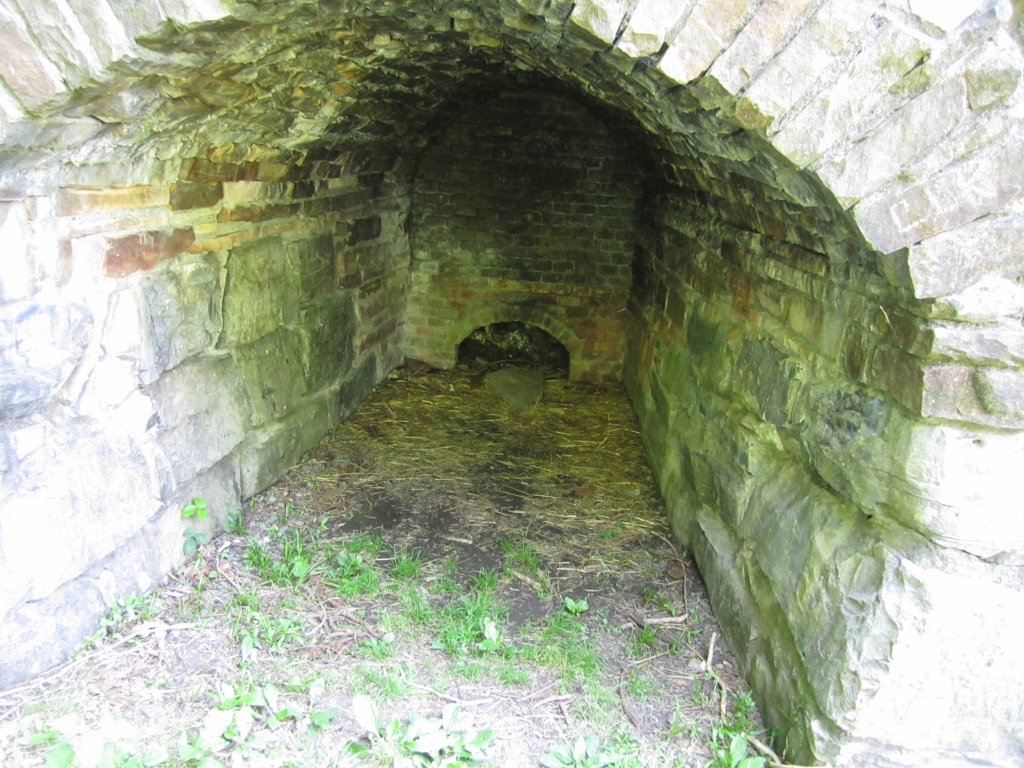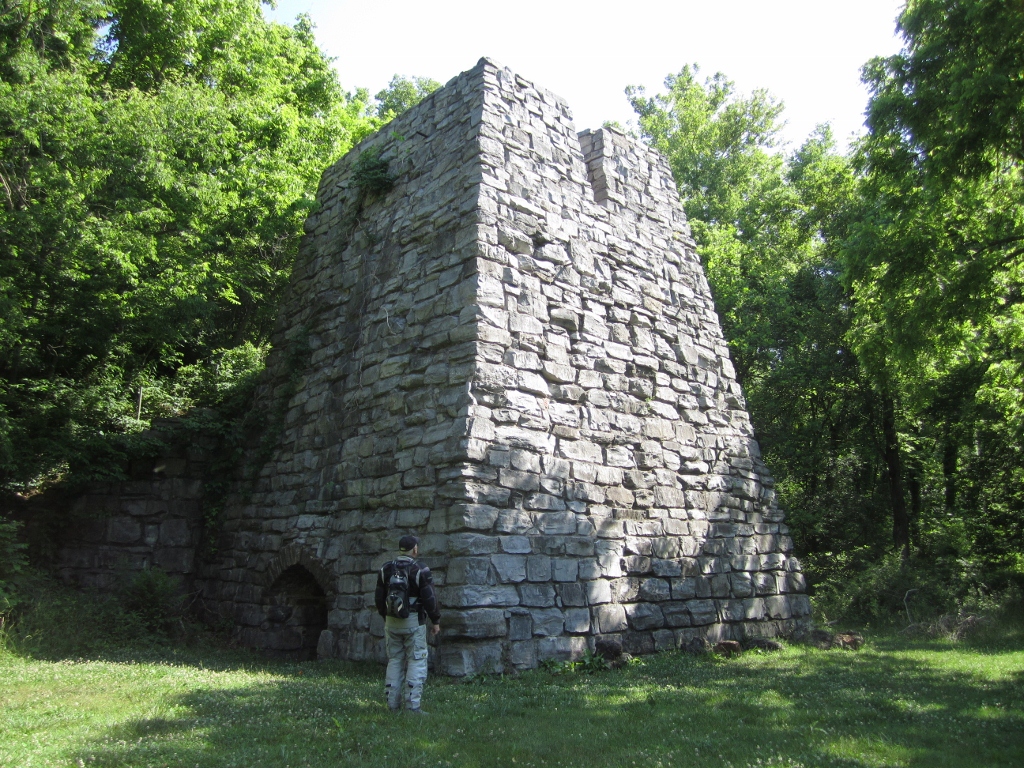 We deicided to break out some Bo's Hollow "Diggity Dog" beef jerky.
I'd ran out of "HighFive's" jerky he bought me and had to go get some more-----Bo's Hollow, Missouri---population 5---sometimes.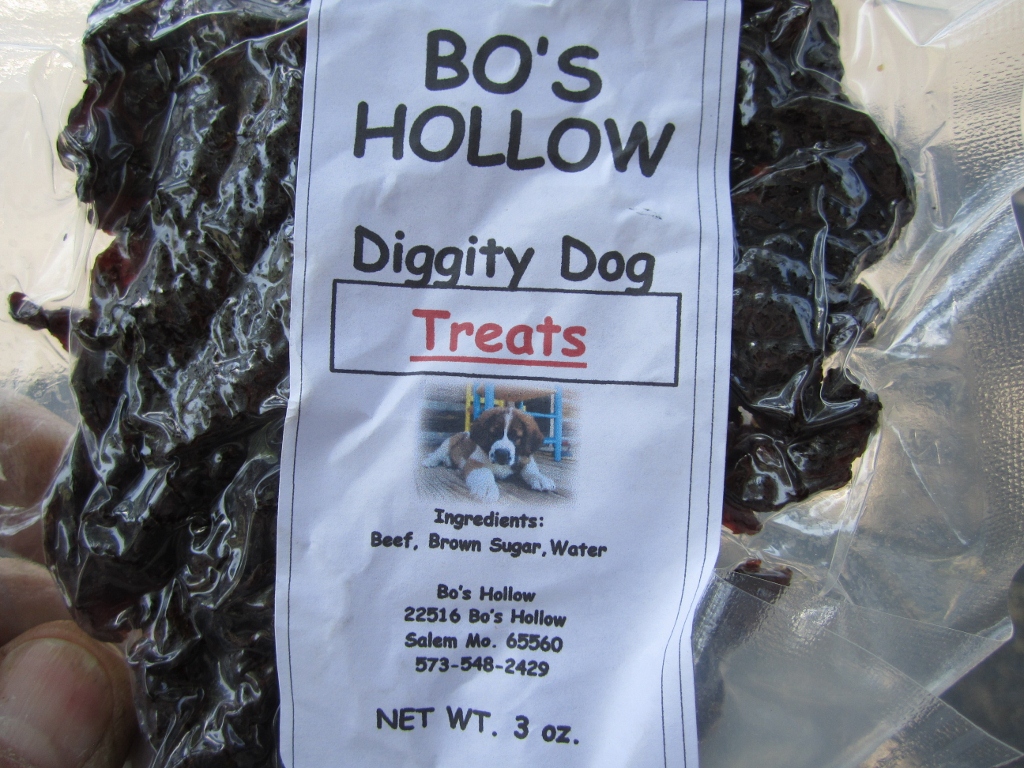 Bills got some really nice fancy camera equipment----he's got something special up his sleeve with this stuff.
He's good at shooting pictures and video when you don't even know it---which makes for the best stuff.
Sneaky little devil he is.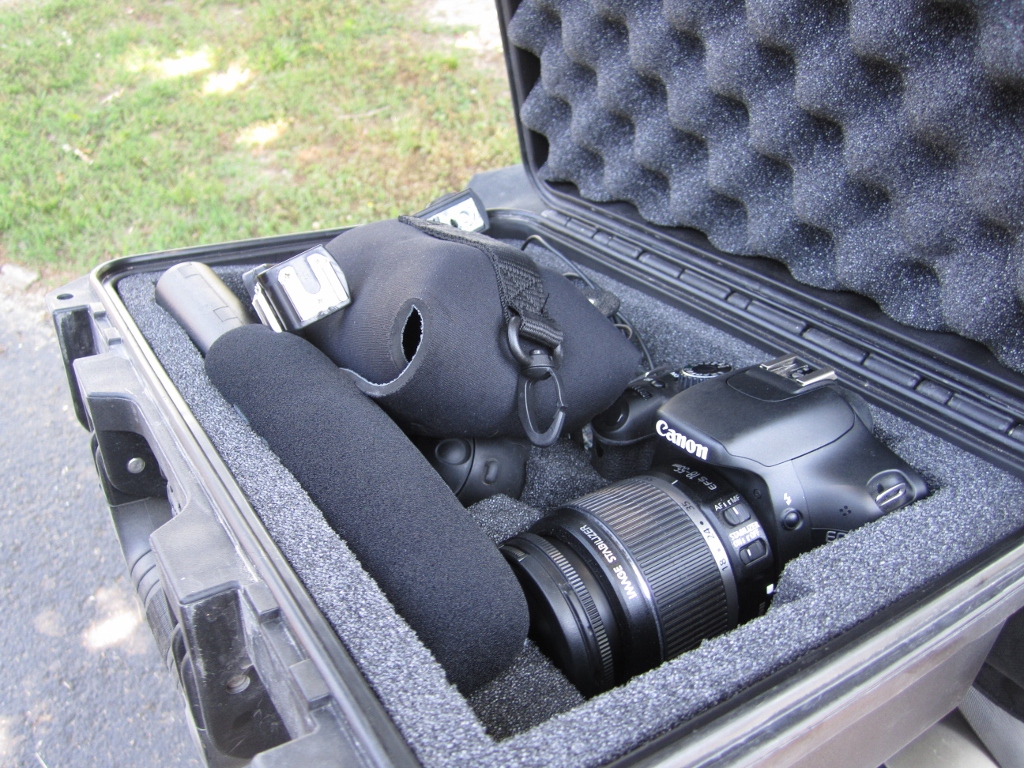 We crossed the Ohio River on the ferry in Cave In Rock, Illinois---a free ride. It's not open 24 hrs.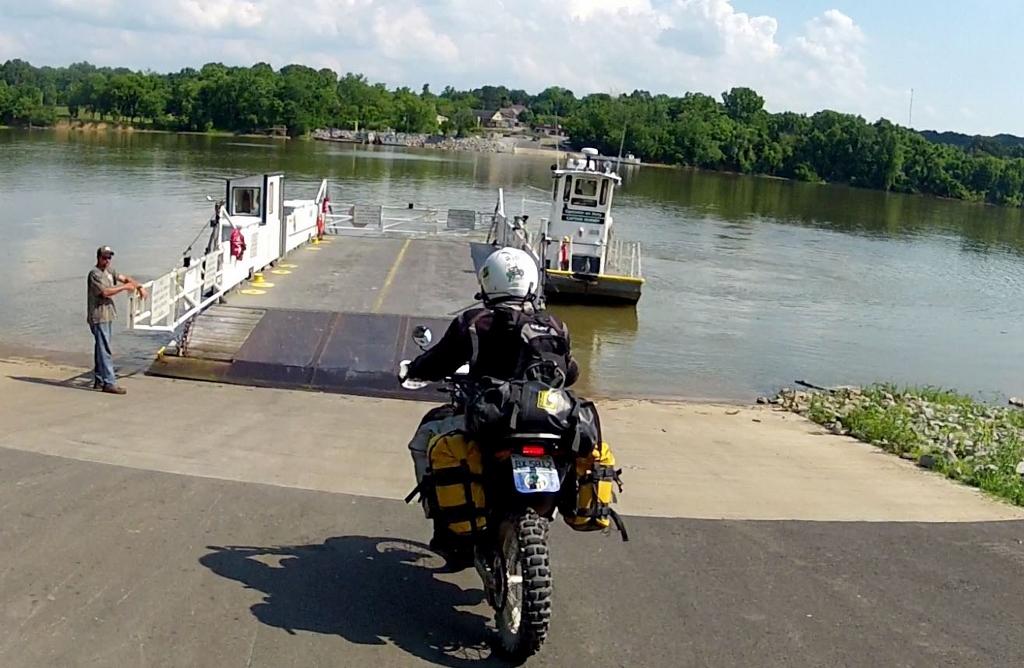 I bet 20 years ago I dropped a waypoint at this diner----and it was still there---and the atmosphere and food was the same as I remembered it.
I do think the waypoints name was "FoodGood".
This is just down the hill from the little town of Bumpus Mills which is a tiny town that is barely in Tennessee if your going South on Hwy 120..
20 years ago I sat on a bench with some old farts----bout my age now. They told me a harrowing story of when they was kids
they rode an old Harley down that hill you see and crashed skinning themselves all up.
The funny part was it didn't have a motor in it-----I'll never forget them telling me that story.
I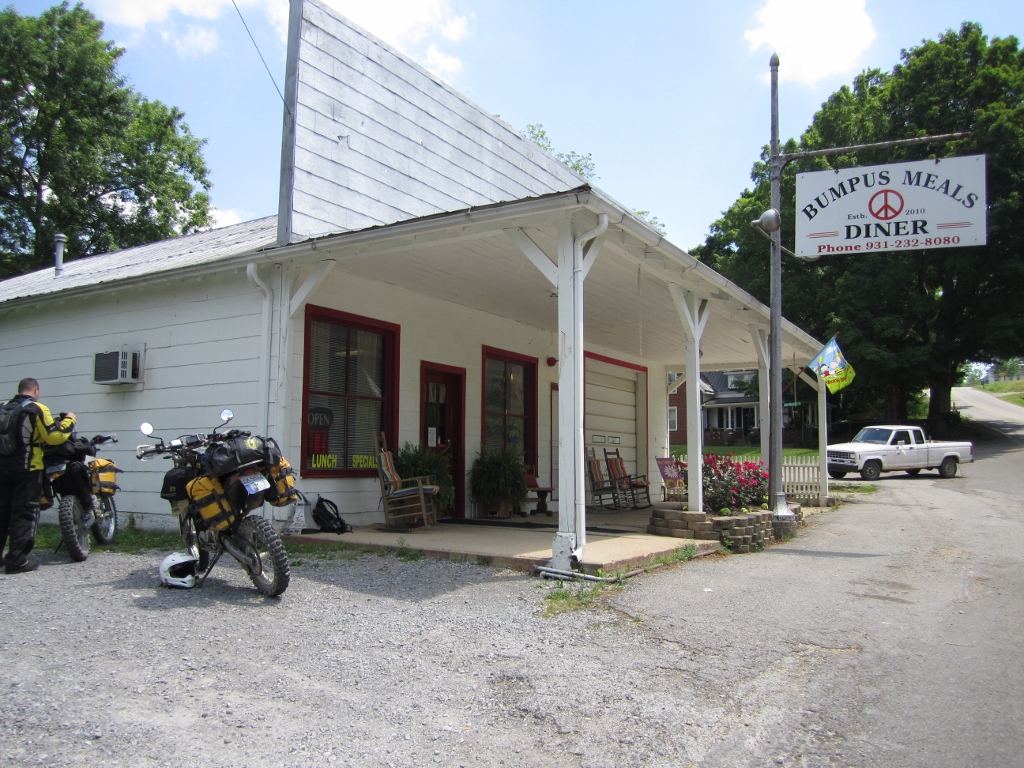 I'm going to get something to drink---that is making me thirsty.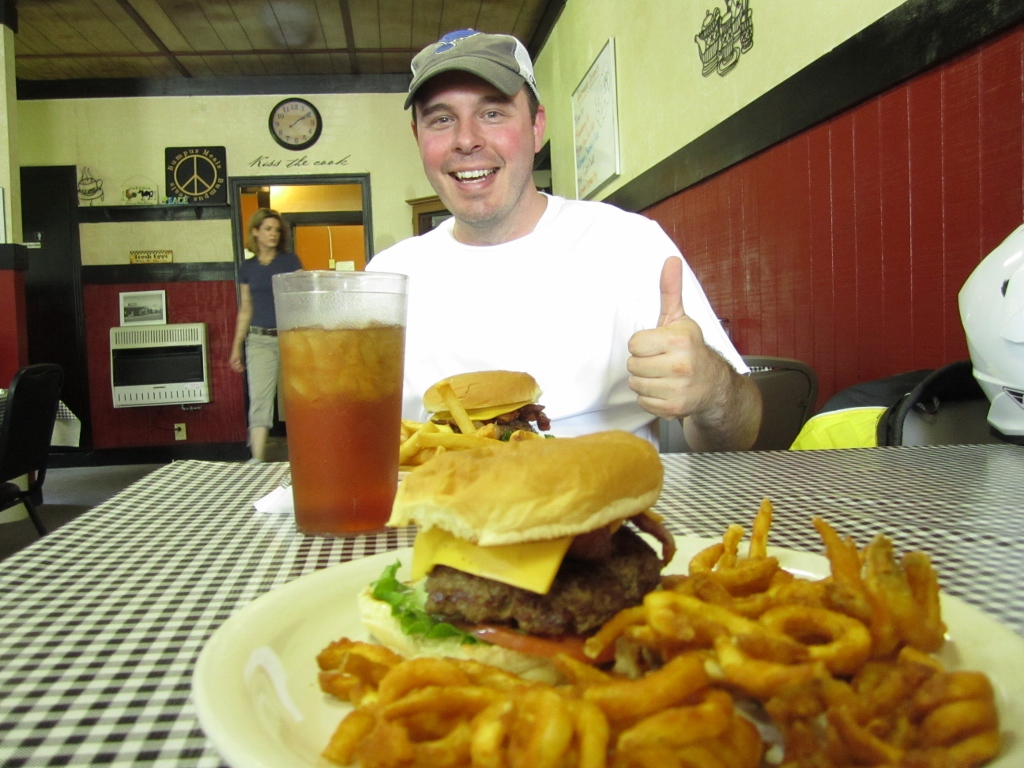 Quite a few miles down the road we came to Enochs Mill---about 2 miles South of Hwy 70 on Enoch Rd.
A very beautiful place-----I made a U---EEEEEEE and came back for a good look.
See the wheel sticking out the side of the building---must have powered something with a belt.
N36° 04.585'
W87° 41.194'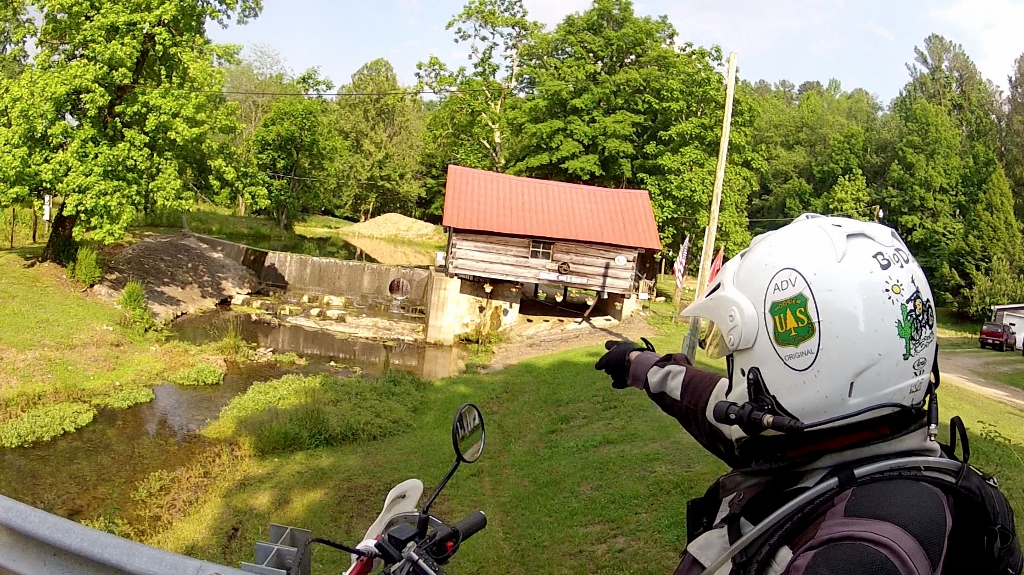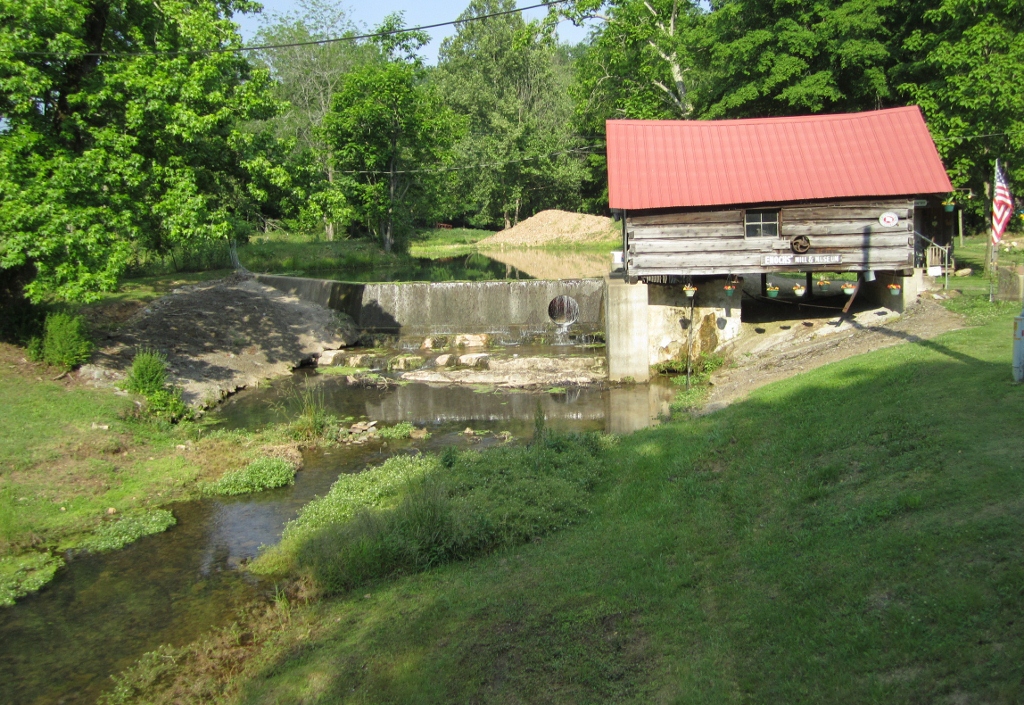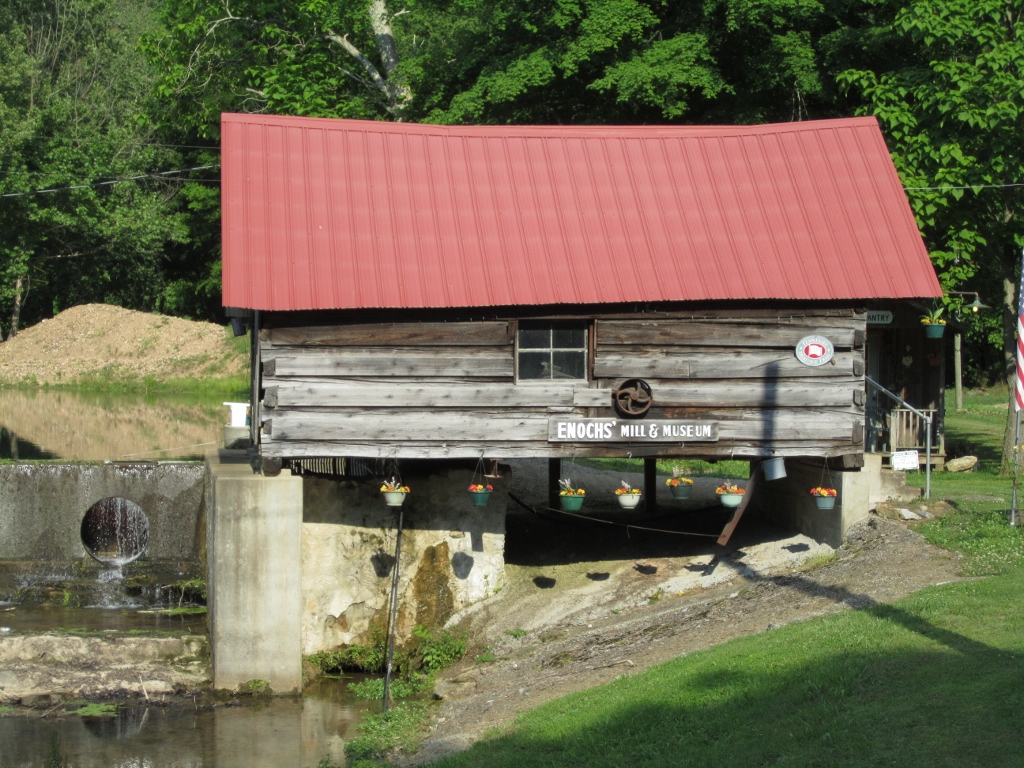 The sign below tells the story.
What a neat place---there was a neat little old house right next to it that obviously went with the Mill.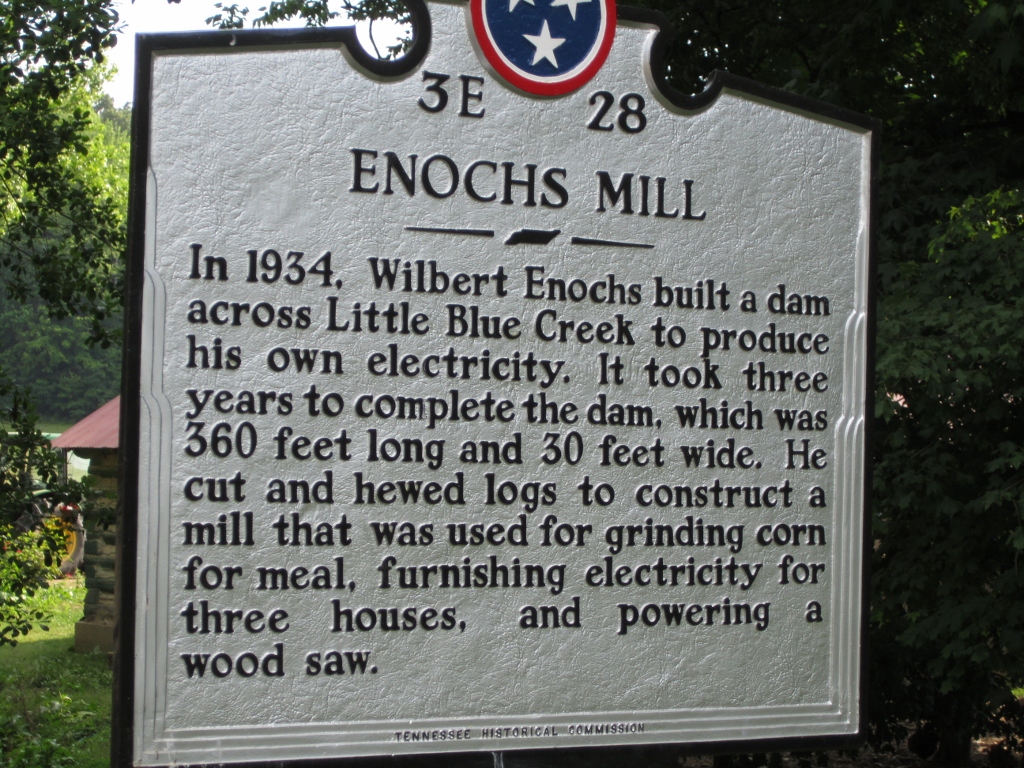 We didn't get in high gear till I went over a bridge and made another U---EEEEEE......my son calls them "Crazy Larry's" ???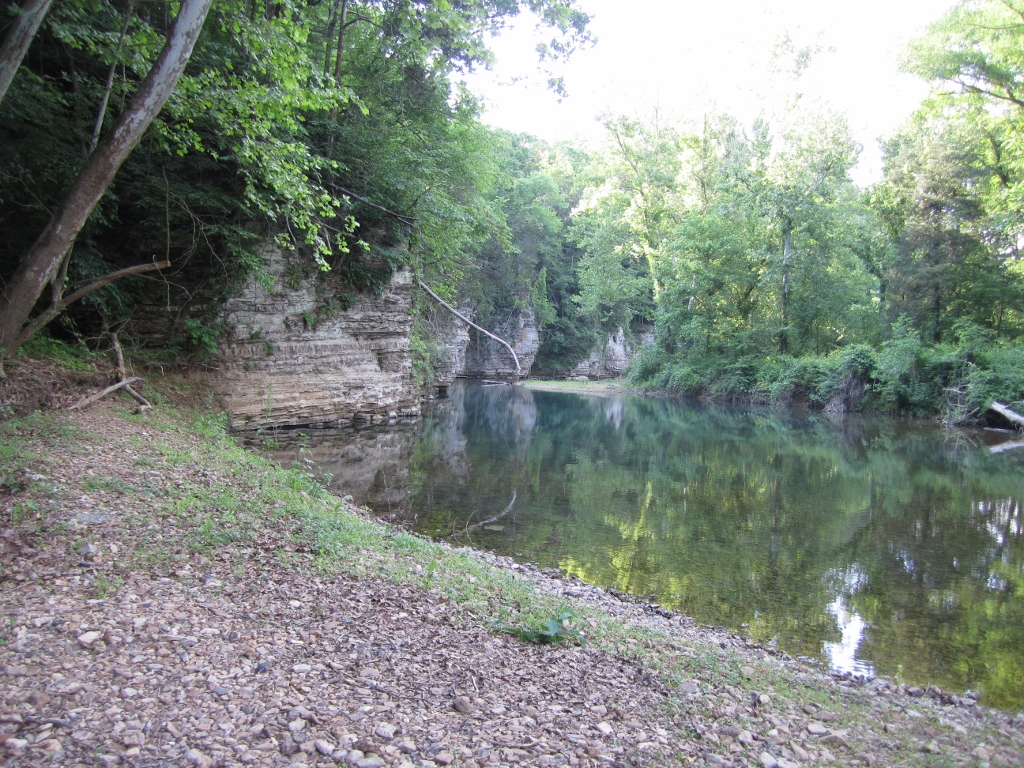 We rode down a dirt road beside the bridge and the site was awesome.
We figured this was spring fed. We stayed here awhile and thought it would be a great place to camp--but it was too early.
This whole trip I knew we'd be camping some and out in the woods and I figured the skeeters would be out in force--but
I never got skeeter bit this whole trip.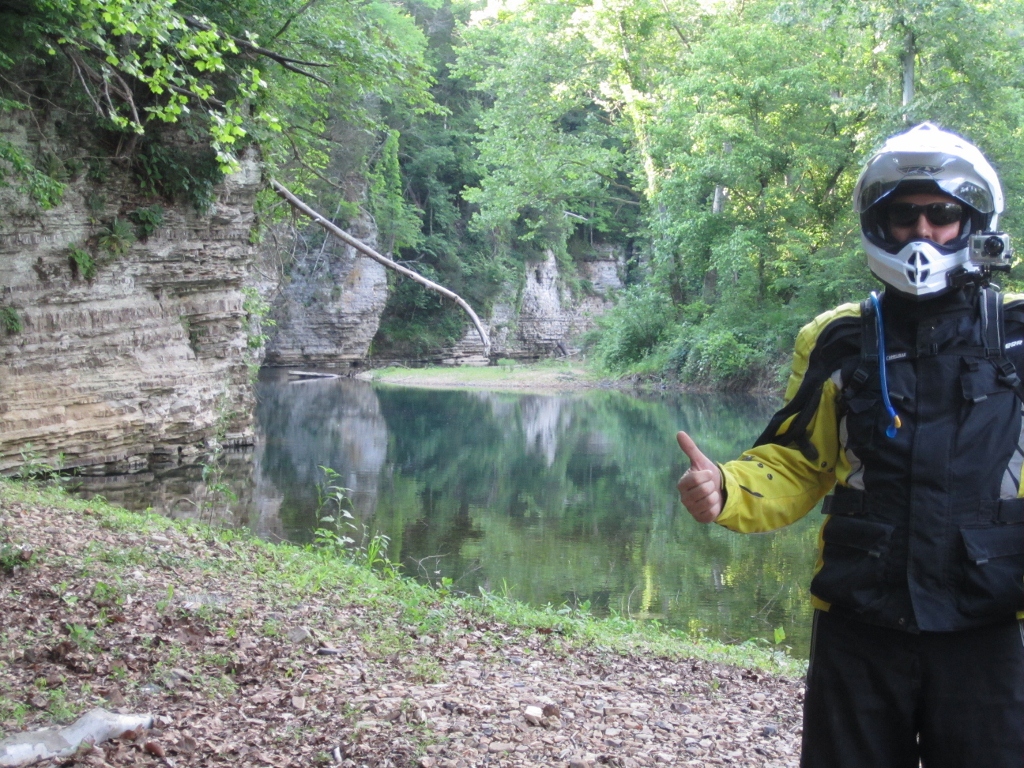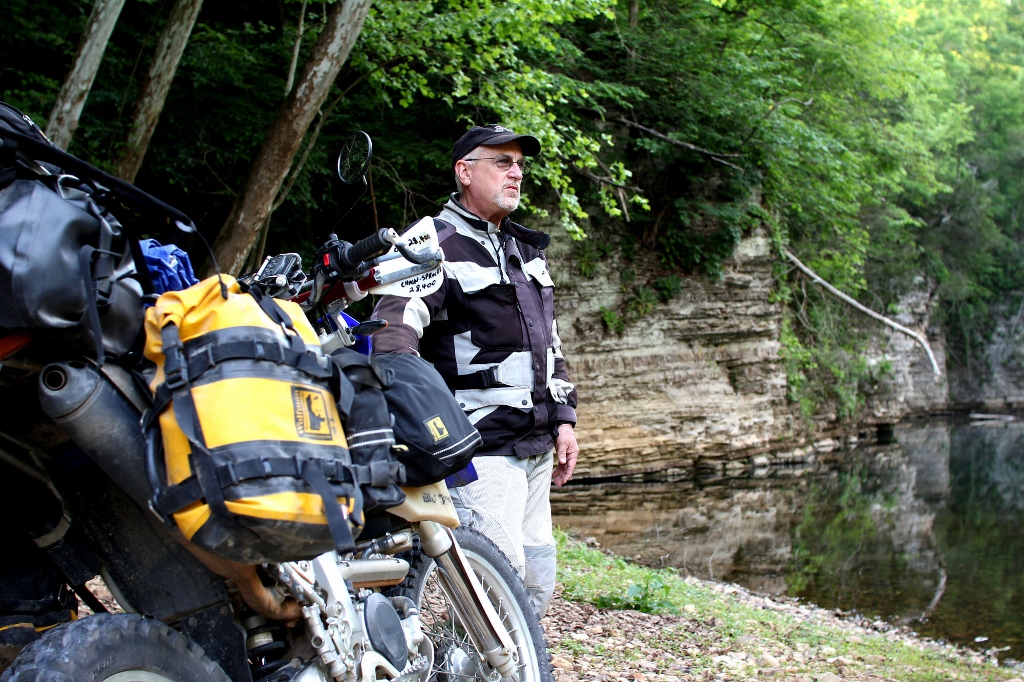 We went thru an Amish community on a dirt road---I found this area 20 years ago when me and son used to go to the Loretta Lynn
dual sport ride on her ranch in Hurricane Mills, Tennesee.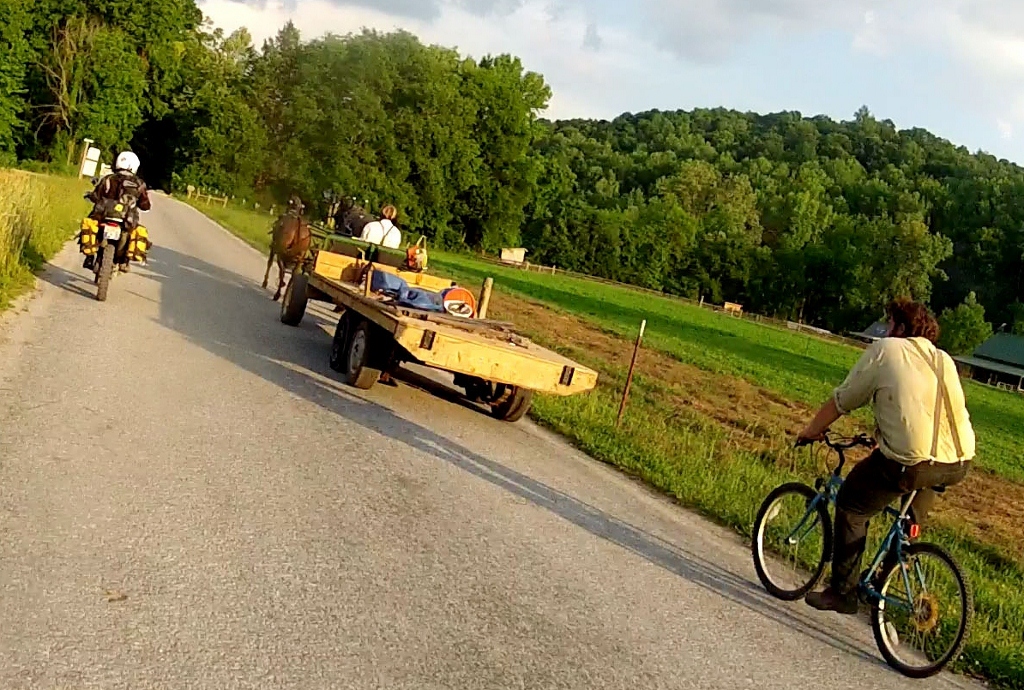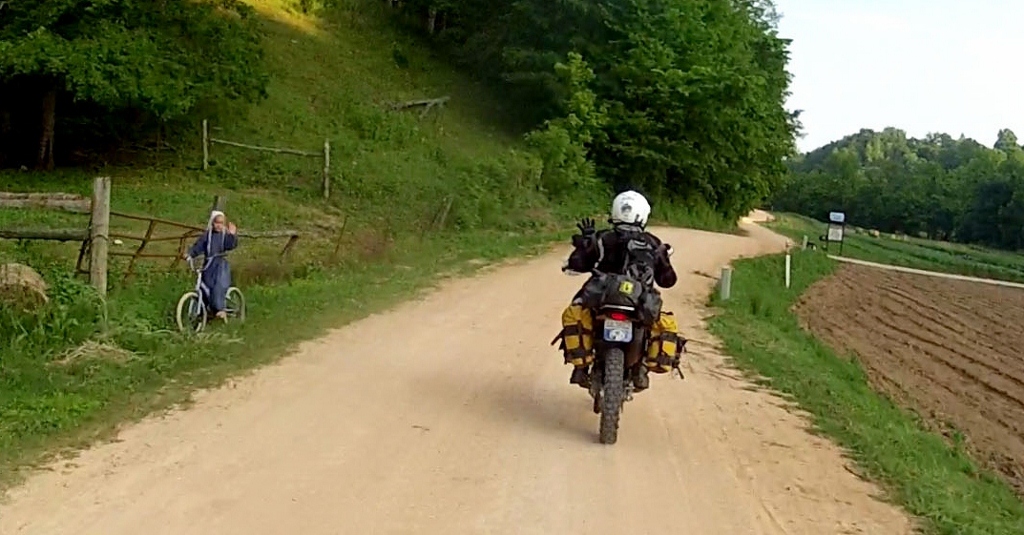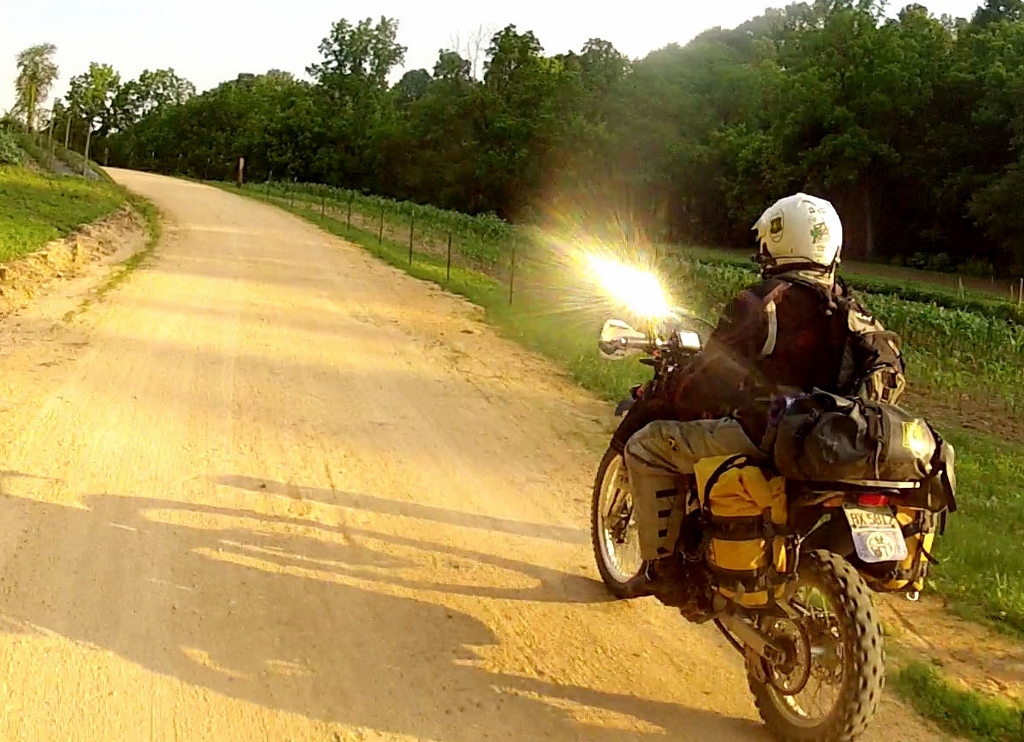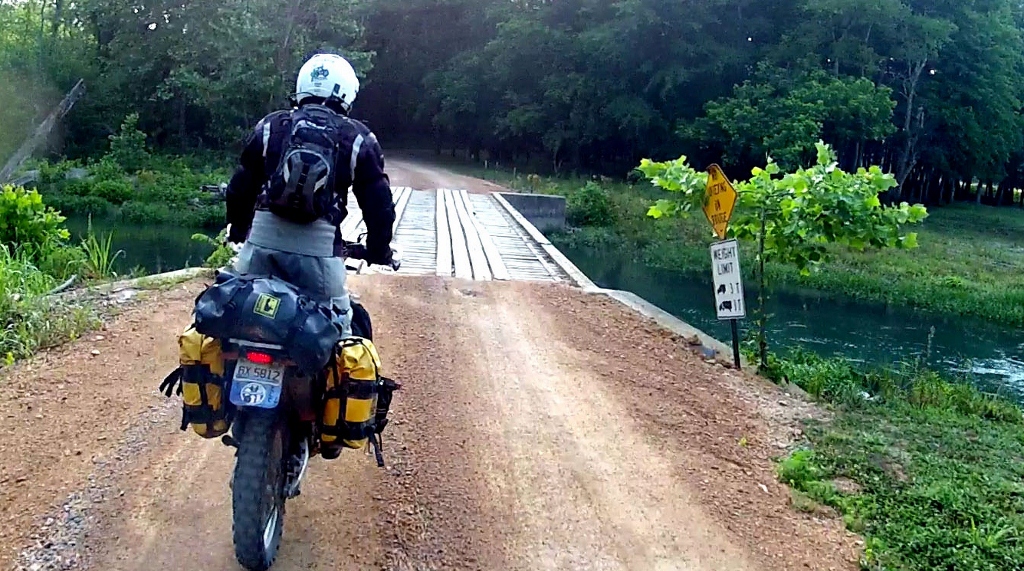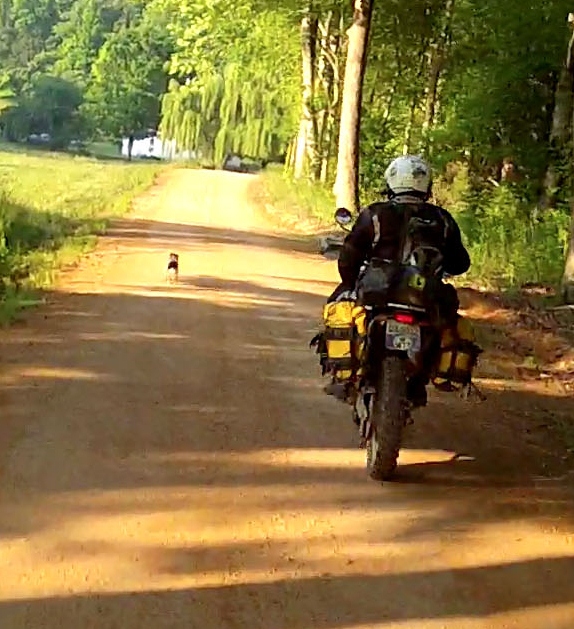 Good pictures for me are "always" an accident. I point and shoot a lot--and get a great one once in awhile.
No way I'm reading my camera's owners manual to do all that technical stuff----I ain't got time---I'm retired you know.
""Get Ridin'----or Get Dyin'. "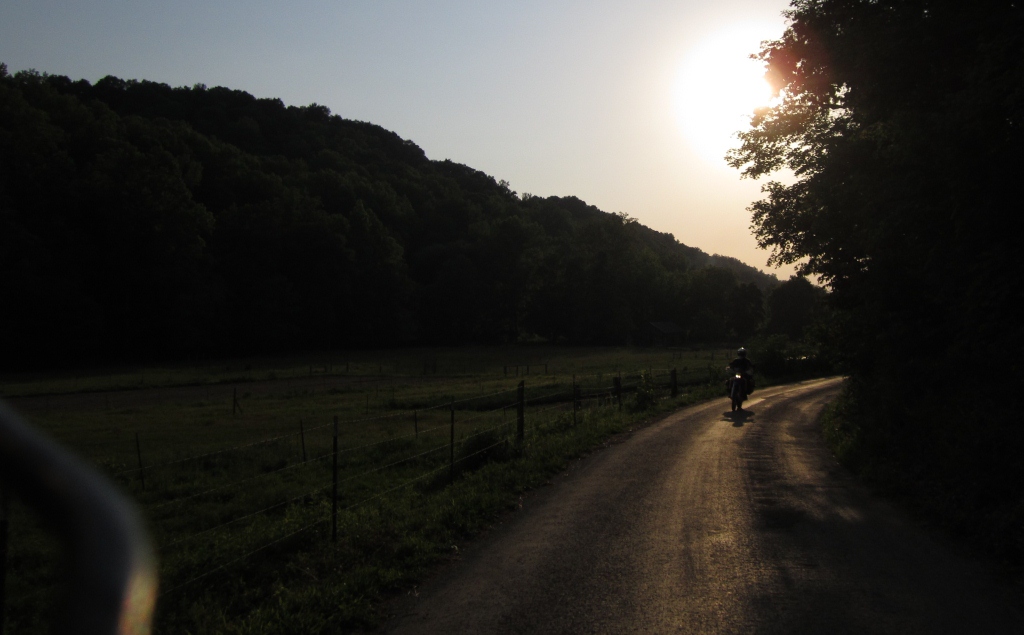 Camping was in the cards------we thought.
So many keep out private signs we finally ended up in the hometown of Minnie Pearl----Centerville, Tennessee--location of "Grindgers Switch".
A switch on the railroad that Minnie was always talking about---she was a sweetheart of a woman.
About 325 miles for the day.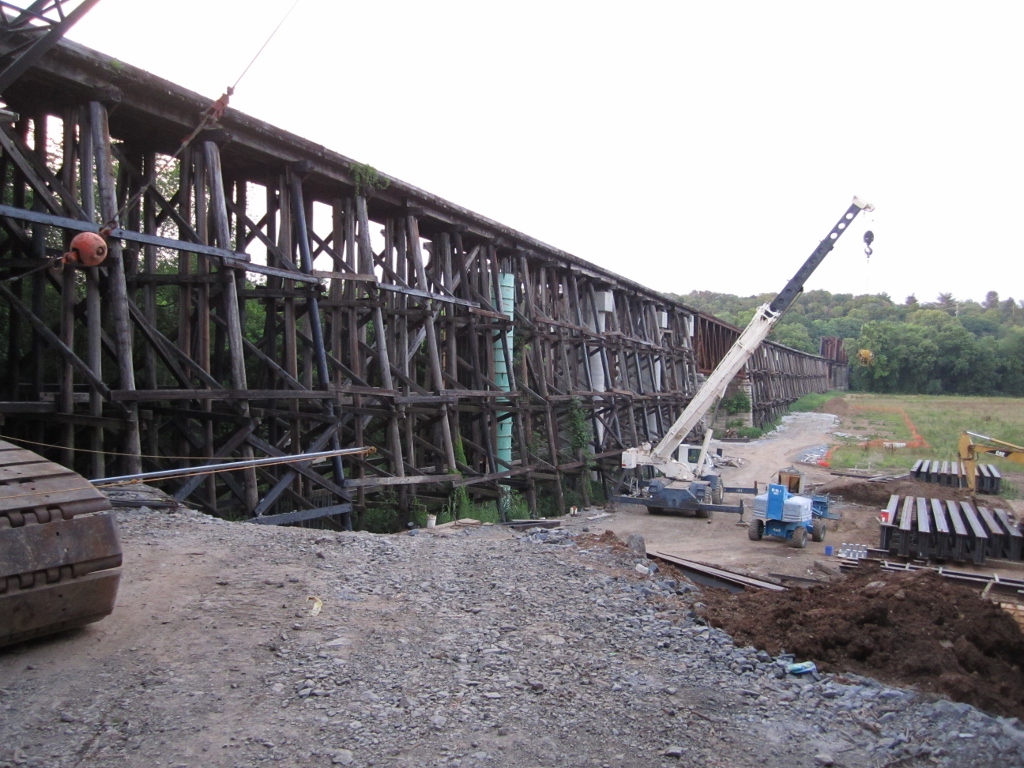 The workman had just left as there was a pile of very fresh concret---which I wrote "BigDog" in.
We could have gotten by the construction equipment---but it would have been a little hairy.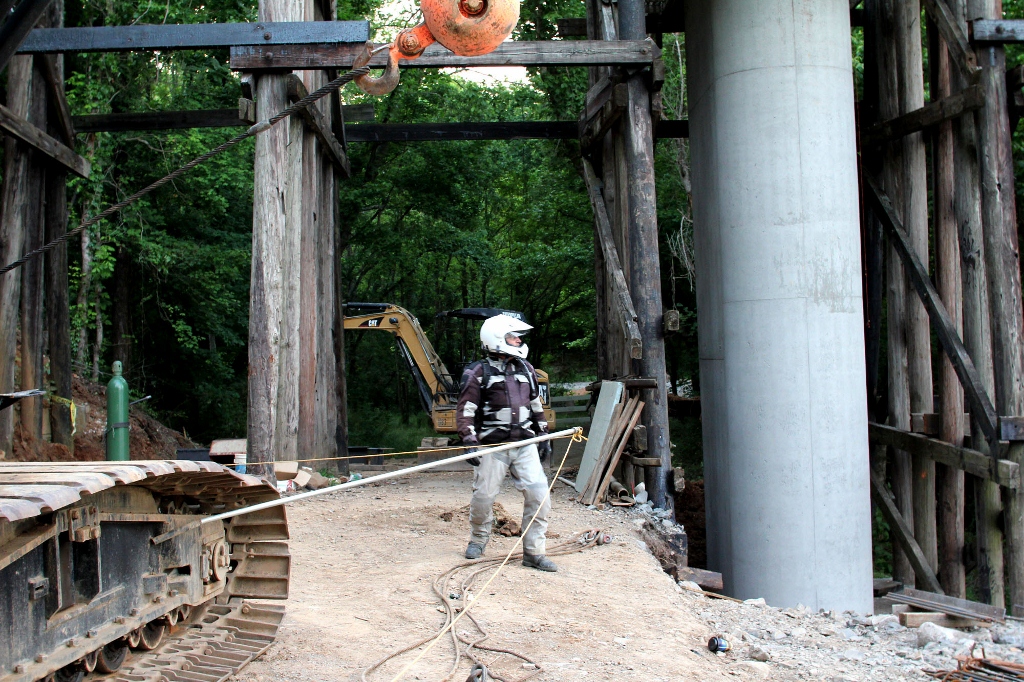 Well---it was my fault---stopped to pee off a bridge----I fell over and took Bill with me.
A double WR Nap ZZZZZZZzzzzzzzzz
Today we rode on a small part of the new and old Tennessee TAT---and yes I fell over on that slick creek crossing.
And yes bill has a video of it. Said he put it on you-tube and made it a private video--hey I think everybody needs to see that.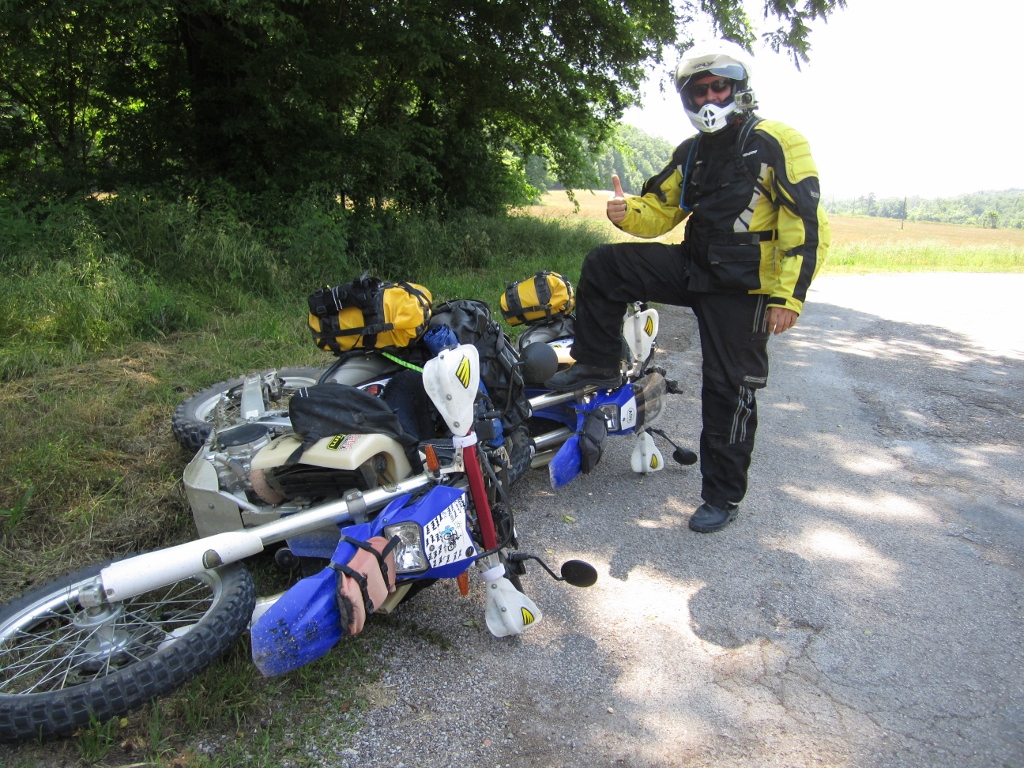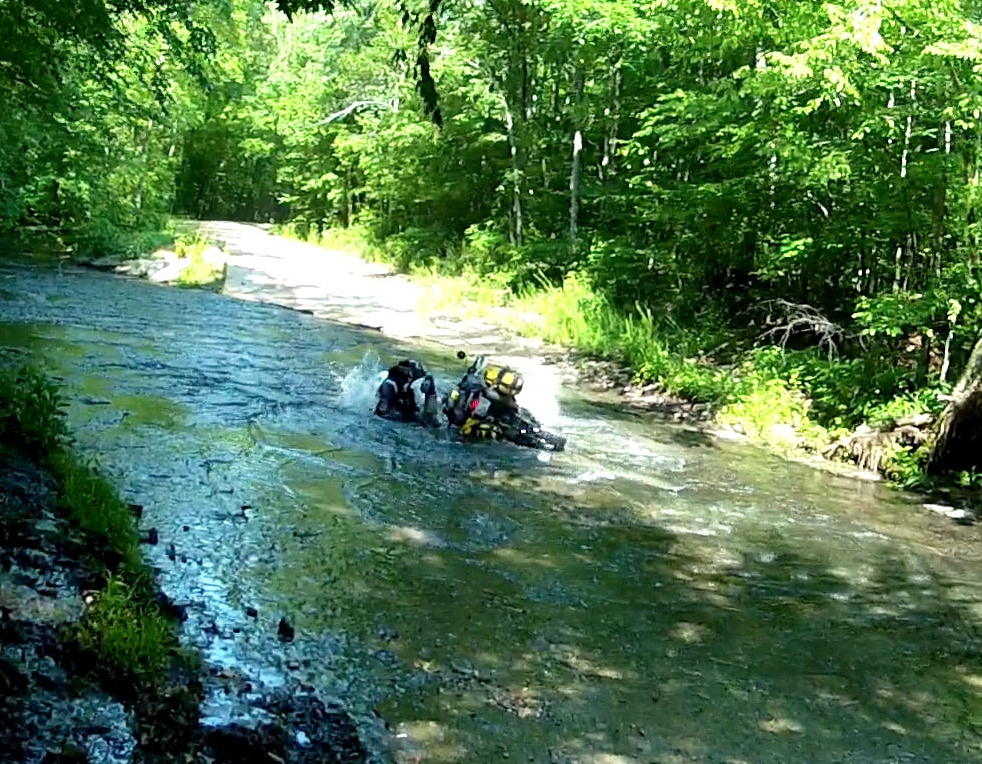 We blew into Corinth, Mississippi mid afternon and pulled into Lake Hill Motors---home of one of the biggest and bike shops I've ever been in.
Seems some rowdy rebellious heathens had rolled into town---all on un-maintenanced, filthy, rusty, loud 305 Honda Dreams.
There was a gang of them---I think there is a law against this kind of thing.
The straight through fishtail pipes were aimed right at the saddlebags and I don't know what kept them from catching on fire.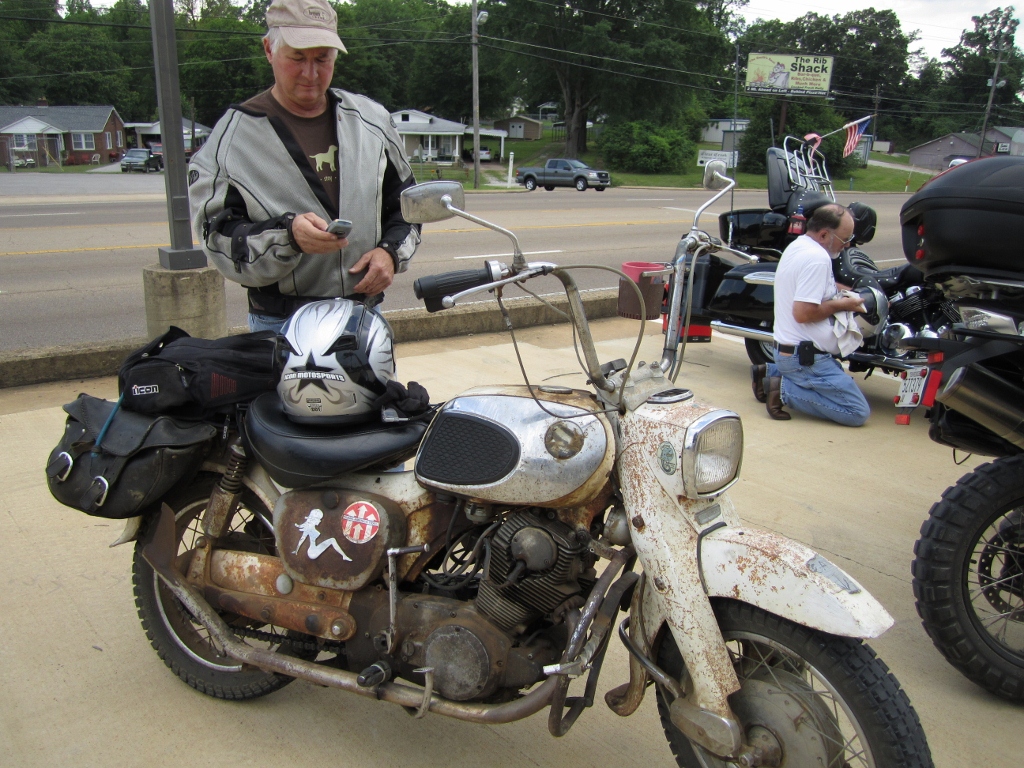 Drippin' oil all over the place--you could hear them rusting.
What pissed me off tho---they had more fun than I did !!!!!!!
These guys were a hoot.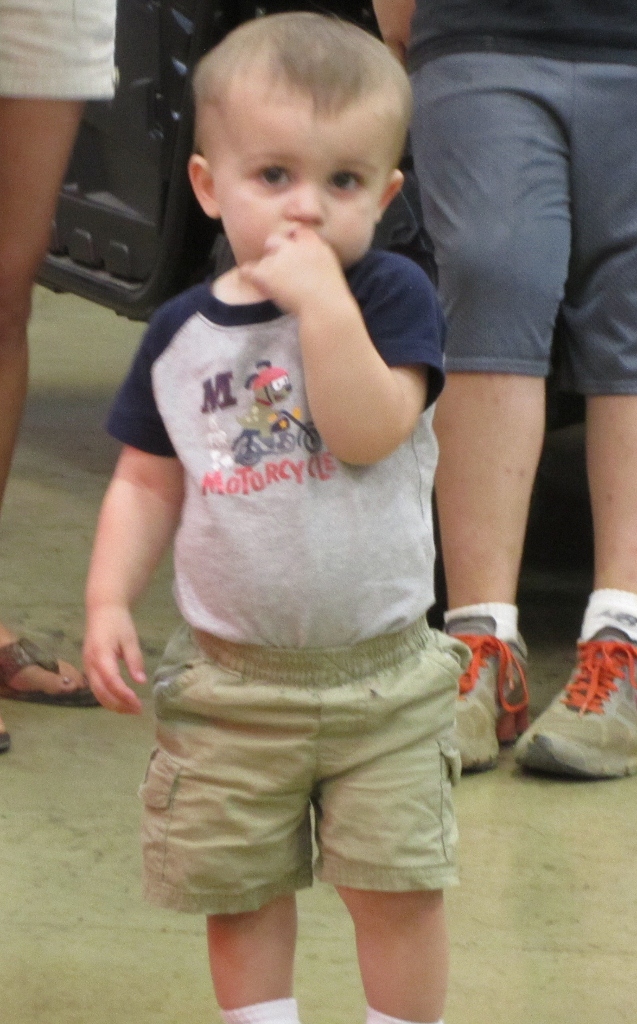 I was pointing out this old Cushman scooter to Bill---and told him I had one just like it and it was my first motorcycle.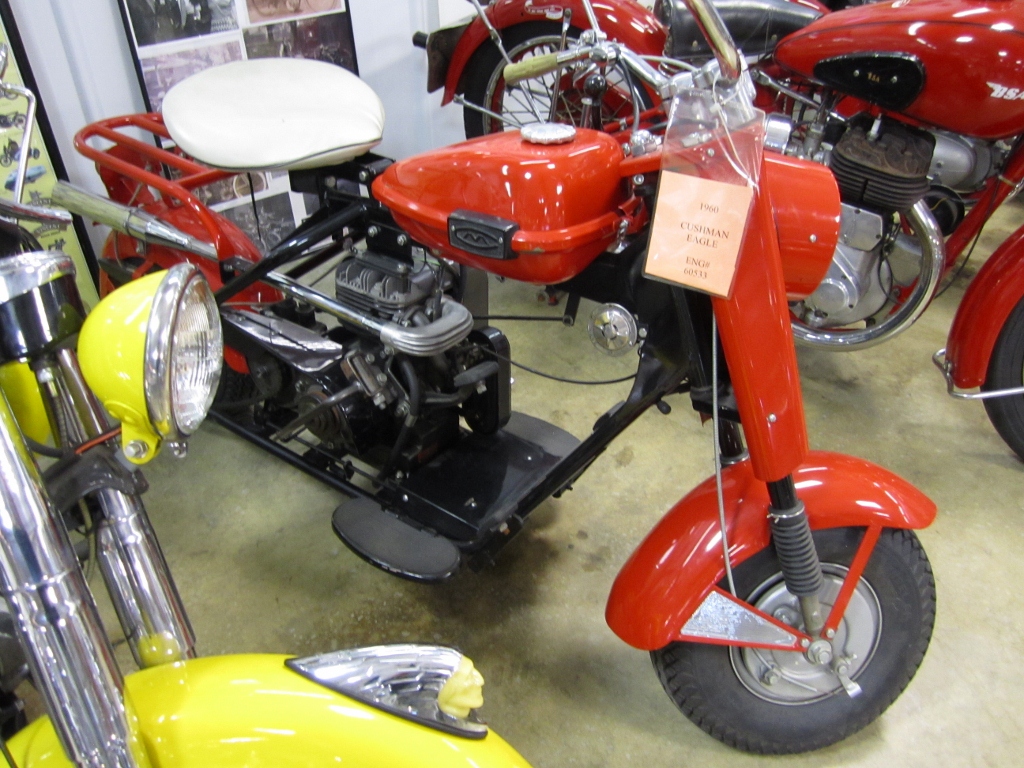 Tank shift----2 speed transmission------foot and centrifugal clutch.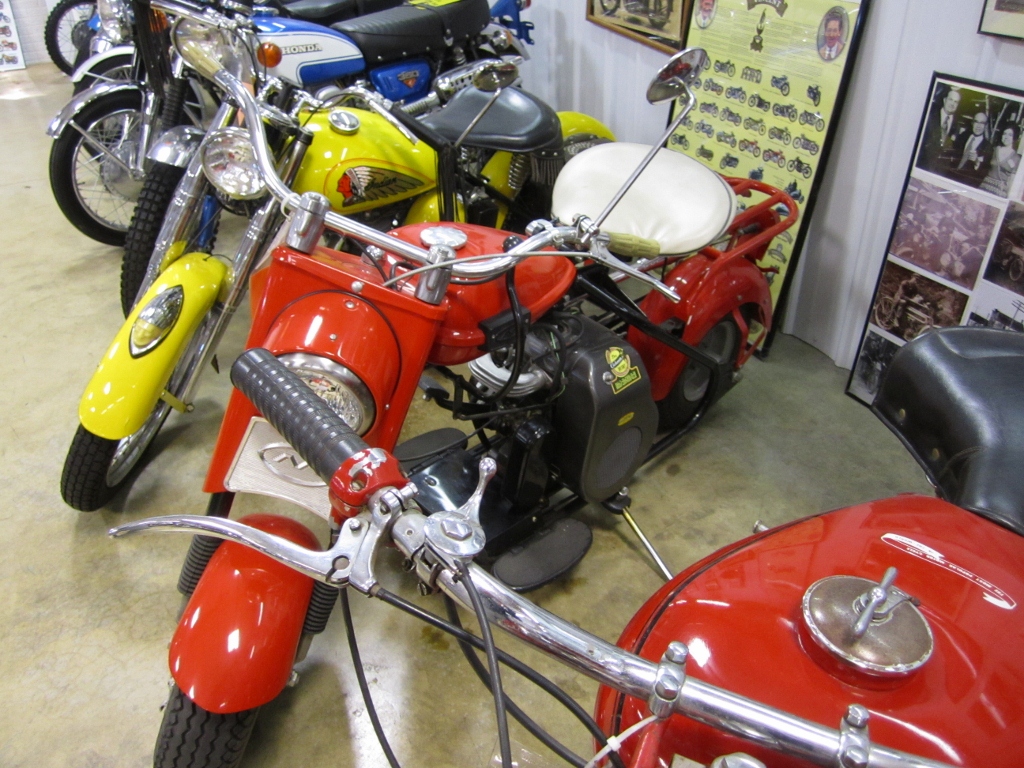 Here's mine---found the old photo when I got home.
See I told you it was just like the one above----except first gear was out of mine---no hole shots.
This picture was taken about 1971.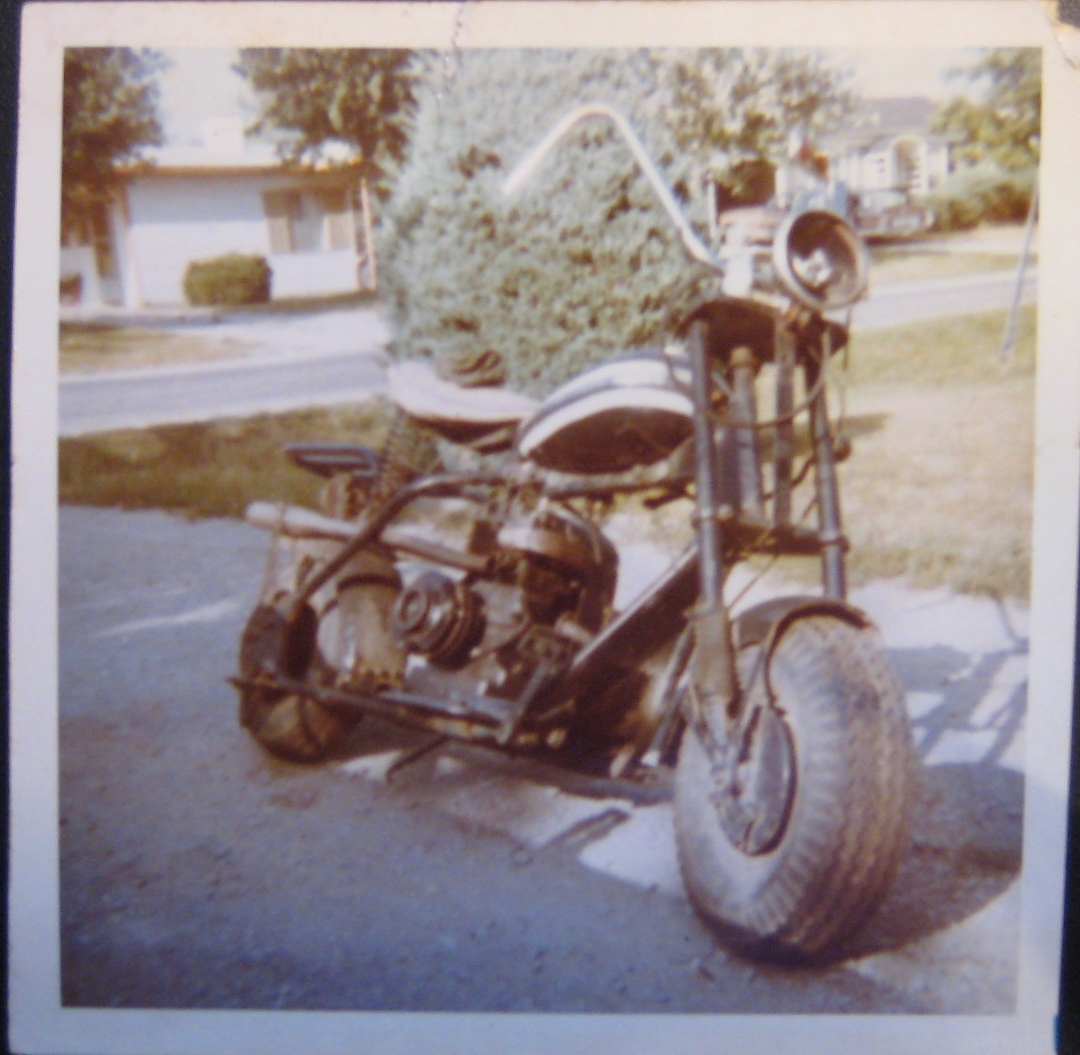 Bill at work--and play---a labor of love.
I know he got some real interesting converstions (lies) while in the store from all of us riders.
Ok---we've come to ride with Sam Corerro on a ride he laid out in Mississippi and celebrate the bike shops 50th anniversary.
About 80 riders showed up for Sam's ride and Lake Hill Motors provided everybody with a nice dinner and soda's.
The owner of Lake Hill Motors was one of the nicest guys I ever met---his smile and fun loving attitude rubbed off on you very quickly.
He was doing everything---washing windows---selling bikes---unstopping the toilet---sweeping the floor---he did it all.
He was the evil ring leader of the Honda Dream Heathens. He was behind it all.
I had the honor of sitting on this bike and starting it---ran like a "Dream".
I couldn't believe it had an electric starter.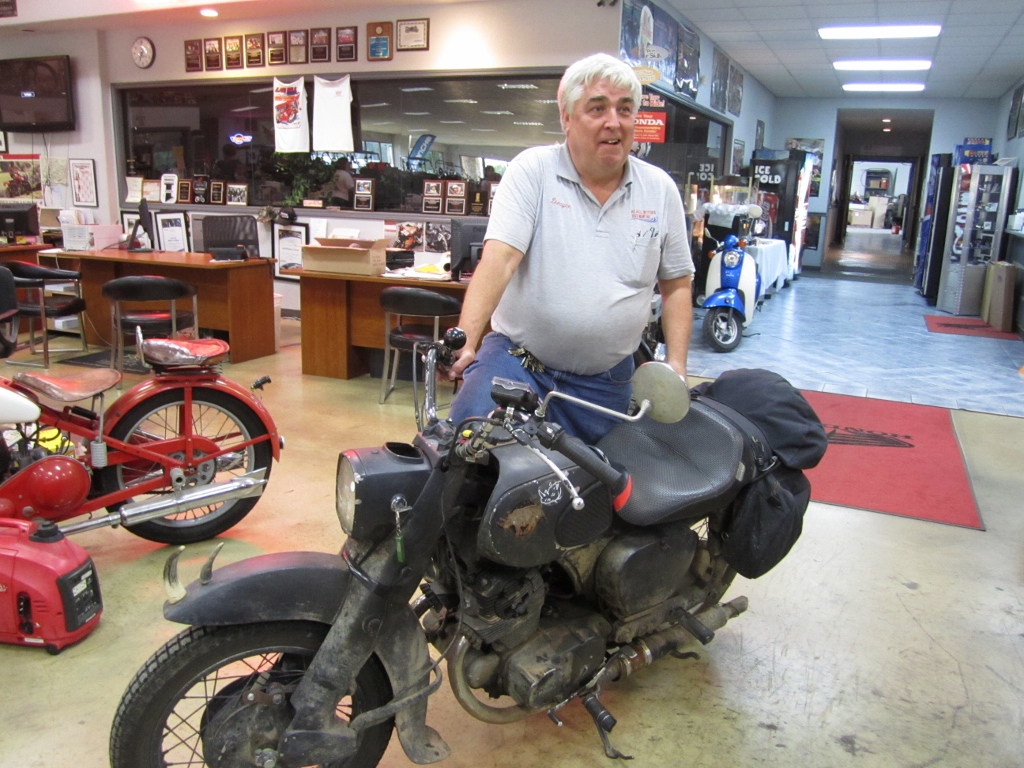 A lot of good times from years gone by (lies) were told between these 3 guys--the first lier never had a chance.
I can hear it now ---"Oh yeah---I had 3 of those with 6 cams in it"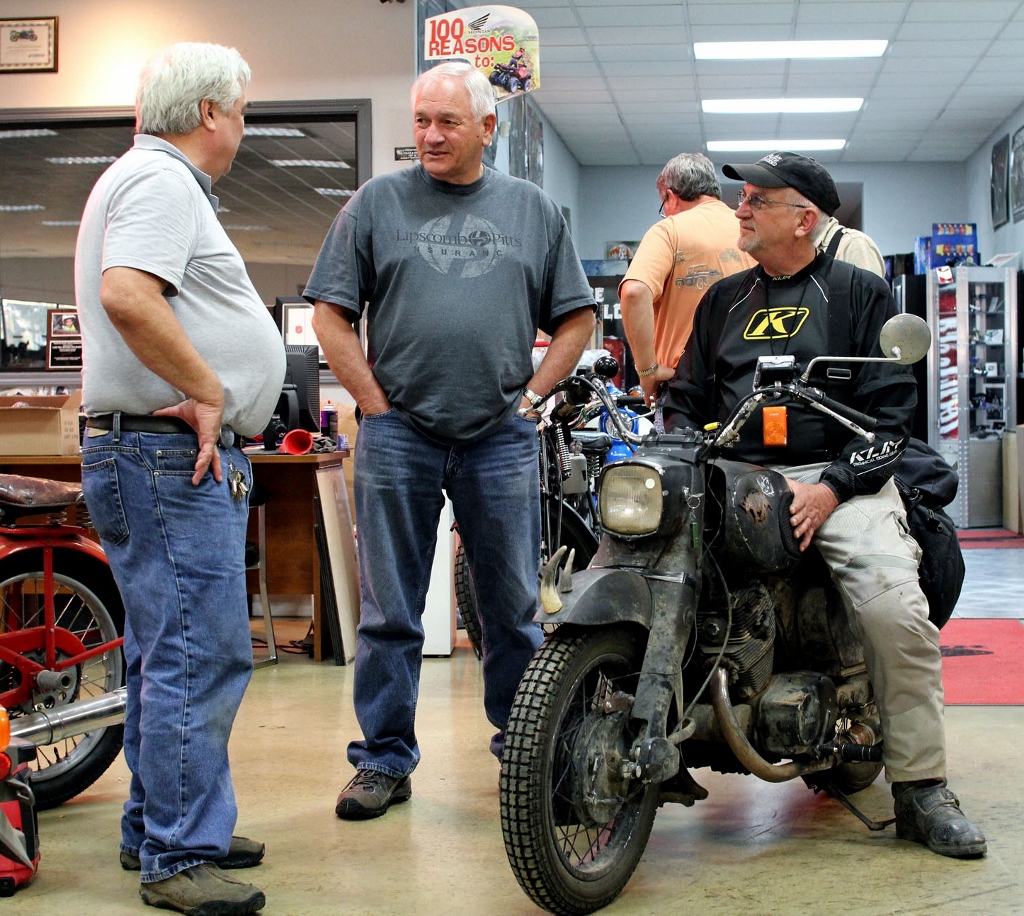 I threw a lot of money at Larry----but the bike couldn't be bought.
I'd put some of those high rise bars on it if I had it.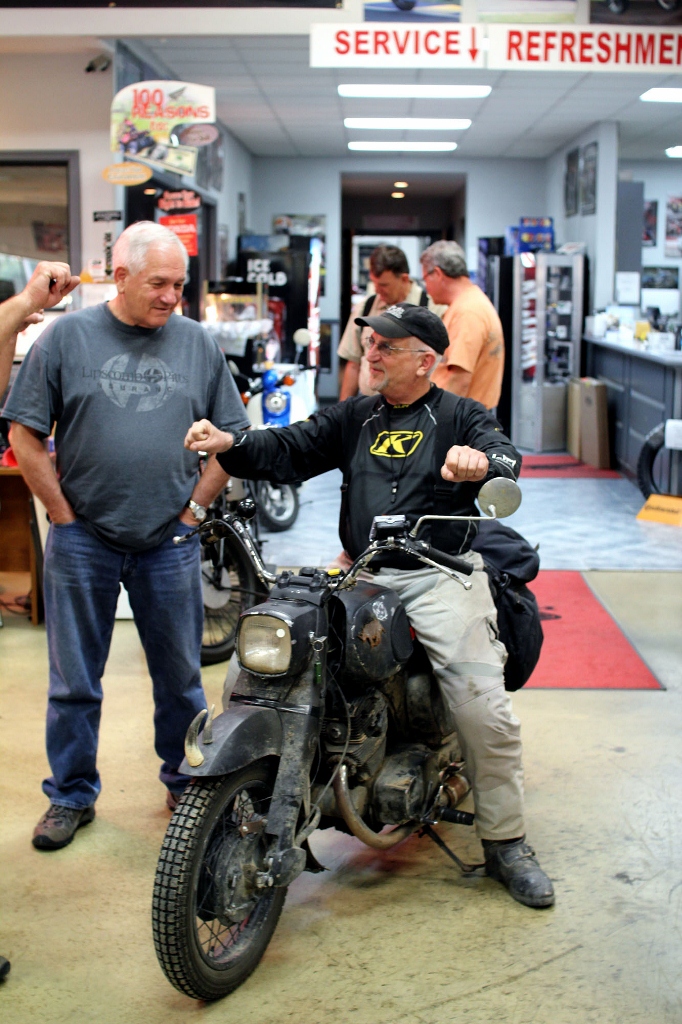 I really enjoyed talkng with this guy----sorry can't remember his name.
He was a racer---and flattracking was his game.
He was a racer---like me-----except he was fast and I wasn't.
This is his old flattracker---I think it had an XR600 motor in it---highly modified---the fins on the head were huge to try and keep the bike cool.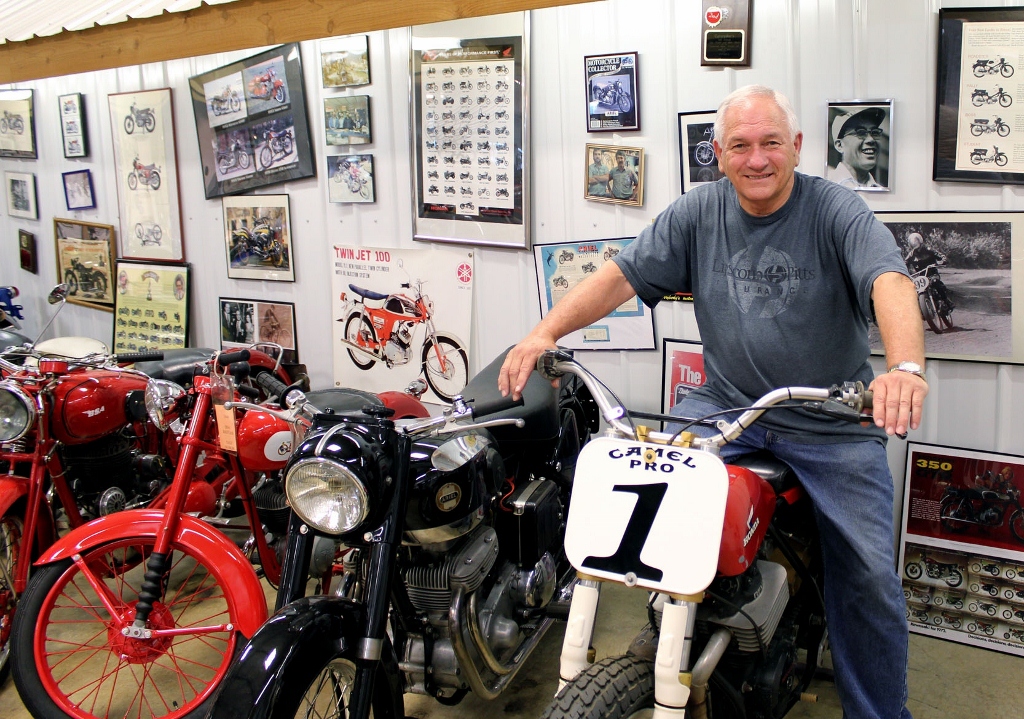 What's better than one "Dog" ????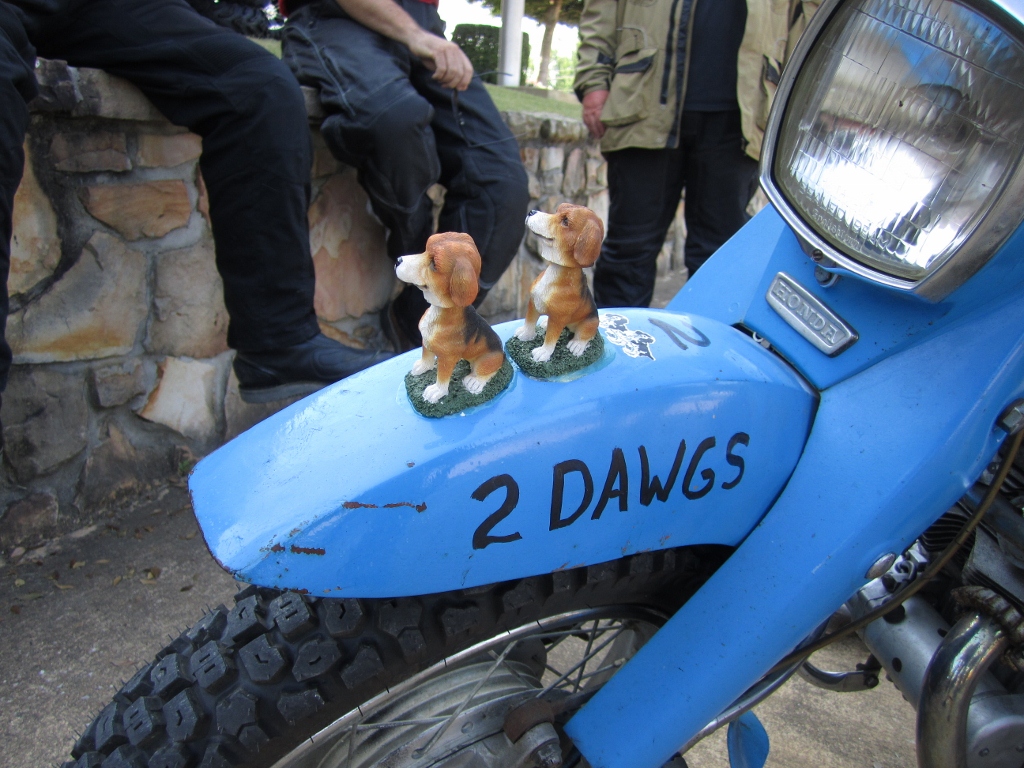 This was the bad guy of the bunch---he kept everybody in line.
Don't let that smile fool you.
Saturday morning Sam Corerro gave us our riders meeting.
And off we went----some on their own and some rode on small groups.
There were a few ride leaders----I was one and was "Team Blue"
I like that--------"Team Blue"
Mississippi red dirt---moist red dirt---my favorite--no dust ----lot's of traction.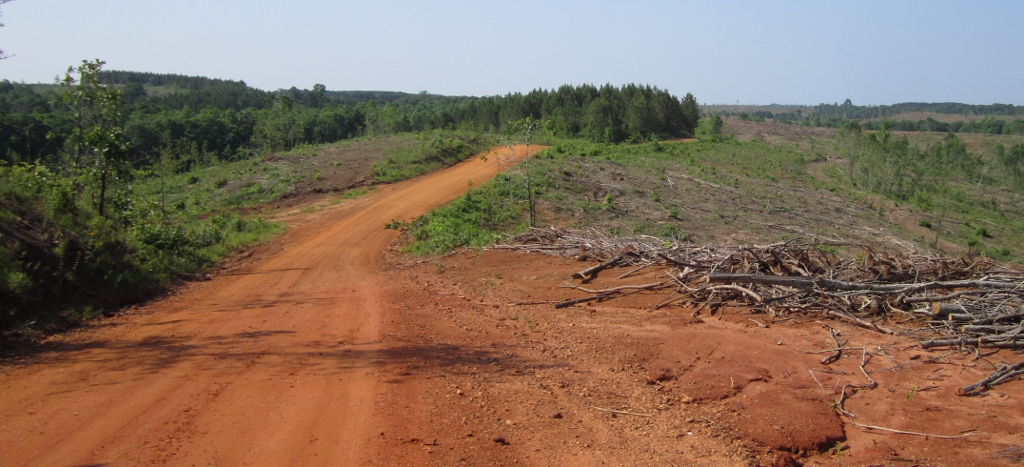 In my group was a good friend Charles Williamson on a cherry NX250----as cherry as they get.
He is the guy who gave me "Little Dog"--my toy adventure guy.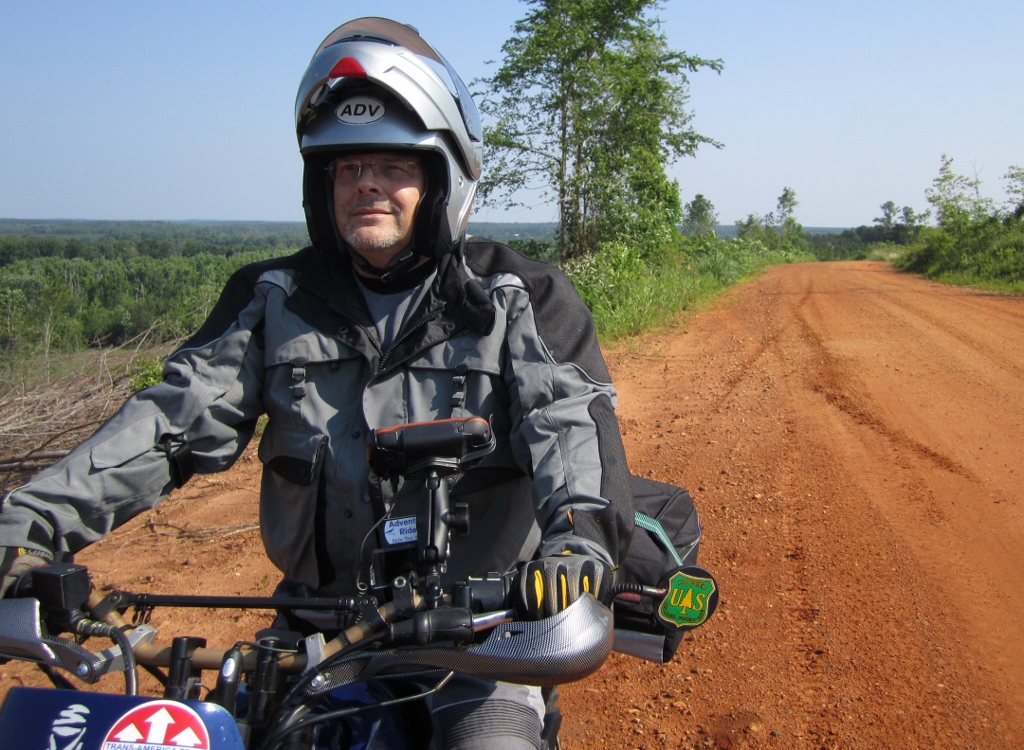 Roger Webb----WR250R was in my group-------sometimes----now and then.
Never knew where he was and he told me not to worry about him. I'd think he was gone then there he'd be.
He was a very equipped rider and when I asked where he was from---I'd get a different answer everytime.
He finally confessed to be a drifter---but did have a boat----somewhere. Great guy.
He ended up joining me for the next 2 days as me and him rode the new Tennessee TAT---West to East.
Me and him both had broken headlights--mine on the Dalton Highway--his on the TAT.
Which Sam said couldn't be done :)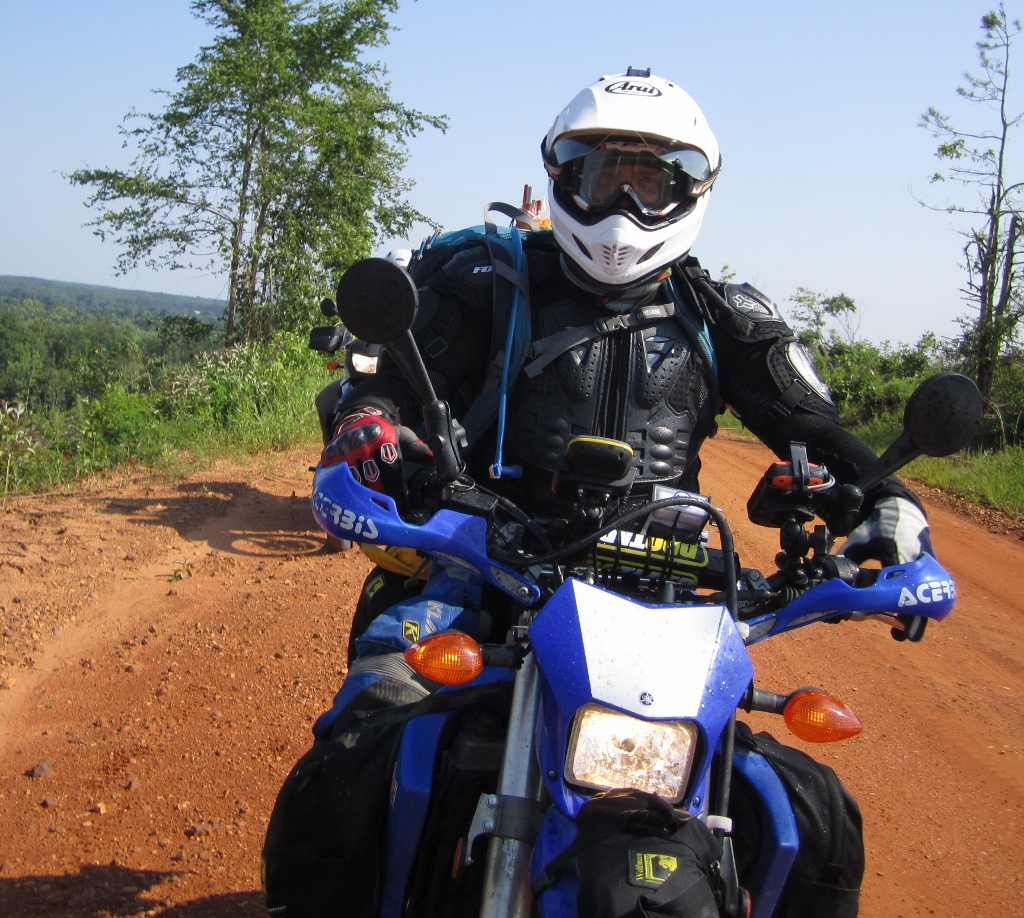 The toughest part of the ride.
I love sand---wide open throttle--stand on the pegs--keep the front end lite------except it didn't work for me.
There is a very good video of me floating around crashing in this stuff.
Not me below-----I looked much worse.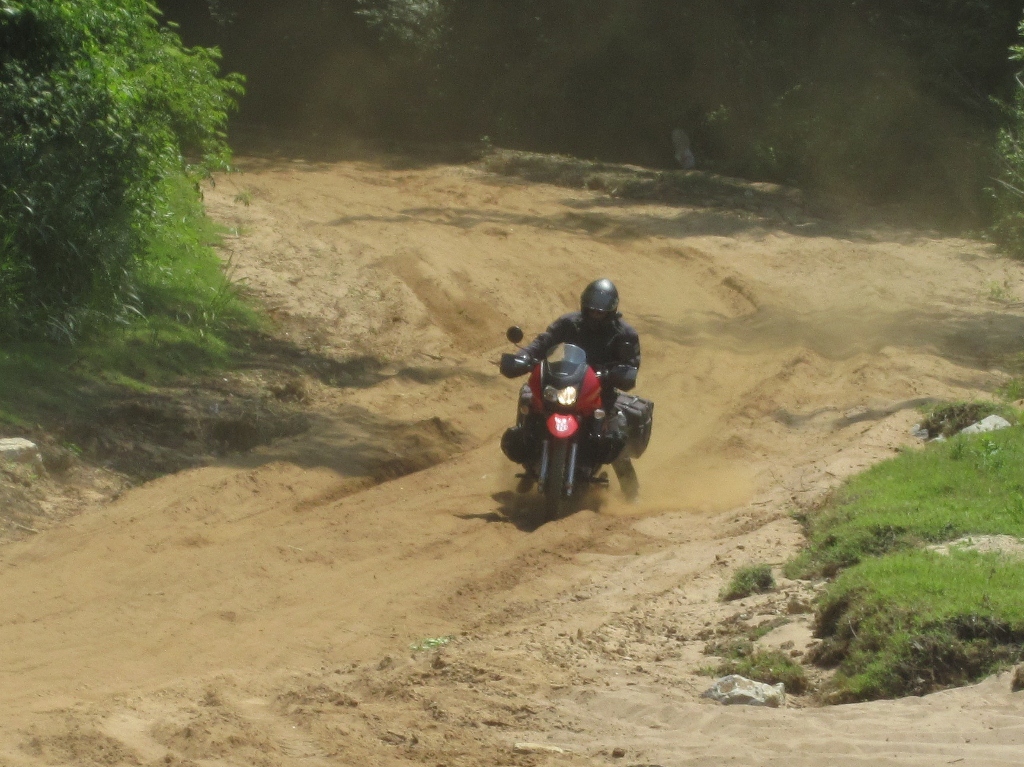 Here's a better look at Charles's NX250.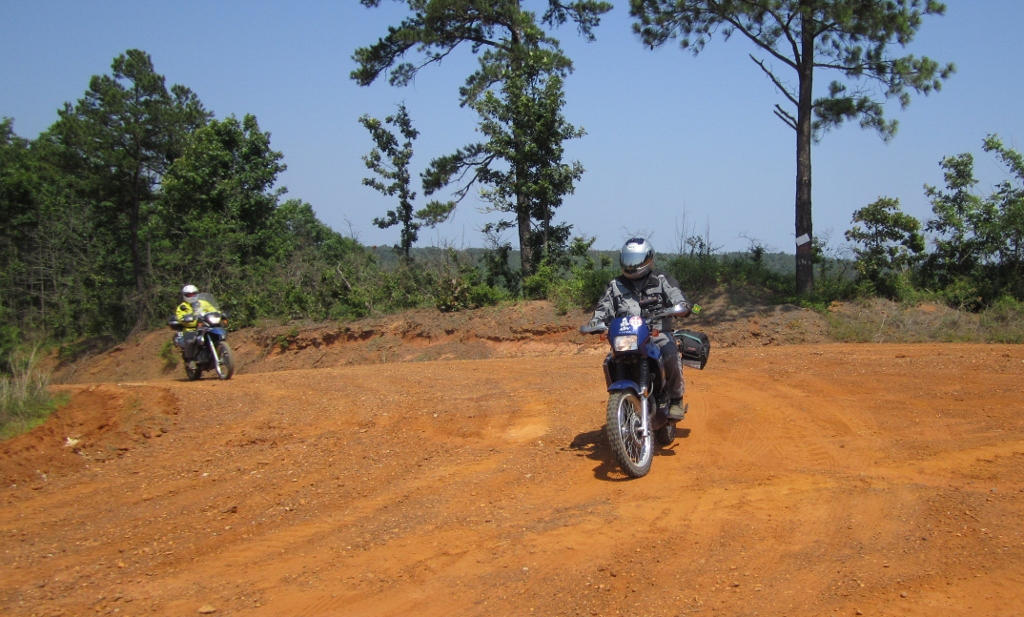 I heard these guys rode thru that deep sand like it was nothing.
Heck---they were probably dragging bottom and couldn't fall over.
We stopped in the little town of Dumas for lunch and gas.
I think Sam's route was about 180 miles for the day. It was a nice day--warm but not to hot--nice and sunny.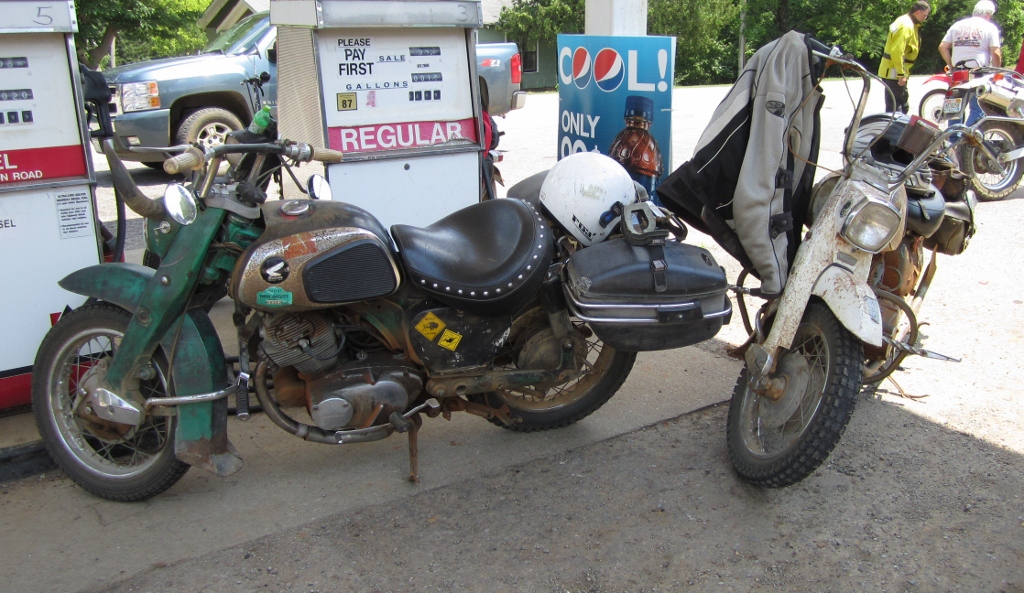 Sam Corerro
What's this ????? That ain't no rollchart ??? A look at things to come ????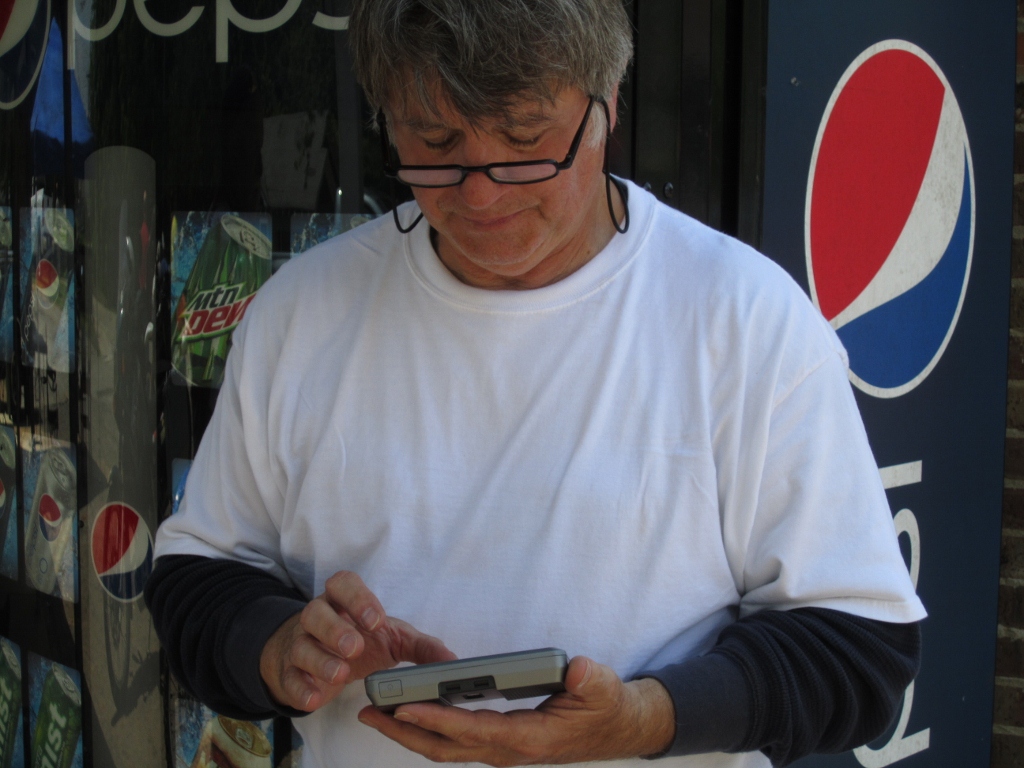 The old fart--can't see his gps---newest accessory.
Hey---he said it worked.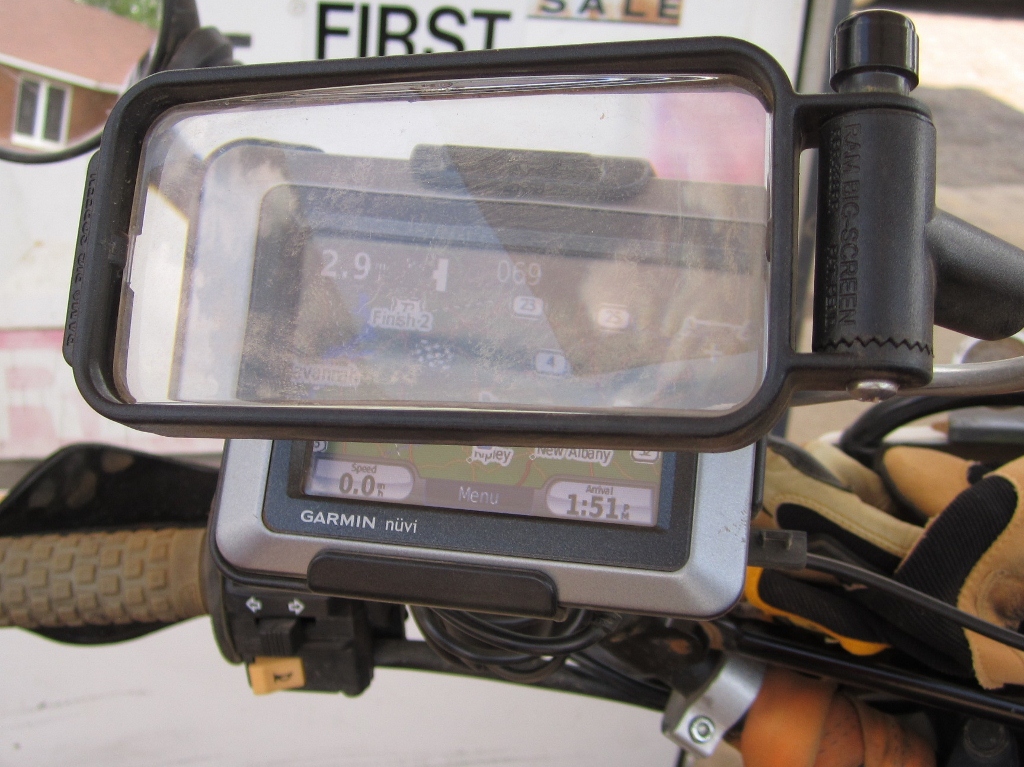 No texting while riding.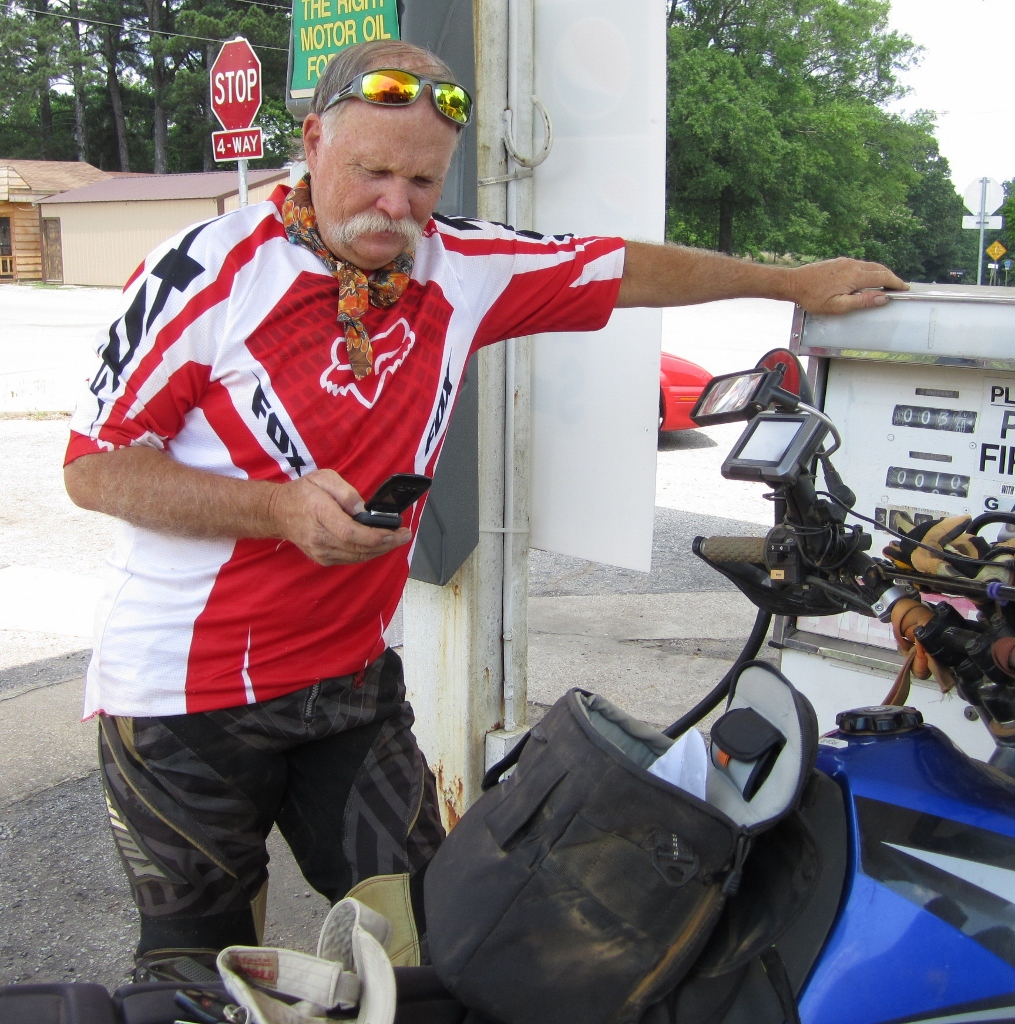 Too bad he didn't have any fun.
The gal cooking the food at the store was a hoot----and would kick your a__ if you gave here any crap---just ask me how I know.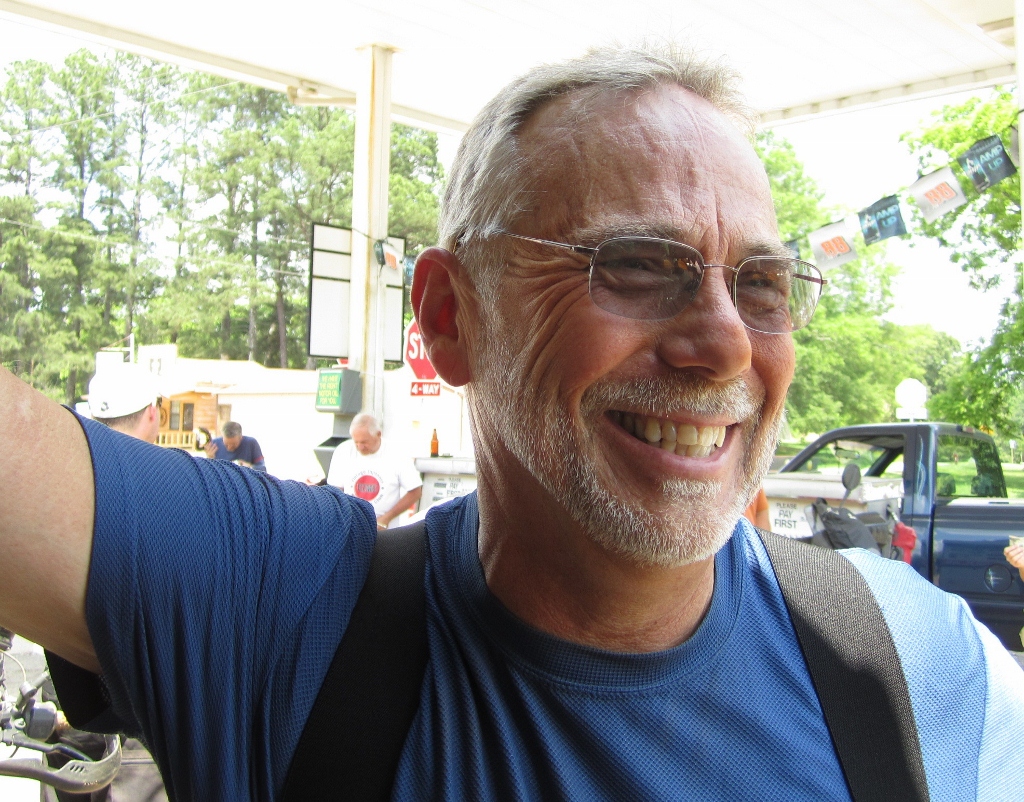 Middle--Sam Corerro
Outside-----Team Blue
Me and ole' Sam taught that youngster a thing or two on this ride.
How to sneeze without blowing it all over your faceshield for starters---a tricky maneuver that has to be executed with precise timing and precision.
It took me years to perfect it.
Wolfman never has given me any sponsorship---so now I'm workin' on KLIM--see if they'll fall for it.
After the ride---we were dusty---and a little stinky.
Homer----the parts guy at Lake Hill Motors took a bunch of us out to his place in the country and put me and Bill up in his Toy Hauler.
Shower----turlet----AC--soft bed. We had stayed here the first night in Corinth and this night after the ride.
Man that Home is a great guy--wish I had a picture of him. Super accomodating guy.
First night I went to bed with the chickens--but the second night I was getting my second wind and stayed up to I bet 9PM
telling lies and having a ball. My buddy Road Dad was there. Lot's of guys camped here.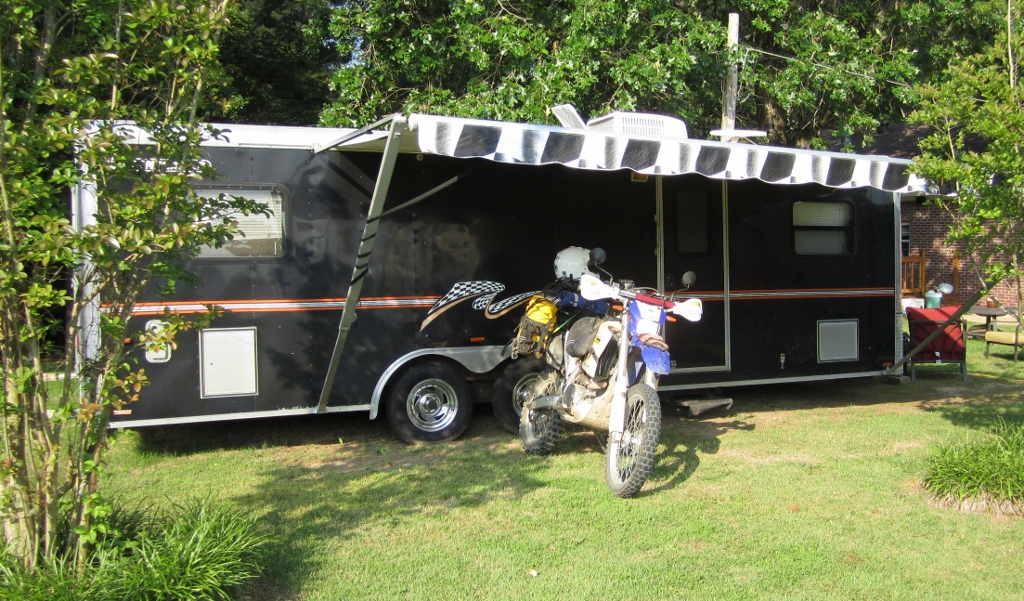 Sunday morning May 20th my buddy Bill said goodby and headed for his home, wife and kids in Missouri.
I wished Bill could have rode with me for the next few days----but family comes first--as it should be.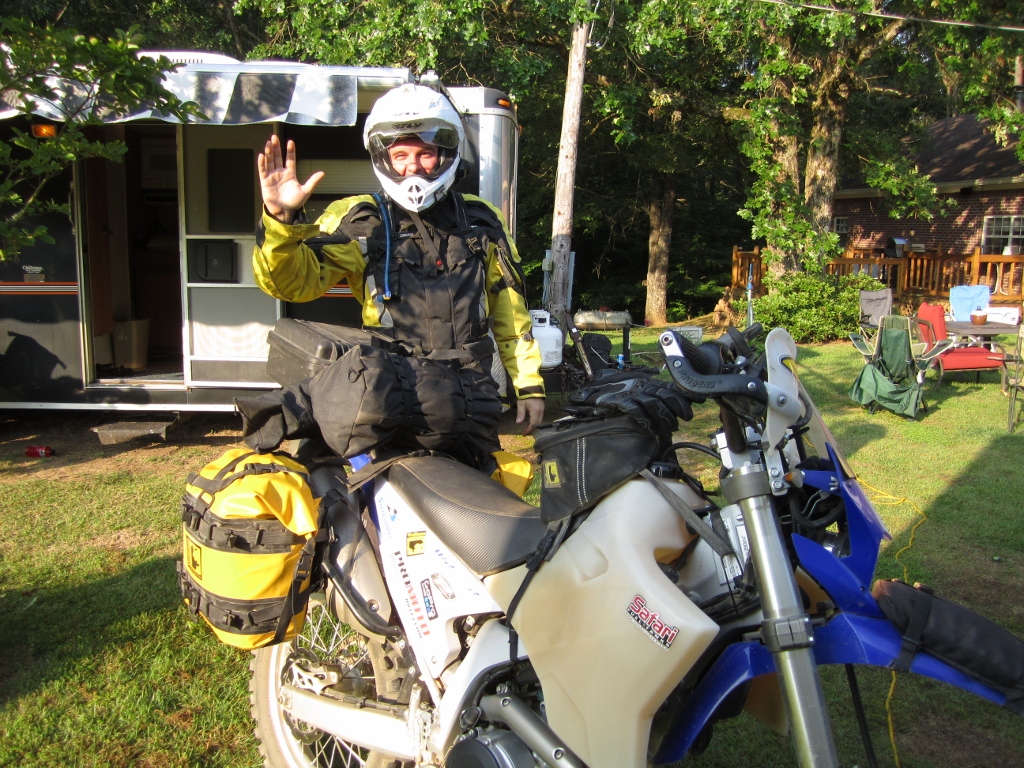 But me and Roger Webb took off to ride the highly anticipated new Tennessee TAT route that had just become available.
First stop in Counce Tennessee for breakfast.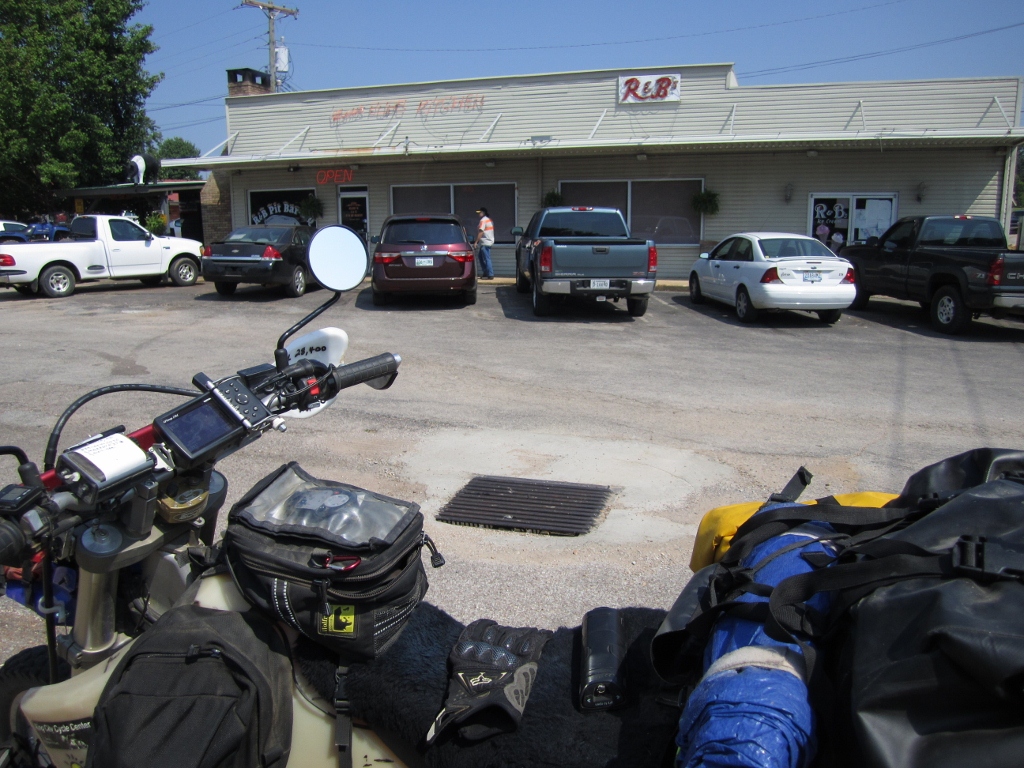 We were running the route backwards----the rollcharts run East to West ---but as always I ran it West to East using my gps.
So we crossed the Tennesee river at Pickwick Dam and headed North--then East on the new TAT.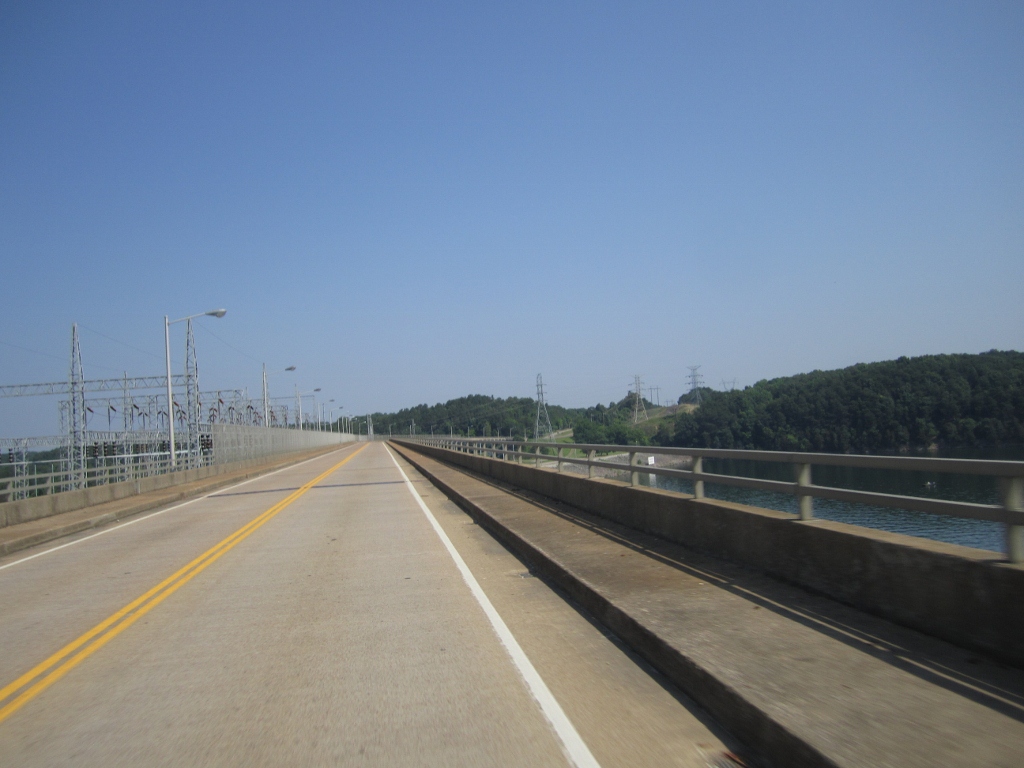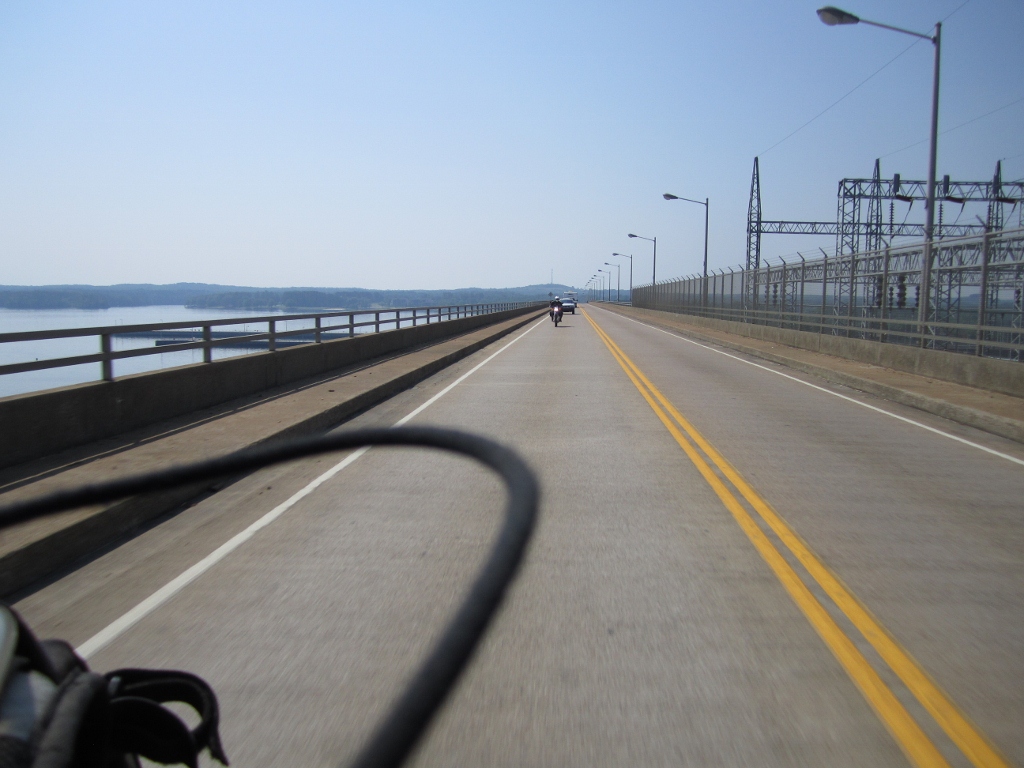 The dam is also a hydro electric plant---what a cool old truck and camper.
I"ve been coming to the campground here for year to the BMW rally here.
Brought my son here on my 1987 K75S when he was 10 years old.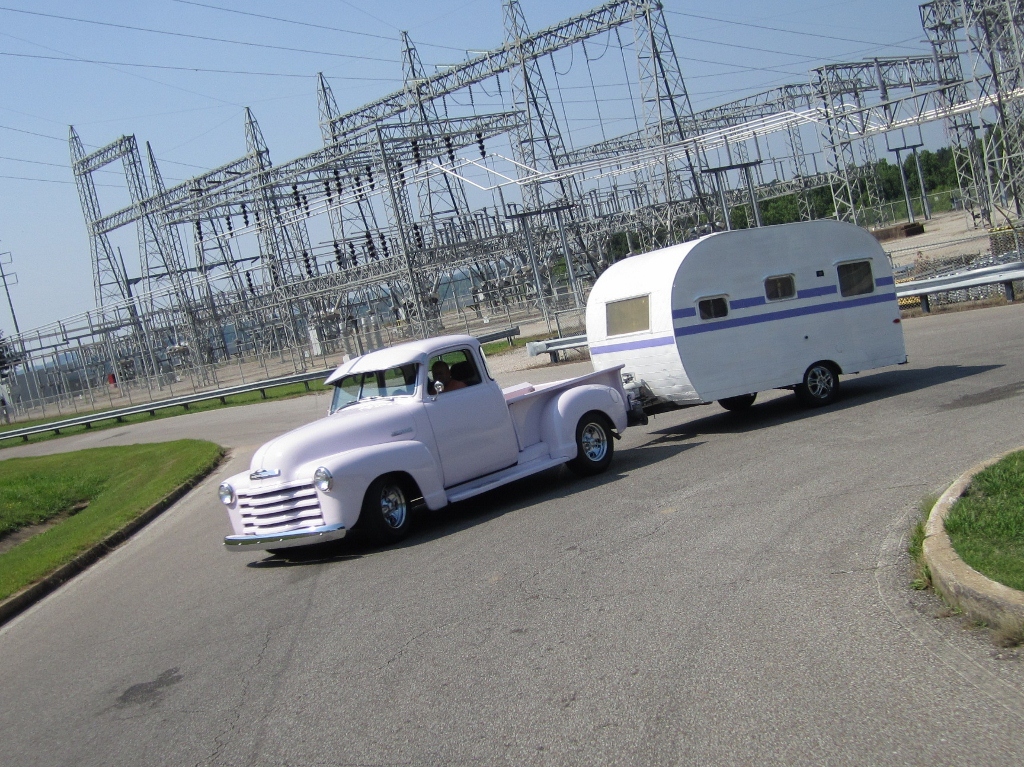 The new TAT immediately heads off in the dirt after crossing the bridge.
This was very near the river thru some farm bottom land.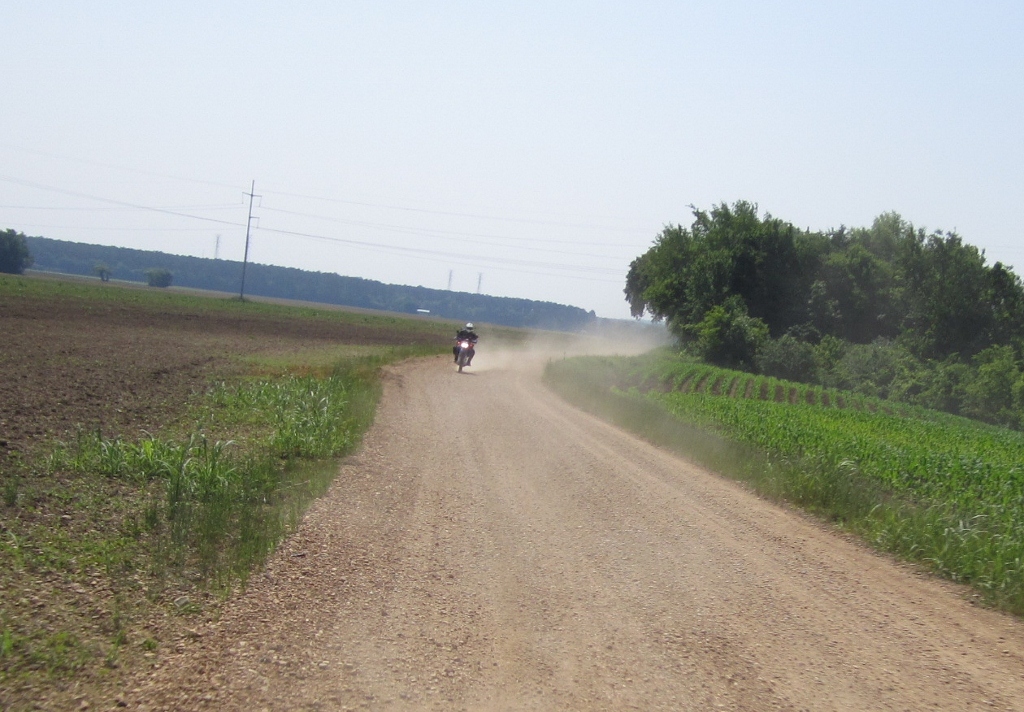 We were delighted to have been riding on dirt with a few creek crosssings--the new TAT was looking good.
It was a perfect day for riding---I had to keep an eye on Roger as he didn't have the navigation, so it was crucial I made sure
he never missed a turn---or we'd never find each other. I'm very good at not letting the rider behind me miss a turn.
I told him if he came to a place where there were options on which way to go and I wasn't there---take the obvious way.
It worked perfect for us and I hardly ever had to wait for him.
The creek crossing were abundant and we rode thru a lot of areas where we rode thru a tunnel of trees--that's always neat.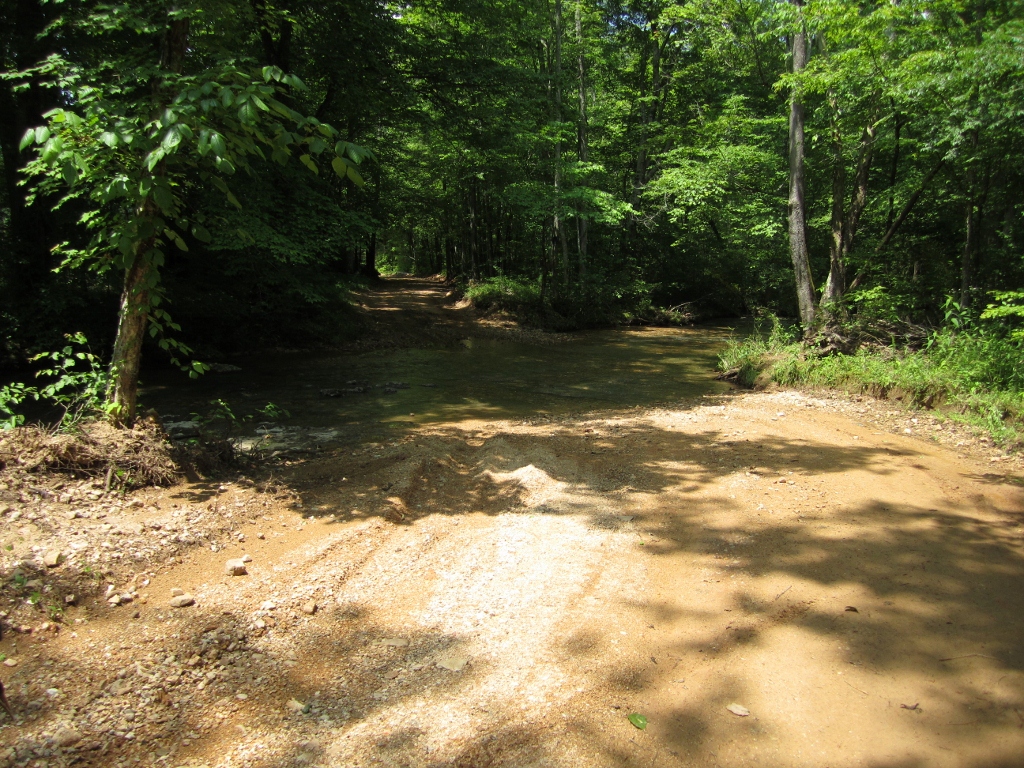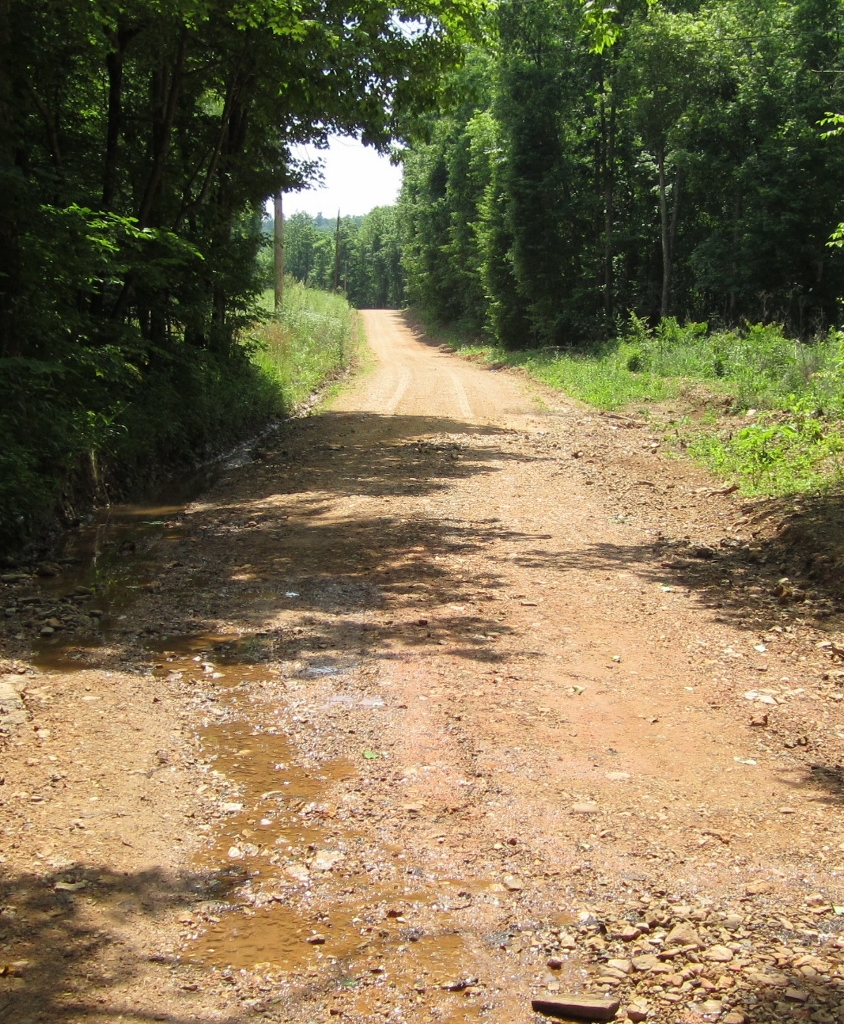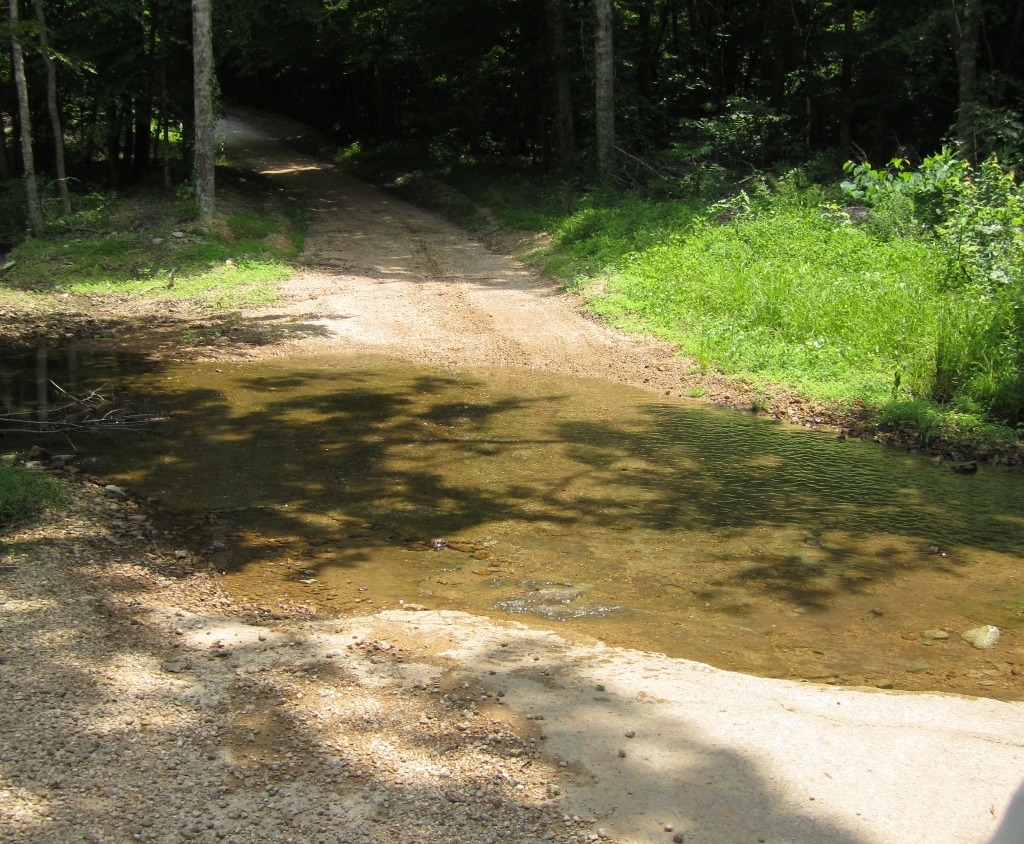 Are you liking the looks of this ????? There will be one tomorrow that gives Roger a fit.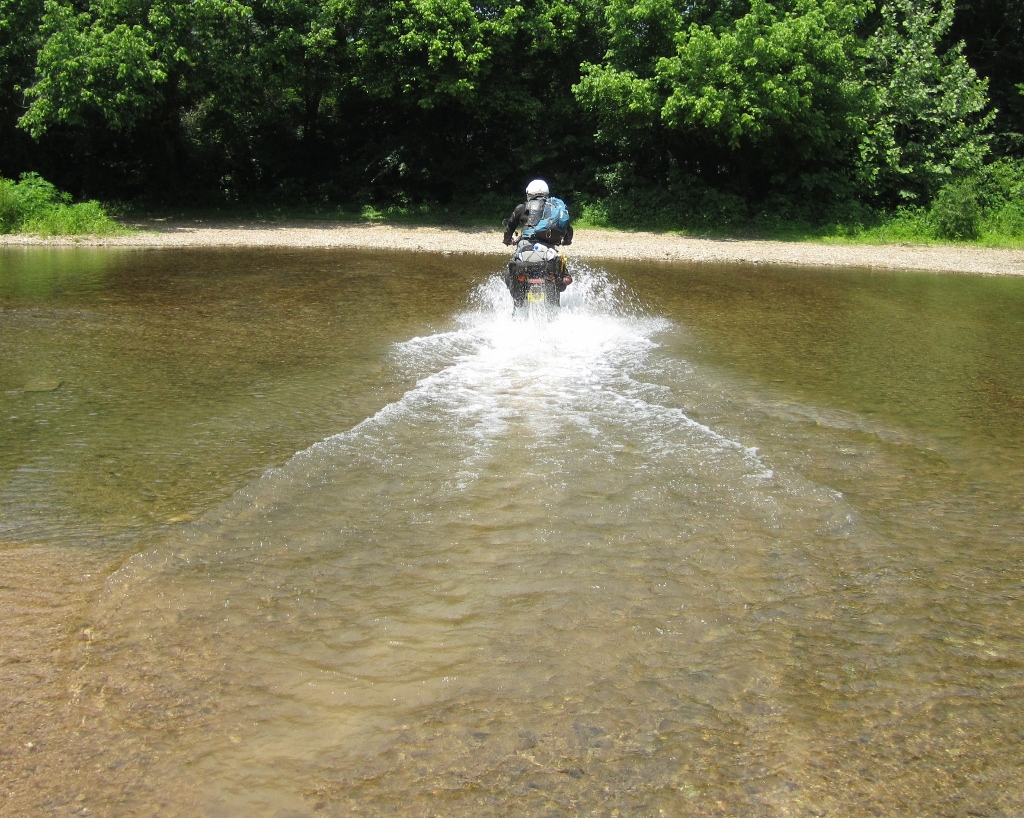 Sometime you just keep riding---maybe to the point of wearing yourself out----what for ???
Time for a break at a neat little park---thank you American Legion.
We had a snack and gatorade here---and I marked this place with my gps as I do lot's of stuff along the way.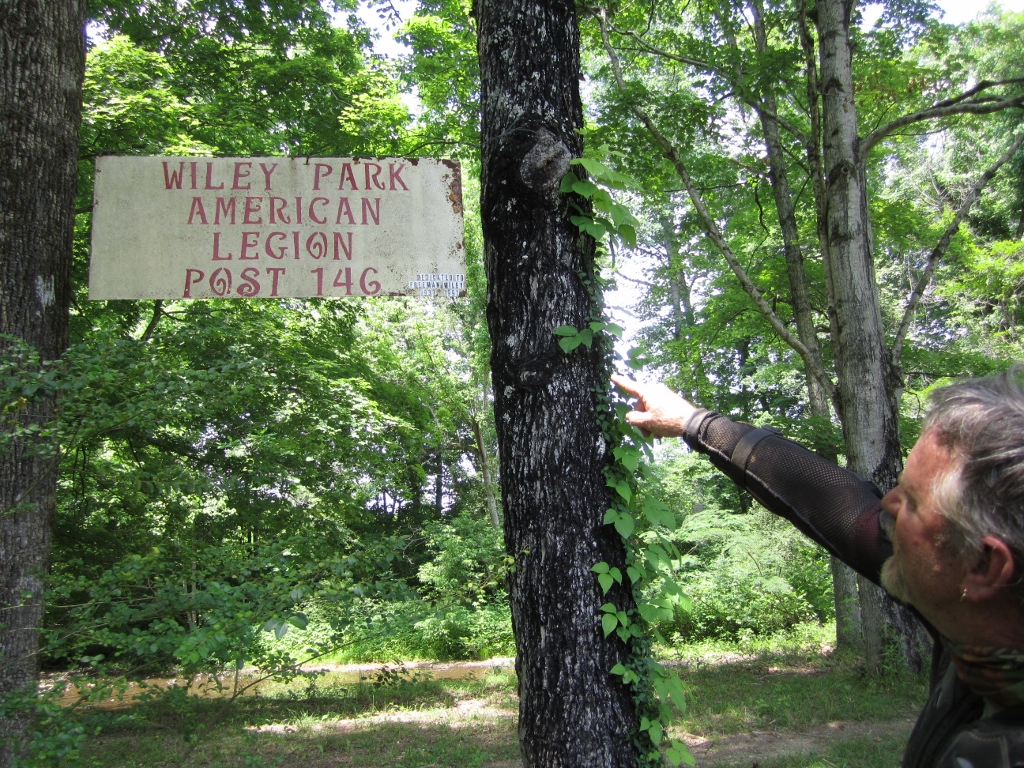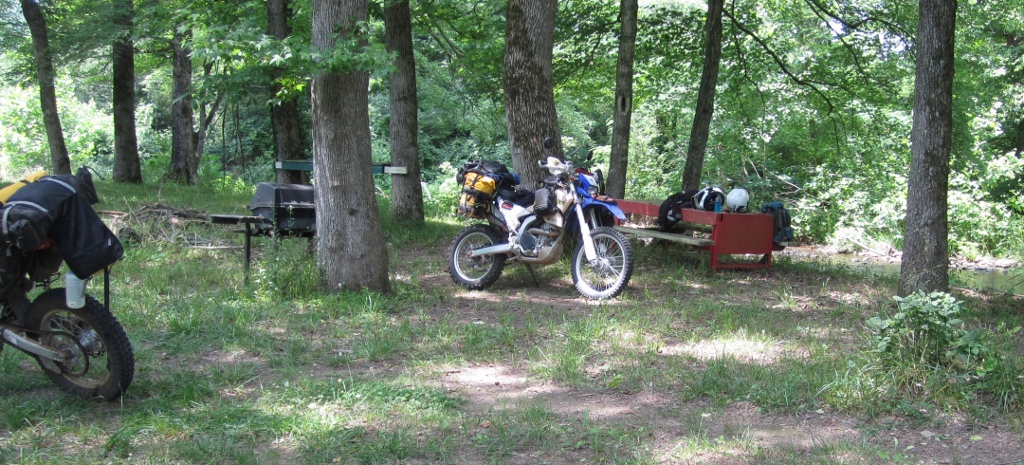 It was very warm ---but not miserable----I took off my helmet and drenched my head and soaked my mesh riding jacket.
When I took off I was so refreshed. Roger like my pace perfectly---and are riding together went very smoothly for the 2 days we rode together.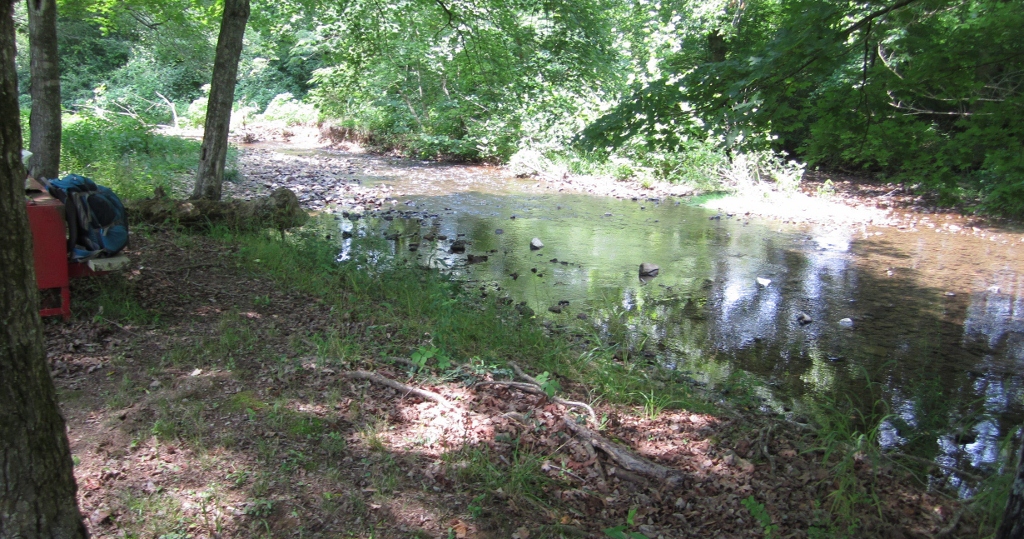 You just not going to believe all the swingin bridges we would see on this ride.
This one was on the TAT--but I guess most of them were on the TET---which comes later.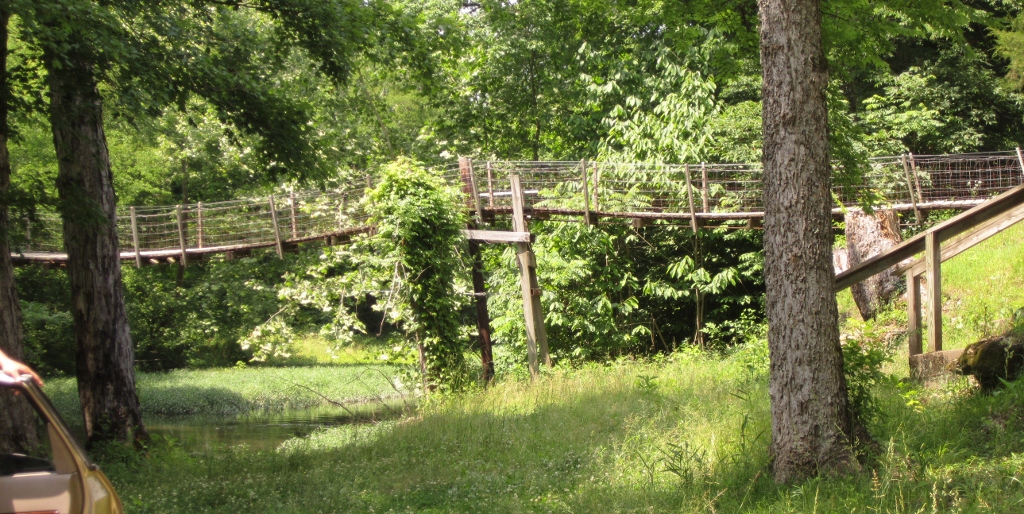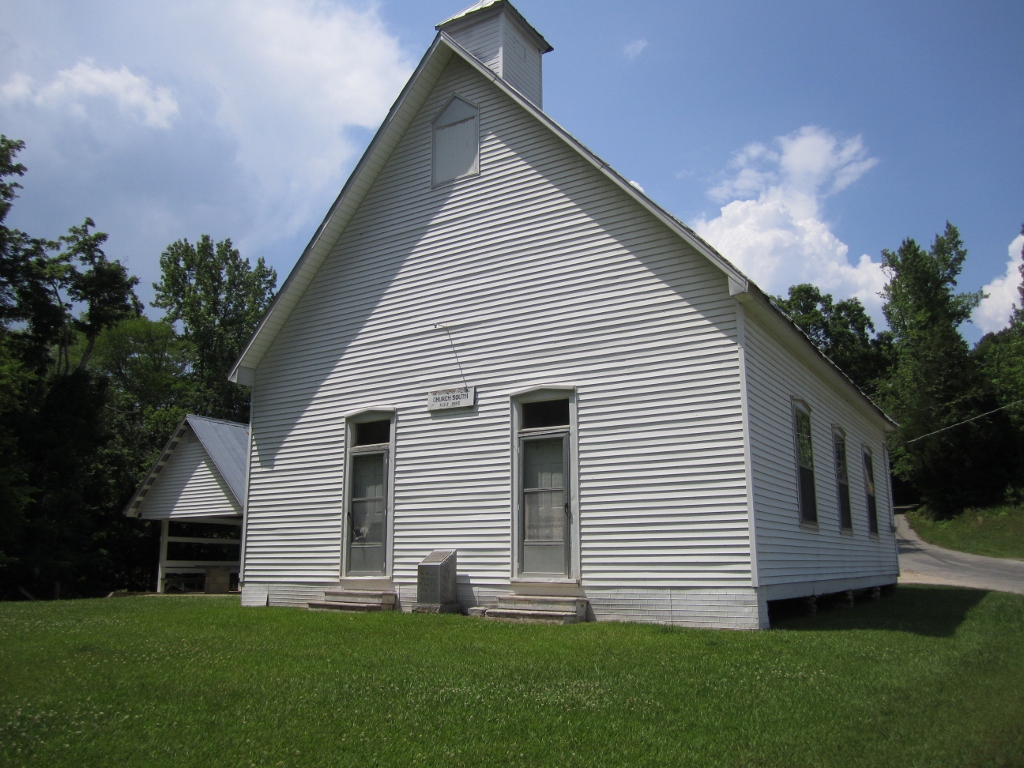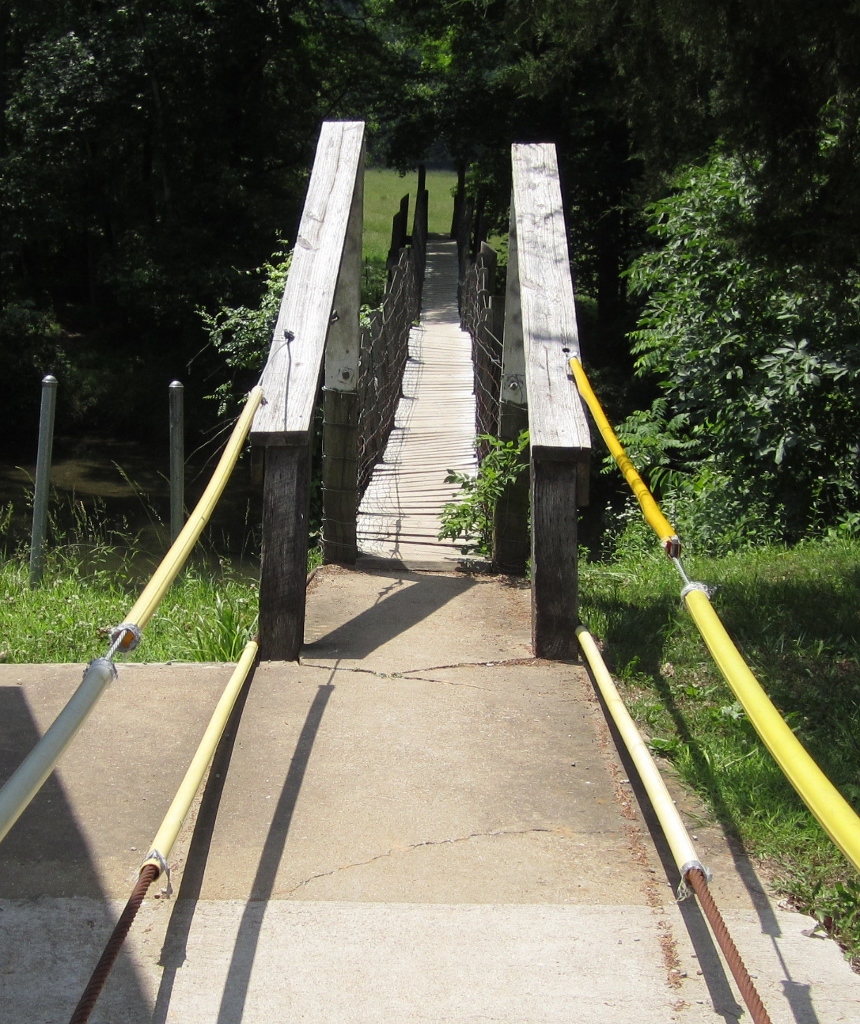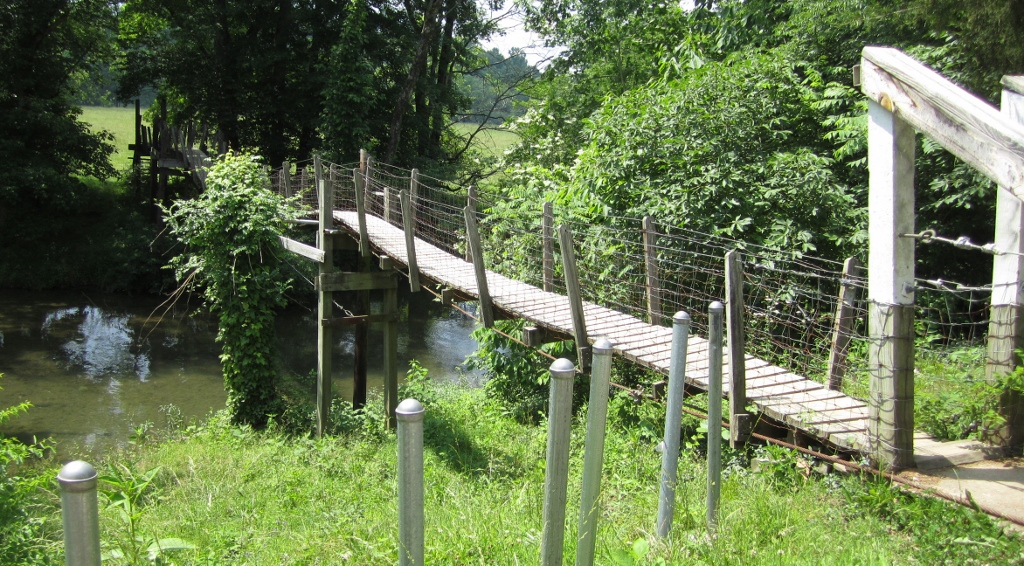 This was right below a swinging foot bridge--the whole family was having a ball in the water.

Holy smoked the terrain is getting beautiful-----I'm gonna bet I stood on the pegs and let er' rip.
I love standing up when riding---it just feels good---kind of like I'm flyin'---and my butt don't get sore :)
And--------you can fart freely.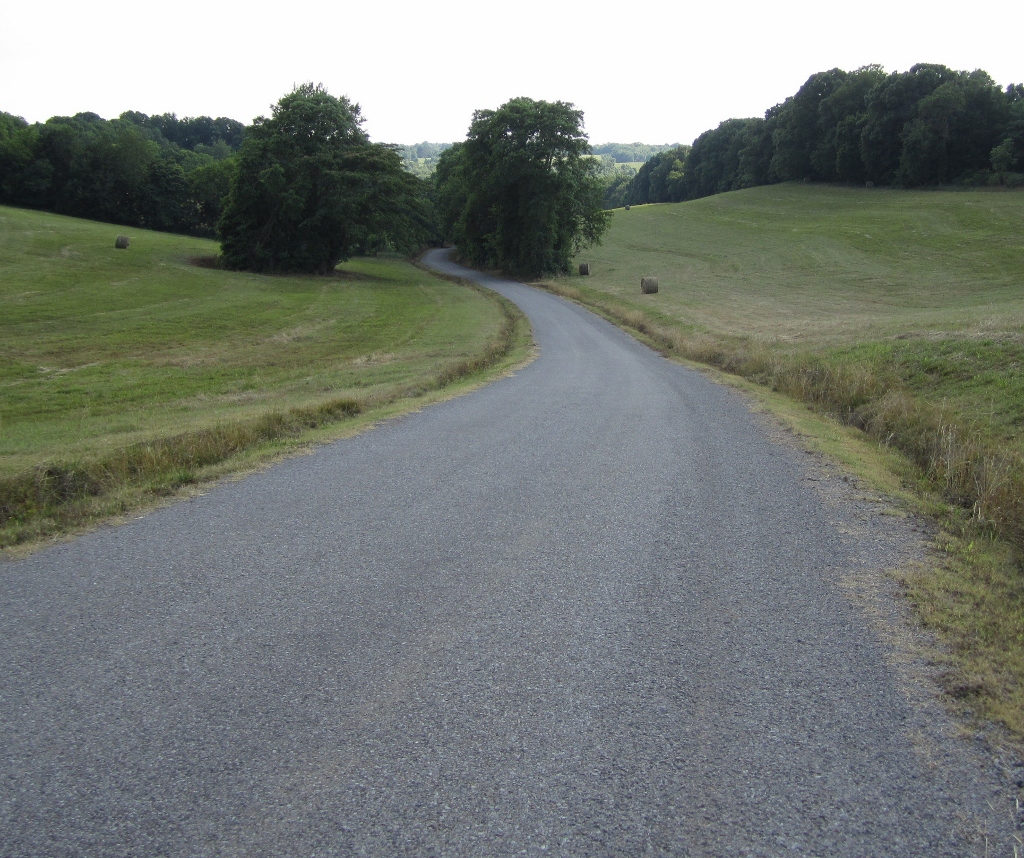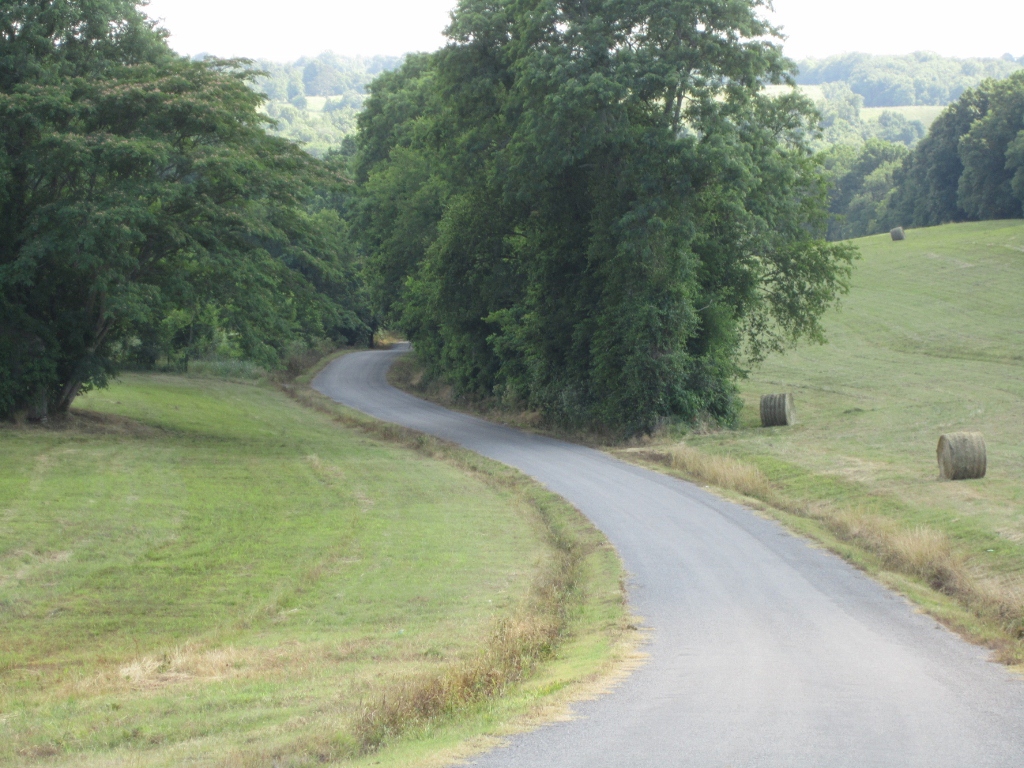 Sights of the new Tennessee TAT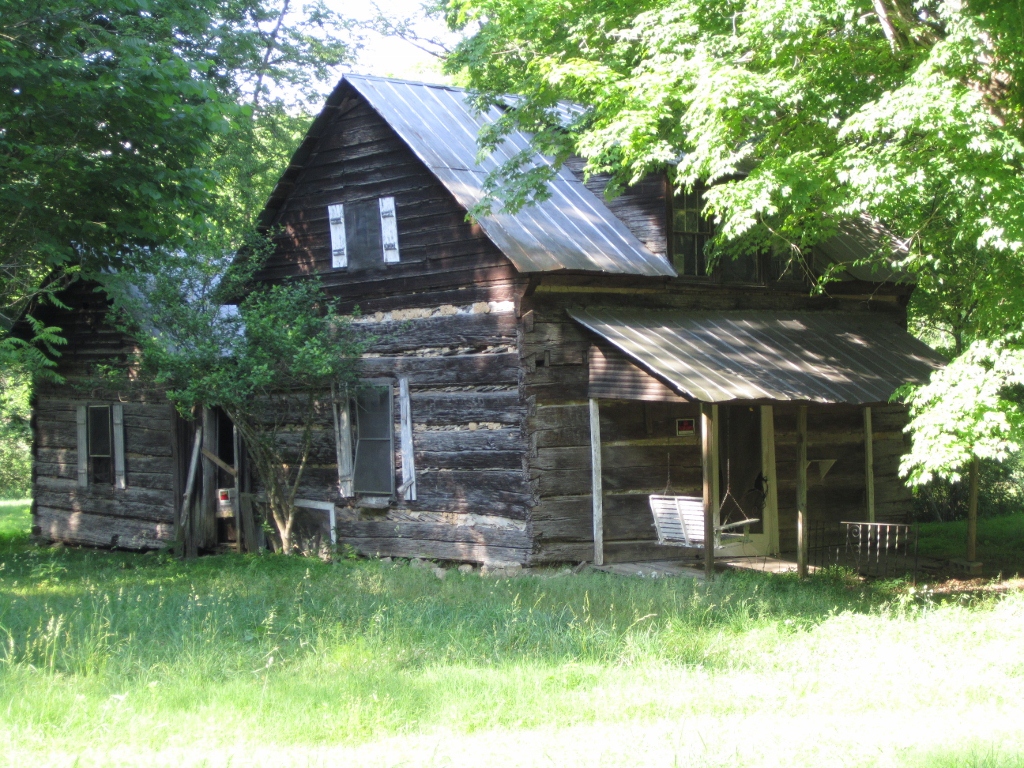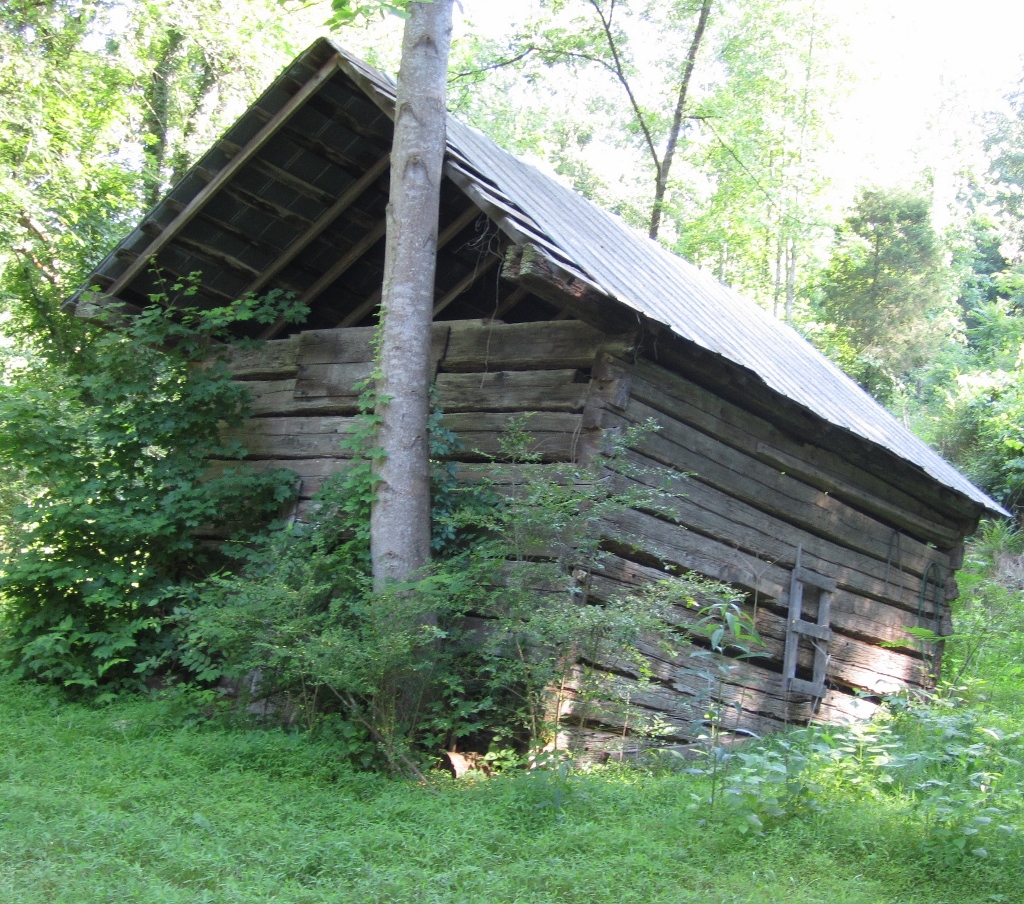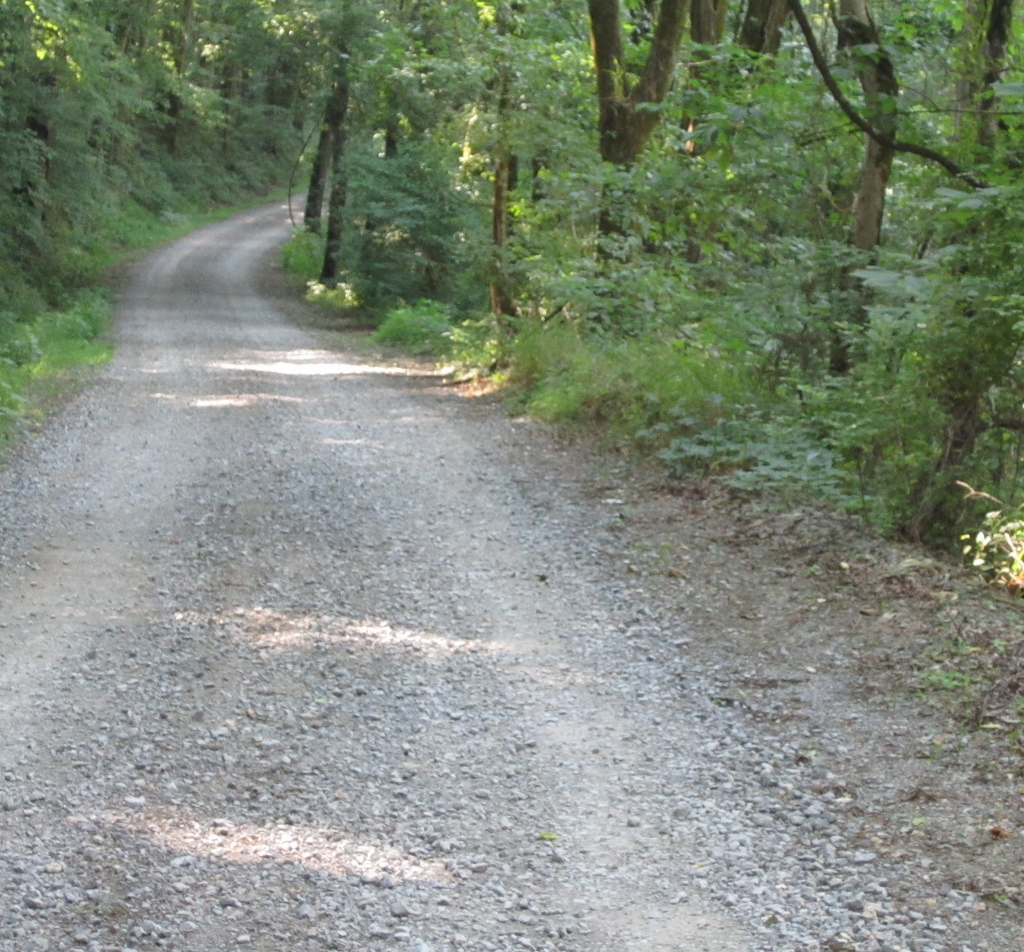 A most unusual barn.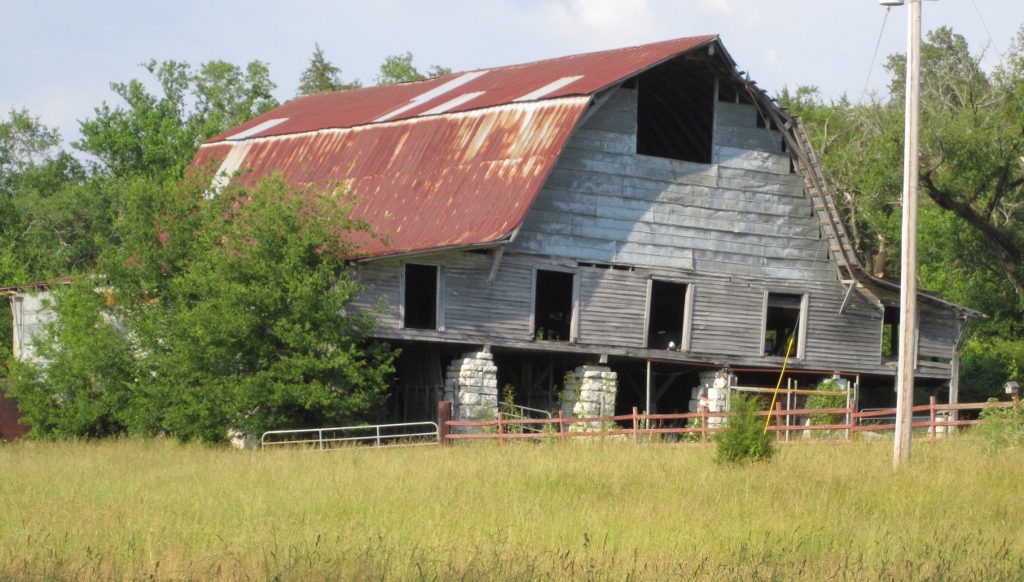 We were bent on camping at Tims Ford State Rustic Park -----but the wind started blowing 45mph and it looked lie the skies were going to open up
on us---and I pulled in the first (and only) motel in Lynchberg. As soon as we got in the room---the weather just turned nice all of a sudden---weird.
I think it was 227 miles for the day----the new Tennesse route is exactly 400 miles long.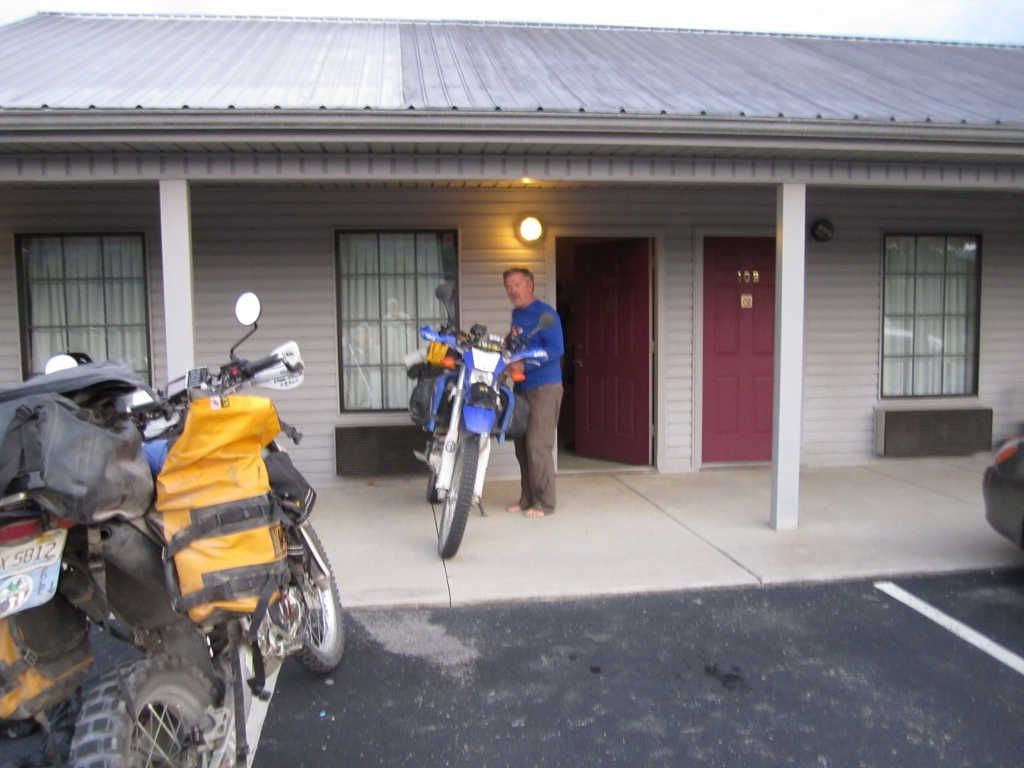 Lynchberg Tennesse court house.
It's now Monday morning May, 21st.
We rolled out early for breakfast.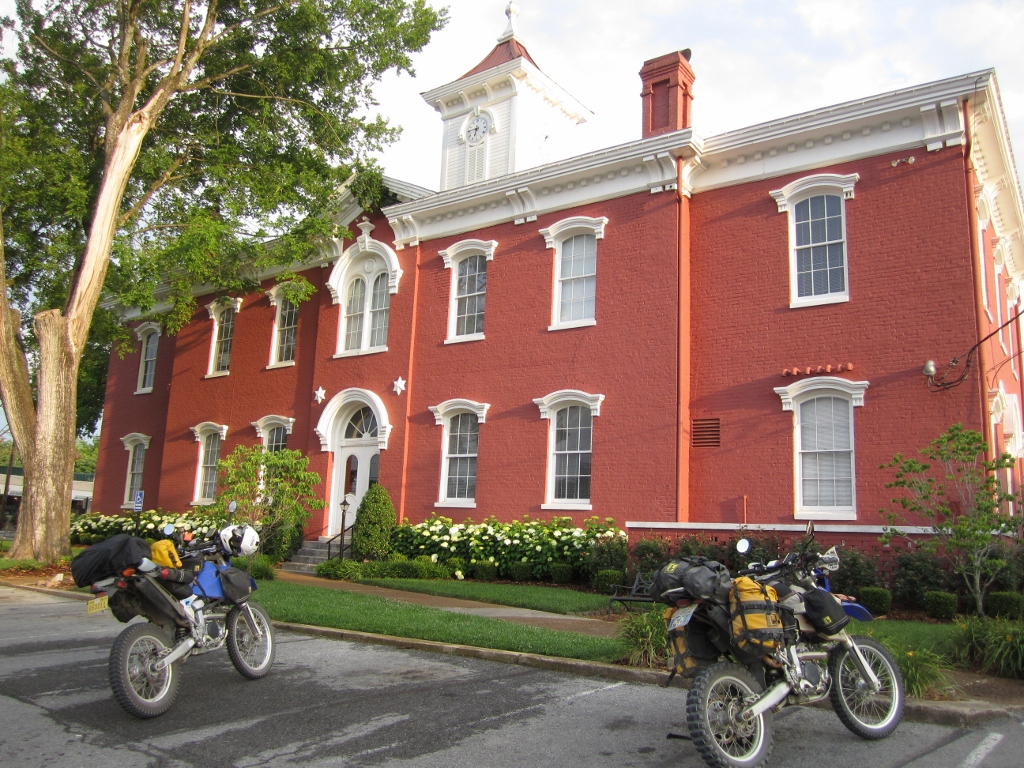 I loved this town of Lynchburg----it hadn't lost it's hometown flavor at all---the whole court house square looked like this.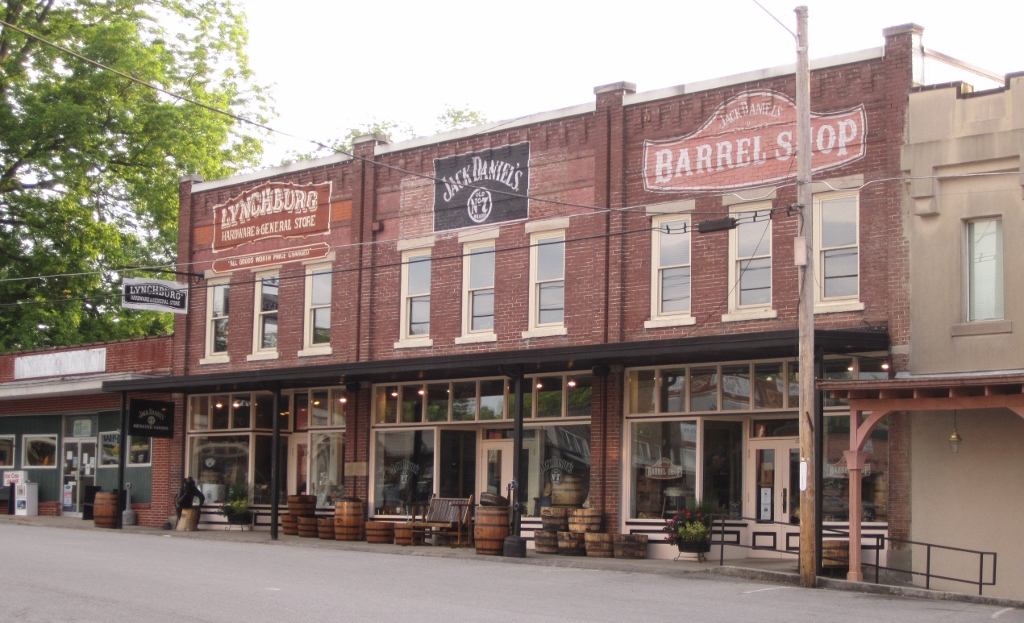 Now here's a sight-----what were they starin' at ??????
They never took their eyes off the door of the iron kettle restaurant---which is where their owners were.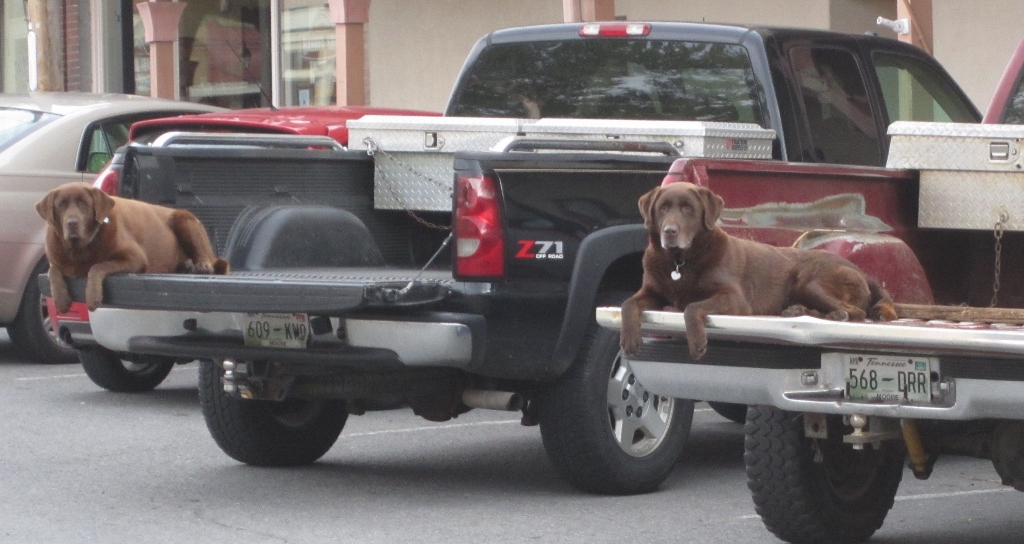 Roger and me had a hoot in dowtown Lynchburg.
Rogers older than me but like me has tried to stay healthy so he can keep riding.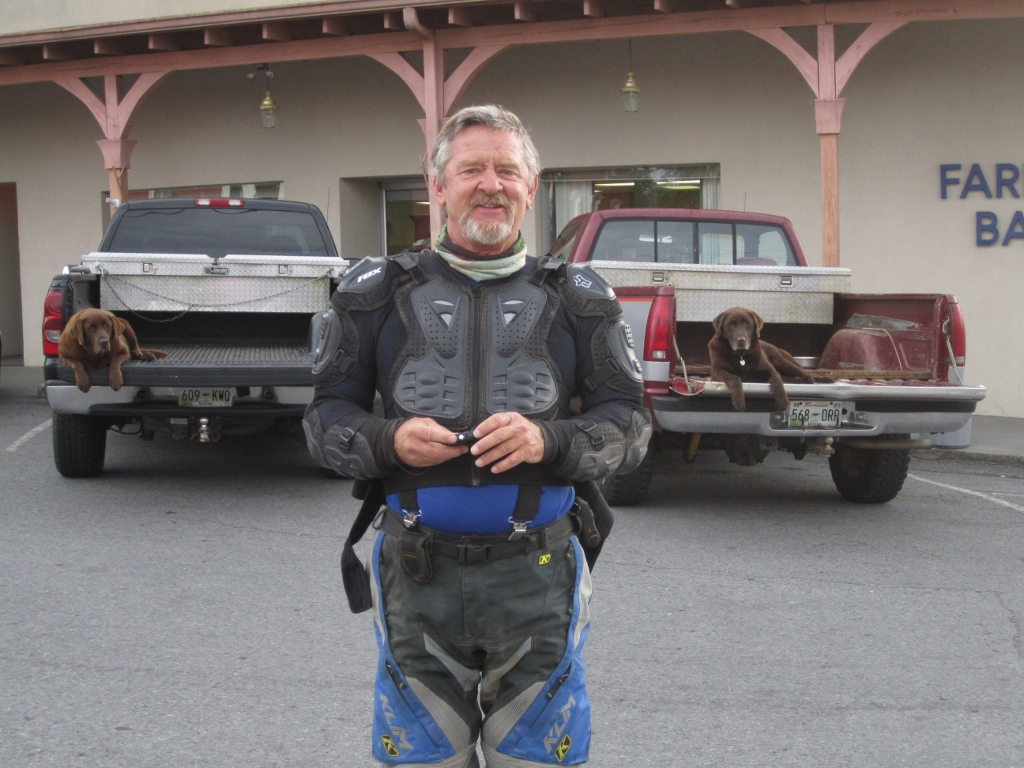 What's the BigDog thinkin' ????
Could be----"would you scratch behind my ears----nobody ever scratch's me" ??
Or--------"you touch this truck and it will be the last thing you ever did" ????
Thanks god it was the first one.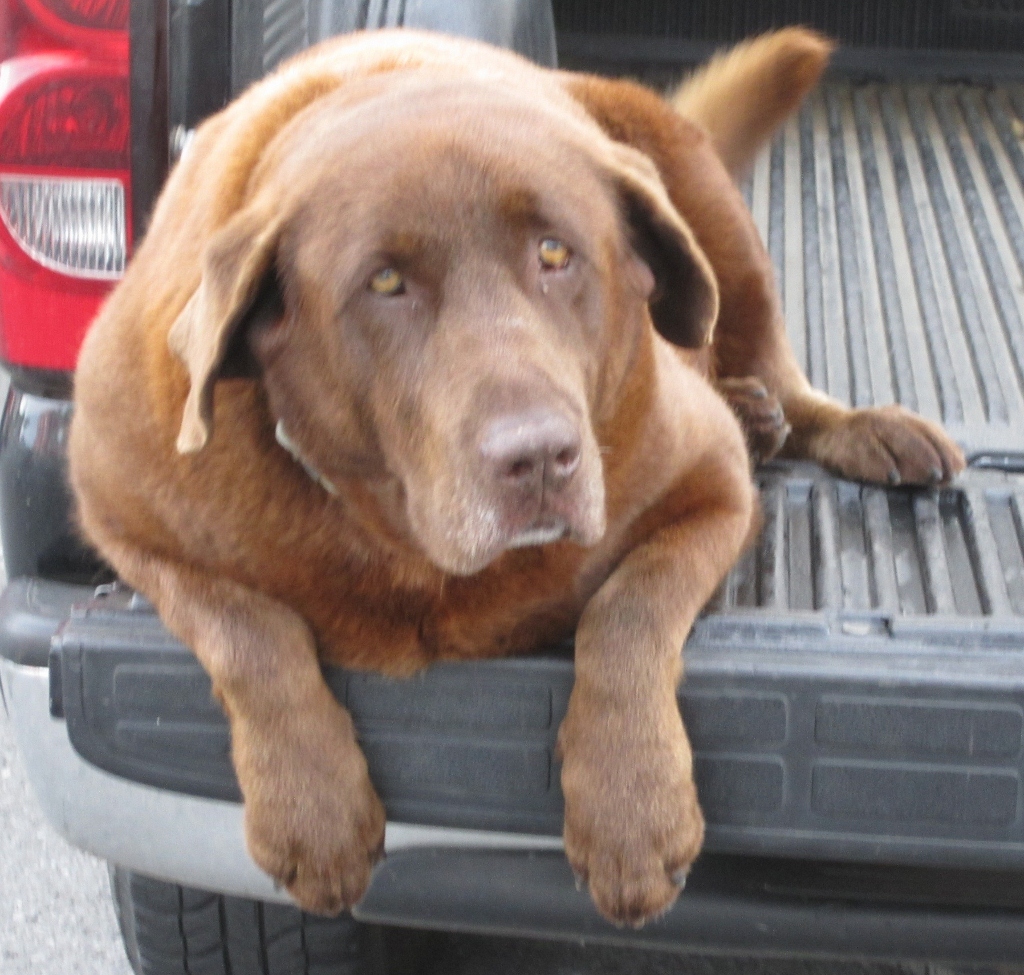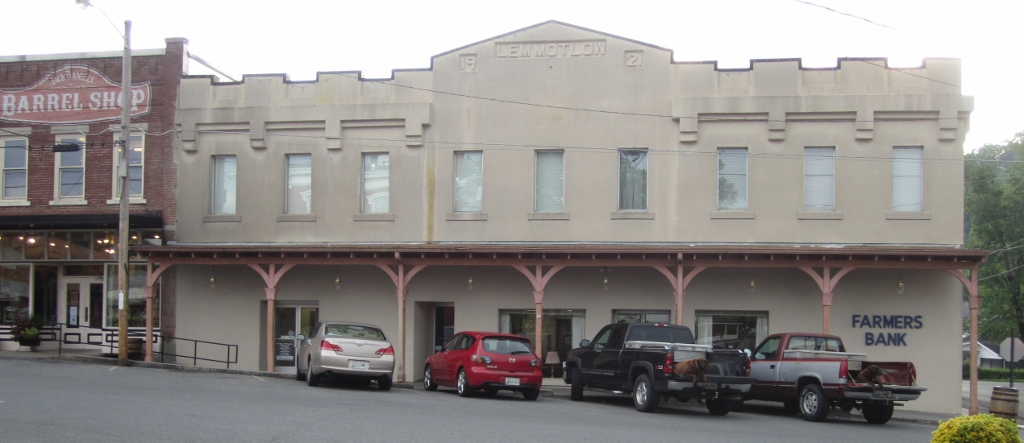 Me and Roger ate breakfast at the Iron Kettle---and as always I approach people the locals in the restaurant and we had
a nice chat-----you know----where you been ----where you going---where you live-----stuff.
Always fun for me.
If I remember right these folks were from Ireland ?????
Couldn't understand a word they said.
They stopped at the local Harley store on the square and probably bought a t-shirt.
I used to do that.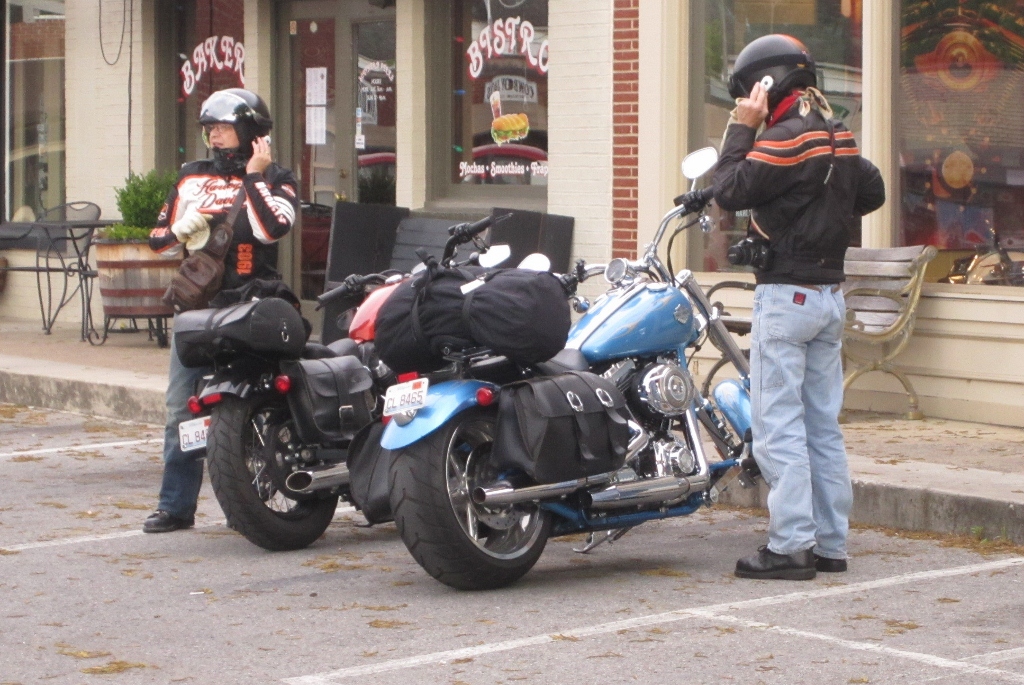 I felt very welcome in Lynchburg.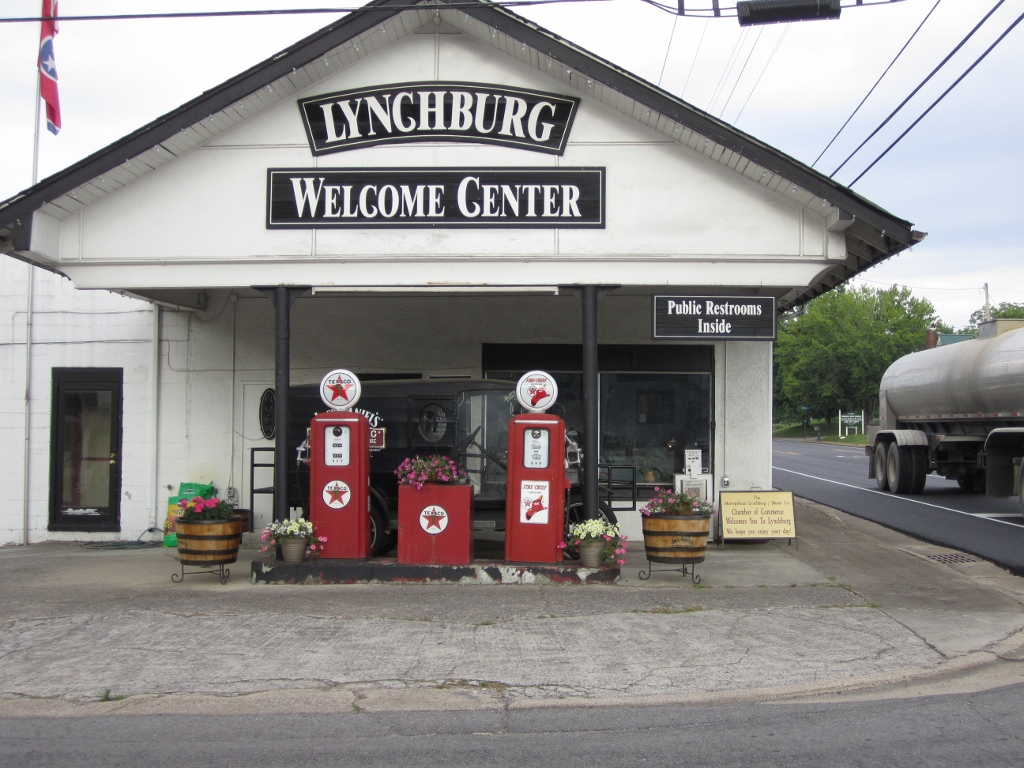 And here is part of the Jack Daniels distillery here.
The tours of the distillery are free. But we chose to ride.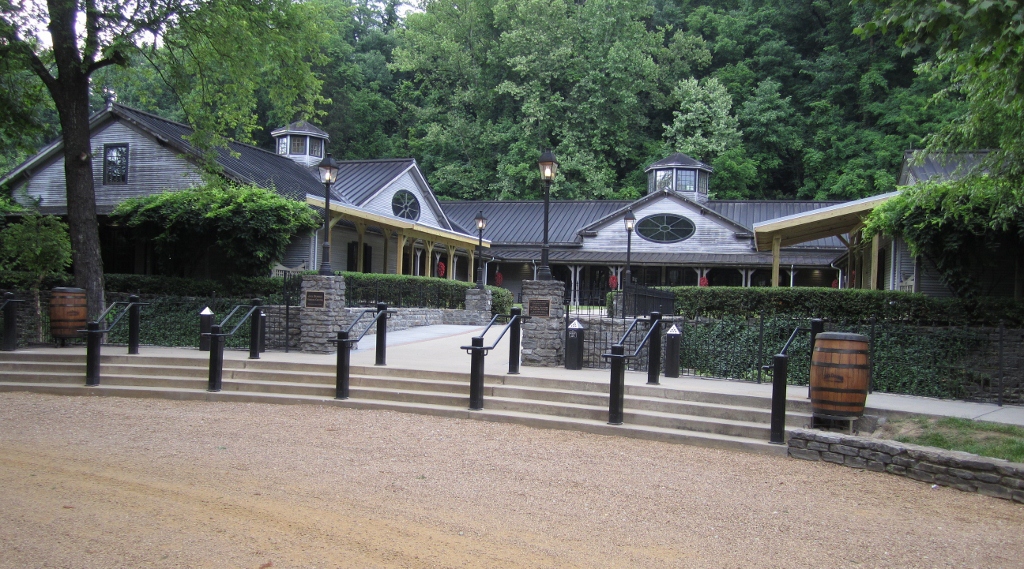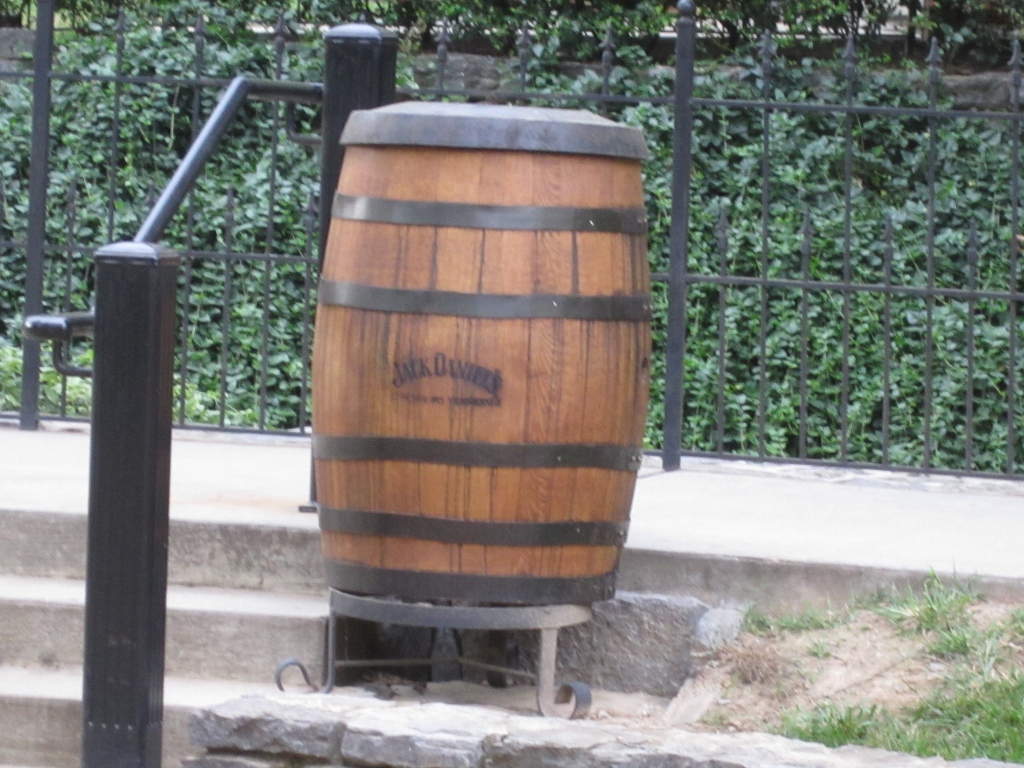 I guess us motorcyclists are handicapped.
I stopped an eyeballed this very old Land Rover---Roger had never seen one before and didn't know what it was.
I guess he never watch the old show "Wild Kingdom" before.
Notice the chain between them. I'd love to have that old Rover.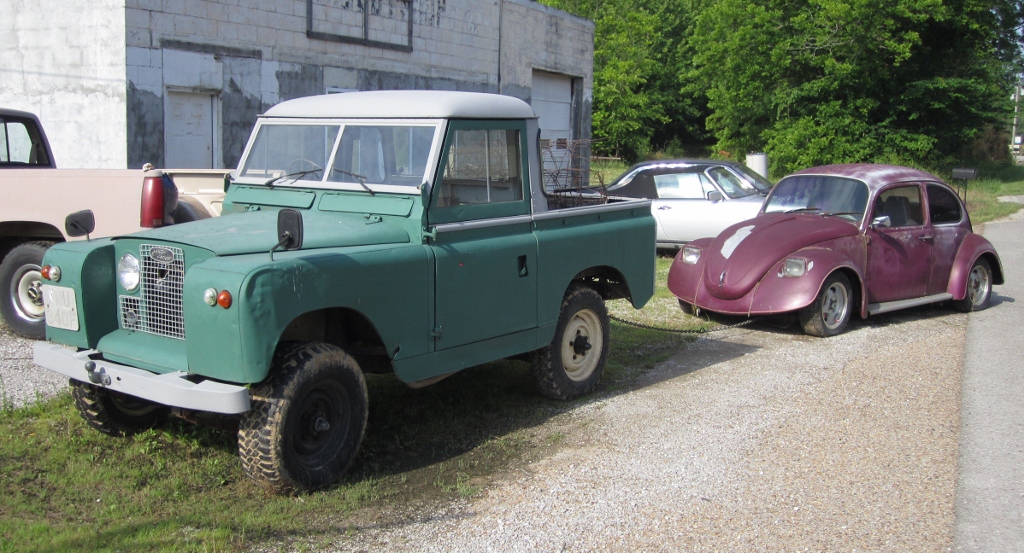 I pulled over beside the road and I'm sure Roger wondered why I stopped or figured I had to pee.
I guarantee Sam Corerro or other TATer's didn't know this was right beside the rode hid in the weeds.
It's a cave and a spring.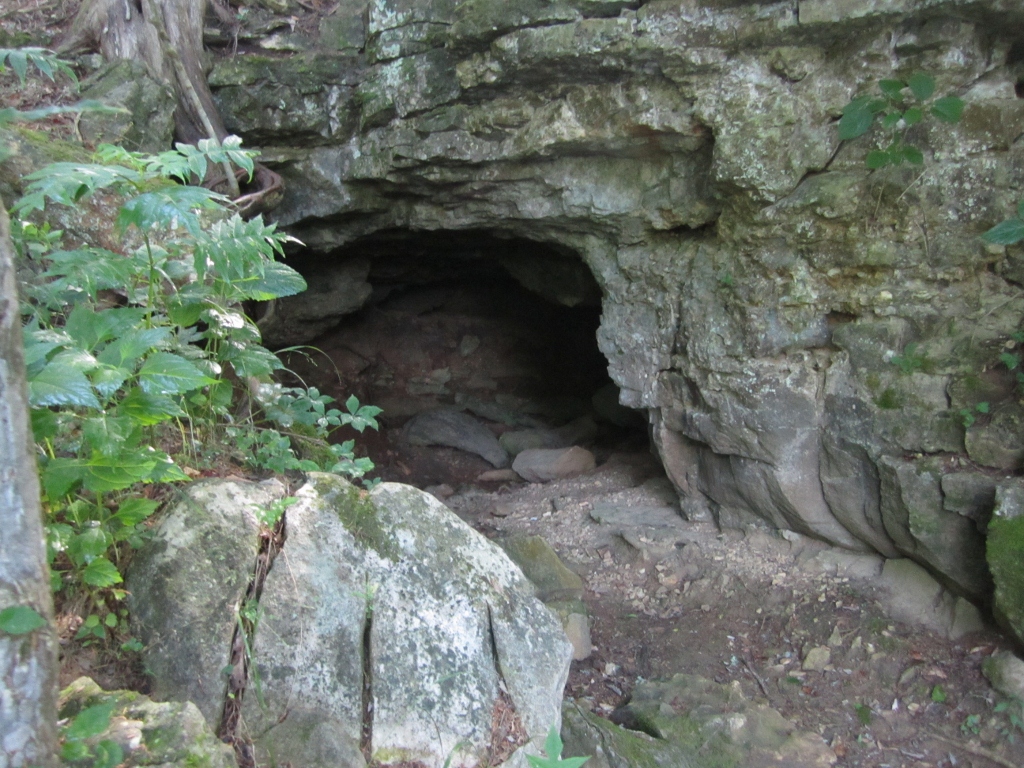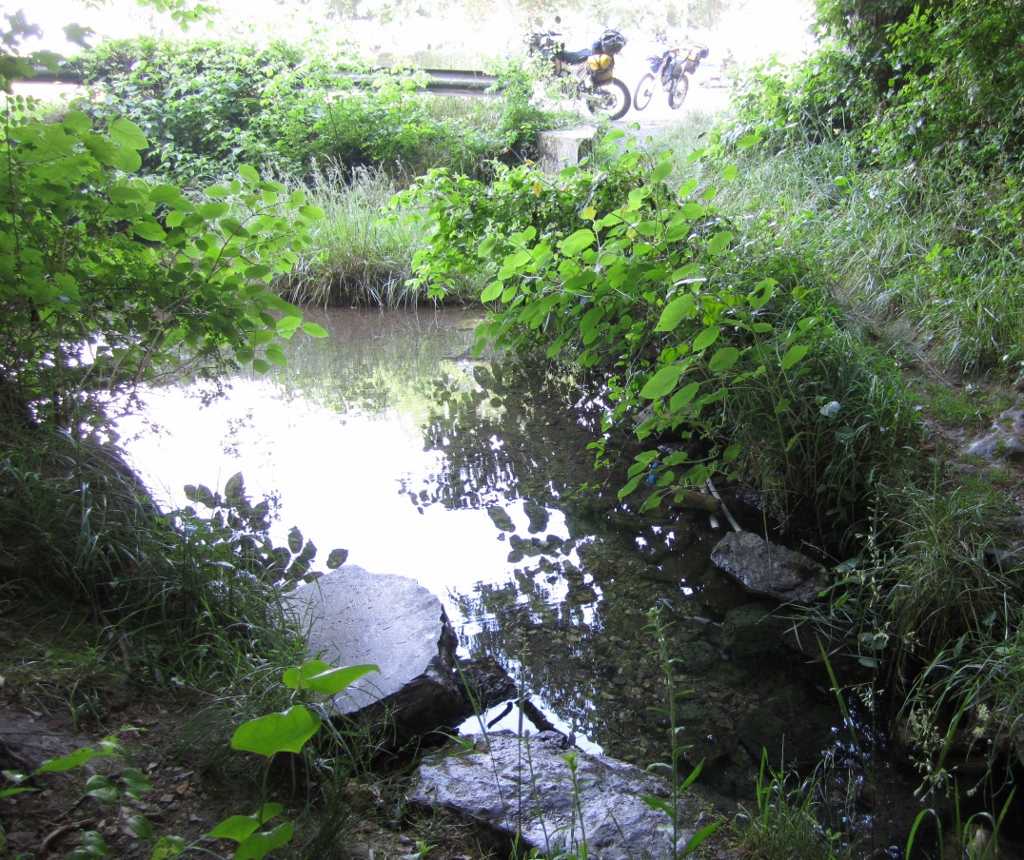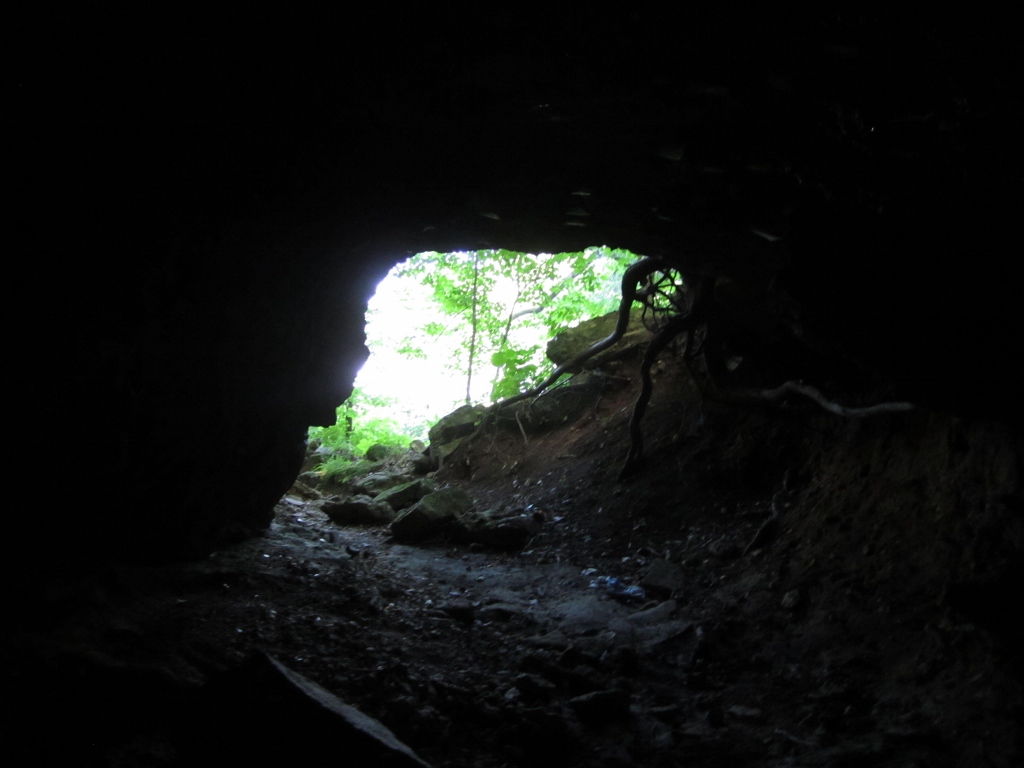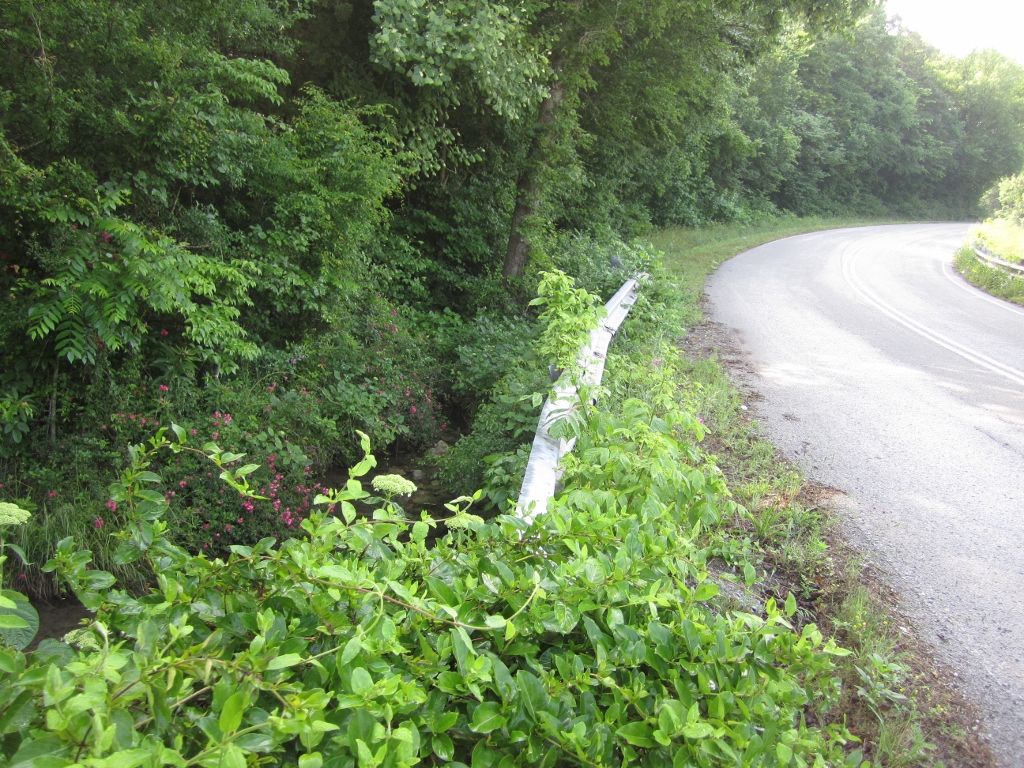 How did I know it was there----I've never been there ?????
I'm always busy at home marking gps waypoints for -----------stuff---springs being one of my favorites.
While we were riding along I noticed a spring waypoint on my gps as I had loaded my Tennessee waypoint file before I left.
I probably put that spring waypoint on there 15 years ago----and here we were.
See if you can find it. If you ride the new Tennessee TAT you need to see this.
N35° 18.887'
W85° 50.035'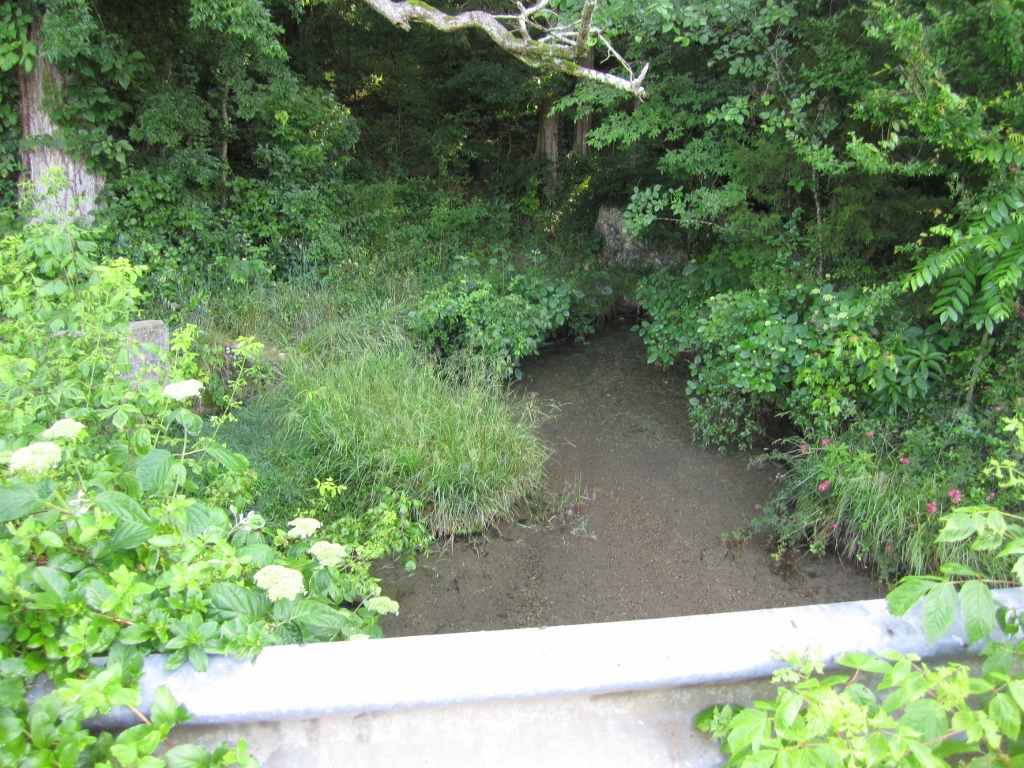 I just can't imagine living in a place like this and having a view like they have.
I'd do more sittin' on the porch probably.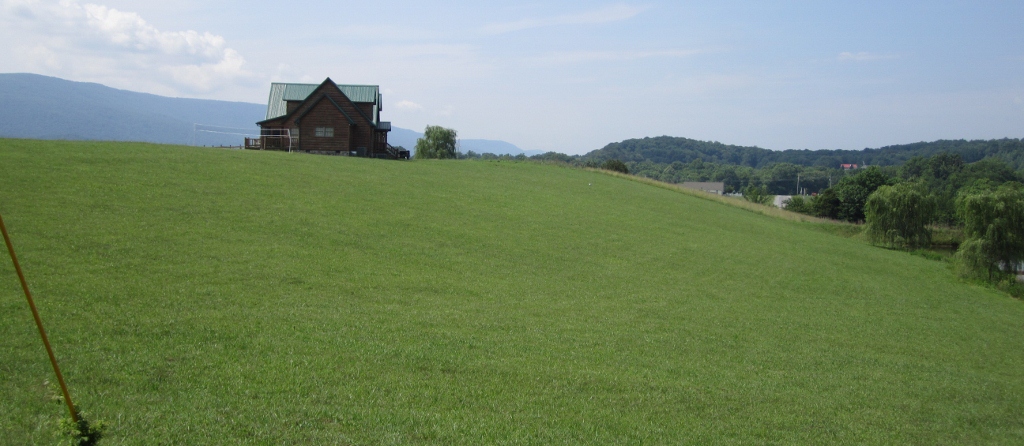 People are going to ask---is there a lot of pavement on the new Tennesee TAT ????
Yes there is.

See the Ouch written on the pavement ??? I couldn't figure that one out.
It was on a 180° tight hairpin mountain curve.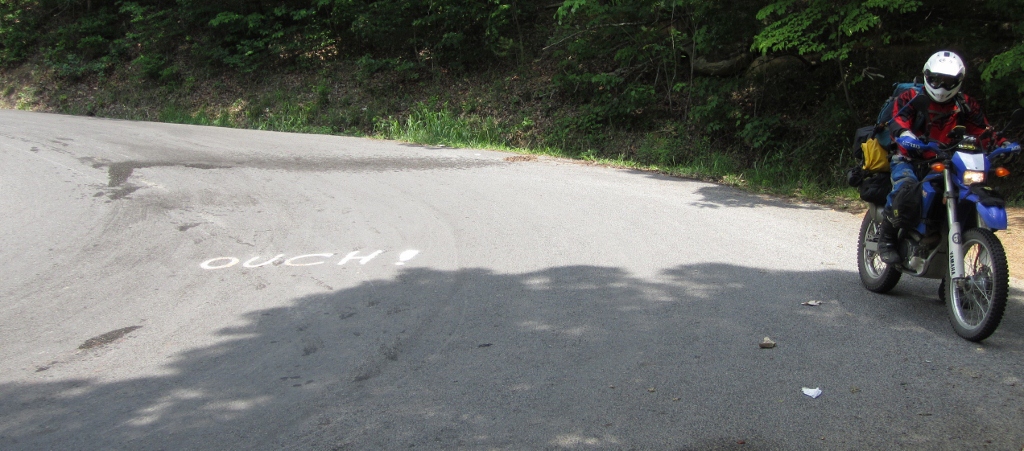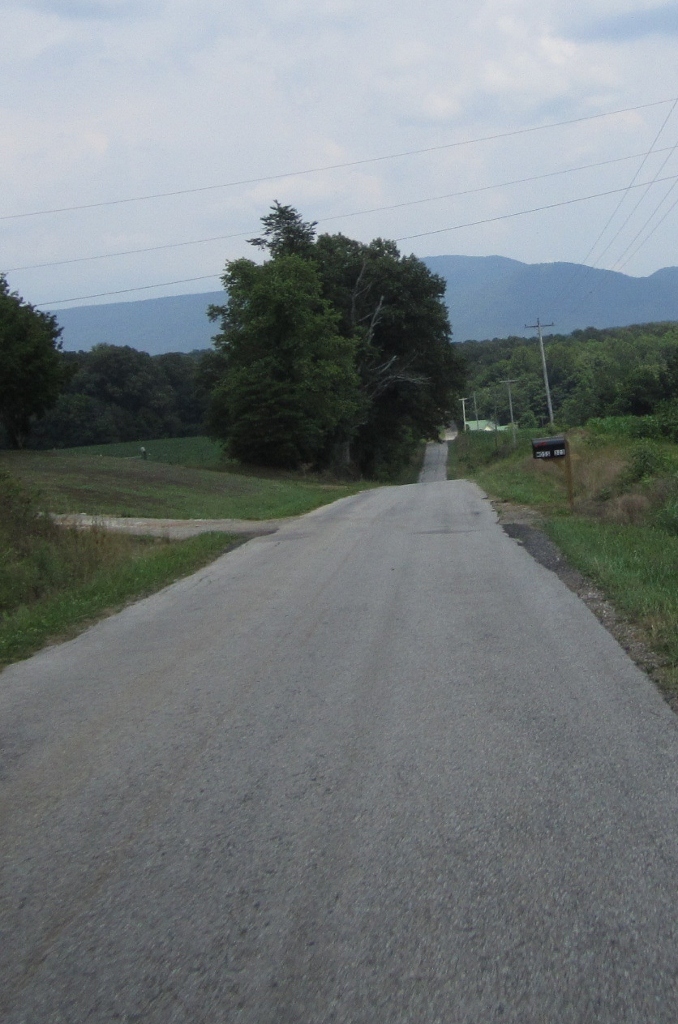 I forgot to mark this old Sunoco gas station with my gps---but you'll ride right by it.
There was only one little house near the old station--no town at all--but I guess maybe there use to be.
Rogers packed up very well and smartly.
He chose to use the Wolfman E-12 saddlebags instead of the expeditions I have.
I've got a set of those E-12's on my 450 EXC--still waitin' on my Wolfman sponsorship ????
We both were running Wolfman tank panniers--- I have a set on my KLR also.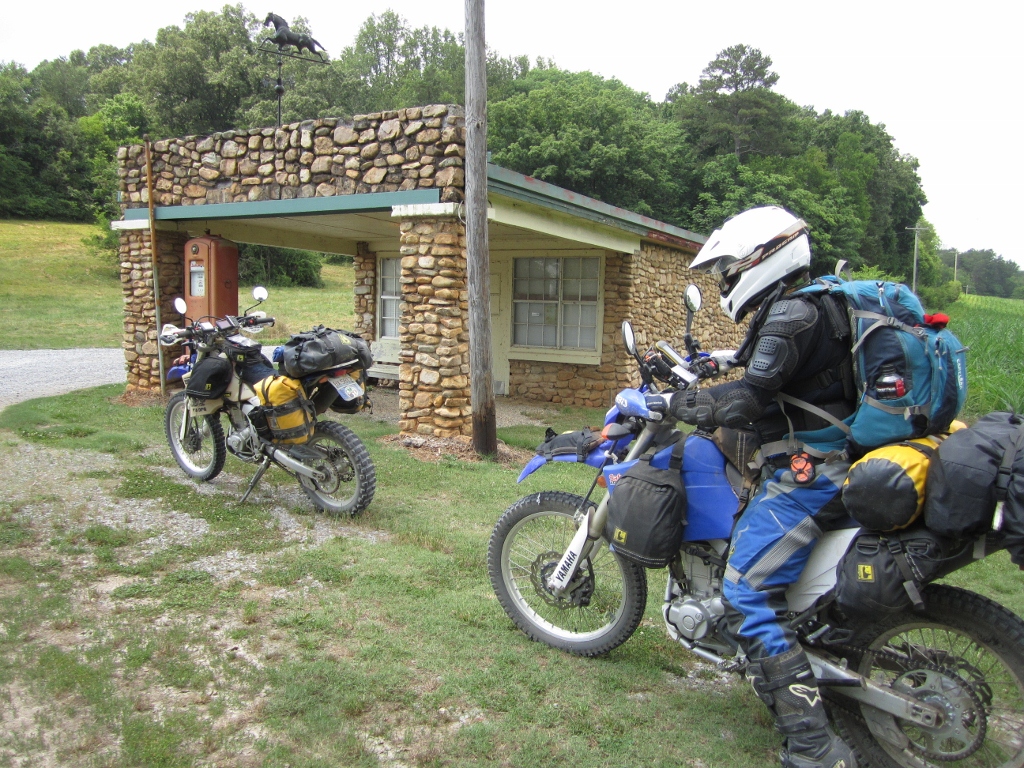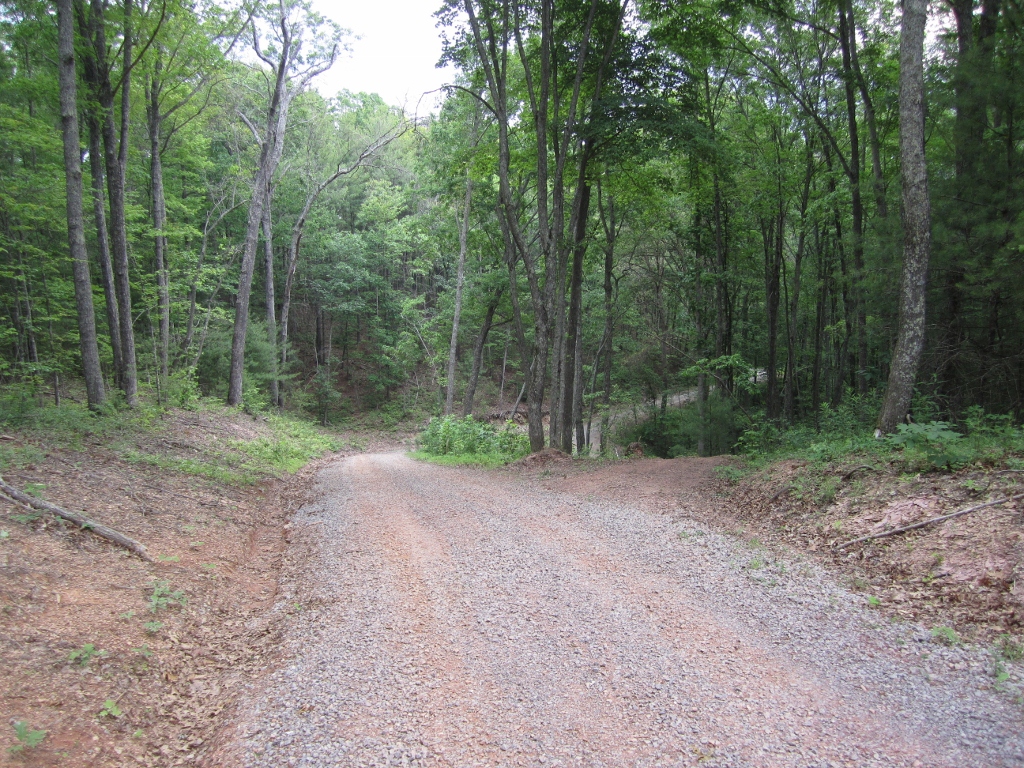 We knew of some guys running the TAT in the opposite direction we were---and knew we'd run into them and finally did.
No picture---they didn't have time to stop and say hi.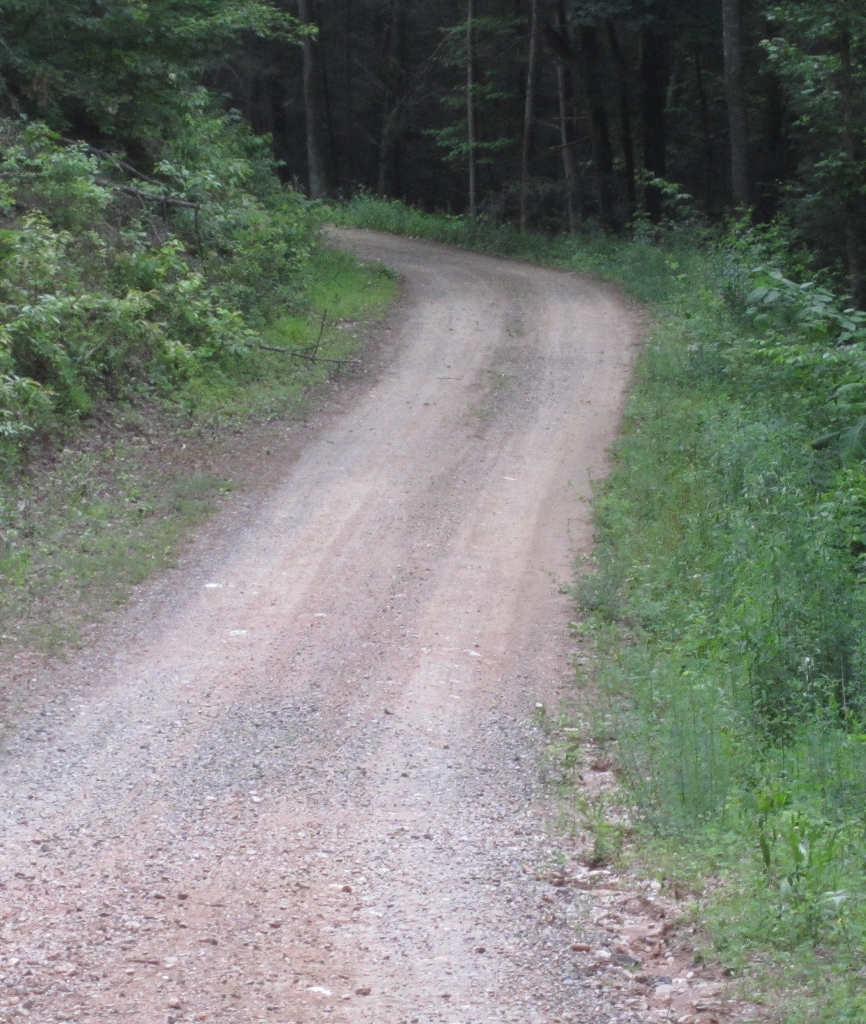 Me and roger were competely stopped here and would have to back track.
If---------it weren't for the fact I had packed my "Sven" saw---and quickly cut the tree out of the way.
I got an e-mail from the guys running the other way and I asked them how they got by this tree.
The tree must have fell after they went thru as they didn't remember it.
They skies are juicy---it's thundering--and it's gonna rain.
I don't have any pictures of it---but have it all on helmet cam video.
Roger was leading and we came to this nasty solid rock slick creek crosssing---it looked deep and swift and slick and was all of those things.
It was raining cats and dogs and thundering really loud--and Roger fell over in the creek and his body went under---but not his bike.
We were already wet and hoping to get to our campsite before the rain set in---we were just a few miles from it when we got wet.
So we soldiered on in to Tellico Plains, Tenn. dripping wet and got a camping cabin at one of the motorcycle campgrounds in town.
I can't believe I didn't take any pictures of our camping cabin or the nice CMA (Christian Motorcyclists) who were there and blessed
me and Roger and our bikes-----and I got a blessing sticker on my bike----I pondered just how long that sticker was good for ??????
Till I cussed---or farted ????? Good question !!!!!
So it was the end of the TAT for us in Tellico Plains.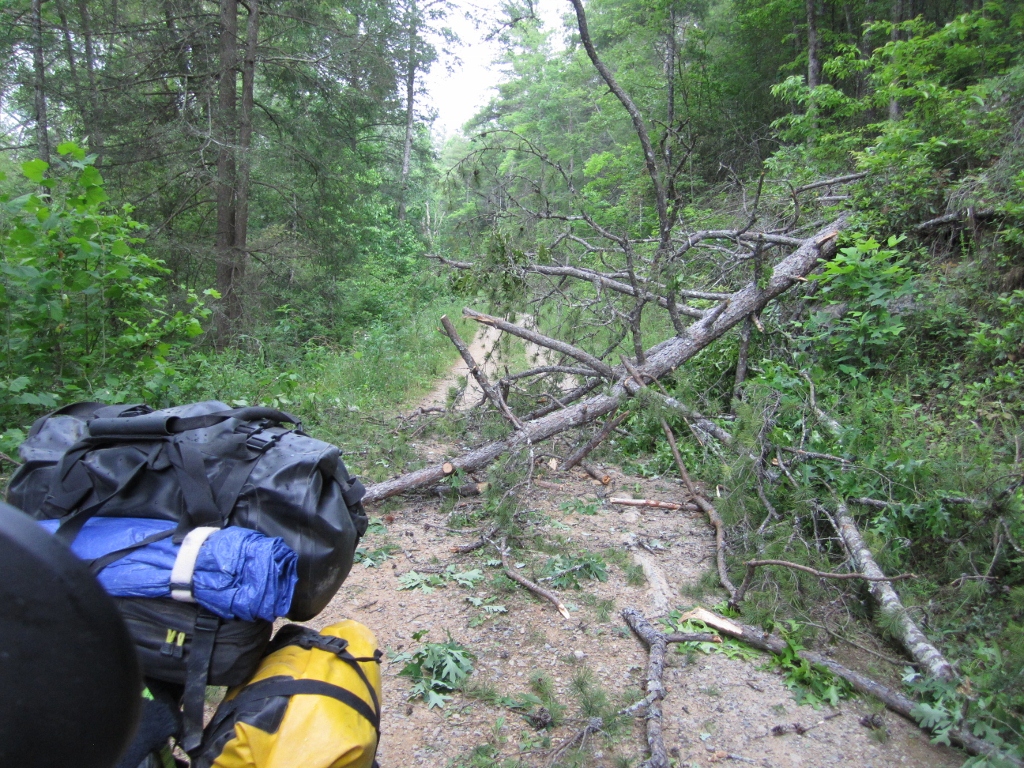 May 22nd---Tuesday
Me and Roger went our seperate ways as I was going to ride some of the TET (Trans Eastern Trail) and hoped to visit some friends I hadn't seen in a long time.
I rode alone about 50 miles East and intersected the trail which runs from Florida all the way up into the Northeast---a very long ride---TAT style trail.
Not a trail at all--just nice scenic backroads---preferring to stay off the pavement.
The Smoky Mountains were just North of me.
My main objective----ride the TET and don't get within 50 miles of Gatlinburg, Tennesee.
I've had nigt mares of that place from 30 years ago.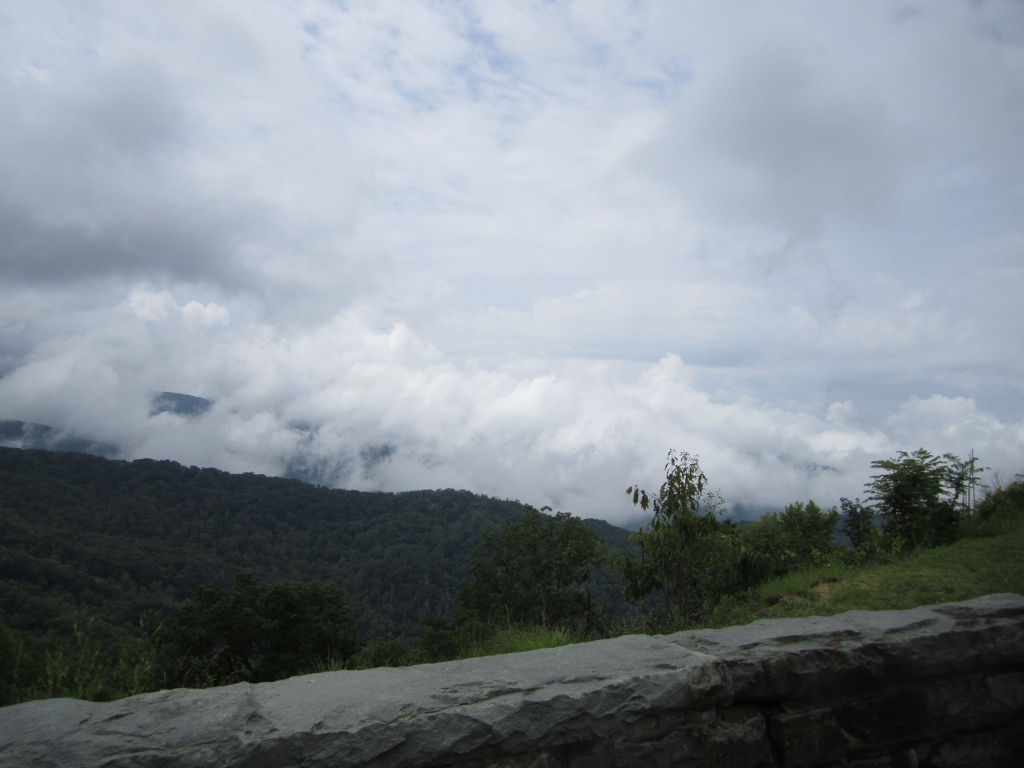 I went about 15 miles off my TET route to find an old friend---Lee Allison who runs LeeWildwater Rafting and Zip-Line.
This is all on the Nantahala river.
I tried to find his house----but finally found where is rafting place was---and finally net his wife Carolyn.
Lee was gone and wouldn't be back for quite a while and I ended up going on.
I rode with Lee and Gaspipe down in Mexico years ago. In life---you meet some special people that you will never forget---Lee is one of those people.
Last time I saw him we were deep in Mexico--he was on his XR650R and me on my Husky TE610.
He was a comedian and could put any talk show host out of business.
After leaving here I was totally pissed at myself---the Zip line thingy was across the street---why did't I ride the Zip-line ??
I thought about it when there--but forget about it till I was miles down the road.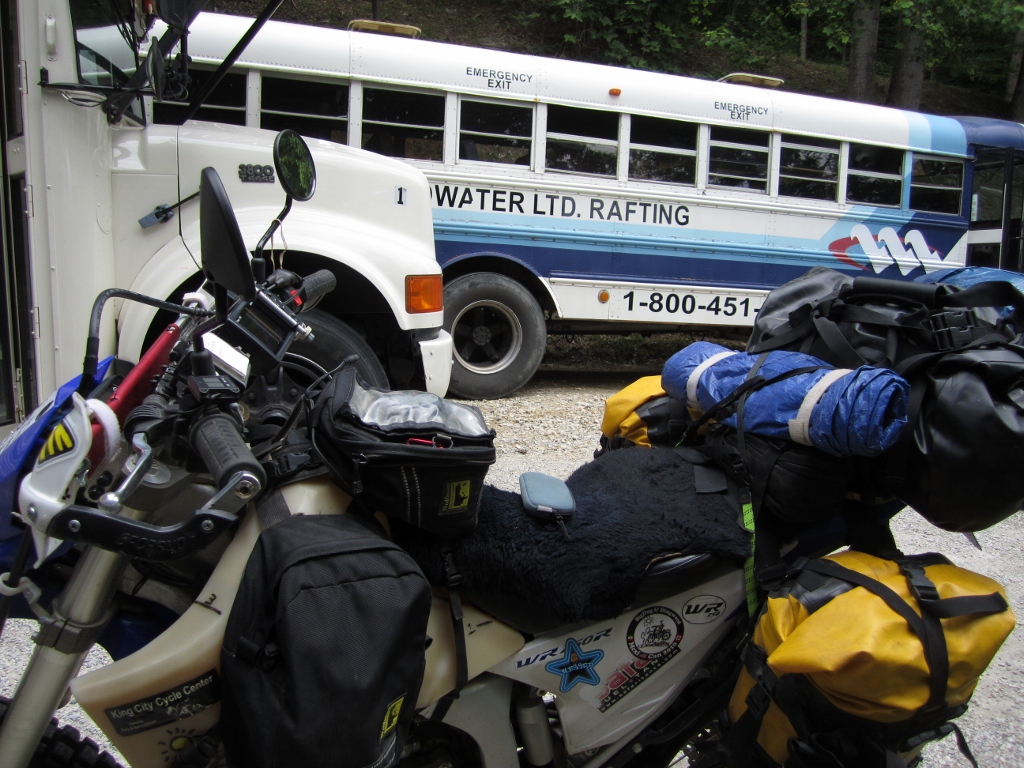 So I resume my ride on the TET having no idea where I'd end up today---after all I'm retired.
The ride continued on just South of Smoky Mtn. National Park.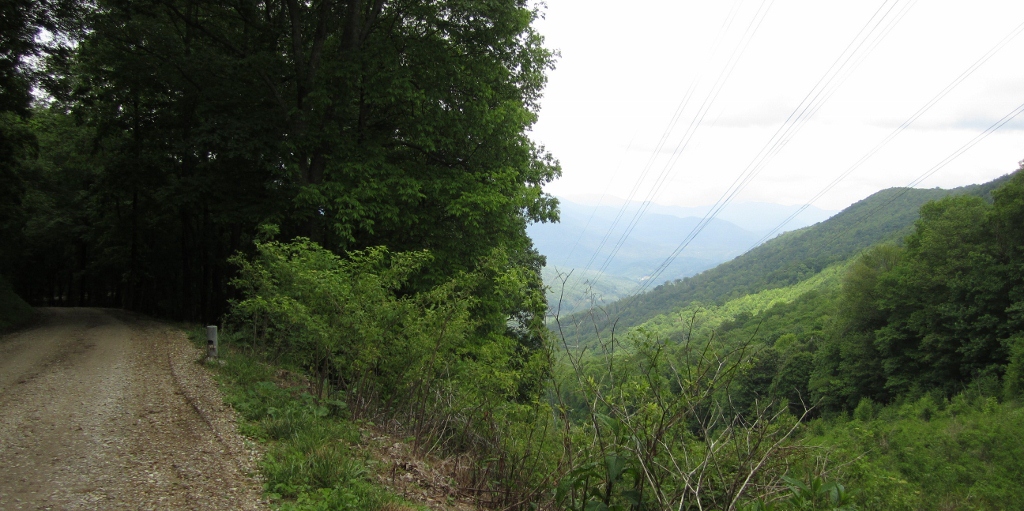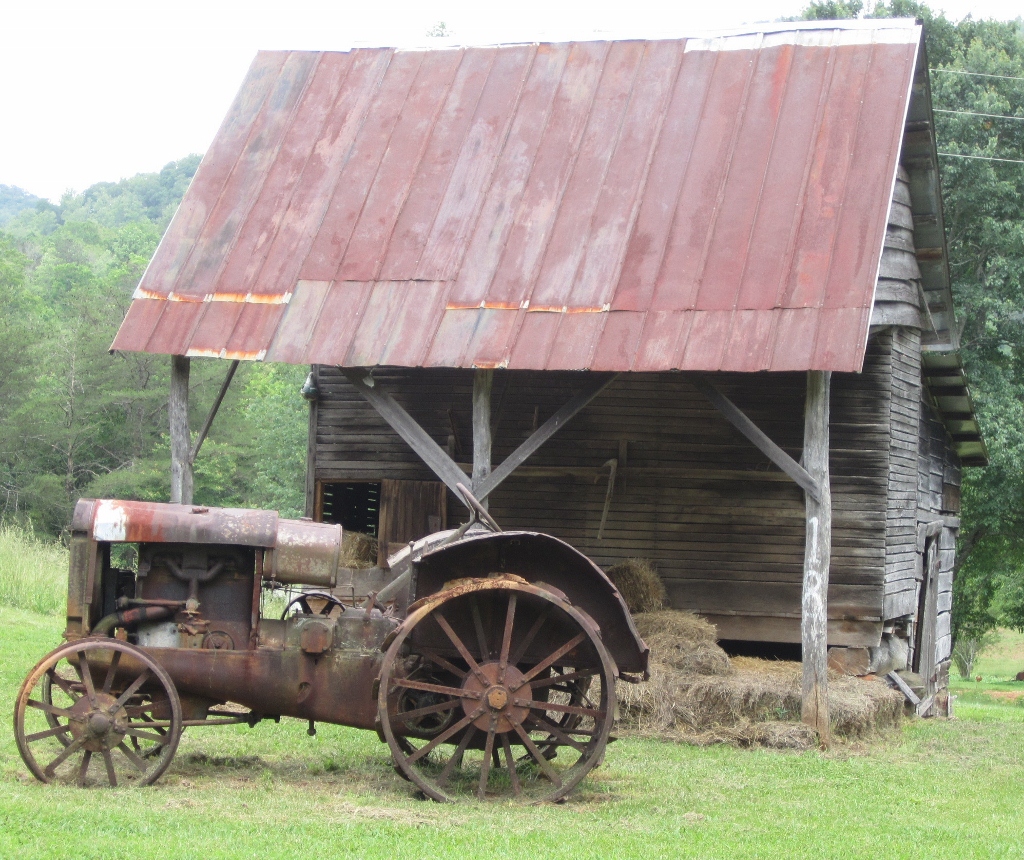 Quack, Quack, Quack, Quack----hurry up guys.

My route kept me on dirt as I ran past many mountains and lots of mountainous swithcbacks.
Some of which was very tight and narrrow and there was no way 2 4-wheeled vehicles could pass--somebody would have to back up a long ways.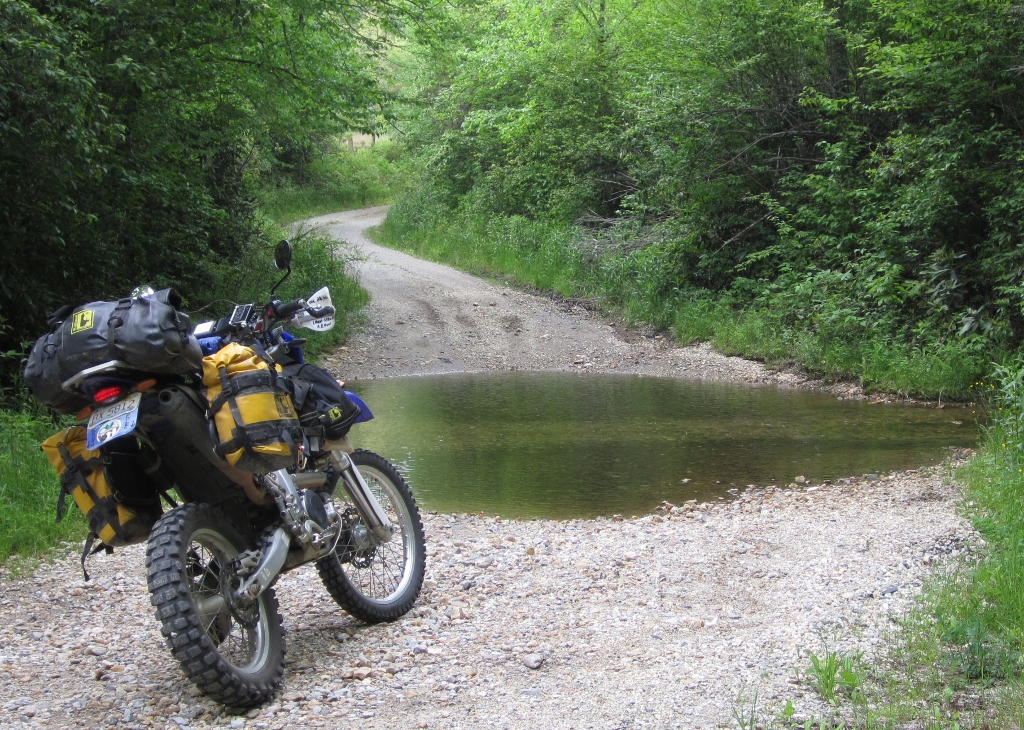 I dropped to a lower elevation and saw the neatest campground on the side of the road between the trees and on the other side
of a big creek. This place was neat and I would meet a special lady. It was nearing dark and this place came at the perfect time.
I hate it when you find perfect camping spots ---but it's mid-day.
I set up camp right beside this big rock and right next to a babbling creek.
The last time I did this----a black bear stuck his nose into the side of my tent----in British Columbia--and I couldn't hear a
thing from the noise of the creek---I couldn't get that out of my mind while trying to go to sleep that night.

So meet Betty Brown----I think she said she was 92 years old---and admitted she was blind as a bat.
She owns the place and has forever---her husband died 40 years ago building this campground when his tractor tipped over on him
and she never re-married. She would fly around the campground at mind blowing speeds---spinning gravel and sliding around the corners.
It was a sight to see----here she is bringing me some free firewood that she normally charges people for---I think she liked me.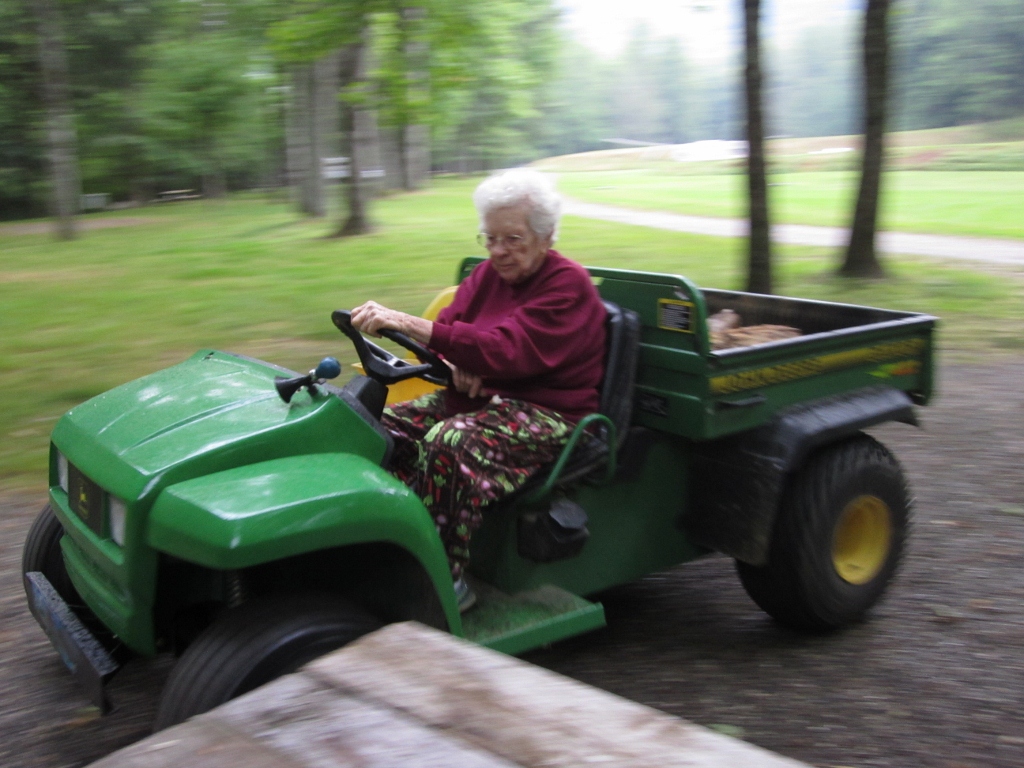 The picture of her driving are blurry----there's a reason for that.
I kidded her about driving so fast and she set me straight. Told me with a grin "I've been drivin' since I was 13 years old
and nobody's gonna tell me how to driver now"---------"Yes, Maam"
She told me I could go back the way I came about a mile and get a bite to eat if I wanted---and pointed North.
I told here I came from the South---she retorted "You couldn't have come that way---it's impossible"
I told here I did and she went on to tell me how many people had tried to come that way following theirs gps's
and wound up getting stuck in those mountain switch backs and had to be rescued.
She asked me if I had one of them gps devil boxes----"Oh no--wouldn't have one" I told her.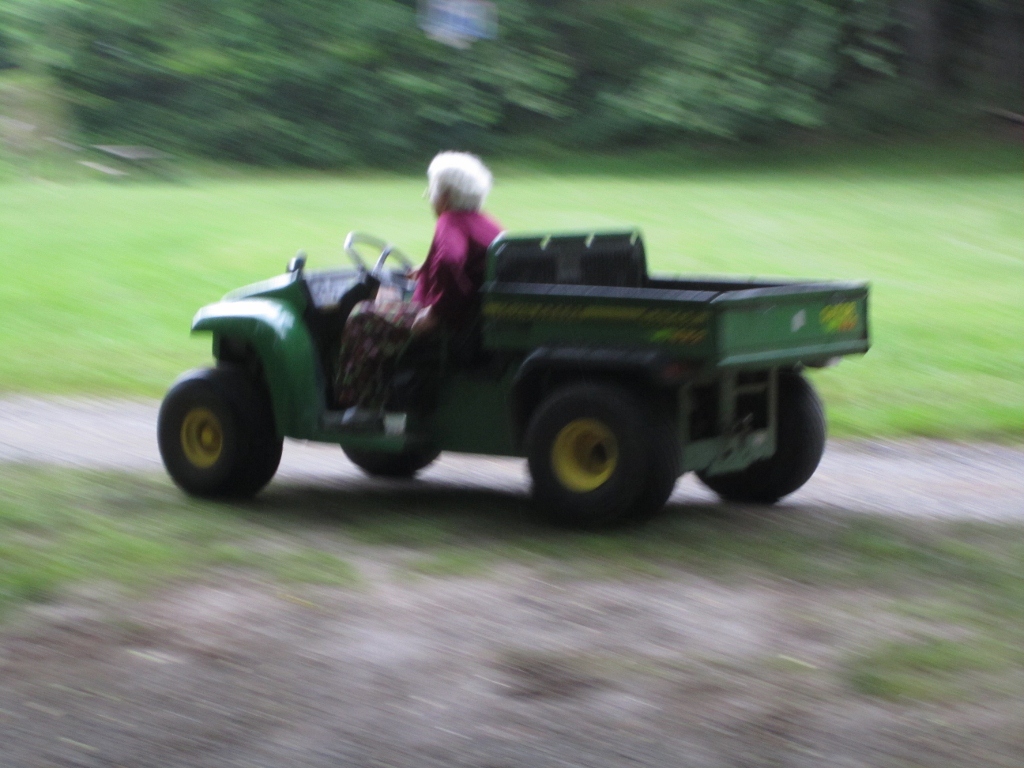 It was raining after she left my campsite---and off she went---and I never saw here again--but will never forget Betty Brown.
It rained on me all night long but quit by morning. Great-------no dust.
I did get a nice shower--there were 2 shower houses here. She said next weekend it would be packed in here as it would
be the Memorial weekend----tonight there were just a handful of campers here.
N35° 23.714'
W83° 21.174'


I left Betty's campground way early in the morning and continued on the mountainous un-paved backroads of the TET.
I saw on my gps that I so close to the Blue Ridge Parkway---so I went off course about 1/2 mile and went under it--then
went back to my TET. I had ridden the Blue Ridge Parkway back in about 1977---when they was hardly anybody on it
and no speed limit---and no police. That was a great ride me and my wife did on my 1976 Harley superglide.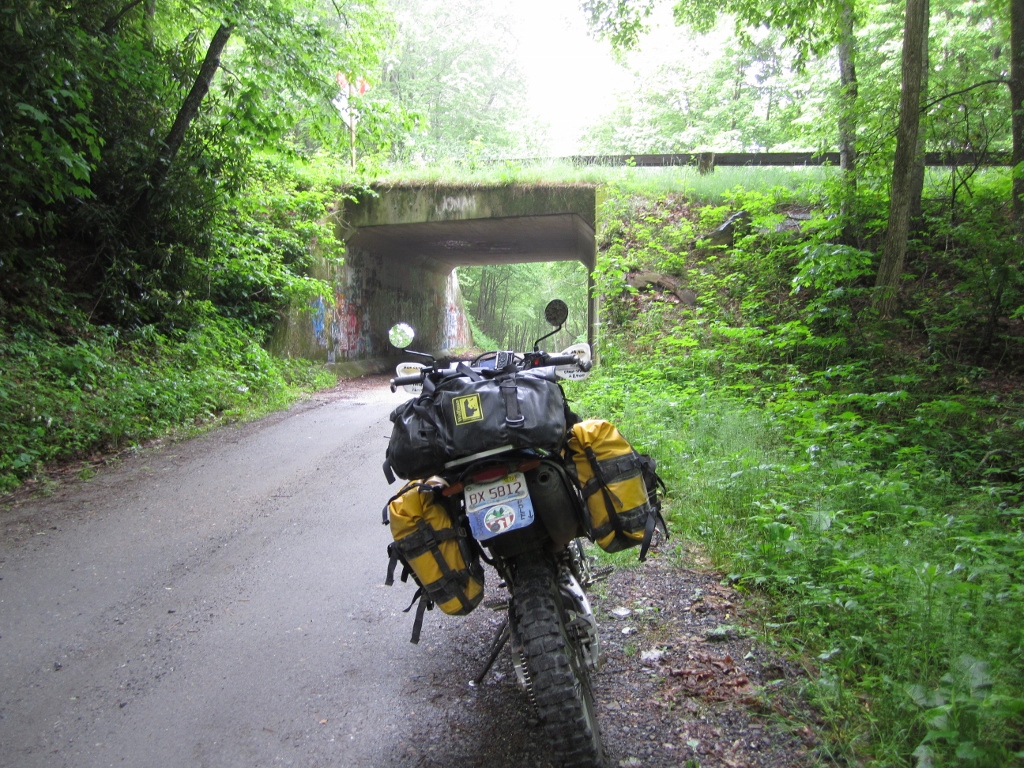 The purple is my TET route---the white is my tracklog.
And you can see I was right at 4,000 ft. which kept the temps really nice.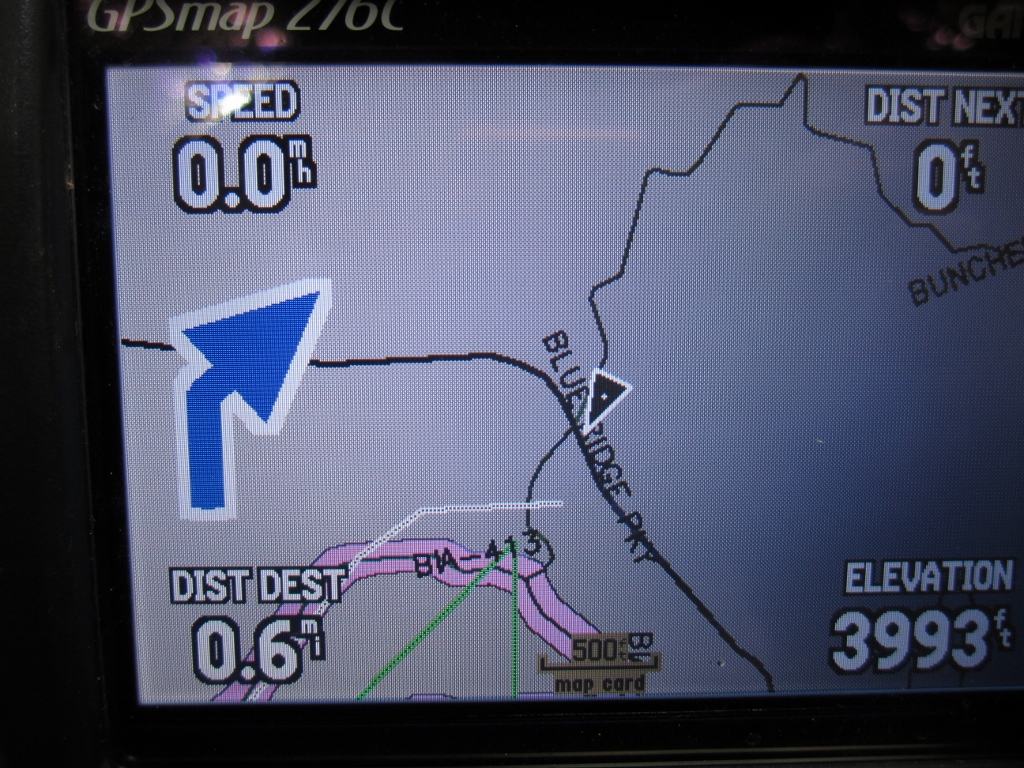 Again I went a few miles off the TET to see an old friend---Dale Walksler, who owns the Wheels Thru Time Museum in Maggie Valley N.C.
Me and him are old friends and his museu started in my home town in Southern Illinois. I actually went with Dale a lot to find and pickup many of
the old "barn find" old bikes in his museum. 2 of these bikes I ended up buying from him---a 1963 Harley Panhead Duo-glide with 5,000 original miles----
and a 1937 74 cubic inch Harley Flathead FL model--I think---both were in original condition and I put a metal sidecar on both of those bike so I could take
my son and wife with me---we made many trips on those old bikes. I sold them both eventually.
We had fun on them but I'm glad they are gone----I get no enjoyment now riding old bikes.
I love looking at them--but I don't want to own one or ride it.
Again --Dale was out on business and I never got to see him---it's been 15 years since I saw him last.
I signed his guest book and told the gal at the cash register to be sure and show him my name in it.
I know he'll be sorry he missed me----I just remembered when he had the museum in my home town--my son (about 10) would watch over his
museum some times--making sure nobody left with something they weren't suppose to while looking the museup over. I bought many a bike from Dale.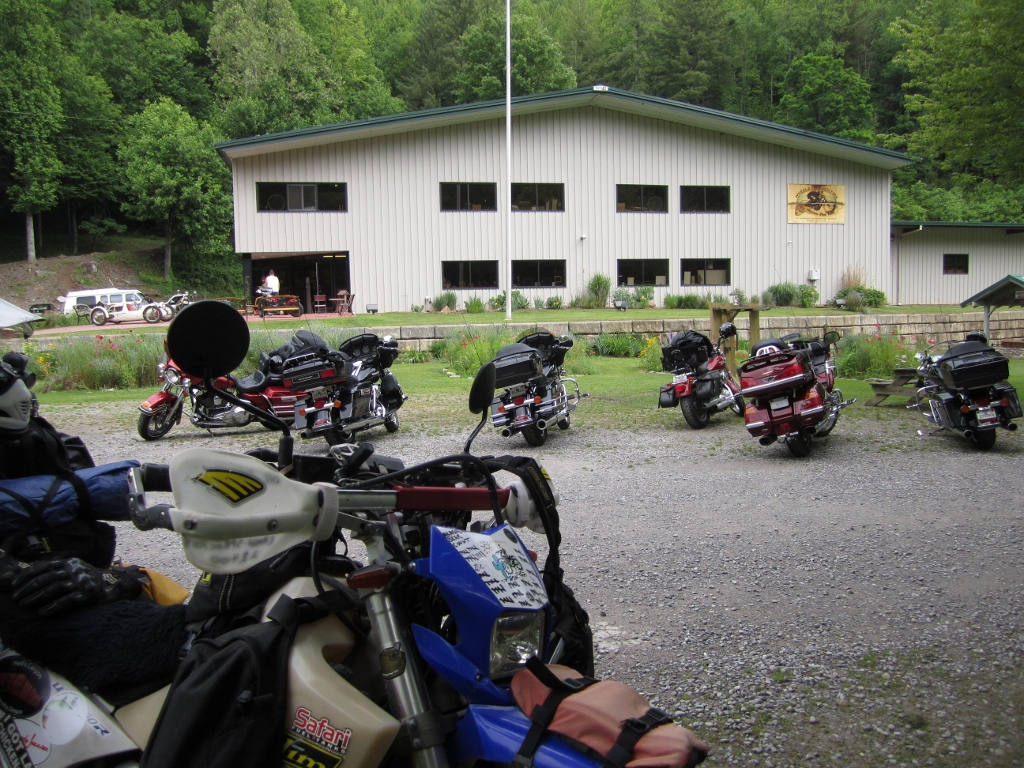 So off I go---still South of Smoky Mtn. National Park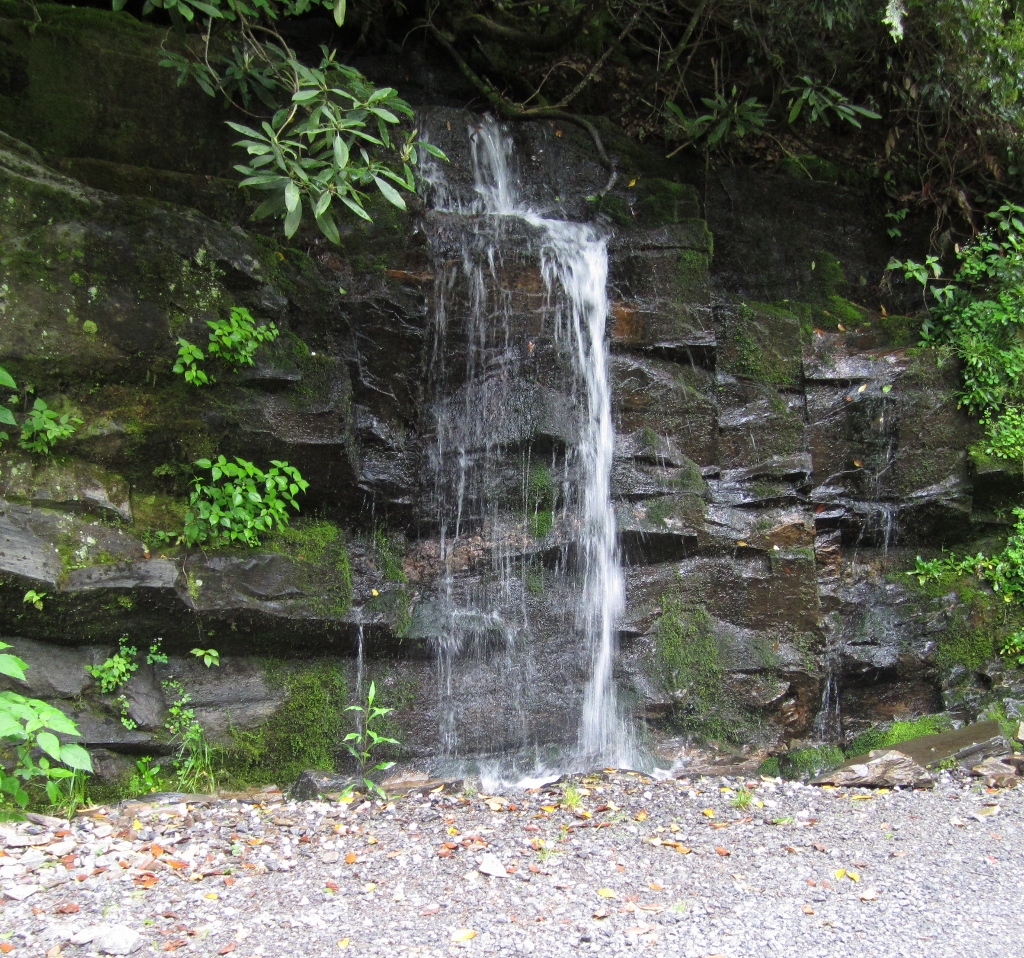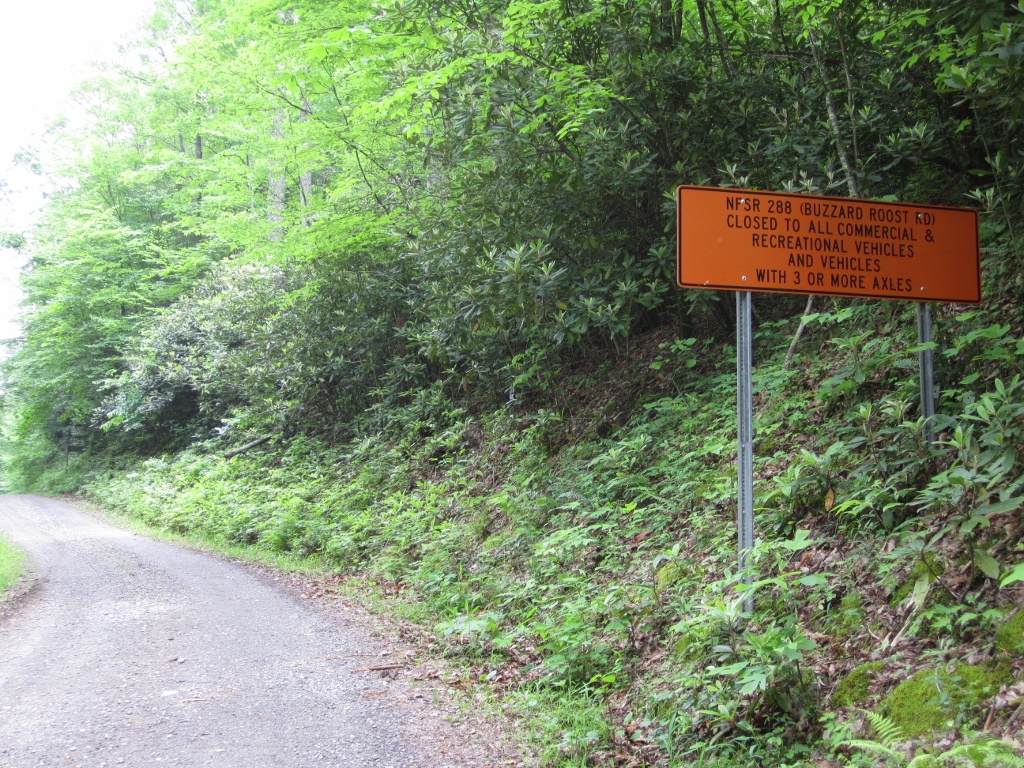 Time for some Bo's Hollow beef jerky and a gatorade.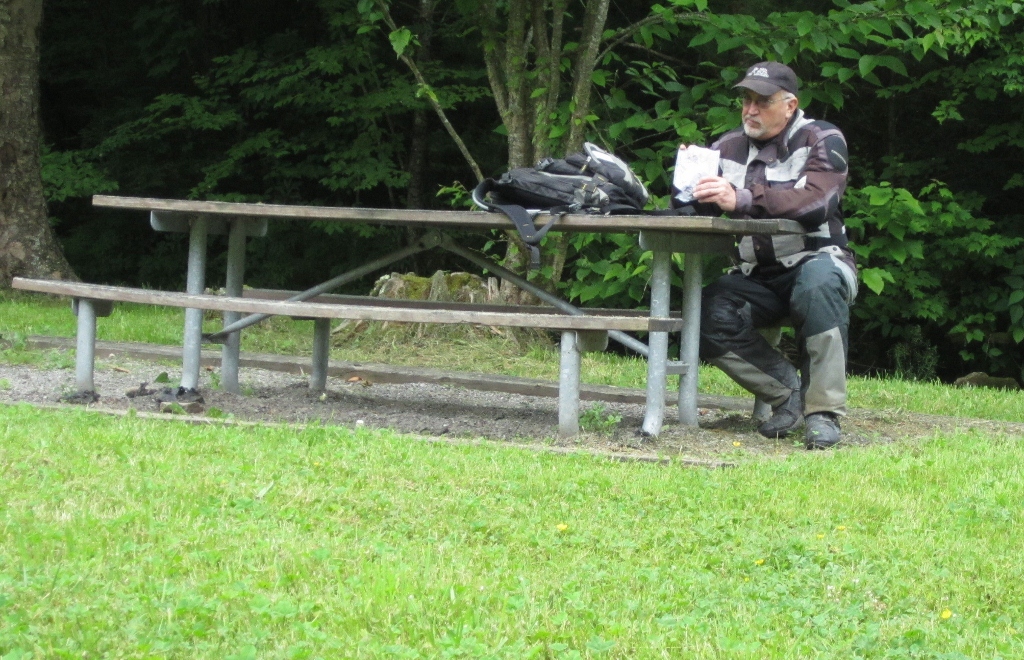 I just can't remember why I gave this the thumbs down----but I'm sure there was one.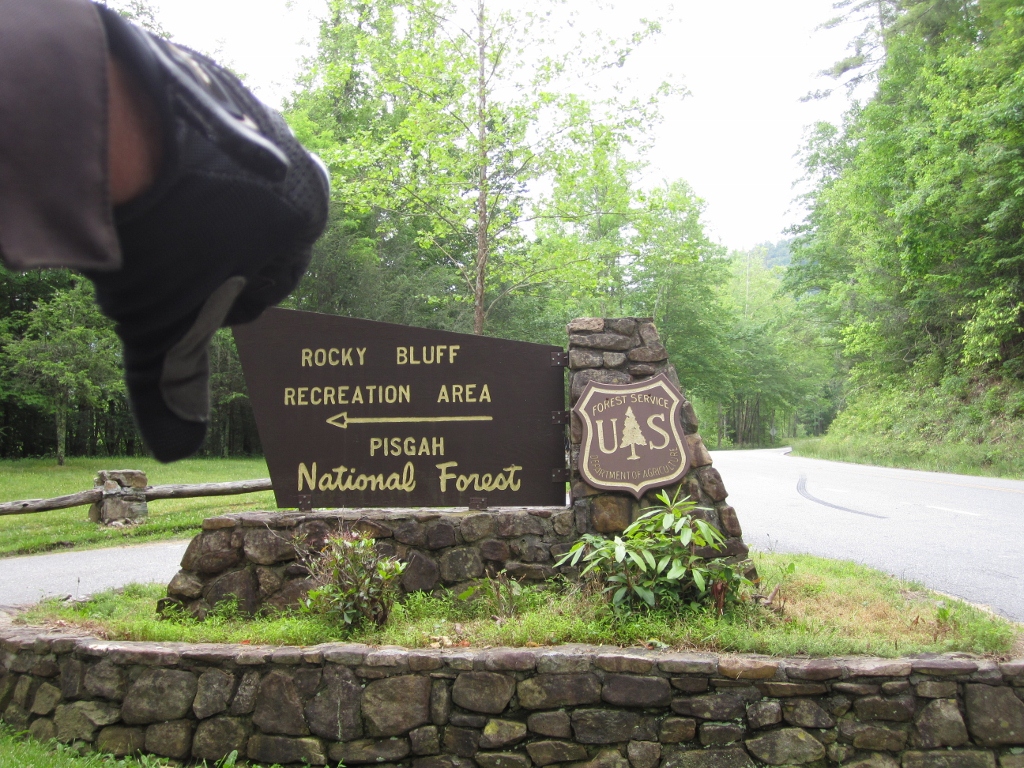 A really neat part of this ride I was to find out--is that it closely followed the hiking Appalacian Trail.
I came into the town of Hot Springs N.C.
This little town is a haven for hikers to re-group---get supplies--and a much needed bath.
There were many hikers all over town and I struck up a conversation with many of them asking them about the trail.
As a traveler I was very curious about their packing and what they took and what they didn't---very interesting stuff--and
very interesting people. All of them very nice.
Concrete signs like this were all over town in the sidewalk showing you the way. I think the trail is 2,700 miles long--not sure at all??????
And I think it took them a month to get to this town coming from the West.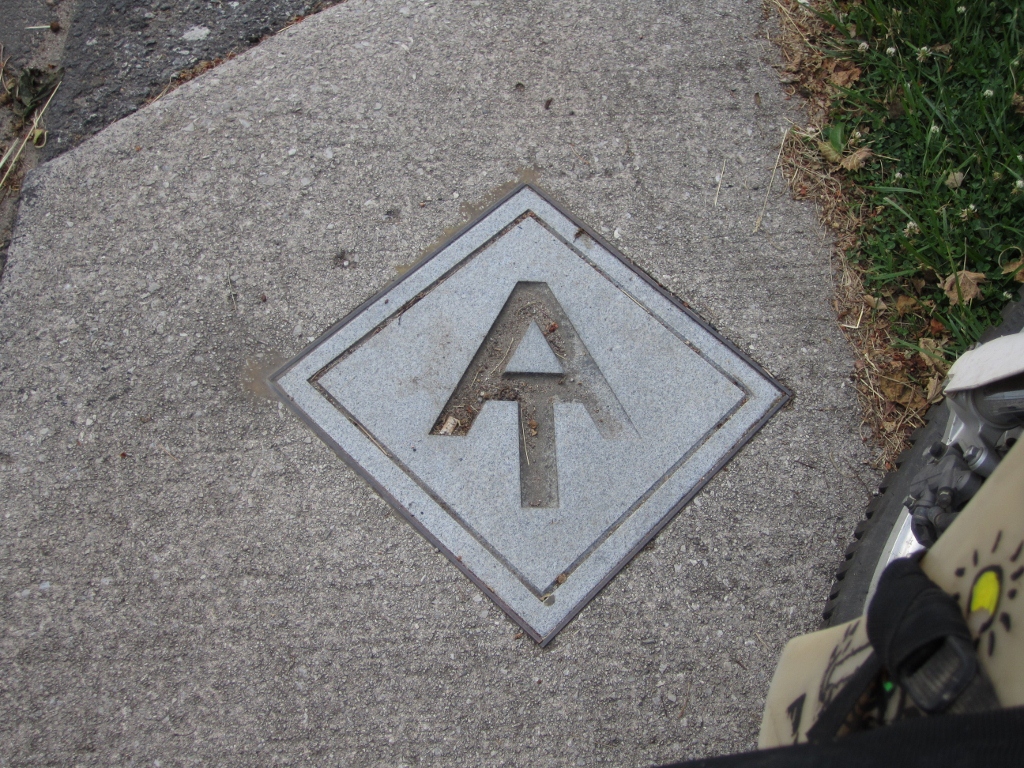 This guy just thought he could take---he had about 12 horsepower--maybe--plenty to ride around the world without wasting time spinning your wheels.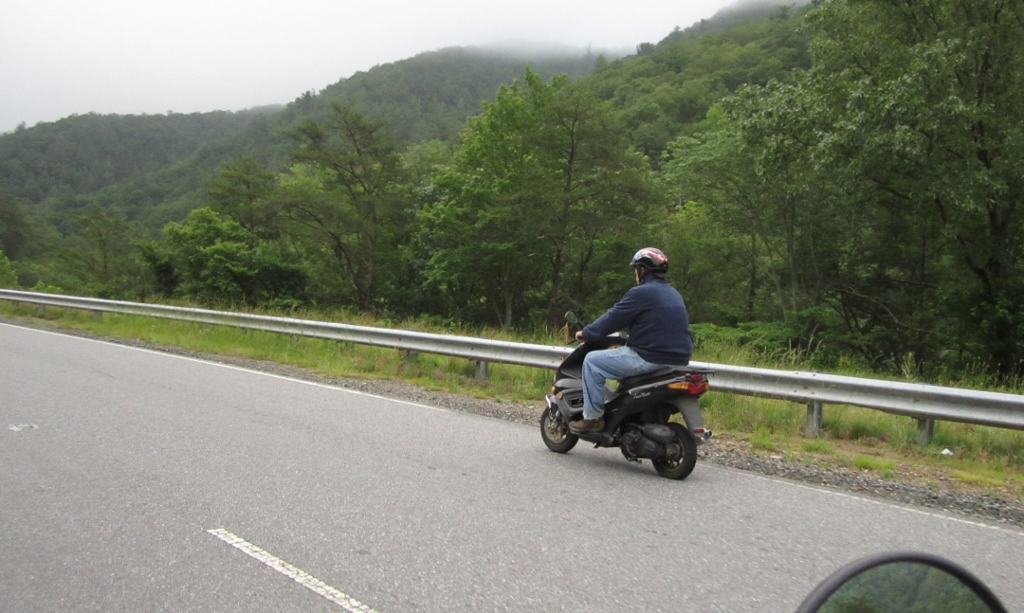 Man this area was so beautiful-----always an early fog in the mornings--which sometimes would linger--maybe all day at times.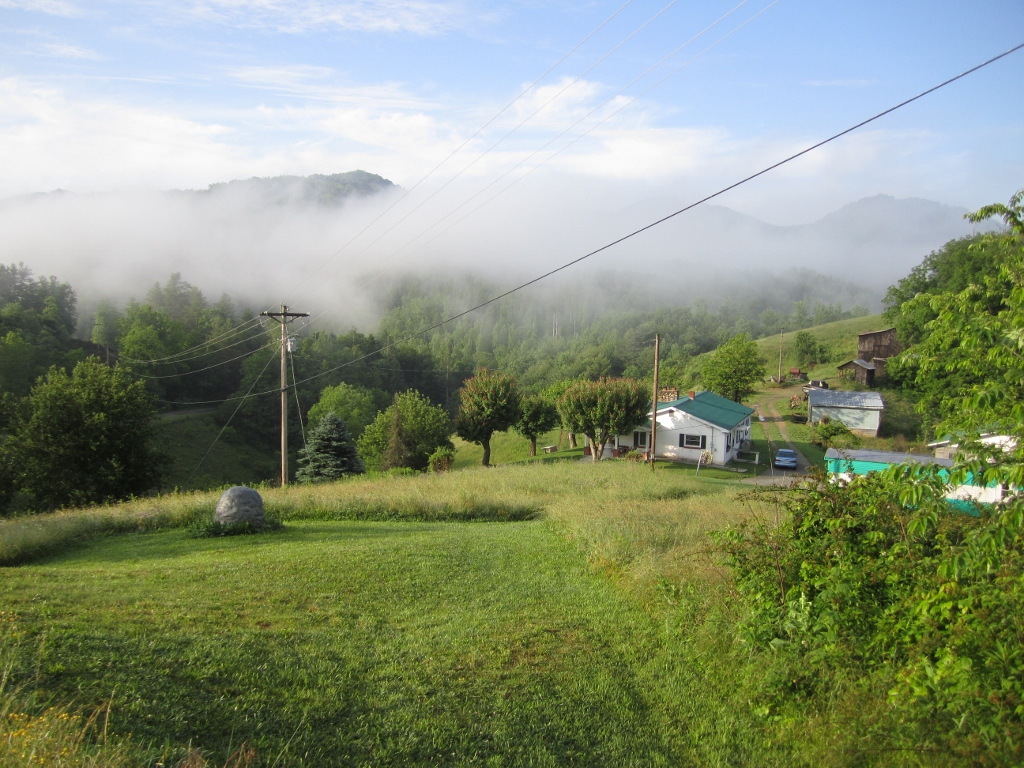 The next few miles of the TET on route 19 in North Carolina were Swinging Bridge Heaven.
One after the other over Cane Creek.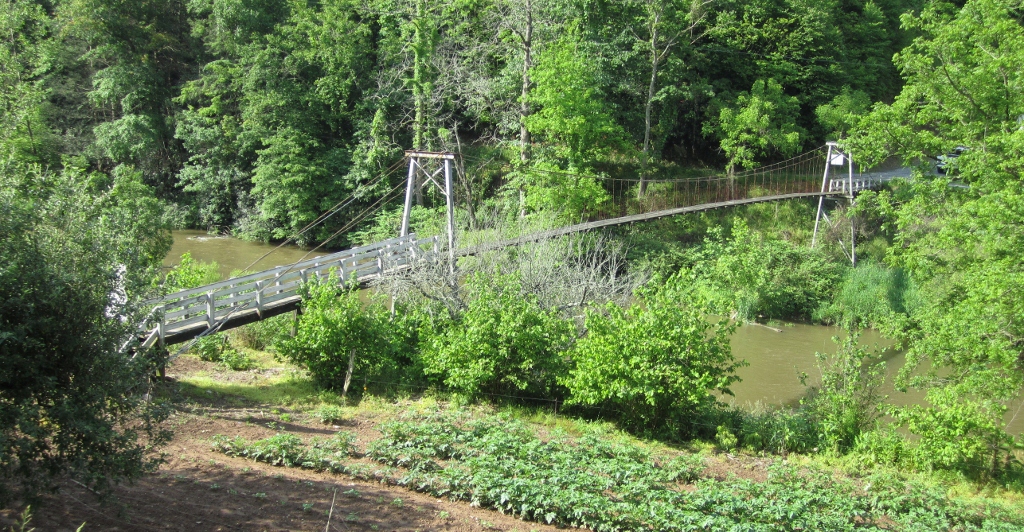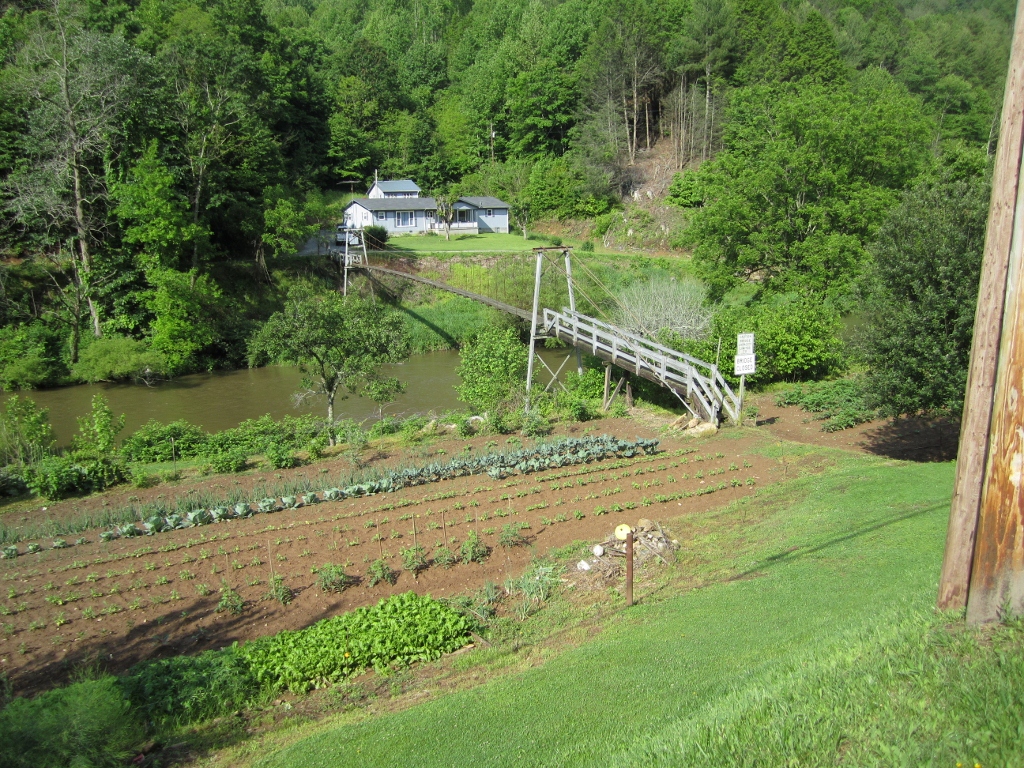 There were about 6 of these in a 5 mile stretch over the Cane river-----always a house on the other side.
Most had an accesible road to get to the house----this one did not--the only way to this house is on foot over this foot bridge.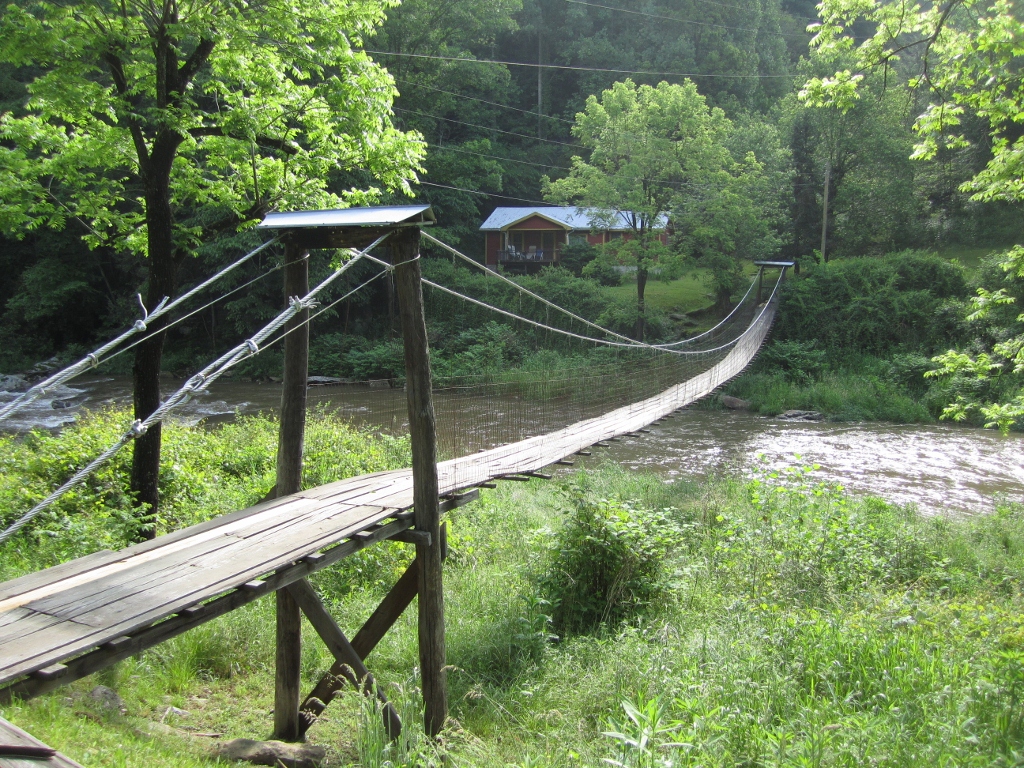 Another one of those store and gas stations in the middle of nowhere---I can't pass up these things and being alone let me
linger and do as I pleased---I spent over an hour here chatting with the locals---and got the attention of the guy working here.
He was all over my bike and marveled at what I was doing and had been looking at a DR650 and the WR250r----after I left there
he said he was going to the bike shop and buy one of those 250's and do some serious adventure riding.He was a hoot.
And so were those ole' farts on the ole' farts bench. I love ole' farts benches---there is much to be learned on the ole' farts bench--good stuff
not to be missed---slow down----stop--get in the middle and join in.
You can't read this stuff in a book---you just have to be there and experience it.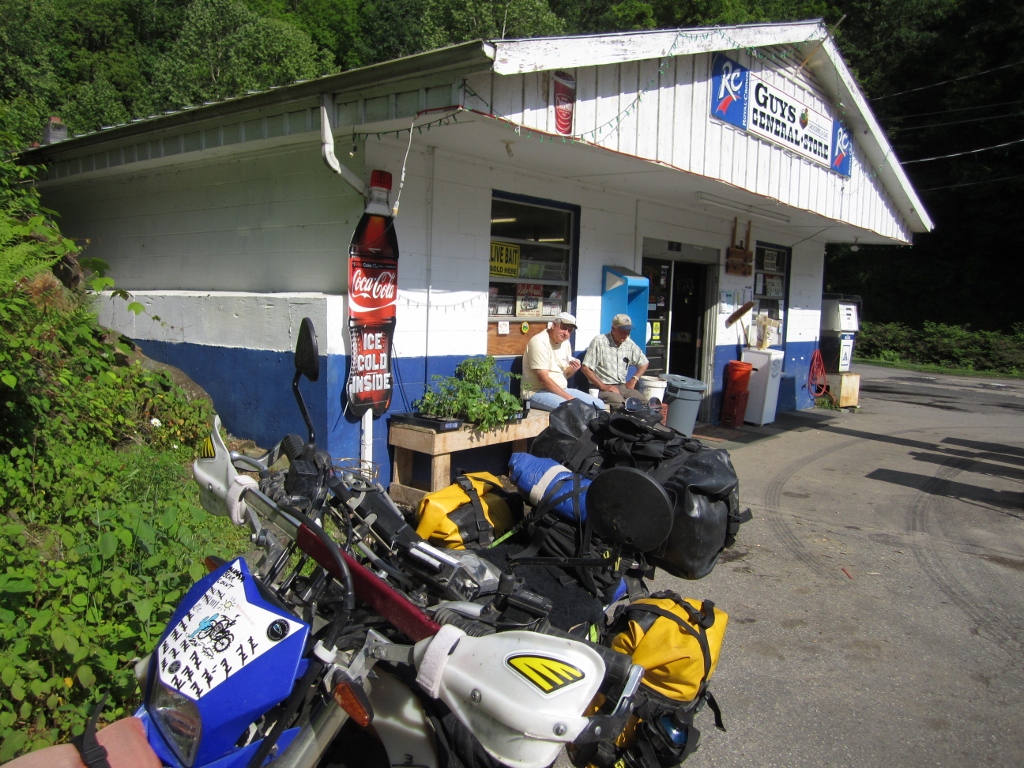 Right across the street was the older store and gas station---this building had to be 70 years old ??? Still standing.
And as you can see---the ole' farts bench was still there---to late to hear those stories.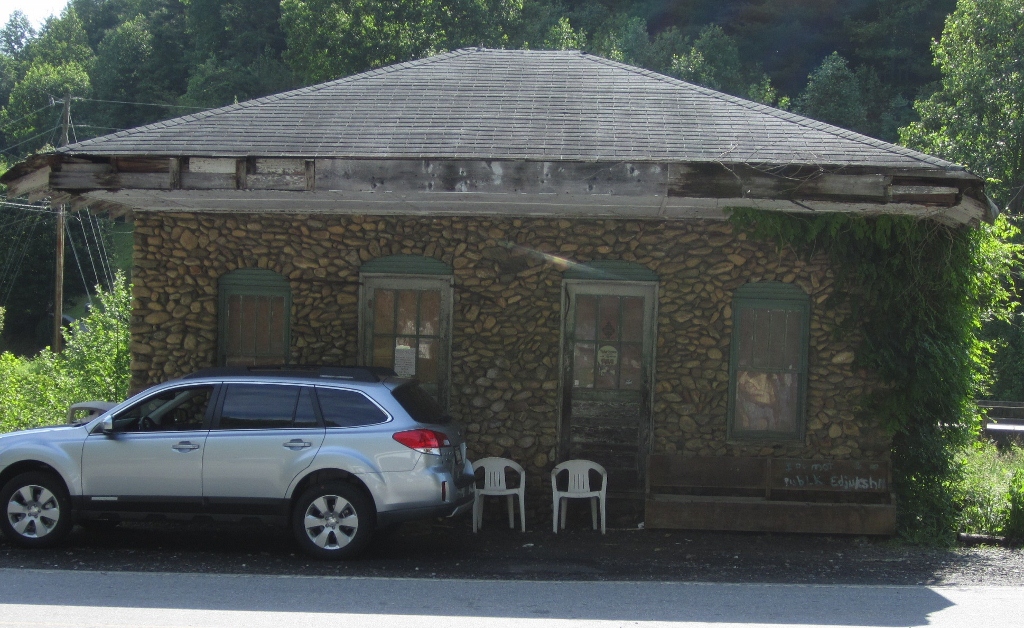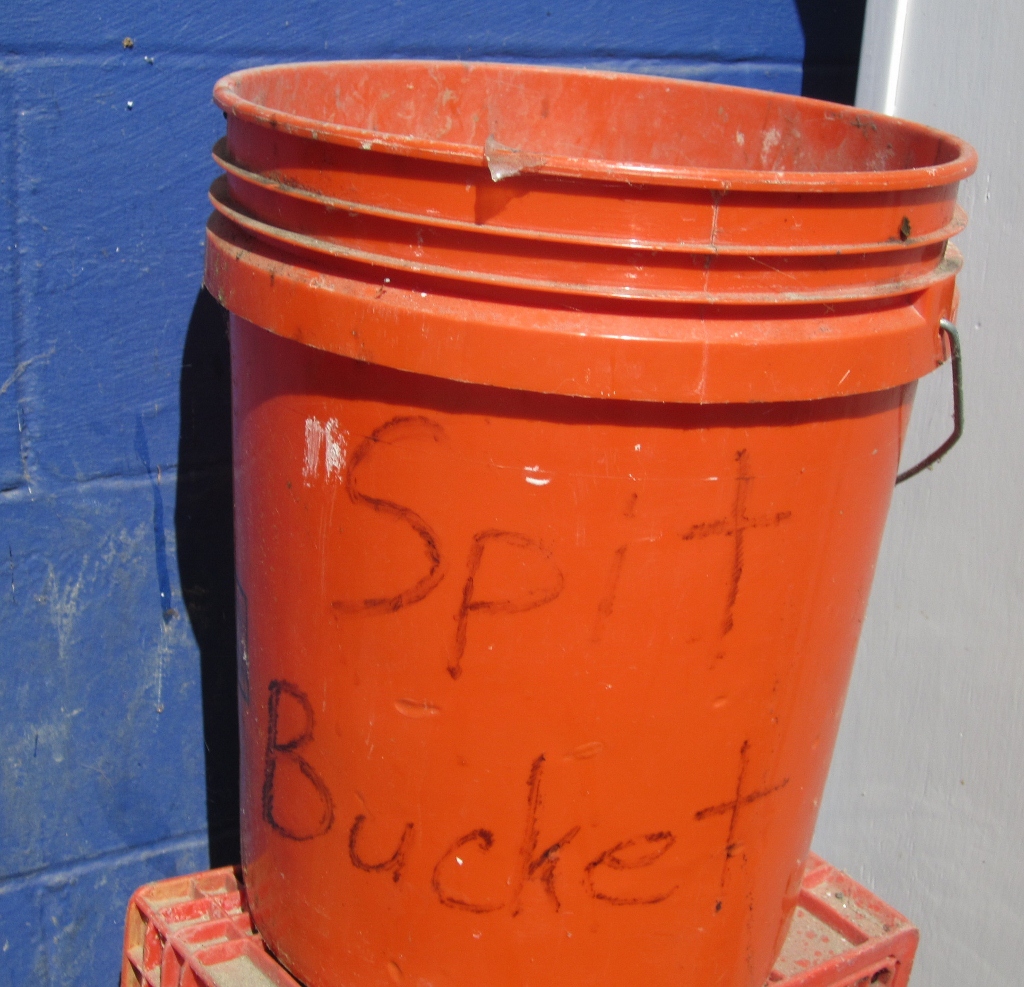 I literally had to pry myself away from the guys at the old store.
But looky here -------another swinging bridge.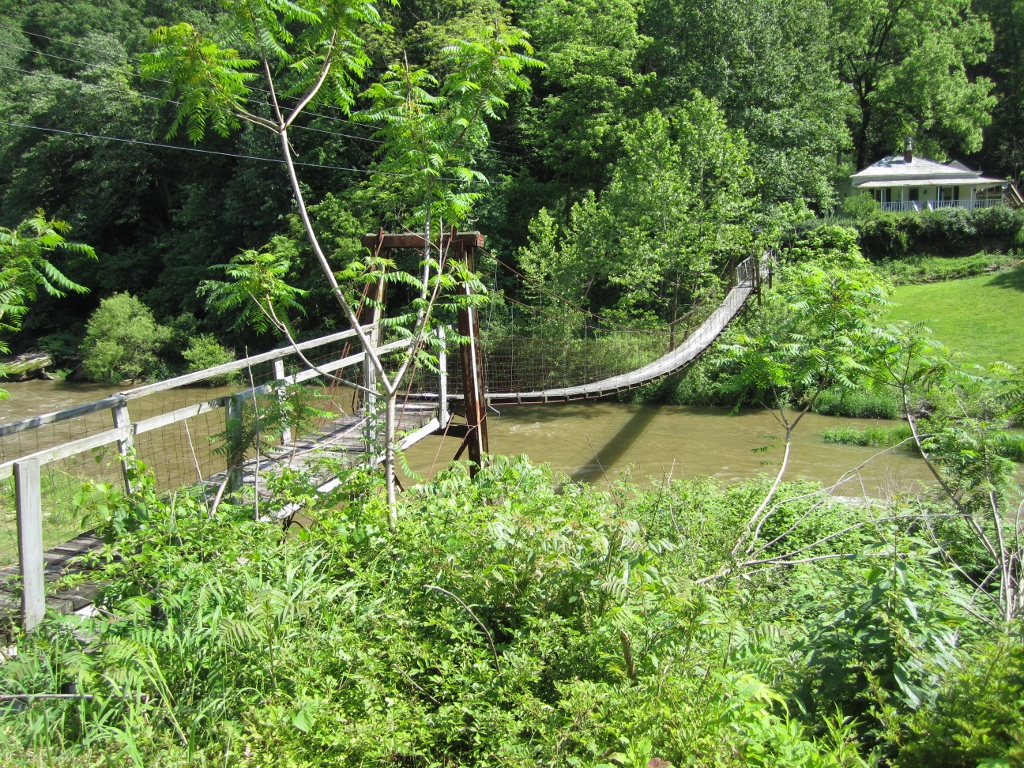 These are all different bridges-----I only took one picture of each--there were so many---I did a lot of "Crazy Larry's"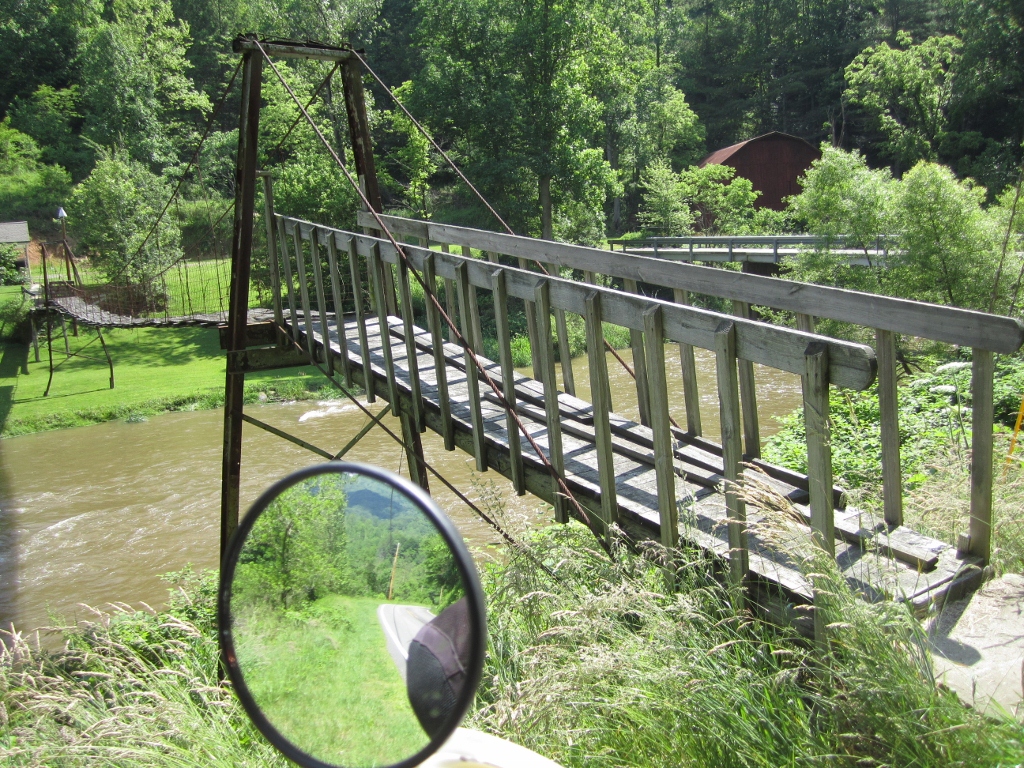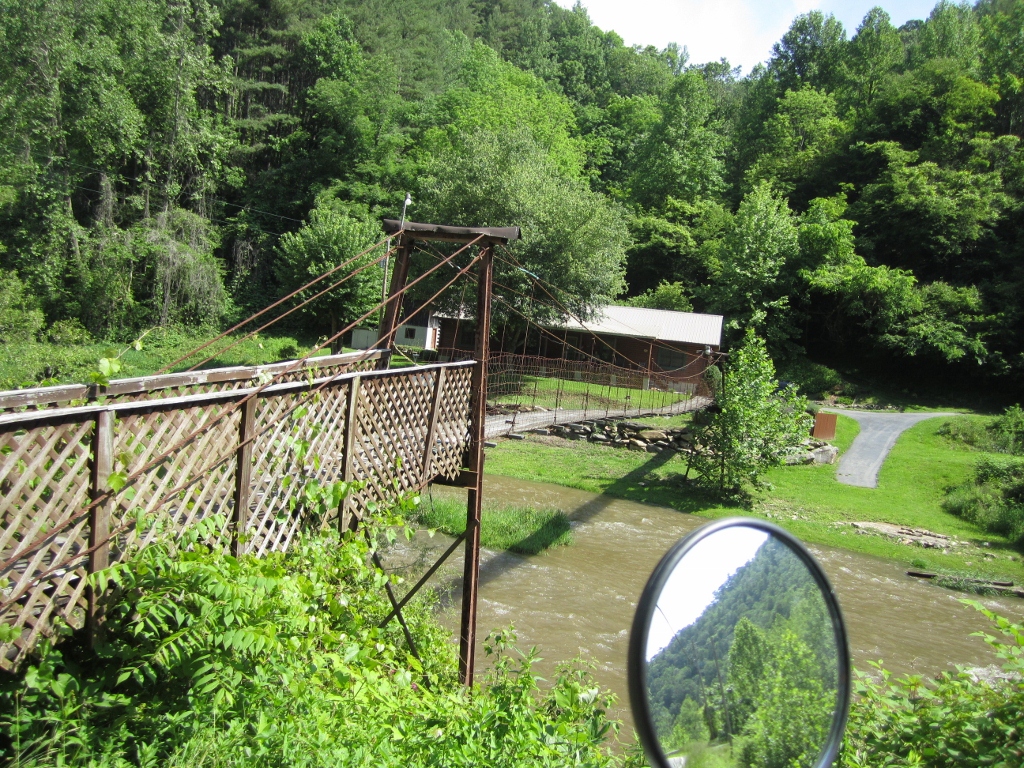 This is Cane Creek--the very creek all those bridges went over.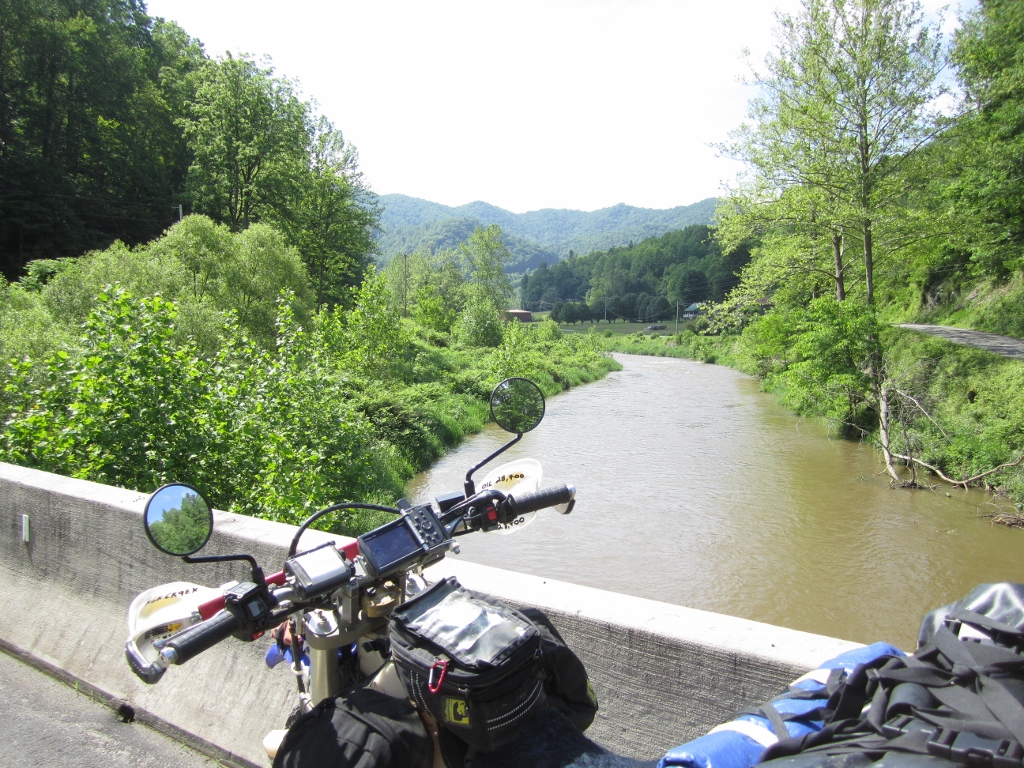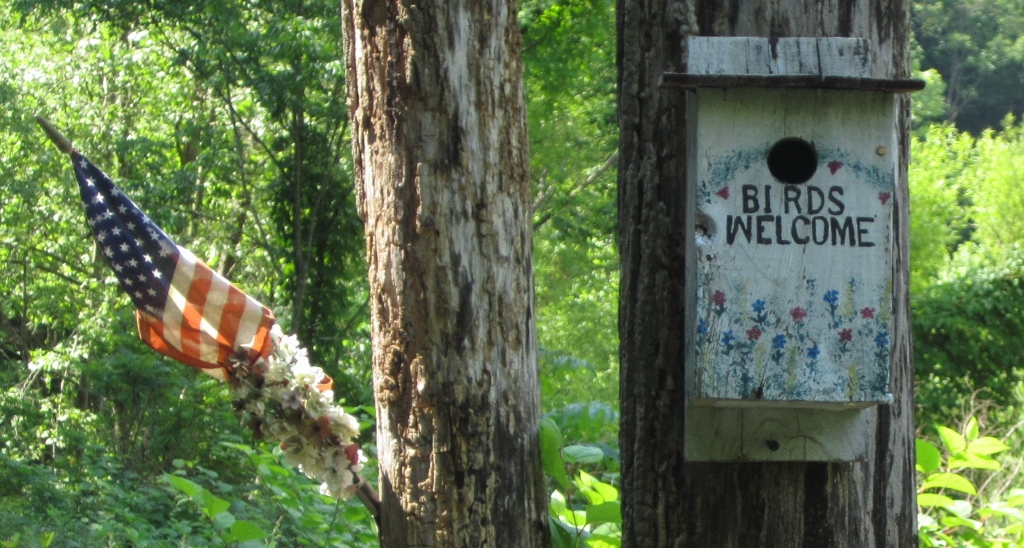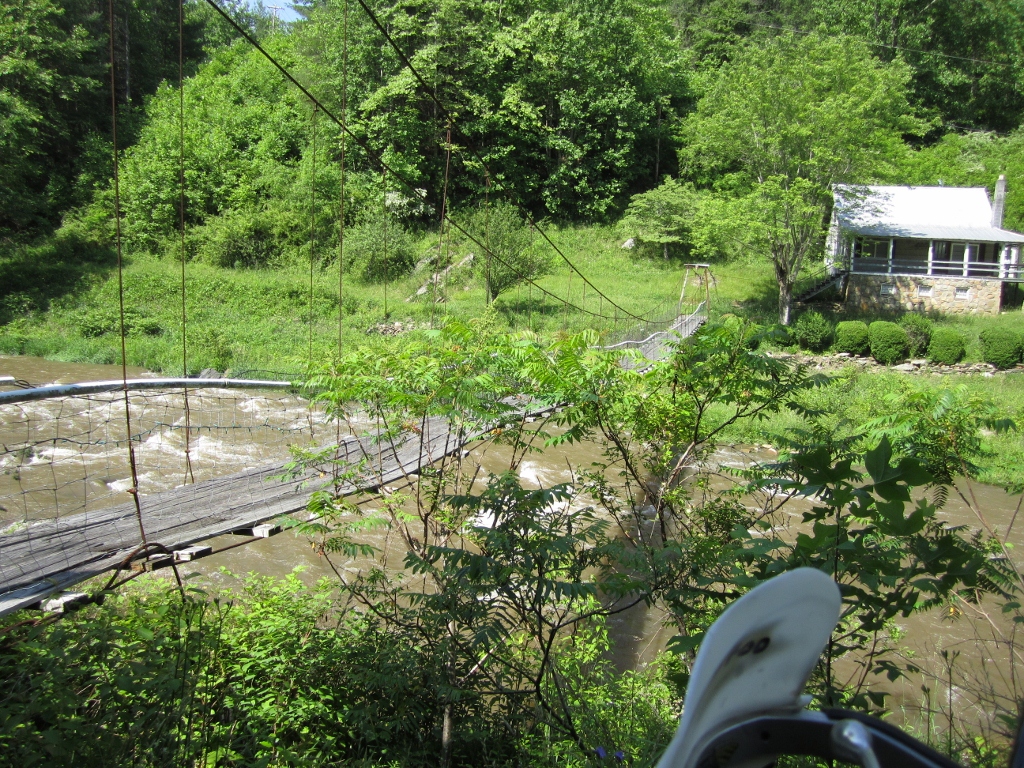 I seen a chance to ride down a steep embankment and get down to the Cane---and had a snack---and a gatorade.
Just stuff I saw----thought you should see it too.
It was a Cummins turbo diesal----said so on the valve covers.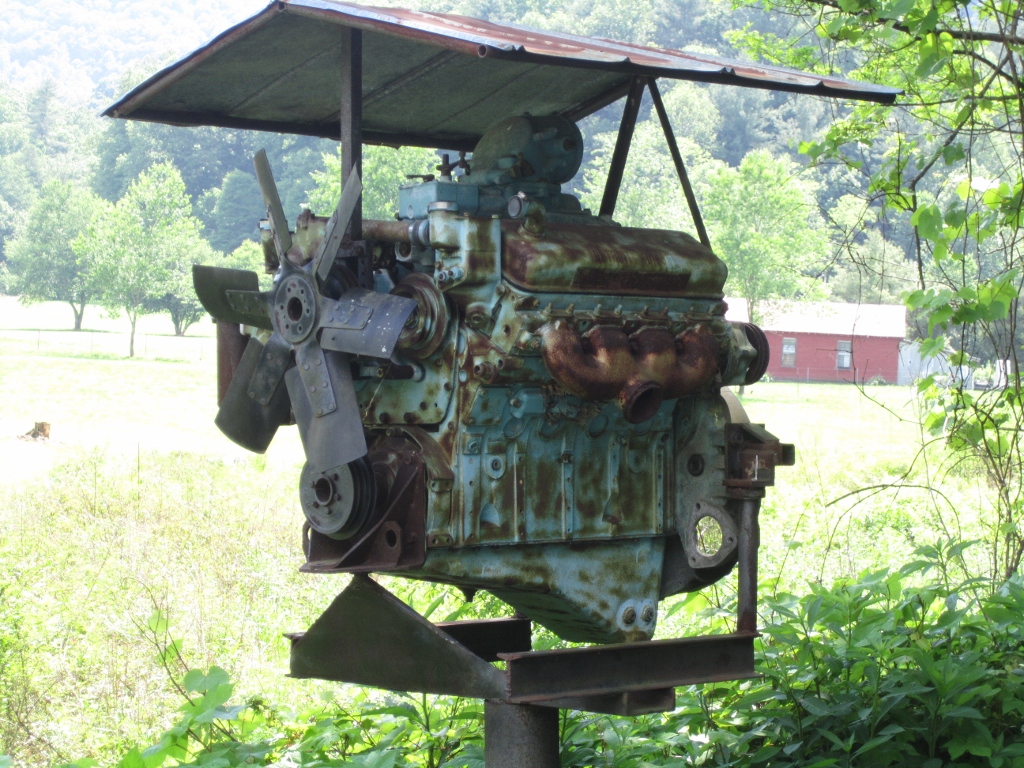 Got to find the Beauty Spot

I'm riding right on the spine of the North Carolina and Tennesse ??? border and the route of the hiking Appalacian trail.
How cools is this---4,400 ft. elevation--cool----nice swithchbacks--holy crap this is nice.
The green line is the track log of theTET---I just followed it---but would occasional put down a short auto-route along the way (the purple line) which
told me the distance to the next turn so I wouldn't have to watch the gps so close.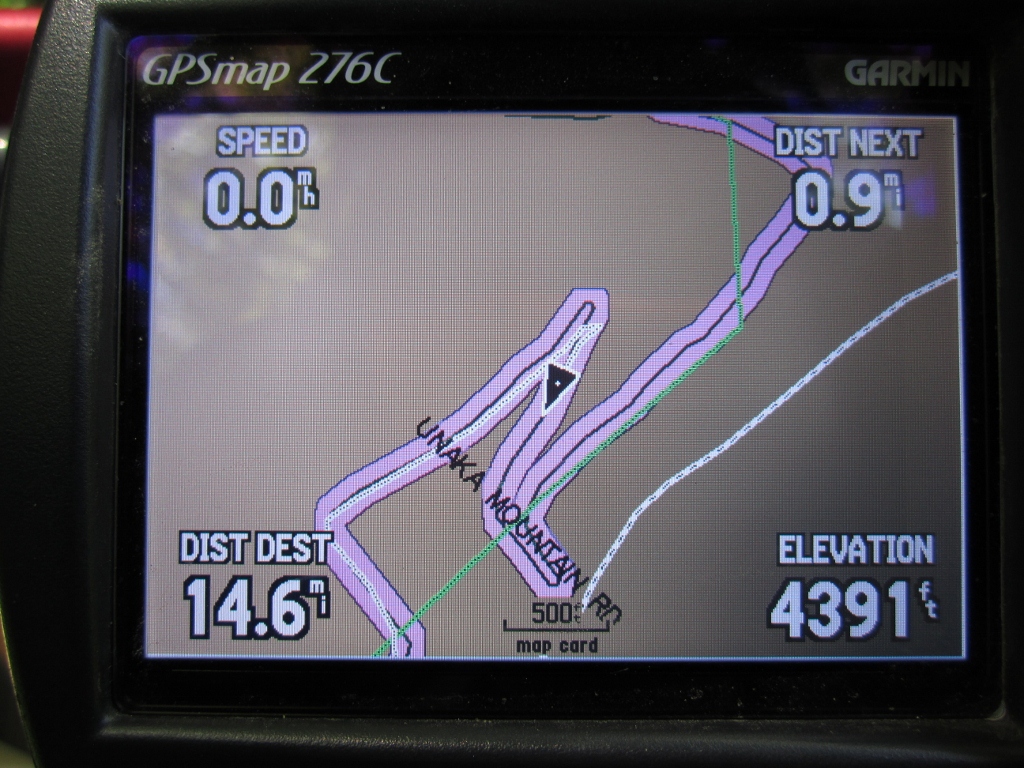 I'm thinkin this rocky dead end trail is going to take me to the scenic overlook.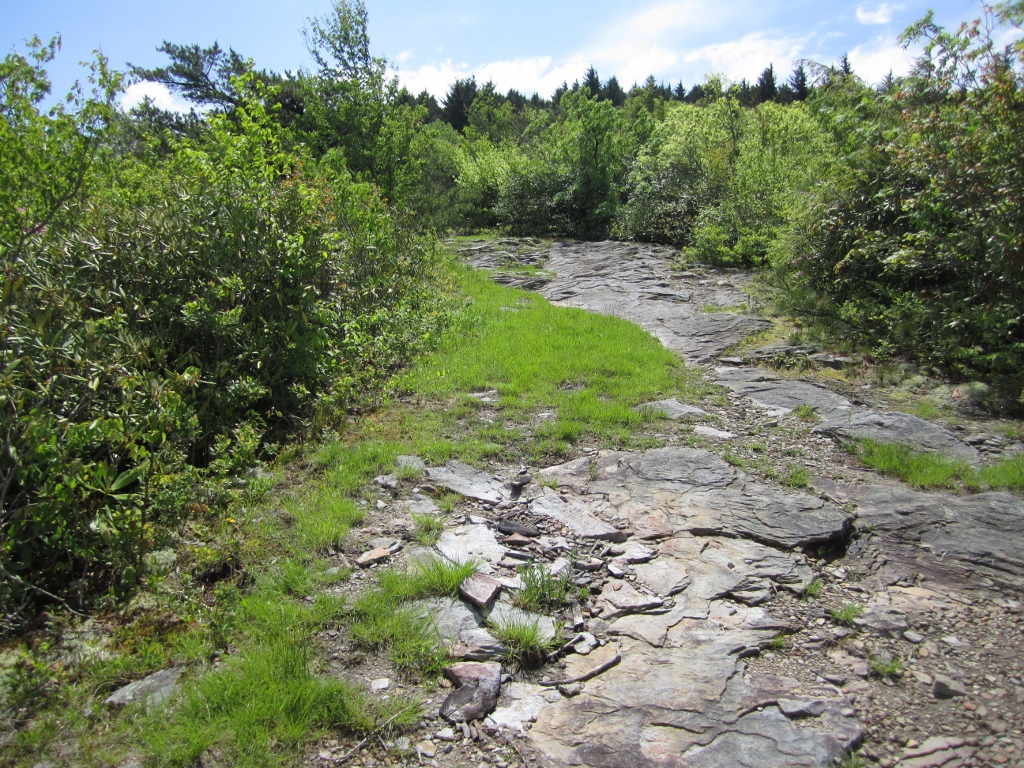 And it does.Riding beyond this point would have been fatal.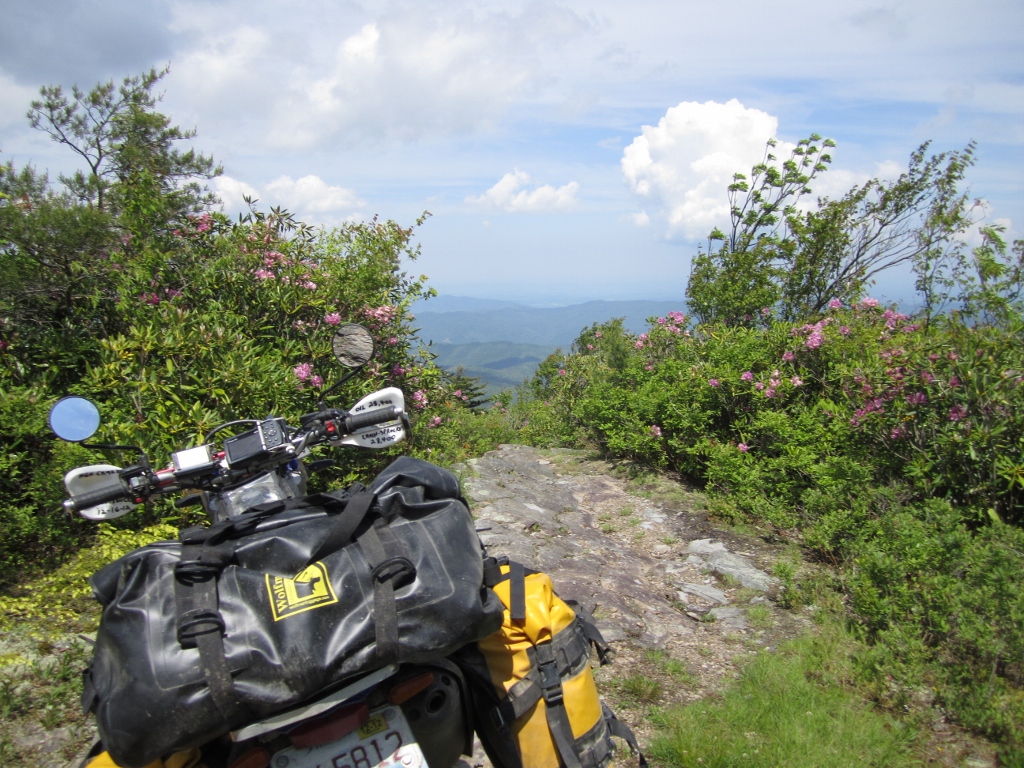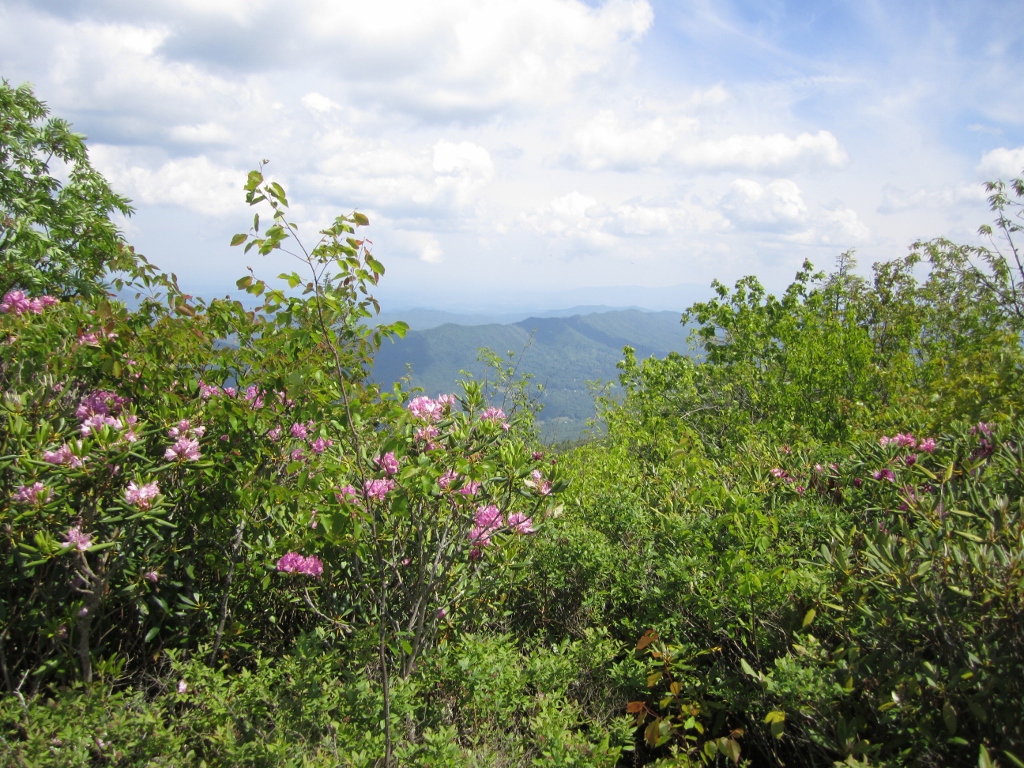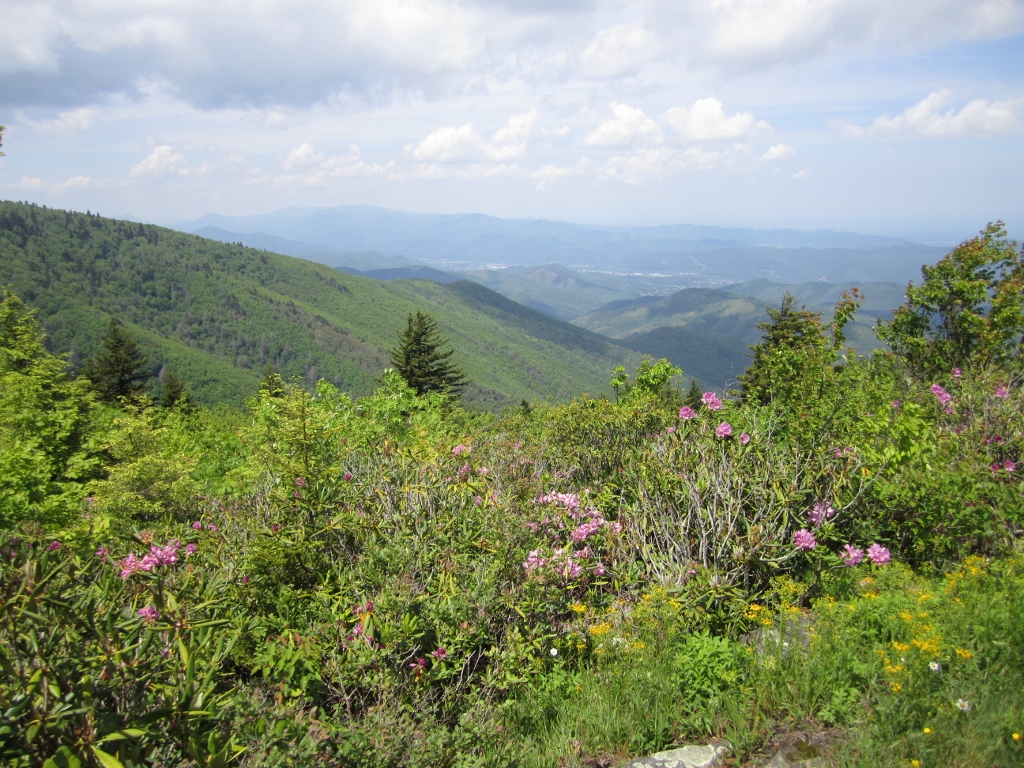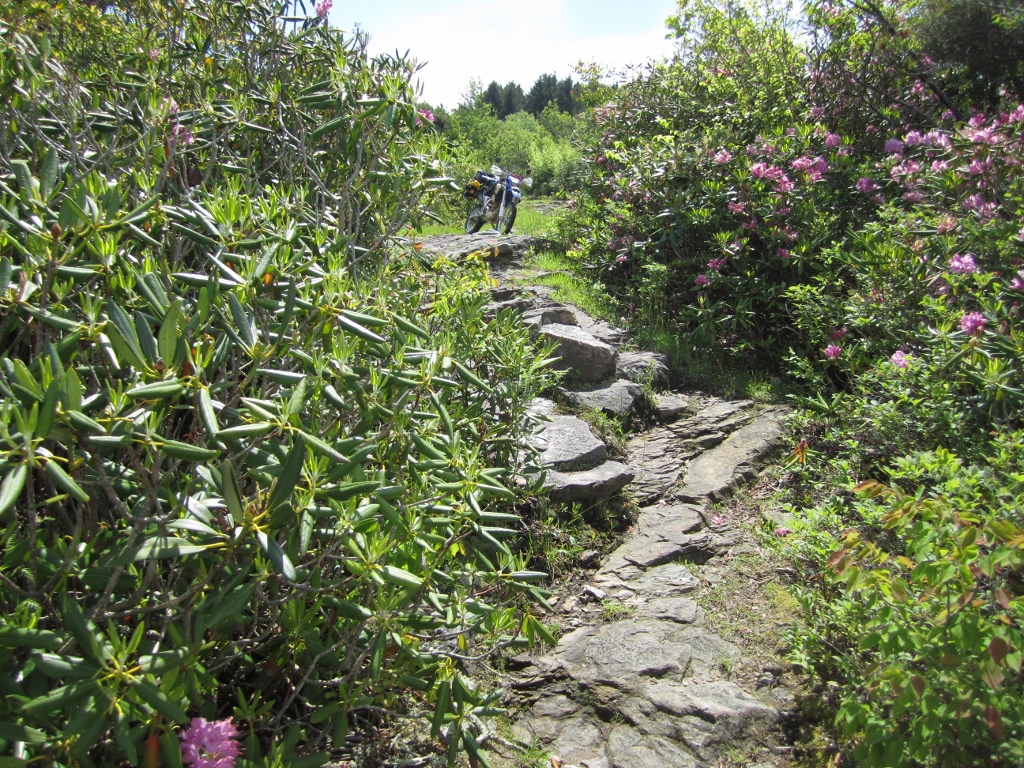 Little place in a very small town---had a burger like my mom used to make and a soda.
I don't remember exactly where it was.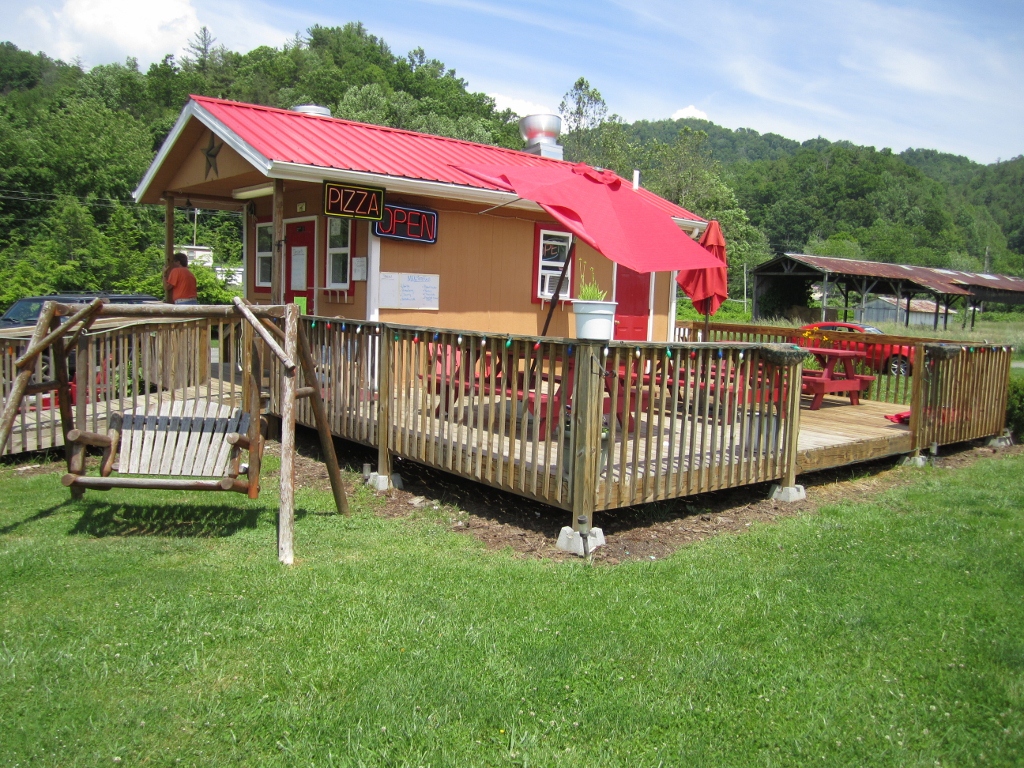 For miles I rode thru what I guessed to be a X-mas tree farm---all I do know it was so pretty---green--green---and more green.
My rear tire was toast----I made a call and found a new tire in Johnson City, Tennessee and got a new tire. It didn't take long to get that spooned on
and I was back on the TET and only had to divert 10 miles to get the tire.
I had no idea where I'd end up for the night and didn't care.
One thing cool about the TET routes I downloaded off the net---they are full of waypoints for gas, food, lodging and camping.
About 2 hours before dark I spotted a camping waypoint on my gps on Holston Lake. And it was here I would accept and random act
of kindness from a nearby camper who invited me to dinner with his family. They saw I was by myself and came over for the invitation.
I think this was taken in the morning as I Jet-Boiled me some coffee and oat meal. I got a much needed shower here also all for
$12.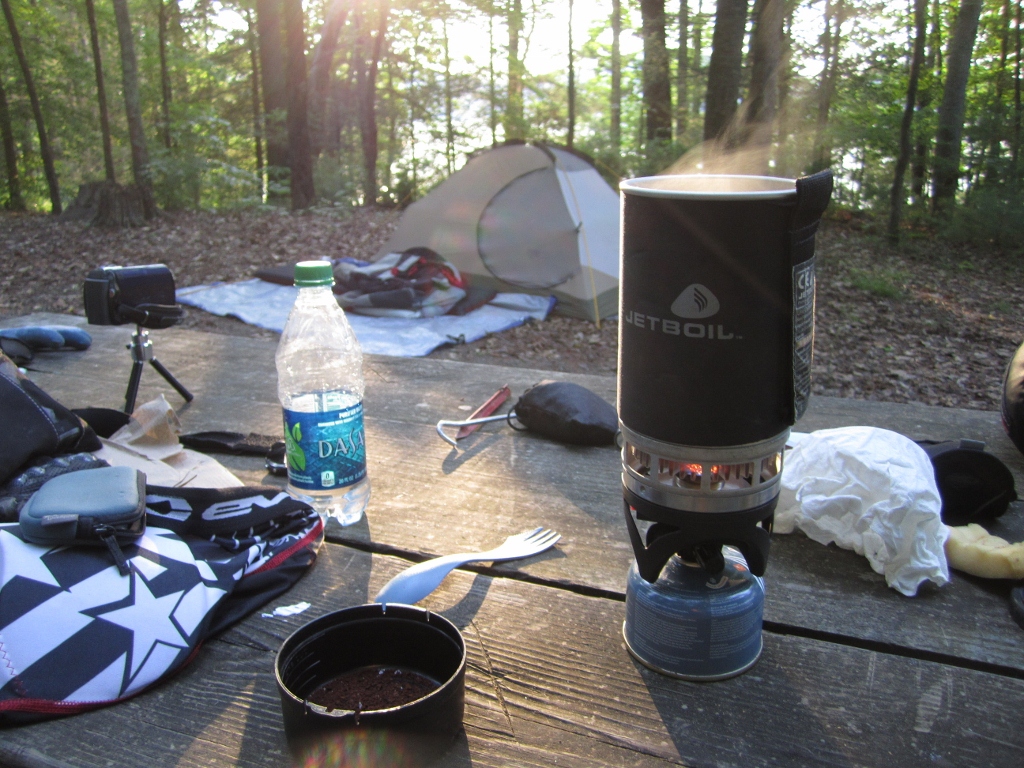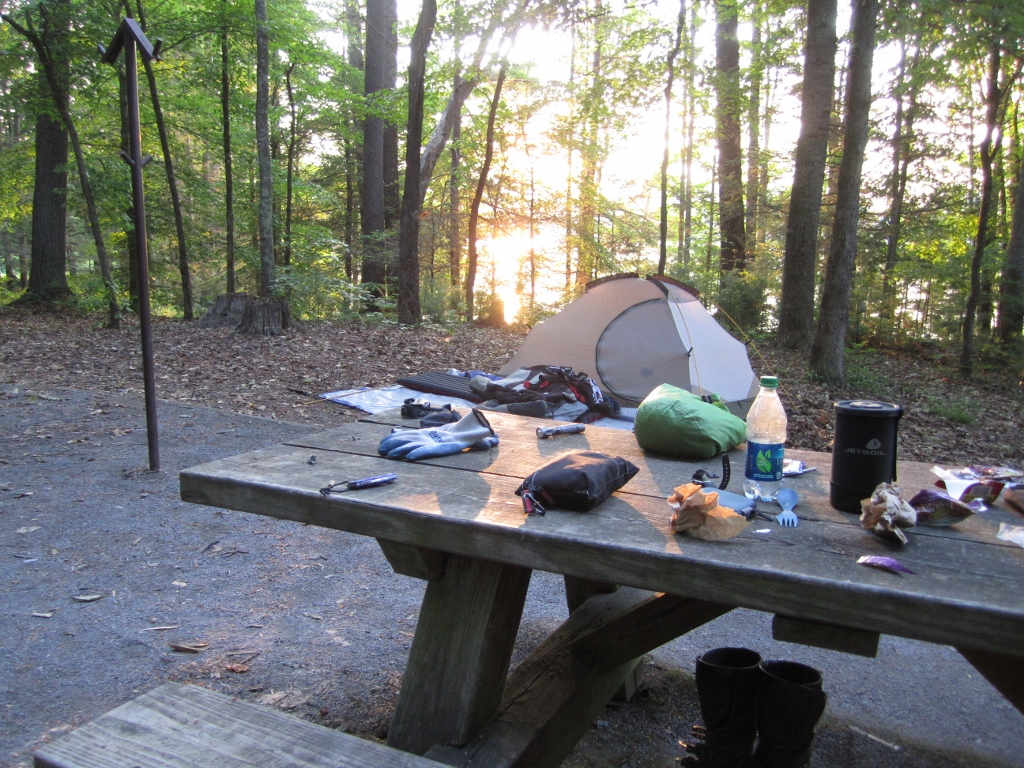 Today I would cross into West Virginia.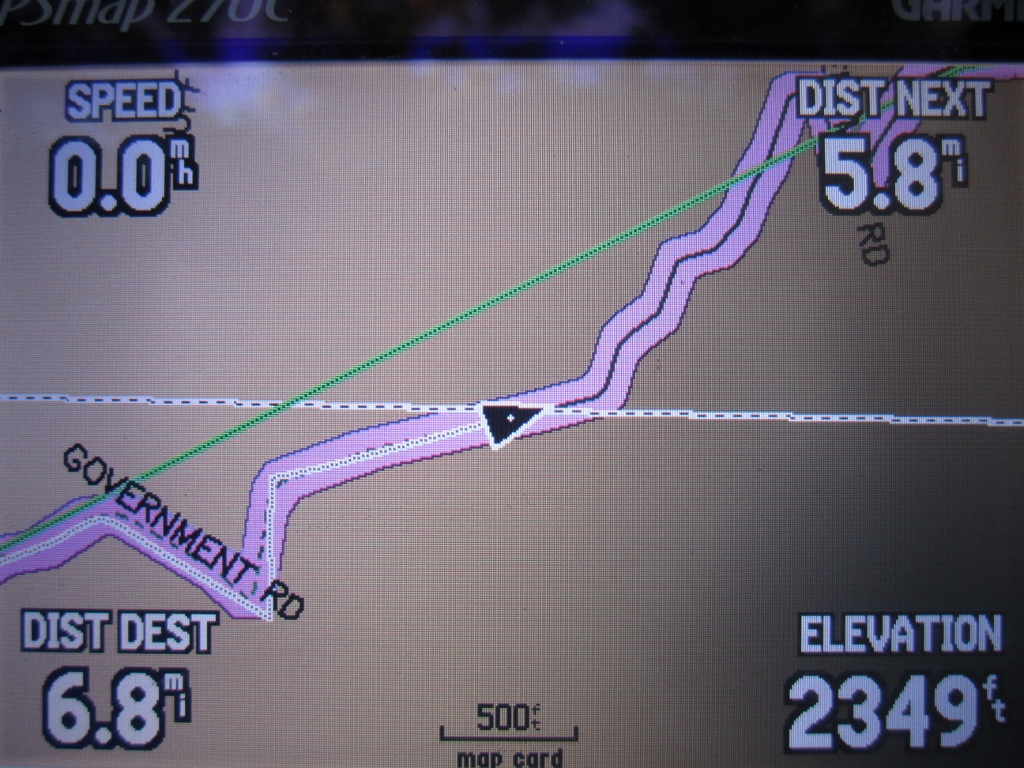 I entered the Mt. Rogers National Forest on the TET and would come to the Creeper Trail----what's that ?????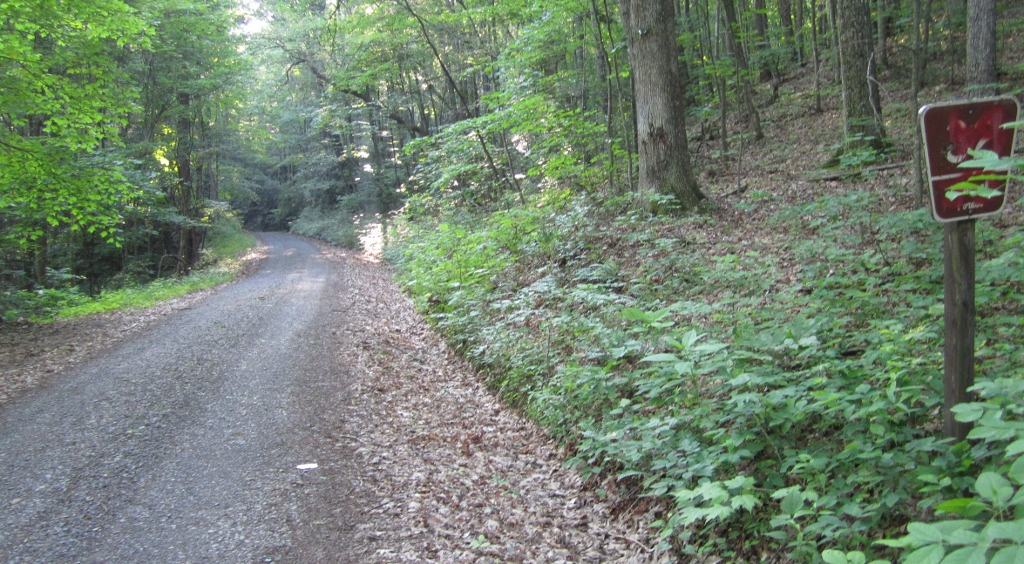 The creeper trail is an old railroad bed open to hikers and bicyclists. It's about 37 miles long and I heard it is a beautiful ride over some old
tressles and back country----I have one of these not that far from my house---it is 47 miles long and I've ridden it twice just this year on my bicycle.
I get mad at myself again in this ride---for not renting a bicycle in Damascus and riding it---why did I pass this opportunity of my life ???? Dumb that's why.
I had the time---DUH !!!!!
The Appalachian trail come thru here also--so the town was full of hikers also--nice town.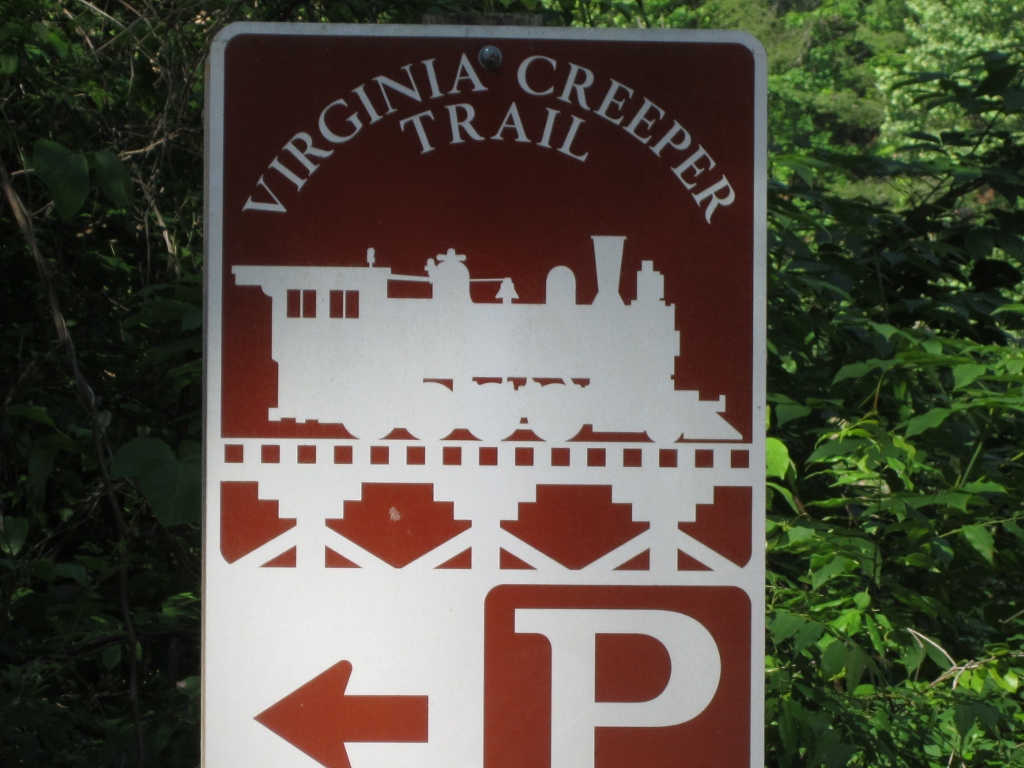 A place to get on the Creeper Trail.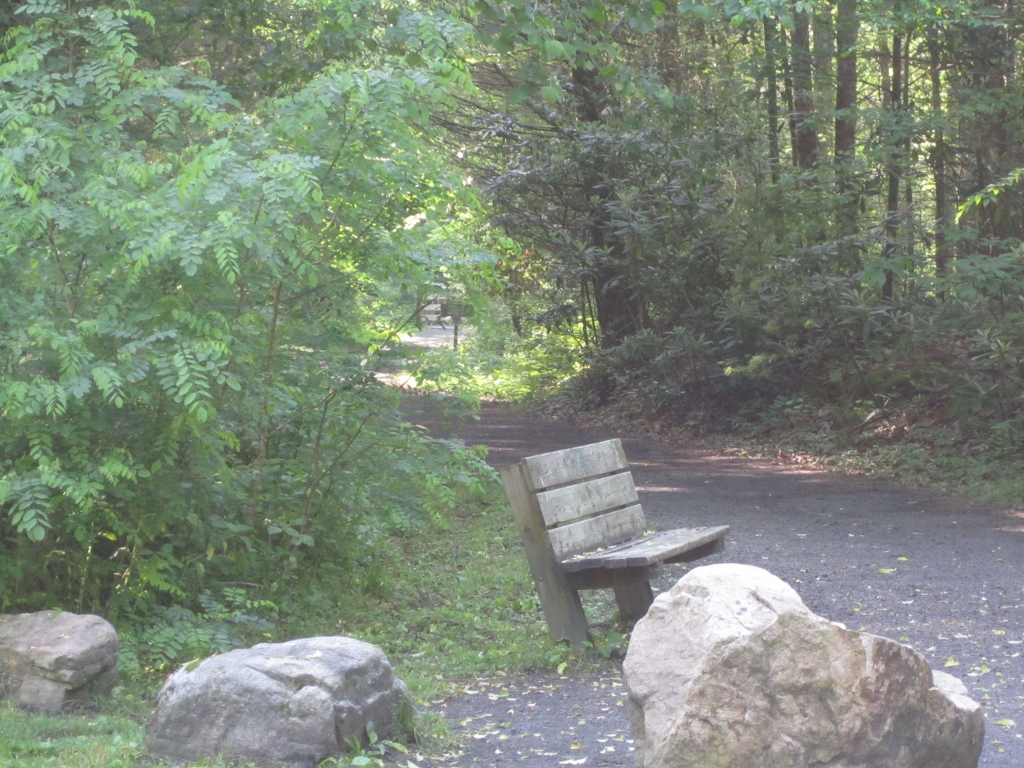 See all those nice camping waypoints---from the TET boys---------thanks so much.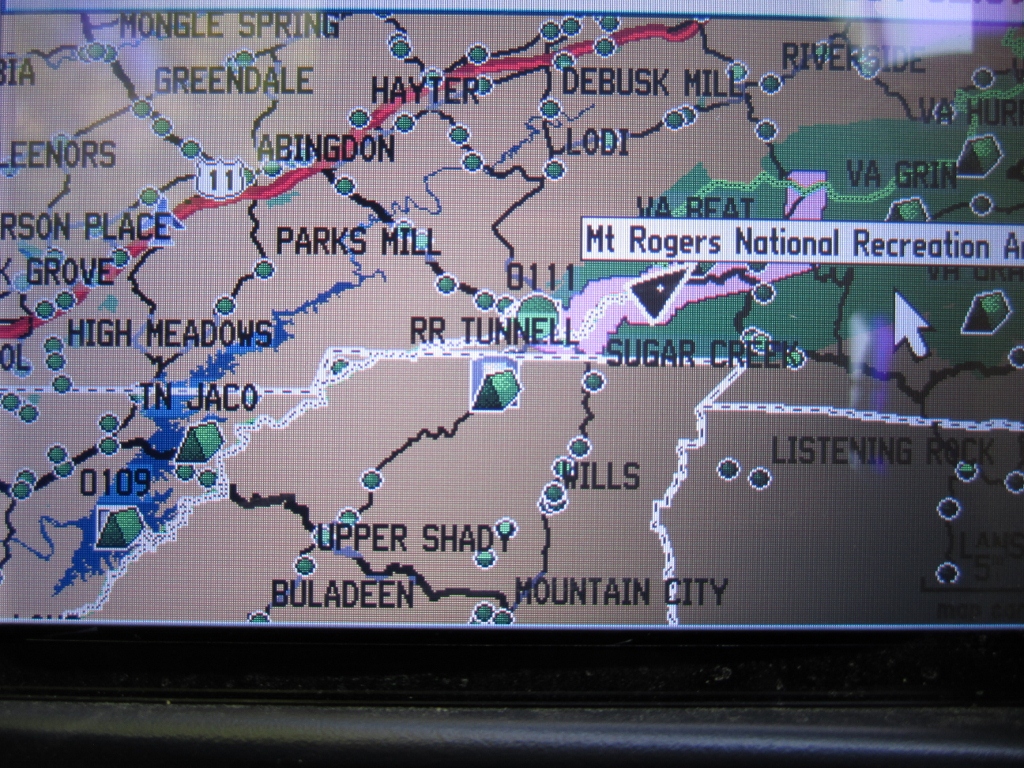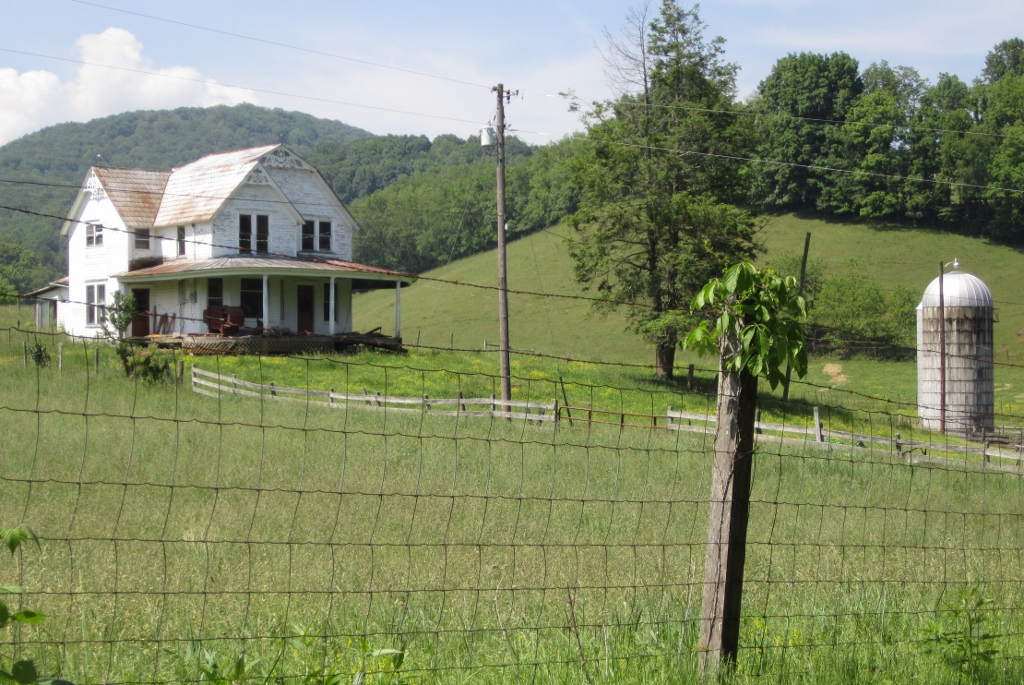 Hikers on the Appalacian trail----I had a long nice converstion with this nice couple.
They do all kind of stuff together--not just hiking and own to small dual-sport motorcycles and have ridden them all over.
They e-mailed me when I got home. They were very interested in what and where I was going and I was so fascinated with them.
Notice they have their little dogs with them---they sent me picturs of them riding their motorcycles with the dogs on the back in a milk crate.
Their trail crossed this road I was on into the woods. I would see these crossing many times everyday. All of them nice folks.
I think the mans name is Dallas Reid-----I hope he gets to read my story.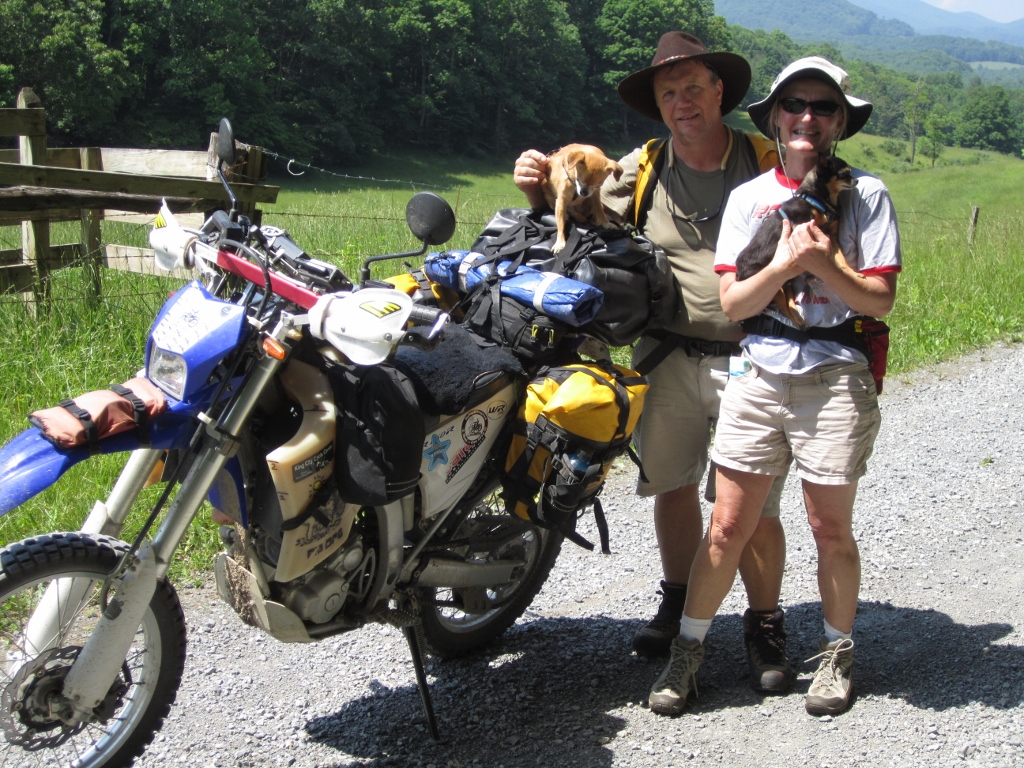 Here they are on their Yamaha's----I'm gonna bet Utah !!!!!!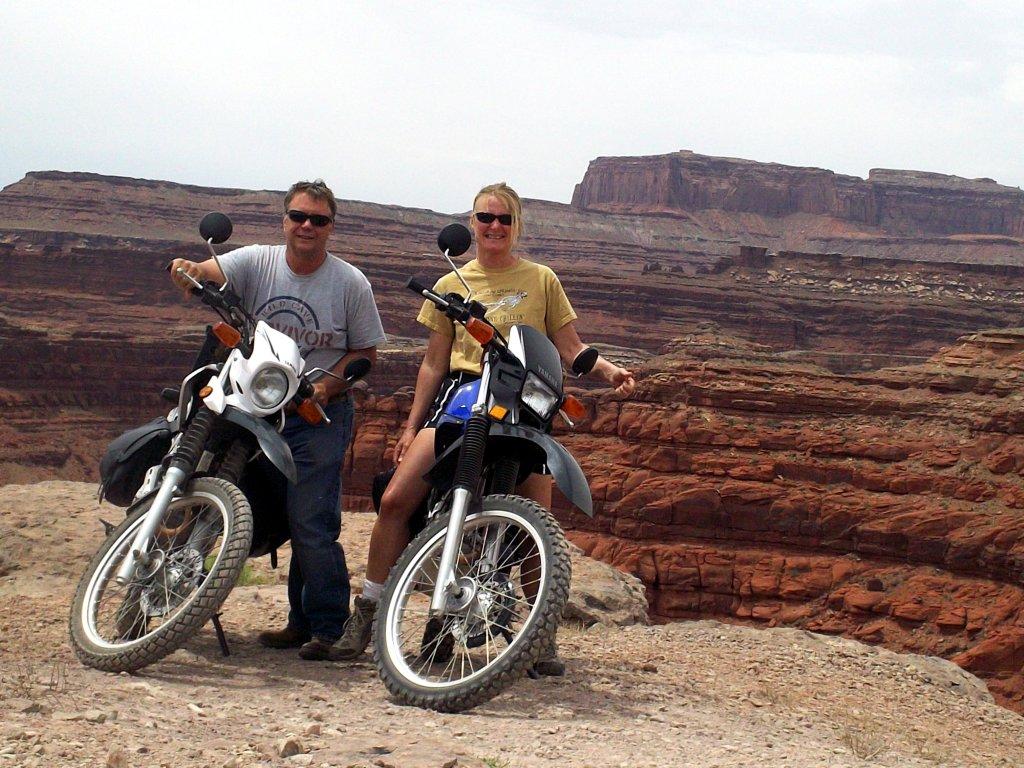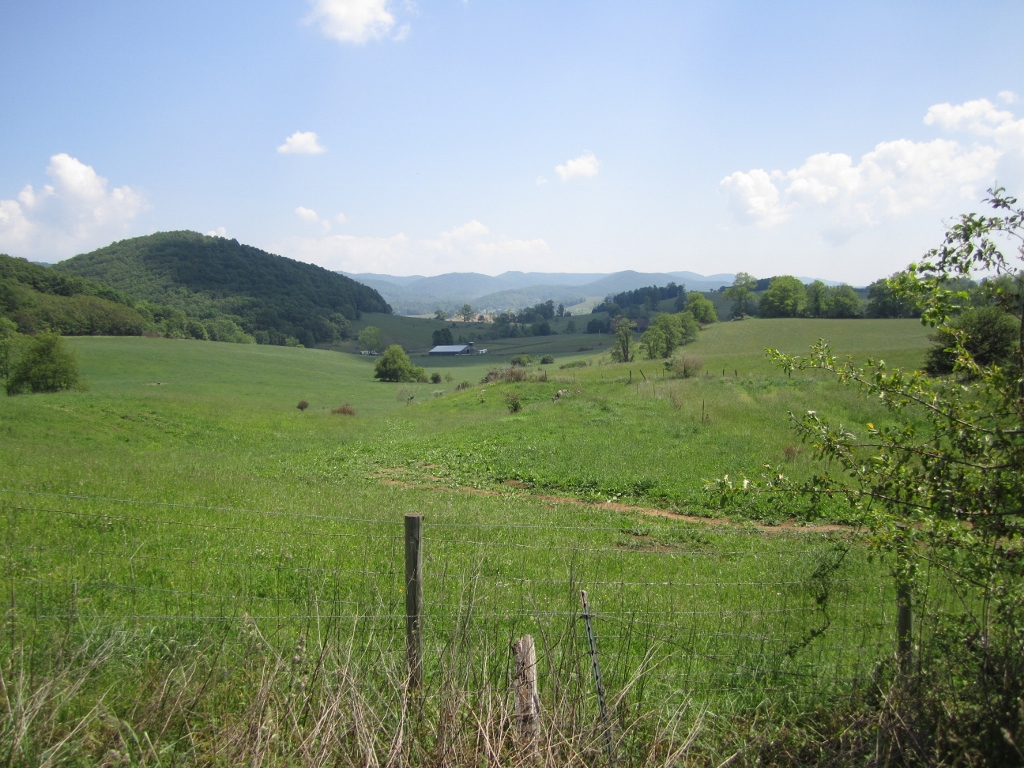 The last time I got close to a peacock on a small dirt road it barked at me and chased me and my motorsickle off.
This thing was about 6ft. long and was beautiful.

Tired of swinging bridges ???? Tuffler Muffler.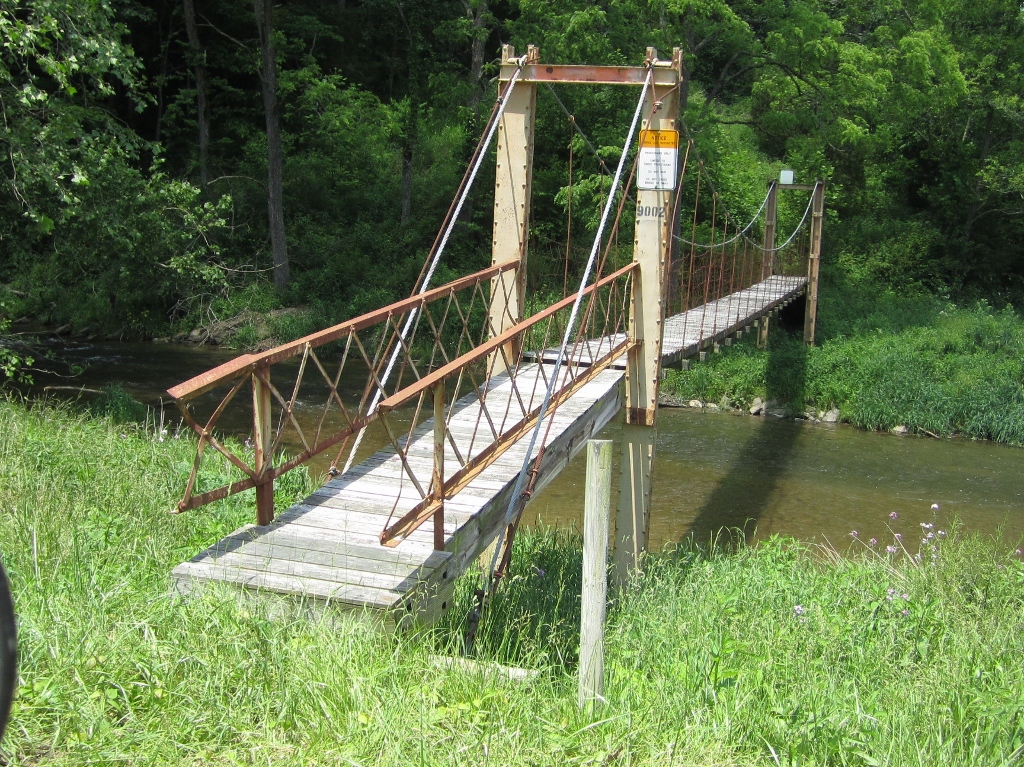 Went in here and met the only sore ass of the whole trip--------don't stop.
Said a big hi to the gentleman in here and said a few things---he finally and slowly raised his head and glared at me. I left.
Maybe he was just having a bad day.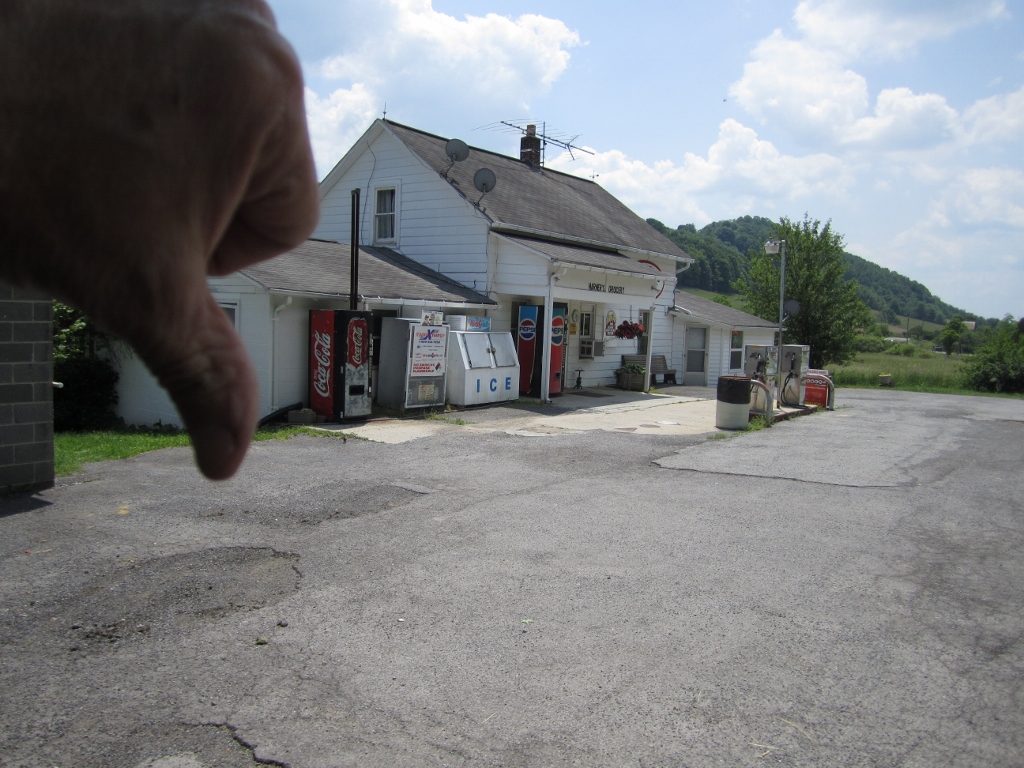 It's very handy when traveling to have these handy notes right in front of you---don't expect to see this on a shiny BMW !!!!!
They'll have a computer with an excell spread sheet.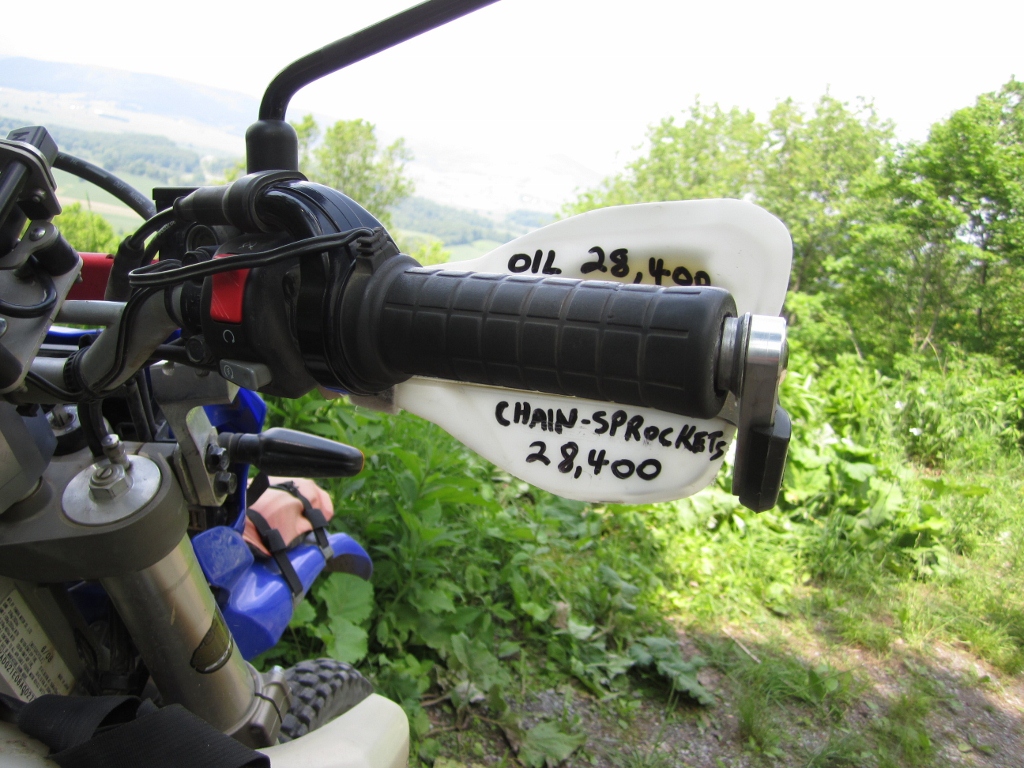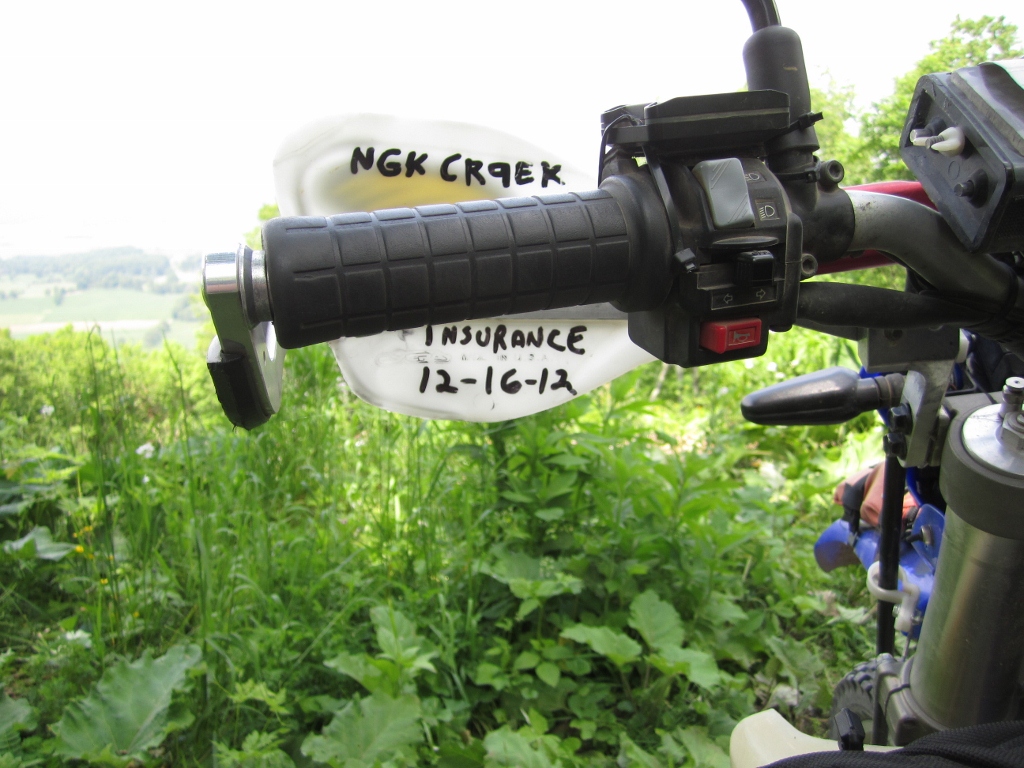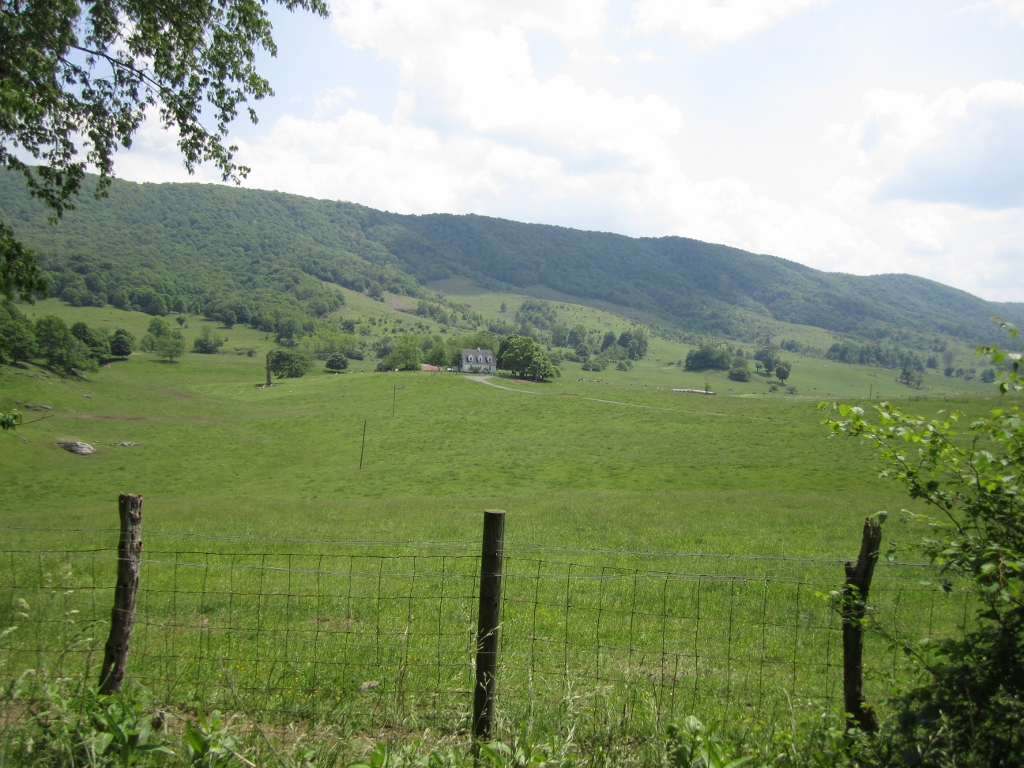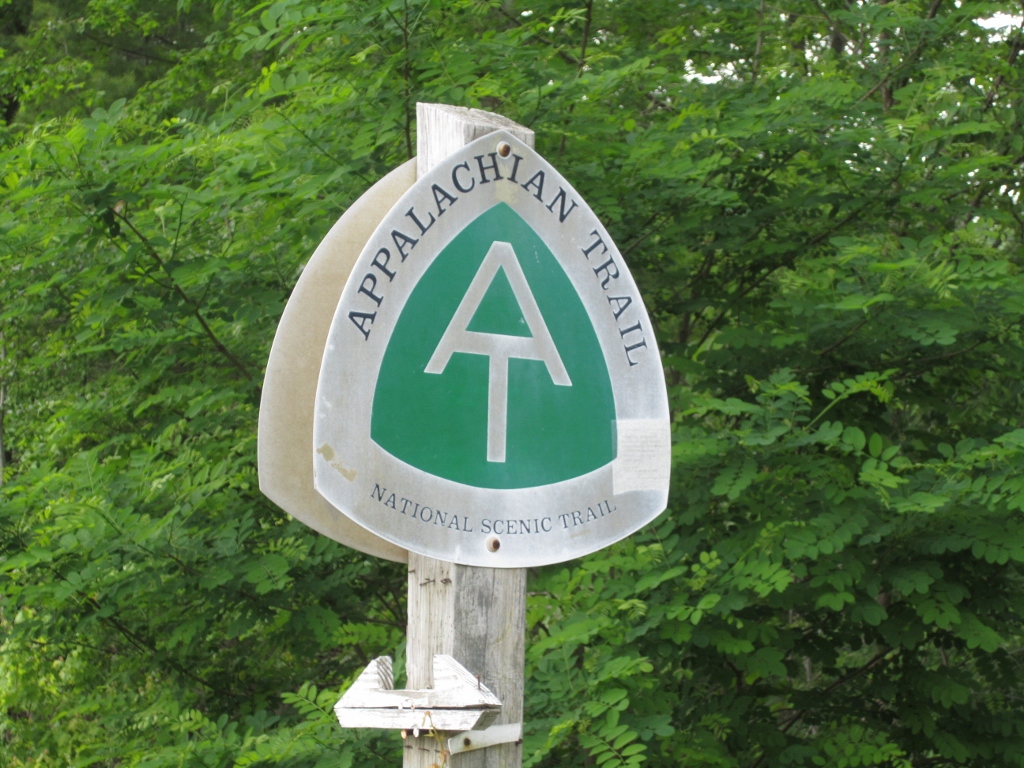 I ended up the day of 167 miles in Pearisburg W.V. in a small mom and pop motel with mom and pop prices and internet that worked--------------off and on.
Small town --good people the sign says---and I agree. Had a Mexican dinner across the street from the motel---it was packed --and for good reason.
The best Mexican dinner I ever had---and I've had the real thing.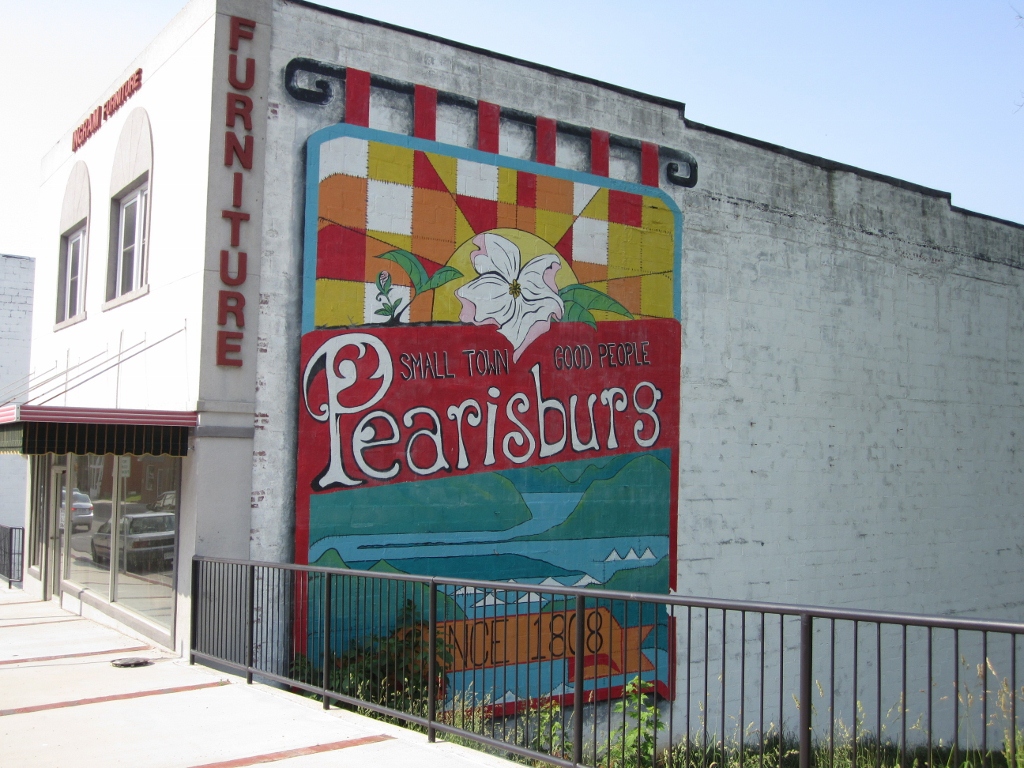 I think it must have been my ESP my wife said---she wasn't feeling well at all.
I hadn't planned on this but headed for the house and rode my WR250R 600 miles while only being off the saddle about 1/2 hours.
A bun burner I'm telling you----I wasn't even tired when I got home
2 Days later my wife was feeling much better---and we avoided and emergency room visit.
I did find one more bridge on the way---pretty unusual.
Great ride for my first retirement ride---glad you could join me.
Thanks to all the nice people I met along the way-----especially Homer in Corinth, Mississippi--what a gracious generous guy.