Page 2 of 2
We left Lake City early in the morning----it had rained all night and still looked pretty juicy.
This worried me doing the high passes----but the wetness just made if more beautiful.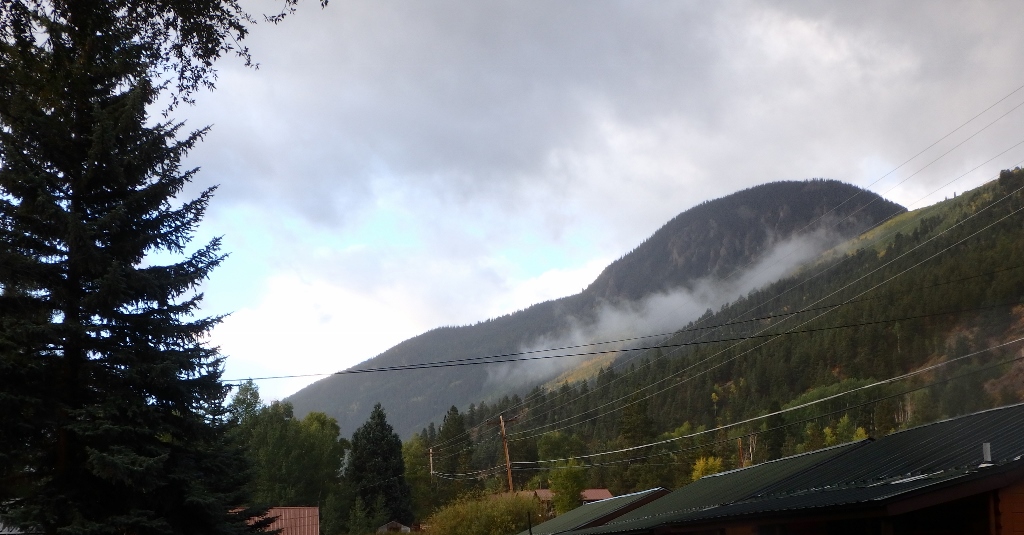 Heading up Cinamon Pass
Francines bike was giving her fits---it just kept dying constantly.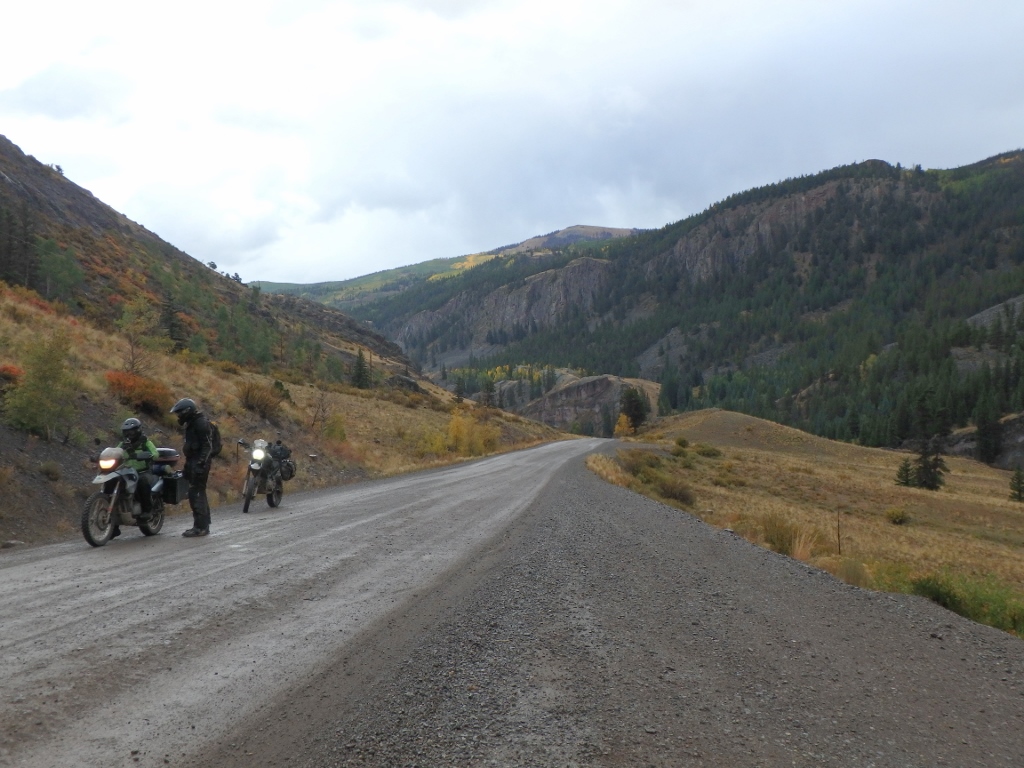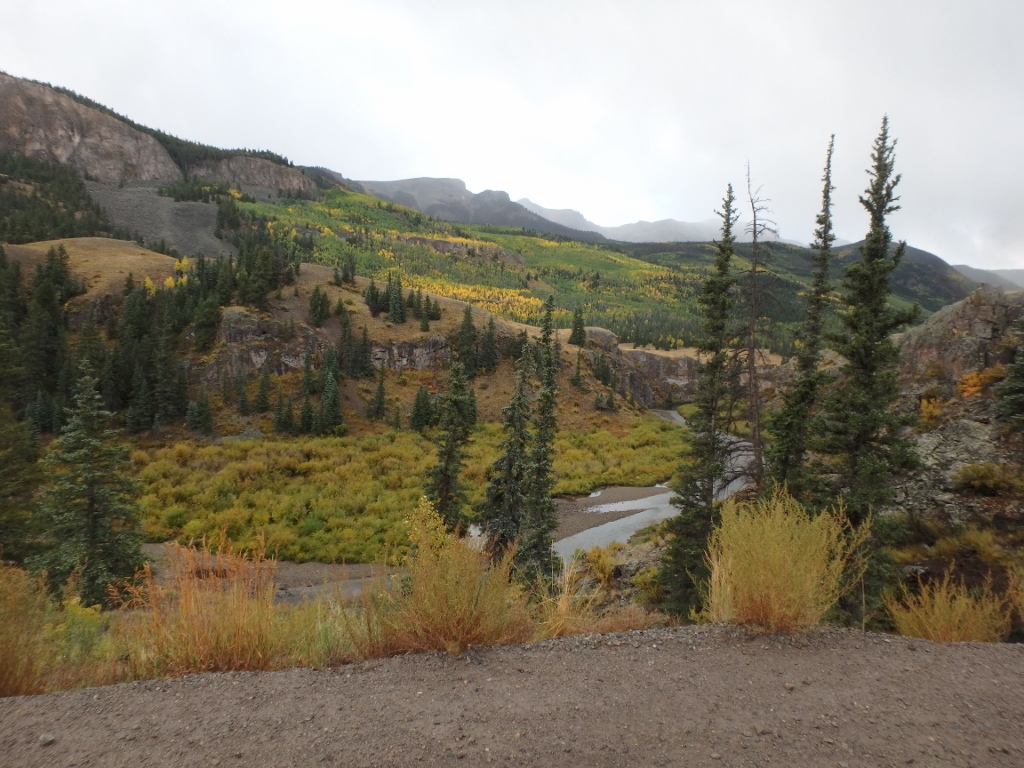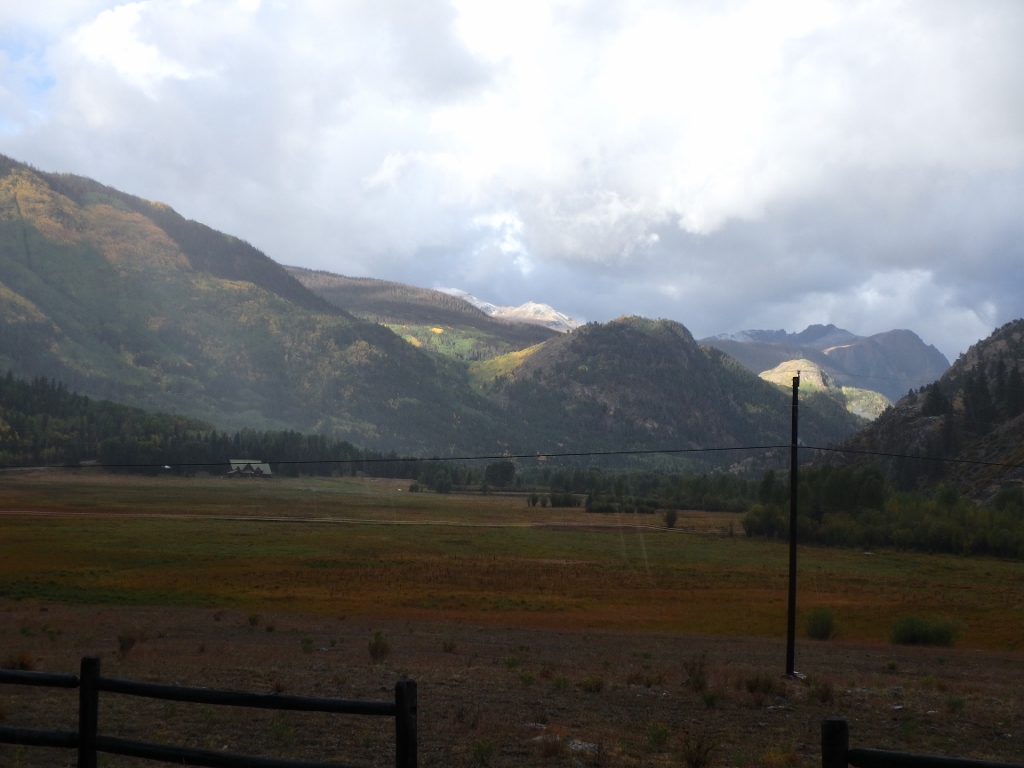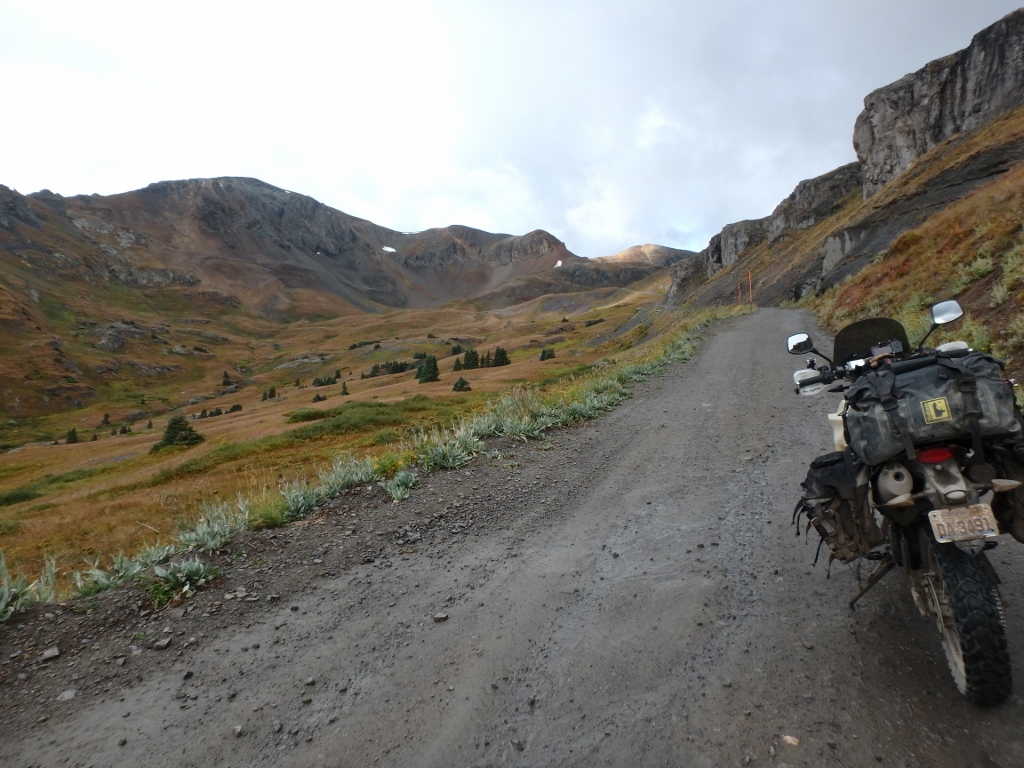 Cinnamon Pass Summit
The wetness just made for perfect conditions with no dust.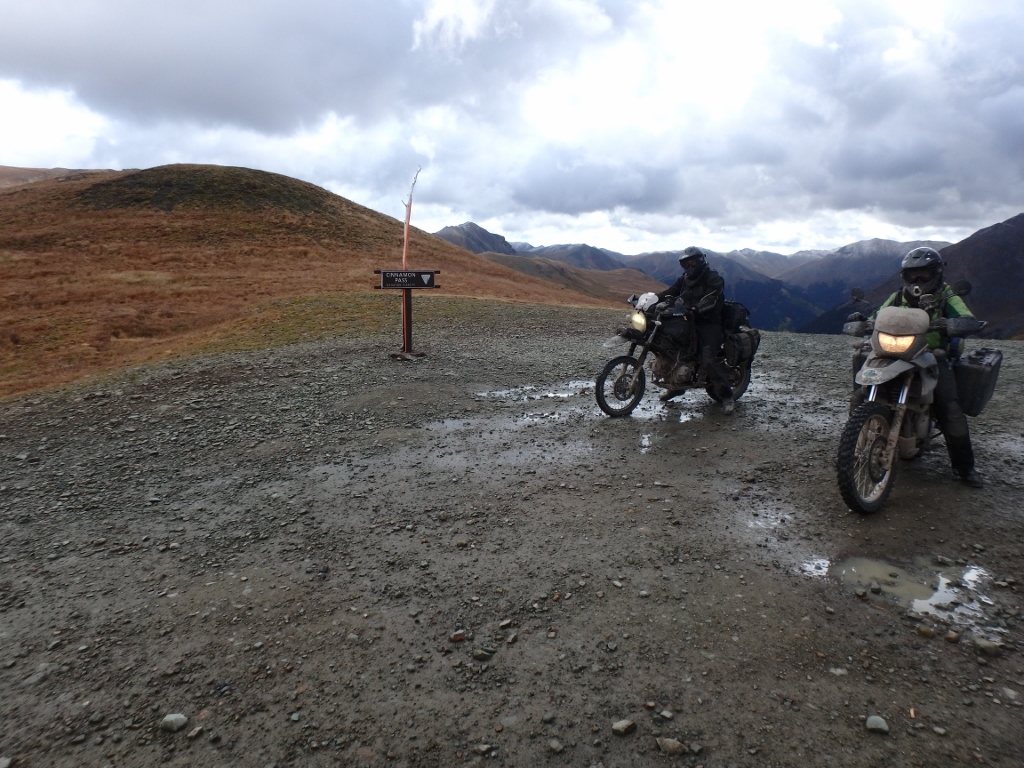 Me and Debi rode the BMW 2 up on this pass in 1997.
She got quite spooked riding up there and dismounte the bike a few times over some rough stuff.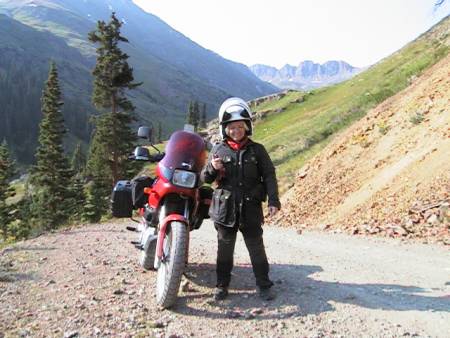 Down Cinnamon Pass---this would be the easiest of the passes today.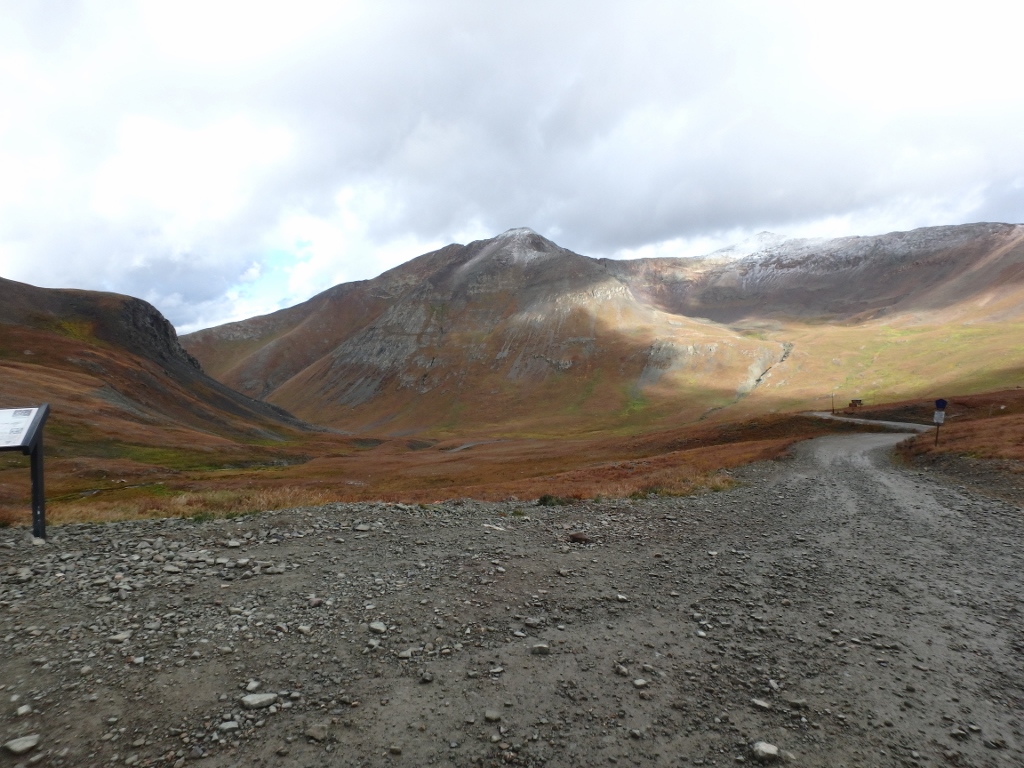 Animas Forks mining remains.
This old building looks better ever time I go here---they've done a good job restoring and taking care of it.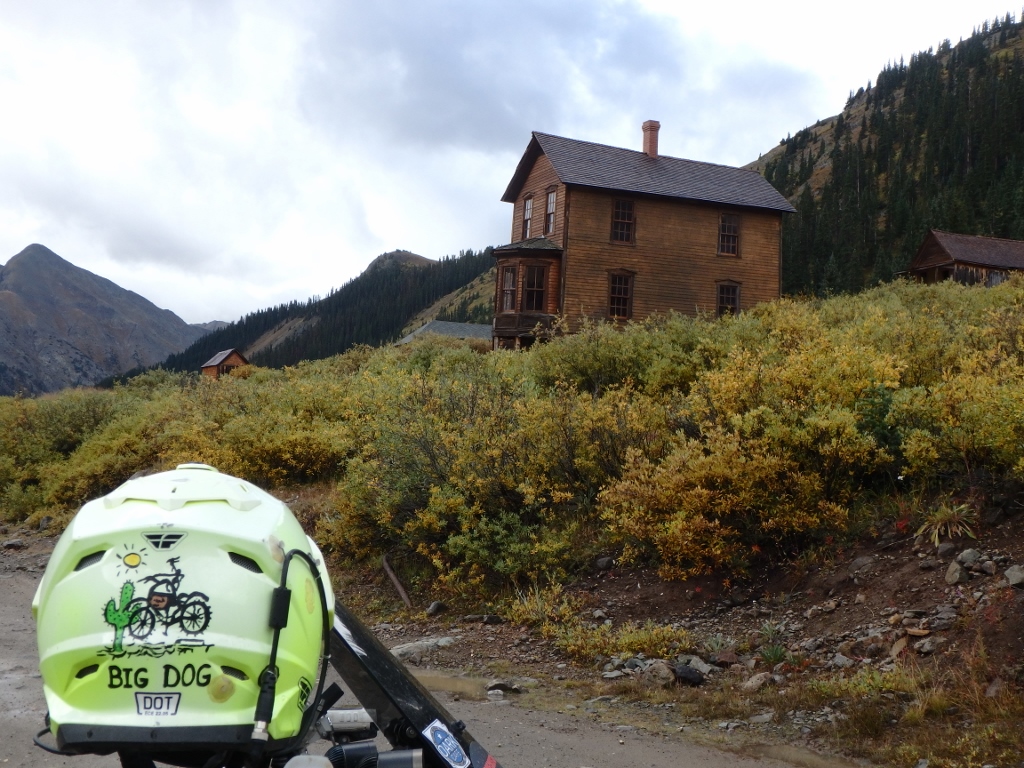 Hurricane was a bit tougher and when we summitted the pass the wind was blowing so hard it would almost
blow you over the edge.
Of course on a dirt bike this would have been very easy--maybe boring for the bike.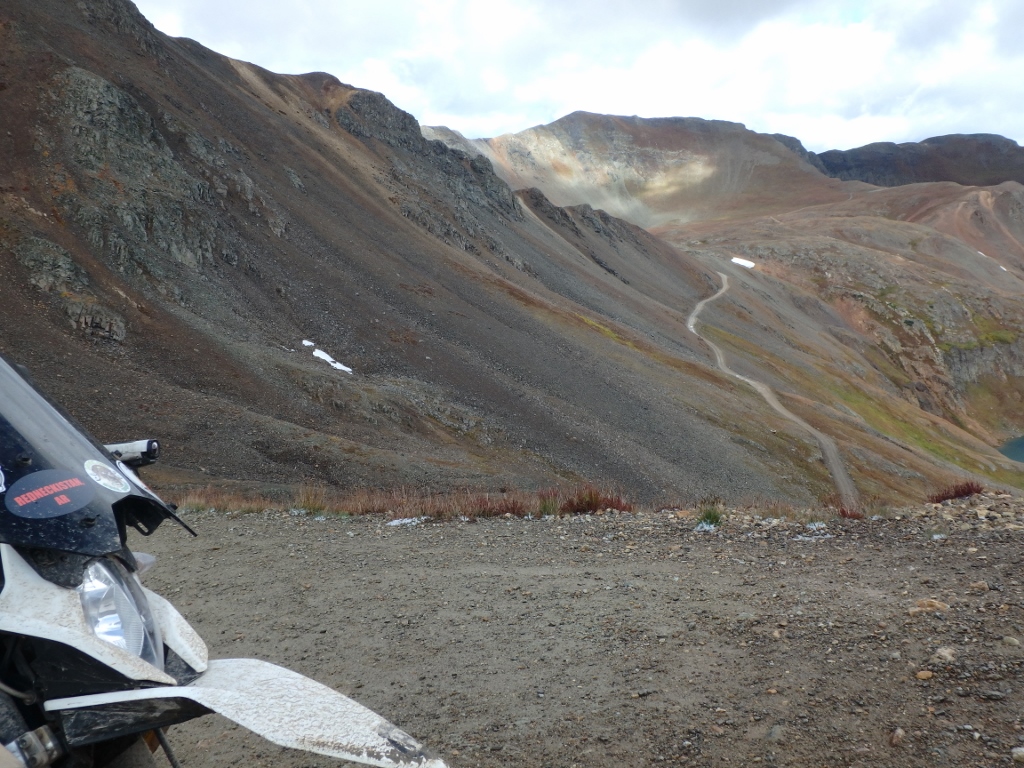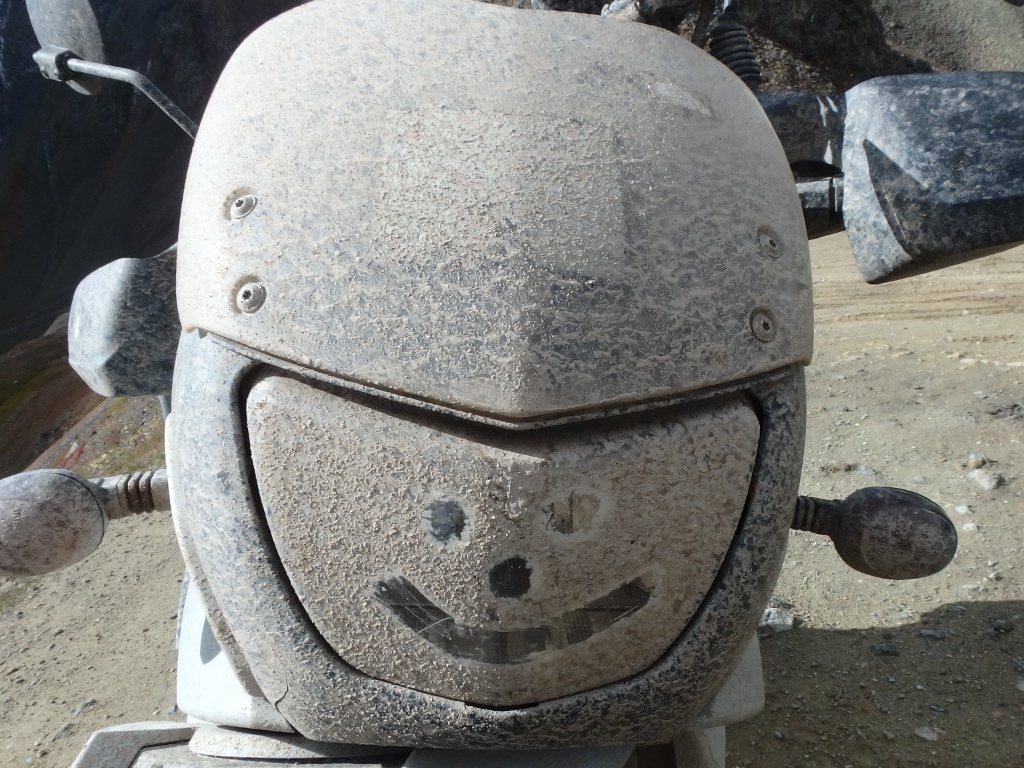 We made it all the way to Utah that day and the 3 step Hideaway.
It was a very long day and after a good nites sleep me and Wayne (in the picture) went for a ride
in my buddy Scotts (Dingweed) side by side around the ranch.
The 3 step Hideaway is way down there in the valley.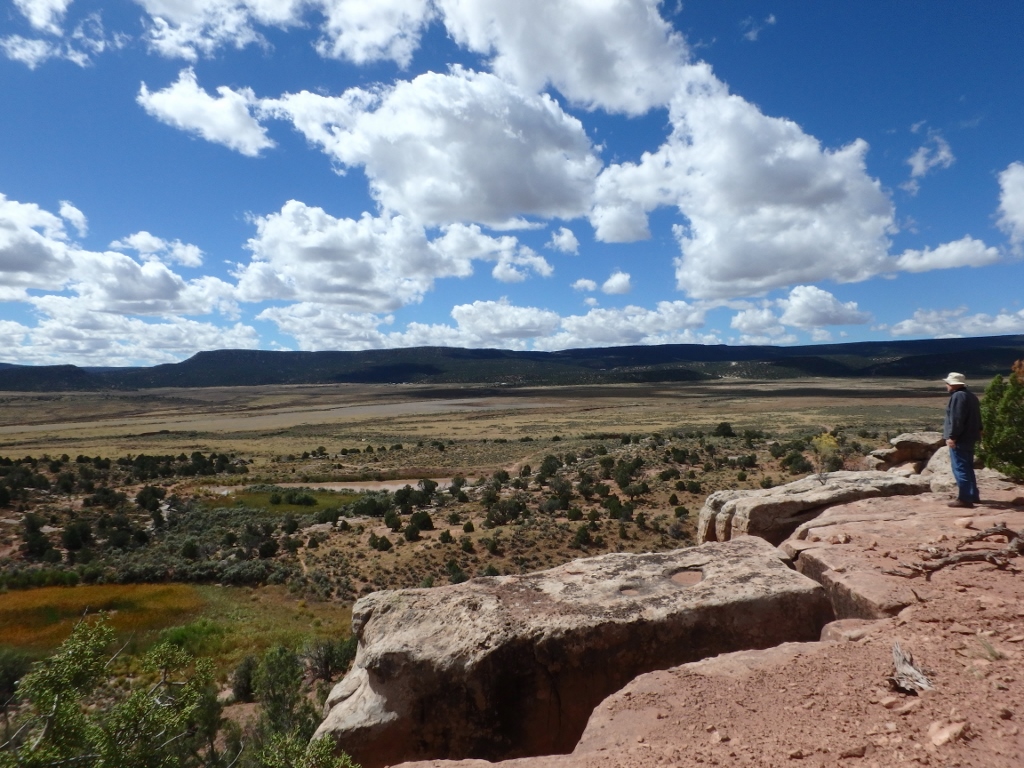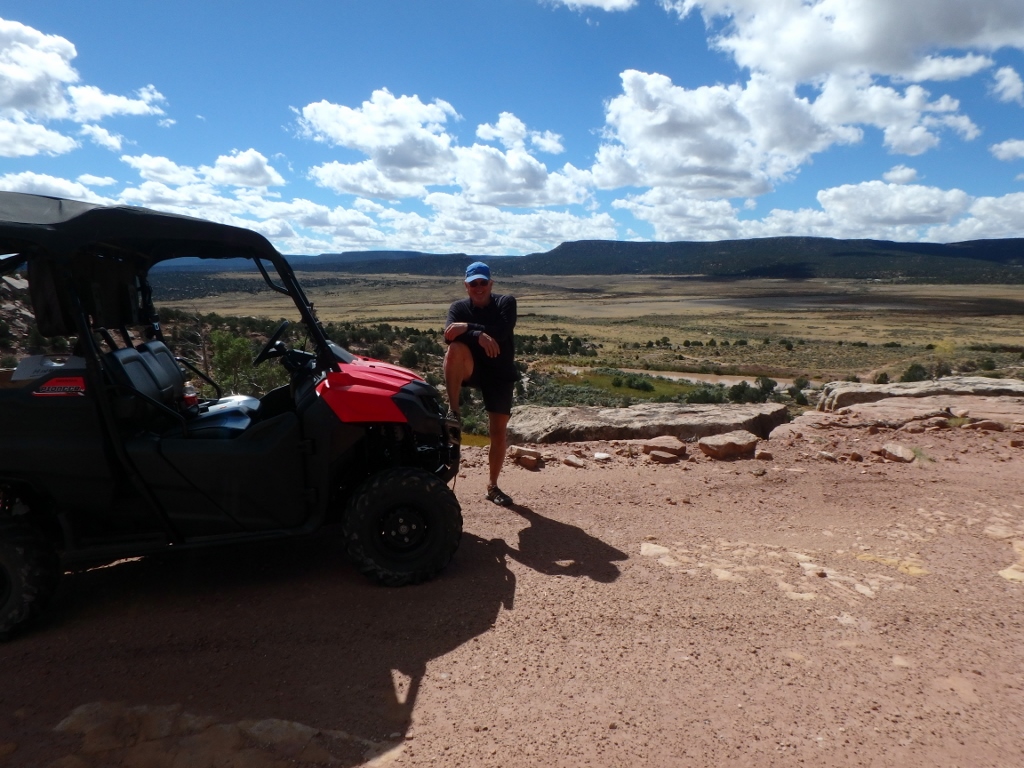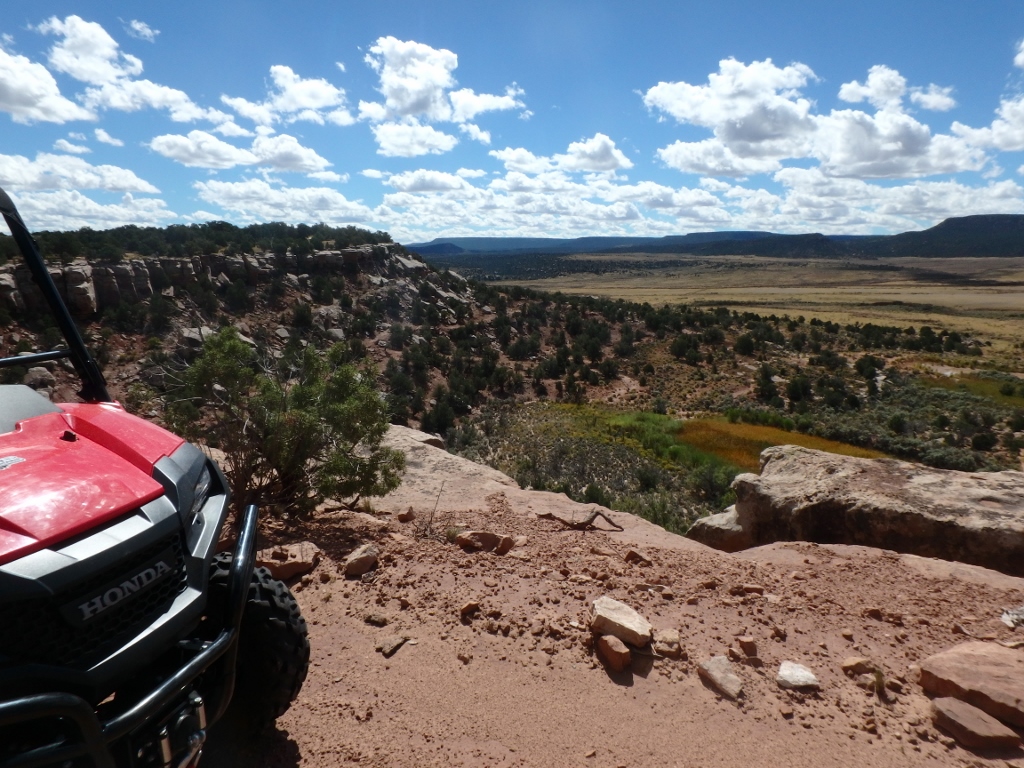 Me and Wayne found and old Homestead---or what was left of it anyway.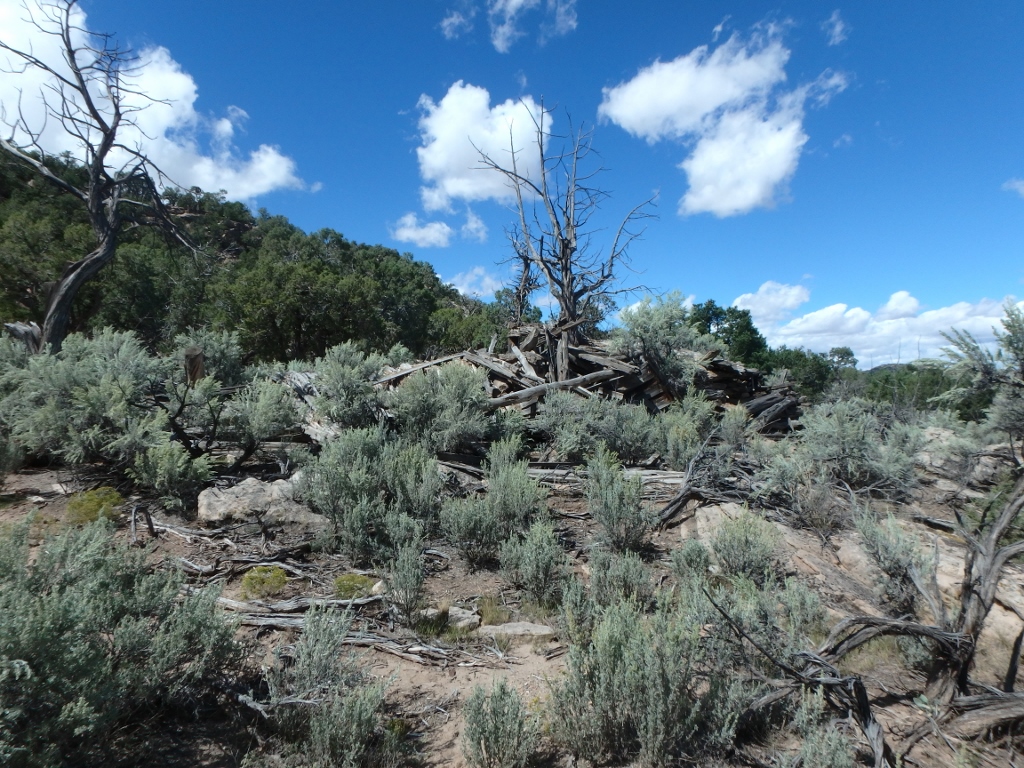 And this graveyard near the old collapsed cabin.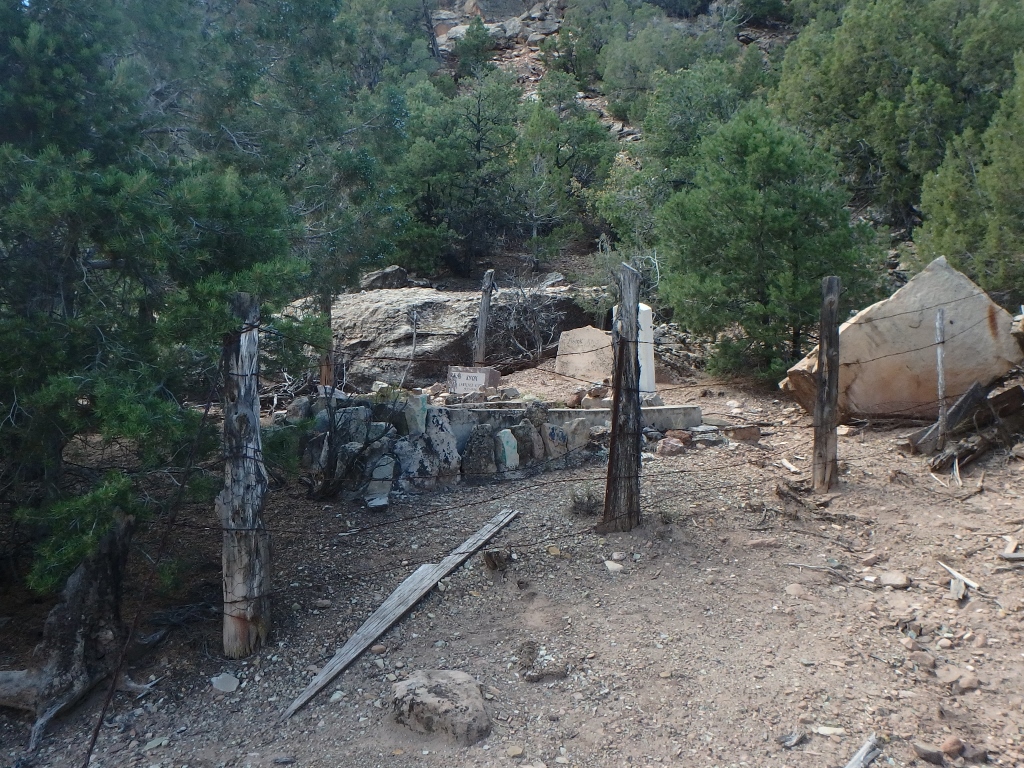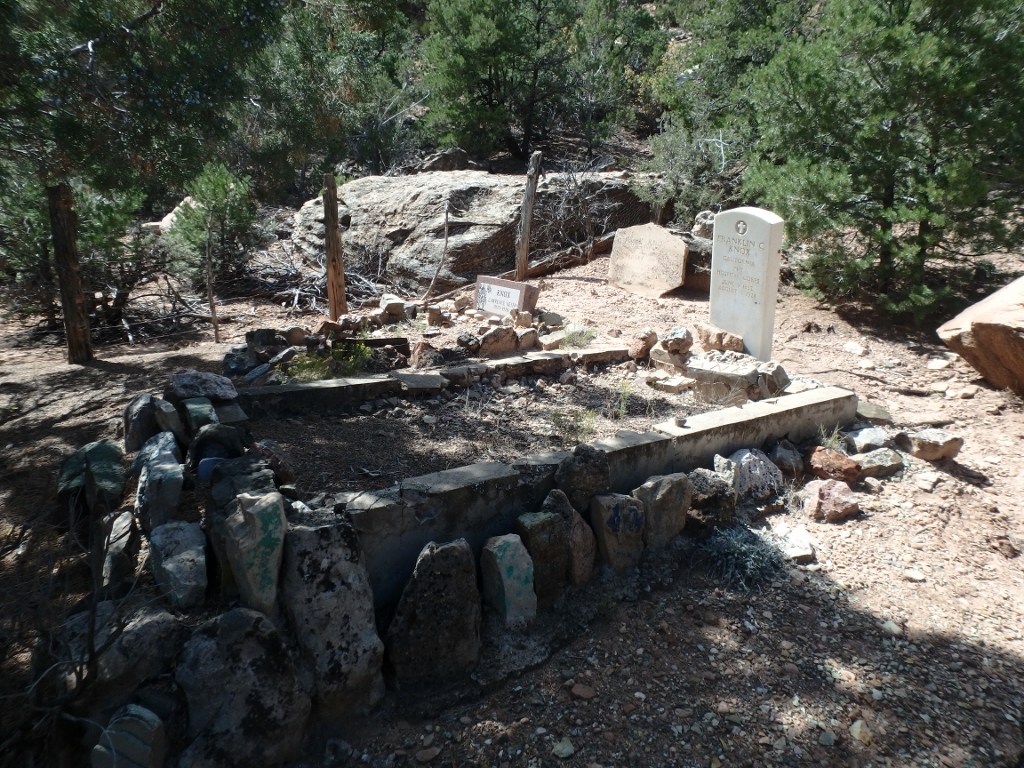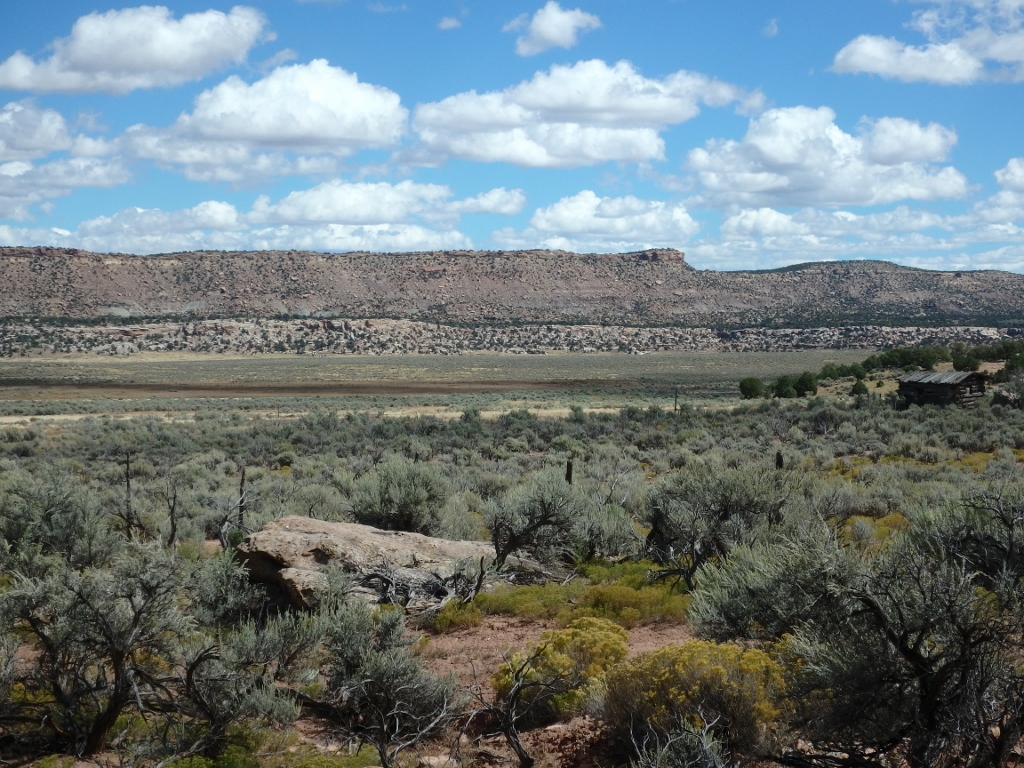 Meanwhile -------------back at the ranch.
All kinds of riders were at the ranch and I met some really nice folks.
This couple was on 2 KTM 450EXC's----I had my 450EXC out there last year and had a ball on it.
Lot's of good riding around the ranch which is about 45 South and East of Moab, Utah.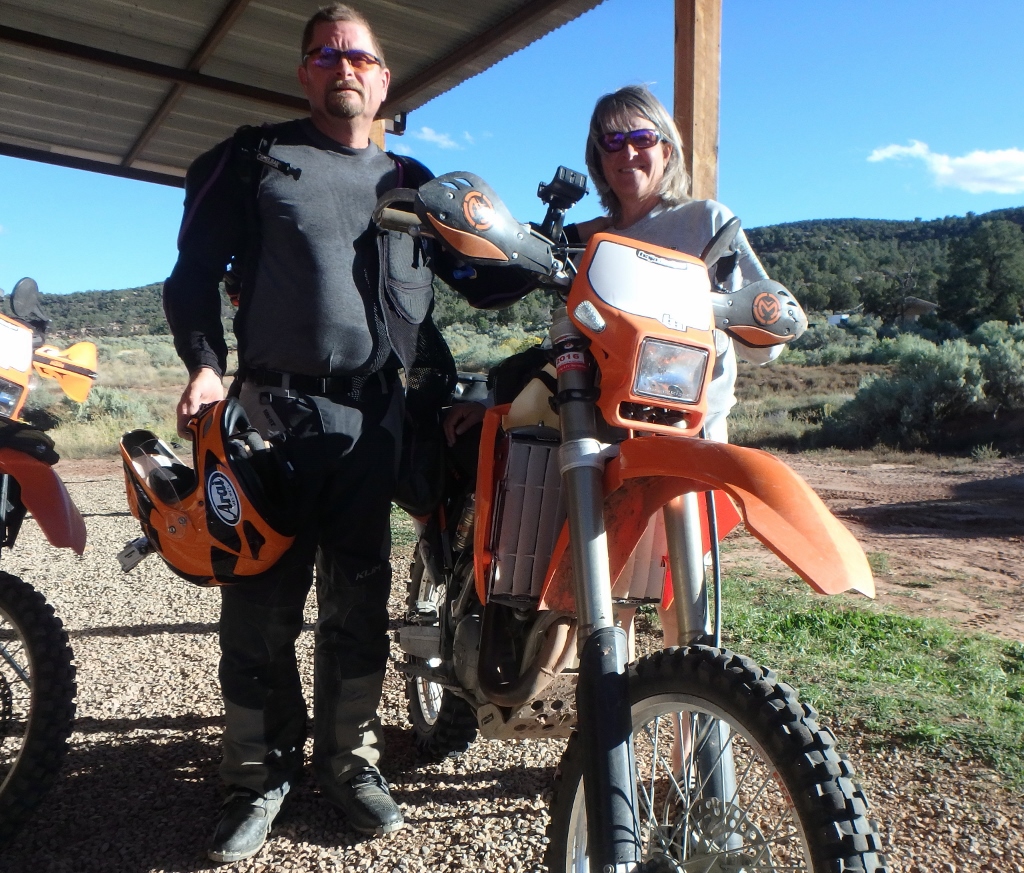 The young girl is "Lilly".
She has an infectious smile---she is Dr. Rocks niece as Dr. Rocks brother and his family showed up to visit.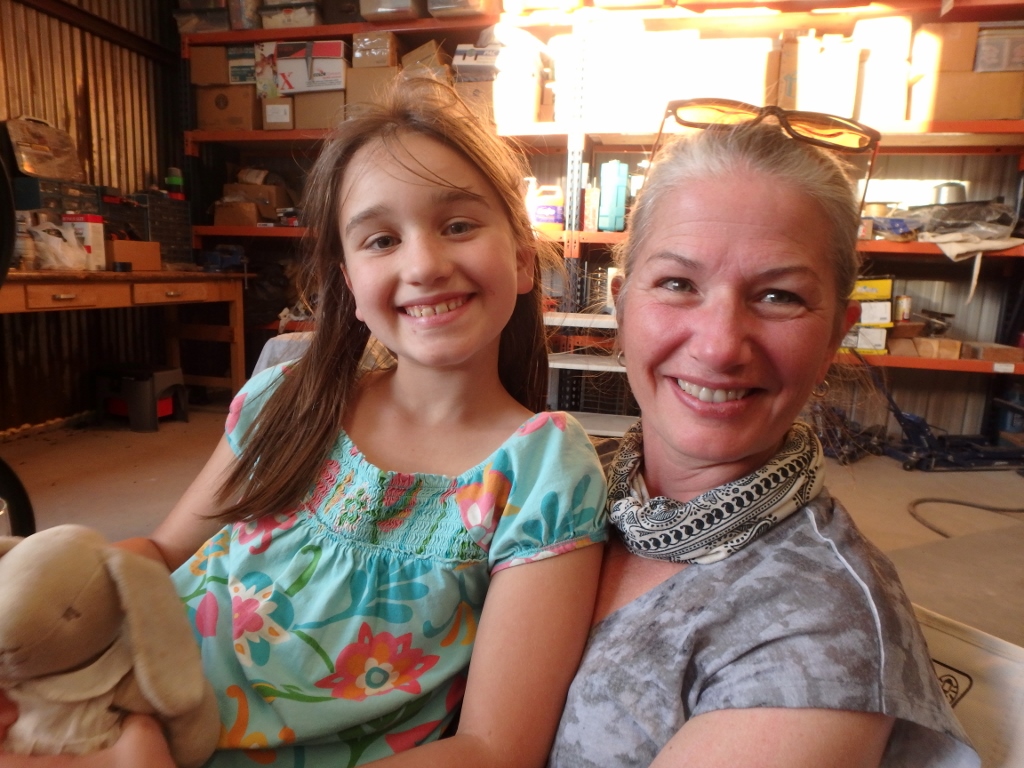 The 3 Step Hideaway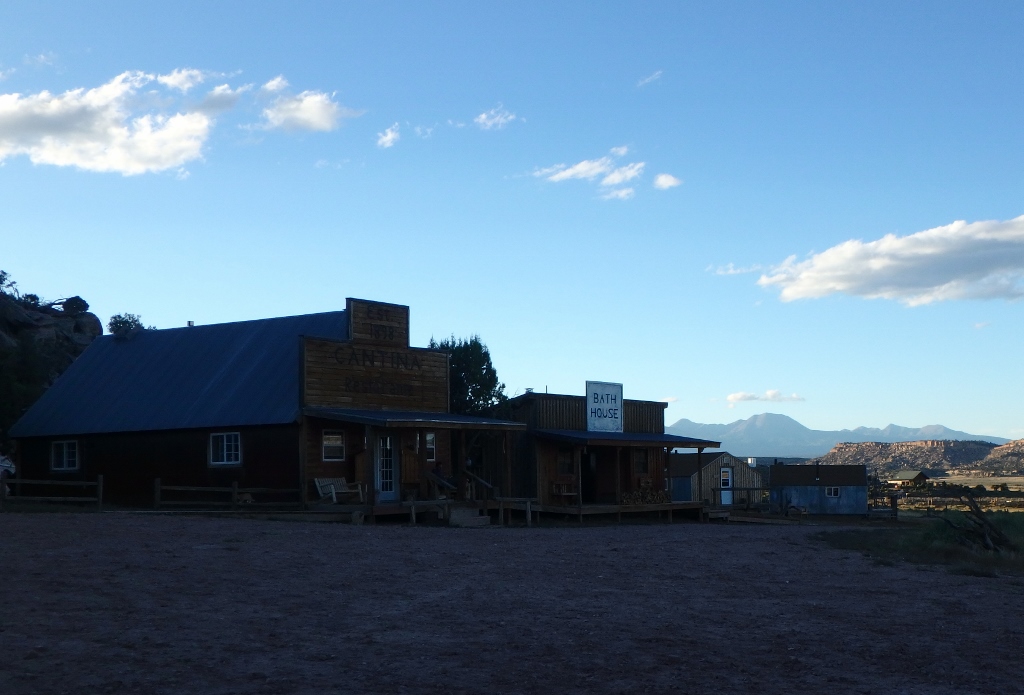 My bike was a complete mess when I got here.
I spent one whole day cleaning it up---checking things over and changing the oil.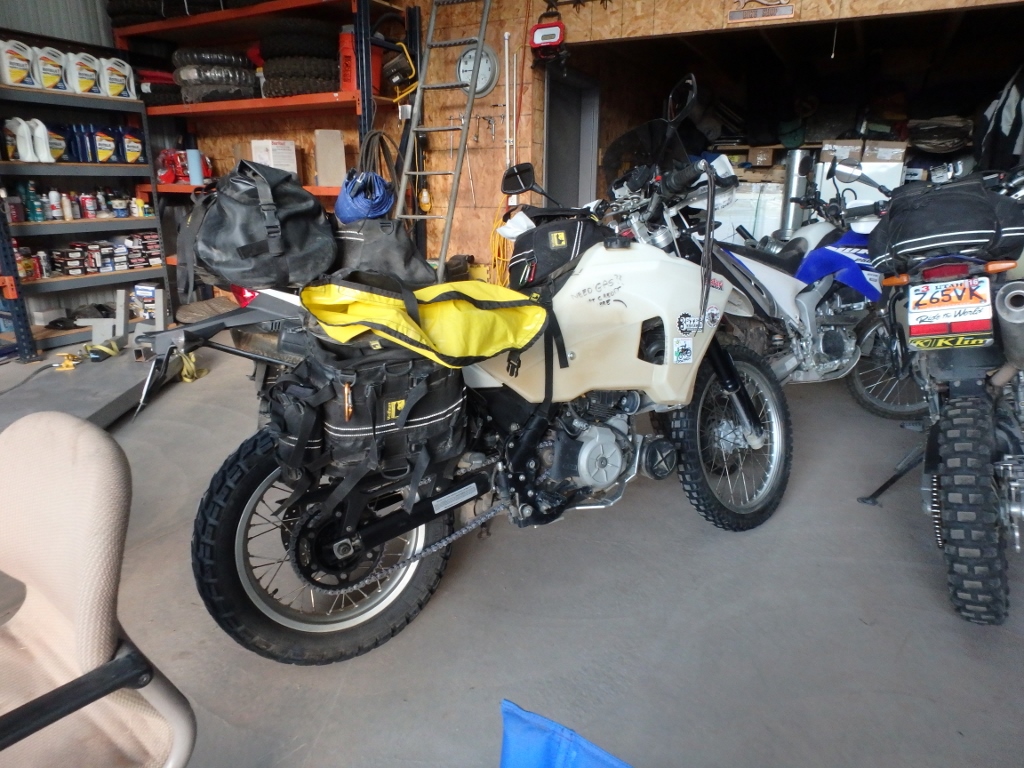 At the ranch you always eat very well.
Breakfast and dinner are served for you---and when they ring the dinner bell on the front porch you better head over to the Cantina---or not eat.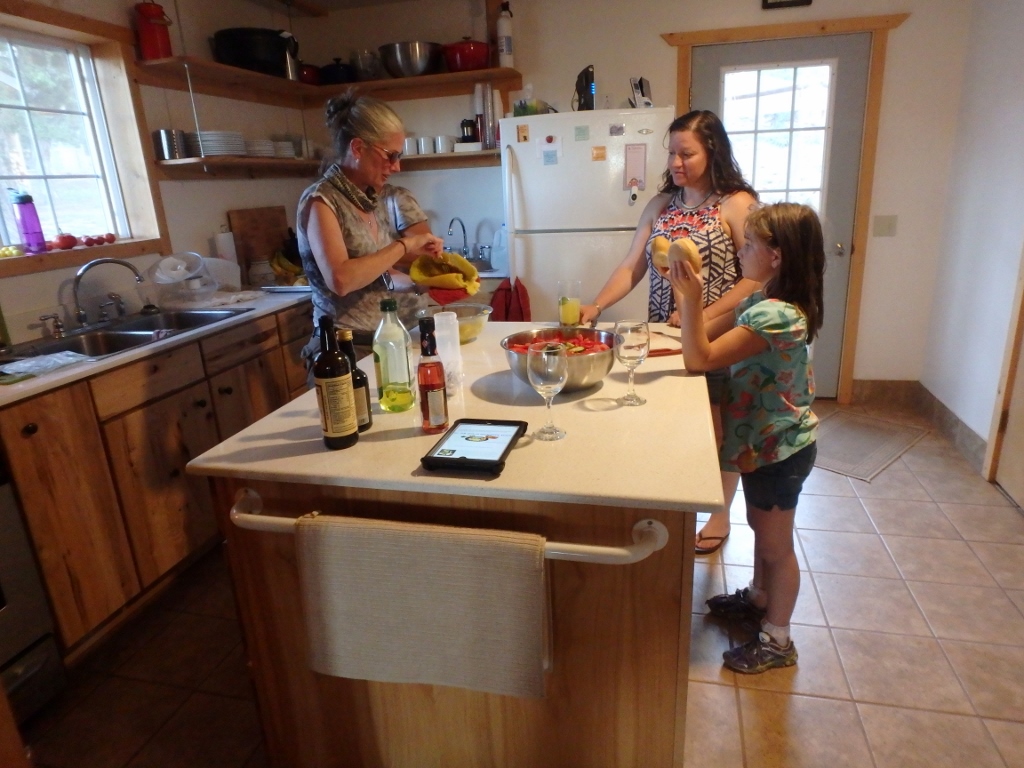 Meet Ed and Racheal
They are riding Honda CT90's around the world.
I've been reading all about this couple on the internet and knew they were on the same trail we were and were ahead of us.
Somewhere along the way we passed them----but as the turtle catches the hare---they caught up to us.
They were a total hoot and I listened to everything they had to say about their travels as anything I've done simple paled to what they have done.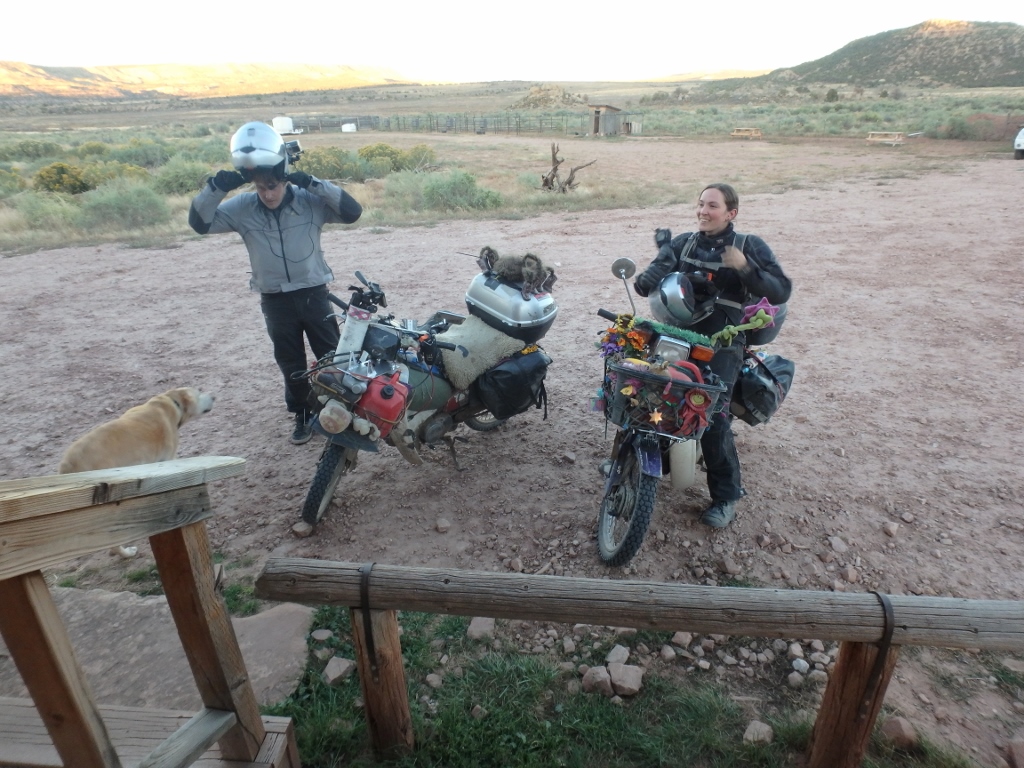 Rachaels bike required an overhaul while here---and Ed's exphaust system had to be welded back together.
So they were here a few days and then continued on their travels.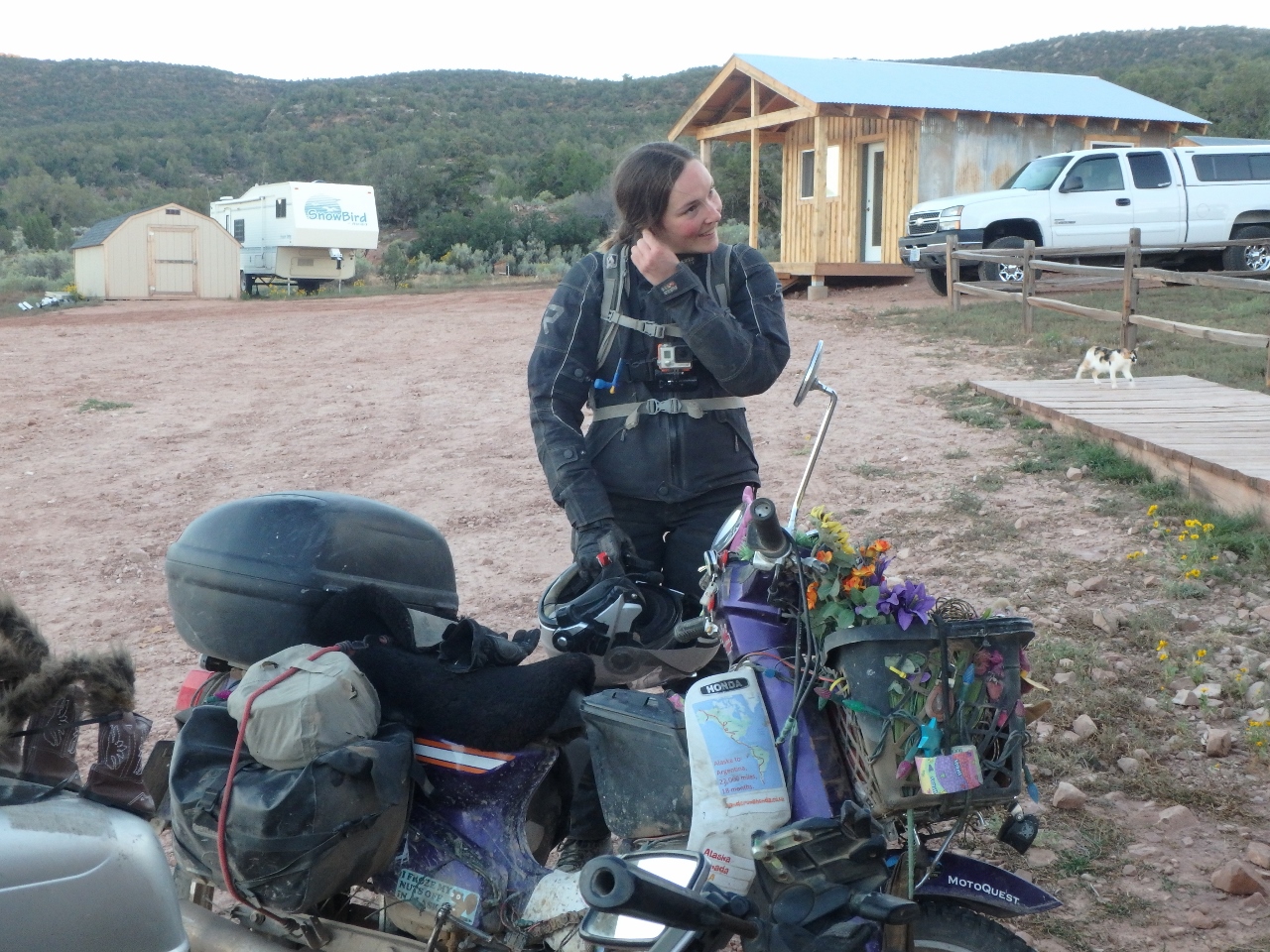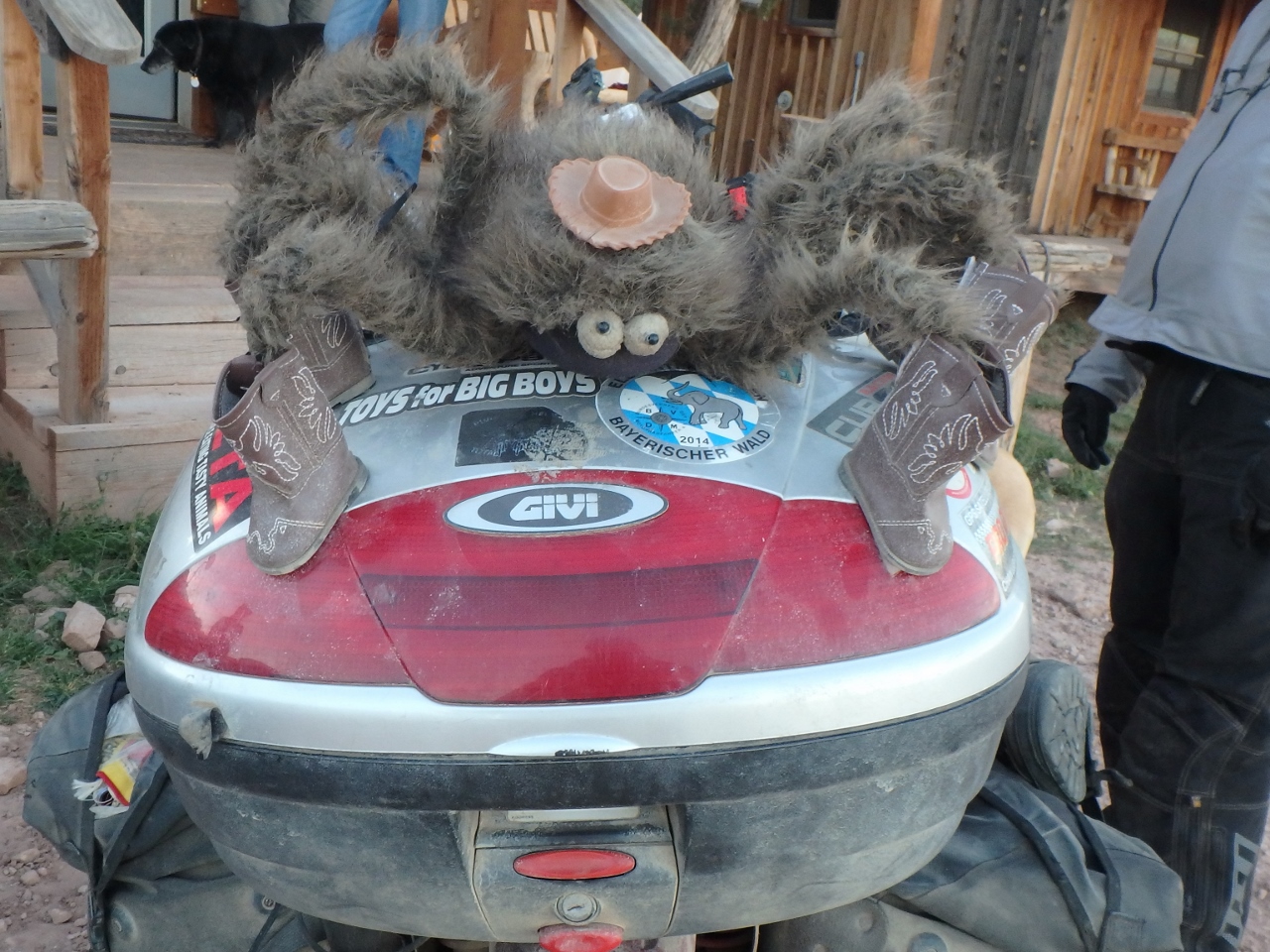 And then we had to eat--------again.
The food was astounding.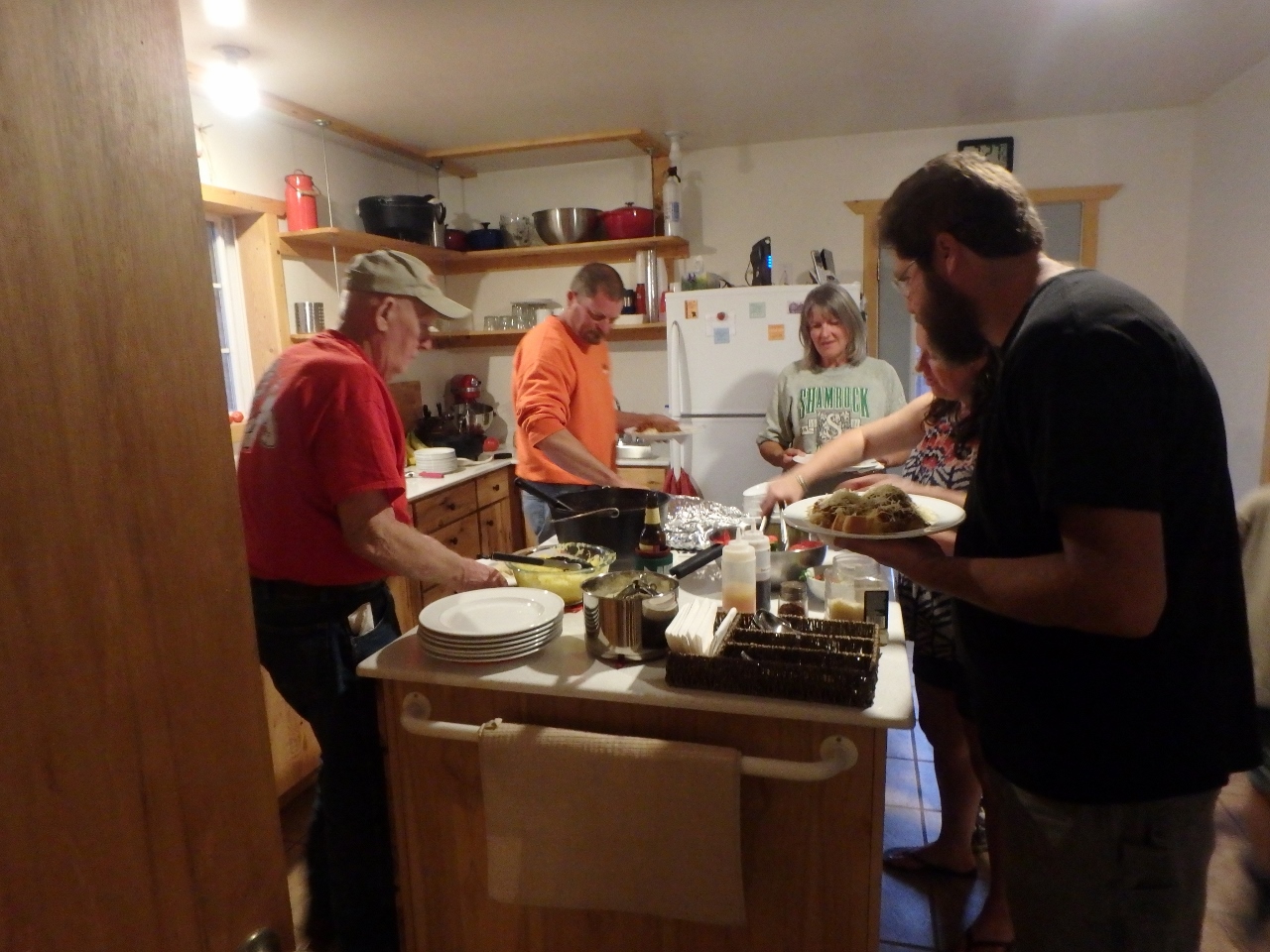 There are several nice cabins you can stay in at the ranch---and then there are the tee-pees.
The night Ed and Rachael arrived was a night to remember as they told tale after tale of their travels.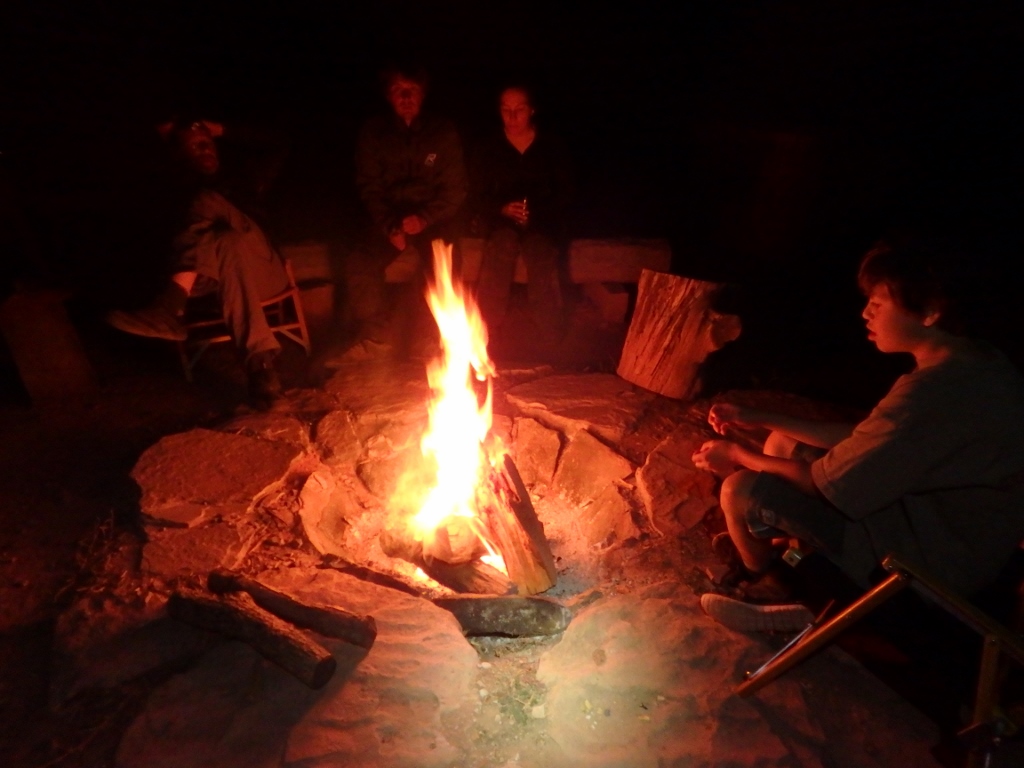 Me and John Paul played a few tunes around the campfire as he had brought me a guitar too.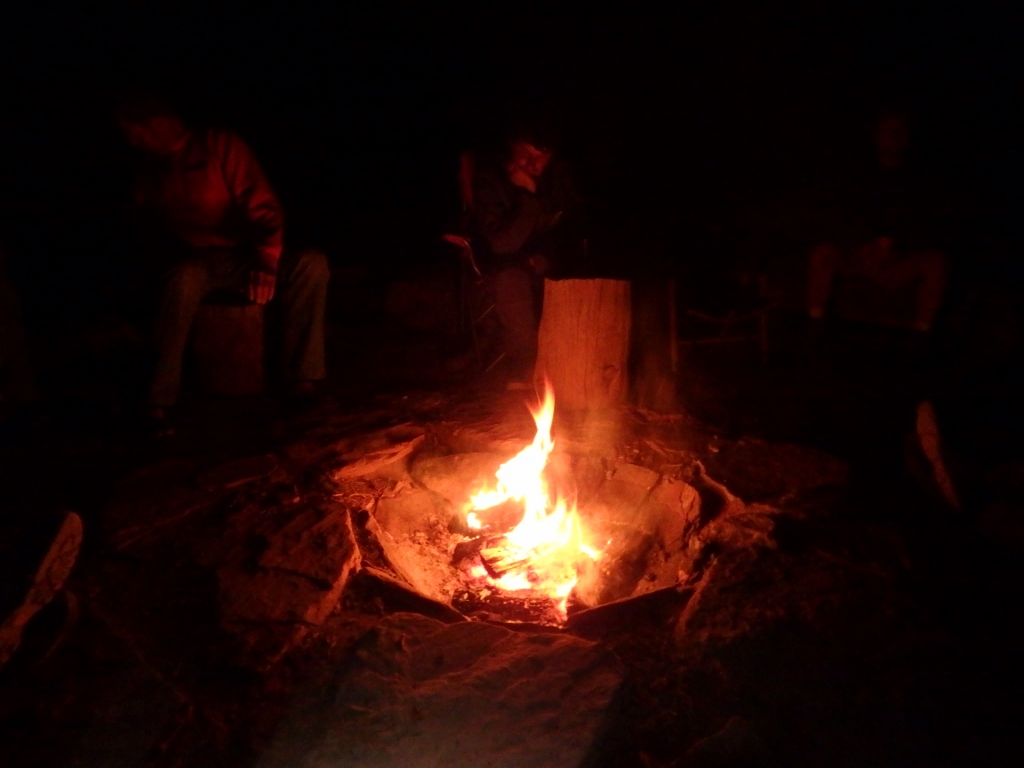 Bailey is Scott and Julies dog at the ranch.
She had the run of the place at first---then the cats came.
Then more cats came---then more cats.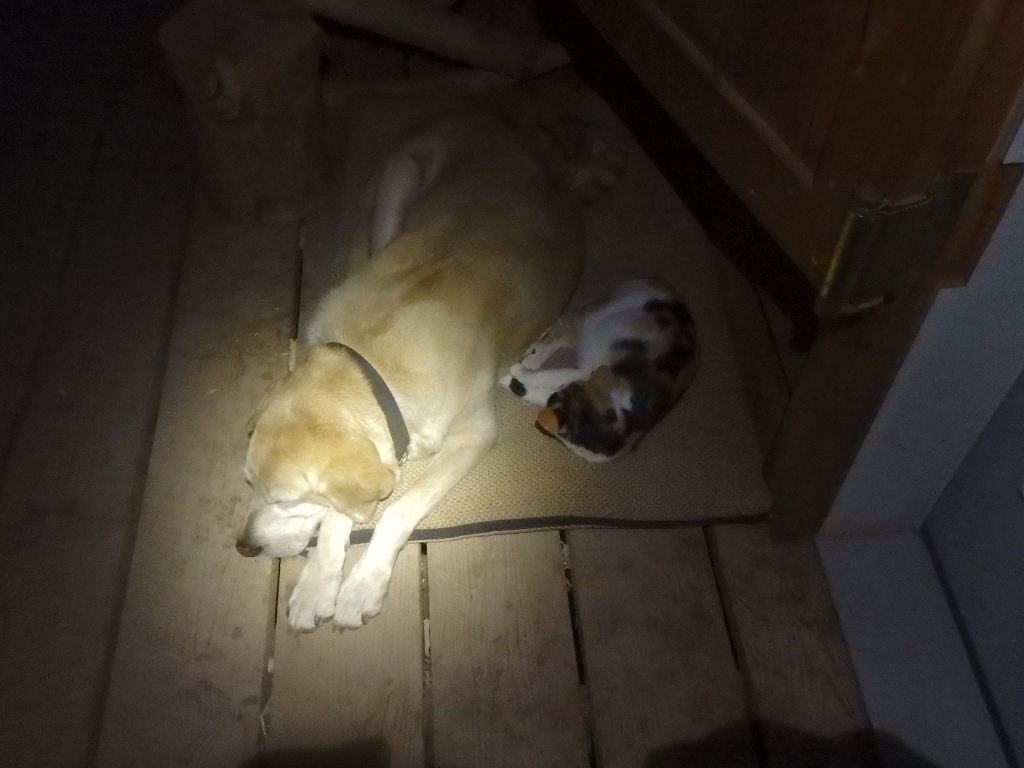 And after being there a few says it was time for me to ride home.
But I had to eat breakfast first.
I was in no hurry and enjoyed the ealy morning hours with my friends.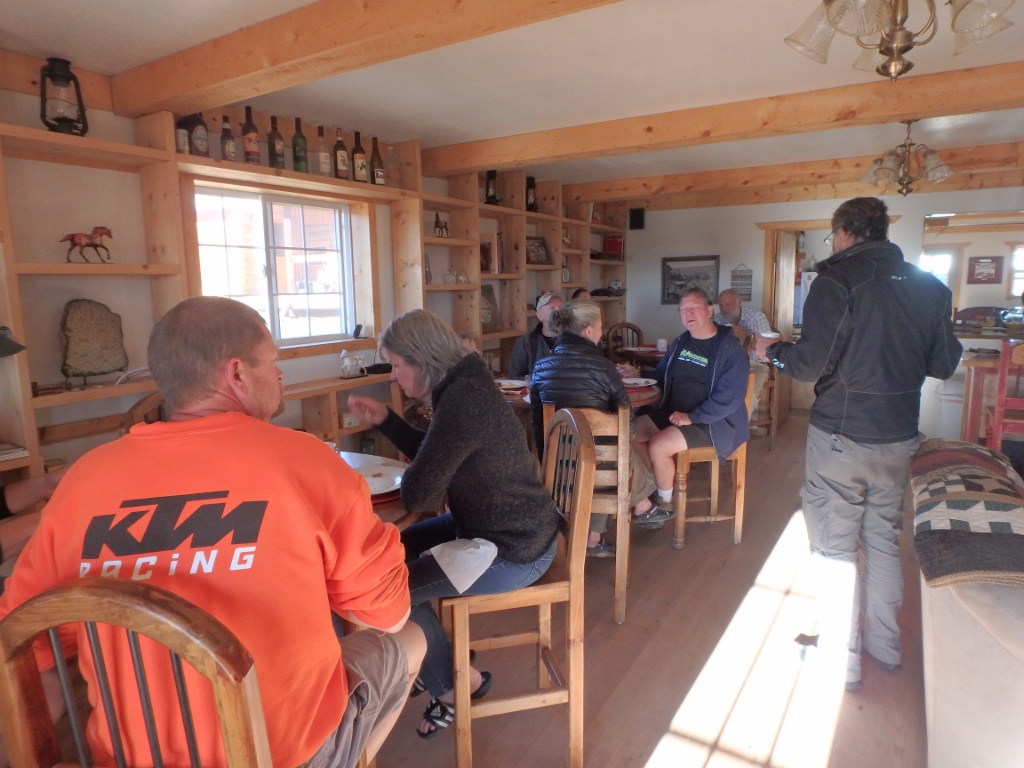 It took me several days to ride the 1,500 miles home from the ranch as I was in no hurry.
Being alone I stayed mostly on pavement--but took it slow on the most remote and loneliest highways I could find.
It's hard to leave the ranch--all the good people and the good food.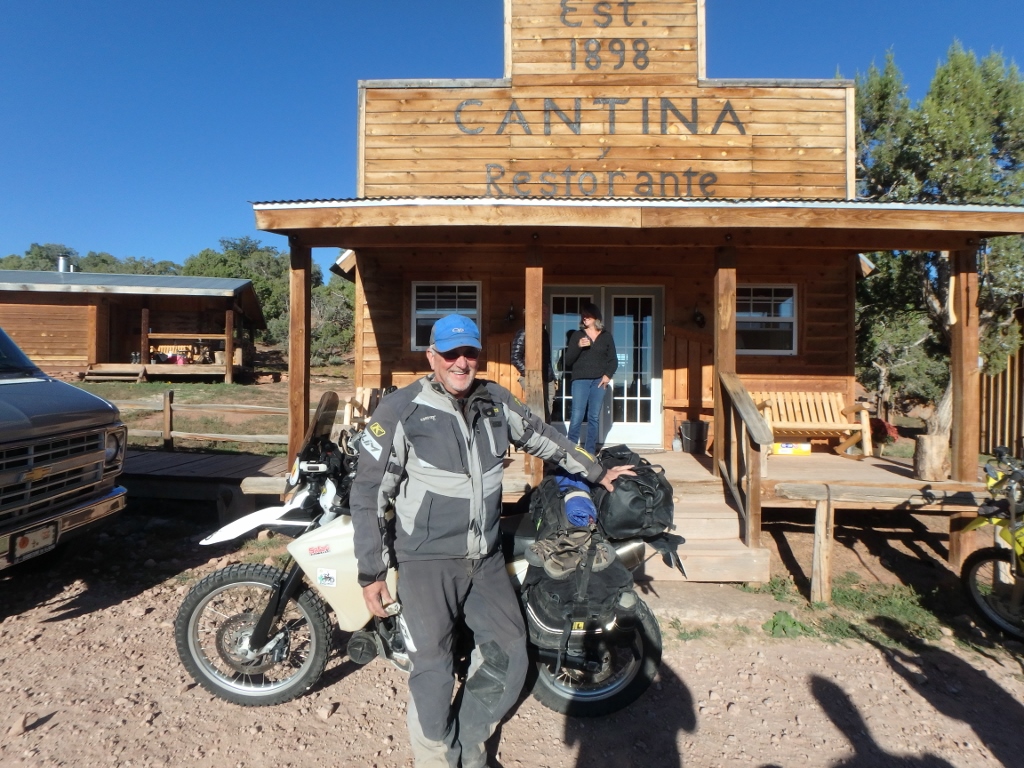 Everybody came out to say goodbye to me that morning.
The weather all the way home was absolutely perfect.
Lilly got a kick out of sitting on my bike.
In the very middle---the big guy--is my best friend Scott Stevenson.
He and his wife Julie own the 3 Step Hideaway.
You'll never meet nicer folks.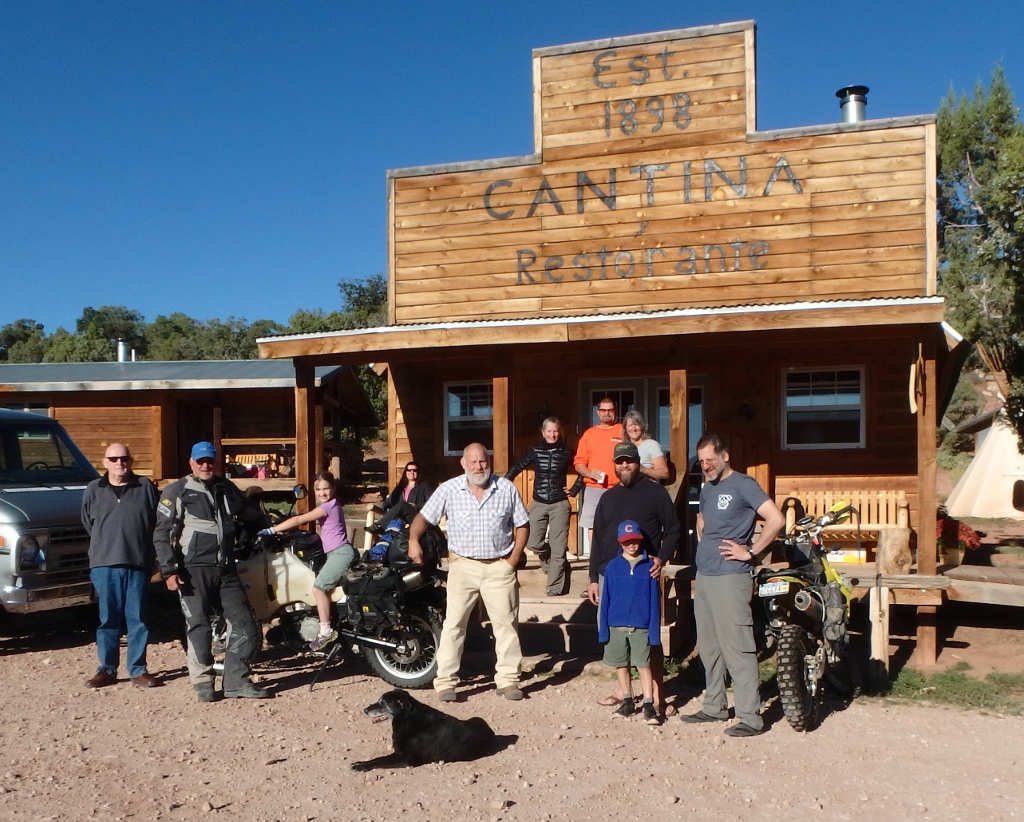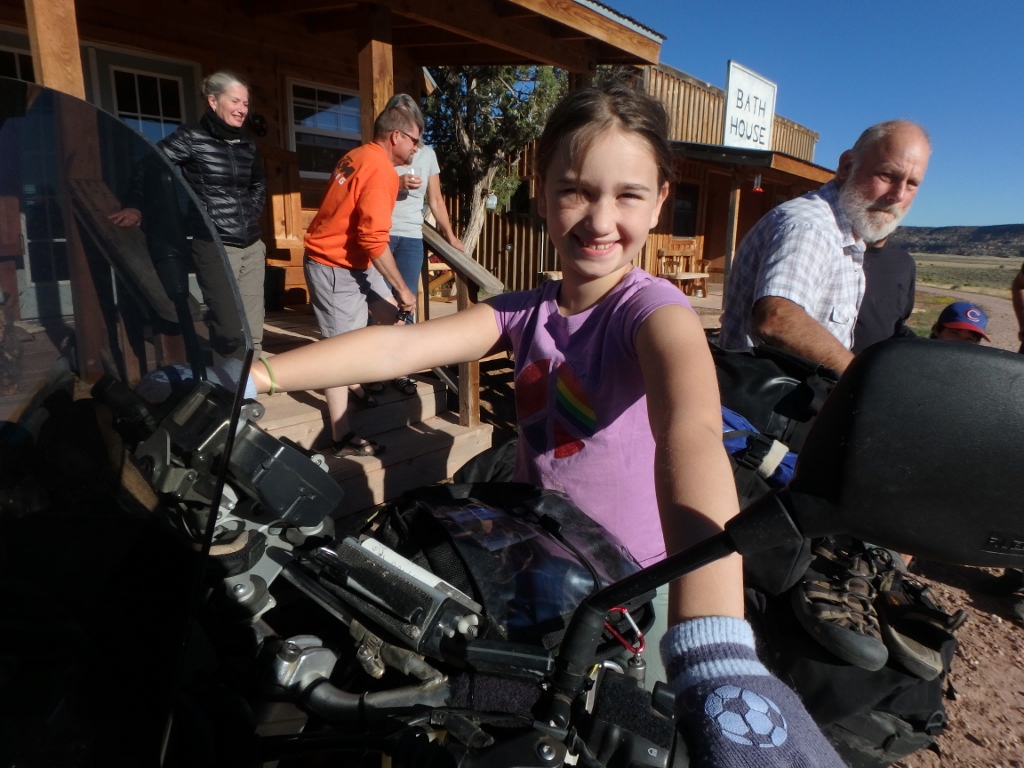 I headed East of course to Illinois---but on the way I saw stuff----lot's of stuff
Read the sighns on this truck.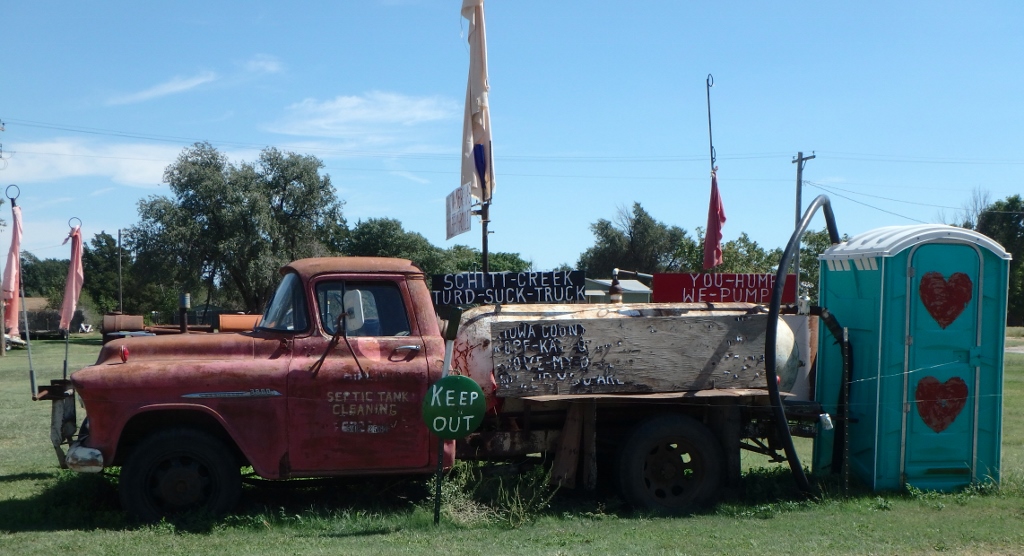 There seemed to be thousands of yard art pieces along the fence row in the small town of Mullinville, Kansas.
This place has been feature on a TV show I heard.
As some of the art is very controversial.
I've hear the owner is quite the character.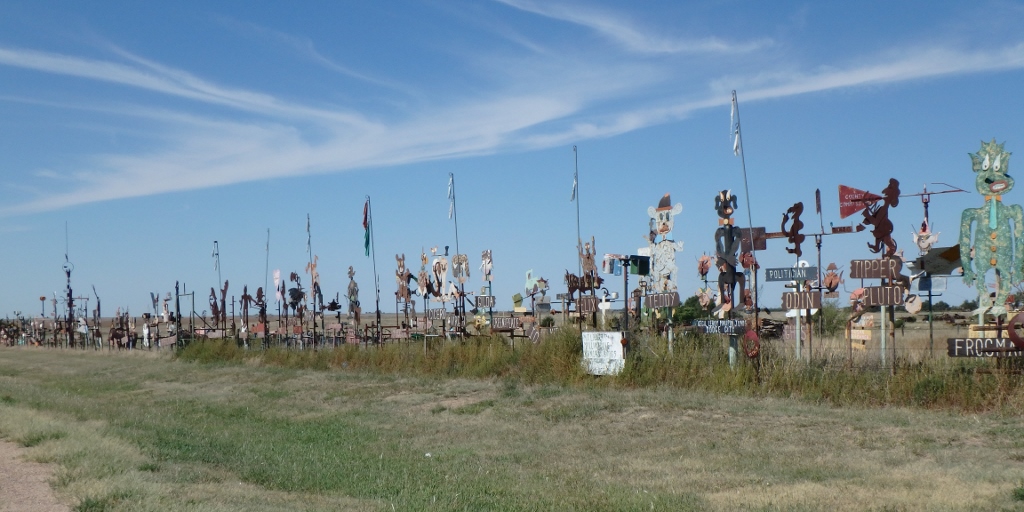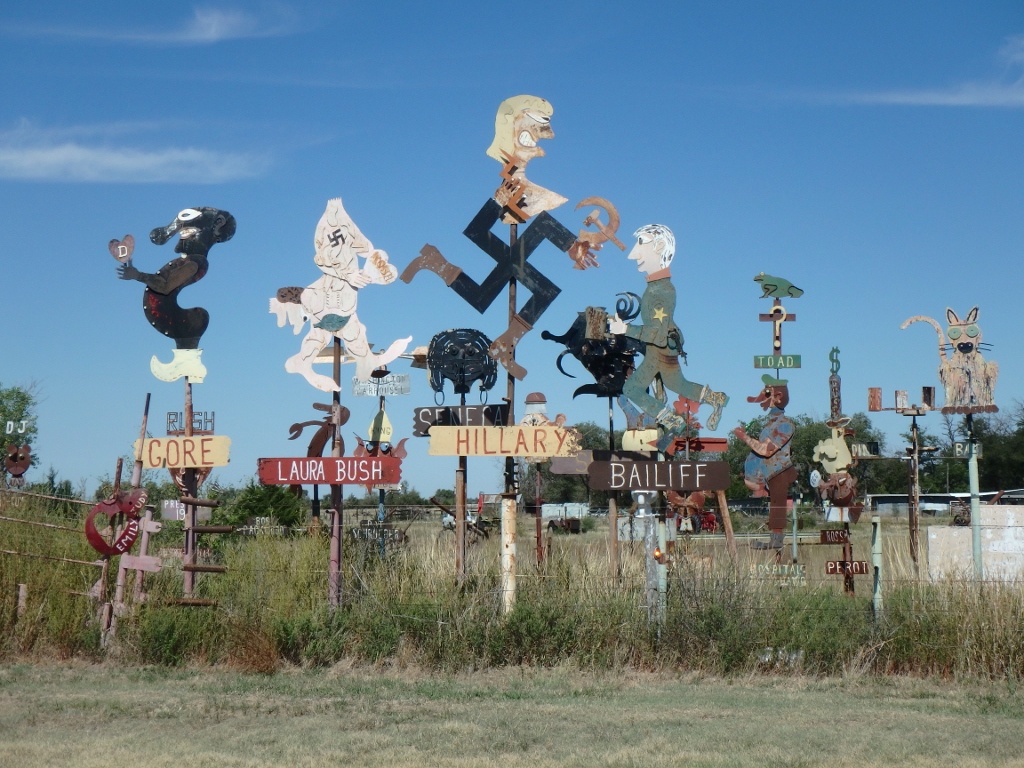 You'll hear people all the time that just hate traveling across Kansas. I totally disagree.
If your not in a hurry (everybody is)---slow down ---get off the interstate and there's lots of history and things to see.
And lots of nice people that are way more relaxed than most.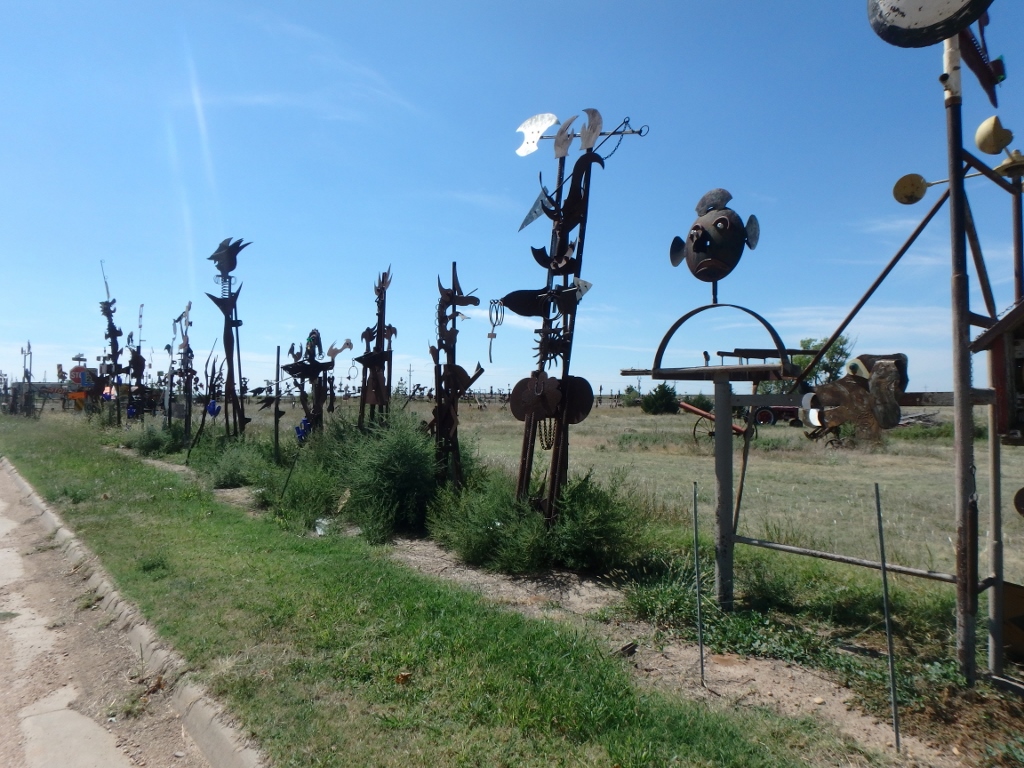 My lovely sister Jan lives in Kingman Kansas---a small town that Wal-Mart hasn't ruined.
All the old store in town are still up and running.
And this sign I found here years ago was still there.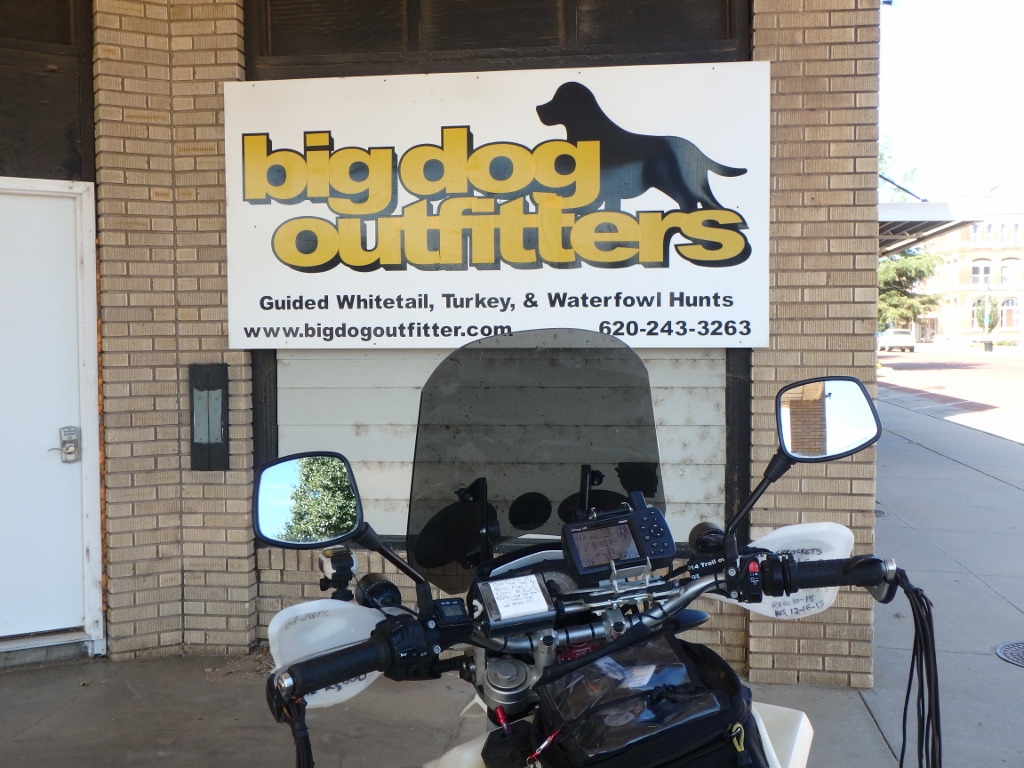 At their ranch they had just built a new building to work on all the huge farm equipment.
There was one of those hot rod side be sides in there and I took it for a romp----the thing was
so fast and powerful it kind of scared me.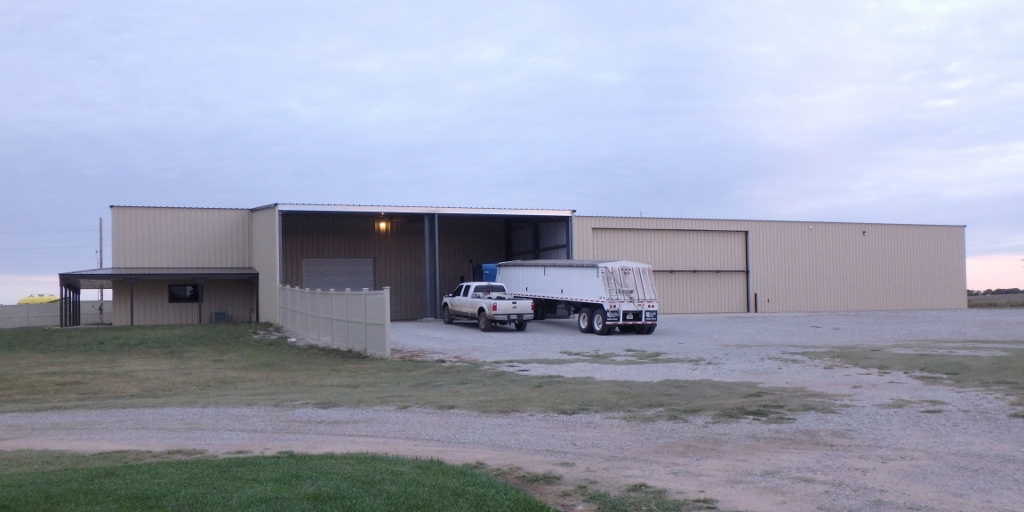 My sisters lovely ranch home.
She always takes care of me and I've always liked her husband Sam----he has always been very nice to me
and is a hoot to be around.
We watched 3 black and white old episodes of "Gunsmoke" before retiring off to bed.
Matt shot a few bad folks------but still hadn't made it with Miss Kitty.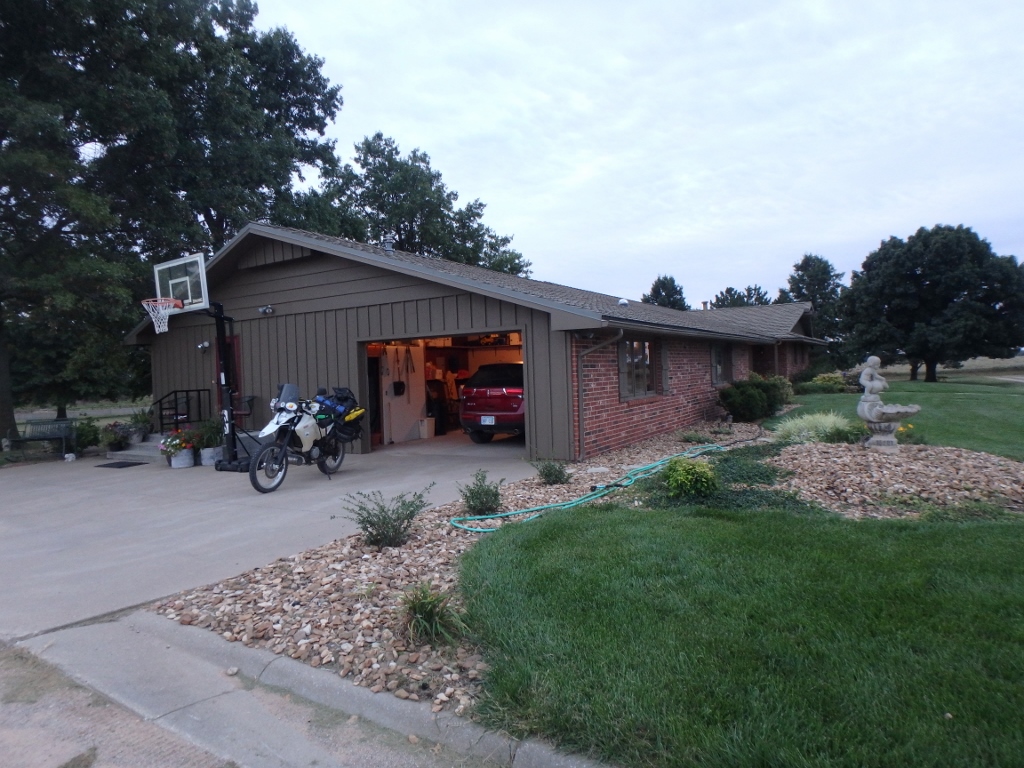 If you've read my stories on my website--------you know I'm always plotting waypoints of stuff for loading in my gps.
I probably put this waypoint of this bridge in my computer 20 years ago.
But lo and behold it popped up on my trusy Garmin 276 screen.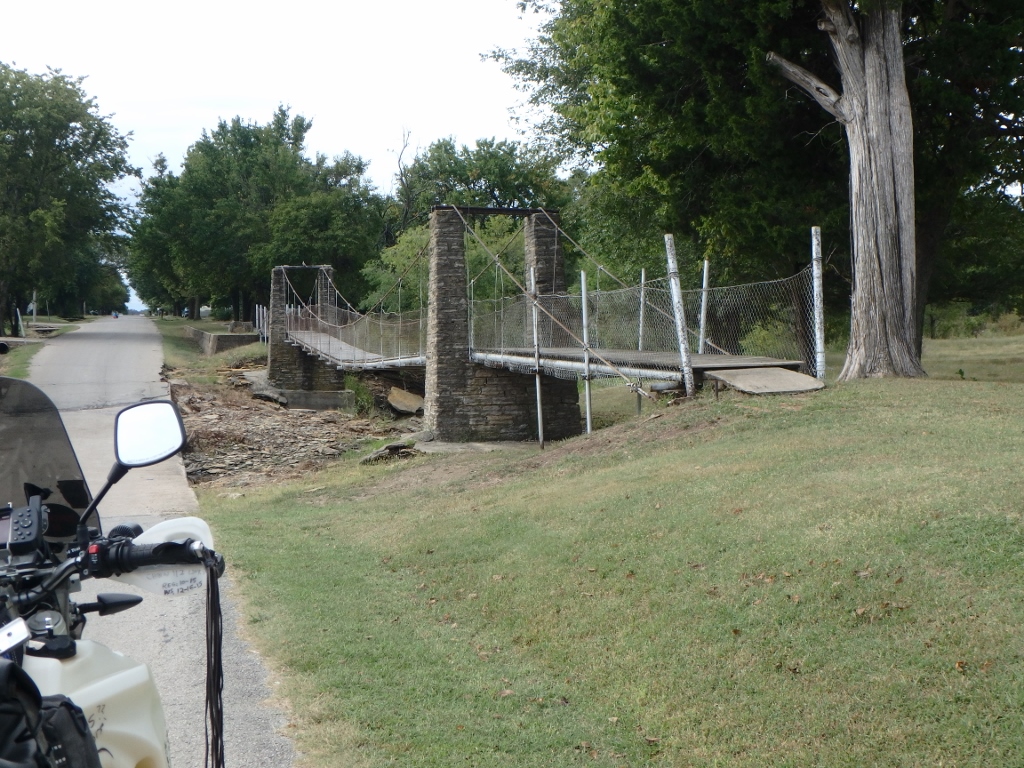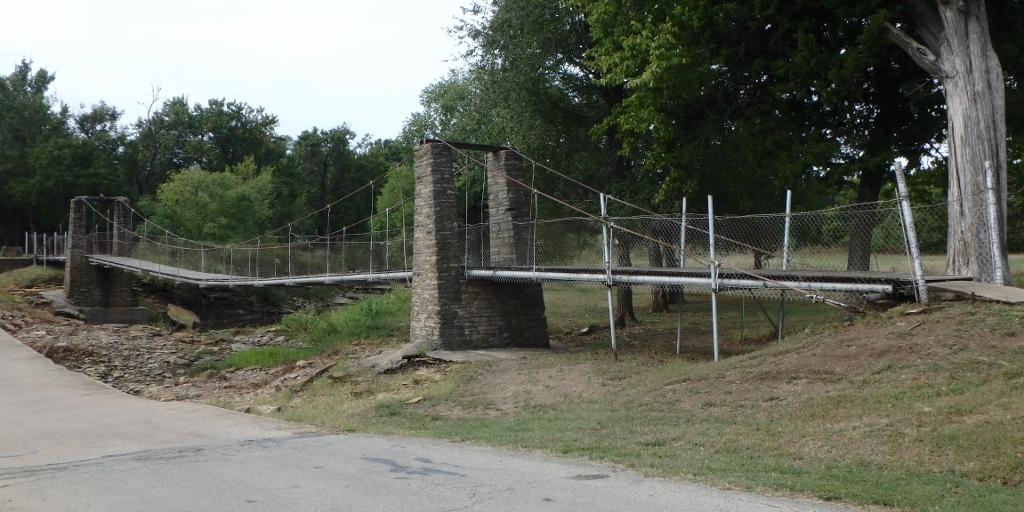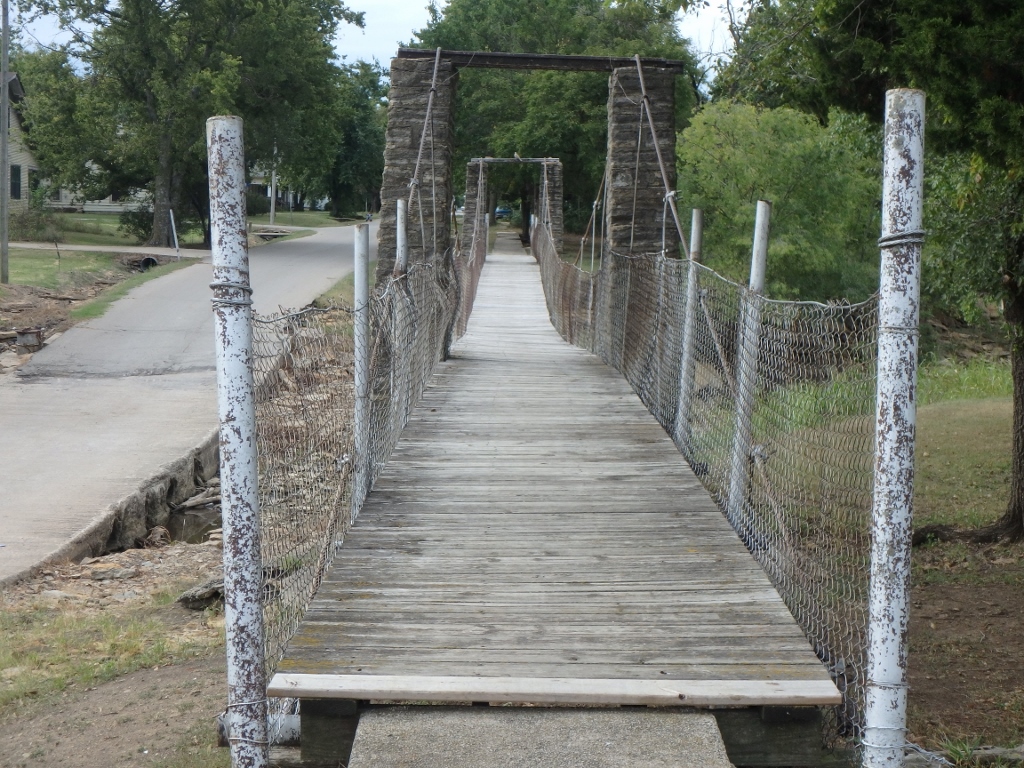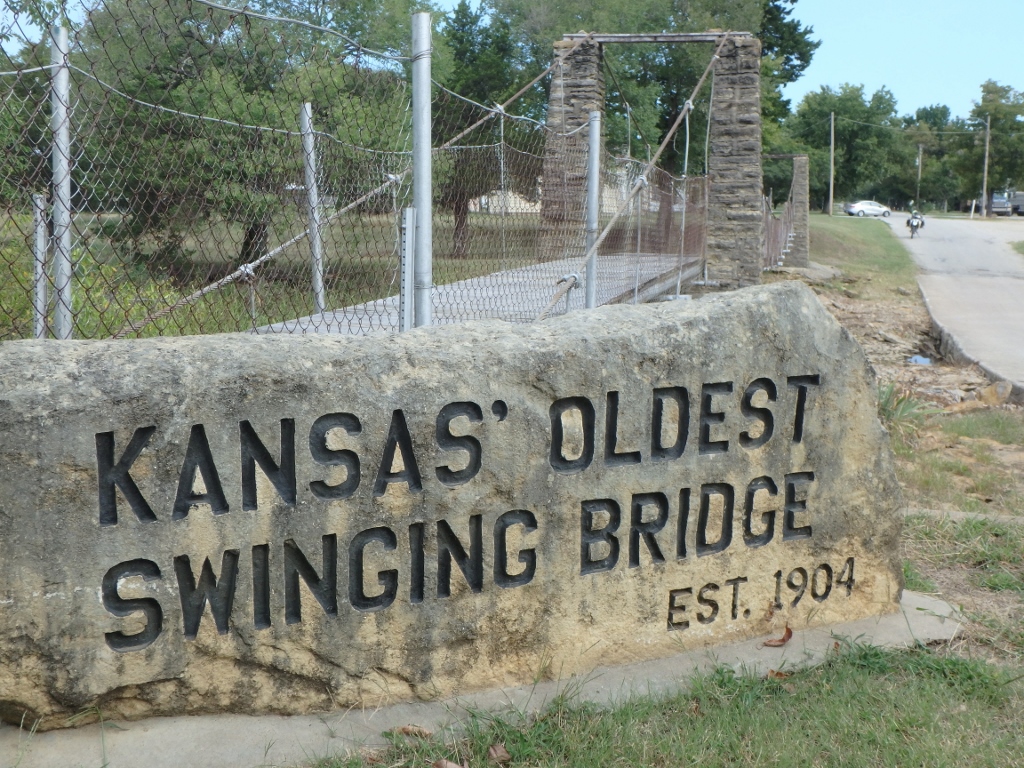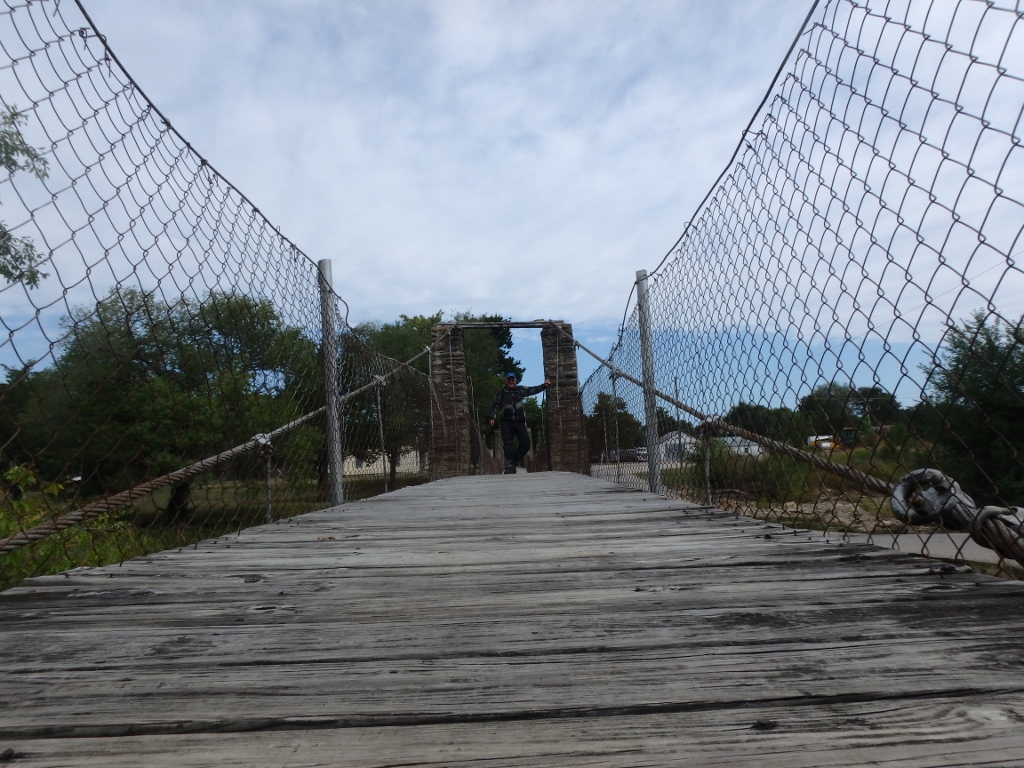 I stayed here for an hour marveling at this bridge and had a snack.
I was in a rut of a mood after another motorcycle on a very loud and black bike had harassed me on the road for no reason.
After a chat with these nice kids I forgot all about that.
There are still some nice folks out there---and in this small town nobody seemed to mind that a total stranger on a motorcycle
was talking to their kids----like it should be.
Matt Dillon had killed all the bad people.

The young boy asked question after question and I took the time to answer each and everyone. It was very heart warming.
I asked him if he had ever rode over the bridge-----------oh yeah--with a big smile.
He was most intriqued with my throttle and my "No Anti-Hassle" Tassels.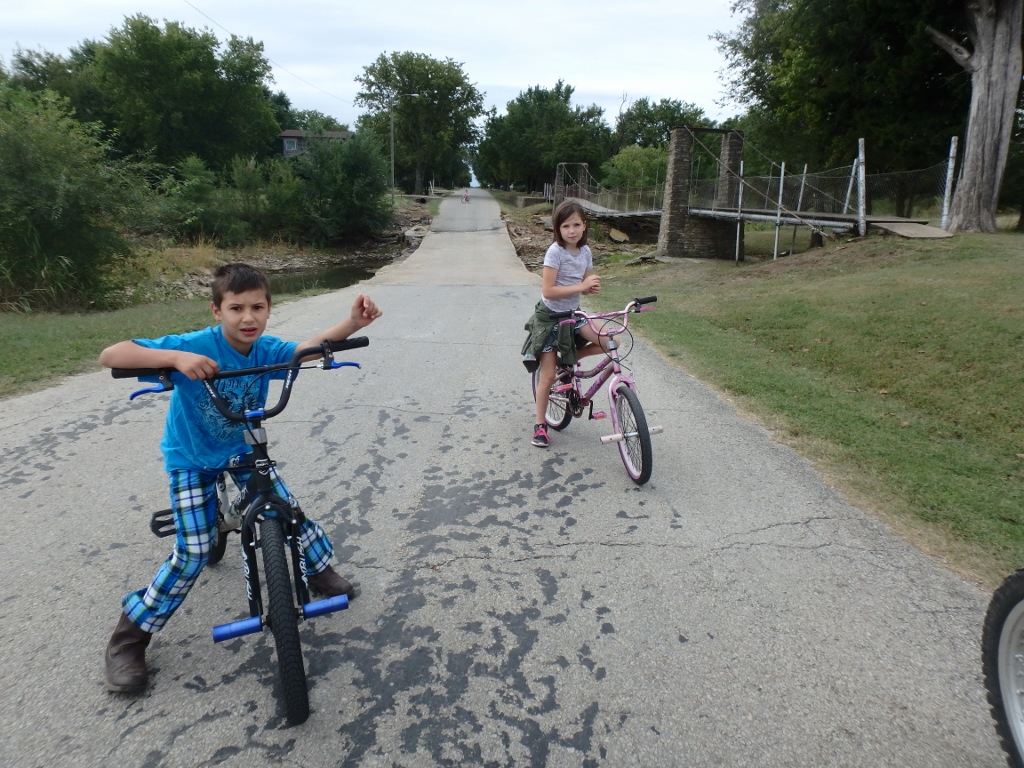 Down the loneliest pave highway I've ever been on some more.
And what's this ??????
I looked at my gps and sure enough there was a bridge waypoint----I've never been there.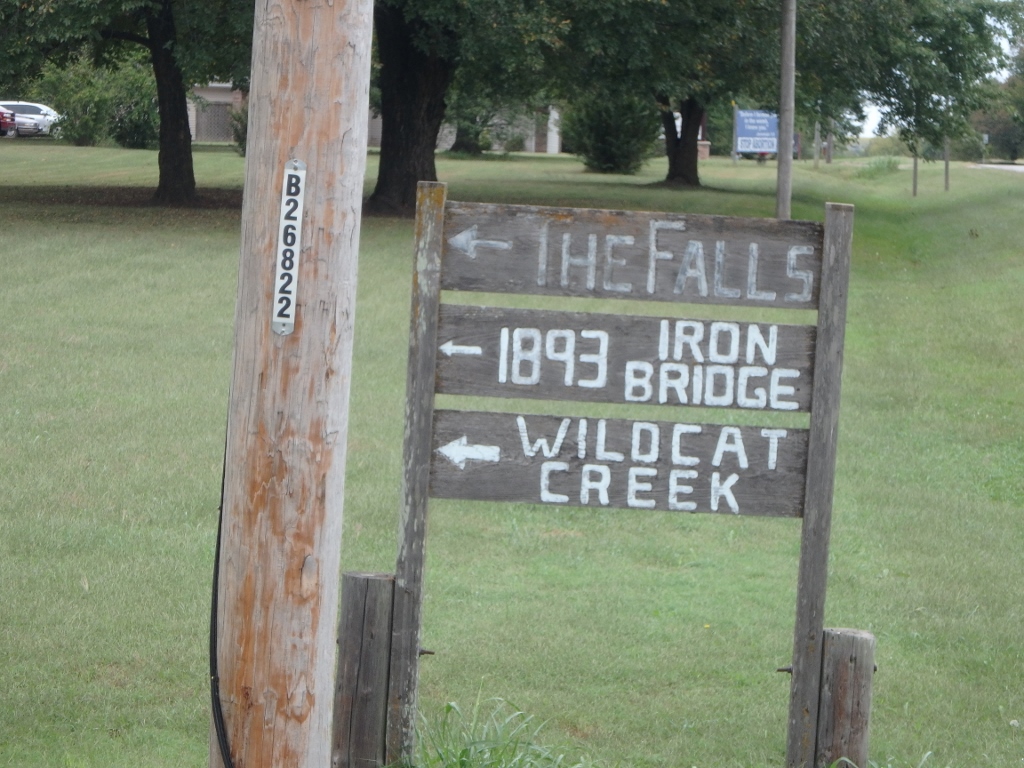 Seems the locals kept vandalizing the nice sign that use to be there--so they made this one.
What I didn't know----there was an old fellow in an old car that saw me looking at it and came to meet me at the
old bridge-----and I really enjoyed our visit.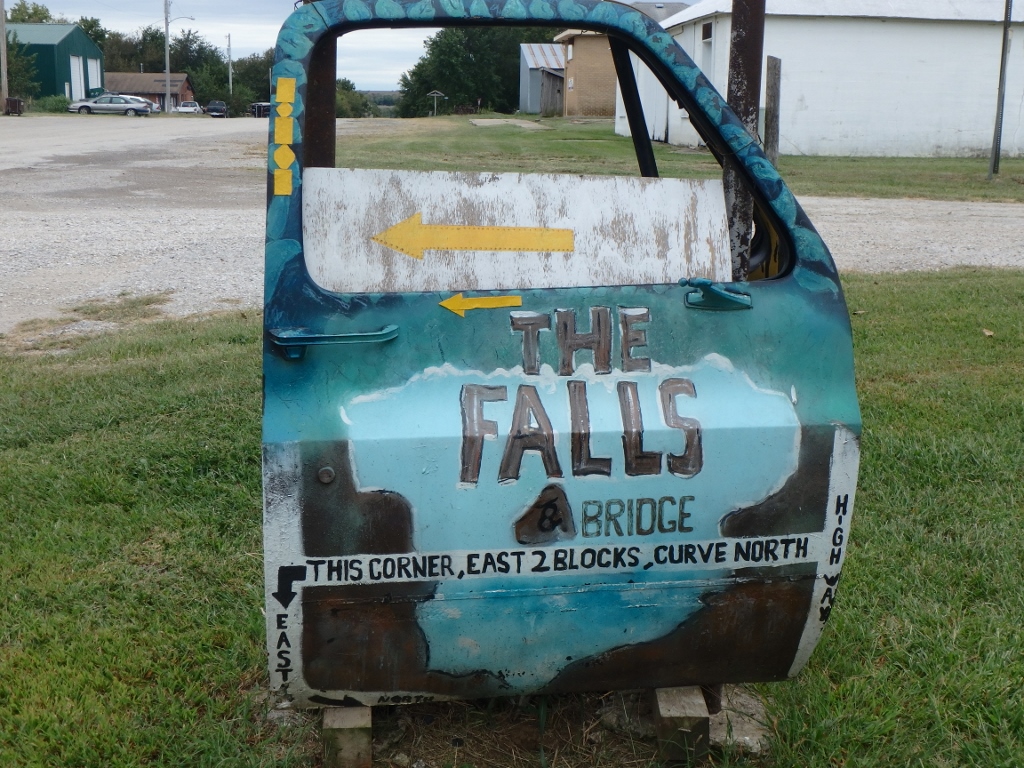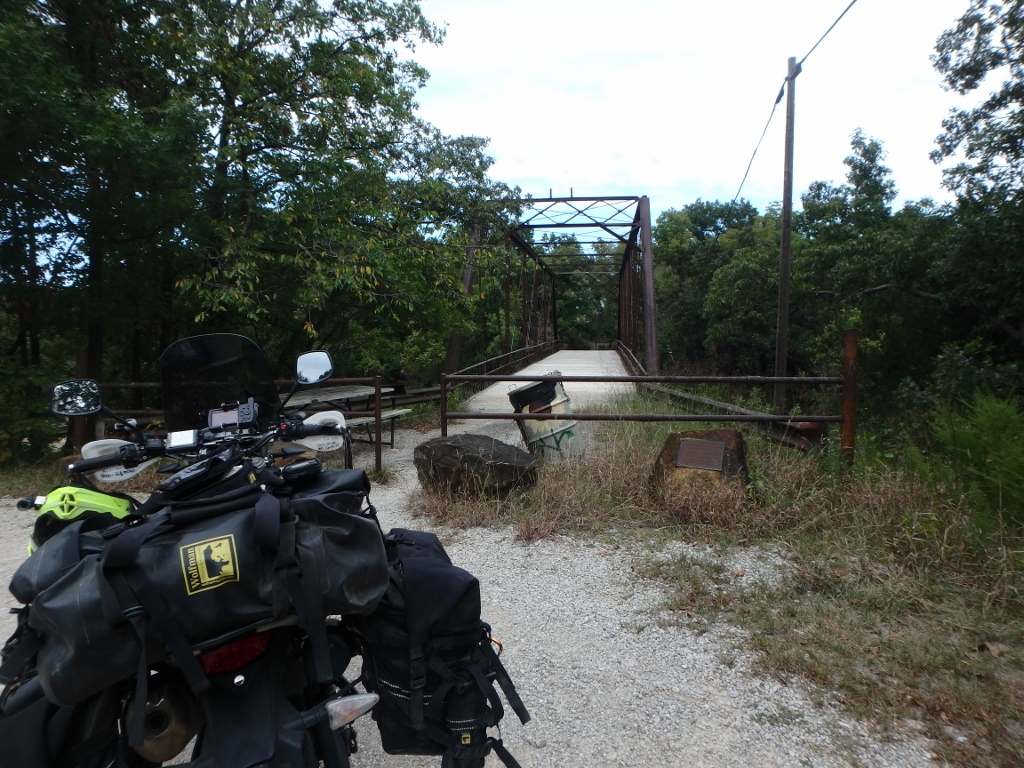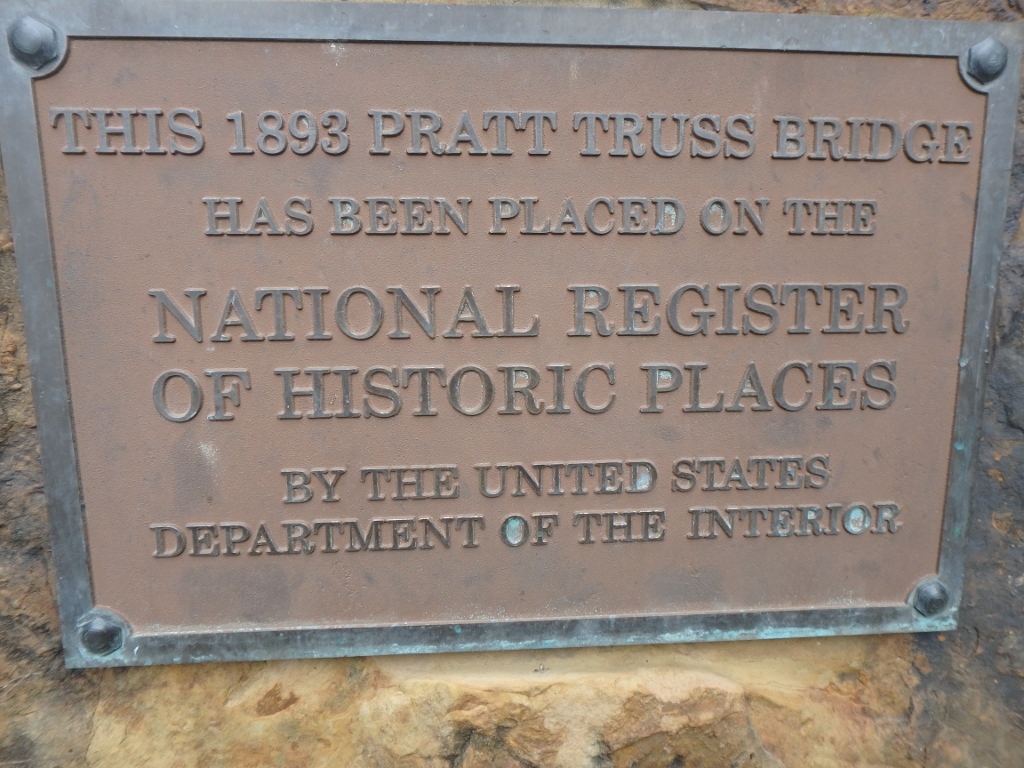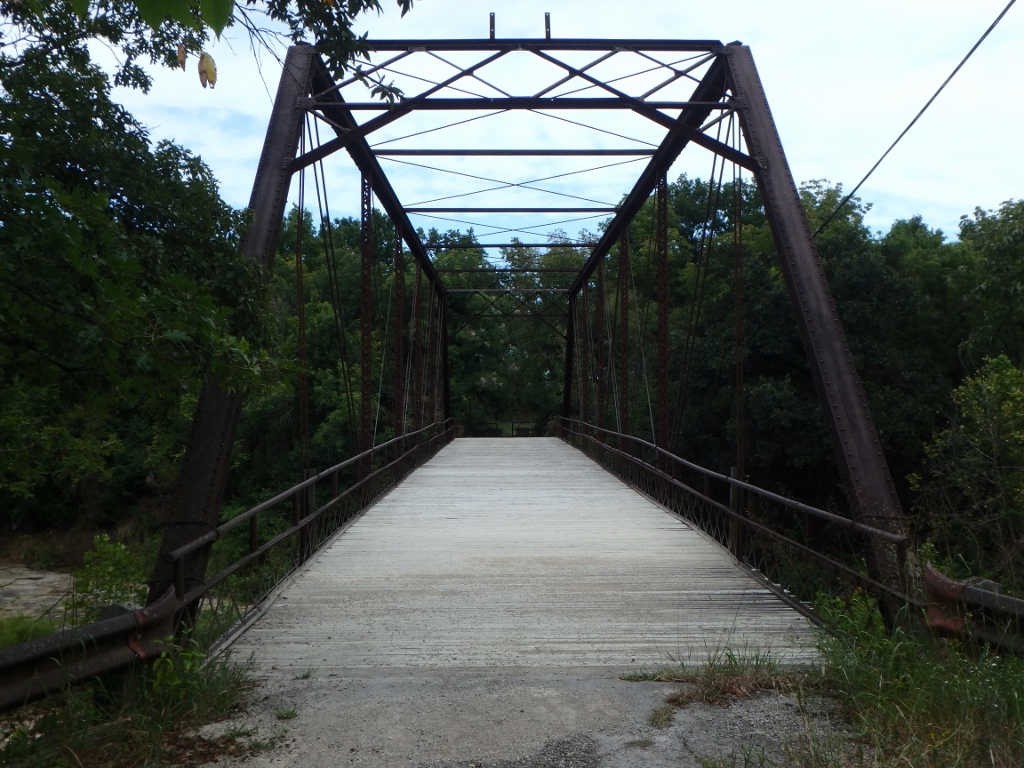 Remnants of what looks like a dam and falls ????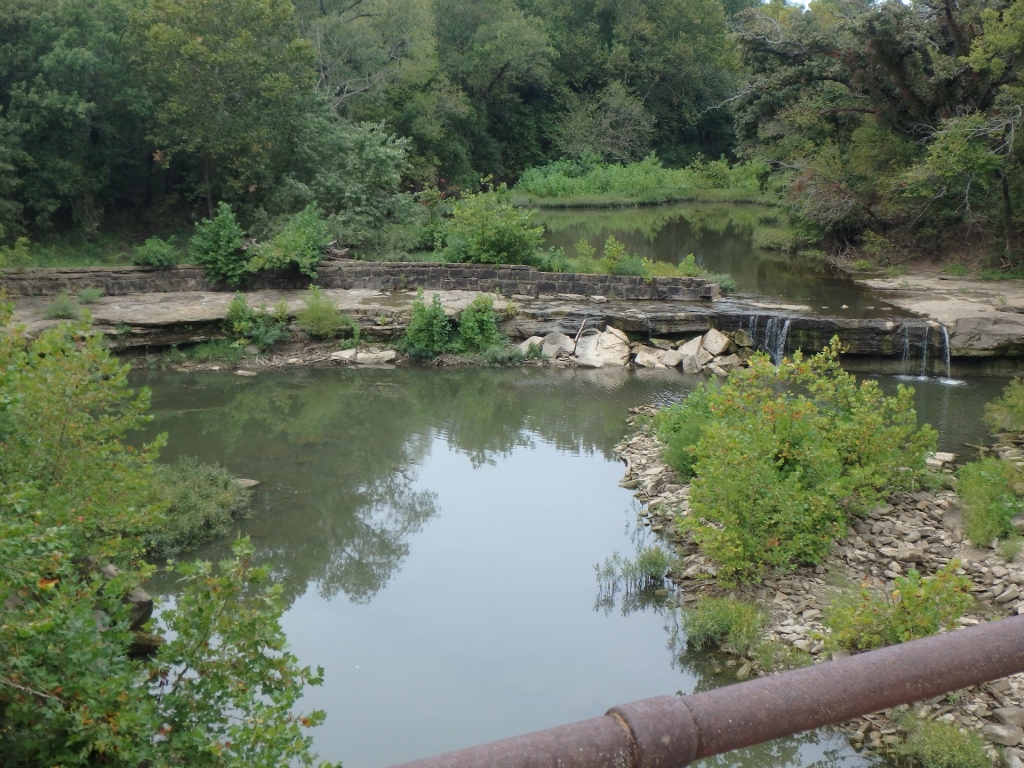 Selfie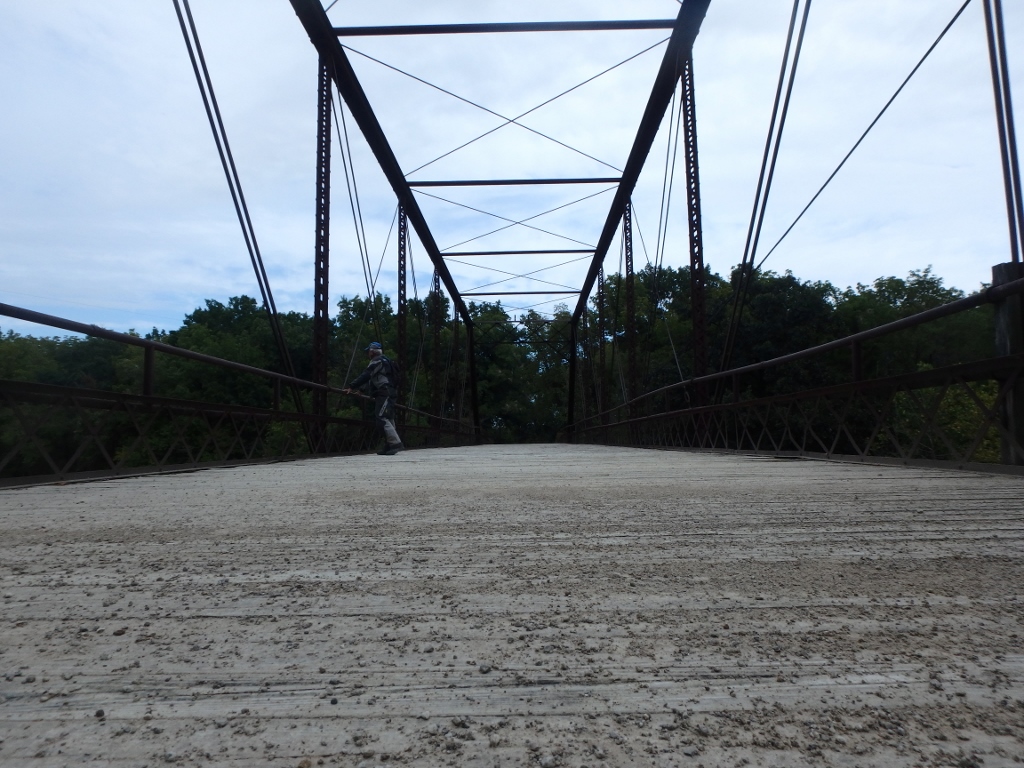 I talked to this man for an hour.
He's lived here all his life and told me all about the bridge and the history of the town.
He was on the city council and said it was hard to get people interested in keeping things like this in good shape.
Local people donate their time and materials too keep this thing standing.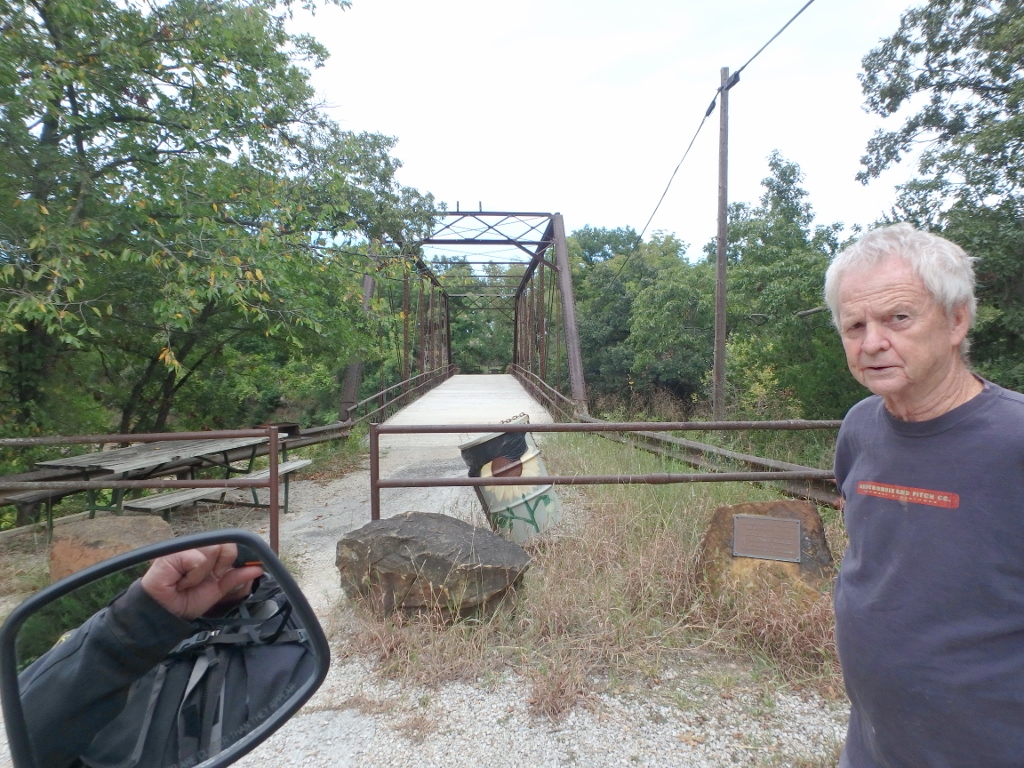 On down the highway I crossed a new fancy bridge but am always on the lookout for................stuff.
Off to my left I spied the old bridge----you can still cross it as it's in fine shape.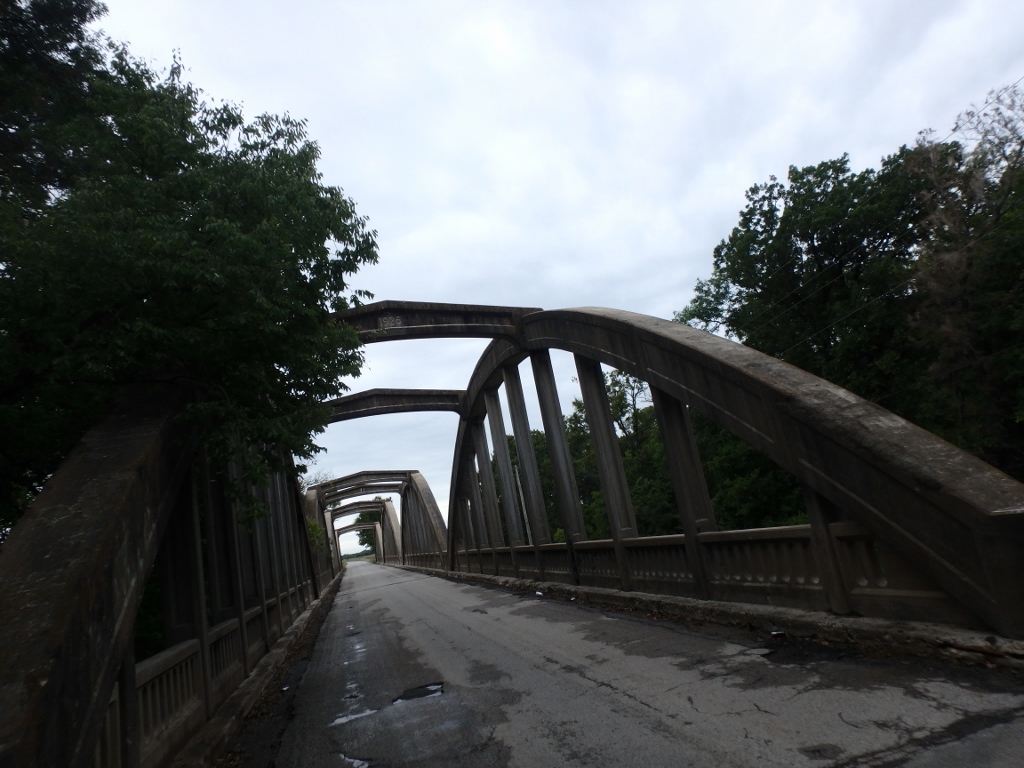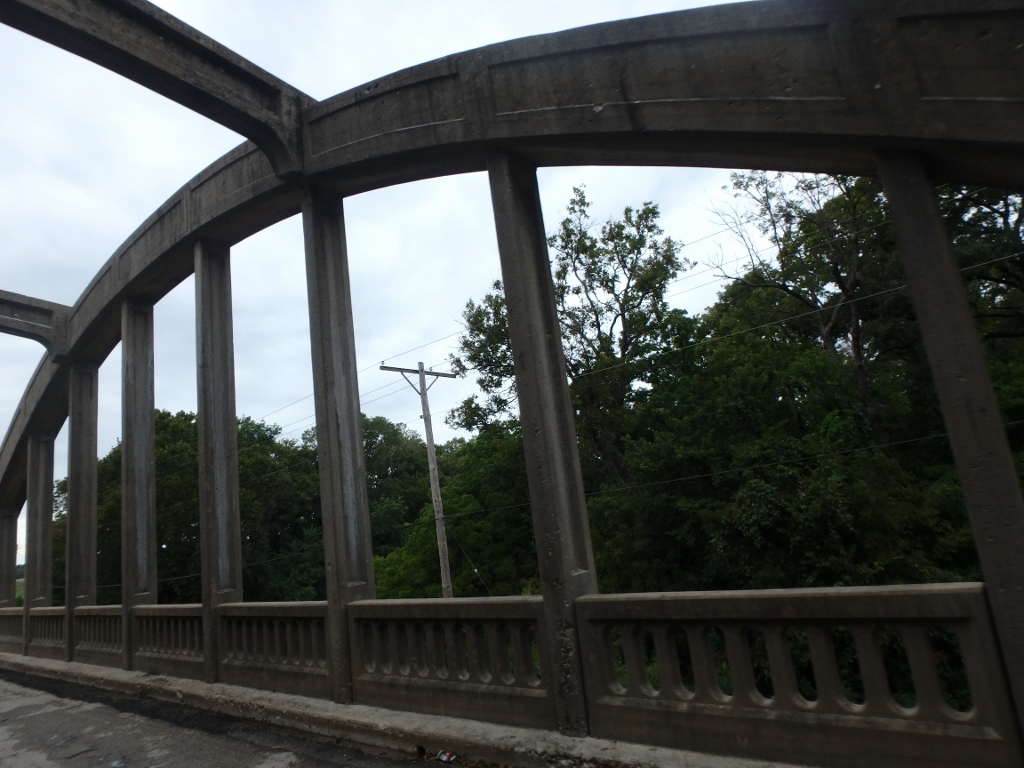 I've never seen anything like it before---solid concrete.
And while hear a local guy ran me down and wanted to look at my bike and talk to me------he told me I was a lucky guy (I knew that) and
wanted to do just what I was doing someday. He already had a KLR but was to busy to ride it.
After chatting with me he said he was going to change things in his life---he was tired of just working.
I gave him my card and I hope to hear from him.
He was afraid he was bothering me or slowing me down and I assured him I had all day to chat if he had the time.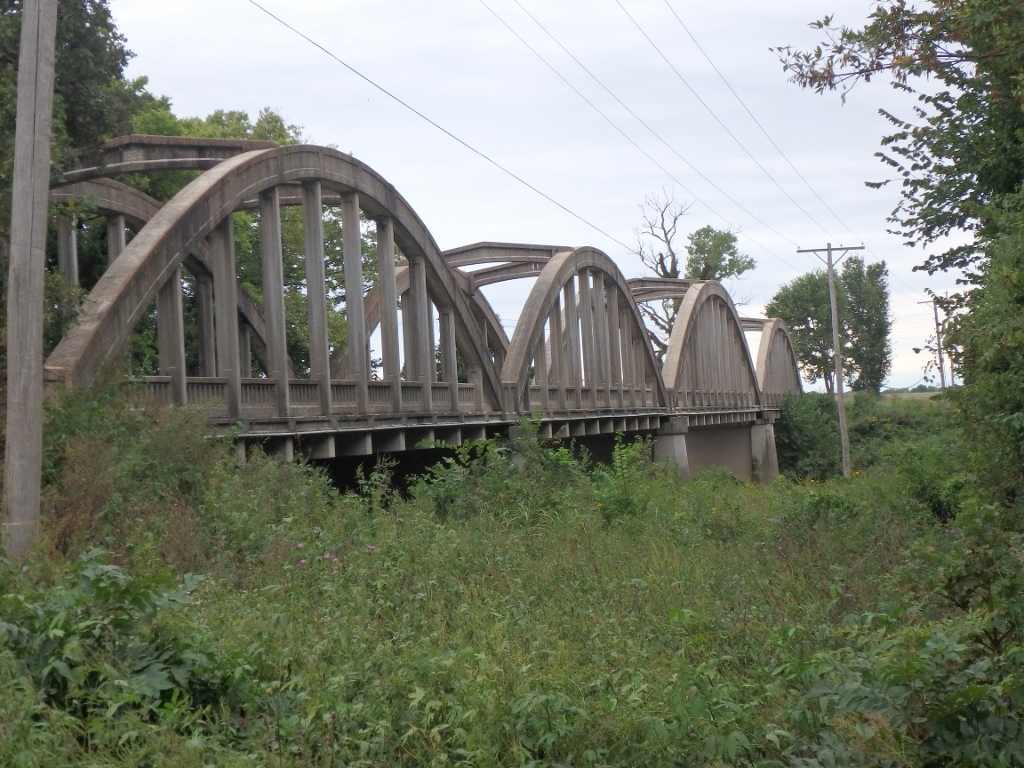 Yep----------I had the waypoint----------so off I went to find it.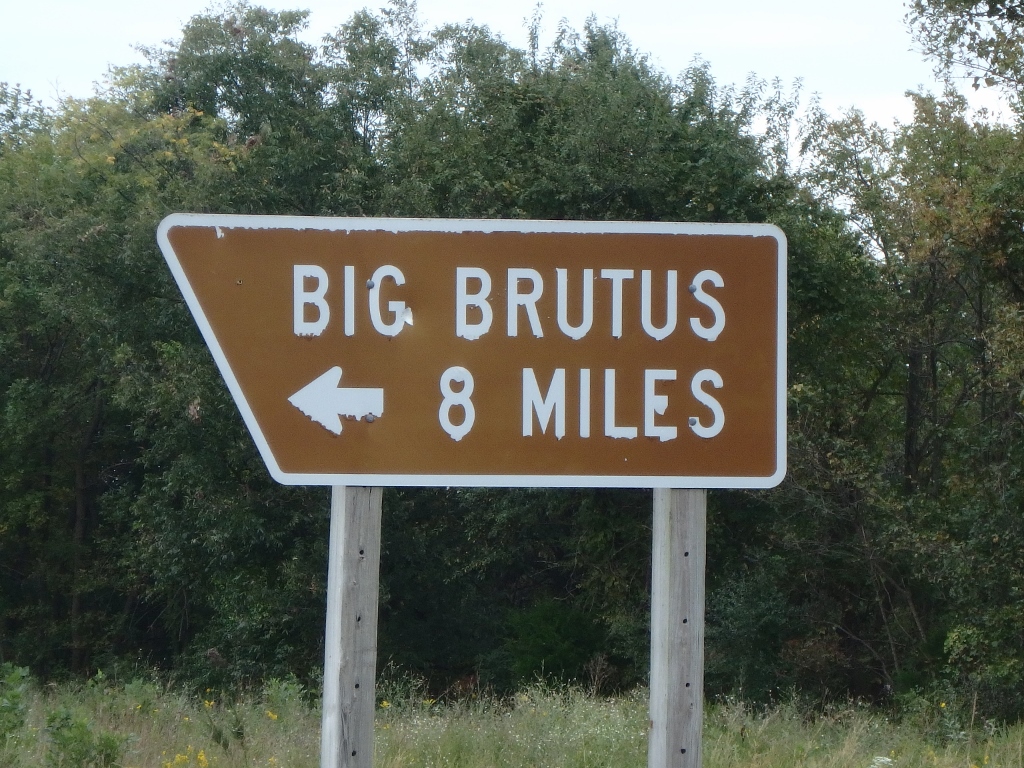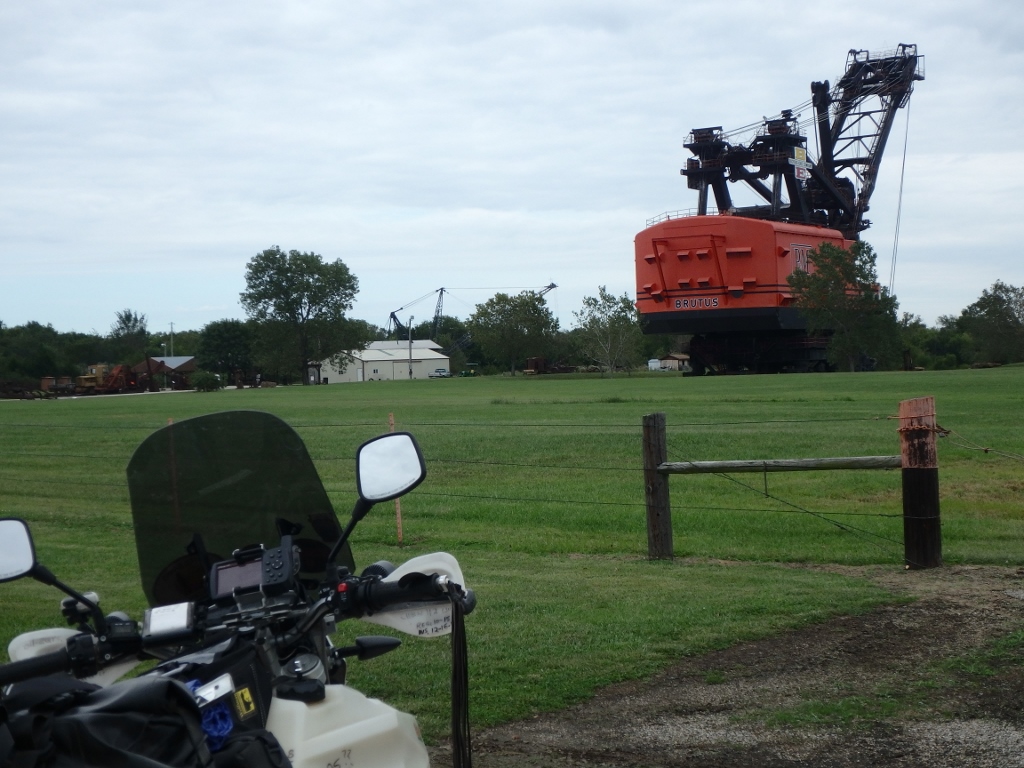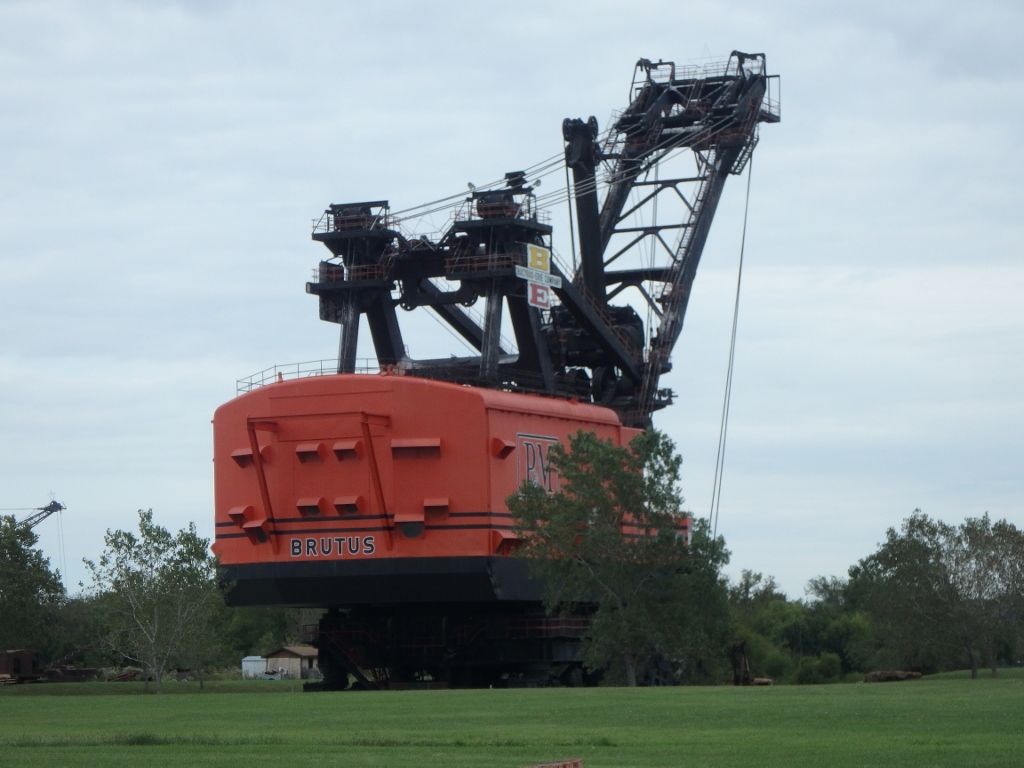 For $8 you can walk all thru this thing----I would have loved to have done it--------I had the time.
I'm kicking myself in the rear for not doing it and just looking at it at a distance.
I love Kansas---and don't care to say it.
I stopped at a quick store for gas---picked up some food and went across the street at the Lake and had my own private picnic.
But this was out front.
I'm speechless !!!!!!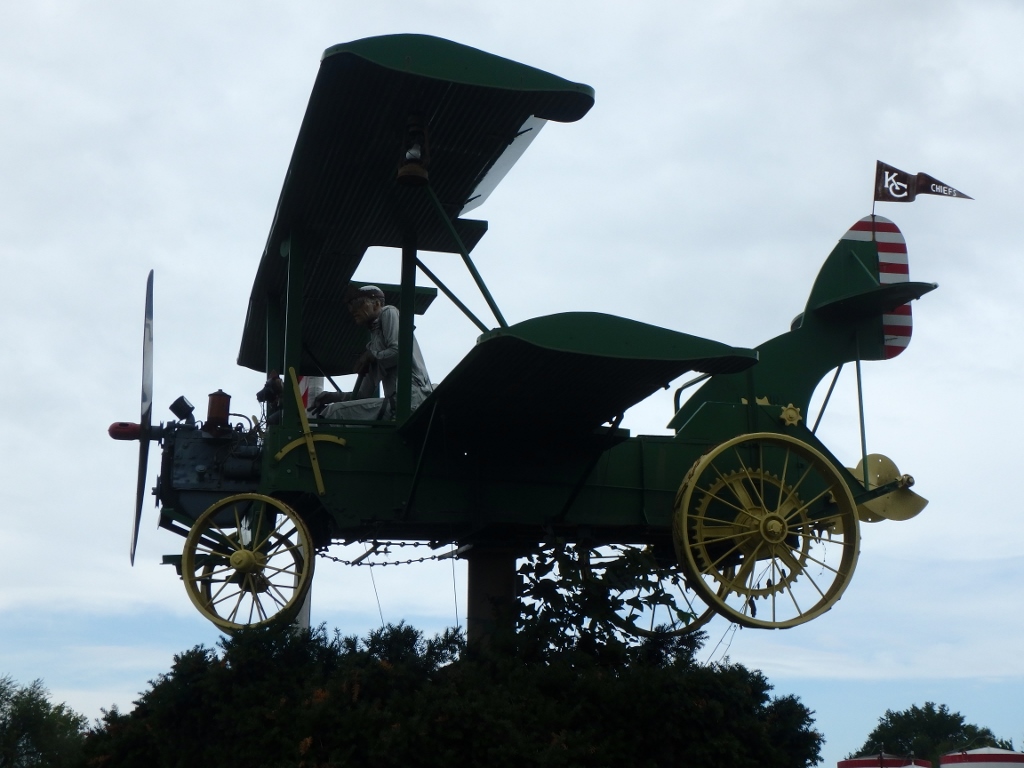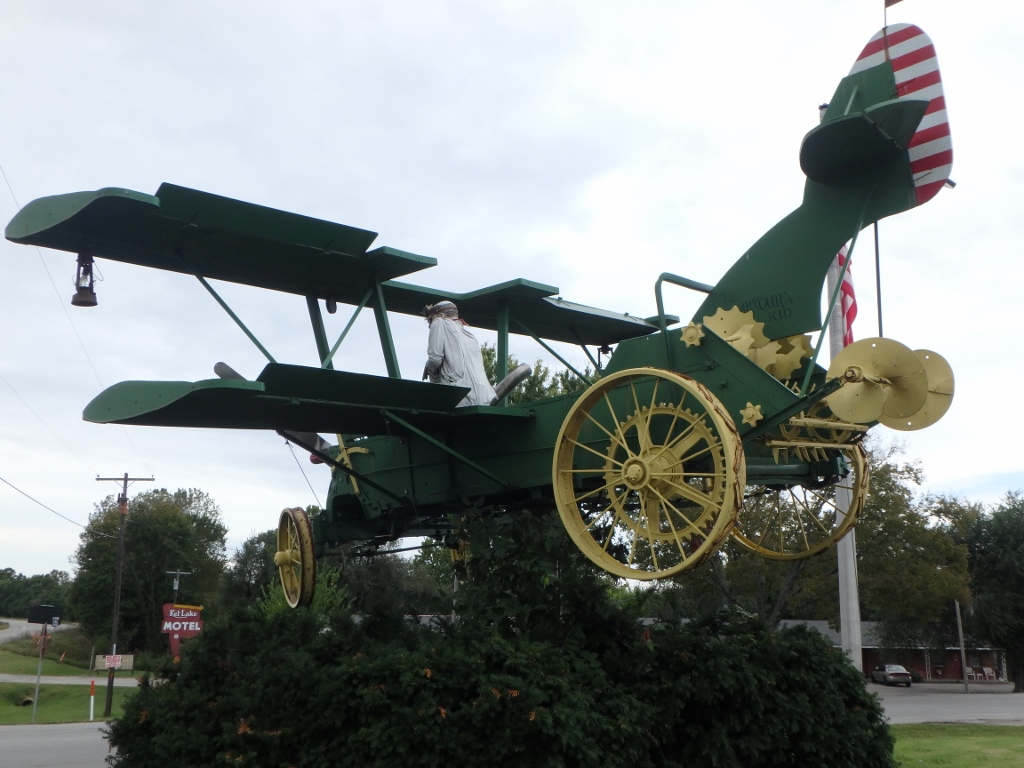 What a great ride I'd had----didn't fall down once---although I thought Corkscrew Gulch was going to be the death of me.
It was a relaxing ride for me--but it's always good to be back home.

There is no place like home.
Back to my Homepage