2017 Fall Ride
I rode my Honda Africa Twin on this ride..........
My buddy Jay Grafton rode his BMW800GS
This was a 10 day ride encompassing the states of Missouri, Arkansas
Kentucky and Indiana-----and of course my home state of Ilinois.
The ride actually started at the "Falling Leaf" BMW rally in Potosi Missouri, a rally I've been attending
for maybe 25 years or so.
I rode over alone and set up camp for the nite as many friends showed up.
So the next morning........Jay hadn't arrived yet and me and Kevin Baker (another good friend who lives near me) went
for a day ride which started off by eating breakfast in Bixby, Missouri at the old store and gas station.
Kevin was on his BMW 700GS and I took him to a place called Devil's Well. It's very near Akers ferry in Missouri
which crosses the Current river-------a river all of us have floated more than once.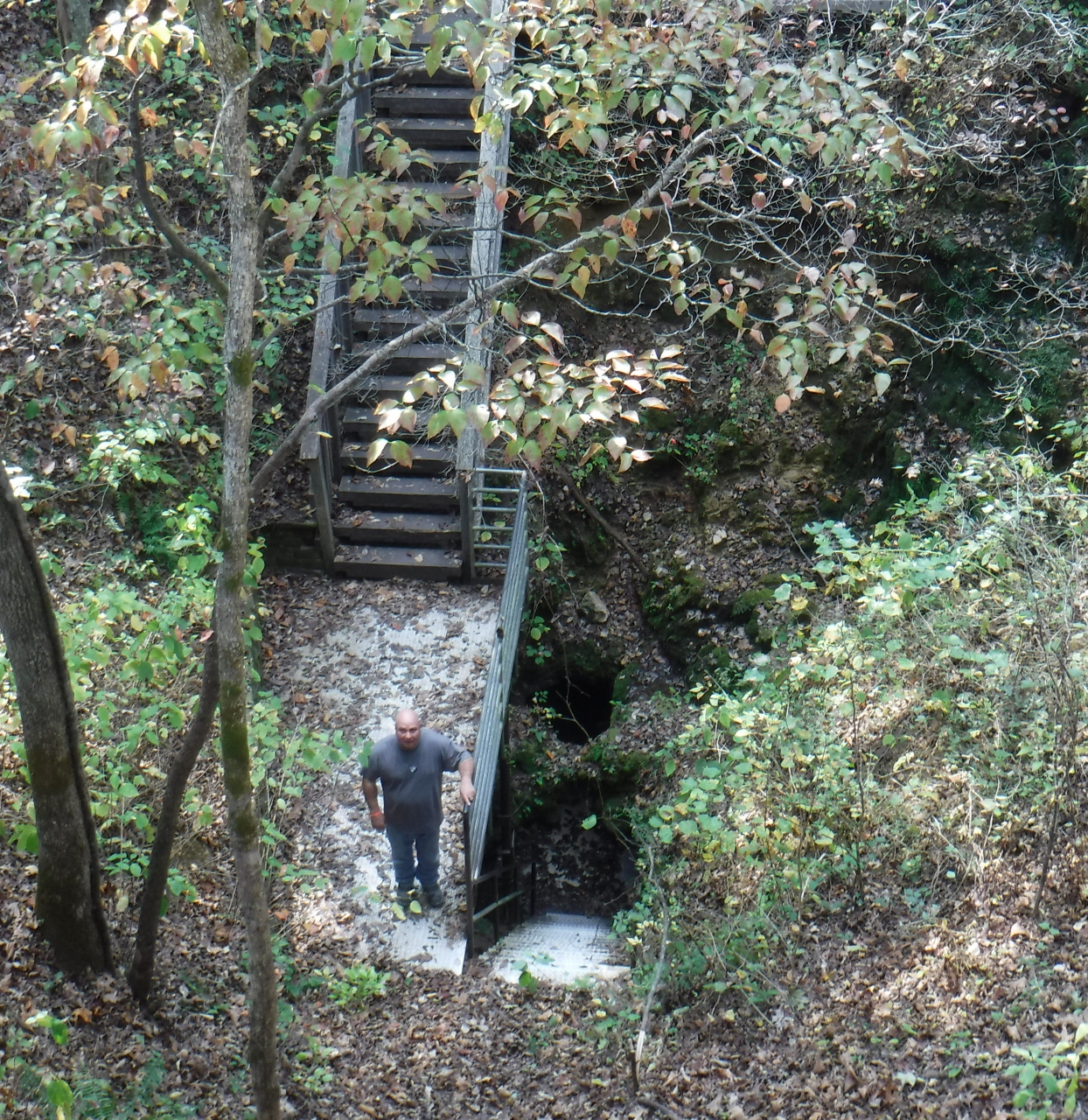 It's an open hole in the ground that you can climb down into by way of zig-zagging down a stairway till the end.
The end is a locked gate where you can peer down into an underground lake that runs at the same water level as the
famous Current river nearby. There are hundreds of springs in Missouri and I've made a lifetime of finding stuff like this.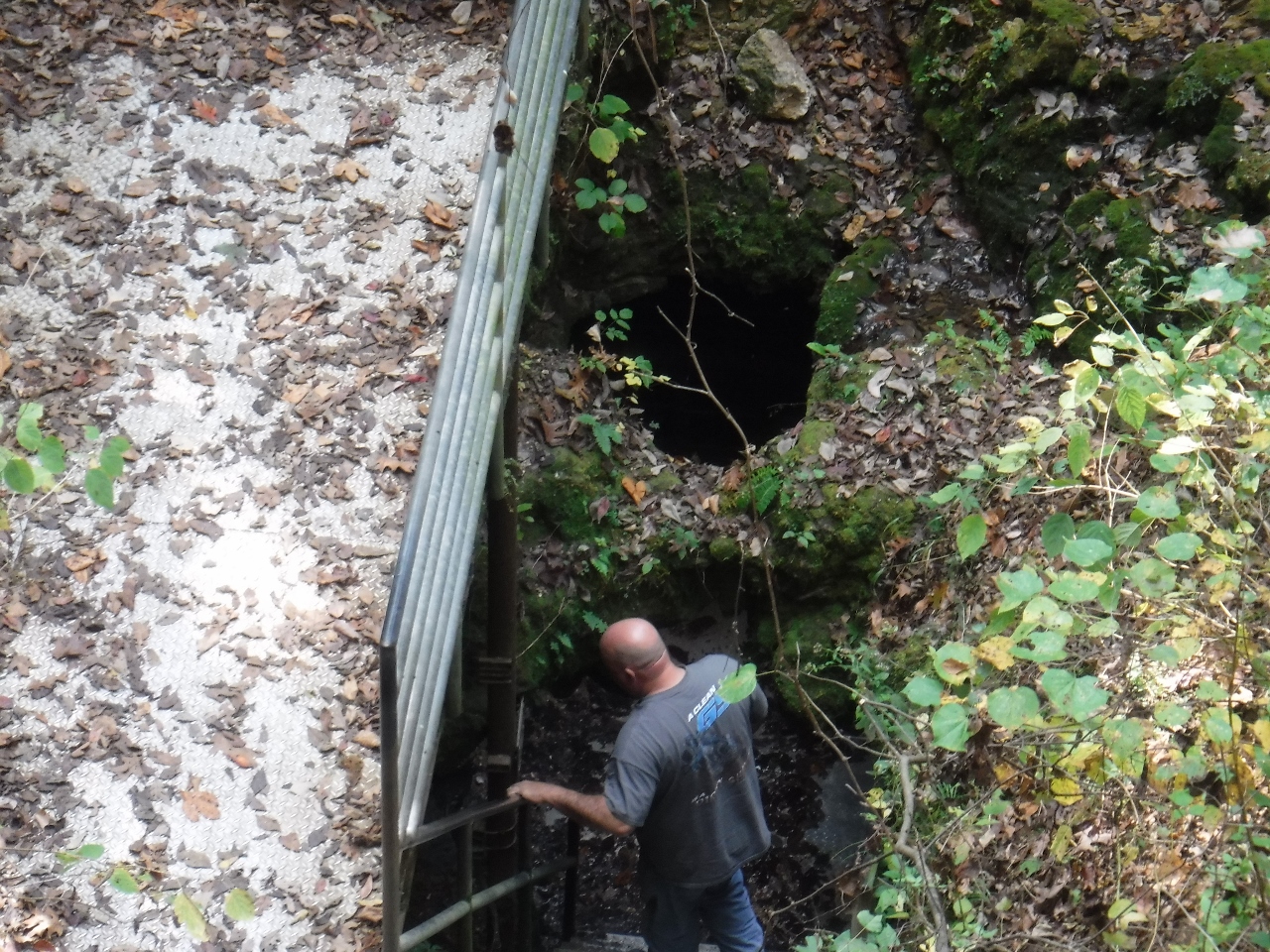 Me peering down into the hole-----this is an amazing place down a dead end narrow
gravel road.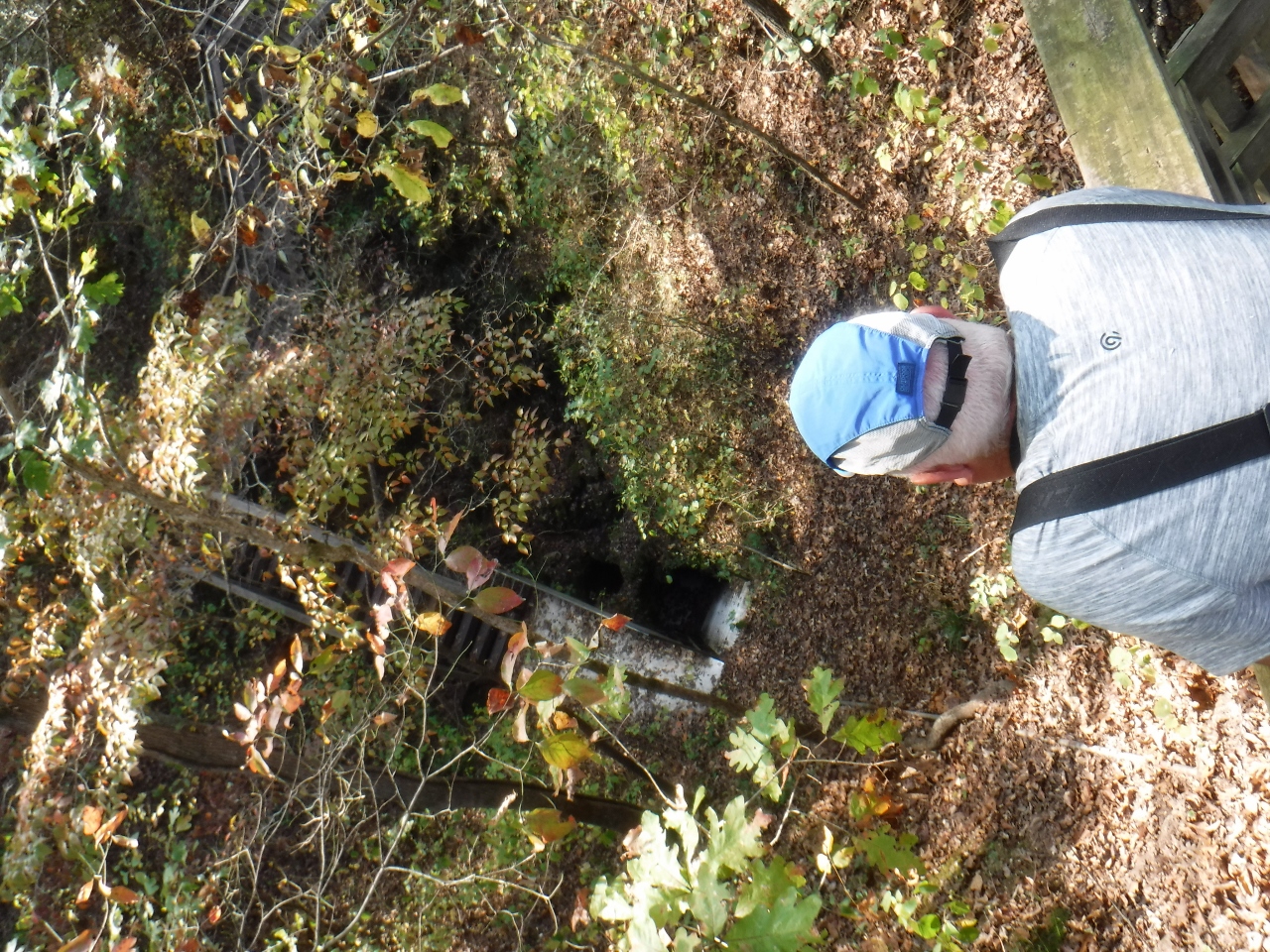 Kevin really gets a kick out of riding with me as I take him to places he's never been to.
Super nice guy and we talk about old times camping and riding and about losing a good friend of ours this year.
RIP-------Franky Belmont.
One of my most memorable characters------and friends.
So now we are hiking about a 1/2 mile back to a place that nobody seems to know about.
Kevin leads the way----he's nervous leading and not following my tailight----but you can't get lost on this trail I tell him !!!!!
I got your back Kevin !!!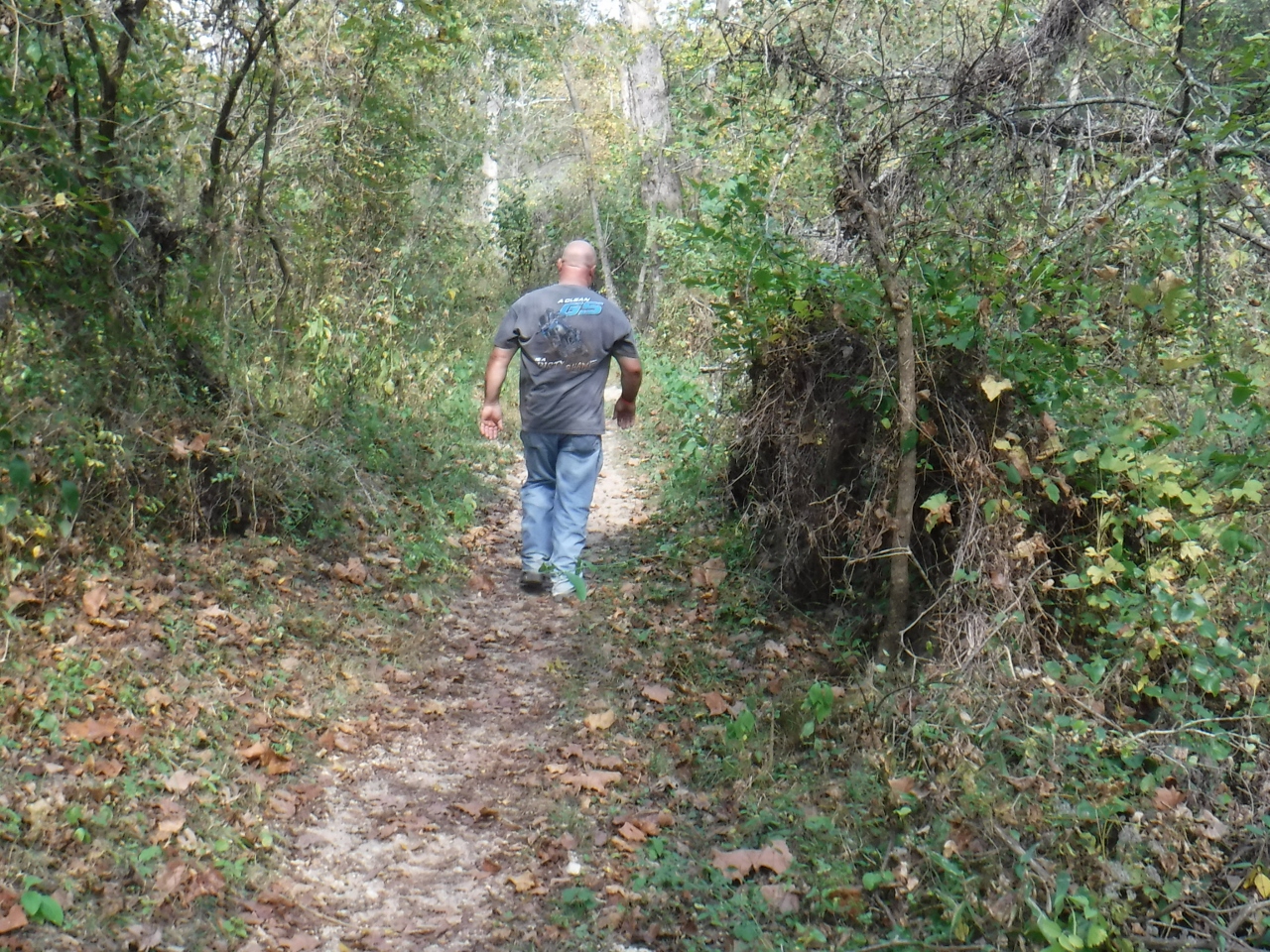 We finally get back to "Welch Spring"
It belches a lot of water out of the ground and it runs right into the current river which is only a 100 yds. away.
I've stripped out of my riding gear--anymore I always carry hiking stuff. I'm not into gnarly 10 mile hikes,
but I luv stuff like this and have been doing more and more of it lately.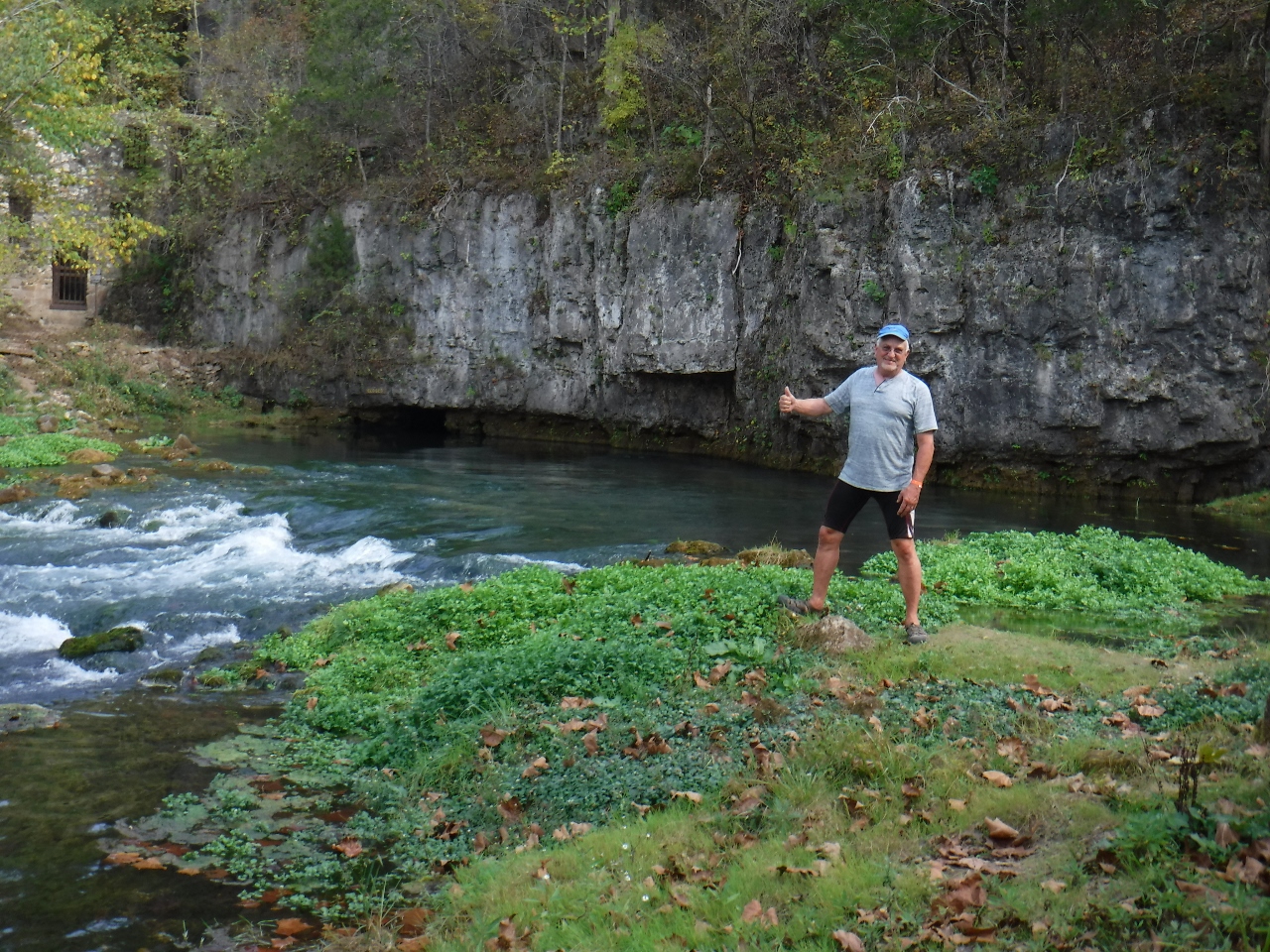 Welch Spring is just about 4 miles upriver on the Current on the East side down a dead end gravel road.
The road is marked off of highway K.
Now here is where it gets really interesting------see that old building to the left----that is the Welch hospital.
In 1913 a Dr. Built the hospital thinking the waters has some healing properties to them.
In this picture you can see a cave just above the water and he also he believed the air coming out of there had healing
properties for people with resporatory problems.
I don't know------smells like bat dung to me.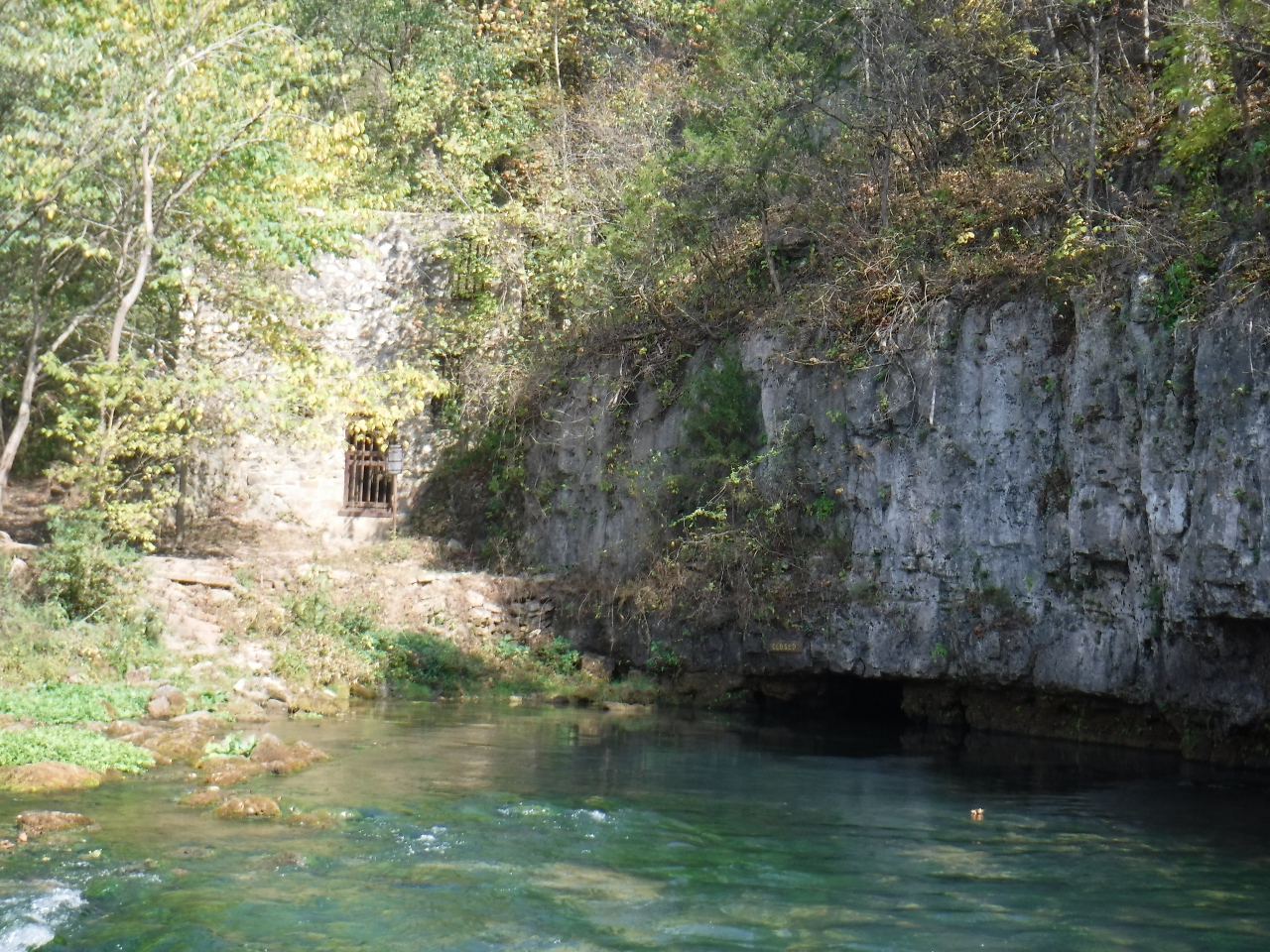 Here is where the ferry, hospital, spring and devils well is.
The yellow lines are track logs I have all over the place.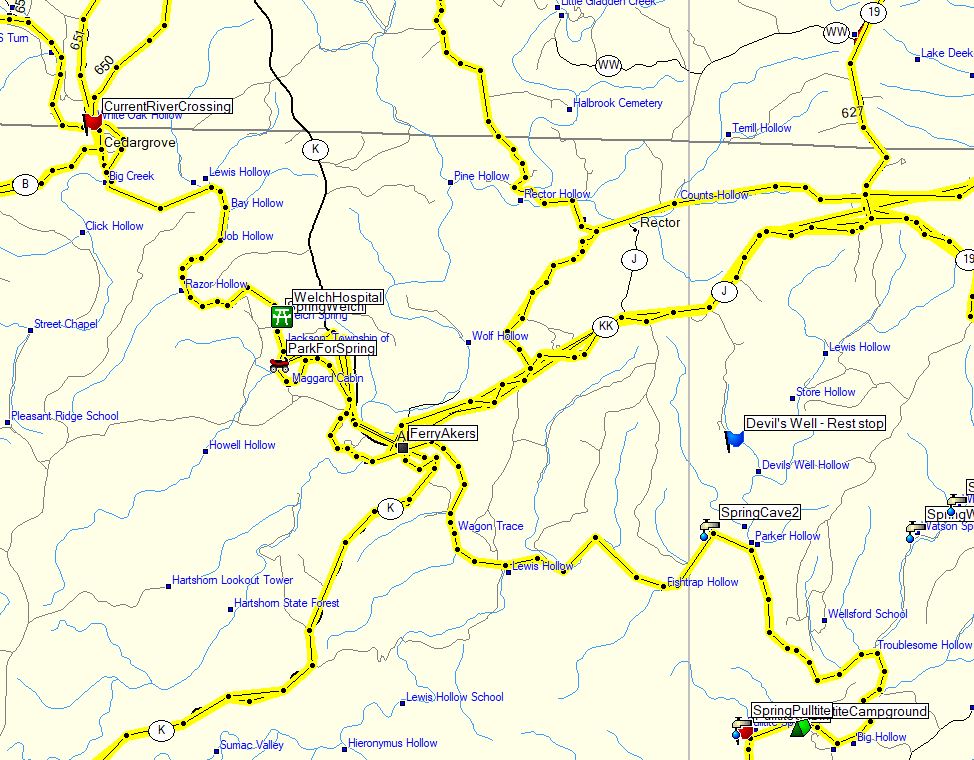 So up the river we go------Akers ferry is closed and we can't get across the Current river there--and I know another place.
A place I almost died crossing in the spring. Water was deep over the concrete and almost took me over the edge.
I was scared to death and had no idea about the railing being there that you see in the picture-----it was under water.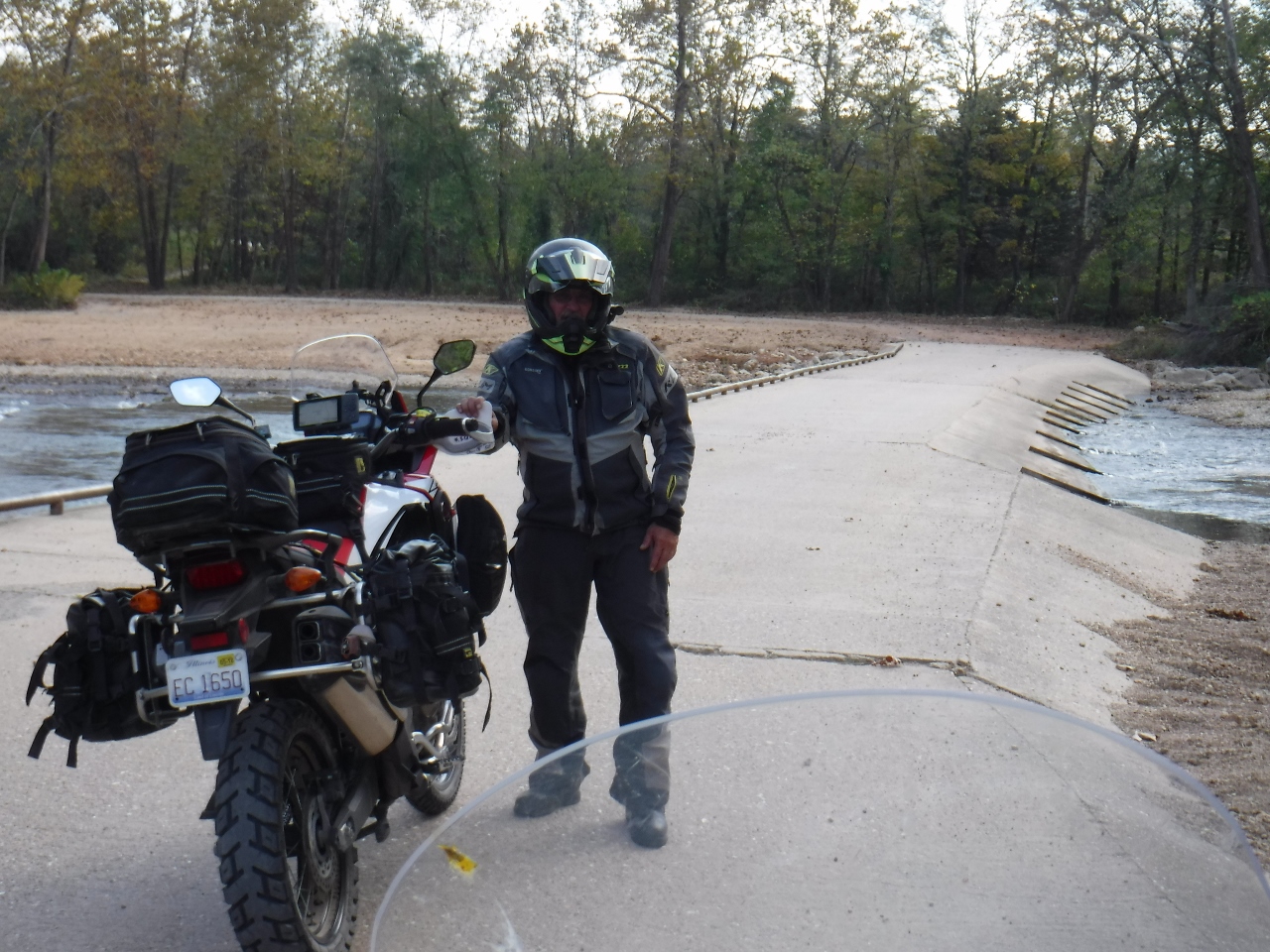 Here is what it looked like that day.
I have a video of it but can't seem to find it.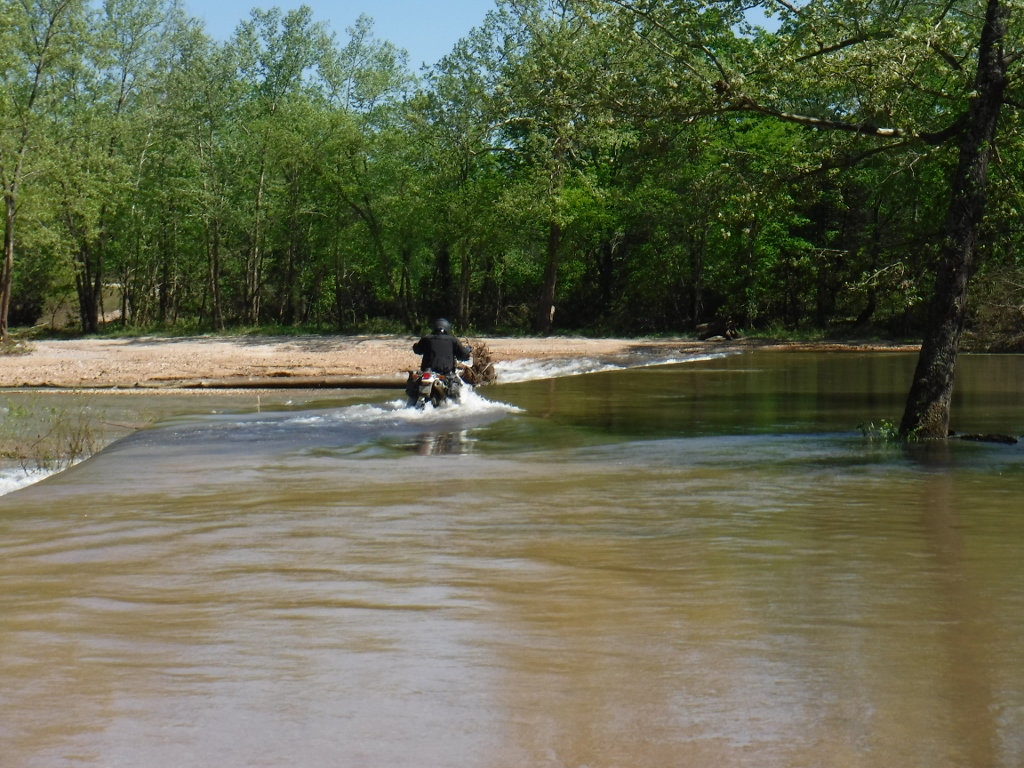 So we get across the river this day on our big bikes and just South of Montauk state park in Missouri
we come to "Bo's Hollow".
A trip back in time.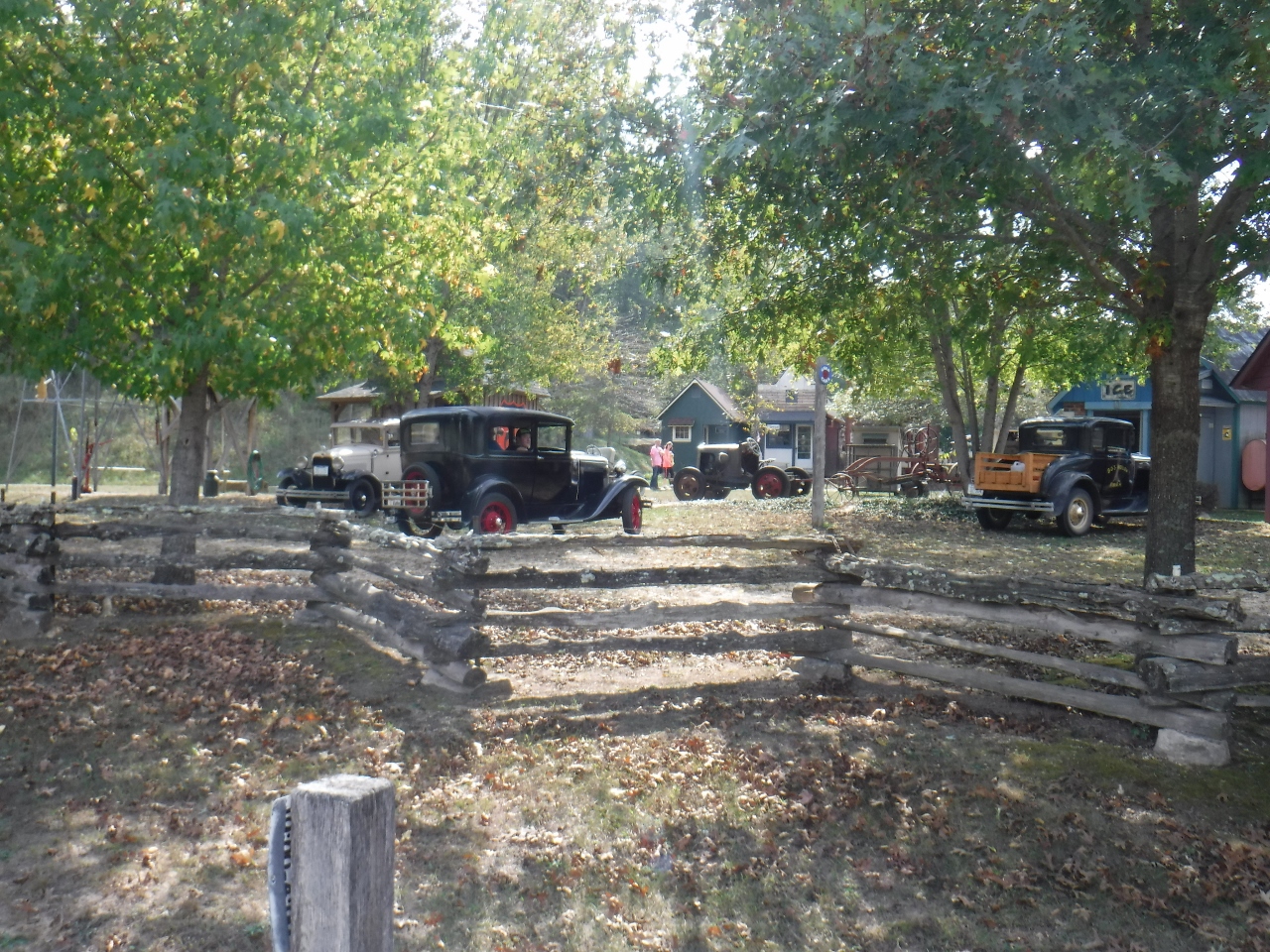 $5 gets you a wooden nickle which gets you in and you can apply that to a barbecue sandwich if you like-----------and we did.
Come to Bo's Hollow and poke around at all the old cars, gas station, swinging bridge and all kinds of old stuff.
For $10 each---they'll pack a lunch for you and your sweety and put you in the rumble seat of an old Model A
and take you down to Ashley creek for a picnic.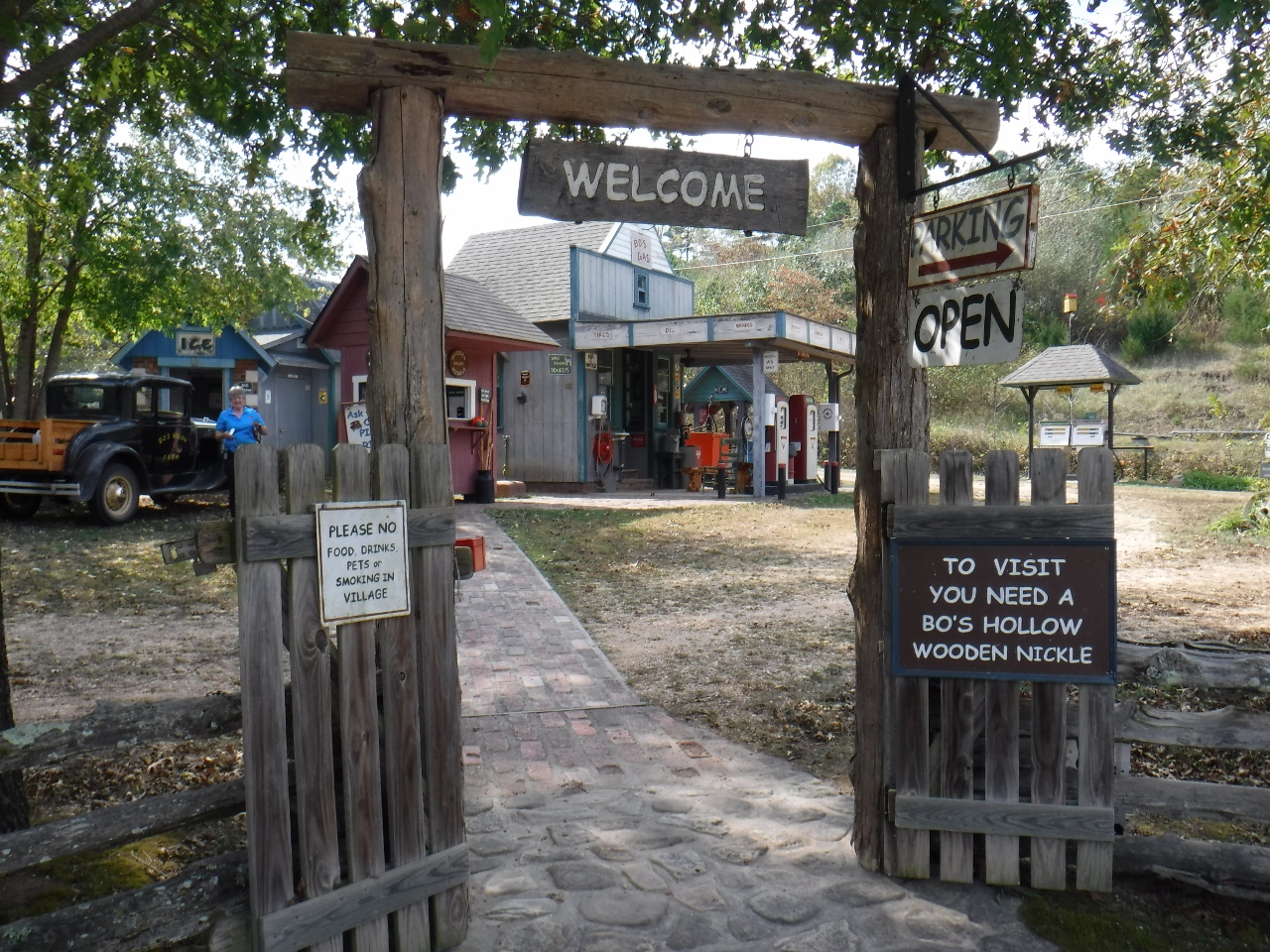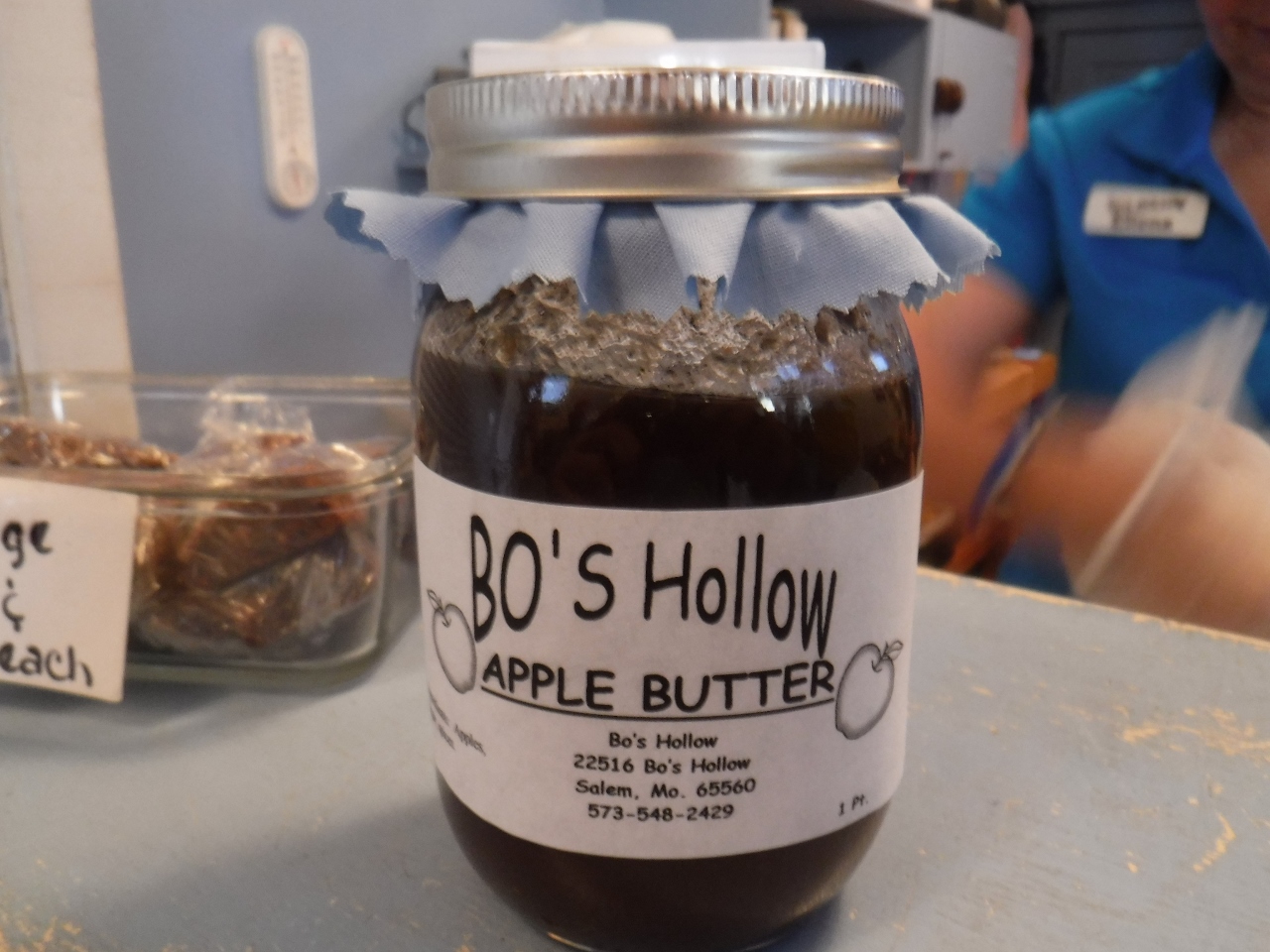 Me and my buddy "High Five" have been here before and he loves the place.
He's recovering from some surgeries and I bought him some apple cider, a hat and beef jerky and gave it too him.
A few weeks later at the "Loosenut" dual sport ride that he and his wife came too.
The coke and barbecue sandwich I ate.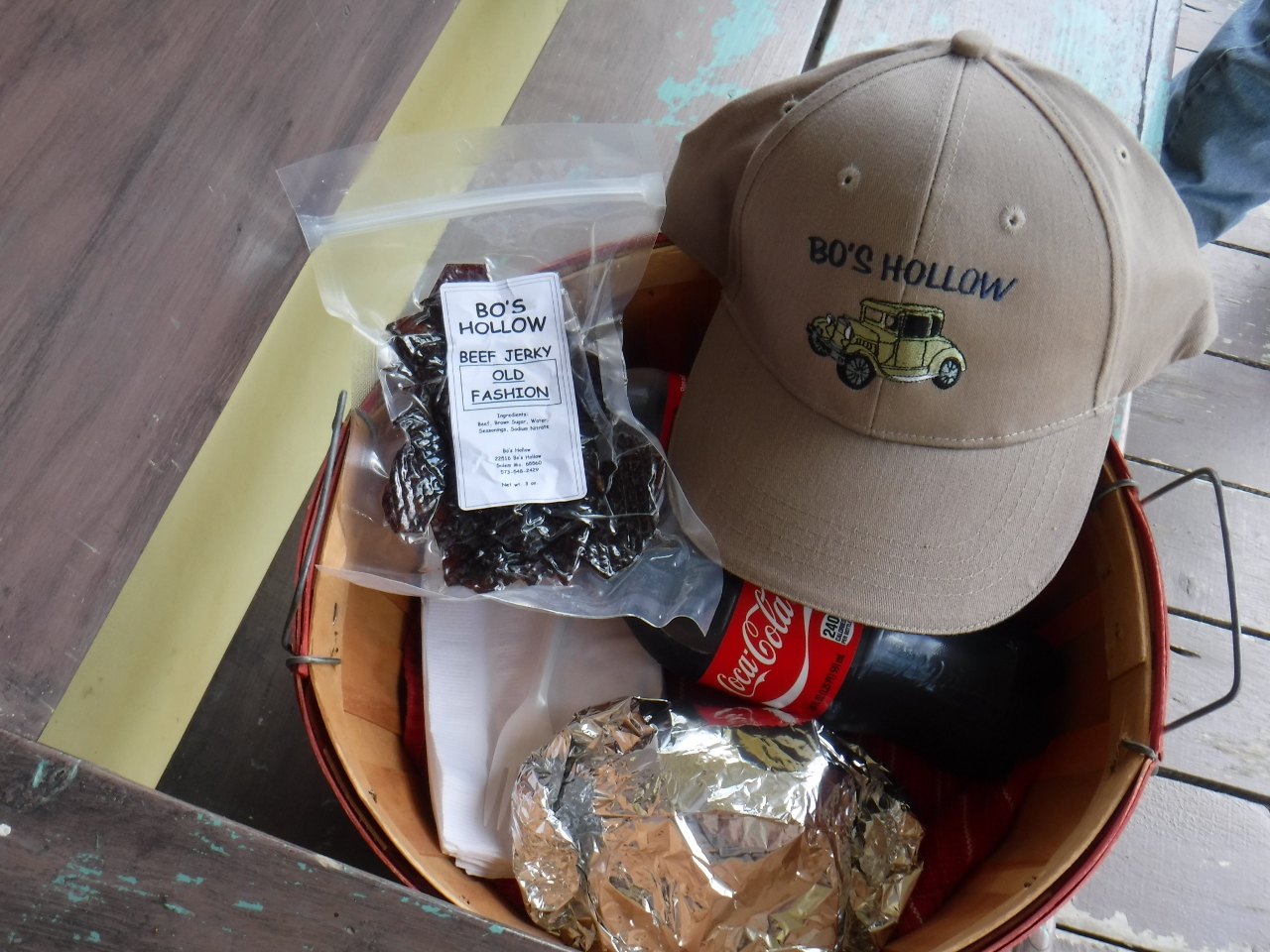 So-------fast forward. Me and Kevin get back to the rally and camp and well............................rally.
But Kevin has a job and has to go home.
The next day me and my buddy Jay take off for a few days heading this way and that and go under this railroad.
The railroad is live---Jay has one of those jobs too--but he's the boss and has gotten away to ride with me.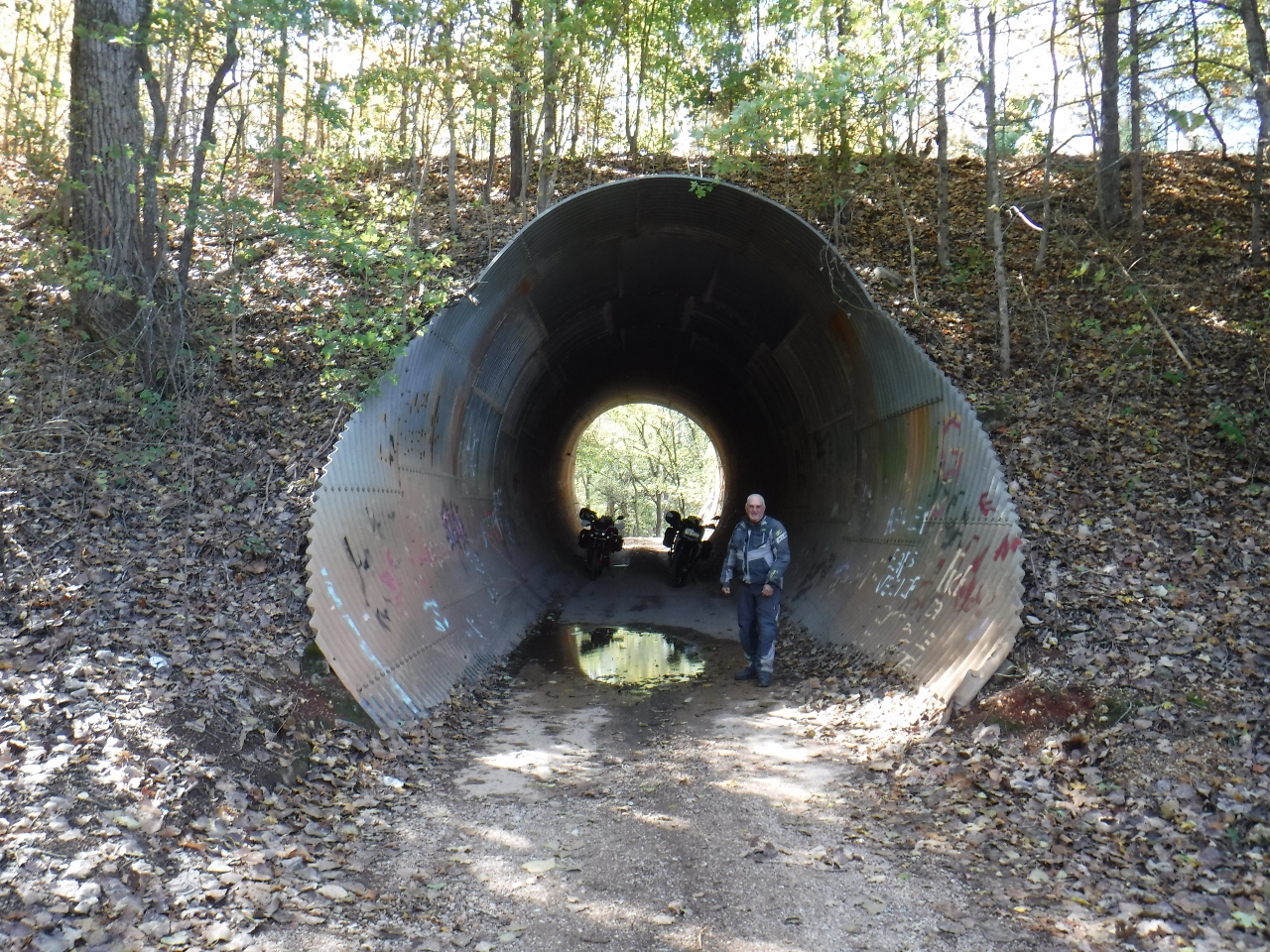 Jay and his BMW800 GS
Were packing camping gear and we camp a lot on this ride.
That is the same railroad we went under thru the culvert and are now crossing Huzzah creek on Coleman Rd.
Weather is perfect and stays that way the whole 10 days and doesn't rain on me until 3 minutes after I get home
and have pulled my bike in the garage.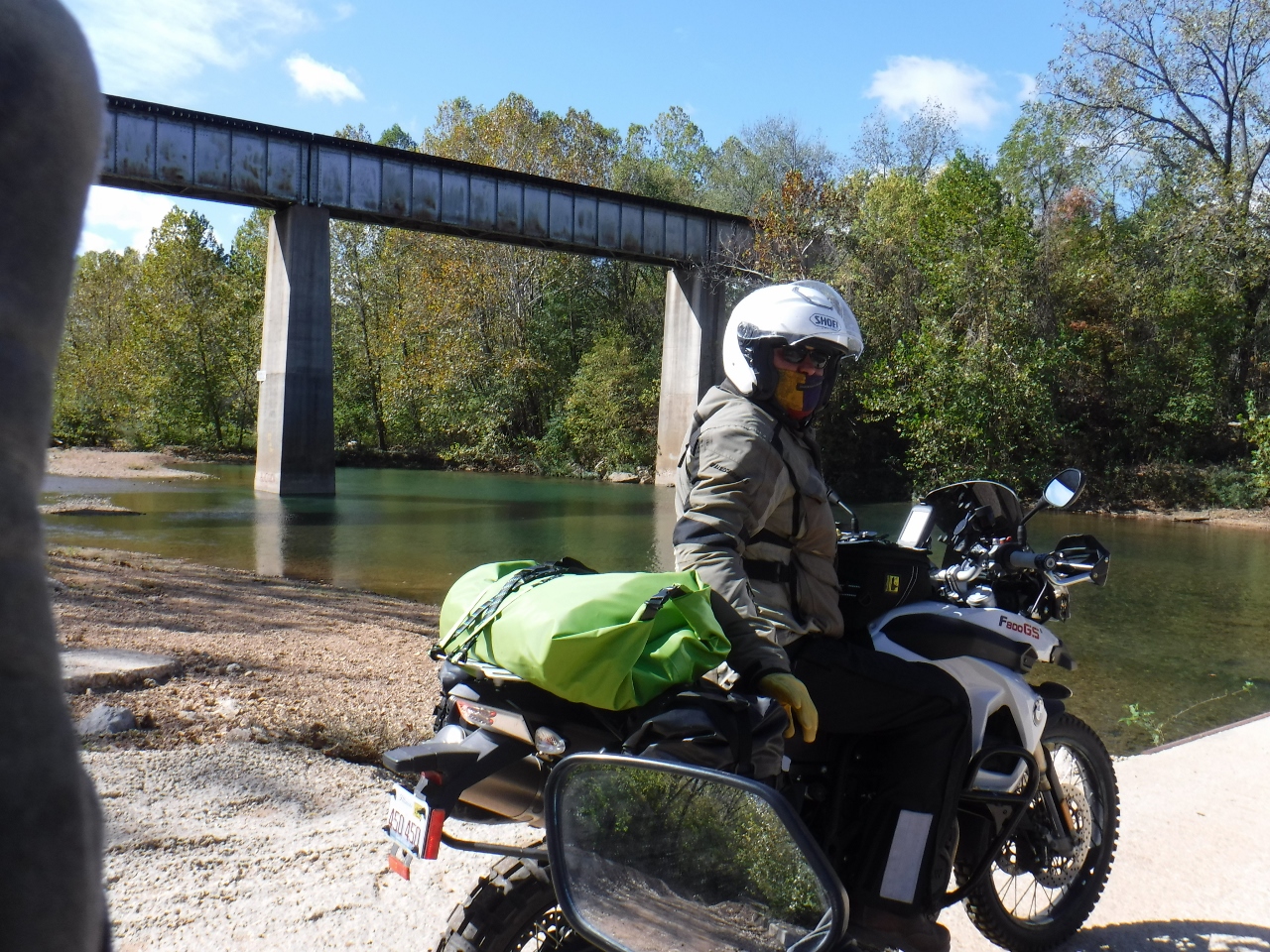 The Mason bridge use to be here but is long gone and you have to look close to find evidence it was ever there.
I wanted to swing on the rope------not a good idea for an old man over the cold water.
Lucky for me----------I couldn't reach the rope !!!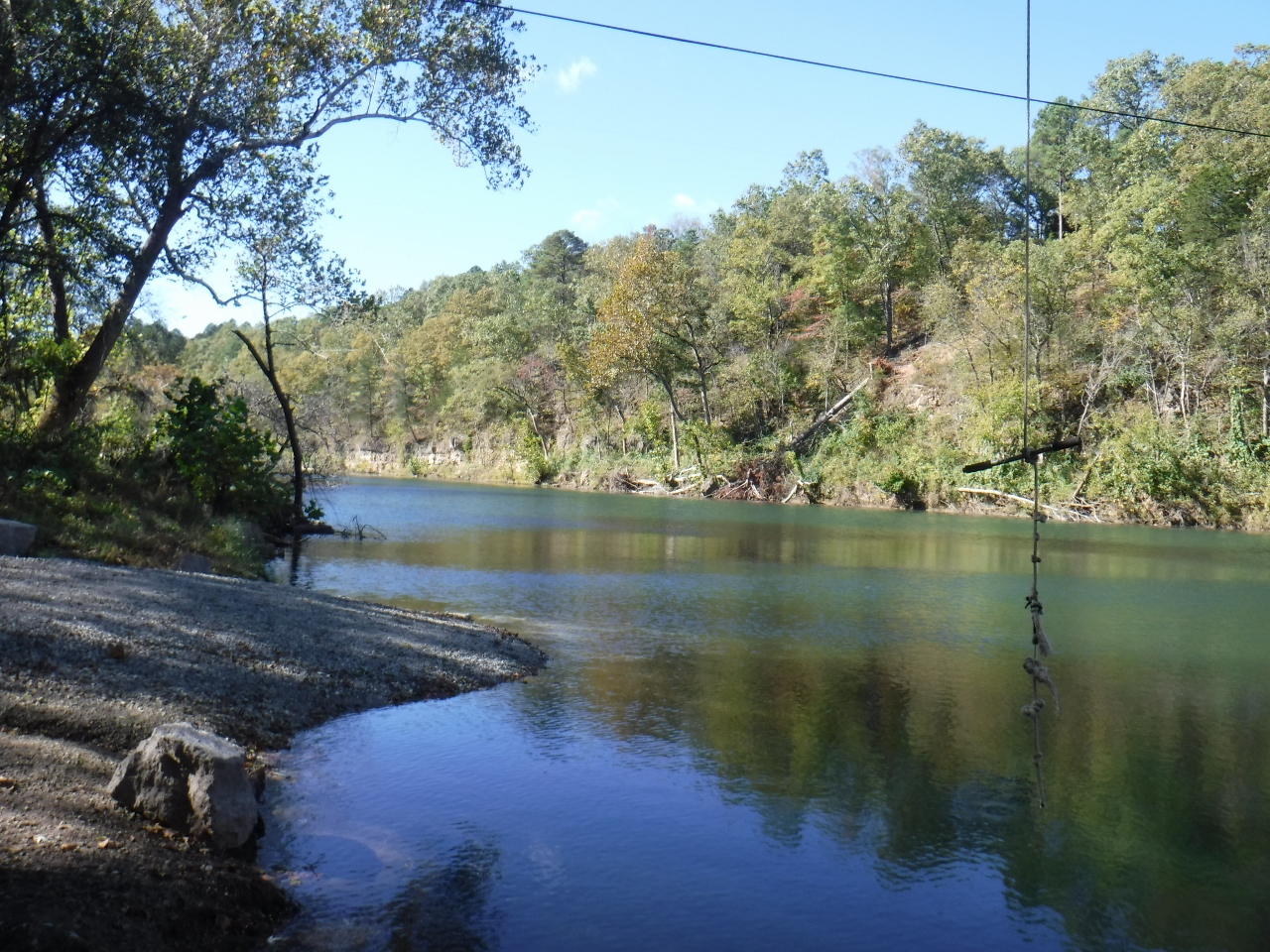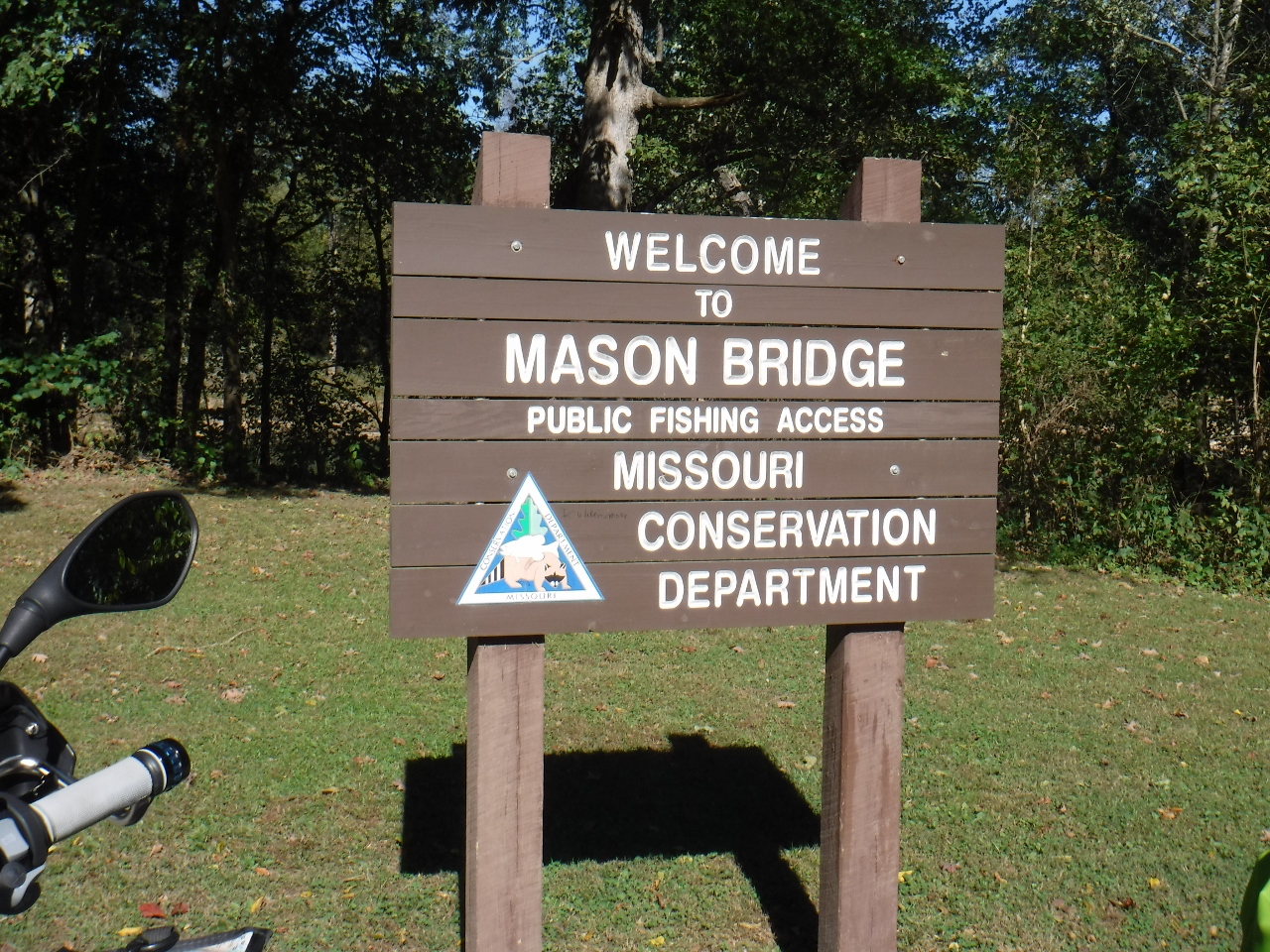 The Laura Ingalls Wilder House is a historic house museum at 3060 Highway A in Mansfield, Missouri.
Also known as Rocky Ridge Farm,
it was the home of author Laura Ingalls Wilder from 1896 until her death in 1957.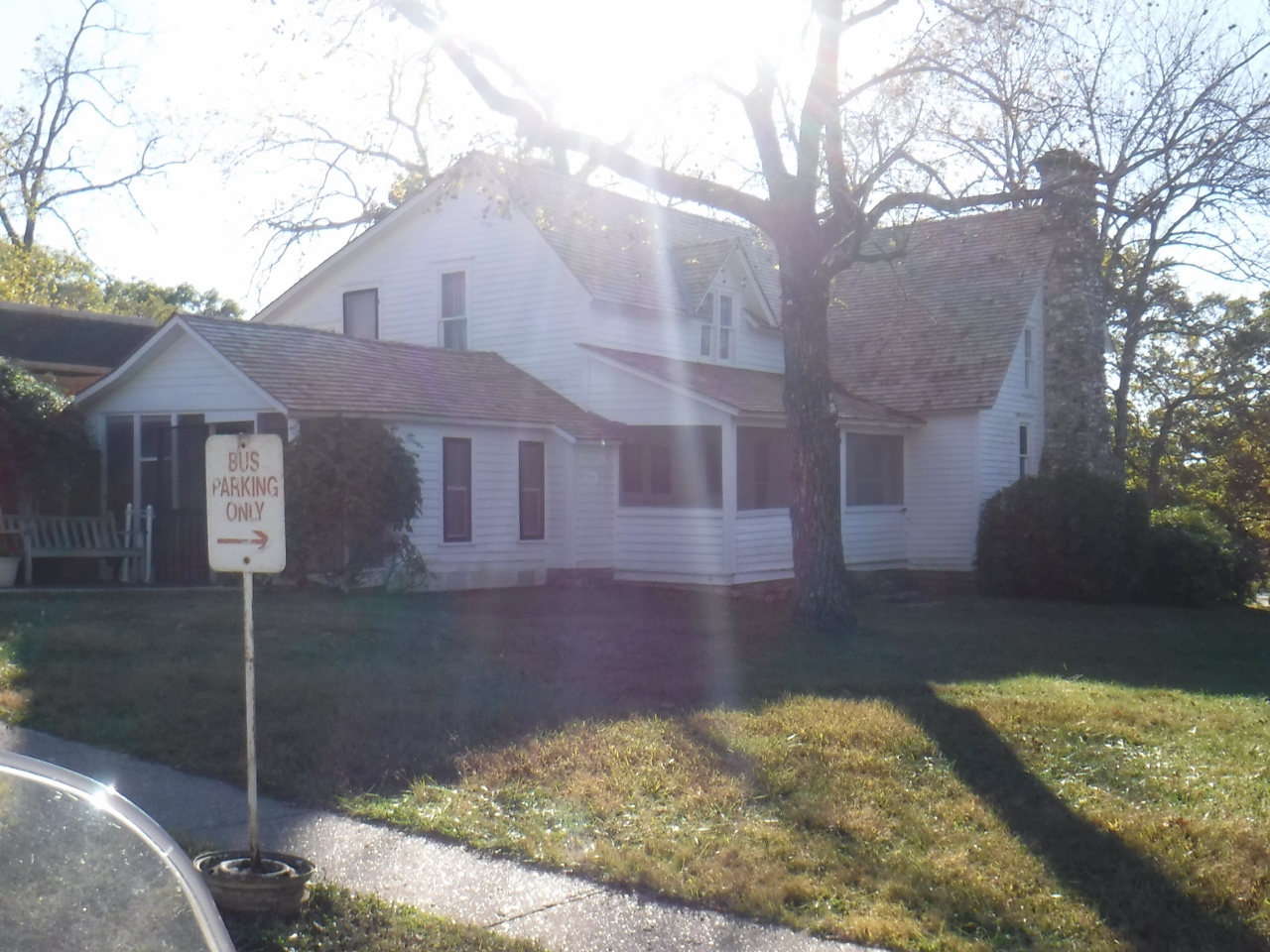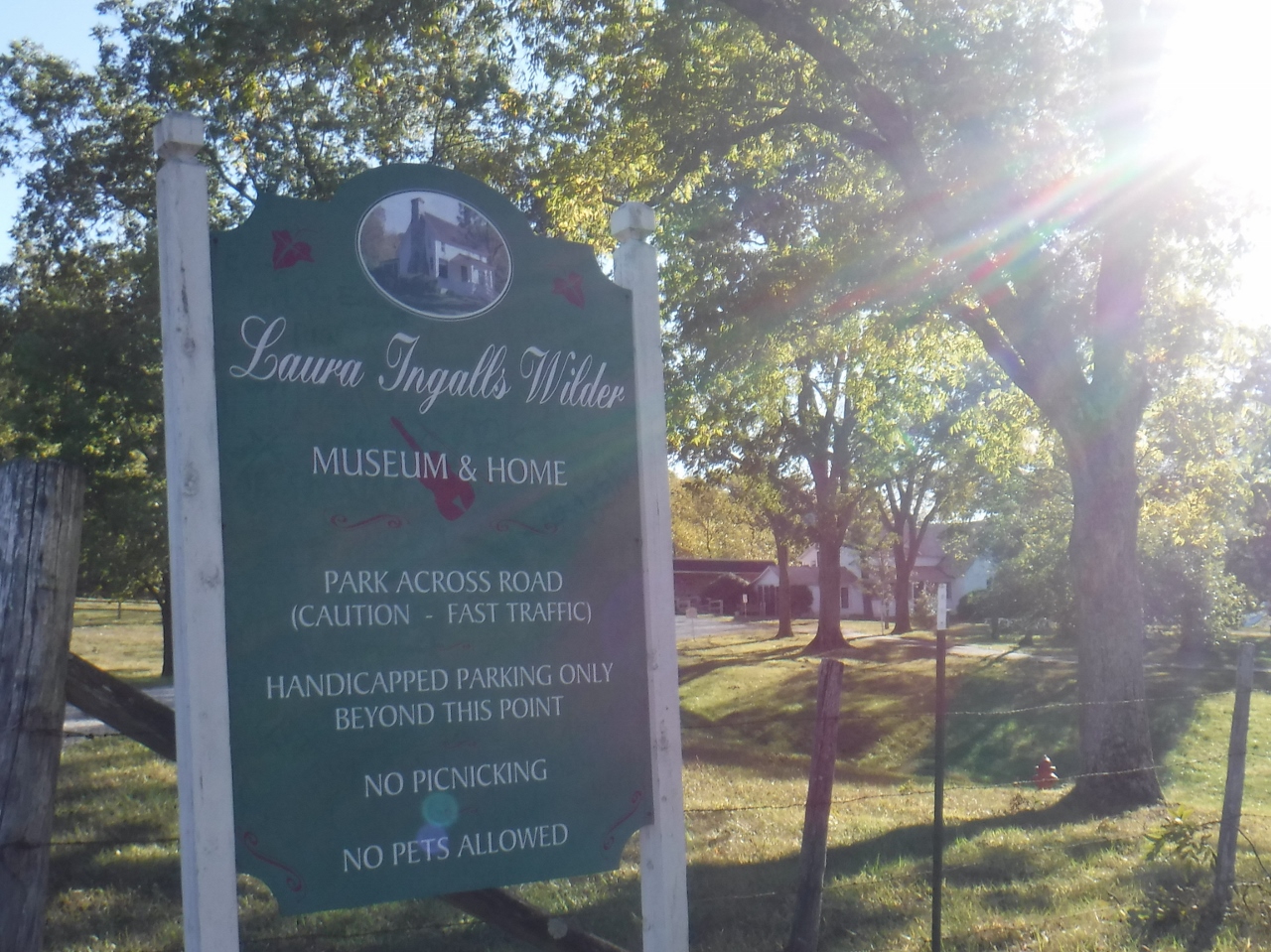 Me and Jay meander kind of Southwest -----meander (don't care where were going).
and ride on the beautiful Glad Top Trail of Southern Missouri.
It's not a trail-----but a one lane gravel road that runs on a high ridge for miles and miles.
We find a camground-----set up our tents and cook dinner.
I whip out my "Sven" saw and cut some firewood and we heat up an old can of Hormel chile I've been carrying in my tail pack
for a years or so---we just heat it in the can in the fire-------works great.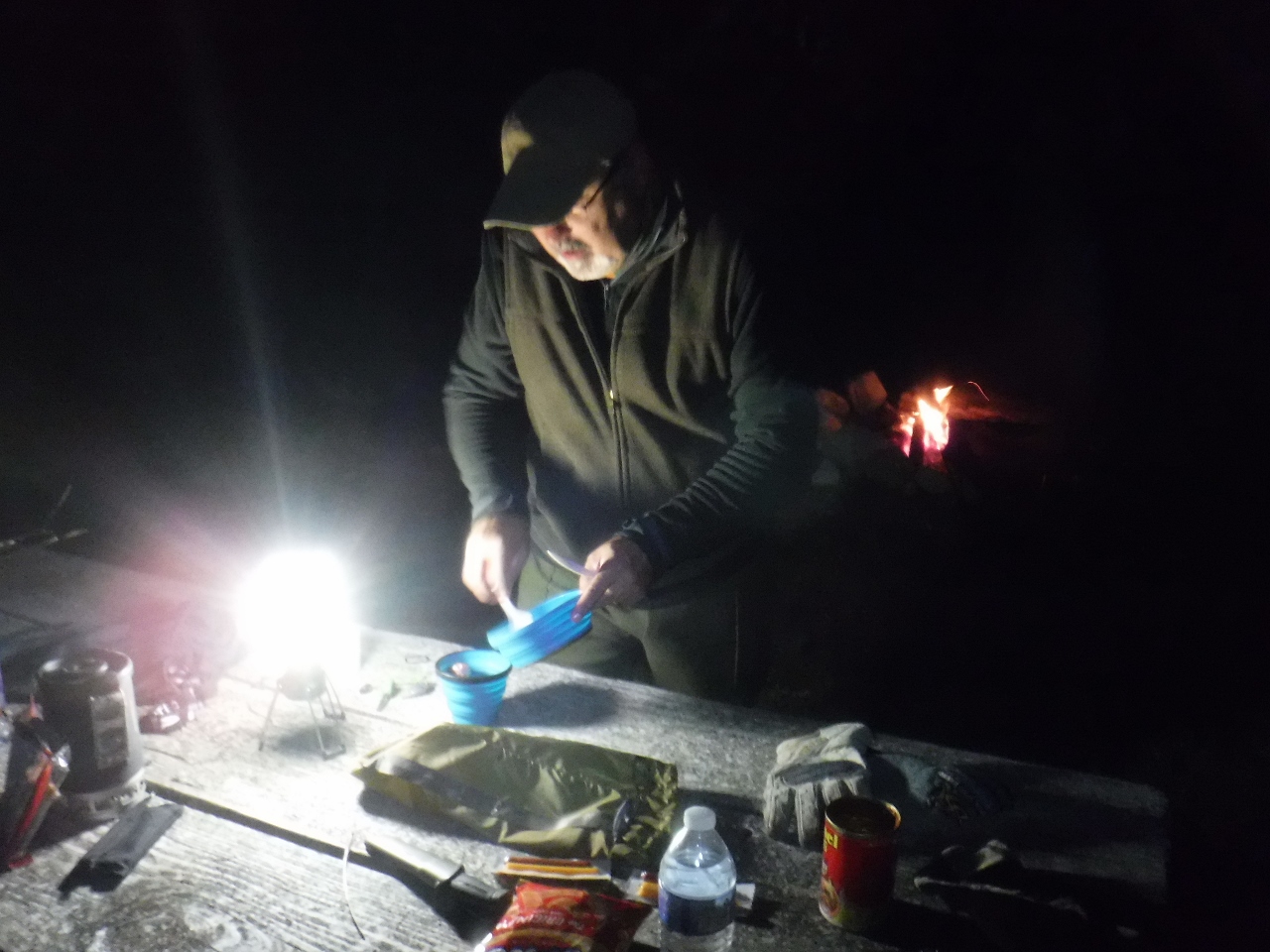 Jay's packin' weiners and we pour the chile in my cup and throw in the wiener.
I assure you it was not as disgusting as it looks. MMMmmmmmmGoooood.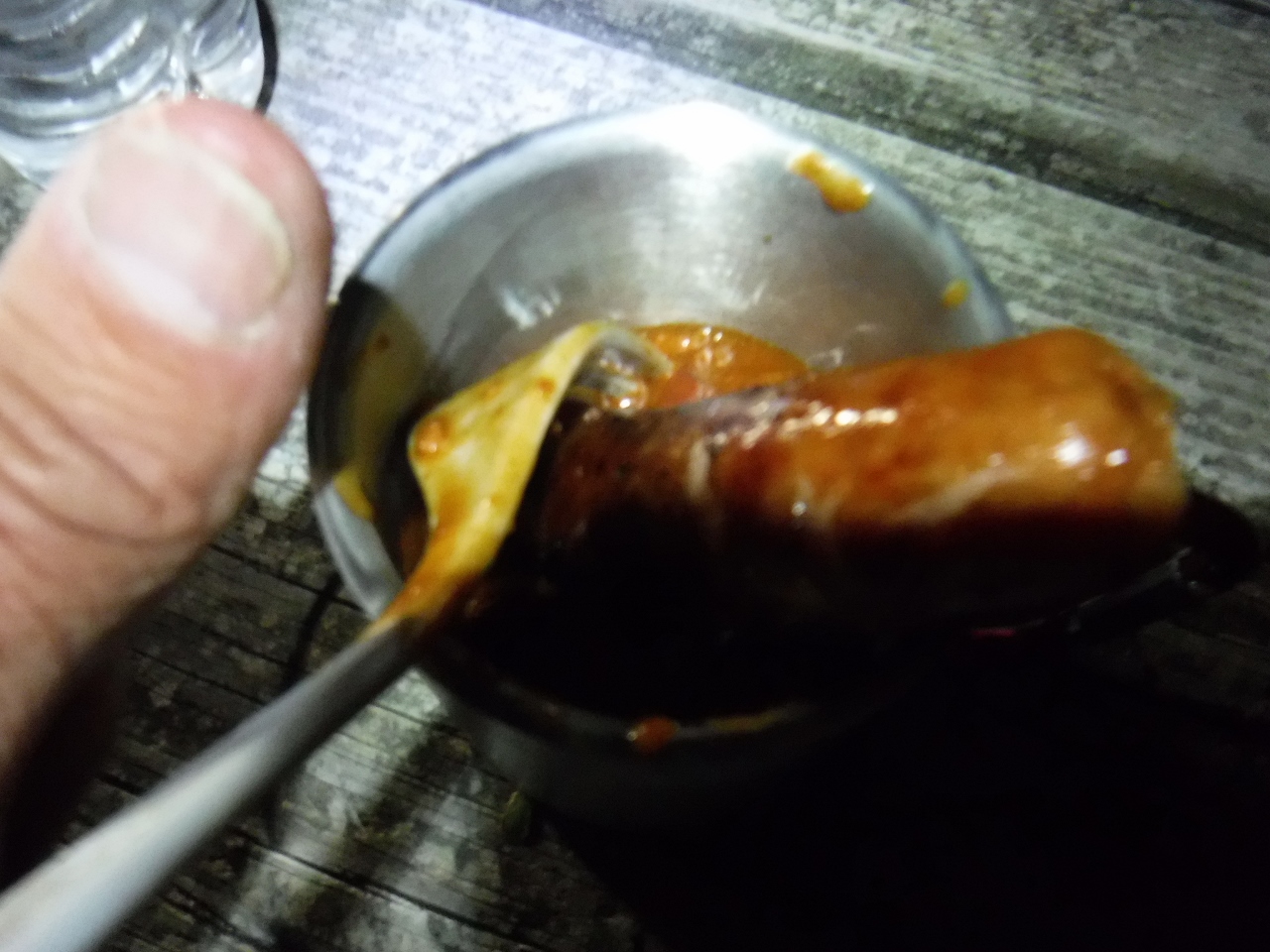 The campground is an old homestead we think---and we just guessed what the concrete structure was ???
It was very oddly built and had some odd things about it we never figured out.
I hadn't had this tent out since Alaska in 2011-------hope it don't leak.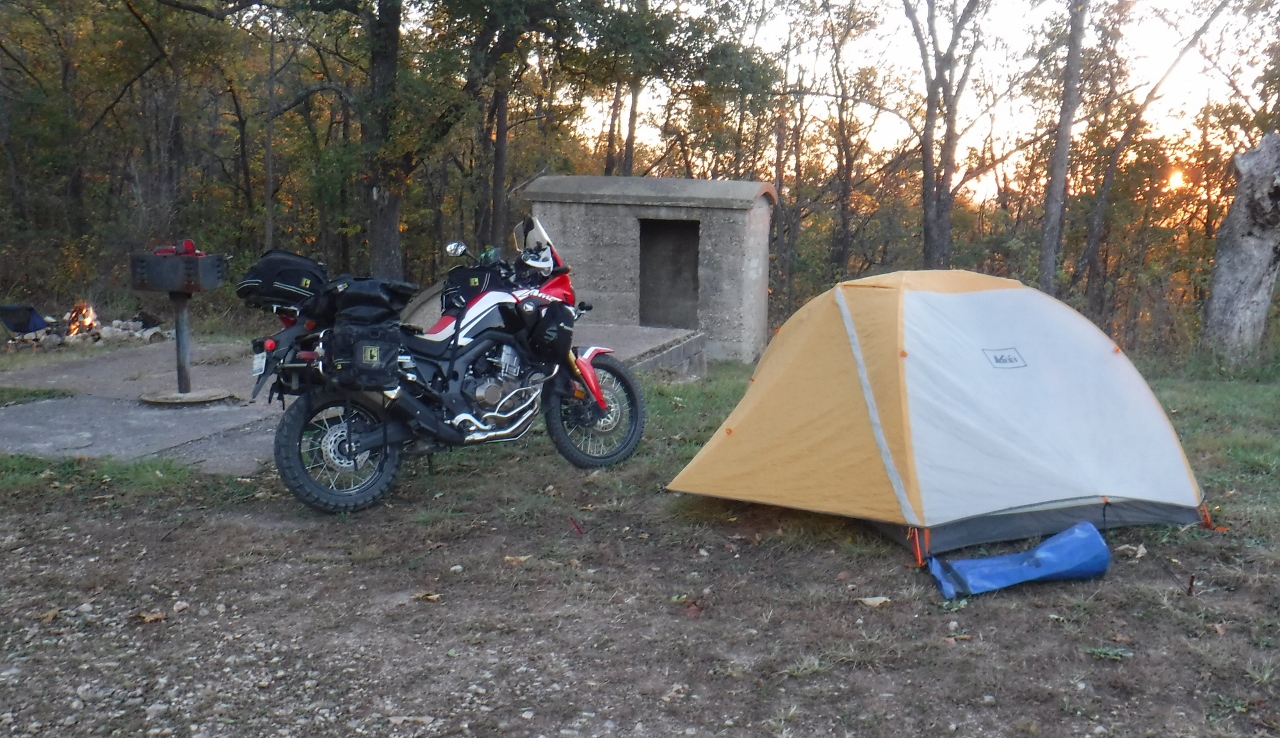 It was chilly and I got a fire going early-------not sure what we ate for breakfast ??? Oatmeal maybe ????
Look at that rounded roof of concrete---really weird.
I hadn't seen Jay so happy in a long time. He has a stressful job and I'll never forget what he told me when we left for this ride
as he was so glad to be out riding and camping.
"Mark---you'll really have to do something really, really bad to piss me off on this ride"
I may get arrested for telling this----but we burnt a Forest service made table for firewood.
It was totally rotten---been layin' on the ground for years in pieces---so I figured we just put it out of it's misery.
We burnt "ALL" the evidence. So what happened here stayed here !!!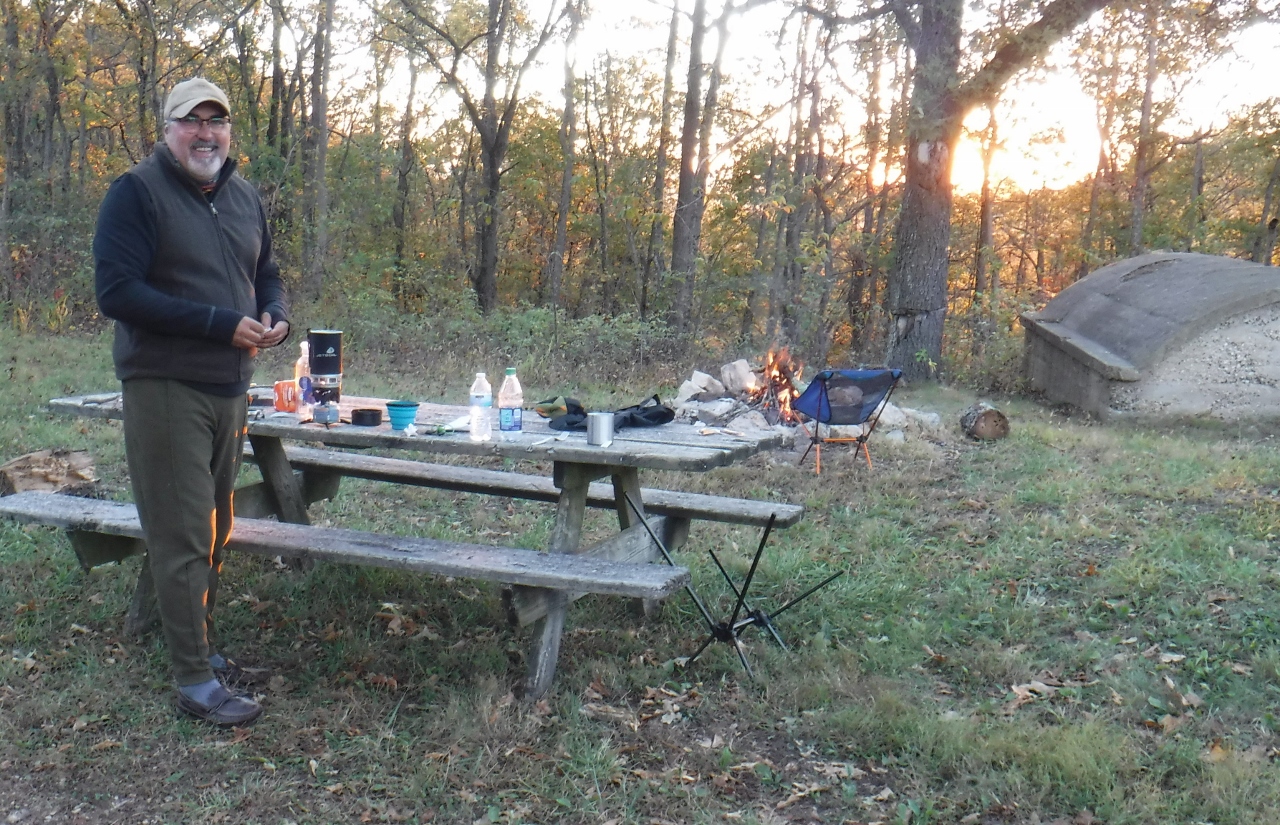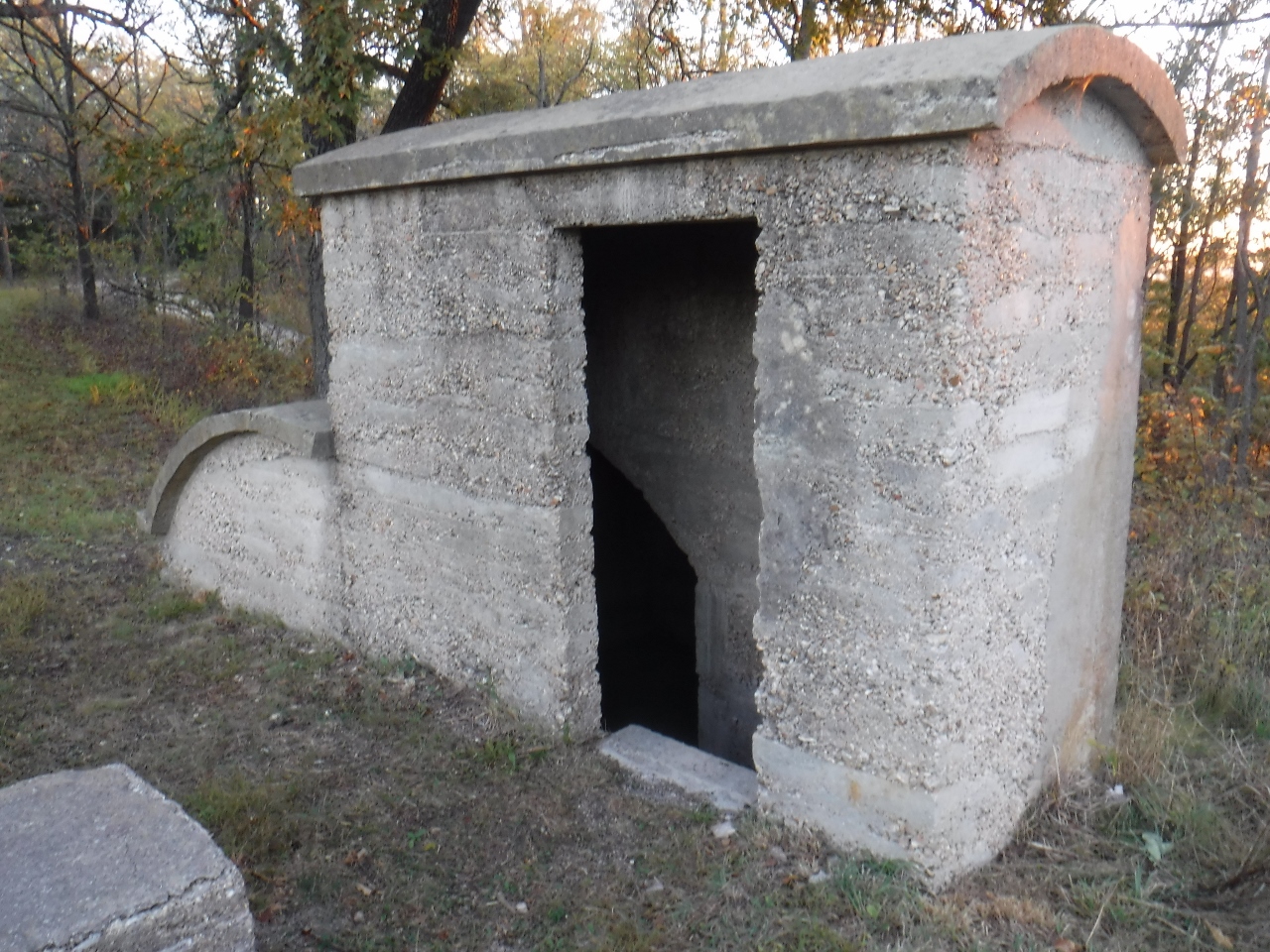 This was the name of the campground---it was named after the people that homesteaded the property we were told.
Some horse people pulled in as we were leaving and had horses---so they road on the trails.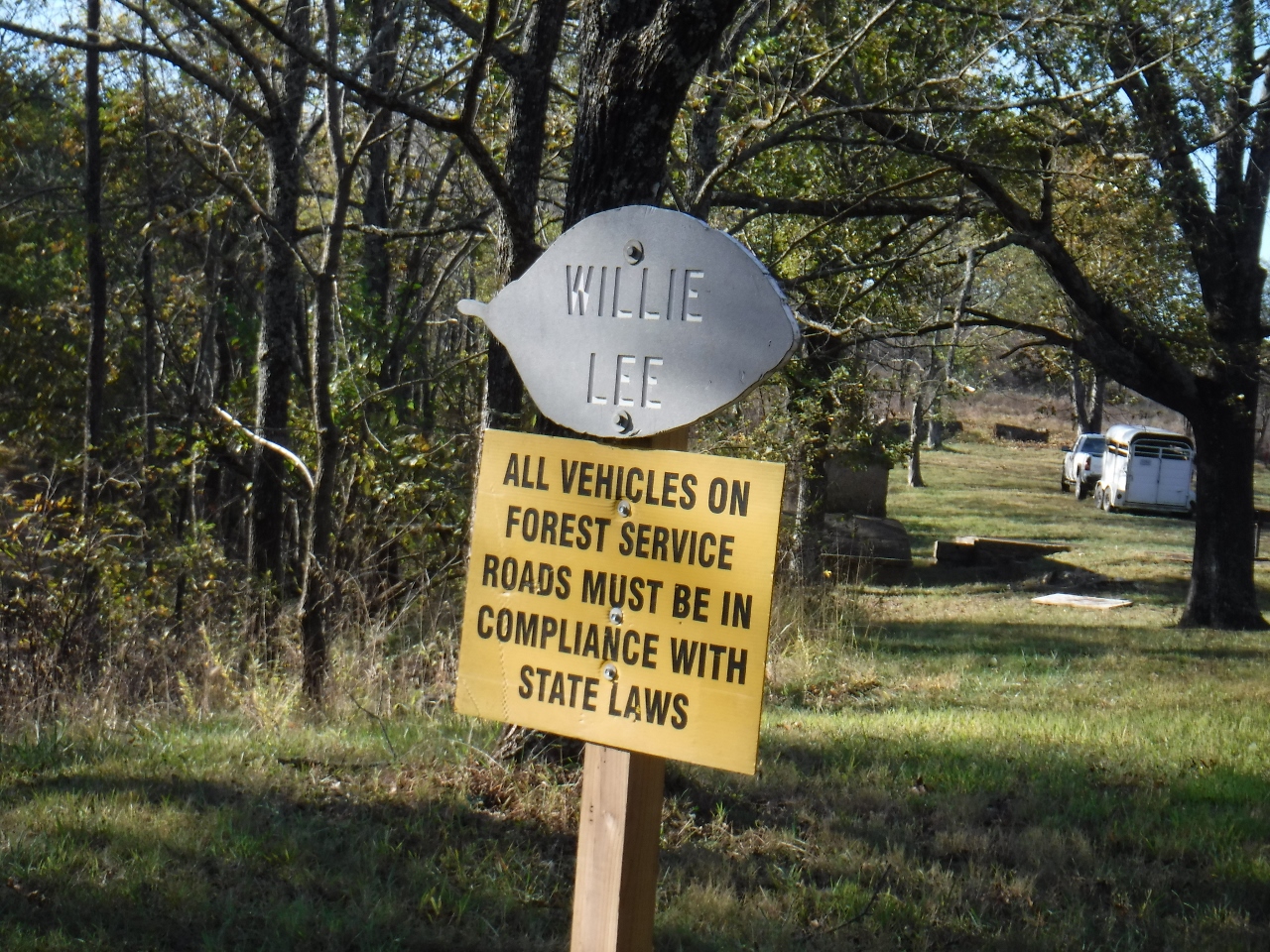 Should have took more pictures of the mountainous views.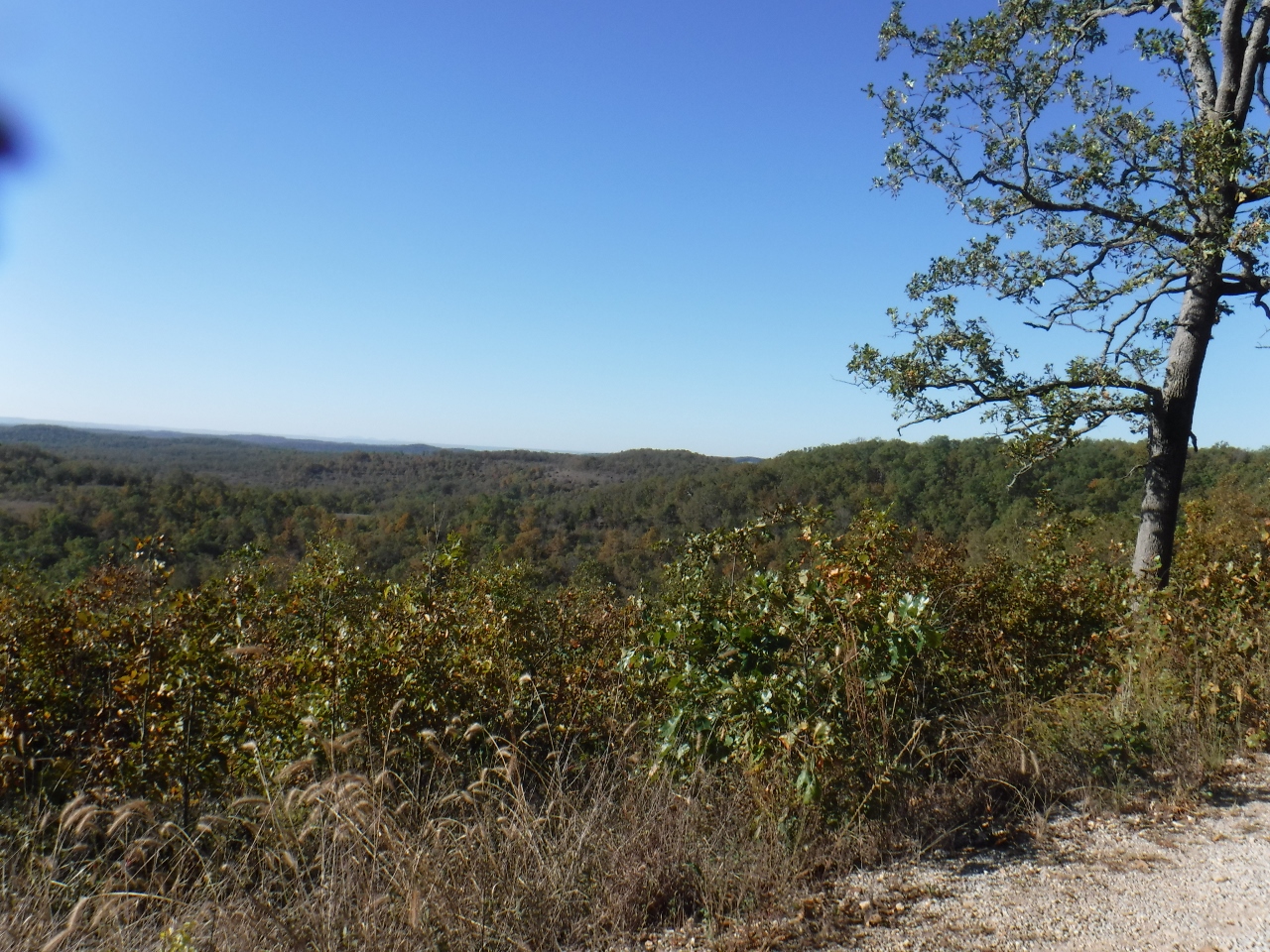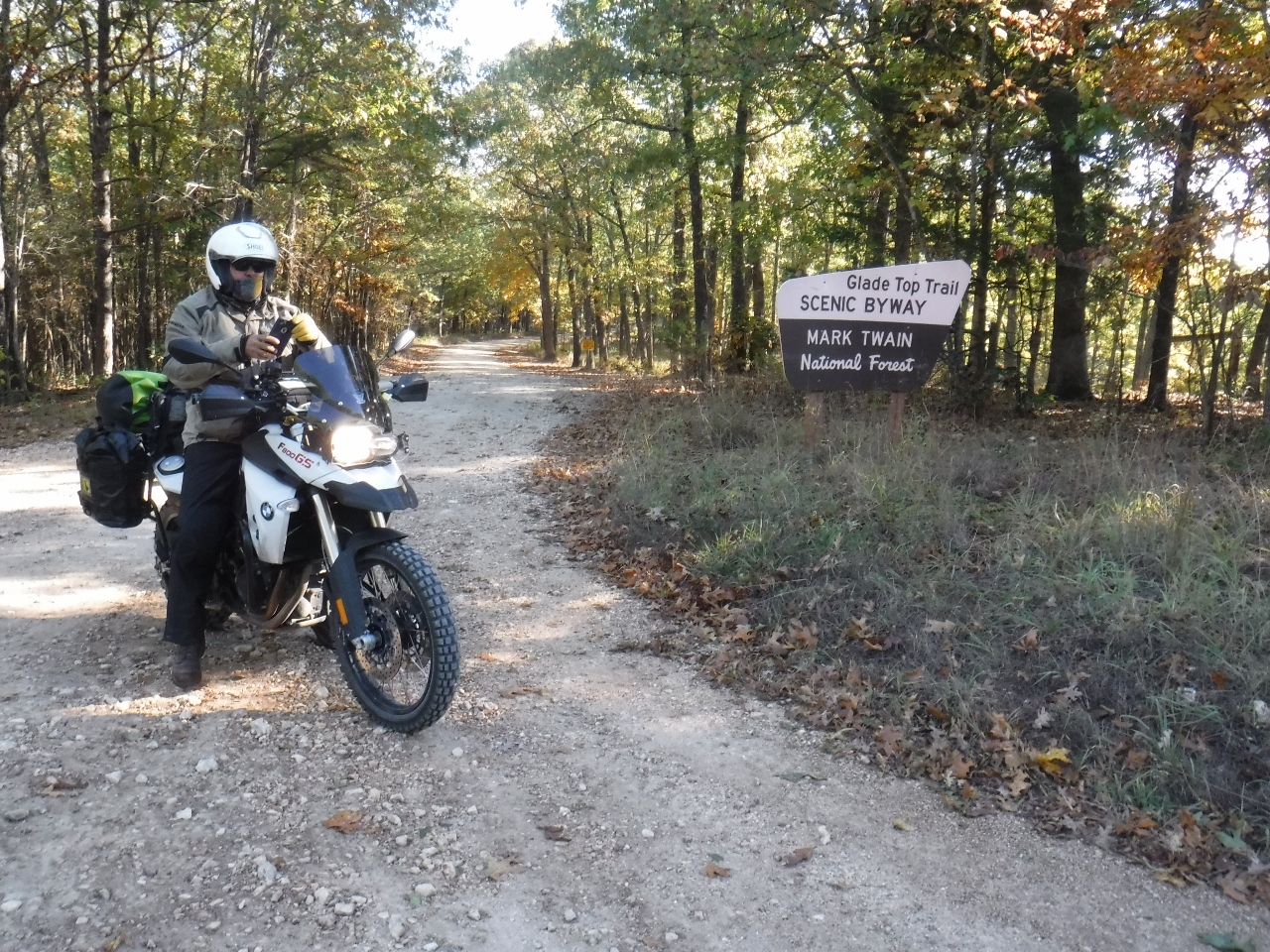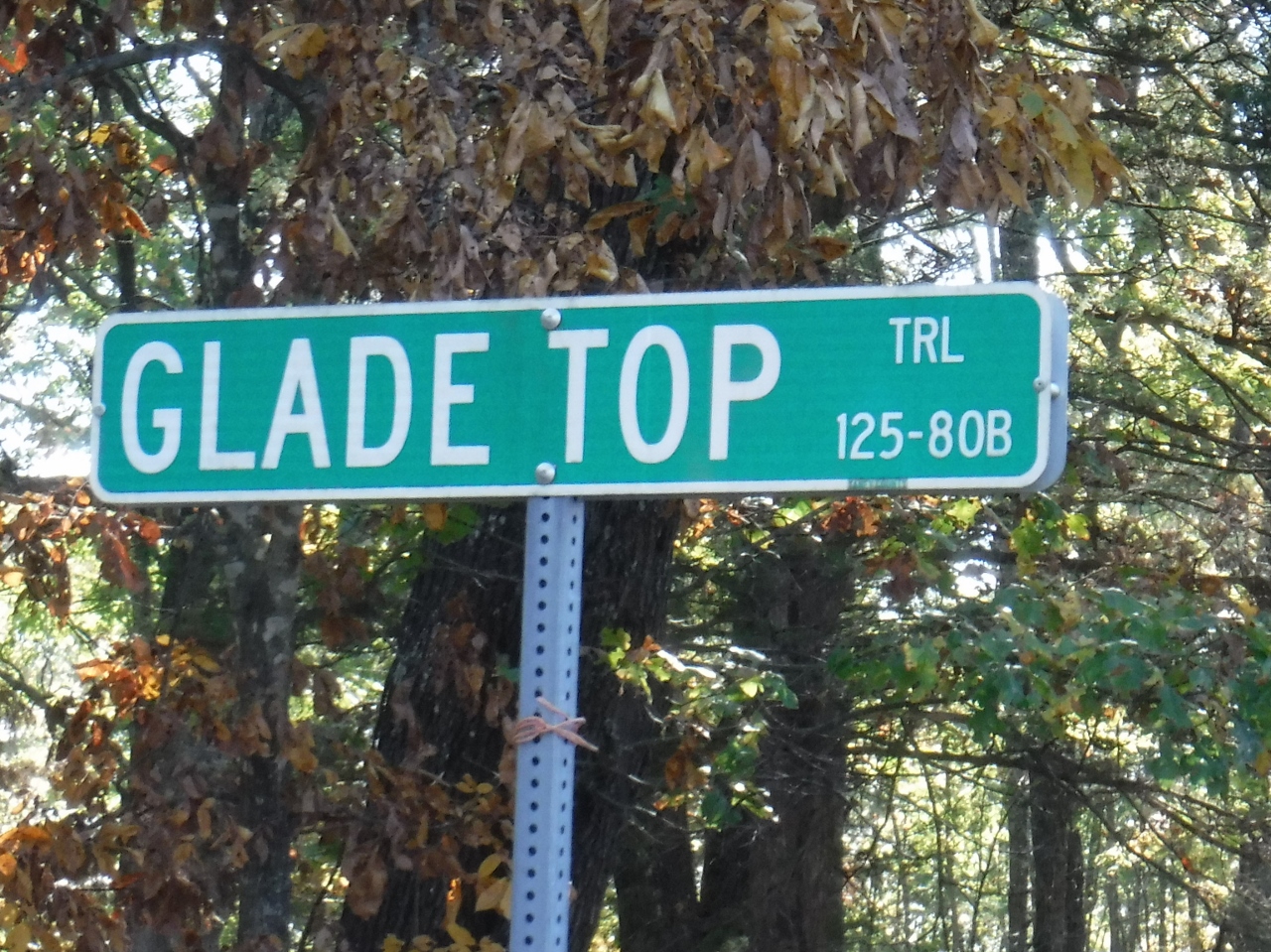 We shortly crossed into Arkansas and I took Jay to an overlook I knew of.
It's called "Lover's Leap"
A few years ago a newly wed couple came up here and she fell off and died.
It's a few hundred feet down.
Much later they convicted her husband of murder as he pleaded he was innocent-------he spent some jail time but got released and soon
came back to this very place and jumped off. True story------it was all over the news--I may not have all the details
correct--but it went something like that.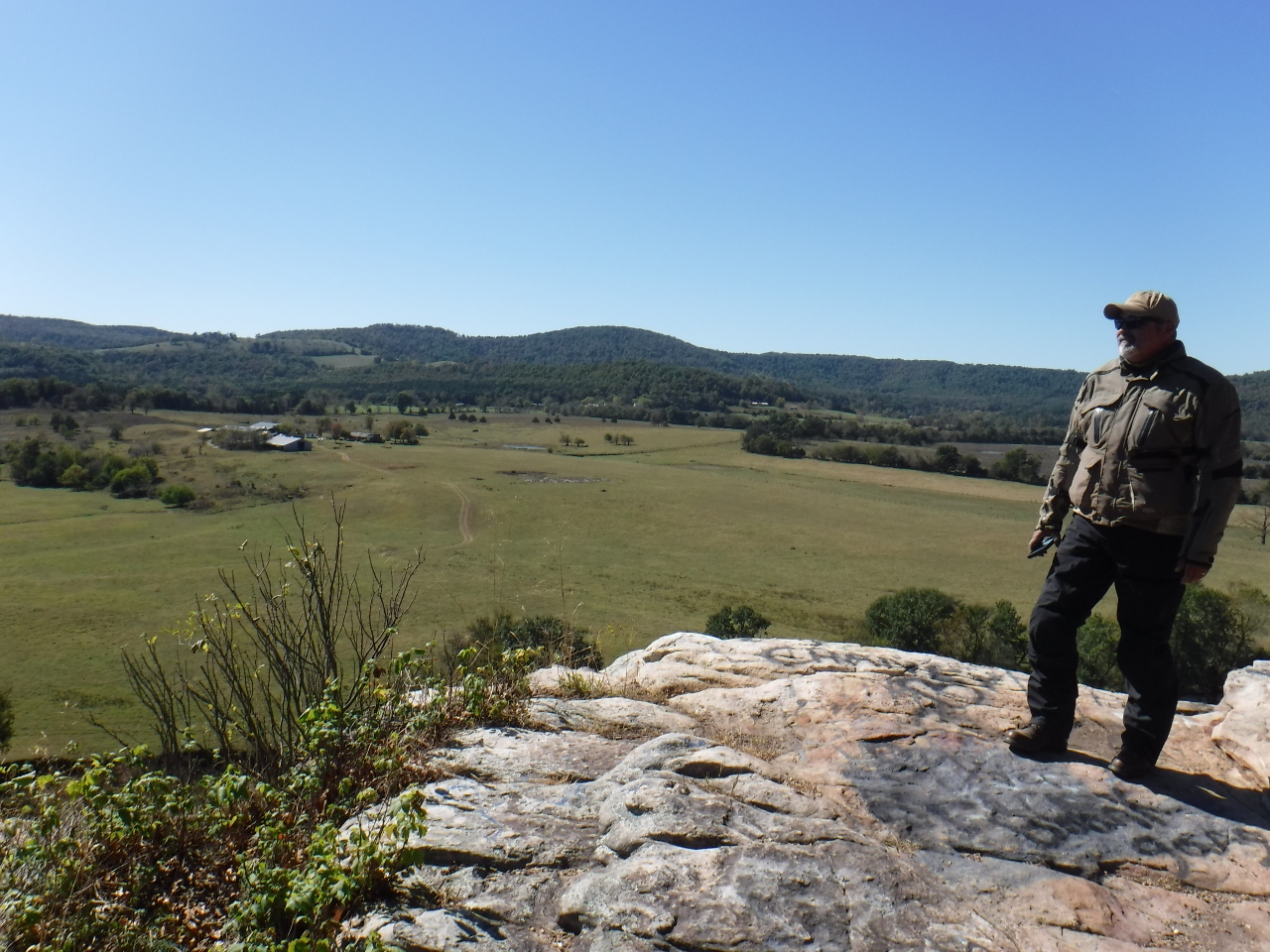 We had the best time riding today and I saw this really squiggly line heading to................(read the sign).
You've got to be kidding me----------full on a Monday afternoon----------can't be.
We were completely dumbfounded.
I would expect this at a National park---------but not here.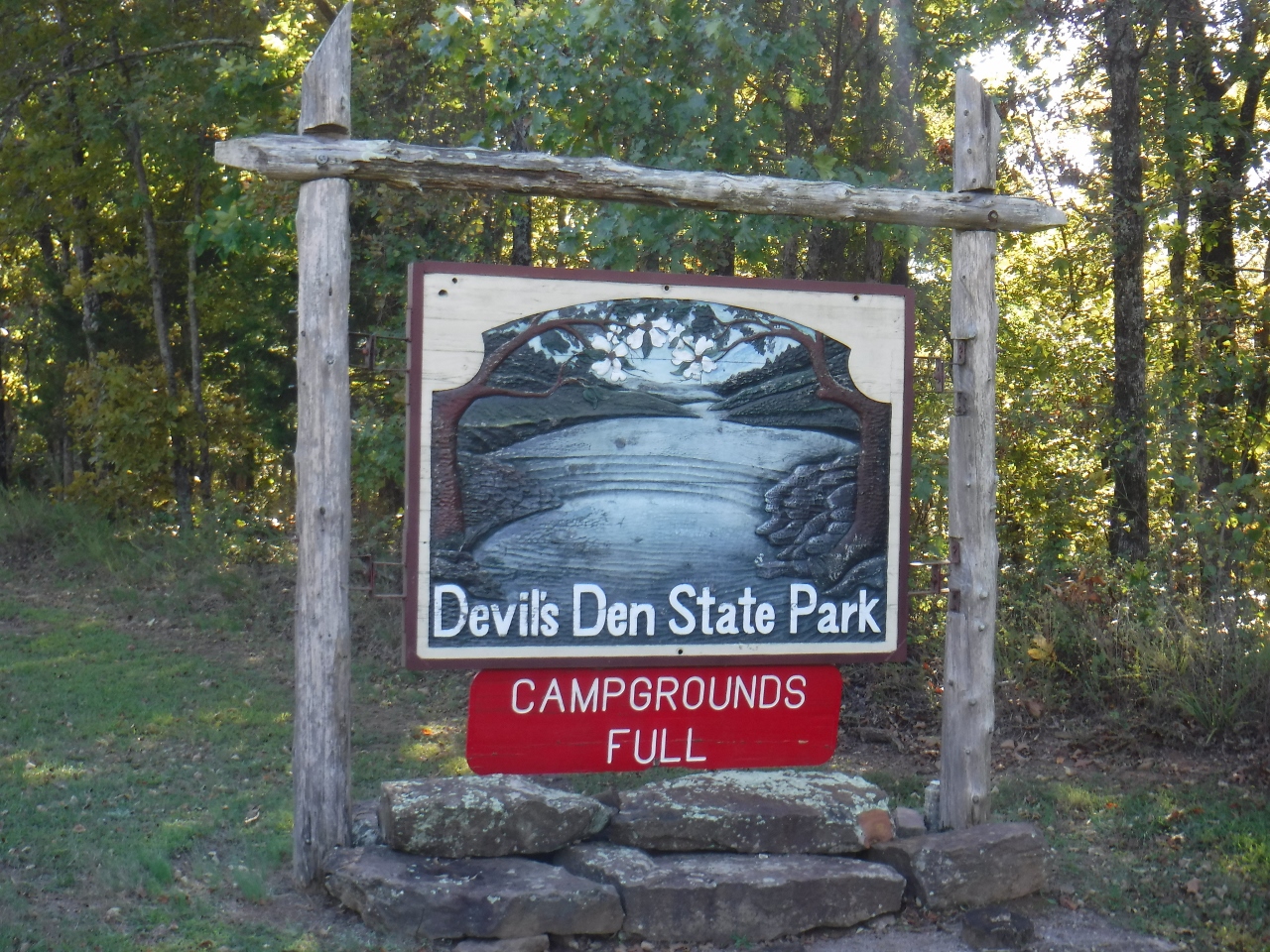 I just couldn't believe it and figured they forgot to take the sign down--------but no-----they were full.
But.........there was a cancellation and we got a nice campspot and out comes the "Sven" saw.
You can't camp without a fire---------I don't care how hot it is--------it's illegal in most states--isn't it ????
Jay had drug some wood out of the creek--somebody else donated to the cause and we had a fire.
This was a beautiful place and the curvy switch backs down the mountain to get here were awesome.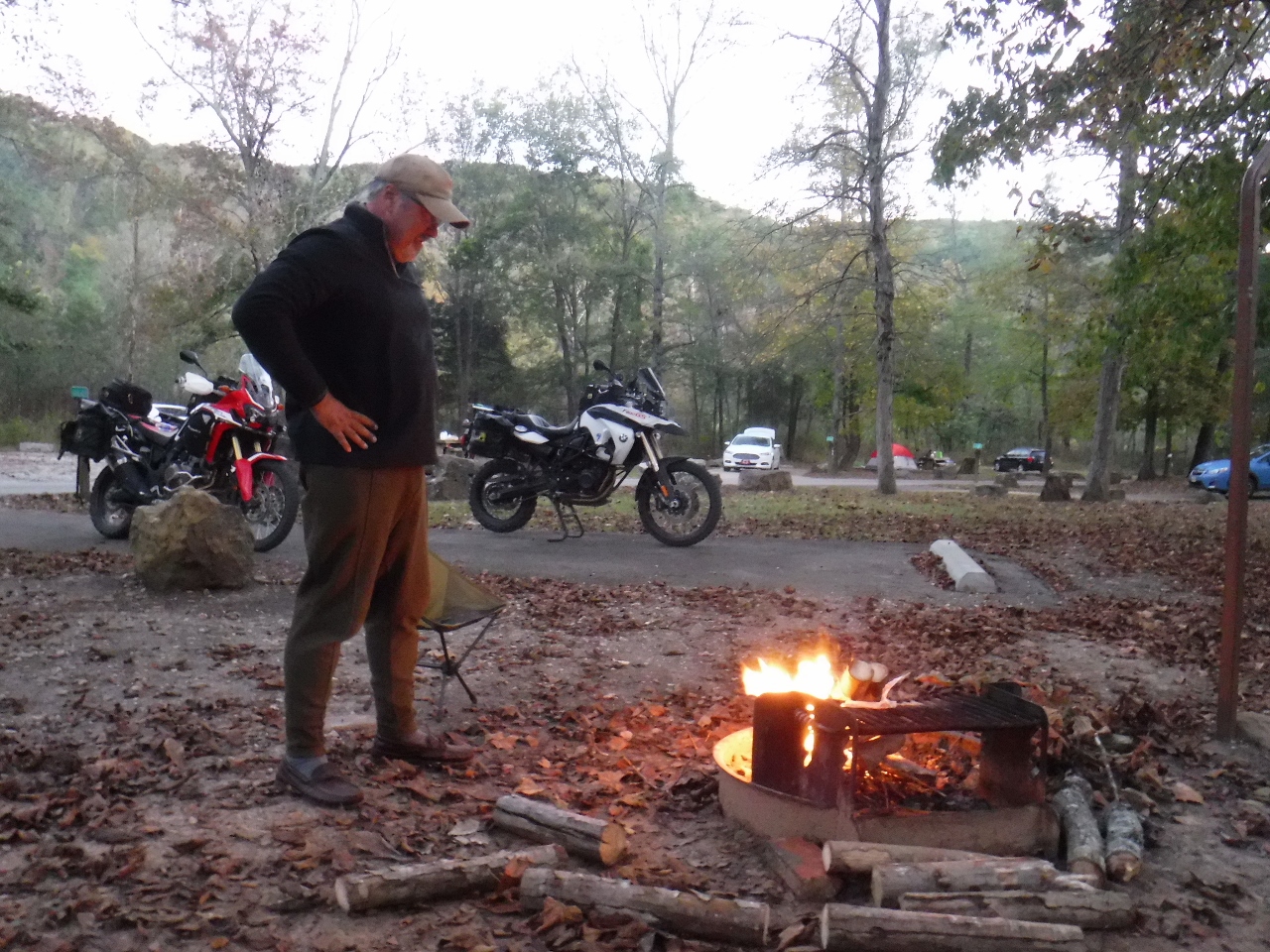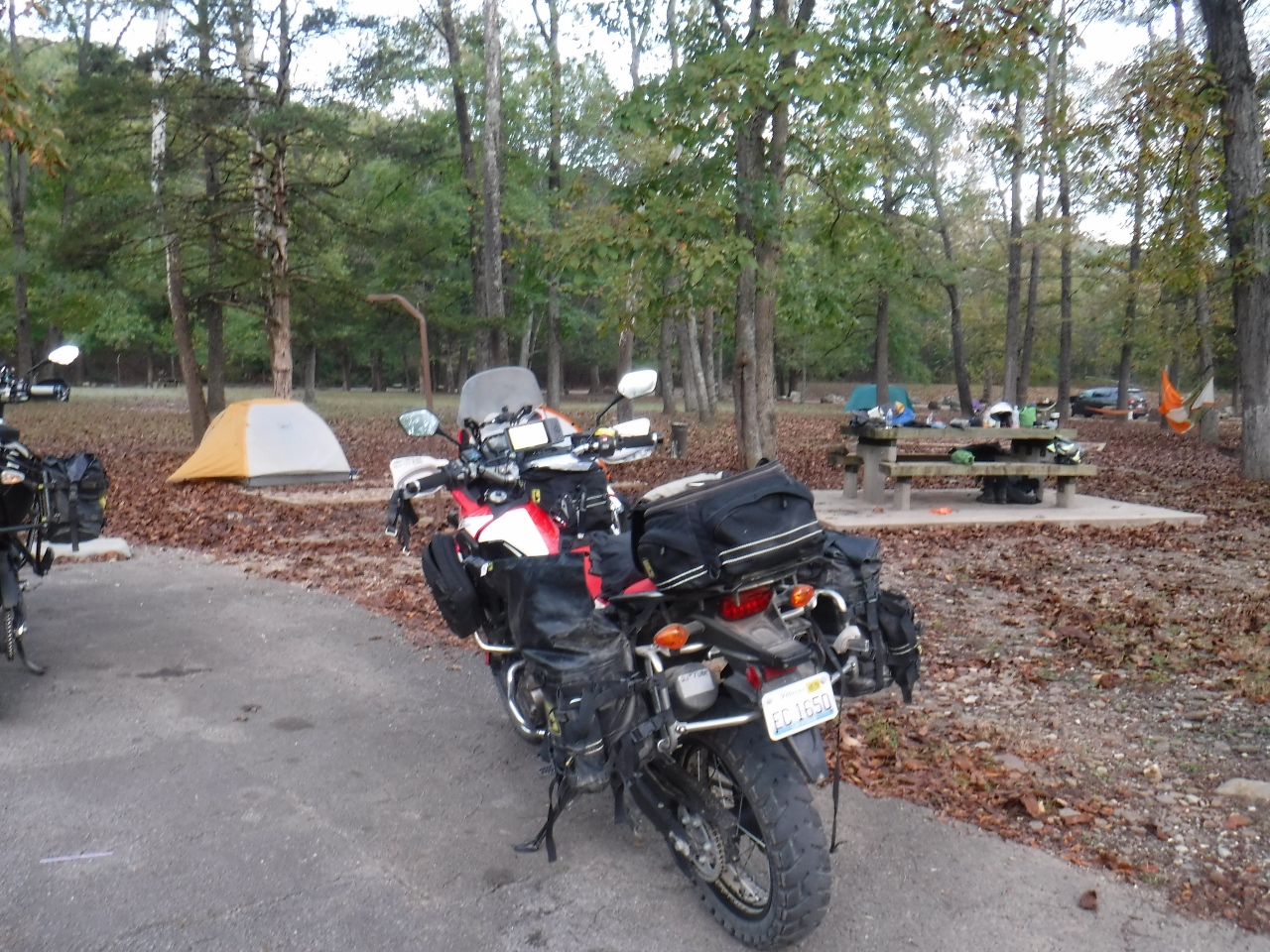 I had a waypoint in my gps "Natural Dam"-------what is that ?????
This was actually a location I didn't get to because of floods in the spring when I was riding the
Ozark Adventure Trail by my buddy "Cannonshot" who laid it out. So now--------we are here--------magnificent.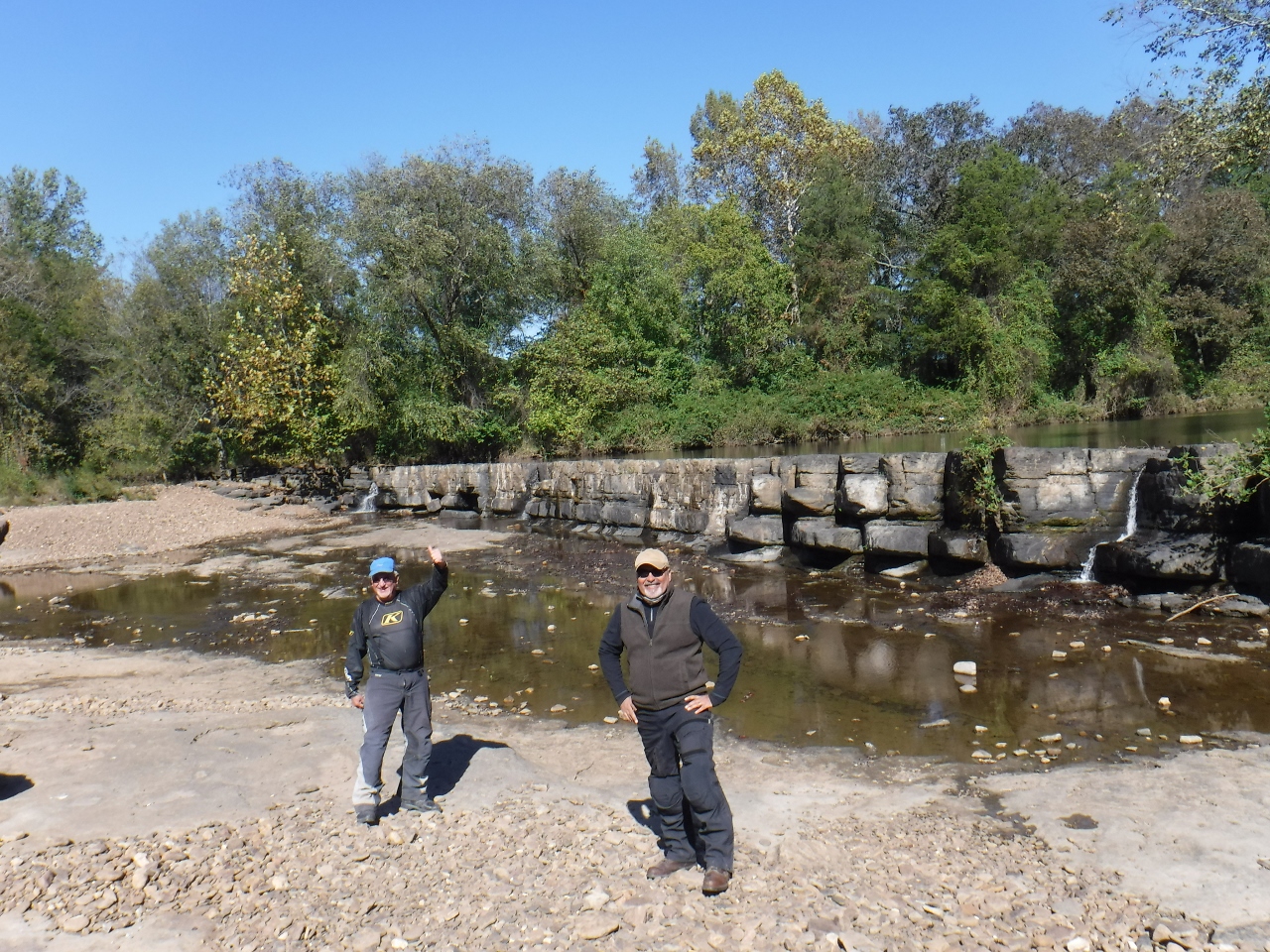 There is nothing man made about this dam----------really unique and we spent some time here marveling at it.
Weather still perfect as you can see.
This is down a dead end road off of hwy 59 in Arkansas and is only about 2 miles East of the Oklahoma border.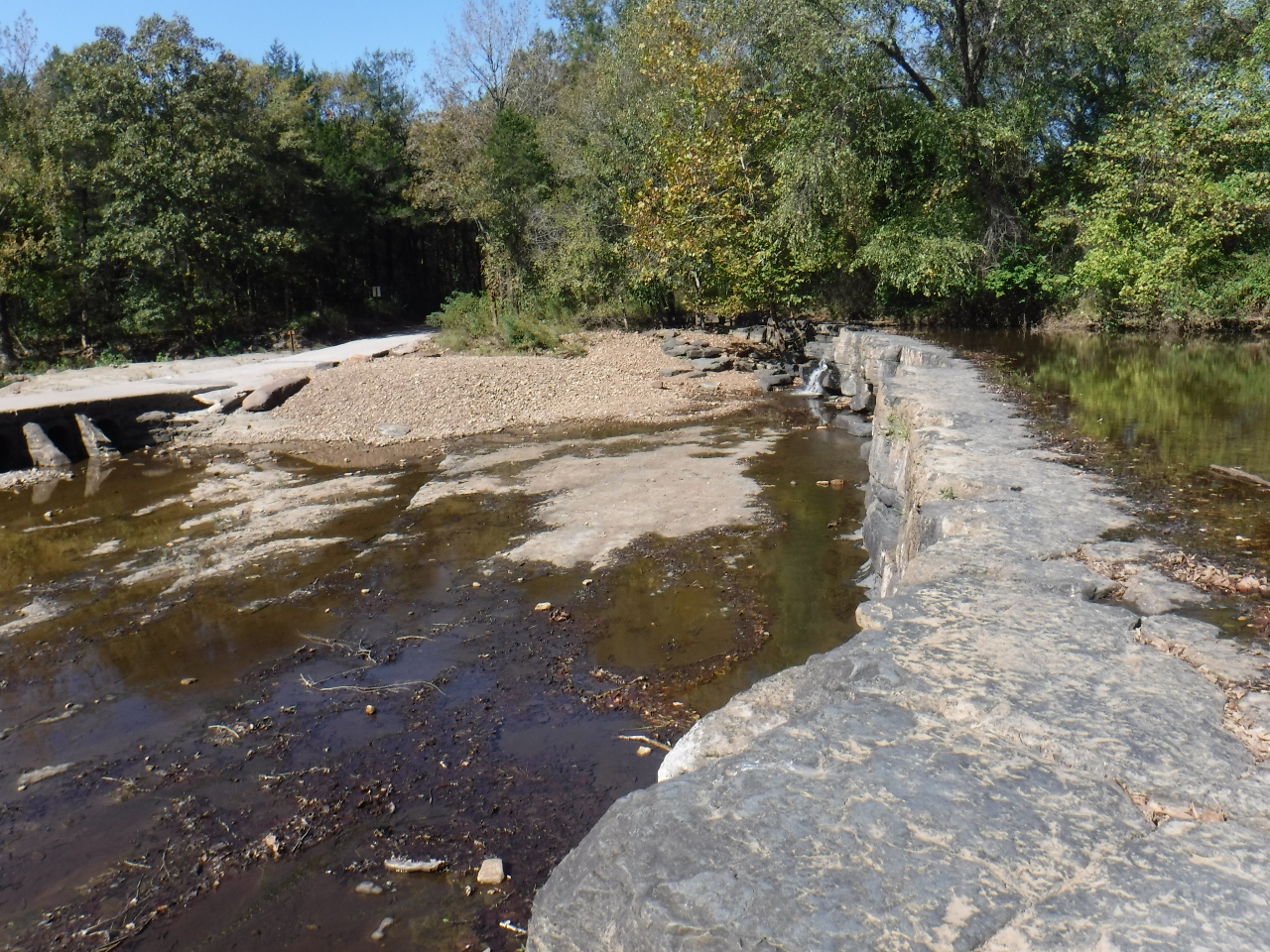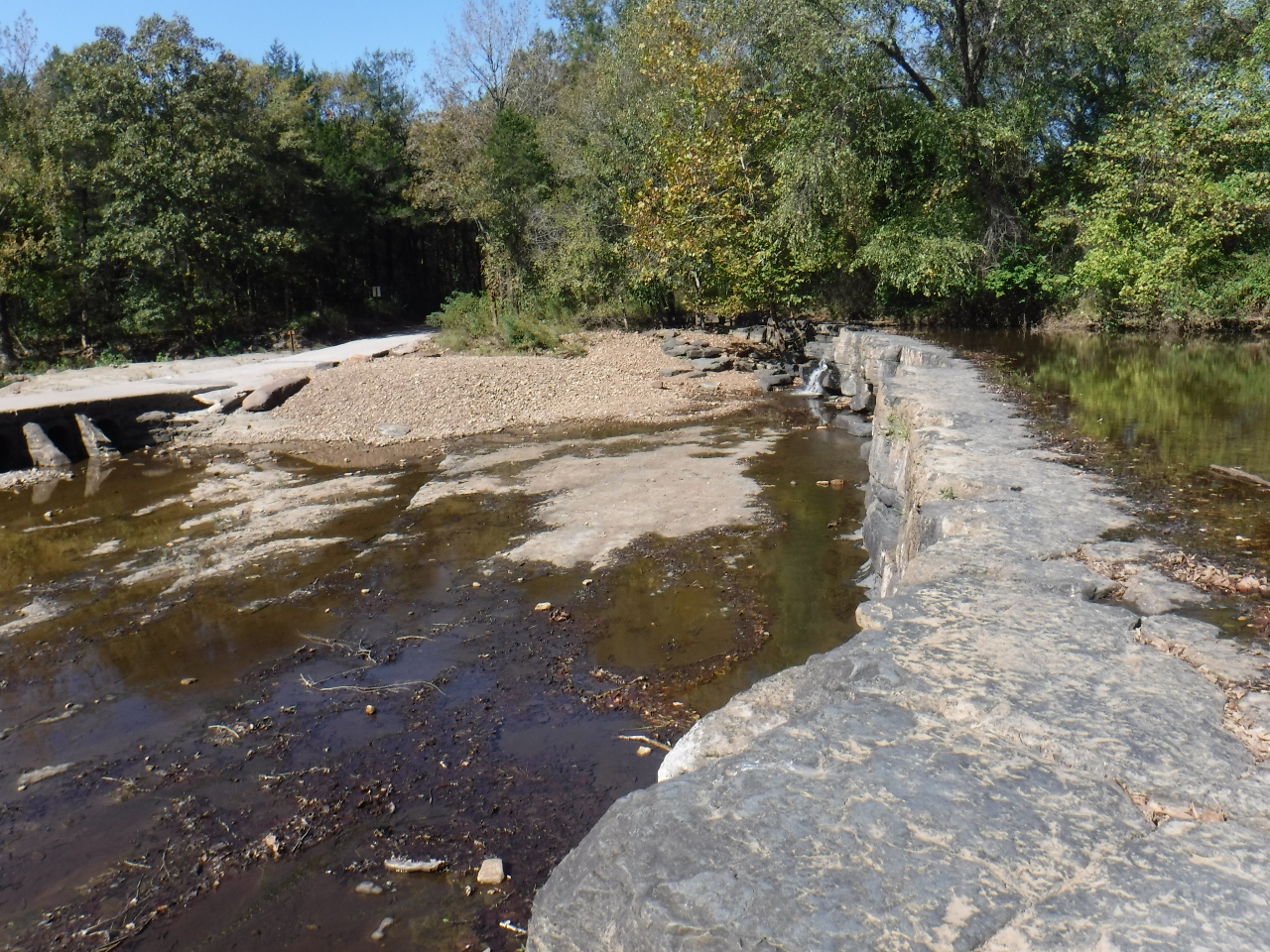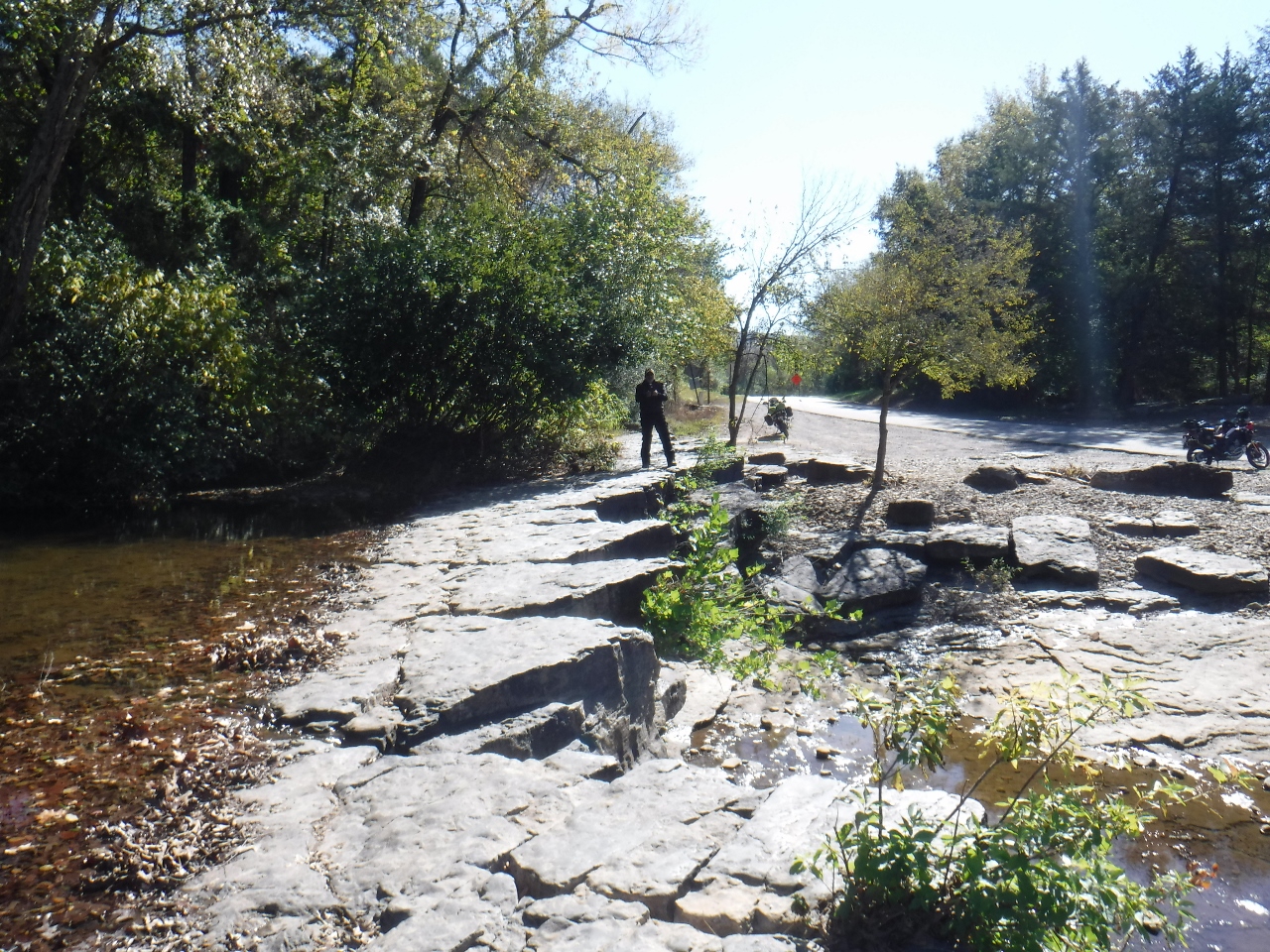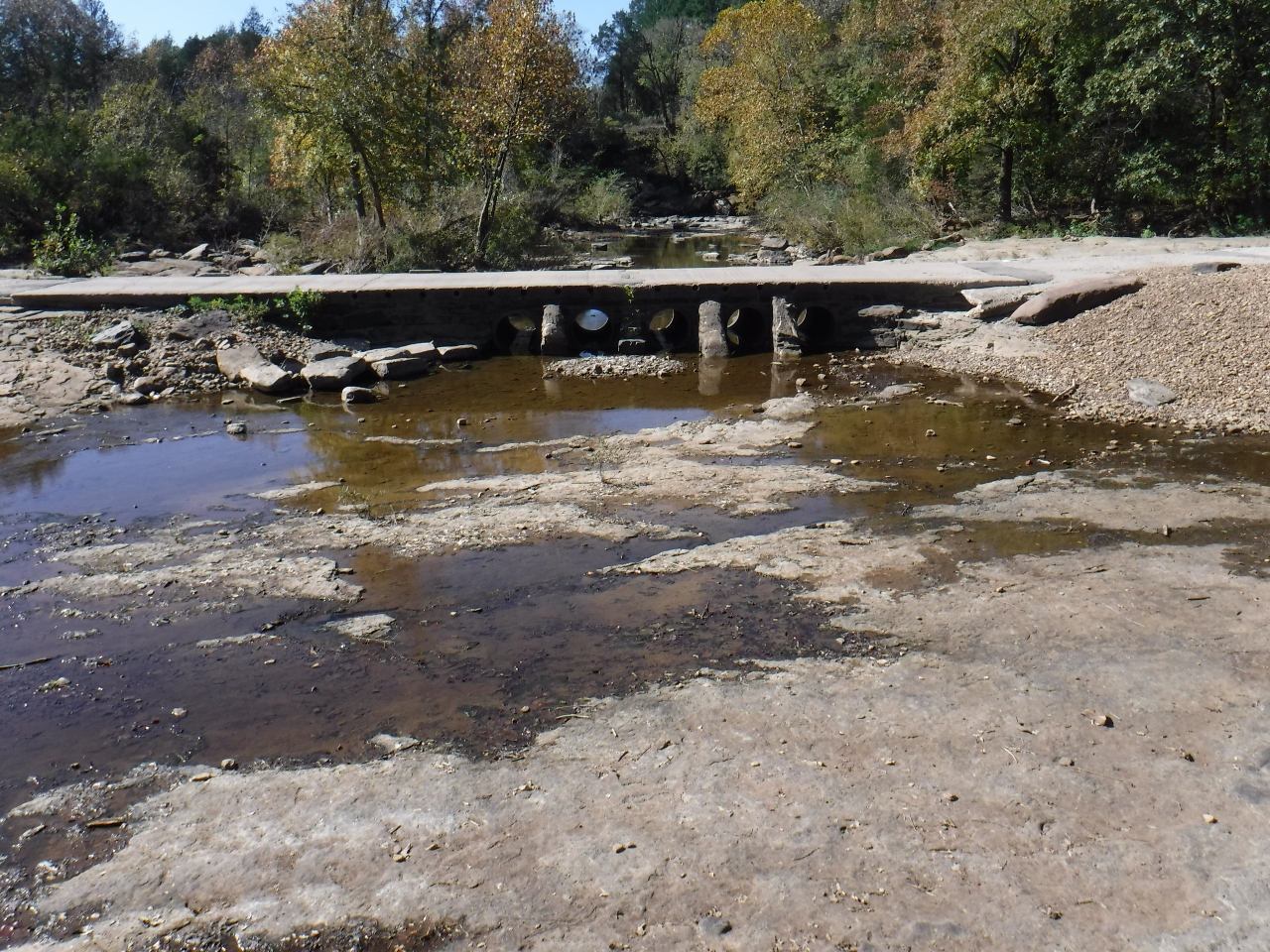 3 miles south of Winslow Arkansas on hwy 71 we find this vista (veesta in Spanish) :)
You can't make this buy mad--------------he's on vacation by god.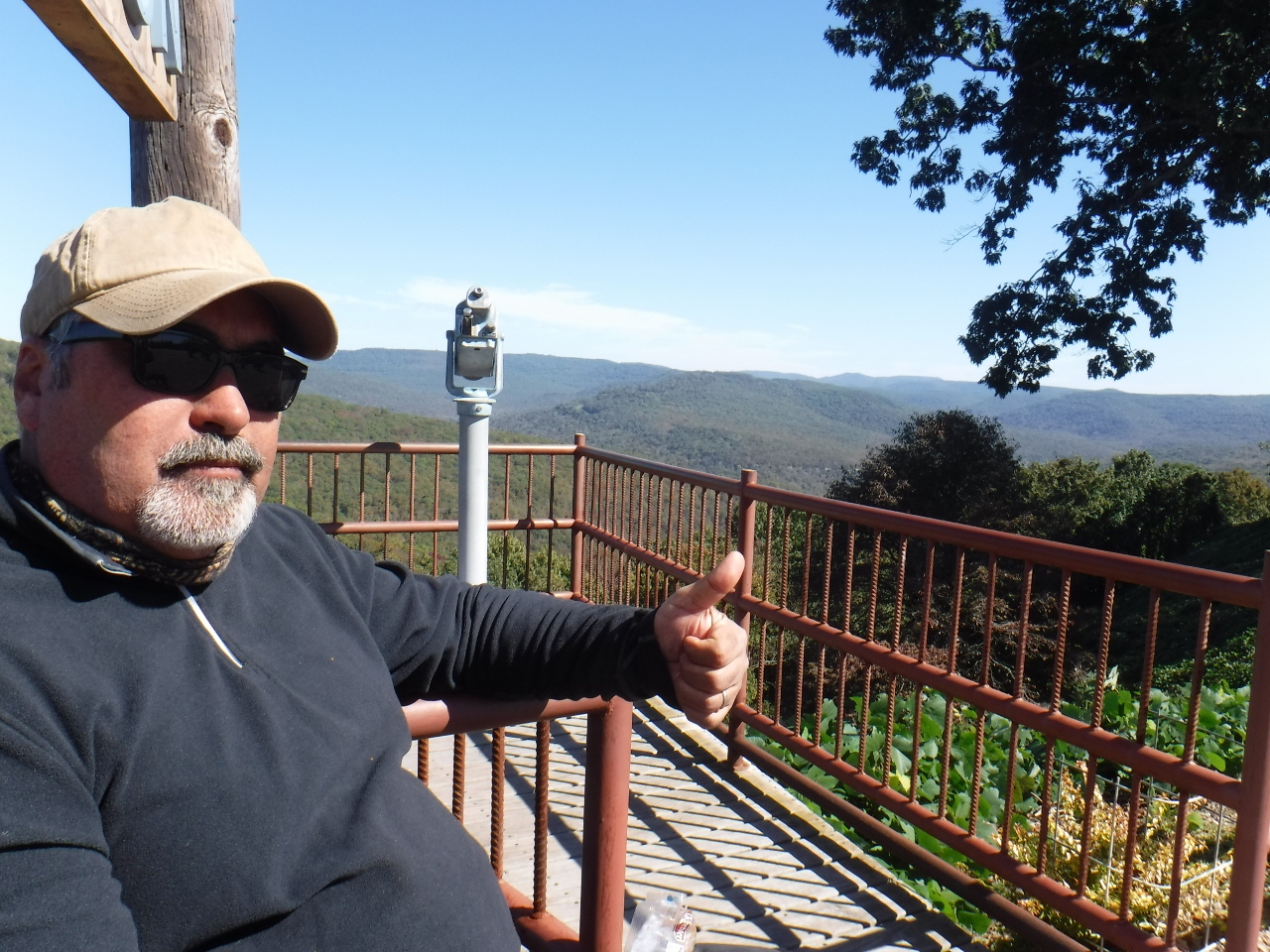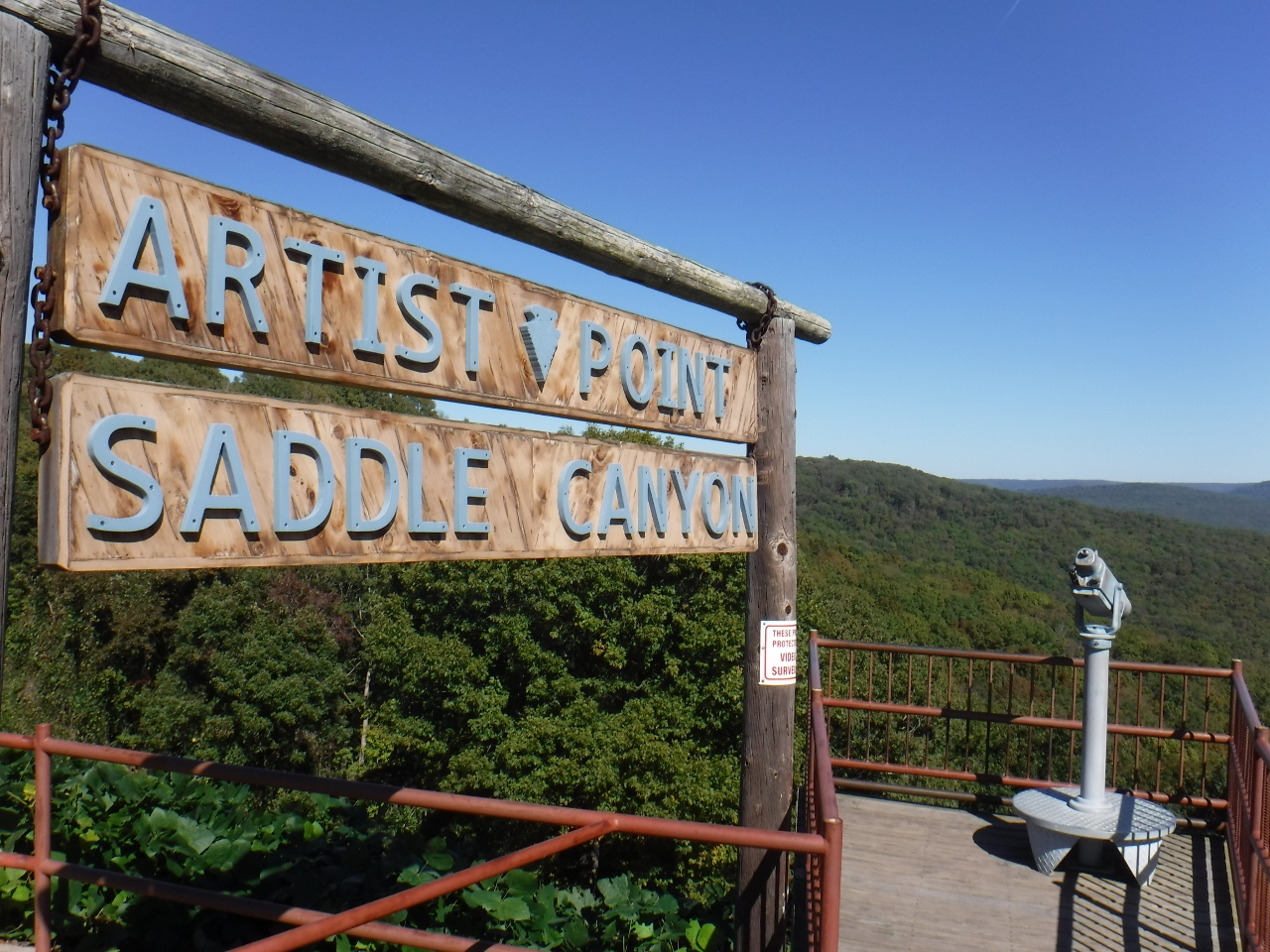 I had been all over a lot of this area in the spring before the 100 year flood which put a lot of Southern Missouri
and parts of Arkansas under water. Too me it looked like this bridge had been probably washed away and they
had built a new one.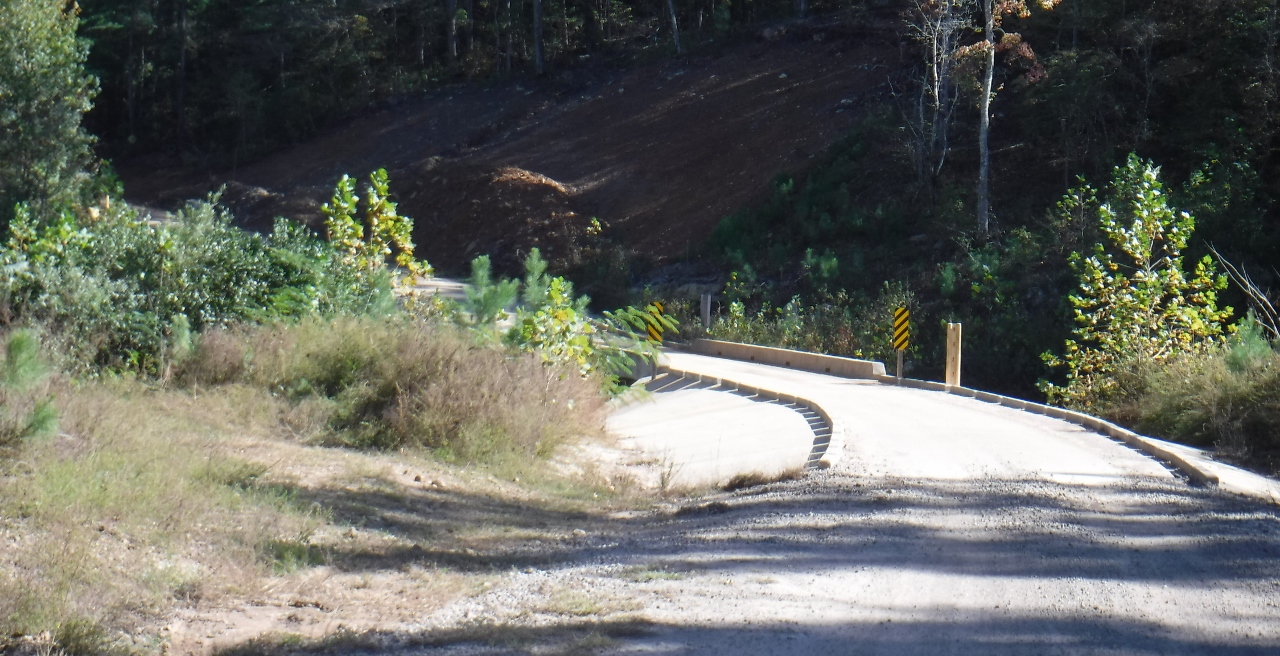 A short video so far
Oark, Arkansas
Jay didn't remember being here at first-----then remembered I led him and a few other guys on the TAT
years ago and we stopped there then. Since I've been here many times-----a famous eatery in the middle of nowhere
on the Transamerica Trail. I didn't eat much-------and left room for pie.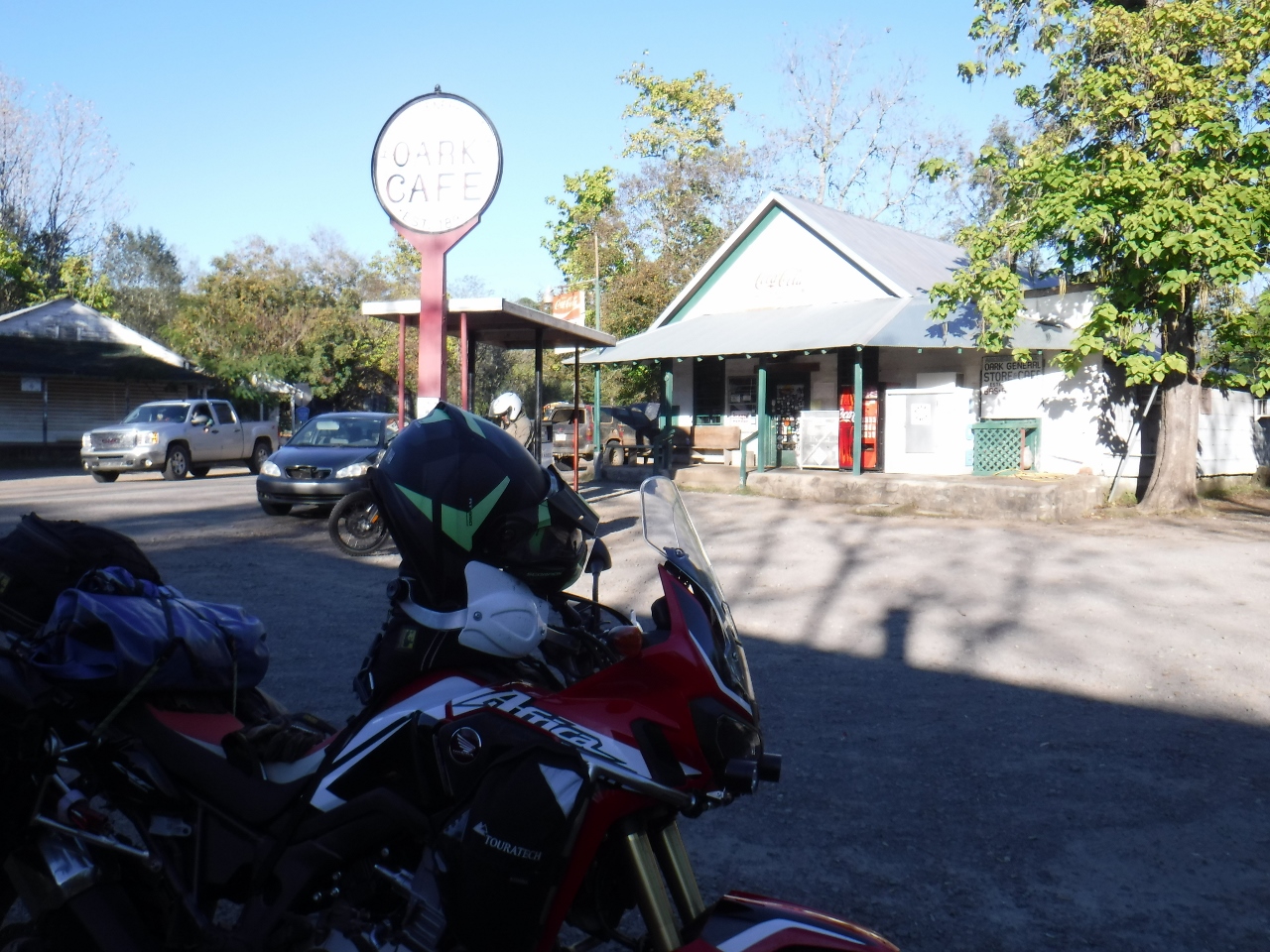 We ended up that nite a little south of Cass, Arkansas at Turners Bend. I think that is named after a bend in the river there.
This is home to canoing and kayaking the Mulberry river.
Great campground we had to ourselves-------------and had a fire and a much needed shower.
We stayed up late---way passed my bedtime (8PM) talking of old times.
Me and Jay go way, way, way back.
Met him when I stopped to help a broken down biker on the side of the road back in the 80's I suppose ???
Been friends ever since. Jays never been an offroad rider---much like me----but sure enjoys riding the backroads.
We had an abundance of firewood and I kept it going all nite long.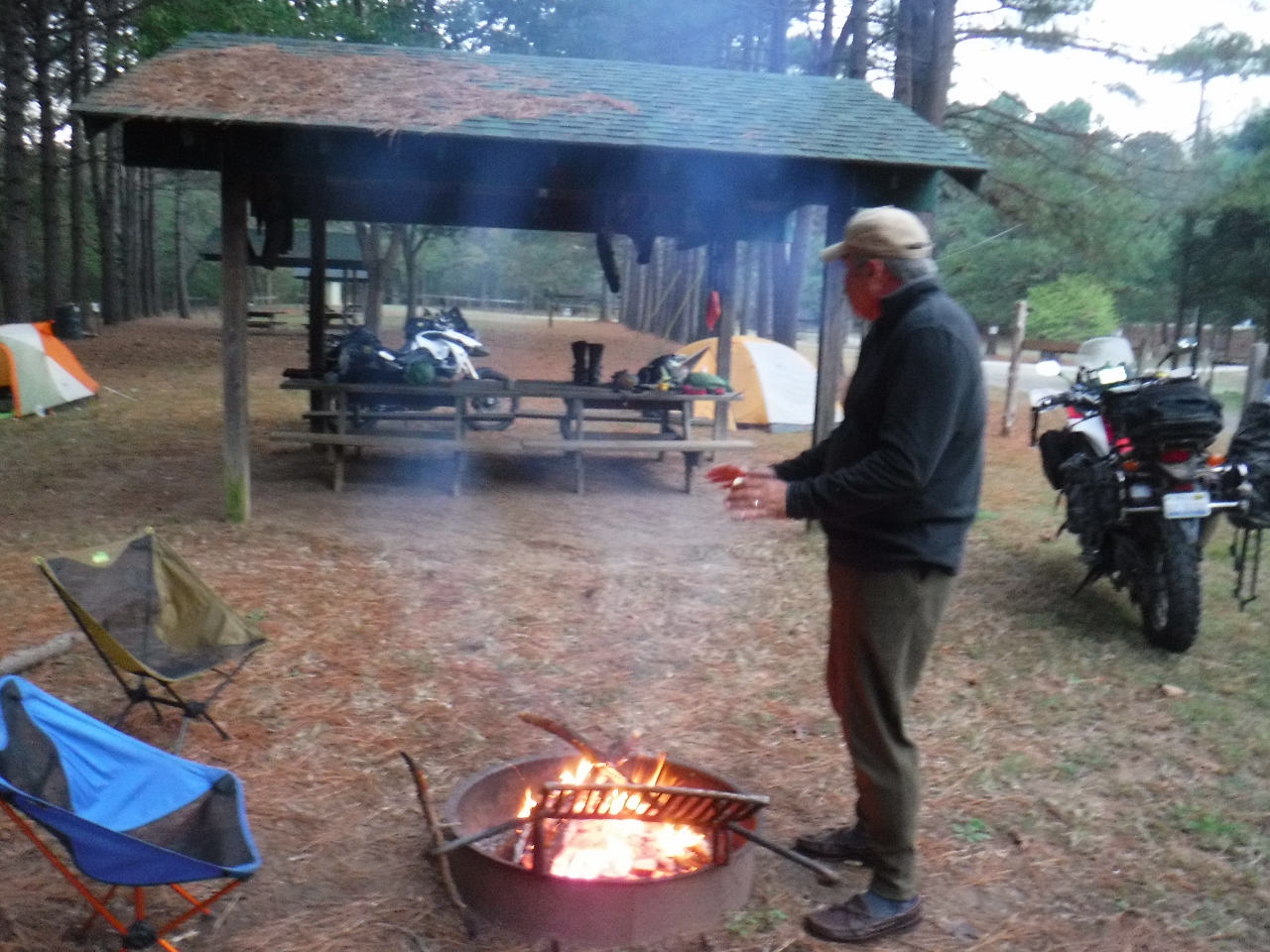 Near the town of Ponca, Arkansas Jay took me thru a place I've never been too------very unique.
This is Steel Creek Campground--and steel creek runs right into the Buffalo river-----another rafting and kayaking haven.
You can't get a travel trailer or motor down into here-------the road is way too steep, narrow and curvy.
That is ..................FUN !!!!
Jay has Kayak'd thru here with his wife before several times.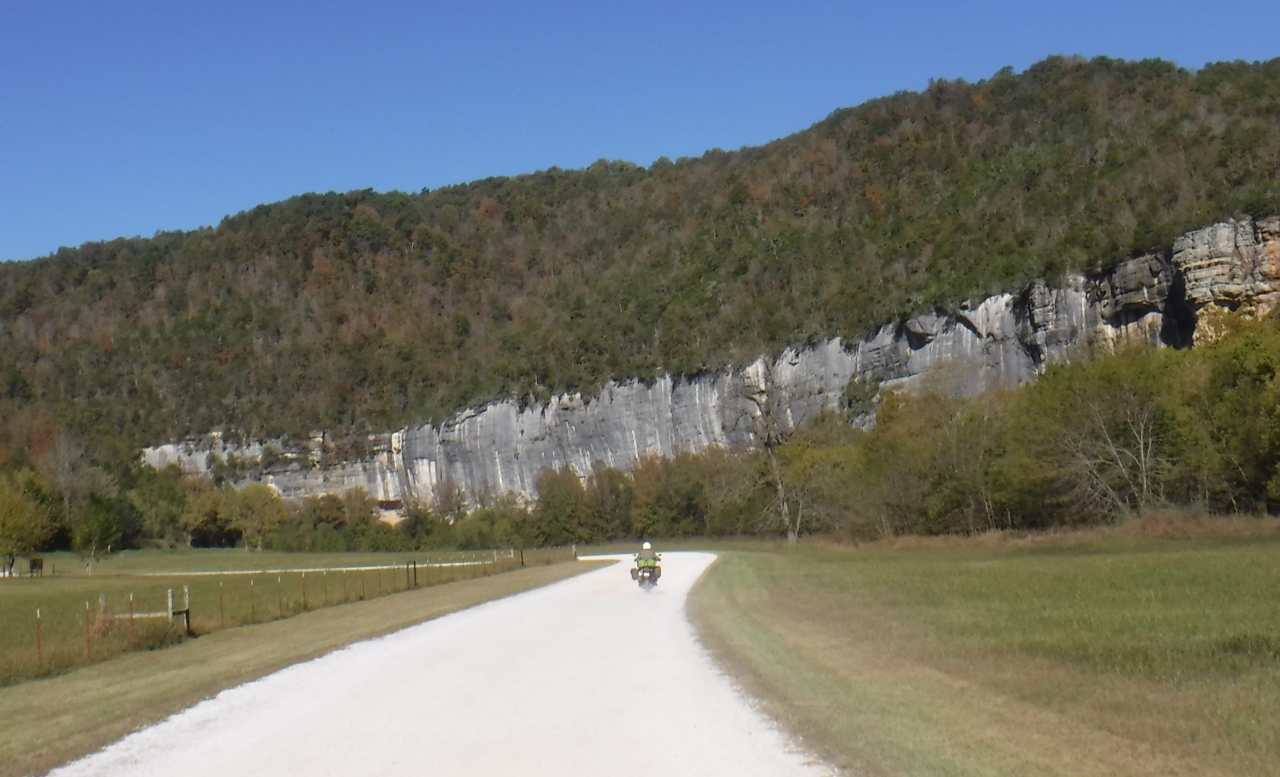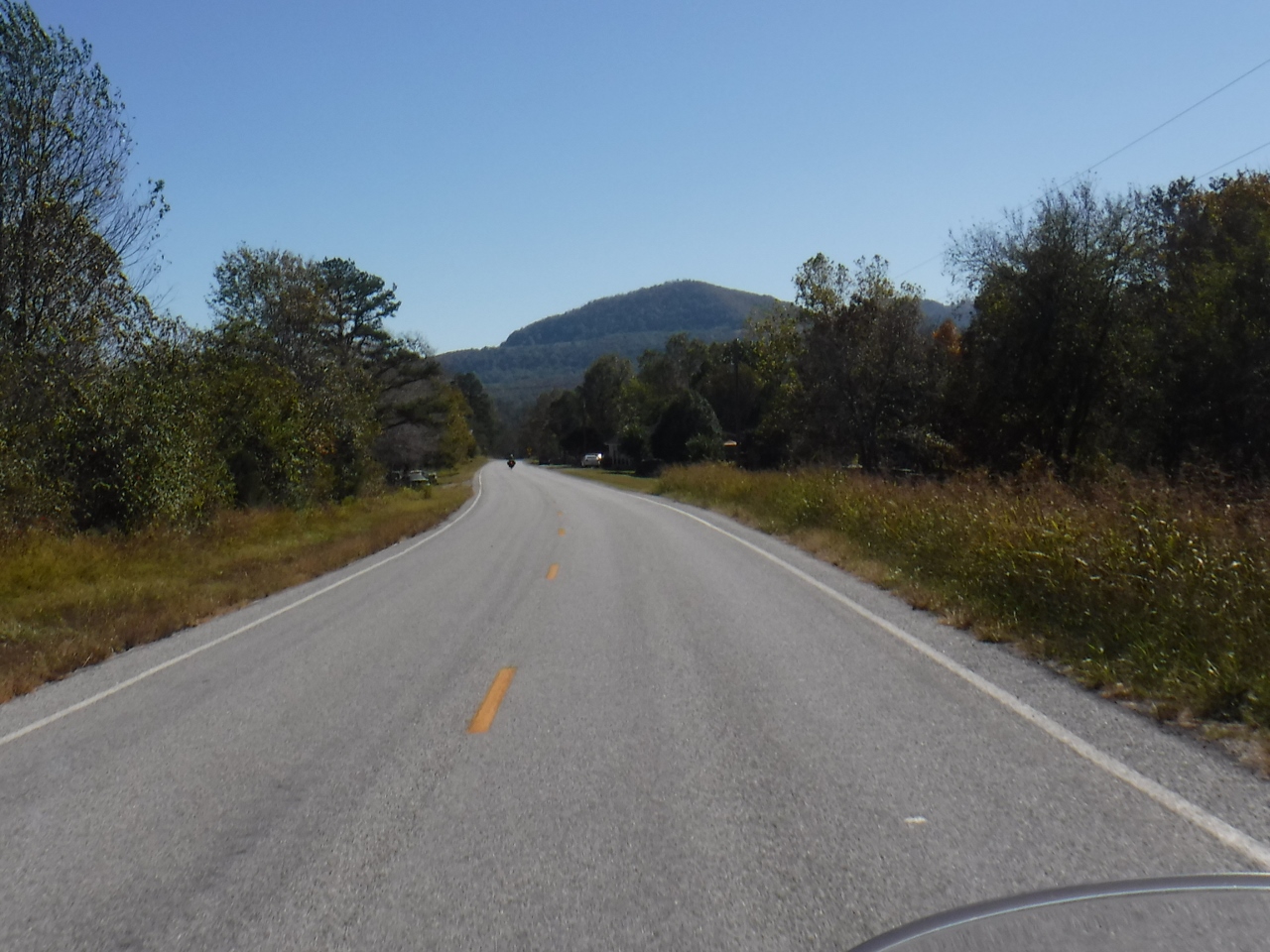 After a bit of pavement I go down a gravel road and another waypoints pops up on my gps.
"Falling Water"
What's this ?????
Very nice !!!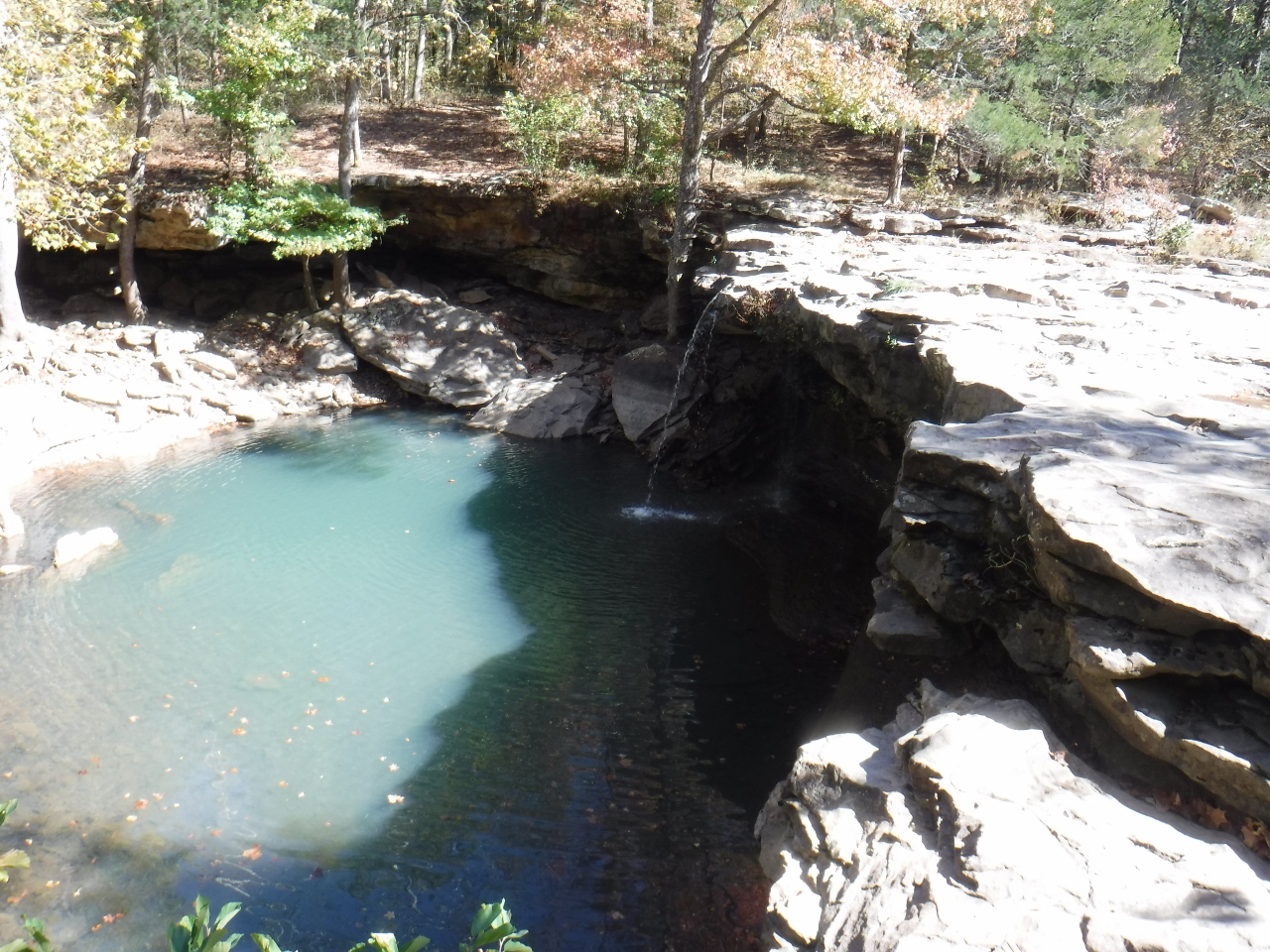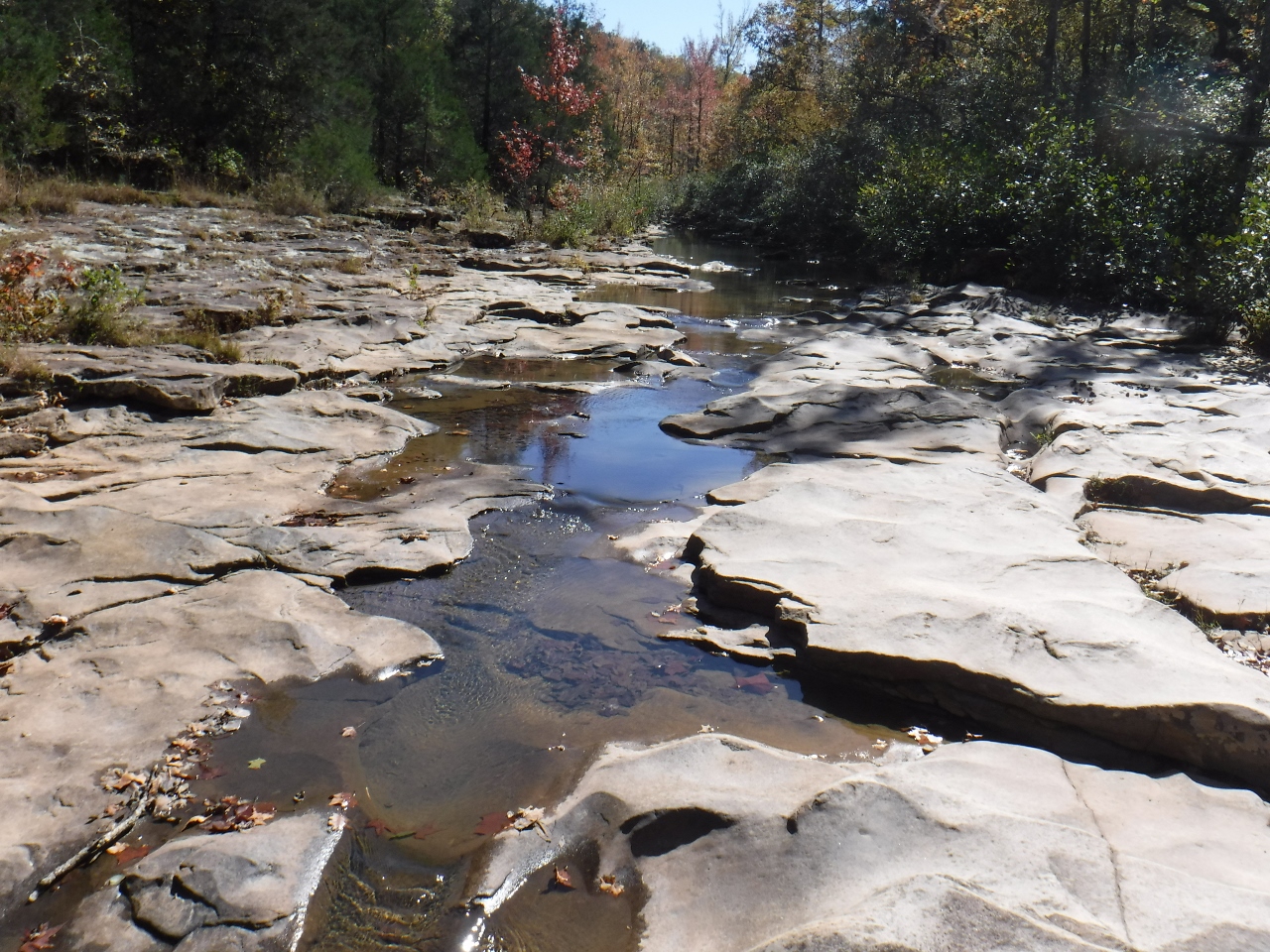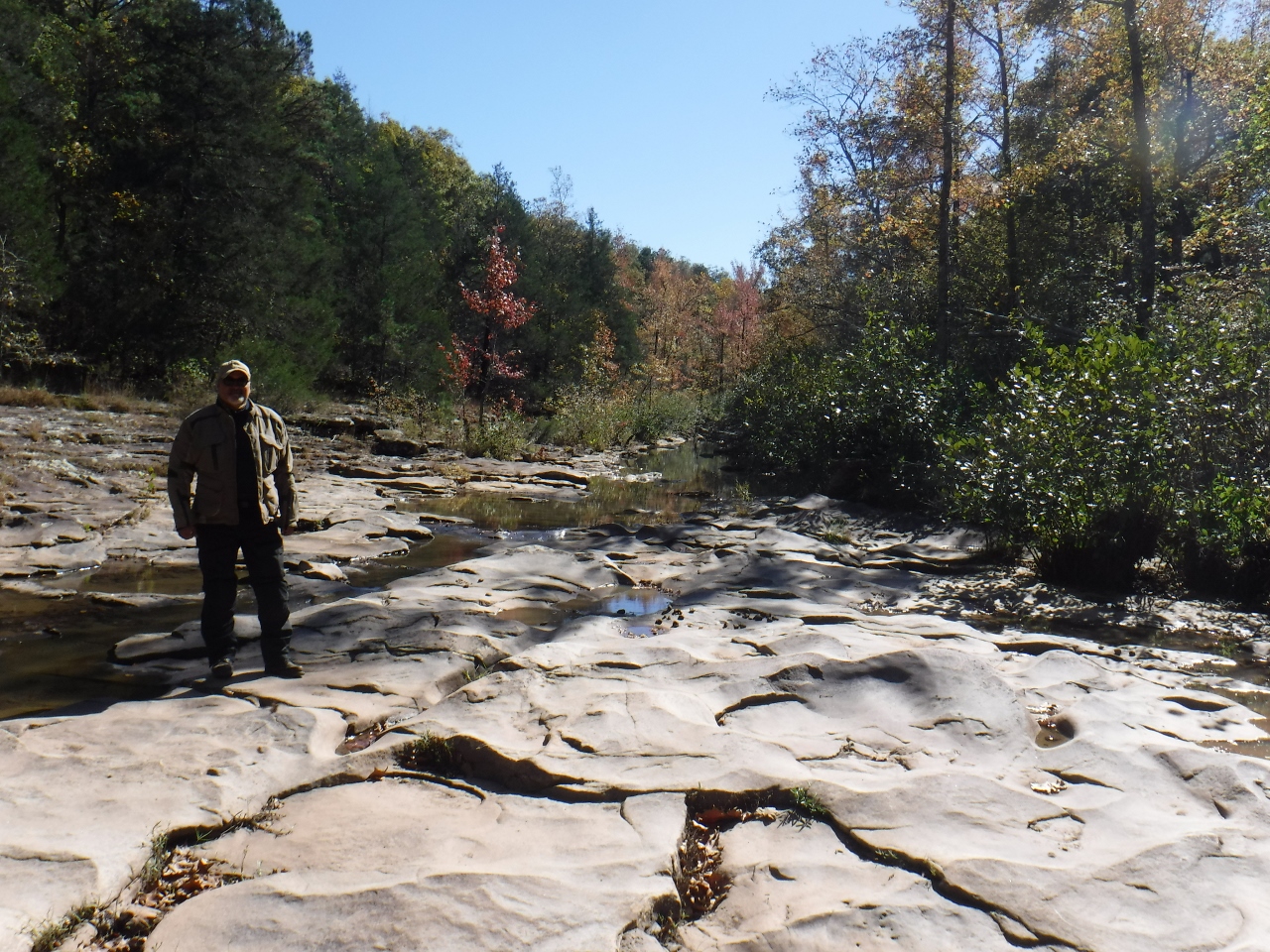 This day ends at Blanchard Caverns state park-----about 15 miles Northwest of Mt. View Arkansas.
I wish we spent more time here---there is some hiking to be done and a caverns to see.
North Sylamore creek runs thru here for your swimming pleasure.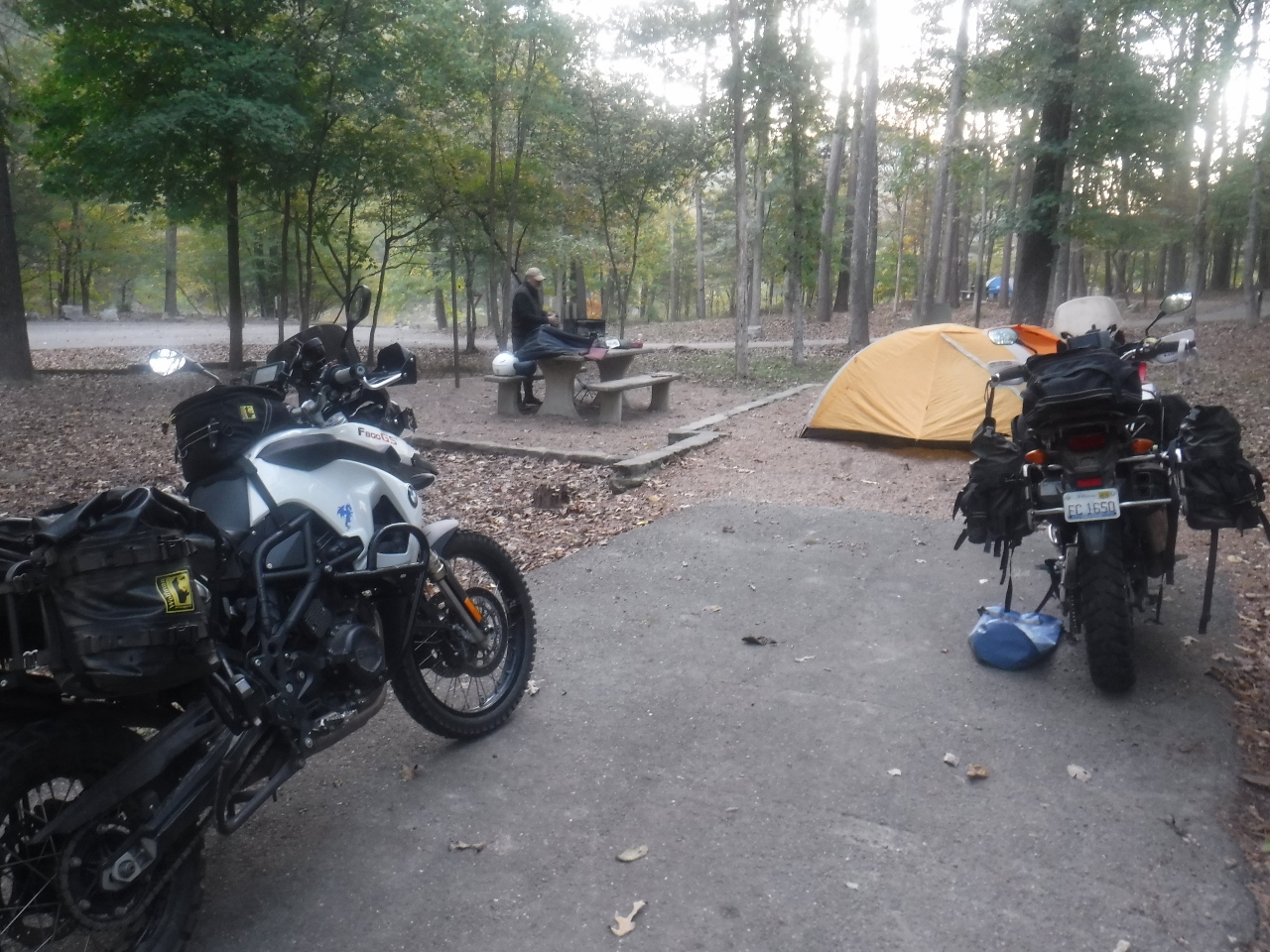 It was here I met this man. I will never forget this guy-------87 years old and was such an inspiration to us.
We had no firewood and I went looking for it.
This man ended up delivering us firewood that he had chopped up with an axe and bow saw (he didn't think much of my Sven saw).
At first I thought he was deaf--------but no...... he couldn't talk and had a one inch hole in his throat from cancer and talked to us
thru some little battery powered buzz box. I kind of got the drift he hadn't long to live...but had the biggest smile and was
living life the best he could and didn't let anything slow him down. He made us seem humble with our little aches and pains.
That evening he said "when you hear my generator start up in the morning.....come on up 15 minute later for coffee".
And we did.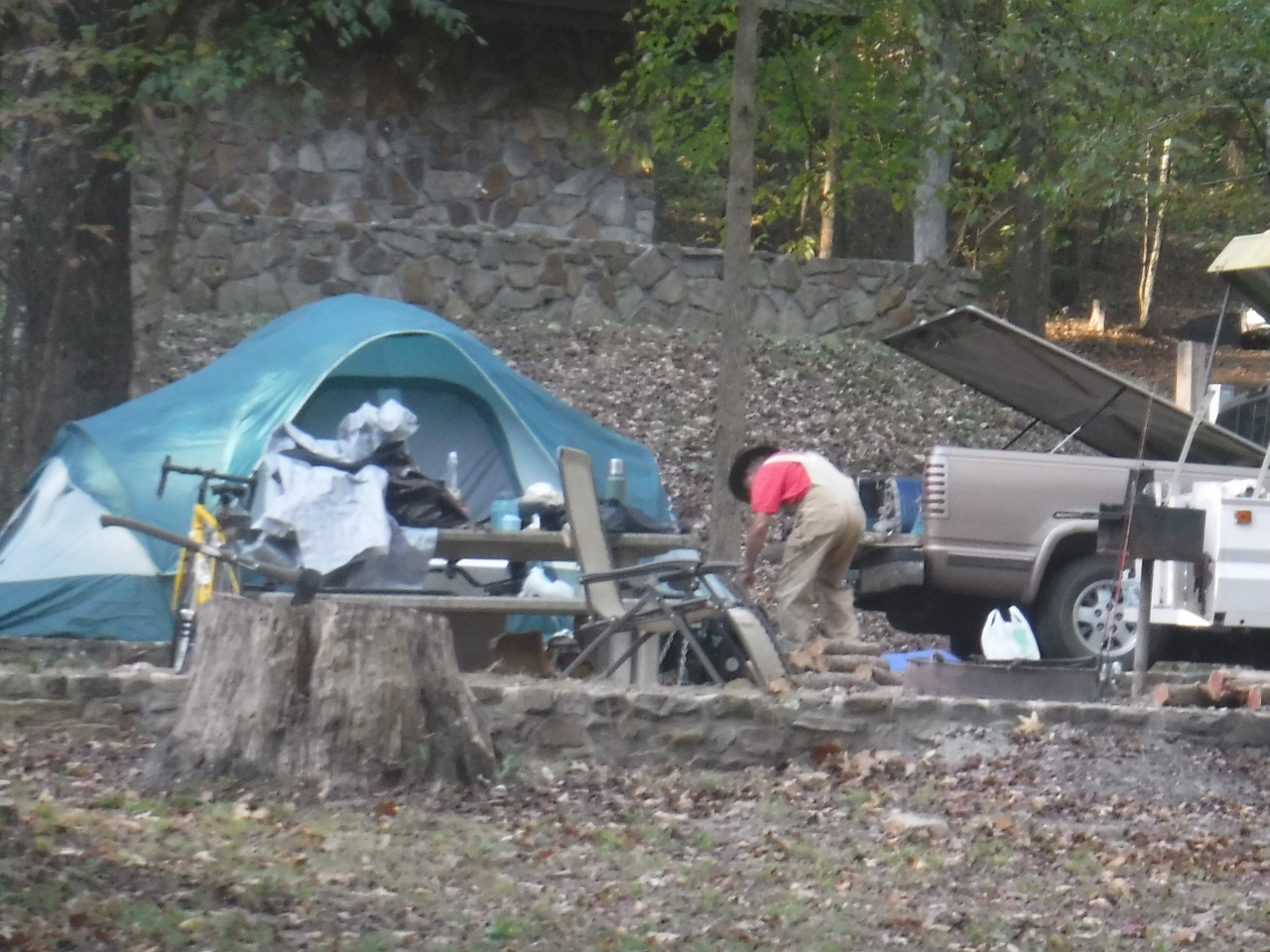 Jay got rear ended by a big truck while on his bike years ago and it broke his elbow.
All the offroad riding on the rough gravel roads had aggravated his injury and he couldn't even shake my hand as
we departed company the next morning. Here is Jay crossing the low water crossing out of the campground.
Jay's elbow was killing him-------but after being around our camp friend we found he said----"It just doesn't hurt anymore".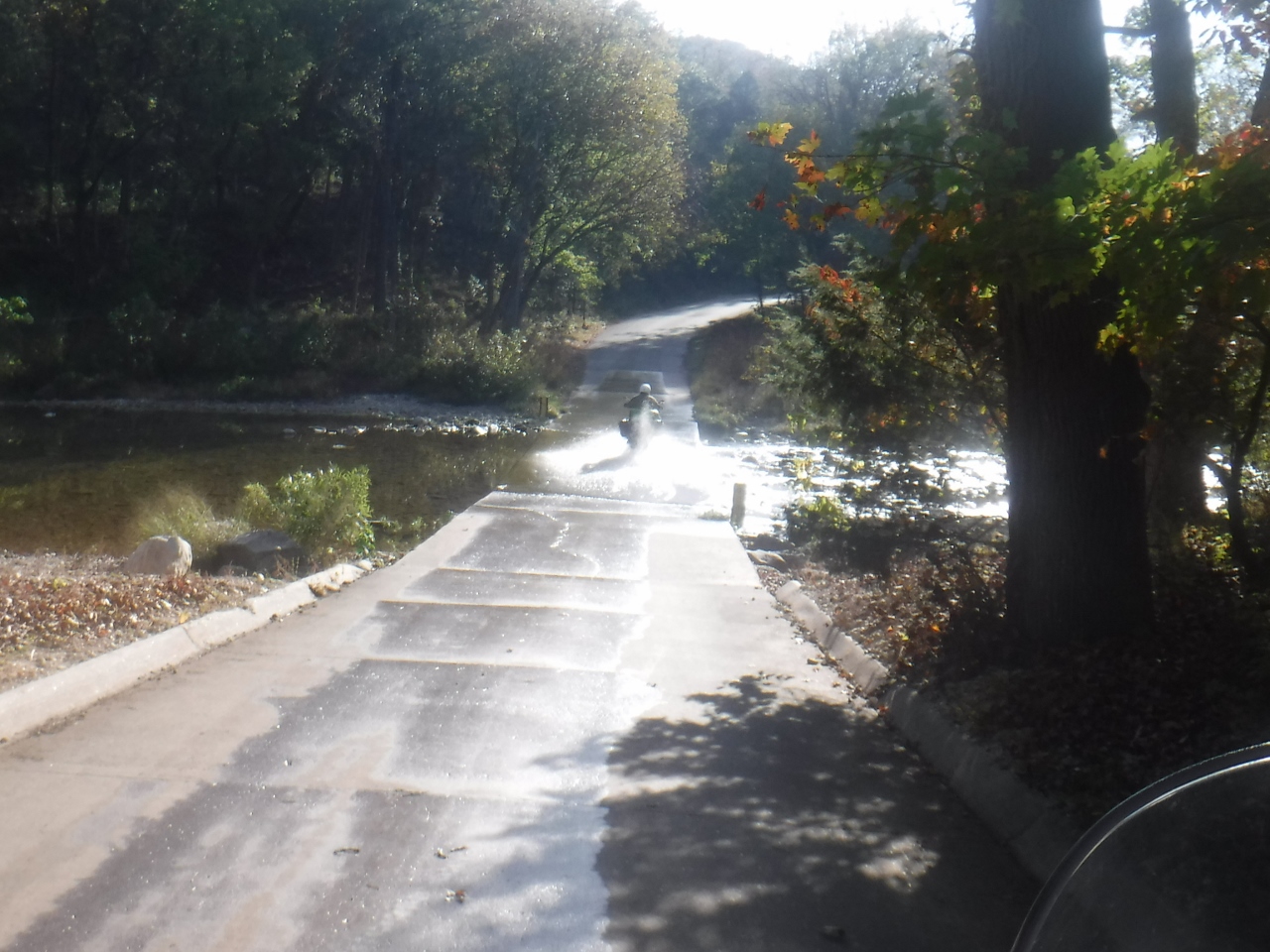 I missed riding with Jay after he rode off.
Wasn't no time I found the Sylamore swinging bridge.
And you know how I like bridges !!!!!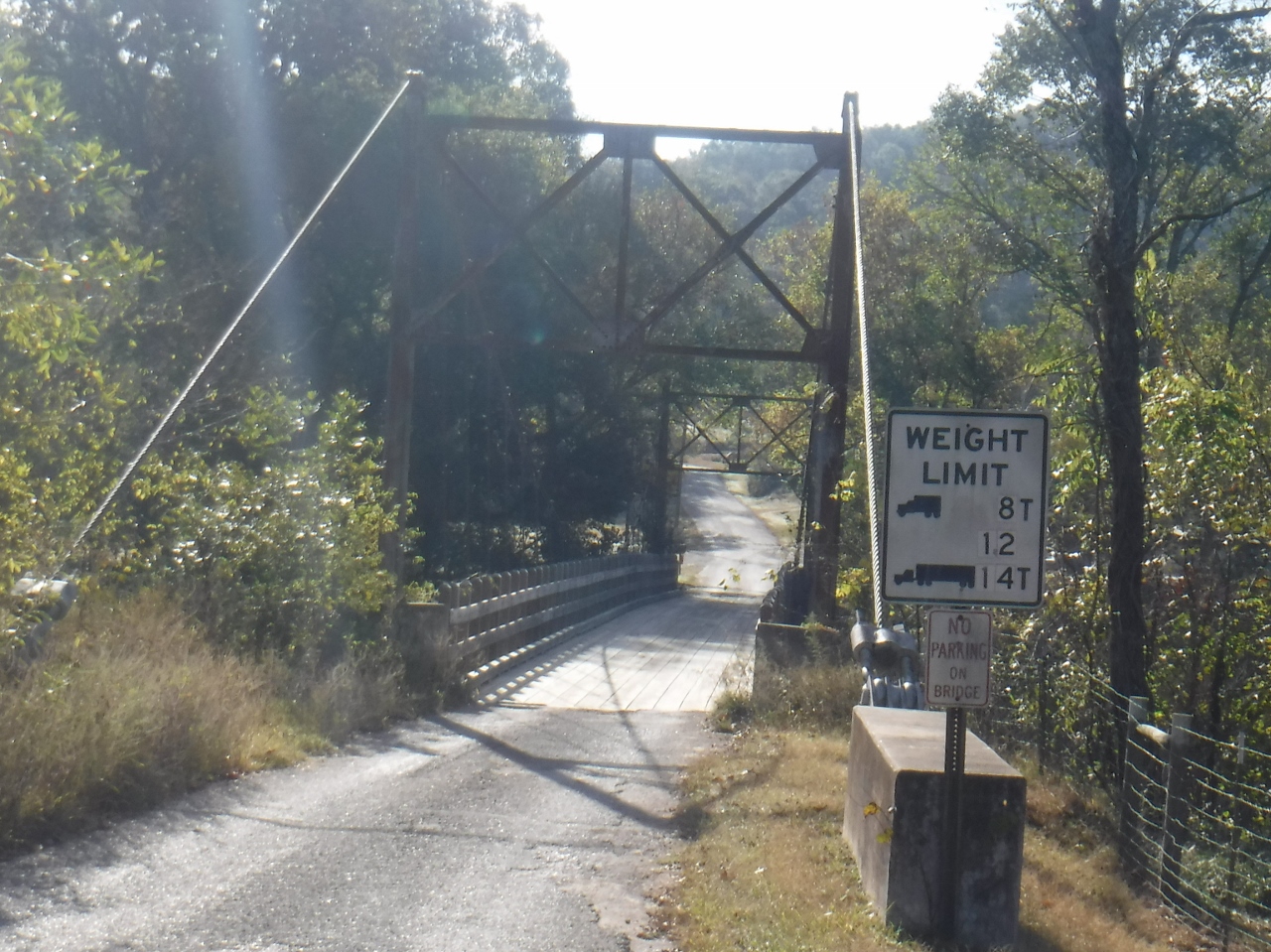 A short video of the last few days.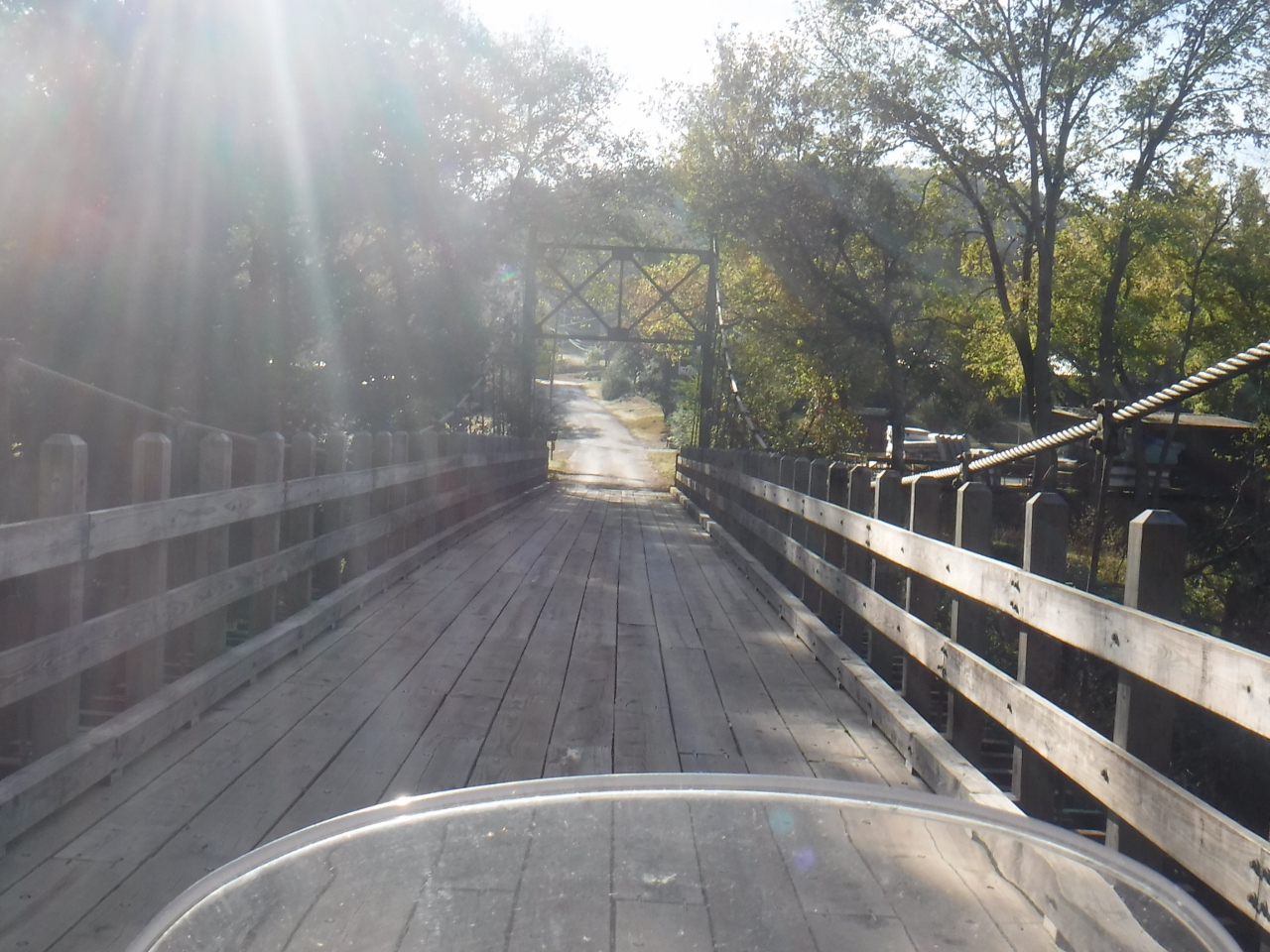 It goes over-------yeh you guessed it..........Sylamore Creek
And I headed further East in Arkansas alone.
Well------------yeh............duh !!!!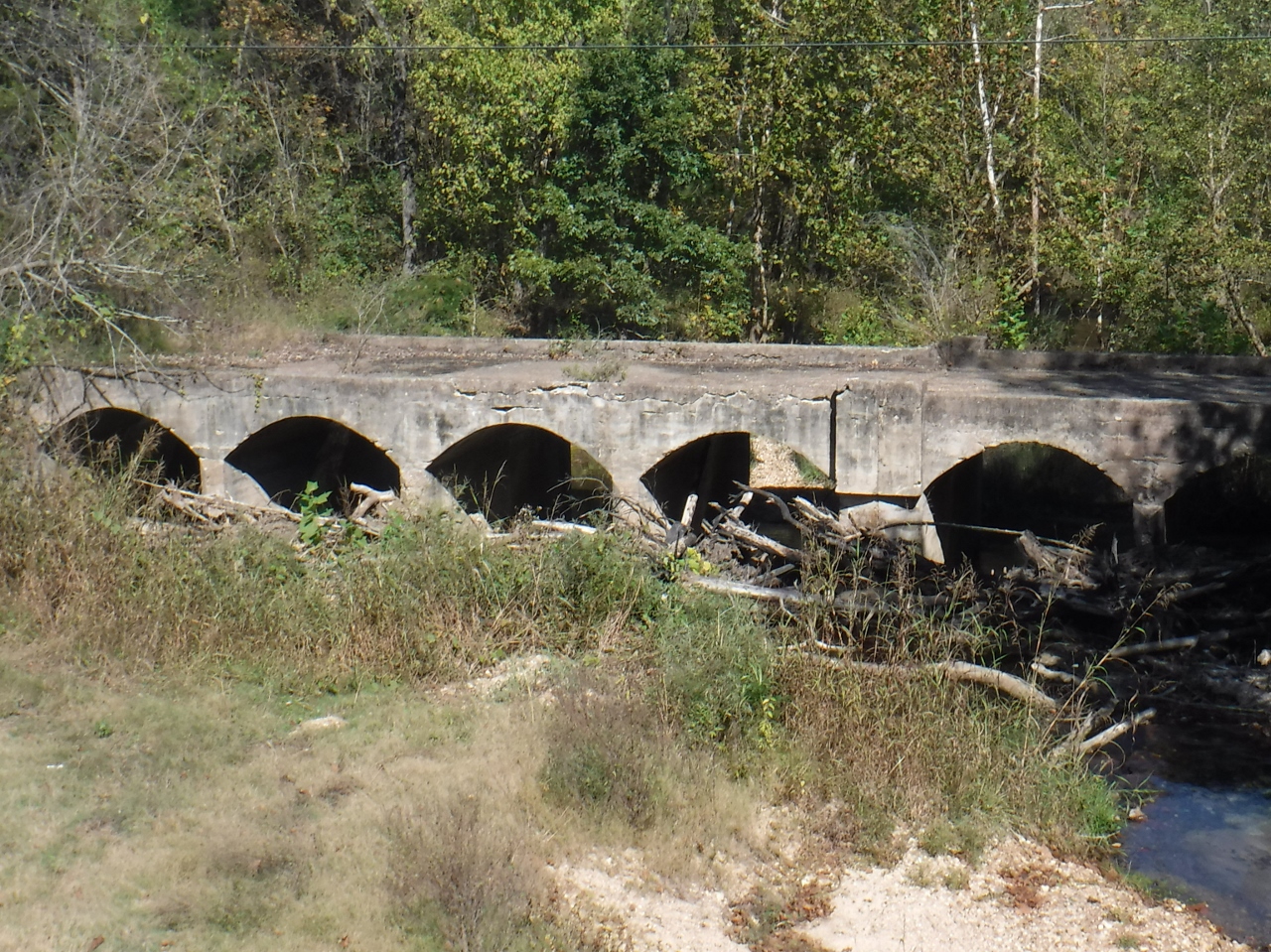 This little town was so cool and had a couple little cafe's----one called "Evening Shade" I believe.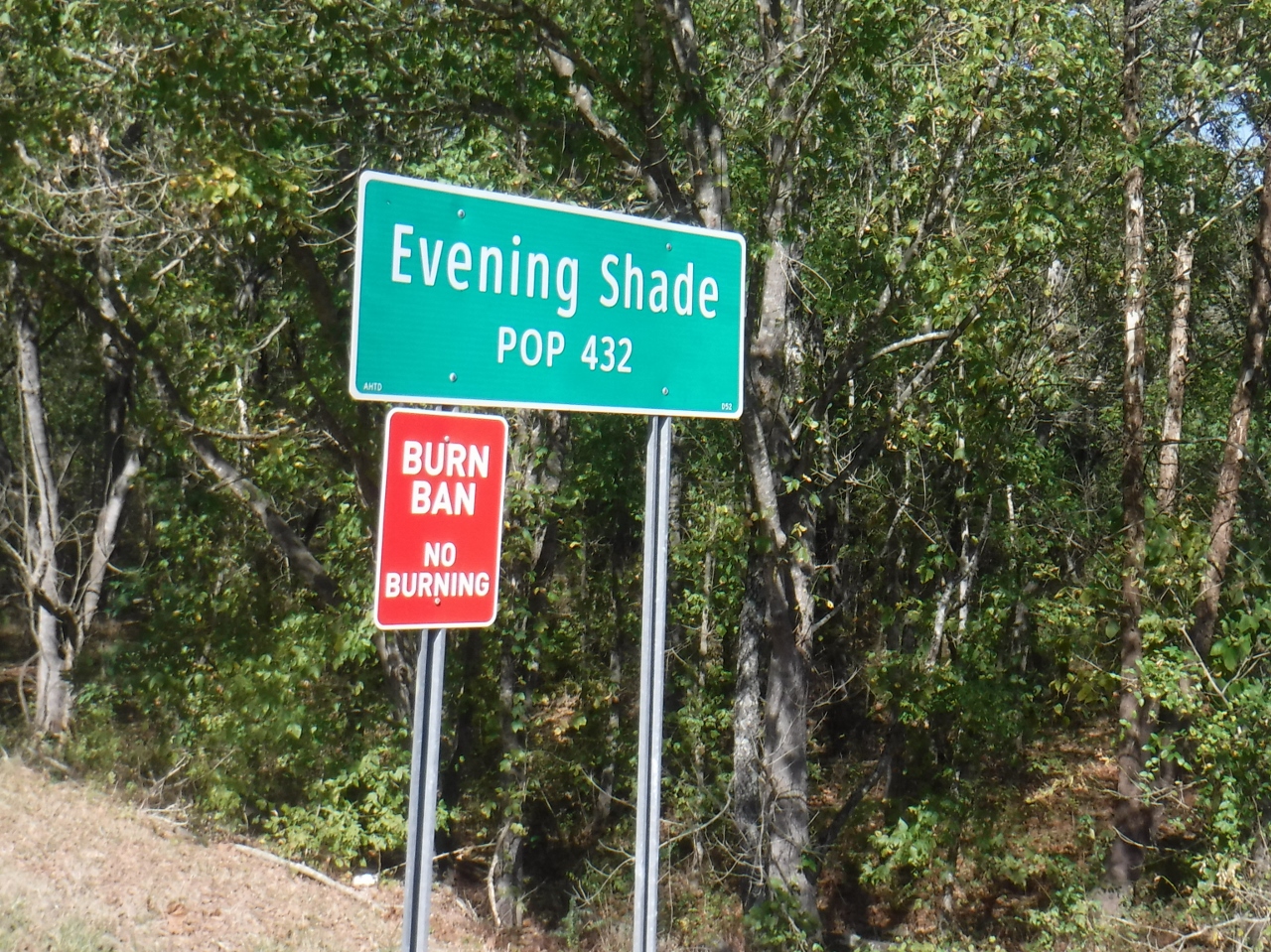 I'm getting near Powhatan, Arkansas and road thru these bottoms.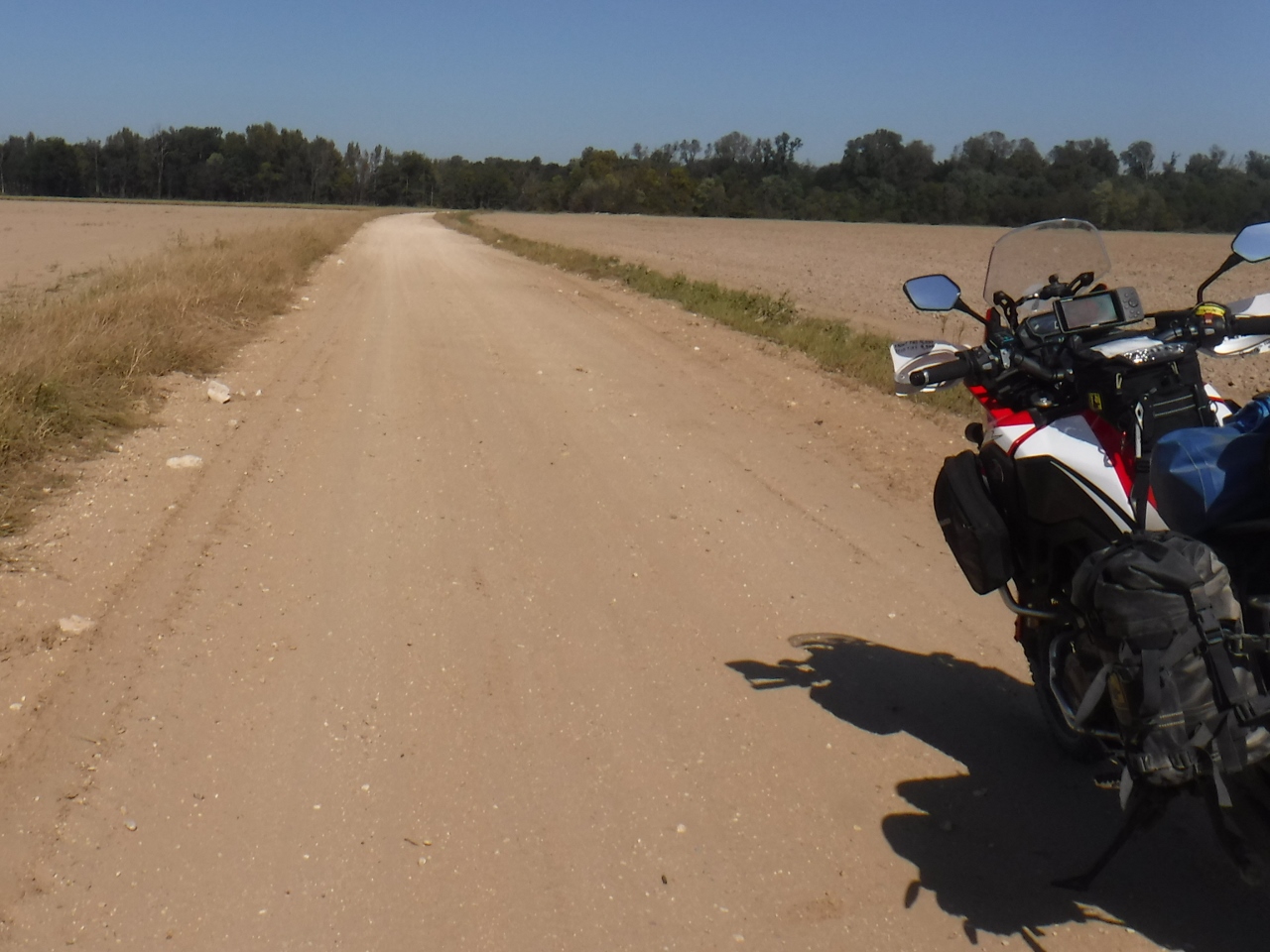 With the Black river at my side.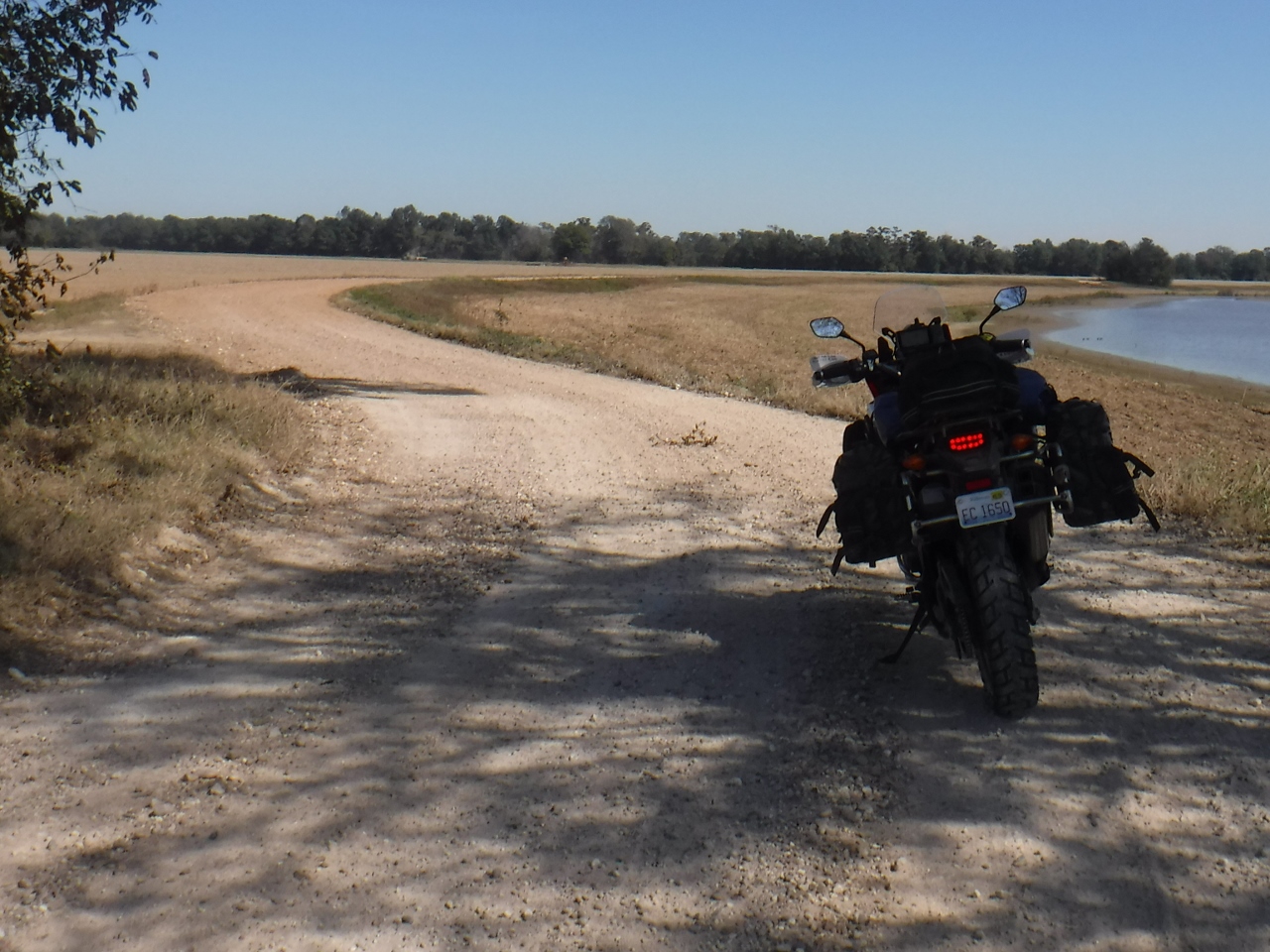 Harvest is in full swing----------I luv this time of year watching all the big machines harvesting their crops.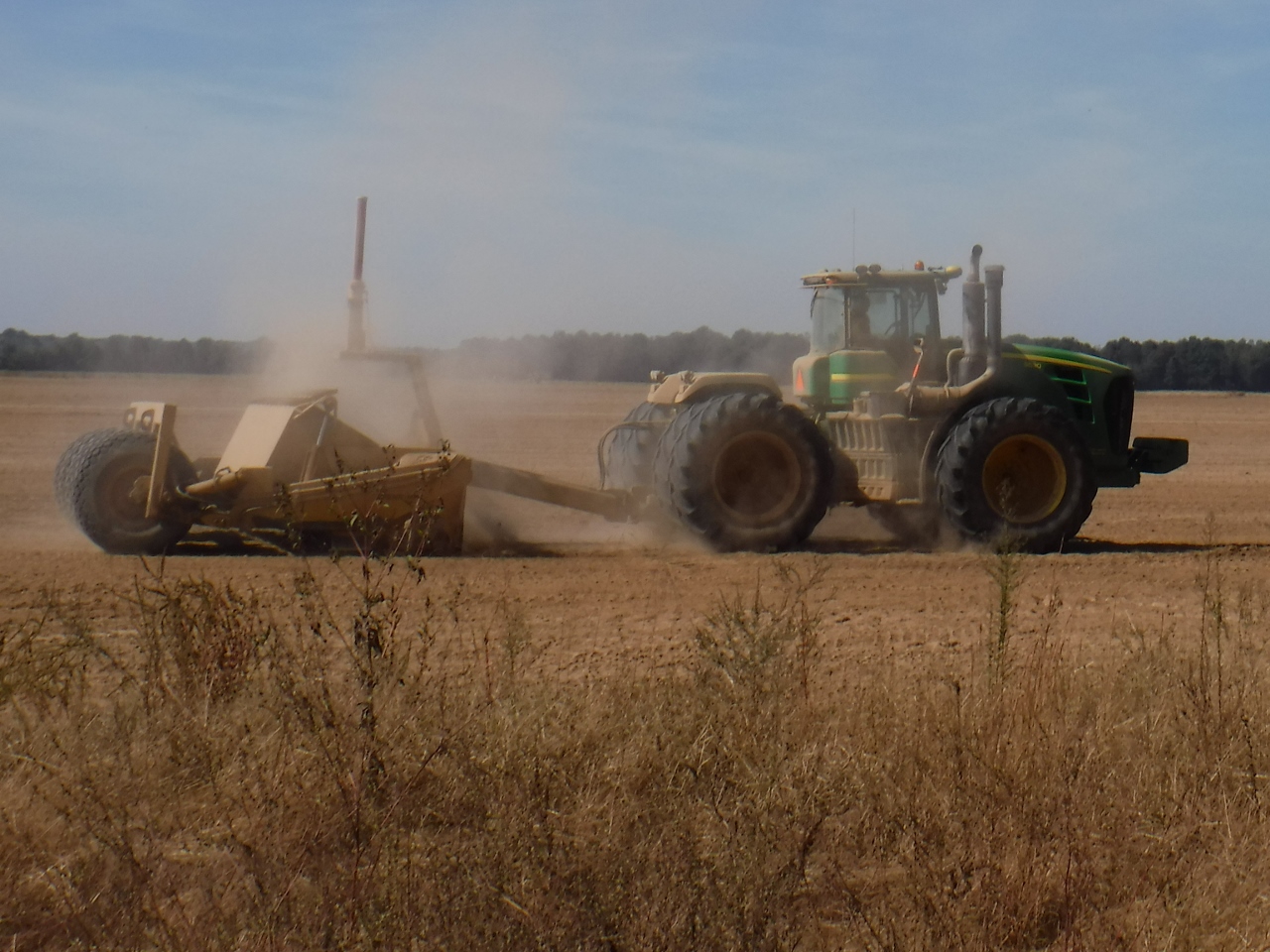 Powhattan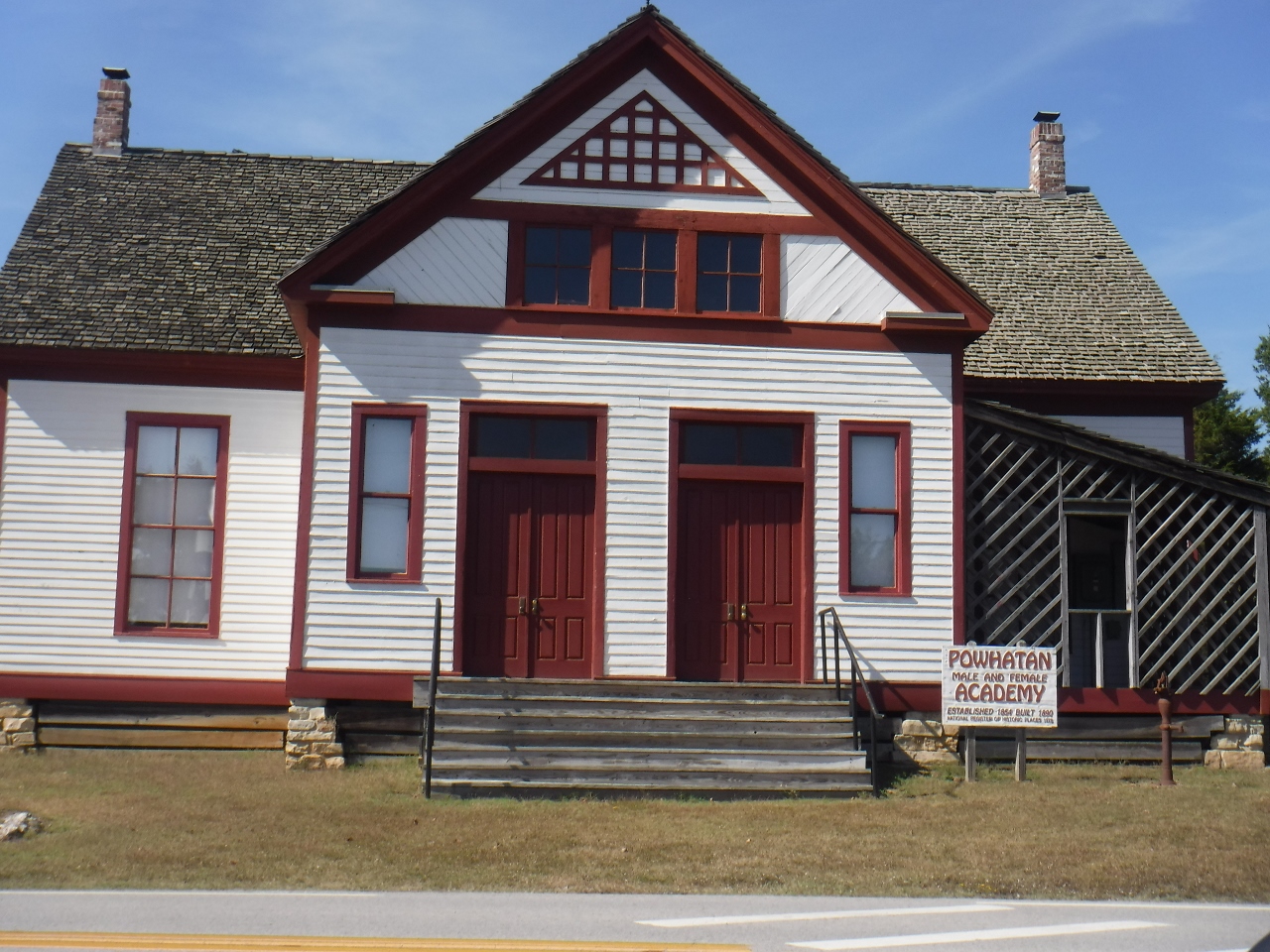 These are the concrete risers in Powhatan that supported a swinging bridge over the Black river.
The bridge had been gone for 40 years or more I believe.
Once when I was here I talked to 2 older people that remembered the bridge and played on it as kids.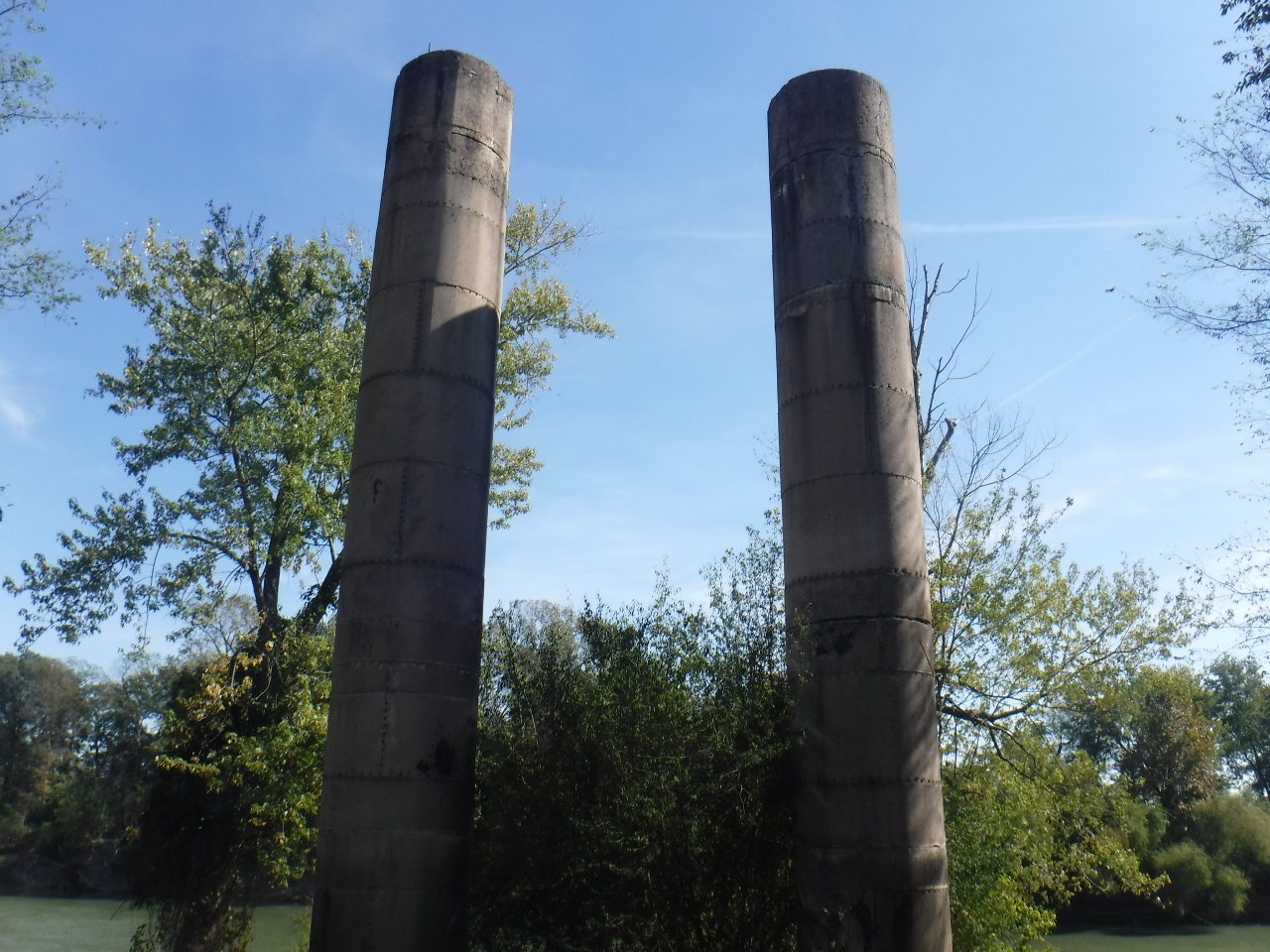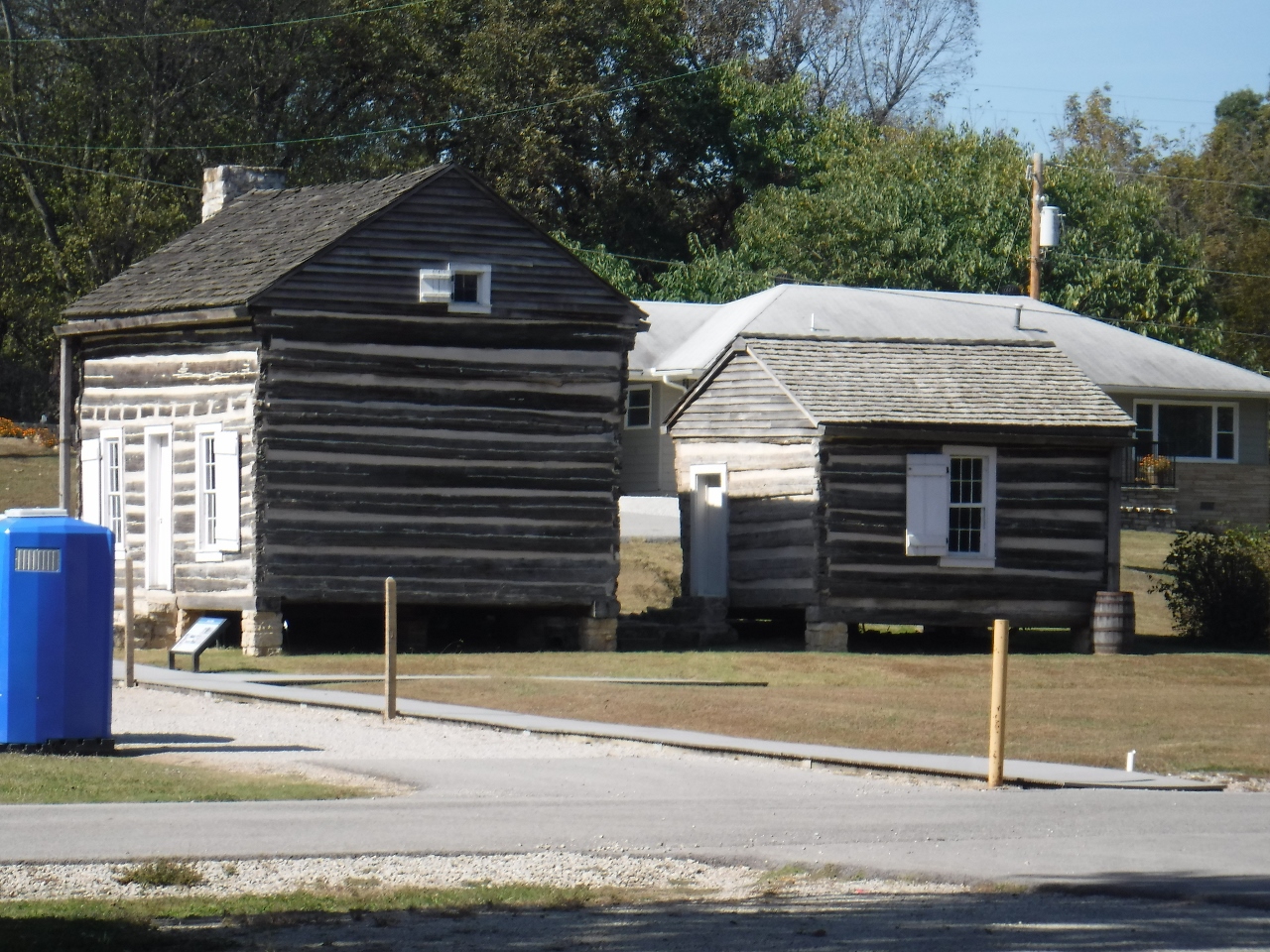 A nice little state park in Powhatan to relax in.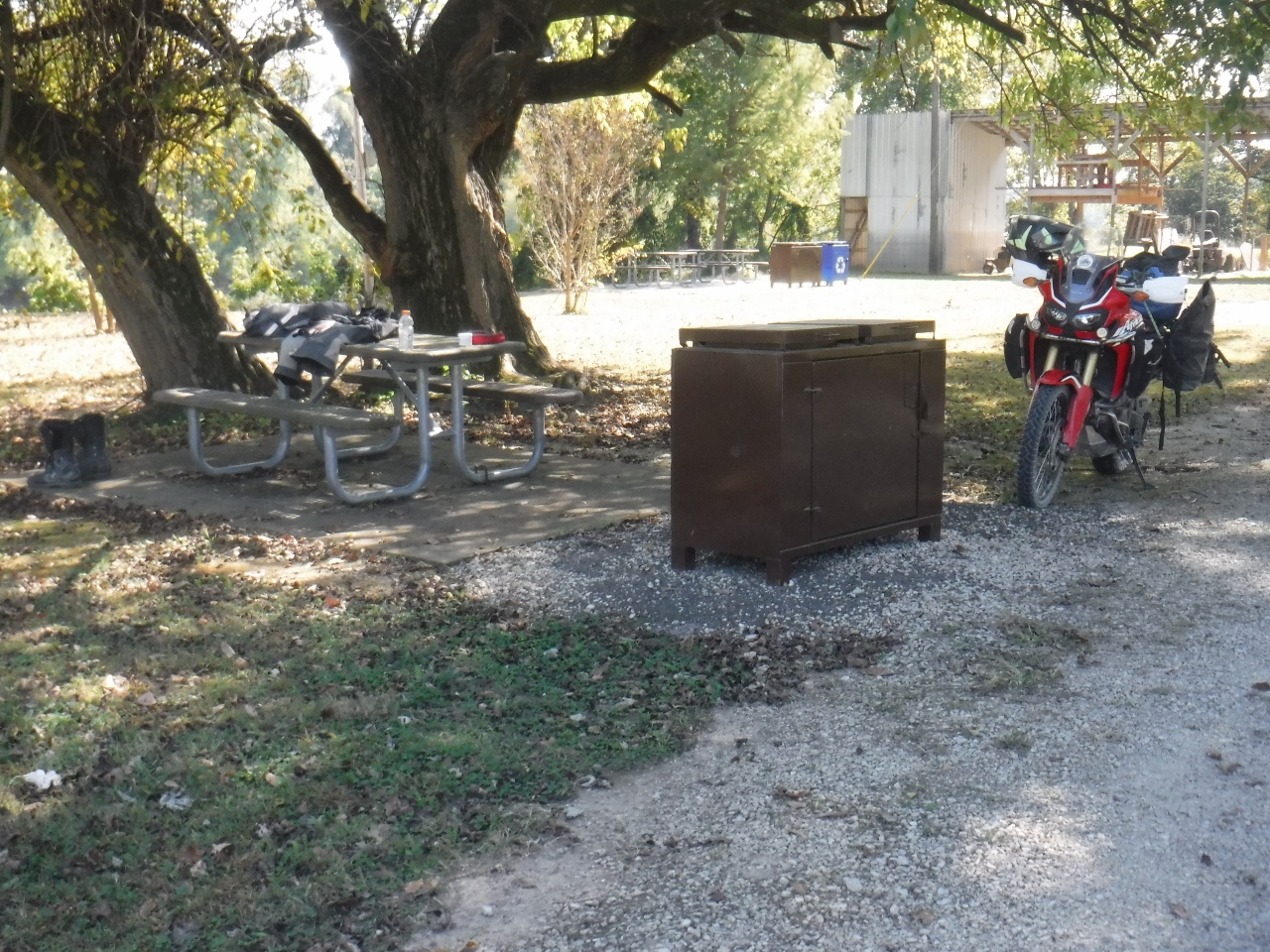 Walnut Ridge, Arkansas is home to this Beatle schulptor.
The beatles are made out of 3/8" steel.
An ice cream shop next door brought me here.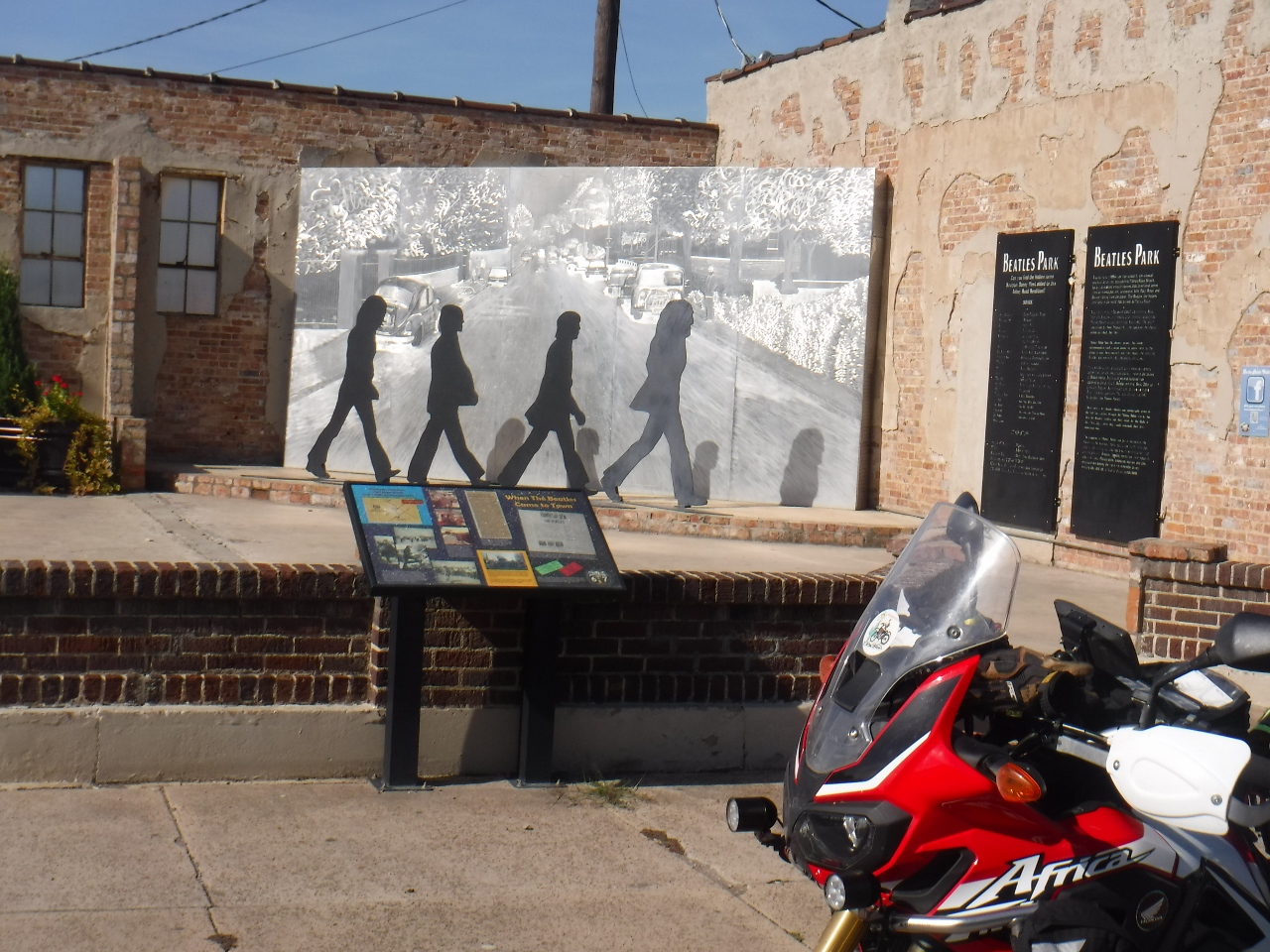 I'm really in the Eastern flatlands of Arkansas now-----I am not bored in the least of this area.
I love the diverity of terrain in the world and enjoy it all.
I love Kansas----------there you have it----------I've come out of the closet with this------and am not ashamed.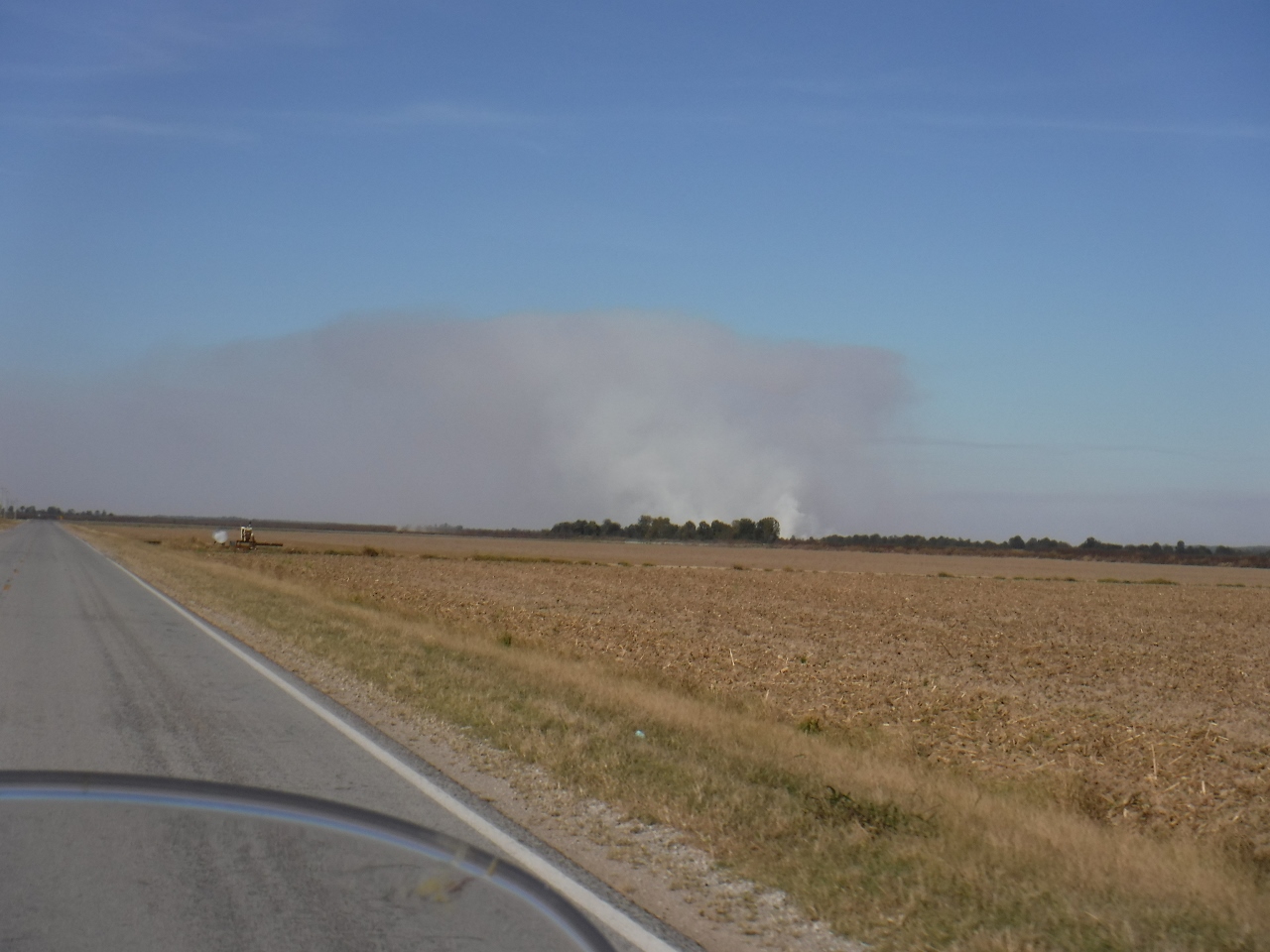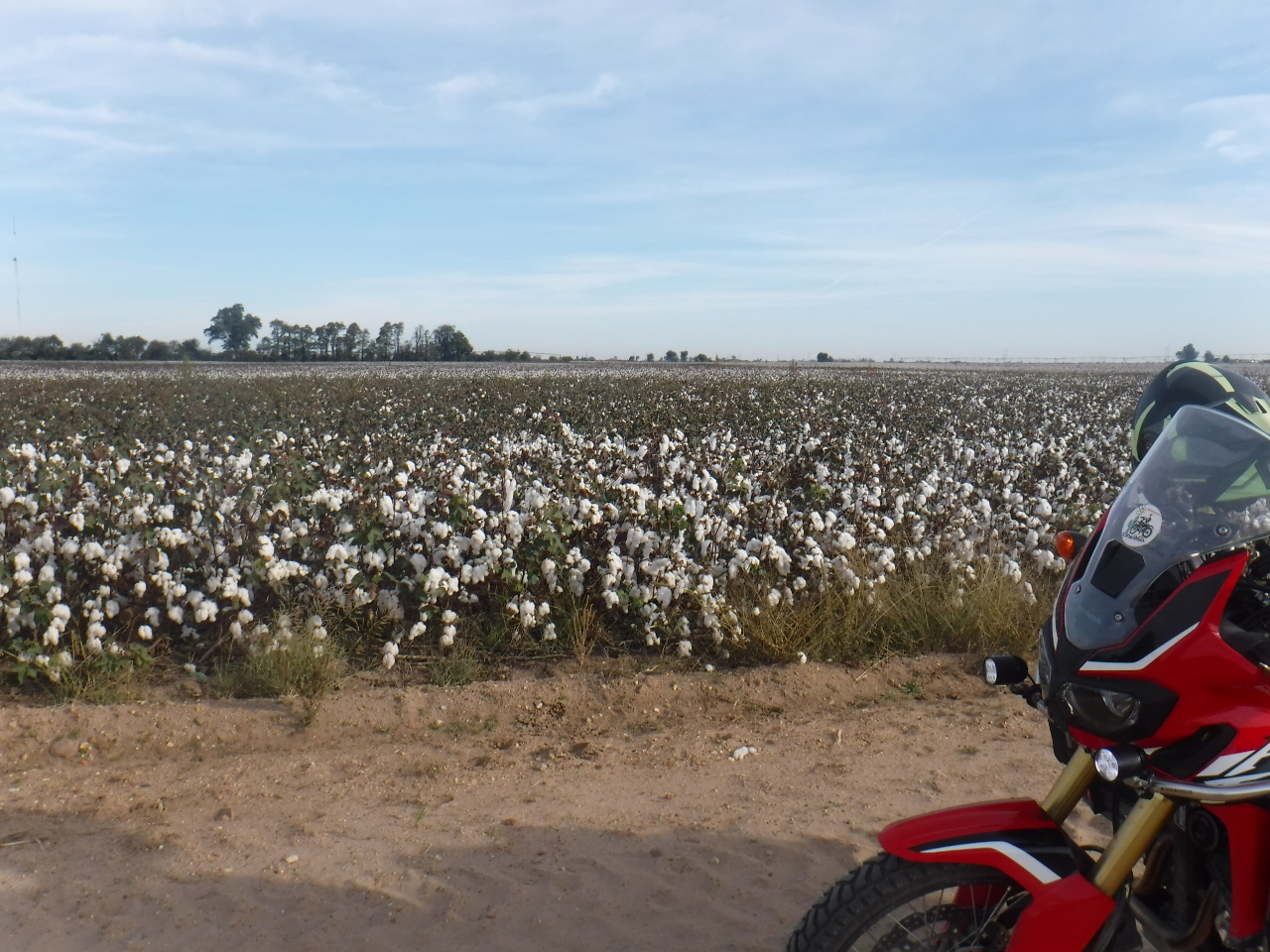 My wife was mad I didn't get her a sample branch.
She said they were $8 at Hobby Lobby.
Again----------these fields were beautiful to me and I stopped to watch the big ole cotton pickin' combines do their thing.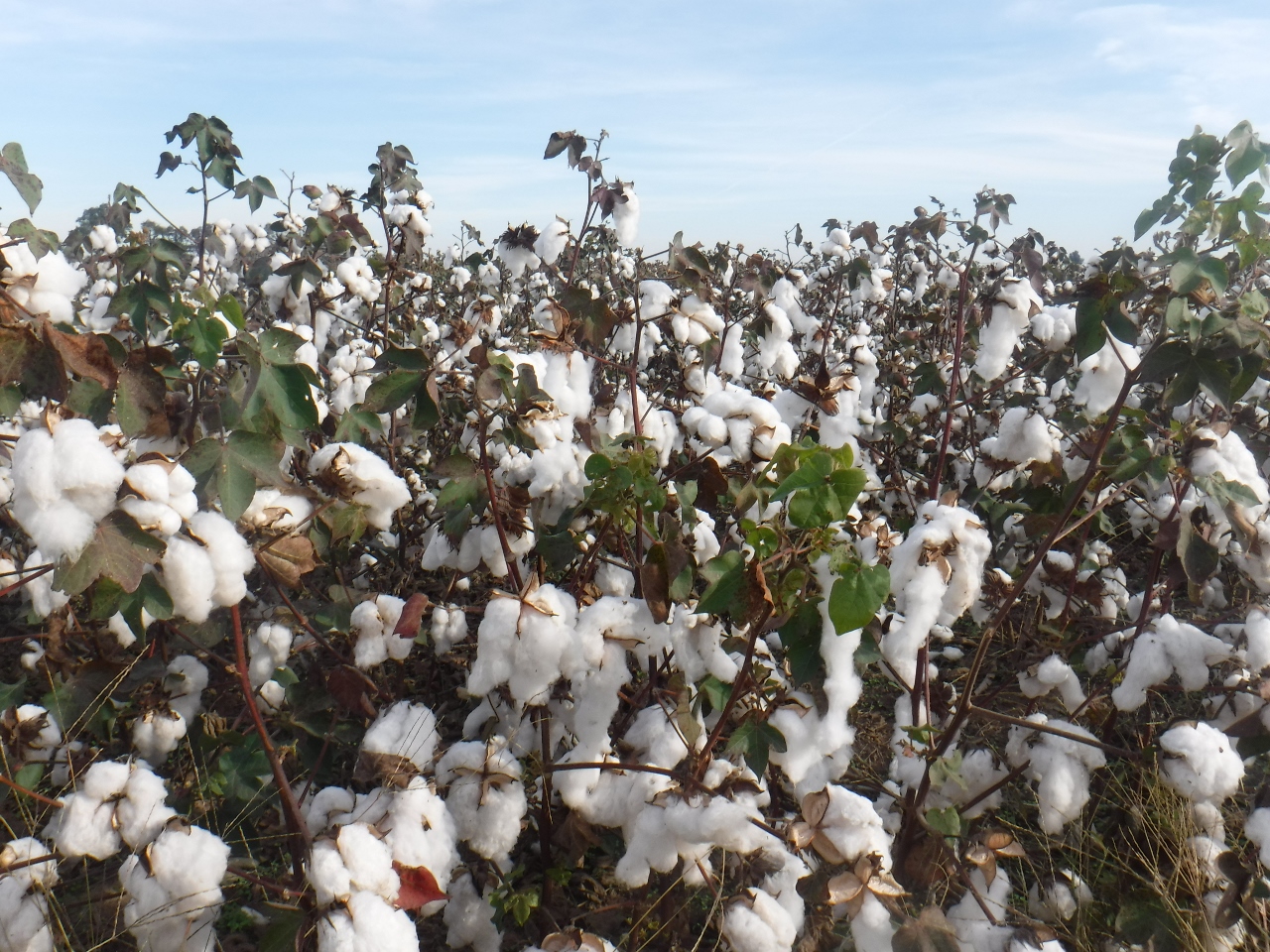 I get on a somewhat of a levee along the Mississippi near New Madrid, Missouri.
Dang I'd crossed into Missouri and didn't even know it.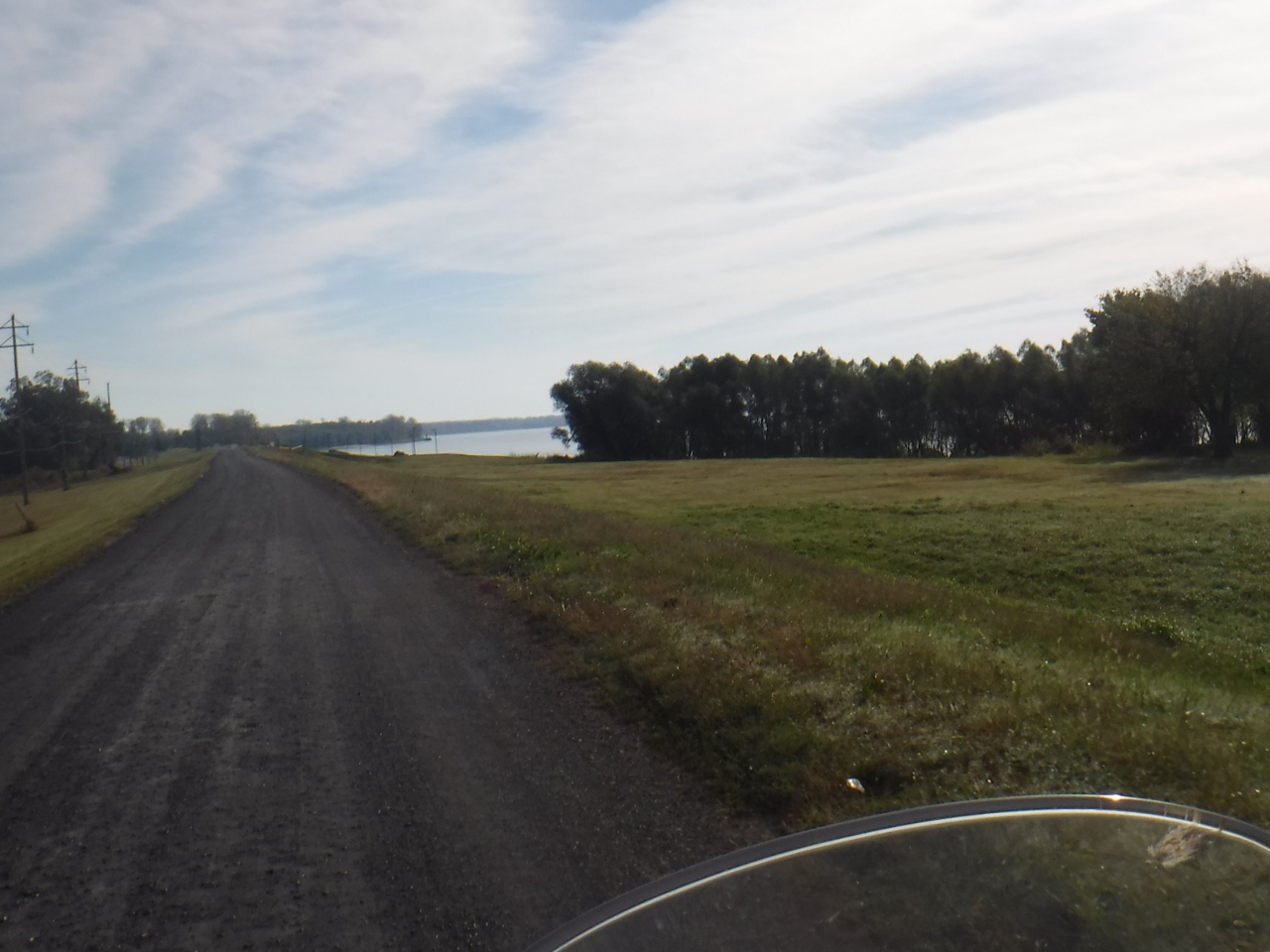 My wife always tells me when I go on a trip.
"Now don't you go and do anything dangerous or stupid-----or break any laws"
"Yes dear"
I'm standing right on top of one of the most dangerous places to be in the world..............if an earthquake comes.
I know I was told not to come here---------but I couldn't help myself.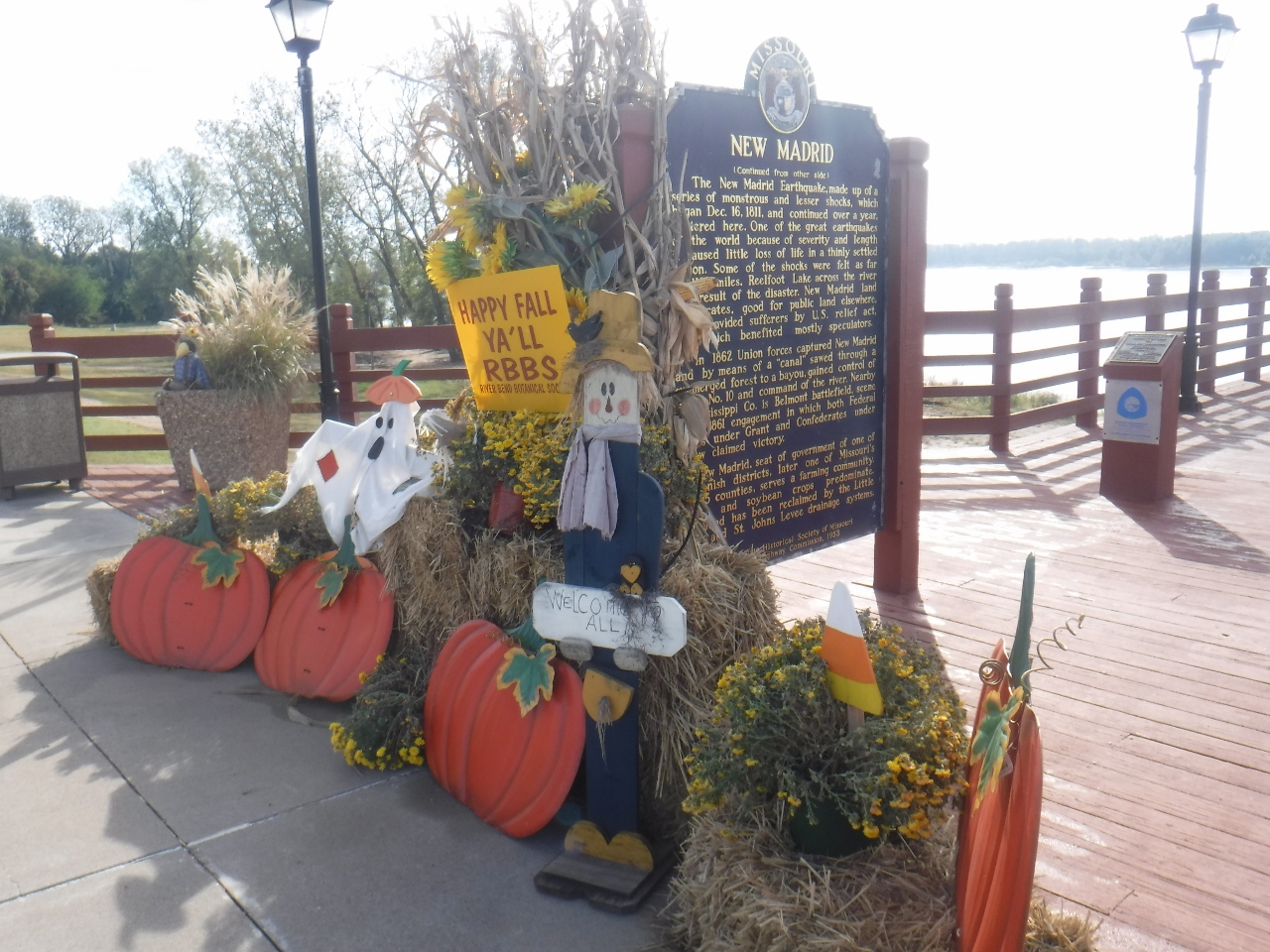 I called my wife and told her where I was at and sent her a selfie.
She was not impressed.
But I think she'd like walking out on this pier on the Mississippi river.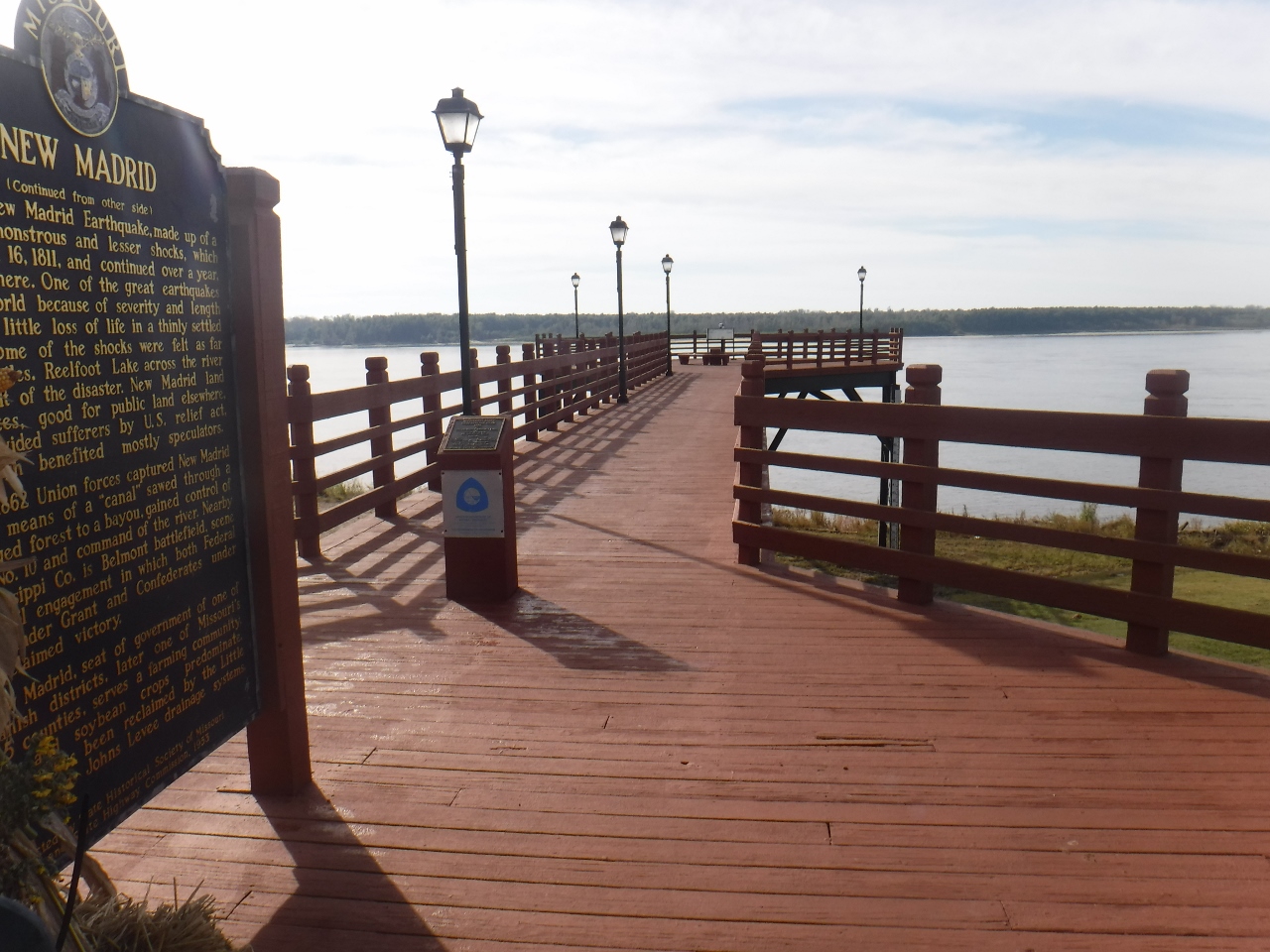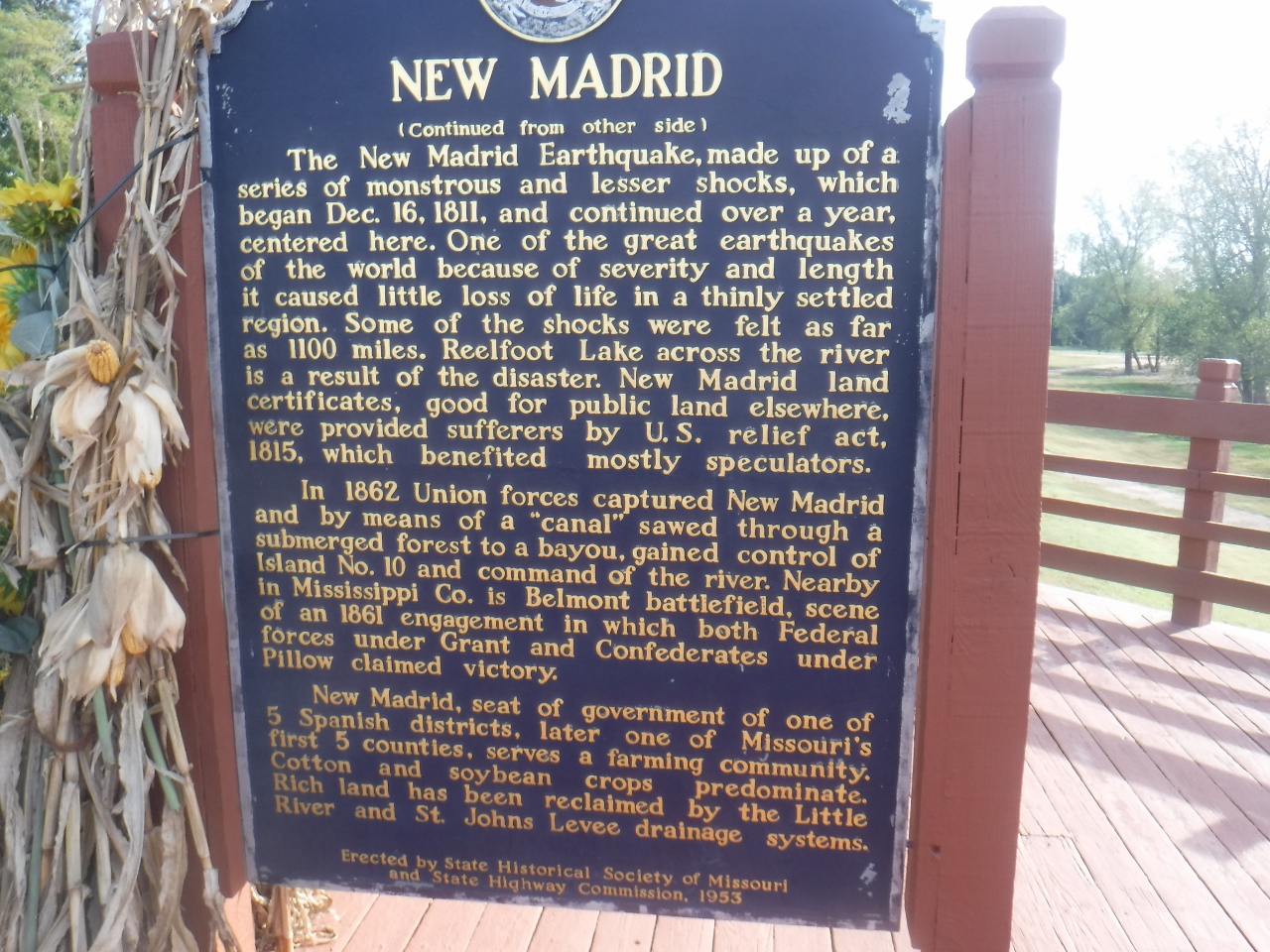 The pigeons weren't skeert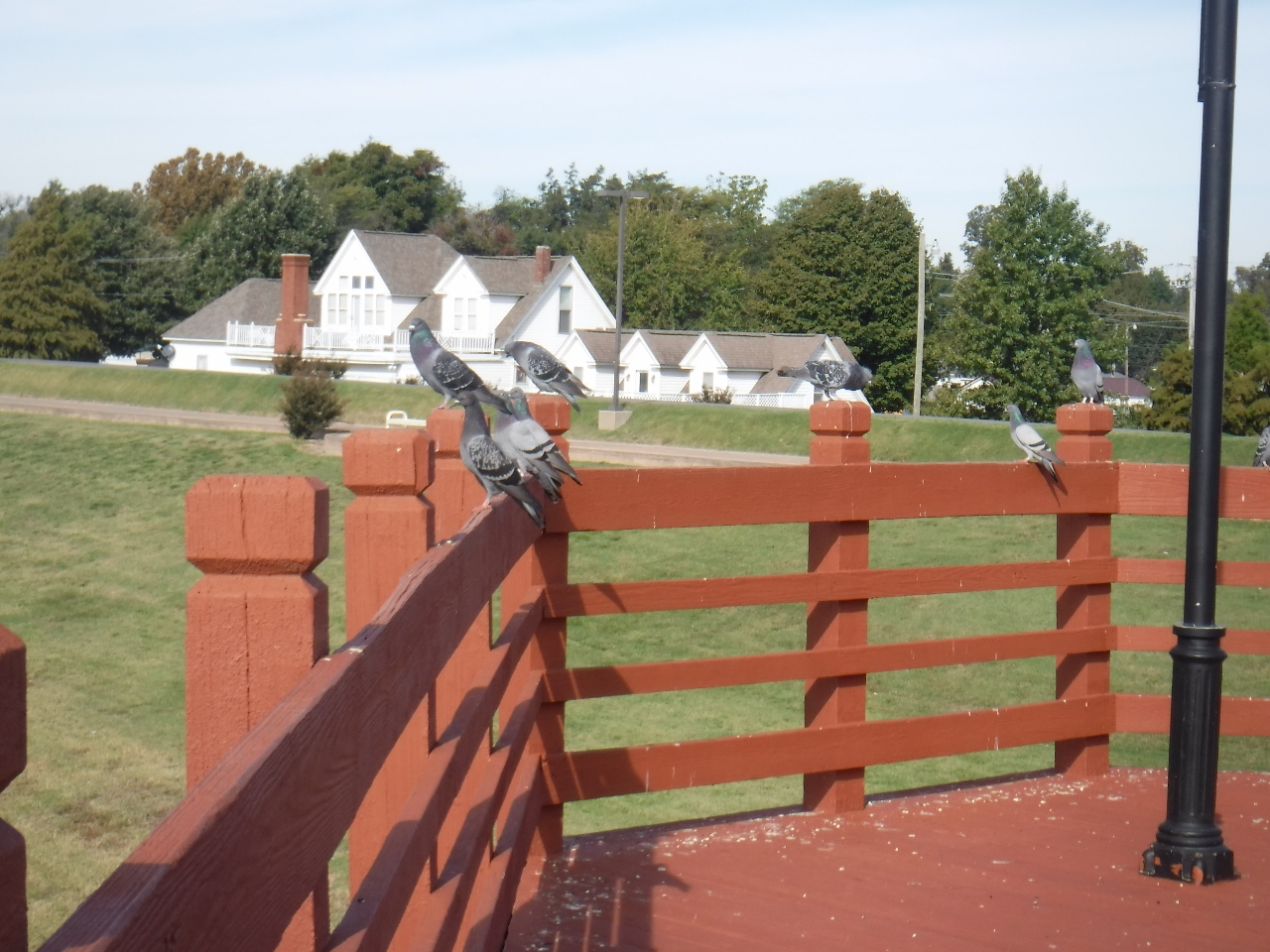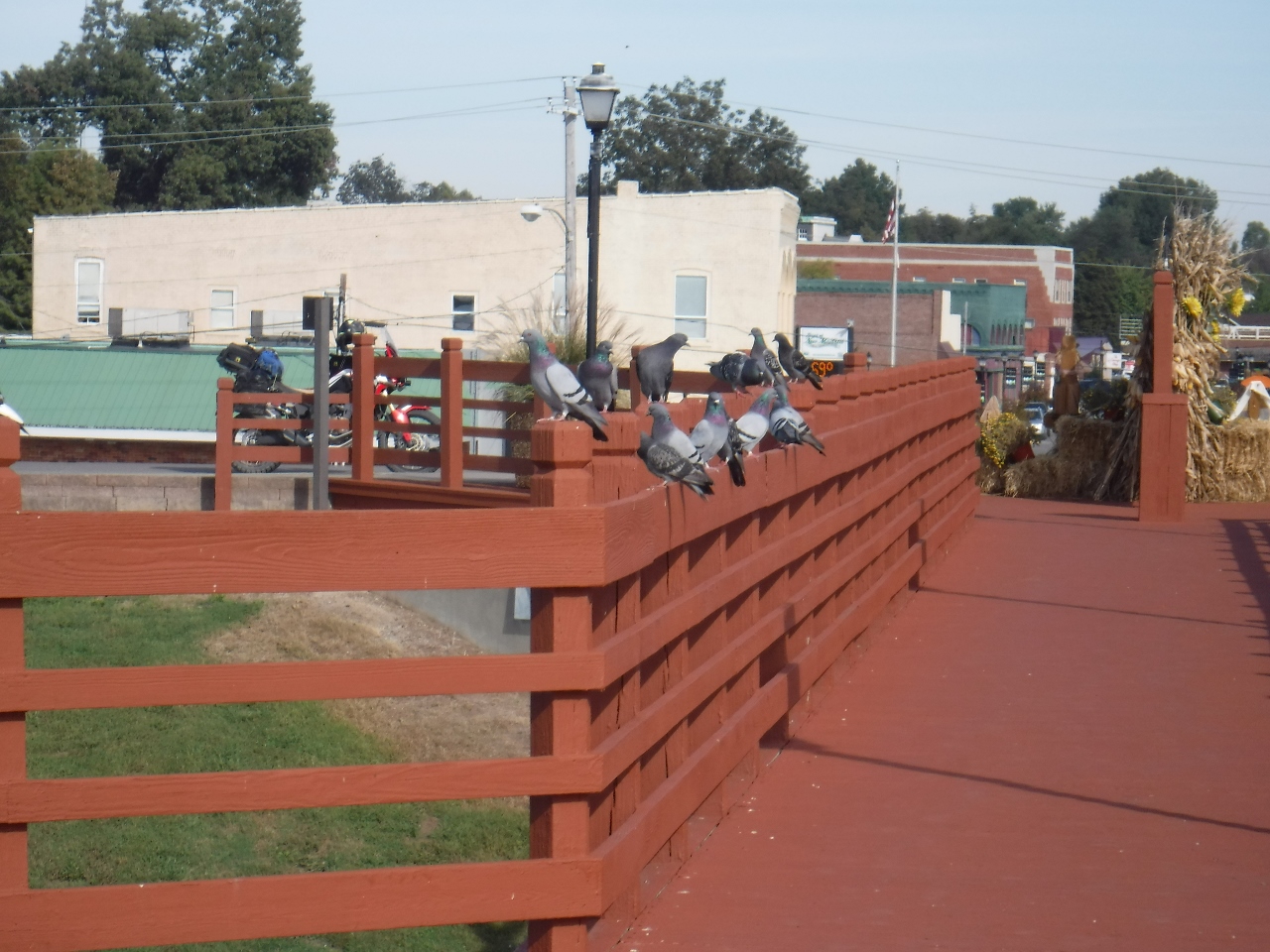 I have a waypoint of an old bridge about a mile past this gate---------but it wasn't to be today.
Maybe someday from the other side ????
I'll be bock.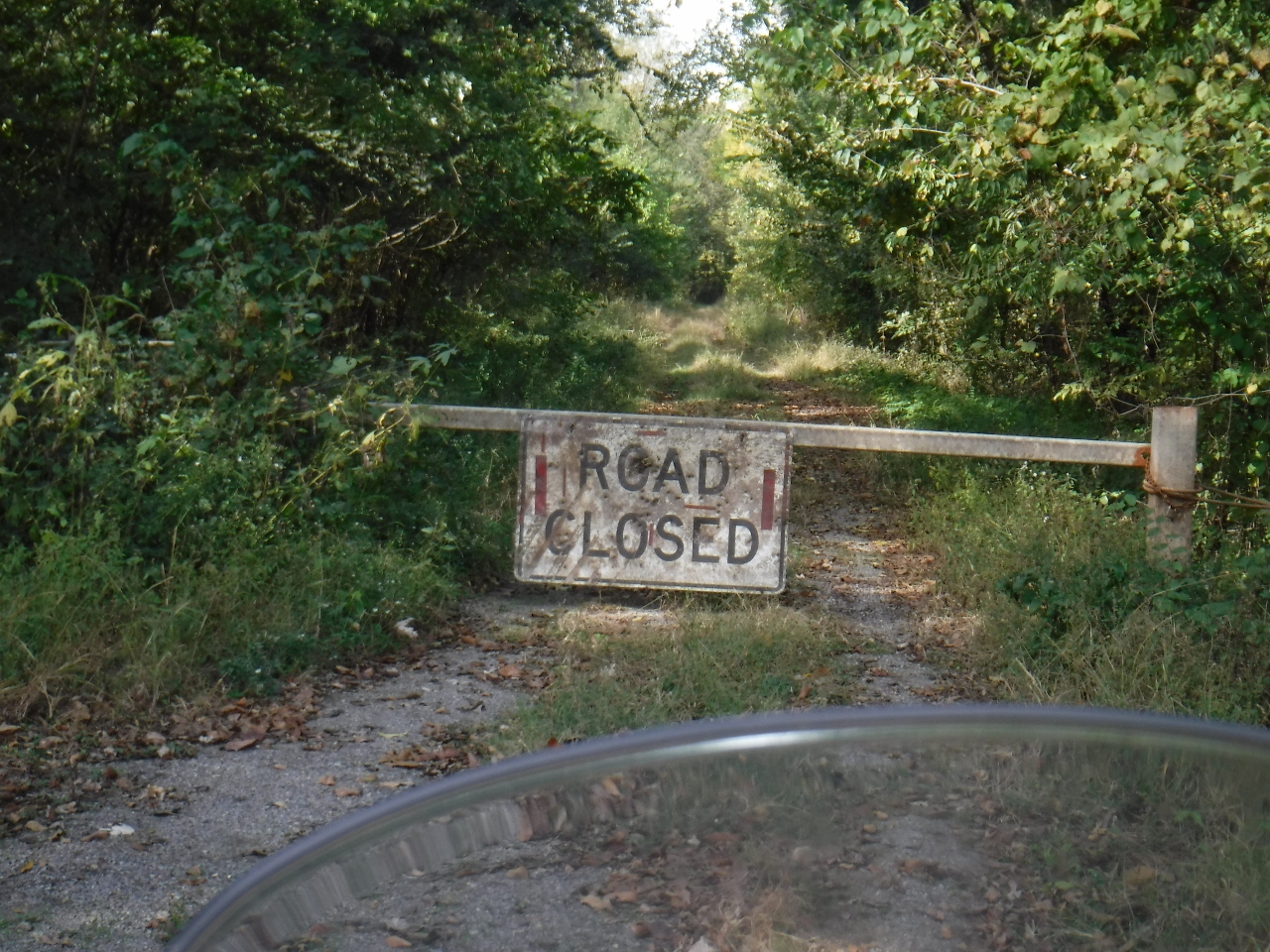 I'm headed to the Hickman ferry which crosses the Mississippi river into Kentucky...........I think ??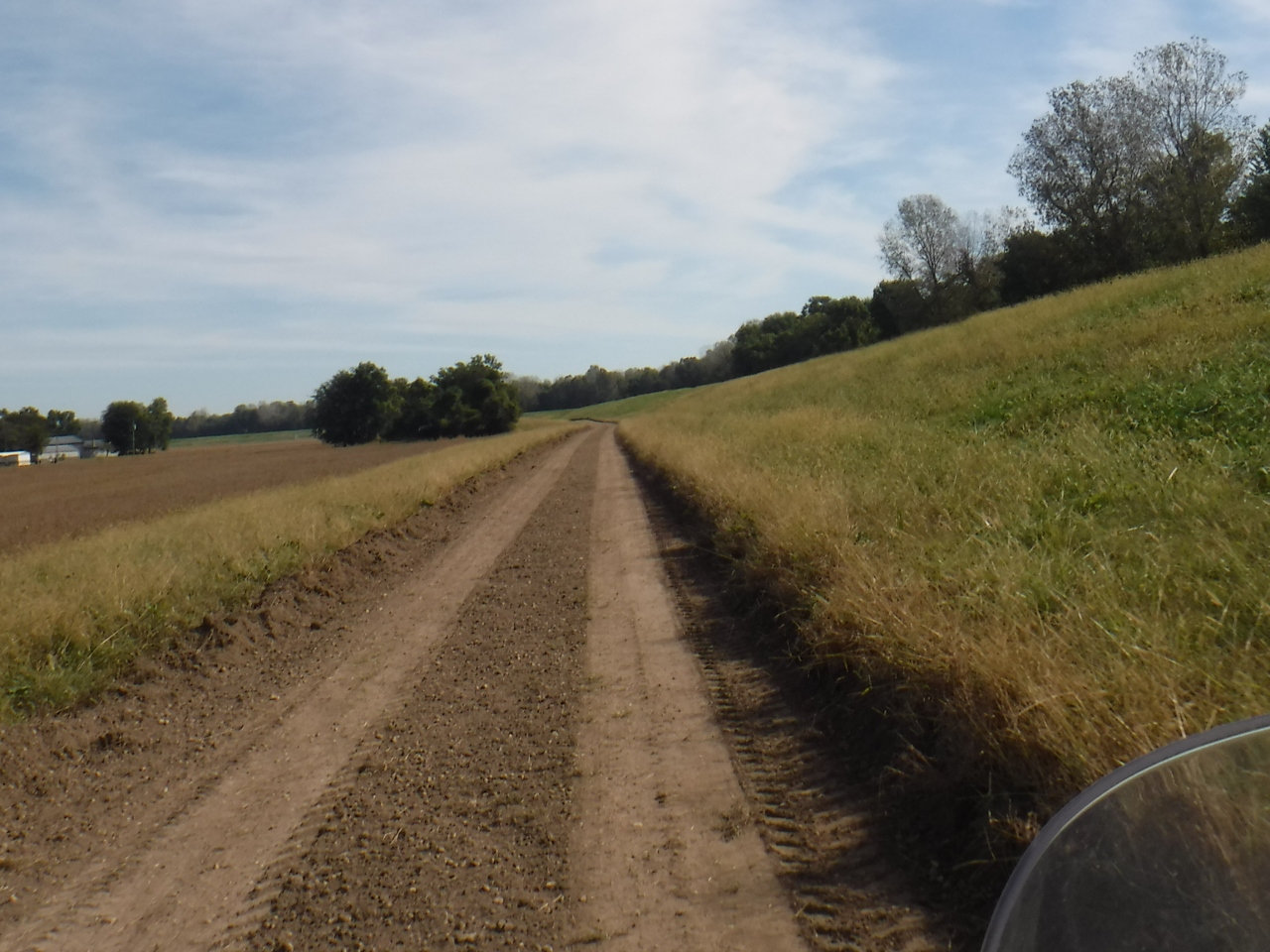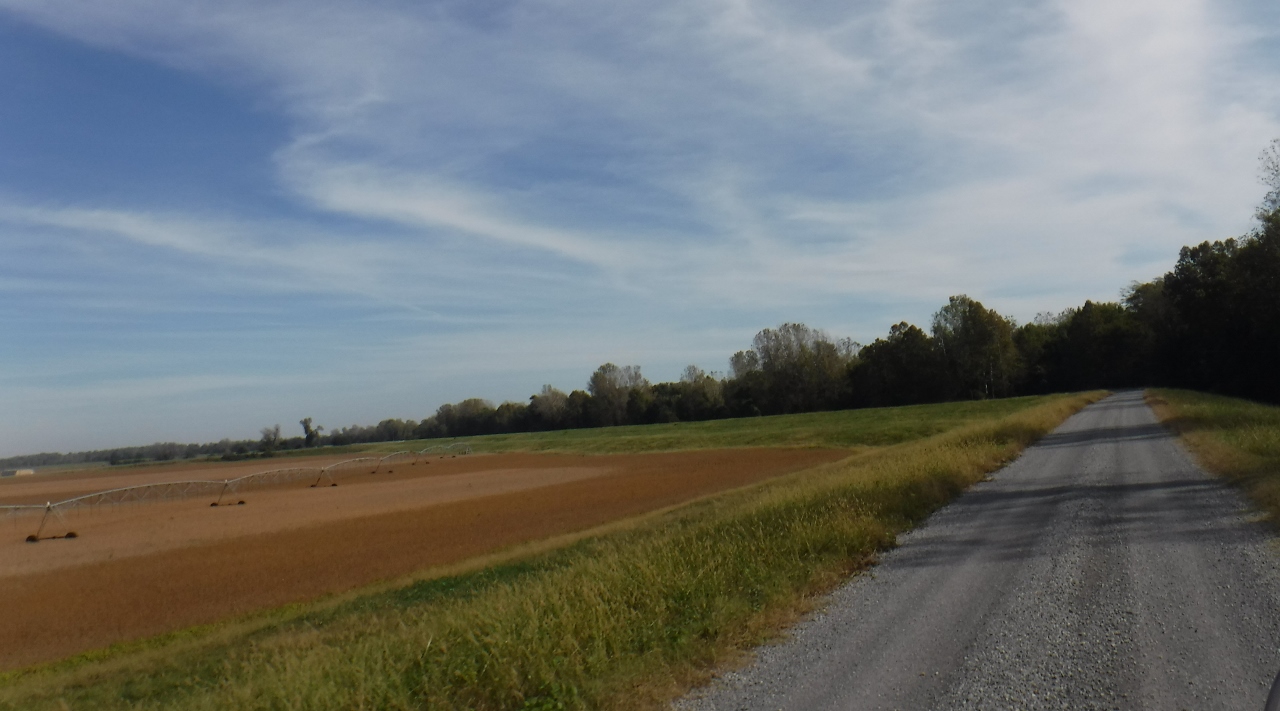 Here she comes.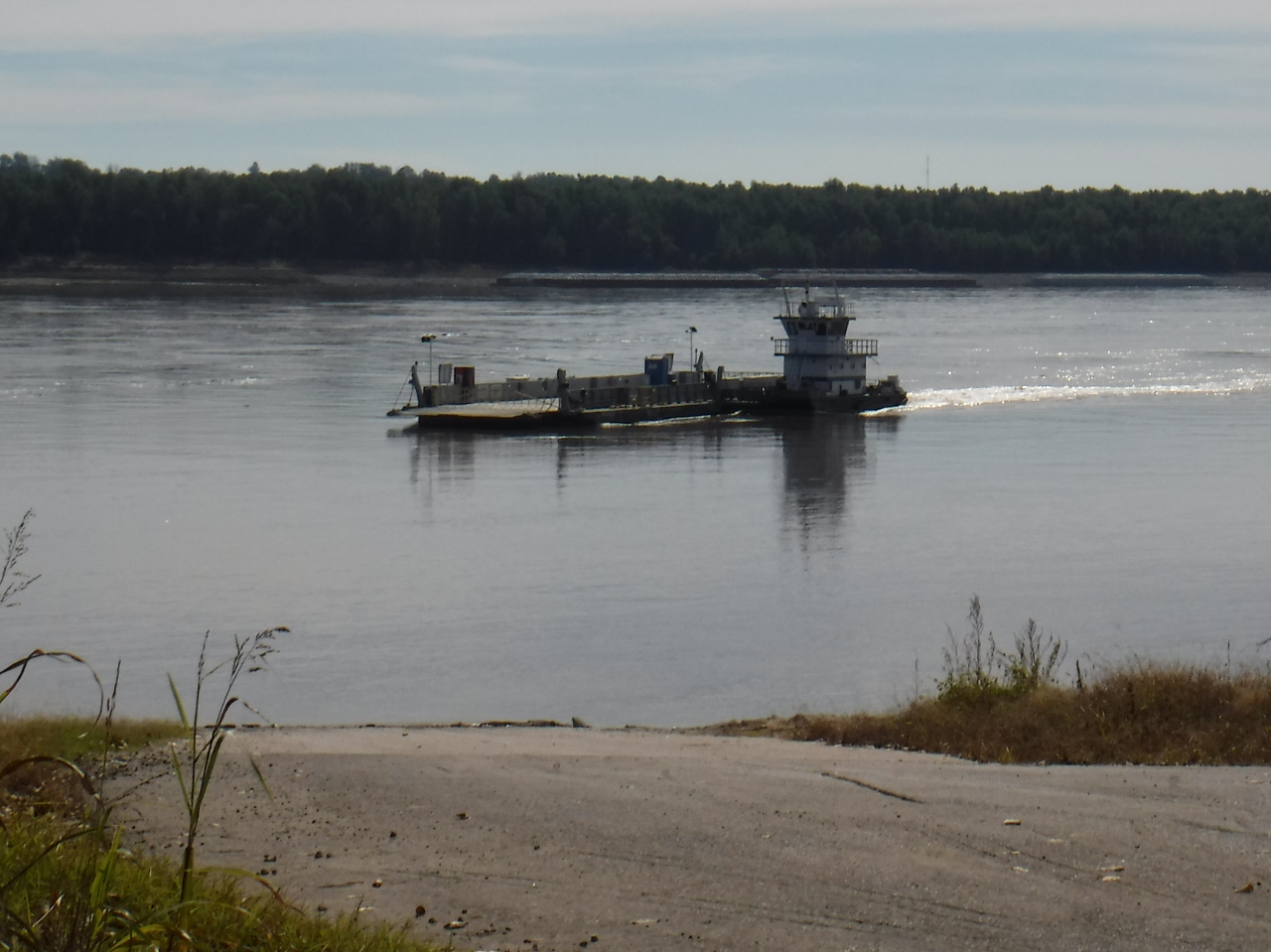 I keep runing into these signs all over the place.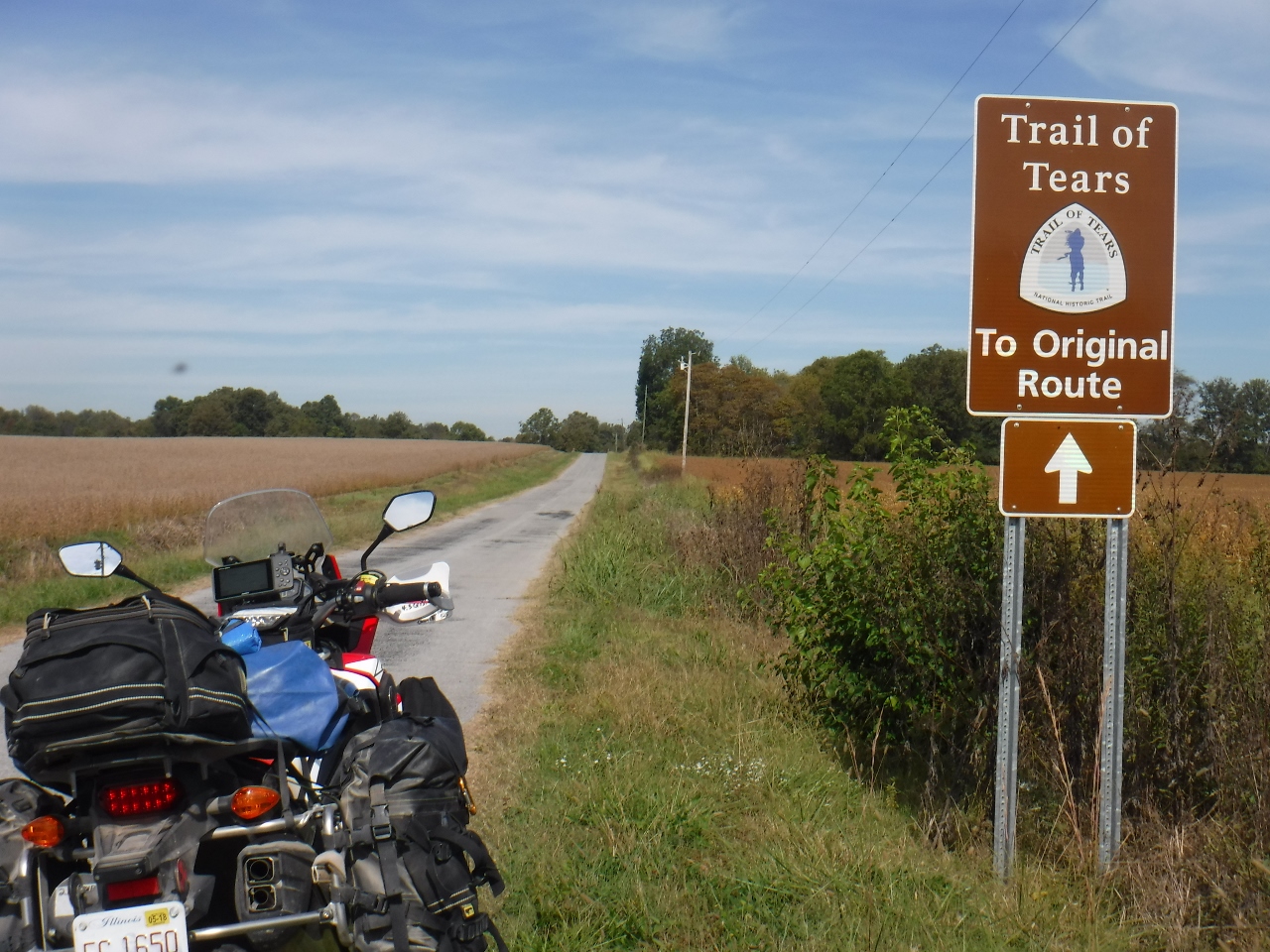 So I'm in Kentucky---Aurora Ky. to be exact and I'm hungry.
I want sometihng different--------no chain restaurant food---something wholesome.
Church food----------yeh that's what I want.
First I had to chat with the fellow in the black shirt for a half hour.
He's seemed to be running things-----till his wife showed up.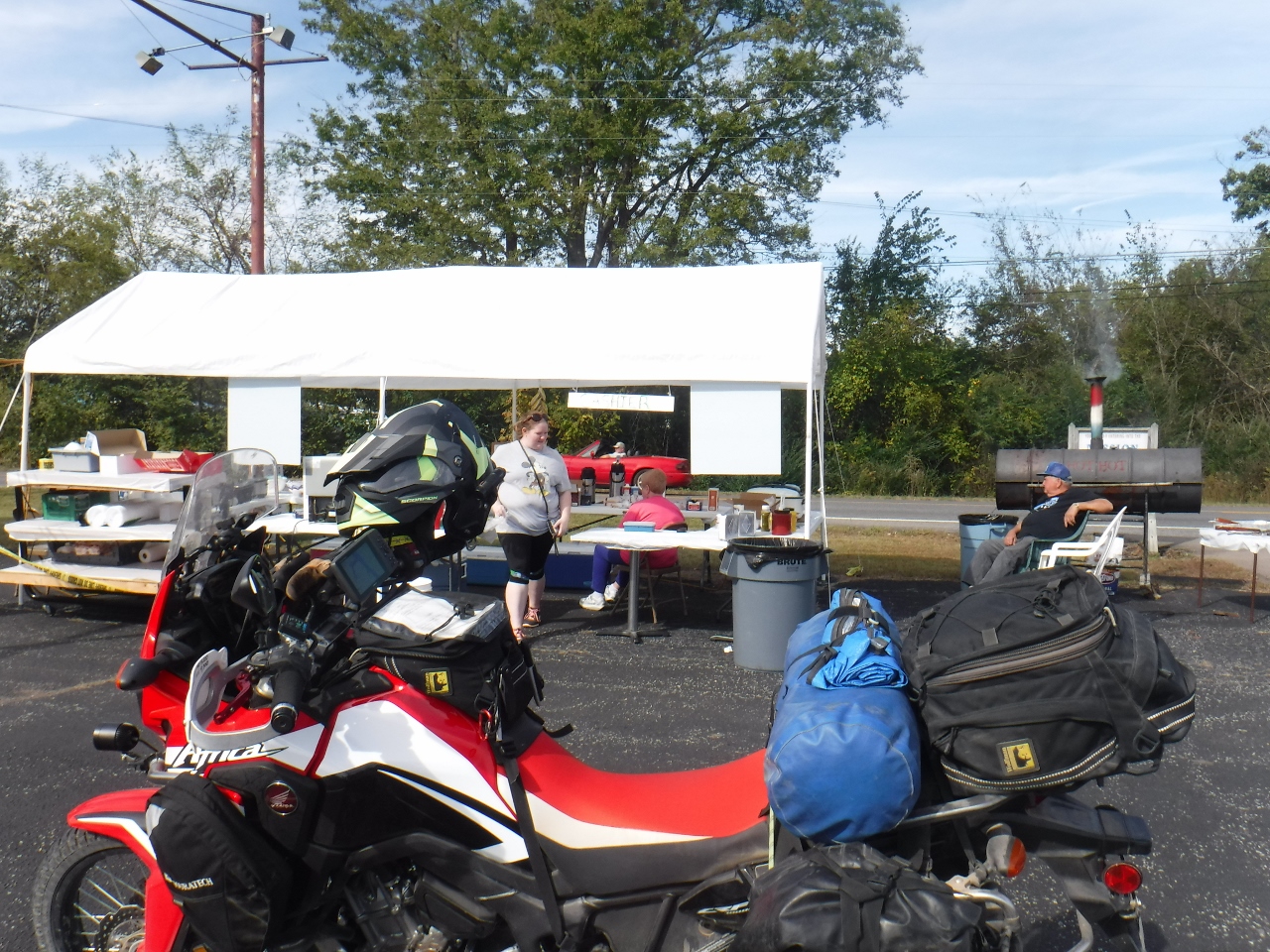 And it was there I met the rider in front of me.
He was riding one of those new fangled Africa Twins and was camping nearby at Hillerman Ferry campground
and invited me to camp with him.
He had a Honda 250 Rallye with him too---let me ride it and I stayed in his big ole slide in camper for the nite--with heat and all !!
Thanks so much----------can't remember your name ???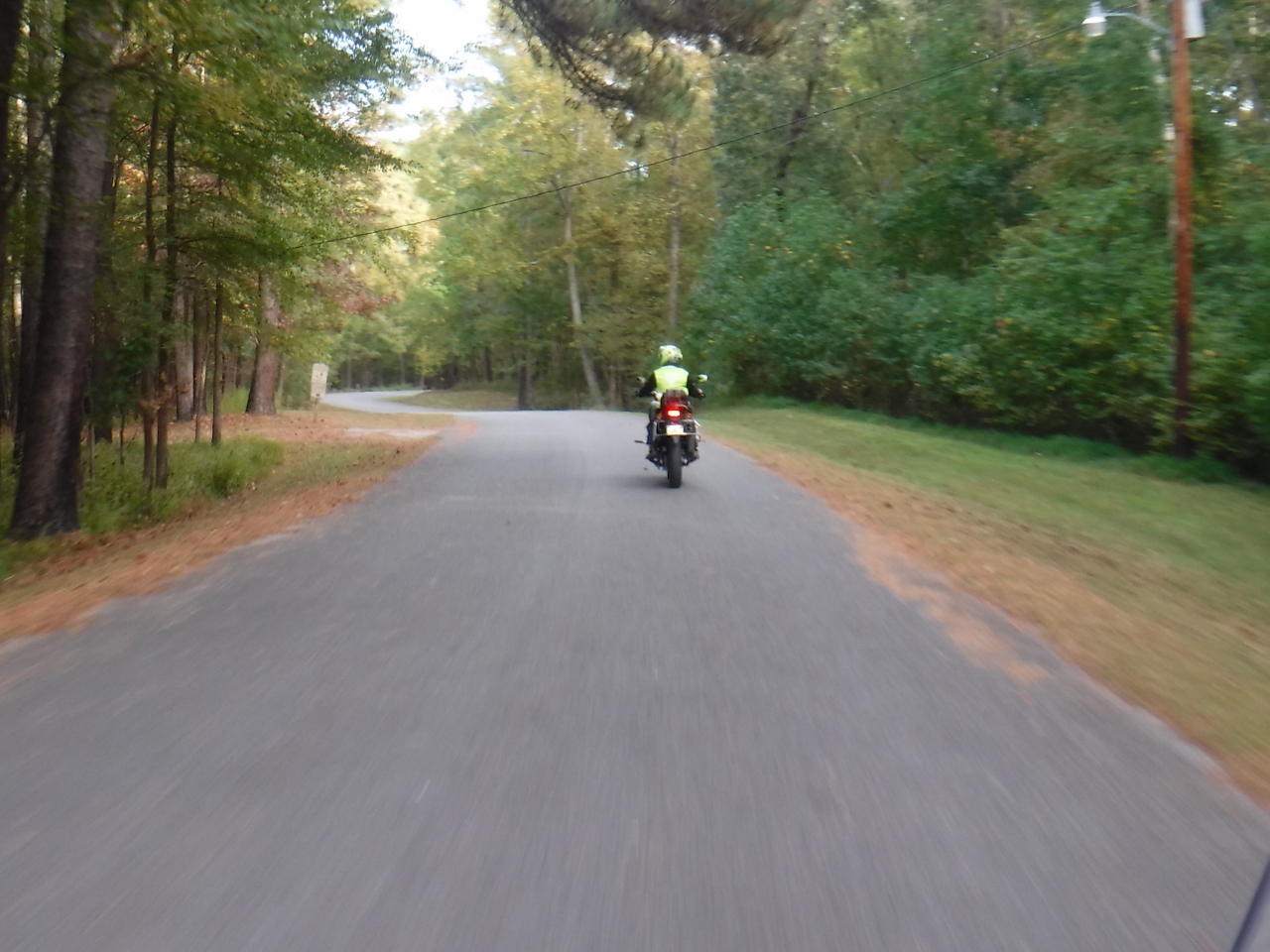 I haven't said-----but today a dual-sport ride in Indiana was going to be at a campground in southern Indiana
along the Ohio river. It is put on by my good friend and Baja "Adios Pantelones" buddy Road Dad---Jerry Mueller.
I crossed the Mississippi river again at Cave In Rock Illinois and had breakfast here
and called another buddy "Loosenut" (Steve Fritchley) and asked him if he wanted to ride to the campground
with me as I had a nice log cabin rented there--------with a campfire.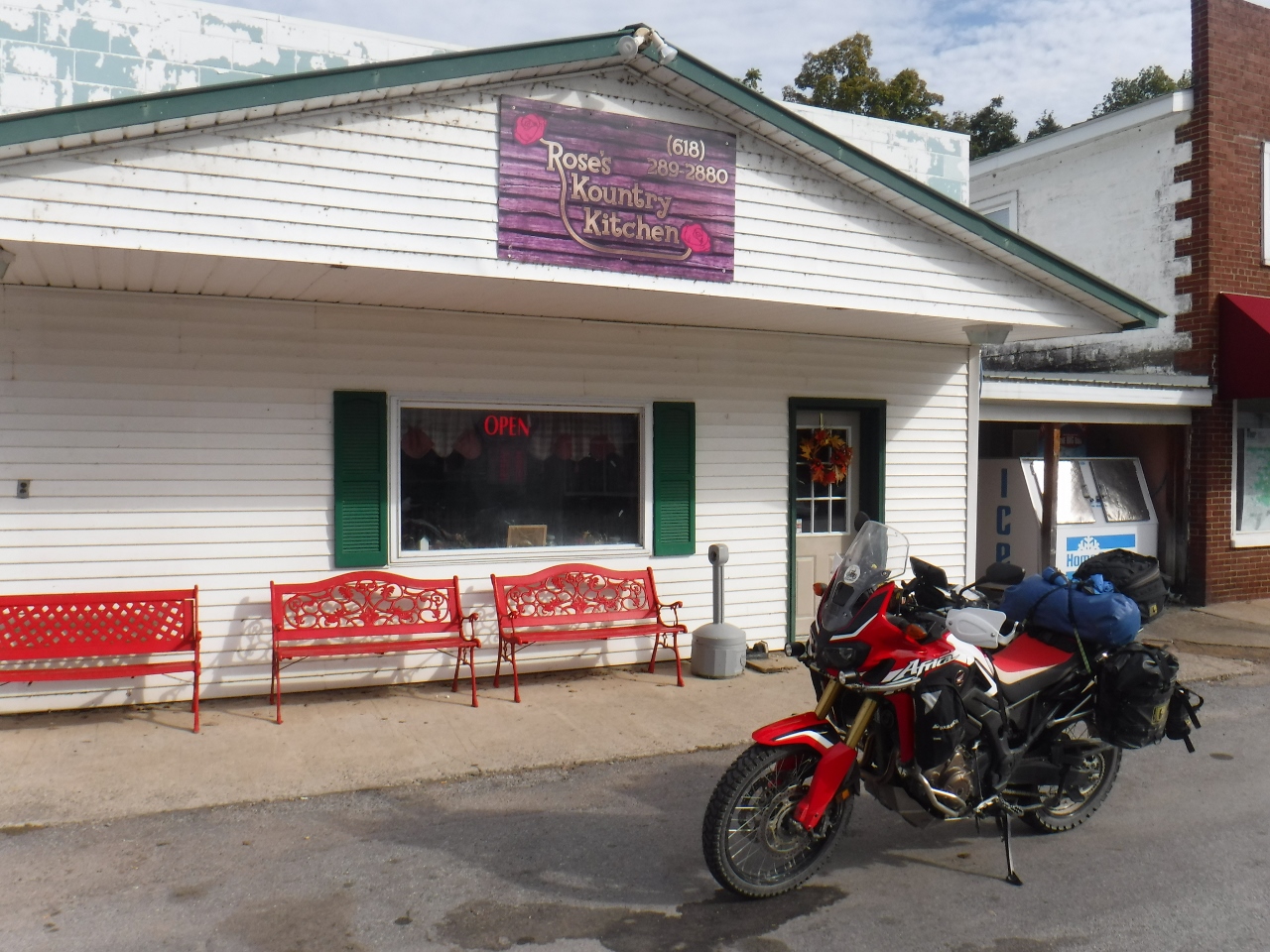 Seems I never took any pictures of the campfire and camping festivities.
But Sunday morning me and Steve headed West--each of us towards our homes...but stopped at his sons on the way
and I got to meet their new pet pig. It's a house pig----------not an outside pig pen pig------a house pig.
Cutest little guy you ever saw.
When you picked him up he squeeled like a pig----------SLAP.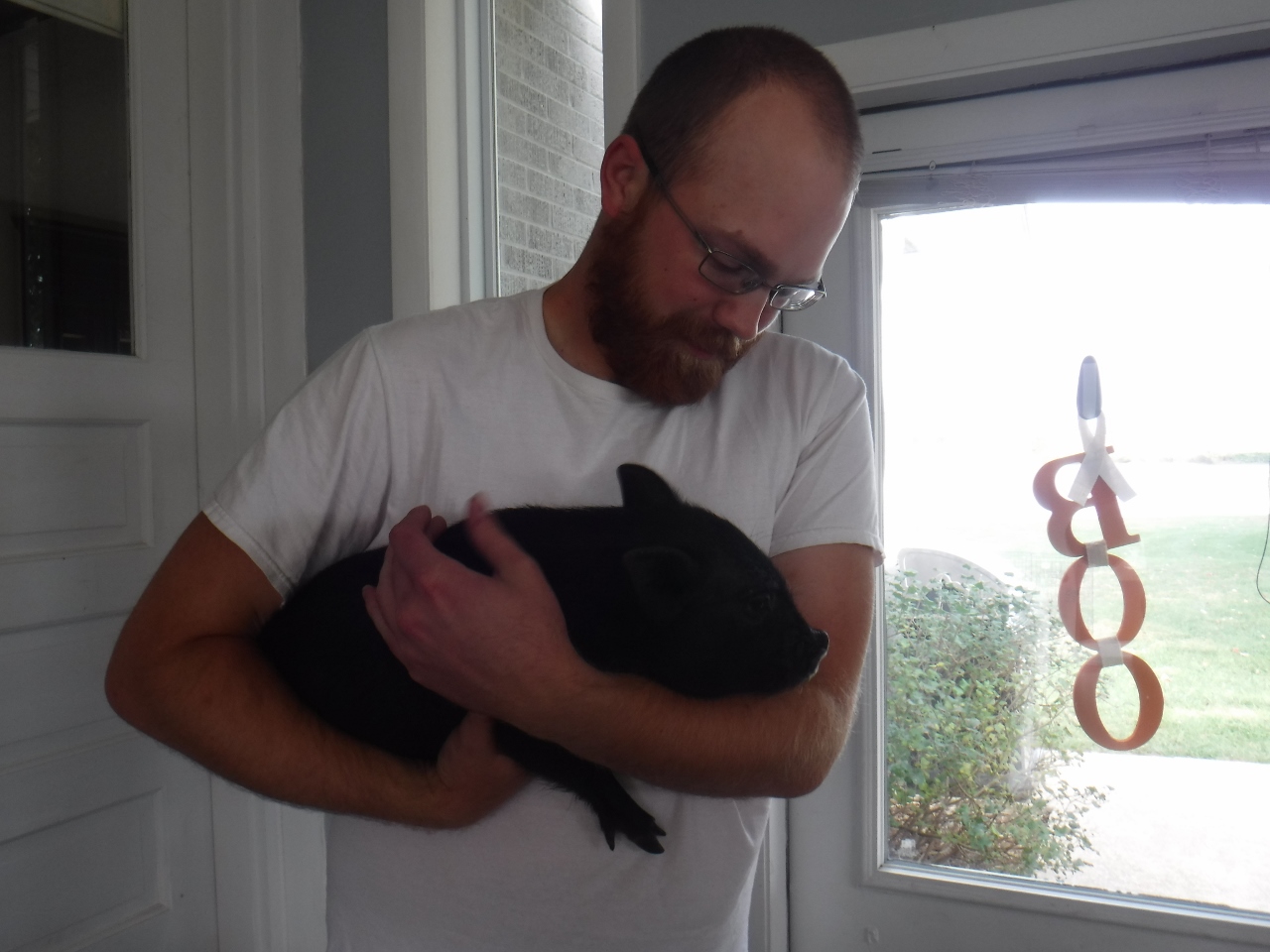 I smell.......................BACON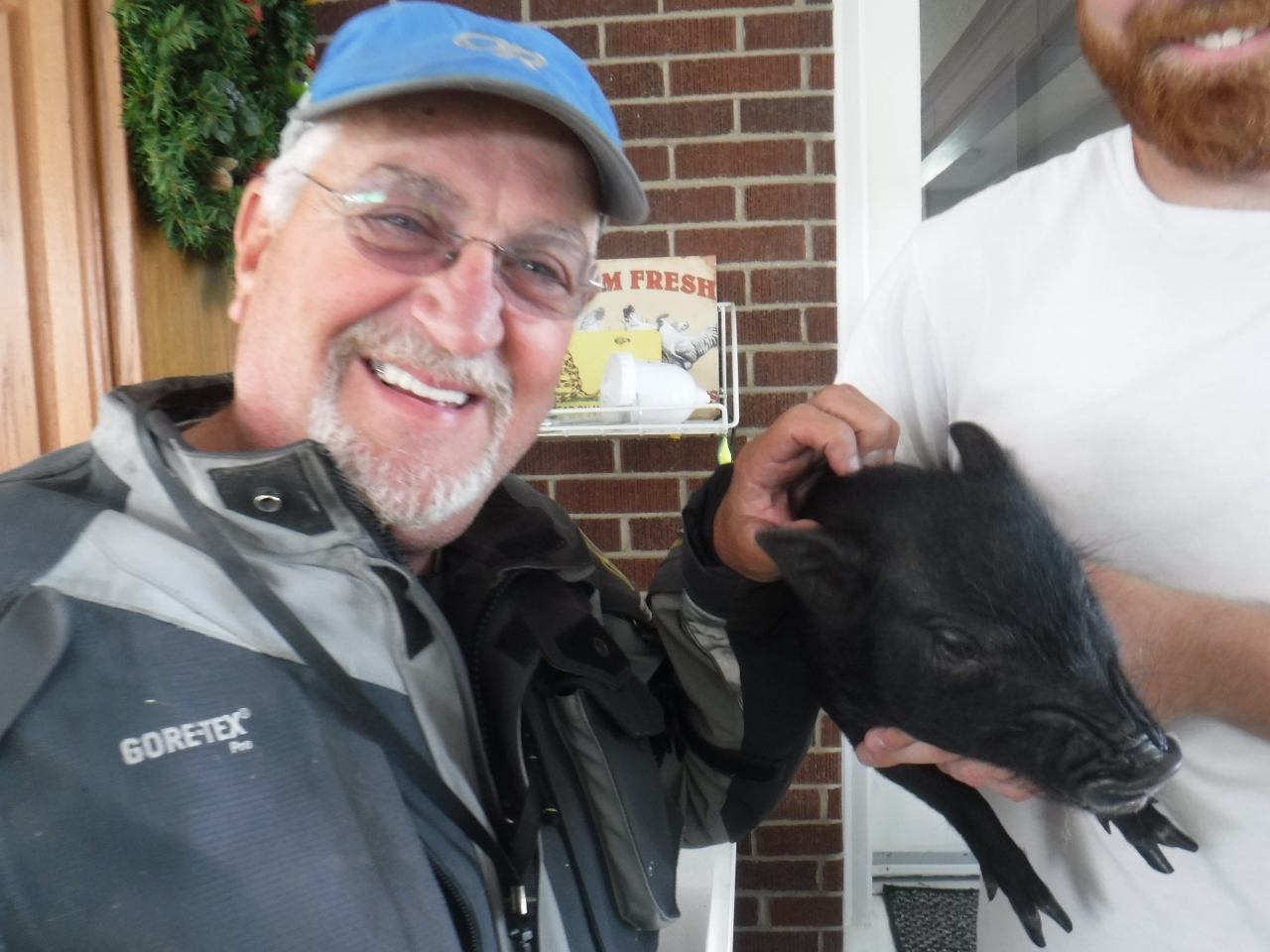 The pig had taken over the house ---------and the dog was having to play 2nd fiddle and he didn't like it.
The pig was only about 4 months old I think and won't get much bigger--------if.......you don't over feed it.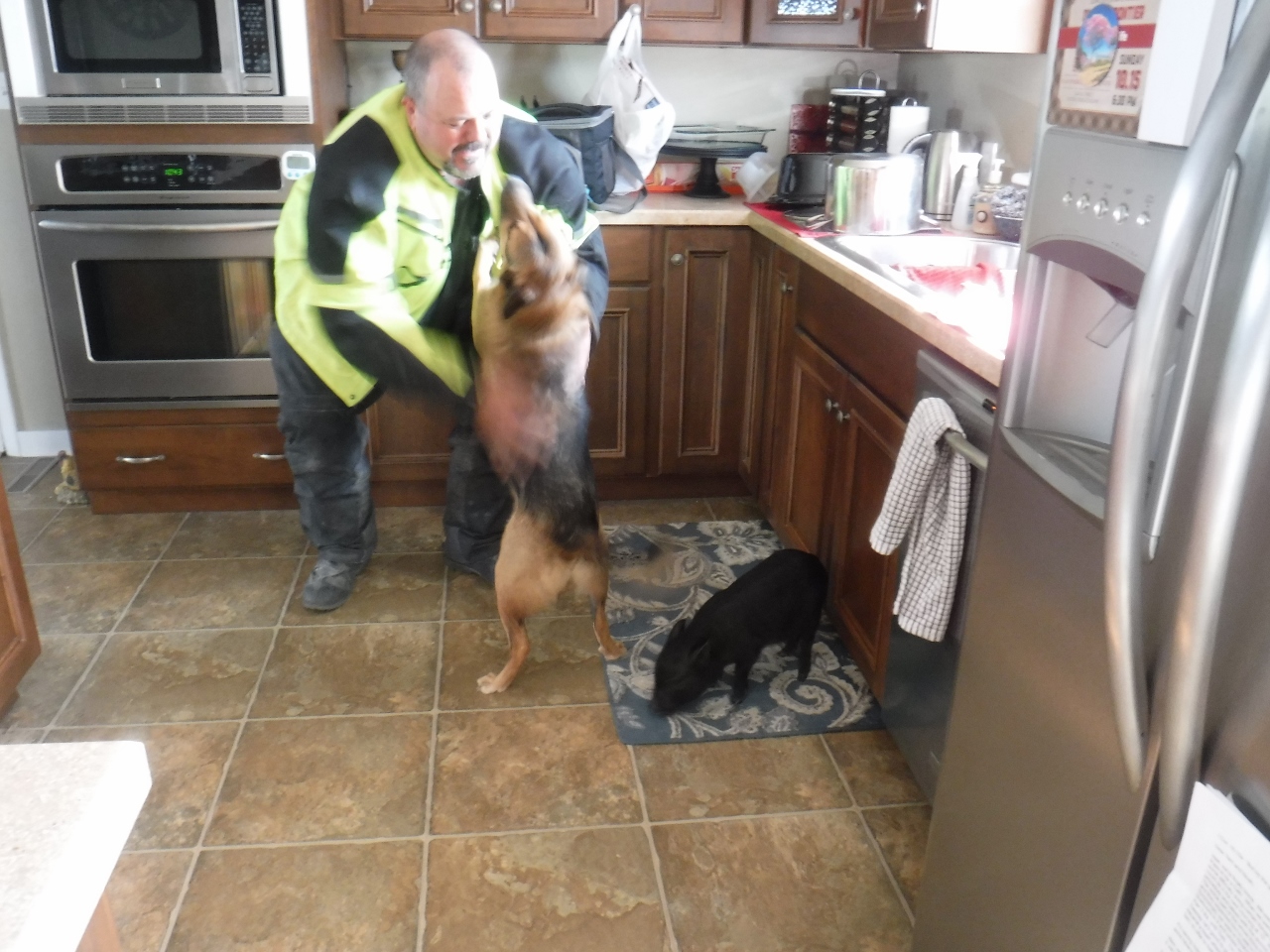 Dog.........."Do I really have to put up with this shit"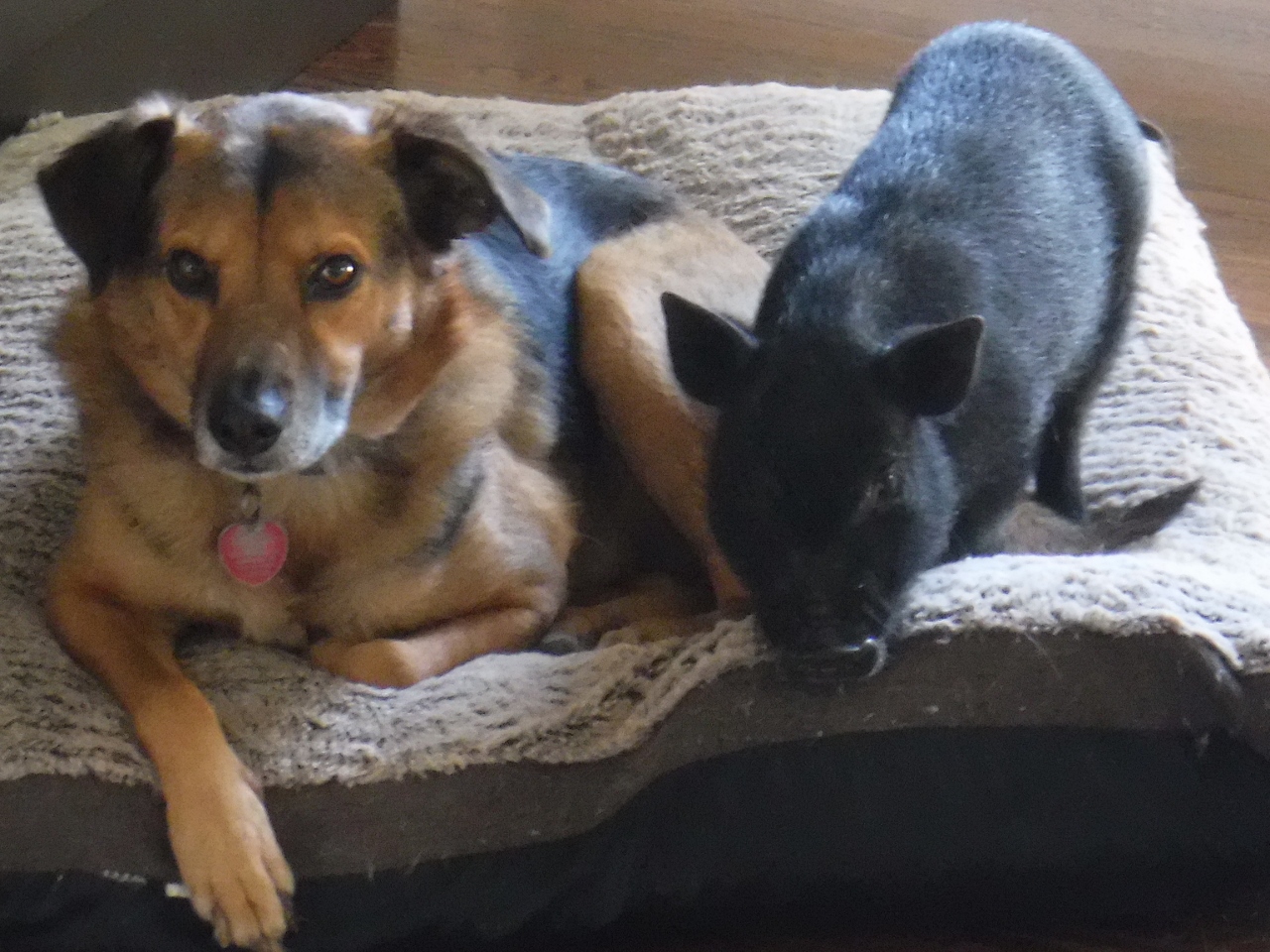 Last video-------even the pig got in this one