Day 15 February 25th, 2007
Coco's Corner To San Felipe
We blew out of Coco's at right after (not before) O'Turd Thirty.

My 2006 Husqvarna TE610
I don't ride this bike much----I've only ridden it 3 times.
It's got over 10,000 miles on it and I've owned it a little over a year.
Once again I never touched this bike--an oil change--an air filter cleaning and 3 chain adjustment is all
this bike got on this trip. It has been amazing.
If somebody stole it tomorrow I have a new one the next day---it's that good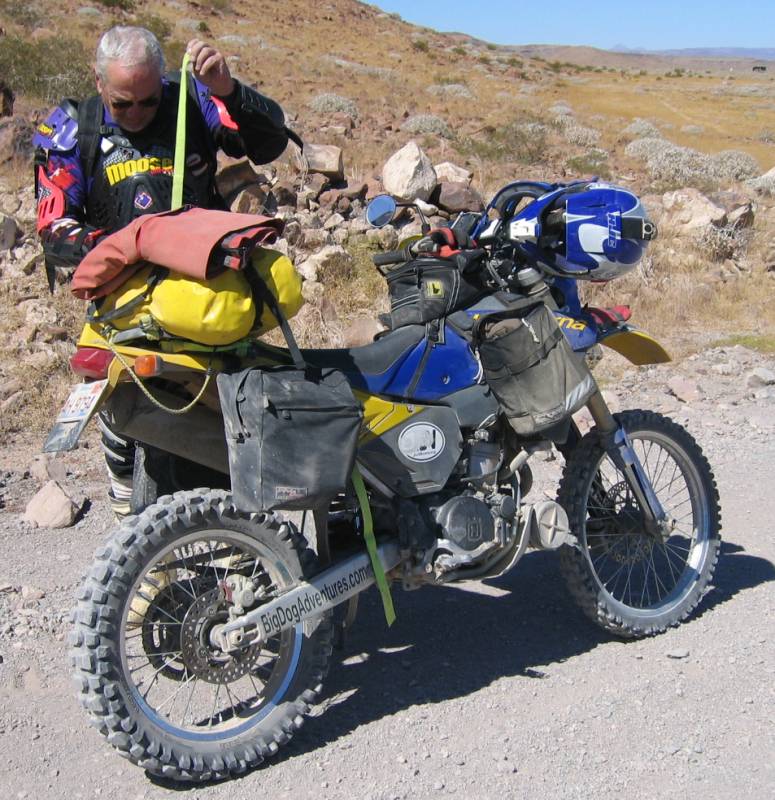 Now I know your not tired of looking at the Sea Of Cortez are you ????
Yep, were back to it again.
For the ordinary traveler in Baja there are few oppurtunities to cross the mountains.
However for us dirty dirt bikers there is a whole bunch of places to go over them.

Yep-----there's 2 Rice and Beans in Baja
One in San Ignacio--and one in San Felipe
Taco's Pescado--------Gracious.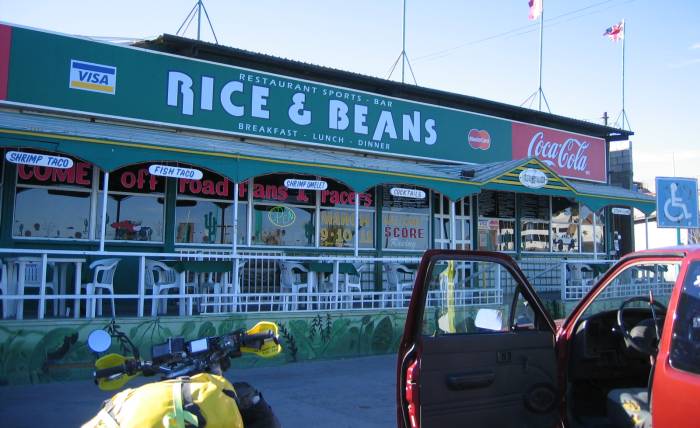 Sunrise at our Motel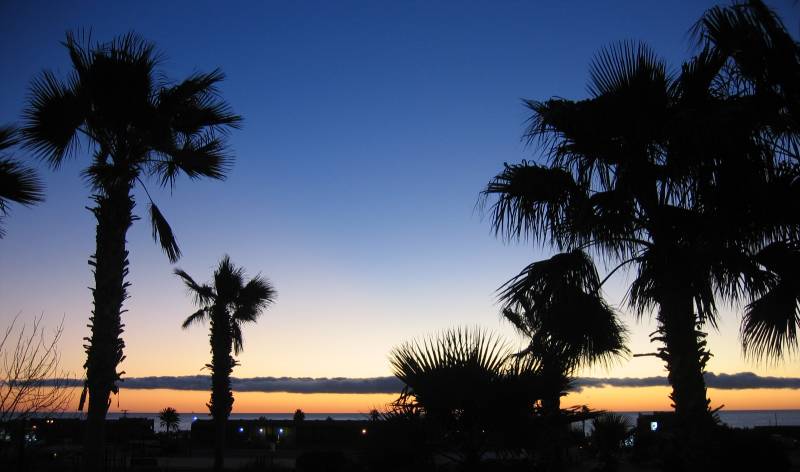 This was the view from the front of our Motel looking West early in the morning.
It doesn't look real.
Yeh-----we were forced to ride off into it. Mandatory they said.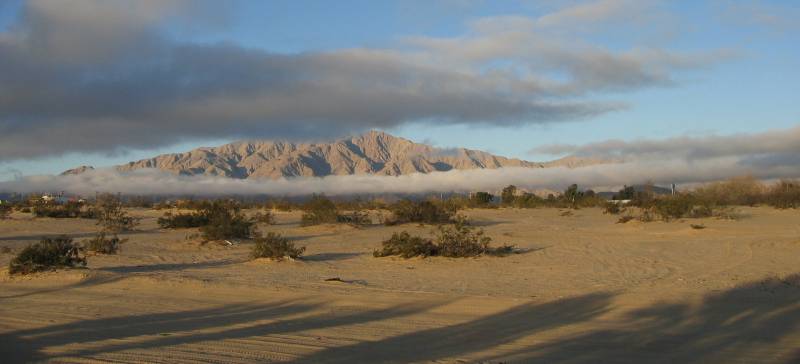 This was our 2nd visit to this motel on this trip.
For some reason we were allowed to park in the inner court yard the first time.
This time they told us to keep our bikes and smelley socks out front.
I brought 2 pair ??? Guess I should have gotten the 2nd pair out.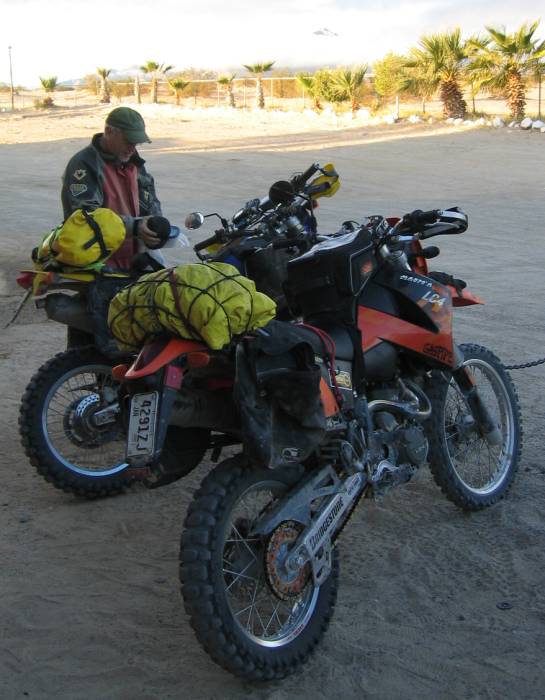 Right now is when I remember what GasPipe said as our trip is nearing the end.
I asked if I could quote him and he agreed.

"Yep--the trip is about over....I'm down to one pair of clean socks"
Day 16 February 26th, 2007
San Felipe across the mountains yet again---and on to the border.
We weren't ready to go home.
We were told not to go over the mountains thru Laguna Hanson as it was snowed in....
and the miltitary had the roads blocked.
Hell we got dirt bikes dude----------we headed straight for Laguna Hanson.
We got breakfast and gas in Colonia Lazaro Cardenas. This would have to get us to
the border---it would be close for me.
We broke off the pavement and it was miles and miles of sandroads.
We had to open and close many ranchers gates.
We rode West over the mountains always looking up into them for the snow we had been warned about.
We had the view of the highest mountain in Baja to our left---at over 10,000 ft.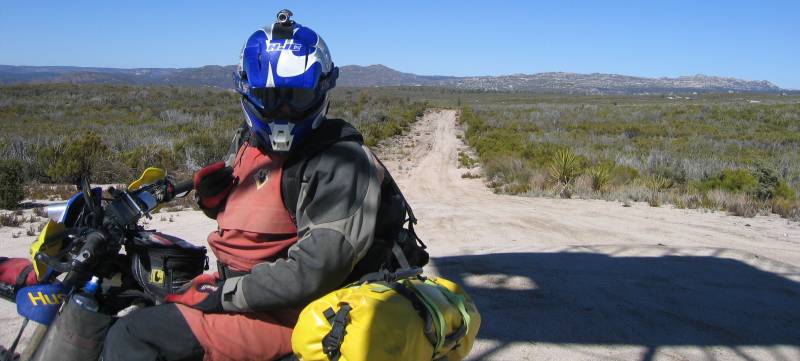 A fire tower was the last thing I was expecting to see in the mountains.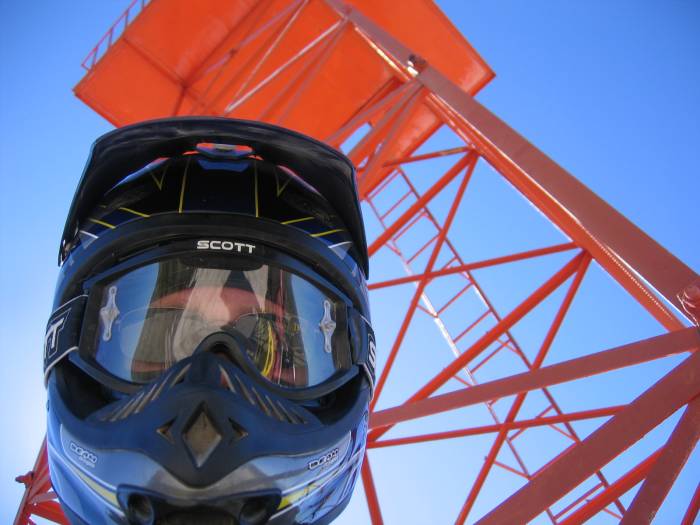 We chased each other thru the sandy roads South of Laguna Hanson.
I don't have any pics of that riding-----but it was rich in rocks and pines--beautiful riding.
Here is Laguna Salida---the big lake we had big looking for.
It was dry.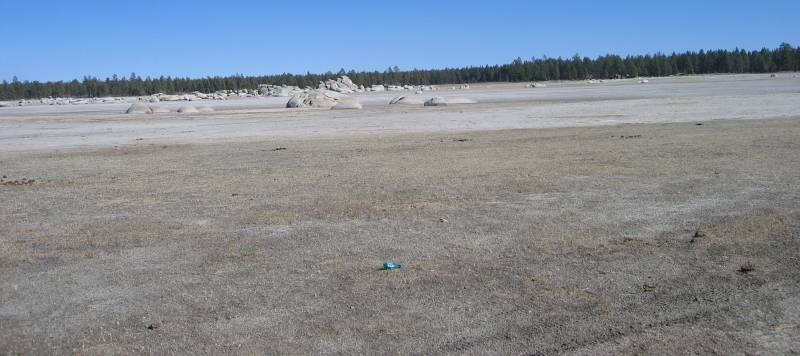 Well-------there was a little water. We wondered about the snow we had been warned about.
We had ridden thru some wet holes--and sometimes the sand was moist--maybe it melted ????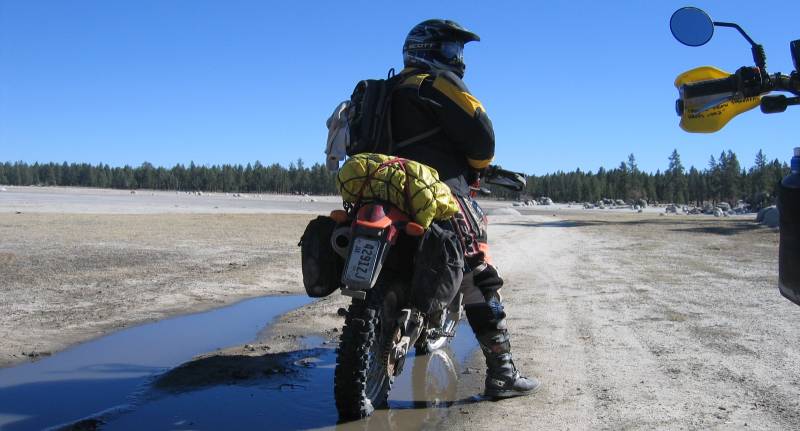 From here you ride from 4,000ft. down to nothing in a few short miles.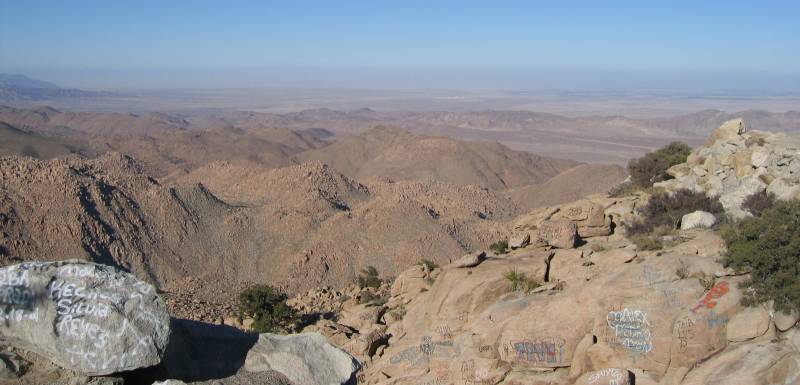 What a great ride we had--my first trip to Baja and I was overwhelmed.
We never had a bad day and the weather couldn't have been better.
Baja can be very windy----but it just wasn't a problem for me.
Bruce said it was quite a bit cooler then he had ever seen--but it was no problem.

Since I got home I have spent days editing the video and
many more long nights editing the GPS data--a lot of hard work.
The video came out so good--I worked hard on getting my equipment set
up and it worked out better than I had hoped for.
Ride statistics
5 riders started-------2 finished
2,500 miles approximately
We burned up one front tire and 2 rear tires.
There were no major bike problems whatsoever--they were very well prepared bikes.
No flats. I now me and Bruce had heavy duty tubes in--we don't believe in using Slime.
I spent about $600 I think in Baja.
One dead scorpion----5 dead cows
I ran out of gas about 4 times----nobody else did.
Only I got sick--but got over it real quick.
Me and Bruce never had a real crash.
However I had quite a few 0-1mph tipovers.
Only one short riding day--the others we tried to ride all day.
I think a dozen bolts were shook loose down there--I checked my bike over everyday.
One oil change and one air filter cleaning for me.
Bruce had one oil change and about 3-4 air filter cleanings.

Once again I have so much to be thankful for to be riding like I do at my age.
I am one lucky guy----and know it.
Good friends and good riding.
And back to my lovely wife and dog JoJo---heck she never sent him--good thing I went home !!!!
Adios Amigo


The End
Meanwhile back at home----there's no Baja sand.
Just Southern Illinois mud.