Stage 12
Monday July 18th, 2005
| | |
| --- | --- |
| North out of Kalispell we headed for our last day on the Divide Trail.It was a cool crisp morning and I had my heated grips on the whole morning. Another day of rain and high humidity---it was bad. Just look at those clouds. | |
| | |
| --- | --- |
| | I chased Mrs. Moose for almost a 1/2 mile---I was going oh so slow so as not to upset her. I knew she would eventually duck into the woods---Kevin was beside me so I told him I thuoght we should stop, hoping she would too. It worked---she paused just long enough to get a picture. My third Moose sighting for the trip and I got pictures of them all. |
Kevin got a much better shot of Mrs. Moose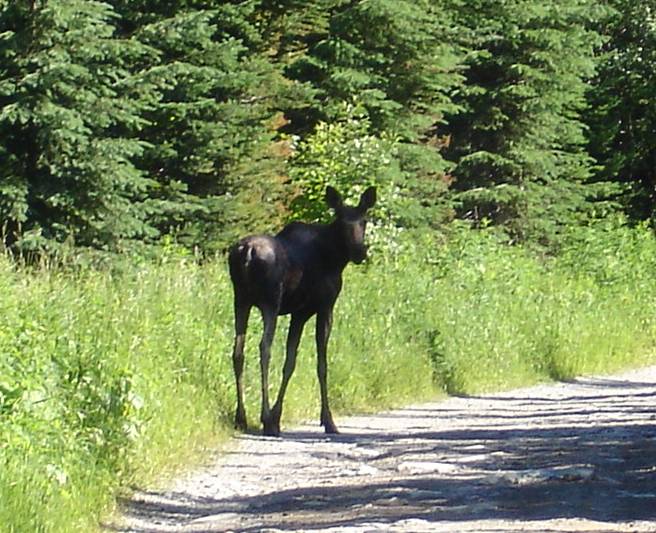 | | |
| --- | --- |
| I think this is along Red Meadow Lake----Look at the green !! I was riding very slowly hoping to spot a bear as we had not seen one the whole trip---I'm sure they had seen us. | |
| | |
| --- | --- |
| | I was riding so slow and the guys accused me of not wanting the trip to end.They were right. |
| | |
| --- | --- |
| We went about 5 miles out of our way to Polebridge. We all would have walked the 5 miles there if we knew how good the homemade warm sweet rolls were. | |
| | |
| --- | --- |
| | They were fresh out of the oven and oh so good. There is no weight to be lost in Polebridge. There are a few cabins here and a hostel. Do not by-pass Polebridge if you ride the Divide route. |
Life is tough in Polebridge

Population 6

and 4 dogs
| | |
| --- | --- |
| | We rode a little North and then East and crossed the Yellowstone river which would put you in Teton National Park, if you were willing to pay the $20 to get in---that is if you weren't still pee-eed at paying $15 for riding on a road just to see the Tetons mtns. No thanks---it's much better on my side boys---"end of rant" |
| | |
| --- | --- |
| I don't know about the other guys, but there was a tear in my eye as I looked down on the little town of Rooseville, Montana. | |
Ok--here she is--the most amazing person I met on the whole adventure.

Betty Kellenberger--Carson City Michigan

She wouldn't tell me her age, but she road the same route that we did on her bicycle. She was a hoot--she was a very happy person and I bet that smile was on her face the whole time. You go Betty !!! So nice to meet you.
Monty hollers "Are we there yet" ??

Were There !!!

The GPS says 2,626 total Miles

153 Miles for the day