Day 6
Thursday July 12th, 2001 Owl Creek Pass--Poopey Trail--Box Factory Canyon
I had spotted a pass on my maps I had never heard of in a desolate area that I wanted to try.

Owl Creek Pass it was----we road hwy. 50 West until we turned South on Cinnamon Road. This was a beautiful road thru the mountains for miles and miles. It was a huge ranching, open range area where the ranches were many miles apart. We hardly seen anyone on this rode—I was having a hard time keeping my eyes on the road the scenery was so beautiful. We made Owl Creek Pass (elevation 10,115ft.) and took a picture then continued down the other side.
Then we road passed "Chimney Rock" which was so unusual and we found out it a hangout for rock climbers.
I had always picked routes on my mapping software and downloaded them into Kenny's and mine GPS's. It had been flawless-----well today it let us down a poopy trail. We took a side trail, following the GPS's arrow and the riding was great but the trail kind of deteriorated as we went and I smelled at rat—it was really cow shit. From all my years of riding and exploring I just can tell when a trail is going to end—but we soldiered on and had a story to tell from this cow shit trail !!!! I was having a blast as the trail got smaller and smaller as my bike was more offroad oriented than the other guys bikes. I kind of went off and left them at times and waited for them to catch up. I stopped at a big mud hole with a steep hill just beyond it that you couldn't see over at all. Kenny and Don watched as I gassed it thru the mud (if was later found to be cow shit and piss) and disappeared over the big hill. They followed suit, gassing it a little so as not to get stuck. We came to a gate and the sign said "shut the gate after passing" so we did just that and road for maybe a couple of miles of great but deteriorating trail-------when you guessed it "Keep Out—Private Property—Trespassers will be Prosecuted" etc. etc. So we had to turn back-----well I kind of ran off from the guys again and I went over the big hill and headed down for the messy mud (shit) hole.
I went down the very steep hill and gassed it at the bottom to get thru it and when my wheel hit the other side of the wetstuff---- it hit a hard dirt wall at the edge of this and I almost went over the bars---but I got thru it OK. Being the nice guy that I am-----I thought about just sitting there and watching my good friends get thrown over the bars in front of my ever present camera !!!! Hmmmm!! Hmm—mmm!!! And maybe they would fall over in the gooey mess too boot!!

I just couldn't do it-------here came Don over the hill and I cautioned him to not go to fast-----down he came with very little throttle as his bike came to a mushy halt right in the middle of this mess. It was standing straight up--but fell over right as I took the picture.

He promptly gave it some gas and let the clutch out, but the only thing that happened was that his rear end sunk above the axles---it was hilarious as Don just sunk about a foot down!!!! Don hollered "Well you told me to go slow"-----which I replied with "Not that slow" !!!!!!!!!

In the meantime "Iron Butt" just cruised on thru the easy spot. Don was needing some help badly------so naturally I just started clicking pictures off one after the other. Well we all stood and laughed at the whole situation for a bit when Don bailed in the crap and tried to kickstart his bike—that didn't work, because he couldn't kick it thru he was so deep.

Soooooo-----out came the famous golden rope and Kenny pulled him out with his DR650. Don looks at me again as says "Not That Slow---huh" ???????

We all laughed and headed back to Owl Creek Pass Road. I must comment that the "Holy Golden Rope of Shame" was getting pretty tattered by now.
Man that old tattered rope is under a lot of strain.

That Ain't Mud

Mooooooooo!!!
We headed straight West along Nate creek and Cow Creek until we hit Colorado Hwy. 550 (the million dollar road) just North of Ridgeway. We turned South and went into Ridgeway and surveyed where we were headed next and decided to reserve a room here so we would have a place to stay later—as rooms were far and between out where we were riding. Don gassed the Honda up and went went West then South on Hwy. 62 till we hit West Dallas Creek access area and turned East and crossed a private ranch and headed toward Box Factory Canyon---whatever that was. I had read about this place on a jeep internet site and it said it was beautiful but I didn't remember much else---it was also a dead in.
| | |
| --- | --- |
| This trip back to Box Factory (I still don't know what that means) was a delight as when came upon the edge of a very deep canyon that we couldn't hardly see the bottom because of the brush. | |
| The canyon looked like it headed right into some snow capped mountains, which it did. | |
| We rode on and it was really slippery as we had obviously just missed a rainstorm. We had DOT knobbies on—so we soldiered on and met no one the whole way to the end of the road. We ended up in a lush grassy meadow surrounded by beautiful aspens with the snow capped mountains in view. Man---was it worth the side trip to this beautiful place----I recommend it highly if you are in the area. | |
We backtracked gleefully to hwy.

62 then continued South for about 6 miles and turn left (South) on 58P road which followed Leopard Creek. We took a mostly Southerly route and then a little East on Last Dollar Road which deposited us on hwy 145 just West of Telluride. Last Dollar was a spectacular road in itself as it was so beautiful and very little traveled. It got a little rough in a few places but we loved it as we would sometimes climb up thru endless rows of aspen trees. Here I climbed up that hill and stopped on the very edge of that cliff for a great view. It was spectacular.

We then went South on hwy 145 until we turned East toward the town of Ophir, an old gold mining community just lost in time-----we road thru very slowly admiring the few old houses still remaining in this wonderful little town. On East took us up Ophir Pass (seen here) where we could see the town of Ophir to the West then this pass road took us down to route 550 eventually.
We wanted to do Black Bear Pass-----but daylight was running out and we decided to do it tomorrow and made a bee-line back to Ridgeway where our comfortable Motel was waiting for us. This was a full day of riding and we were tired. I don't know who was louder---Kenny snoring---Me farting—or Don farting and snoring---what talent !!!!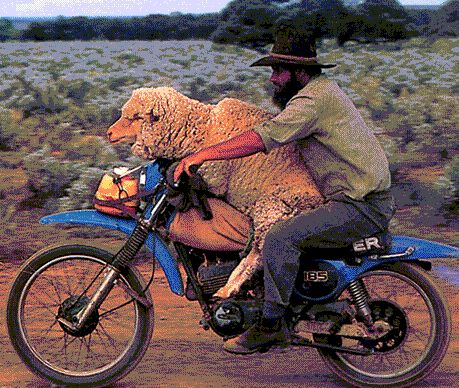 Now this is what I call "Real Dual Sporting"
Click below for Day 7
Day 7 Only fools would tackle "Black Bear Pass" on Friday the 13th !!!