Day 7
Friday the 13th, 2001 The infamous "Black Bear Pass"
After the usual Honda rope start we had a quick breakfast and were eager to ride Black Bear Pass—the most rugged, notorious, baddest pass in Colorado----or so it was claimed. It has taken many a life as inexperienced jeepers have tumbled off the slippery rocks to their death. No rental jeeps were allowed on this pass, and for good reason-----it was not for the inexperienced or faint of heart. We didn't realize till we got home it had been "Friday the 13th" J.
I think I really scared a nice older couple who were just starting up the pass on a Jeep tour guide. They were sitting out in the open on a bench seat in this modified old Jeep wrangler admiring the countryside and waiting for the fun or horror to start. I whipped up beside them as they stopped to let me pass and asked the driver very seriously "don't you provide your tour passengers with parachutes"???????? I then looked at the older couple whose mouths were hanging open and pointed to my backpack (which looked like a parachute) and told them "I always wear a parachute on Black Bear Pass". I quickly sped off without giving them time to comment. I'm sure the driver was very amused at me J.
Going up black bear was pretty rough and I was starting to see why this was so popular amongst the jeep crowd---it was pretty hairy riding on the steep ledges and I seen places that jeeps went up off the main trail that amazed me. If anything went wrong---or if they got sideways and started to come down—they definitely would have died. I couldn't believe the inclines the jeeps could go up----Kenny (an experienced jeeper) told me they could climb a steeper hill than a bike but if things went wrong they were in big trouble.

We hit the summit of Black Bear Pass then headed West down the other side. By the way------this is one way traffic only, as it is so steep, treacherous and narrow there is no room for safe passing. On the way down we could see the town of Telluride in the distance down the mountain. In this picture the town of Telluride may just look like more rocks down below.

Now we get to the bad (or actually-best) part-----a very very steep descent down solid rock stair steps with shale scattered about so you are worried about traction---if you don't go real slow you will get to sliding and going faster and faster---then you can kiss your butt goodbye !!!! I would move about one or two feet forward then totally stop and regroup as I was afraid to go any faster. On your left was a smoother and easier spot-----but it was precariously close to a straight drop off down to a rock creek—we all opted to stay away from this as you could go over the edge in a heartbeat !!

At the bottom of this section you had to make a sharp right---I bet a lot of the people that died here---just went straight off here. It is much much worse than it looks in this picture-believe me.
The drop off to your left ----and look straight ahead. Don't miss that turn.
It was much easier after this but still kept you on your toes---and you could see the town not too far away—but it is at a way lower elevation, so you knew the descent was still going to be very steep. We went passed some cool mines which we looked at for a while.

This is a small fall that we actually had to ride right thru to go on down the mountain.
But the best part---and maybe best part of the whole trip (if we could pick one) was the sight of "Bridal Vail Falls".

The most beautiful thing I have ever seen. The falls looked like they dropped several hundred feet down the cliff---and down farther below we could still see the town of Telluride.

I asked Kenny and Don (both are experienced jeepers) if they would bring their jeeps down Black Bear Pass-----both said "No-Way". Also----as bad and scary as Black Bear Pass was----Pearl Pass (which we couldn't make it over) was much tougher and rougher----but not as scary !!!!
And now--maybe the most "Awesome" view in Colorado !!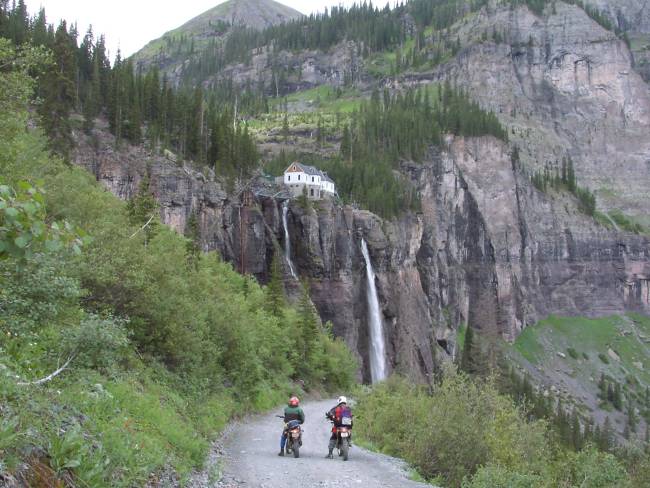 We thought a house was on top of Bridal Vail Falls-----but it might have been a building for the hydro-electric plant that used to be there. When I got home I was reading a book about Telluride and it stated "Telluride was the first city in the world to be electrified". Quite a distinction----this really surprised me as Telluride is in such a desolate place. I think the electricity might have been used for the big gold mine that was very close to it also.
We rope started the Honda down the mountain and gassed Don up at Telluride and then headed up Imogene pass road. This was a very tough pass road also, but we made it to the pass at 13,114ft. There are higher passes no doubt in Colorado------but this one has the distinction "I think" of being the highest pass road—if you want to call it a road at all.

After passing camp bird we went Northeast and ended up in Ouray where Don took on some more gas. I had the 3.9gal. tank on my bike, and I wasn't going to buy gas all day and just see how far my bike would go—knowing we wouldn't ride over 200 miles and run it dry.
We then proceeded south on hwy. 550 about 3 miles and went East on the Alpine Loop road which would take us over Engineer pass and then on to Lake City, Colo.

This started off pretty rough and stayed that way for the most part. We took a little side trail

South down to Animas Forks where one of the most well preserved old gold mining establishments still remains. I'm amazed that the old wooden buildings are still standing. I just love this place and all the gold mines dotting the mountains around this area.

It was getting very cold and the wind was blowing harder

and it looked like we were going to get rained on. Me and Kenny turned on our heated grips and after a while I let Don feel my warm grips—he just gave me dirty look

J

.

We headed North from the way we came and turned East up the pass road to Imogene Pass elevation 12,800ft. I was the first up there and had a good view---but just a minute later a cloud rolled over the pass and you could hardly see the pass road in front of you. In fact----if it hadn't been for our GPS's we didn't know which way to go. As we were riding down the road it seemed the road was floating on a cloud as we just couldn't see anything and kind of lost our equilibrium.
So we were on the Northern Alpine Loop road heading East to Lake City which is another cozy little town I truly love. We stopped so many times on the way to Lake City looking at all kinds of things like canyons, gold mines, caves, rivers and cliffs. I think we all new that our adventure was coming to a close and we were wanting to savor every moment and view. We had a nice sandwich in Lake City and reluctantly headed out of town as dark was approaching and the road back to our campsite was open range and the locals told us deer were very heavy also. It wasn't safe to ride this road at night. So Kenny led us Northeast at a little slower pace. I was glad just to hang in the back and relax, not being concerned at all with navigating us.
The sun was going down and I marveled at the landscape watching Don and Kenny's tailight glide up and down the hilly road. I think I was thinking how lucky I was to be doing what I was doing with some very good friends. The road and trail were coming to an end-----but it was a very happy ending and I knew my loving family would be so glad to see me when I got home.
This was the third year in a row I have visited and traveled Colorado's backroads and trails.
.
Thank you Colorado,
Thank you Kenny,
And thank you Don.
Mark Sampson 7-24-01
Back To "Colorado Mountain Pass Ride in 2001"
Back To Mark Sampson "Homepage"--where all links come from.