Nevada Back Country Discovery Route--2017

This ride was done in September of 2017 and encompassed the states of Nevada, California, Utah,
Arizona and Idaho.
The Nevada Back Discovery Route---called the NVBDR for short is about 900 miles.
But we incorporated a return loop that made it about a 1,600 mile ride.
We thank the BDR buys for creating this ride and providing the gps tracks which made navigating so easy.

Me and my buddy Road Dad (Jerry Mueller) hauled our bikes out from Illinois and Indiana in our vans.
Riding all of Nevada from top to bottom can be an extreme excersize in surviving temps from freezing
to temps well over 100°. We hit a perfect weather window out of sheer luck and neither got unbearably
hot or cold.
The ride starts in Oatman, Arizona but we started in Bullhead City, AZ as the Days Inn there let us park our
vehicles there while we rode the NVBDR.
Here's is our route for the day. Bullhead City Arizona to Pahrump, Nevada.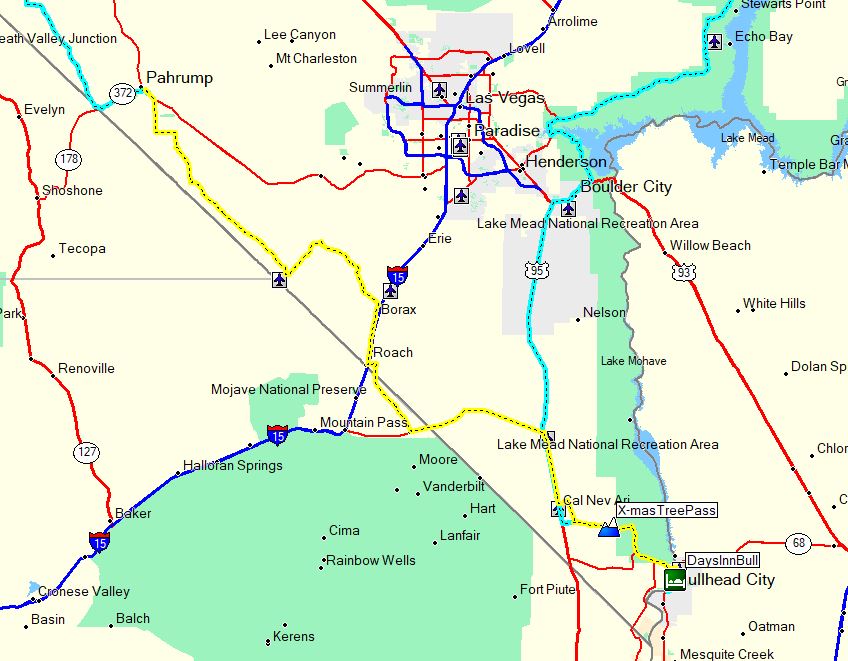 First me and Road Dad drove to where my good friend Francine had crashed a few years ago and had to be
air lifted out----on the old Mojave Road----here I am looking down the road where she crashed and am
standing where the helicopoter landed to pic her up and take her to LasVegas---that's how I found X-mas Tree
pass ---riding to Las Vegas to help Dr. Rock and Francine out.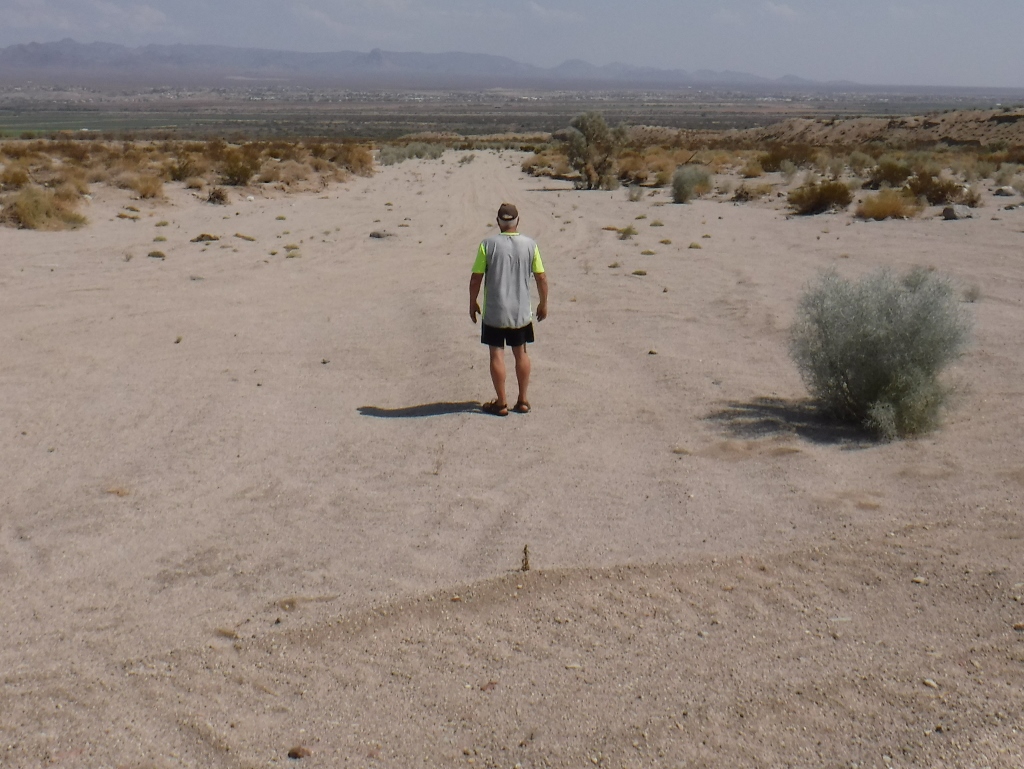 The Days Inn in Bullhead City was so nice to let us all 3 park our tow vehicles in an empty lot.
Looks like me and Road Dad are ready to ride.
We started early to avoid the heat that would come later that day in Bullhead City.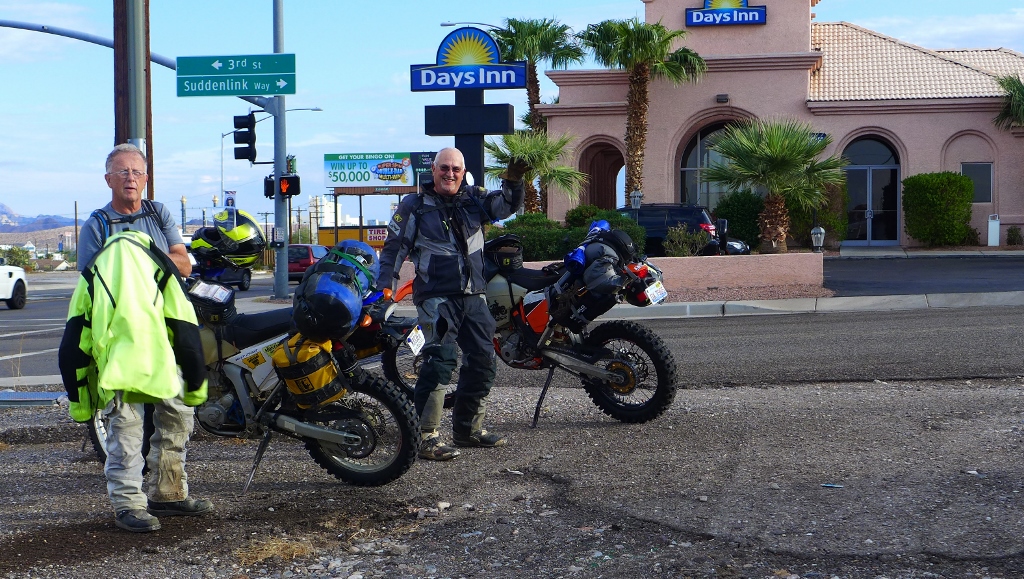 September 9th, 2017
Notice X-mas Tree Pass on the map.
I've been there before---and when I told my wife about people decorating the trees up there
with ornaments and such---------I saw a light come on in her eyes-----she loves crafts--and making things.
And is a very good artist.

Debi made me and Road Dad X-mas ornaments to hang on X-mas tree pass.
They had our names and date on them----so we rode up there and hung them on the tree.
What a neat idea---if you get up there--look for them and take a picture !!!!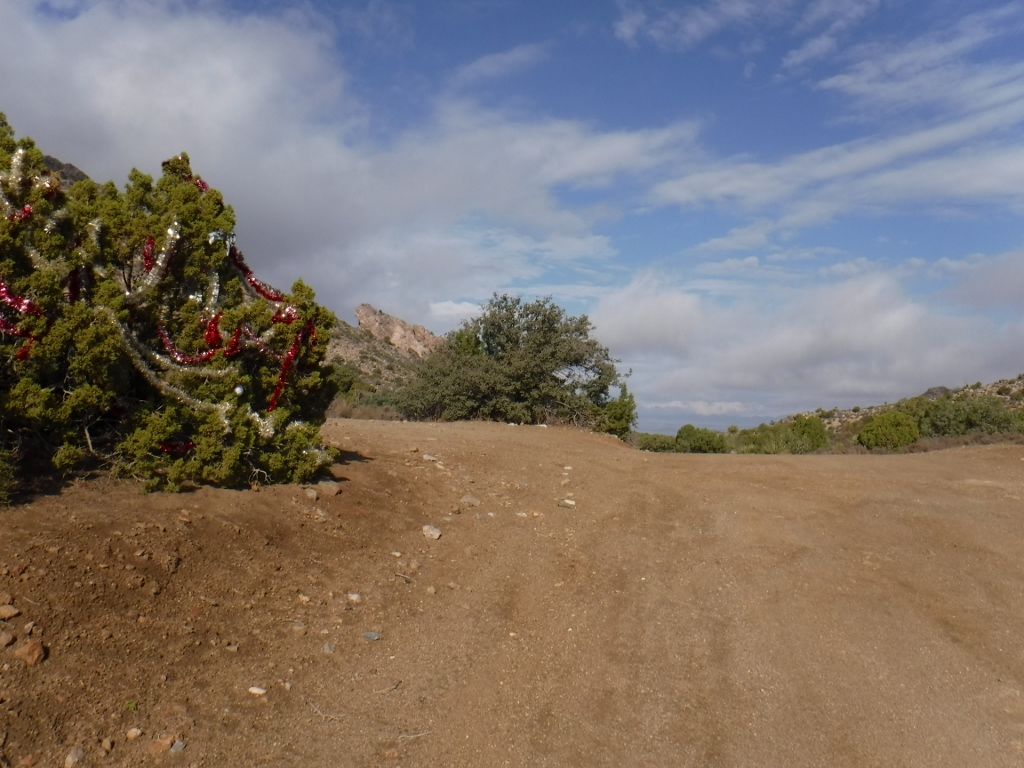 So------we hung our balls on X-mas Tree Pass for all to see !!!!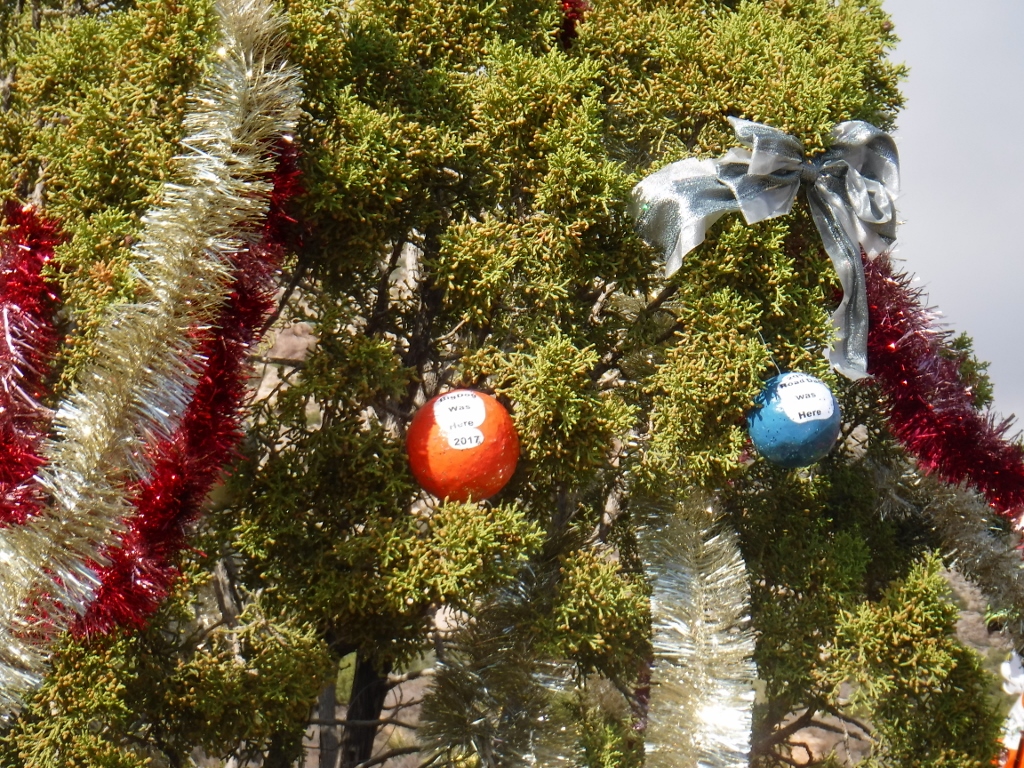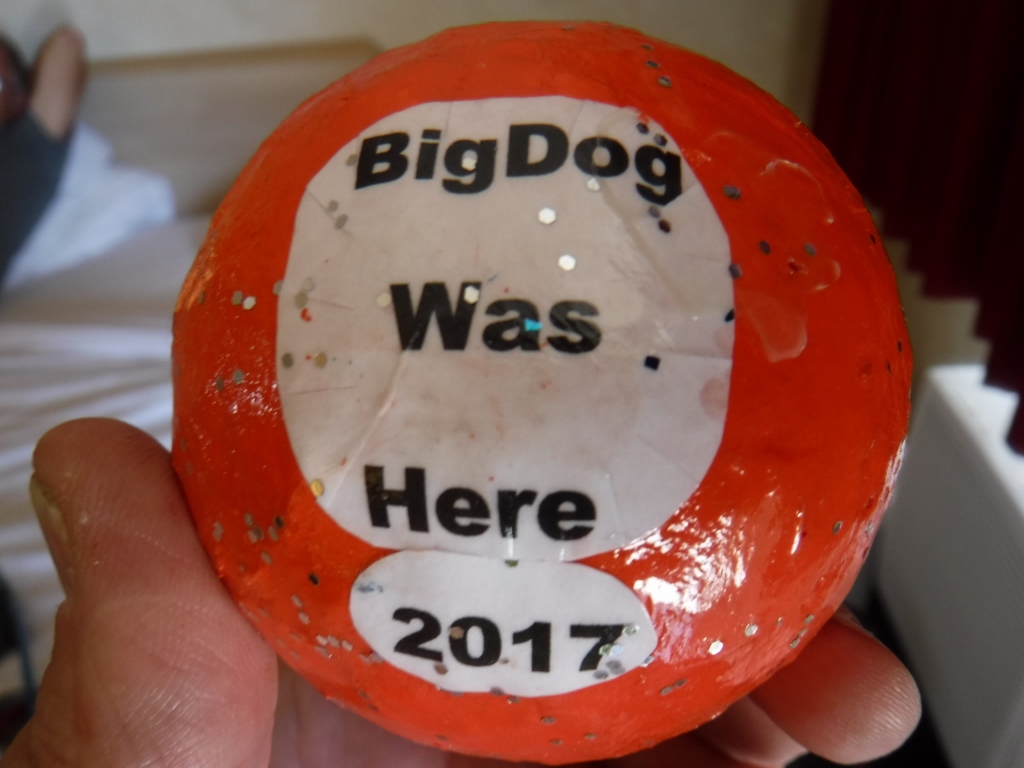 KTM Orange for me.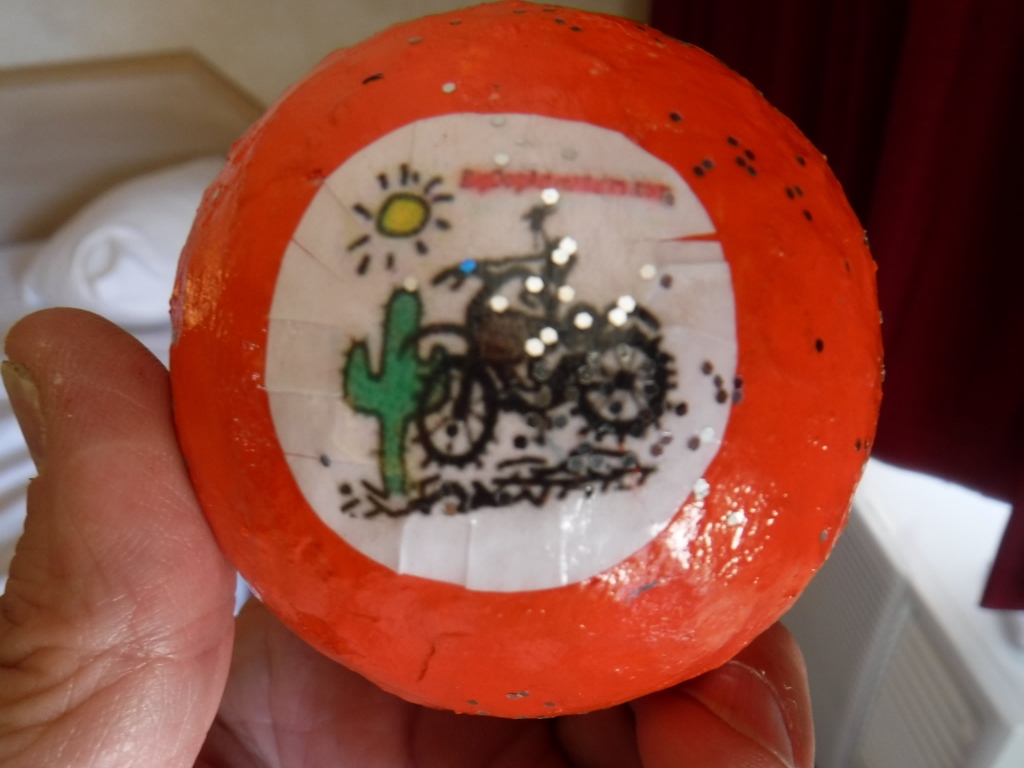 Jerry has somehow inherited the nickname "Walter"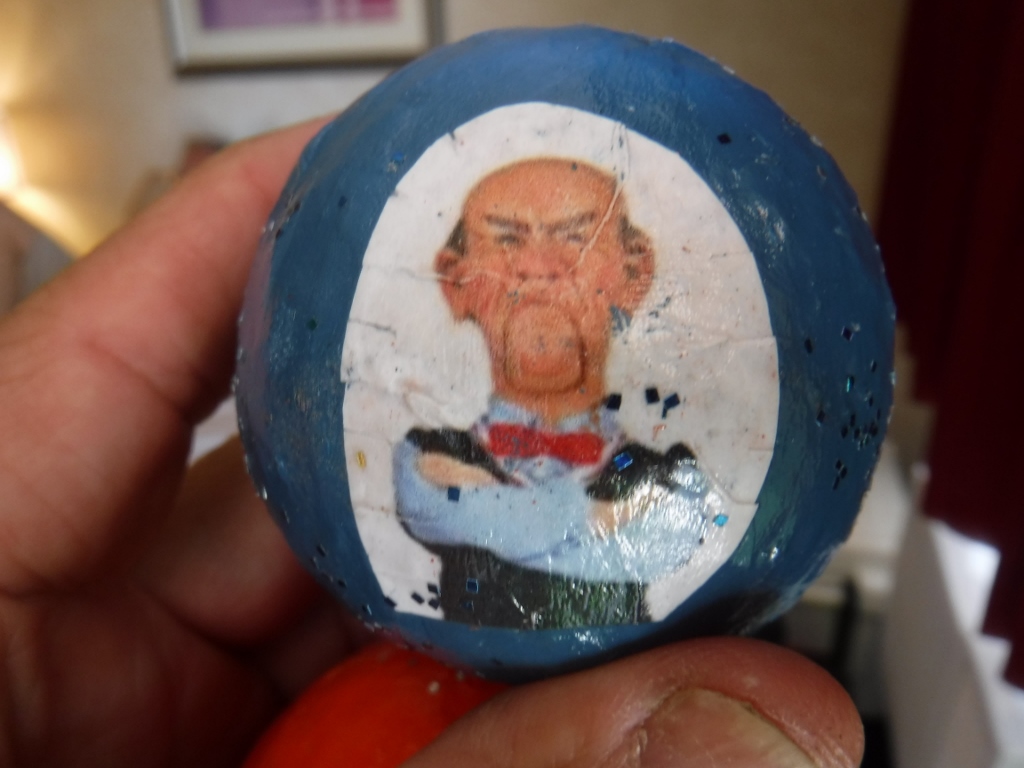 Yamaha Blue for Him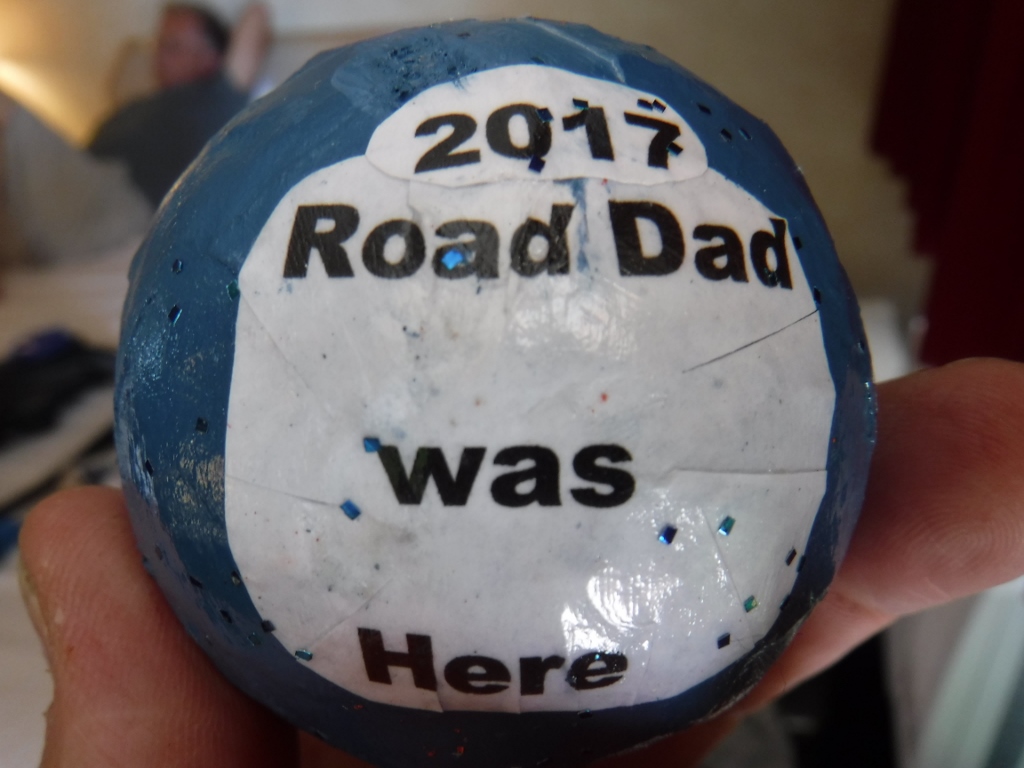 The road to X-mas tree pass was awesome. Possible deep sand was marked on the BDR map.
But for us on small bikes it was just plain fun--the same I found years ago.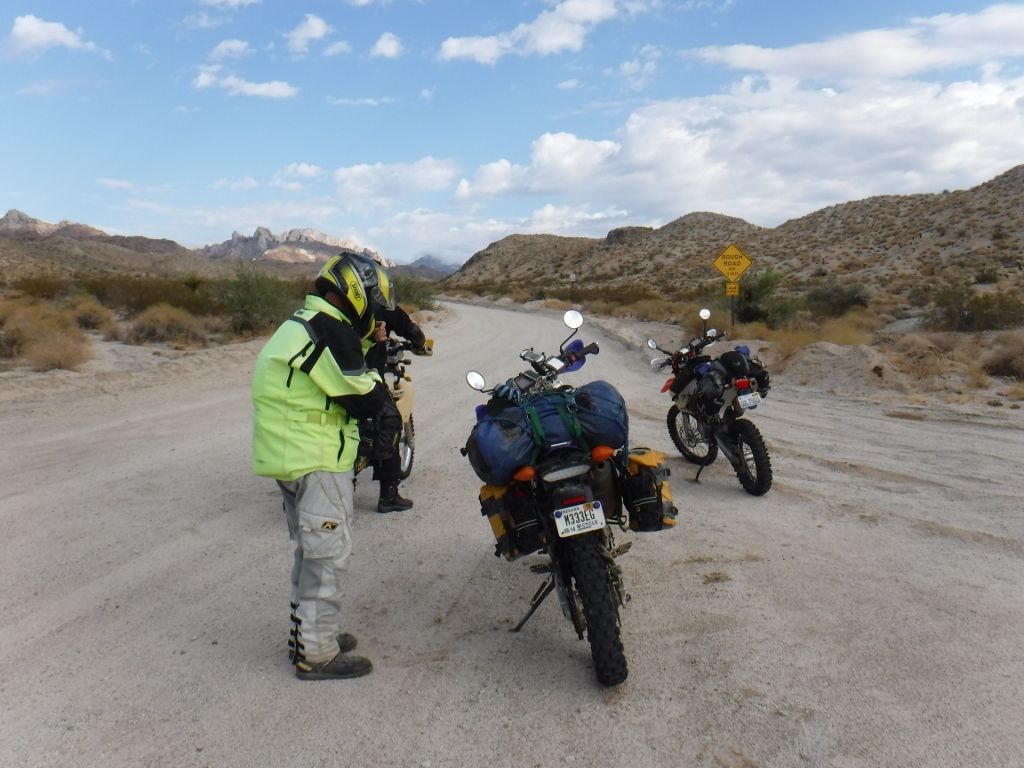 I was riding this-------a 2016 KTM 350EXC
I was set up and packing very minimalistic---and used the same setup I used for BAJA earlier in the year.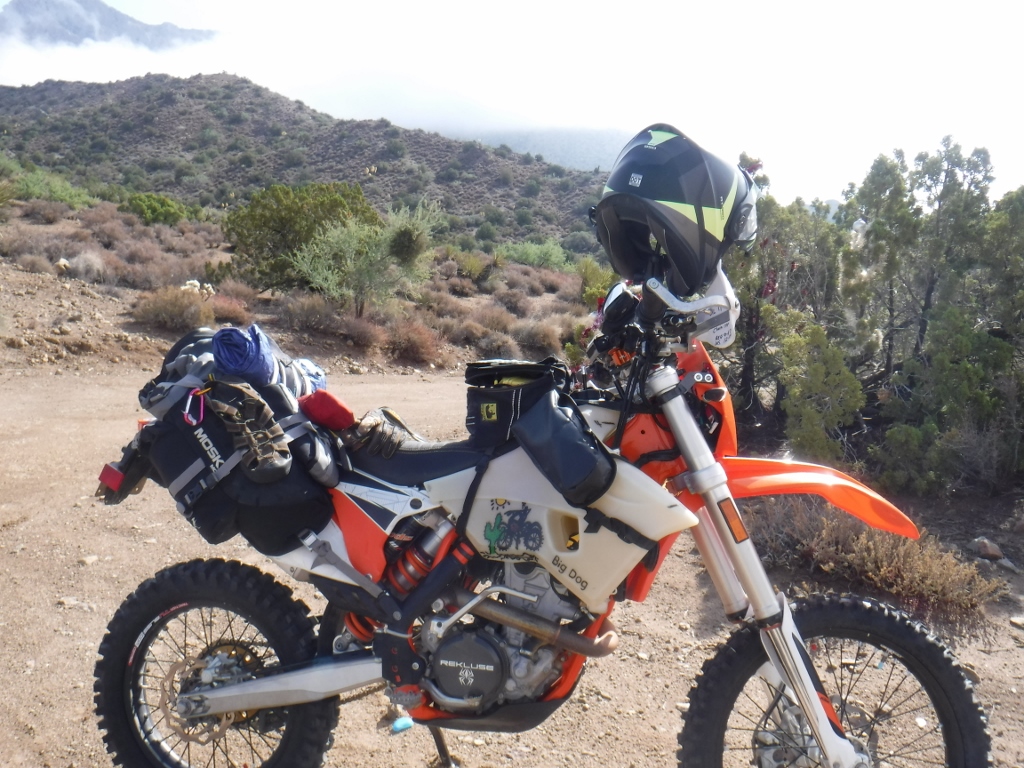 Looking West just over X-mas Tree Pass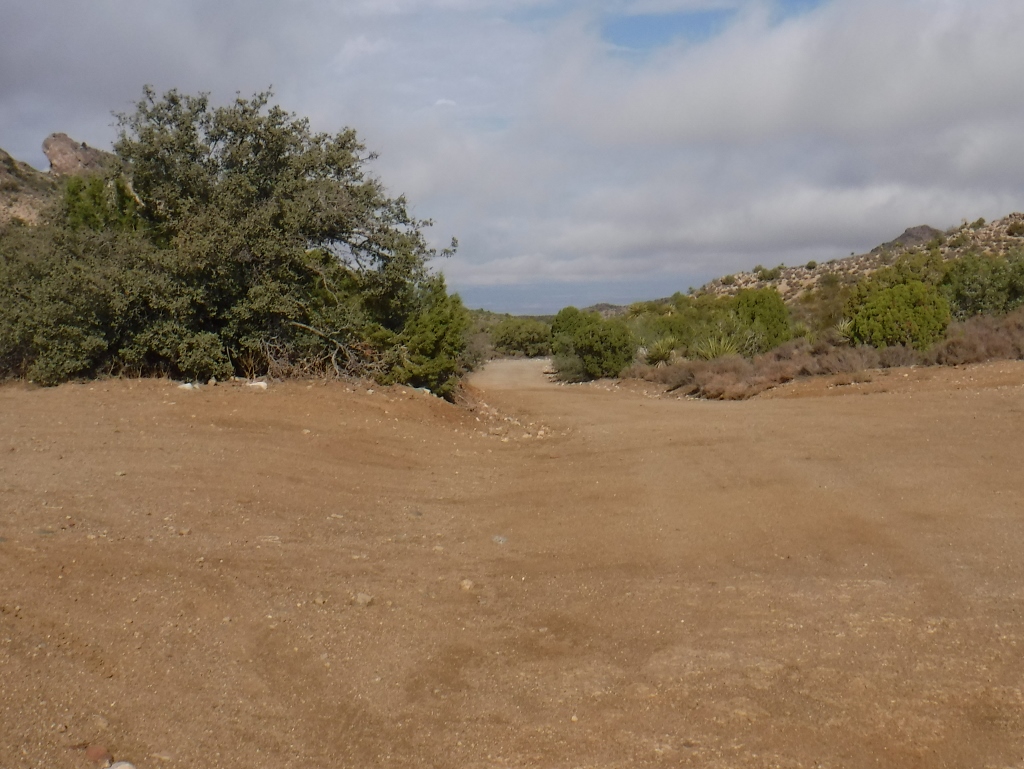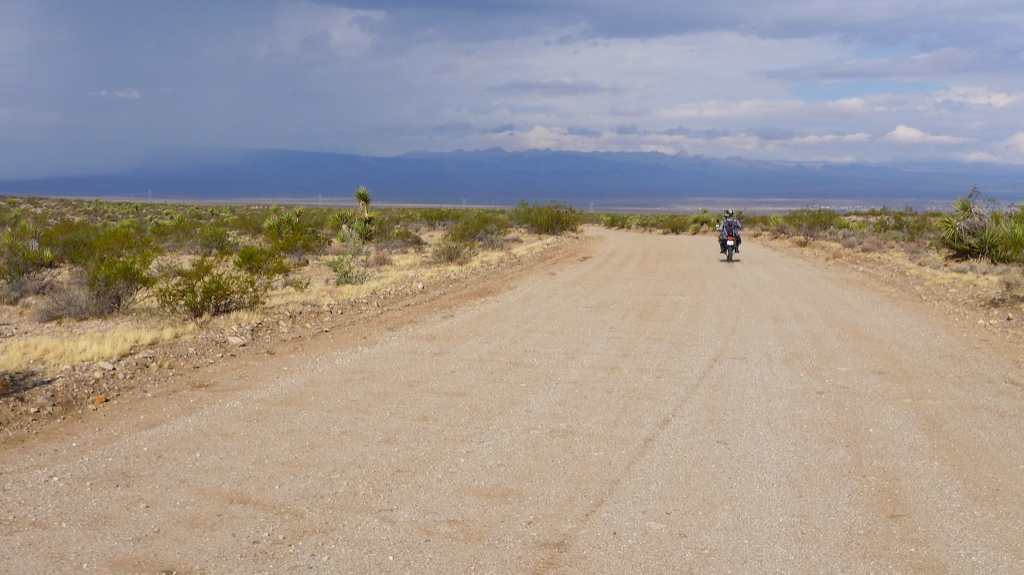 Heading West we turned North on this power line road and road it for about 4 miles
before turning West to hwy. 95.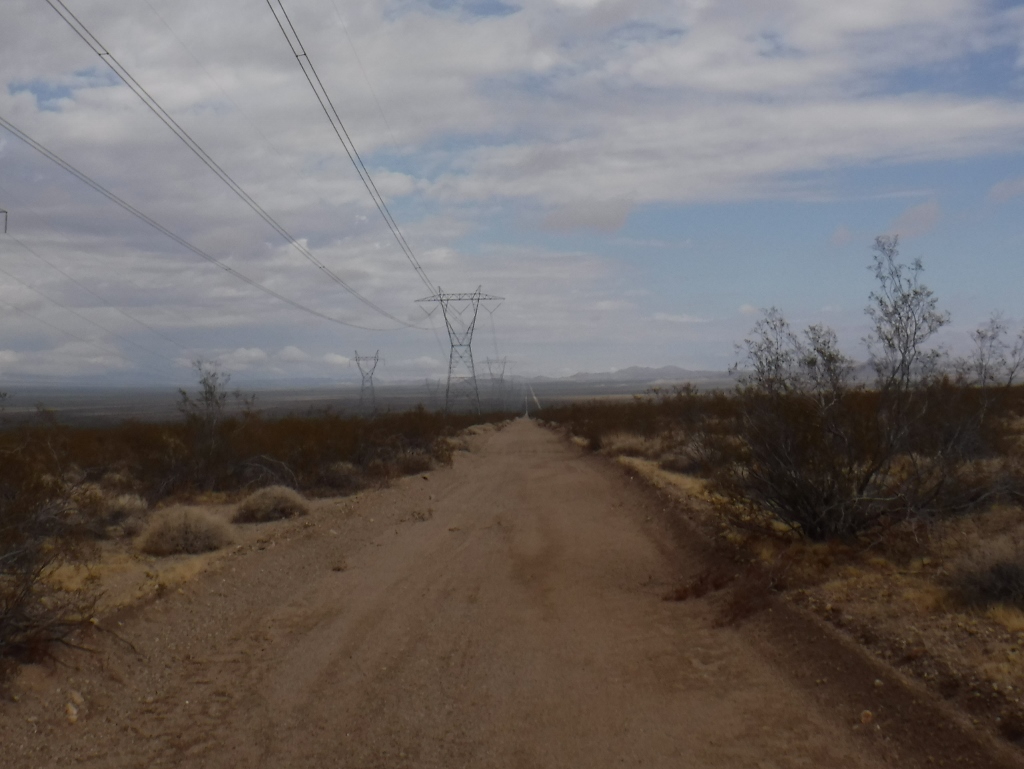 Just a day before we started this ride there was extreme flash flooding in the area.
X-mas tree pass was spared ----but going North we saw much damage and roads washed out.
This highway had been closed---with thick mud over it---they had just got it cleared out
as we rode thru.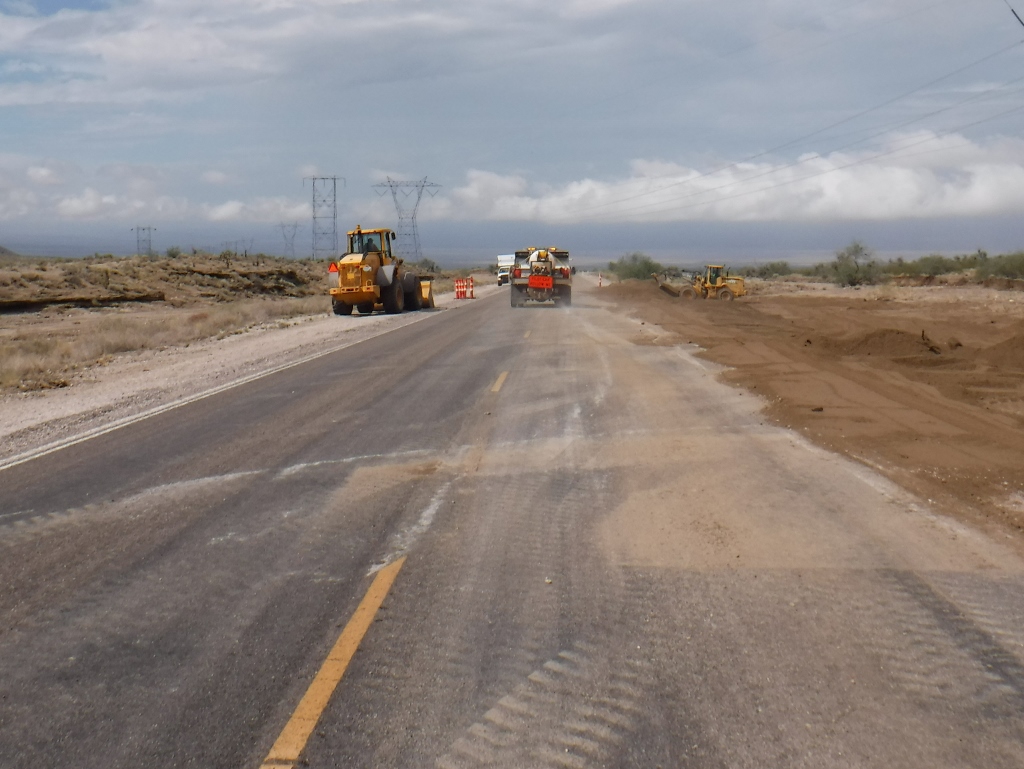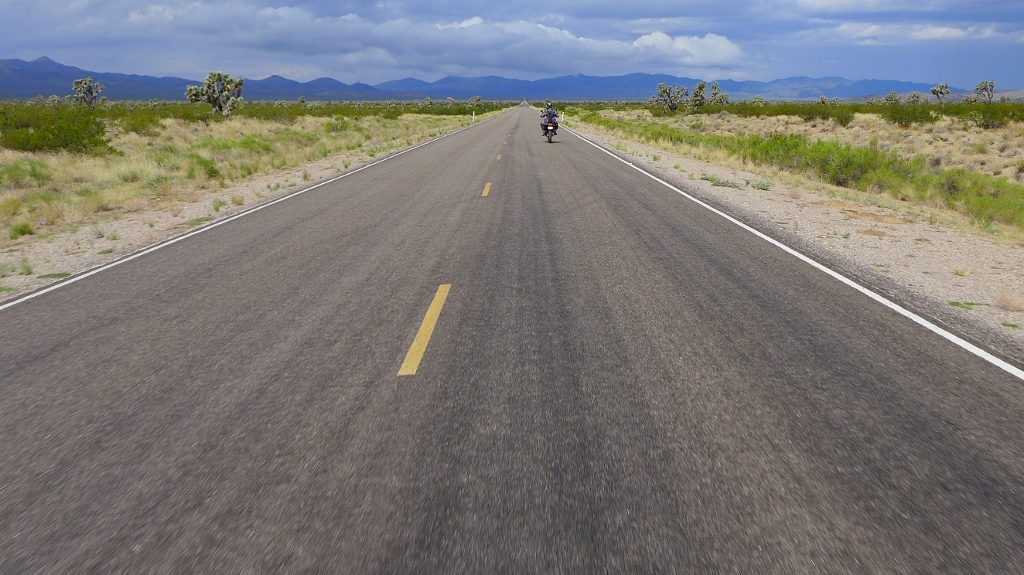 Out in the desert I feared the worse----you can see what the water did in this wash.
We had lots of washes and creeks to cross this day---but made it thru all of them without re-routing at all.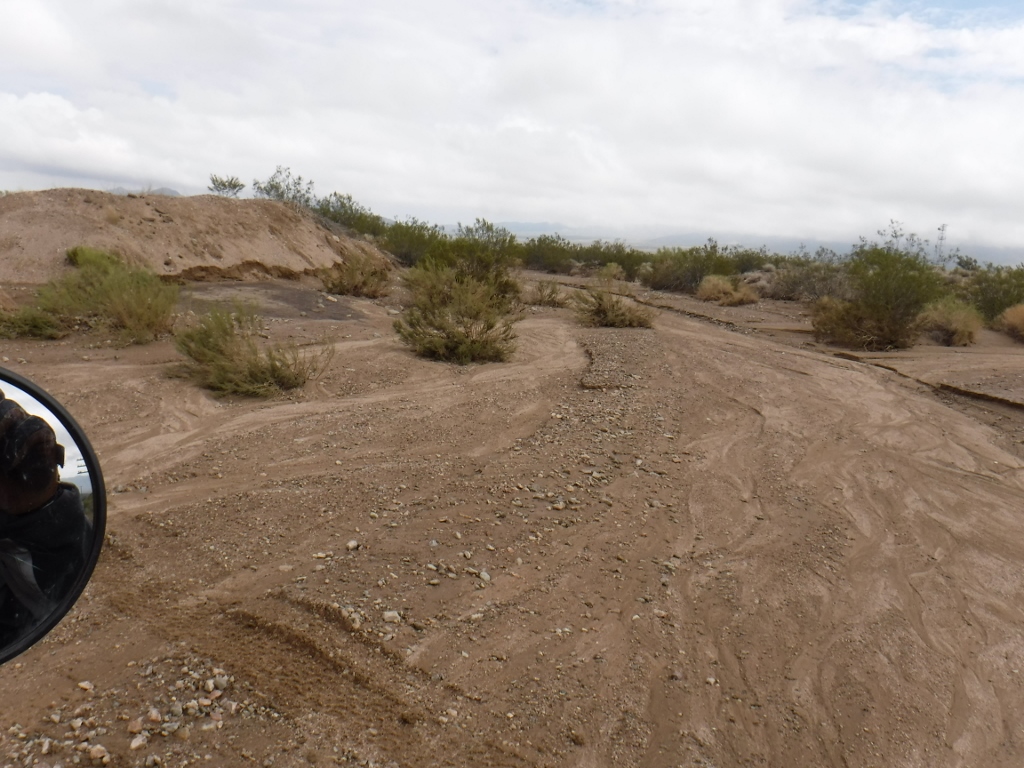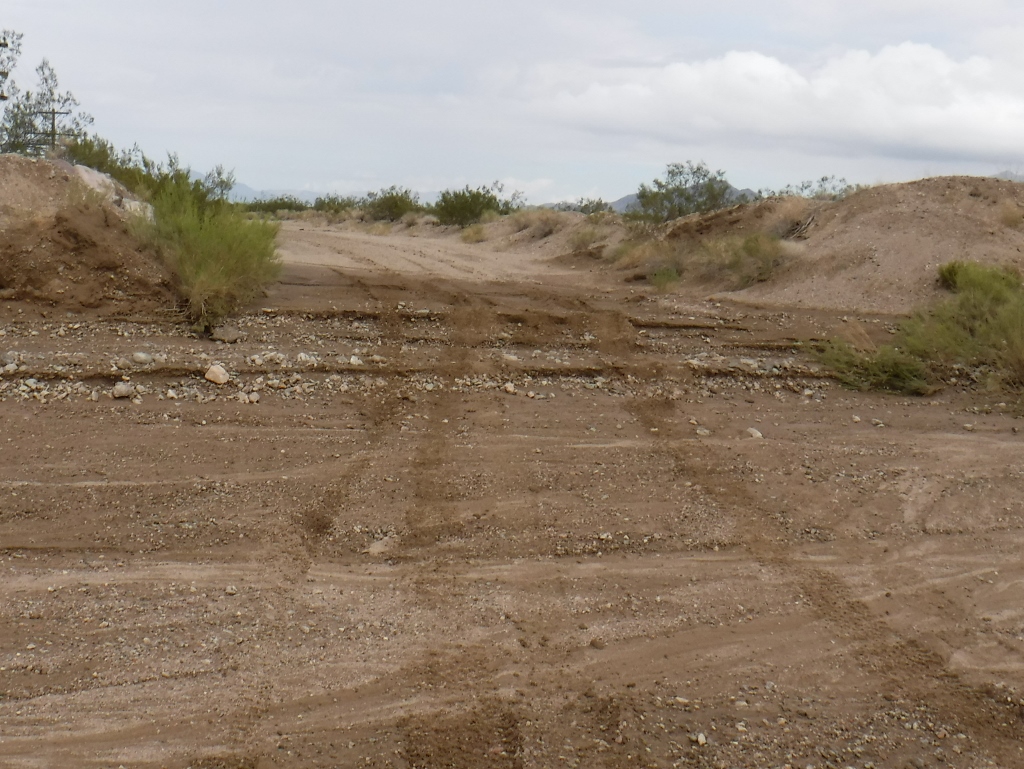 I'm bettin' water was 6 ft. deep here not long ago.
You would have been washed away.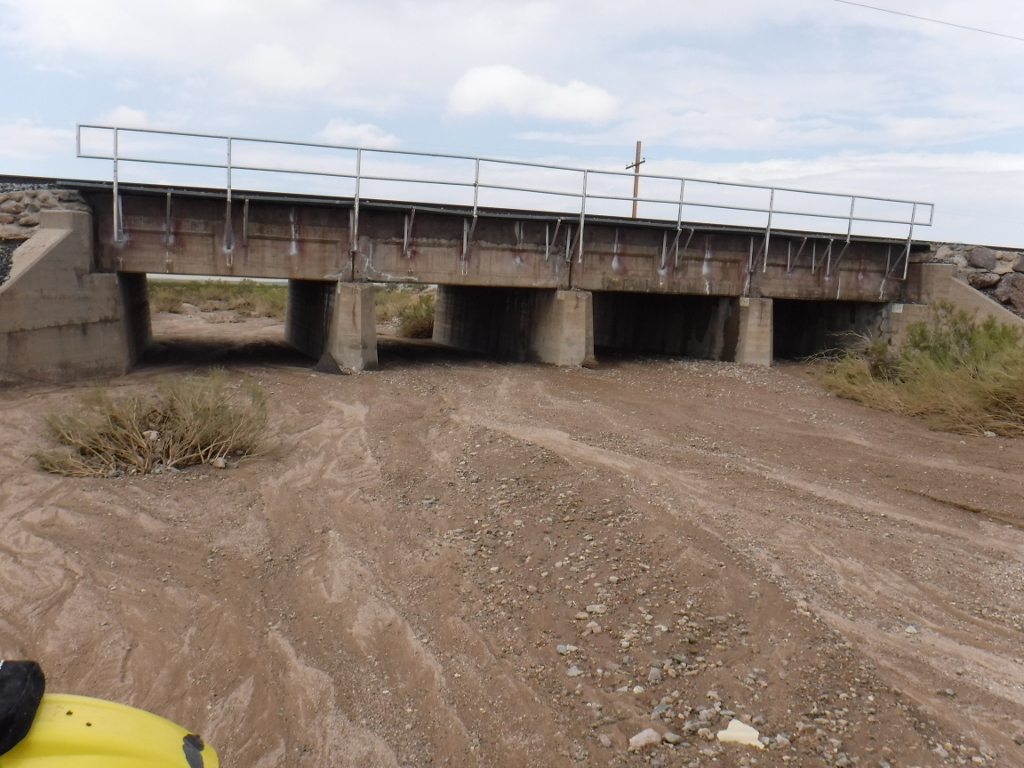 After seeing this I got really nervous--thinking we were going to have to re-route soon.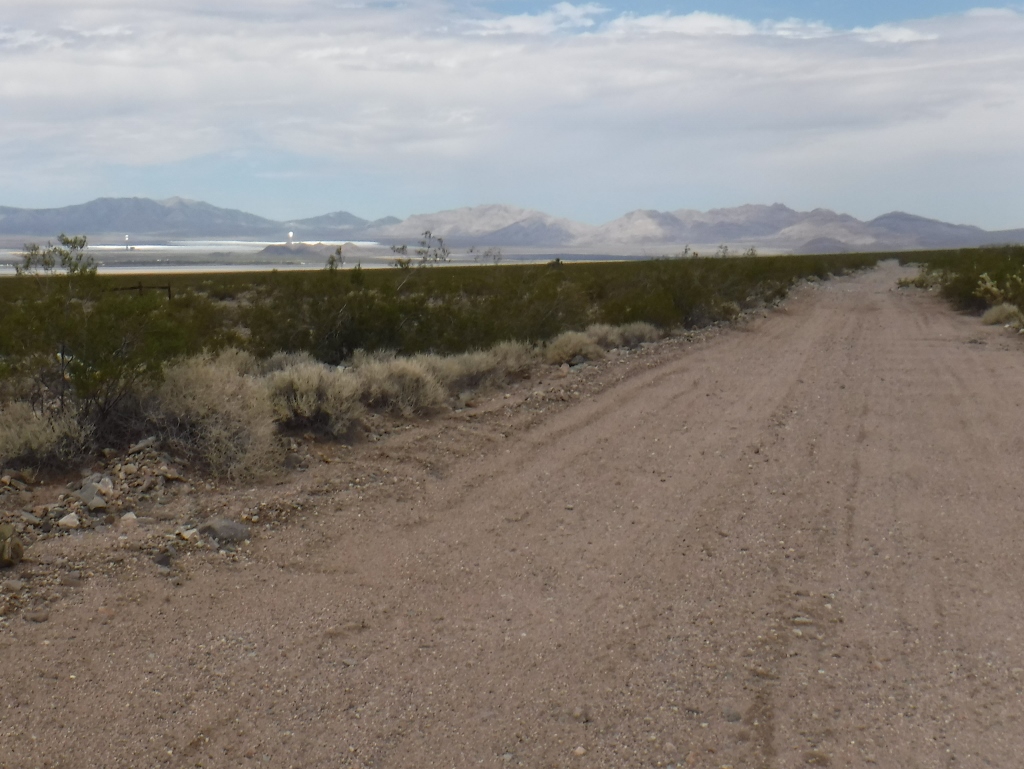 We had a superb lunch here. Don't give them your e-mail address-----they will pester you to death.
Oh by the way------who is the guy on the DRZ400S ???
Brian Kalsbeck who joined us from the start and stayed with us the whole ride---well almost.
He's from California.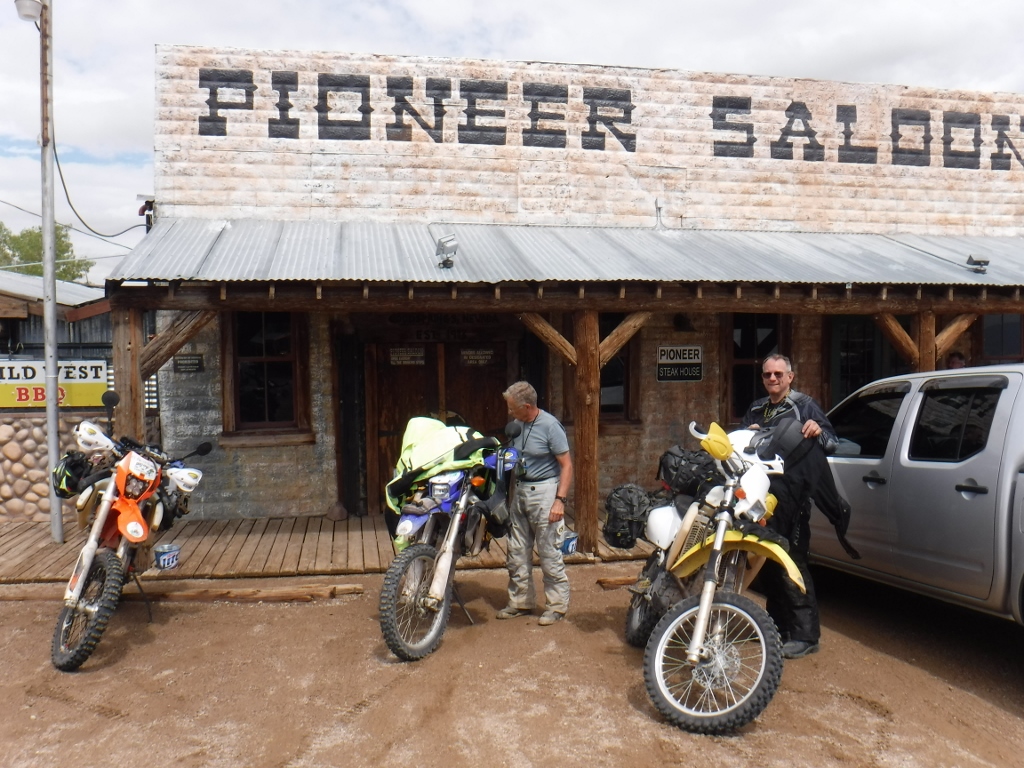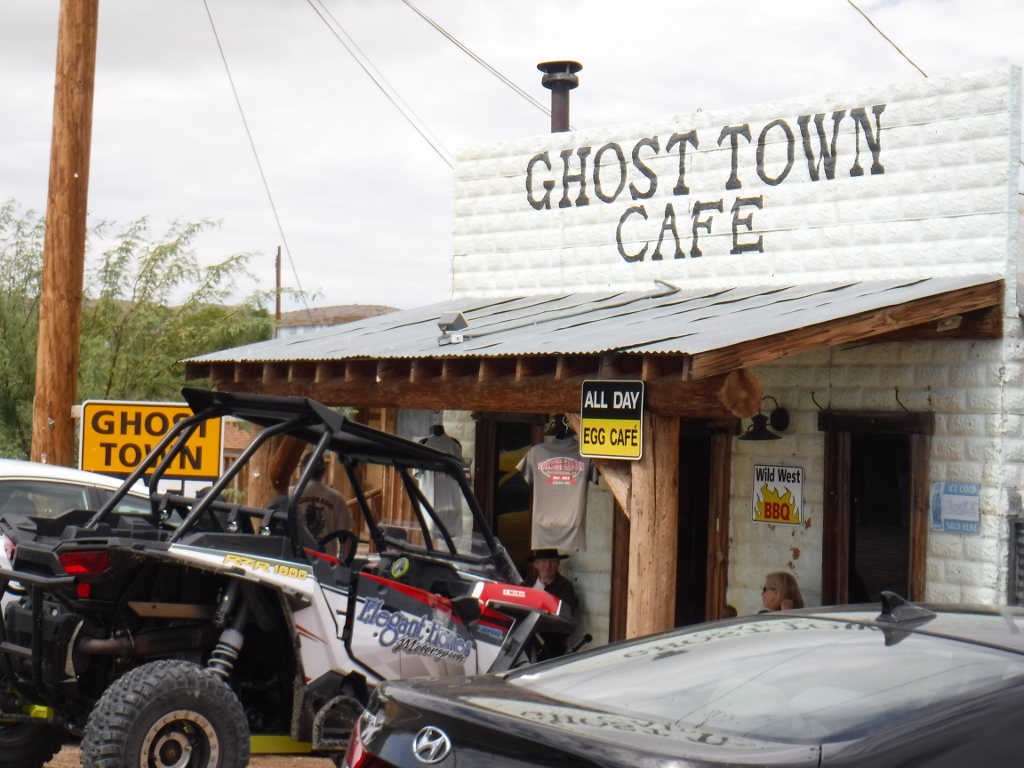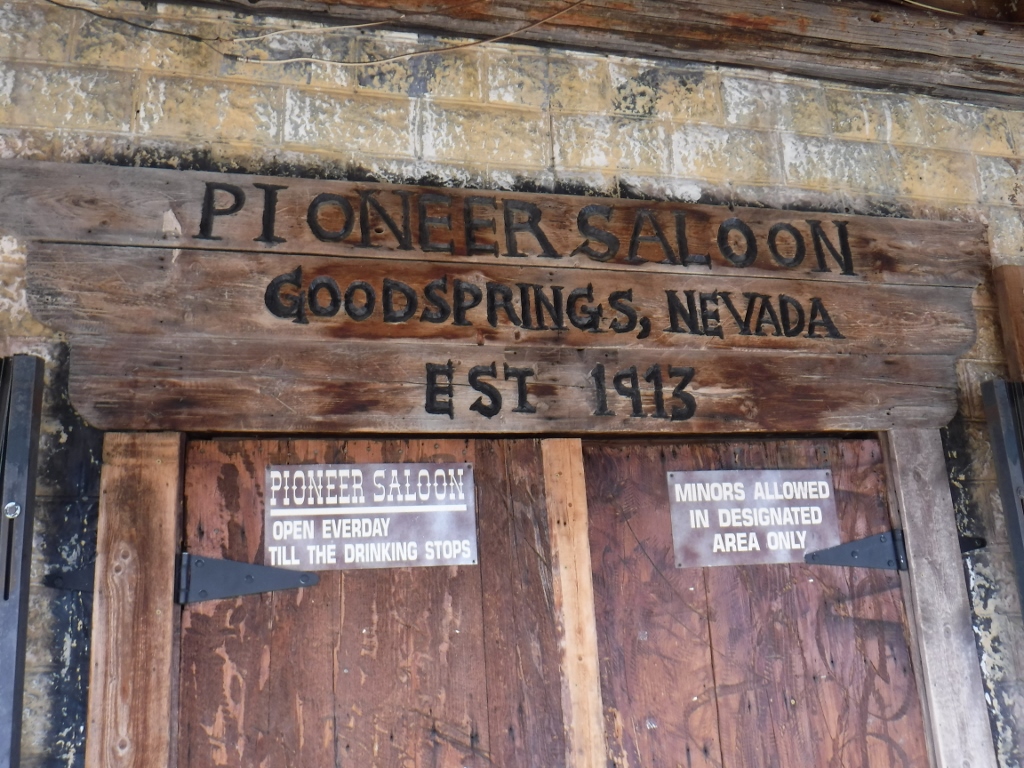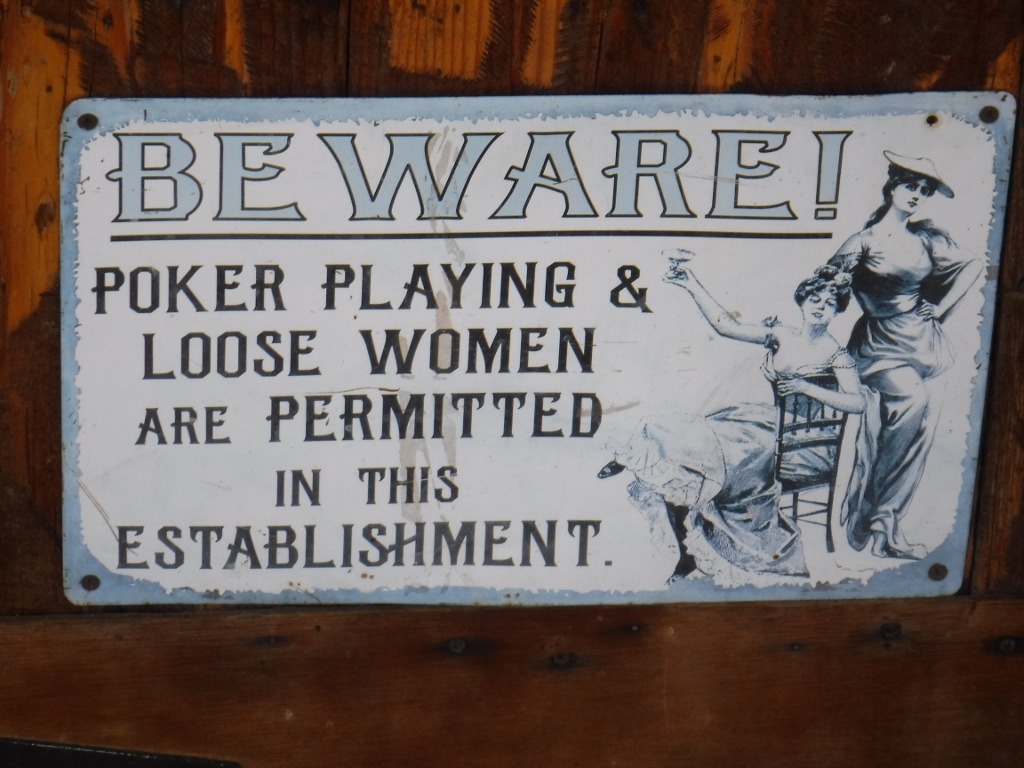 There is a deep hole in the middle of that water--about thru me over the handlebars.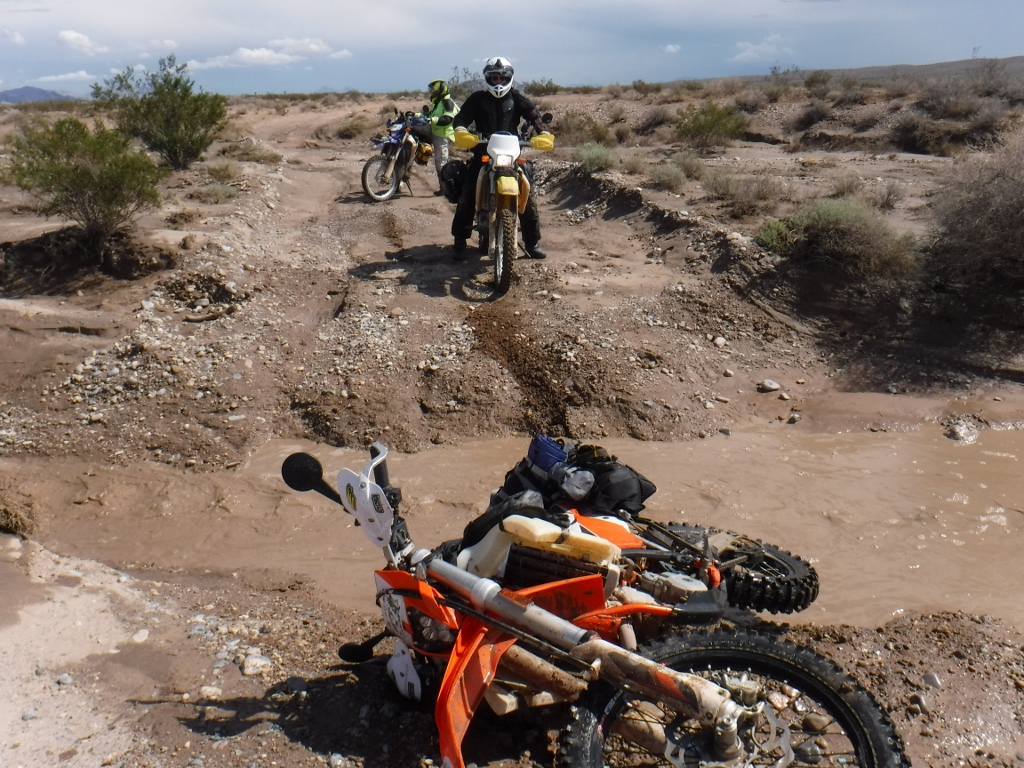 I pointed over here to Jerry------looked shallower.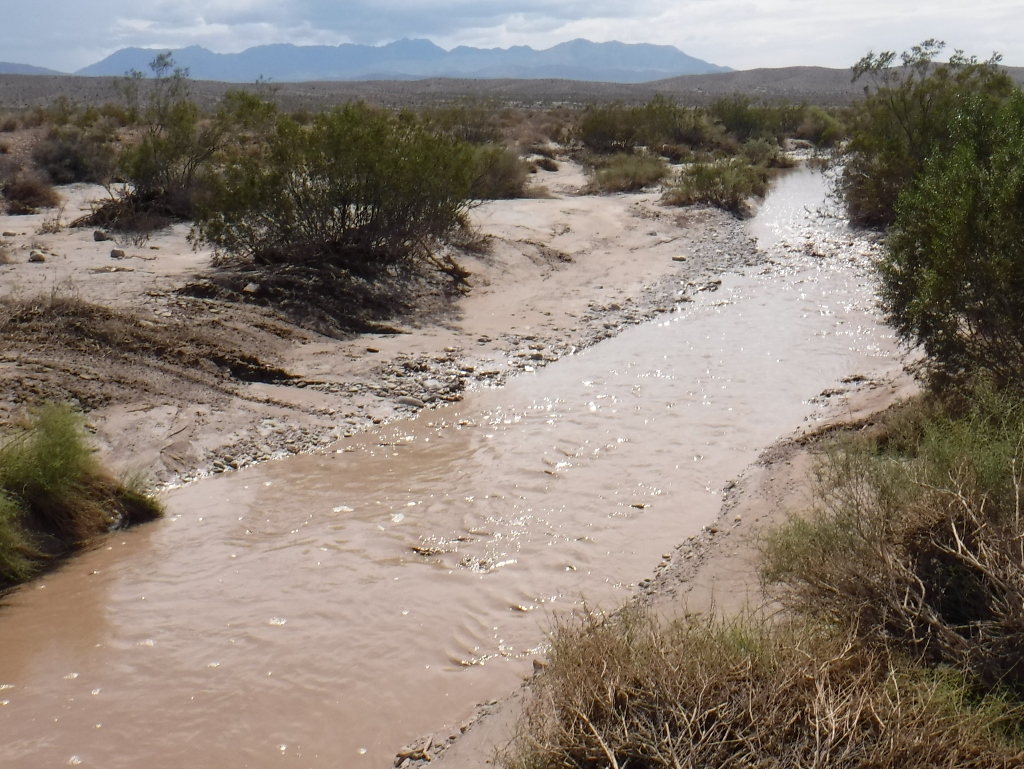 And it was----I would be the guinea pig for the rest of this ride--it's what a ride leader does----------I guess !!!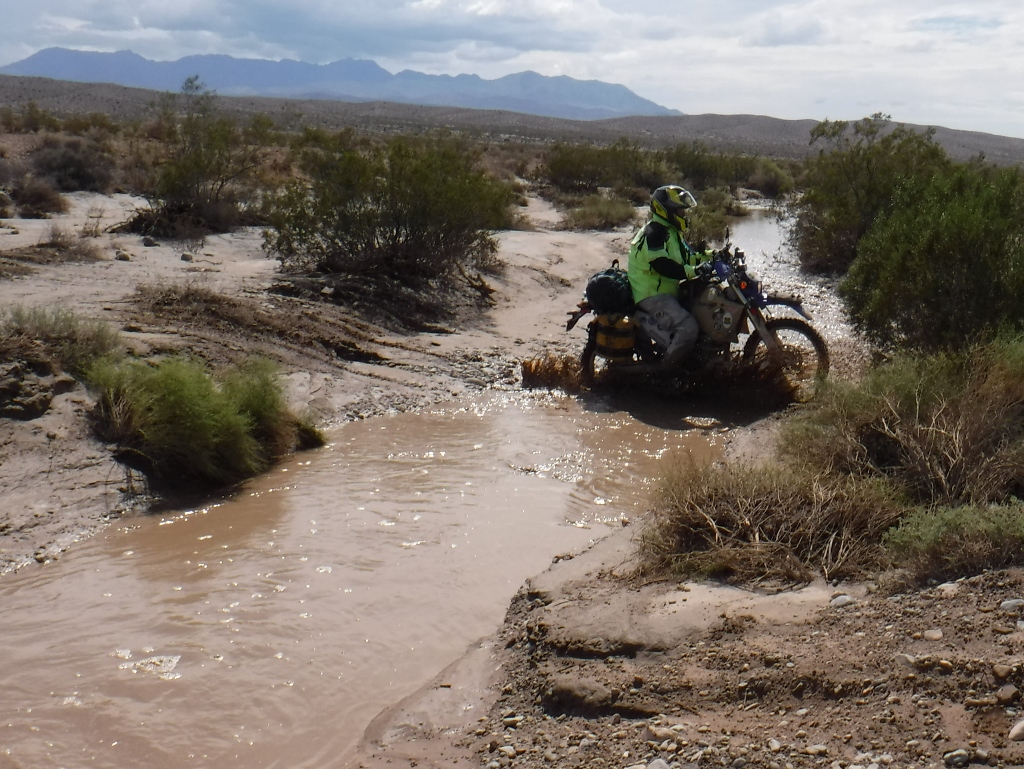 s
We ended up in a Motel in Pahrump, Nevada and passed this lovely couple on the way. Or did they pass me ?????
Looked mighty fast.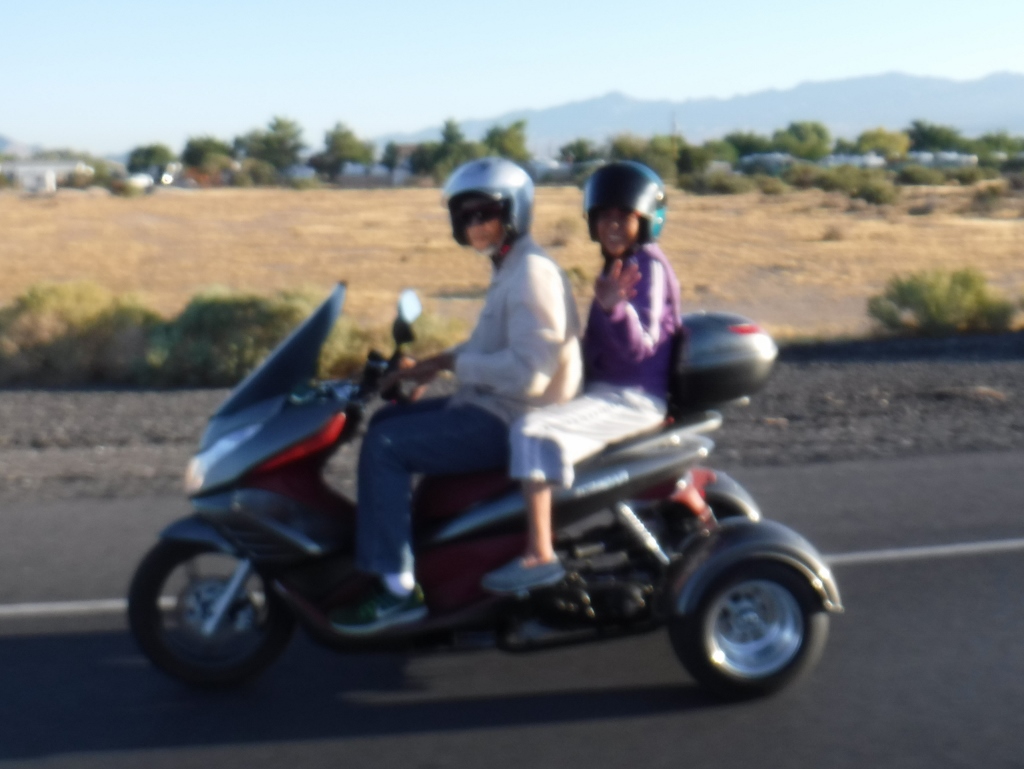 Our motel was a casino too---------made me nauseous.
Here's a short video of the days ride.
Day 2
Pahrump to Tonopah-------9-10-17
We road West out of Pahrump---I couldn't wait to get away from the casino and all the fuss.
West on Hwy. 372 then North to Sah Meadows National Wildlife refuge.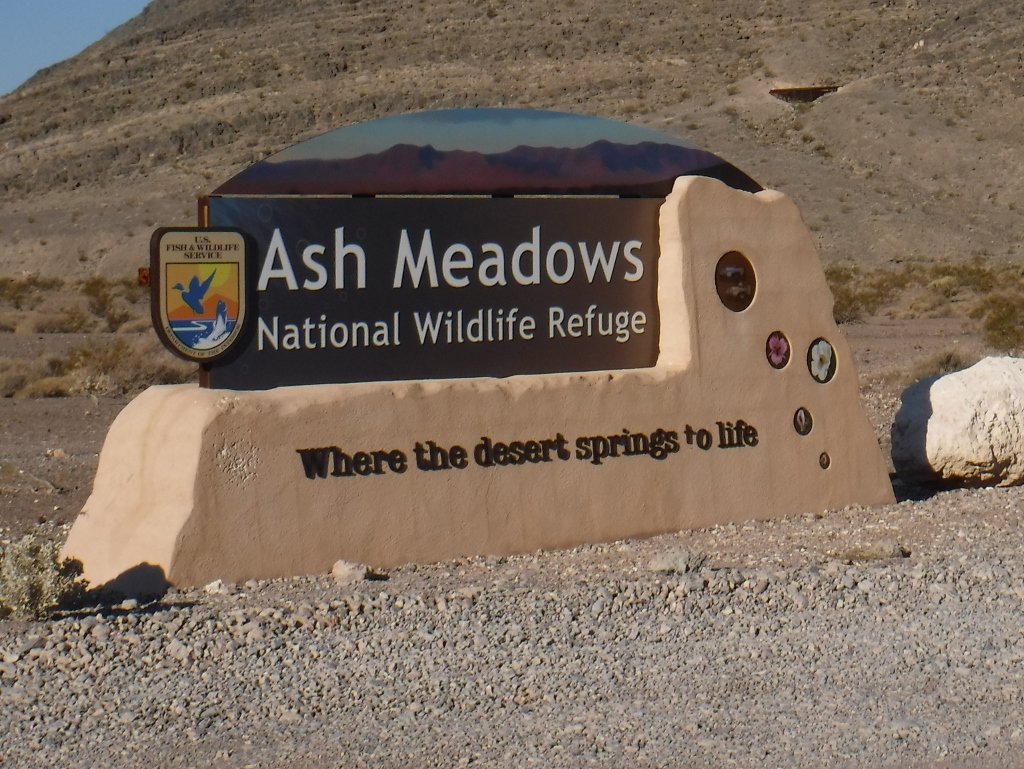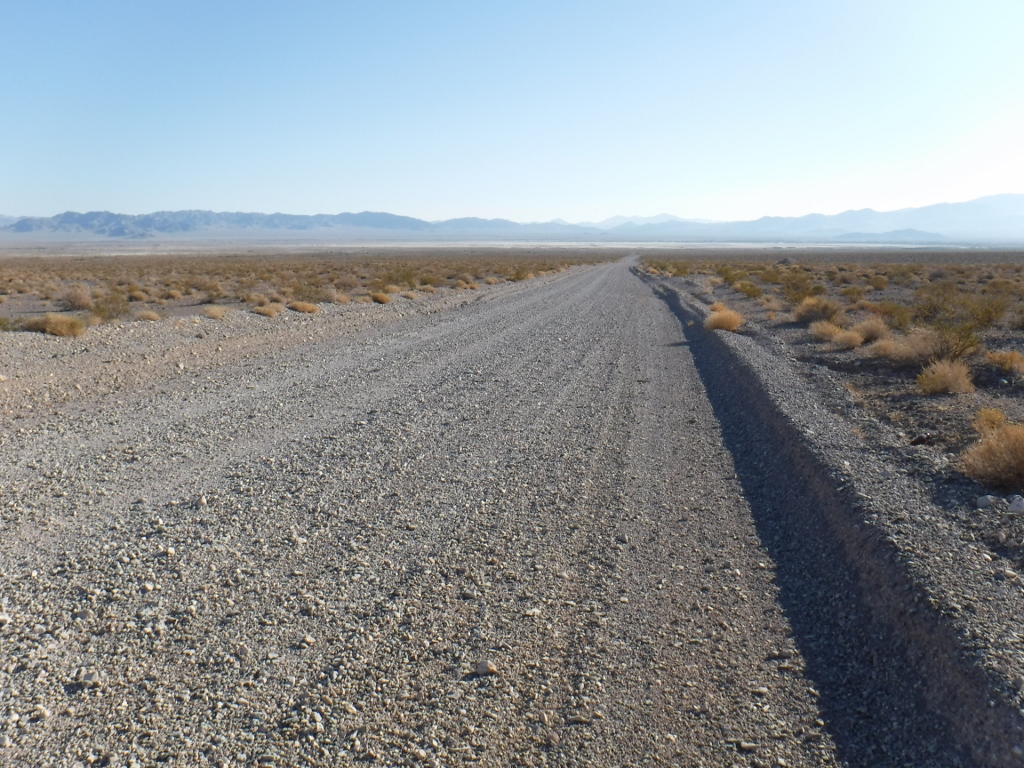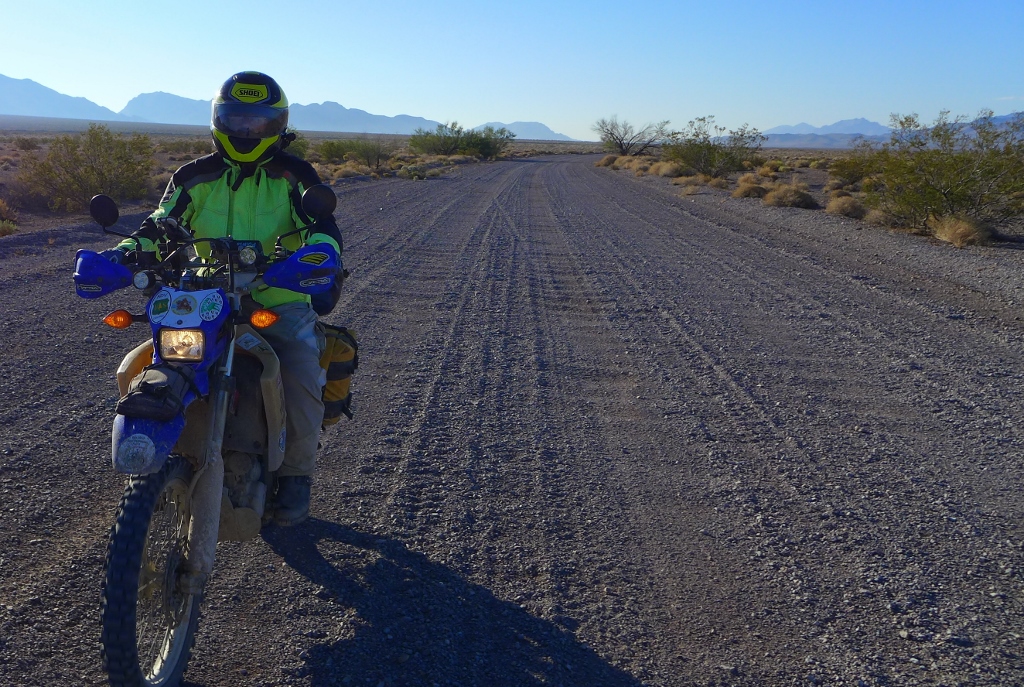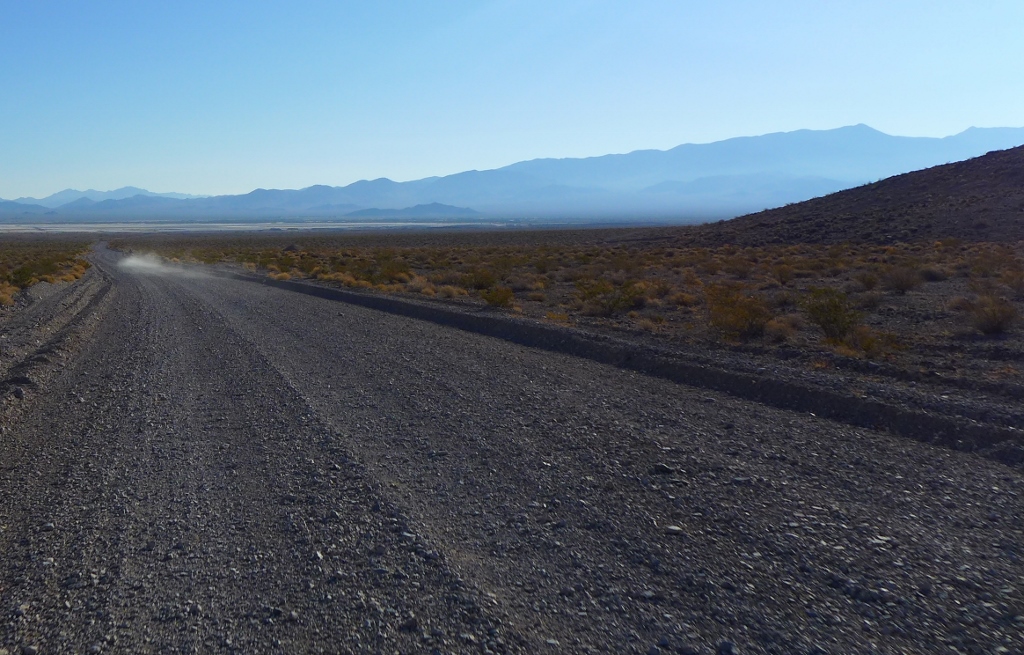 You could plainly see if you went off the road---which was above the road you'd sink deep in the muck.
Really weird as the road was lower than the muck and water ???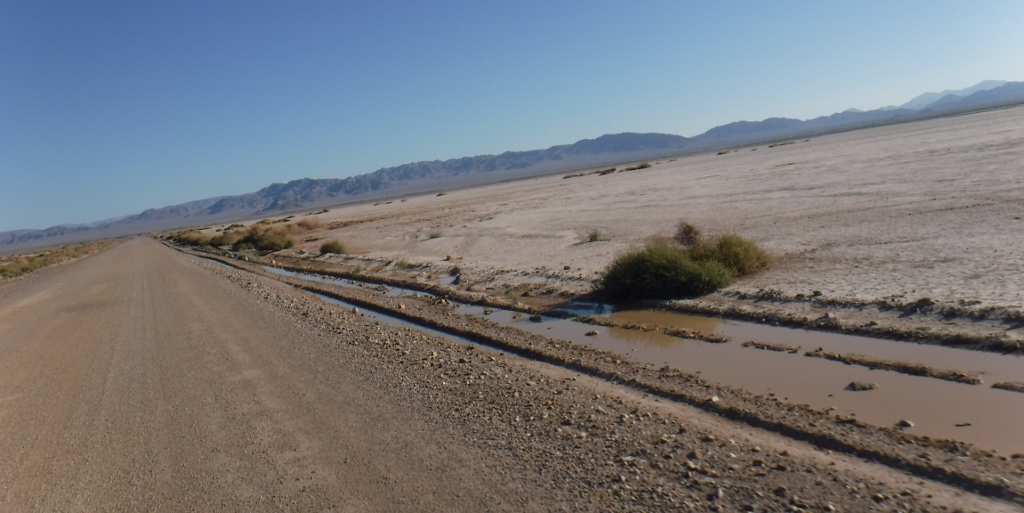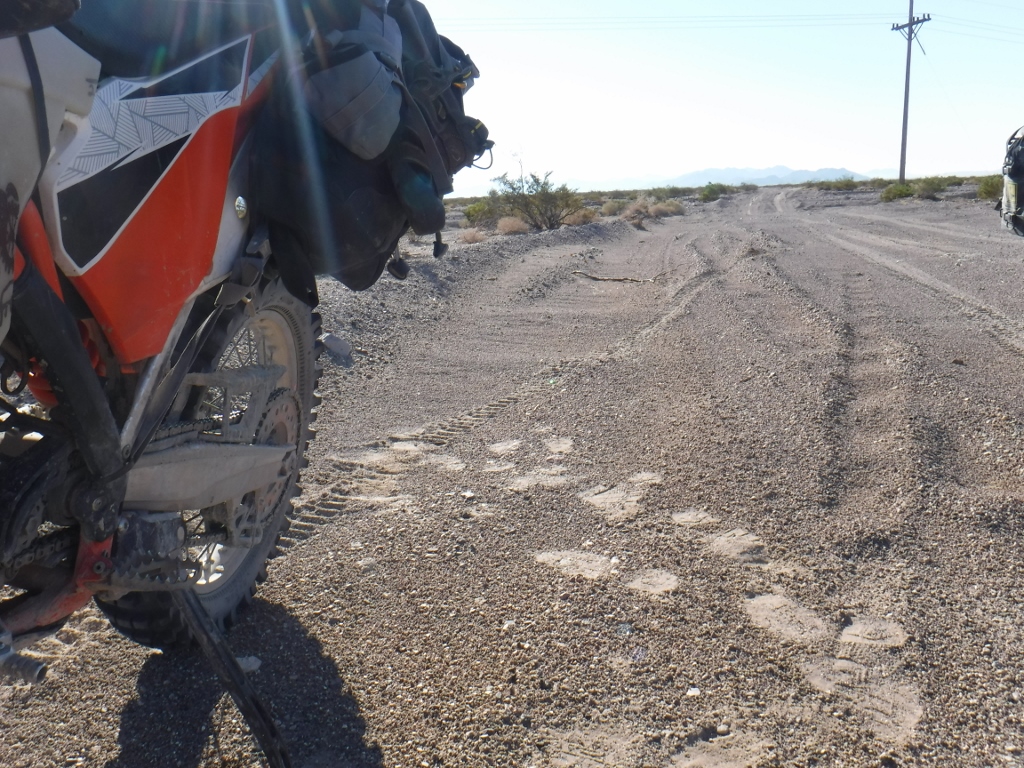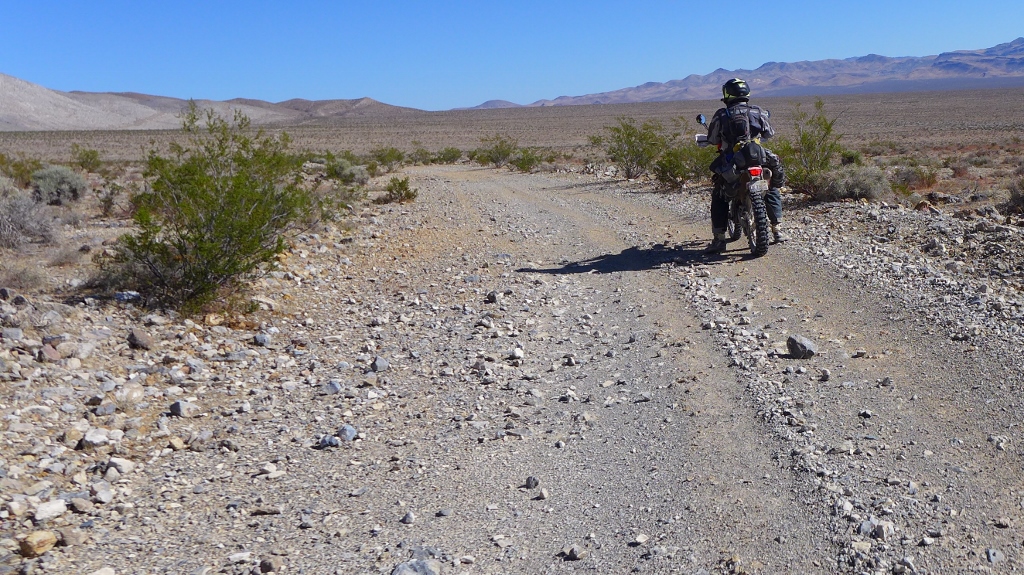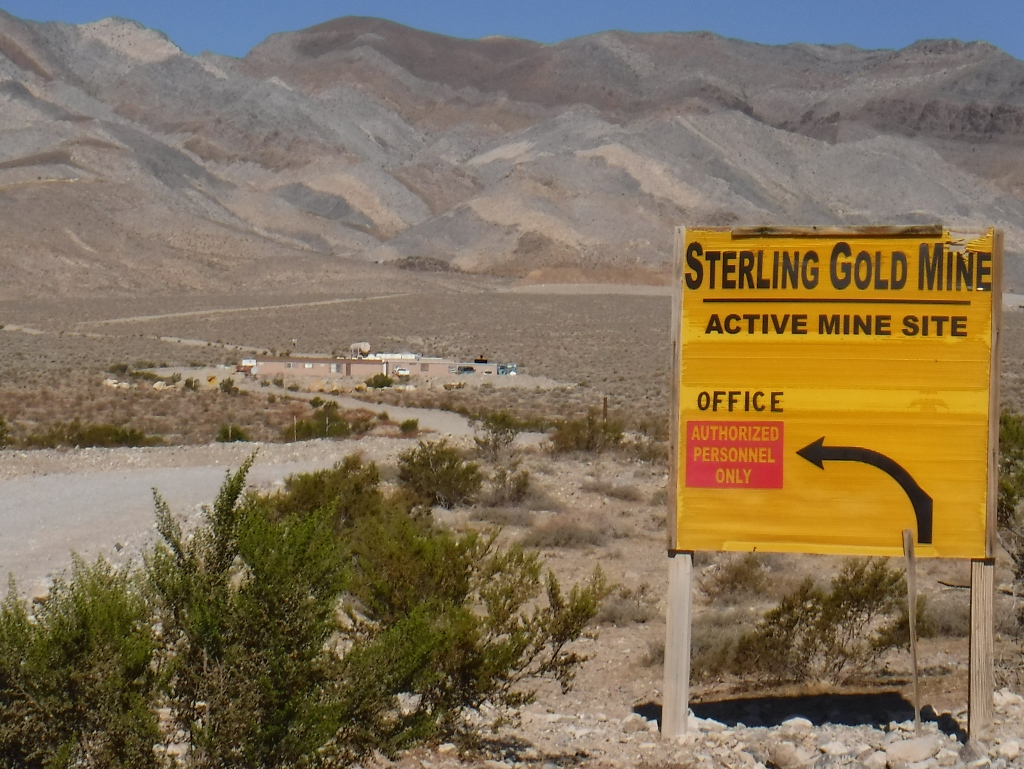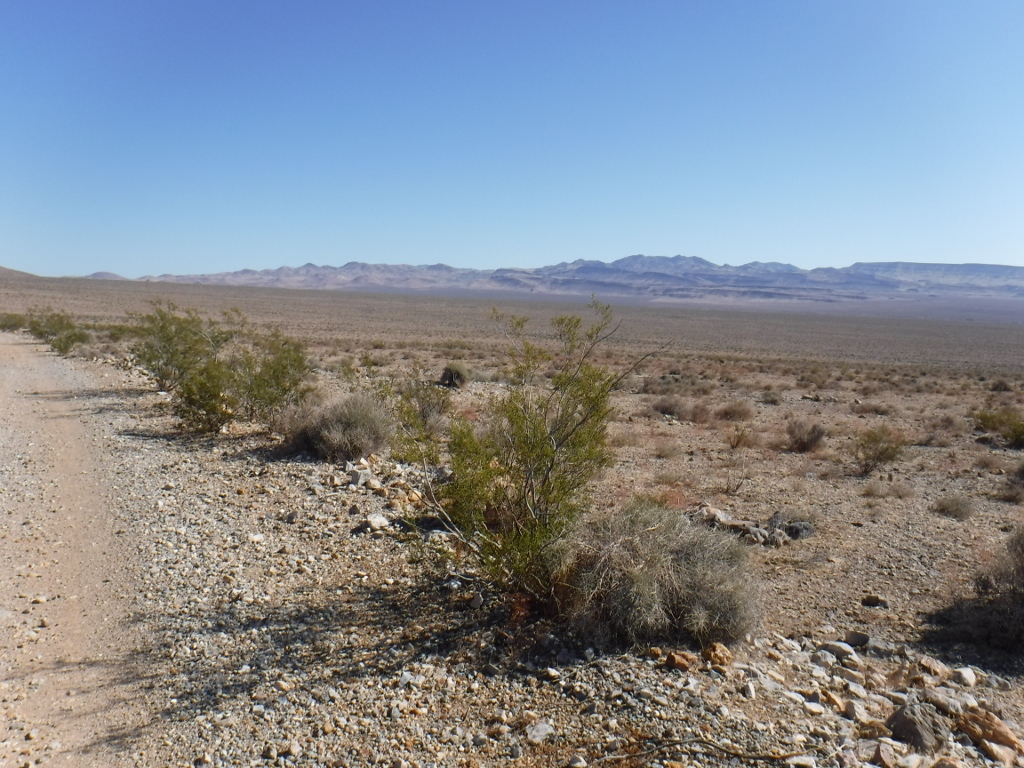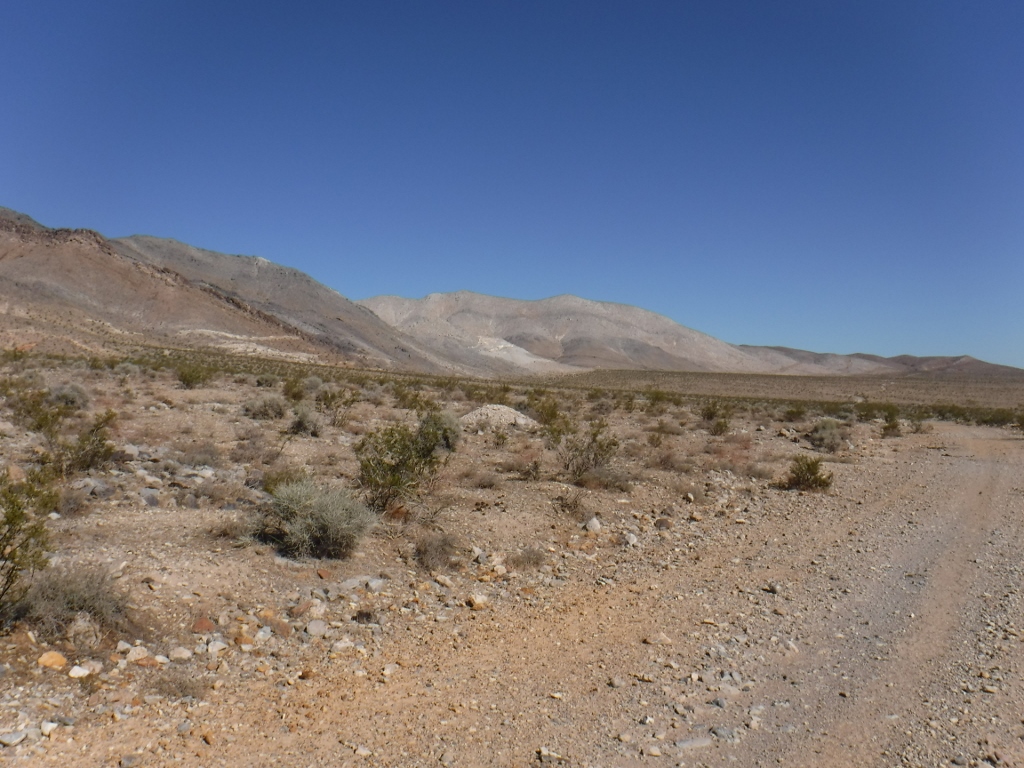 Just past this the going got harder than any other part of the ride.
It was just deep small rock-----we all wallered around like a wheelbarrow with a flat tire thru it.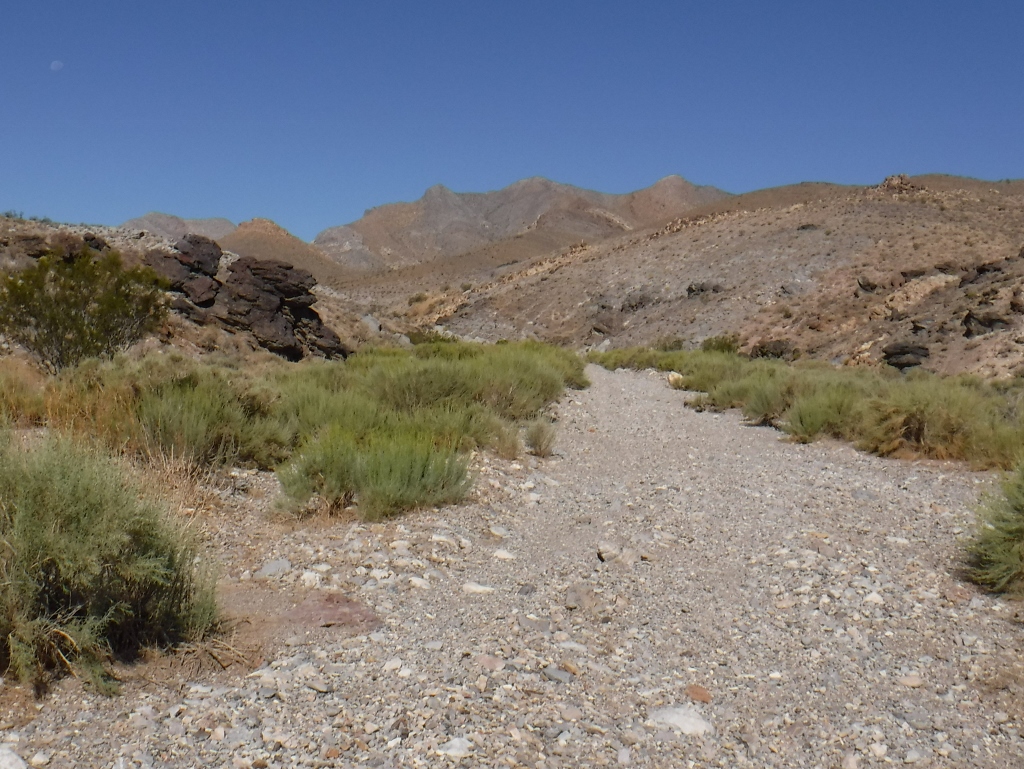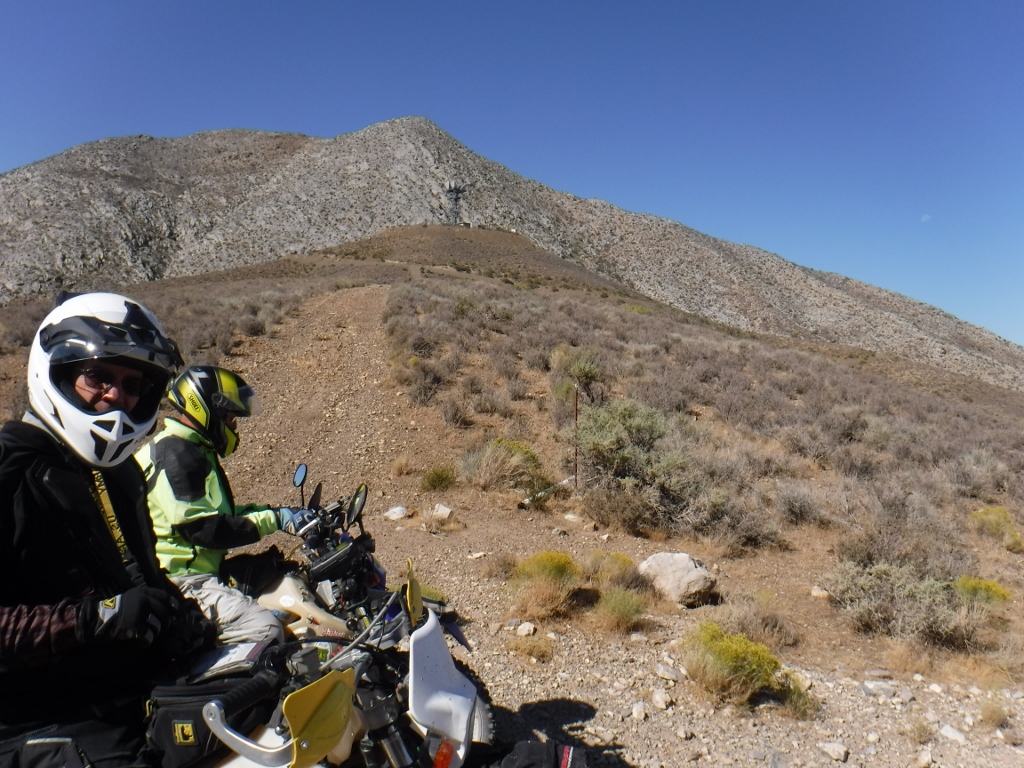 We all packed camping gear but never used them the whole trip.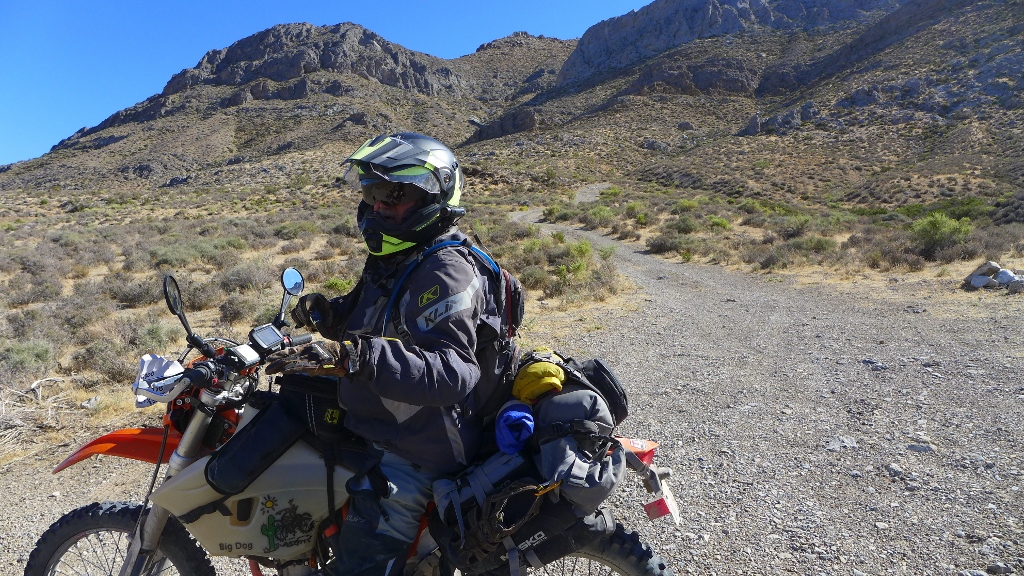 I spied a firt road going up to an array of micro wave towers------no longer in use and
the view was spectacular. But we were only about an elevation of 5,000 ft.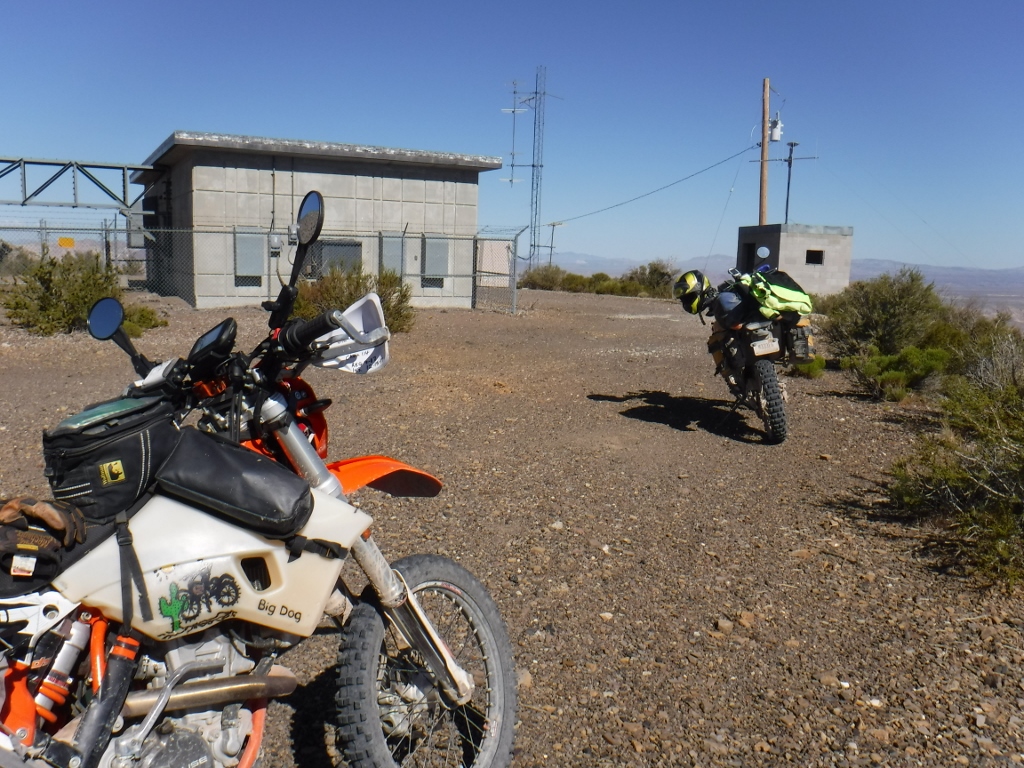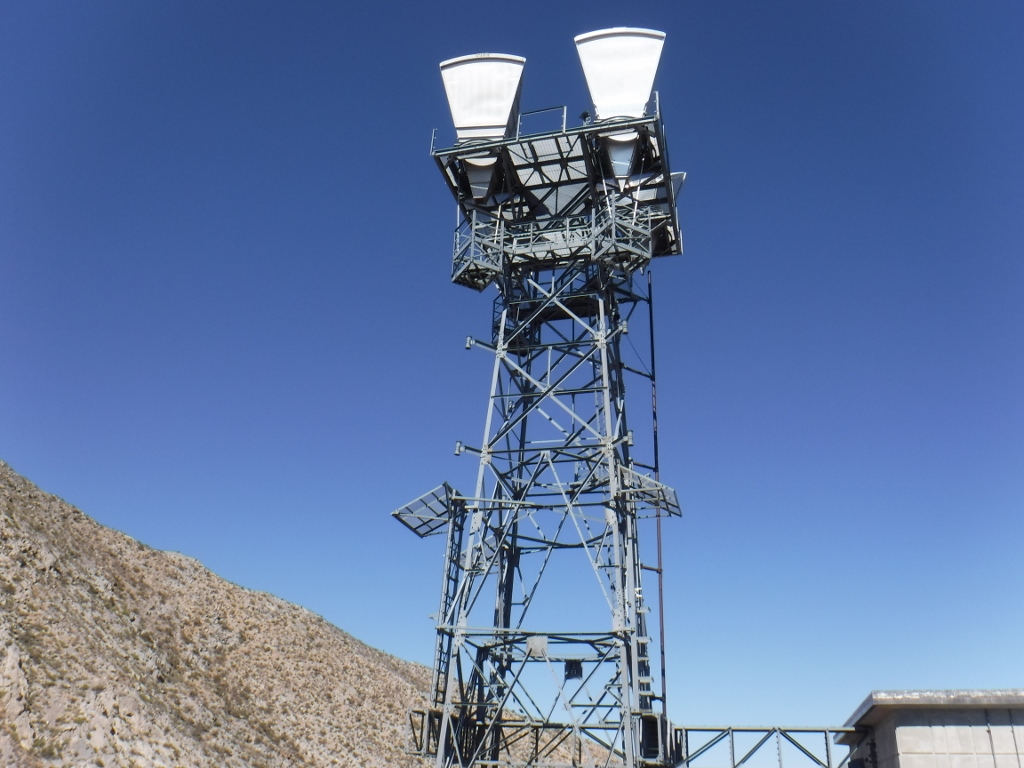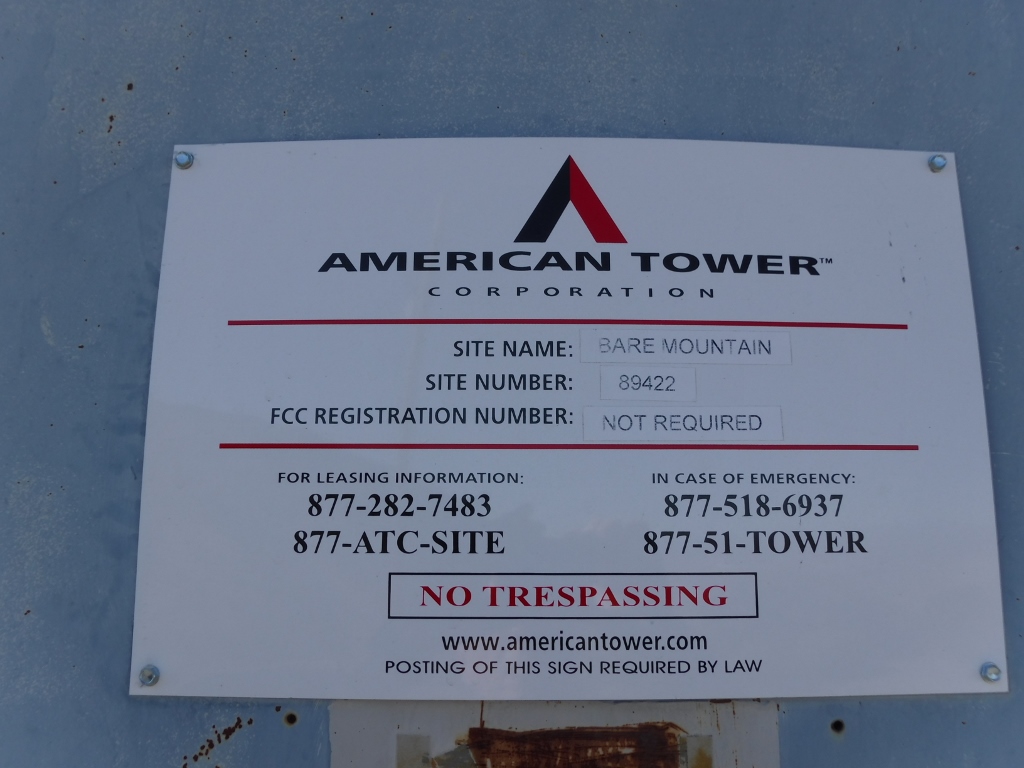 Looling down the way we would go------this was very near "secret pass".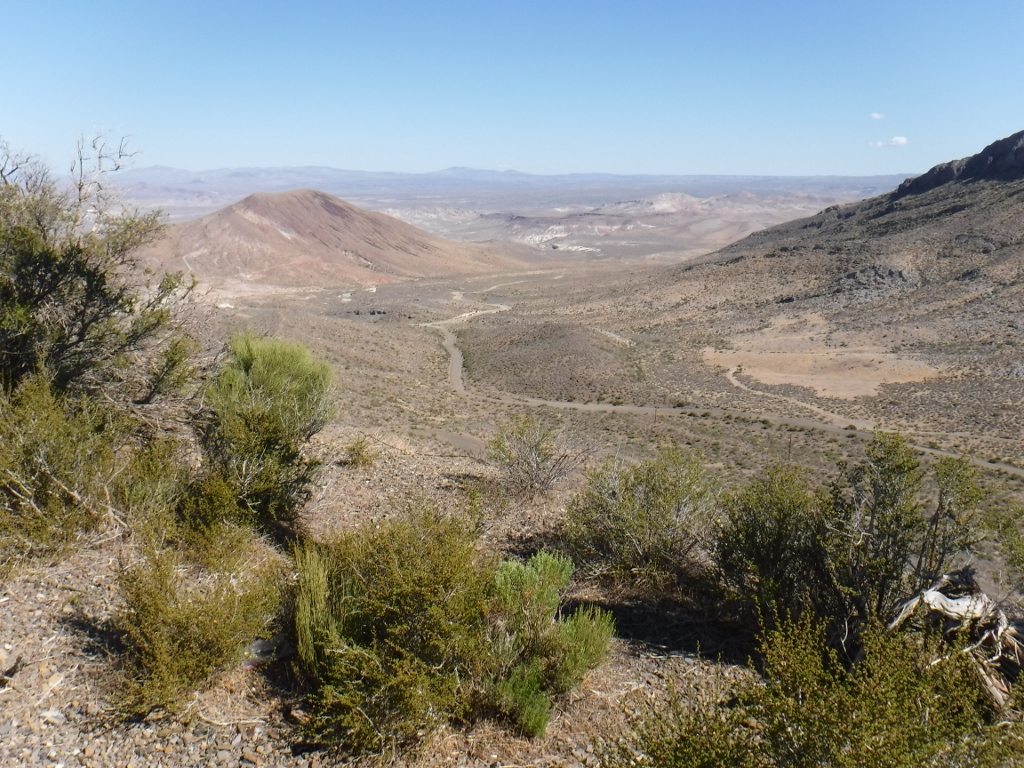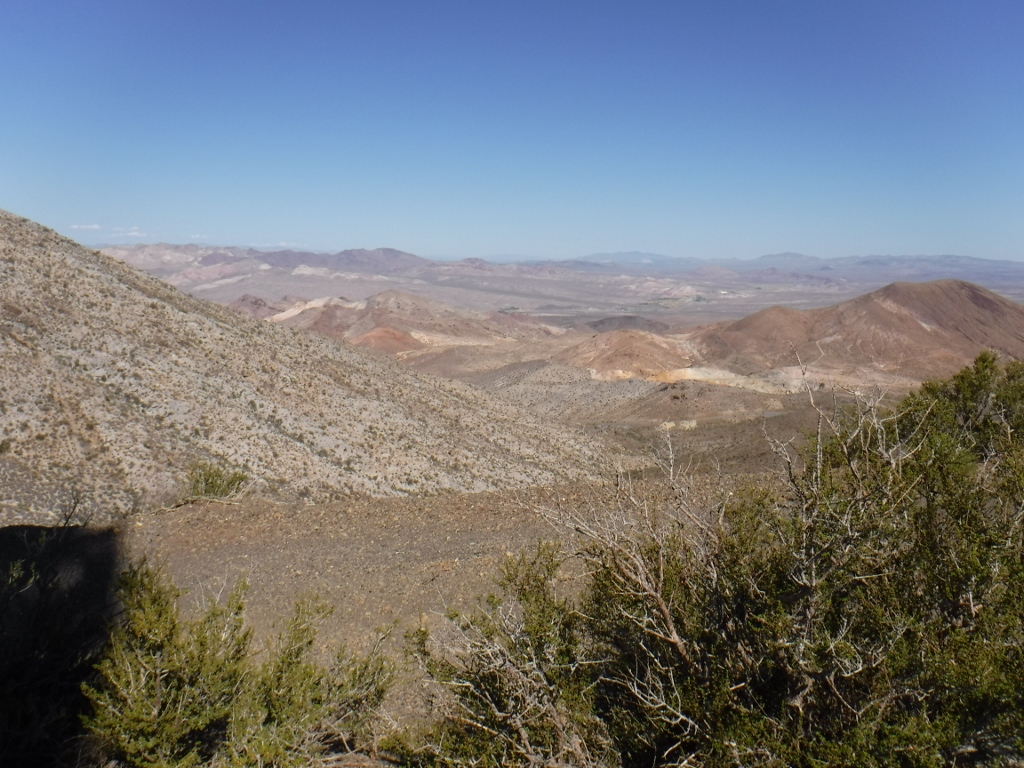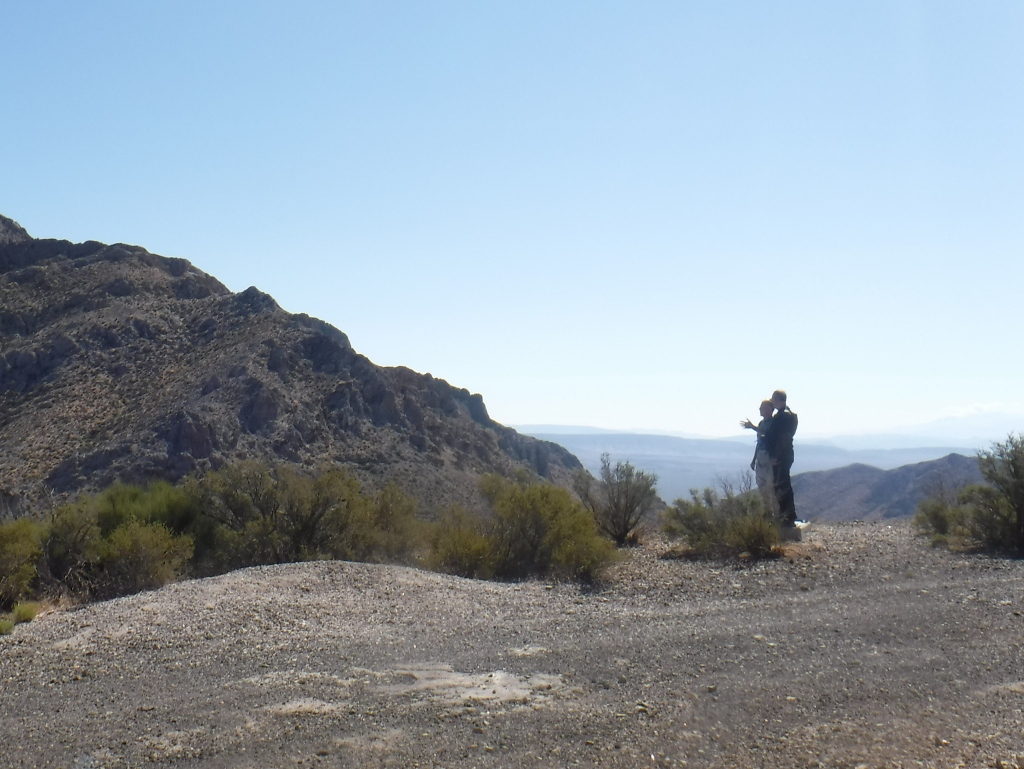 You have to look close.........................no--------really close.
The road is washed out and gone and there was a 8ft. drop where the road was gone.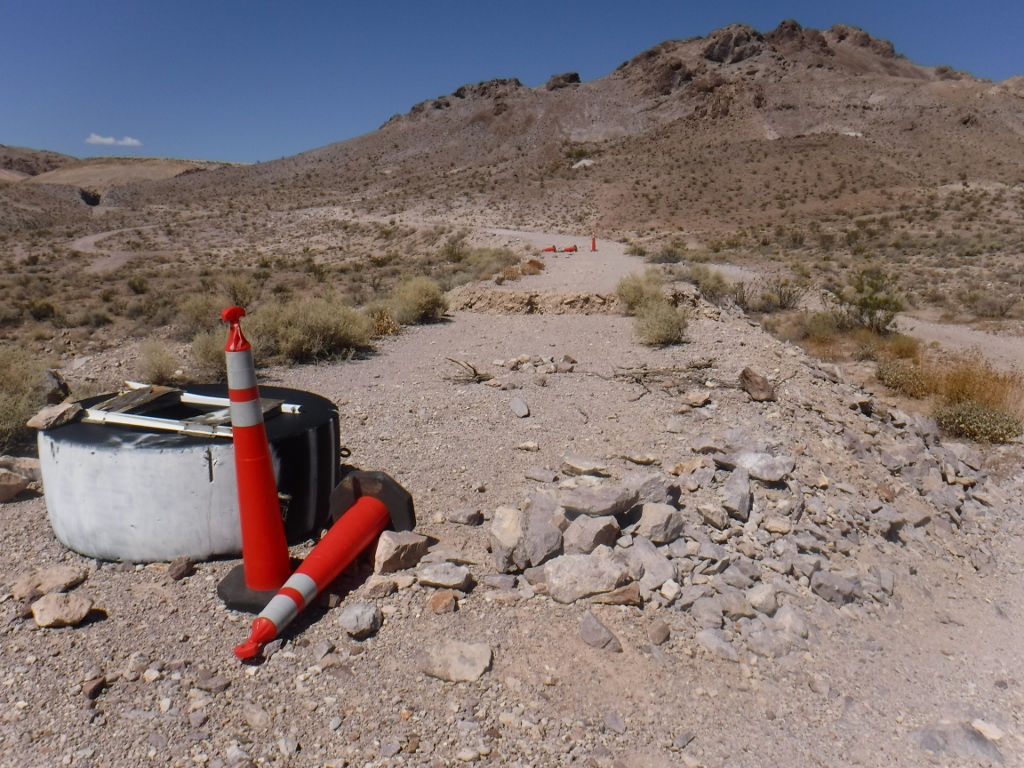 A side view of it-------that would of hurt.
I think we (actually me) had gotten off track here just a bit------but it all worked out.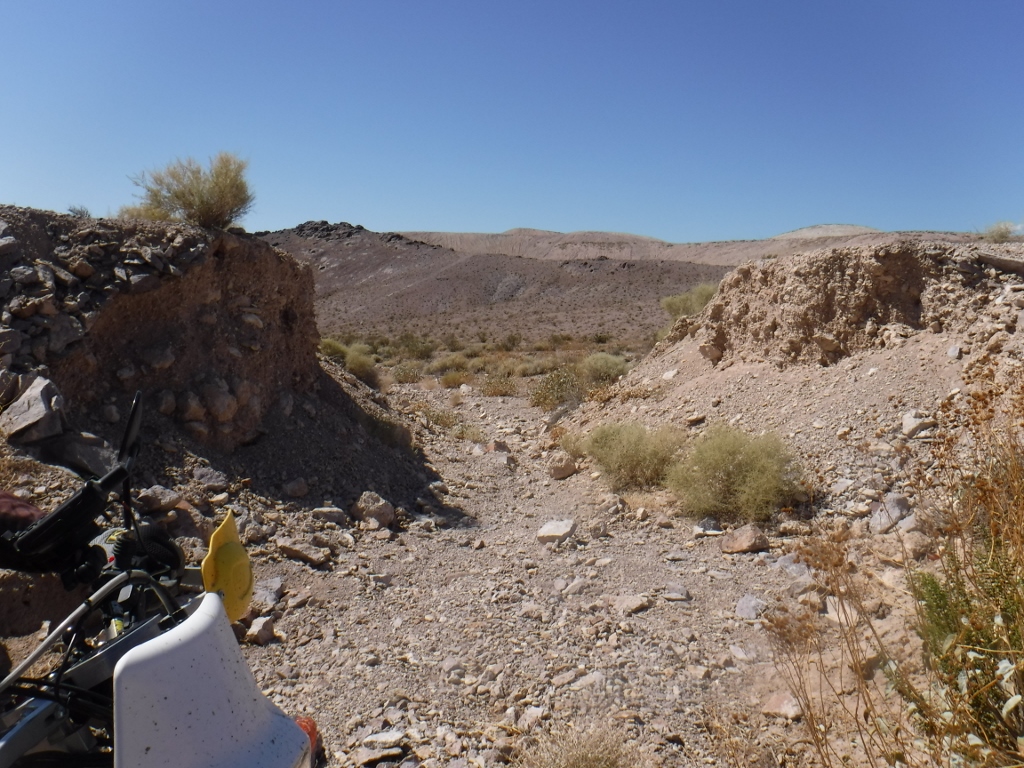 Rhyolite----and old abandoned mining area.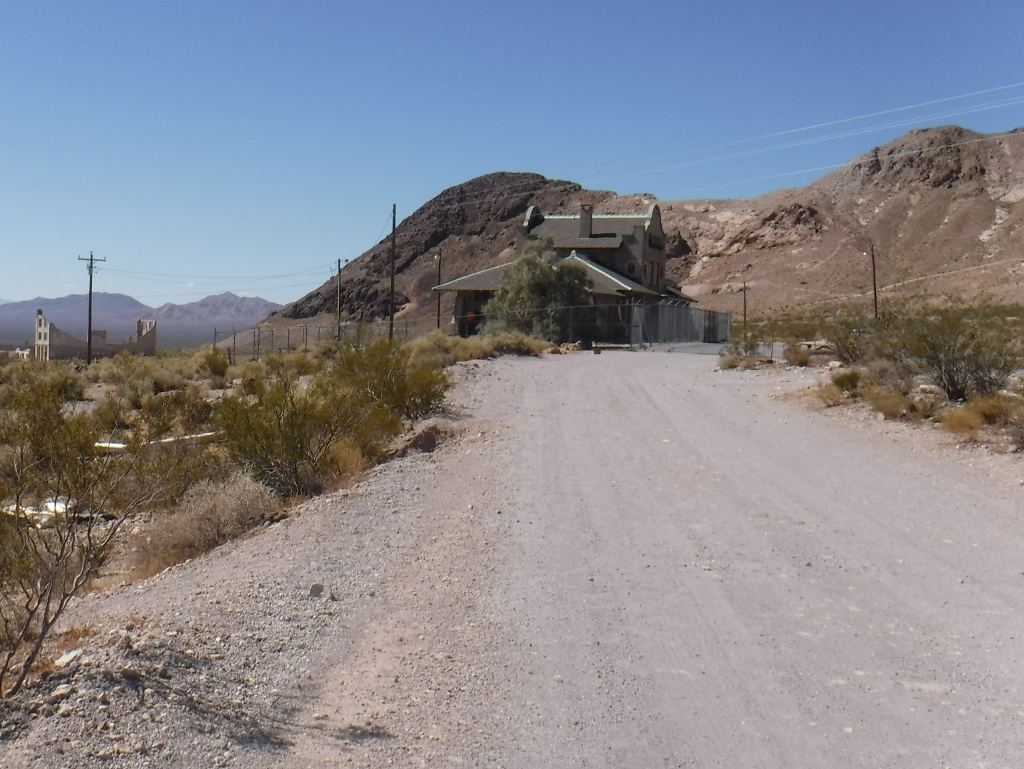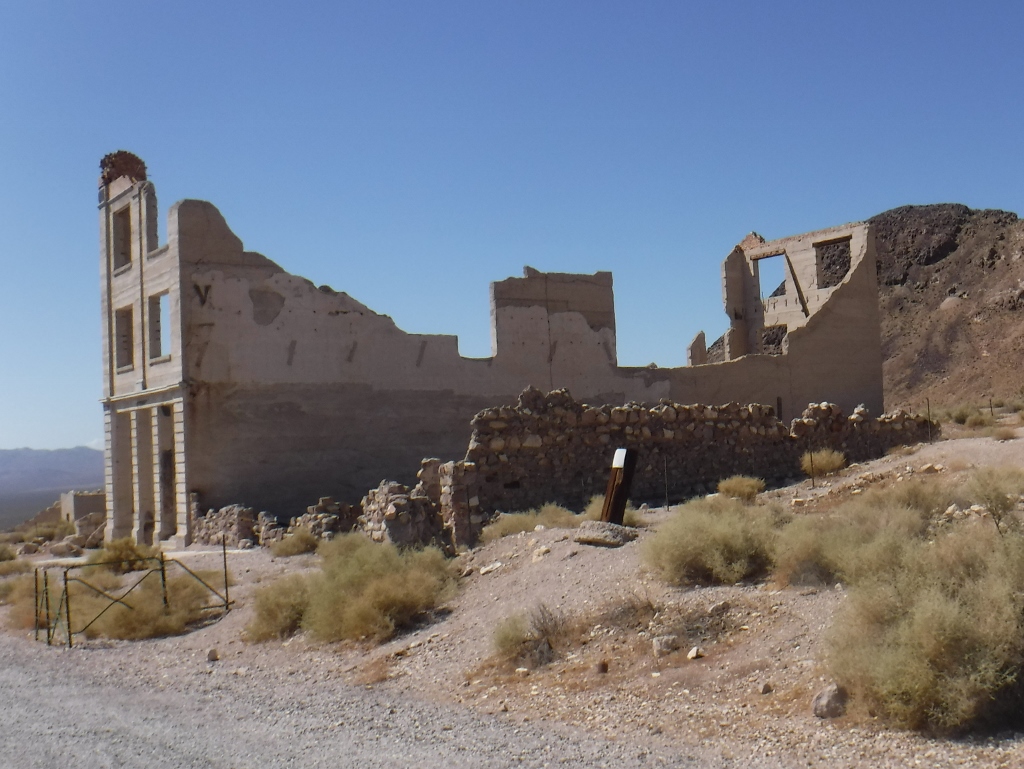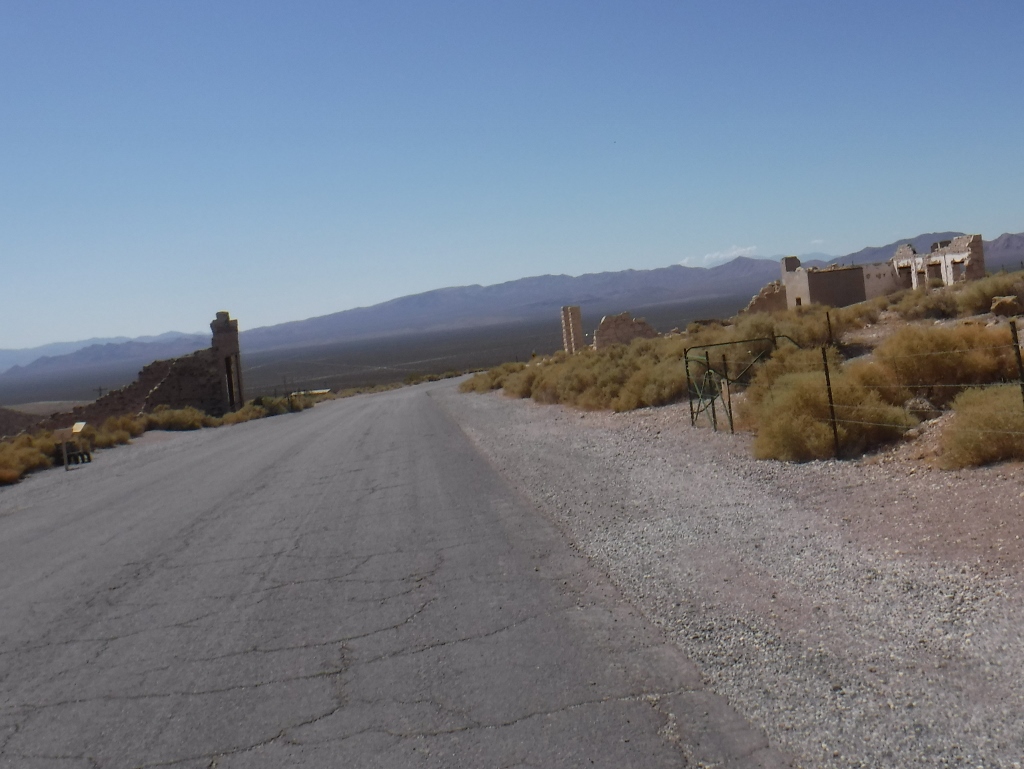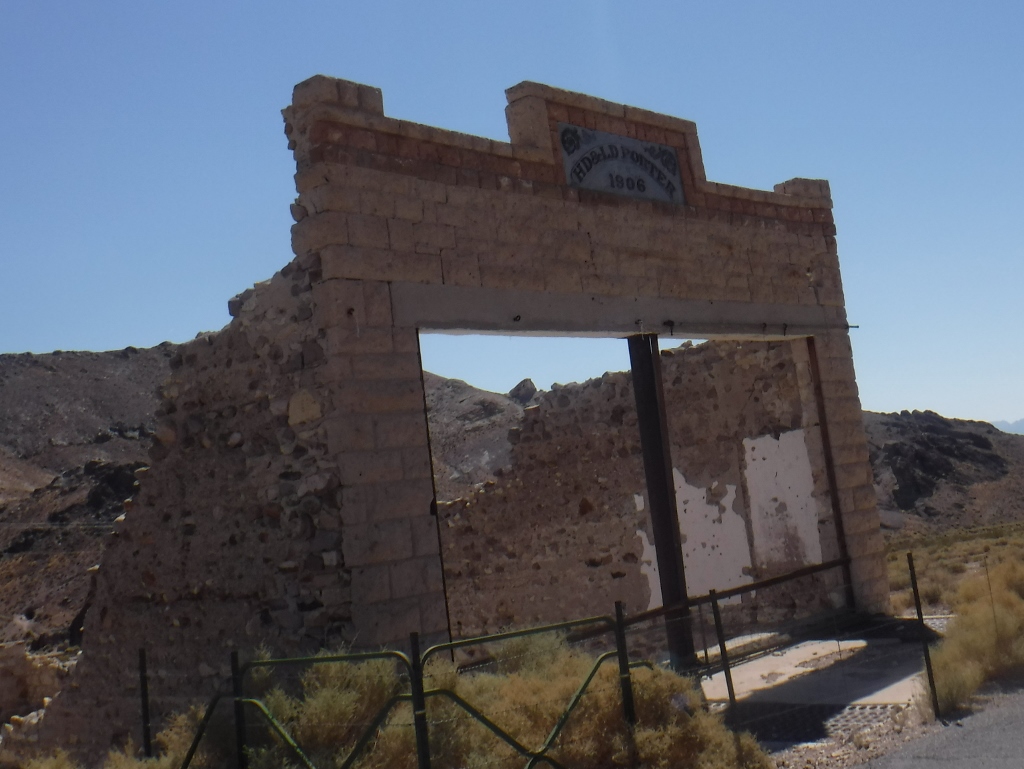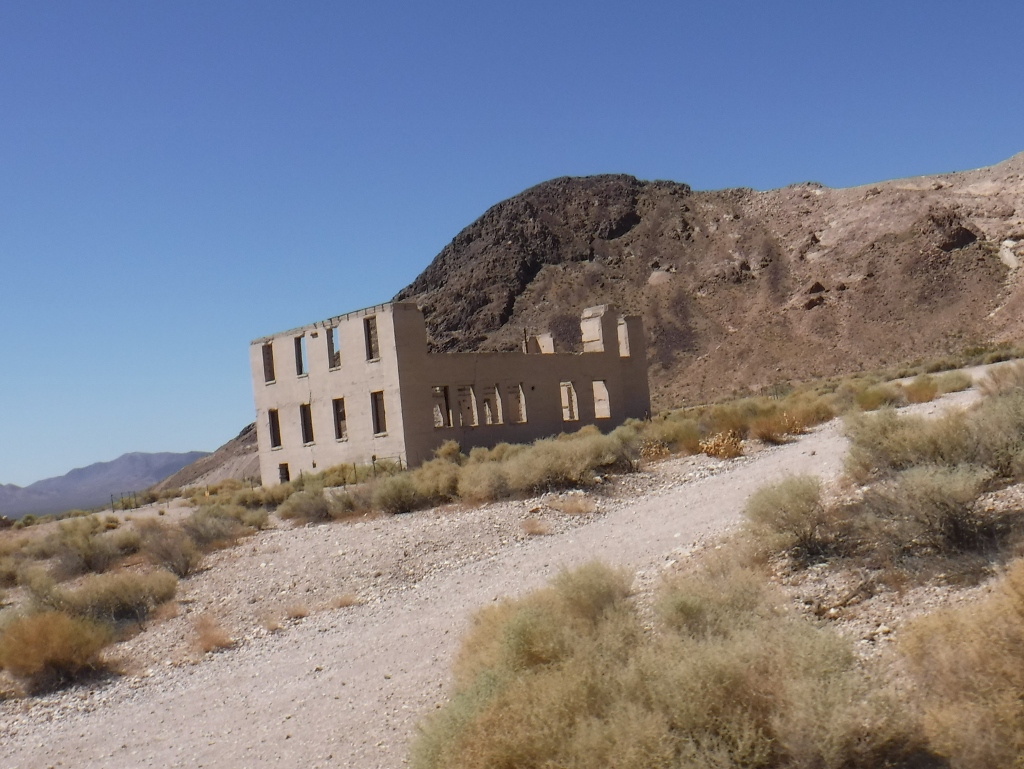 ??????????? That's all I can say.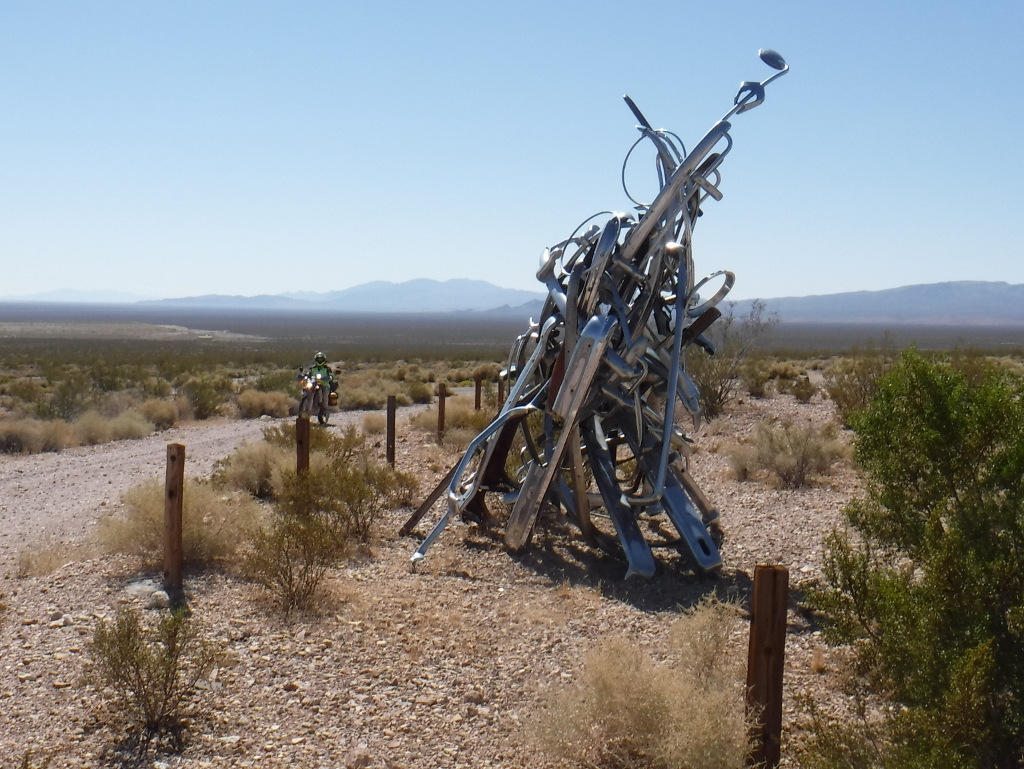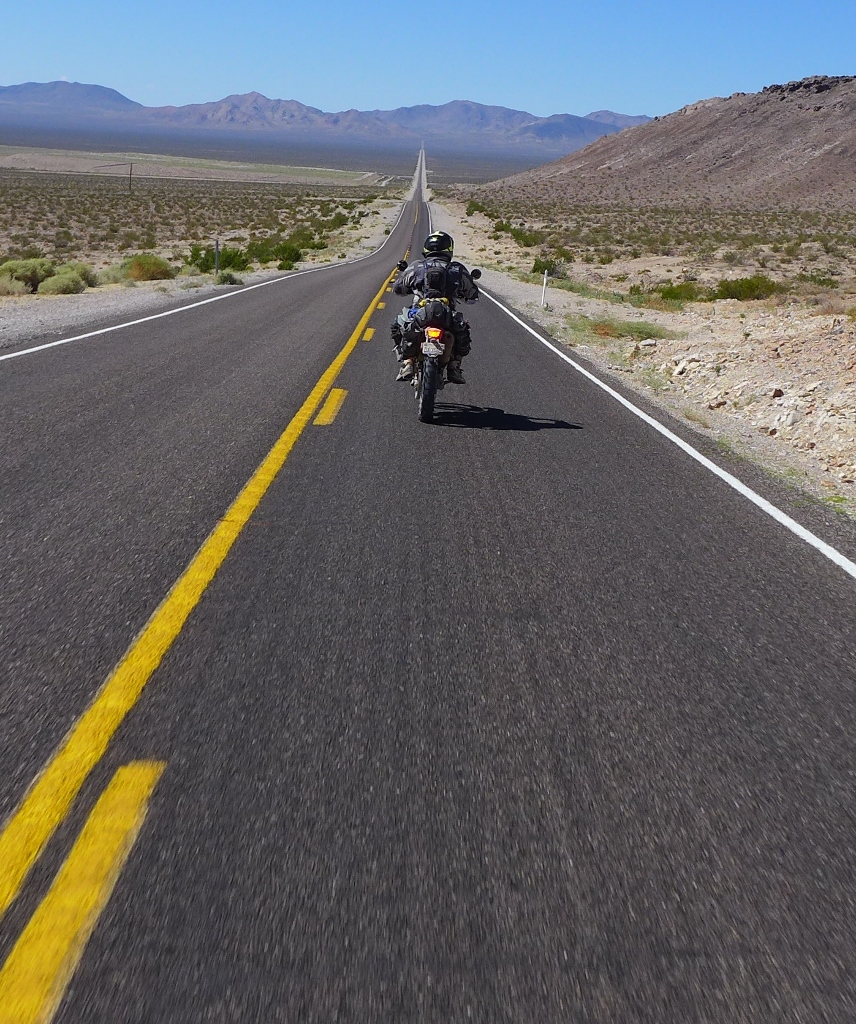 The sign in the picture is not blurred. It's just been out in the hot desert way too long---and that's
what you'd look like if you got caught out here by yourself and broke down.
But you'd be dead.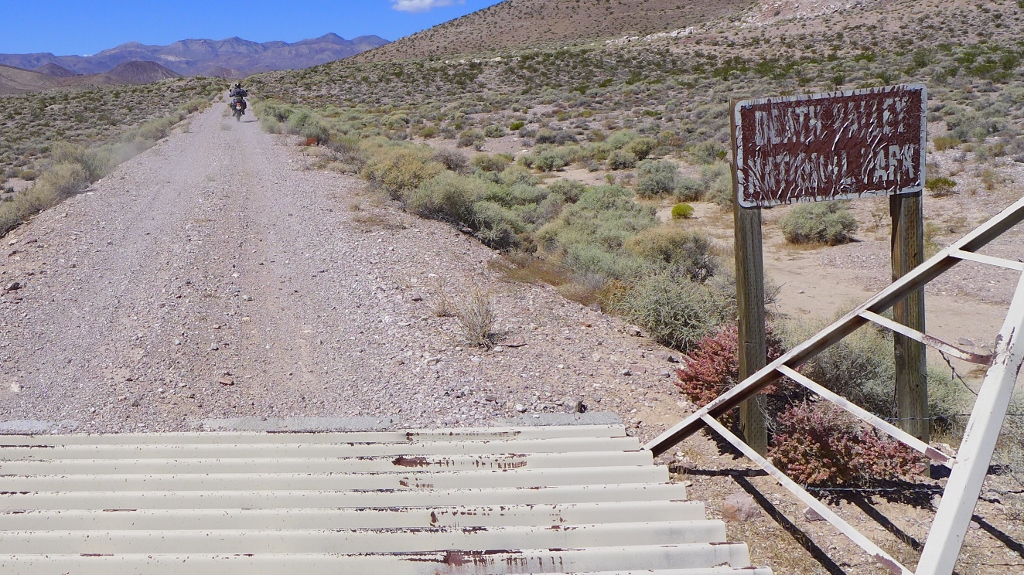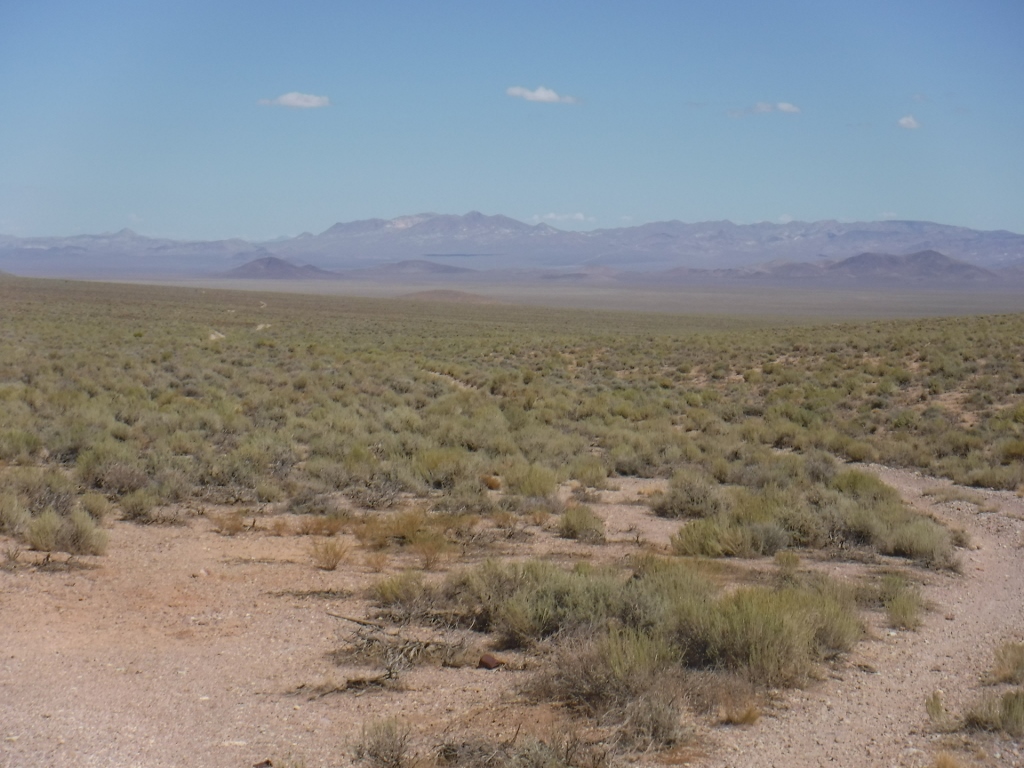 As far as the eye can see this road went on-------and much farther than that.
Straight as an arrow and it seemed we had crossed into the twilight zone and it would never end.
I remember there being about 800 whoop---tee----doos down this road ------about 15ft. apart.
Your could never go fast.
Another guy that went thru here said there was a million whoop---tee-do's.
Yeh.............that's how many they were-.....................a million.
Wore us frickin' out and we skipped a section to get to a motel and recover.
My arm sockets will never be the same.
It was pretty warm.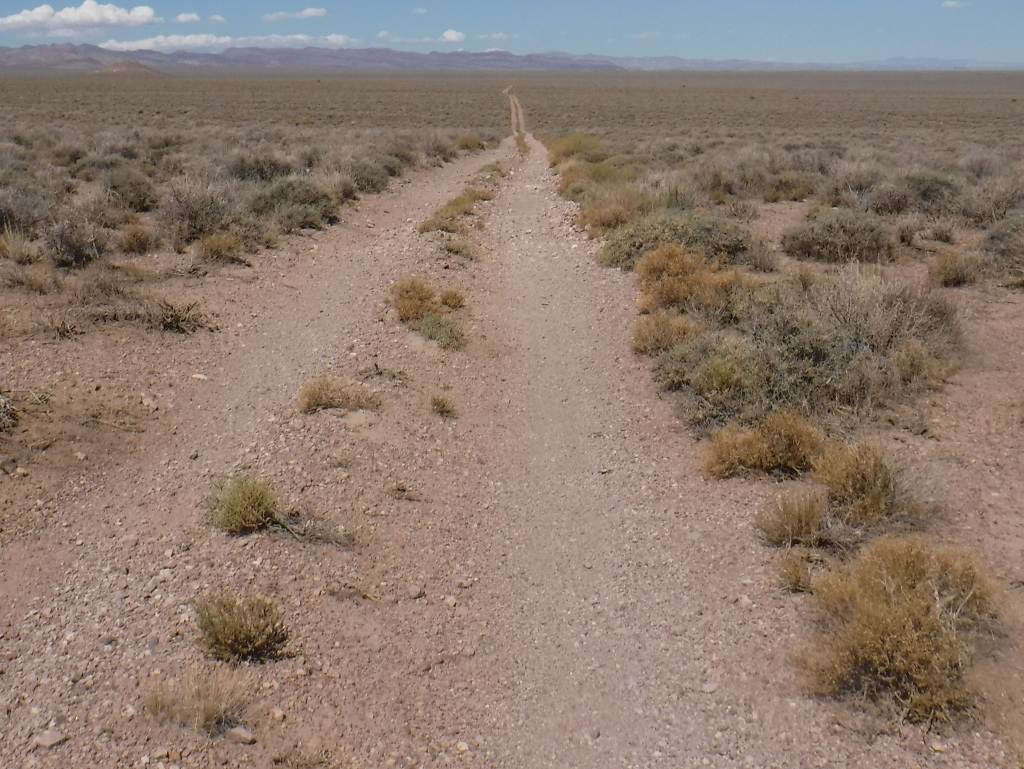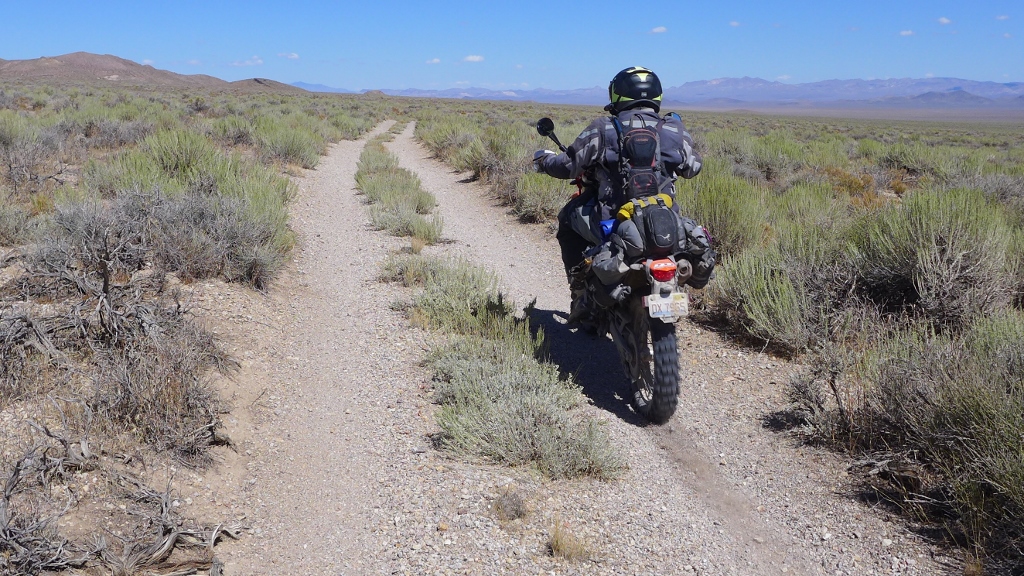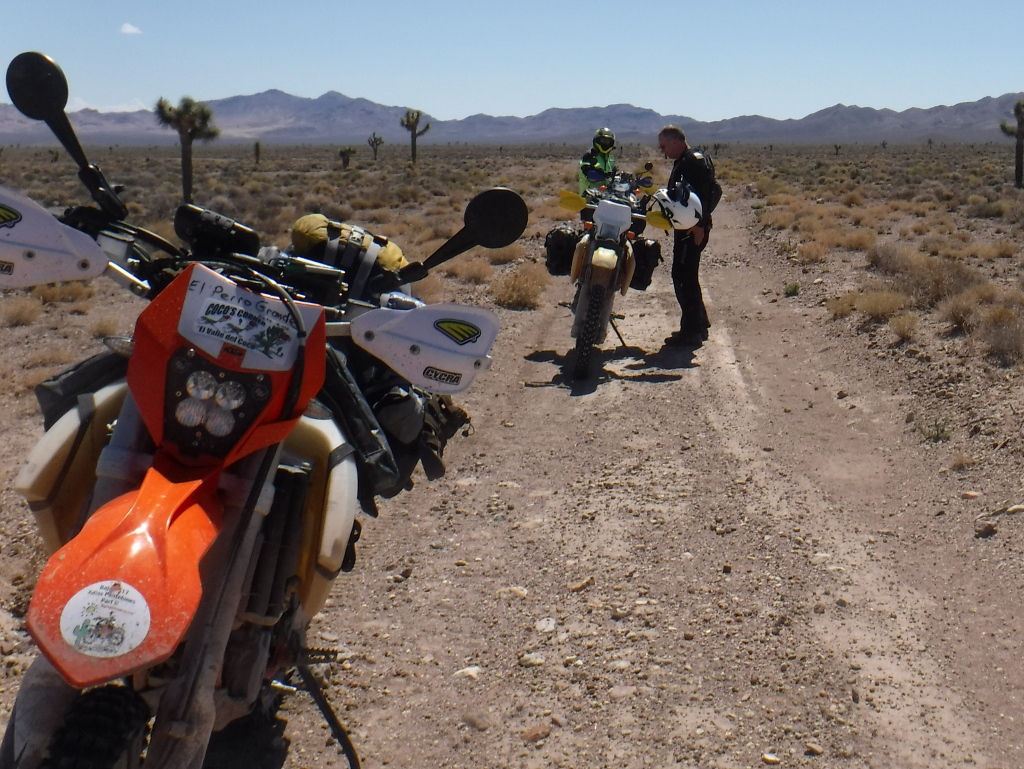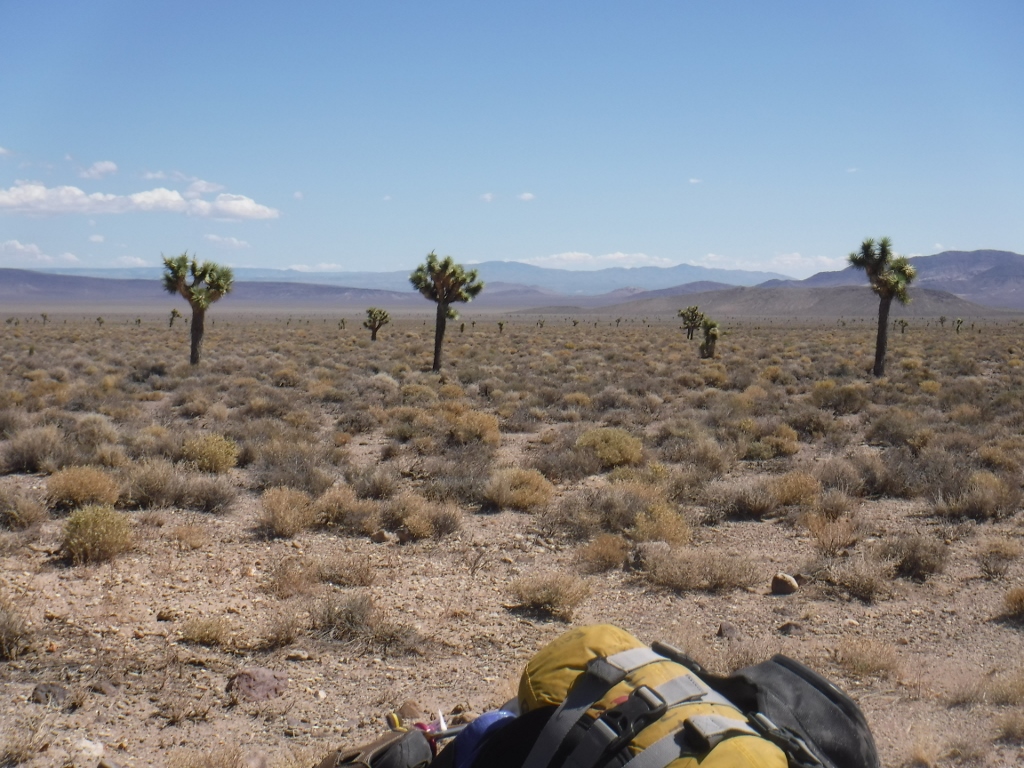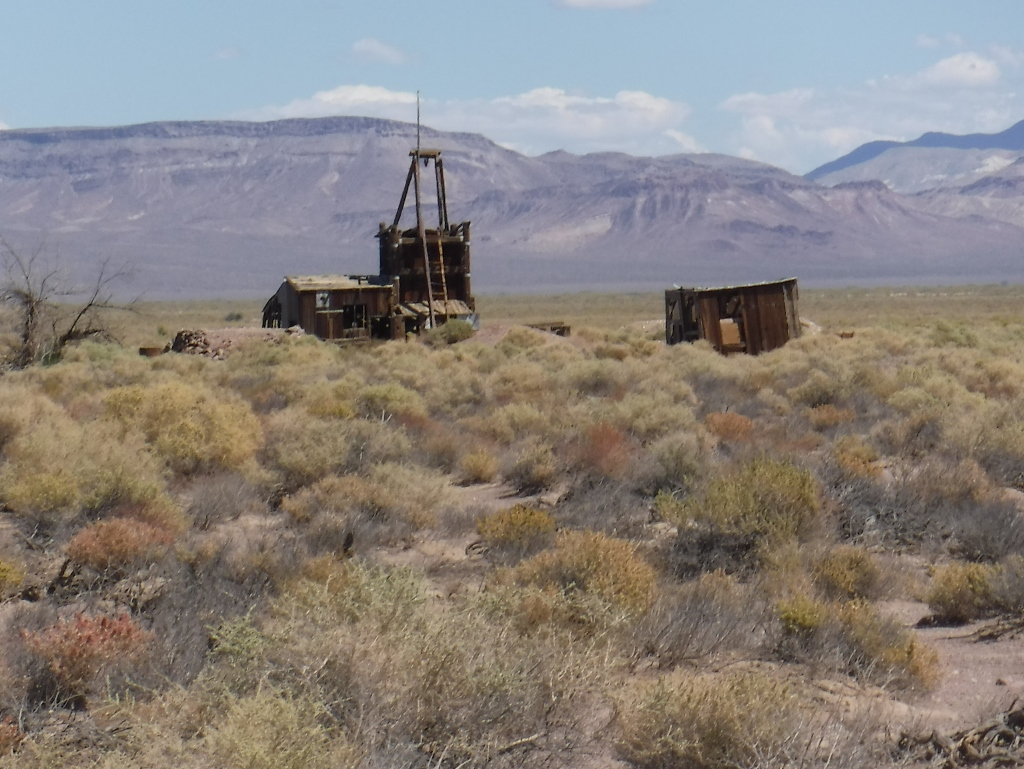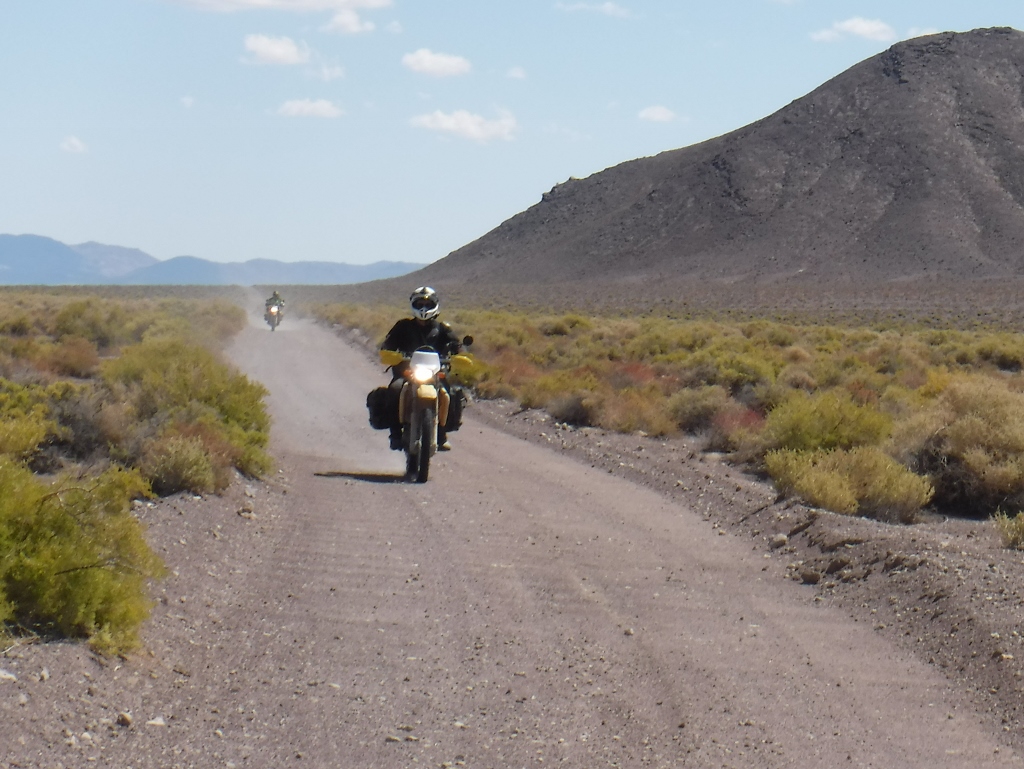 I just stopped here ..................and didn't know what to do ??????
If the end of the world was 4 miles--------how could hard luck be 7 ????
Lets find out.
I've had a good life-------it today is the end------so be it.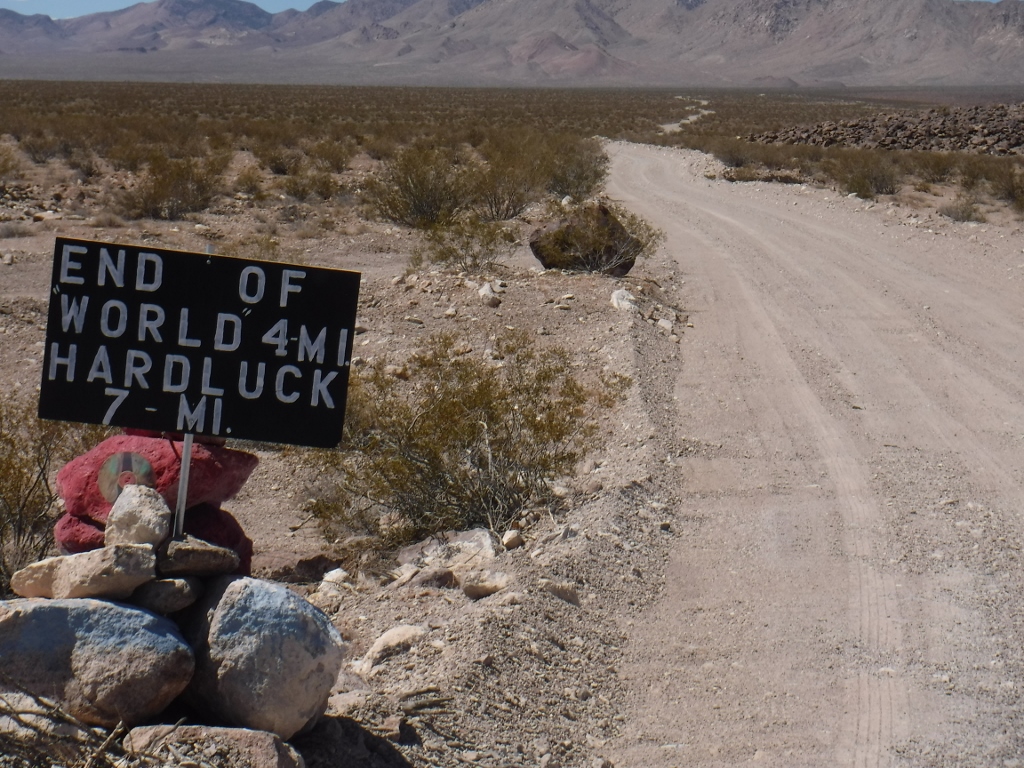 OK-----now I'm freaked out.
Some weird people were out here somewhere.
Maybe the heat got to em'.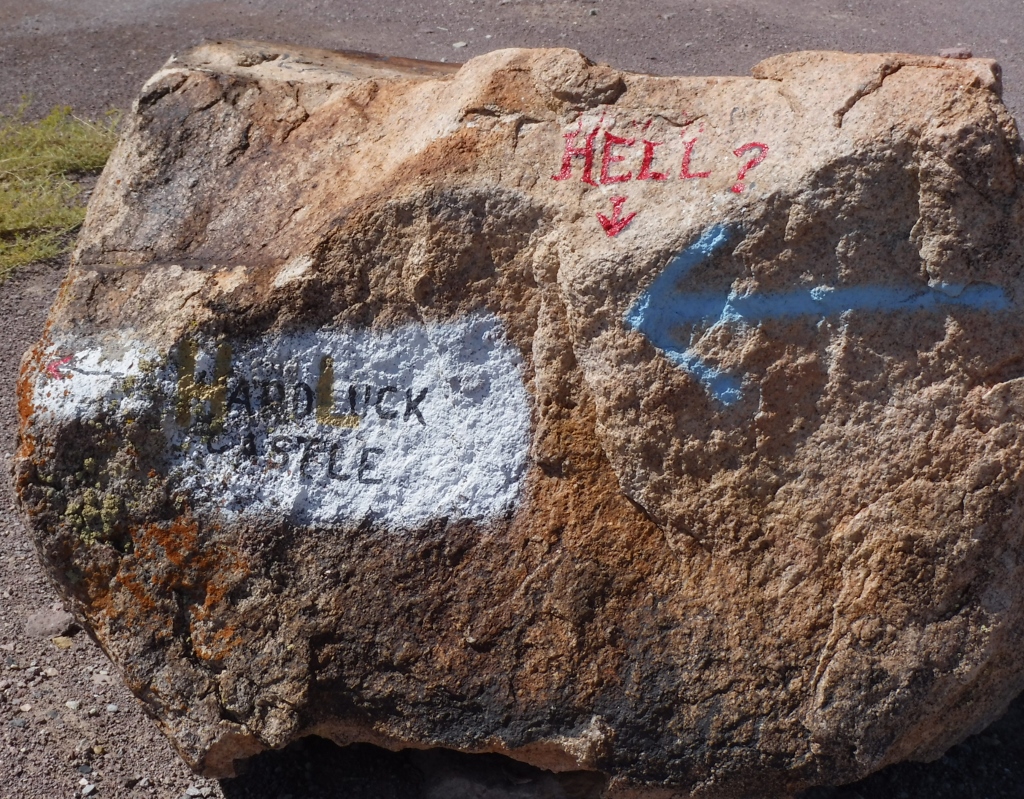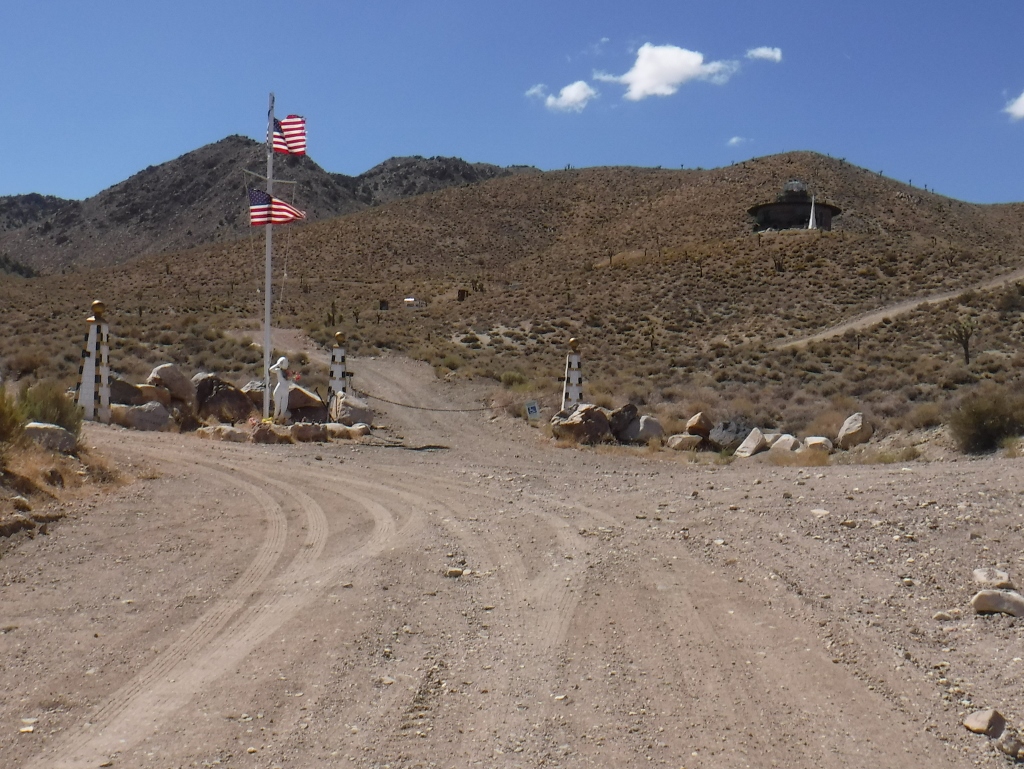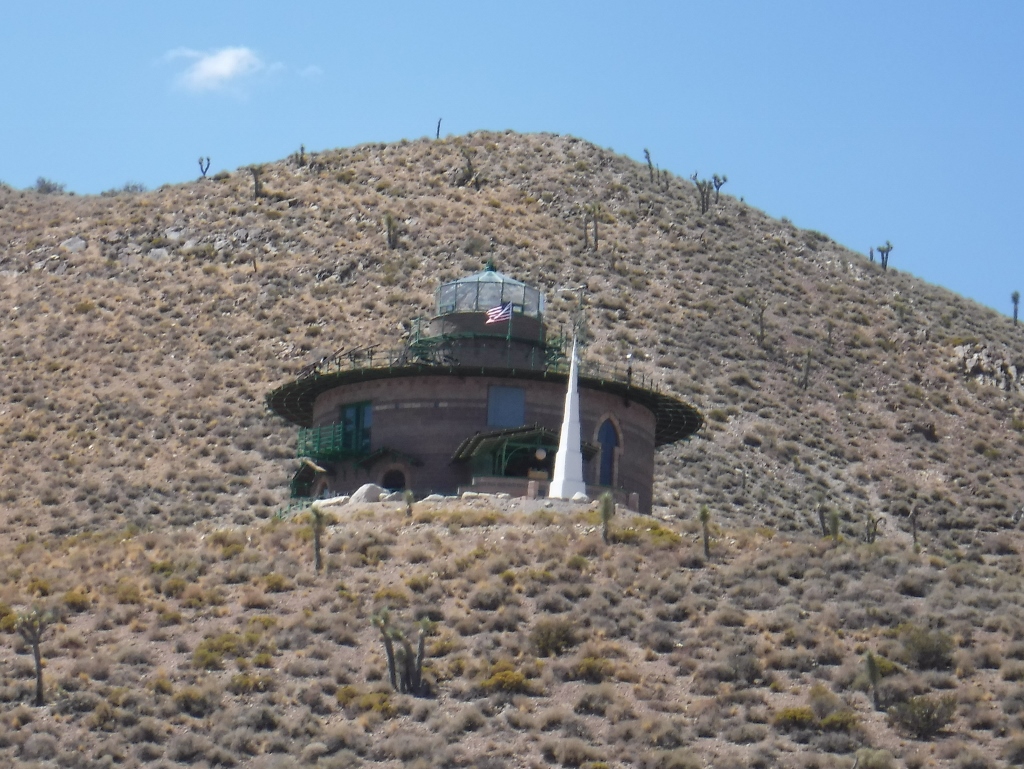 Now this is nice---we went thru Goldpoint where there was suppose to be fuel and lodging
but we found none.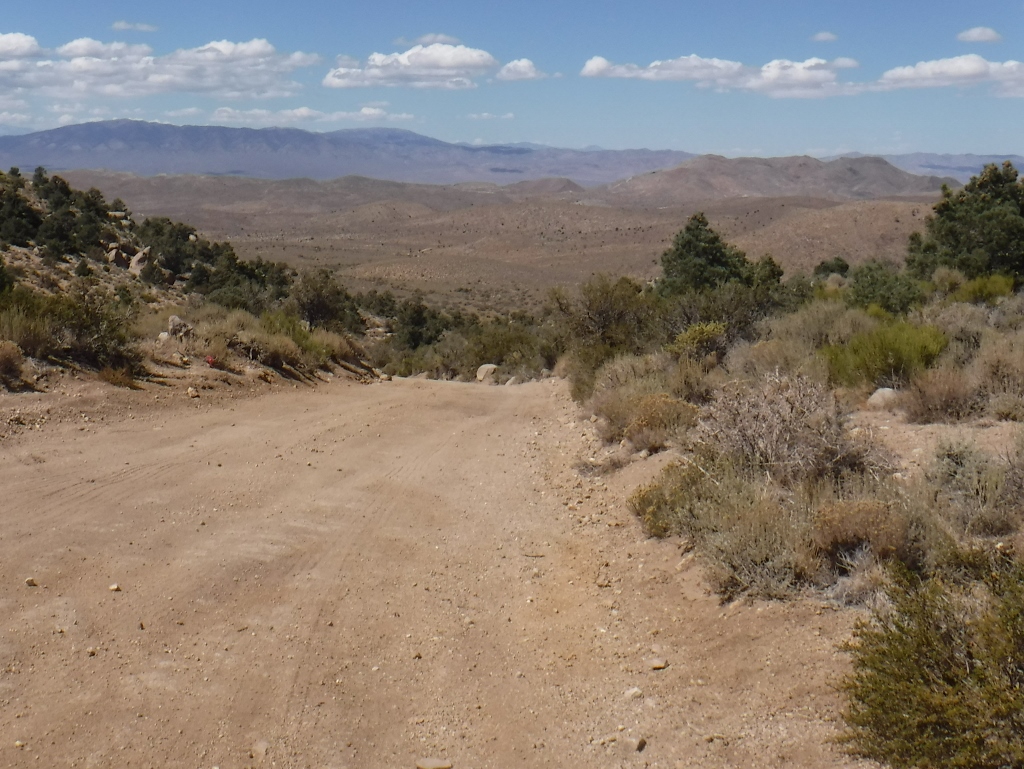 Junkyard---------I've got nothing to say-------just check it out.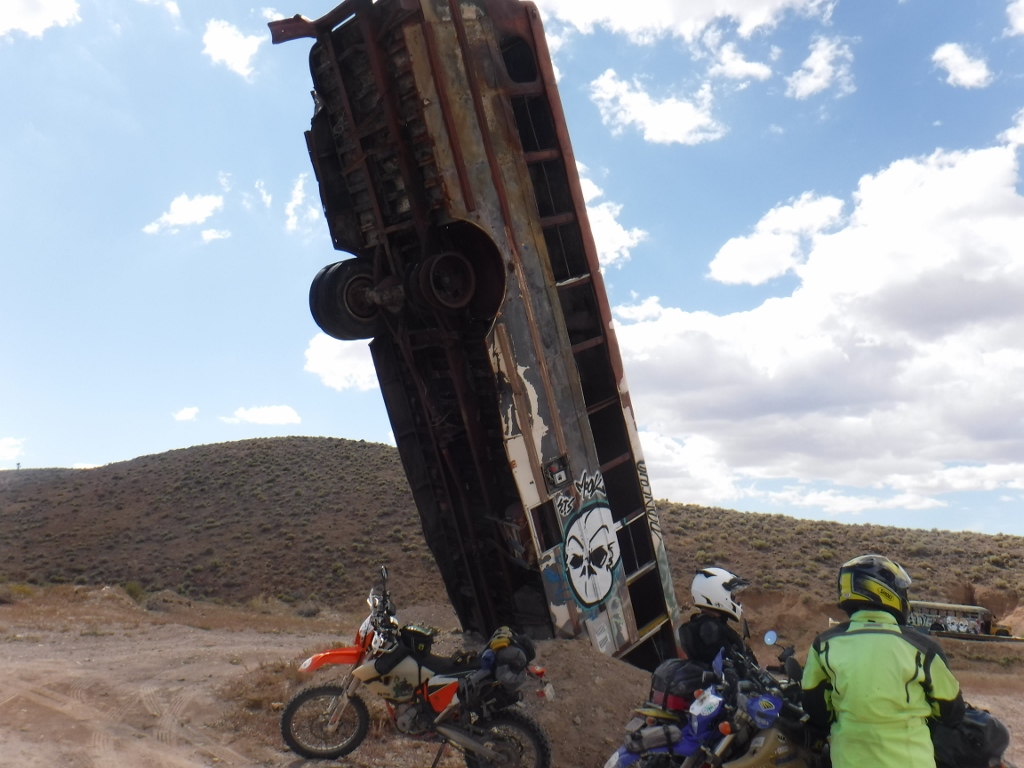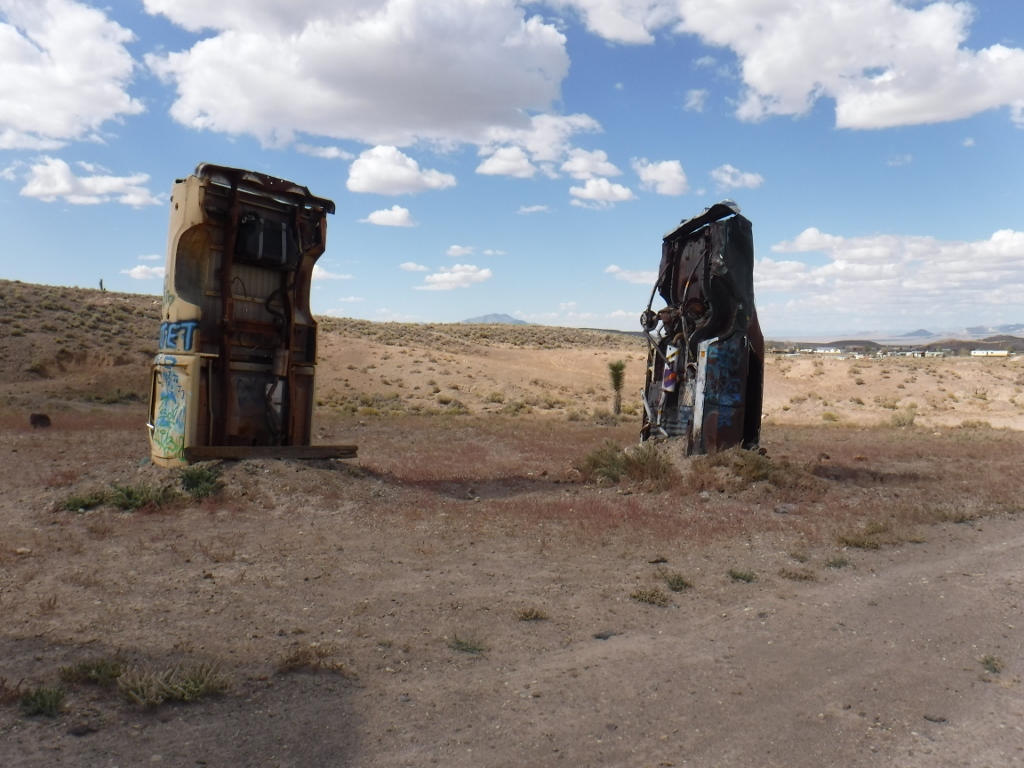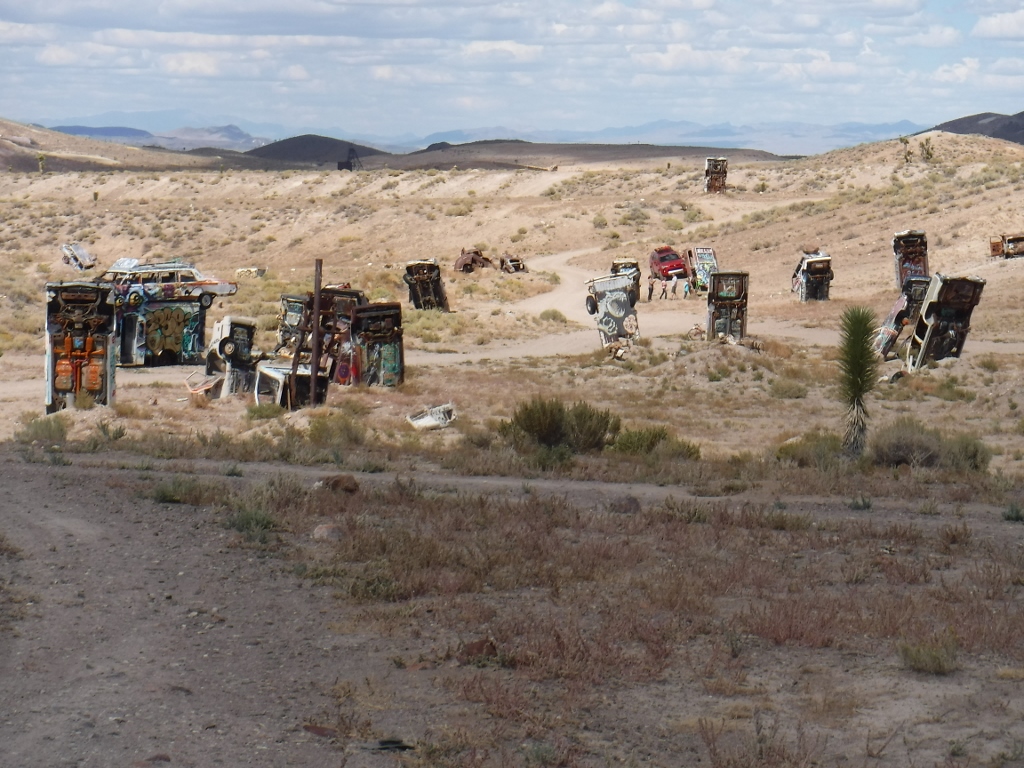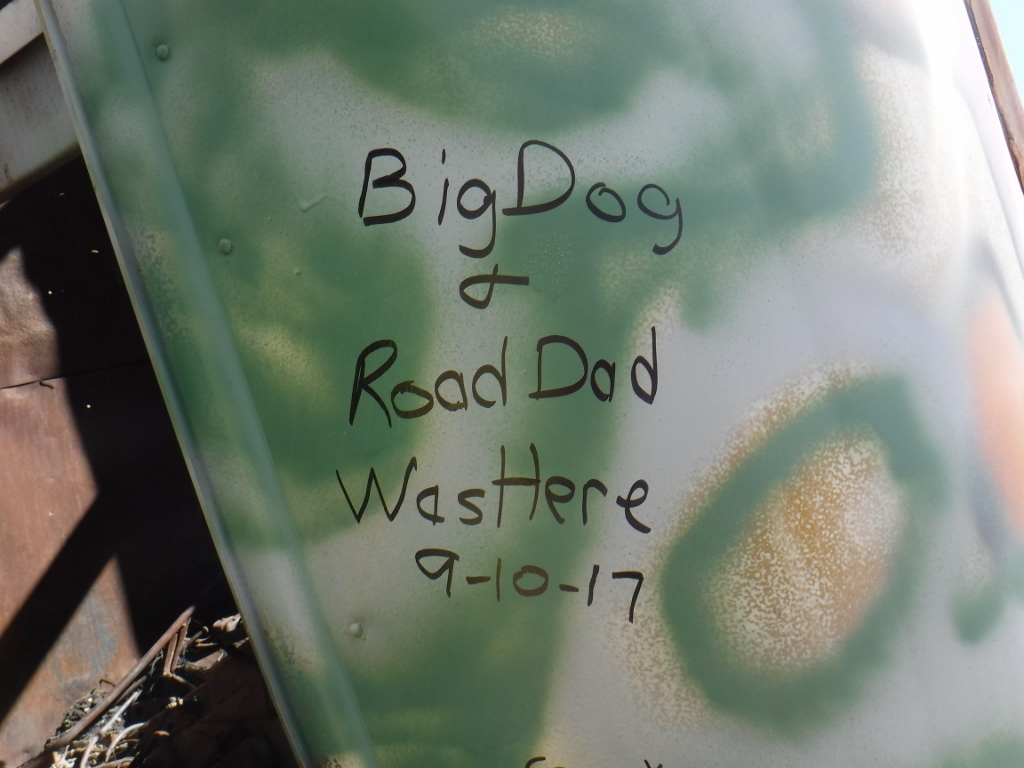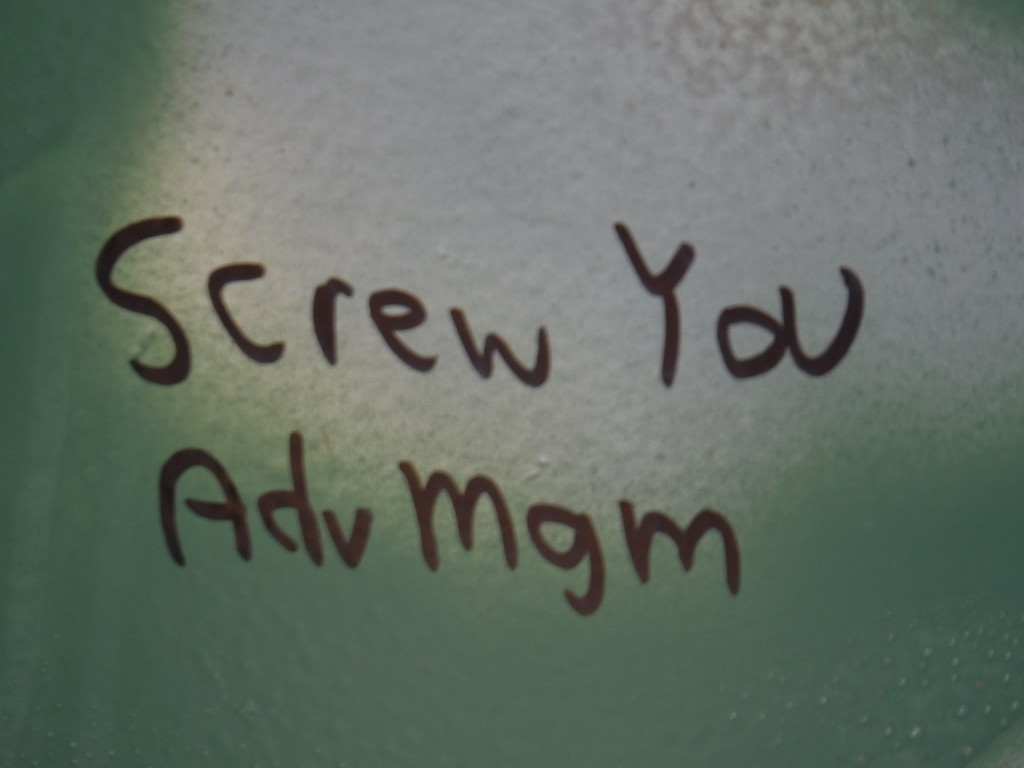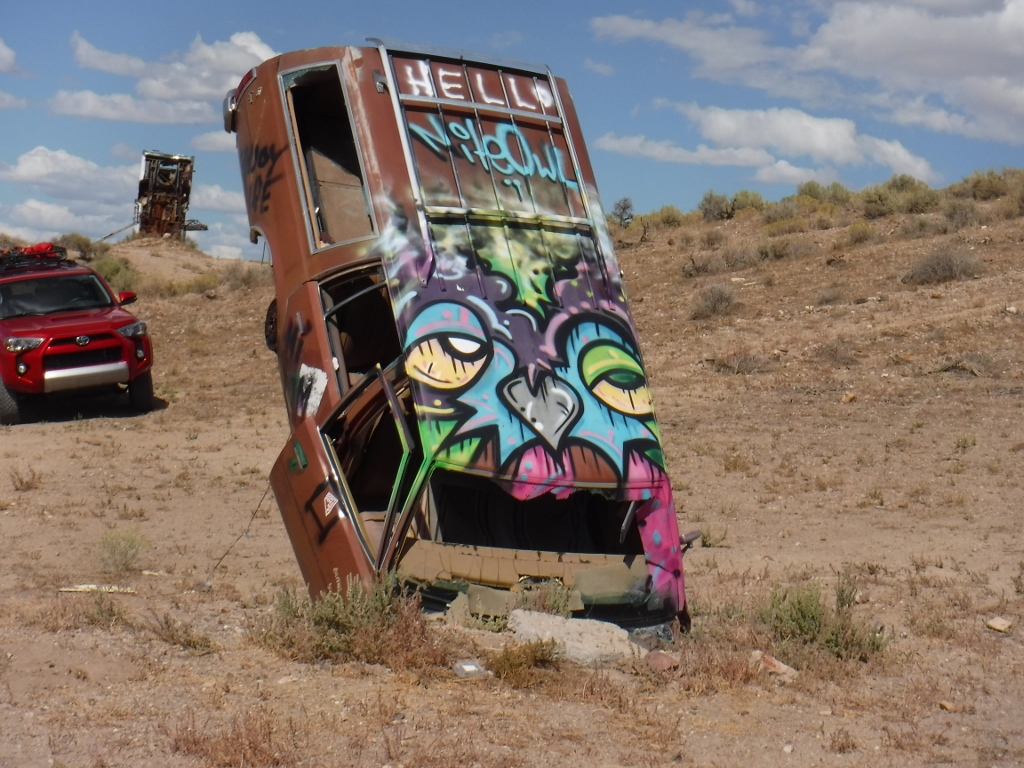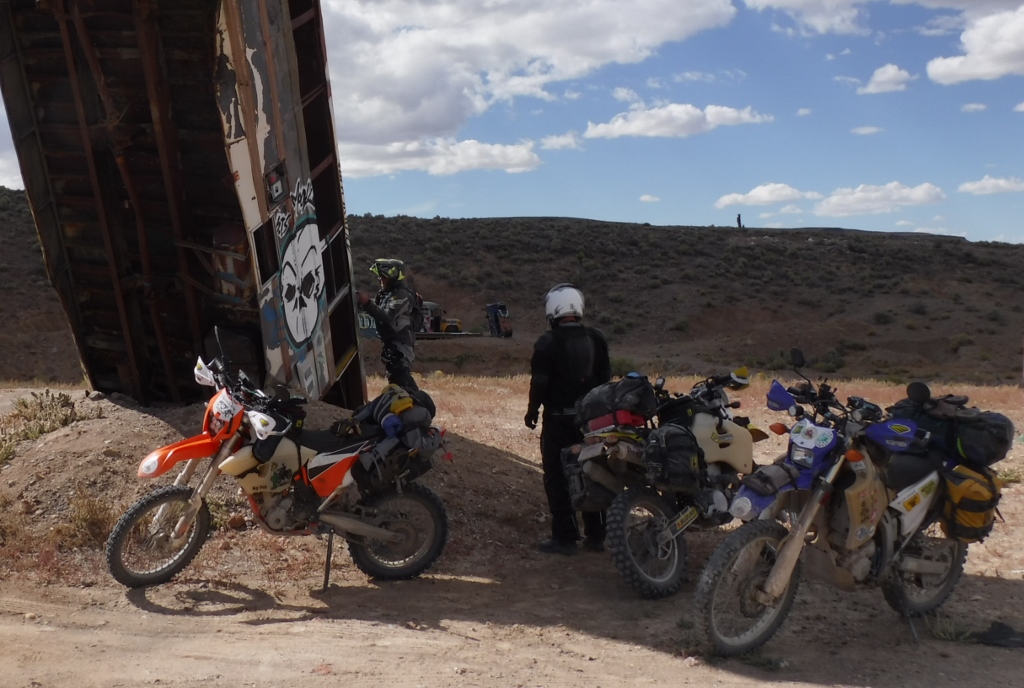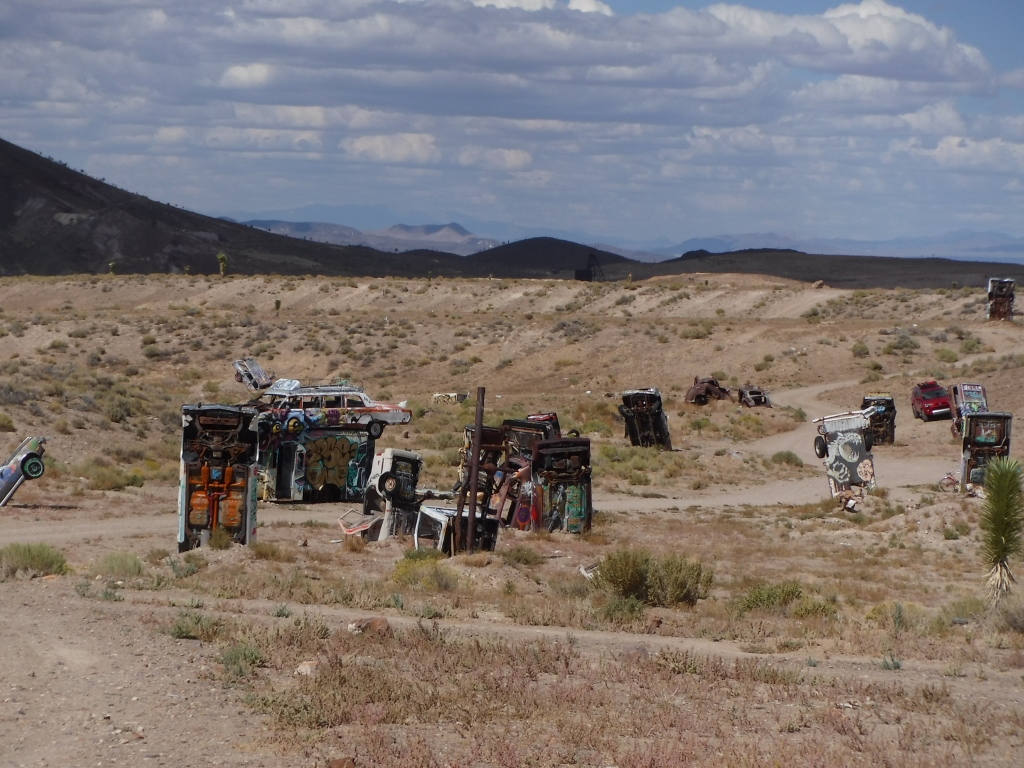 Main hwy. 95 into Tonopah was West of the old road.
Nobody at all on it--------like old route 66 with grass growing up in it sometimes.
This is a paved road I could love.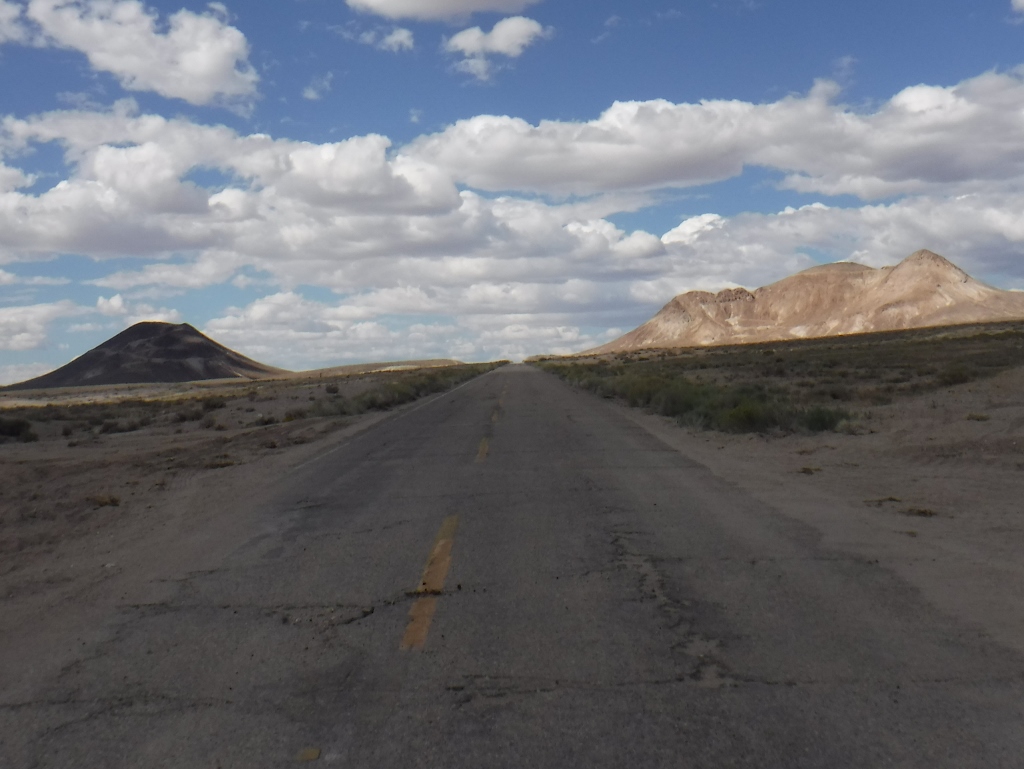 Travel at your own risk and dodge the huge deep potholes.
We got a motel in Tonopah and after 210 miles were beat.
We did skip a bit today----Tule Summit---Railroad Pass--and some deep bulldust and sand we heard.
But we was beat.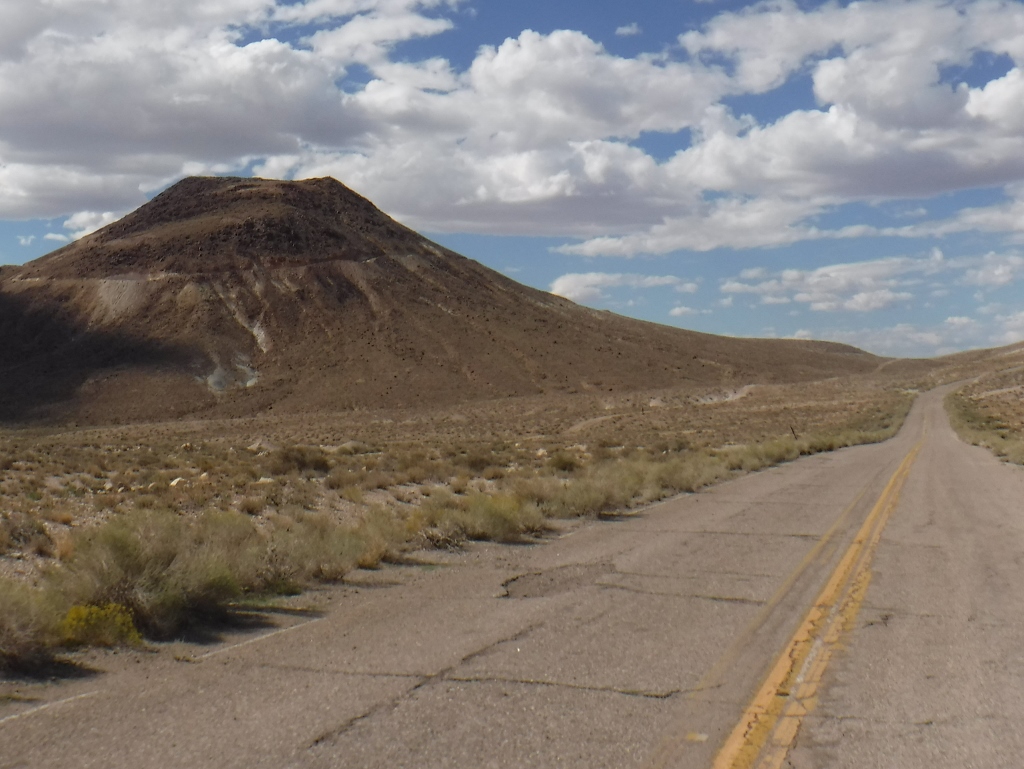 A short Video of todays ride

Day 3
9-11-17
Tonopah, NVto Austin NV
This is how I keep track of my pictures and what day they were taken on.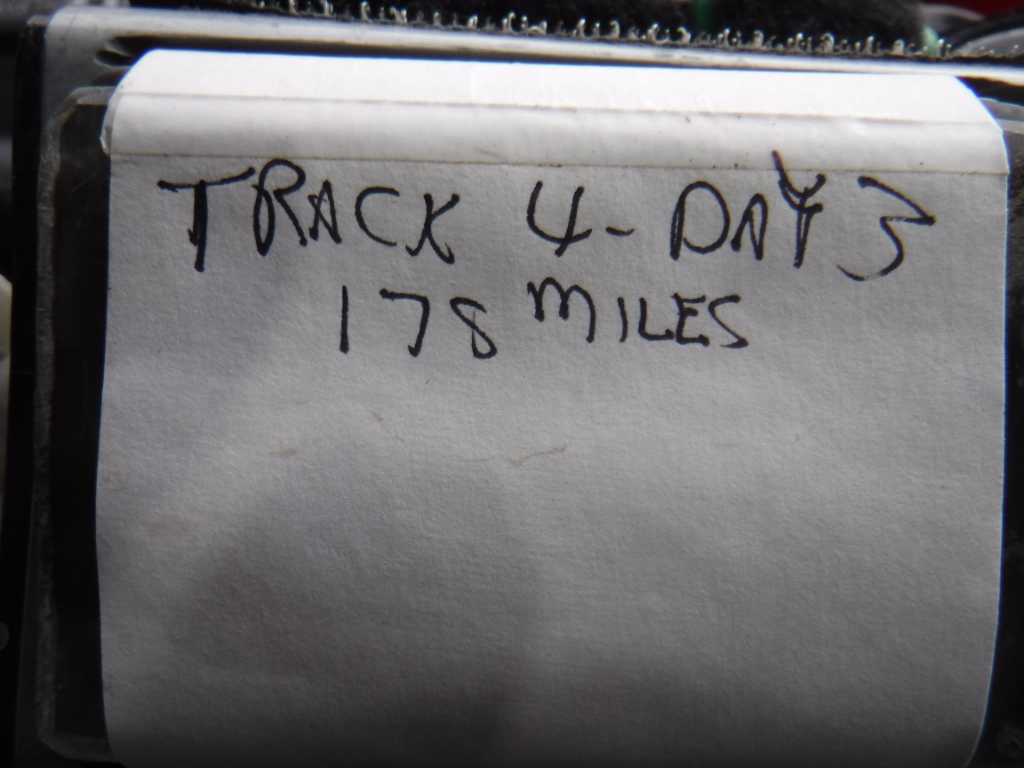 We rode out of Tonopah going North mostly on Dynamite Road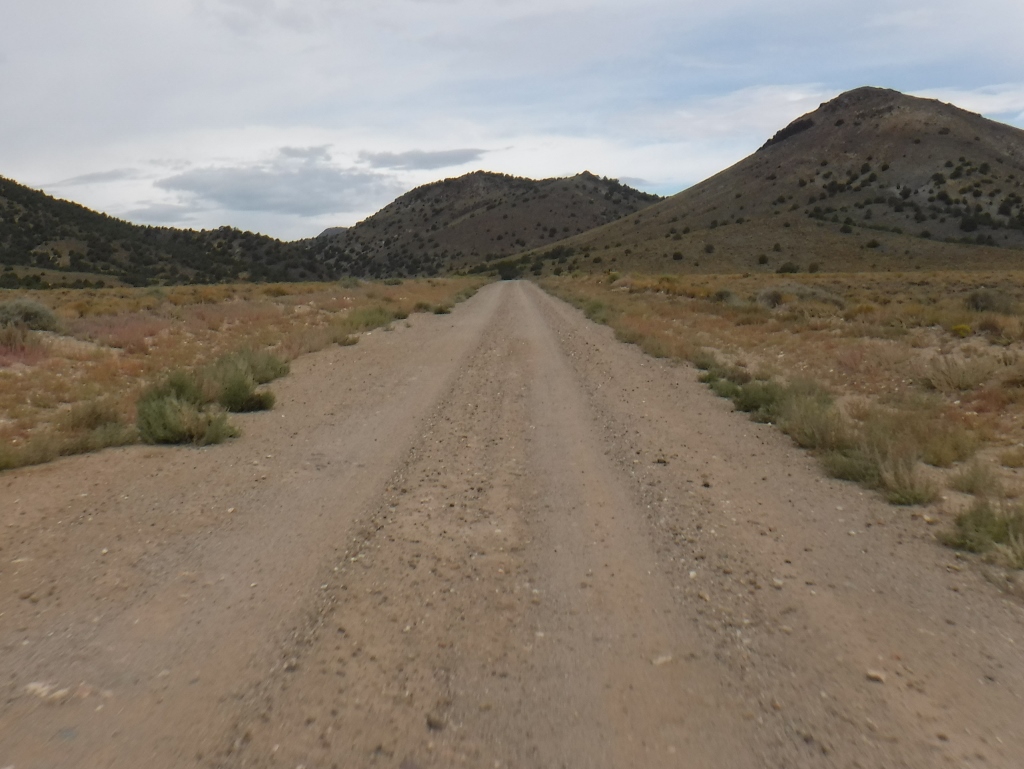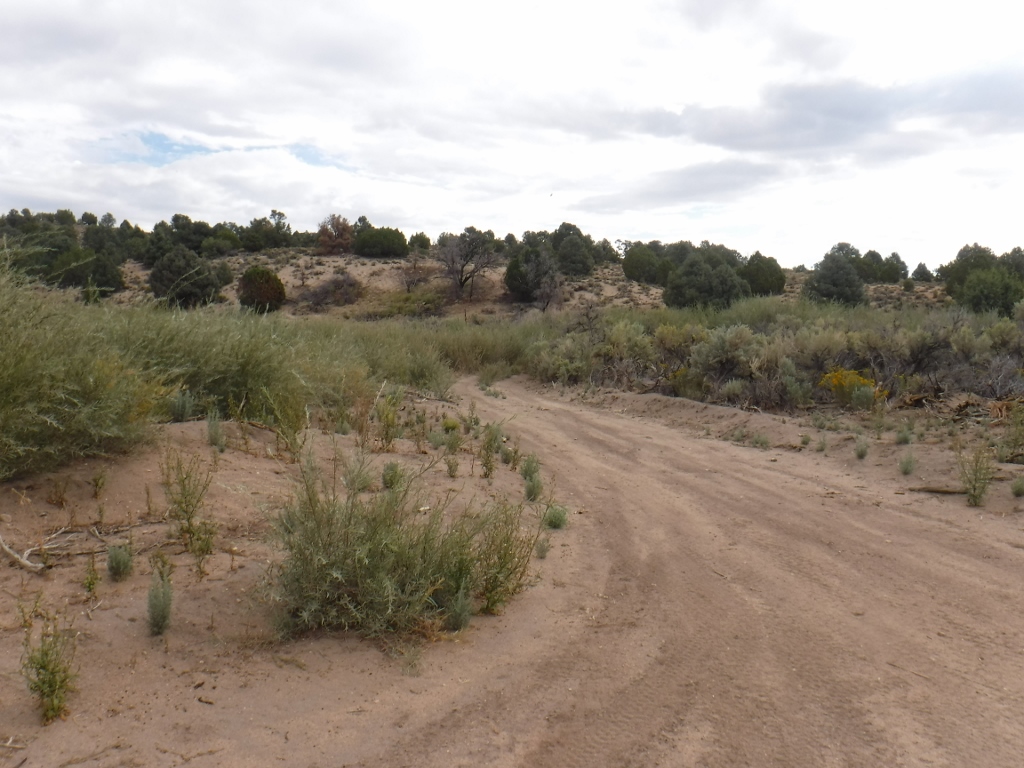 Really fun stuff.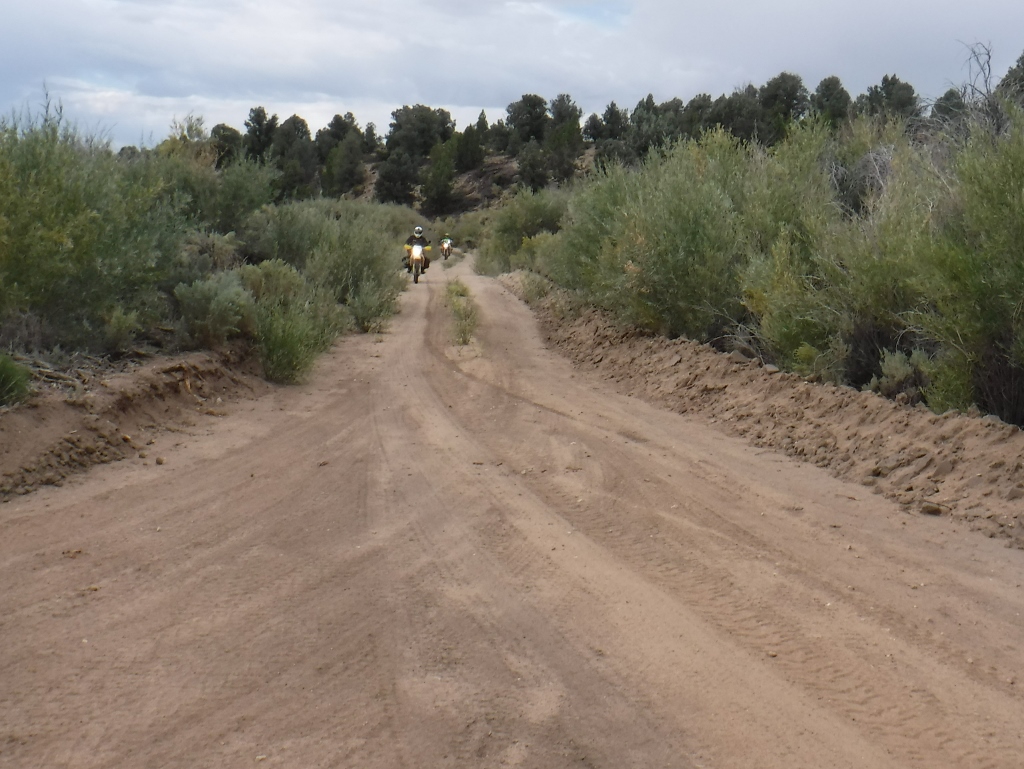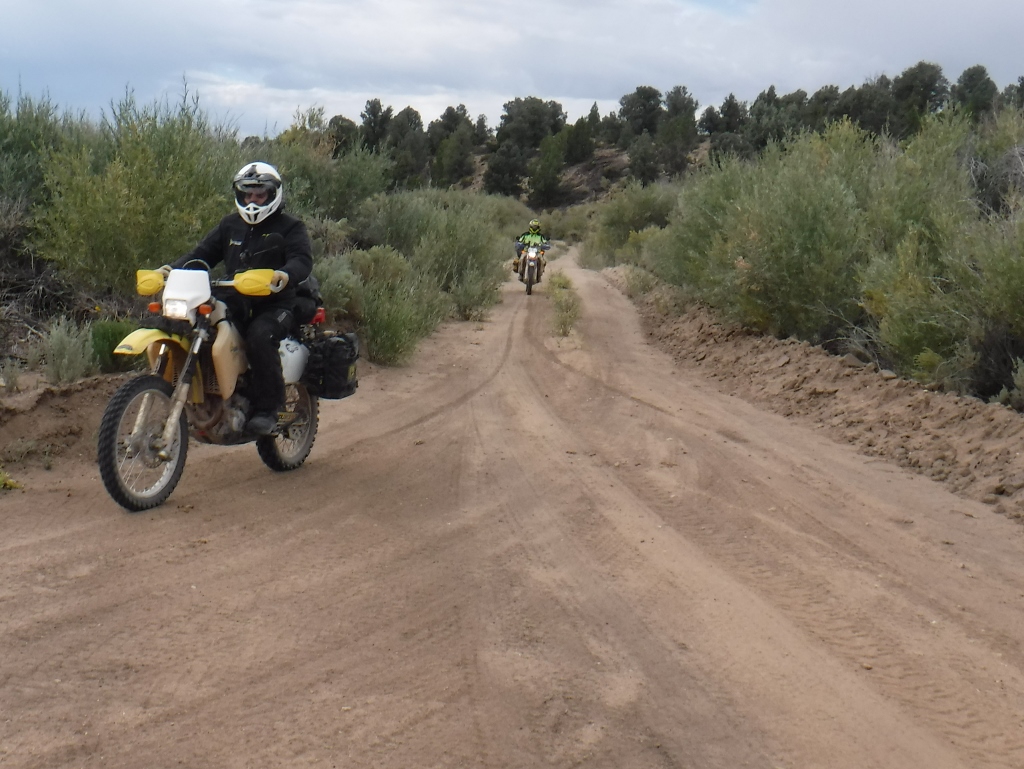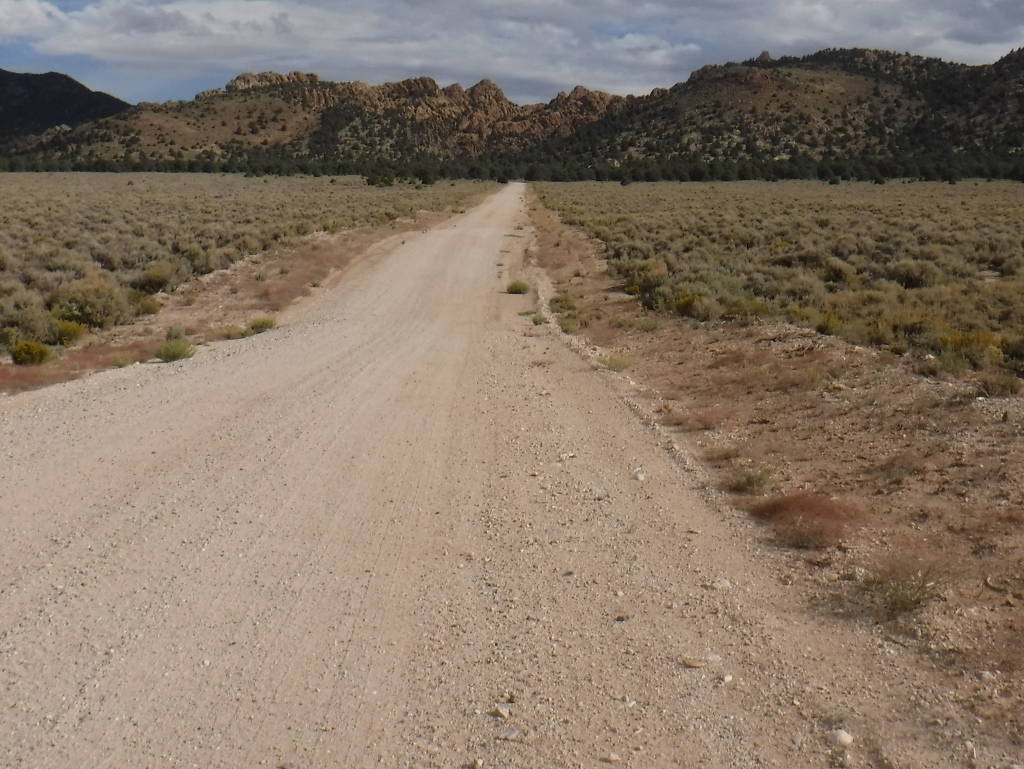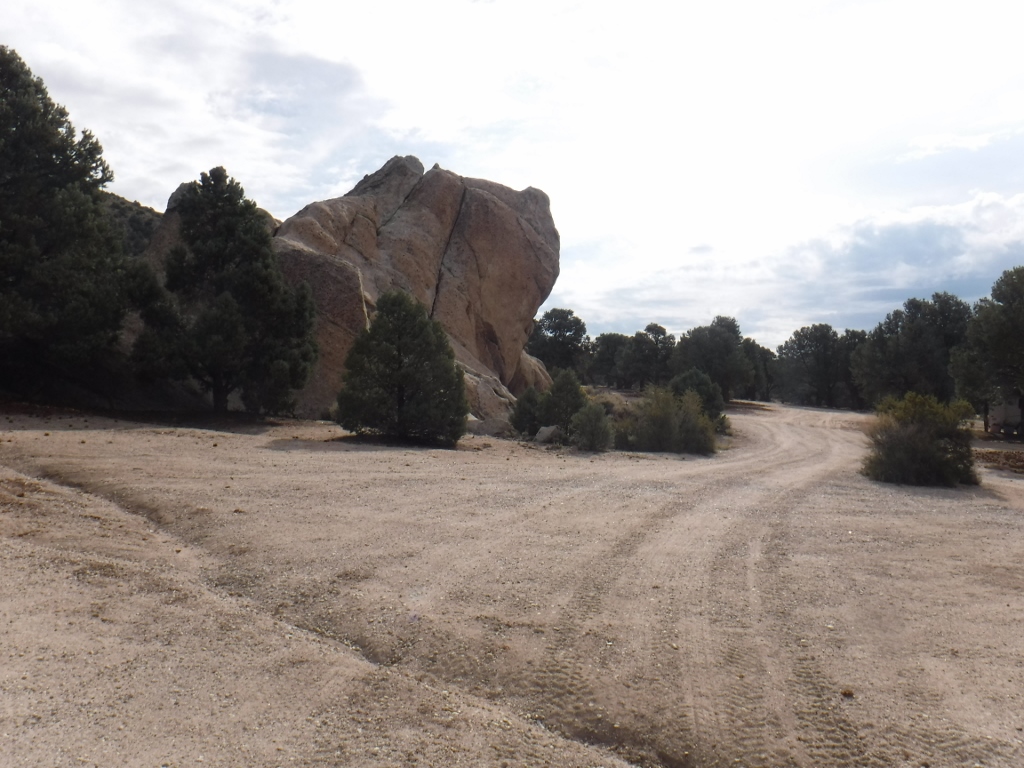 Just before the little town of Belmont we came upon the old Monitor Mill site.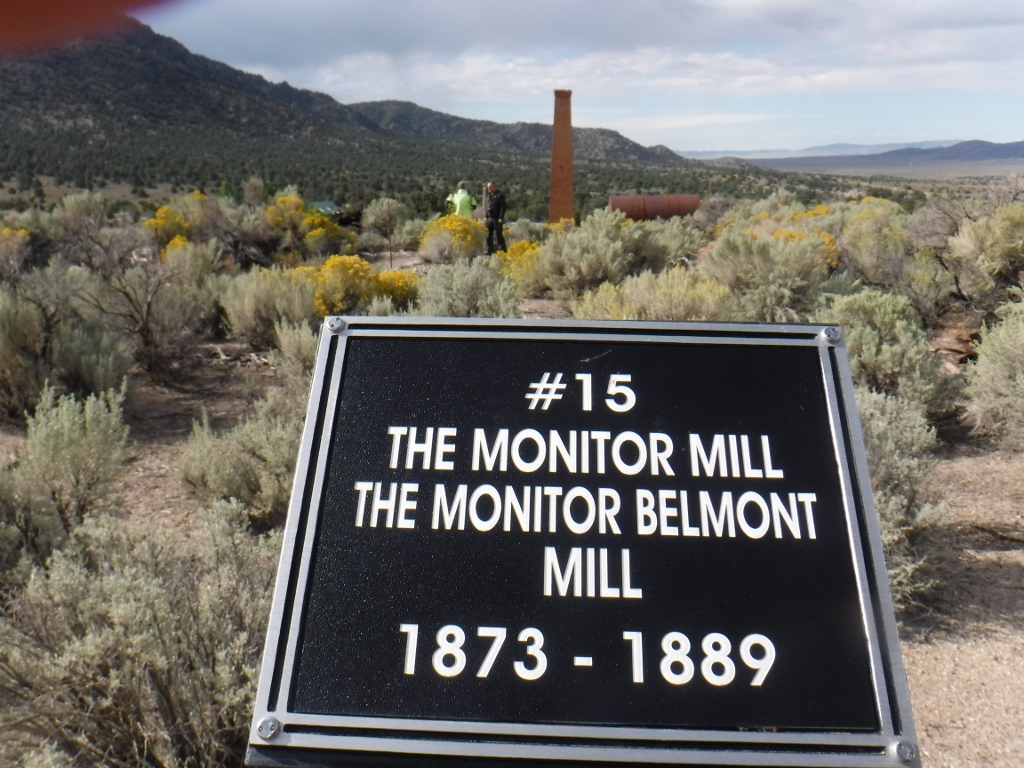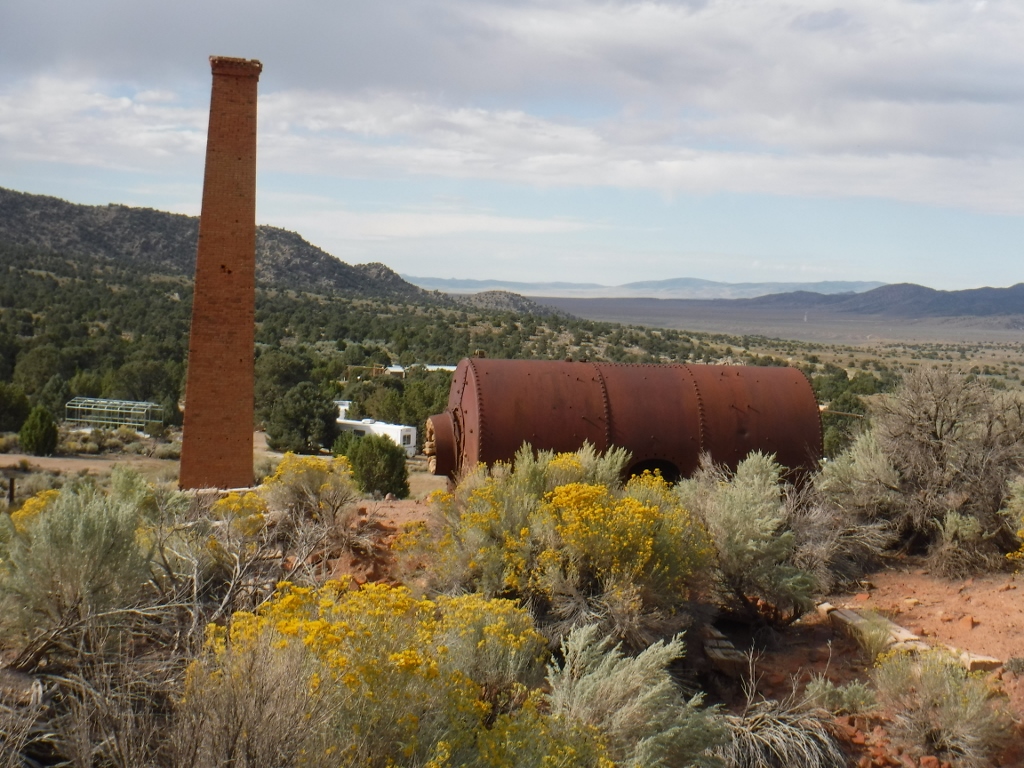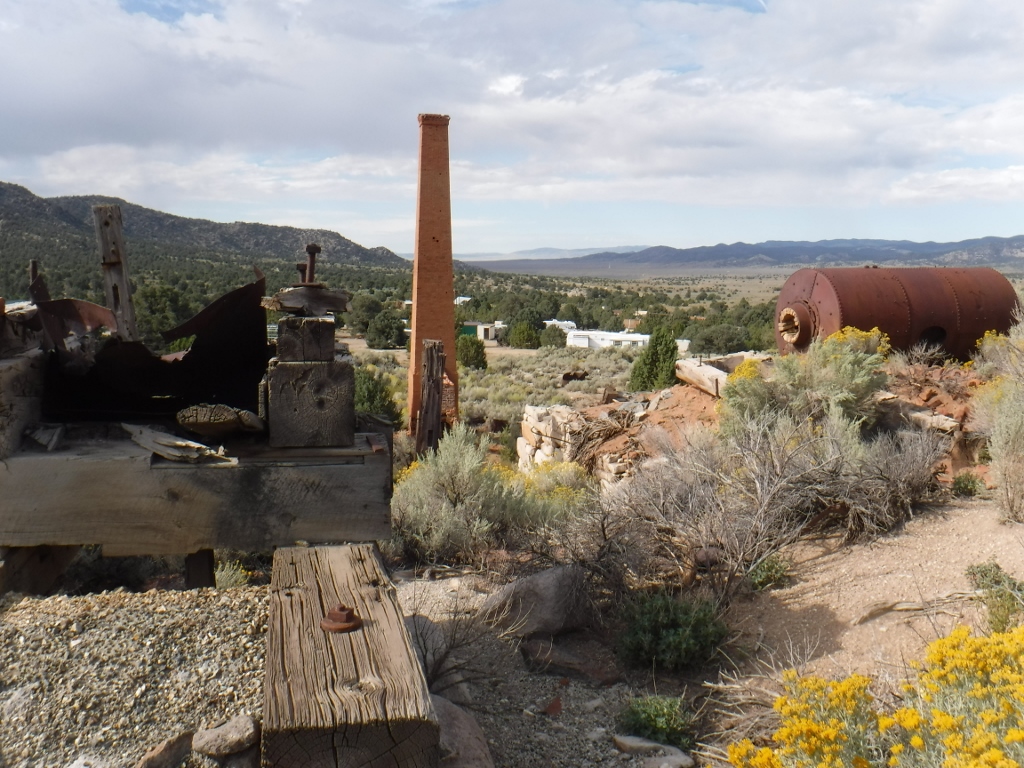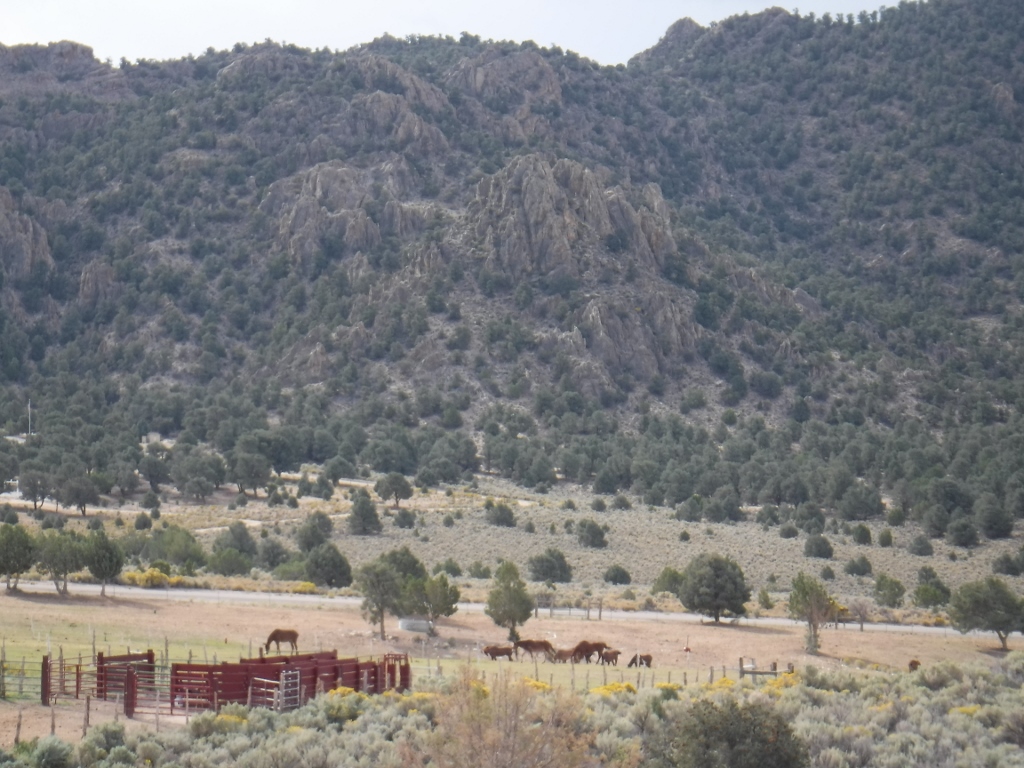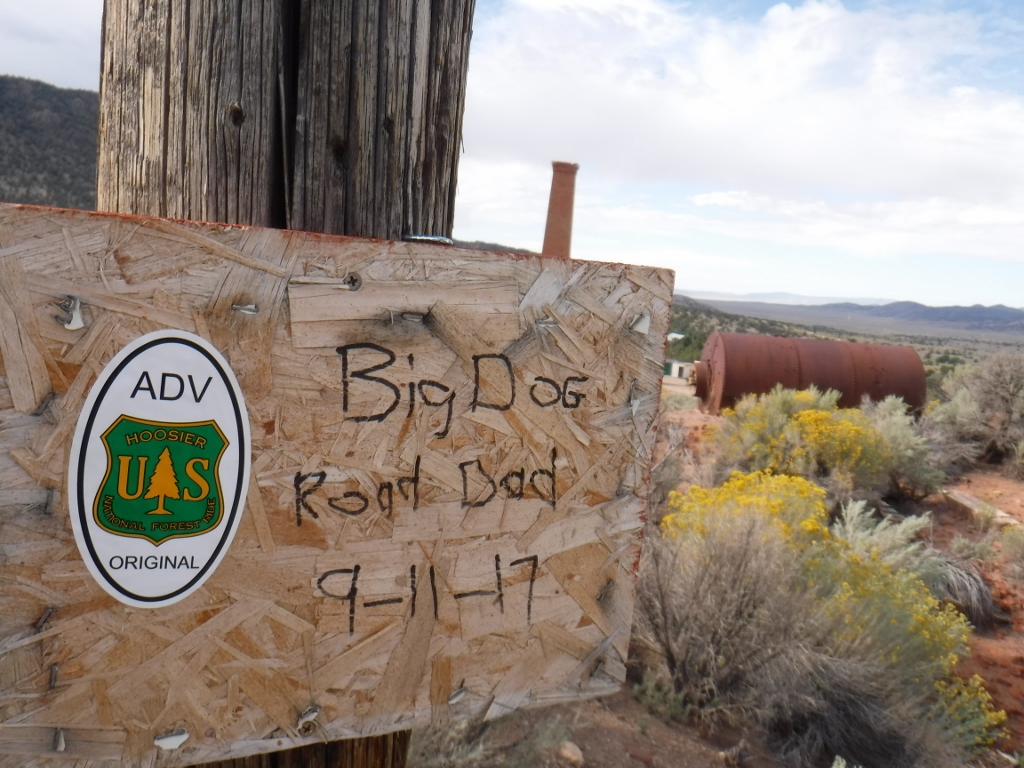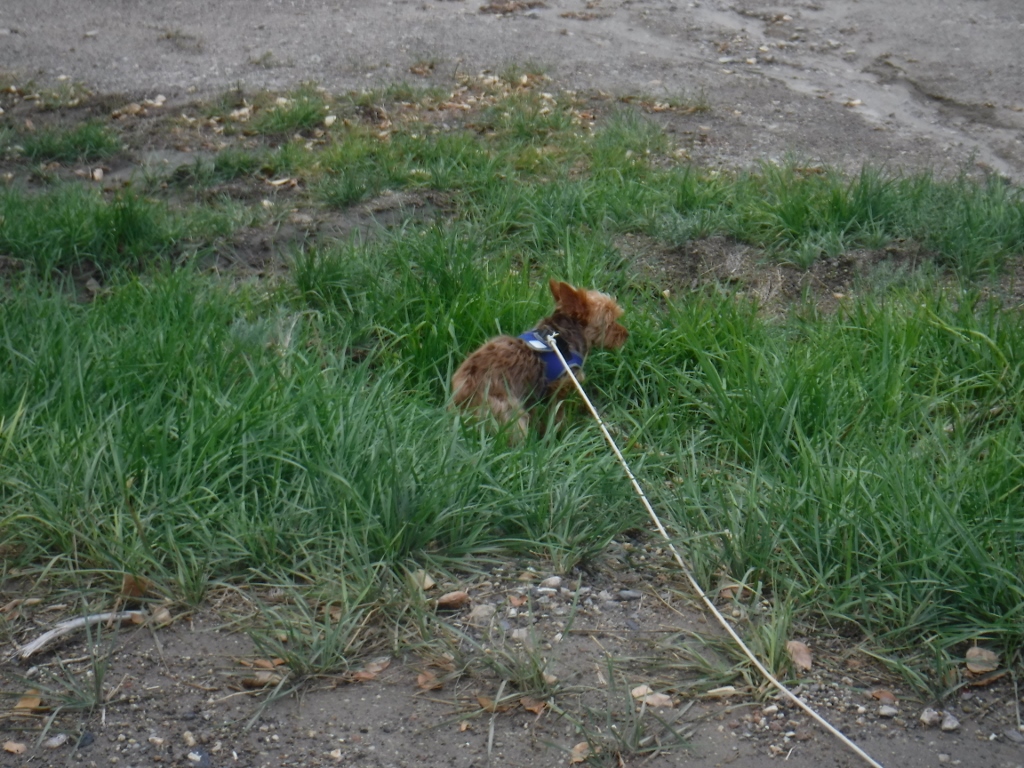 Talked to this fellow walking his Yorky and he gave me the history of the old courthouse in town.
He said "My wife told me if I lost the dog------don't come home".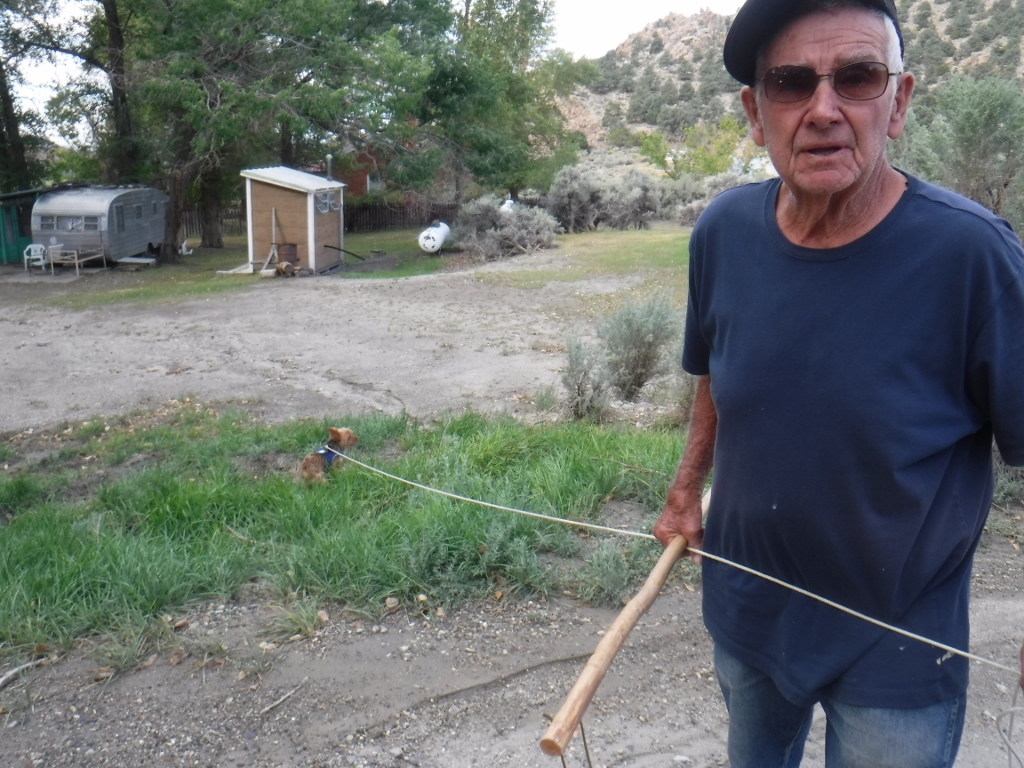 The old courthouse in Belmont.
The courthouse was moved to Tonopah he told me-------not physically.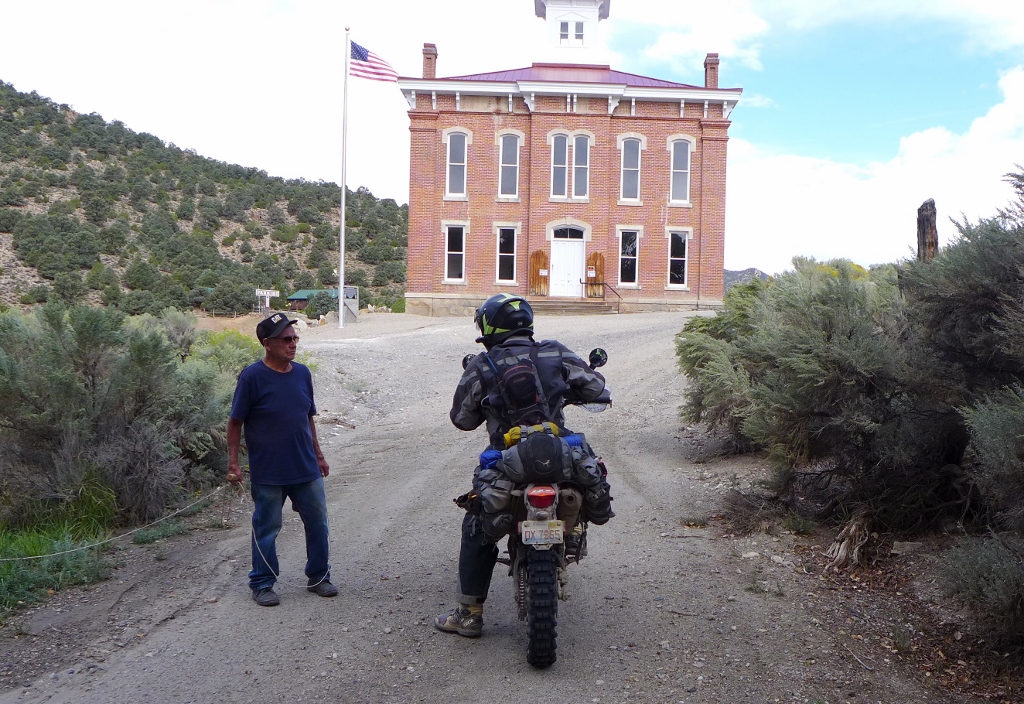 Just stuff we saw along the road in Belmont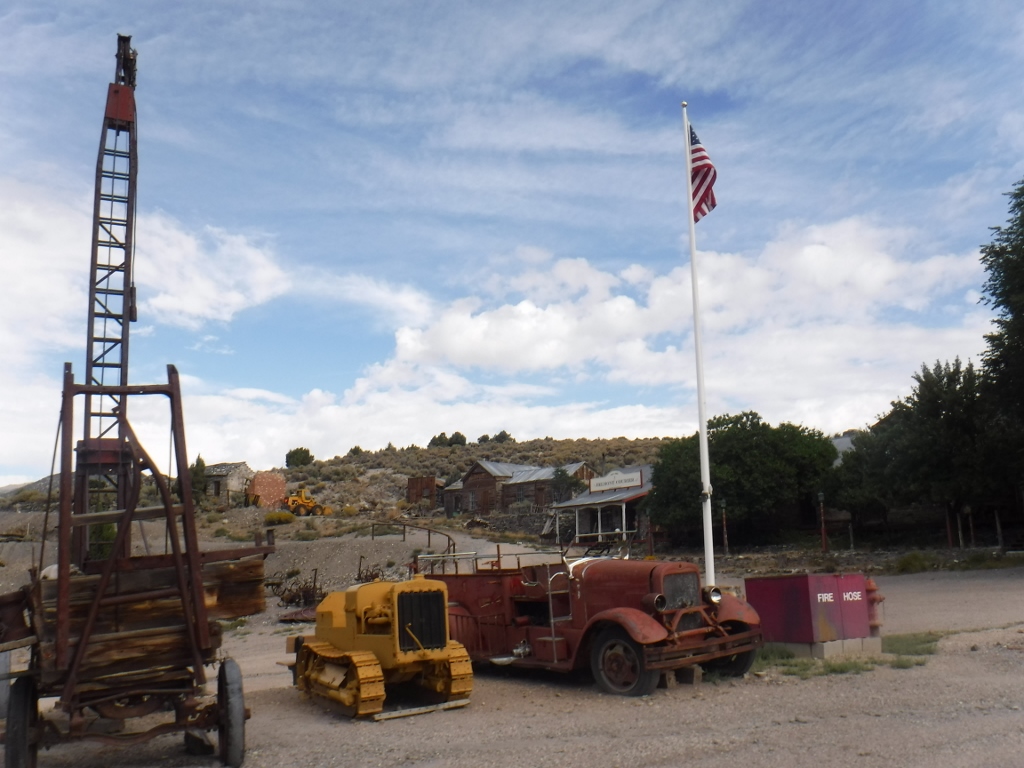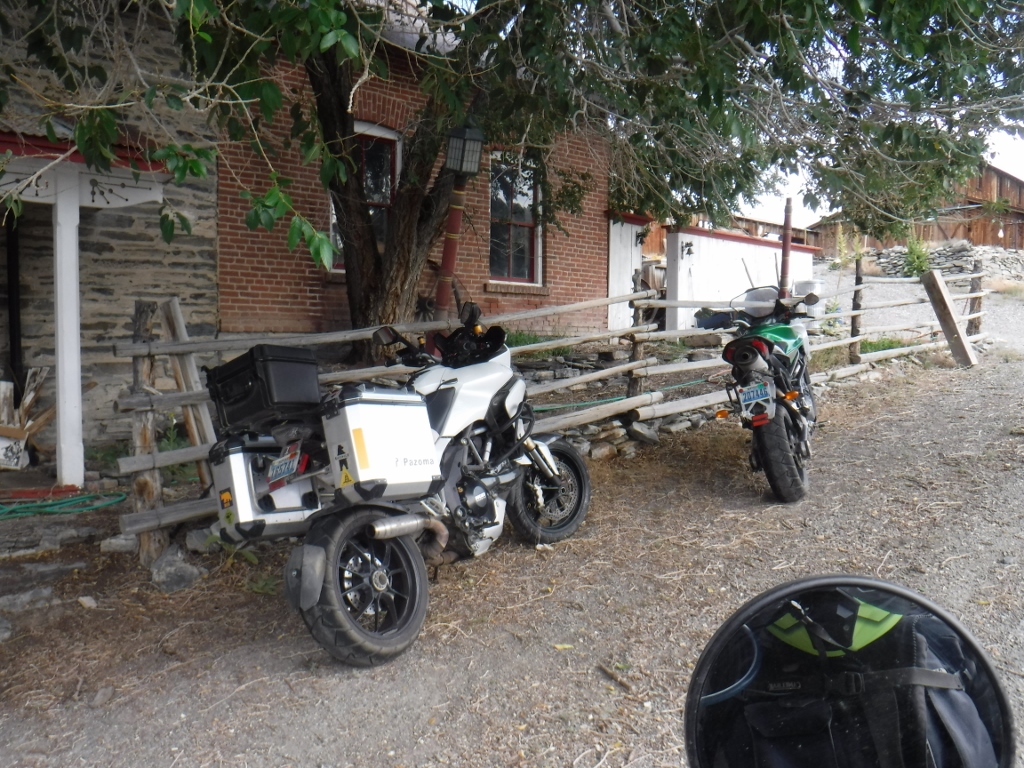 Just around the corner the much smaller trail turned toward that smokestack and was kind of hard to find.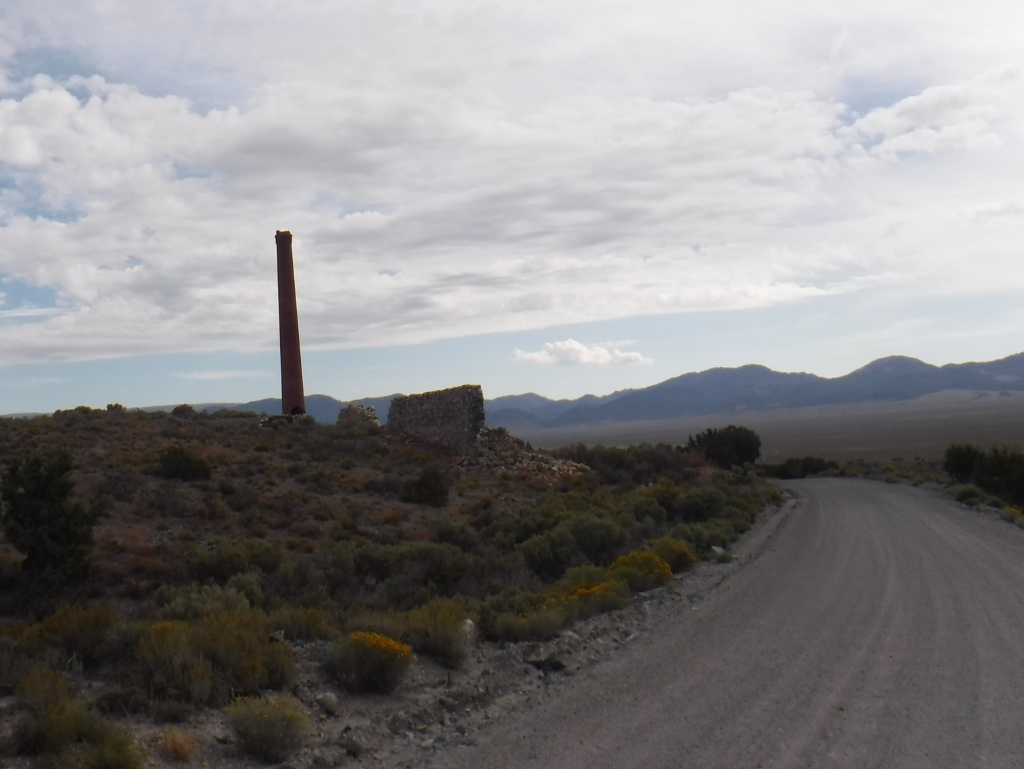 And it was one of the funner parts of the ride.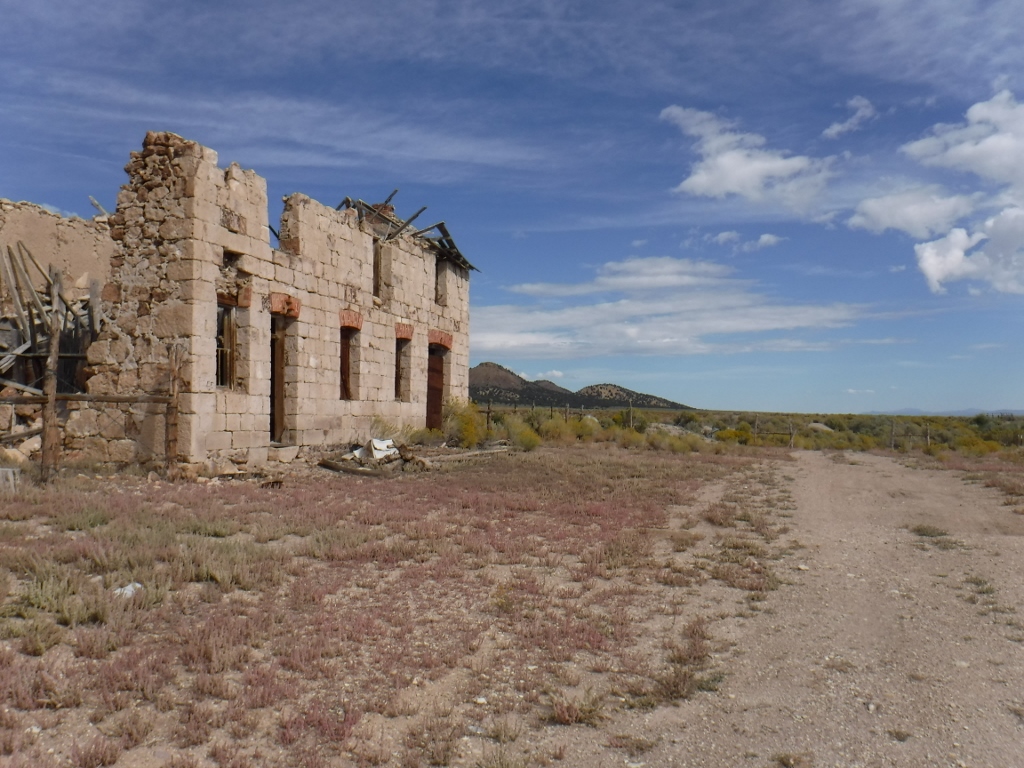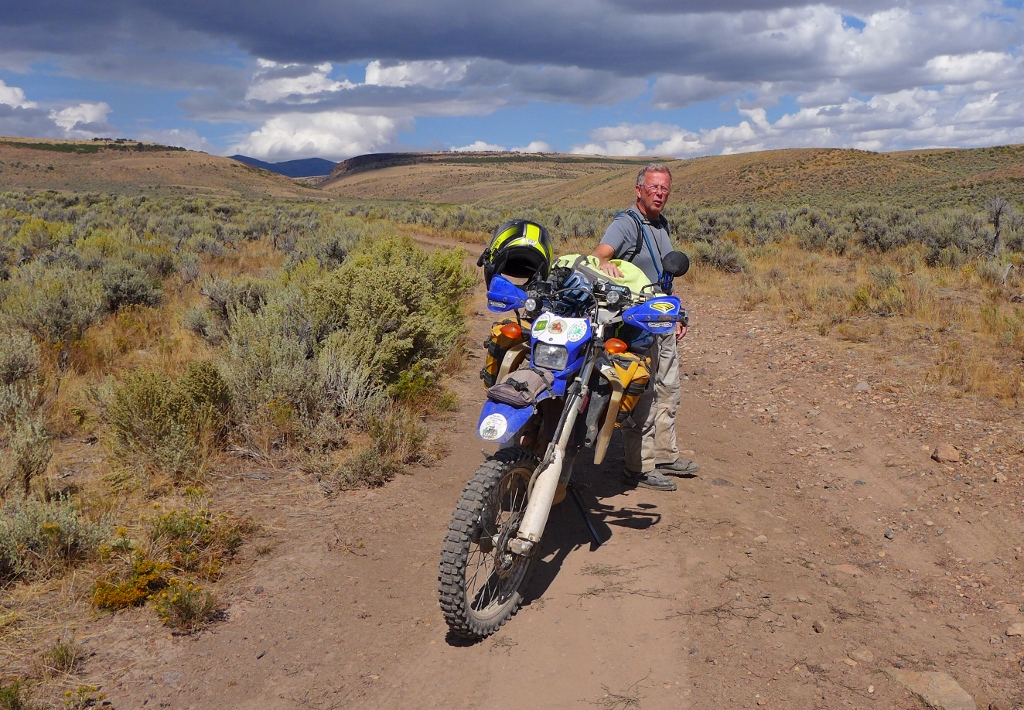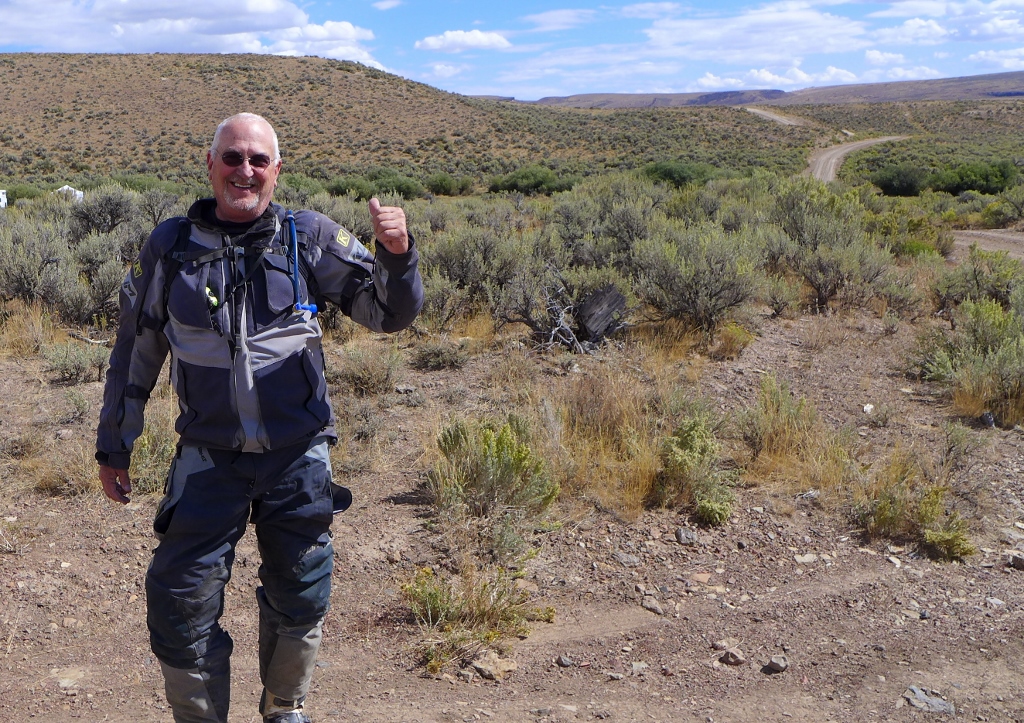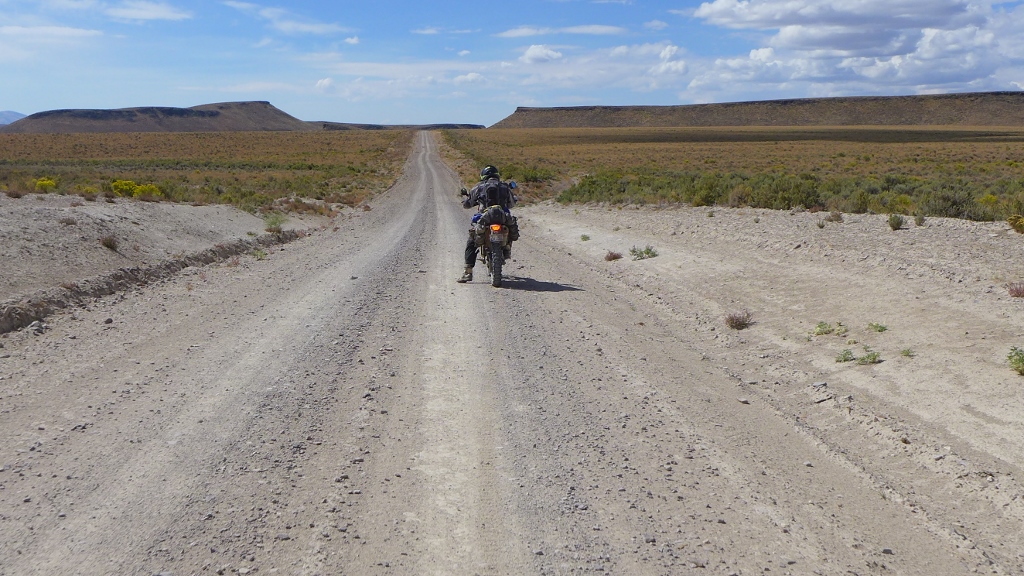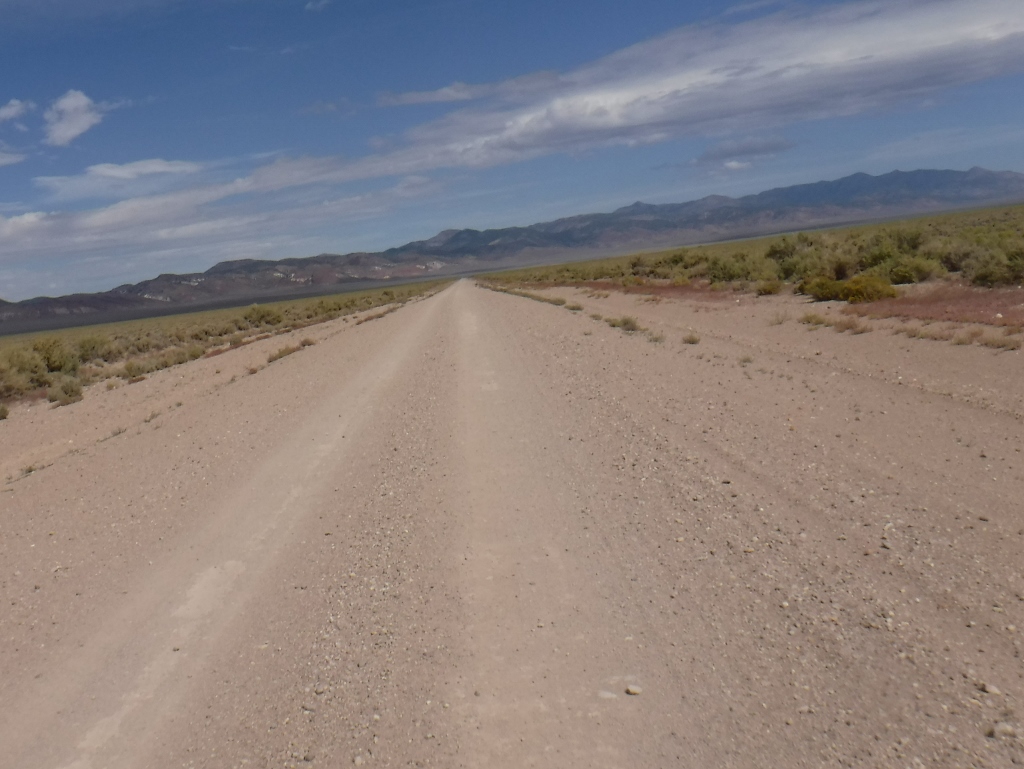 We went past Side Hill Spring and started climbing up Northumberland Pass
Which summited at near 9,000 ft. Nice an cool up here.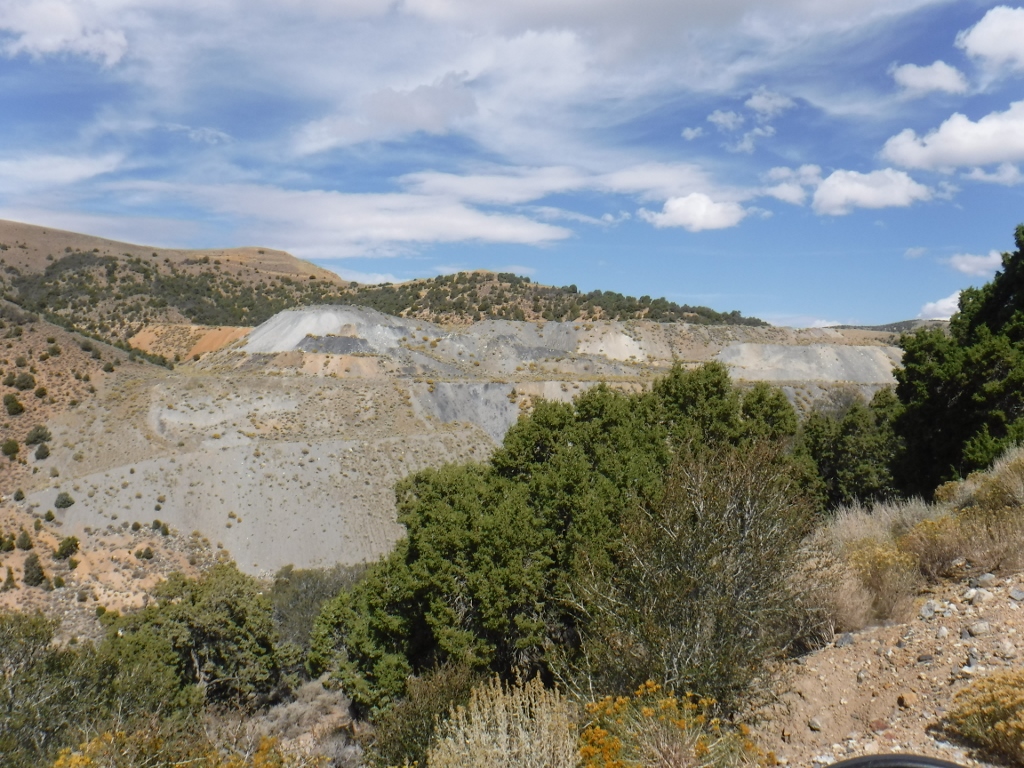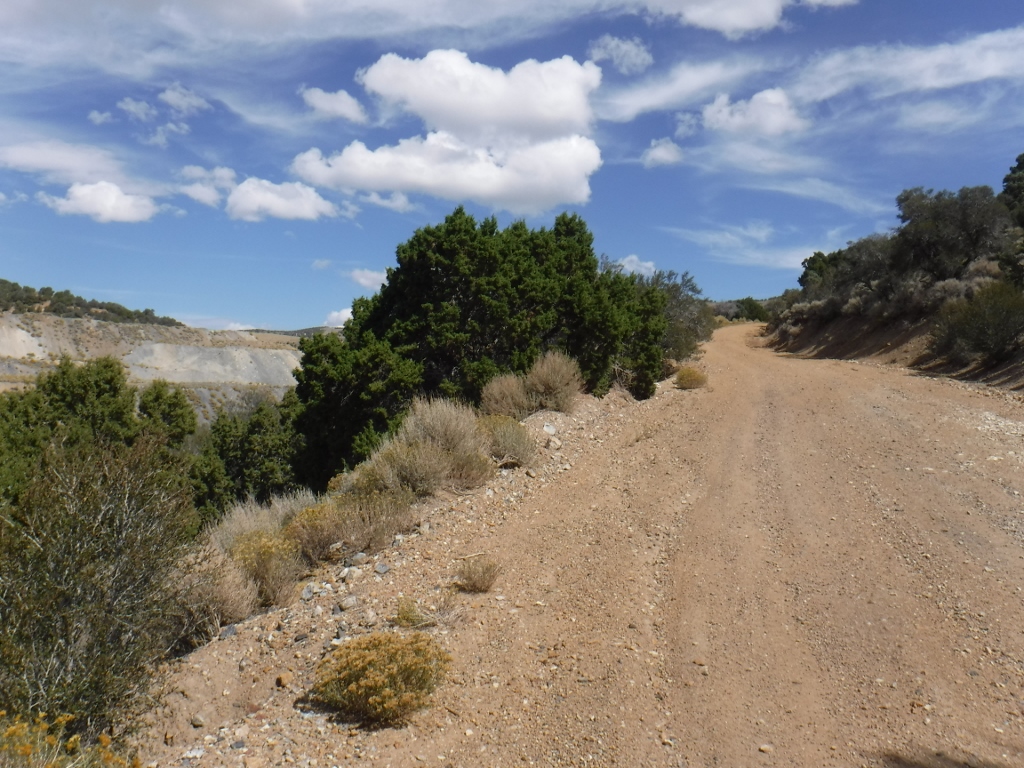 The road was beautiful and just went around this huge mine which I'm sure is still running.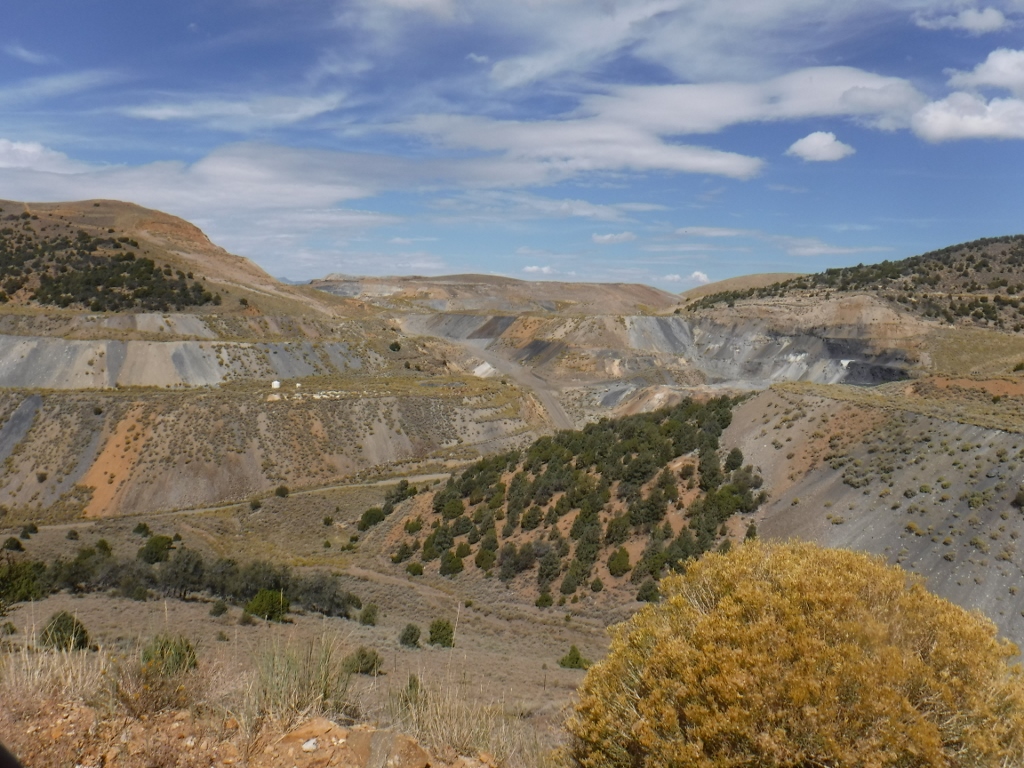 The hords of ATV and UTV traffic of Colorado which can turn into the same as interstate
rush hour gridlock have turned me away from the whole state.
None of that in Nevada. The riding is as good.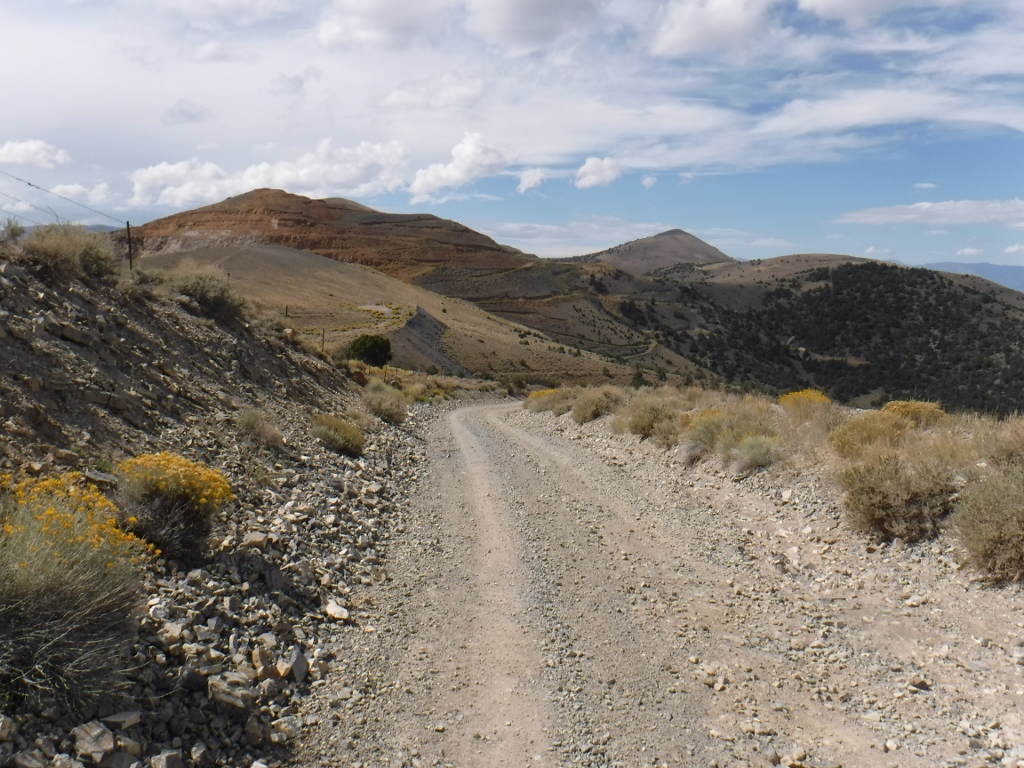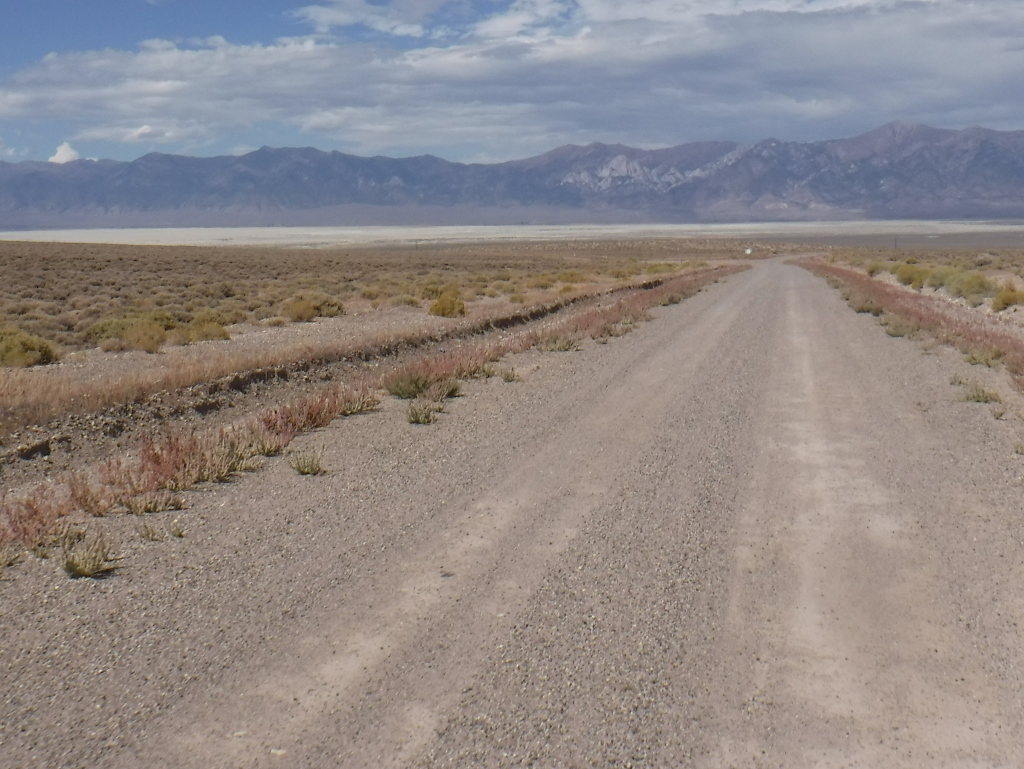 Kingston was a really neat very small town---nothing commercial was open.
Probably trying to not attract people ?????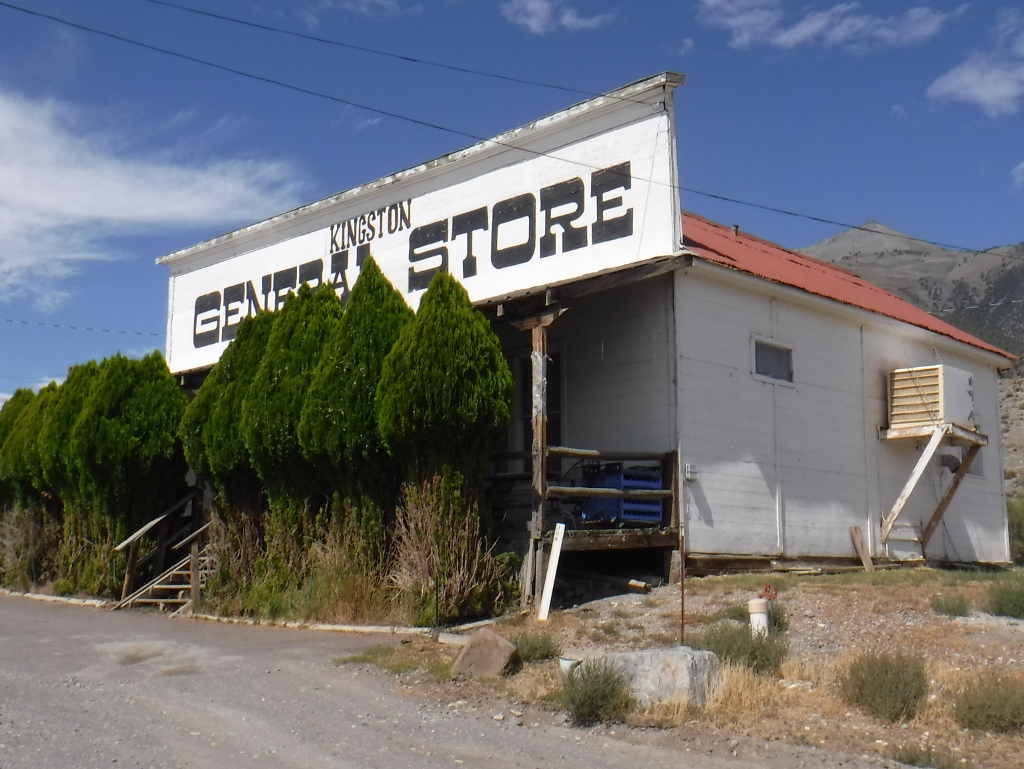 We rode slowly thru the sleepy town looking at stuff trying not to disturb any locals
and started up Kingston summit---it was about 9,000 ft. also.
My buddy Road Dads WR250R had no problems with any of this and the bike was
approaching 120,000 miles.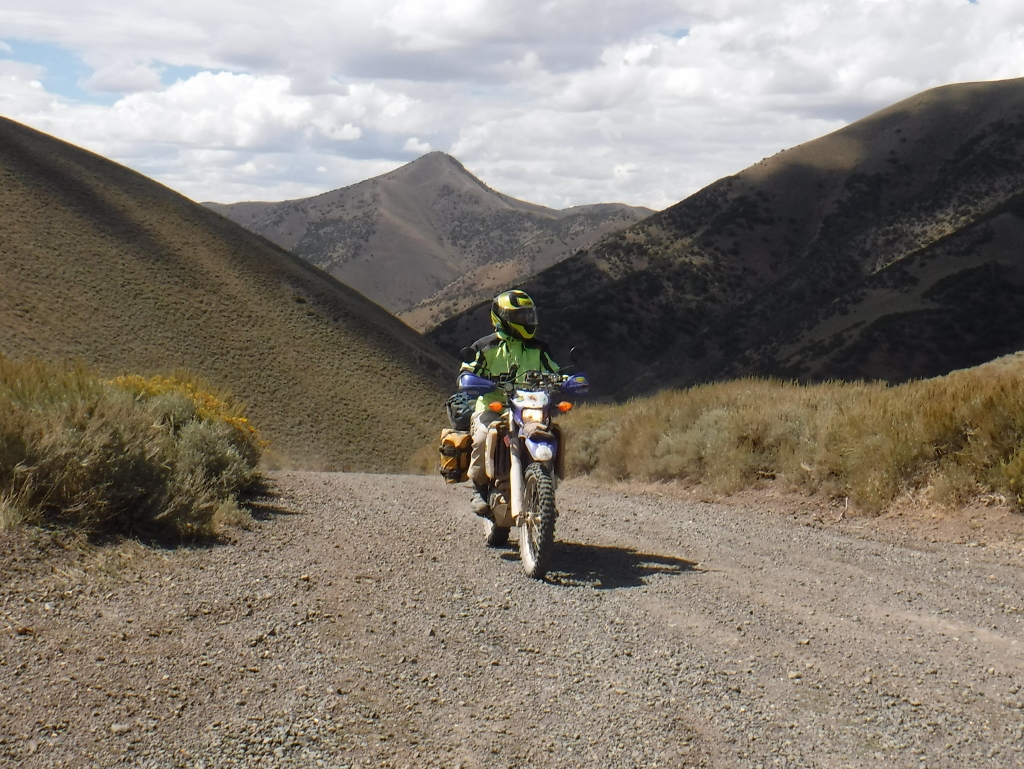 We rode on some dirt roads that dropped us into Austin.
For miles we rode on dirt that would definitely be impassable when wet.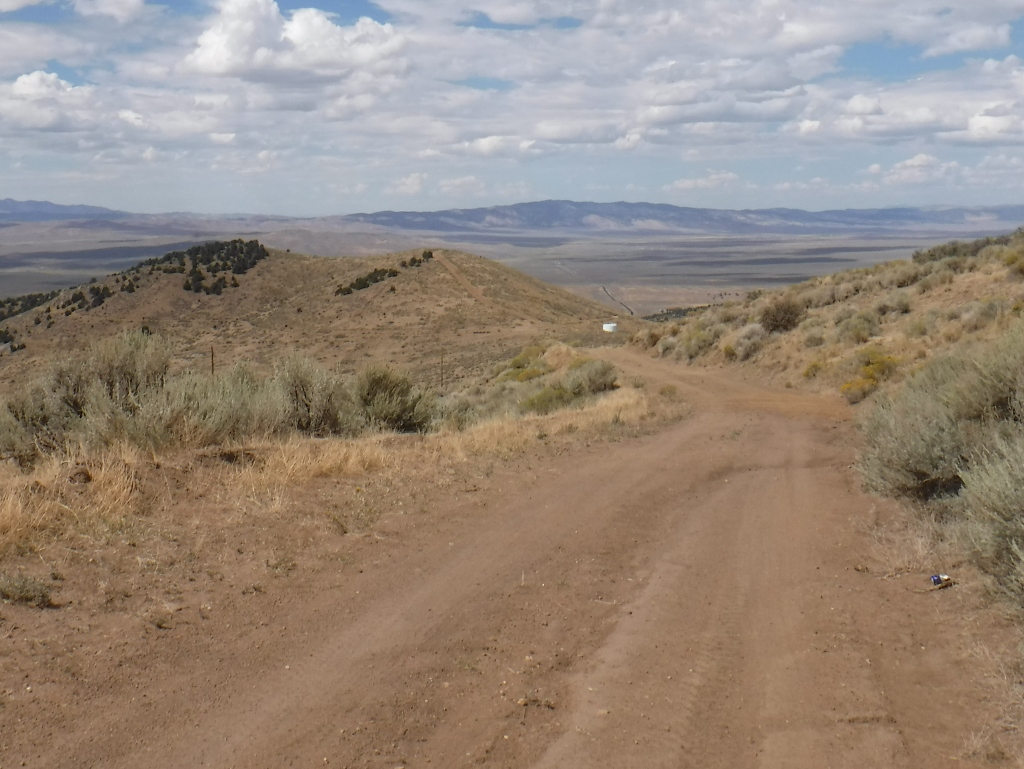 We ended up in Austin, NV-------another tiny town and it was on hwy 50 the loneliest road in the US.
There's a great place to eat in town-------this place----we had dinner and breakfast.
There are 3 Motels in town-----little small motels with "outside" doors.
We stayed at the Pony Canyon Motel--------simple and cheap.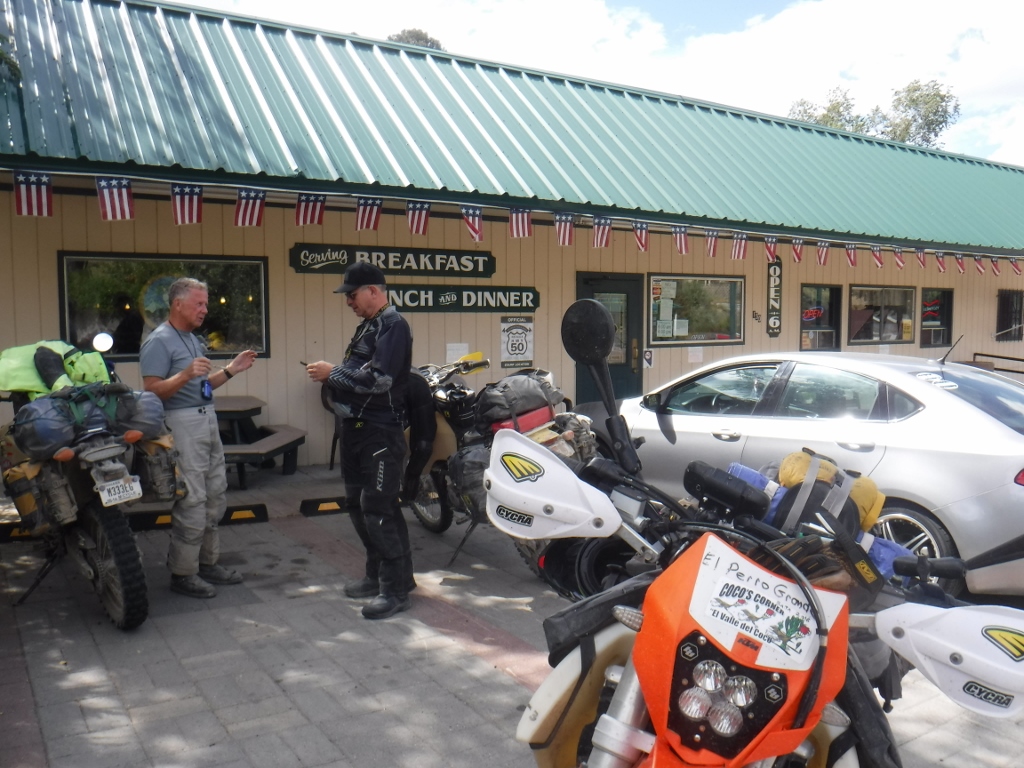 A short video of todays ride
Day 4
Austin to Jarbidge, Nevada
Today we had to skip much of the designated route as a wall of water was out there around
the Telegraph canyon area and
trying to re-connect back to it later going North didn't work out.
I wish we had connected back to it on our different return route but we would have missed riding on
a good 40 miles of the original Pony express route-----that will come later in the story.
Also this day on the official BDR map was suppose to be the longest and had no fuel for 220 miles.
Having to have to skip some of it due to downpours we got to Elko and stupidly (Kind of) rode on
and made it all the way to Jarbidge (the end of the NVBDR) riding way over 300 miles---------and "STUFF" happens.
We still had lots of spectacular riding.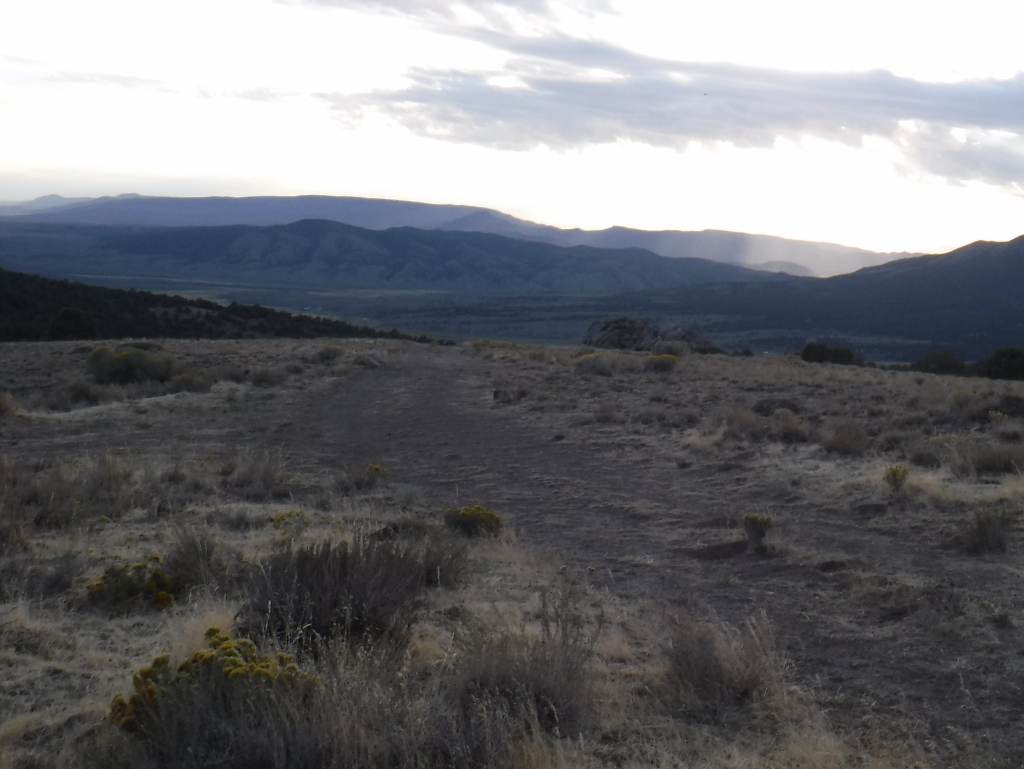 We go over McClusky and Tonkin Passea ----bout at about 7,000ft.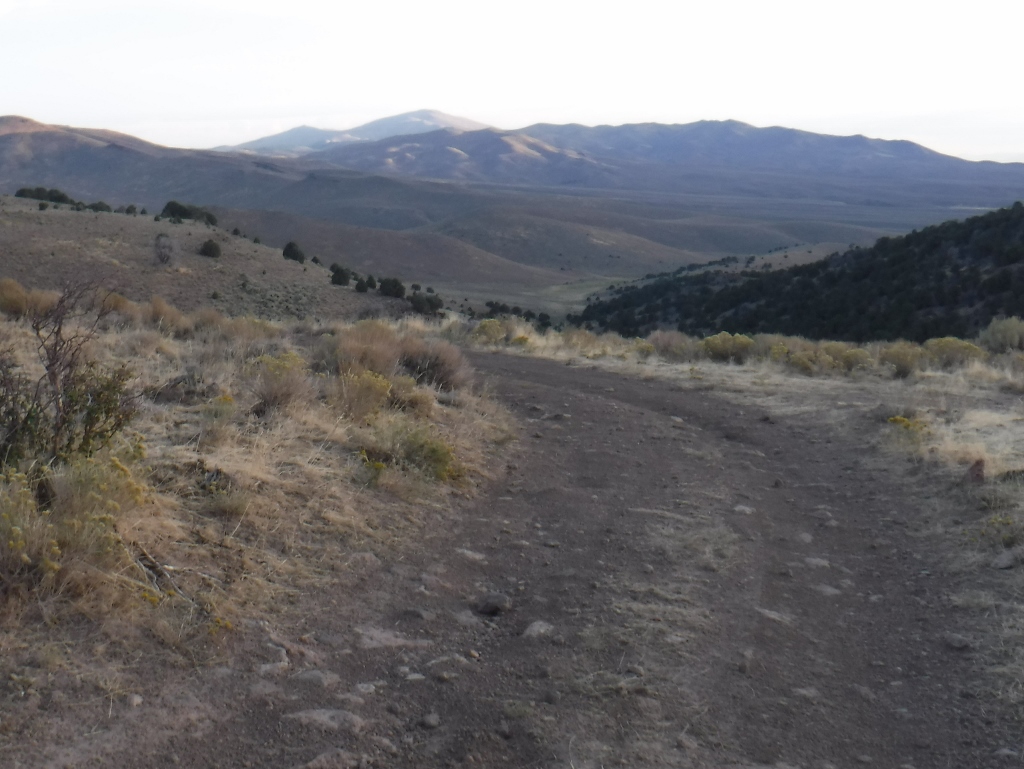 I forget the technical name for what this all is.
Making free energy from gathering hot water from underground is all I know.
I do know these loops are called expansion loops---they move and relieve the expansion of the pipes
from temperature changes.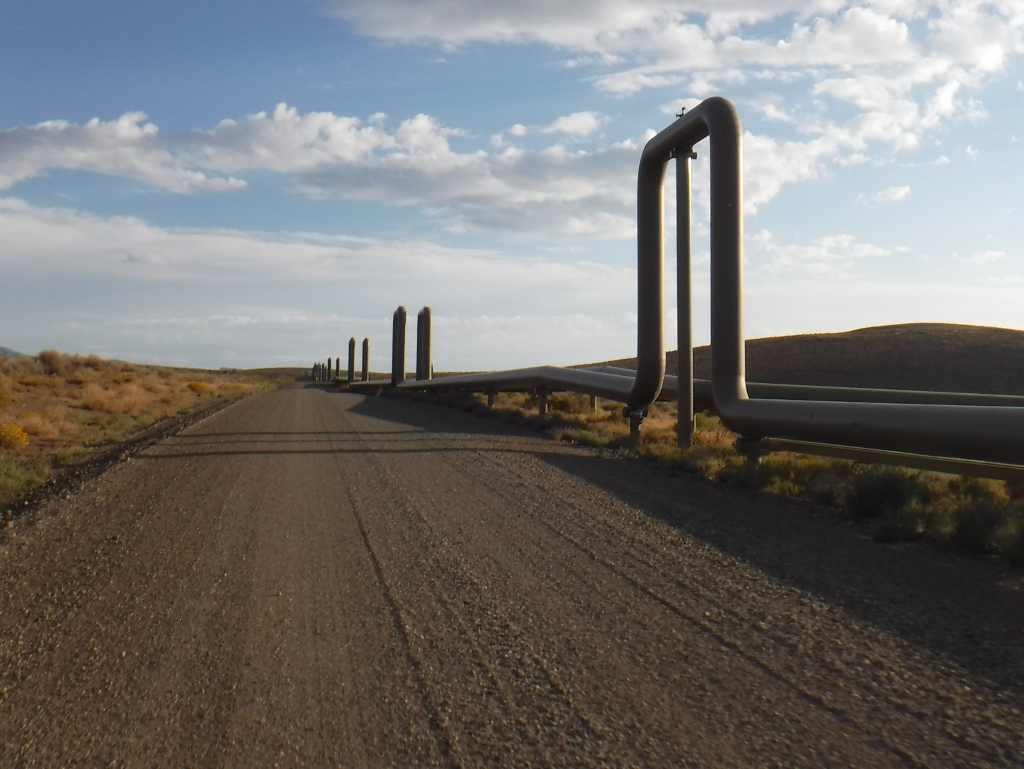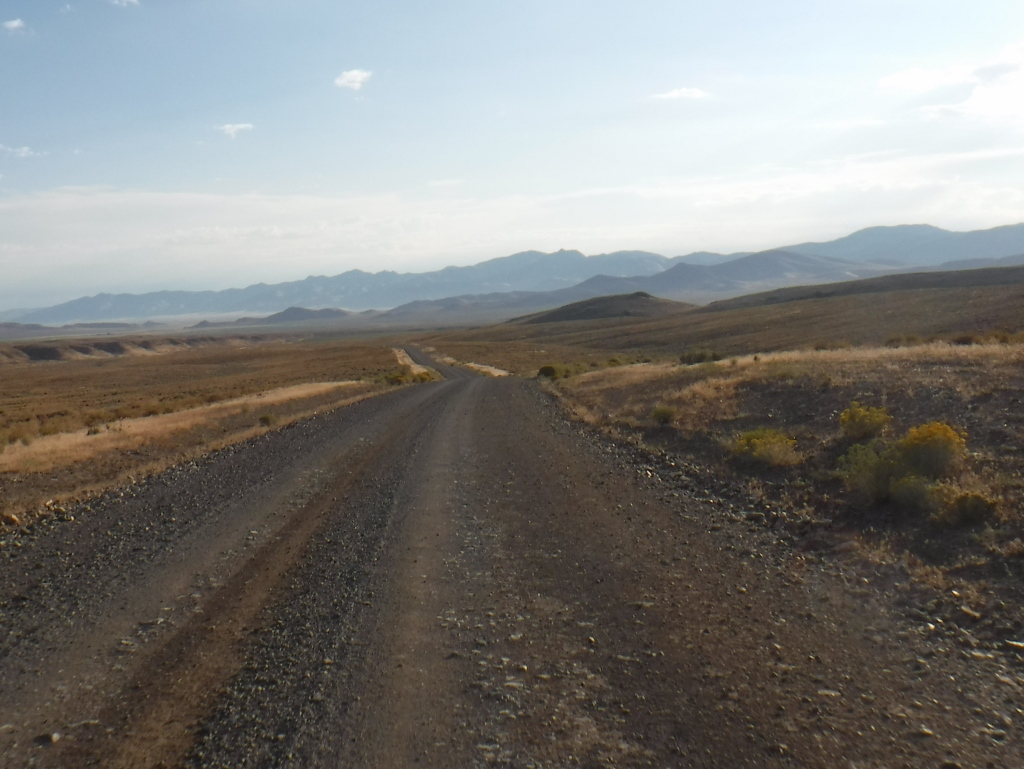 So after beating it on pavement to Elko-------it was too early to quit riding and I ask the guys if they had
it in them to try to make it to Jarbidge----the end of the NVBDR ????
We decided to try it knowing we'd be camping out somewere as it would be a monumental day
and be impossible to make it to Jarbidge.
Oh it was monumental alright.
Out of Elko the designated route turned East on a dirt road and many gates were opened and closed.
We talked to a nice rancher about gates and I assured him we'd leave them as we found them---he was
nice and he felt good I bothered to tell him that.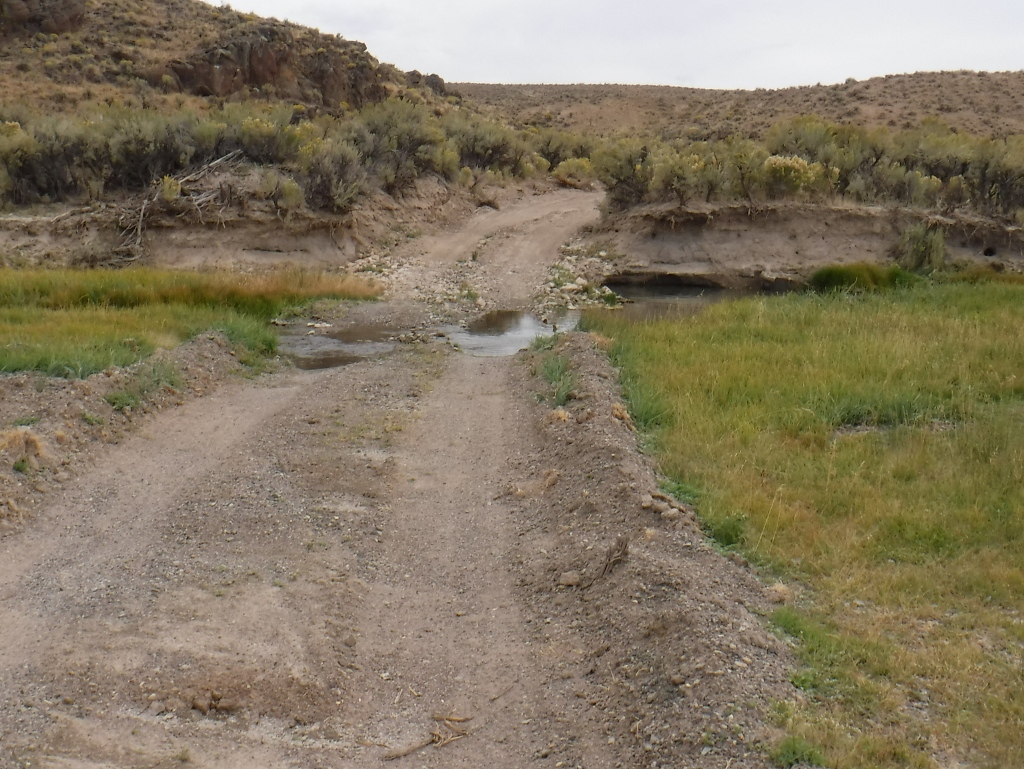 The riding was better than spectacular.
Riding always seems to be much better when they are lots of gates to open and close.
I luv opening and closing them.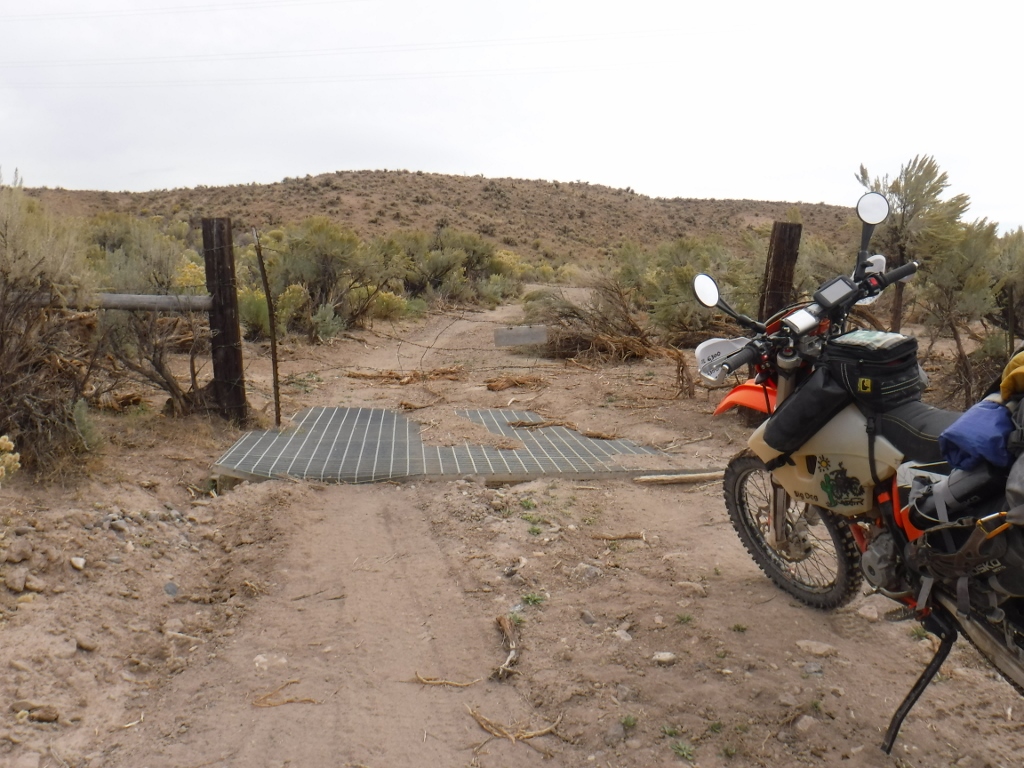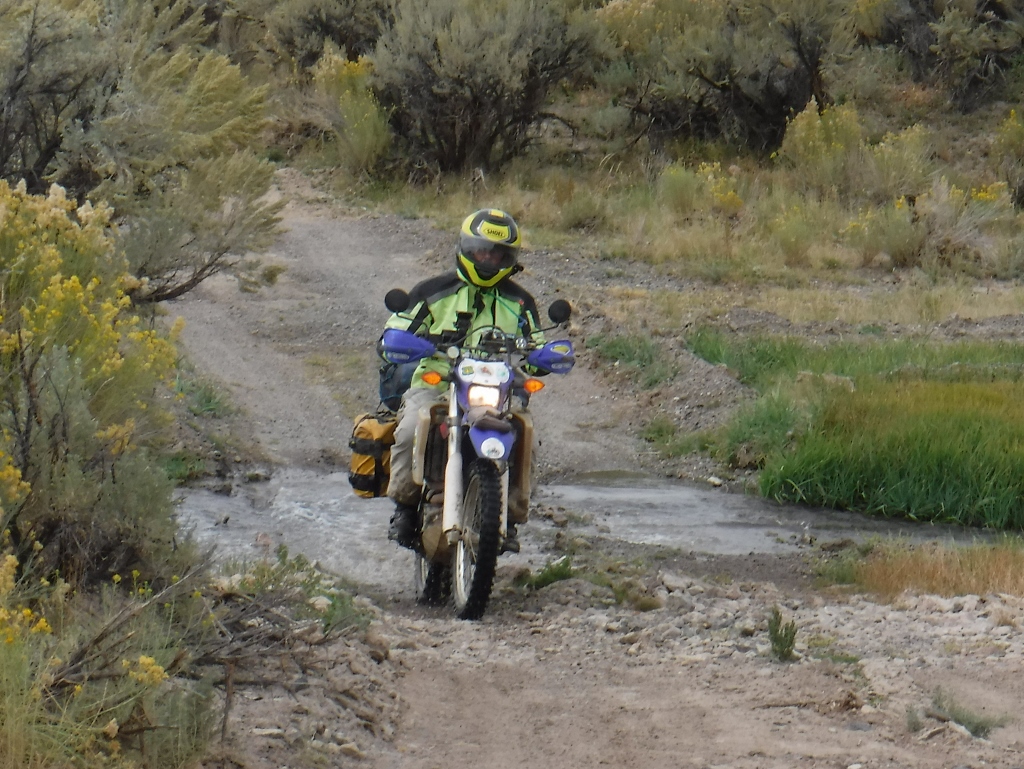 I ended up with about an additional 2,000 miles on my 350 EXC this trip.
Never touched it---------well-----except for the flat tires.
Didn't change the oil nor clean the air filter.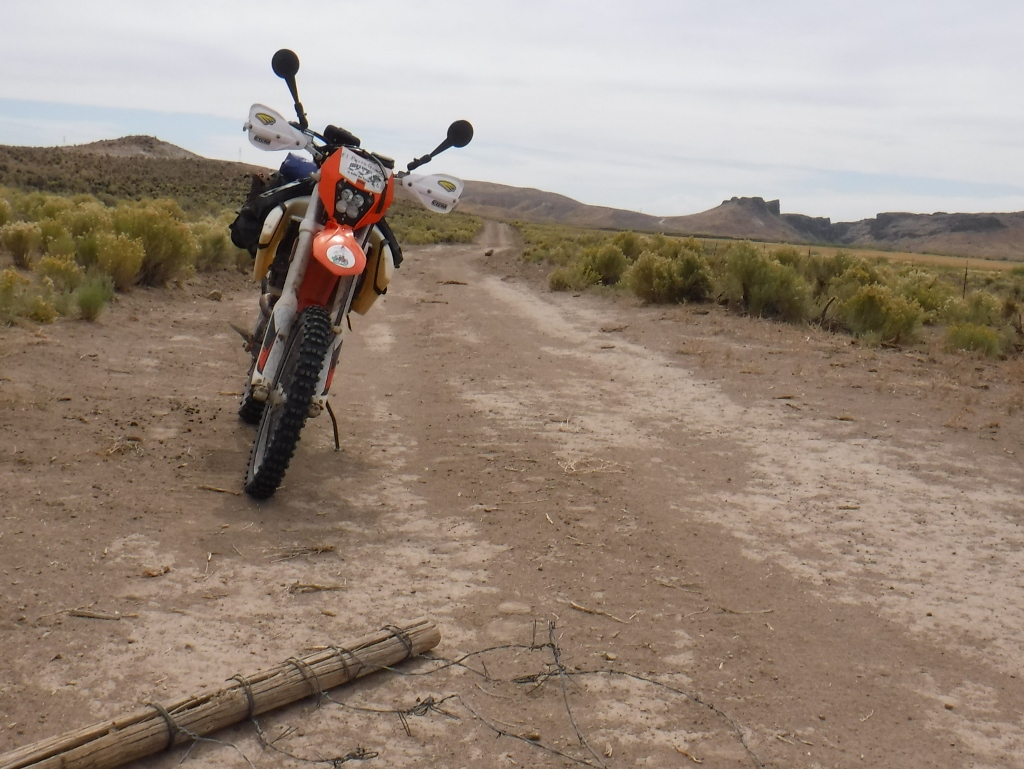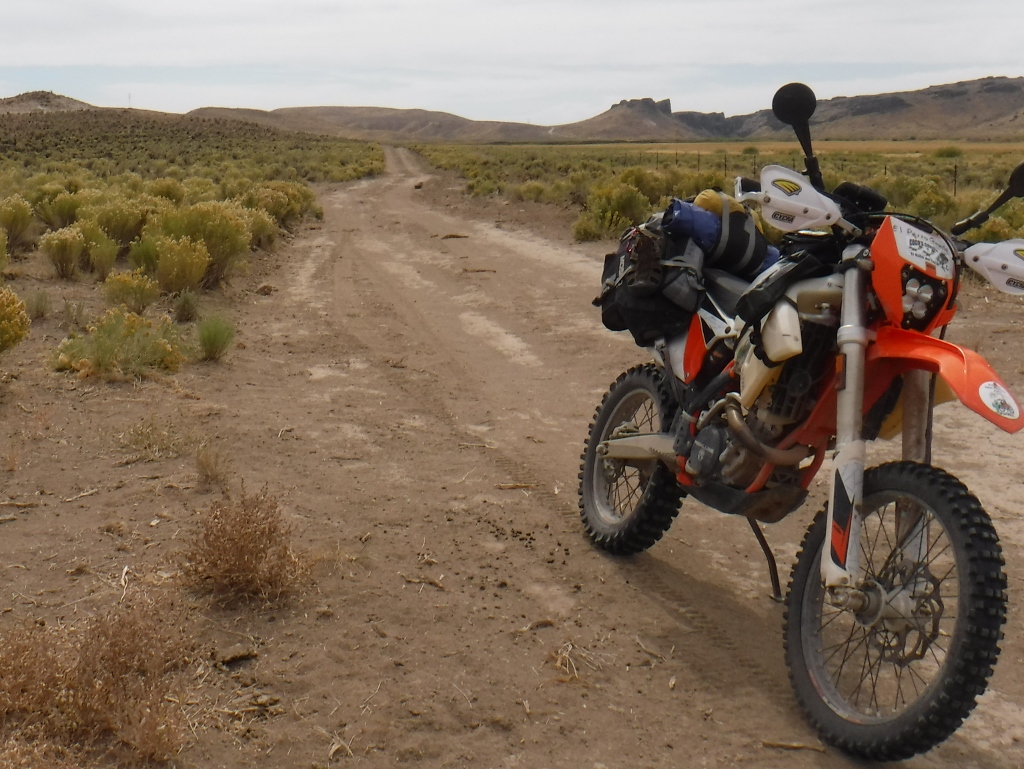 And here is where finding a way thru here without trespassing cause us a lot of grief.
We too several old dirt roads trying to find our way thru to no avail. More on this.
Do not got thru this gate-----it is not locked-----do not go thru it.
The Tule ranch is beyond it.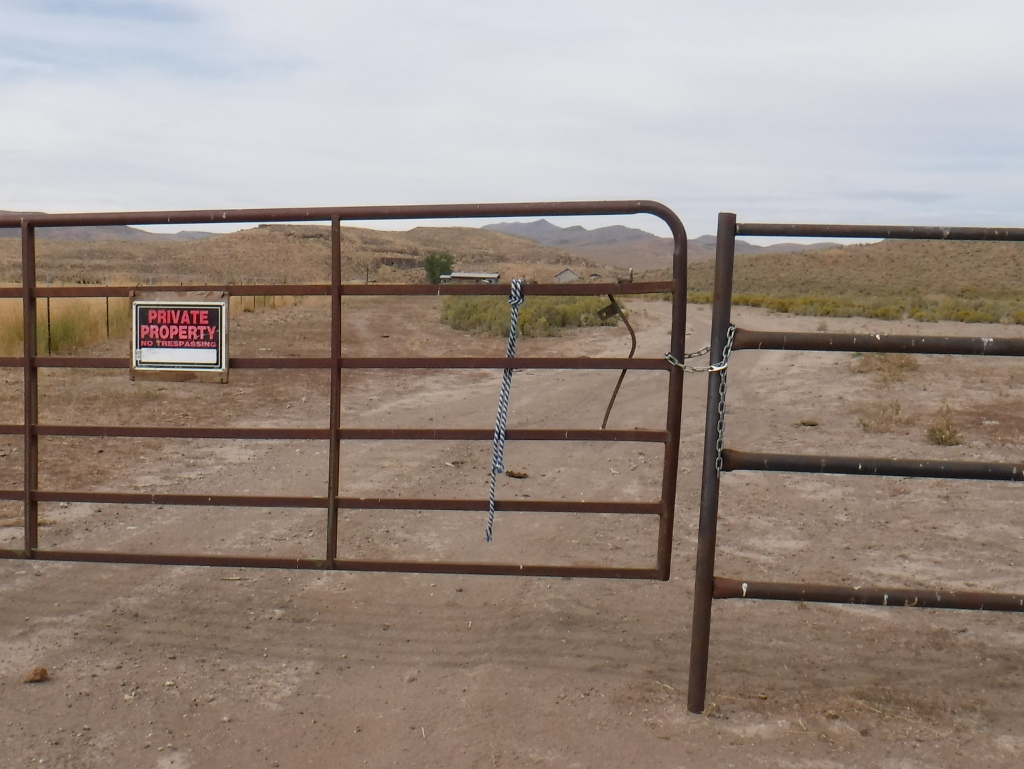 Same gate----just a few hundred feet to the East of this you can go thru another gate (legal) and by-pass the ranch.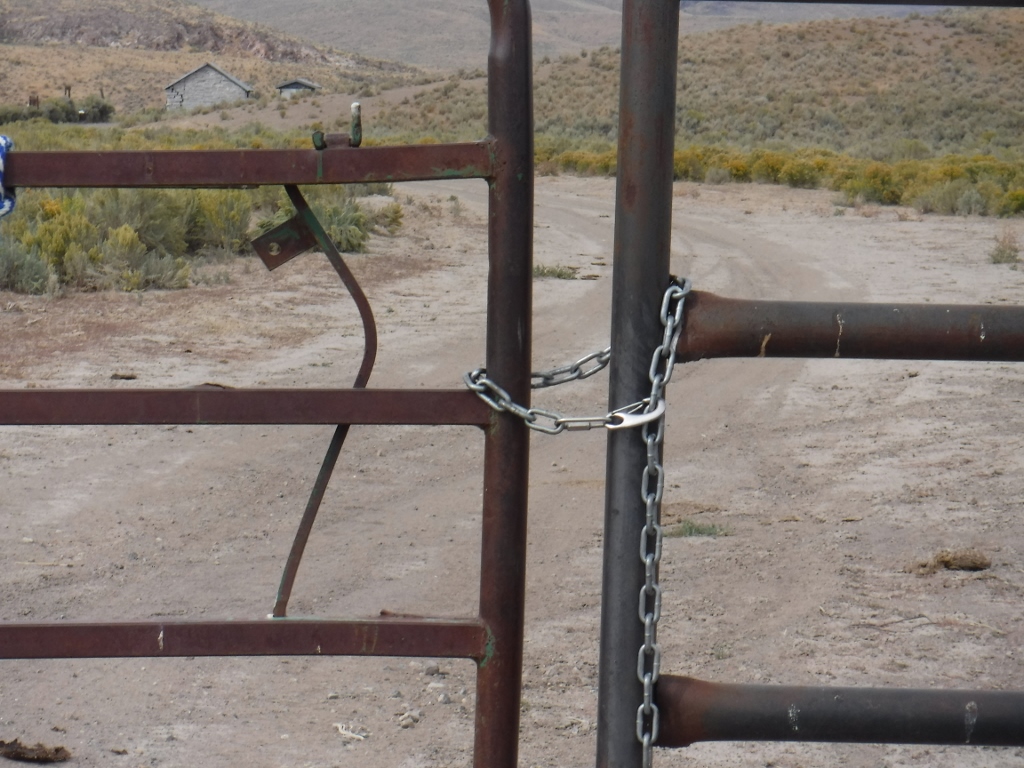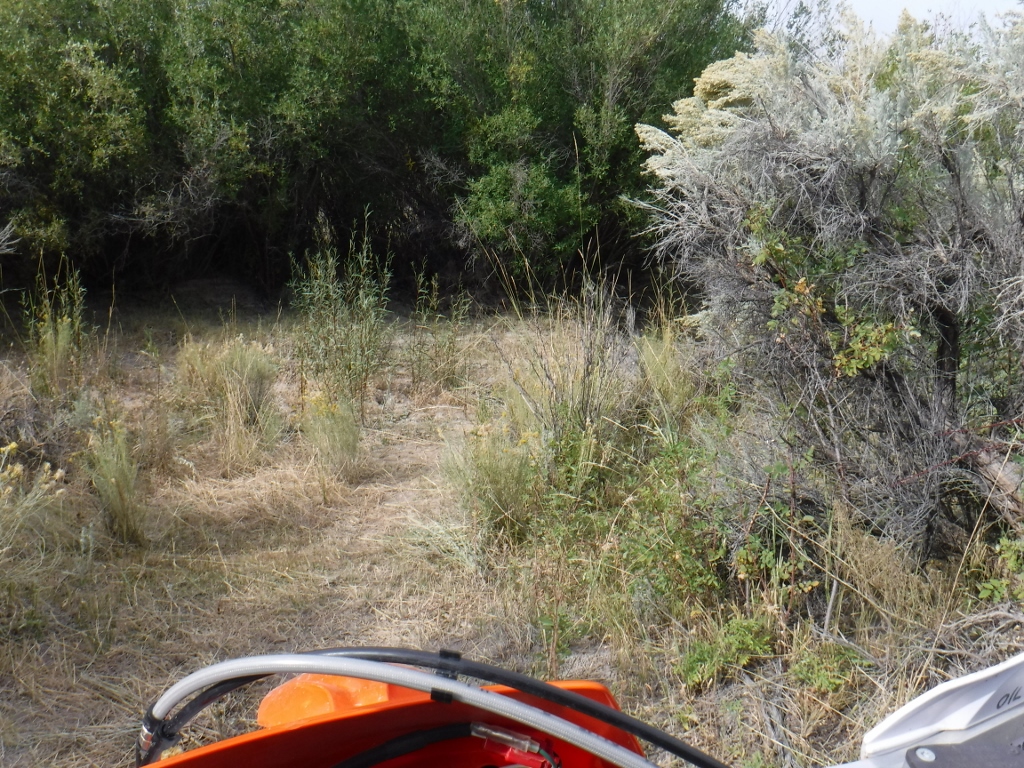 The mountains before dropping into Jarbidge-----it doesn't get any better than this.
We rode 20 miles of very high mountainous switchbacks and it was awesome.
We made if right before dark---and it was getting cold.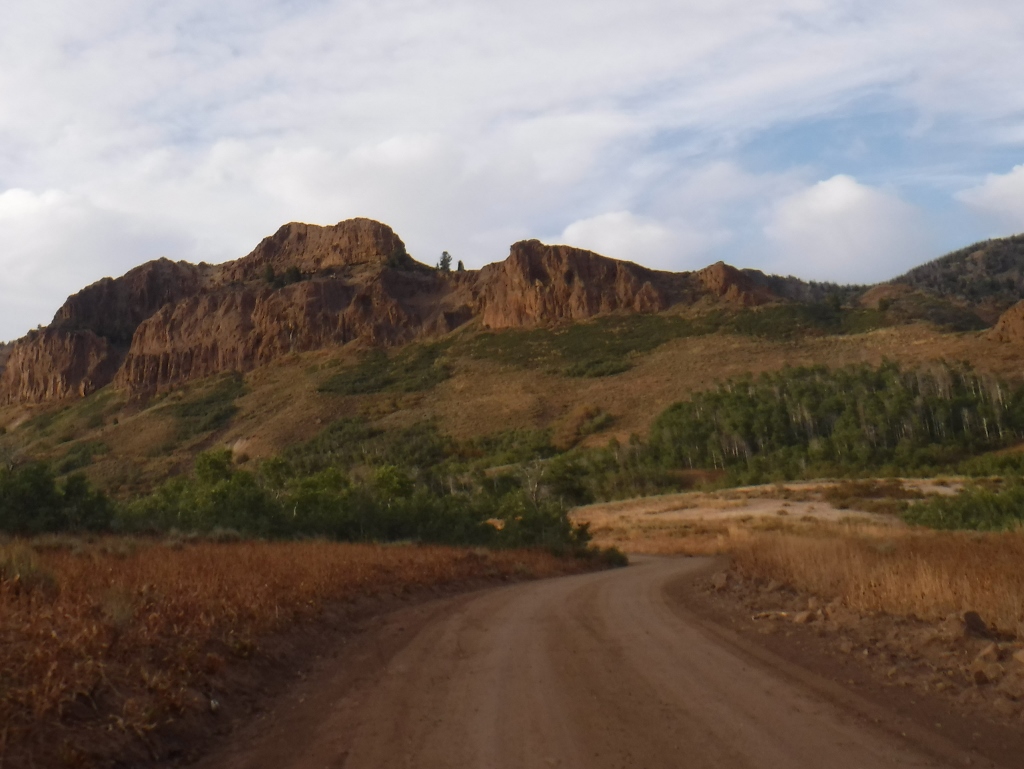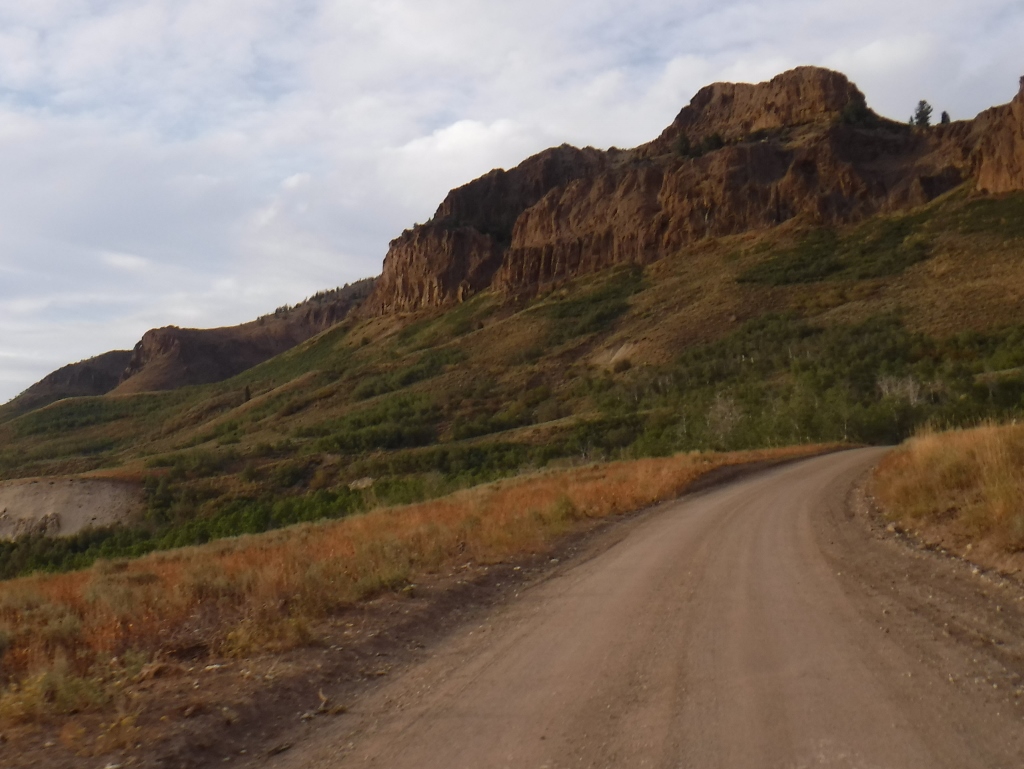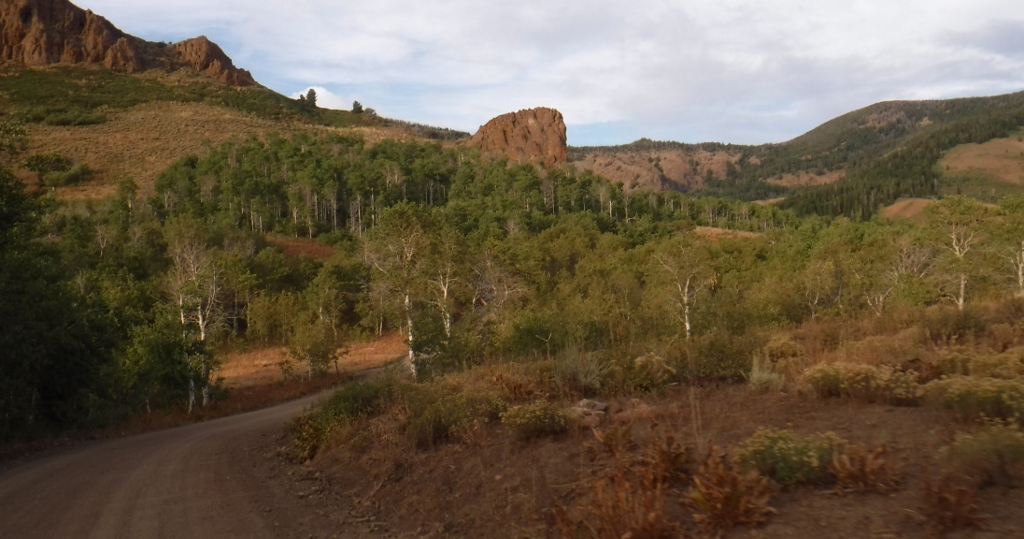 The restaurant was still open and we had the best meal of the trip.
We were chilled and the first thing he brought us was some warm soup.
The hamburger steak was over the top and we aquired a small simple motel room
adjacent to the restaurant and Dave went to the "Barn" motel just a bit out of town----$35
for a nite in the Barn. I stayed in it the last time I was hear with Gaspipe---it's just fine.
Today we had combined the longest section of the BDR (220 miles without gas) and another section all into one.
We got here at almost dark and were tuckered out, cold and very hungry.
We could have survived the night without food I guess---but we wanted nothing to do with setting up a tent in the cold
being all dirty, nasty and needing a bath. We would have paid $300 for a room-------but got one for $60.
Brian went to the Barn Motel just down the road-------$35. I stayed there with Gaspipe years ago.
We got a room--------and had the best dinner of my entire life------which started off with a big bowl of hot soup.
I usually eat very lite this late in the day-------but not this time.
A Short Video of Todays Ride
But now what do we do----our vans are back in Bullhead City, Arizona ??????
Soooooo--------we took a different route back South--took 3 days to do that and it was awesome.

Click Here for the return trip South and the rest of the story.
Or Click HERE to go back to my homepage.