OZAT
Ozark Adventure Tour 2017
This is my story of riding the OZAT----the route was created by a friend of mine "Bryan Much" or better known
as "Cannonshot" on the AdvRider site----and I thank him whole heartedly.
It is a 2,000 mile mostly offroad ride starting in Missouri, going South deep into
the mountains of Arkansas then back into Missouri.
Don't think Bryan would mind---but this is a nice overall map of the ride that he posted.
And you can see all the nice waypoints of stuff he provides for all of us to enjoy on the ride.
Lot's of campgrounds. The top end of the map is in Missouri and the bottom is in Arkansas.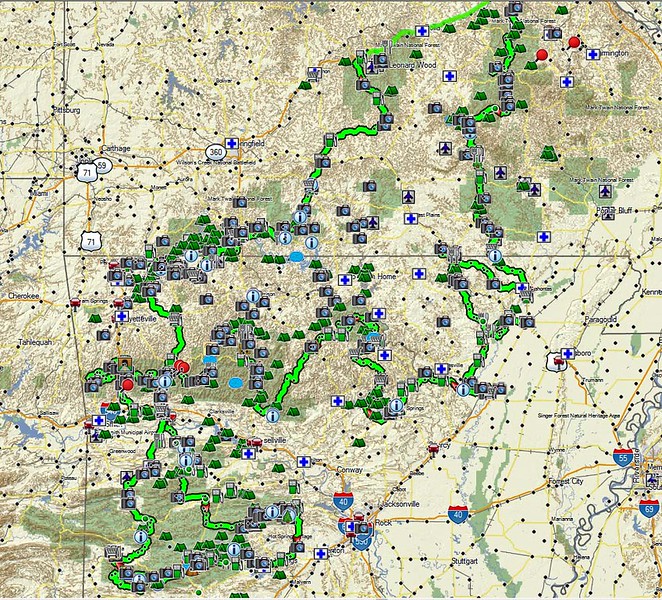 I hauled my KTM 690 to Missouri and unloaded it at a friends house not to far from the start of the ride
which is in Sullivan, Missouri. I was loaded for a 2,000 mile ride and ready to camp on the ride.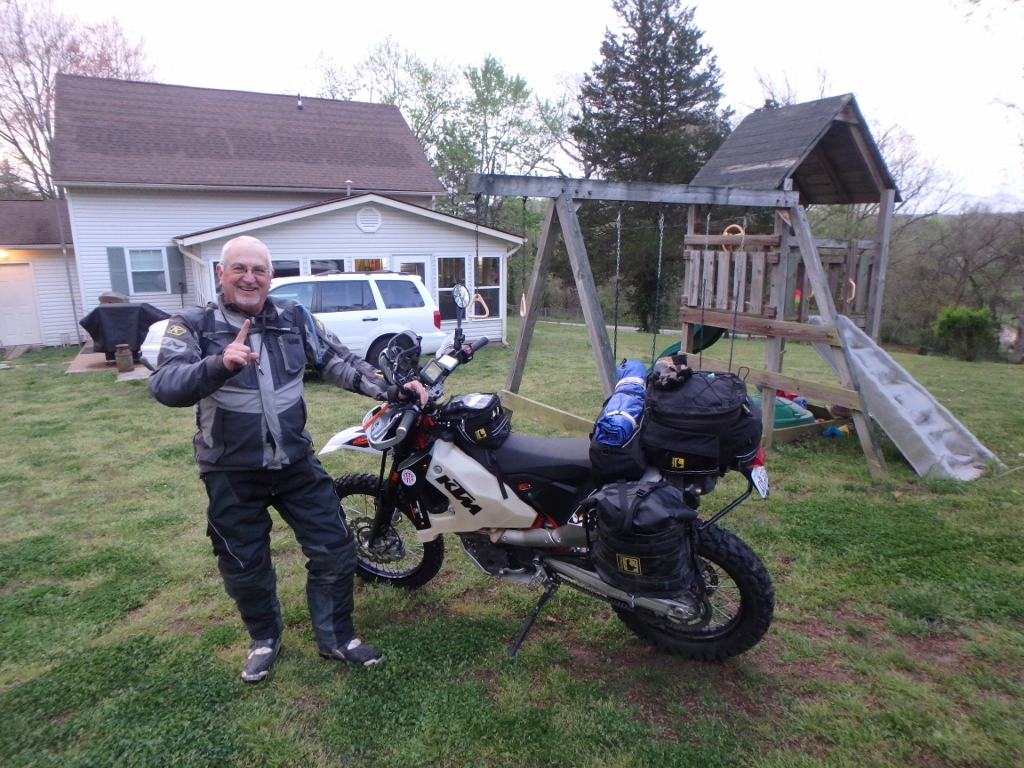 The ride goes South for miles on some really nice back roads and it wasn't long I ended up in Bixby, MO.
In Bixby is an old store which is a favorite hangout and gas stop for motorcycle riders of all types.
You can eat in the caboose if you like------I've been coming here probably since 1980 ????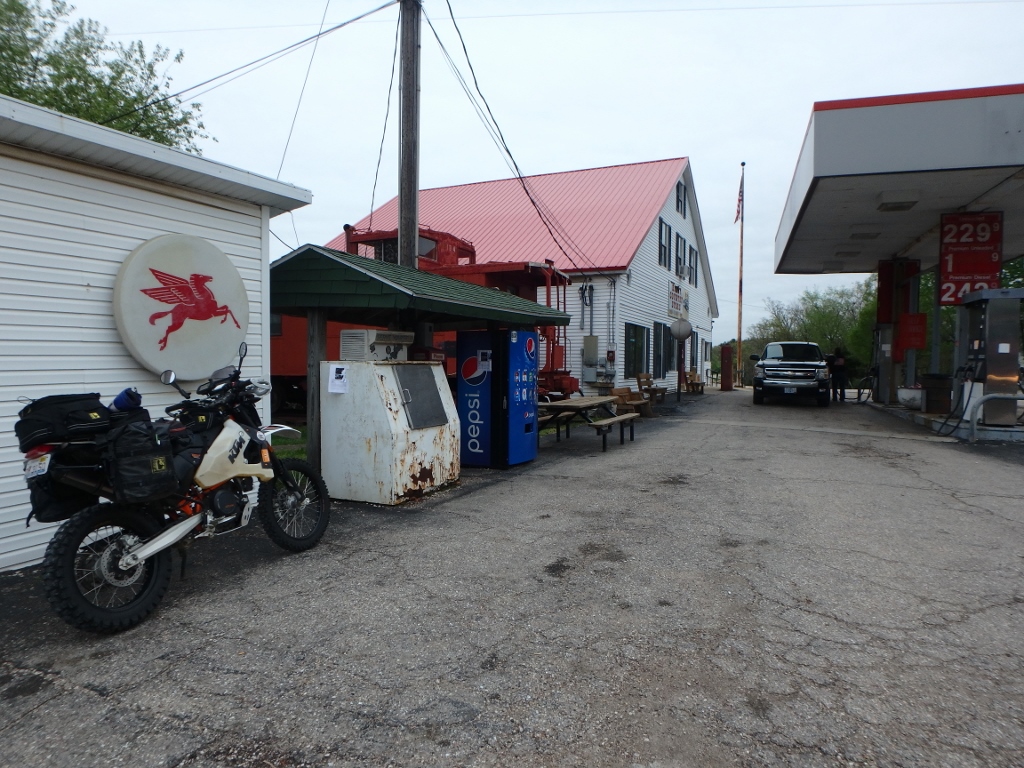 Do NOT pass up the Bixby store----all kinds of neat stuff inside and the food is awesome.
Cannonshot put his card here long before mine. I suppose they'll still be here after me and him are long gone.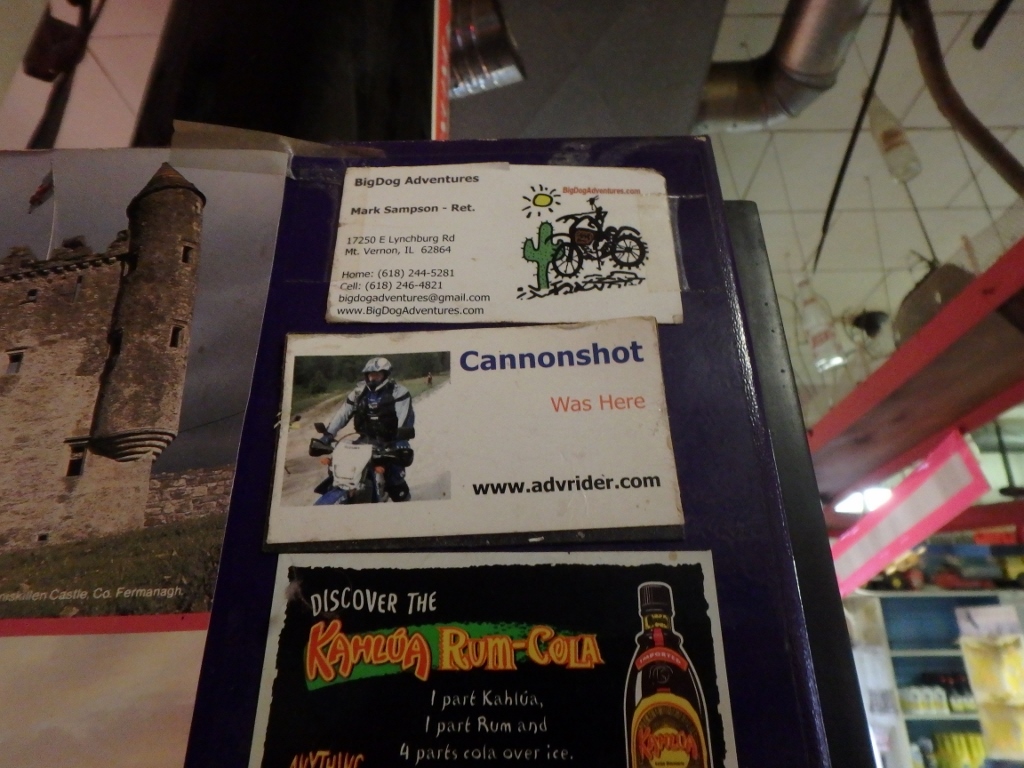 Not sure I'm happy about it being for sale.
Bridgett the owner has always been so nice to us bikers and I hate to see her go.
And she's a good cook.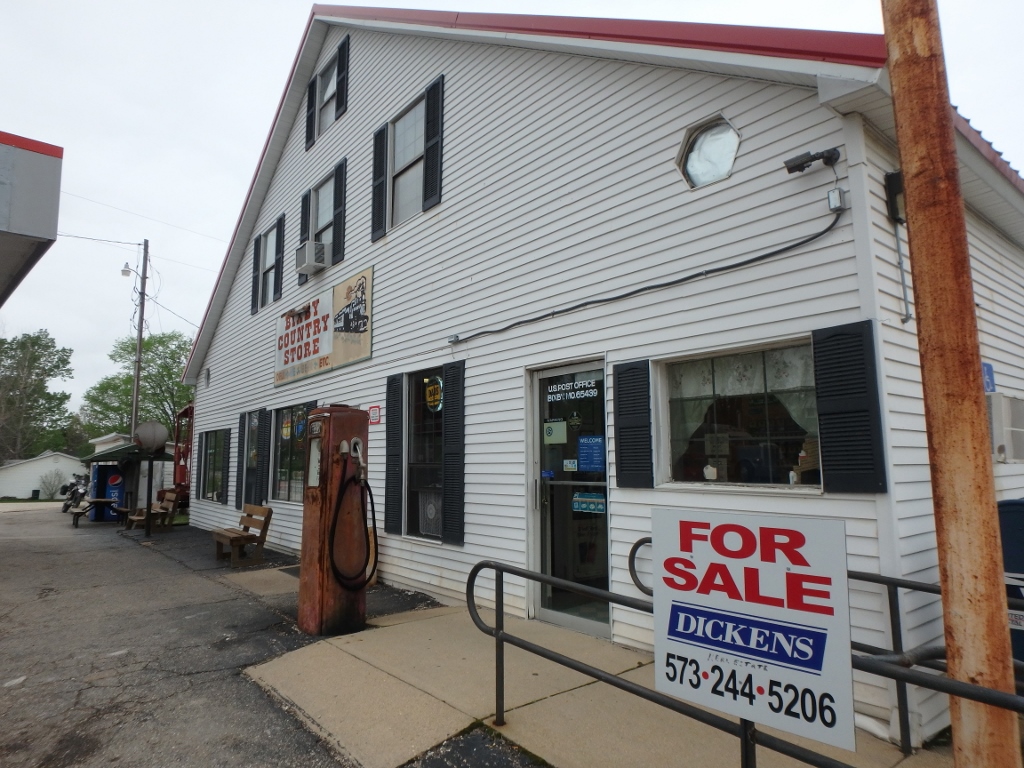 I normally always climb these things--------but in full motocross boots I decided not to.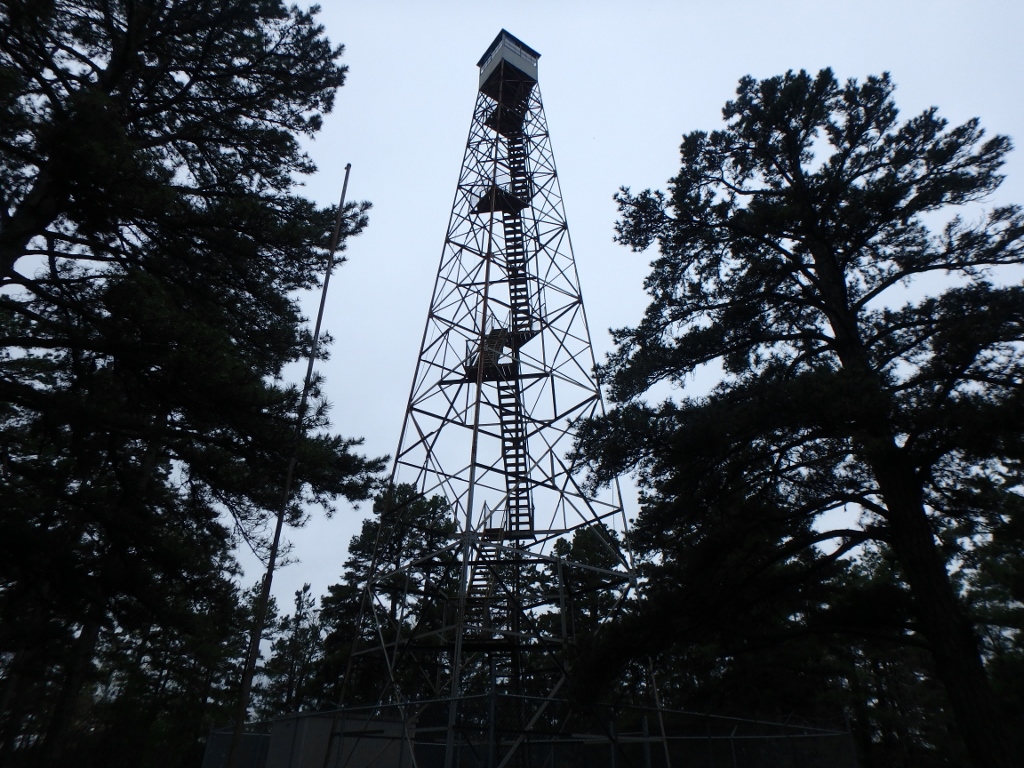 The weather was optimal and the gear I had on suited the conditions well.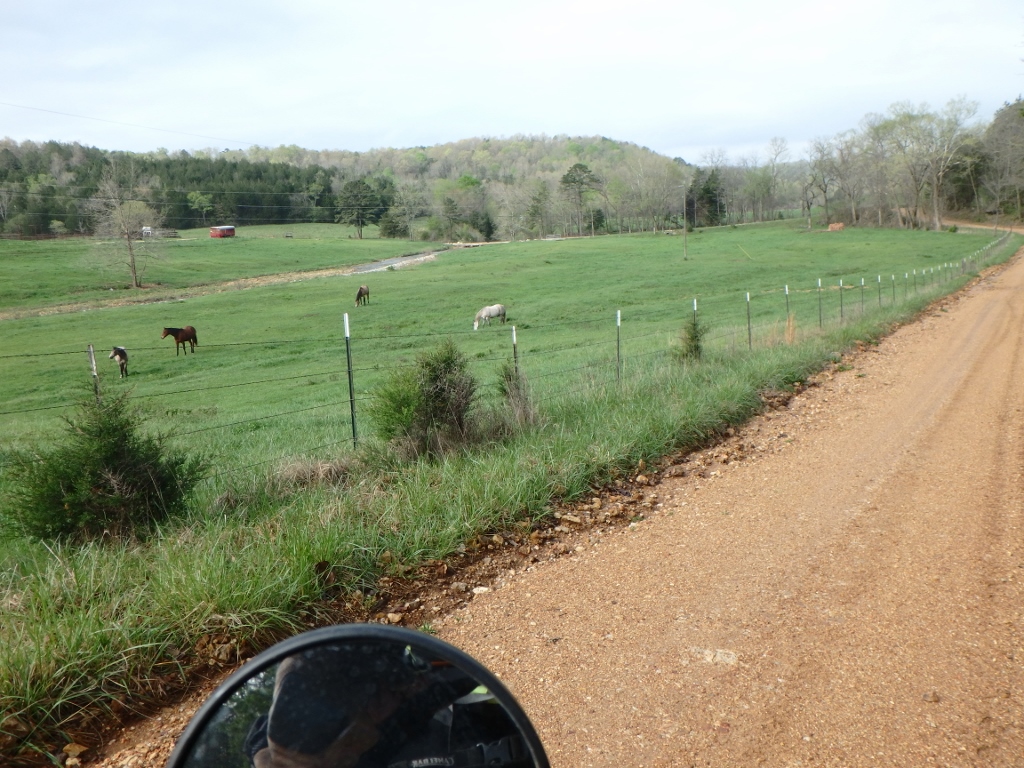 And if you know me you know I'm in no hurry and am not interested in "making time"----or trying to get some
where--------I like to look at stuff. All this stuff was on the fence at some guys farm.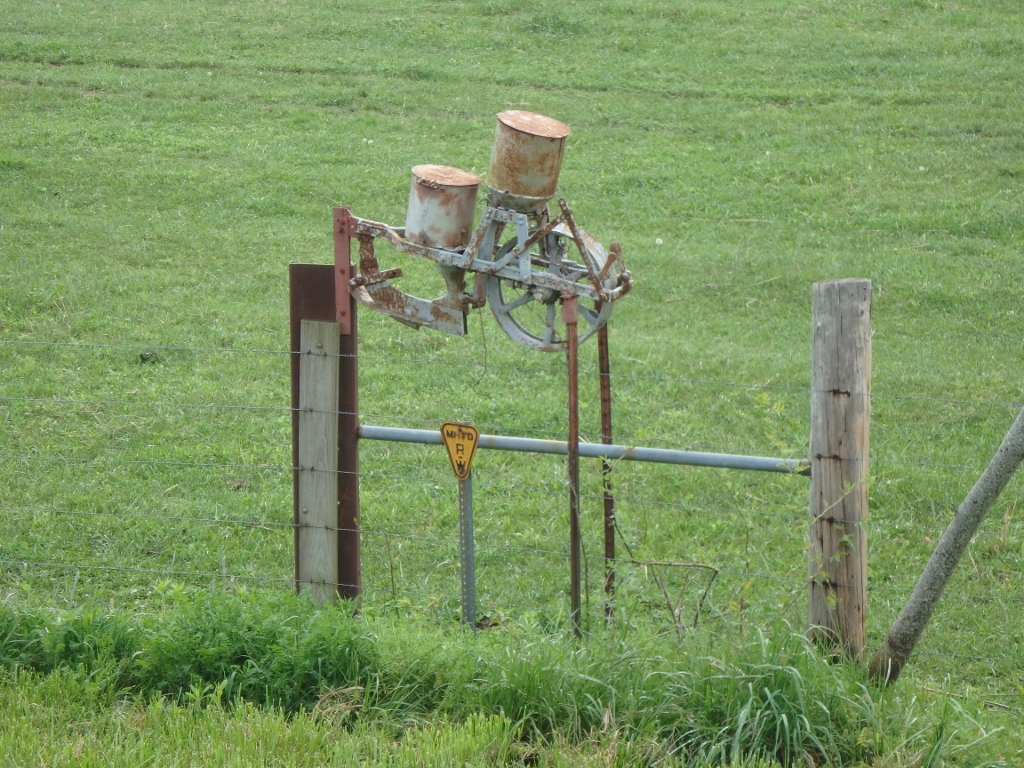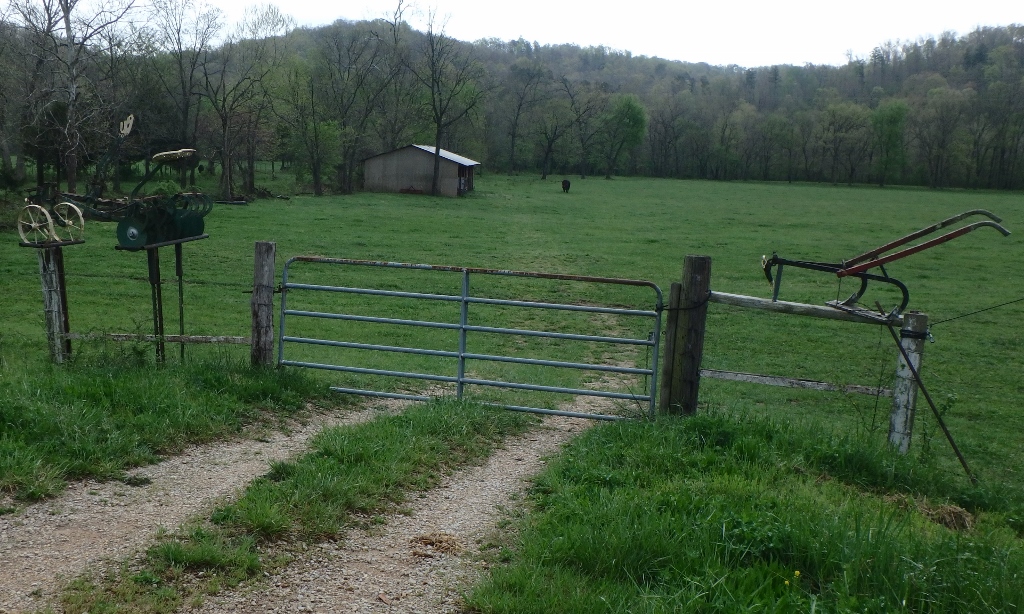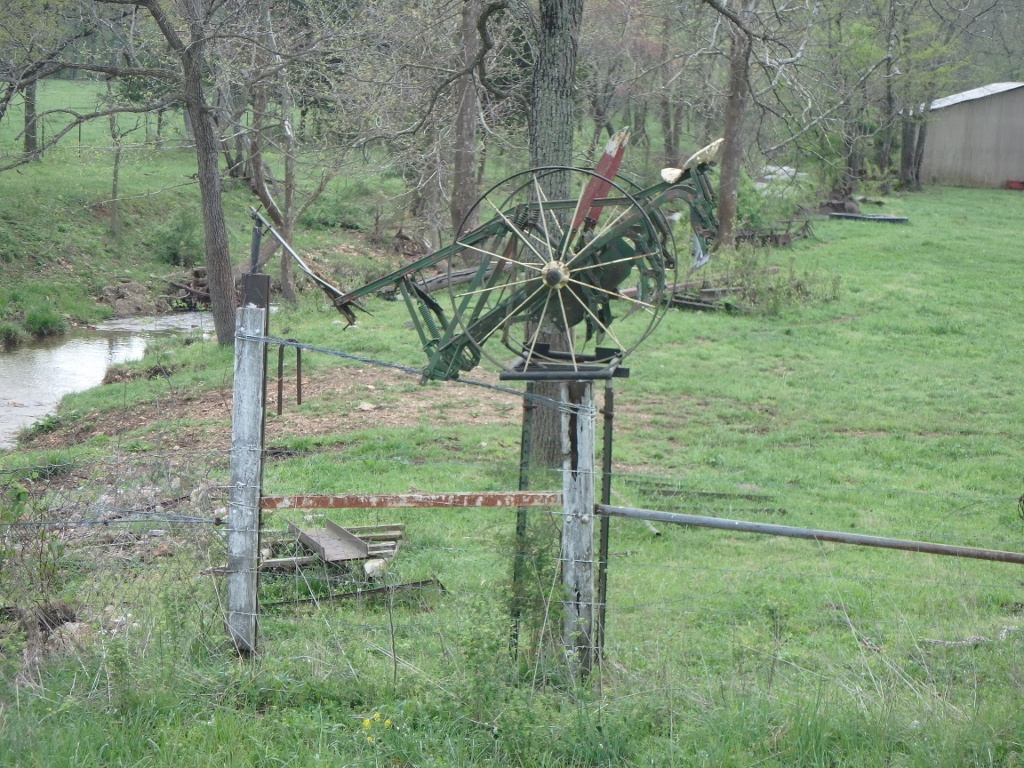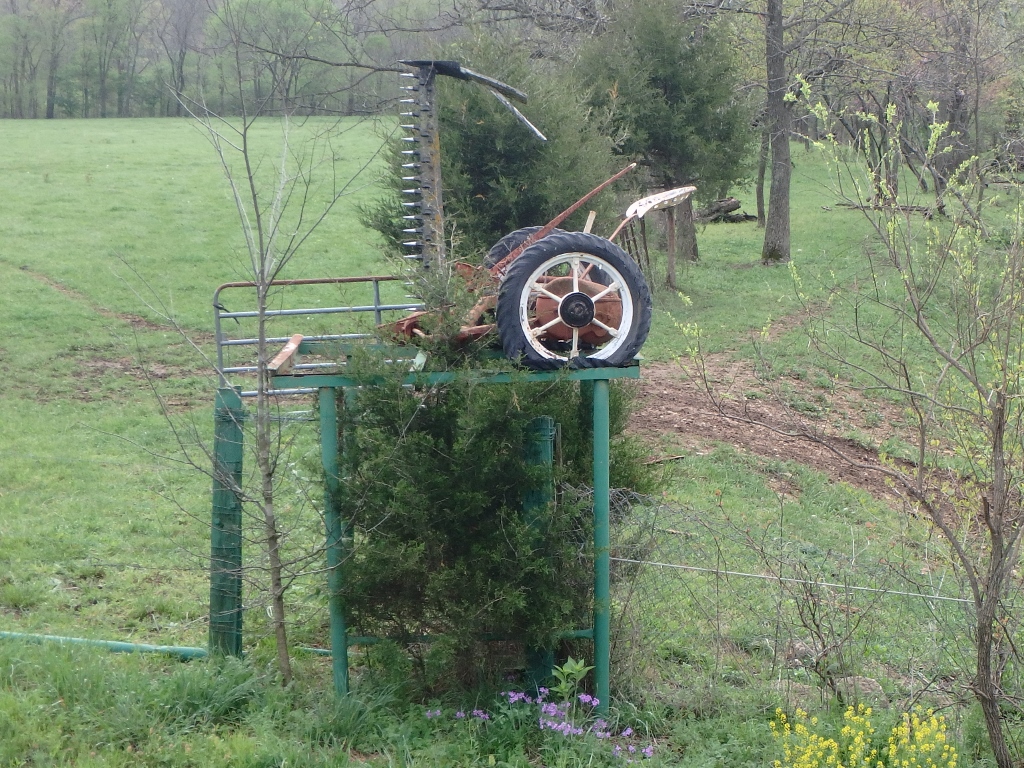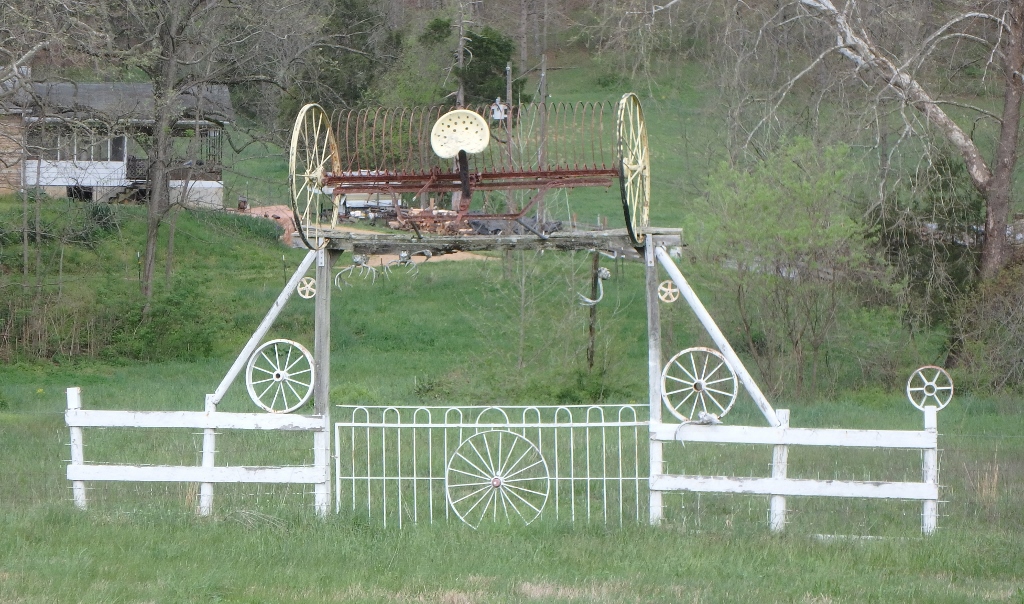 Missouri is full of springs----------I've got a jillion spring waypoints in my gps for Missouri and have over
the years tried to find them.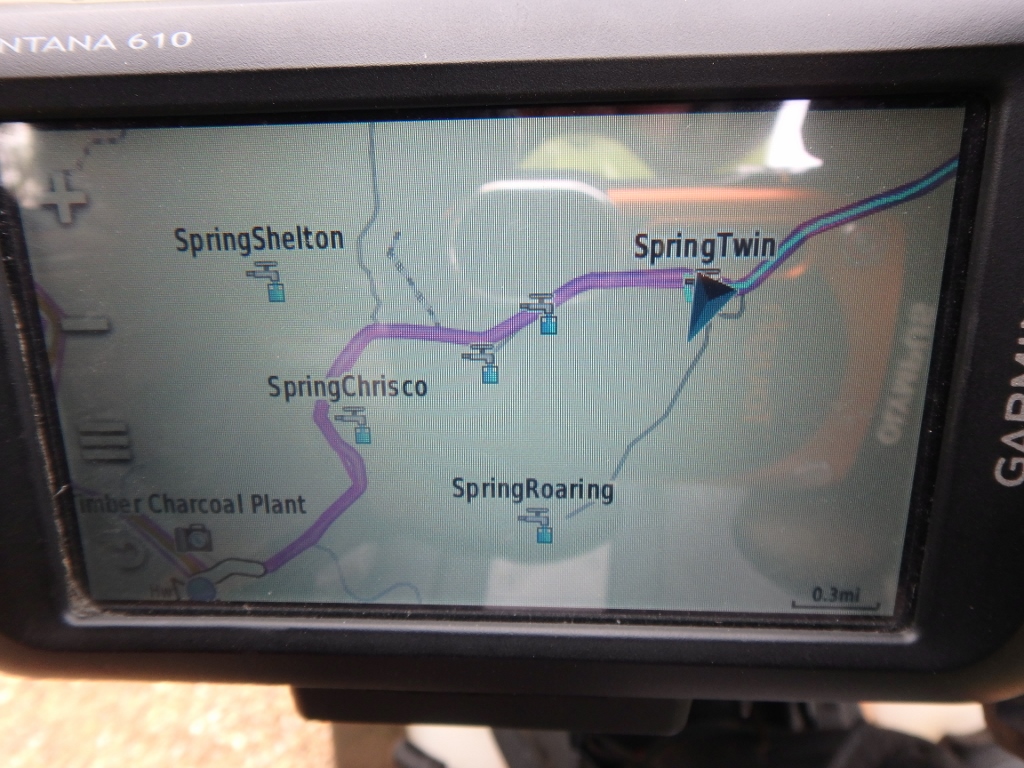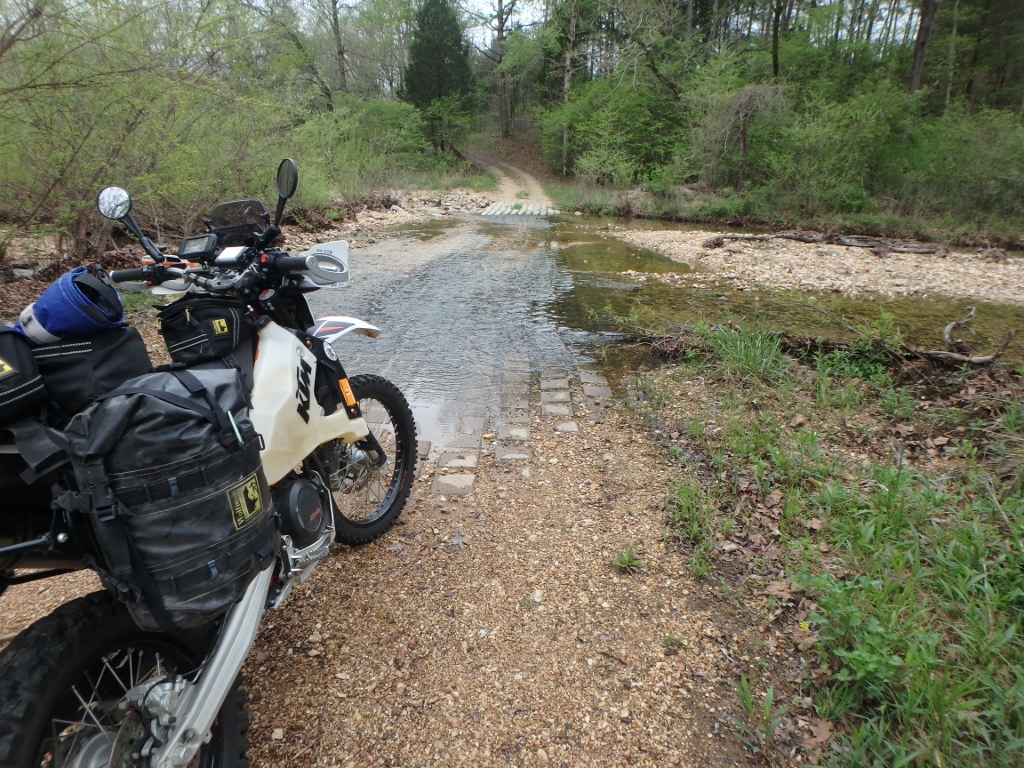 This is double spring-----right beside the road.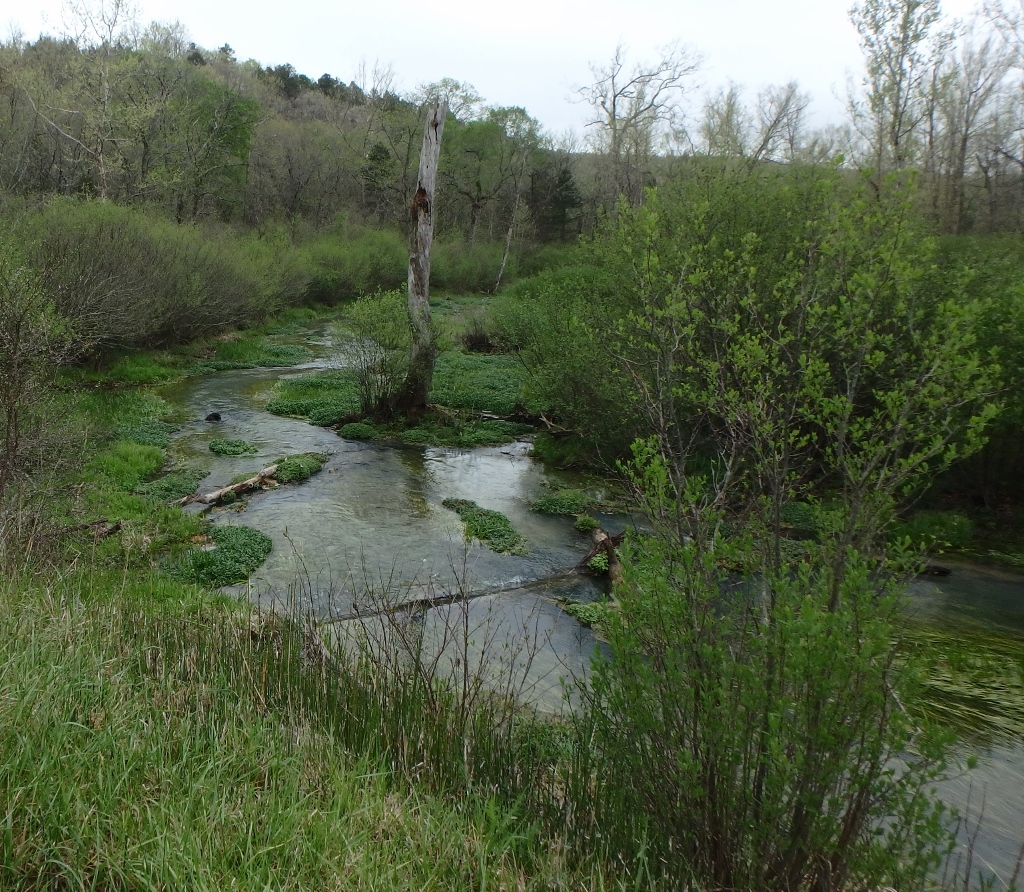 On Bryan's OZAT ride you will see many things -----and he gave me a waypoint for this place.
Actually I found it by accident 15 years ago---it's a few miles West of BigSprings state park.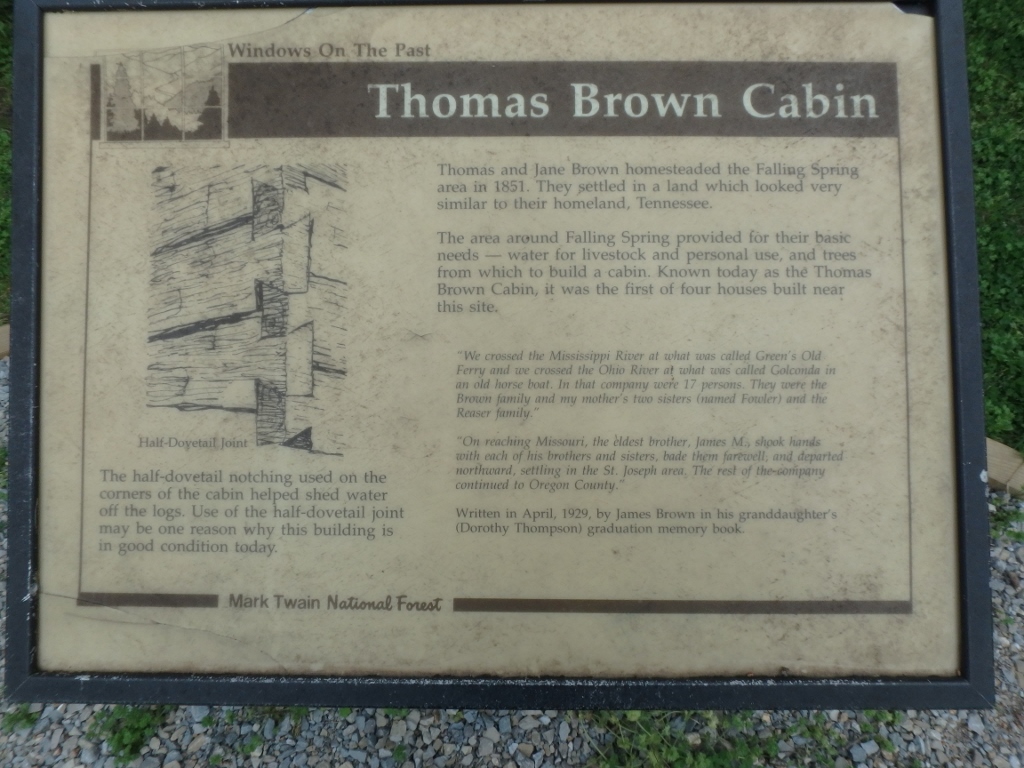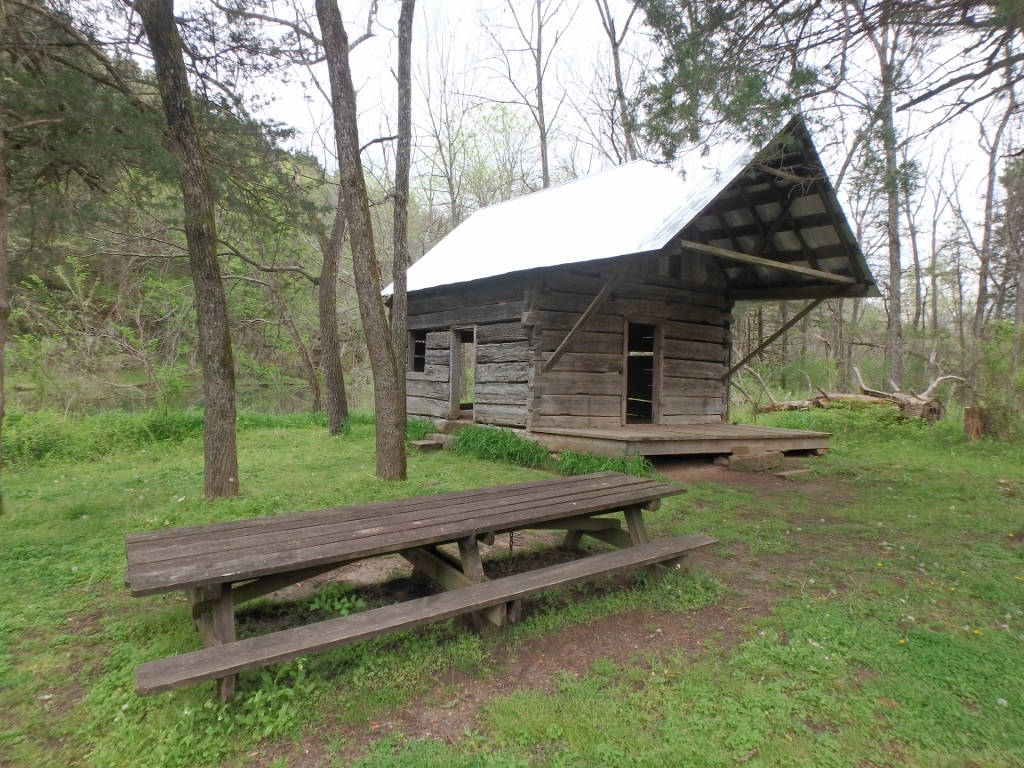 The old log cabin above is right in front of this spring and old grist mill.
It's called "Falling Spring".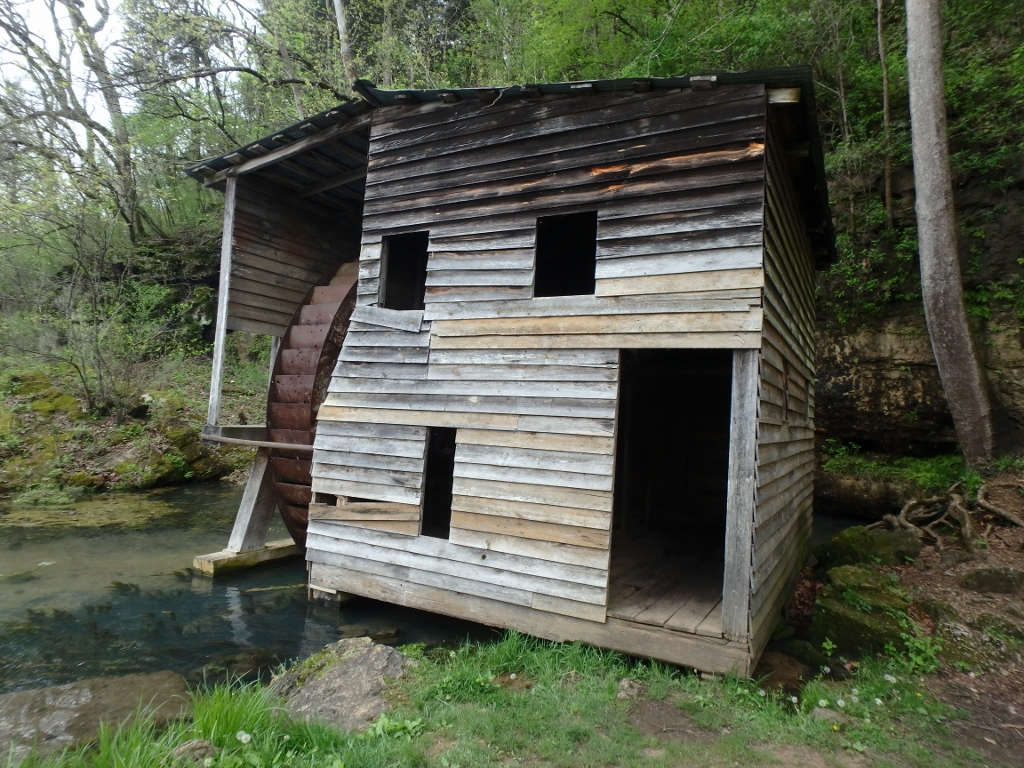 The first time I was here there was a wooden chute that took the spring water to the mills steel wheel.
But it has rotted away and gone.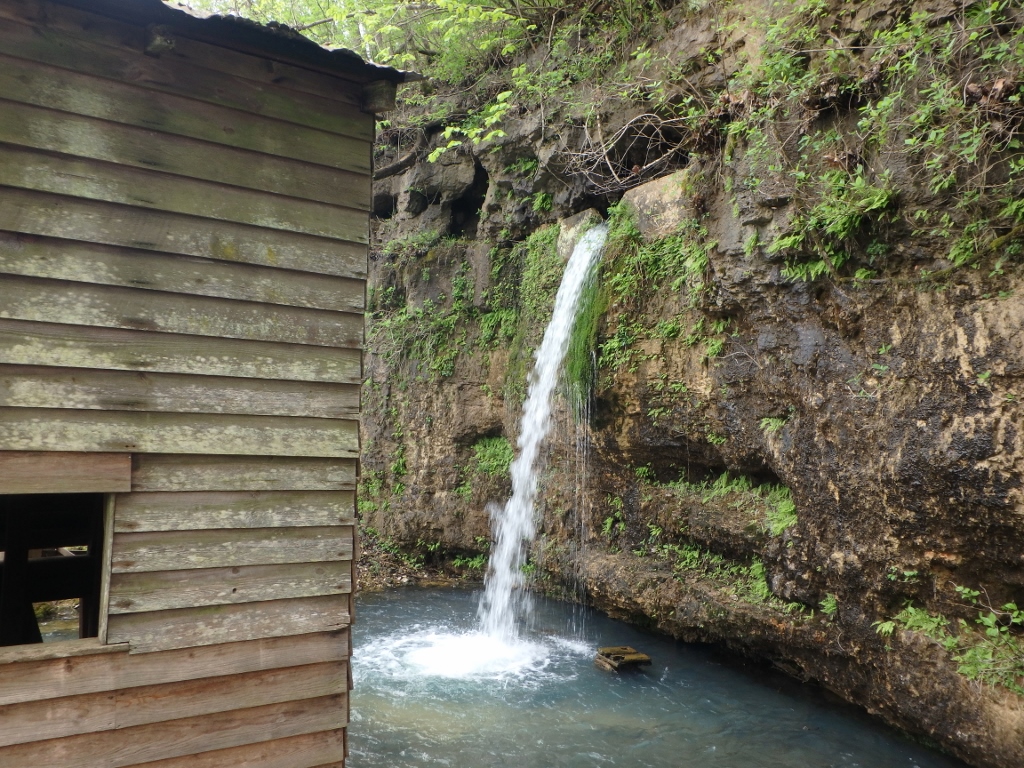 The water flows into what appears to be a man-made pond.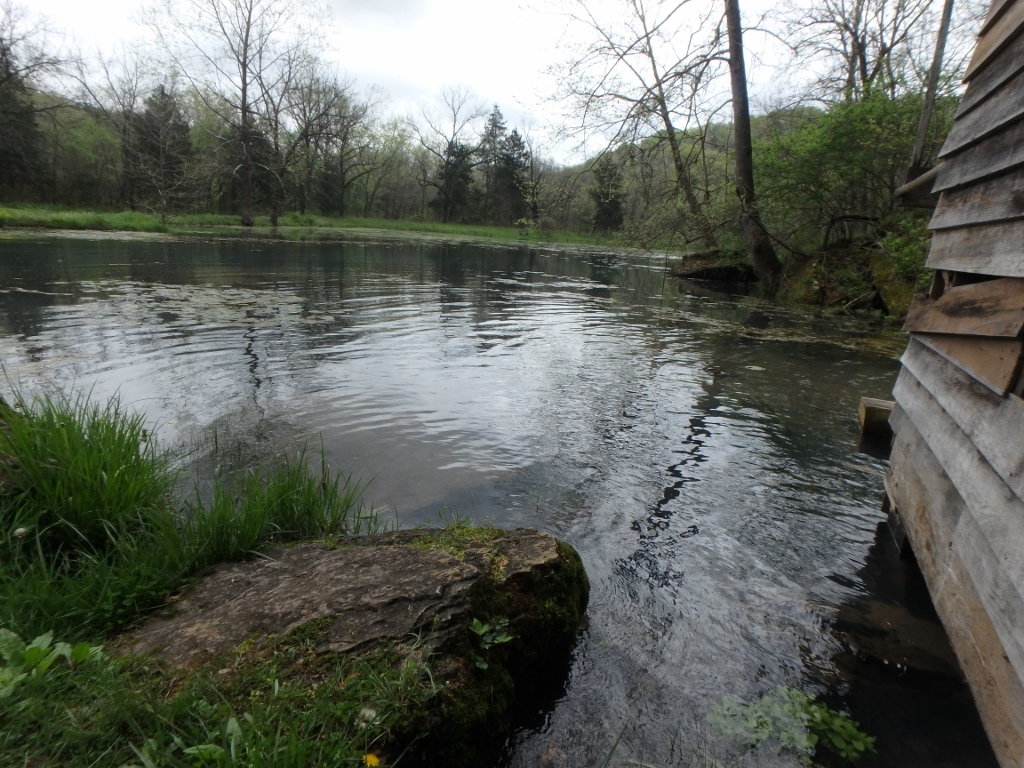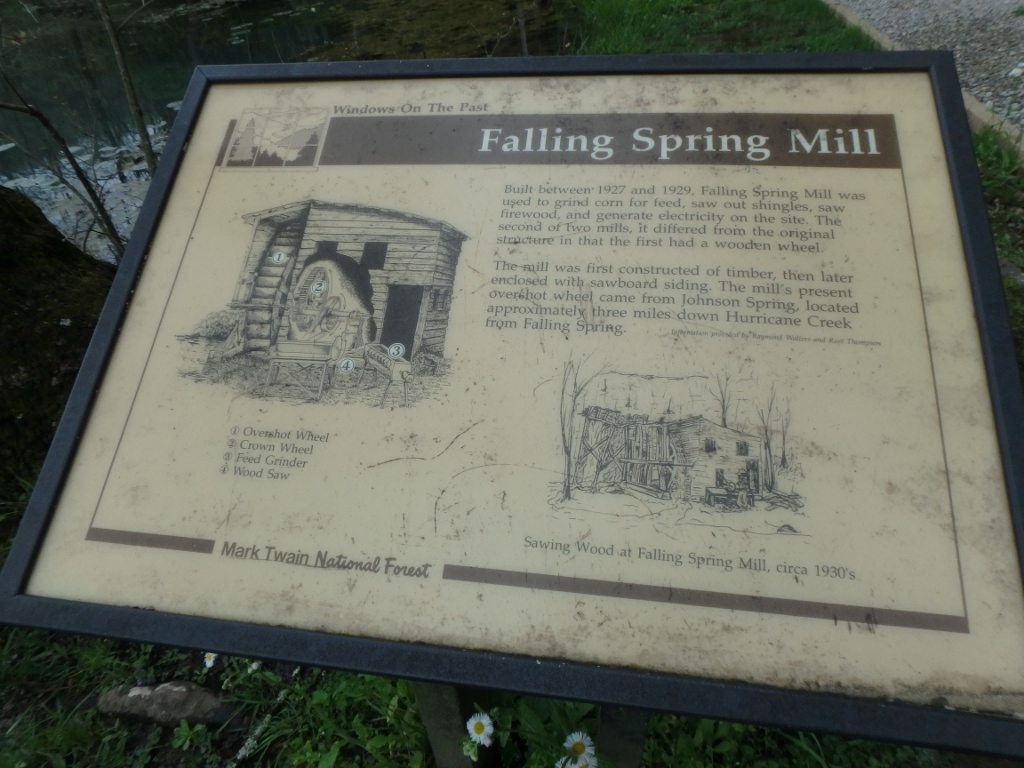 I know of one other grist mill in Missouri that has a steel wheel.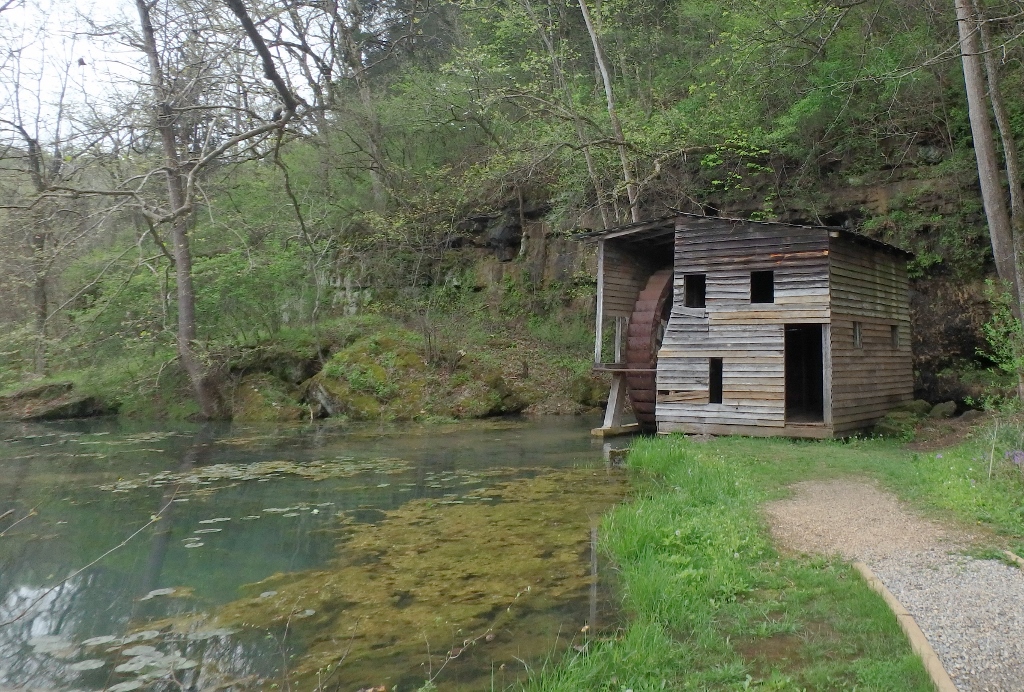 Well I'll be..............I was in Arkansas in no time.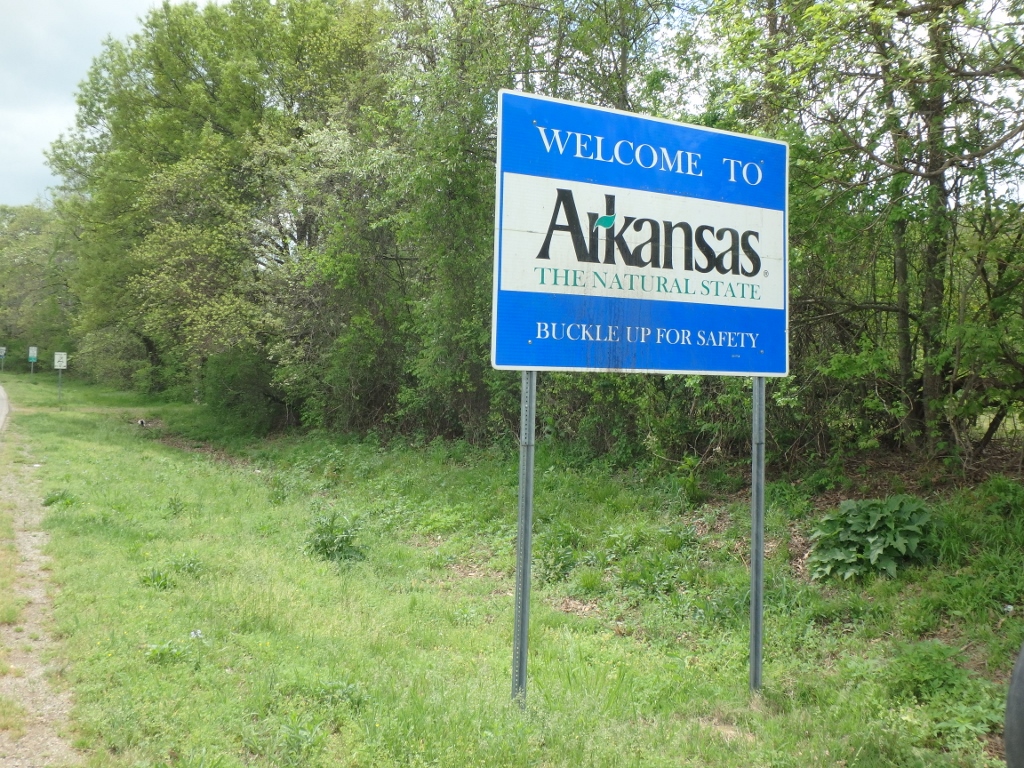 When I had left my buddies house where I left my van........his wife loaded me up with some goodies.
Time for a break.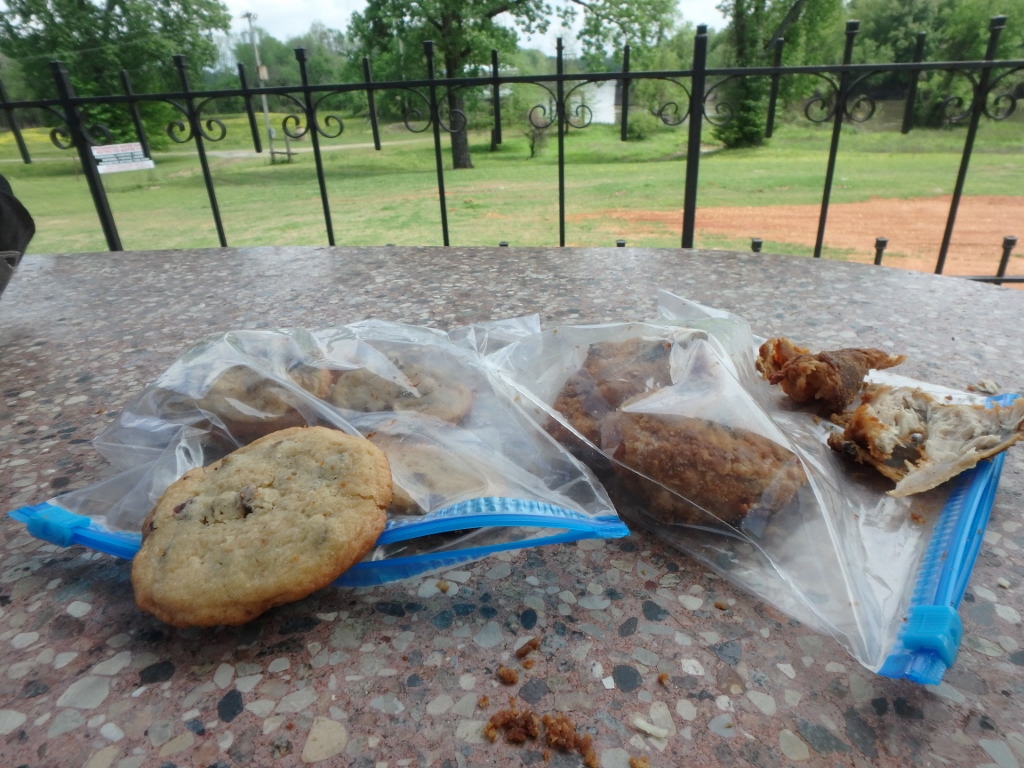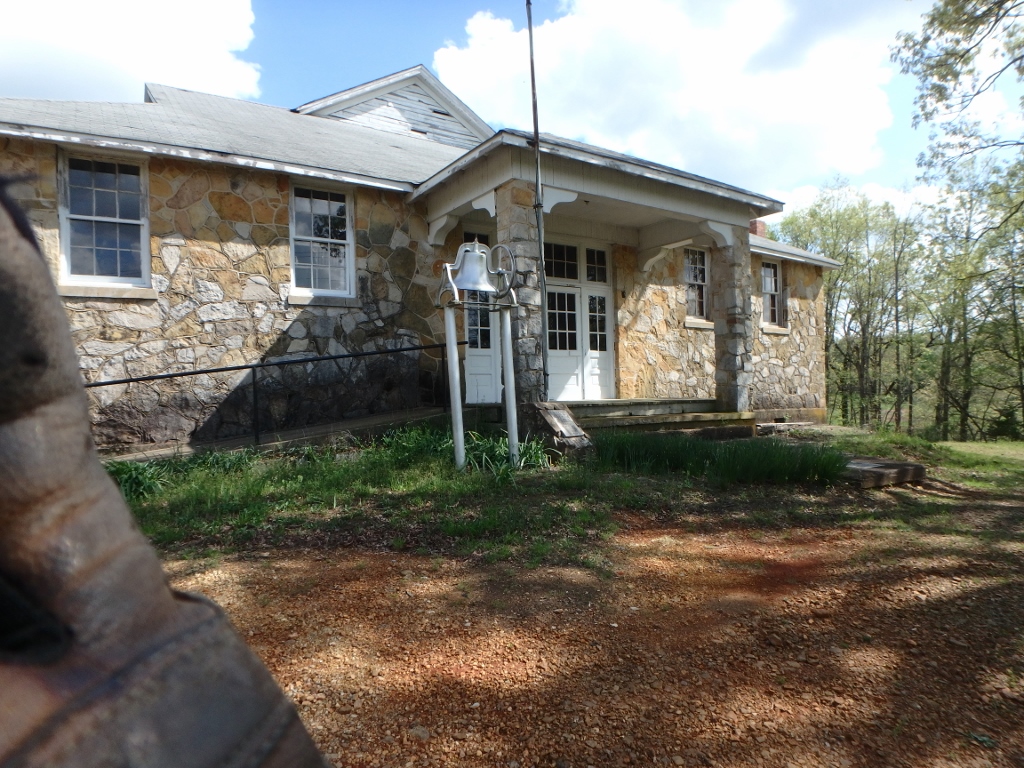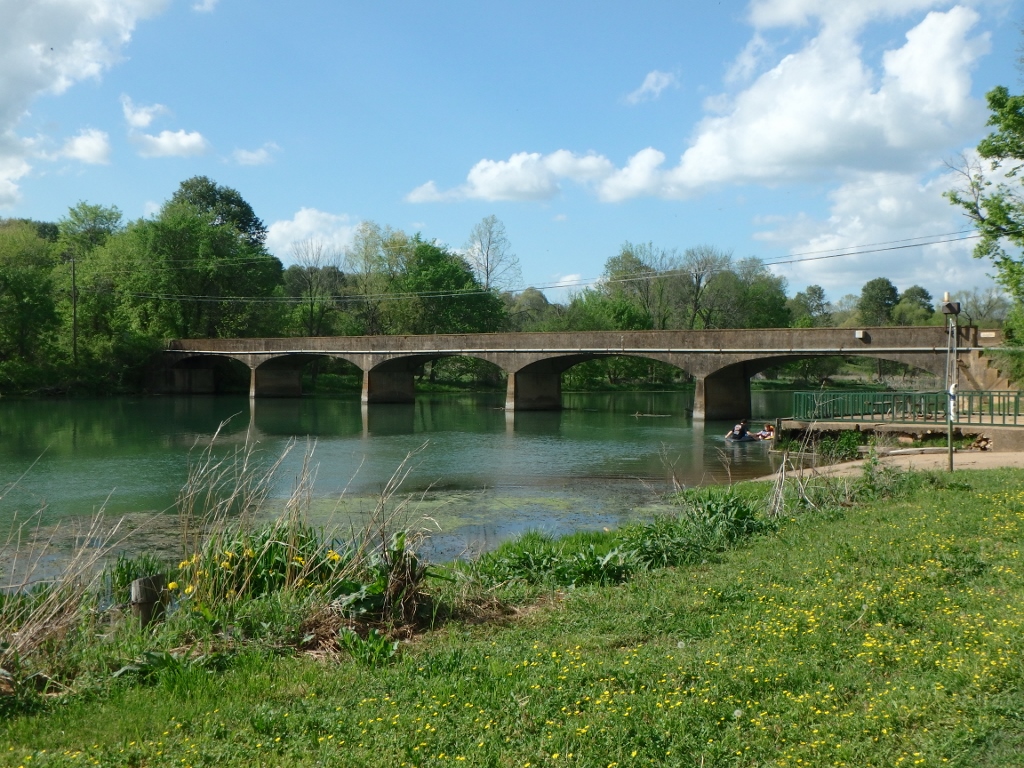 I blew into the little town of Mammoth Springs.
Been here many times and have camped right below this bluff on the other side of the river.
The river is created by the spring.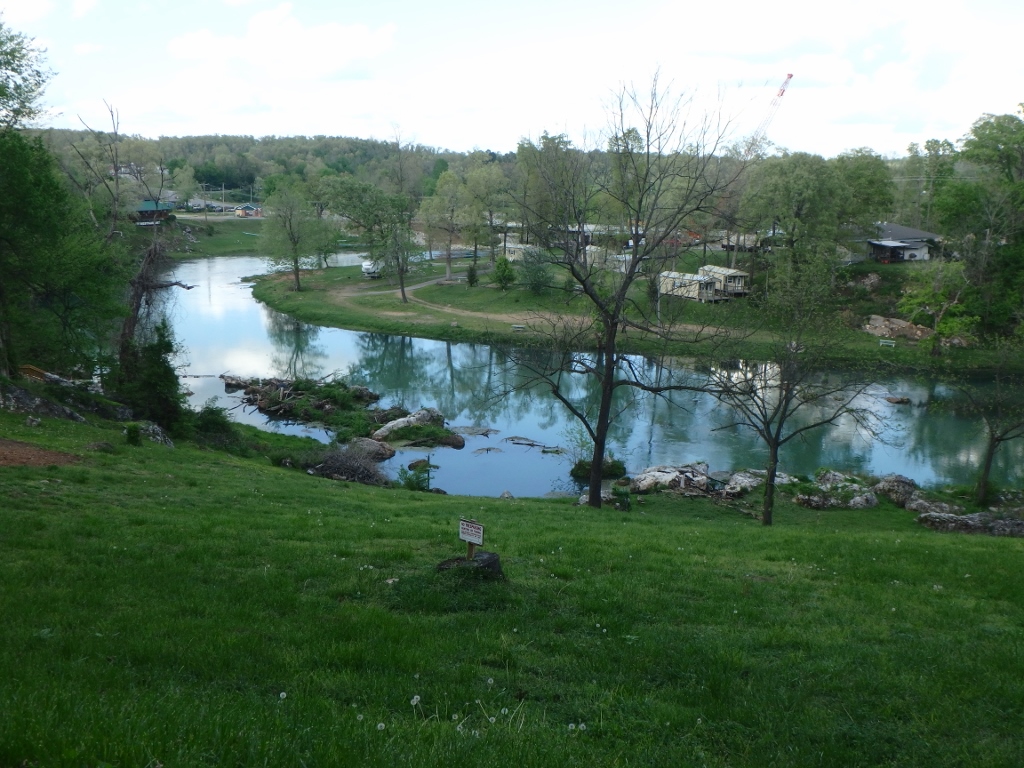 Mammoth Springs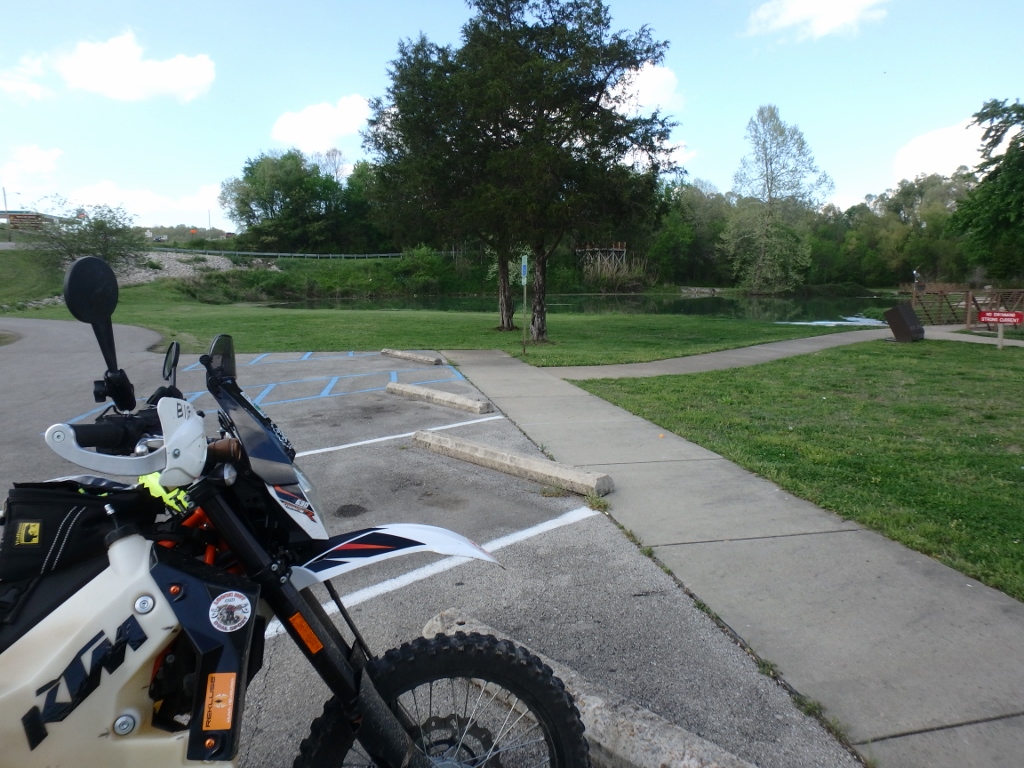 The spring is the pond your looking at---and goes into a manmade lake in which the spring used
to creat electric power. The power plant is still there and needs to be looked at when passing thru.
Might eat some fish at Fred's while in town also.
Don't go to the fancy places-------find Fred's.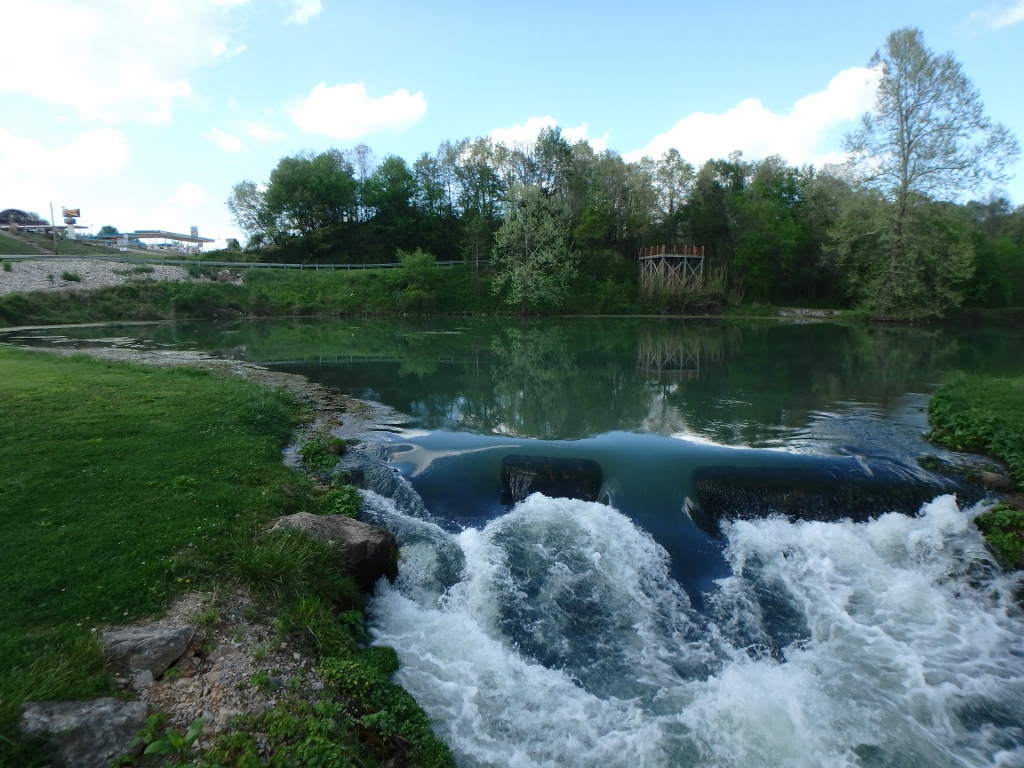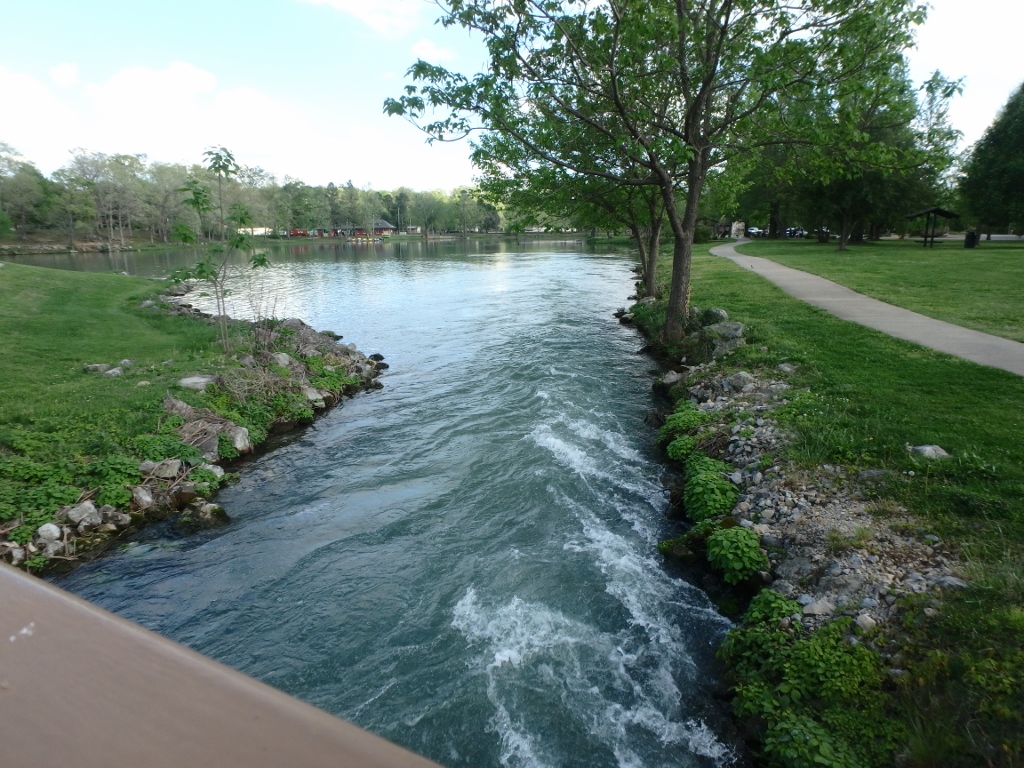 I think I ended up at the town of Hardy, Arkansas that nite.
And rode all day long and was tired.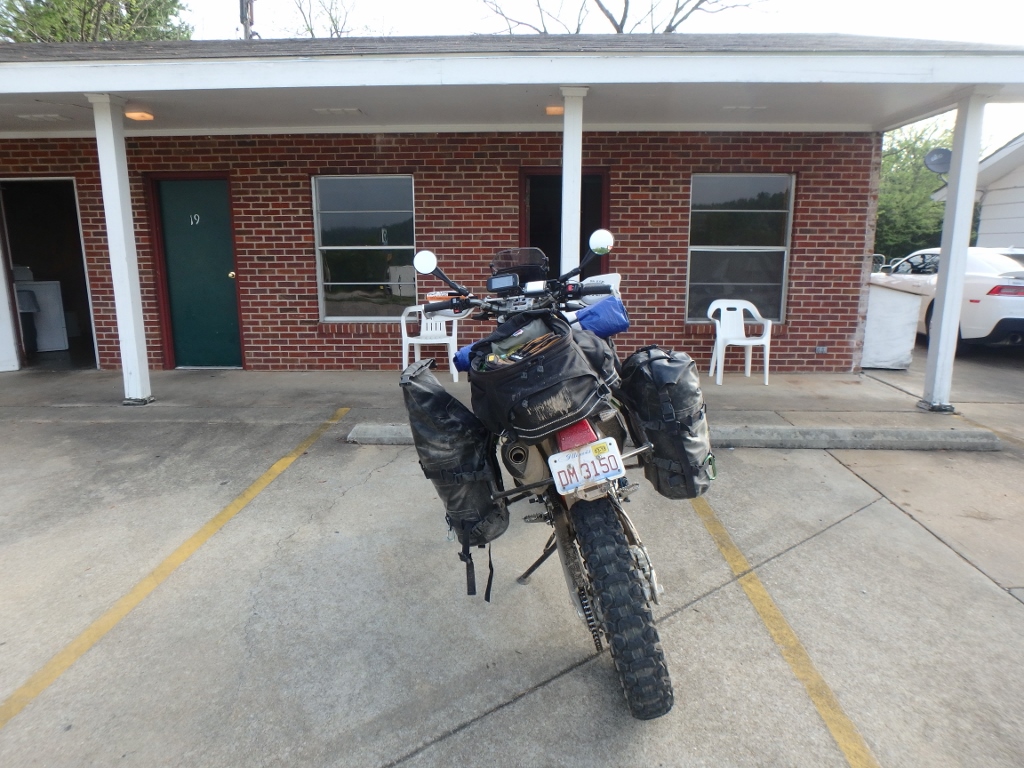 Heading out of town the next morning I just ran across this old station.
It needed looked at.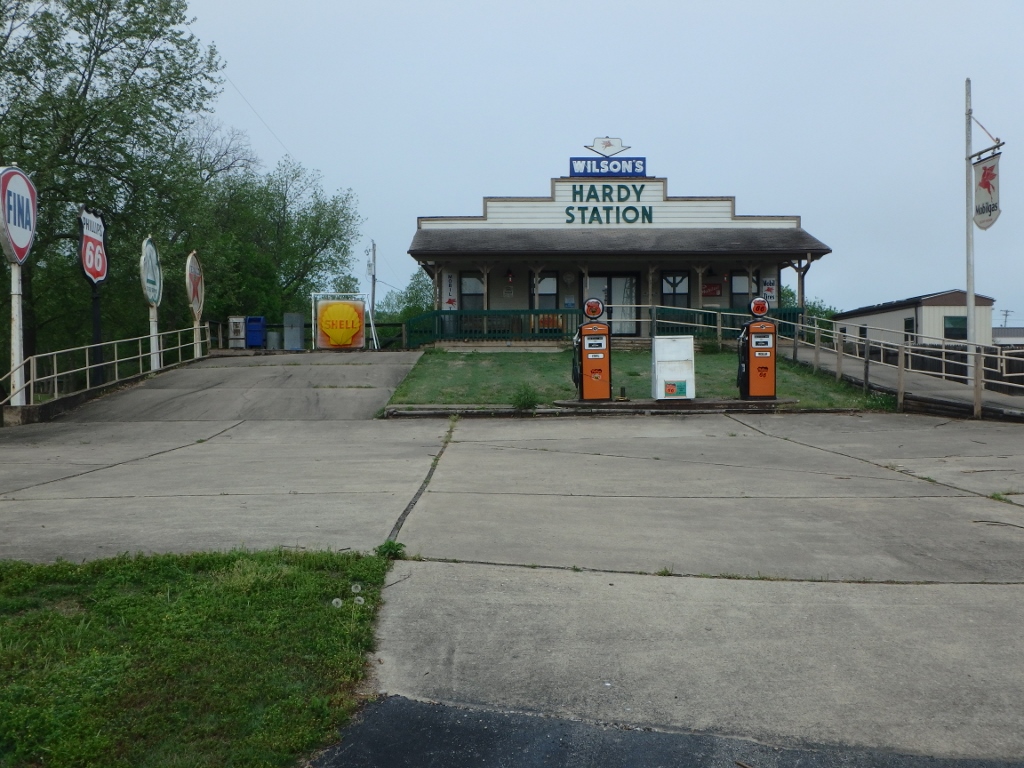 Getting close to the Black River it got foggy.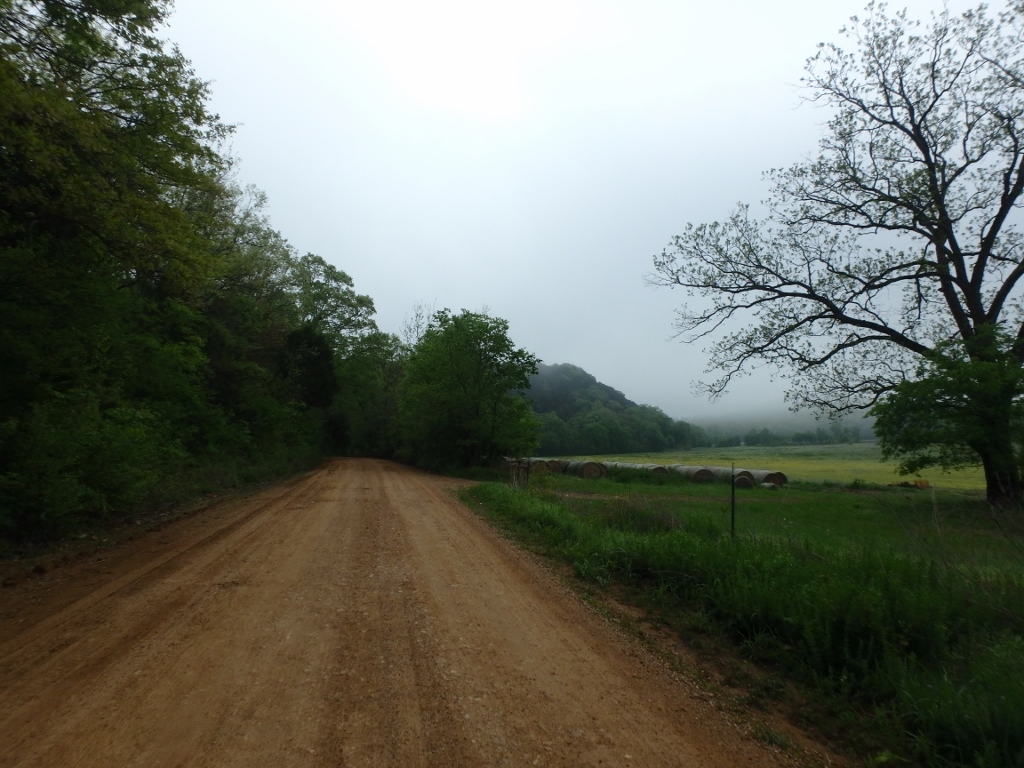 Before riding thru the little town of Powhatten I really enjoyed riding thru this wildlife preserve.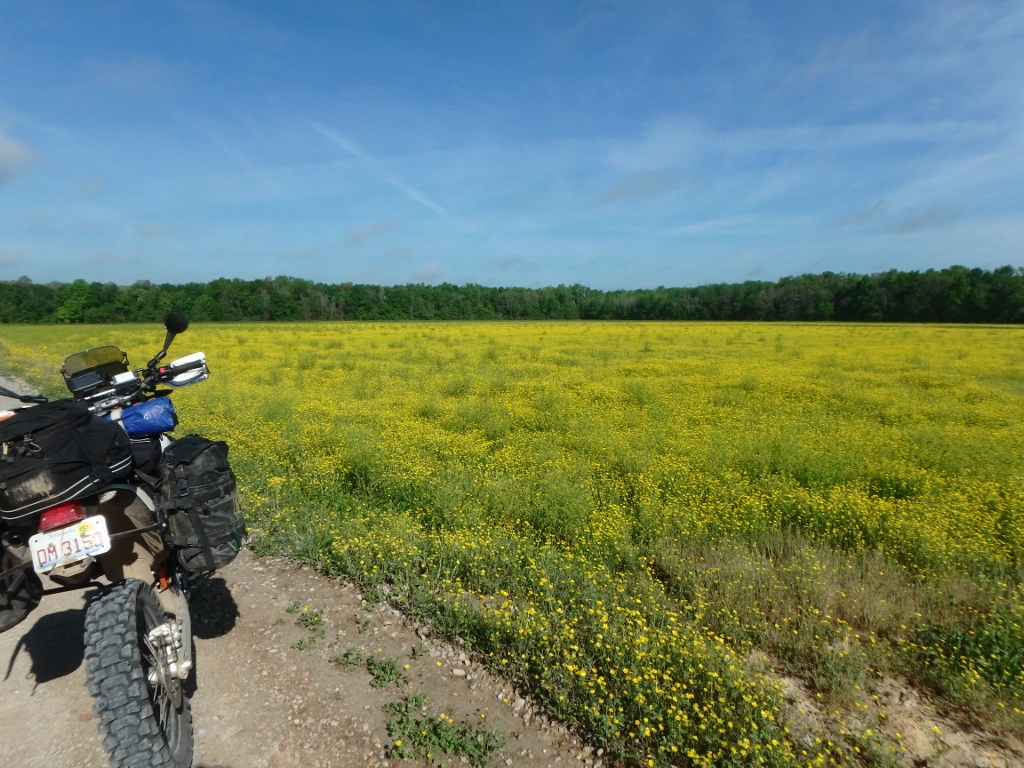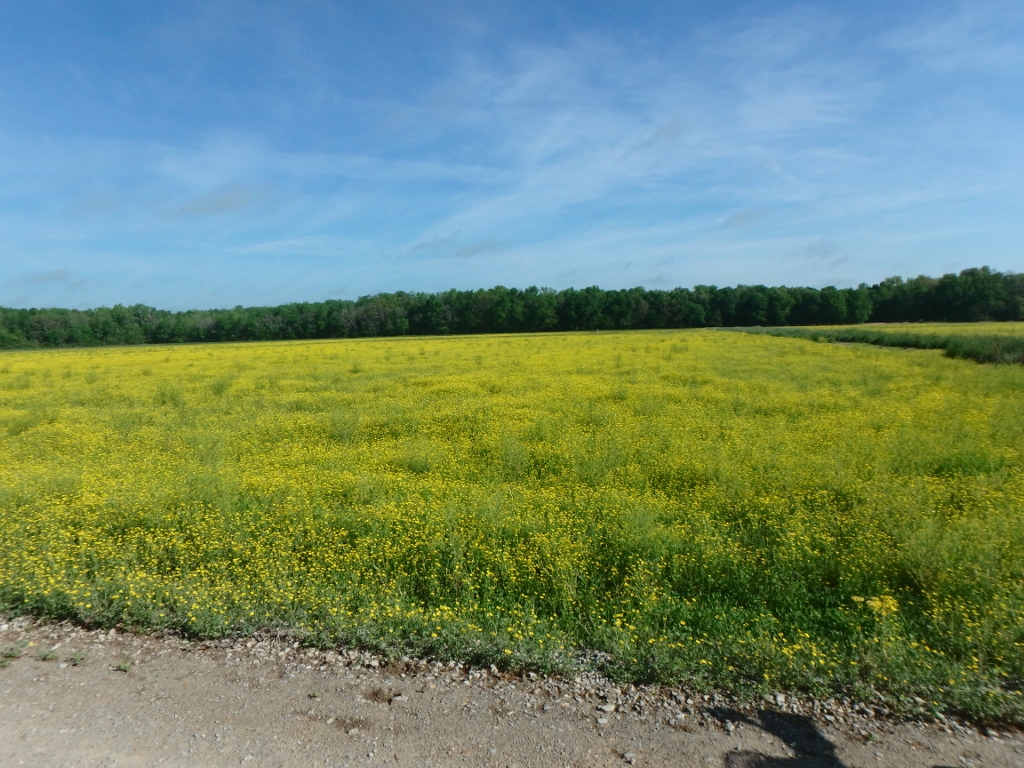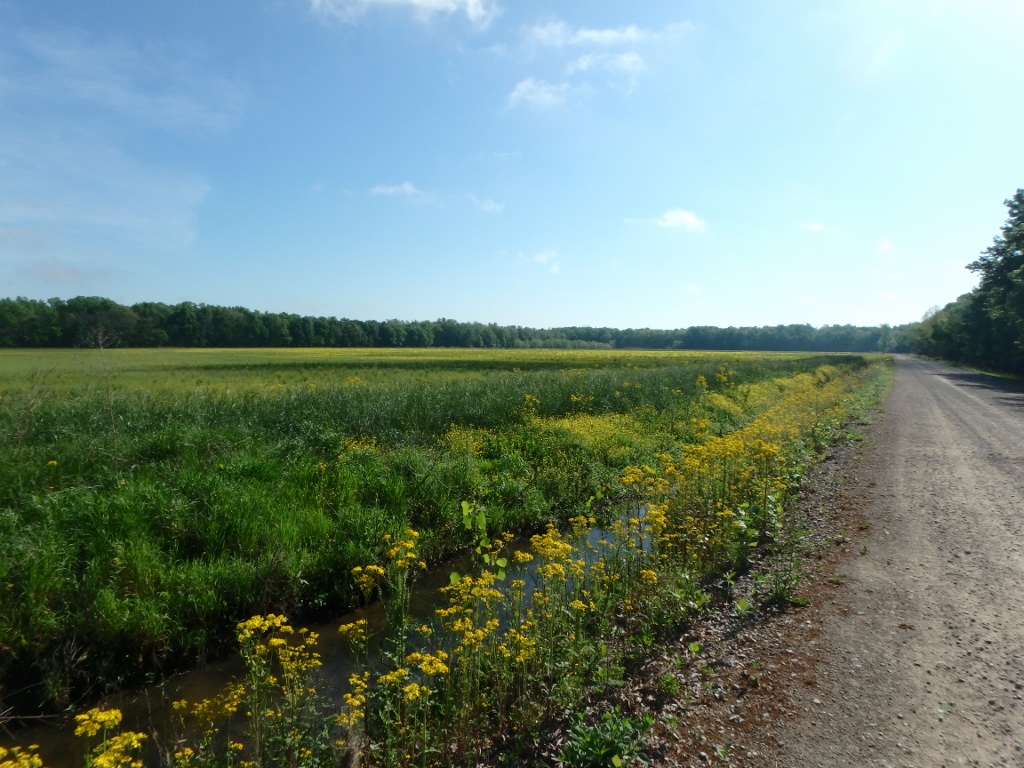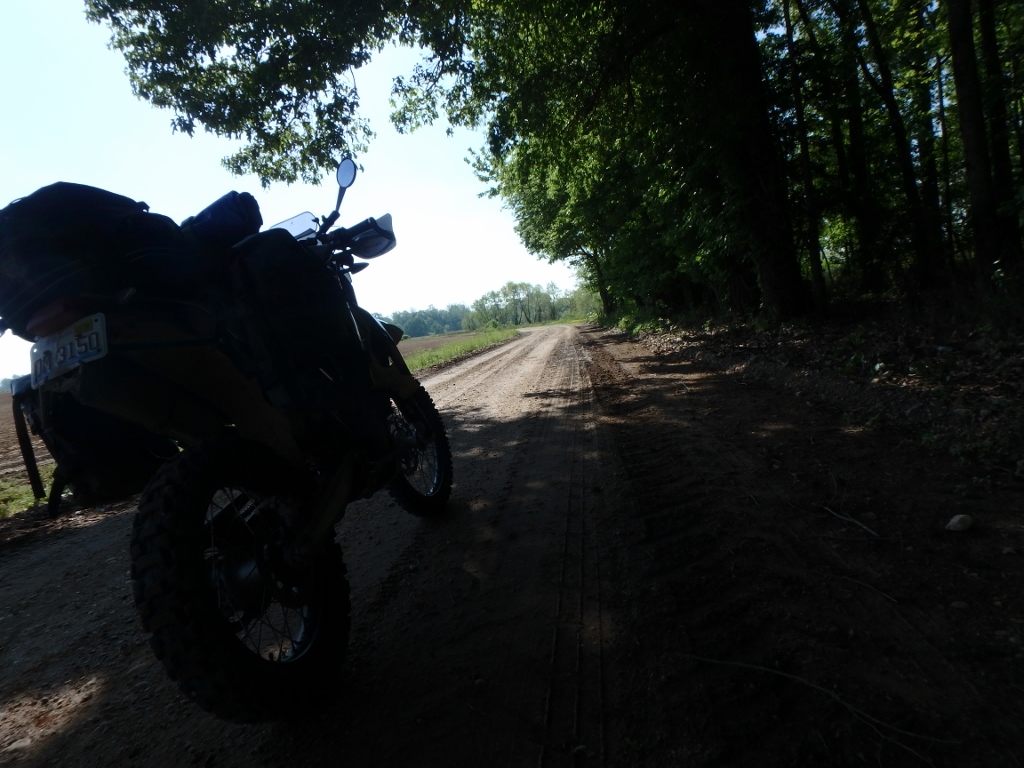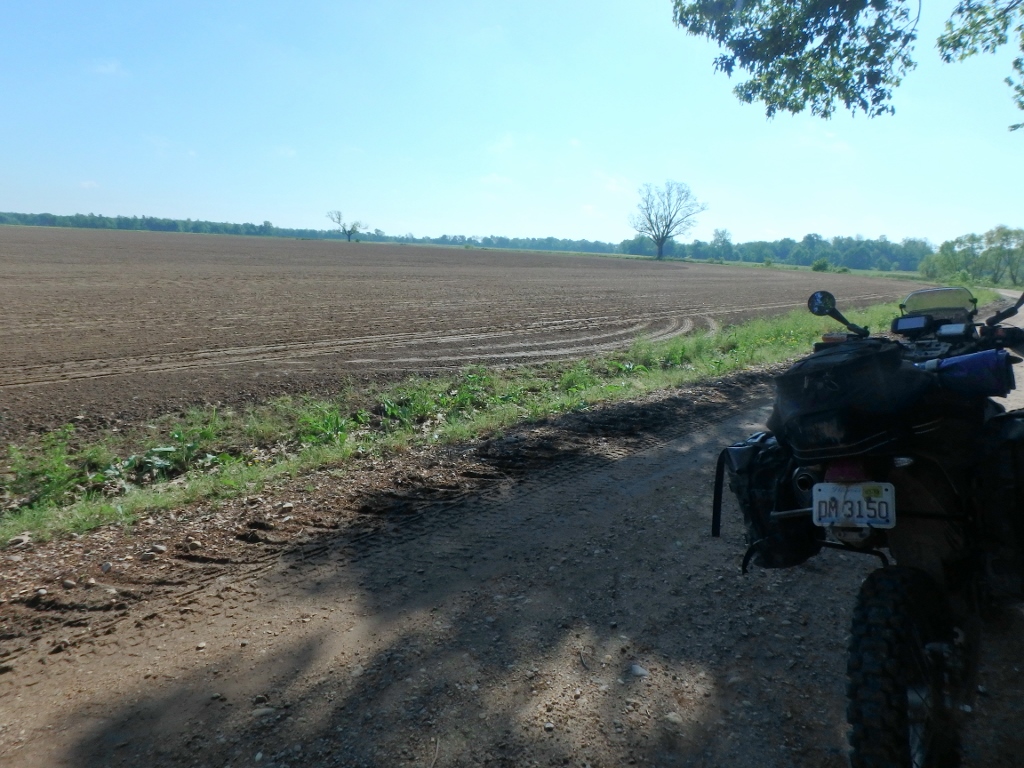 A big river was beside me------and I found out later it's the same "Black River" that I've been
around so much in Missouri.
A few days later this river was probably 15' higher---------flooded. More about that later.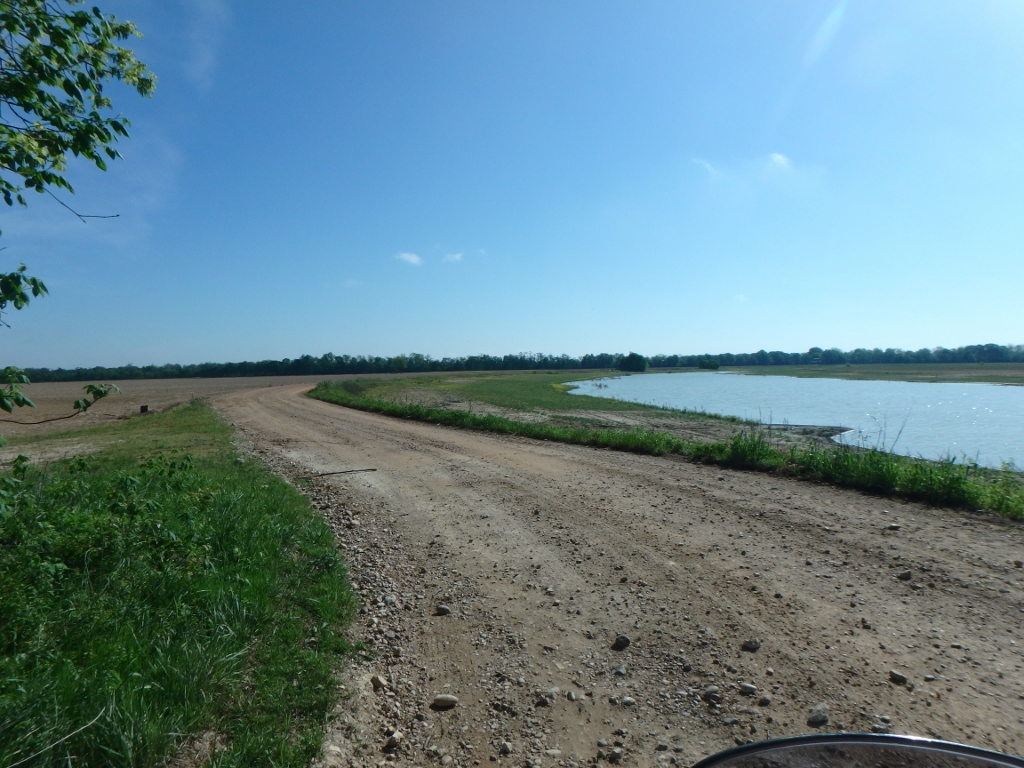 Interesting town---------don't blow thru this town--take a look around.
They used to be a huge suspension bridge over the river here.
And I got to talk to some older folks older than me that played on that bridge when they were little.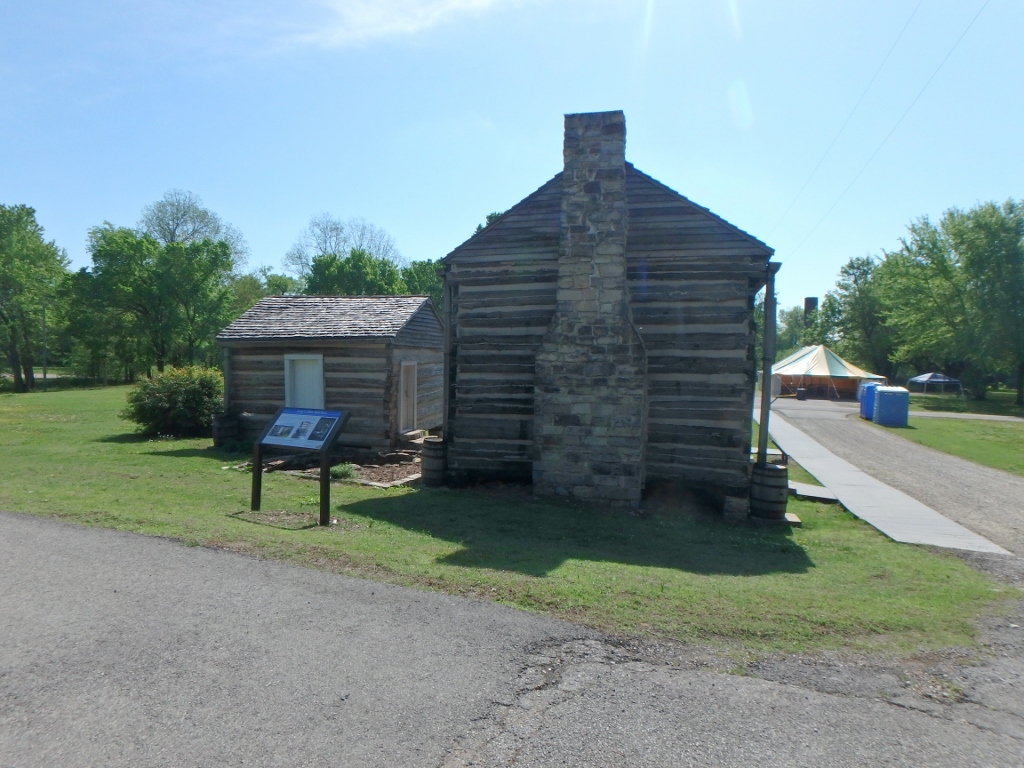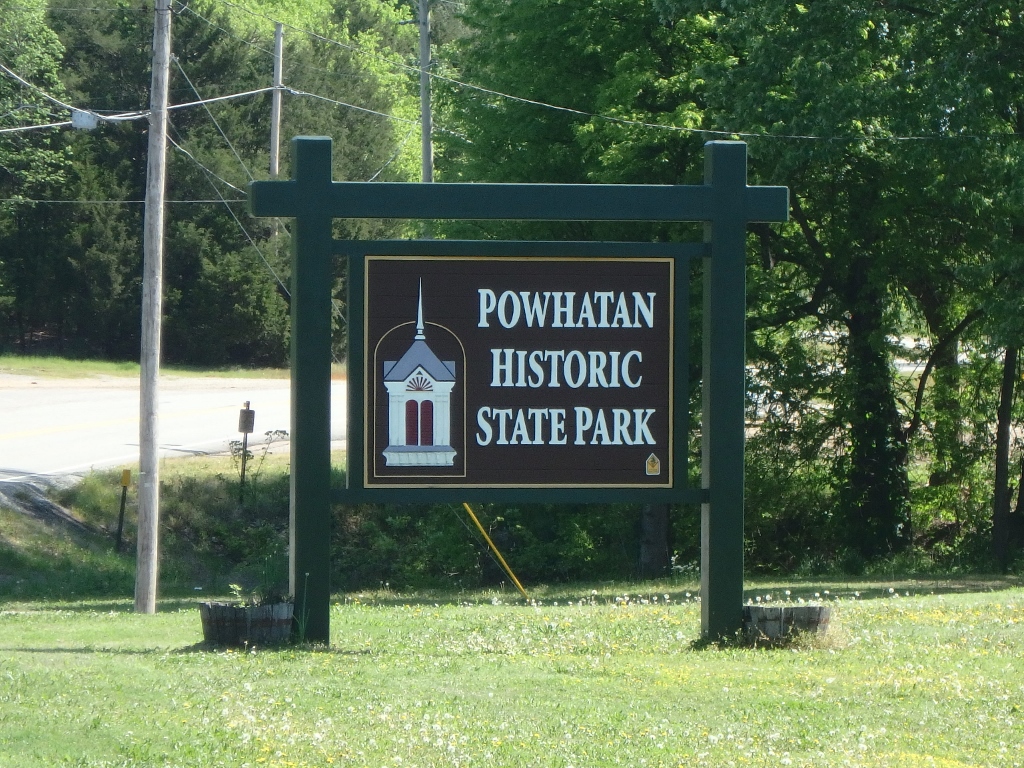 This route takes you out of the way of good offroad riding occasionally to see neat stuff.
The town of Walnut Grove I think ????
This is a schulptor of the beatles------------remember Abby Road ????
I had to join in.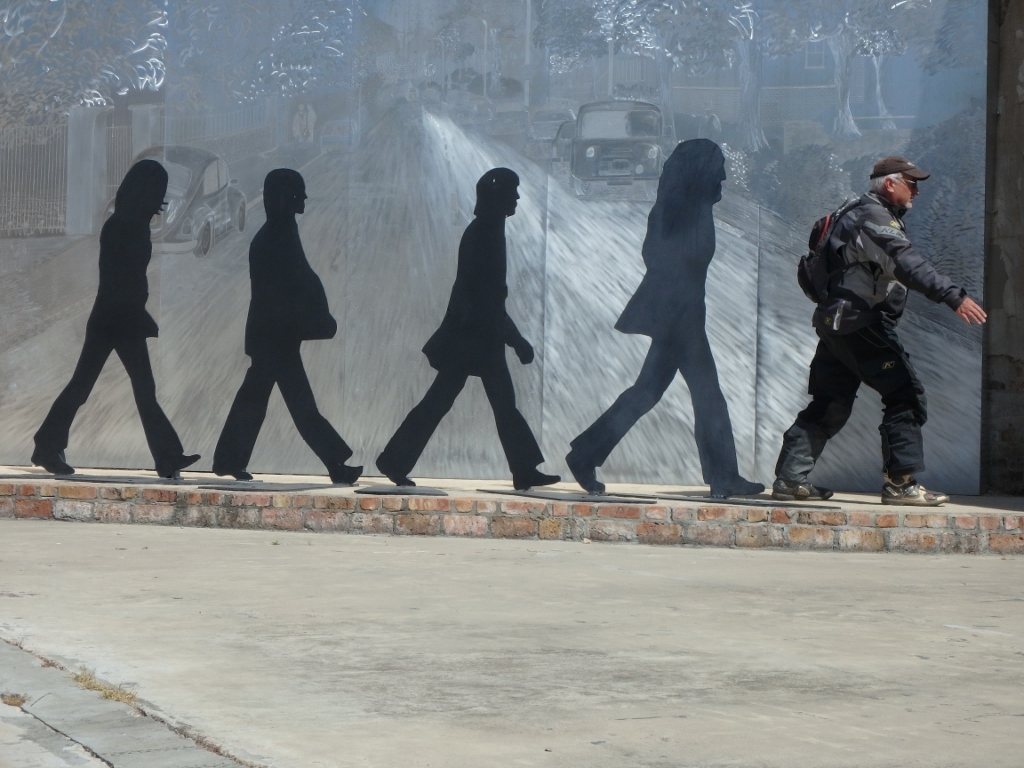 Here is the artist-------he does metal art amongst other things---as owning this ice cream shop next
door to the skulp----ture. I don't know how to spell it !!!!!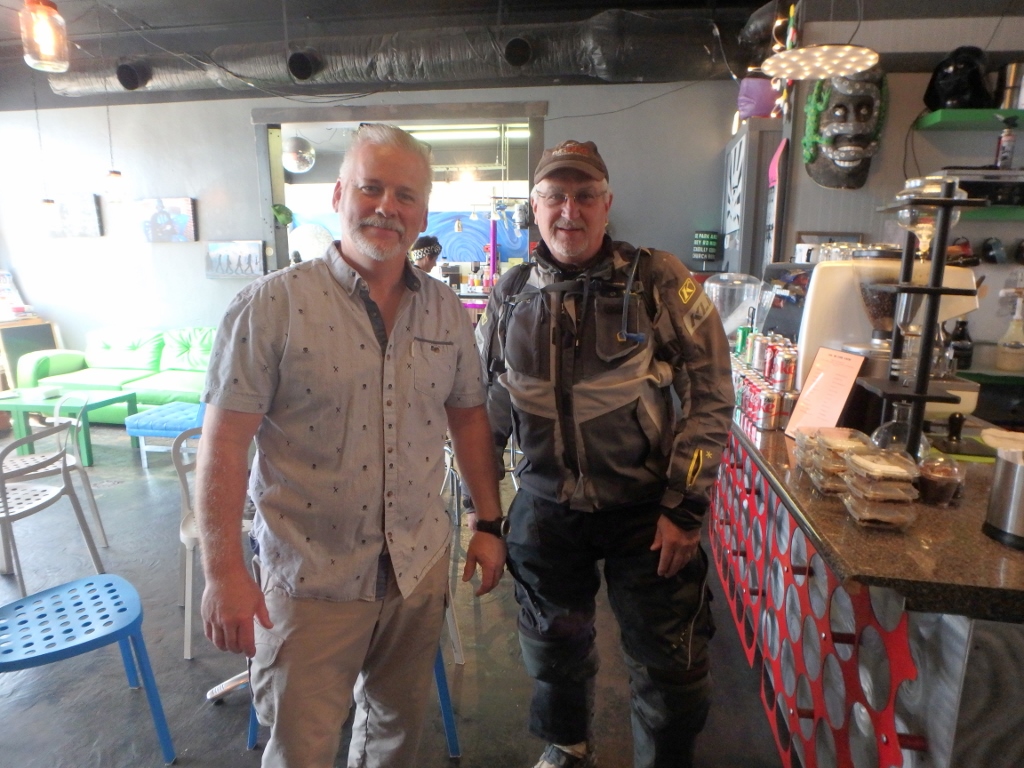 So I had a long visit with him and had an ice cream of course.
He is an avid outdoorsman and does stuff way more adventureous than me.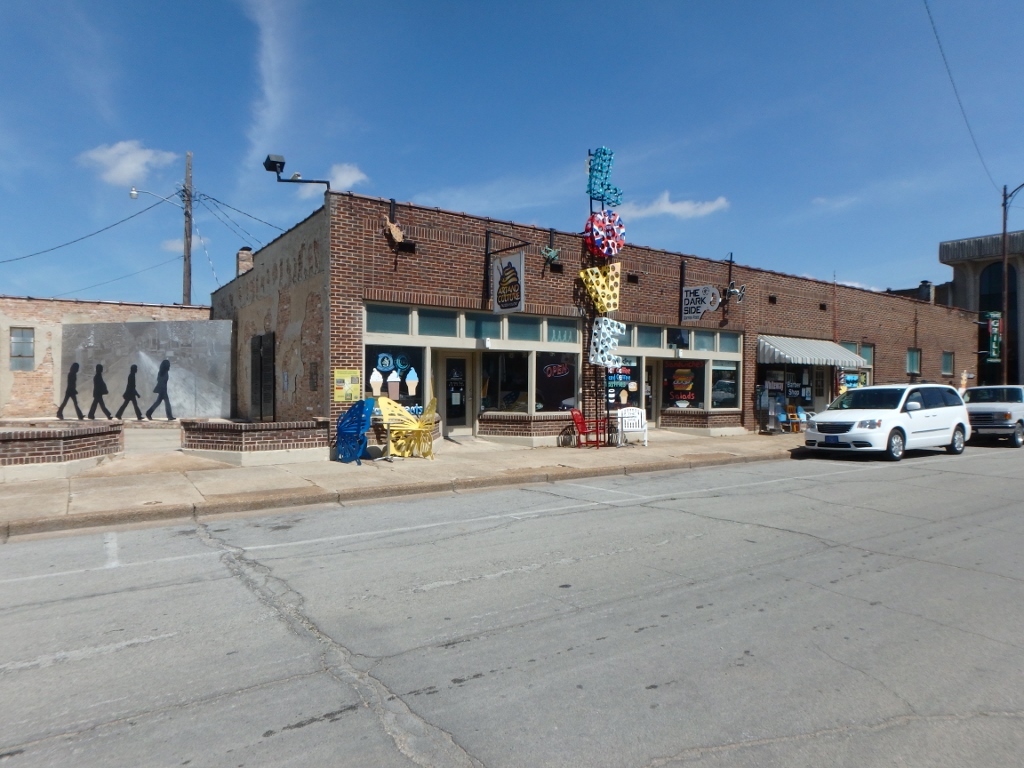 West of the town of Newport, Arkansas you'll come into the tinly town of Oil Trough.
At a big bend in the White river there is a neat little place to sit down, view the river, relax,
have a gatorade---------and take a nap.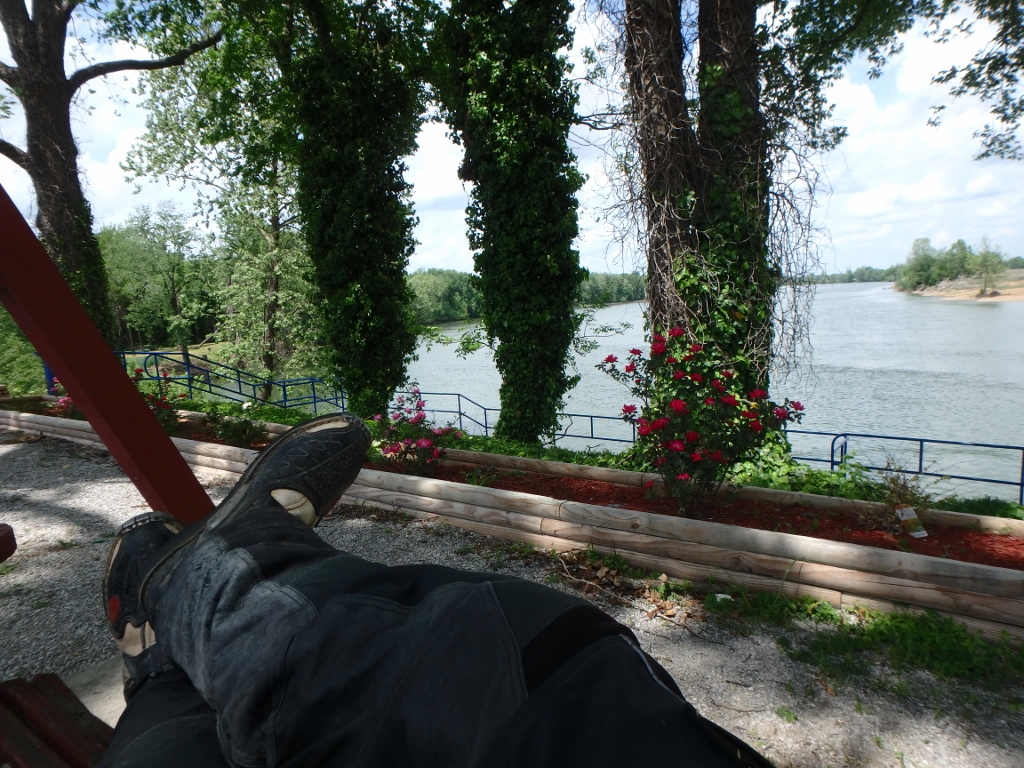 North I went on Hanover Road----now this is awesome and is very representative of the ride.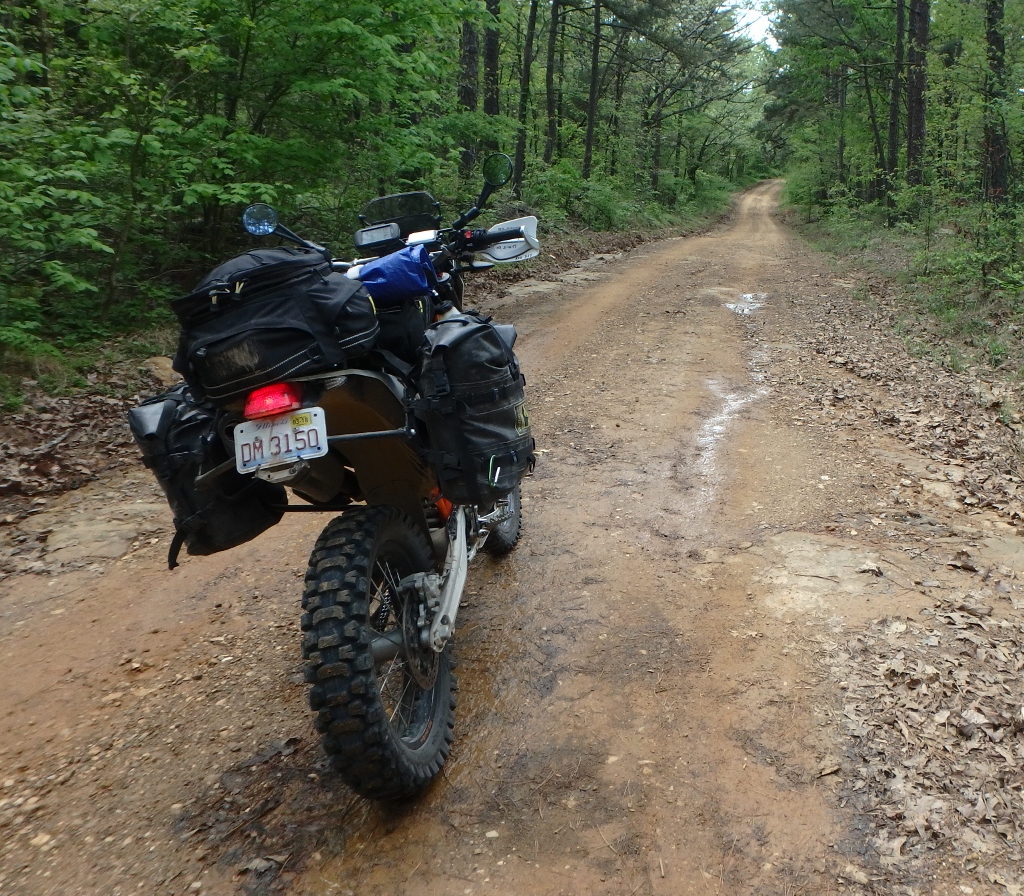 A waypoint was ahead in my gps--------"Turkey Creek Water Xing".
I was alone and hoped I'd be OK in the deep water and possibly slick crossing.
Kind of had a knot in my stomach as I approached.
One of the most fun roads of the whole ride.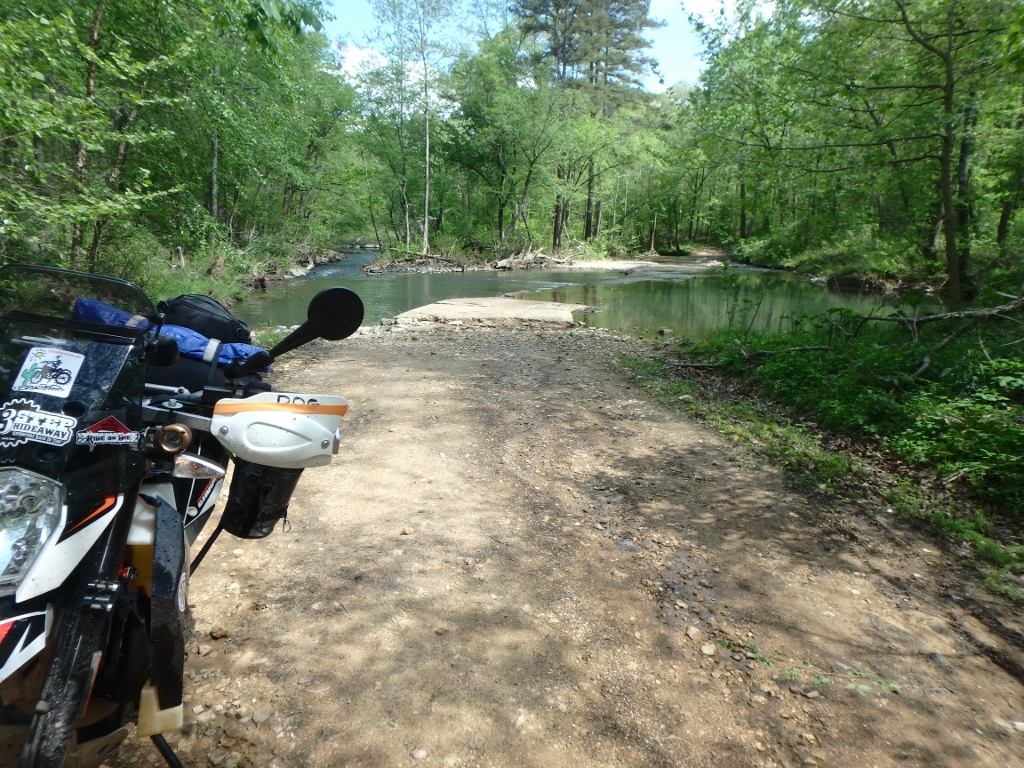 Same crossing----no green slime---------or my expert riding ability saved me...........NOT.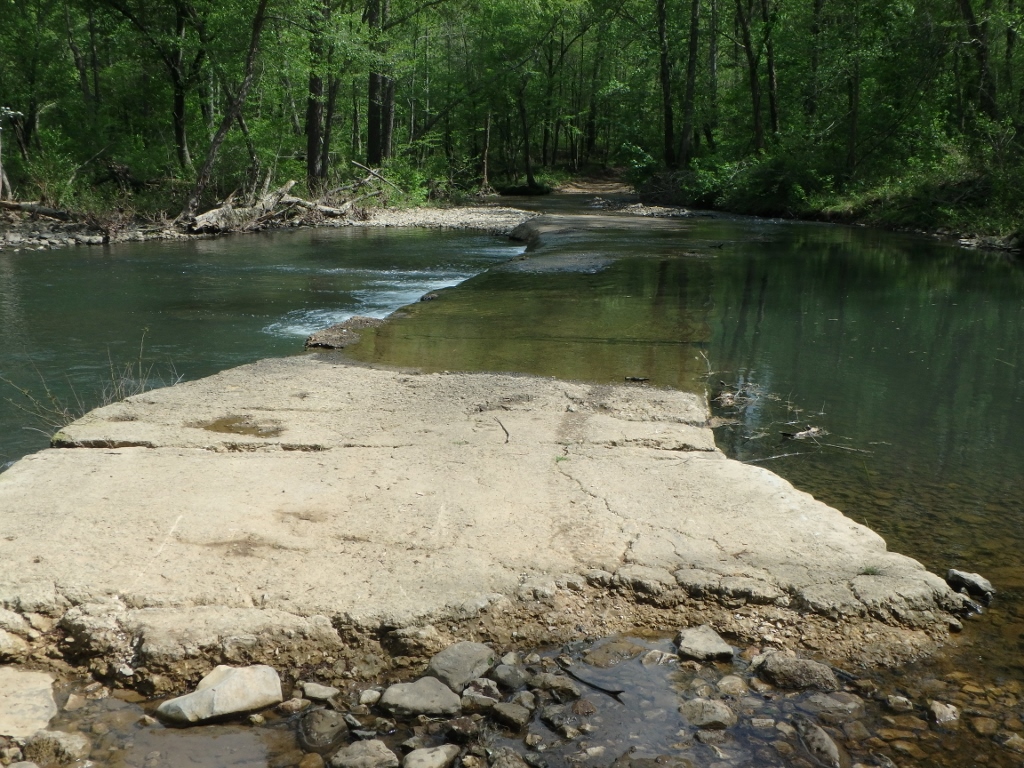 I went down a dead end road to a campground.
A sign was there saying "motorcycle campground".
No road bike would come down here ??? Weeds were grown up and the entrance was blocked off.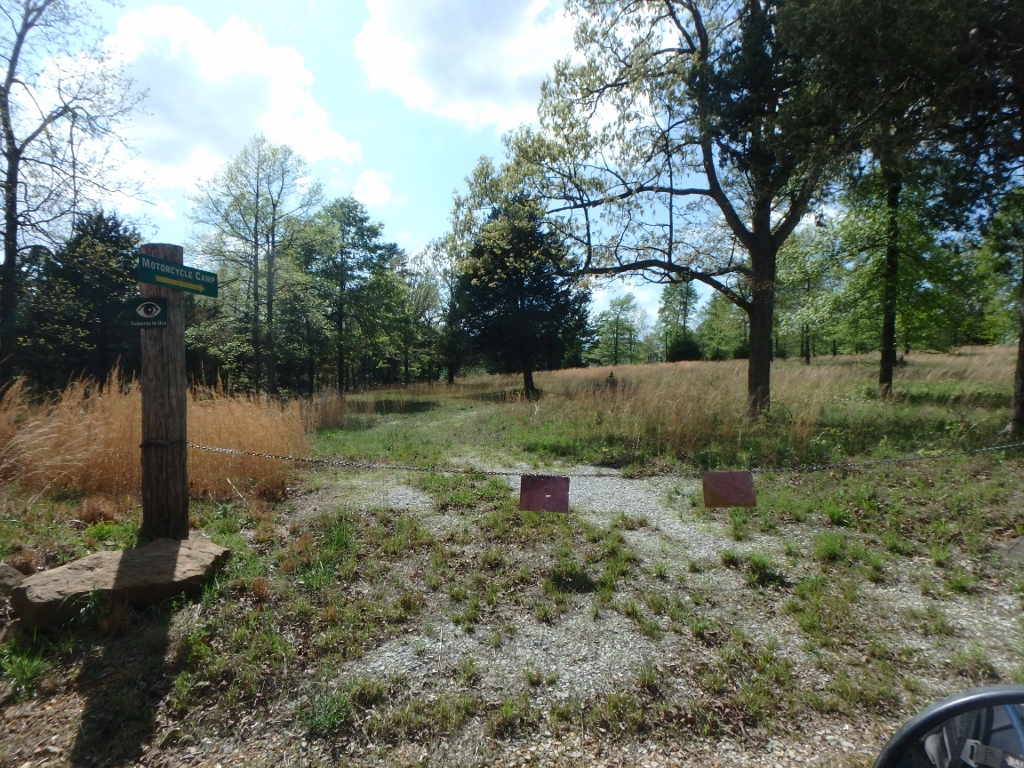 You will cross 40 bazillions creek crossing like this on the ride---some with no concrete.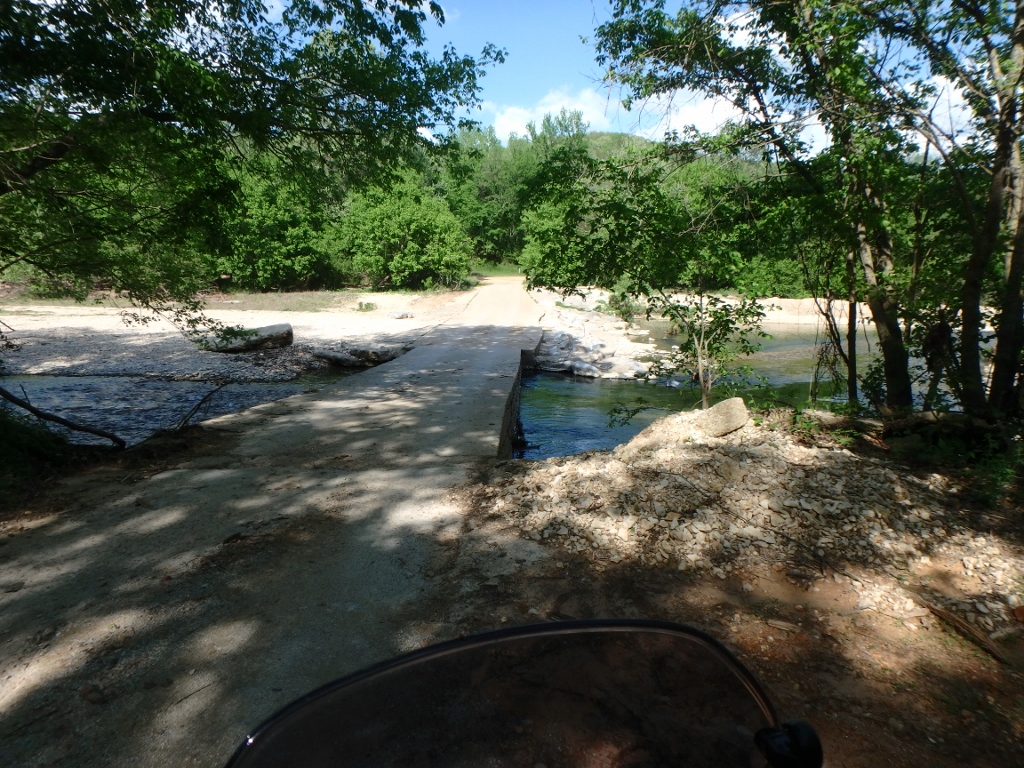 It was getting late and I started looking for a place to end the day.
And I went to Blanchard Springs Caverns state park to camp.
This place was georgeous and had many things to see and do.
You could get in the creek right here----sign said so.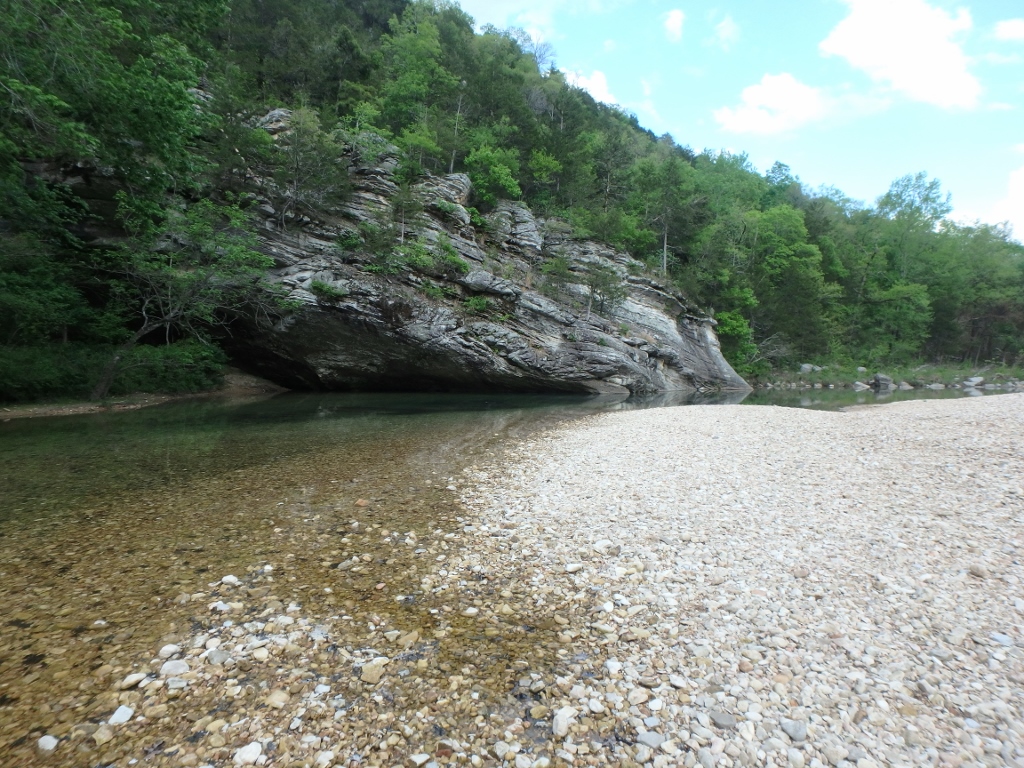 I had to cross two low water bridges to get to the campground and there were signs saying if a big rain
came you couldn't get out till the water went down---------that was plain to me without them telling me.
This is a super pretty place with no wi-fi or cell service.
I paid the old peoples rate of $5 to camp............and they had a nice shower.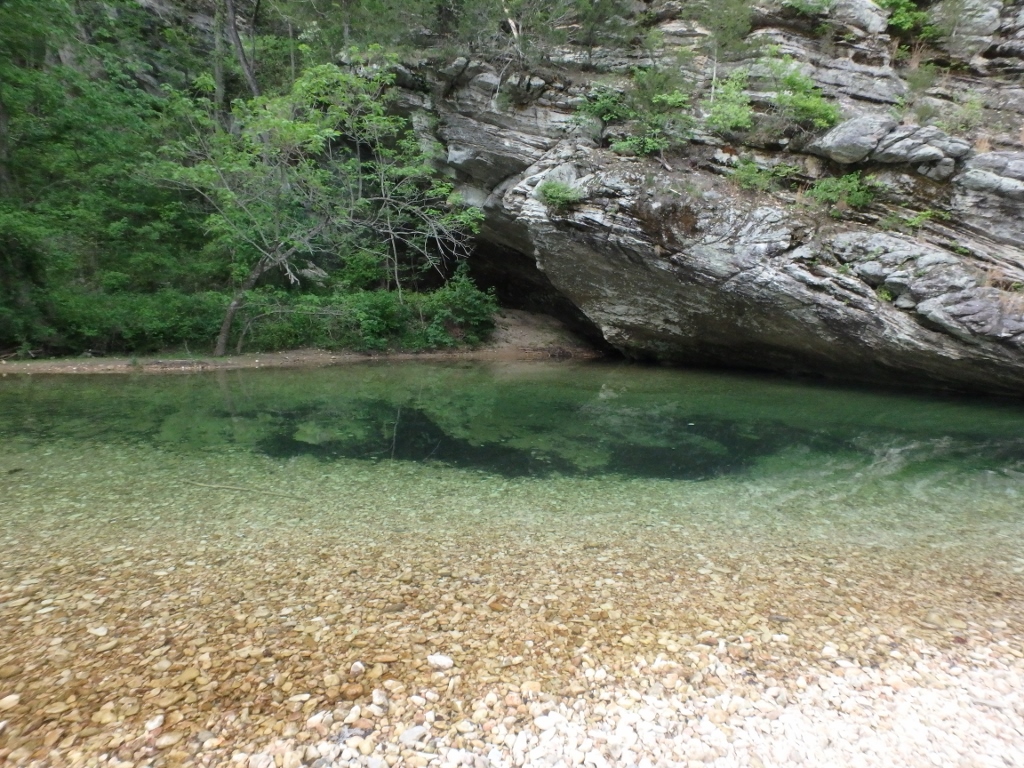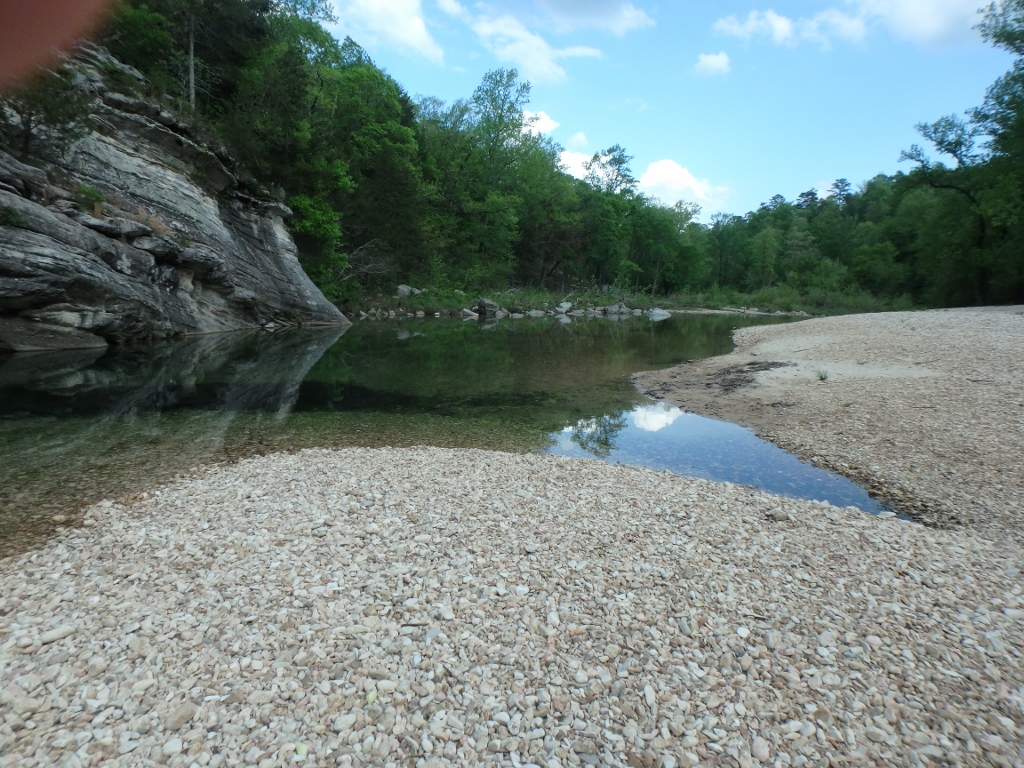 But it was here that I experienced a terrible twist of fate.
Before setting up my tent I took a bite of tuna out of a can and got really sick------really quick.
My stomach doubled me over and I felt so bad I wrote a note and gave it to another camper that had all my
emergency contact info on it in case I got worse--------remember there was no cell service.
I almost set my tent up------but felt so bad I rode to Mt. View, Arkansas and got a motel.
I felt so good to be able to call my wife and talk to her and be around people in case something happened to me.
The fellow back at the campround didn't want me riding my bike to town and soon showed up at the motel to check on me
to make sure I got there.
What an act of kindness---I couldn't thank him enough and gave him a big hug and he called me later to further check on me.

My wife wanted to come and get me------and I wanted her too.
But the next morning I thought I felt good enough to ride back to my truck---and to make a long story short ..........I did.
Didn't think I could.
So on April 20th, 2017 I rode back to my truck and went home--------just a few days before the 100 year rains came to Missouri, Arkansas
and Illinois----------and some other states.
These rains flooded many states--washed homes away----destroyed roads----flooded towns that had never flooded and killed
a lot of people...........but I was safe at home...........what luck.

I finished this ride--------but your probably thinking how------------it's flooded??????????
Stay tuned.
Anyway---here's a video of the ride so far--select HD if you have the speed.
So now lets have "The Rest Of The Story"
Now where was I----------sitting at home watching on TV the unbelievable flooding on the OZAT.
I couldn't believe how bad it was.
So on May 23rd, 2017 I couldn't stand it no longer and set out to finish the ride as the flood waters seemed
to be receding.
And decided with all the flood waters I needed a bigger bike----------how stupid would this be!!!!!!
I took all the gear off my 690 and packed it on my Africa Twin and thought I'd be a big boy
and finish the OZAT---------and road it back to where I left off before the floods----alone.
I got hungry on the way----I luv Sonics----and Wendy's.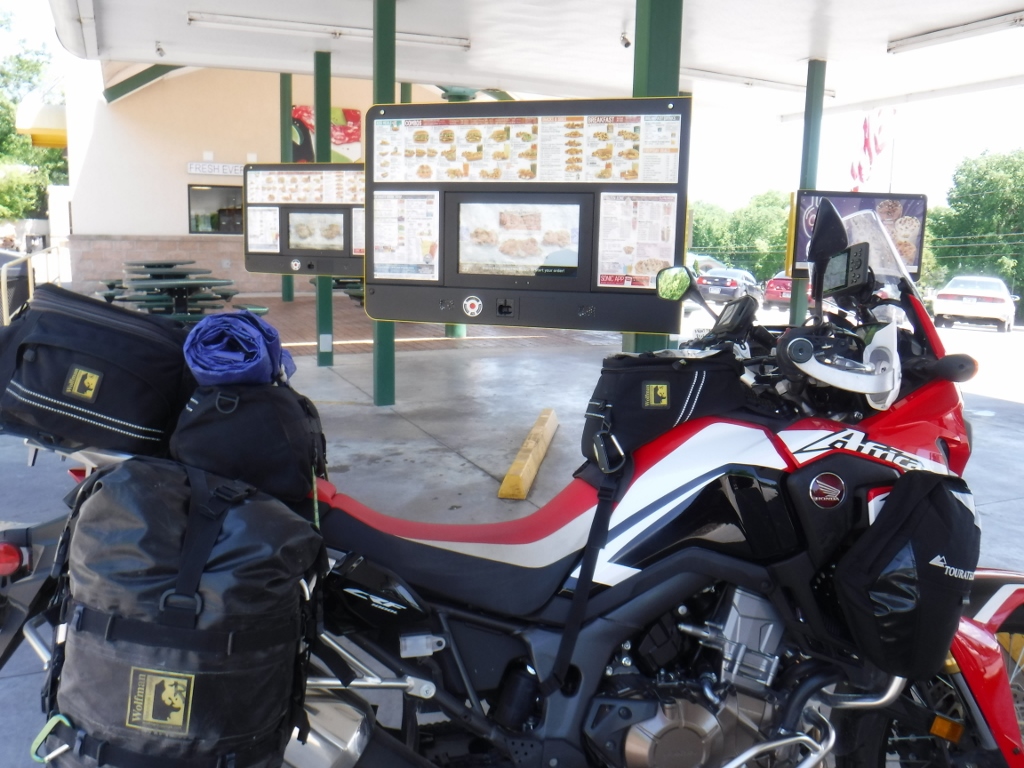 Oh---almost forgot------here is what I did after going home from my first attempt waiting for the
flood waters to go down in Missouri and Arkansas------never been accused of being smart.
The Swinging Bridge Ride in Missouri
And on the way I camped at a campground on the Buffalo River near Harriet, Arkansas and ran into a very small
gathering of BMW riders--------and my buddy "Scott"---on the left.
He was riding his Honda CB500X---------highly modified.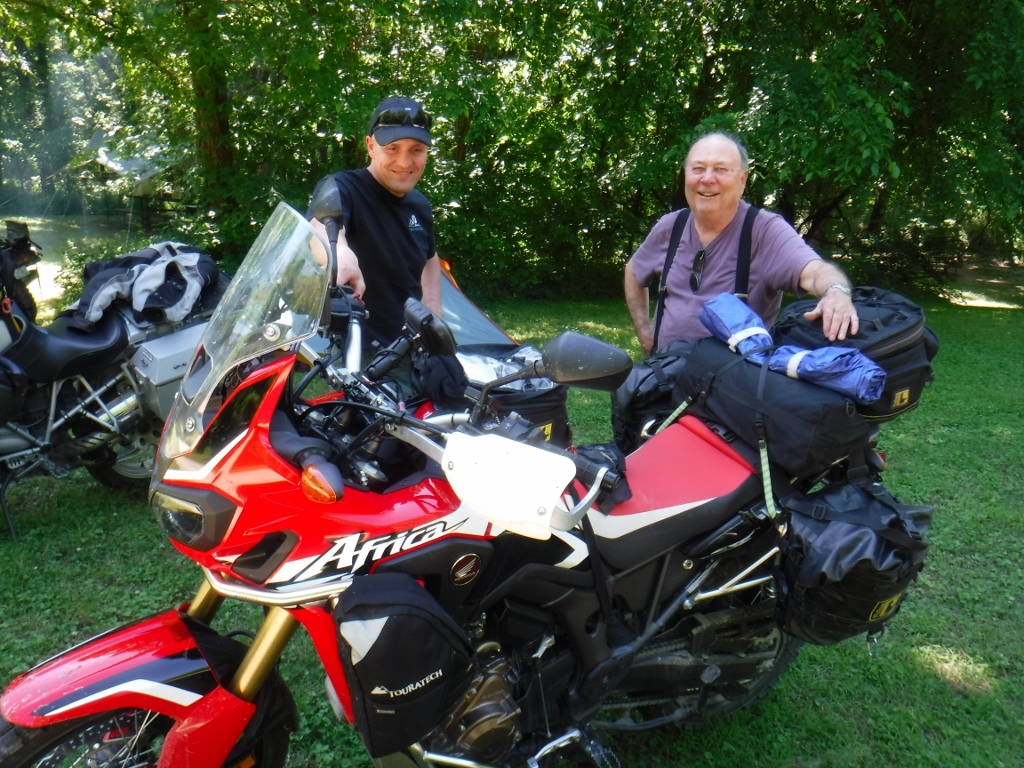 I had ridden a long way from Illinois to this campground.
But Scott was ansy for a short ride and off we went----getting back at almost dark thirty.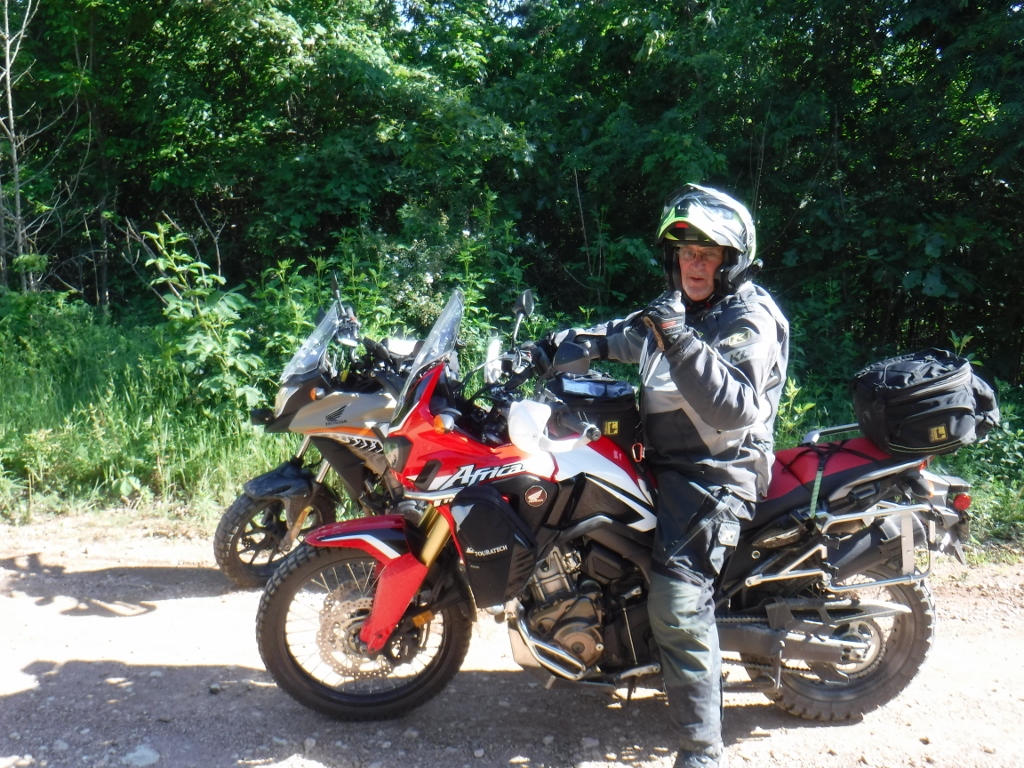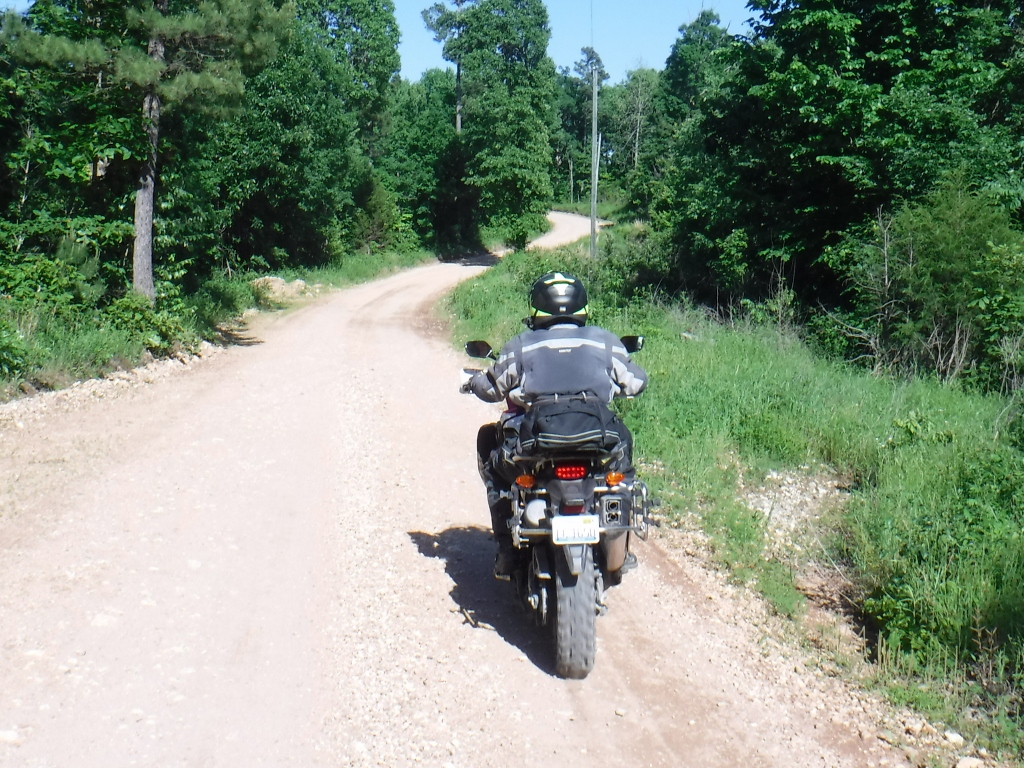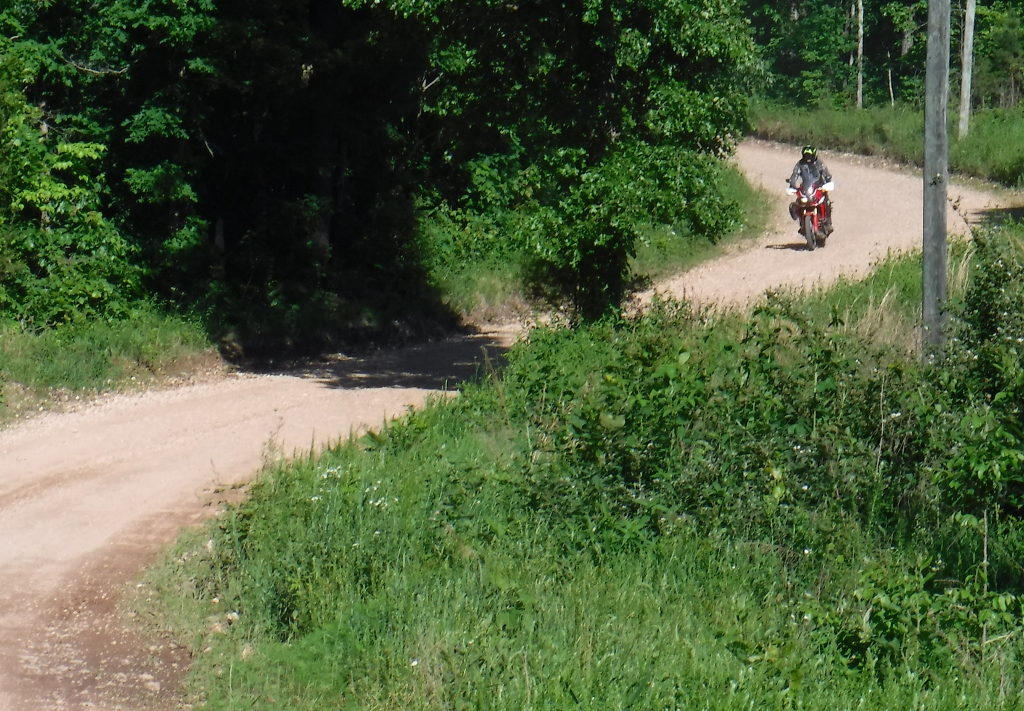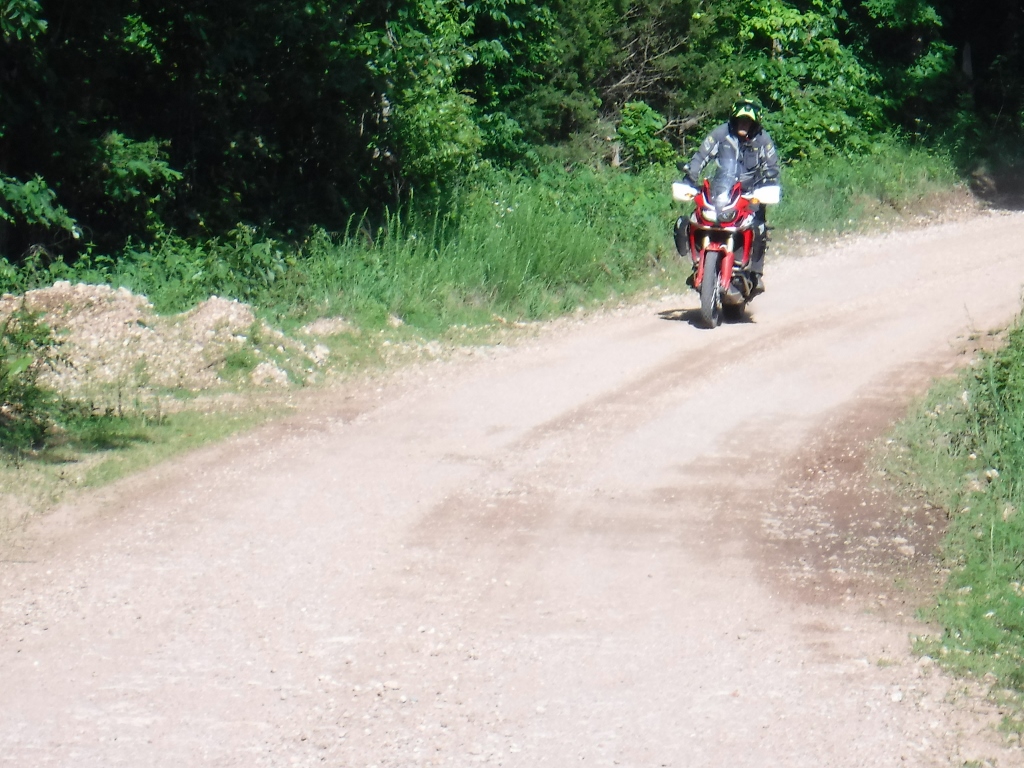 I followed him and all I remember is we went thru this area called "Barkshed".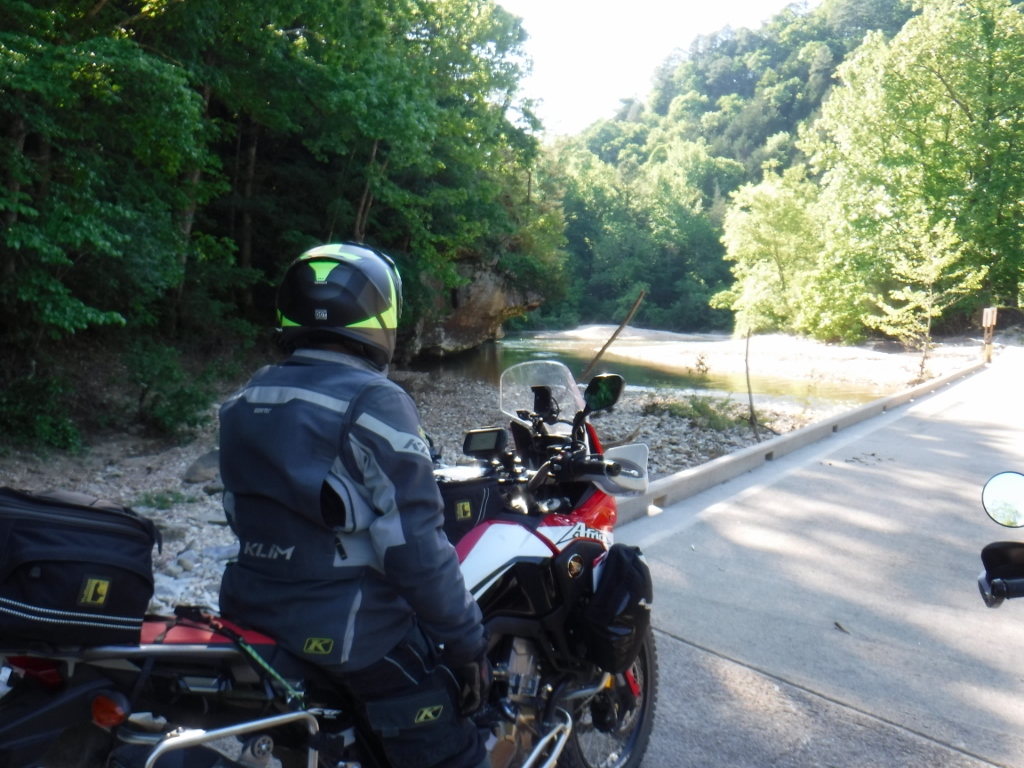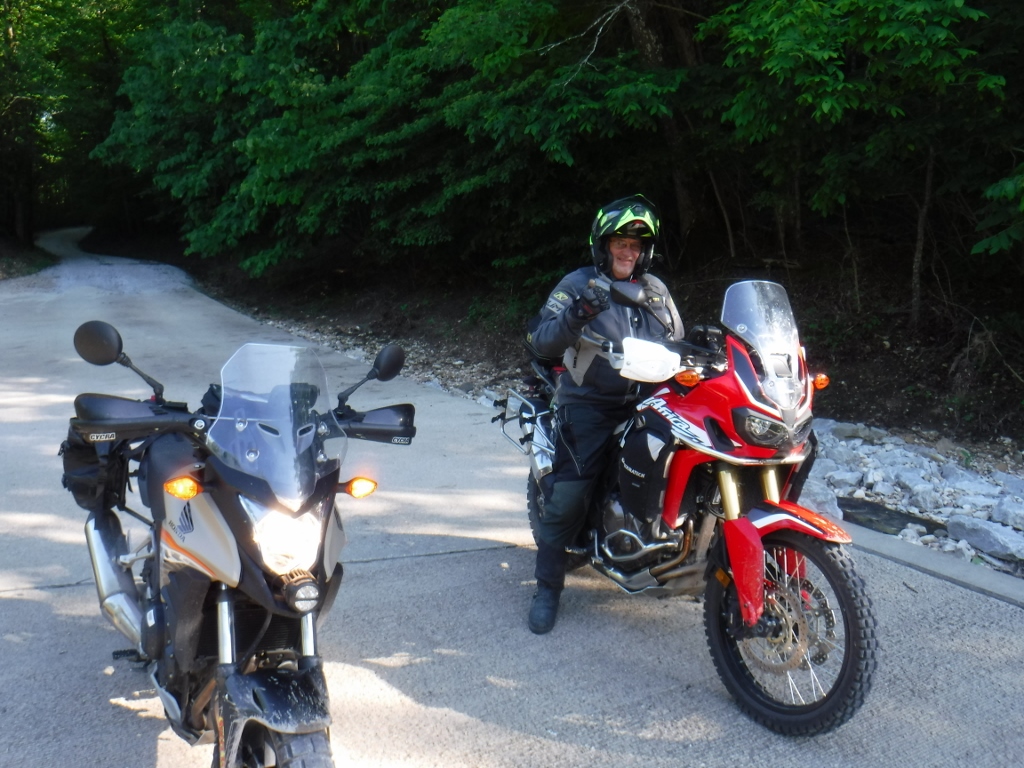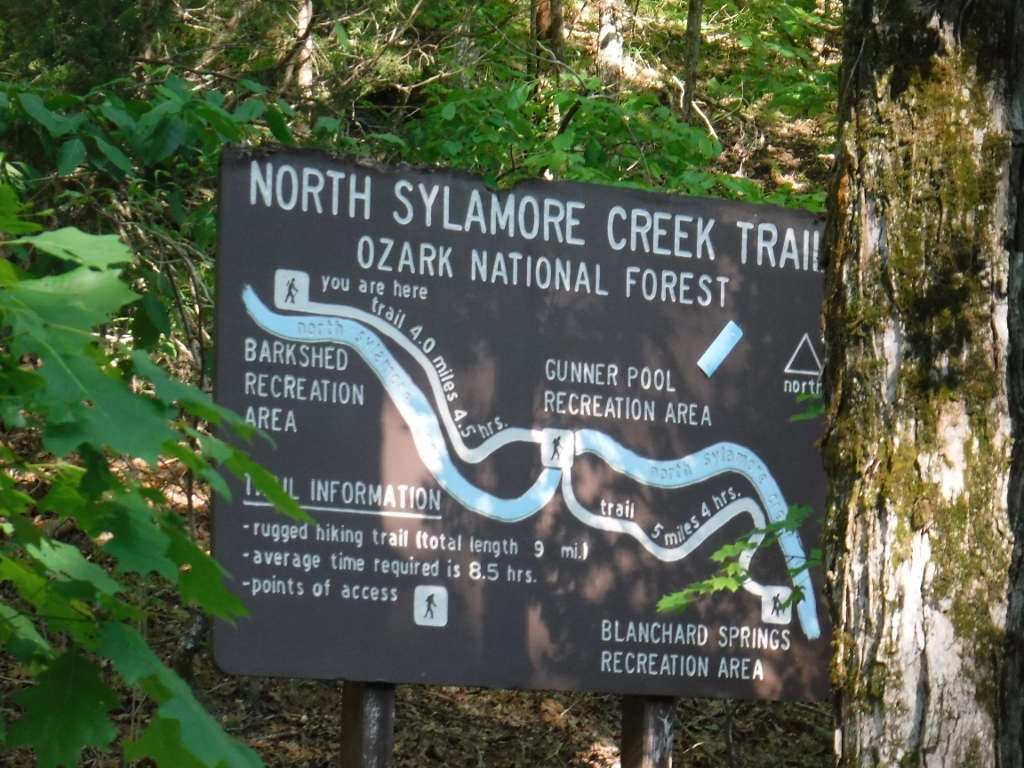 We found this really cool man made dam which made a sort of waterfall.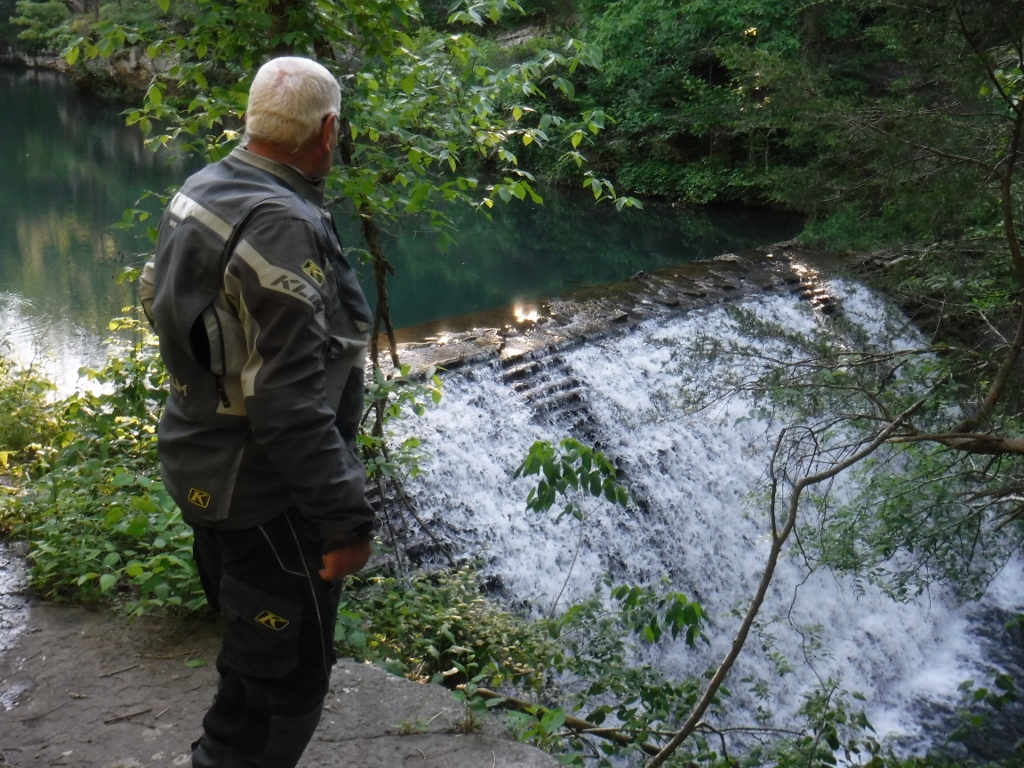 Scott----------he's a lifelong military guy.
And so was his dad---------and his dad's dad.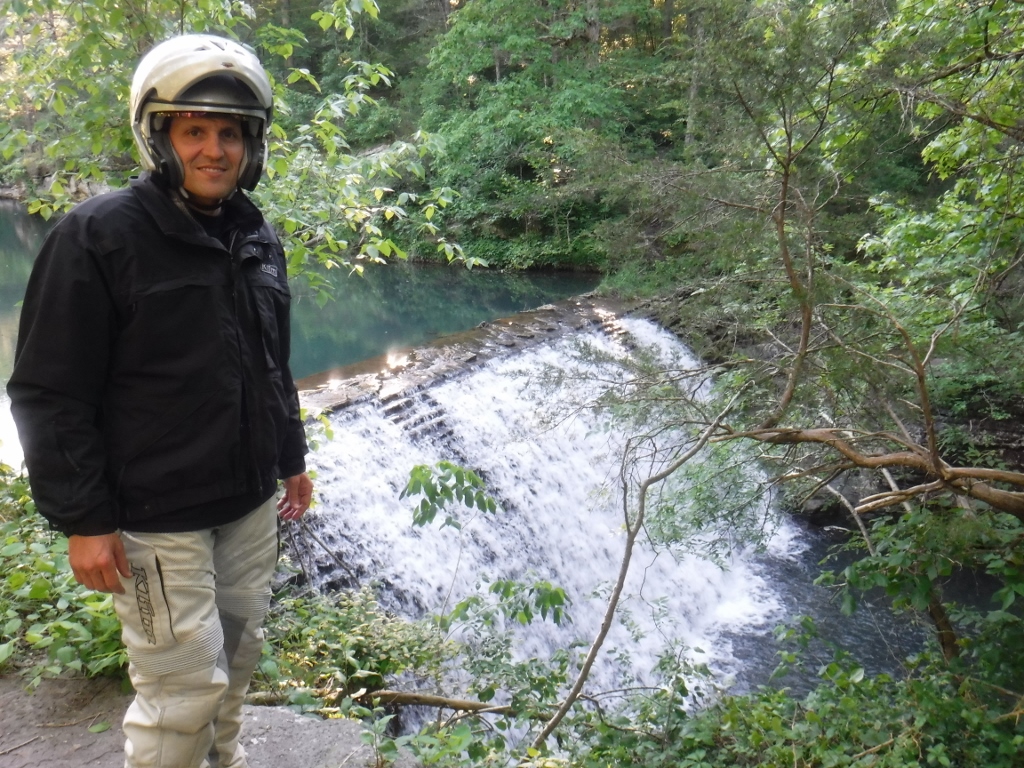 Then we get on this road some call "The Dragon".
A very curvy road.
I'd been on it before years ago and know it as the "Pig Trail".
So we rub the sides off our tires a bit on it.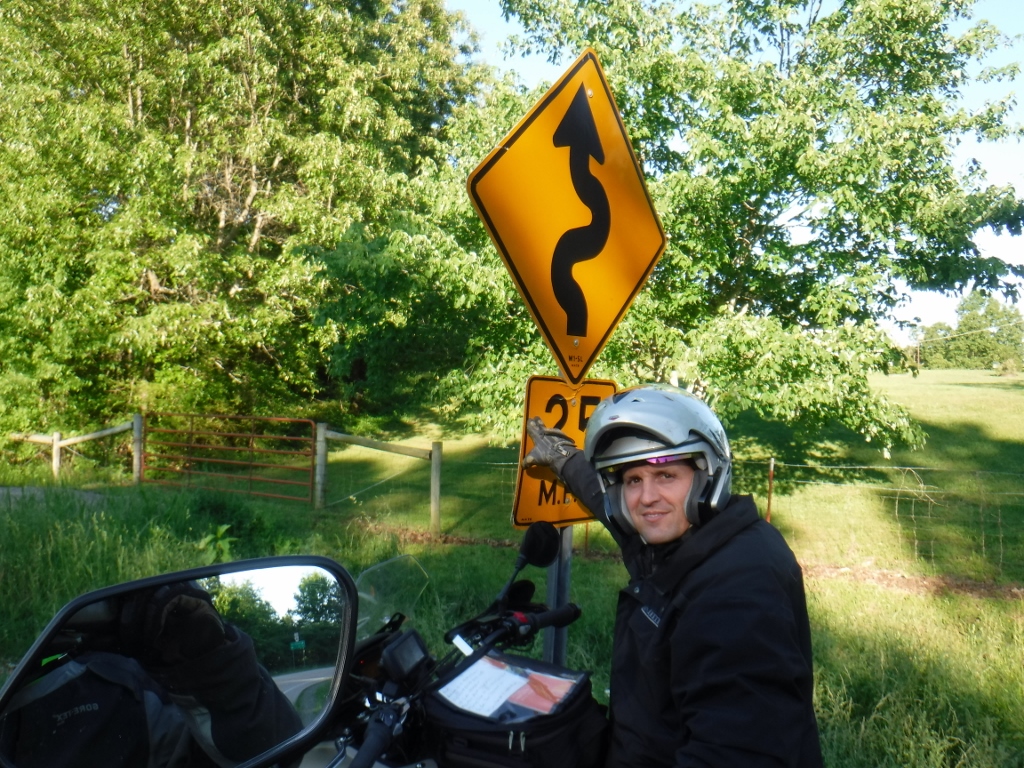 I had a nice time with these beemer folks and they cook us a great evening meal.
We couldn't eat it all and sacrificed most of it to the racoons peering at us.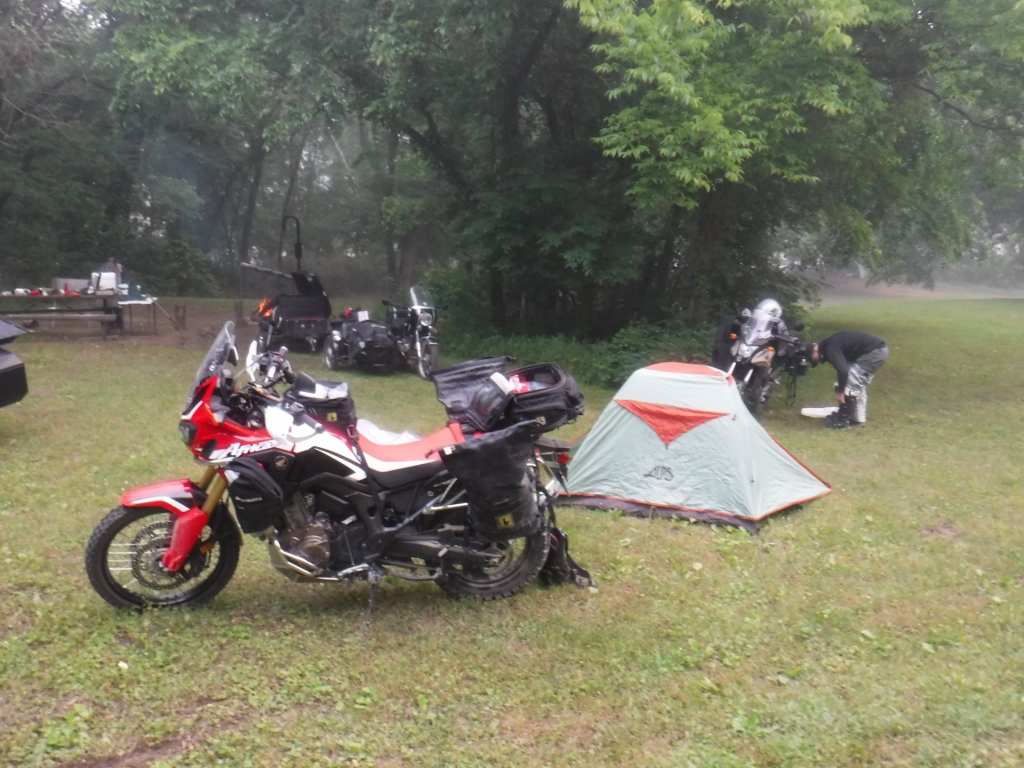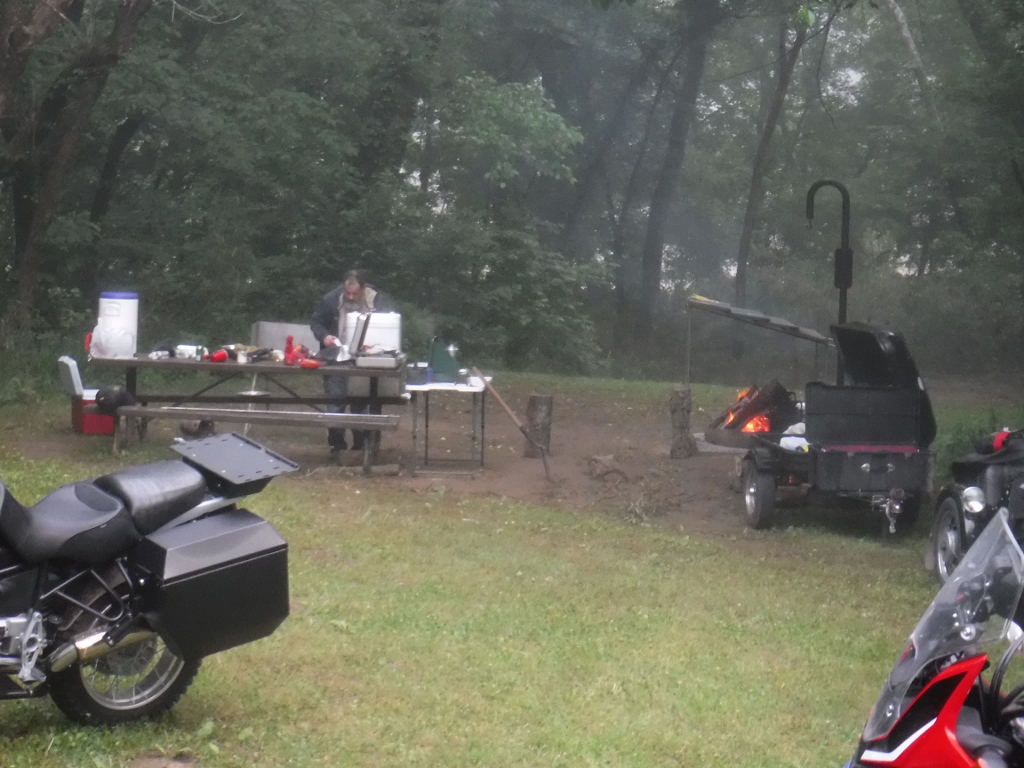 The next morning was beautiful after I got out of the fog around the river.
I thought Scott was going to stick with me a bit----but he turned his bike toward home.
So I was riding alone again. On a big bike---riding sometimes maybe where I shouldn't have alone.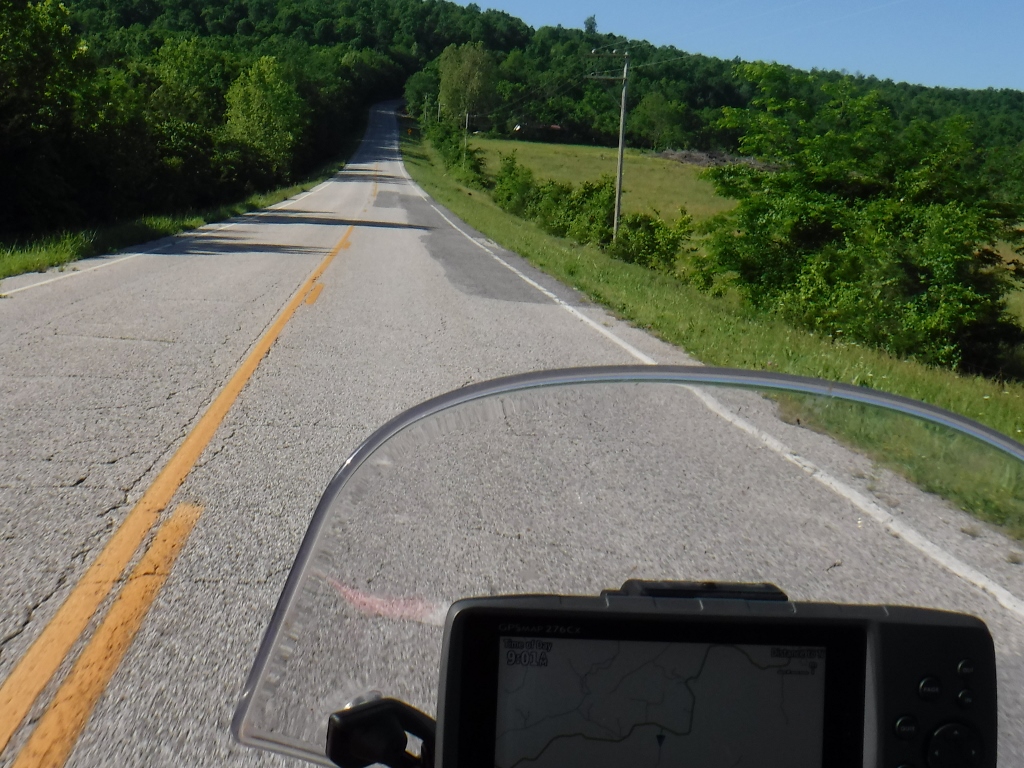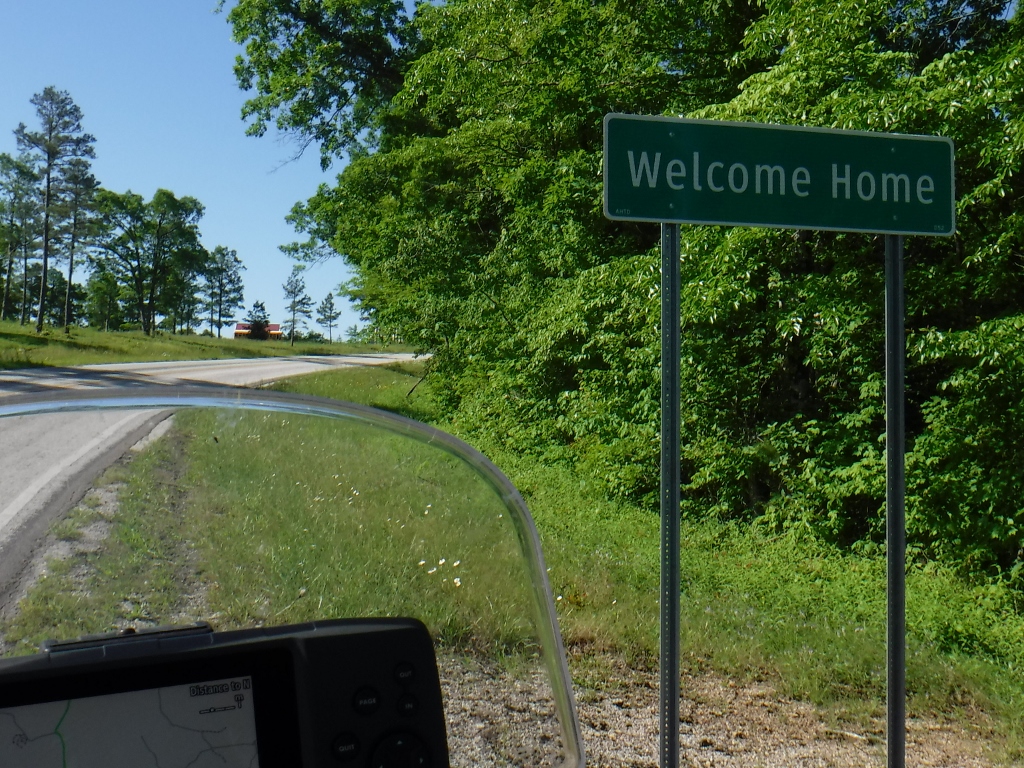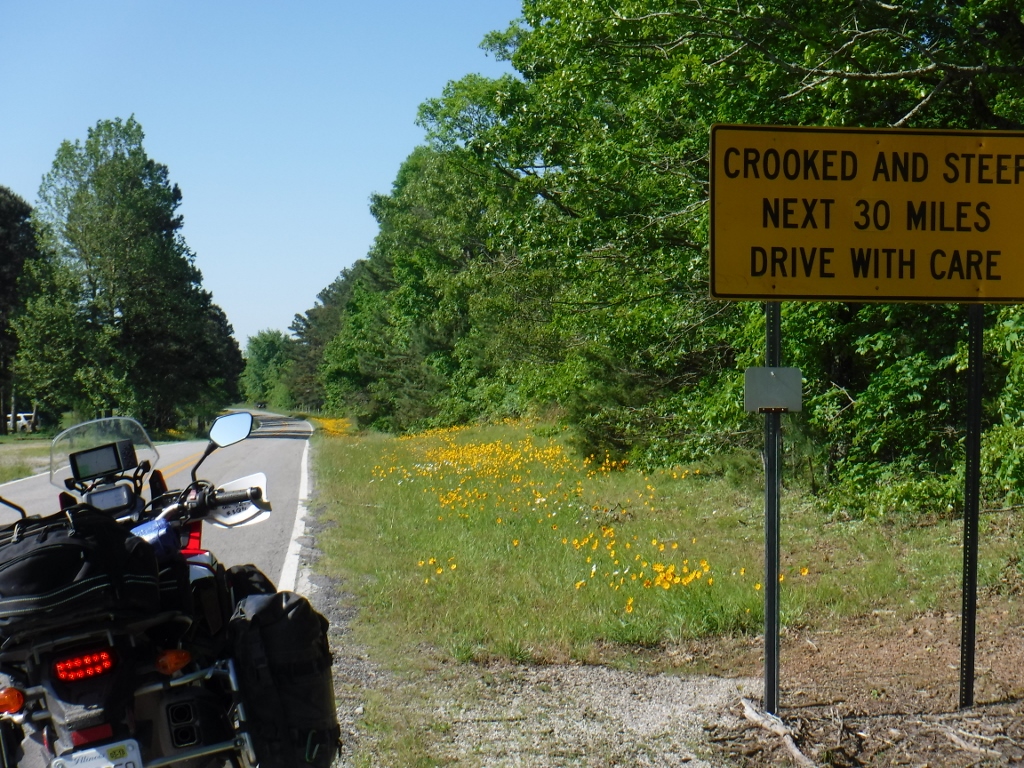 I was expecting some back un-paved roads to be still flooded---but not a main highway.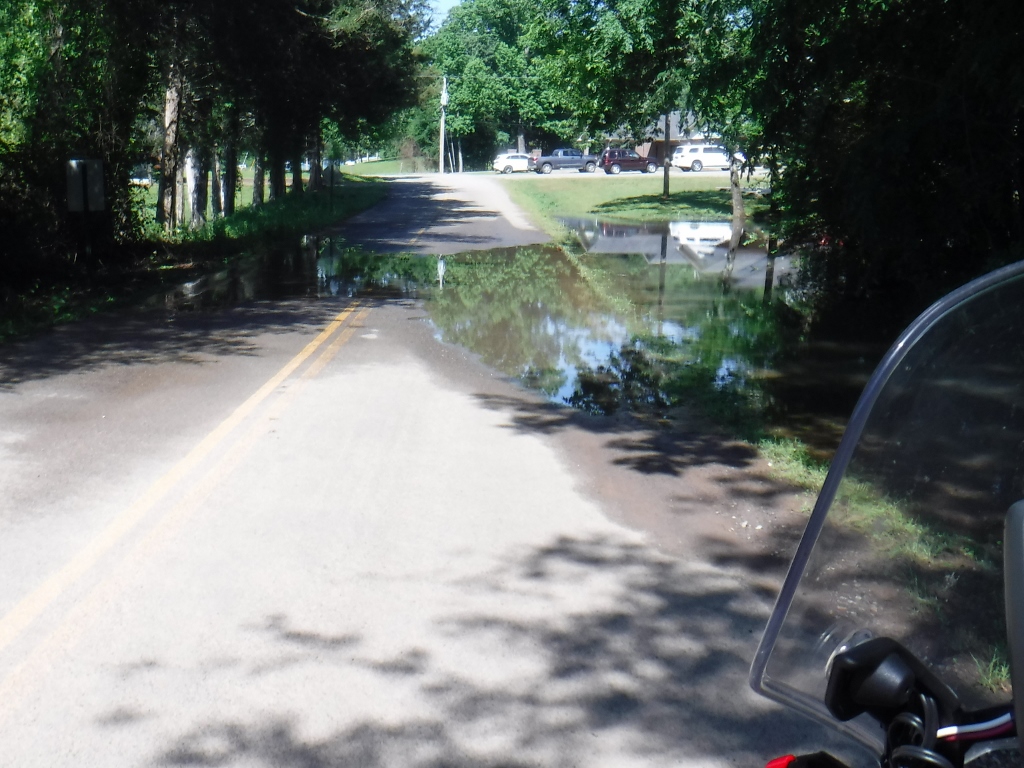 Well after all........this is the "Ozark Adventure Trail".
Why am I running 2 gps's---------cause there wasn't room for 3.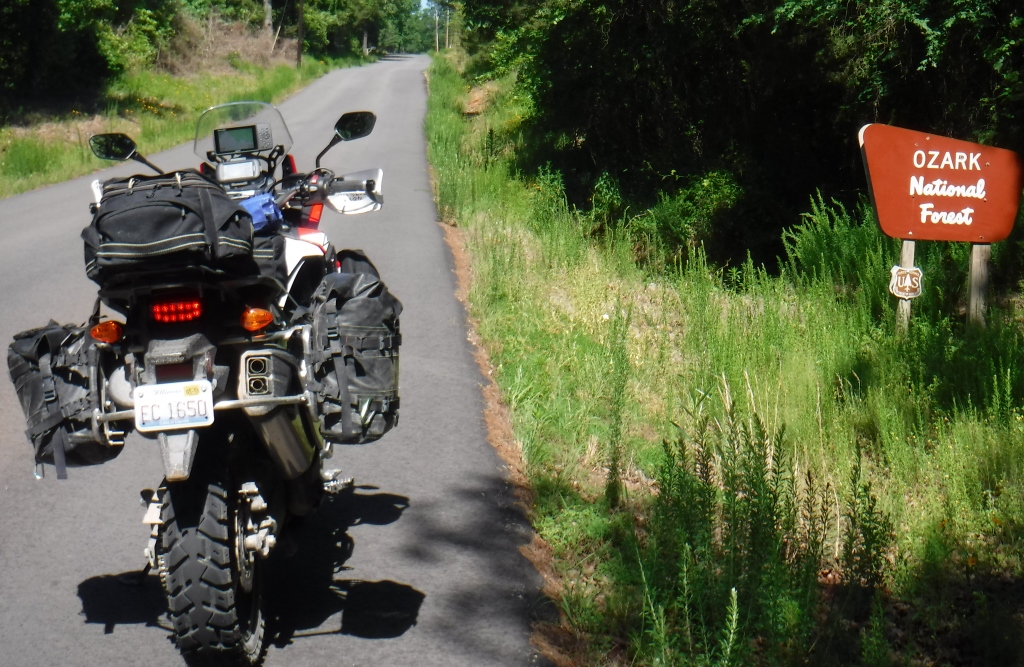 Somewhere along the ride I came to this really small but neat covered bridge which went
to a private residence--------lucky people.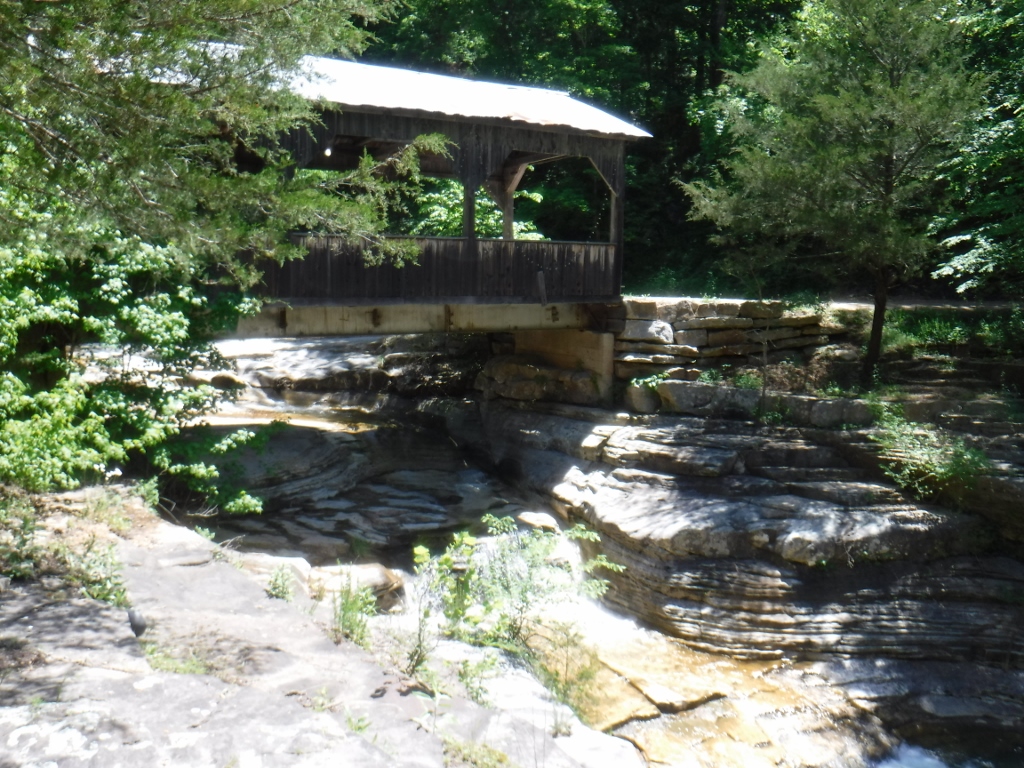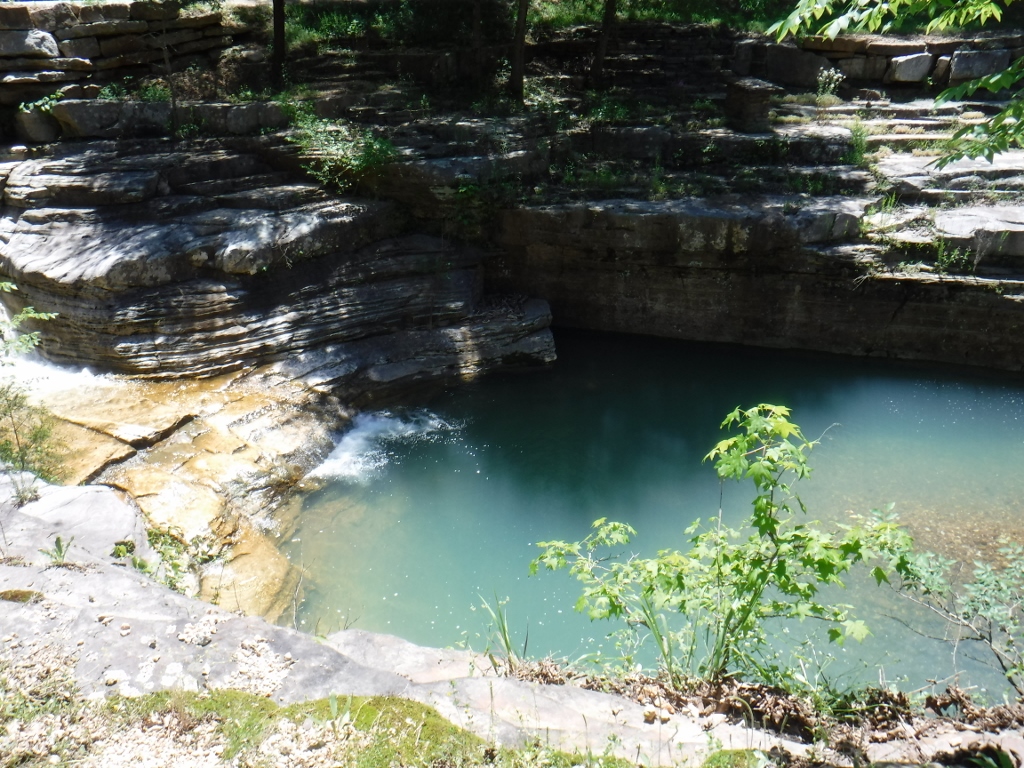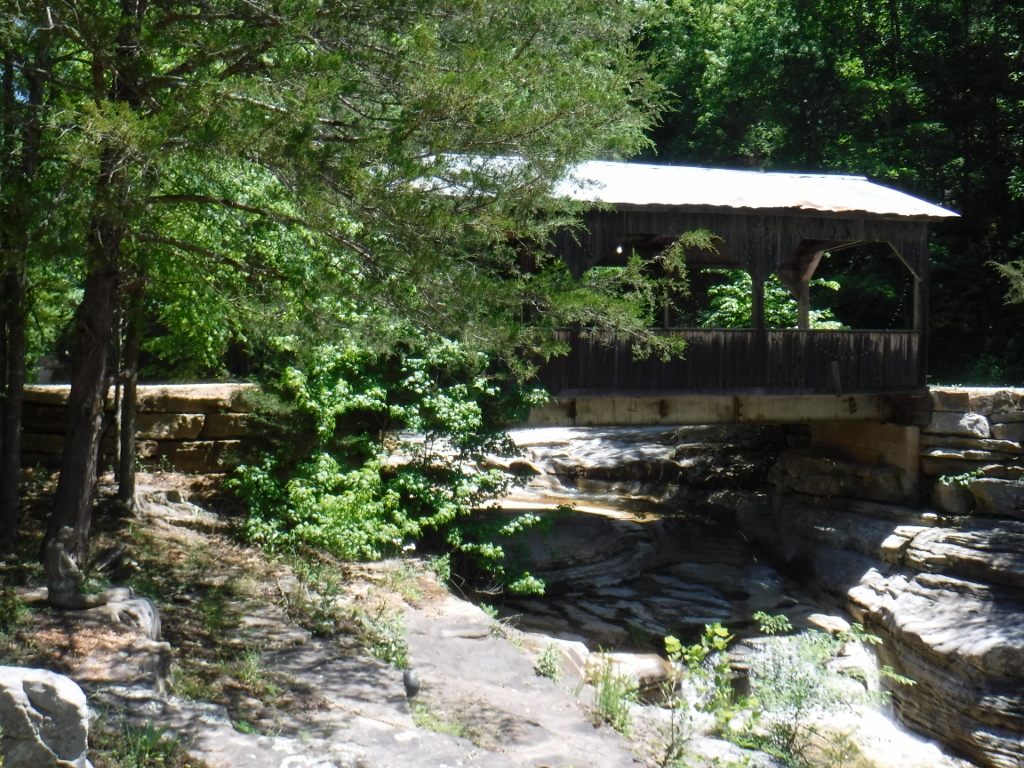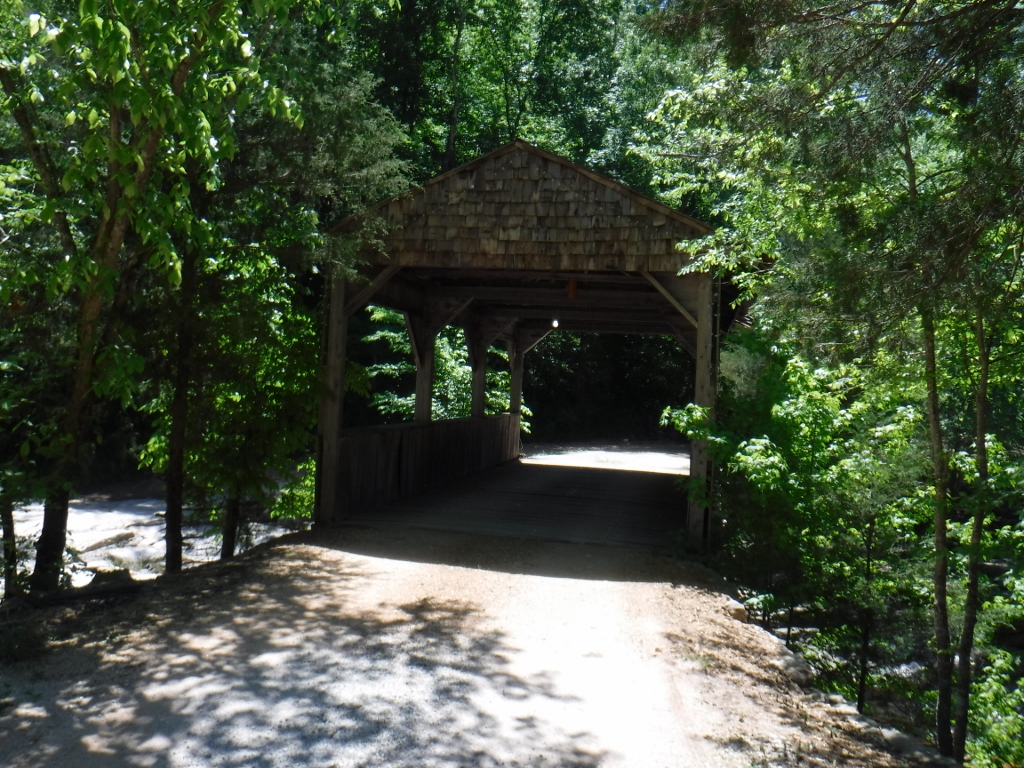 I wasn't allowed to cross the bridge.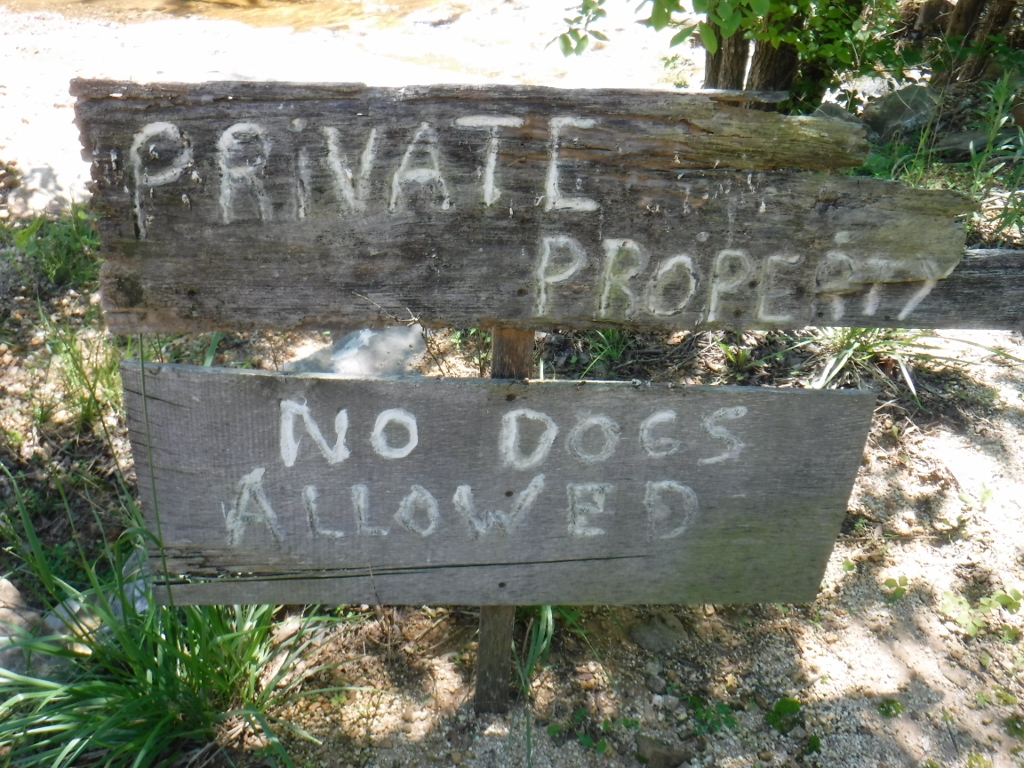 This is the "Buffalo Outdoor Center"
Lot's to do around here. Canoe, Kayak and Zipline.
I think the town was Ponca, Arkansas.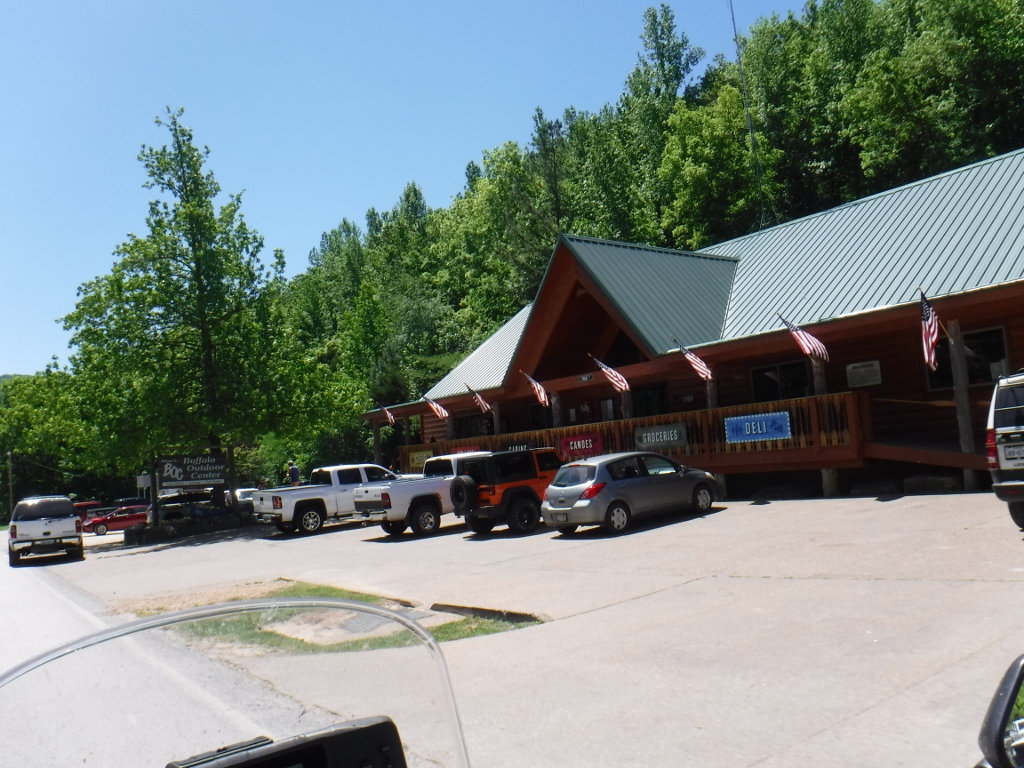 Road some great dirt and gravel roads toward Oark, Arkansas which is where the
Trans America Trail goes thru.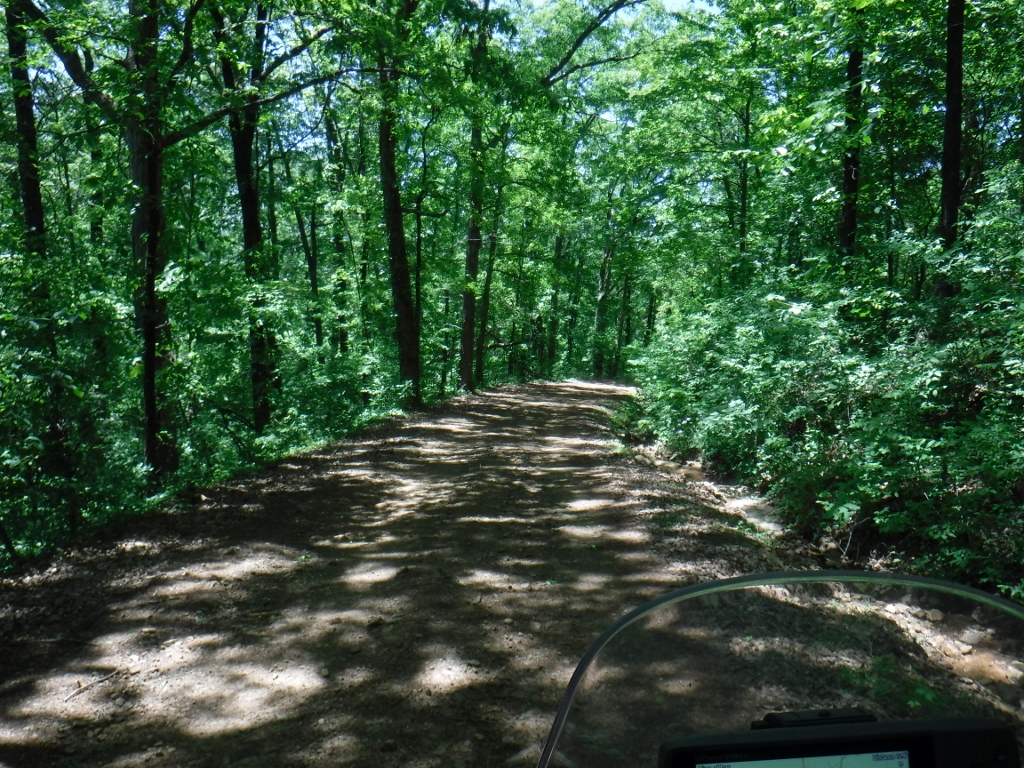 And at the Oark store I ran into these hooligans------on hooligan bikes---there was 3 of them--that makes a gang.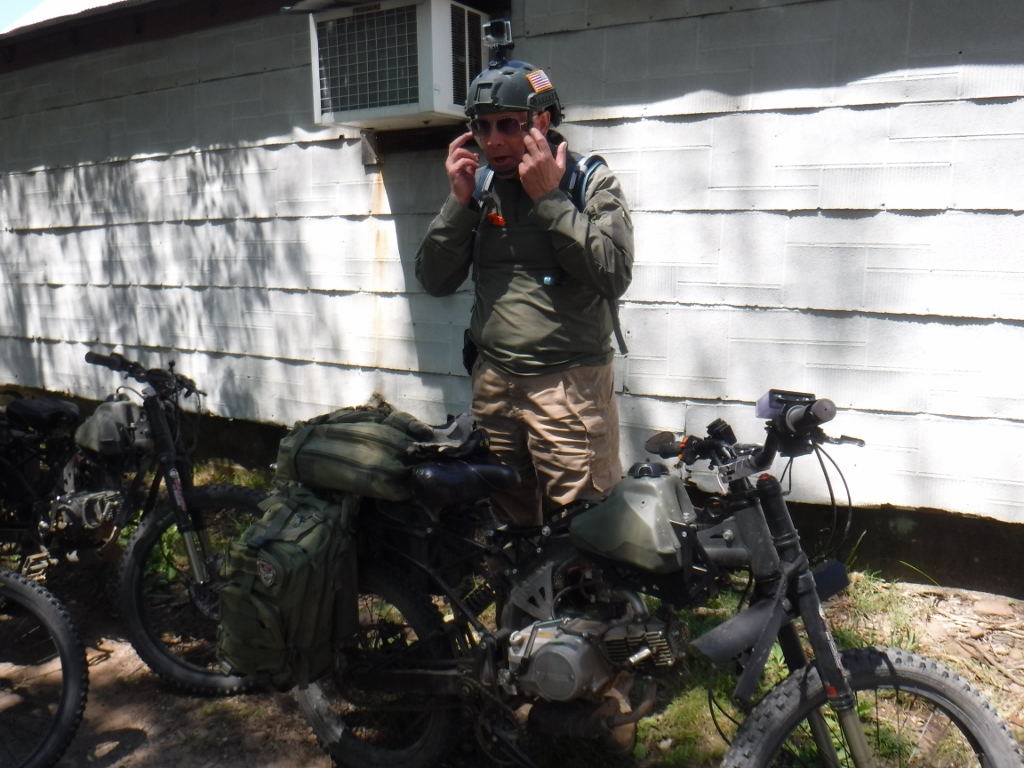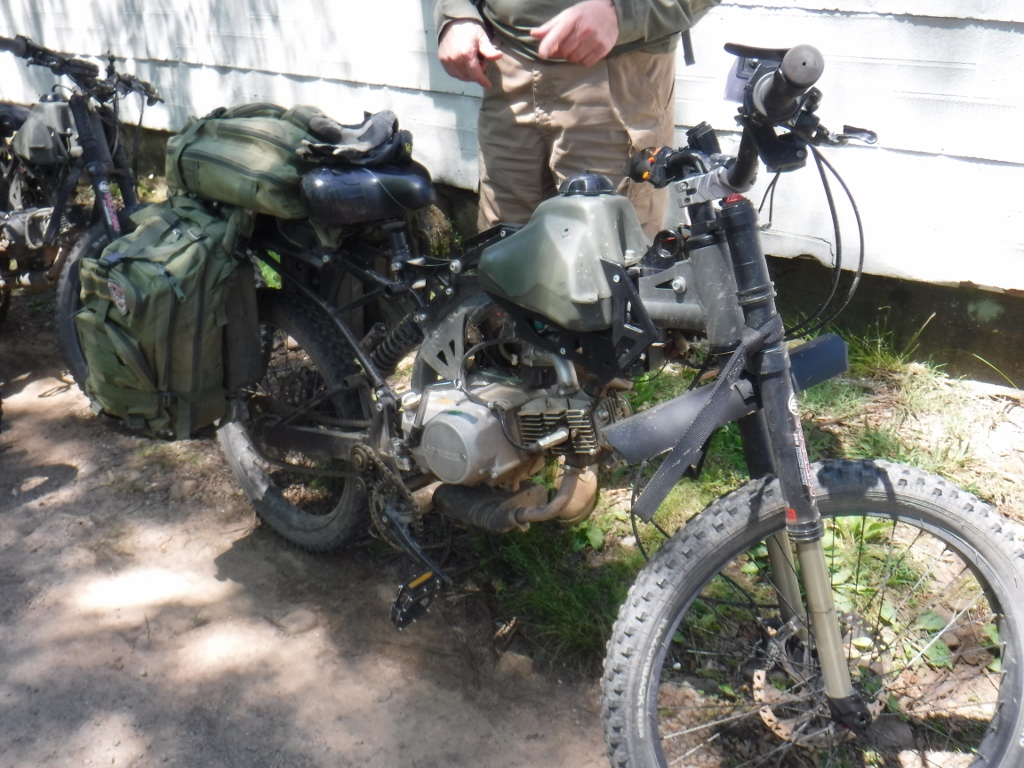 I tried to trade my Africa Twin for one of the bikes, but they were having none of that.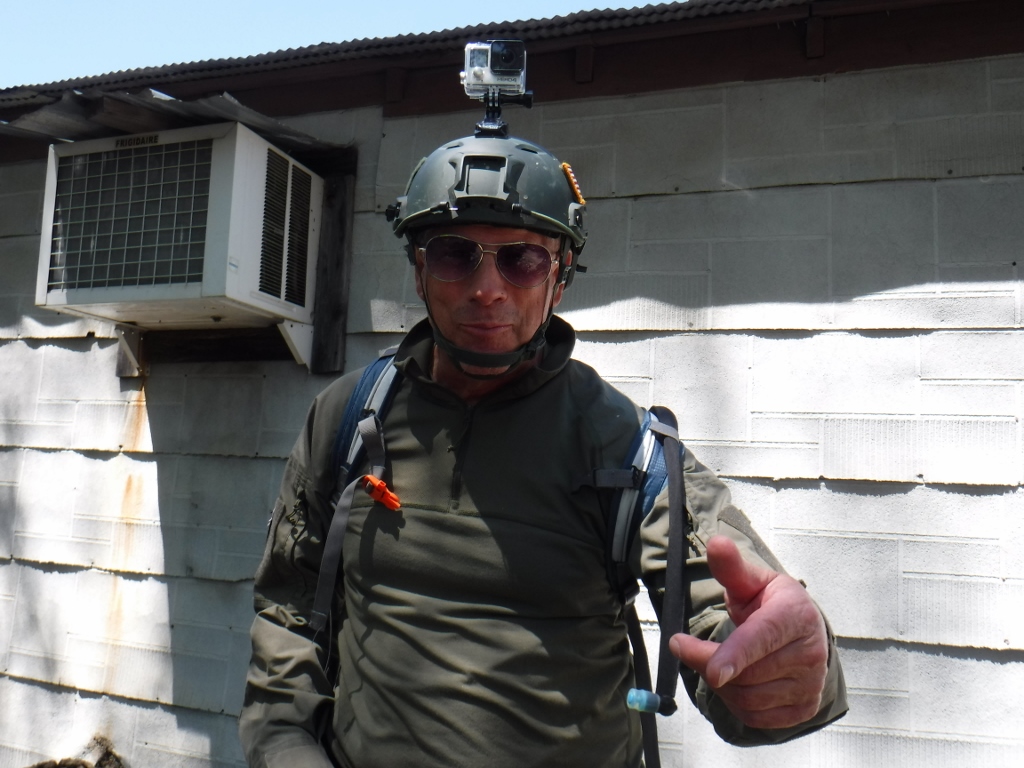 Seems to me the story they gave me about these bikes is that you don't even have to have a plate
or drivers license to drive them anywhere. They had pedals and the engines were registered at 50cc.
But.............they had bored and stroked them out to 125cc's.
Hooligans -----------they were.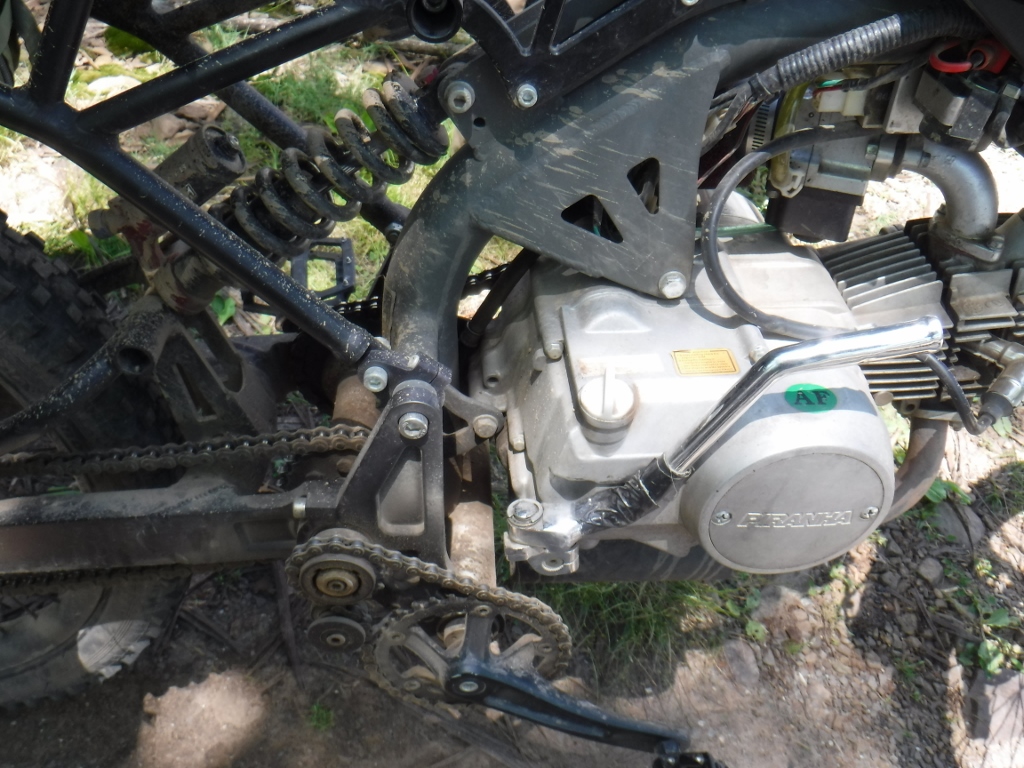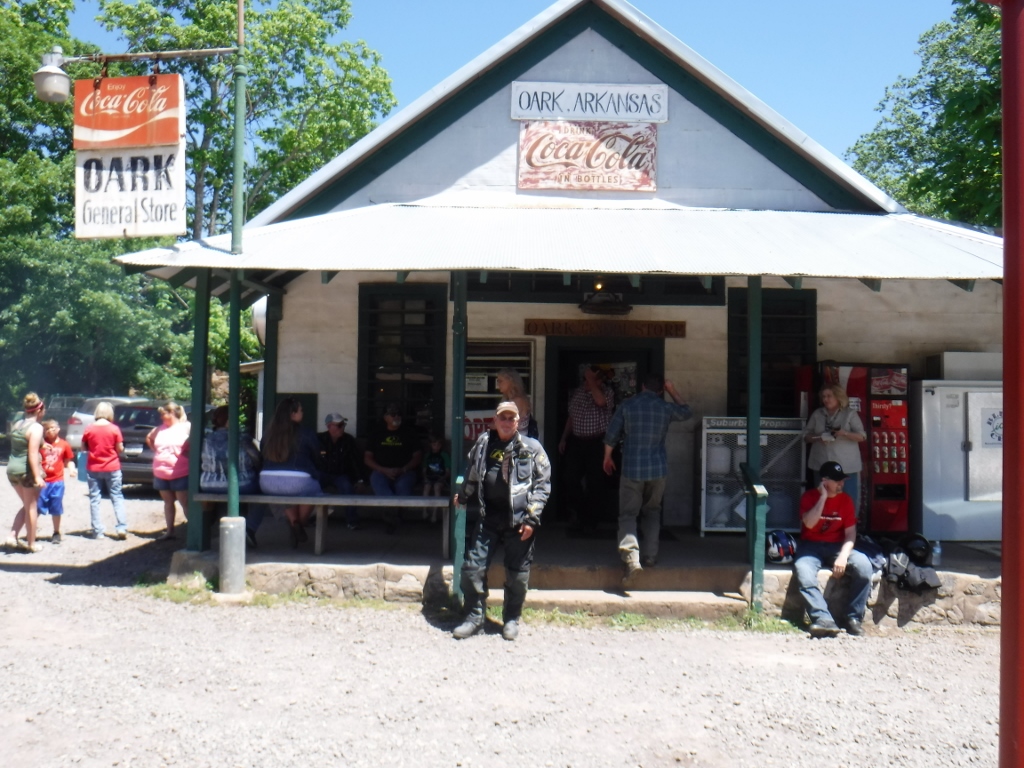 So off I go on this lonely back road and end up at Turners Bend.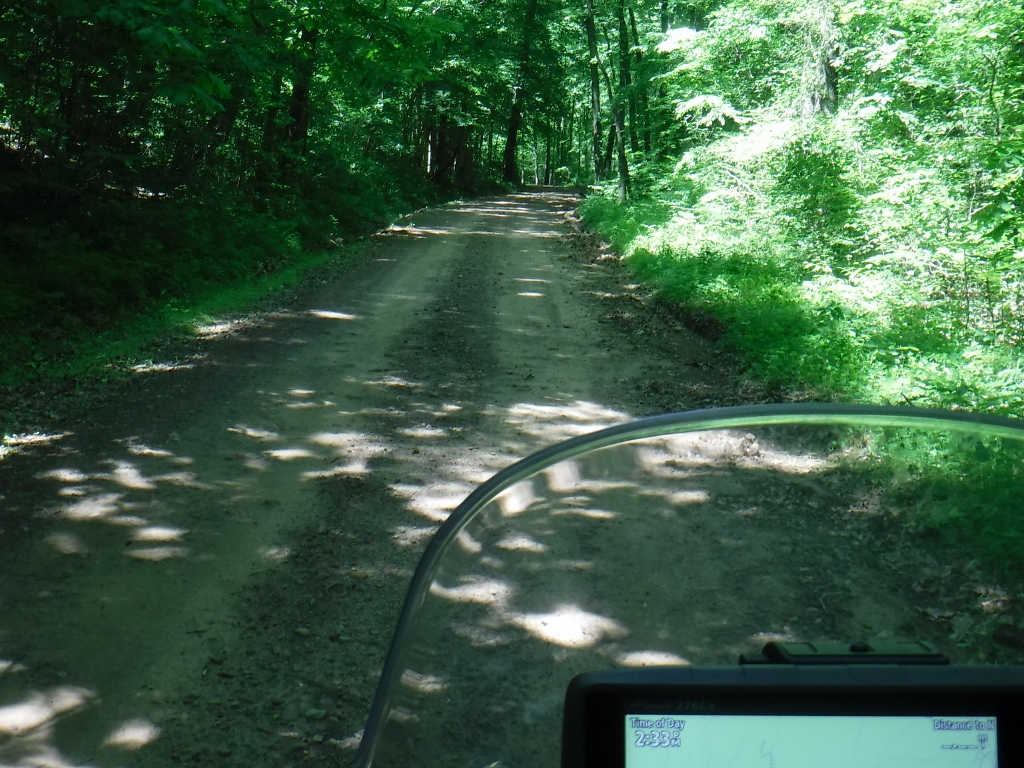 Turners Bend is just a small dot on the map------not sure it is even a town.
But you can get gas-----and something to eat in the store and the campground is awesome
with the Mulberry river right there. They had a shower for campers and I needed one.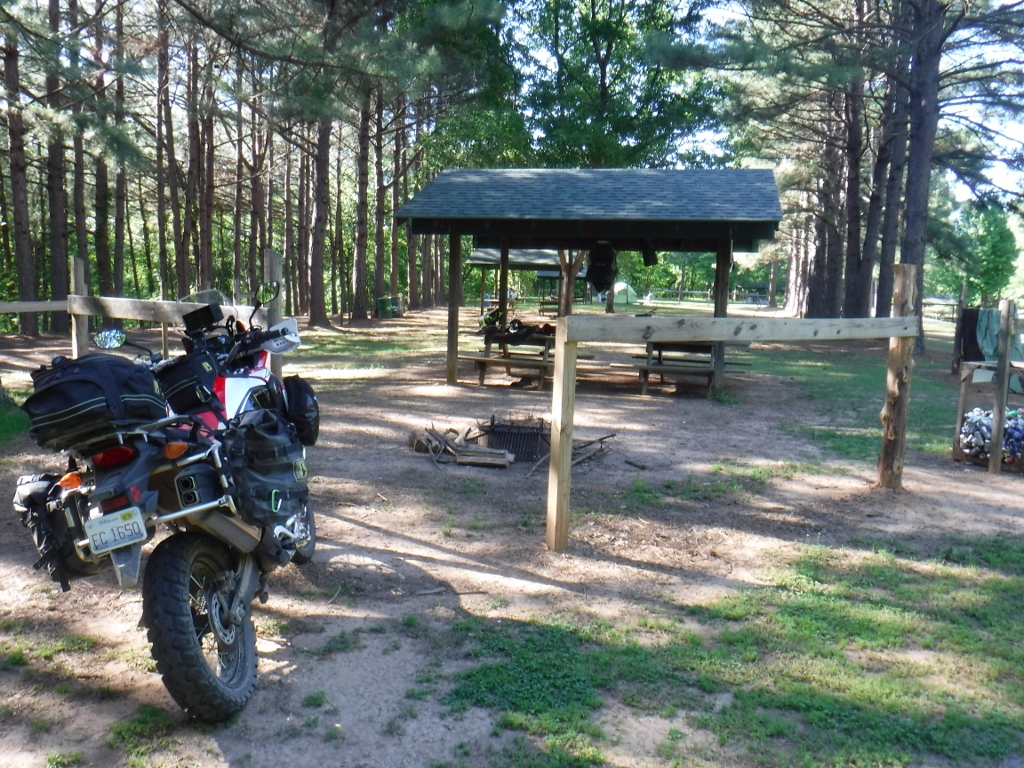 My camping gear was soaked from the dew at night-----so I tried to dry it out the best I could.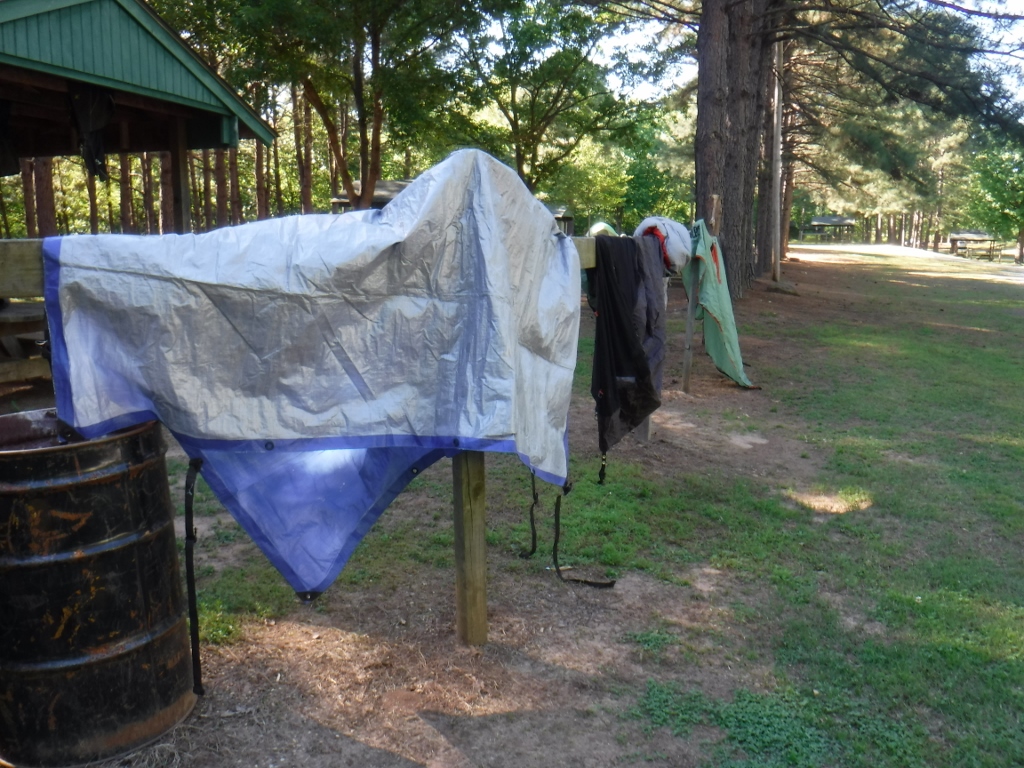 I was super thirsty.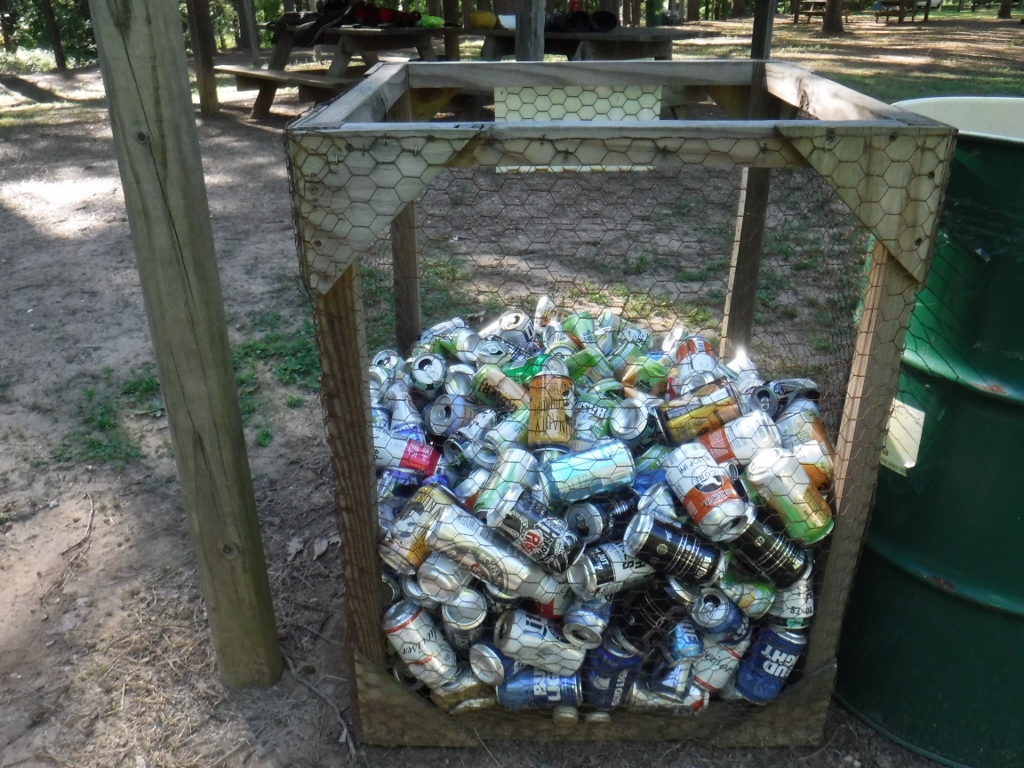 I hung all my stinky and sweaty gear up in the rafters to dry out.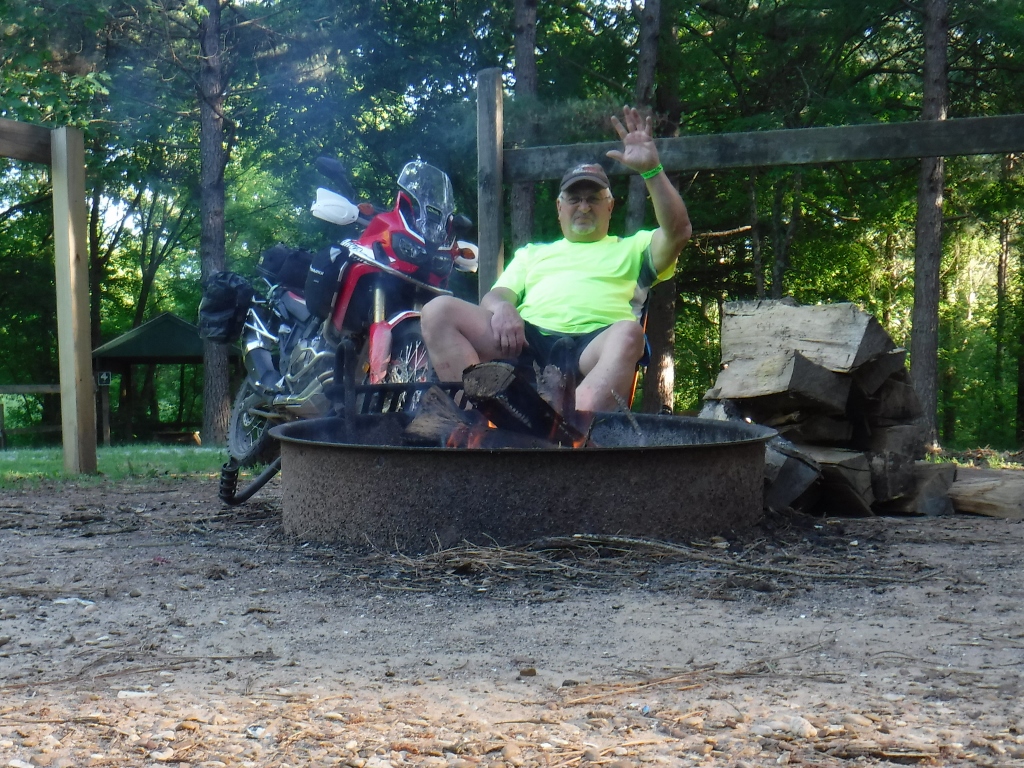 I always pick a campsite where some one has left lot's of firewood.
I had a nice fire for the nite.
You can see my tent in the background-------I never put the fly on and had the stars and moon
to look at all nite long. No dew that nite.
$10 for a nice campsite------firewood and a shower.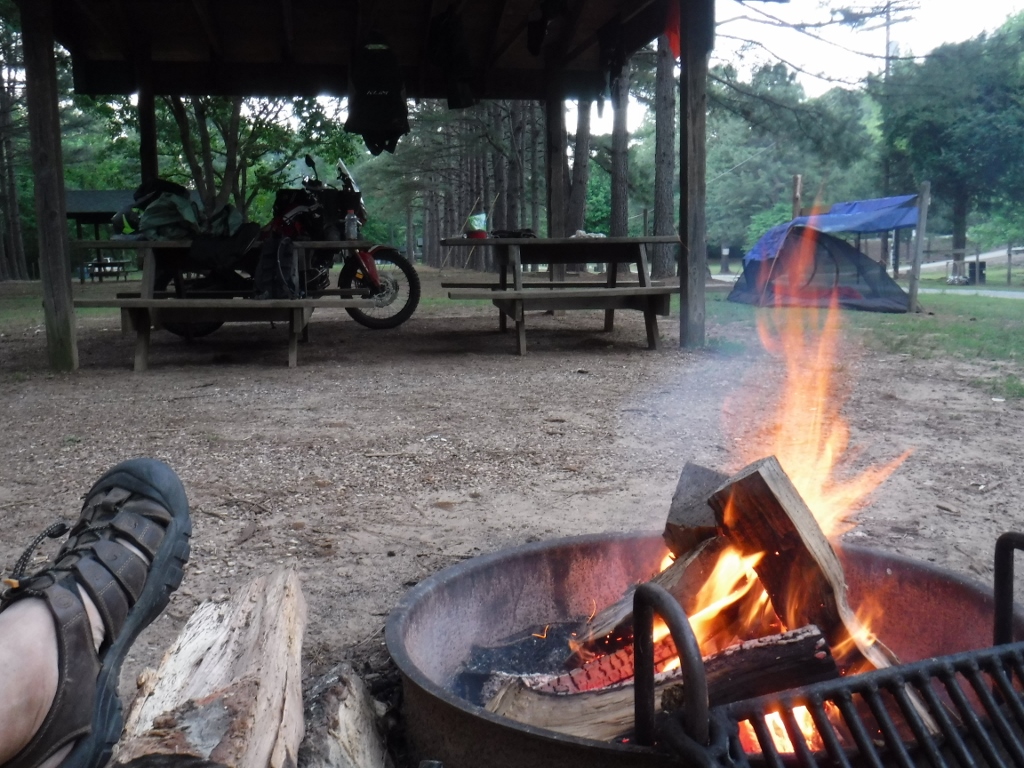 Beautiful Ozark Mountains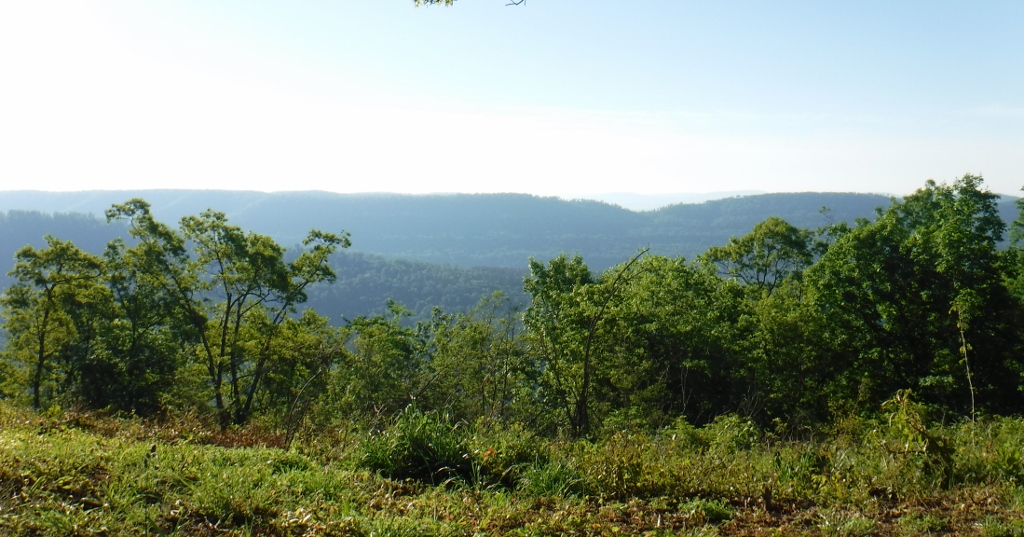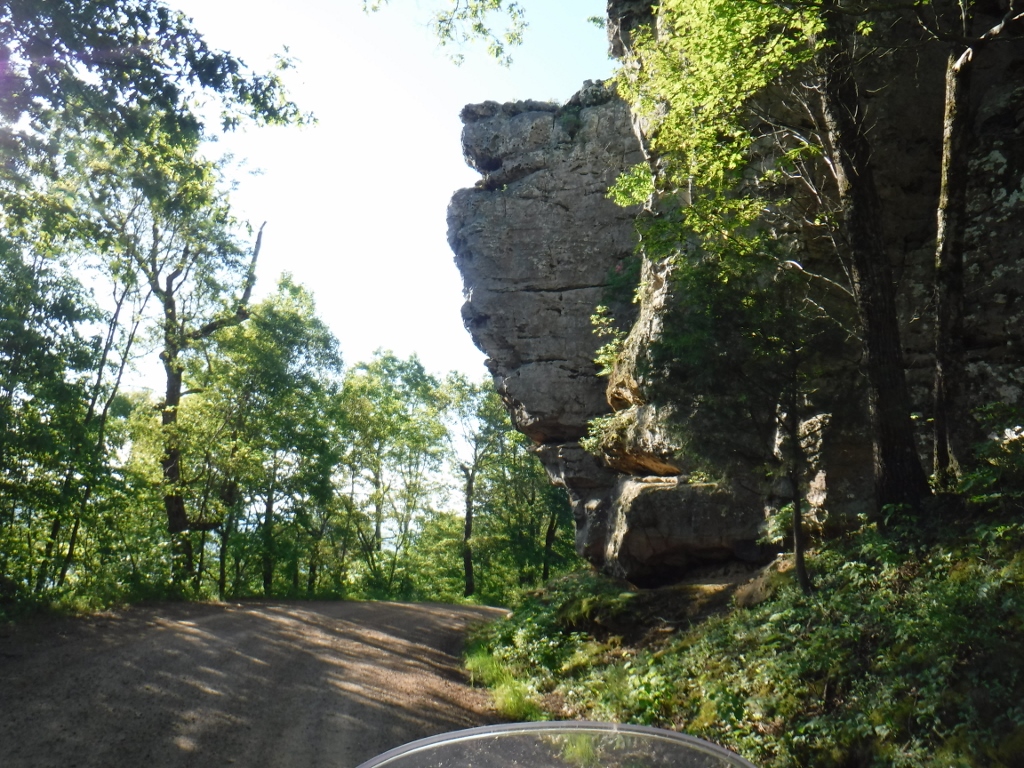 I've ridden in Northwest Arkansas for 20 years----thought I'd been here.
But after getting there I don't think I had.
It was a dead end road into the park.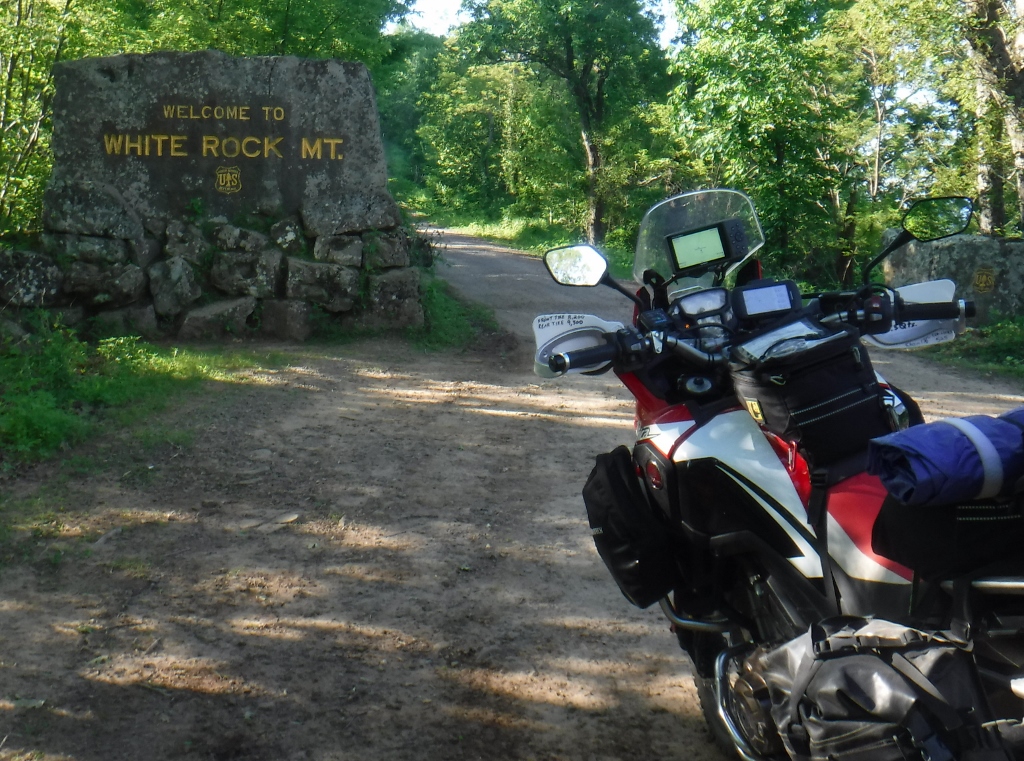 There were several rental cabins up here------pretty neat place.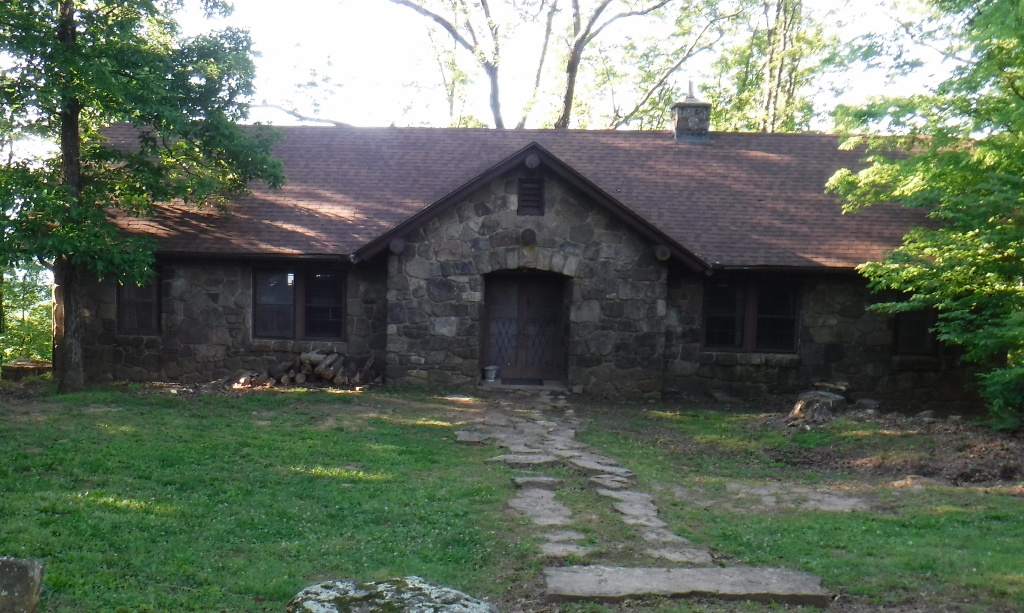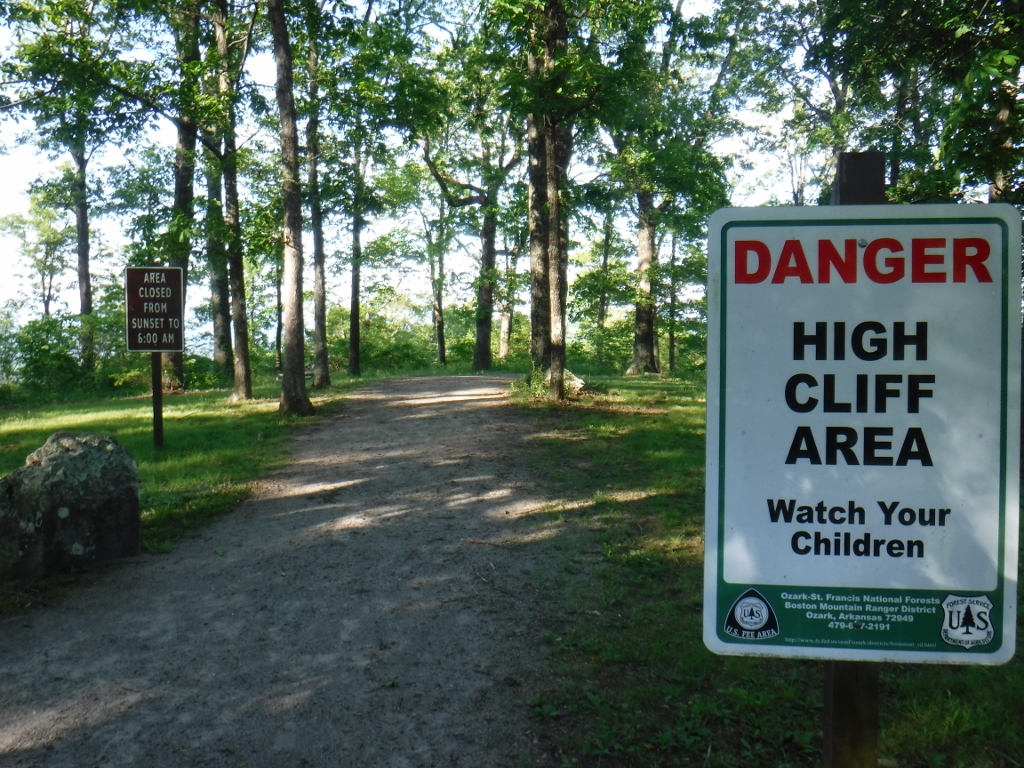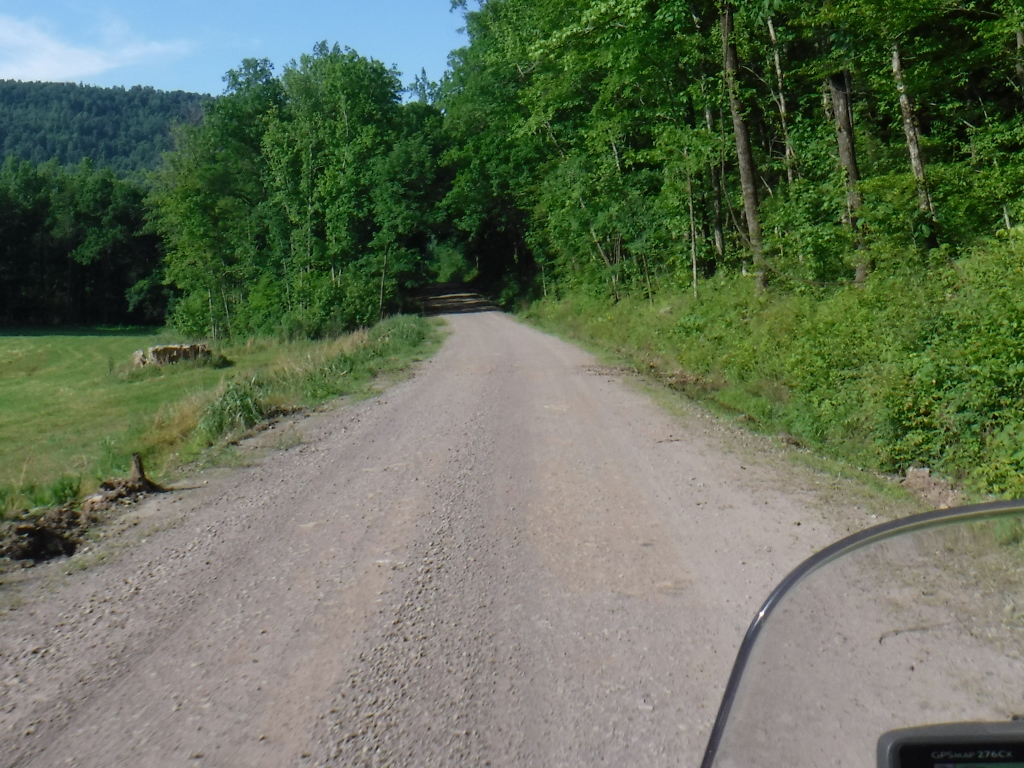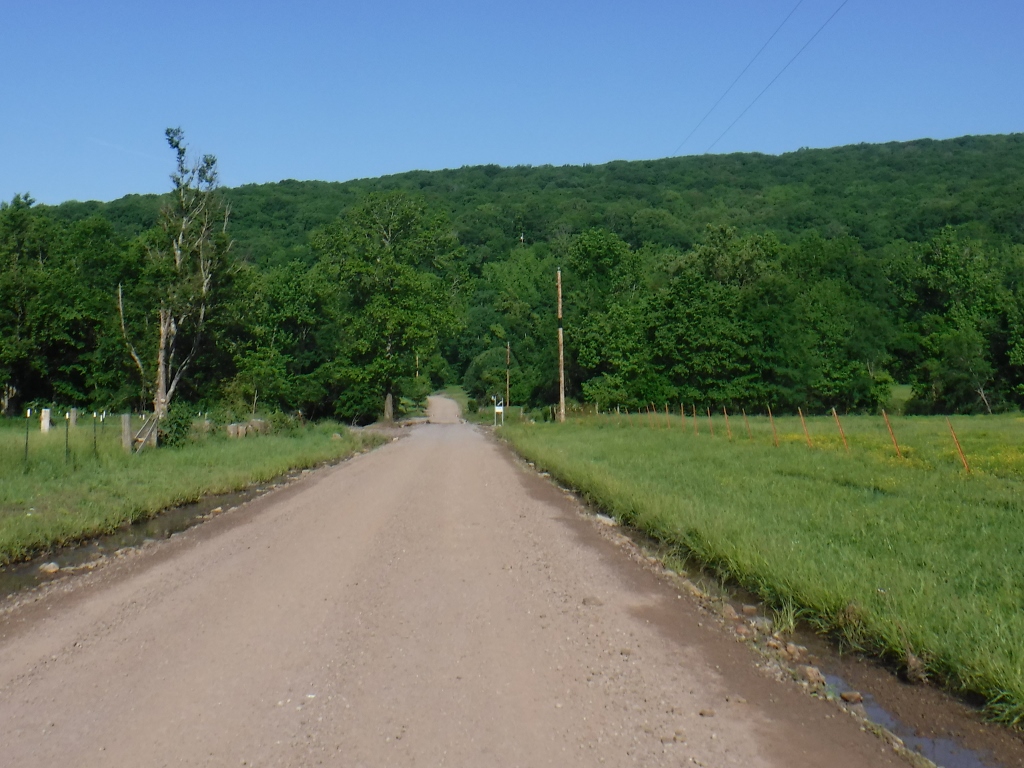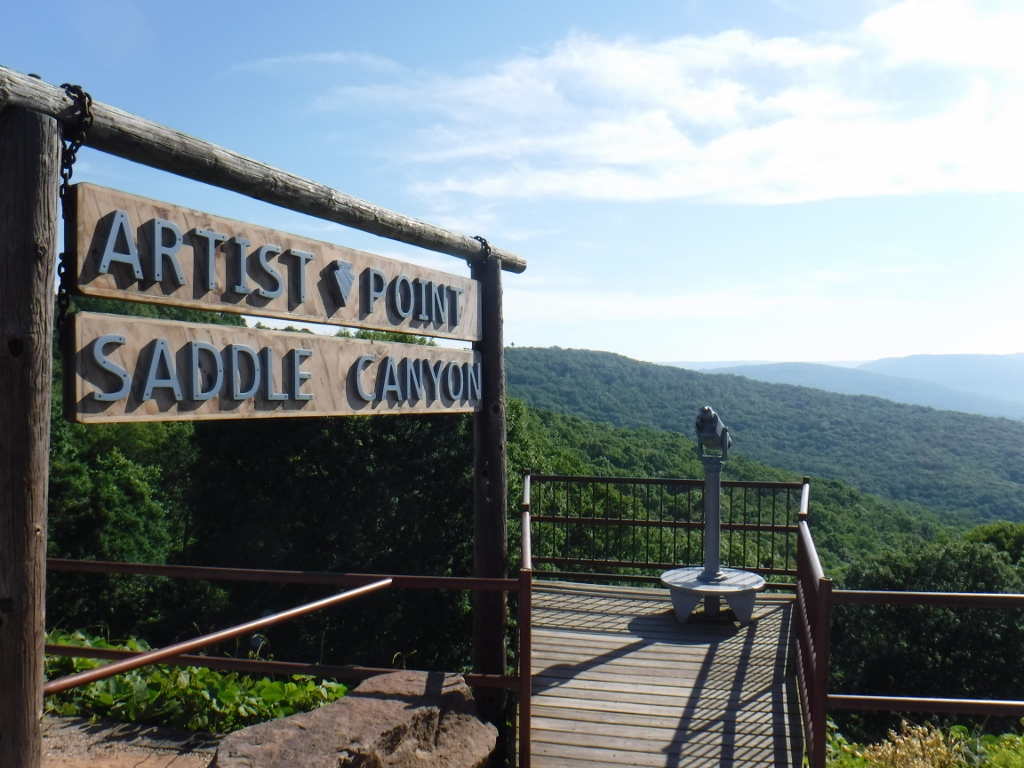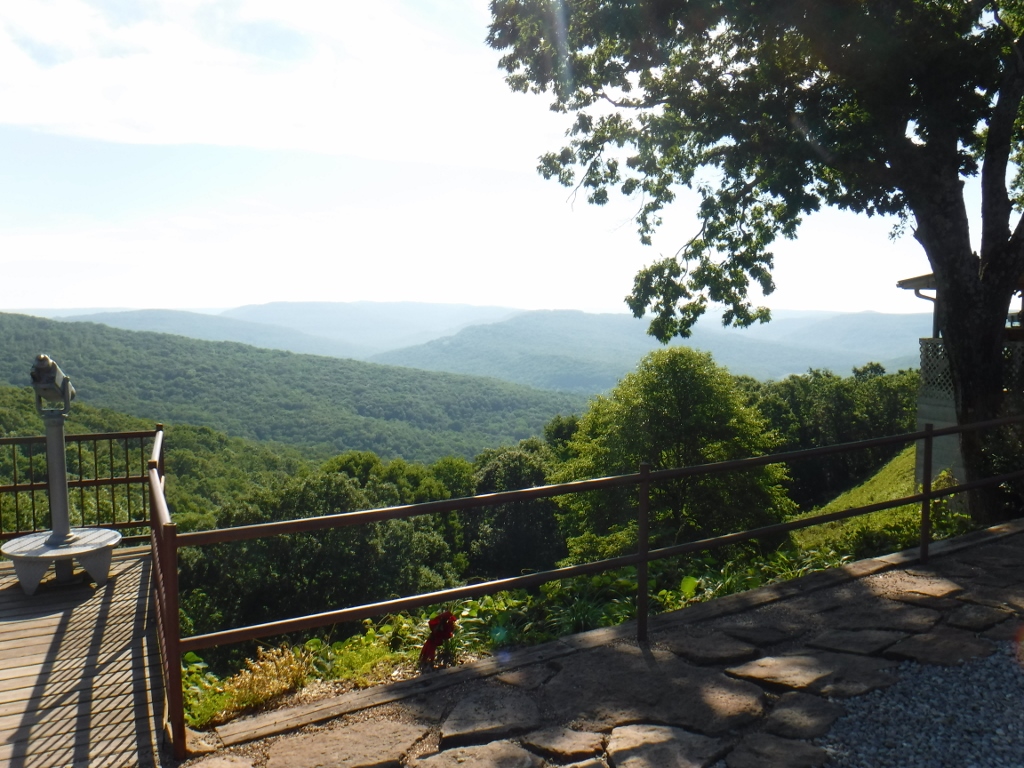 I had an excuse not to climb this one------it was fenced off and they had removed every step.
Everyone.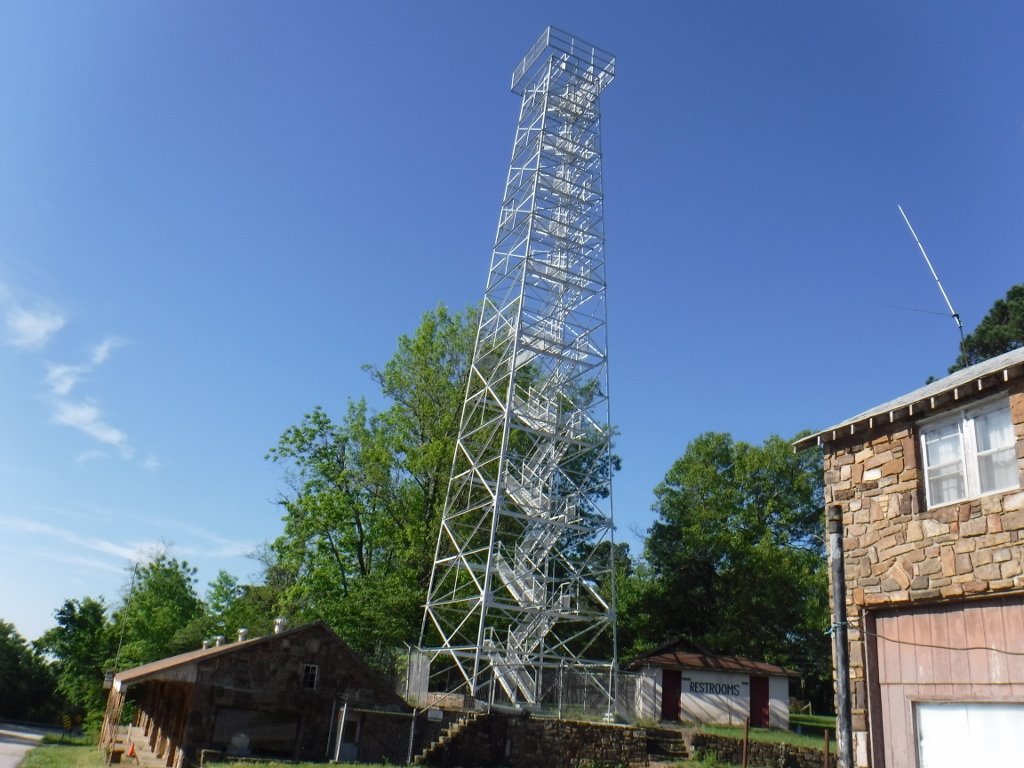 I think these next 2 pictures were "Lake Fort Smith"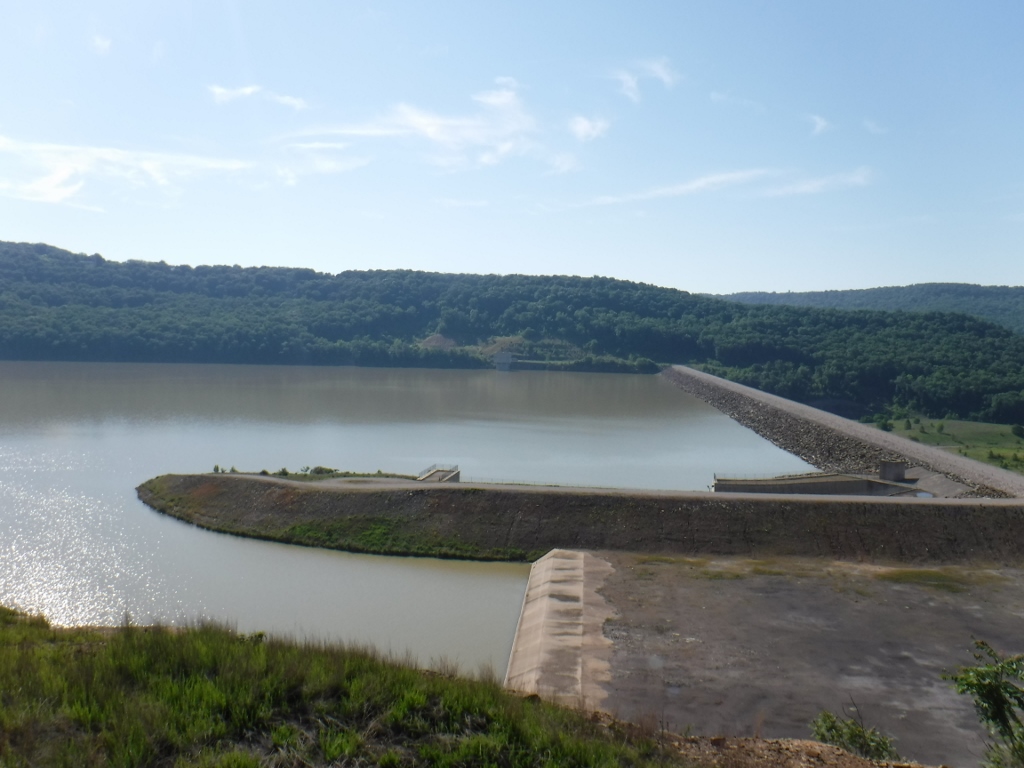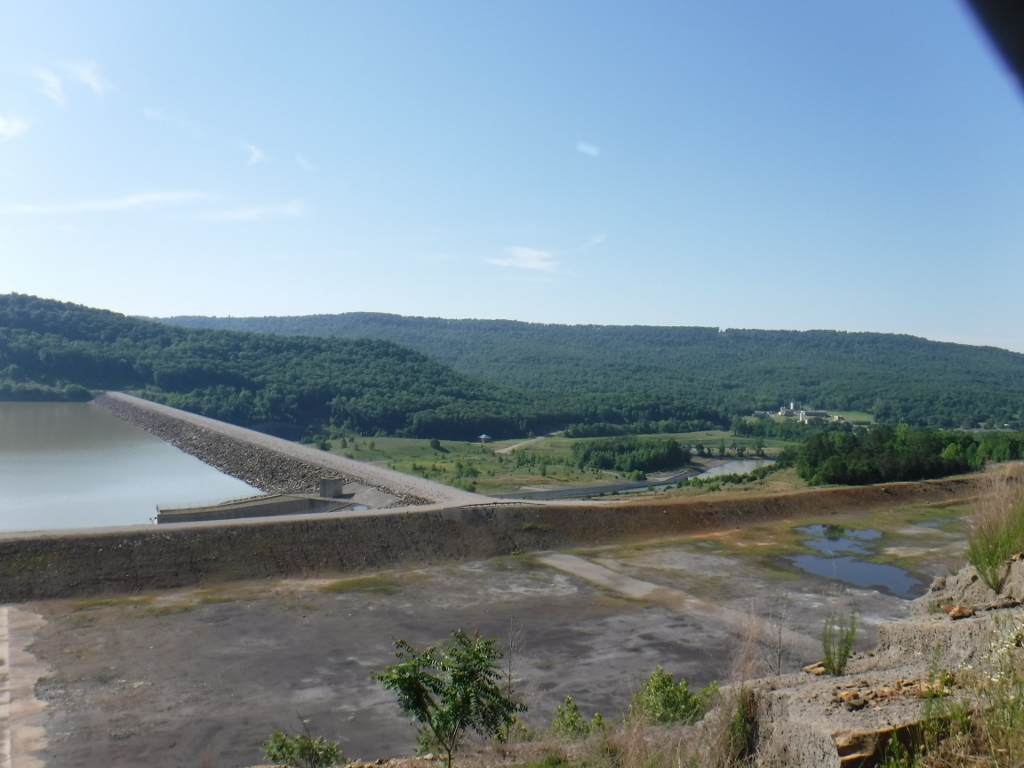 I was starving for breakfast-------Grandma's cafe was closed and I found this place in Chester, Arkansas.
This fellow here claimed that he met Sam Correro when he came thru here way back when he started
laying out the Trans America Trail.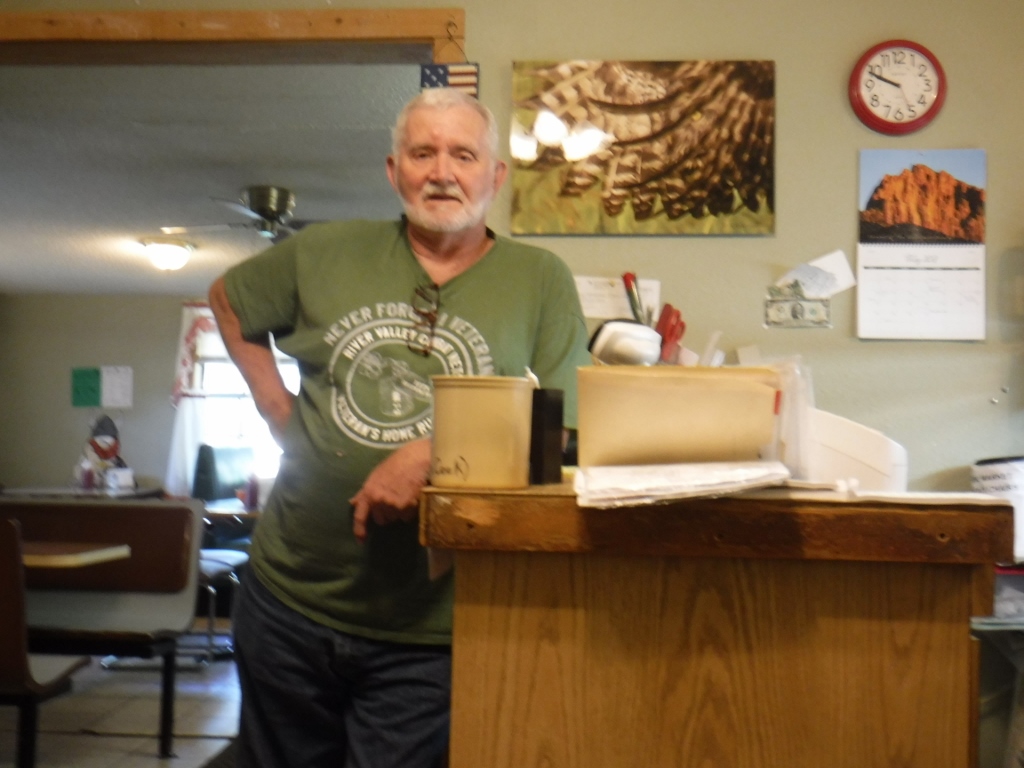 Breakfast all day-------my favorite meal of the day.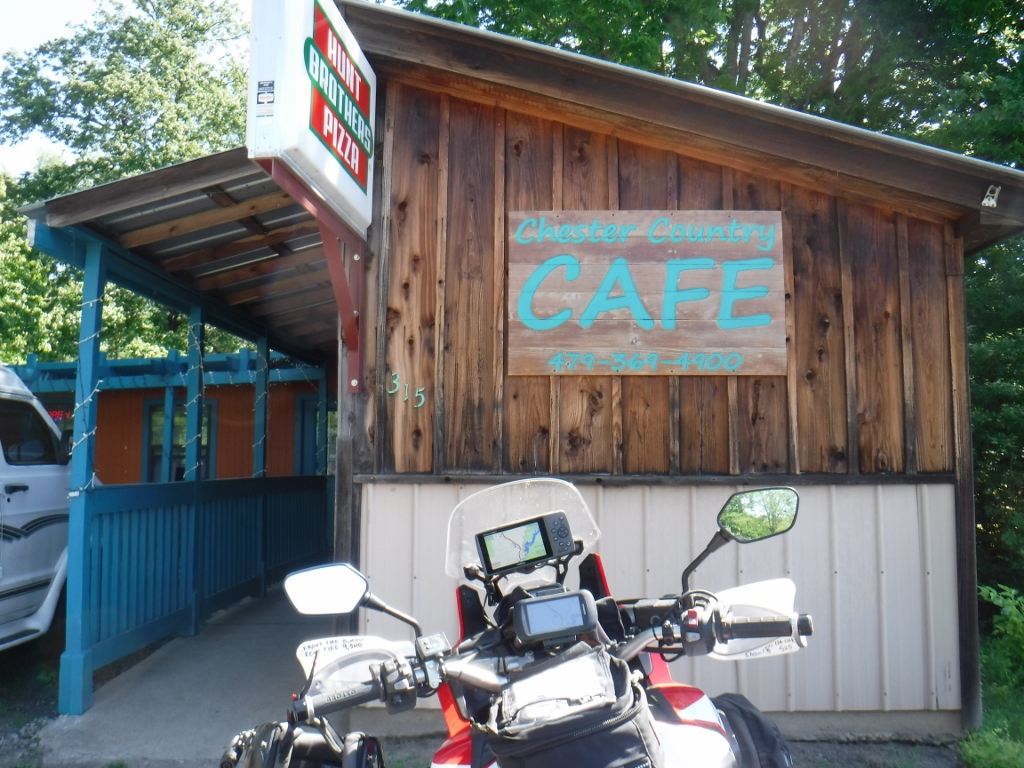 Video-----OZAT 2017 Part 2
Choose HD if you have the speed.
Climbing up to Magazine Mountain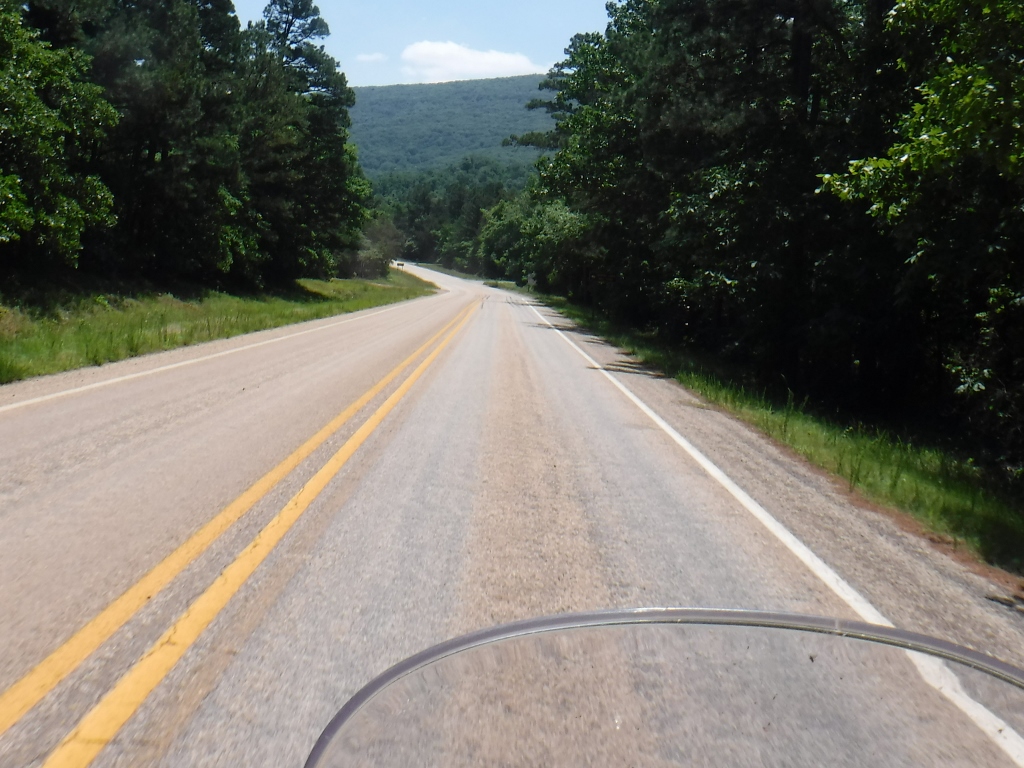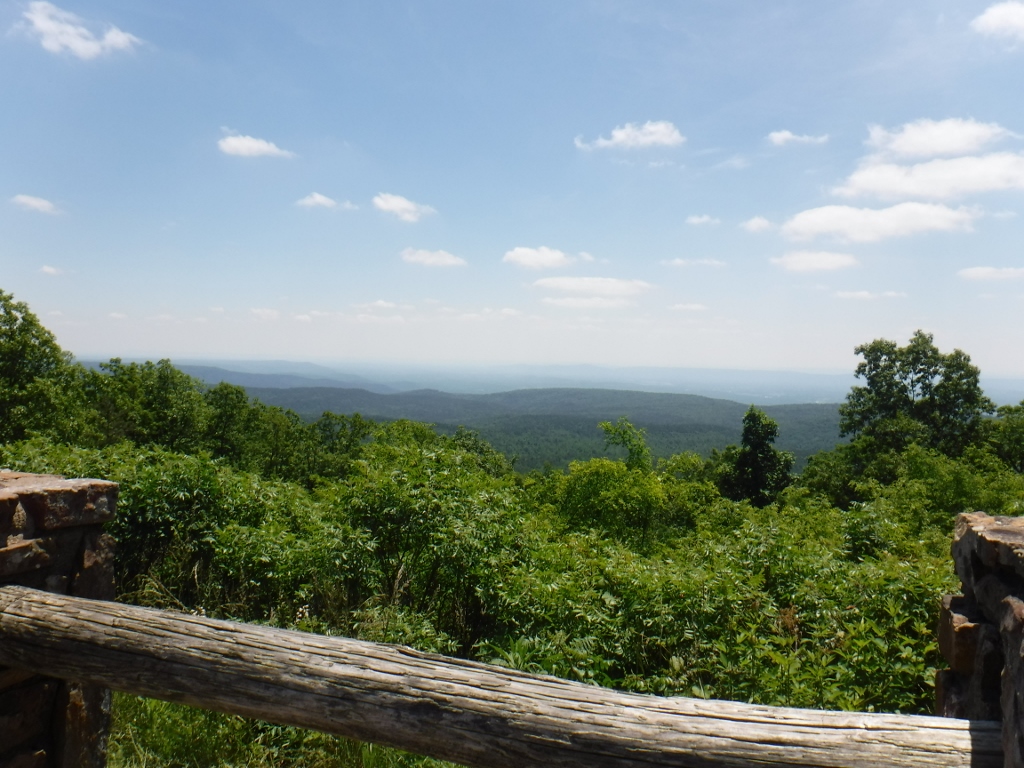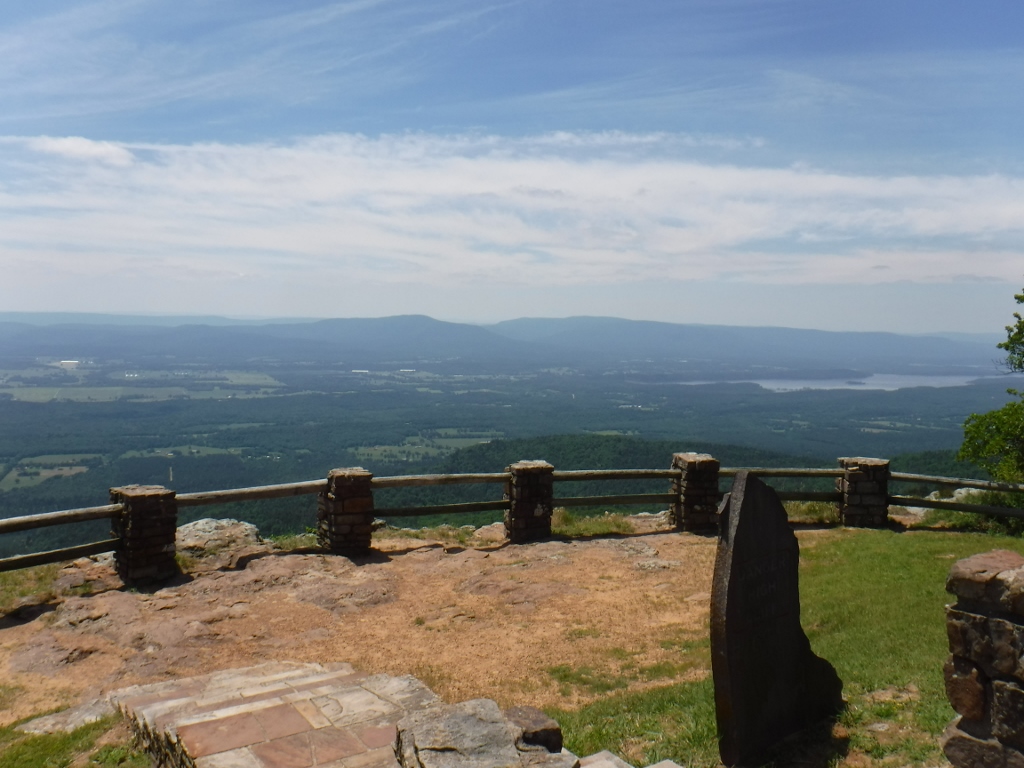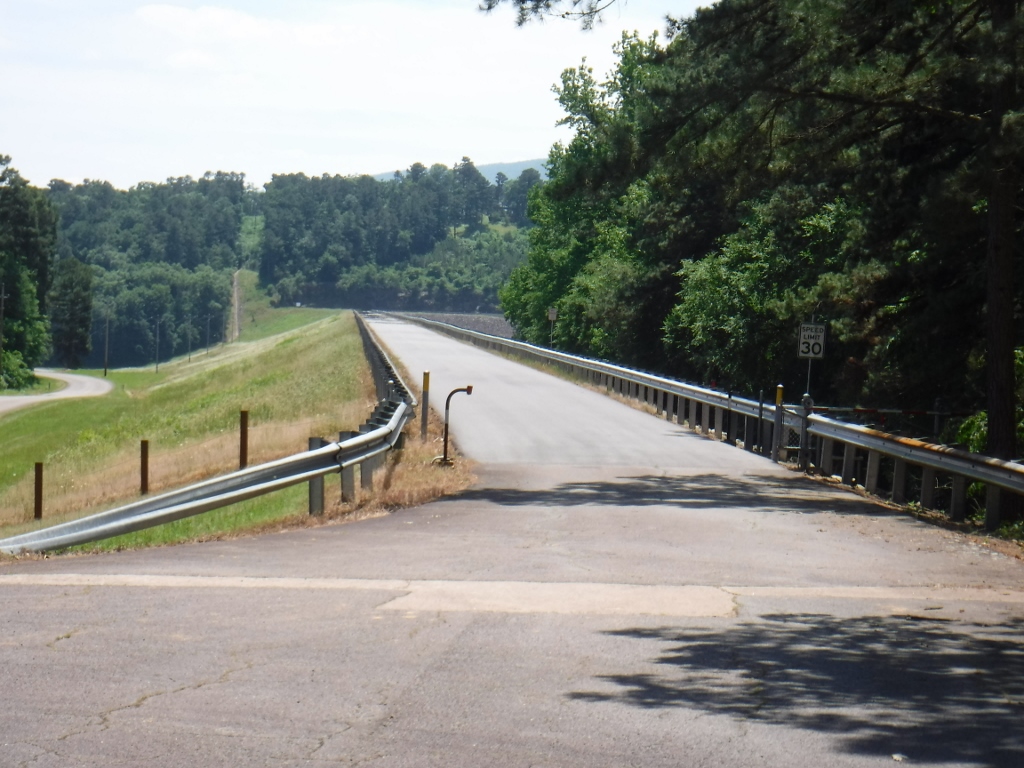 I came into the town of Waveland and got gas and notice a picture of a very unusual bridge on the wall
and asked "where is that bridge" ??????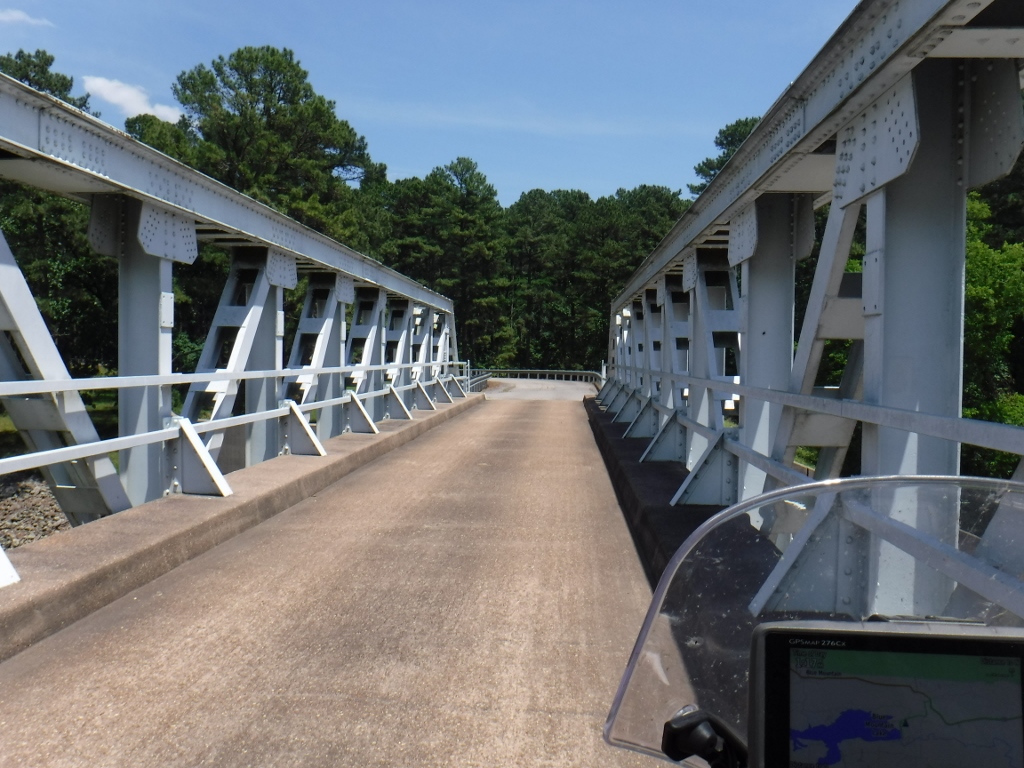 He said right around the corner on Blue mountain Lake--------and off I went till I found it.
It used to be 2 way traffic but is now one-way as it's to narrow for 2 vehicle to pass and people are to stupid
now-a-days to know what to do.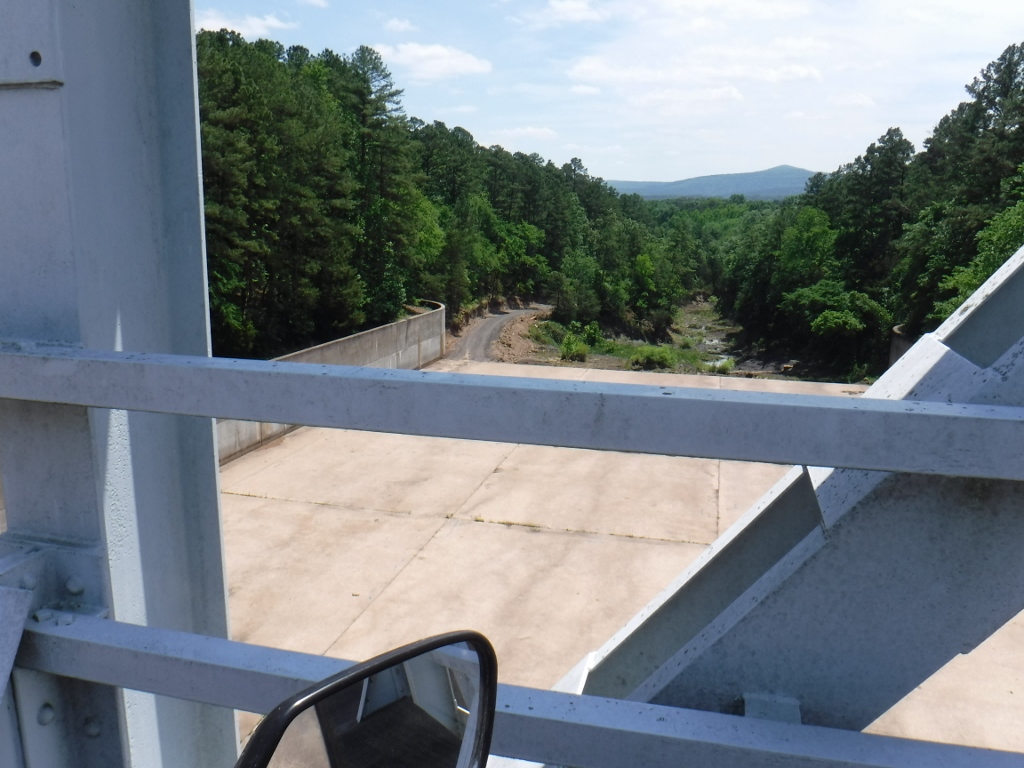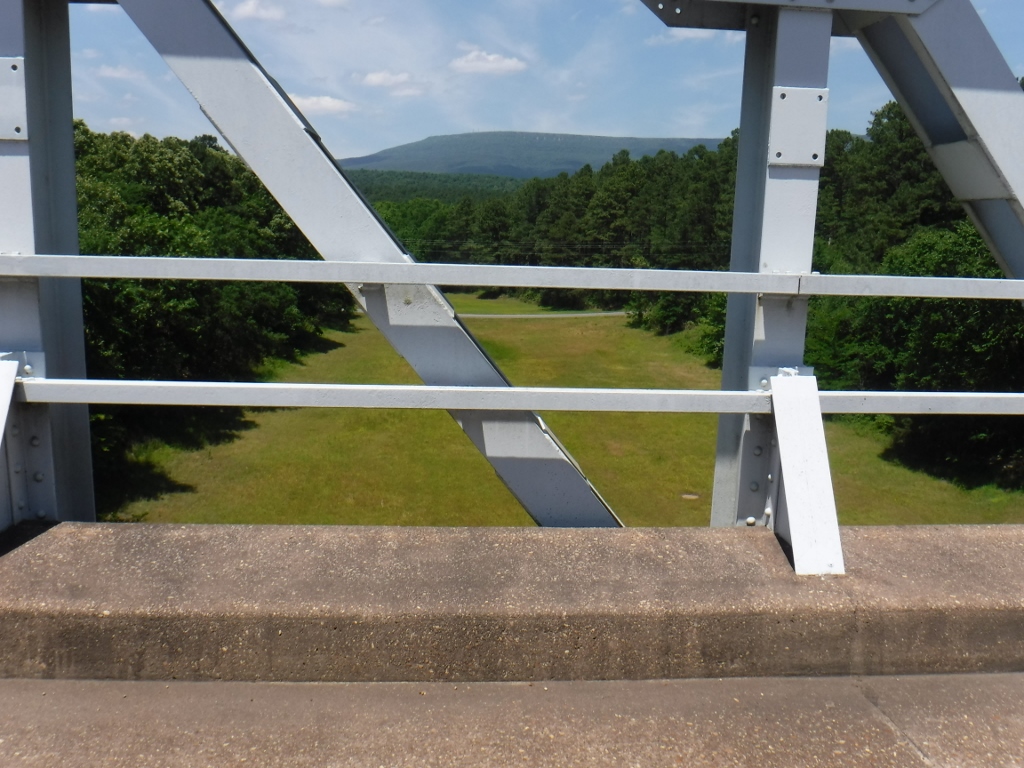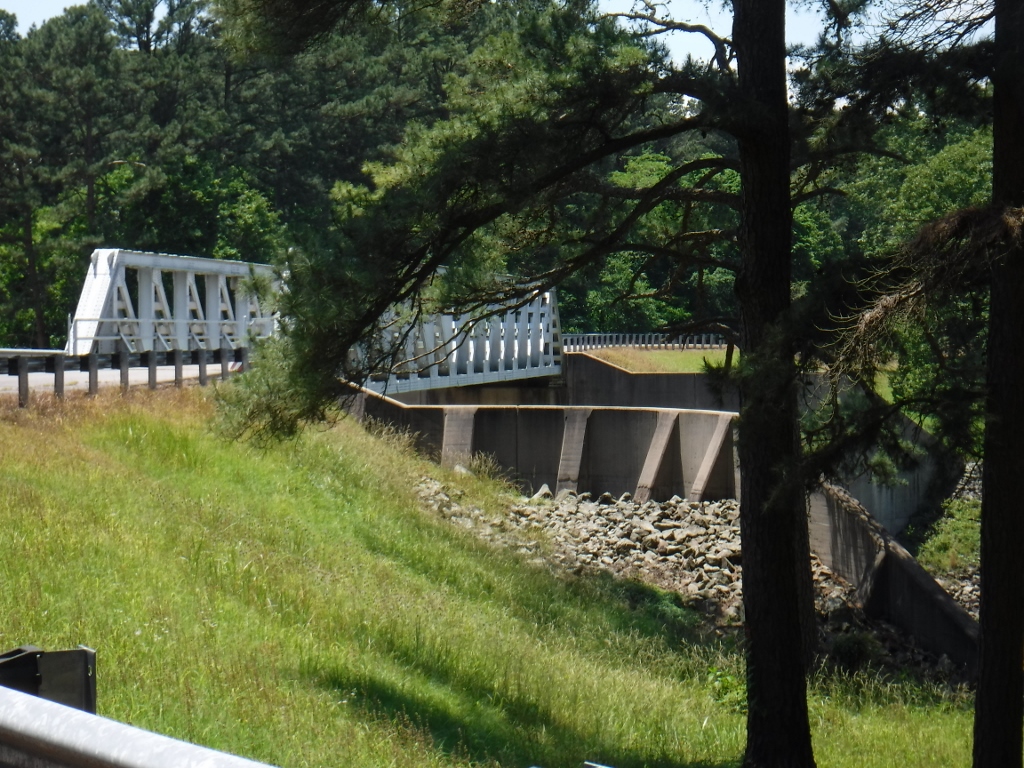 Deeper South into Arkansas I go on some really nice back country roads.
And the weather is perfect again.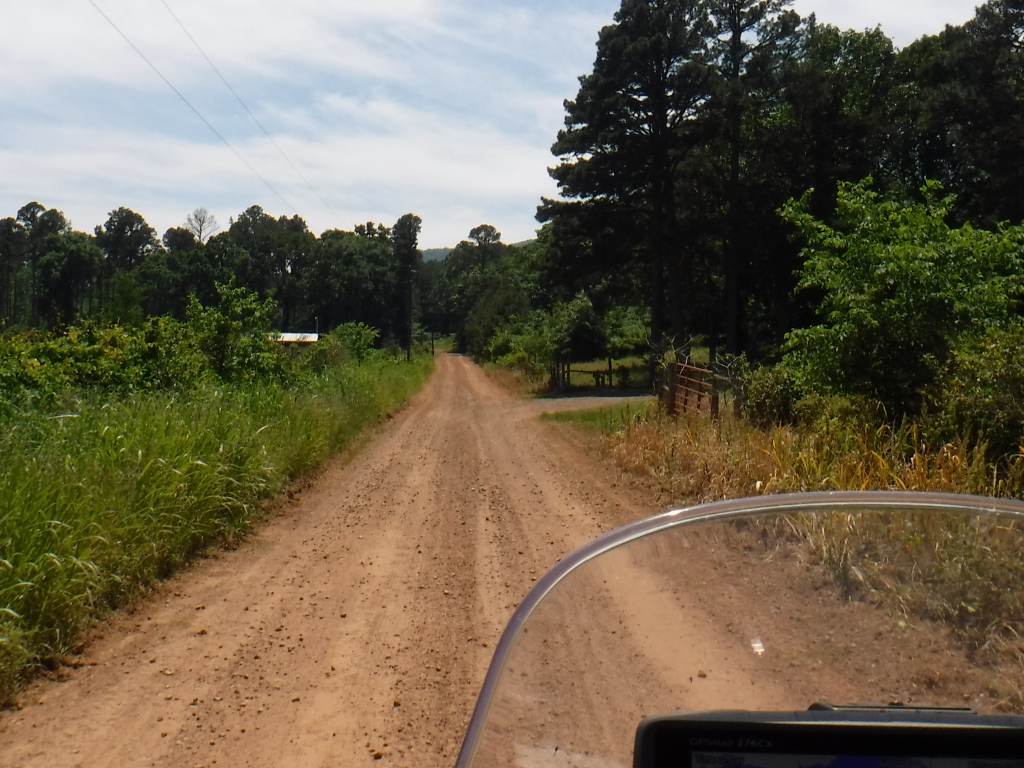 I think I crossed 30 low water bridges that were constructed just like this.
They had to be really old------but were still doing their job.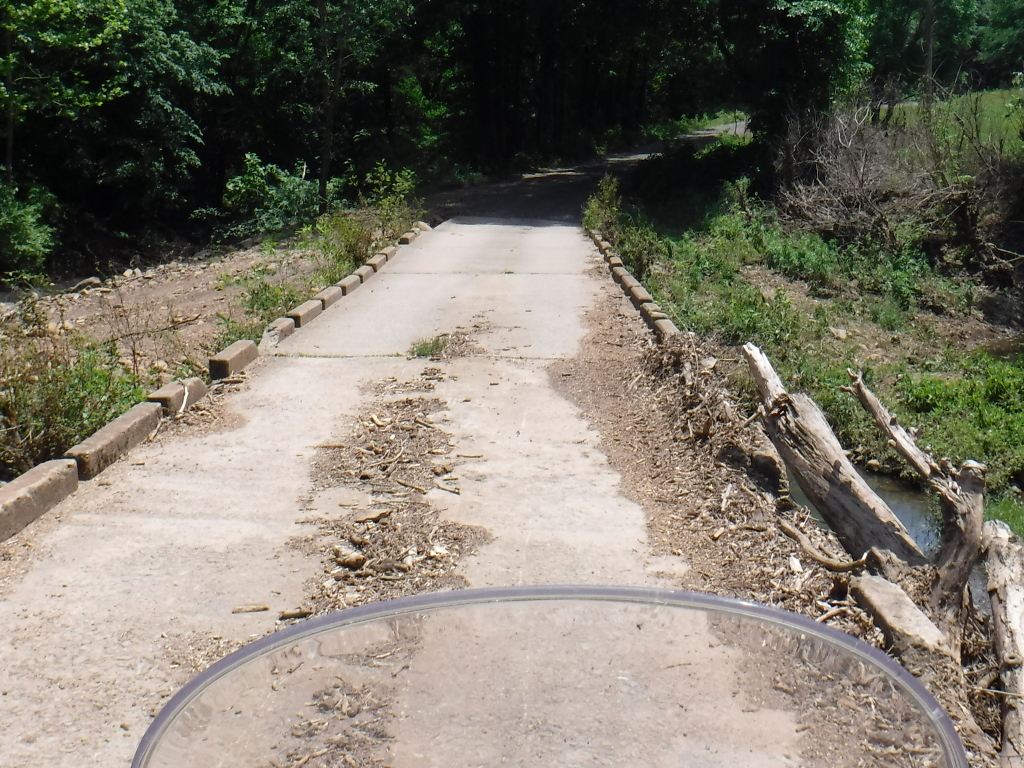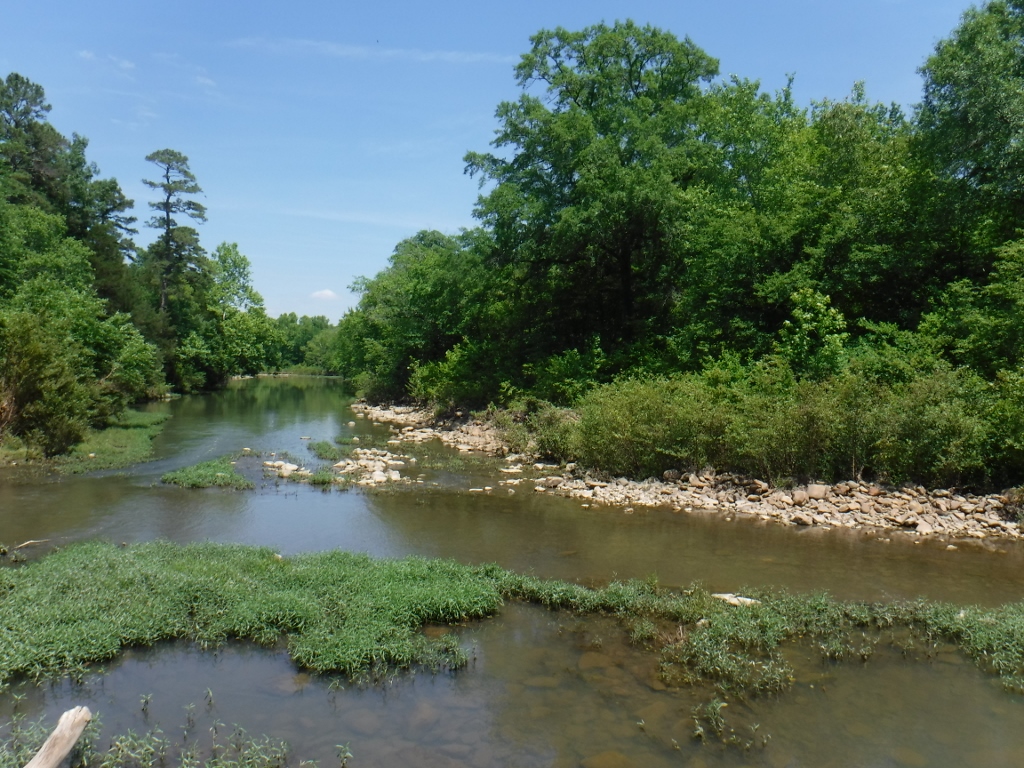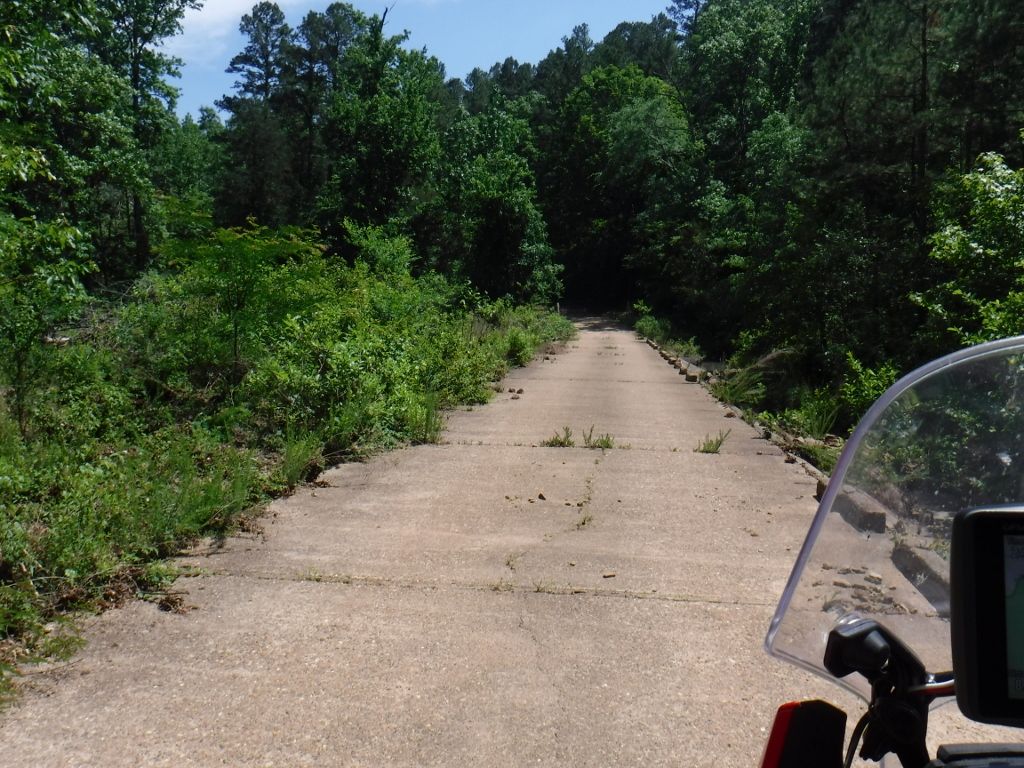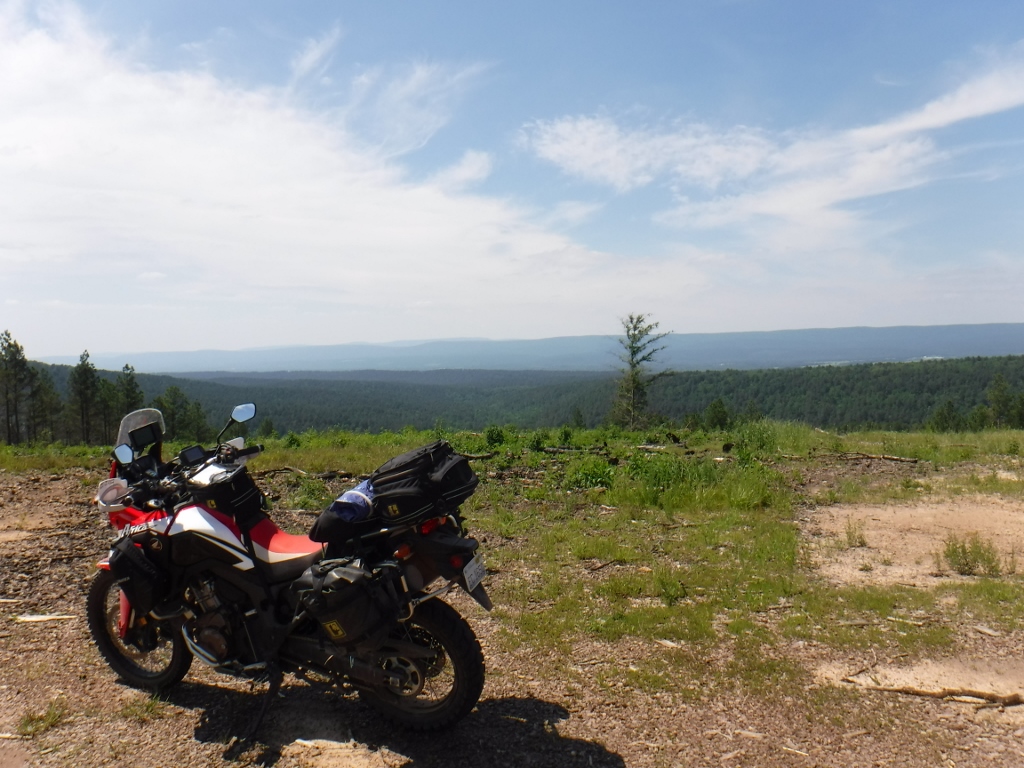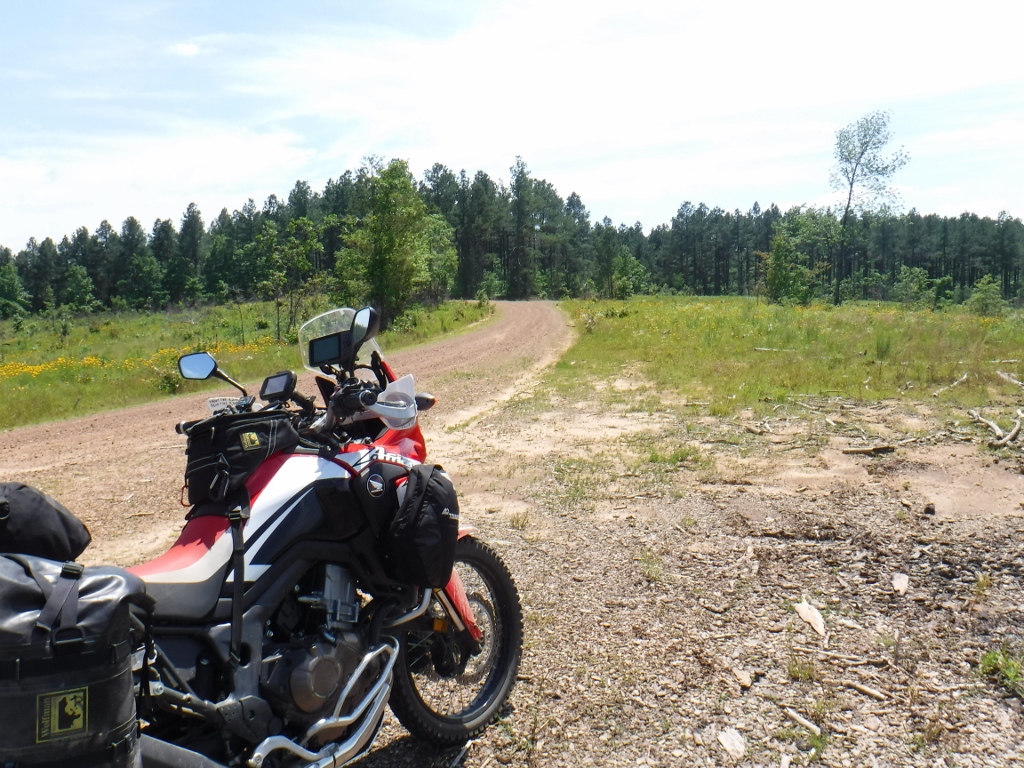 I ended up in Hot Spring Arkansas for the nite at nice old motel with outside doors at a very reasonable rate.
I have a very fond memory of me and my wife riding down here years ago-----she loved this town.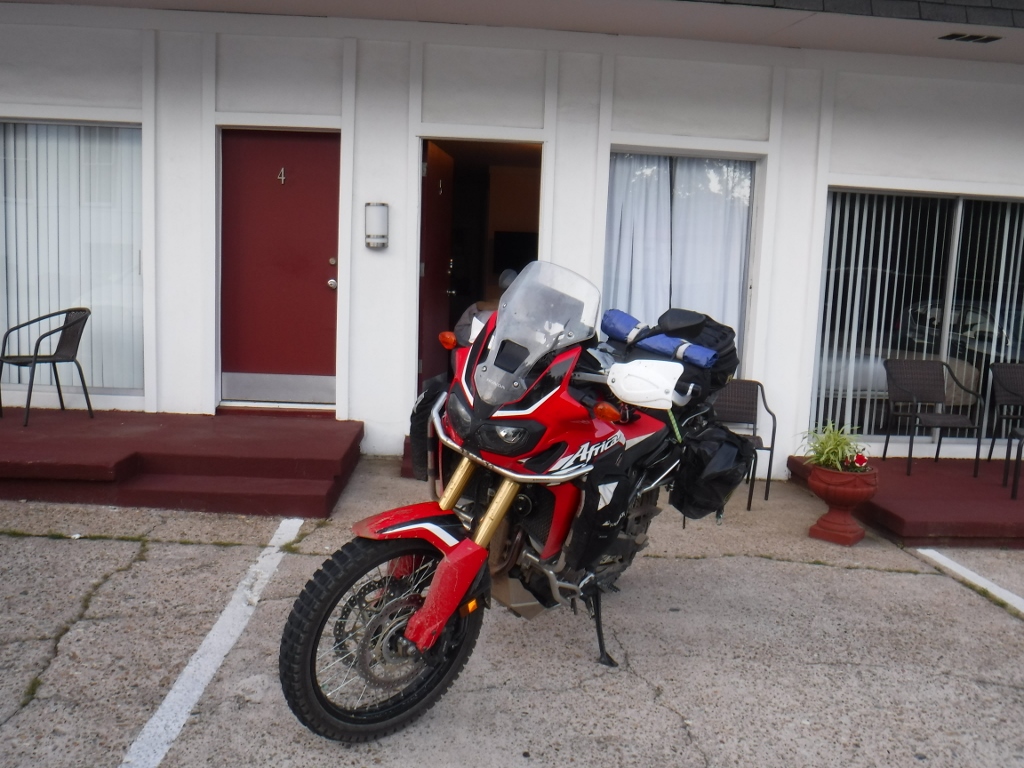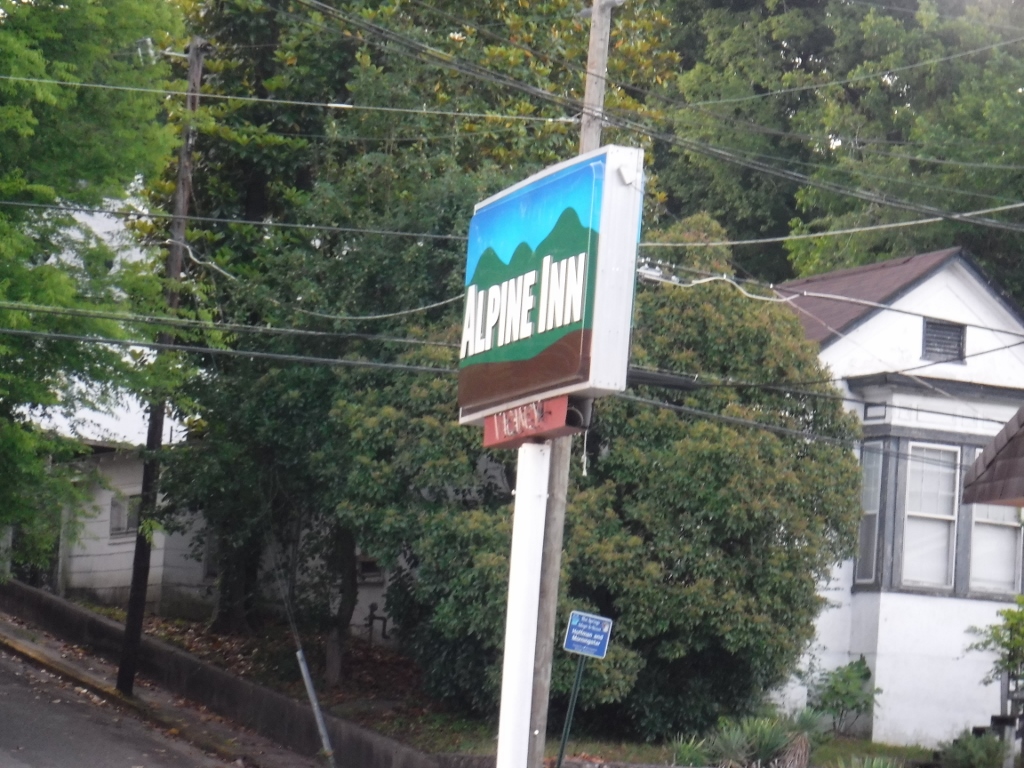 I was off and running the next day almost before the sun came up.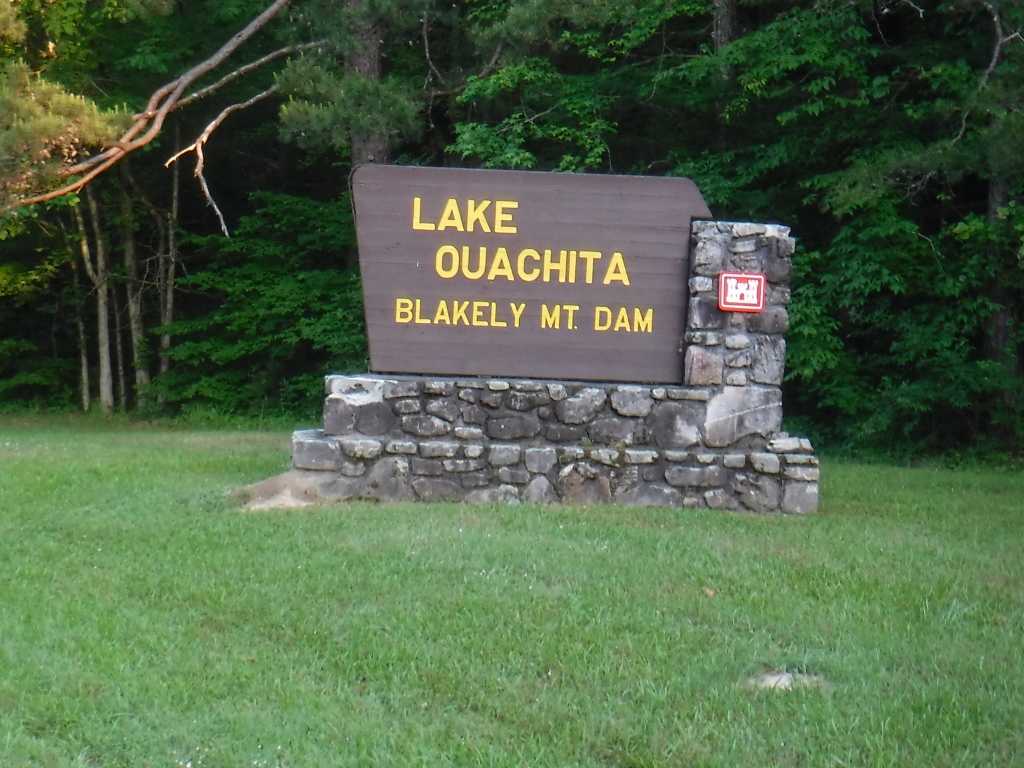 I think this is the dam on Lake Quachita.
You can normally ride on top of it---but the gate didn't open till 8AM-------I was too early.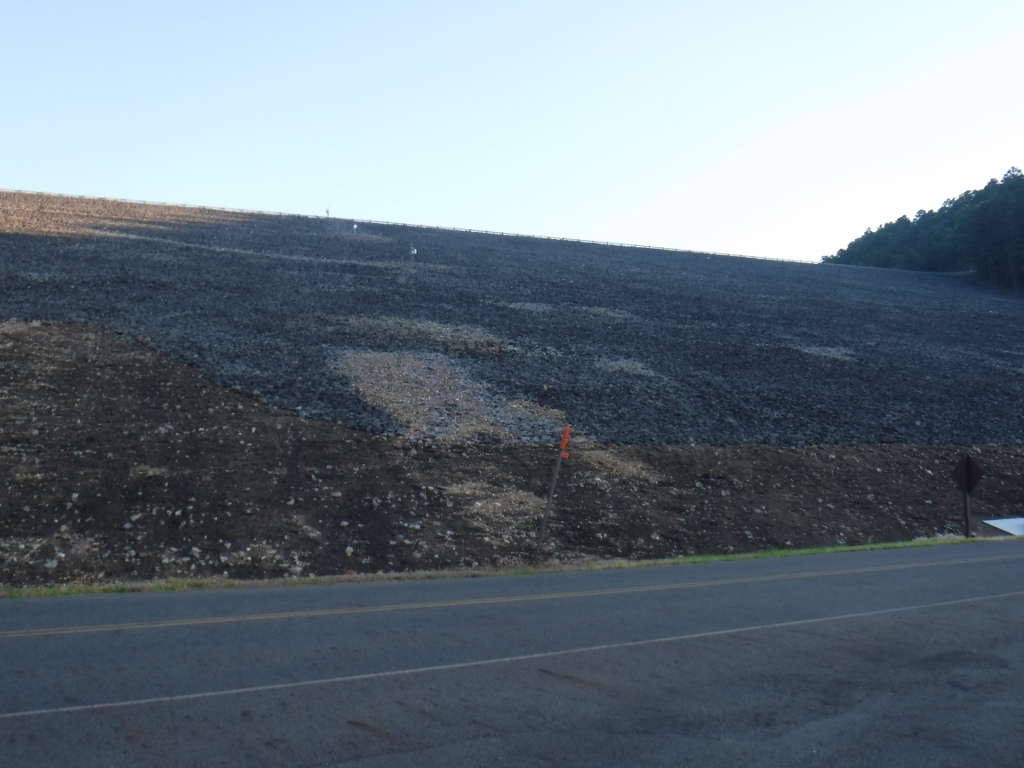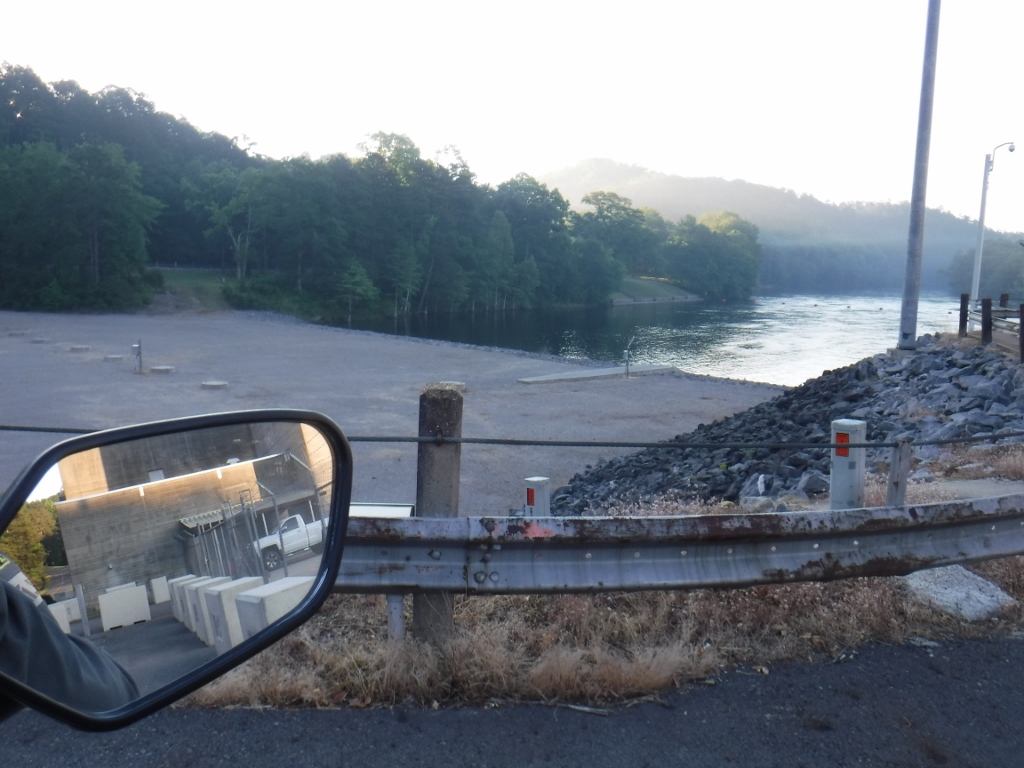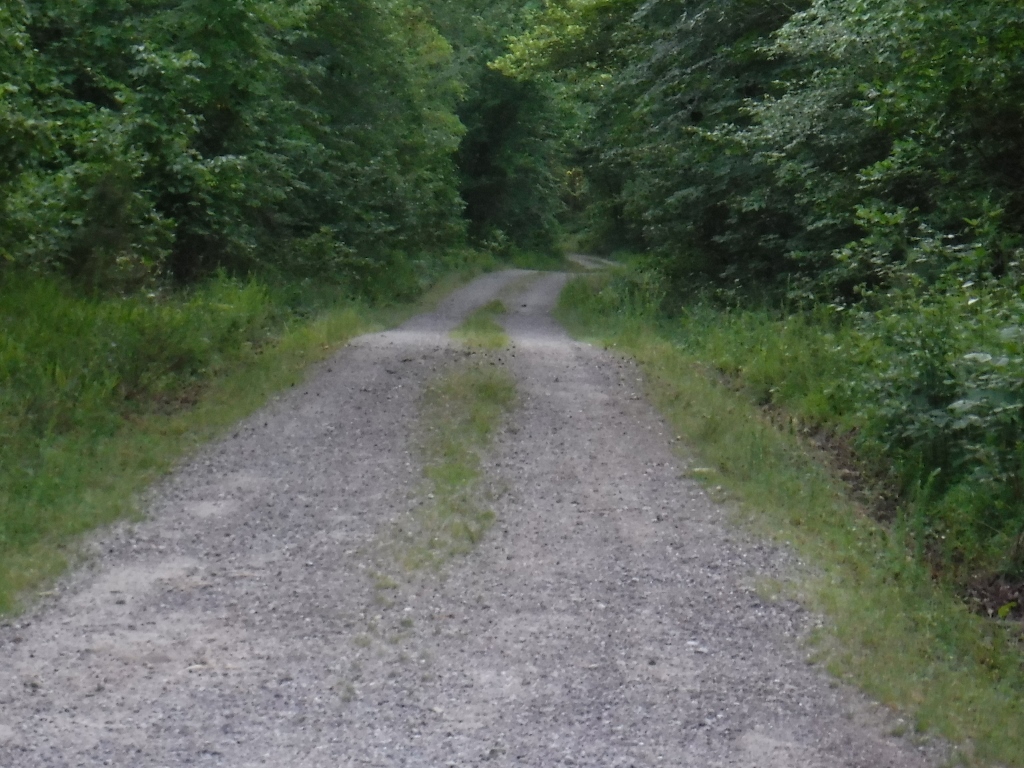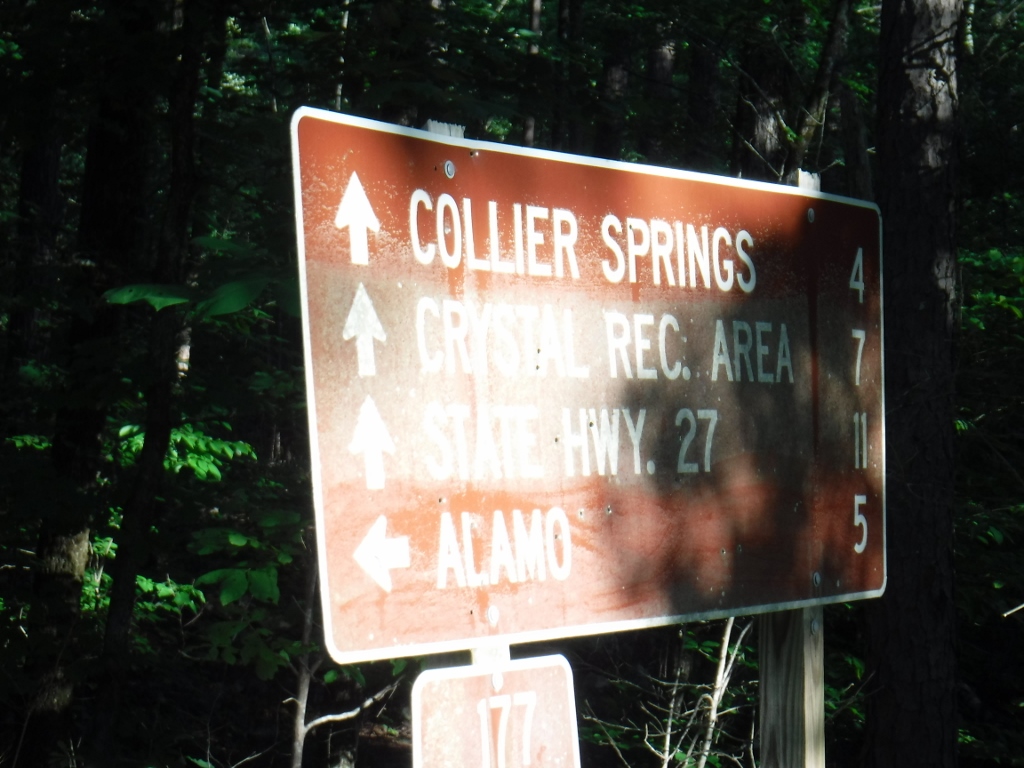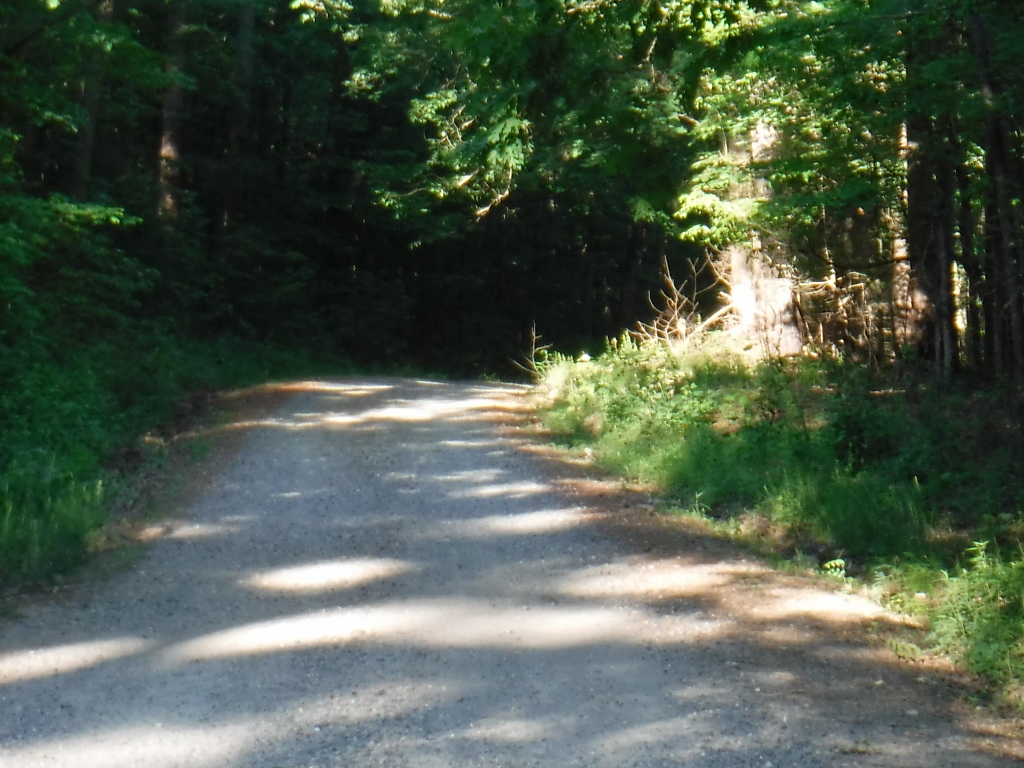 This was a cool road I went on for 40 miles and there was all kinds of interesting stuff on it.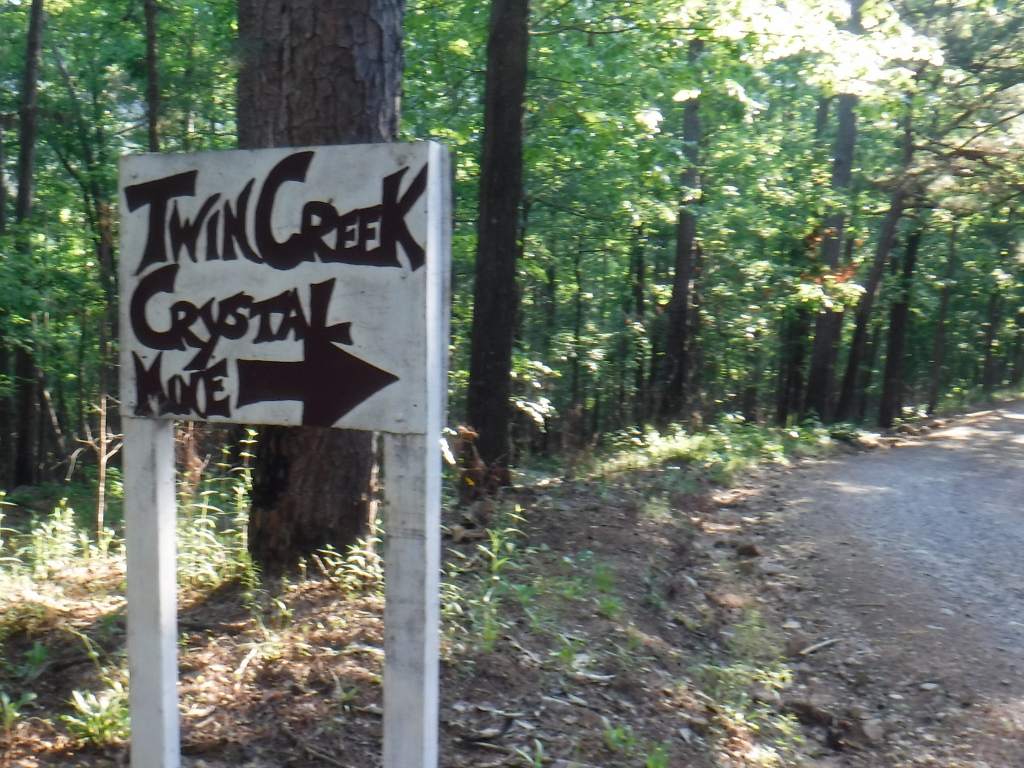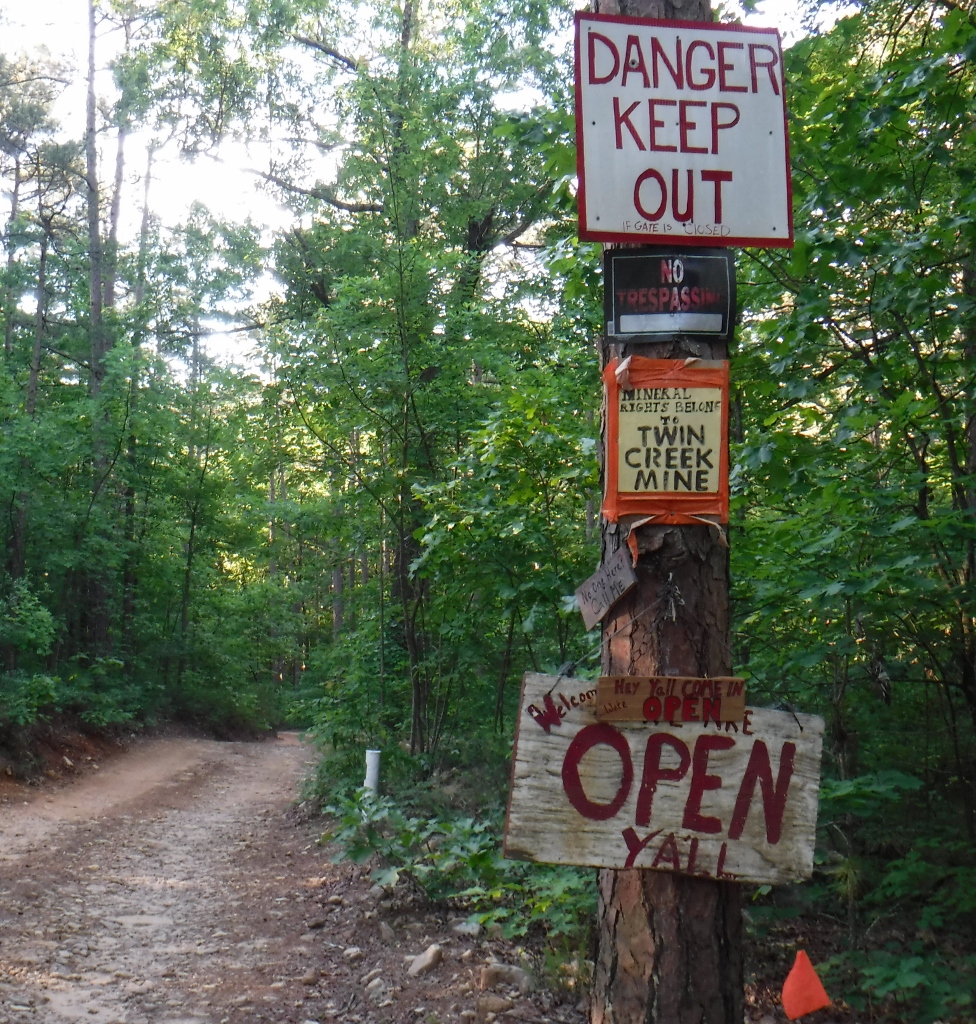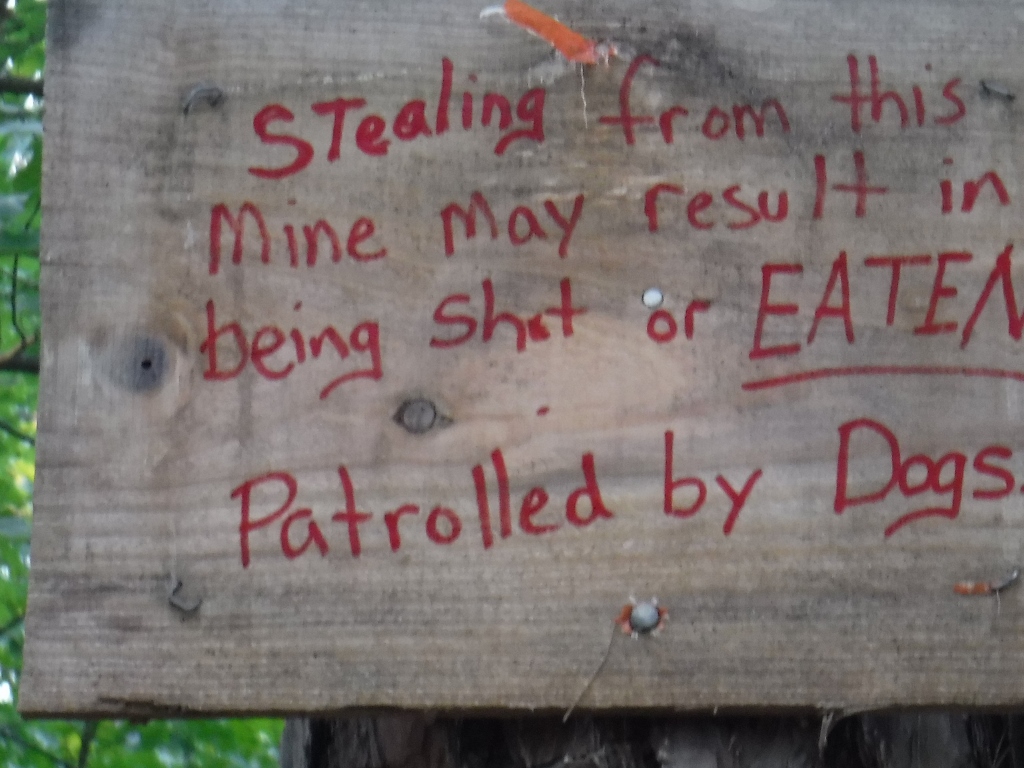 This road was pretty rough at times and I was flabbergasted to run onto this guy on a cruiser.
I stopped to talk to him----he was creeping along on this road------he looked just like Peter Fonda.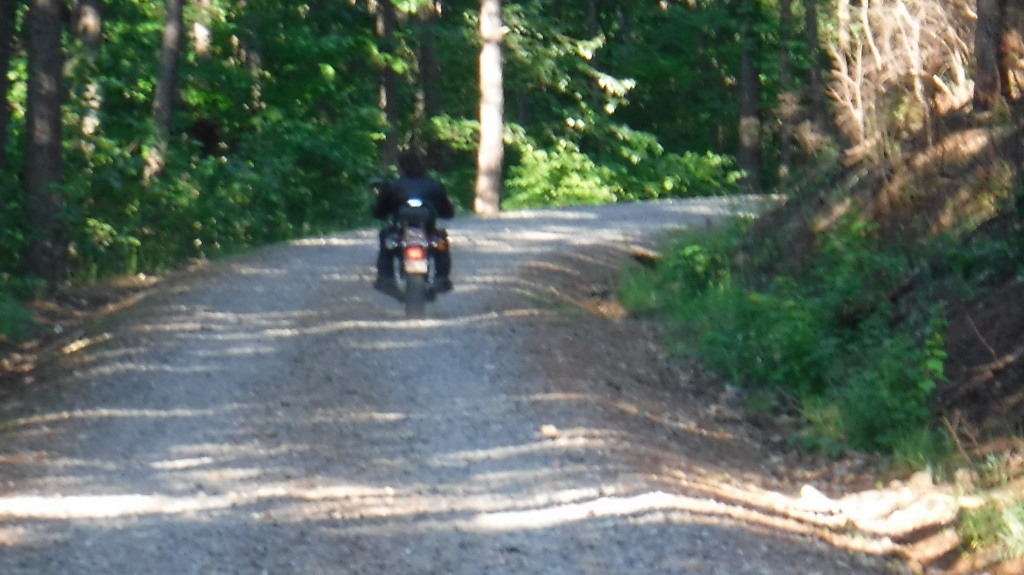 I think this was Crystal Spring.
I stayed here a while and had a snack.
And nobody came down this road.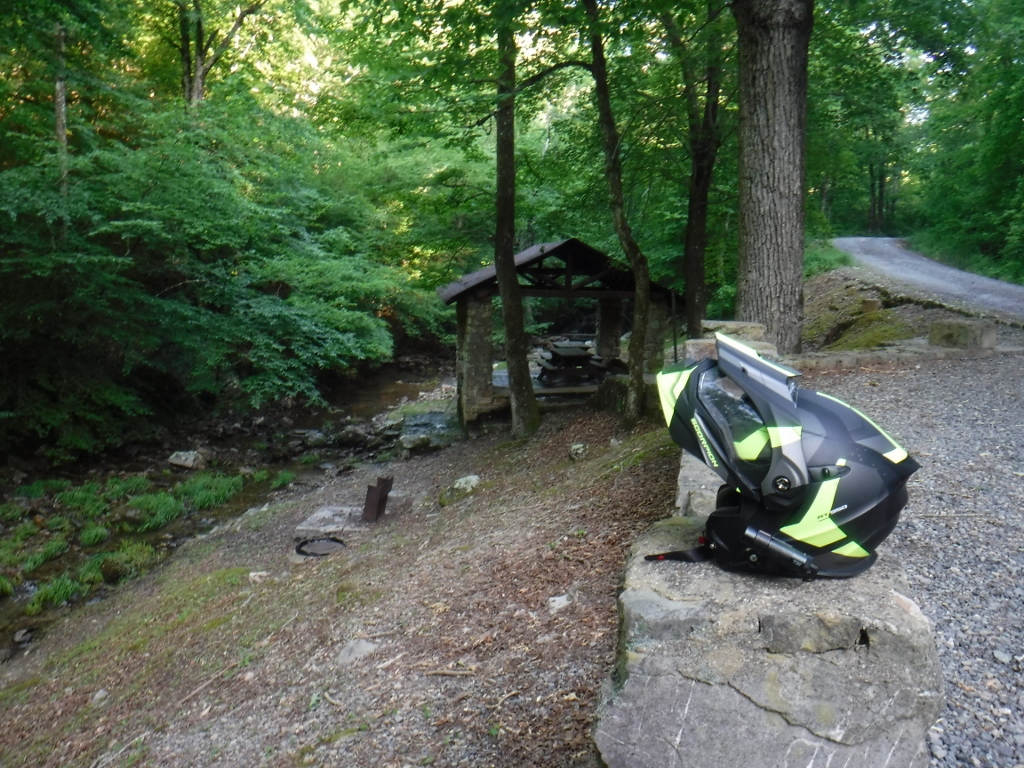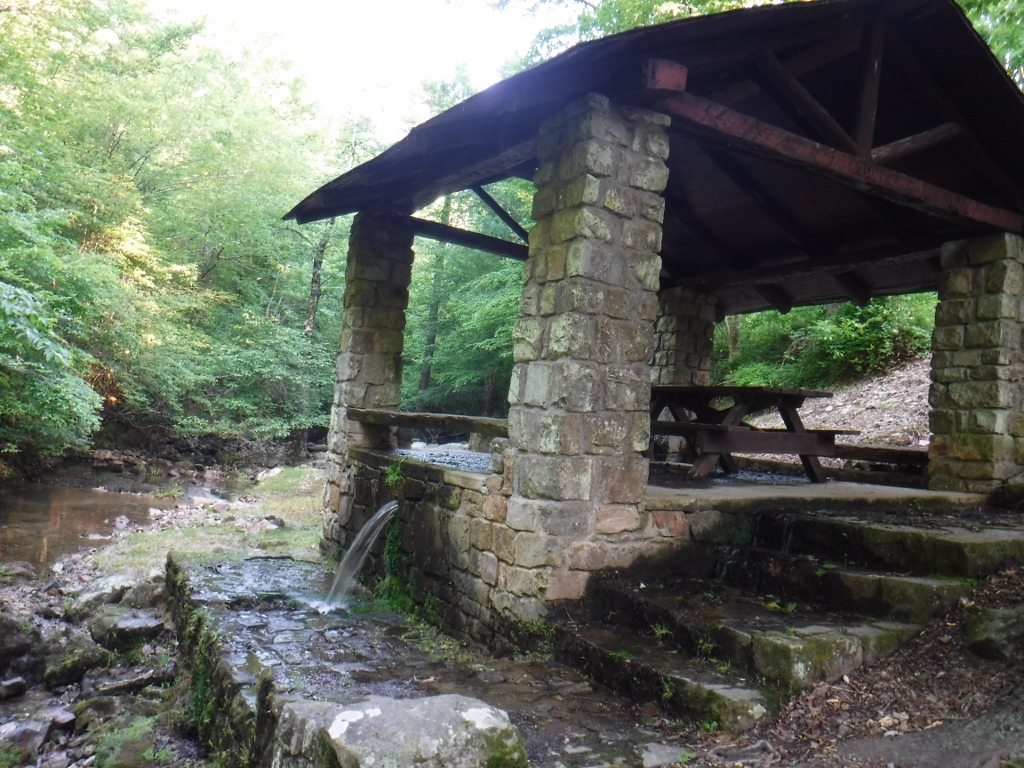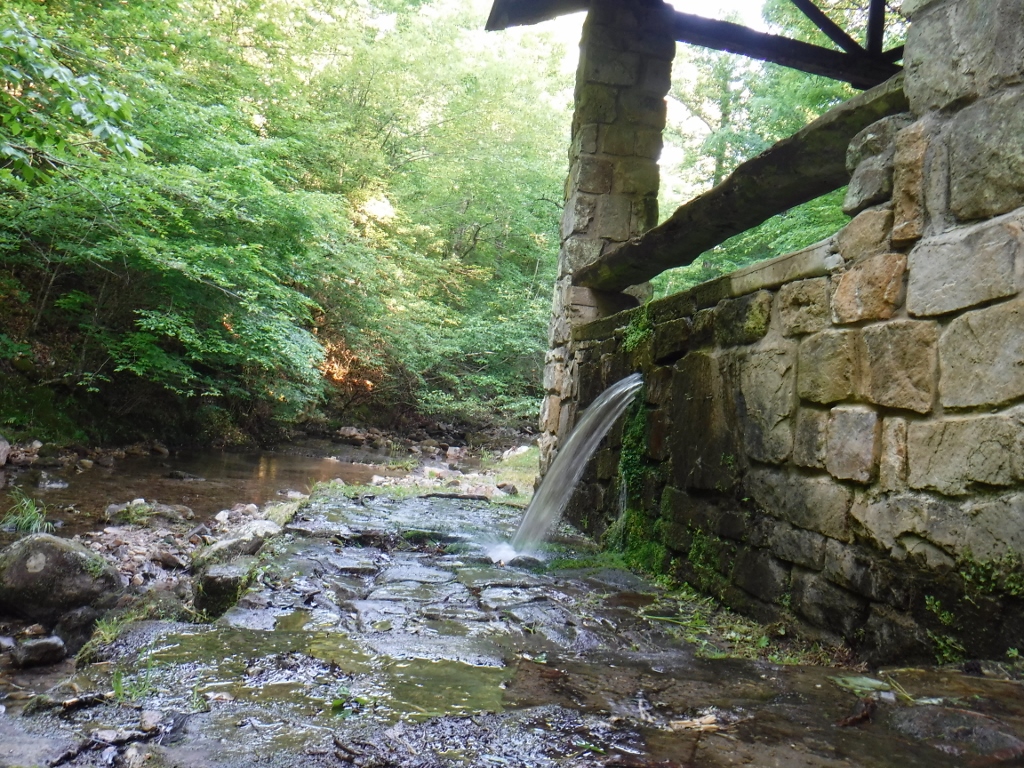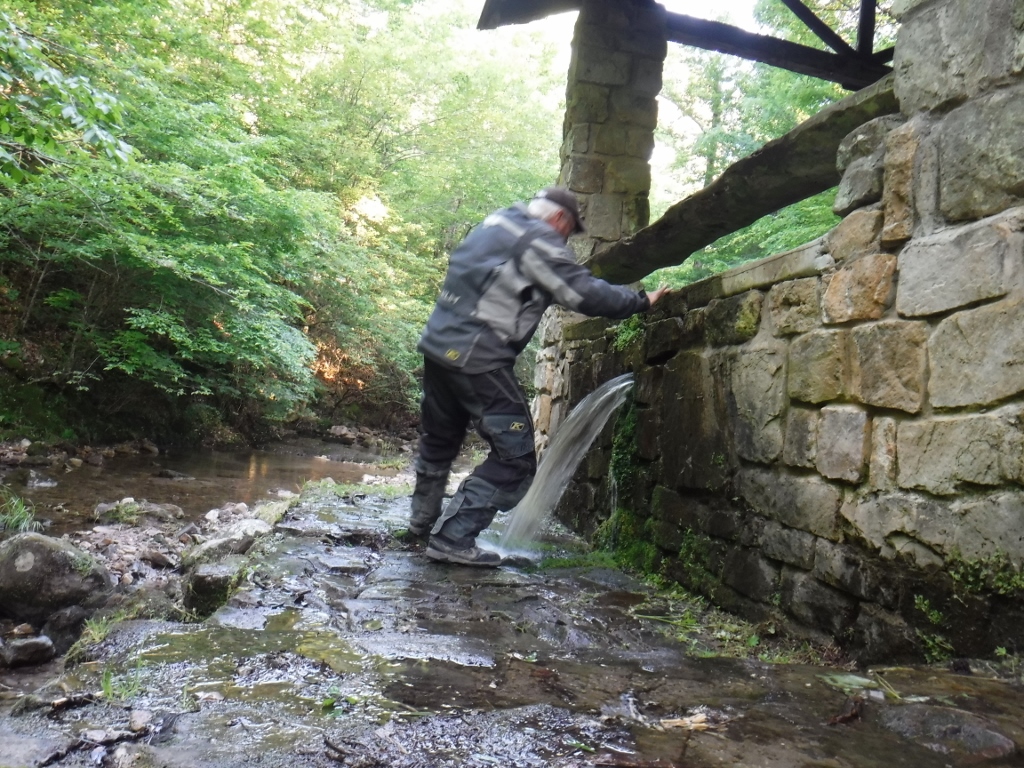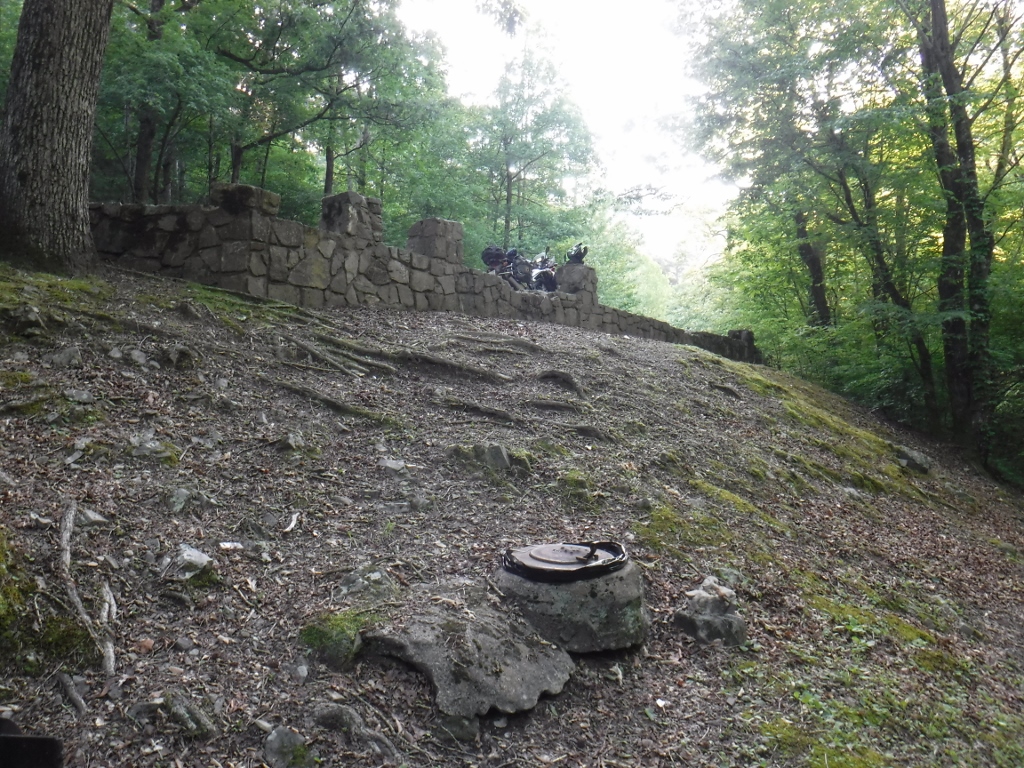 Video OZAT Part 3
I've got a good video of what went on here.
The water looked a bit deep and the rocks in the bottom loose and I decided to go around it.
But figured out I'd never bet my big ole' bike turned around without dropping it and just dove in.
Thing was I forgot to turn my traction control off and I got stuck in the middle-----the engine
refused to turn the rear wheel and there I was. Maybe someone would come along in a week or two.
But.............I turned the traction control off and throttled her up and spun my way out---easy peezy.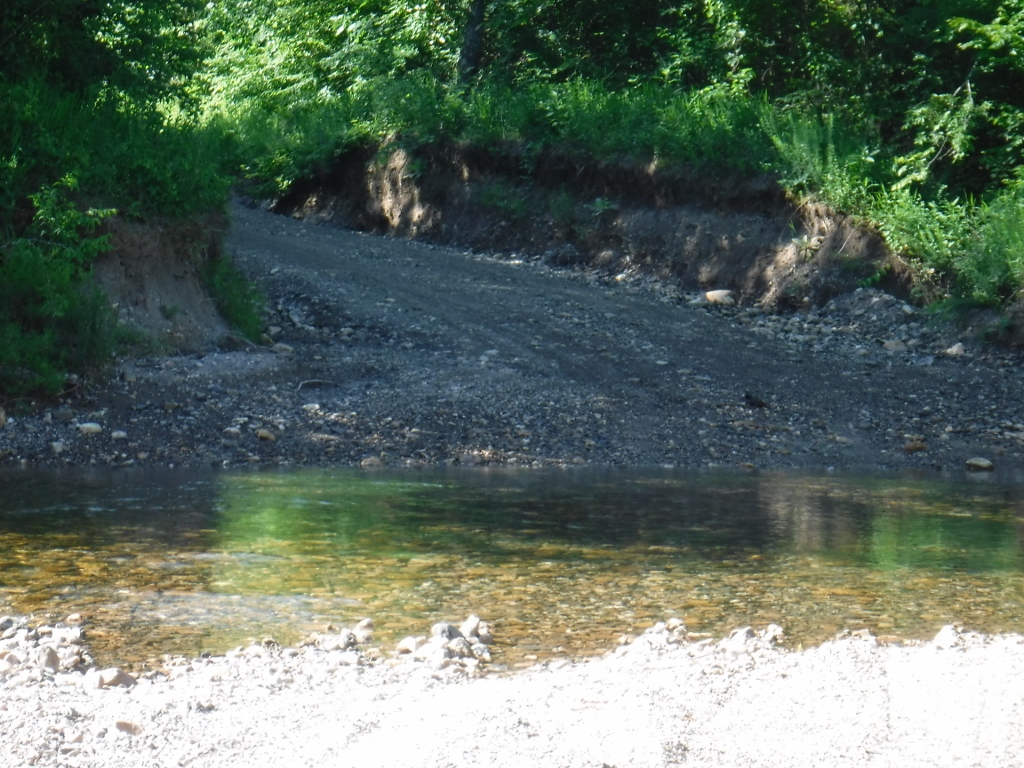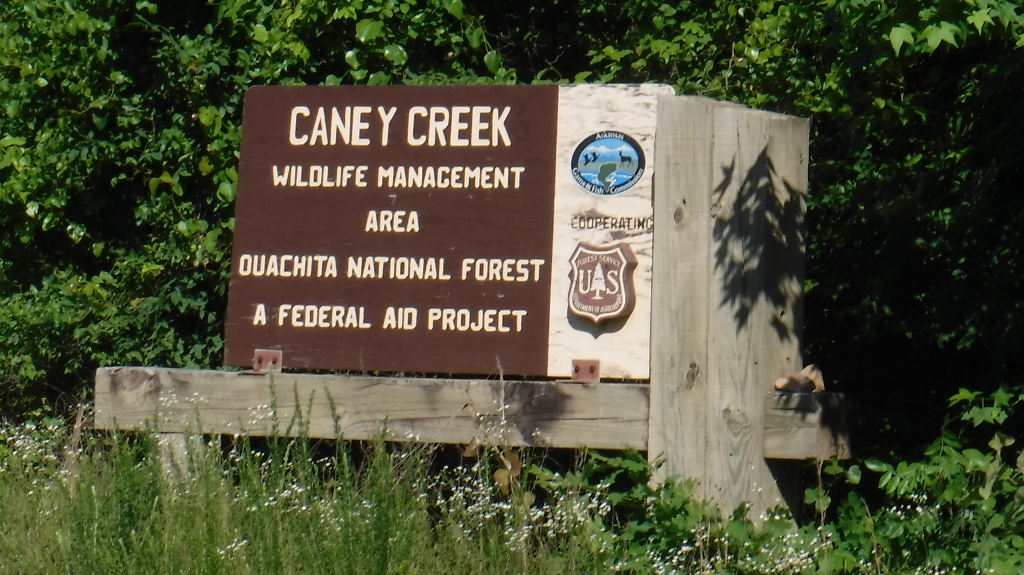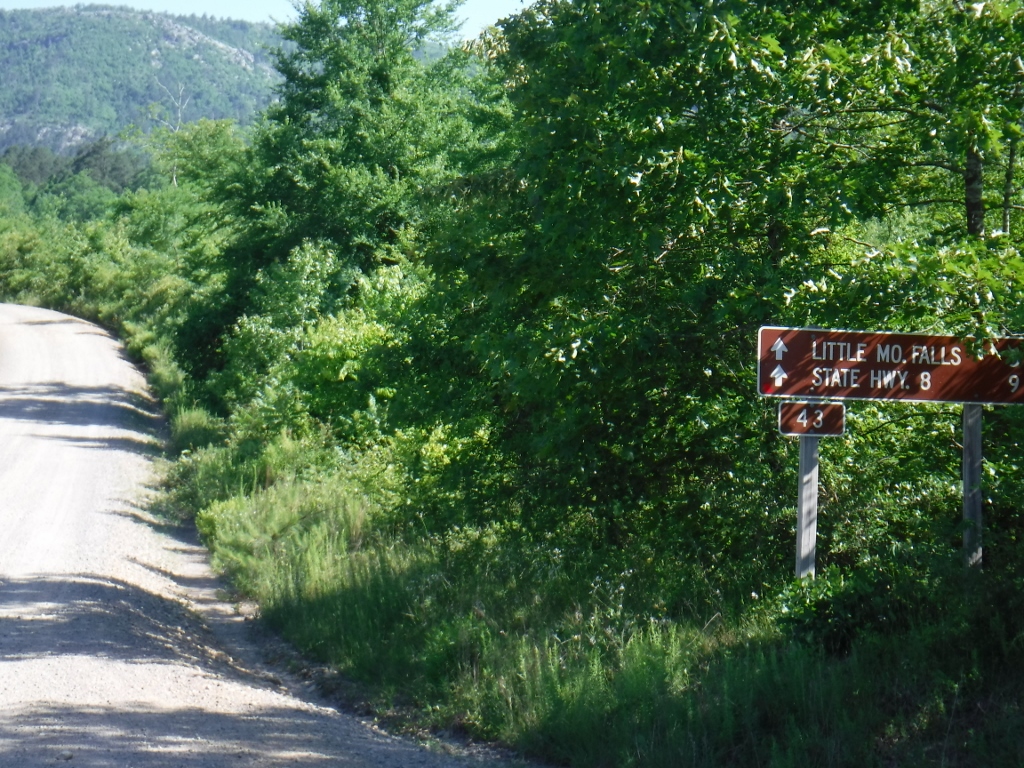 This OZAT took me to many places that I'd never been---and down lovely backroads I'd never been on.
However I did skip many things on this ride as I'd been there before.
And I skipped this------but don't you skip it. There is a beautiful creek down this dead end road
and a nice hike across the creek will take you to the falls. Many picnic tables to take a break and
relax--------but camping is not allowed.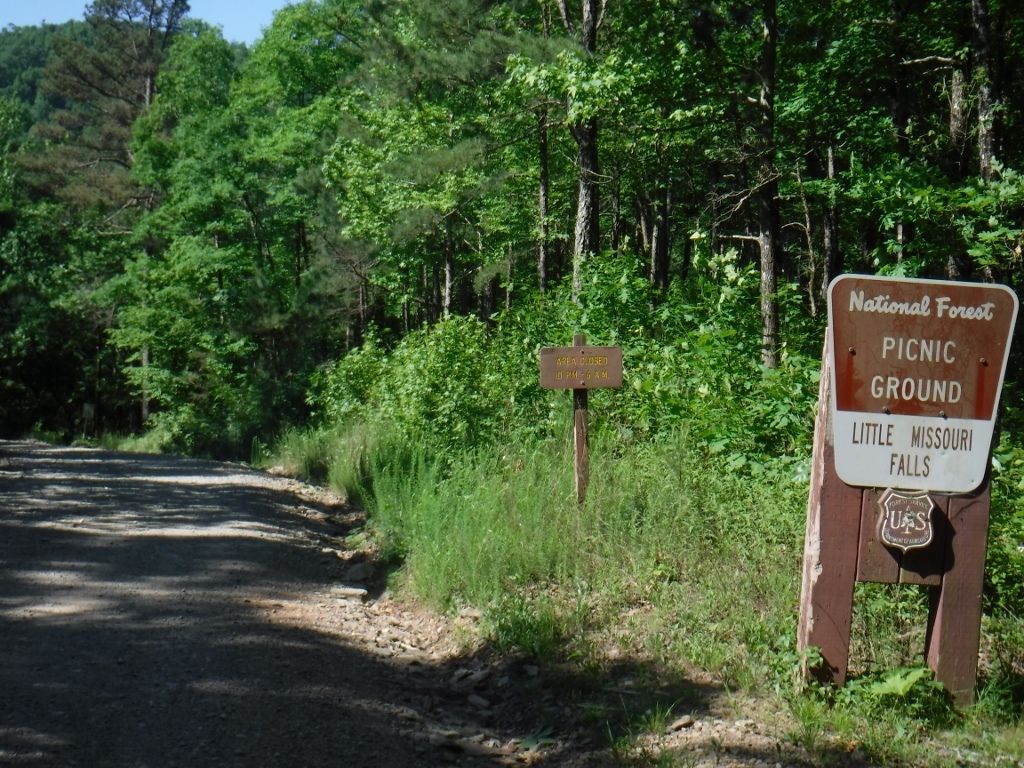 Nice road here-----there were several other roads I didn't ride that were touted as "Ruggety"
by Mr. Cannonshot. And one in particular he broke his leg on laying this ride out.
I opted to skip that one too. And a couple of them he said "do not take a big bike".
I said "OK".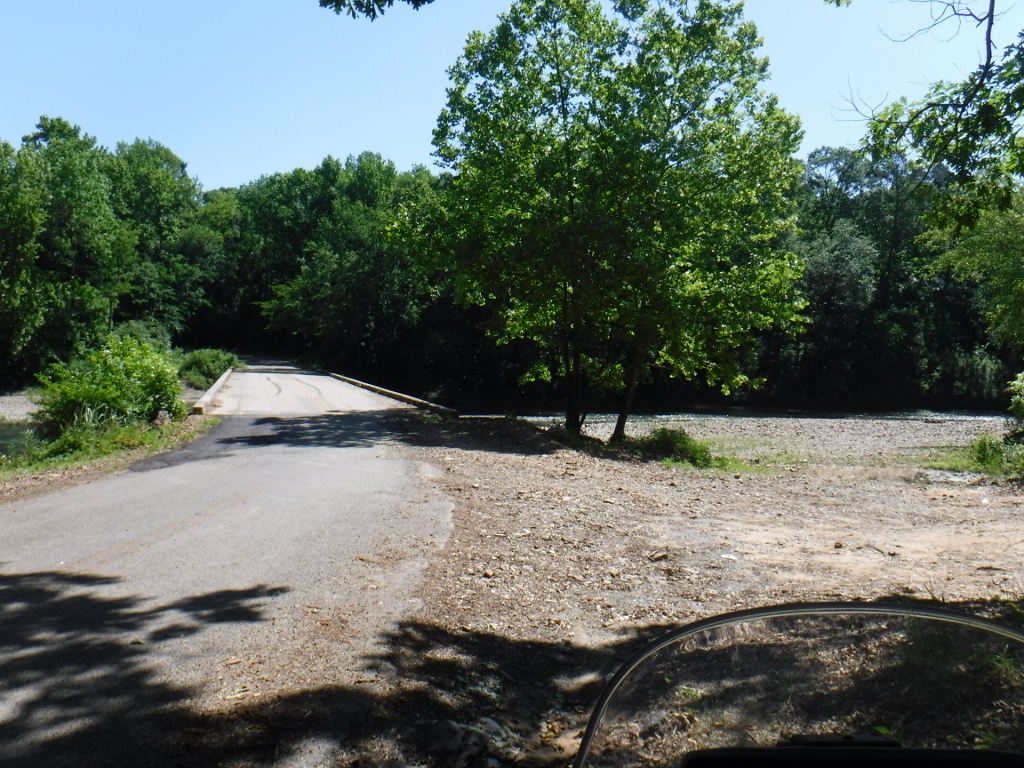 And in the little town of Cherry Hill was this little cafe-------it was all that was there.
I chatted with the gal in there for awhile and had some ice cream.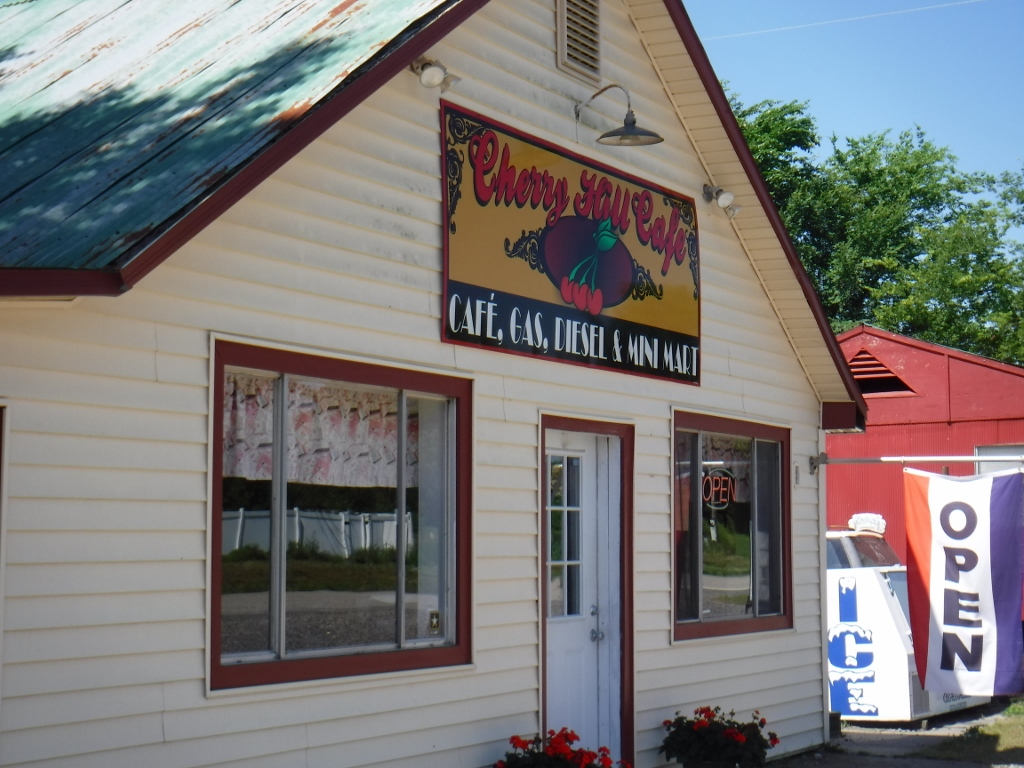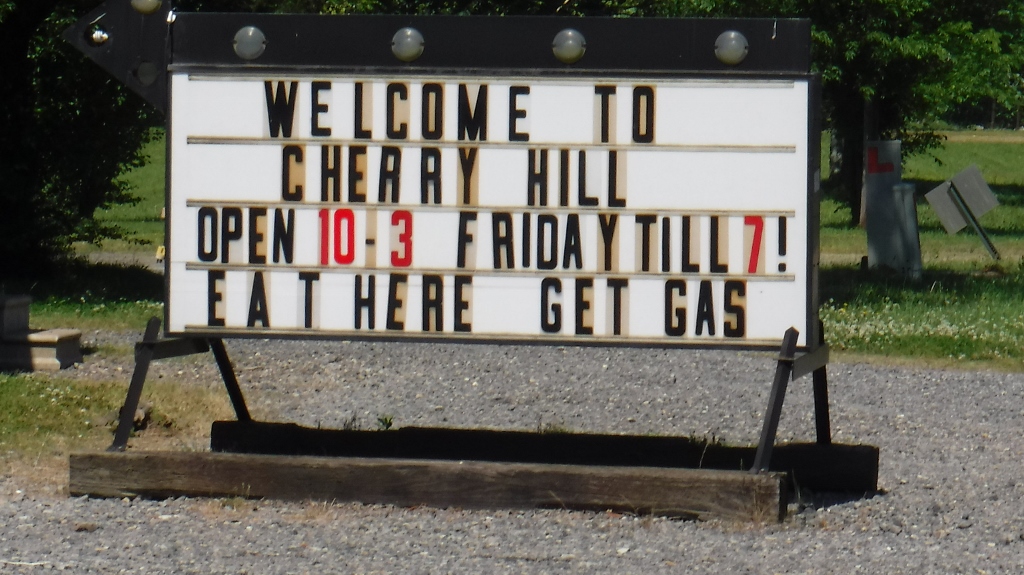 It was cool watching these workers hard at it while I shut my bike off------hard working guys working on
the pipeline paying into my social security--------and I thank you.
This excavator needed to cross the road----they thru down plywood then some old tires as he went
across.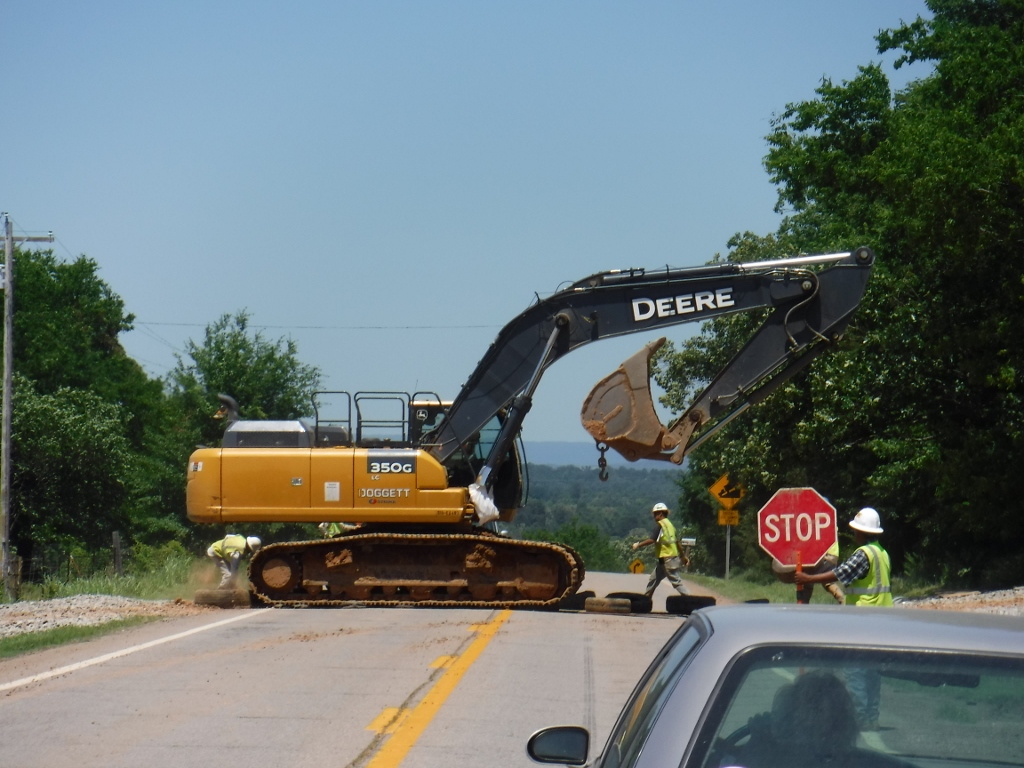 Blue Eye, Missouri-----------100ft. South of here is Blue Eye, Arkansas.
Stop in and have a Blue Eye burger and strawberry shake----------I did.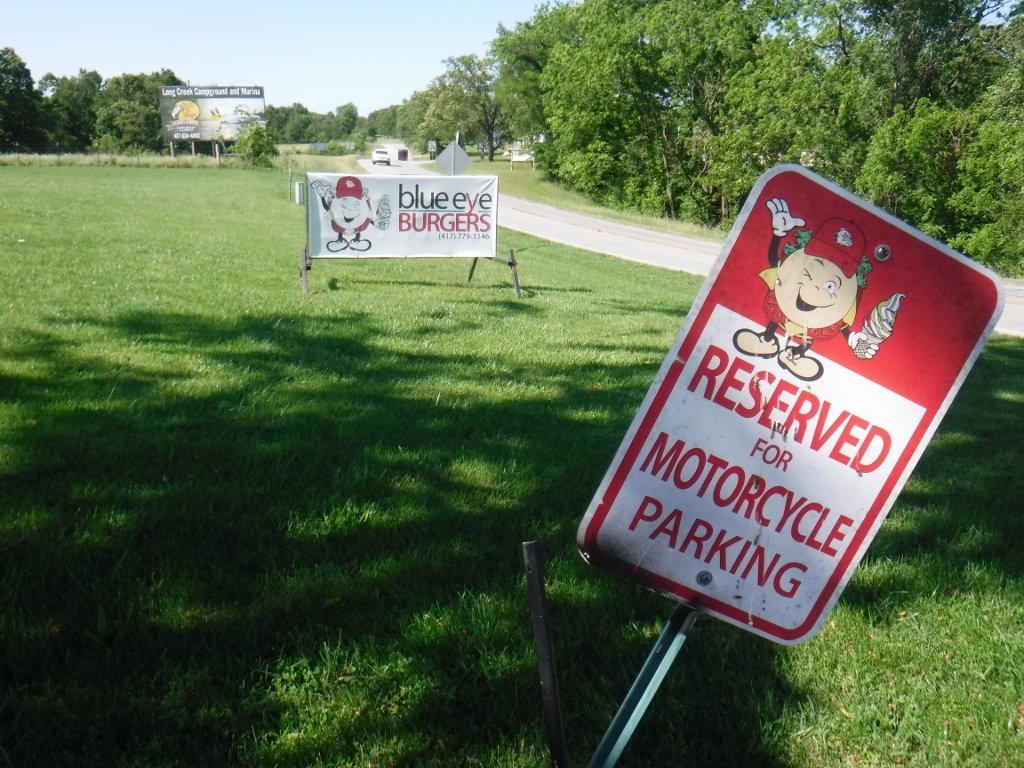 Blue eye is the starting point of the "TART".
Trans Arkansaw Adventure Trail.
Yep---------rode that years ago. It ends up in Alabama----story elsewhere on my website.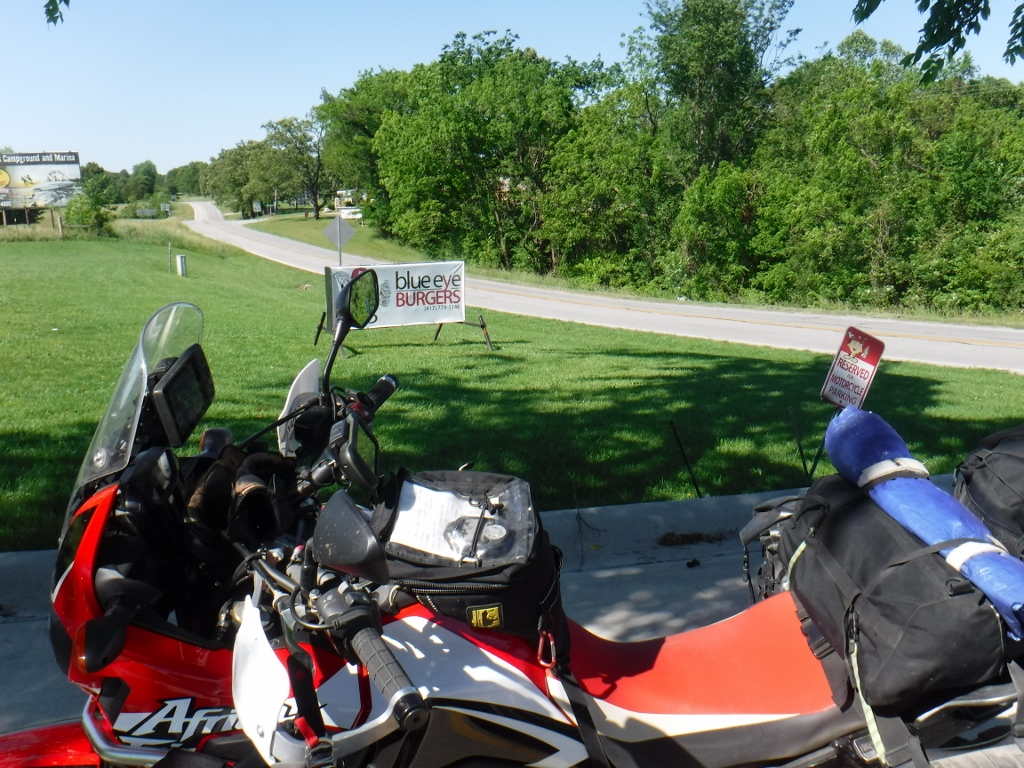 The OZAT doesn't end here------but it did for me and I beat it home from here.
I've ridden every inch of the rest of it before. Missouri has always been one of my favorite states to ride in.
One particularly cool area on the route is the "Glad Top Trail".
The last time I road it was with "Cannonshot" ------the creator of the "OZAT",,,,,,,,,now how cool is that !!!!
We rode it when we attended the very first "SLAP" rally at the Dawt Mill in Missouri.
Video OZAT Part 4