Nevada
The Nevada Marching band and dancing girls got tired of waiting for us.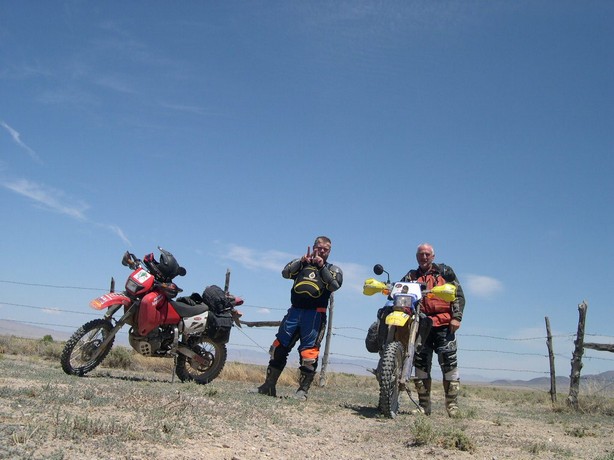 Baker, Nevada was waiting for us down in and at the other side of this Basin.
Maybe the bands, mayor and dancing girls would be there ???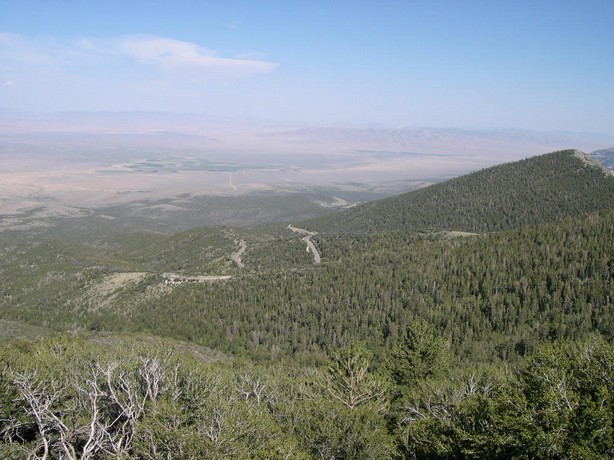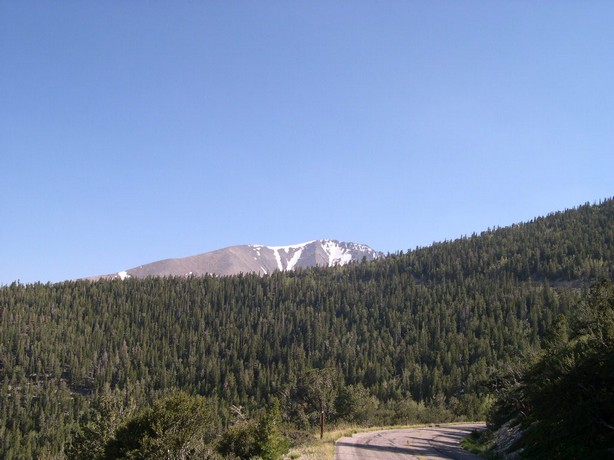 Baker, Nevada---Population 38
I could live here---a great place to hole up and forget about all your cellphone messages and such.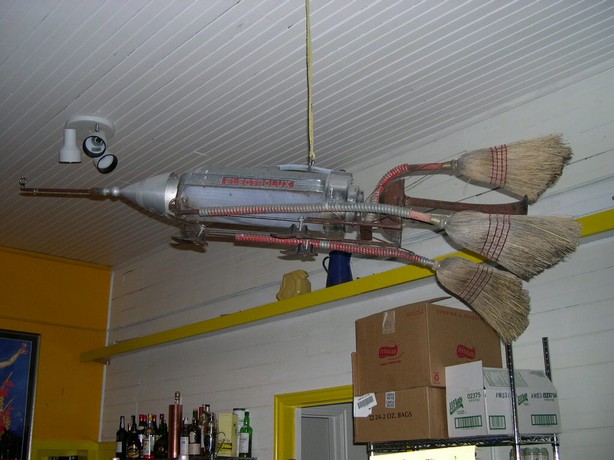 I think this sign explains the above picture well enough.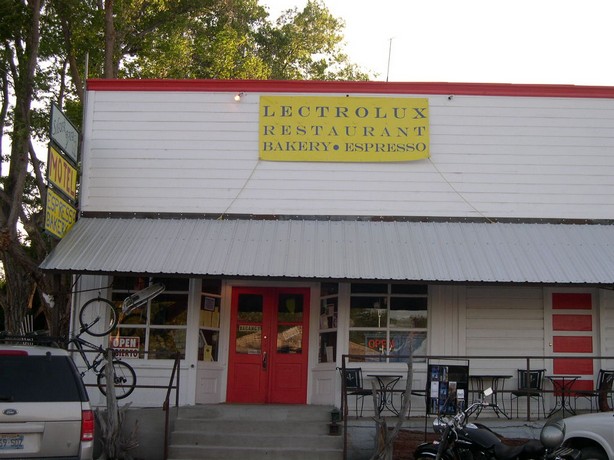 If I remember his story right---a guy from New York stopped in here and just bought the restaurant and now calls Baker his home.
Lucky guy---beat me to it. The owner was quite an interesting fellow. Besides owning the restaurant and a few cabins (which we stayed in) he was a bicyclists and a motorcyclists. His bikes are in plain view in the above pictures. You can leave you keys in your nice road bike--and leave your high dollar mountain bike just hanging on the porch in Baker, Nevada. They haven't had a theft since 1983 when they cut the arm off a would be thief in Baker, Nevada. Now that is justice handled the way it should be.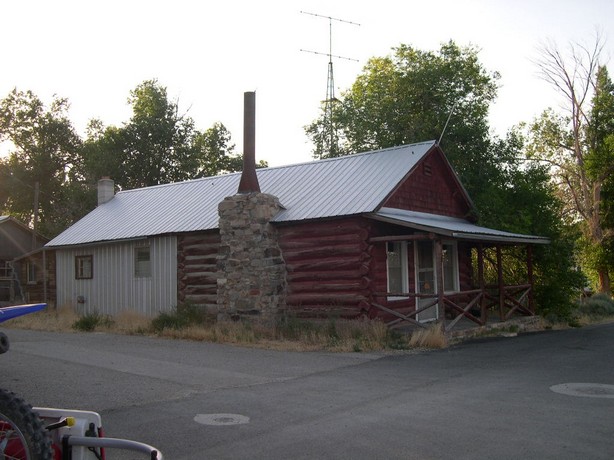 While in Baker we rode into nearby Great Basin National Park and up to Wheeler Peak.
Elevation 13,360ft.---yes lots of snow up there.
Our ride the next day took us South of Great Basin National Park as we kept a 6 or 7,000 ft. altitude.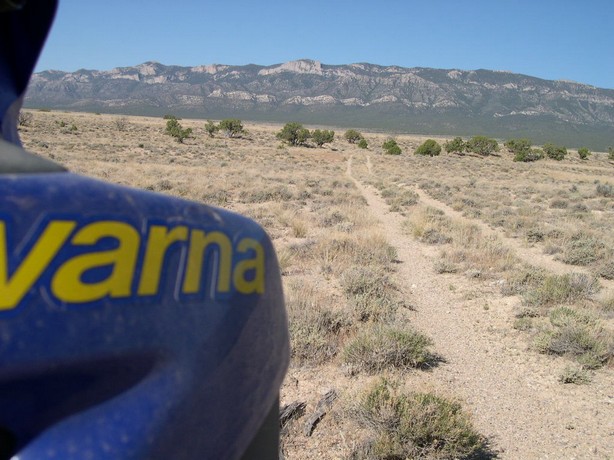 Down in the lush valley there was a wide open horse ranch and we rode by many natural springs.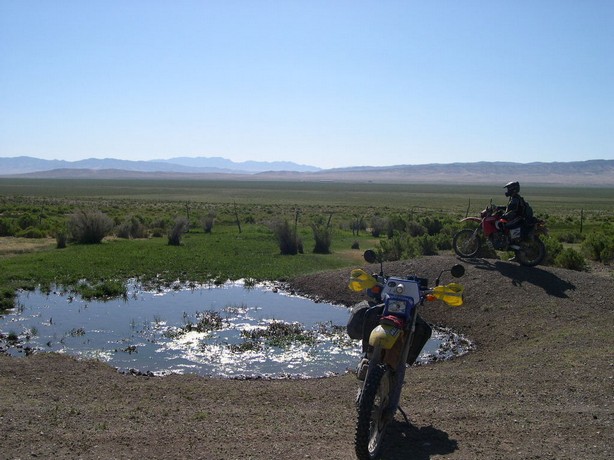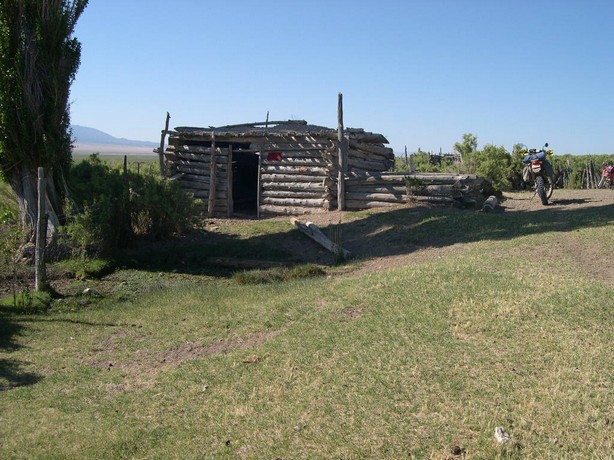 Pattersn Peak is off in the distance at over 8,000 ft.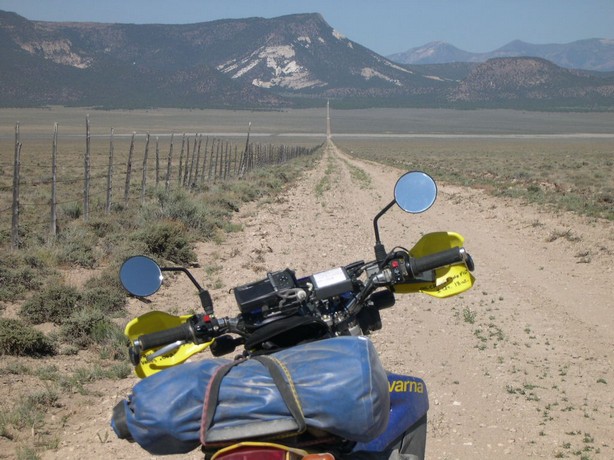 We entered a 25 mile section of Sam's trail that we were very eager to ride.
It was the only place on any of his maps where Sam had a by-pass around some difficult riding for big bikes.
This was like hanging a carrot in front of a horse for me and like hanging a cold Tecate in front of GasPipe---no wonder he's so fast.
We rode thru terrain usually much more difficult than you see here as we rode in and out of one sand wash after another....
Riding thru some tight sage brush that once again got very tight.
There was some deep sandy spots that had me wallering around like a wheel barrell full of cement with a flat tire.
Big bikes---stay out--take the By-Pass--if you've even made it this far.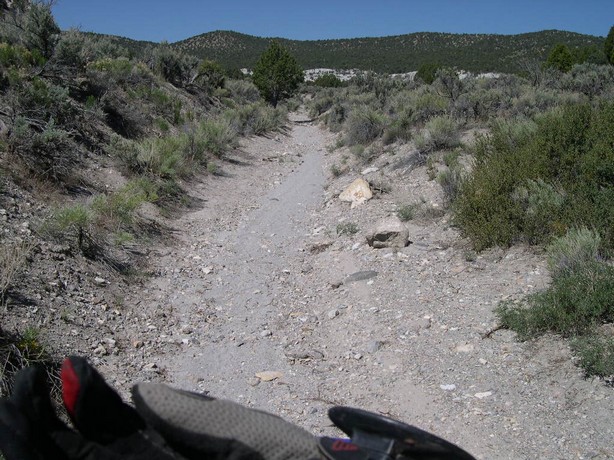 This route tool around Patterson Peak which is about 8,000ft.
I loved this Basin as the trail was barely visible--just stepping to the side made the trail impossible to see.
When ran into this little water well pump that looked like a miniature oil well pump.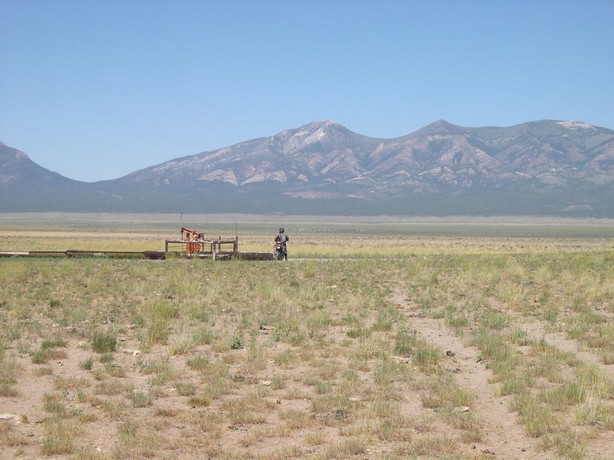 The water would flow into this old boiler which was cut up into a water tank.
When the first one got full--it would overflow into the next--the the next--then the next and so-on.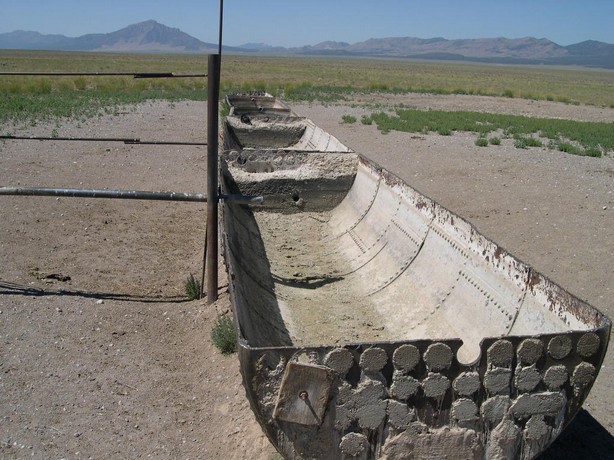 These tanks used to be tube steam boilers.
I recognized this as boiler work has been my lifelong trade.
Or was---as I was routed out by younger people with their nose up the bosses ass.
We would have never been able to navigate thru here without the GPS--as the non-existent trail was clearly marked on my GPS in TOPO mode.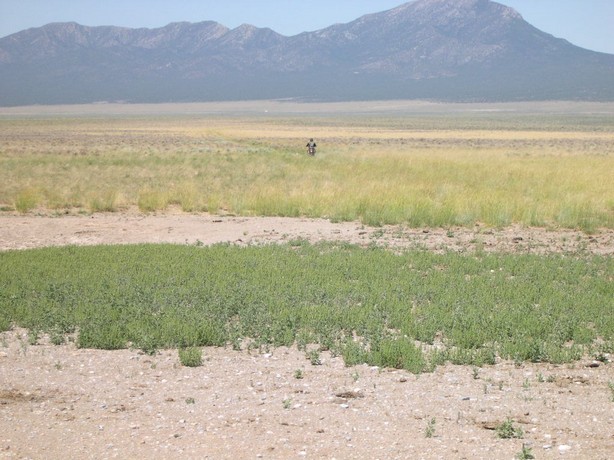 I folded my Baja Designs fold away mirrors down to keep them from getting snagged on sage brush.
If you run a solid mounted mirror which is screwed into you clutch or front brake perch---you run the risk of the perch breaking if the mirror gets hit---and this will make your clutch or front brake unusable. We both had these mirrors as this eliminated this possibility.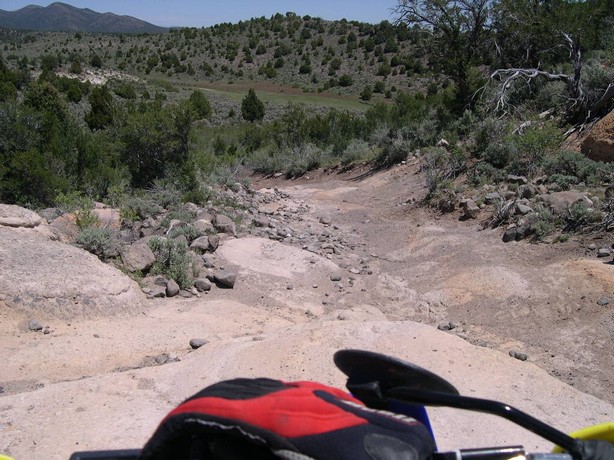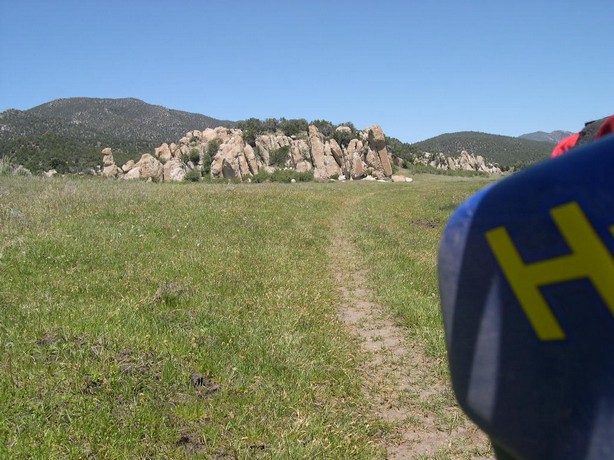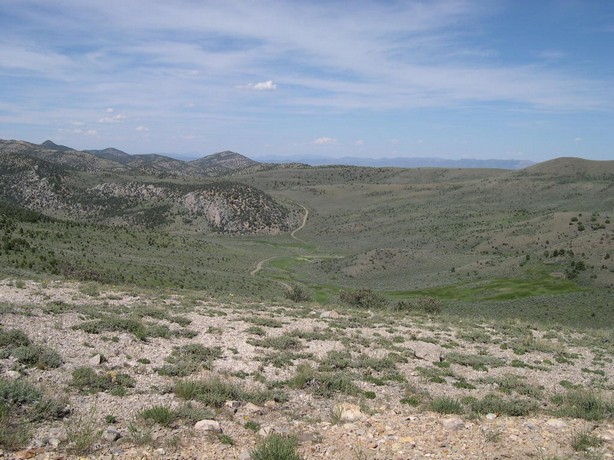 The lincoln Highway was a Jewel.
In 1912, there were almost no good roads to speak of in the United States. The relatively few miles of improved road were only around towns and cities. A road was "improved" if it was graded; one was lucky to have gravel or brick. Asphalt and concrete were yet to come. Most of the 2.5 million miles of roads were just dirt: bumpy and dusty in dry weather, impassable in wet weather. Worse yet, the roads didn't really lead anywhere. They spread out aimlessly from the center of the settlement. To get from one settlement to another, it was much easier to take the train.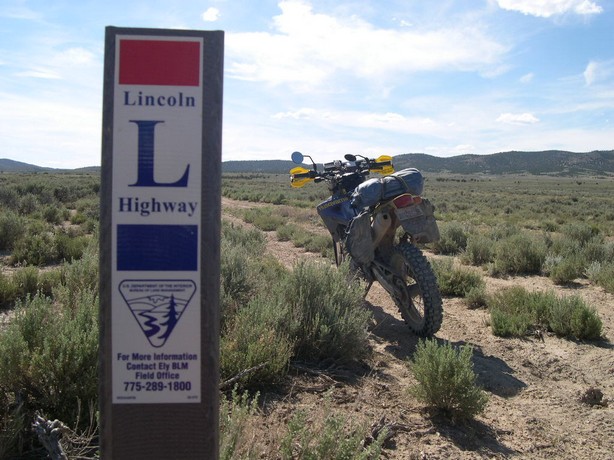 Carl Fisher recognized this situation, and an idea started to take hold. Fisher was a man of ideas. As soon as he thought of a project and got it started, he would grow restless and start on another one. His Indianapolis Motor Speedway was a success, espcially after he paved it with brick and started the Indianapolis 500, and he would later turn a swamp into one of the greatest beach resorts: Miami Beach, Florida. However, in 1912, he dreamed of another grand idea: a highway spanning the continent, from coast to coast.
We followed the Lincoln Highway for maybe 75 miles---most of the time it was nothing more than a horse drawn wagon rut that you could barely see. It was pure joy traveling on such a historic route----we never say a soul on it as it went thru some bad sandy terrain and you had to open and close many fences to pass thru.



Somewhere Southeast of Eureka, Nevada my battery went dead instantly--it went from reading 14 volts on my GPS to none--nada--instant death.
We pushed started my bike and ran her in to Eureka where I had a new one shipped one day air and had it the next morning at 9AM from the local Napa store
Man those NAPA folks are great---got me a battery the next day and let me change my oil--nice people.
It would have been good to have a kick starter---and it is good to have a bike that will run with a dead battery. Usually nowadays---only dirt bikes will do this.
My KLR will run with a dead battery. Those fuel injected bikes are in big trouble when the battery goes South.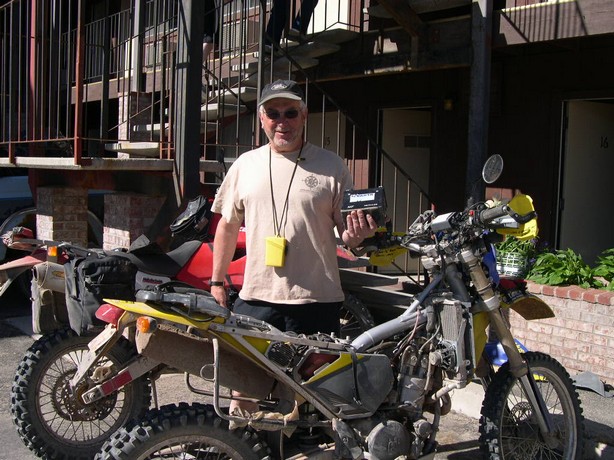 We had to burn some time in Eureka as GasPipe had ordered a new front sprocket also--as he might as well as we were waiting for my battery anyway.
Invasion of the Alien Crickets from Mars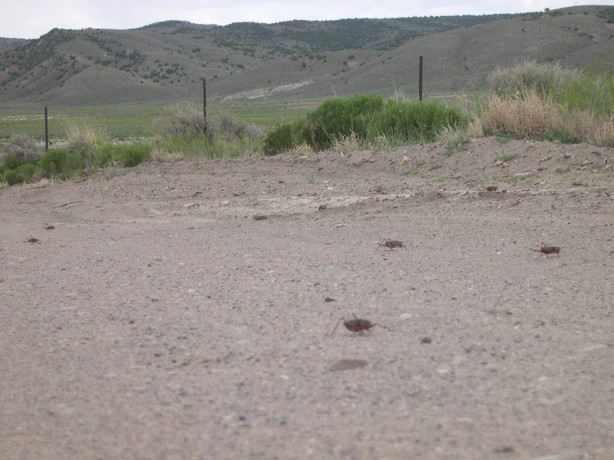 Here is a report I got online about the crickets:
Despite earlier hopes that this year's Mormon cricket infestation would show signs of decline, Nevada agriculture officials say the icky insects are marching and munching their way across the state in full force.They estimate the bugs will infest up to 12 (m) million acres in Nevada by the end of summer.So far the hardest-hit areas are around Austin and Eureka in central Nevada. But bands of crickets have also been reported near Lovelock, Sand Mountain, Wadsworth and Palomino Valley north of Reno.The crickets eat lawns, gardens and crops. In a frantic search for salts and protein, they often eat each other. The insects were made infamous by nearly destroying the crops of Utah's Mormon settlers in 1848. This is the seventh straight year they've invaded northern Nevada.
Man I loved riding across this Basin.
Down in the bottom it was nothing but dirt with deep rusts from some poor travelers who tried to go thru here when it was wet.
I kept my bike on the very edge of the road picking my line very carerully and maintaining a speed of 50mph at times.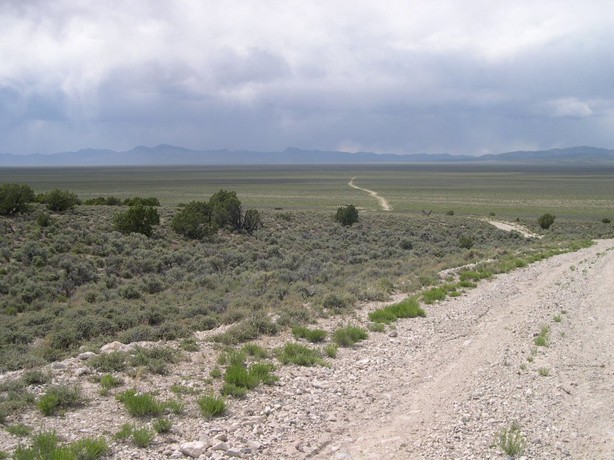 And lo and behold and the very bottom was "Mud Spring"
GasPipe just had to play--when will he ever grow up !!!!!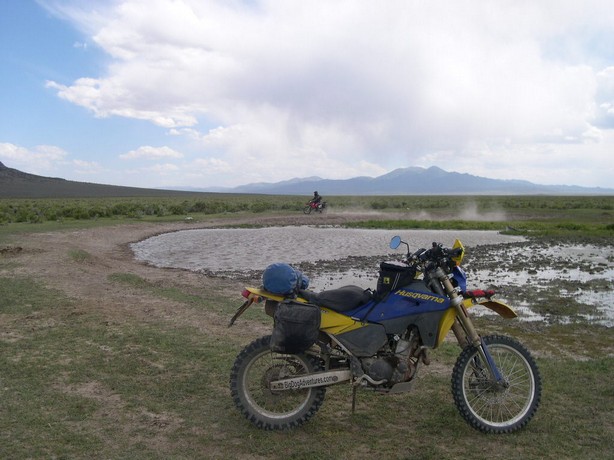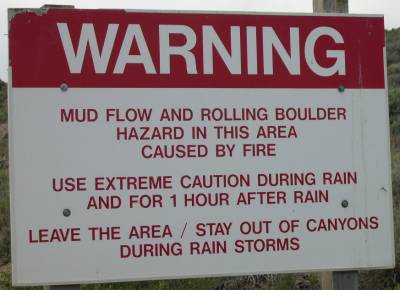 We've been warned !!!!
And warned again !!!
We clicked up a gear and pulled more throttle.
I think the silver thing is the largest mailbox I've ever seen in my life.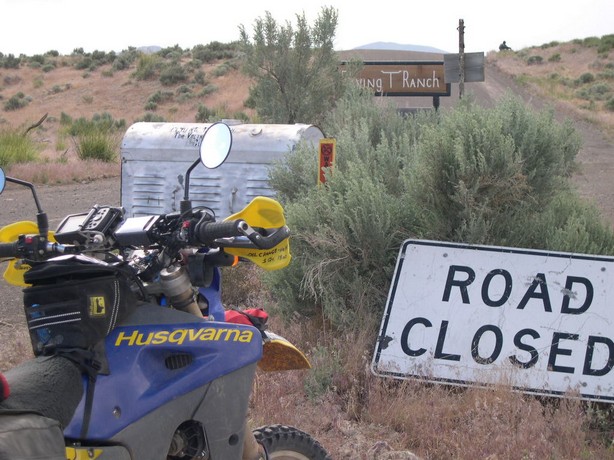 We went over McClusky Pass then Rocky Pass and found the
"Utah Mine"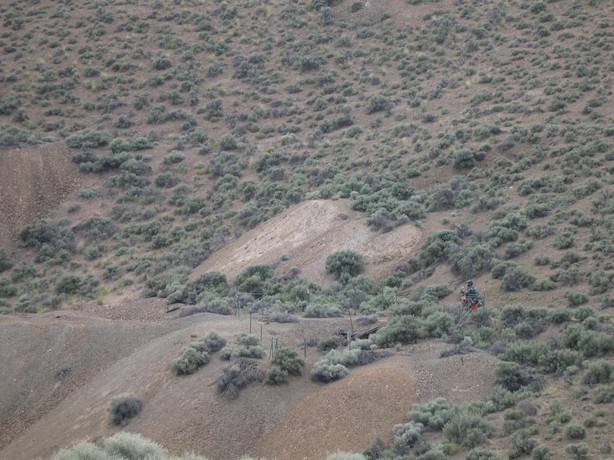 It was straight down and you can see the wooden ladder still there at the bottom right of this picture.
Should I ?????--------I don't think so.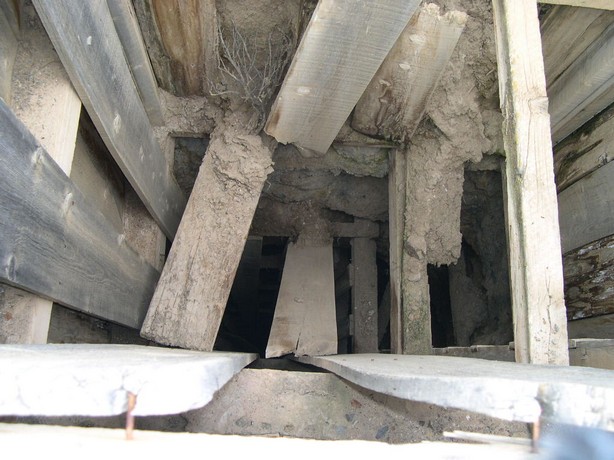 View from Utah Mine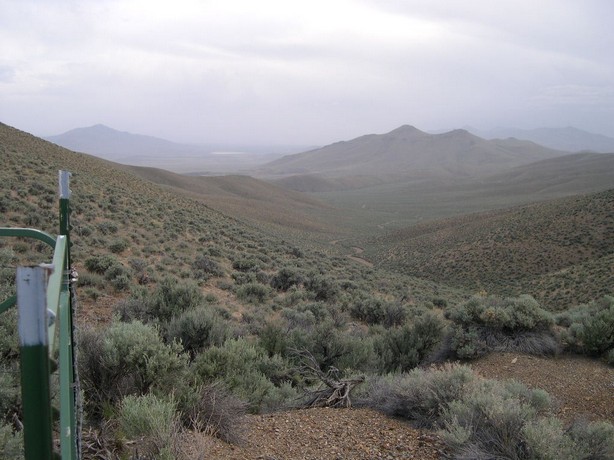 Heading towards the town of Battle Mountain, Nevada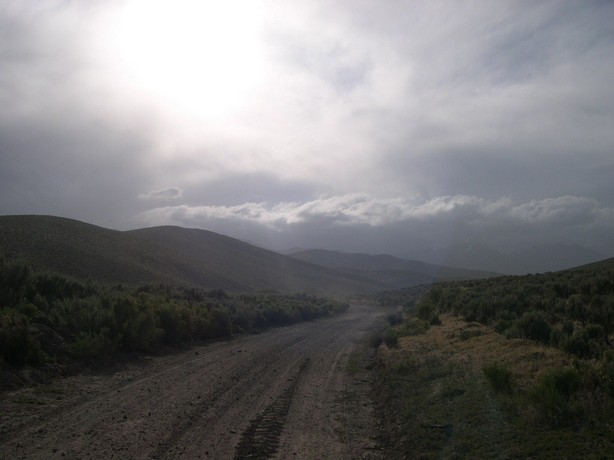 A final high speed dirt and sand path led us into Battle Mountain for the night.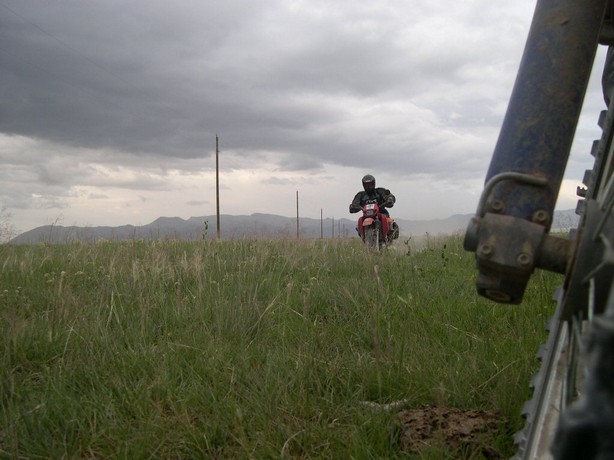 Wednesday 6-14-06 We left Battle Mountain, Nevada
There was another huge rain last night--about 5 inches we heard.
This may spell trouble for us and we rode thru what seemed like a rice patty for miles down deep in the valley.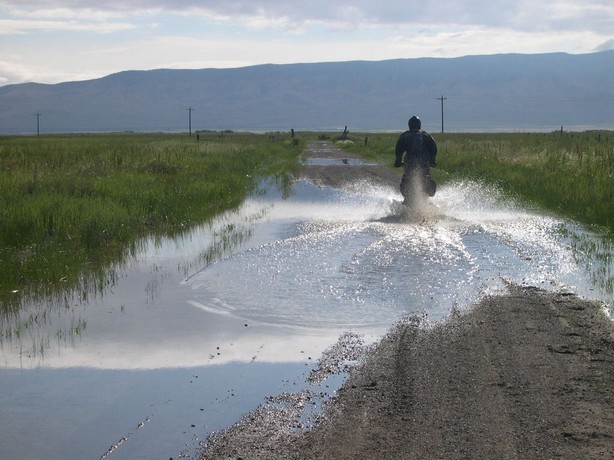 The Reese River
This was to be one of our biggest obstacles of the trip.
The river was flowing very fast and deep where the road had disappeared after the huge rainstorm.
Even if we got thru there was a bigger river 1/2 mile ahead my GPS told me.
Maybe more deep water on the road ????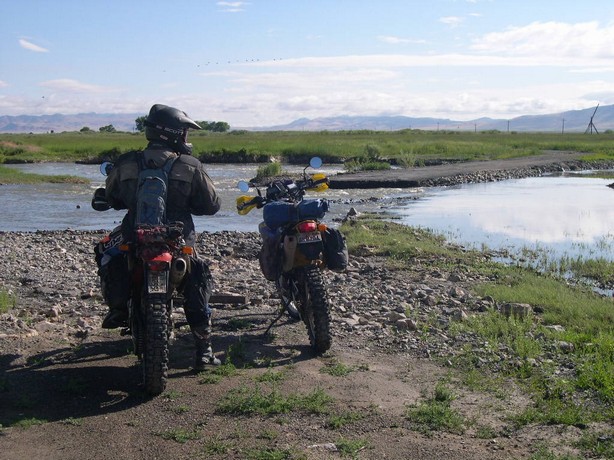 More than once we decided to turn back---but ulimately hated to run almost 50 miles to get around it.
We walked the river all the way across and came up with a plan.
We would idle the bikes one at a time across the bike with both of us off the bike on the downstream side so the water wouldn't bowl the bike over.
One had the bars and controls and one was pushing near the rear of the bike.
I was afraid water would gush into my right side exposed airbox and fill my motor with water.
We made it fine--and I wish we had a video--it was pretty hairy.
With very soggy feet we marched on into this thunderstorm.
Our feet were already wet--what the heck!!!!
The crickets invaded again--covering the road.
We had heard from locals that they can completely cover the highways and cause a vehicle to hydroplane on a greasy goo of cricket guts.
Sometimes I would run over a mountainous pile of them as they were eating each other.
Nasty little boogers they were.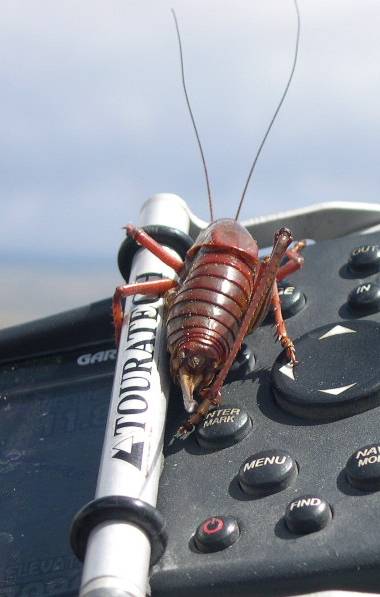 This guy wanted a front row seat.
I guess he wanted to go to Oregon.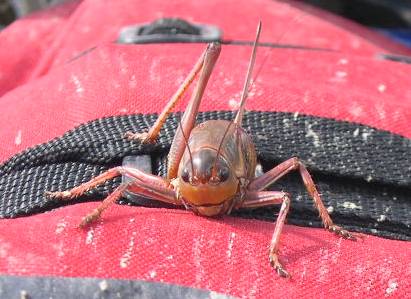 I can't describe how it feels to travel across lonely beautiful terrain like this.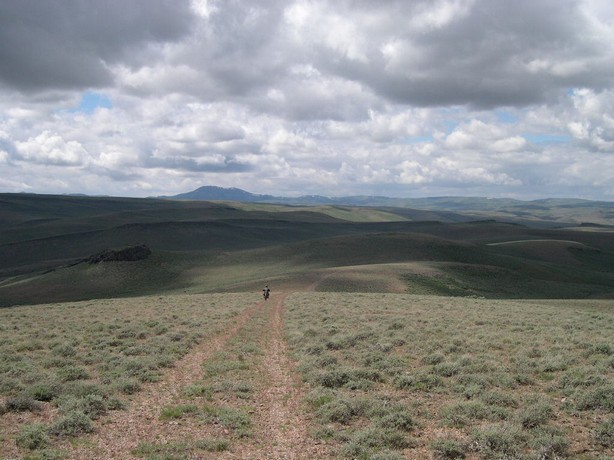 We were riding up a mountain switch back and this herd of wild horses were coming at us.
They seemed undaunted by our prescence and rode right by us very close giving me a bit of a scare.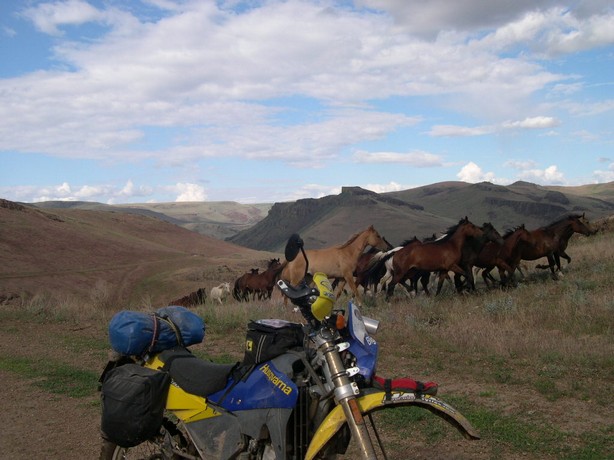 We dove in behind them for about 1 mile on the narrow road and I shot this from my hip while riding.
The 2nd best photo of the trip---the 1st is coming.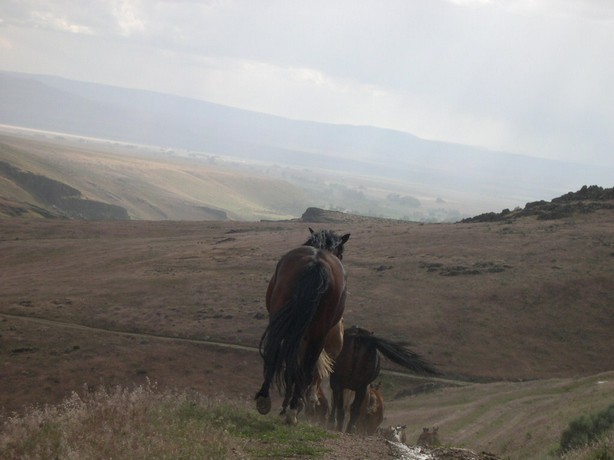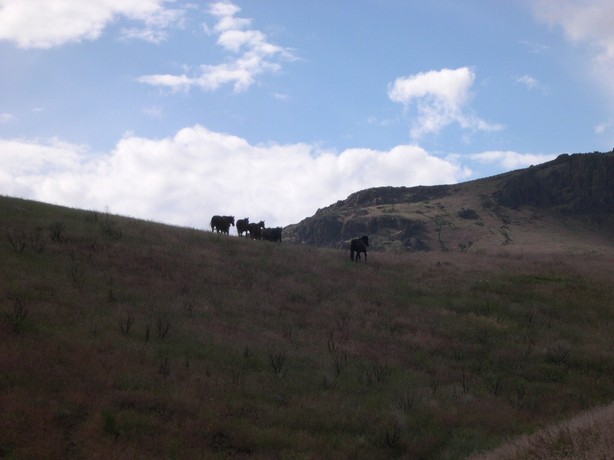 After the horse finally veered off--we finally rode into McDermott, Nevada.
But not before I ran out of gas again.
Thursday 6-15-06 Left McDermott, Nevada
Disaster peak was on our ride plan today.
But we had some great riding before it came into view.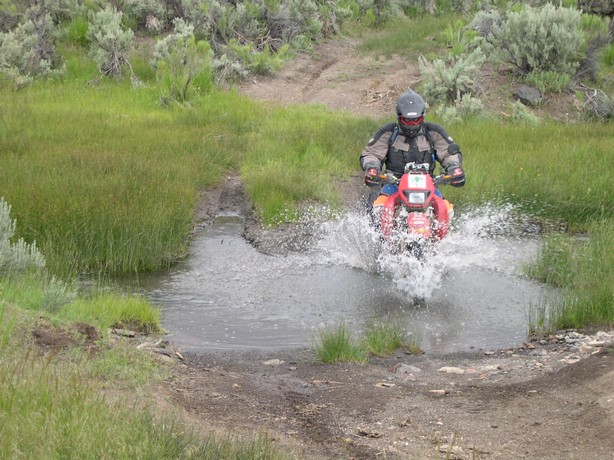 Disaster Peak is on the left---it was in our view for hours as we rode completely around it and got good views from 3 sides.
This over 10,000 ft. peak was named after the first person to ascend it.
He broke his leg and named it "Disaster Peak"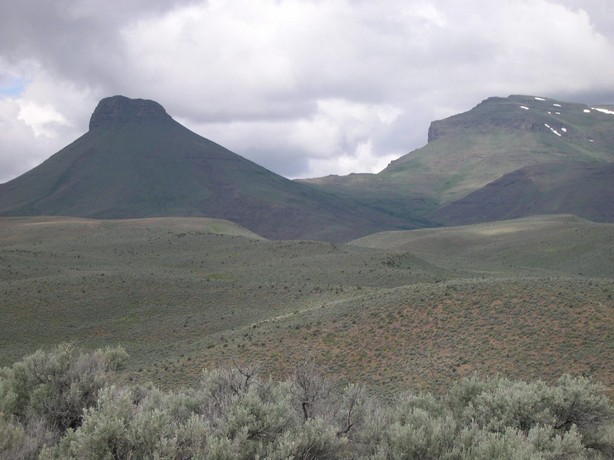 GasPipe just motored up the middle of this without a thought.
The ruts are 2ft. deep--if you fell over you would surely break you leg.
I wallered thru the right mudhole like the old man that I am and then had to turn quickly left to keep from falling into that huge hole.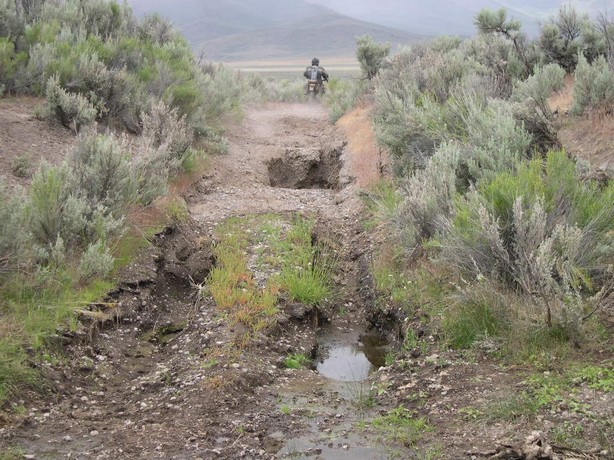 Ok---my best picture of the trip !!!
Take your time and soak it in.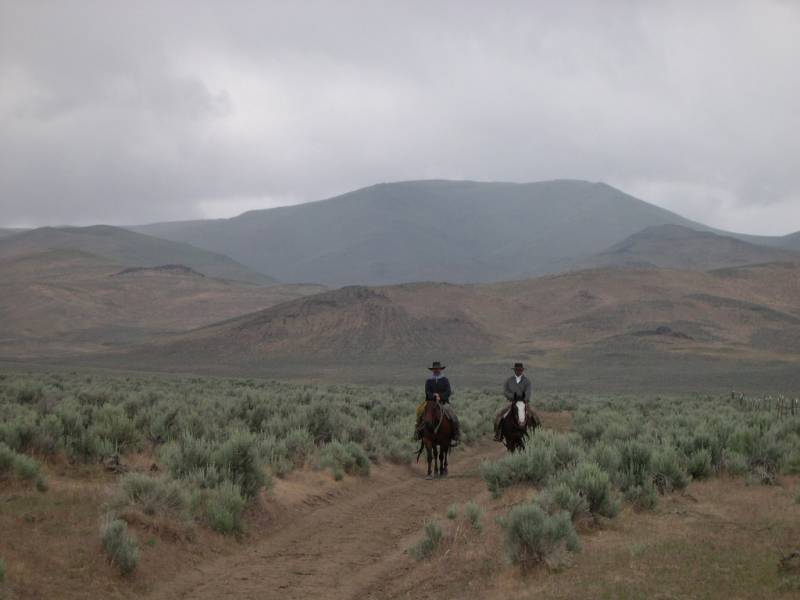 "GasPipe--it sure is crowded out here---let's move on"
When in Mexico, they say "Don't drink the water"
Well maybe that applies to Nevada.
Poor guy----I guess a good place to die.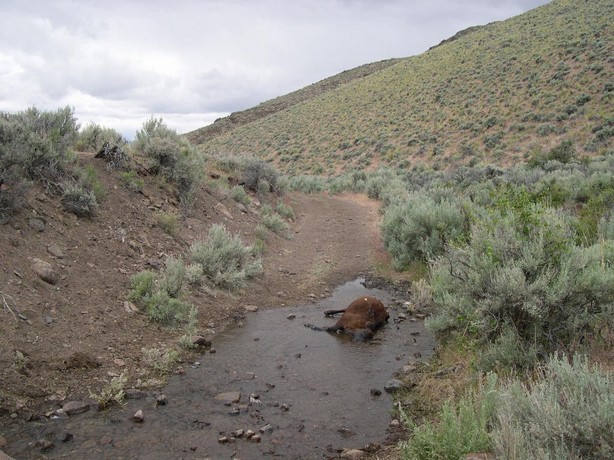 We had a hoot in here and I had the best Quesidilla I ever had.
It's the only thing in Denio, Junction.
If they don't have it--your not going to get it for a long, long, long, long, very long time.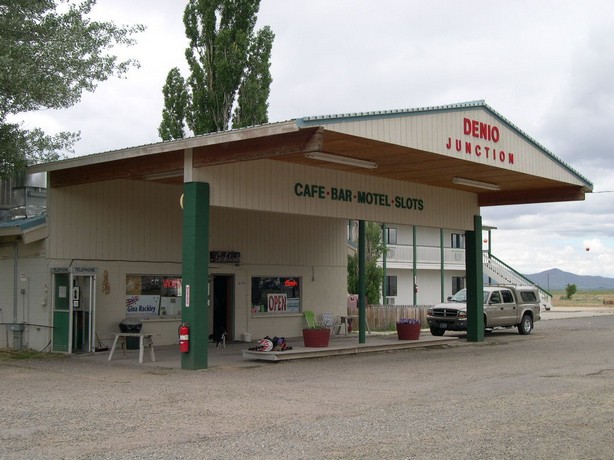 There would be no Gas, Food or Lodging from here on West into California.
My gas tank wasn't big enough----but we headed out anyway.
On the most obscure part of the trail of the whole trip.
Most of the time you couldn't see the trail at all--we were my GPS as our only guidance.
No one could navigate thru here we didin't think without the GPS.
You would just wander around heading in a direction you hope was right untill you were lucky enought to hit a trail or road.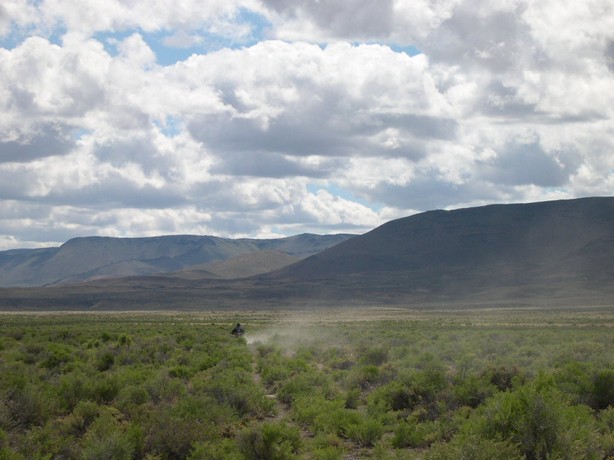 I think the California border is down there somewhere.
Wait---I think I see the marching band and dancing girls !!!
No---it's a mirage.
I got gas from a guy camping out here and made it into Fort Bidwell, California.....
Where there is not much more than.....................us.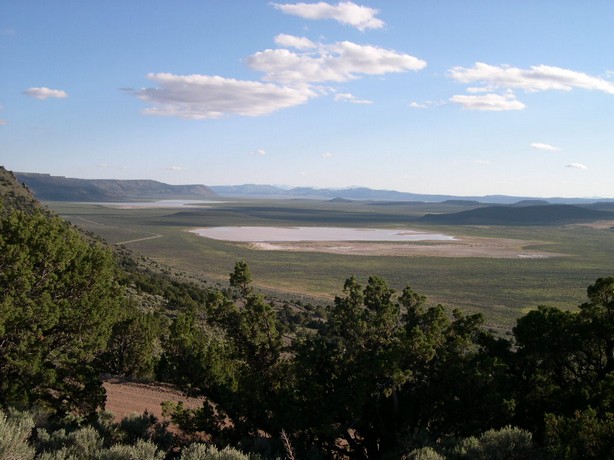 Back to my homepage