Utah
Thursday 6-8-06
Only the GPS gave us a clue we were crossing into Utah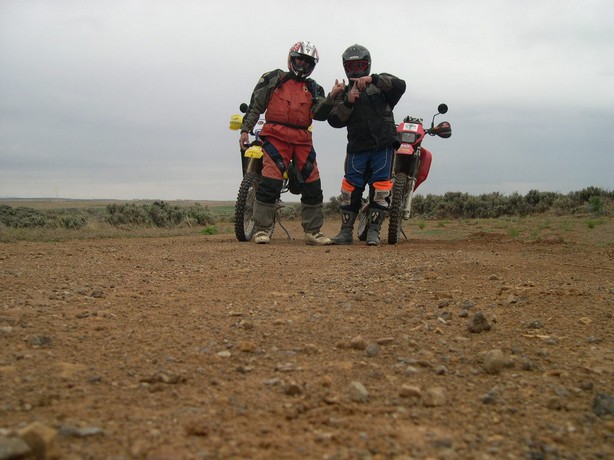 It was North thru the mountains--then down into a valley thru the tiny town of Lasal.
I had tried to go over Lasal Pass a few years ago--but snowed turned me away.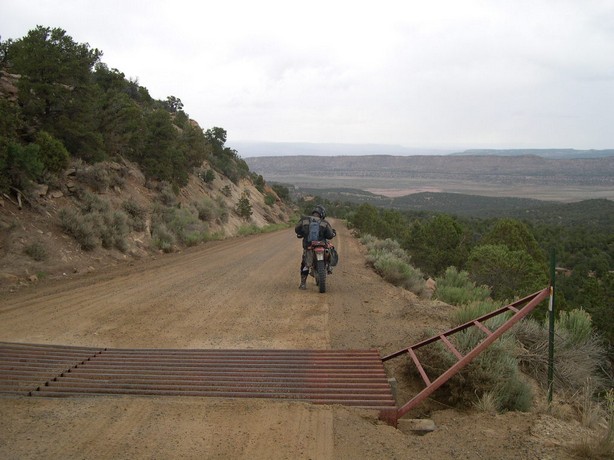 Those are the Lasal Mountains in the distance and the weather looked menacing.
That's because it was----it was very cool out and would get cold up in the mountains.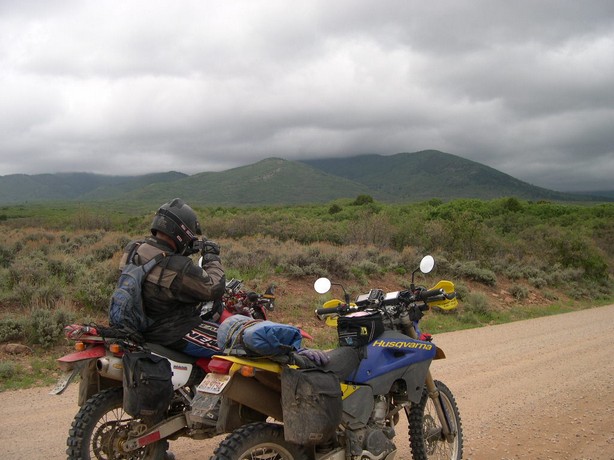 The ride up the mountains was georgous---it was foggy and misting with lingering snow.
We just knew we were going to hit impassable snow but we didn't.
Sam Correro's route didn't take us over Lasal Pass--we went over Geyser Pass at almost 11,000 ft.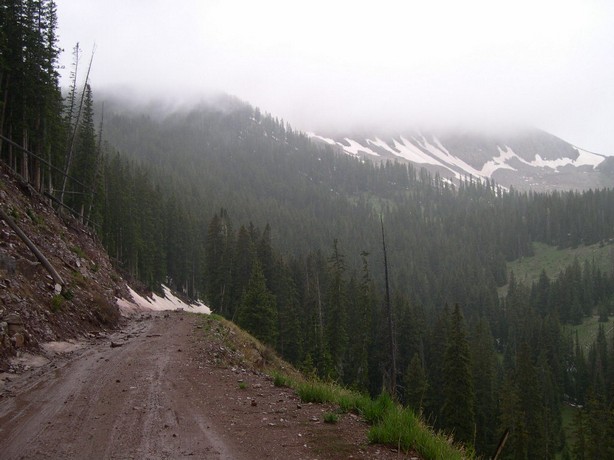 The ride down the moutains was so spectacular as we got a view of the beautiful rock formations that Utah is famous for.
It got warmer and warmer as we went down.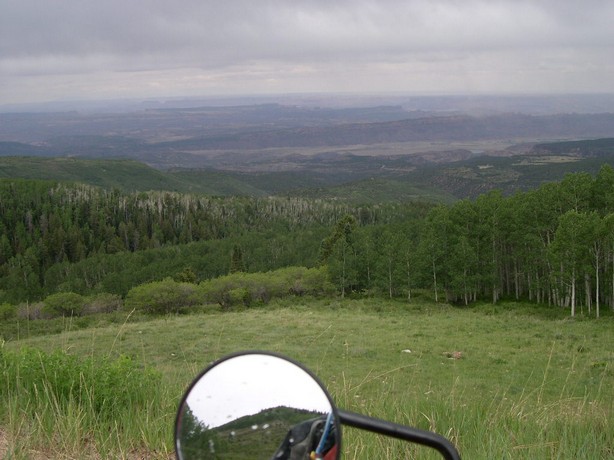 The trail put us on Sand Flat road going down into the Basin where Moab, Utah lies.
We made quick work of Moab as it has gotten way too touristy for me and GasPipe.
It used to be such a nice little town--but is now bumper to bumper and pricey.
A couple hours getting a new rear tire for me and 2 tires for GasPipes knob eating monster and we were off North towards Green River.
GasPipe is hard on the front brake and can wear a front tire out about the same time the rear goes.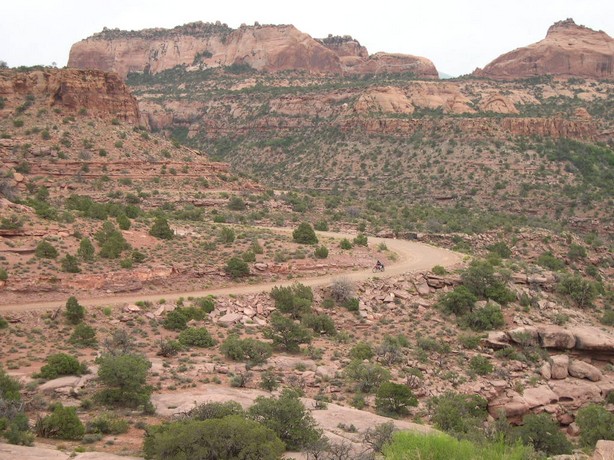 The route takes us North of the white rim trail past Jug Rock, Tombstone Butte and past several springs and washes.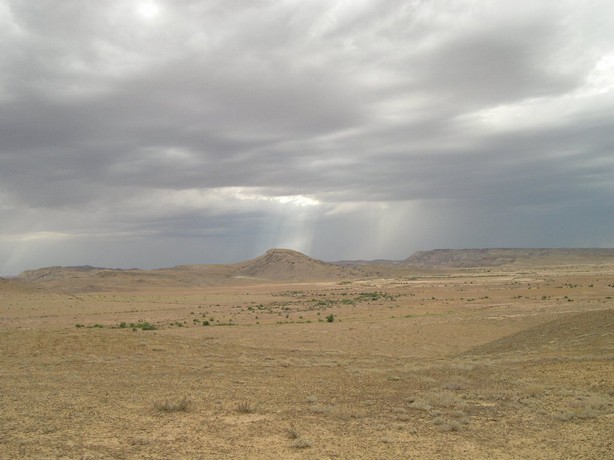 ATGATT (All The Gear All The Time)
This is the minimum I wore--no matter how hot it got.
My riding shirt, socks and pants were Moose Sahara--full of holes and almost as cool as wearing nothing at all.
If they got sweaty or wet---they would dry very quickly.
Alpinestars Tech 6 boots cover my tootsies--goretex socks went in if necessary (it never was)
Moose full armor---front and rear.
When it cooled off or rained I put my Moose goretex riding jacket on and change from the Shara pants to my Moose Goretex pants.
Further layering was available in my Dirt Bagz for cold weather.
I always wear knee and shin guards under my riding pants----KTM ones, built by Thor
And to top it off------Arai XD helmet
I can be comfy in this from freezing to 100°---as long as I have my toasty heated grips going.
I used my heated grips everyday on this ride---one day leaving them on all day.
GasPipe is one hot blooded guy---none of that was needed for him.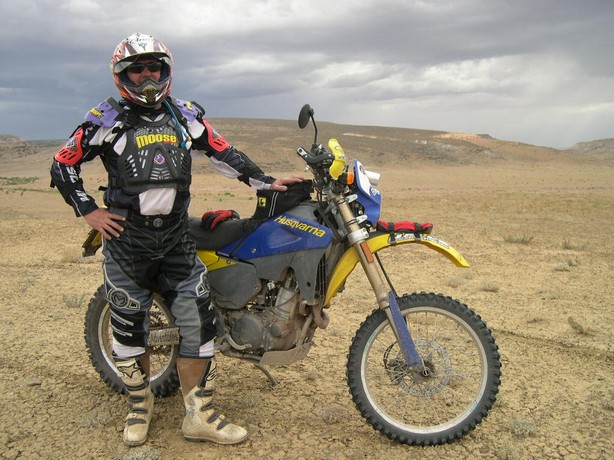 Green River Utah and a good air filter cleaning for both of us.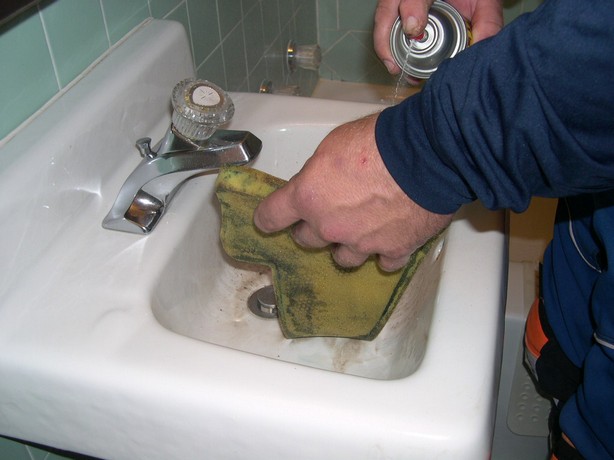 ZZZZZZZZZZzzzzzzzzzZZZZZZZZzzzzzzzzzzzzzzzzzzzzzzzzZZZZZzzzzzzzzzzzzzzzzzz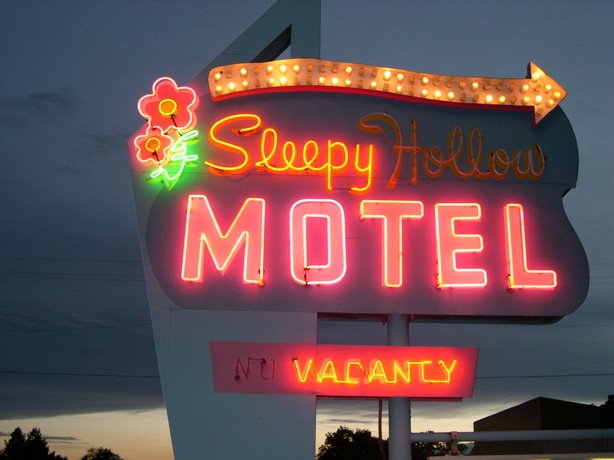 Friday 6-9-06
The people at the local Napa store were so obliging as Fred at Arrowhead Motosports wasn't too eager to help us out with a quick oil change in Moab.
We bought some oil and they gave us a pan and had a big tank to dump the oil in.
10 minutes--some breakfast and we were on our way.
Very nice people---thanks !!!
Man that oil looks nasty in this picture---it really wasn't that bad, although it had about 1,600 miles on it.
Our bikes shifted better after the change.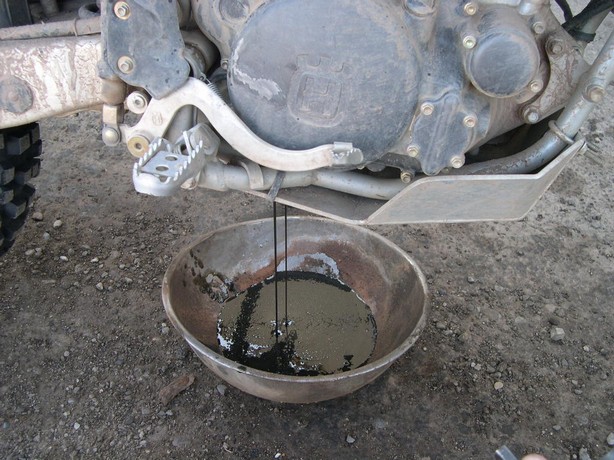 It got warm today but not hot and no humidity.
We headed up this steep hill of loose rocks but couldn't find a way over the San Rafel river.
We finally did after some poking around with the GPS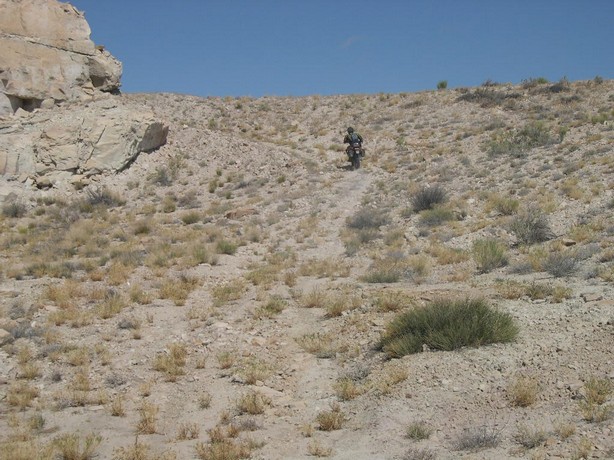 After getting across the San Rafel we went into the very deep Black Dragon Canyon
One of the prettiest places on our whole trip.
You wouldn't want to be caught in here in a thunderstorm as the water would rush thru the canyon and you would be wishing for higher ground.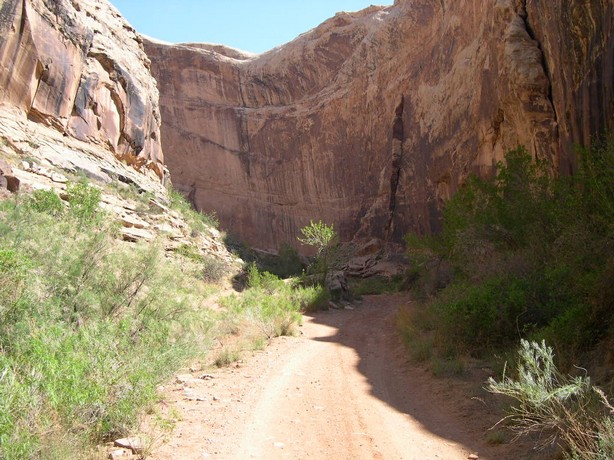 The highlight in here is the Indian Petroglyphs.
I didn't get a very good picture of them.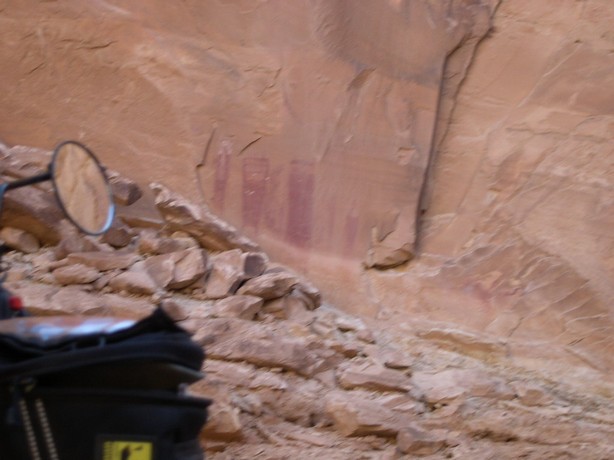 After climbing out of Black Dragon Wash we rode past Jack Ass Benches, Jack Ass Flat, and rattlesnake flat.
Probing around my GPS Topo software I spotted "Dutchman Arch"
It was off route and we had to ride thru a tunnel under the interstate to get to it--but it was worth it.
If you haven't been to Utah---these Natural Arches are very common.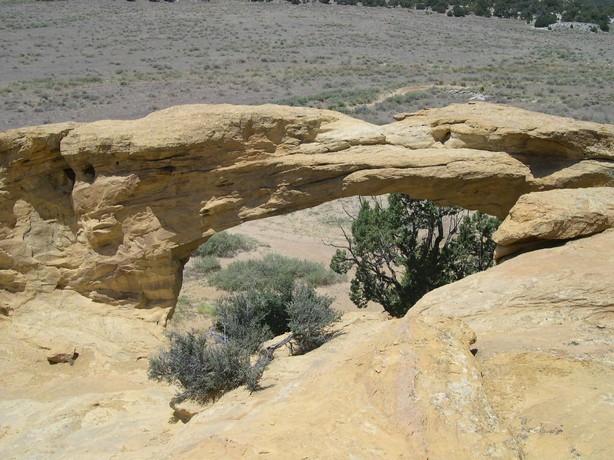 Swazye's Cabin
I've know about this cabin for years--and finally got to visit it.
Joe Swazey built it in the early 1900's
But Joe settled in the area long before that and was a well know rancher.
He carved his name into a rock near this cabin in 1875.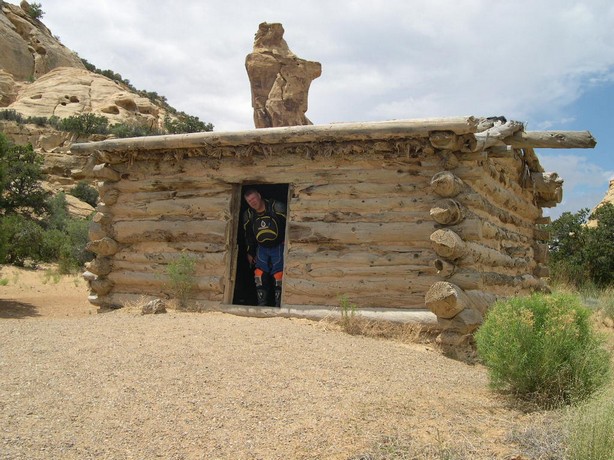 The Swaseys were reportedly the first men to push their horses into Sinbad. They would drive them through Coal Wash and into the head of Sinbad near the site where Swasey Cabin was eventually built. Here they would set up camp in a cave with a small spring nearby which was adequate for their camp and saddle horse needs until the cabin was built. Grass grew as high as the stirrups on a saddle horse. From here they spent time prospecting. They were the first to discover uranium at Temple Mountain. Near the head of Red Canyon, they found a vein of lead. Their descendants are still looking for it.
The only way to travel on the interstate (or in this case under) the interstate.
We rode thru North Salt Wash to get to the other side of interstate 70.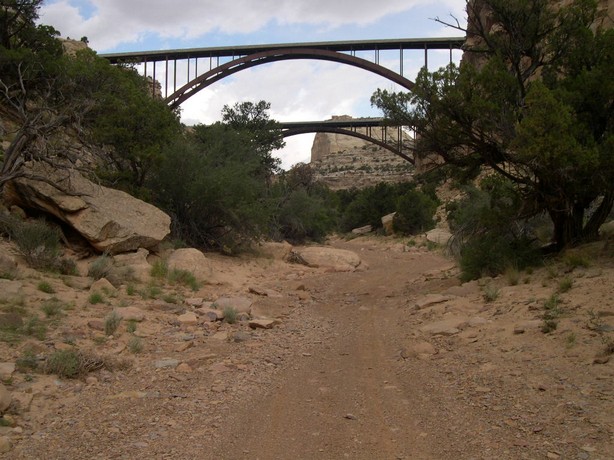 We rode back under the interstate thru this tunnel.
GasPipe had already went thru and you can barely see his bike.
I was ready to ride thru when someone was throwing big rocks into the deep water after the first tunnel.
I thought it was kids messing with me from up above---but it was GasPipe.
The water was really deep between the two tunnels.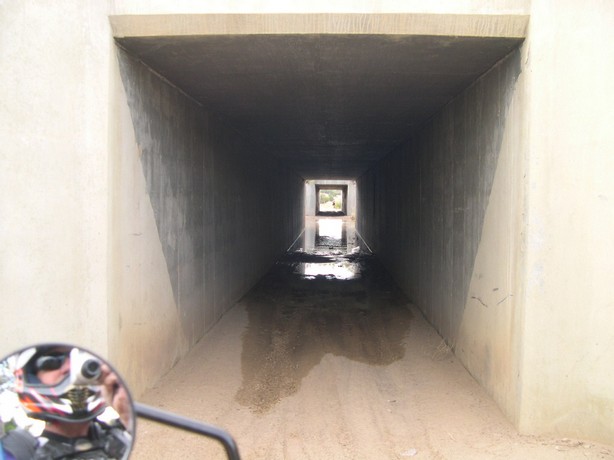 We rode on past Justensen Flats and several old mines.
A huge rain and hail storm had been thundering all around us for a while and we were lucky not to be in it.
It must have poured several inches of water to wash out this road like this.
The right side of this would have you doing a front endo--as it was too far across to wheelie over it.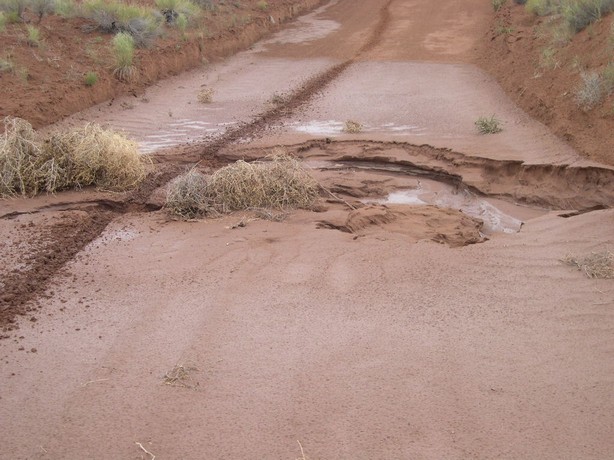 It hard to tell in this picture but there is fast flowing water in this wash.
We rode in it for quite a while before finally breaking out of it.
In places we couldn't even tell if were going to fall in a big hole or what.
It did settle the dust.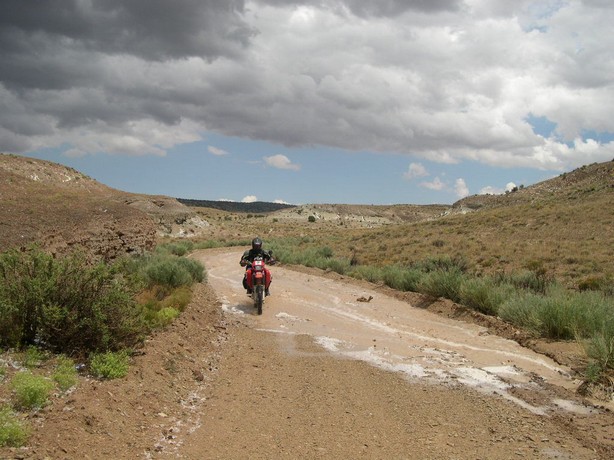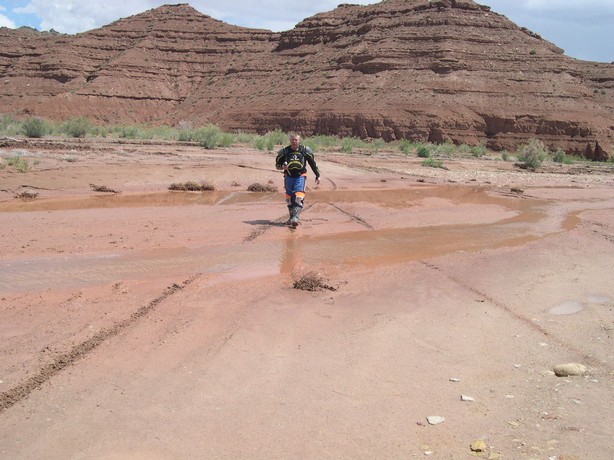 On the way to Salina, Utah we rode thru 2 old abandoned railroad tunnels.
Lone Tree Crossing
Crossing "Muddy Creek"
The contrast of the rocks and sand against the greenery really stands out.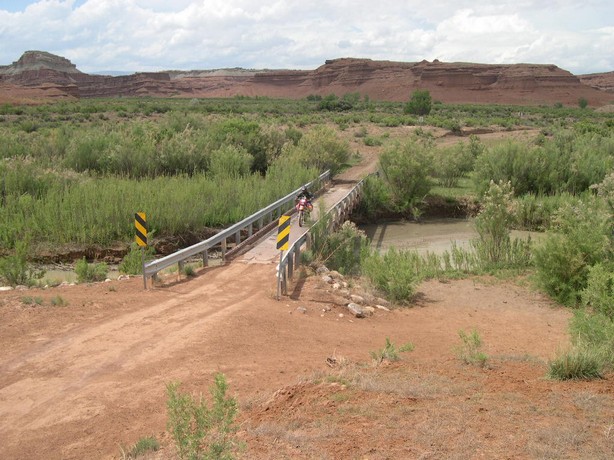 We ended up in Salina, Utah for the nite and I found out just how far my Husky would run on a tank of fuel.
The Husky would run 154 miles--but it was 156 to Salina. I pullled a little out of GasPipes bike and on we went.
It was time for some laundry duties in Salina
The patented "Waffle Stomp Wash"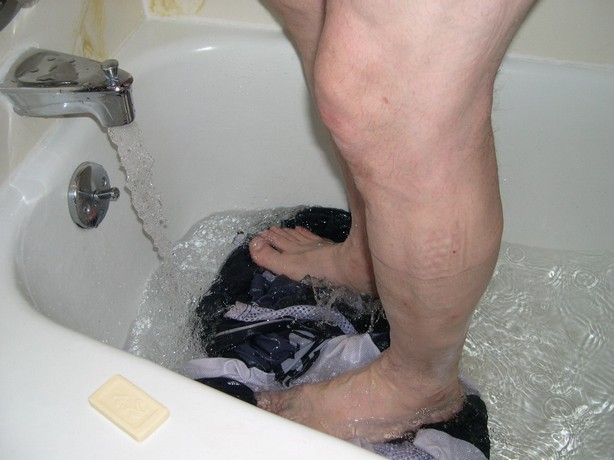 Then of course the "Rinse" cycle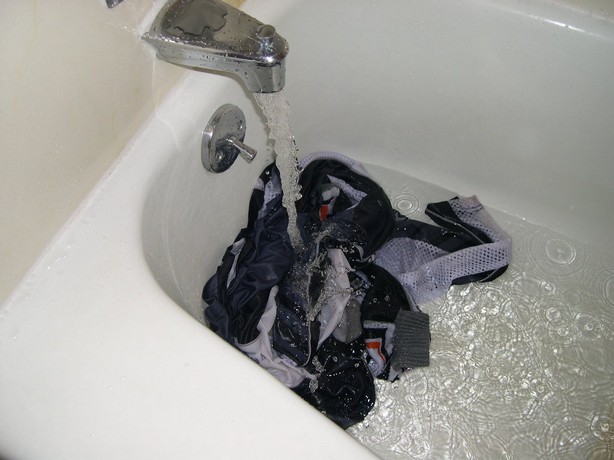 And finally the "Dry" cycle-----we don't need no stinkin' women
We are not completely without skills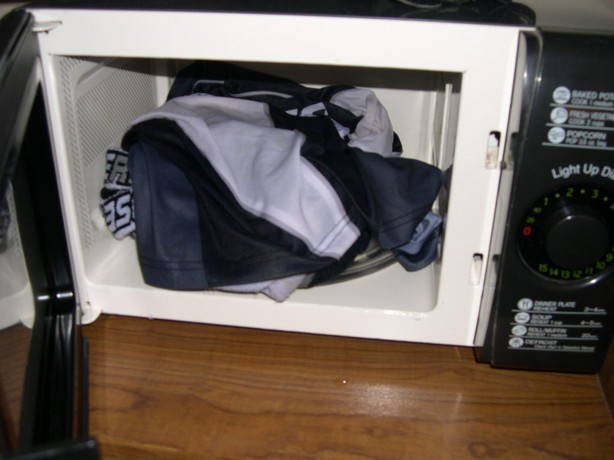 Saturday 6-10-06
The Paiute Canal
Which led to the Paiute Trail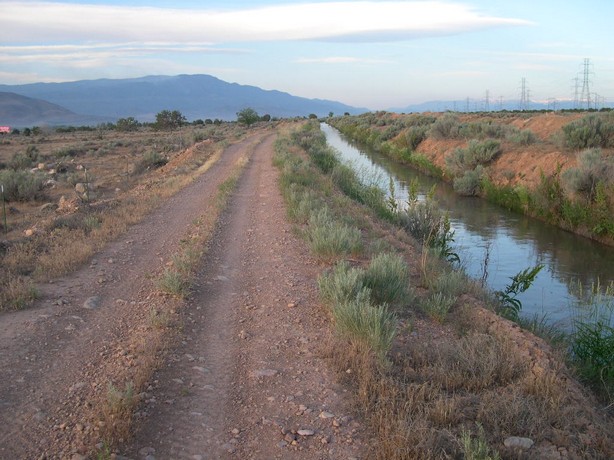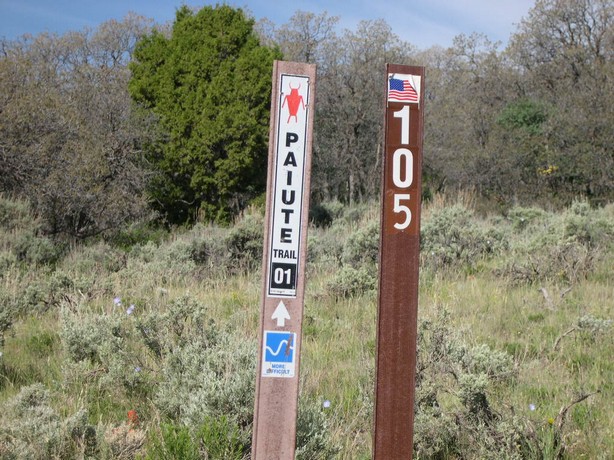 We have no pictures to prove it as we were just hangin on--but it was a fun and very hard ride thru here.
Very steep hills that seemed to have no end.
Sage brush and bushes that tried to rip you mirrors off and grab you handlebars
Deep ruts that would have your 1150GS bottoming out the cyclinder heads.
Again--me and Gaspipe stopped and agreed that we couldn't have rode big adventure bikes on most of the Piaute trail.
Maybe you could or have----but we couldn't.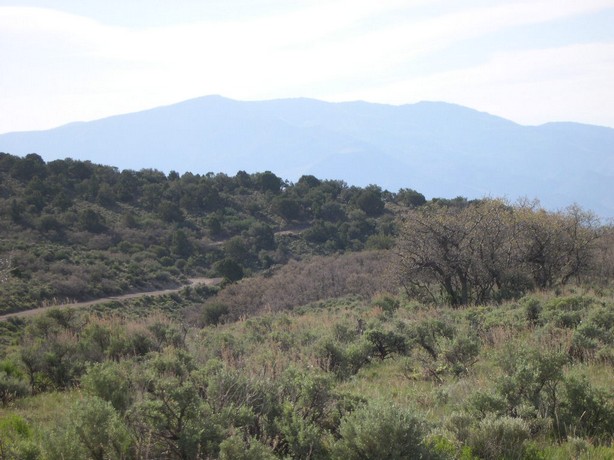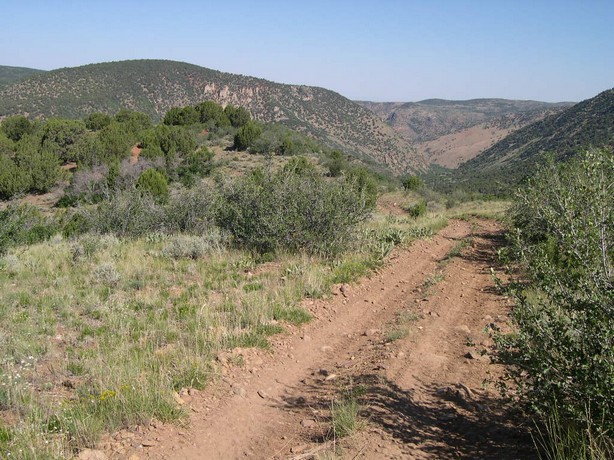 This road would have been impassable if wet.
This kind of dirt if wet will stick to your tires like glue and you tires will get bigger and bigger.
The snowball effect.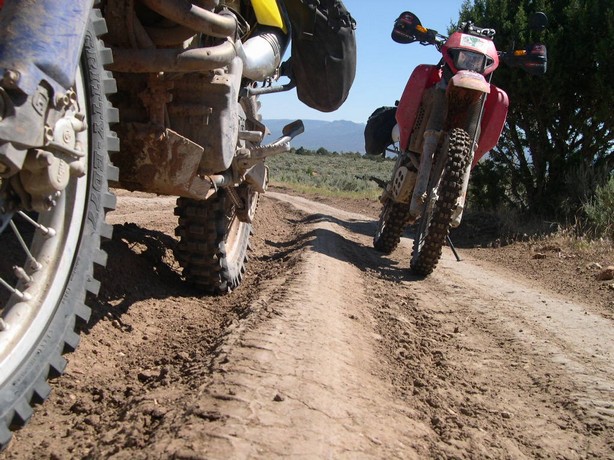 I took advantage of gas in both Richfield and Kanosh as we crossed thru open range ranching areas.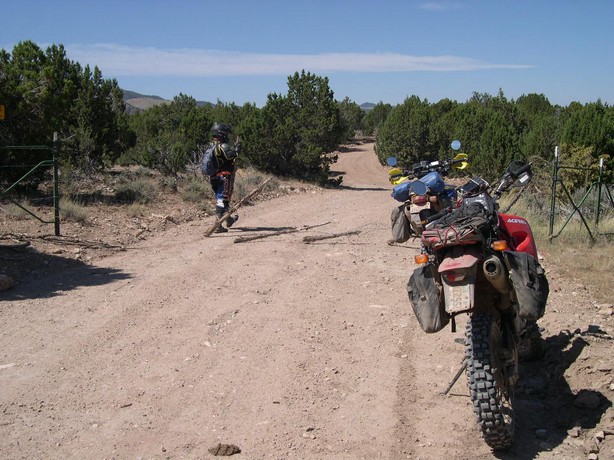 Sevier Lake---completely dry.
Riding thru areas like this may look boring to your dirt bikers out there.
It is just so beautiful.
I can no longer ride knowing I have to get back to a truck or campground after a days of riding.
There's is just no excitement to me in that anymore.
I want to ride---not even knowing where I'll end up for the day.
This was the perfect kind of ride for me as we didn't care if we got to any particular place or not.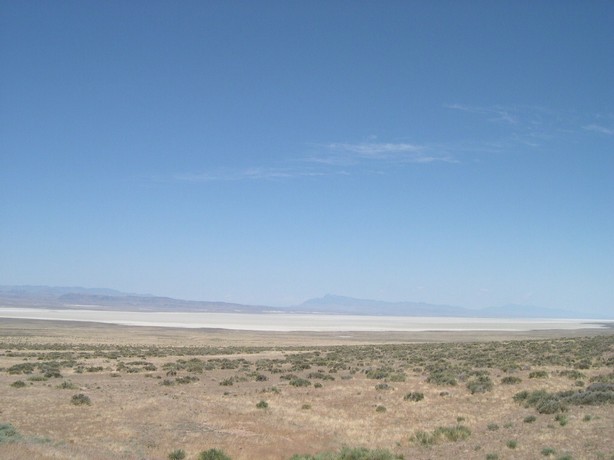 Some might say---"why didn't you take a bunch of side trips"??
Well yeh--there is some validity to that----if you had 304 years to do it.
Moving across the country and having the view change competely everyday or maybe 5 times a day was just exhileration.
Crystal Pass
This beautiful white mountain was visible for many miles.
The color of it stood out from all the surrounding area.
Me and GasPipe had never seen anything quite like it.
This white mountain was viewable all the way from the mountains in Nevada.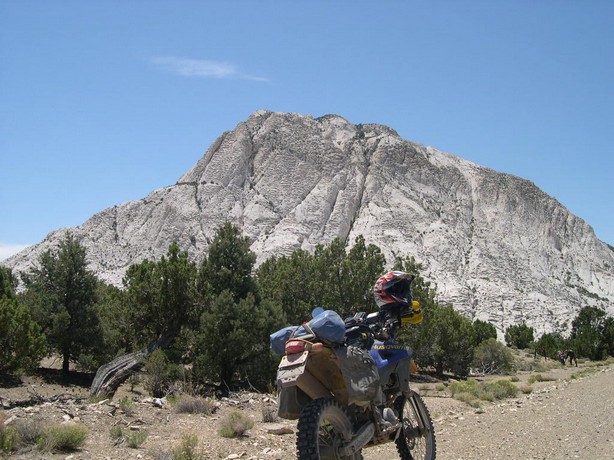 Looks like Nevada is in the distance
The most challenging terrain--and our favorite state we rode in---by far.
It had been very lonely and desolate so far---and would get lonely'er.
There is not any Gas, Food or lodging in the Northwestern corner of Nevada--period.
I'm talking a huge area of thousands of square miles.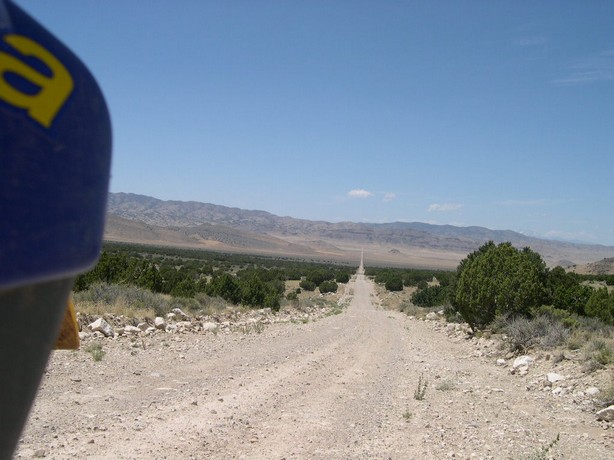 Back To My Homepage