Welcome to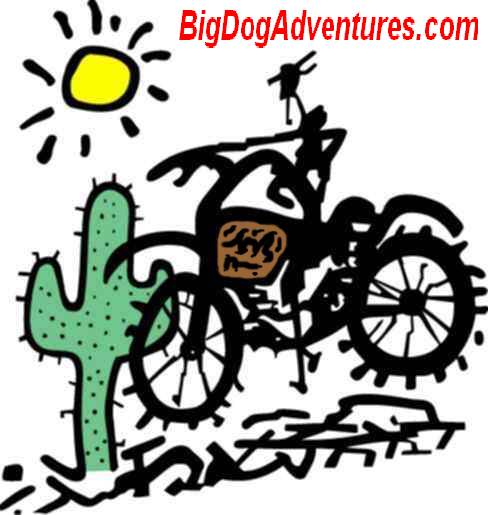 For those new to my website---the bulk of my website chronicles the offroad adventure rides that I have
taken around the U.S., Canada, The Yukon, Alaska, Baja and old Mexico
Below are many links to those rides.
But First------The Bikes I Use--notice the 21" front wheels on all of them.
This allows much better performance offroad.
My 2016 Honda Africa Twin Build---click on the picture for
all the details.
The AT just been on a couple big rides---Montana, Idaho, Wyoming,
Indiana, Ohio, Kentucky, Virginia, West Virginia, Pennsylvania
and Maryland--it's been perfect so far.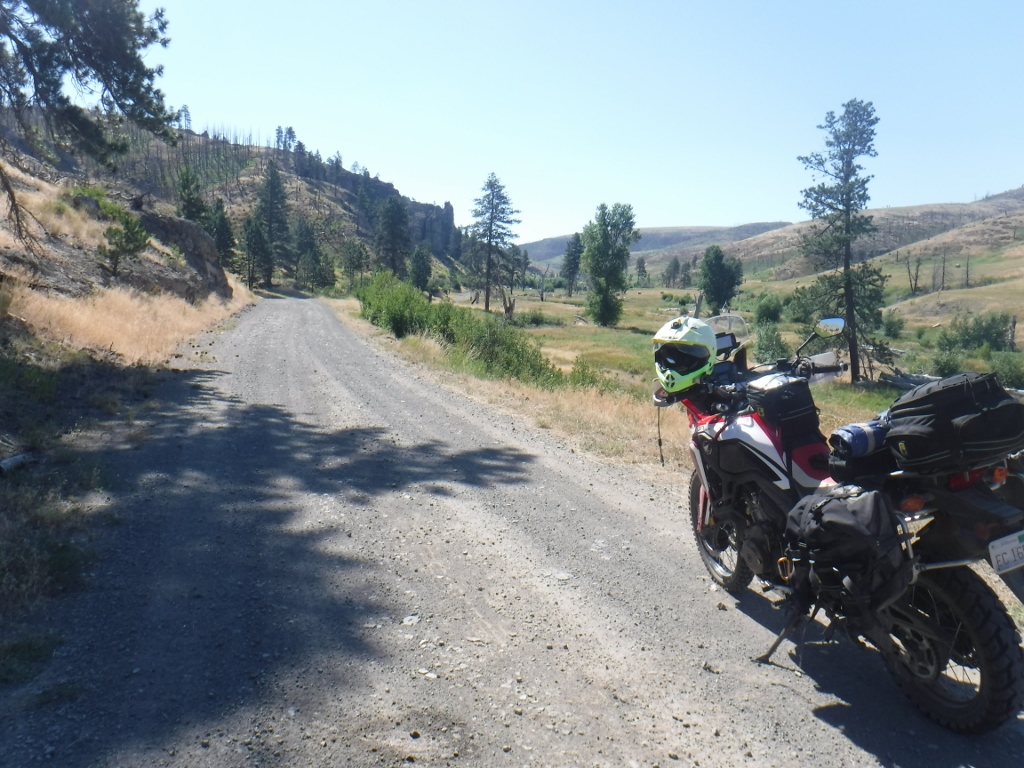 My 2016 KTM 350 EXCF Build----click on the picture.

My 2014 KTM 690 Enduro Build--Click On The Picture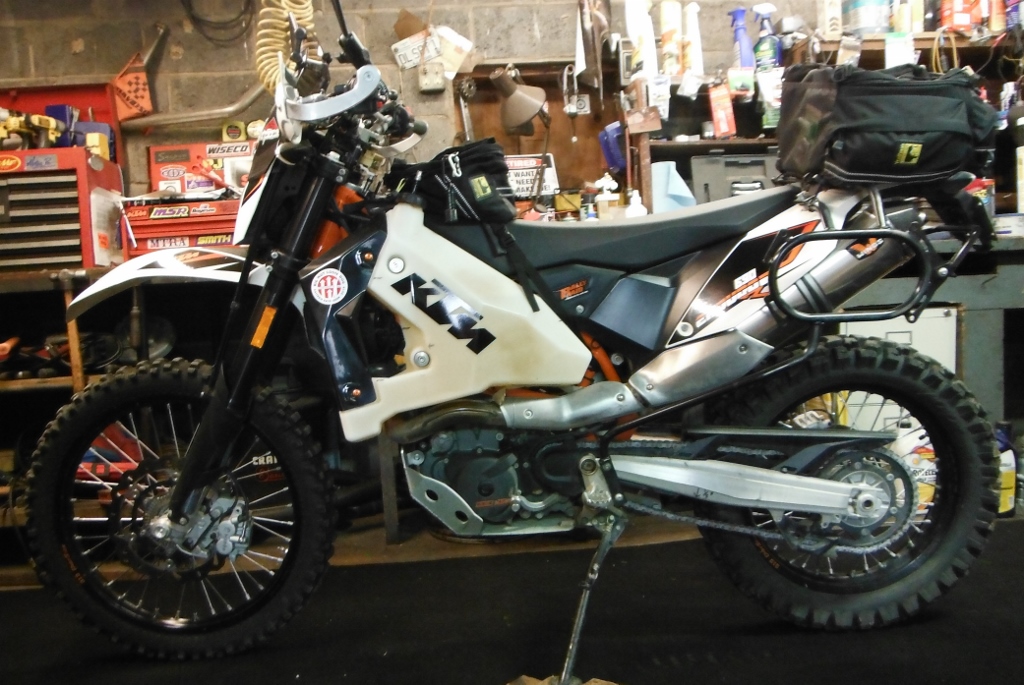 My 2013 Husqvarna TR650 Terra Buildup---Click On The Picture
My 2008 Yamaha WR250R Buildup----Click On The Picture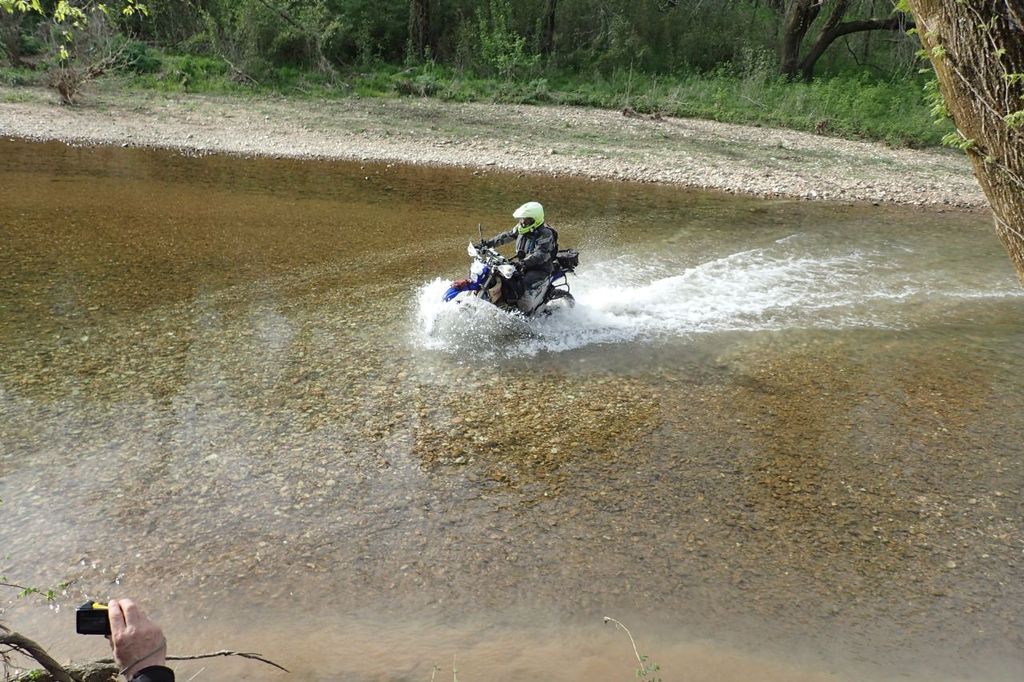 My Adventure Van Build--a 2015 Ford Transit Diesel Click HERE



My good buddy Dingweeds has got his Adventure Ranch in
Utah (right on the Trans America Trail) up and running.
Click on the picture to get to his website.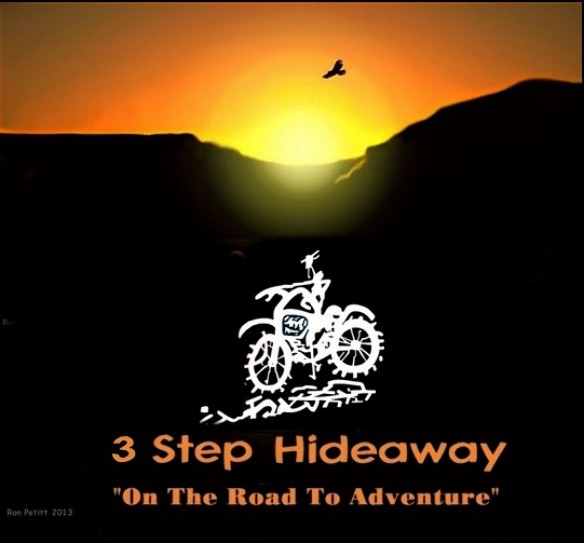 Tuktoyaktuk.........Upcoming Summer 2018
A town in the Northwest Territory of Canada on the Arctic ocean that has never had a road to it.
You've always had to get there by plane, the arctic ocean------or in the winter on the frozen Makenzie river.
The road will be finished and ready for 2018 motorcycle traffic in the spring of 2018.
Up Around The Bend--actually Bends.
Texas Hill Country and Big Bend National and State Parks winter 2018.
And a ride along the border where we see "The Wall"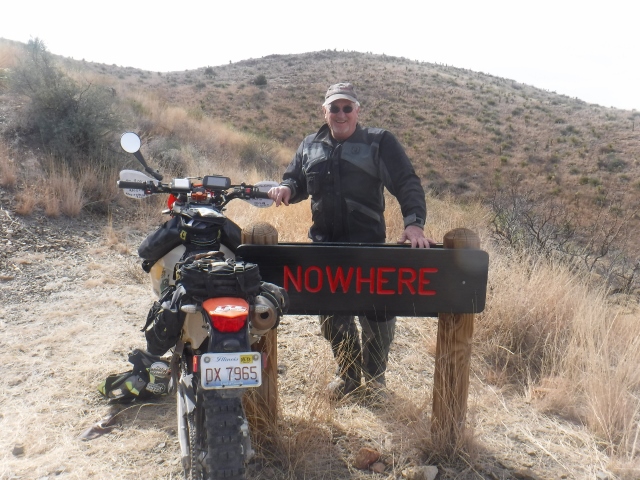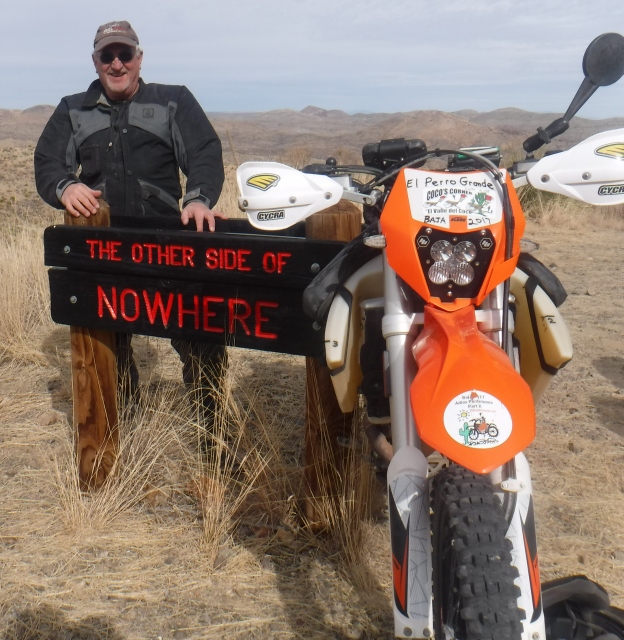 2017 Missouri "Loosenut" ride............a 2 day dualsport ride put on by my buddy
Steve Fritchley AKA "Loosenut". This ride was a hoot---but it's not getting a ride report.
Just 2 really good You-Tube Video's I think you'll enjoy. I did the video and Loosenut did the comic relief.
Here's the video Links.
Part One
Part Two
A Fall Ride On My Africa Twin.......
Illinois, Missouri, Arkansas, Kentucky and Indiana---2017
Nevada Back Country Discovery Route 2017
A 1,800 Mile ride of the NVBDR on my KTM 350EXC---and other riding in the states of Nevada, Arizona,
Idaho, California and Utah
Best Of Montana, Wyoming and Idaho 2017
A 1,600 mile offroad camping ride on my KTM 690.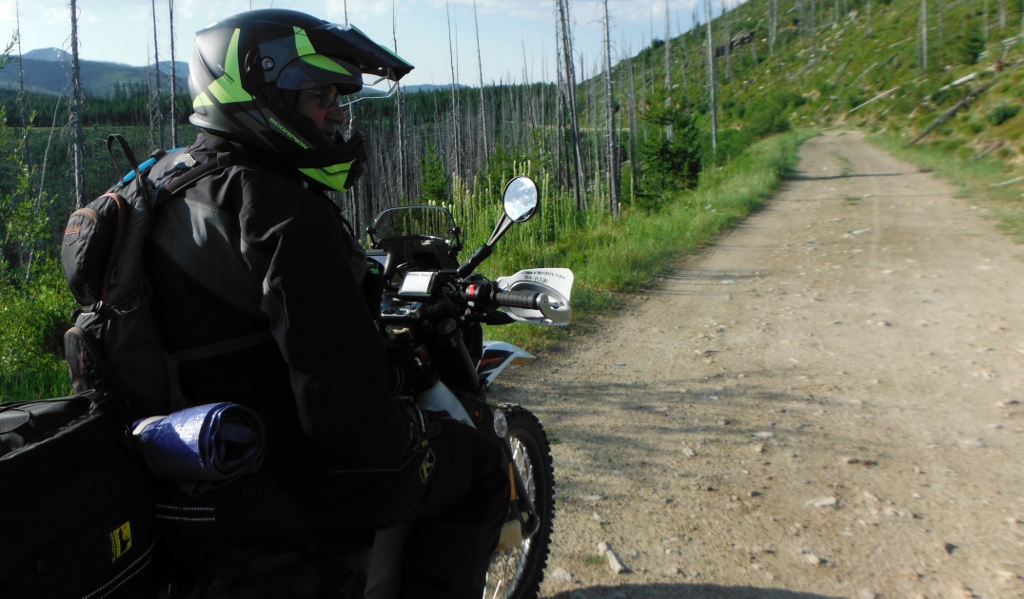 Ozark Adventure Trail 2017
A 2,000 mile mostly offroad solo ride thru Missouri and Arkansas------and stuff happens.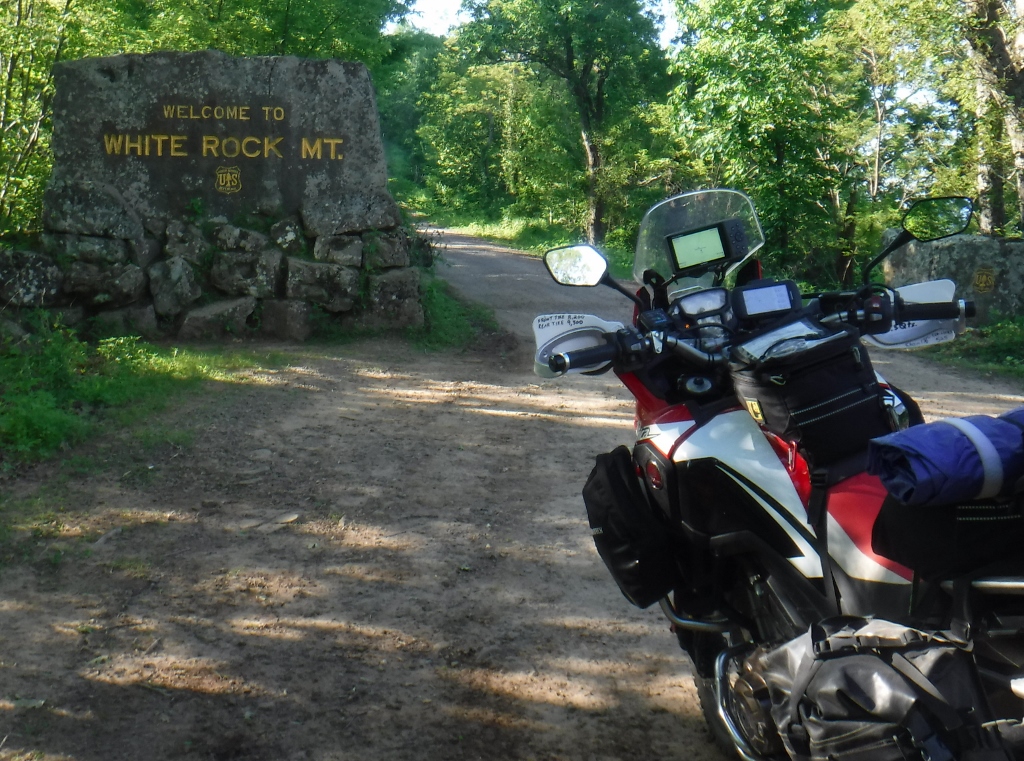 Baja 2017----Adios pantelones II
High Five, Dingweeds, Road Dad and Tragic Overlander join me on this one.
African Twin Solo Out East--Indiana, Kentucky, Virginia, West Virginia,
Maryland, Pennsylvania and Ohio
Meet Me In Montana 2016---a 9 day camping ride that traverse's some of the Best Of Montana.
It was done on my WR250R. My buddies, Road Dad, Dingweeds and others join me.
Meet Me In Montana 2016---Part 2
A ride on my African Twin


New Mexico Back Country Discovery Route April 2016..........and we do the Arkansas 500 trailride and the new version of
Sam Correro's New Mexico Shadow Of The Rockies route on the way.
About 2,600 miles of mostly offroad.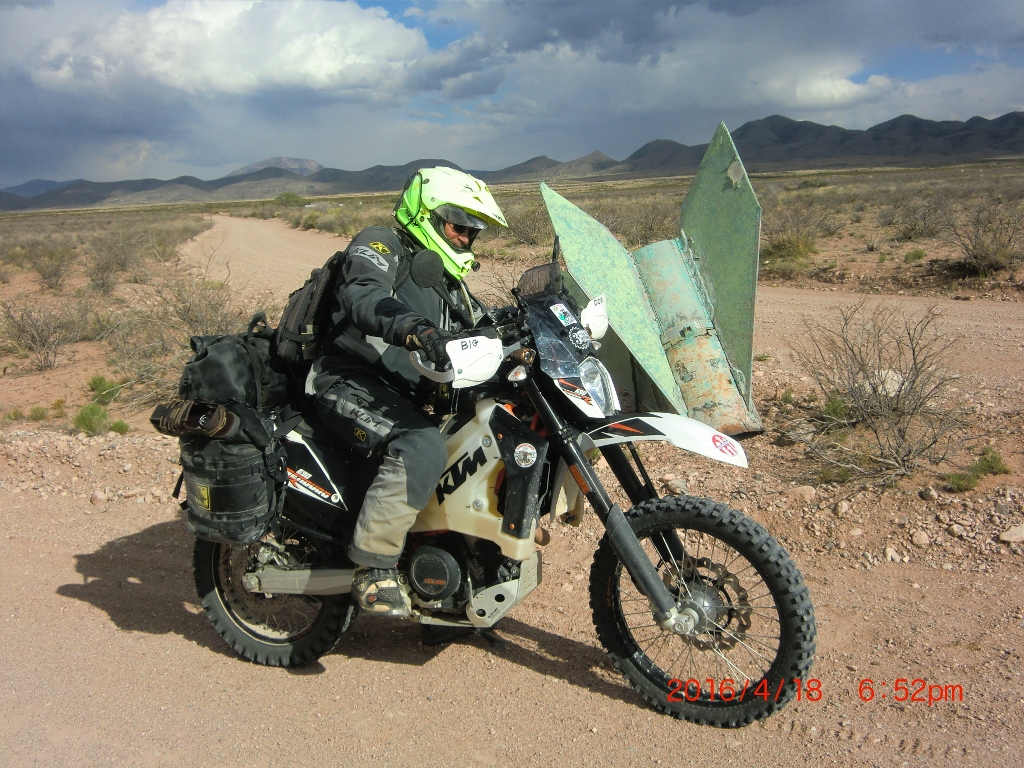 Baja 2016. February--4 riders start----3 finish.
Riders include the infamous Dingweeds, Road Dad, High Five and me---------none of us are no Dingweeds...let's get that clear.
This ride could have been called: "Several Acts Of Kindness In Baja"
Or: "Adios Pantelones"
You decide.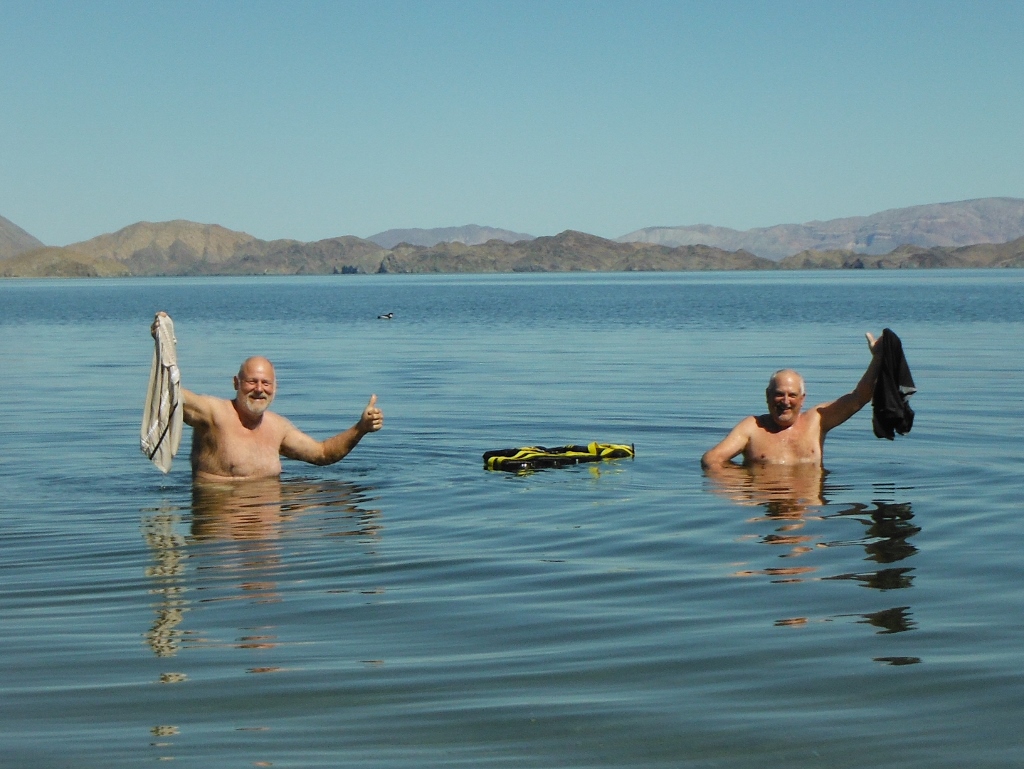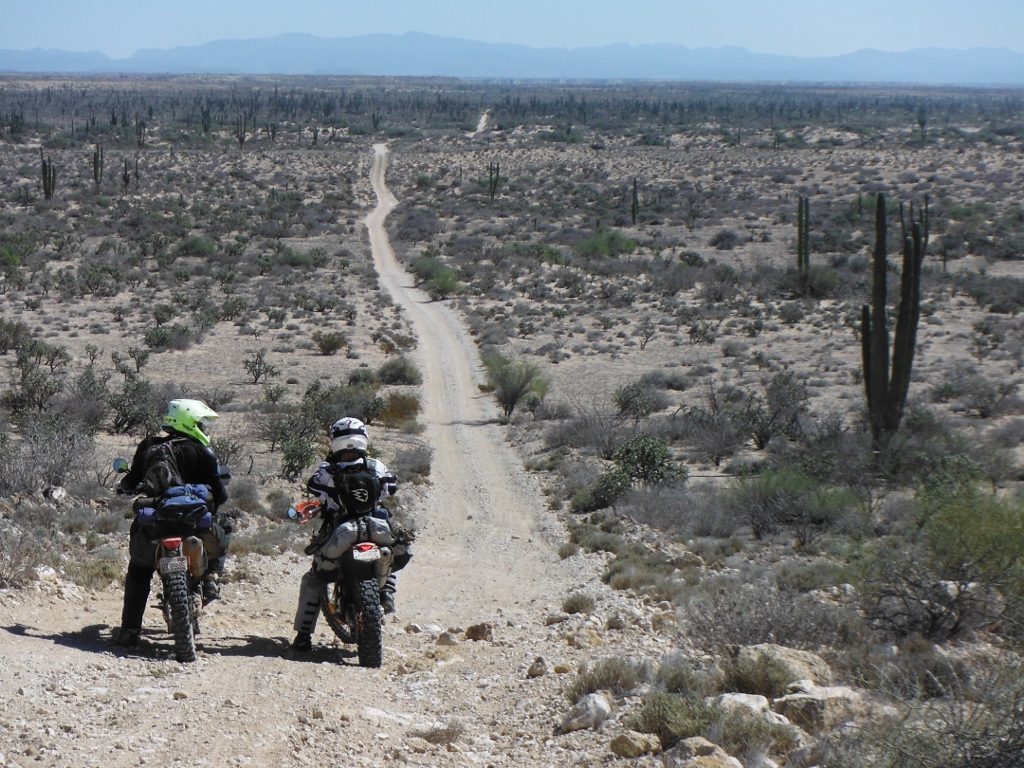 A Revisit to the Trans America Trail 2015_____Kentucky, Tennesse, Mississippi, Arkansas, Oklahoma,
New Mexico, Coloroado, Utah, Kansas, Missouri and Illinois.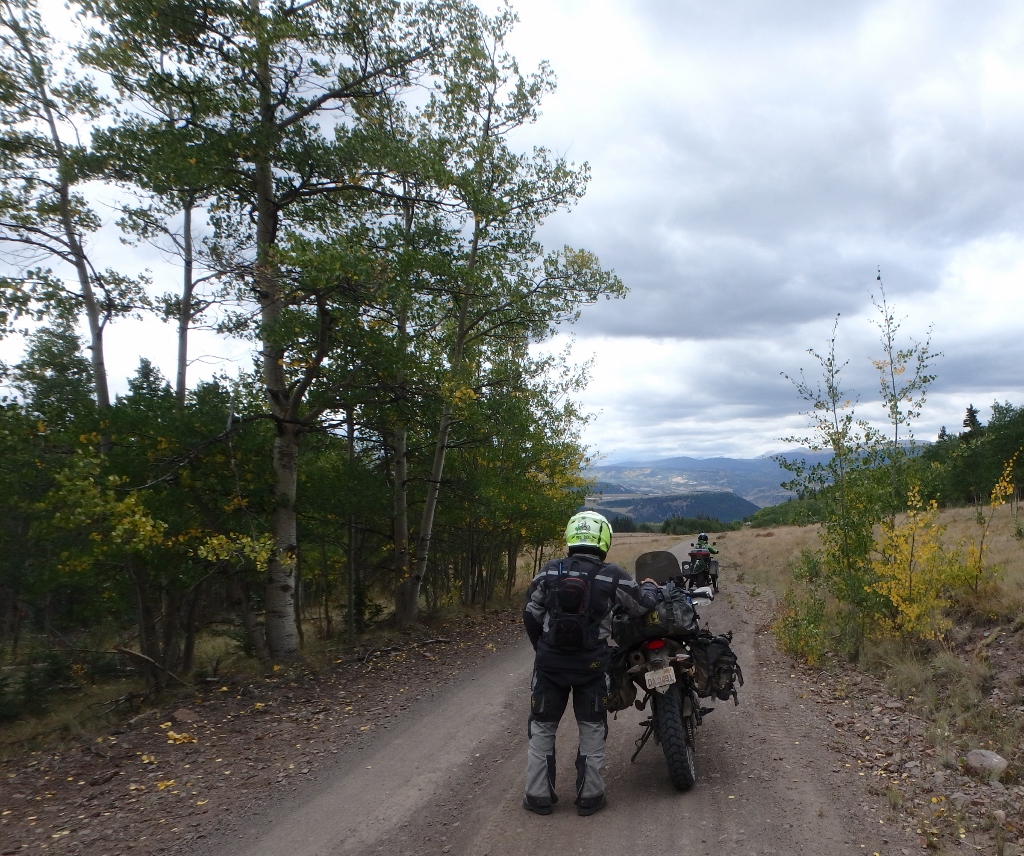 Montana 1000 Ride 2015----a great ride that encompassed both Montana and Idaho
TAT Extension East to Cape Hatteras.
My buddy Steve Fritchely (Loosenut) lays out a route from the original TAT all
the way to Cape Hatteras on the Atlantic ocean---------and stuff happens.
Arkansas 500........April 2015 on my WR250R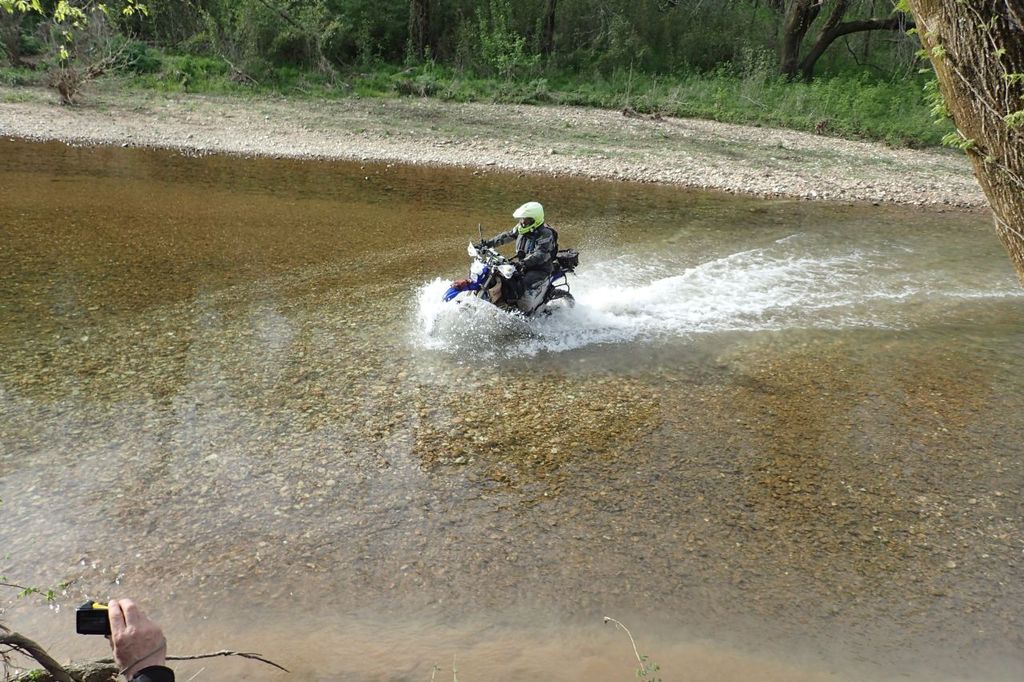 March Moto Madness Rally/Tellico Plains, TN---2015 A great ride near the Smokey Mtns. on my WR250R.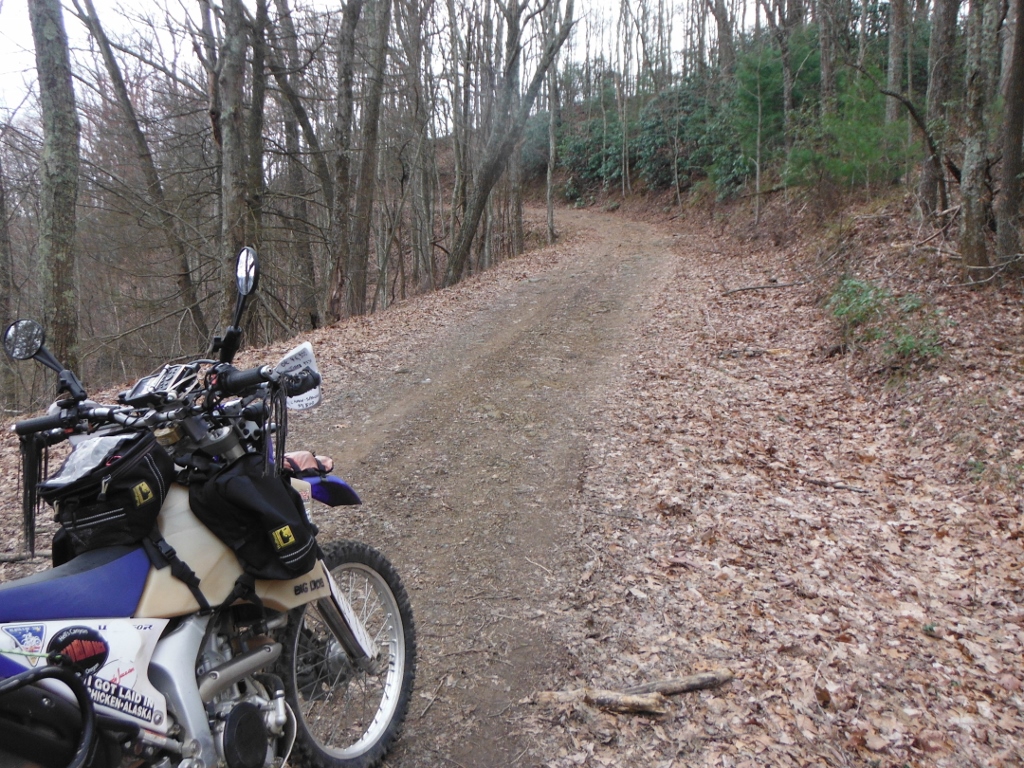 Texas, New Mexico and Arizona/Winter 2015.......A very different ride for me as I not only rode my motorcycle a lot
but did some mountain biking and hiking---a solo trip for me.
Mountain Biking....this picture in Palo Duro state park in Texas.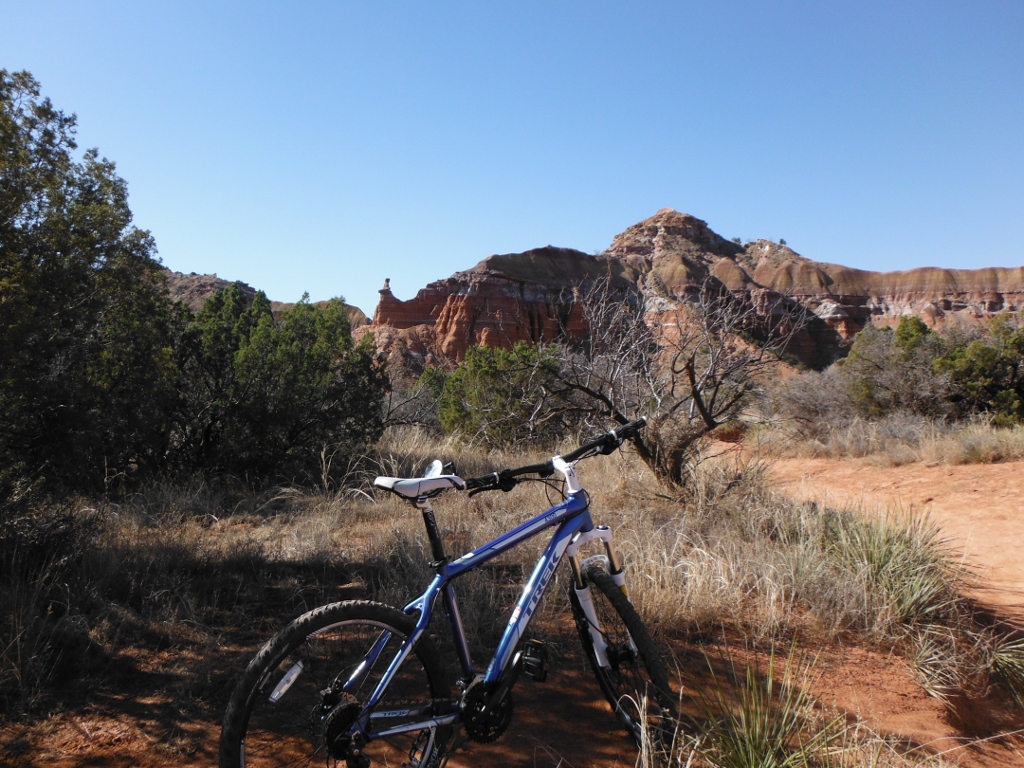 Hiking...this picture in Chiracahua National Monument in Arizona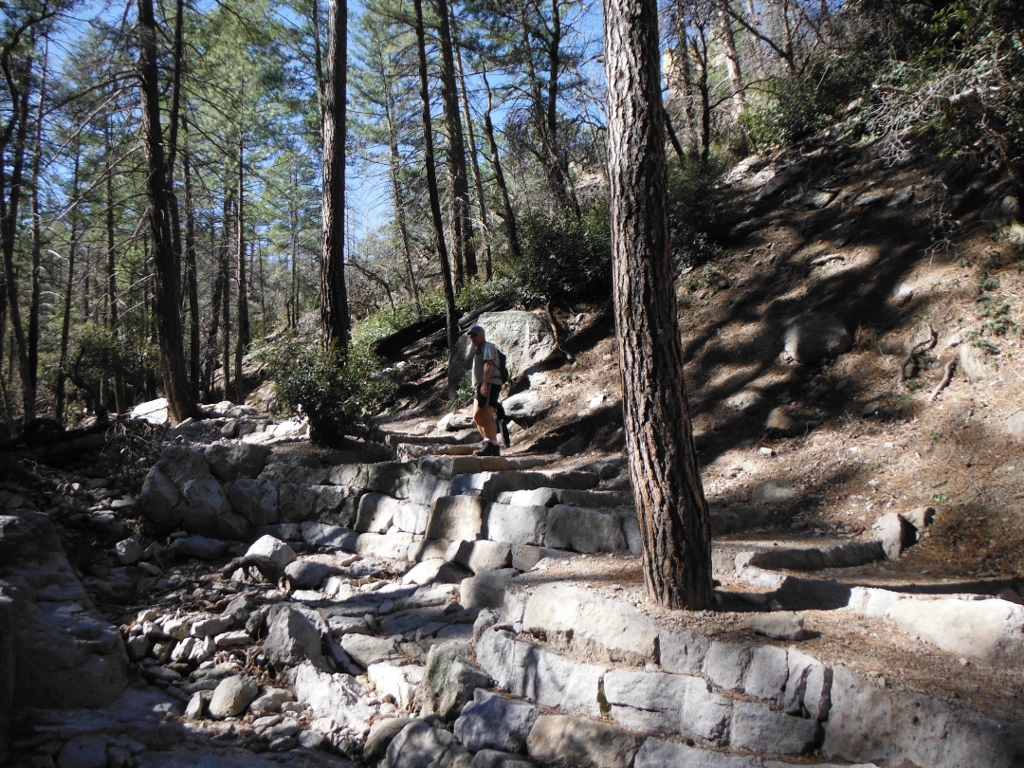 And of course-----riding my motorcycle. Pictured here right at the Mexican border Northwest of Presidio, Texas.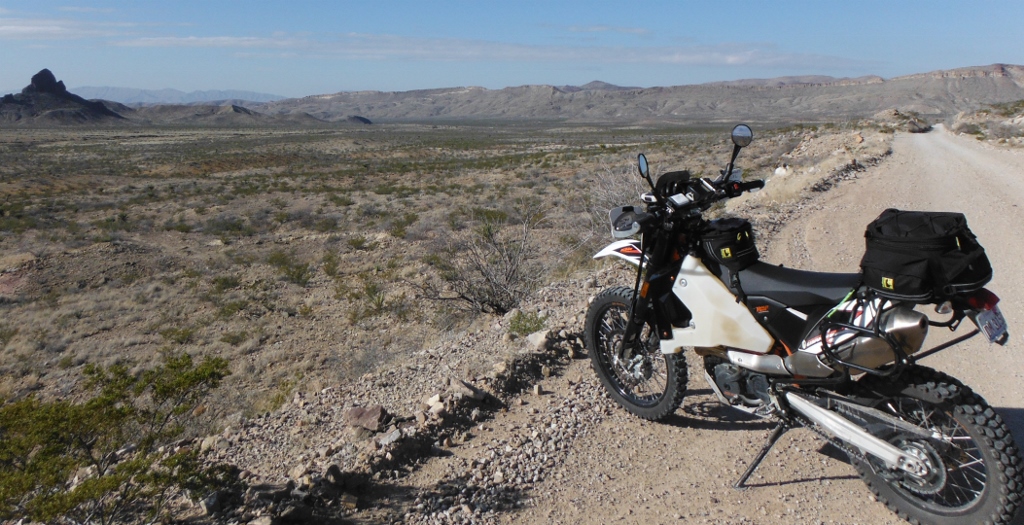 Chasing the Fall Colors in Missouri, Arkansas and Oklahoma.........this ride was done solo
in October of 2014 on my KTM 690. And of course----------stuff happens.
Idaho and Montana Ride 2014.....4 Yamaha WR's ride some more Idaho and Montana backroads.

Arkansas, Missouri and Eastern Oklahoma---and the SLAP Rally
Like the smokey mountains--------less the people.
Utah------3 Step Hideaway---Mobius 13---and horsing around the ranch 2014
Terra---izing TexasFebruary, 2014---Texas Hill Country--Big Bend National and State Parks escaping
the brutal winter of 2014.
The Colorado and Utah Backcountry Discovery routes-----and much more.
September 2013
The Katy Trail-----how come I had no trouble---rode hard all day long for days on end and never went more than
60 miles each day ??????
Mobius 11--the saga continues as me, Dingweeds, the Mobius riders and others ride thru the deserts of Arizona, Nevada and Southern California.
It was an outstanding ride-------it took me awhile---but I did get a movie made of this ride.
Fall Spring Hunt-------a 4 day ride in Beautiful Southern Missouri---and I finally find "Stupid Dog Spring"
LooseNut Dual Sport
the 2012 and 2013 events are both on this page-----Southwest Indiana
2012 Fall Ride Down thru Kentucky, Tennessee, Mississippi, Arkansas and Missouri on my KTM950---solo.
On this ride I ride the new Mississippi portion of the TAT (Trans America Trail).
Mobius10--2012------This ride starts in Idaho Falls, Idaho and goes North thru Montana almost to Canada, Back down Montana,
all the way down thru Wyoming and into Colorado----about 2,500 miles for me and my buddy Dingweeds. We'll will join Dr. Rock and LDF
and others on this ride.
BigDog/Dingweeds in Colorado, Utah and New Mexico----July, August 2012
Me and Dingweeds ride out West for a couple weeks and are joined by Sam Correro and John Clements for a couple days.
And me and the Dingweeds--------go where 2 old geezers on loaded bike shouldn't have went------but we did anyway.
The New for 2012 Tennessee Trans America Trail this story includes, my retirement day and party,
me and Bill Ashers ride down to Corinth, Mississippi for a ride with Sam Corerro (creator of the TAT)------riding the new
Tennessee TAT-----and riding part of the TET (Trans Eastern Trail).
BigDog is off the porch--------for good.
Alaska 7,000 miles-----me and my buddy Scott make it all the way to the Arctic ocean---and stuff happens !!!!
2 Yamaha WR250's go the distance.
Finding Old Illinois Bridges----and on-going saga---updated 2-27-12 .
Mississippi River--and the blown up levee------just a day ride---but a good one.
TransArkansasTrail--TART----a 5 day ride thru Arkansas and into Oklahoma on my WR250R.
Hoosier National Forest Ride---a 2 day ride in the Hoosier National forest of Southern Indiana
Spring----Spring Hunt ....a 2-day ride into Missouri hunting springs...this link takes you
to the short story on the AdvRider site.
Mississippi Hill Country....My ride and visit with Sam Correro......the creator of the
Trans America Trail. We ride a published route of his down in Mississippi---and some that is not available
to the public yet. This ride was done in November, 2010.
Mexico to Canada---and then some.....another way---5,300 miles on Yamaha WR250R's
The Bridge........a solo ride in Colorado, Wyoming and Utah on my KTM 950-----how far would I ride to see a bridge ?????.............pretty dang far !!!!
Me And My Sons Last Ride Together.....Colorado, New Mexico, Utah, and New Mexico. It's not all about the ride.
East Of The Divide----A sweet solo ride on my 950 KTM heading to my son's house in Durango, Colorado.
Fall Color ride 2009----I ride my Yamaha WR250R down thru Missouri and Arkansas trying to soak up all the Fall Colors---a 1,200 miles solo ride.
Shadow Of The Rockies Trail/Colorado-----my WR250R and a KLR ride Sam Correro's Colorado portion of his Shadow Of The Rockies Trail---and then ride on in to Wyoming, Idaho, Utah and back down thru Colorado----2,476 miles on a 250.
Poncho And Lefty A Southern New Mexico and Arizona 1,700 mile unsuported adventure ride I took in January 2009 on my Yamaha WR250R with my buddy on a KLR
Missouri Mill Tour A several day ride to some really neat and beautiful stuff in the Southern Missouri Hills. There are a lot of old grist mills still standing in Missouri--and I go to several of them.
Long Way UP BigDog and The Breeze ride the Tour Of Idaho Trail---a 1,300 mile road
and trail from the Utah border---to the Canada border.
Trans Wisconsin America Trail This adventure ride starts at the
Wisconsin--Illinois border and runs mostly offroad to a bluff overlooking
Lake Superior. I rode it alone on my KLR in June of 2008.
Shadow Of The Rockies Trail --Join me as we ride Sam Correro's newest ride thru New Mexico------a 700 mile trailride which starts at the Mexican border in Texas and ends up at the Colorado border where it crosses Sam's well known Trans Am Trail.
Barrancas Del Cobre -----A Husky TE610 and Honda XR650R travel some different routes around the Mexican Canyons and beyond.
Ozark Mountain Daredevils -----Fall 2007-----a dirt ride ?? a dualsport ride ??? an adventure ride ???----Well yes--it was !!!
Taylor Park Colorado July, 2007.... 9 dirt bikers hit the trails and mountain passes----am I too old to still ride a real dirt bike ????
Little Dog Gets Off The Porch June, 2007....BigDog, GasPipe and Killer take the big bikes to the pacific Northwest--and little dog................well,.........takes the little bike. 4,500 miles of Colorado, Utah, Montana, Idaho, Washington and Oregon.
200 Miles Of Bad Road BigDog and GasPipe in the Mark Twain Forest of Missouri--March 2007
Baja Asylum Run 2007---or Tahlequah 2 ??Offroad adventure ride thru Baja, Mexico--5 riders start---only 2 finish.
Pandilla Terraceria a Creel (gang of dirt riders to Creel) A Mexican Adventure
Great River Gravel Road Ride A scenic backroad ride of Wisconsin, Iowa and Missouri
Peoria TT the 58th running of my favorite motorcyle race
The Western TAT----- or "Trans Am Trail"---Offroad ride from Arkansas to the Pacific ocean in Oregon.
Hoosier Hookey Ride It's fall in beautiful Indiana----we try to drowned a new KLR, find many new "old" bridges, and take a ride thru a live railroad tunnel--no, I still haven't growed up !!!
Shawnee Forest Fall Color Tour There is no toilet paper on "The Road Less Traveled"
Arkansas Fall Color Tour 2005 We ride the Fall Color Tour Dualsport and get to hang out with Scott Harden--the man who headed the USA Paris to Dakar race team in 2005.
Homeless HoeDown The long way round'--to the adventure rider rally in Hot Springs, Arkansas
Le Tour De Divide A 2,700 mile offroad journey from Canada to Mexico--if Lance Armstrong can ride this far in the mountains--so can we !!!!!

Flag Day Adventure 3 KLR's, a KTM 950 and 1150GS ride the Missouri and Arkansas mountains-----and actually camp !!!!
GasPipe and BigDogAdventures Team Up two internet buddies finally meet and do some great riding in Southern Missouri
April Fools Ride 5 riders get really soaked---and it never rains ???
It's a Bummer Snowfari

Eastern TAT Trans-America Trail----7 riders ride the Tennessee, Mississippi and Arkansas portions of the TAT.

2004 Weekend Madness Join me on just some short weekend rides to some really neat places I've went throughout the year.
Mid-Ohio Vintage Days July 16th-18th, 2004
Swinging Bridges Dualsport 8 riders on 650 dualsports find and ride over the old and historic swinging bridges on the backroads of Missouri.
Mexico--Copper Canyon 9 days in Mexico--much more than just copper canyon. With a little trip thru big Bid Bend National park before coming home.
Kenny's Missouri Dualsport ----An awesome 2-day ride in the beautiful Mark Twain National Forest.
2003 KLR Shawnee Forest Dualsport -----Klr's, DR Suzukis and Beemers do a backroad ride in Southern, Illinois.
2003 Arizona Adventure --------Bears, scorpions, tarantulas, rattlesnakes, and cactus needles call us to the backcountry of Arizona on a KLR650, DR650 and XR400.
2002 Fall Adventure Ride 4 adventure riders tackle the backroads of the Appalachain Mountains---BMW R1150GS, DR650, BMWF650 and BMW 650 Dakar.
2002 Moab Dualsport ride from Moab, Utah to the North rim of theGrand Canyon and back!! 1,700 miles of rocks, sand, dirt, washes, mountain passes and jeep trails--On a Suzuki DRZ400S and DR650.
2000 Offroad and Backroad Trip to Colorado
2001 Colorado Mountain Pass Ride----------3 riders tackle the high mountain passes of Colorado on a several day offroad dualsport adventure--on a Suzuki DRZ400S, DR650 and Honda XR600L.
2001 Arkansas 650 Adventure --4 riders, 5 days, rain, floods, flat tires, cold--well you get the picture !!!!! On 2 BMWF650's, DR650, BMW650 Dakar.
2001 Arkansas Trailride ---the tornado almost made it too much fun !!
My Video Camera's I Use This shows all the camera's I use to make movies--and how I've mounted them.
Includes the POV1.5 by Viosport and the New Garmin Virb action camera.
Want some BigDog T-shirts ??????
Here they are---my good friend Bill Asher in Missouri designed these and sent
the design to a T-shirt manufacturer and here they are. Neither me nor him make a penny off these.
A few people have been wanting stickers and the such--so now you can have a BigDog t-shirt.
Lots of colors---all sizes. I prefer not white--they'll just get looking greasy out in
my old ratty garage. Pictured is gray.
They have synthetic ones now !!!!!
Order HERE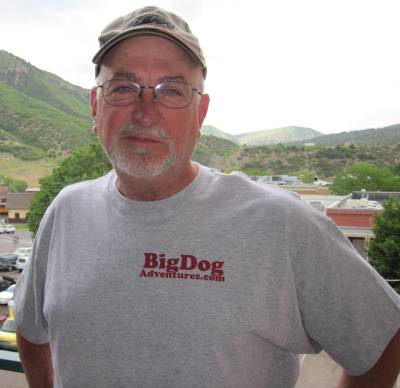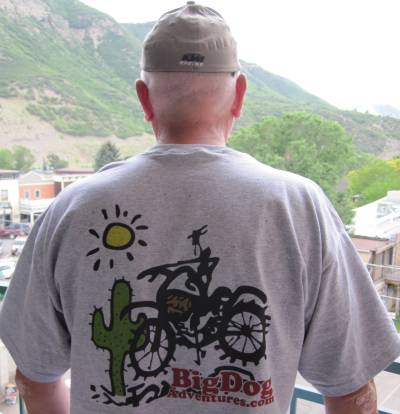 BigDogAdventures--the early years

Honeymoon May 24th, 1974
1969 Triumph 650 tiger chopper

Bike accessories
Headlight was a fender light off of an old tractor with an 1156 bulb (yes an ordinary turn signal bulb)---front brake, none--aftermarket gas tank, 3/4 gallon---front fender, none---rear suspension, you kidding ??-----Seat, there was none, just the "old gold blanket" folded up---sleeping bag, one biggin', we were in luv, and still are---rain gear, Huh ??----mufflers, oh please-----helmets, hah !!!----GPS, I don't think so.

The bike got us 45 miles from home and blew up---spent the afternoon in Goreville, Illinois waiting for a pickup---finished the honeymoon back in our 600 sq. ft. apartment.
Our first adventure !!!!
I still luv you Debi